Strawberry Cheesecake Mousse is light, fluffy, and full of fresh strawberry flavor! The crunchy crumble on the bottom gives you a lovely texture to break up the smooth mousse. It's perfect to end any spring or summer meal! Serves 6.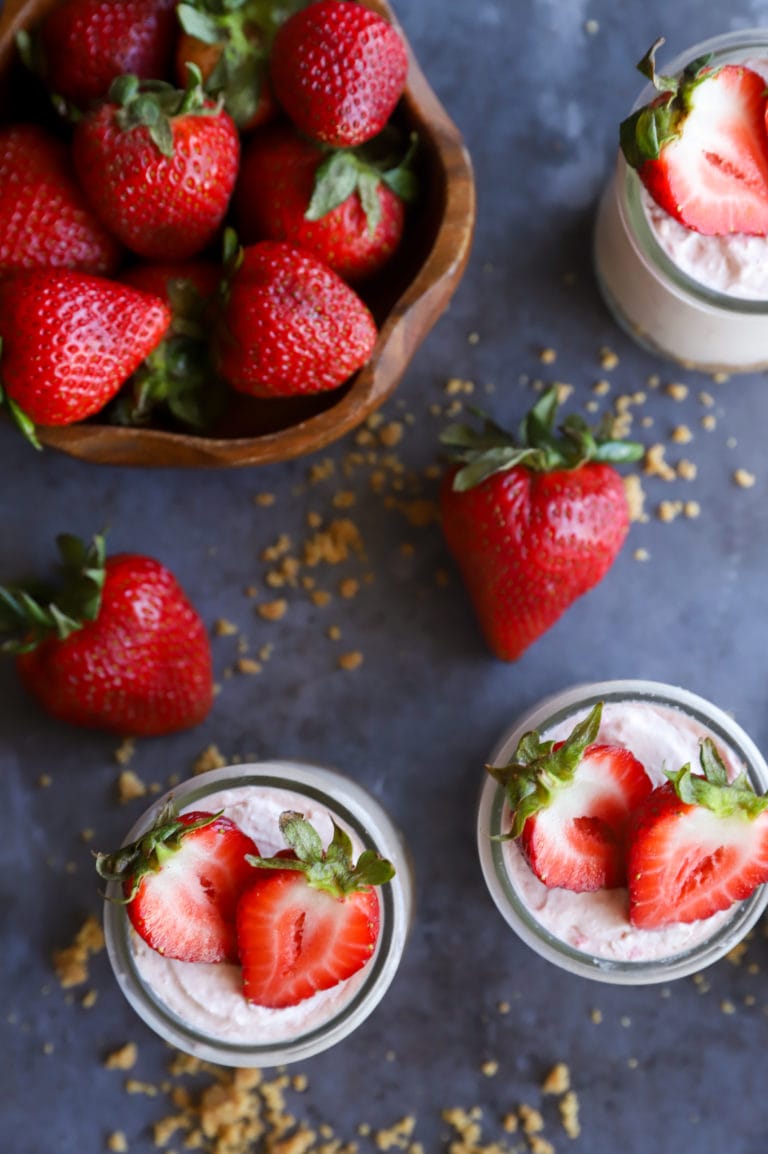 Ok, so apparently it's going to snow today and that is NOT what I had planned for these little refreshing jars…
When I made these this week, it was sunny and almost 90 degrees outside. Now I'm pulling my herbs that I planted last weekend indoors and hoping that nothing freezes overnight.
WHAT IS COLORADO WEATHER?
Anyways, I am REALLY excited about this strawberry cheesecake mousse. I mean, I'm already a BIG cheesecake fan, but a no-bake option makes me infinitely happier during the hottest months of the year.
I wanted this mousse to be lighter than the typical mousse that can be a bit thick and rich. While I love that flavor and texture (and might have to make one for the fall…), spring and summer have me wanting light and airy things.
I added a little extra whipped cream to this mixture and the ratio came out JUST right. It's light and airy, without skimping on flavor. You get the fresh strawberry with creamy cream cheese, and a little zing of lemon in every bite.
Pair that with a crunchy crumble on the bottom and it's the perfect little dessert in a jar.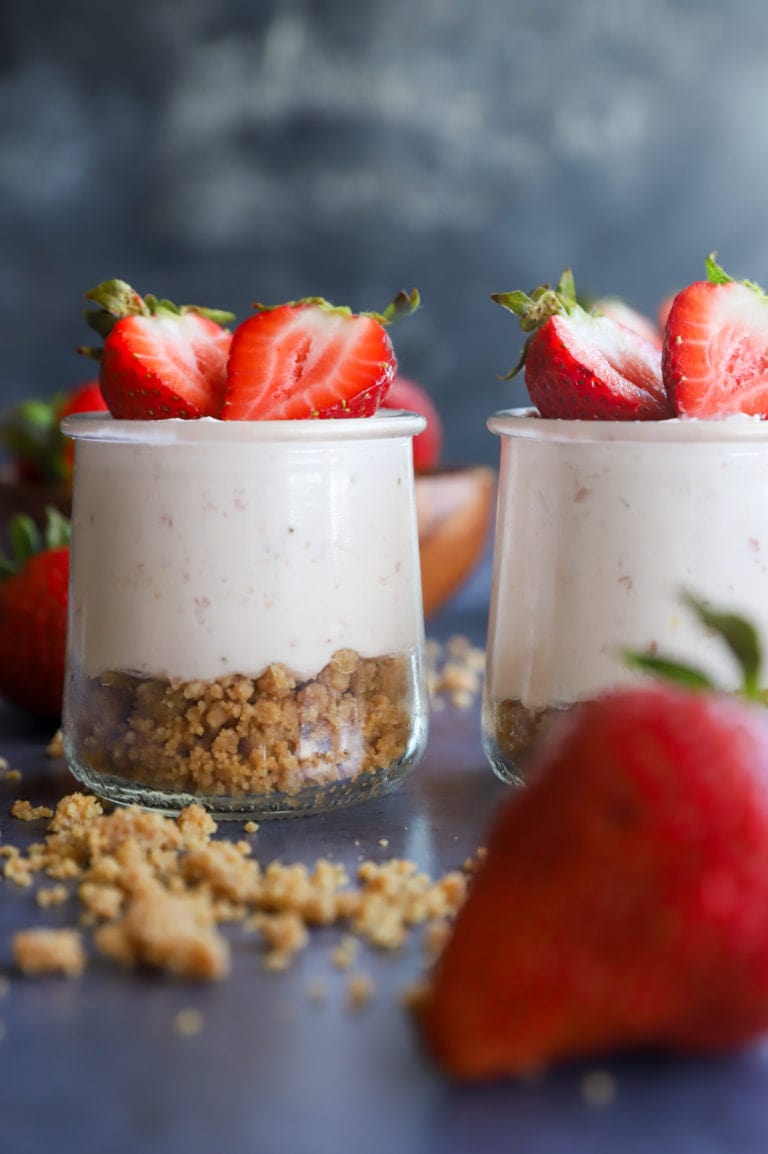 ingredients
graham crackers – grab whatever brand you like! I personally am a Honey Maid fan (not sponsored, it's just a thing I bring over from childhood apparently LOL).
sugar – for this recipe, you'll need granulated sugar for the crumble as well as confectioner's sugar for the mousse.
butter – unsalted butter is key here! You'll be melting it to use in the crumble.
strawberries – you can use fresh or frozen strawberries for this recipe! If you are using frozen strawberries, be sure to check out my notes on how to use them without altering the recipe.
cream cheese – the key for the cheesecake element! I like to use full-fat but you can use low-fat if you prefer. Make sure you let it soften before using it in the recipe.
vanilla – use a high-quality vanilla extract for all your recipes! It makes such a difference in flavor. My favorite is Nielsen Massey – their Madagascar Bourbon Pure Vanilla Extract is amazing.
lemon zest – you will only need one lemon for the recipe!
whipped cream – homemade is best here! I buy heavy whipping cream and add it to the bowl of a stand mixer. Mix on high speed until light and fluffy! Don't use store-bought because it will be too sweet and throw off the flavor of the mousse.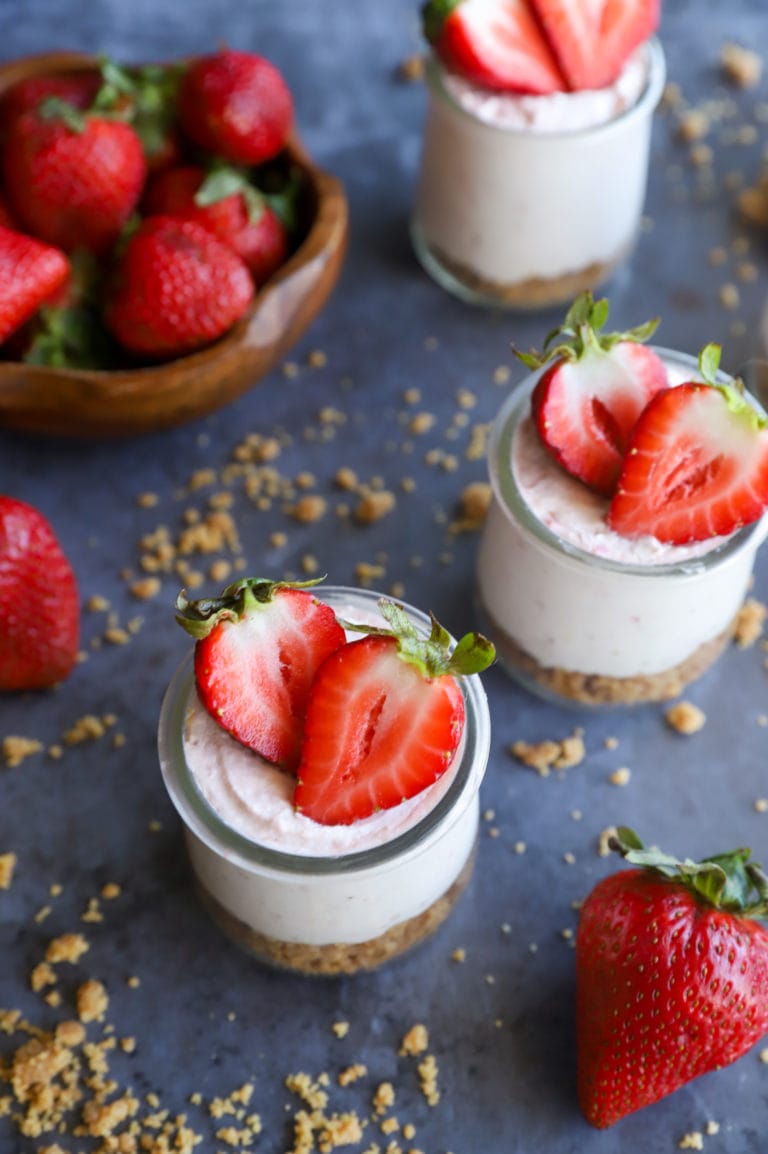 this recipe's must haves
There are a few must-have items for this recipe! To make the crumble, you'll need a food processor and a half sheet baking pan. Don't forget the aluminum foil!
You'll be using that food processor again, so just clean it out between making the crumble and pureeing the strawberries.
A stand mixer or an electric handheld mixer with a large bowl are a must to make the elements for the mousse.
You'll need another bowl from a set of metal mixing bowls and a spatula to fold the mousse base and whipped cream together.
Use a small dessert dish for the mousse itself! If you look, you might recognize these jars… they are Oui yogurt jars from Yoplait! MUCH cheaper than buying dessert dishes. Simply soak the empty jars in soapy warm water then peel off the stickers. If there's any residue, you can use Goo Be Gone.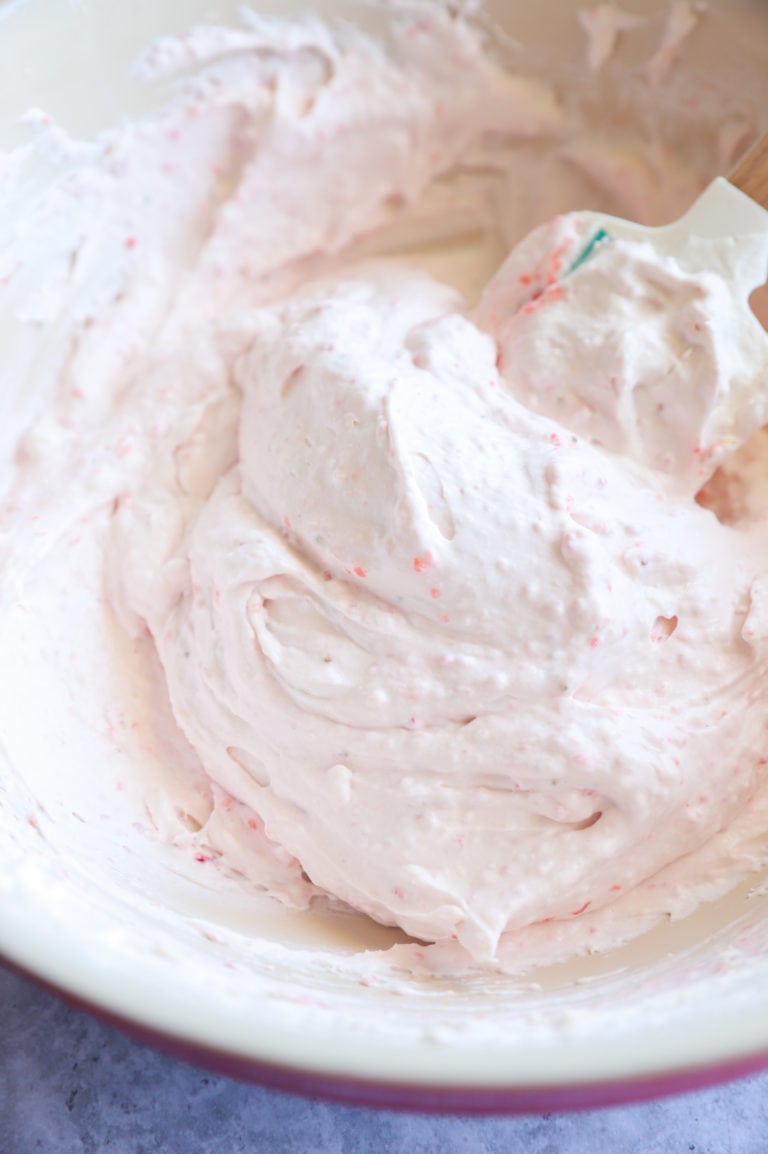 here's how to make strawberry cheesecake mousse
make crumble
Add graham crackers to a food processor and process until they are fine crumbs. Add sugar and butter, then pulse until the mixture comes together in small nuggets.
Dump the mixture onto a foil-lined baking sheet. Spread out, breaking up any large chunks with a spoon. Bake for 10 minutes, until golden brown. Set aside to cool to room temperature.
make mousse
Puree strawberries until smooth. You should end up with a 1/2 cup total of puree, maybe a little more.
Add cream cheese, confectioner's sugar, vanilla, and lemon zest to the bowl of a stand mixer fitted with the paddle attachment. Beat until fluffy, about 3 to 5 minutes. Beat in strawberry puree until combined.
Remove bowl from mixer and fold in whipped cream gently.
assemble
Add a layer of the crumble to the bottom of 6 dessert dishes or jars.
Top with equal amounts of the mousse. Smooth out the tops and wipe the edges with a paper towel for a cleaner presentation (I use wet paper towels!).
chill and decorate
Refrigerate for at least 2 hours before serving.
When ready to serve, I use halved strawberries for garnish as you see in this picture. You can also use whipped cream on top if you desire.
tips for success
no time for crumble? no problem! If you want to serve the mousse on its own you can. You can also spread a layer of strawberry jam or chocolate fudge sauce on the bottom to save time.
topping ideas. Top with halved strawberries, a dollop of whipped cream, a bit of strawberry puree or jam, a layer of fudge sauce, or extra crumble.
More delicious strawberry recipes to explore: Strawberry Cheesecake Ice Cream | Chocolate Covered Strawberry Brownies | Raspberry Blueberry and Strawberry Galette | Chocolate Covered Strawberry French Toast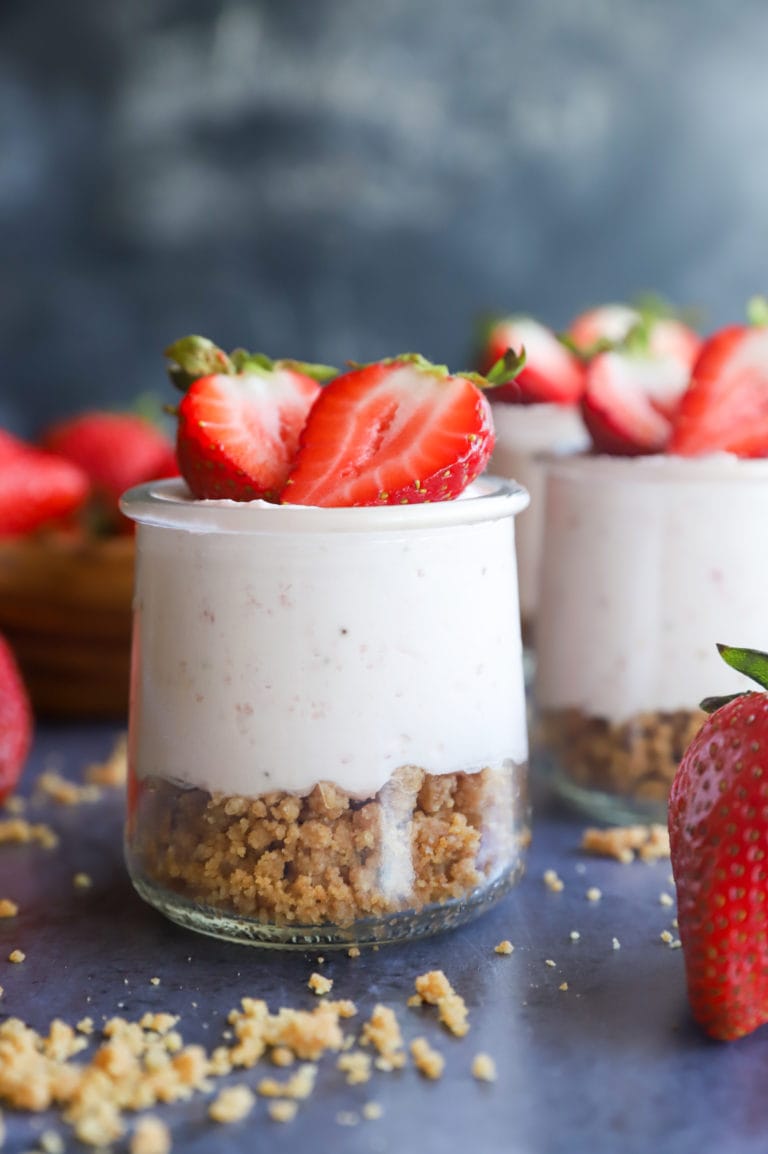 can I make strawberry cheesecake mousse with frozen strawberries?
Yes! If you are using frozen strawberries, be sure to thaw and drain them before using them in this recipe.
can I freeze mousse?
Yes you can! To freeze this mousse, spoon it into an airtight, freezer-safe container. Freeze for up to 8 weeks. Thaw in the refrigerator until it can easily be spooned out and served.
how long can I chill these for?
The mousse can stay in the fridge for 1 to 2 days! That's what makes this an excellent make ahead dessert for any dinner you have planned.
Need some more inspiration for dessert? Check out my desserts recipes page!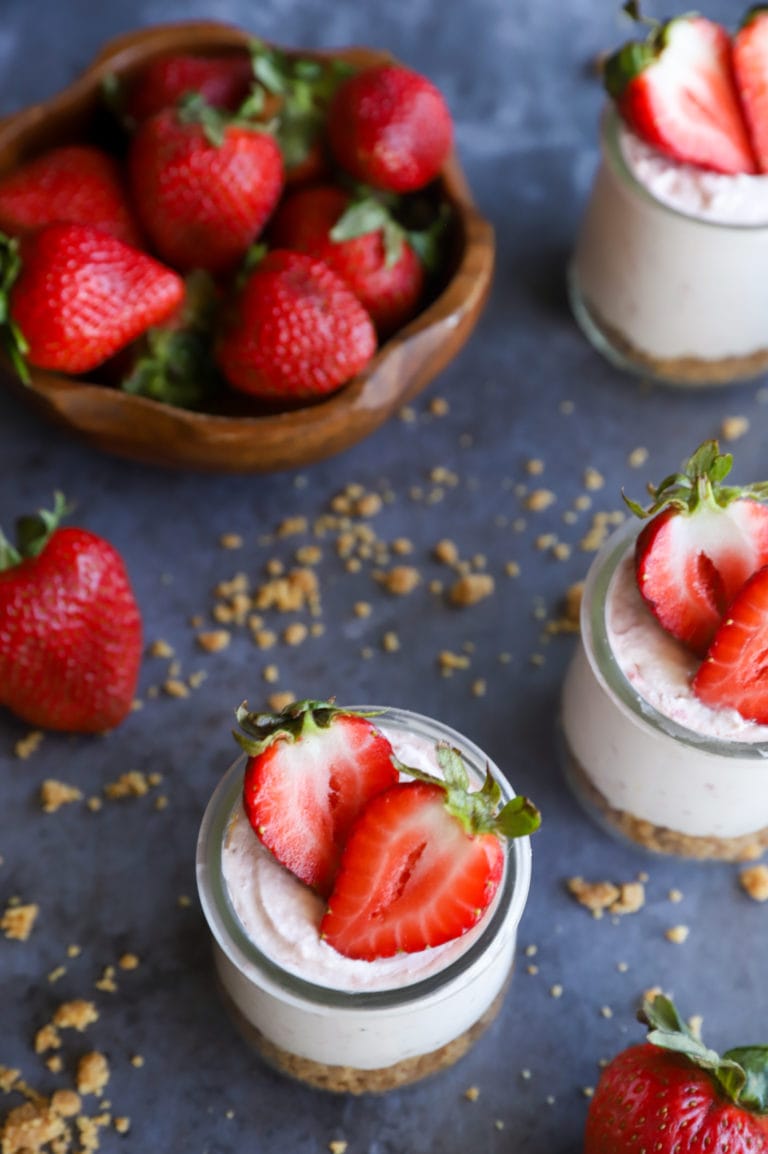 what to serve with strawberry cheesecake mousse
I love this creamy and light mousse because it has so much flavor but it isn't as heavy as other mousse recipes out there. Here's some ideas for what you can serve with this recipe:
Since this is a nice light ending to a meal, consider something off the grill for a main. My easy all purpose marinade for summer grilling goes with beef, chicken, and pork. Take your pick!
Double up on strawberry at brunch with these strawberry mimosas!
seasonal tip
Too many strawberries and not enough time to eat them before they go bad? Freeze them! Cut off the green tops, give them a rinse, and dry gently with paper towels. Add in a single layer to a parchment-lined baking sheet (whole or sliced!) and place in freezer. Once hard, add to freezer-safe bags and store for up to 6 months.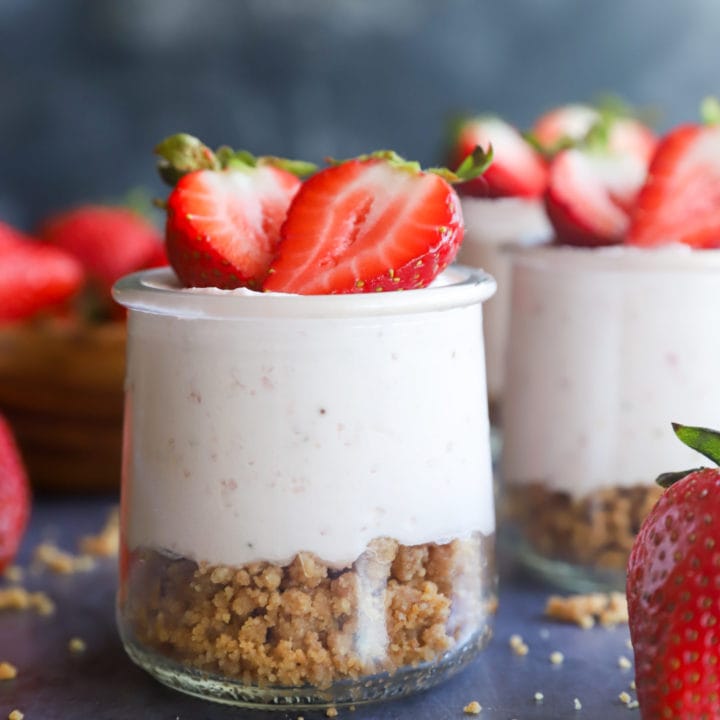 Strawberry Cheesecake Mousse
Total Time:
2 hours
25 minutes
Light and creamy, this fluffy mousse is perfect for spring and summer!
Ingredients
crumble
1 sleeve graham crackers (9 total crackers)
3 Tbsp sugar
5 Tbsp butter, melted
mousse
1 cup fresh strawberries , pureed to make about 1/2 cup
1 package (8 oz) cream cheese, softened
1/2 cup confectioners' sugar
1 1/2 tsp vanilla extract
1/2 tsp grated lemon zest
1/2 cup heavy whipping cream, whipped*
Garnish: halved strawberries
Instructions
Preheat the oven to 325˚F. Line a rimmed baking sheet with aluminum foil.
In the bowl of a food processor, add graham crackers and process until fine crumbs. Add sugar and melted butter for crumble, then pulse until the mixture comes together to form small nuggets.
Dump the mixture onto the prepared baking sheet and bake for 10 minutes, until light golden brown. Set aside to cool completely.
Puree strawberries in a food processor or blender until smooth. You should have about 1/2 total puree.
Add cream cheese, confectioners' sugar, vanilla extract, and lemon zest to the bowl of a stand mixer fitted with the paddle attachment. Beat until fluffy, about 3 to 5 minutes. Beat in strawberry puree until incorporated. Gently fold in whipped cream with a spatula.
Divide the crumble among 6 dessert dishes. Top with equal amounts of the mousse, spreading the top with the back of a spoon to even out. You can also pipe the mixture into the dishes if you prefer.
Cover and refrigerate for at least 2 hours and up to 2 days.
Notes
*to make the whipped cream, add heavy whipping cream to the bowl of a stand mixer. Beat on high heat until light and fluffy!
Recommended Products
As an Amazon Associate and member of other affiliate programs, I earn from qualifying purchases.