This December produce guide is your comprehensive list of all the fruits and vegetables in season this month! It is the perfect time to explore a whole new list of fruits and vegetables that are currently at their peak. From holiday gatherings to weeknight meals, incorporating these fresh ingredients into your cooking is the best way to cook with the seasons.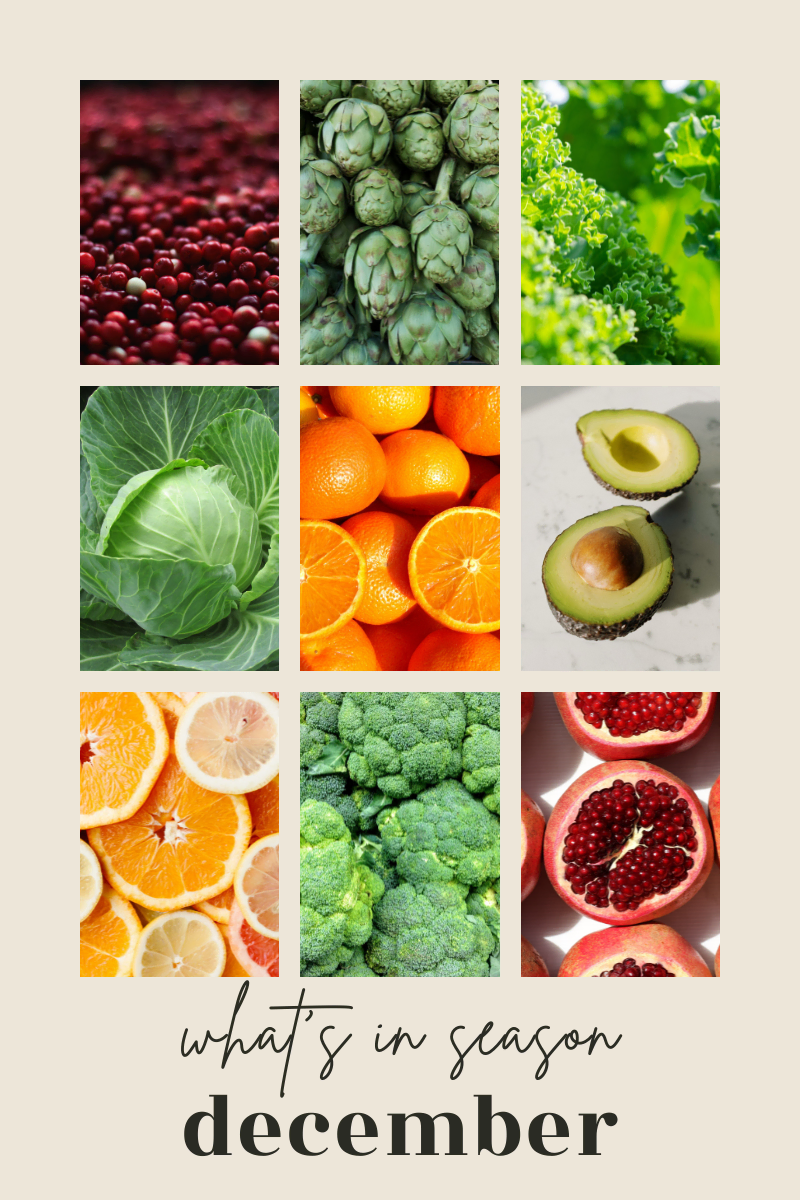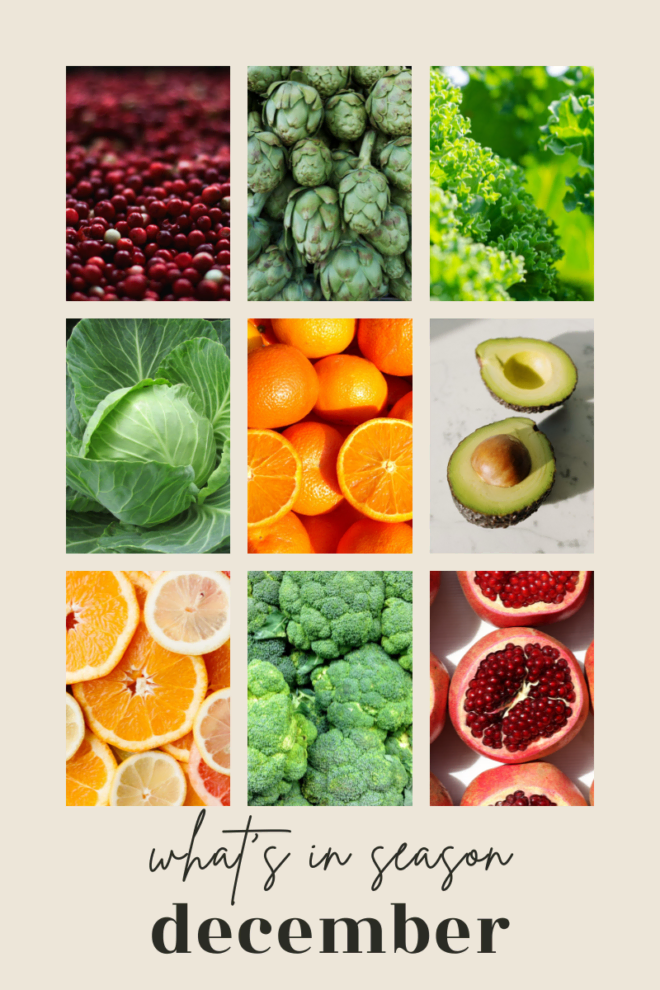 table of contents
Now that we are entering the winter months, you might think that there is no more fruits and vegetables to incorporate into your cooking… However, you couldn't be more wrong! December might be a cold month, but these cold months of winter still yield incredible produce to take advantage of for slow cooker soup, salads, and more.
This is the month where many of us gather more often to celebrate the end of the year and the holidays. Therefore, make these gatherings more memorable by incorporating seasonal produce like fresh and bright citrus or hearty potatoes.
In this month's guide, we'll delve into the vibrant and hearty offerings that December brings. From the crisp sweetness of apples to the earthy richness of winter squashes, there's a diverse array of ingredients to inspire your seasonal cooking. The time to make the most of winter harvest is now! You have the opportunity to discover the flavors that define December and explore creative ways to incorporate them into your cooking adventures this month. Whether you're crafting comforting stews, festive desserts, or simply seeking nutritious additions to your meals, this produce guide has you covered for all your December cooking and baking needs!
vegetables in season in december
Below is a complete list of all the veggies in season in December. Be sure to keep this list on hand for all of your upcoming shopping needs! I like to print it out when I go shopping so I can keep an eye out for sales on produce that's in season.
artichokes
arugula
avocados
beets
broccoli
brussels sprouts
butternut squash
cabbage
carrots
cauliflower
chard
collard greens
chicory
endive
kale
leeks
lettuce
parsnips
potatoes
radishes
romanesco
rutabagas
spinach
sweet potatoes
turnips
wild mushrooms
winter squash
fruits in season in december
See below for a full list of all the fruits that are in season in December!
apples
clementines
cranberries
grapefruit
kiwi
kumquats
lemons
mandarins
oranges
pears
persimmon
pomegranates
tangerines
quince
december seasonal recipes
Now that we have shared the full December produce guide with you, let's dive into some recipes to inspire you this month. Below you'll find our favorite December recipes that can be made during the week or made for a gathering to celebrate the holidays. If you are looking for more specific holiday themed recipes, check out my holiday recipe page for the full list!
Don't forget to break out your slow cooker, Instant Pot Ultra, and Dutch oven for winter cooking!
Need more inspiration for winter cooking and baking? Check out my winter recipes page!
what's in season in december (produce guide)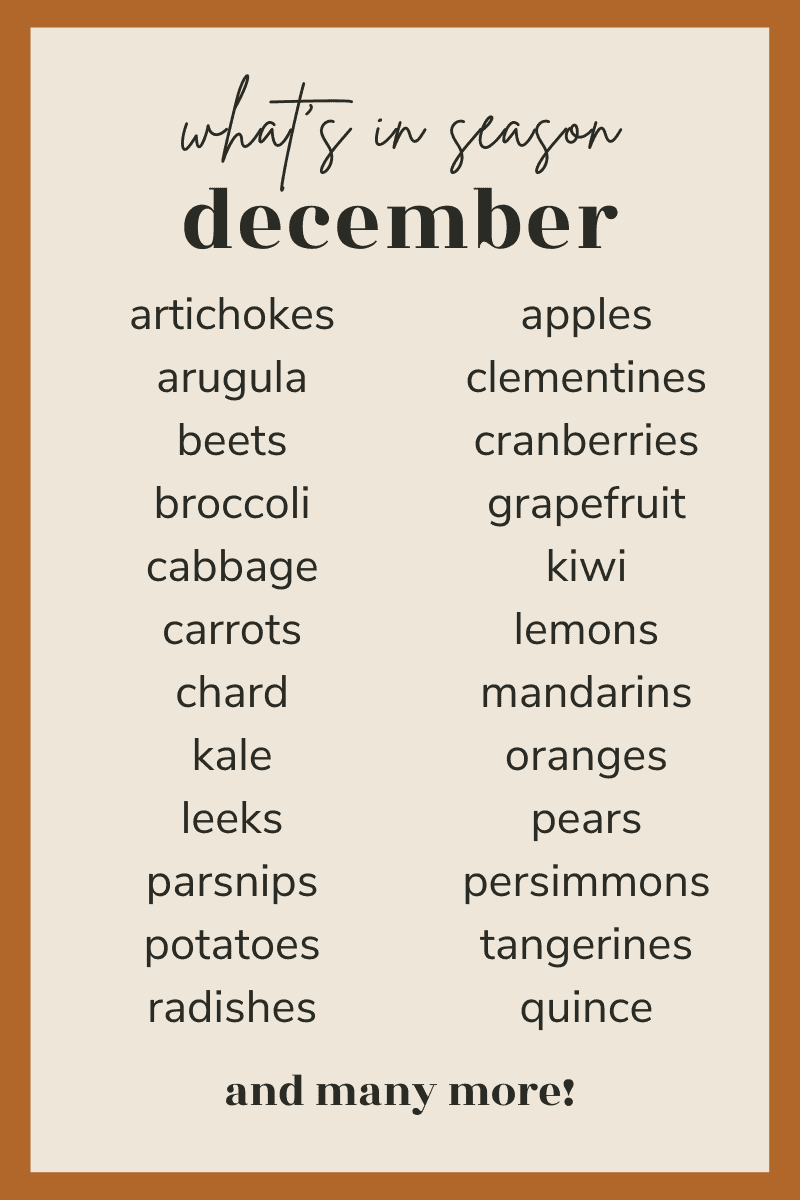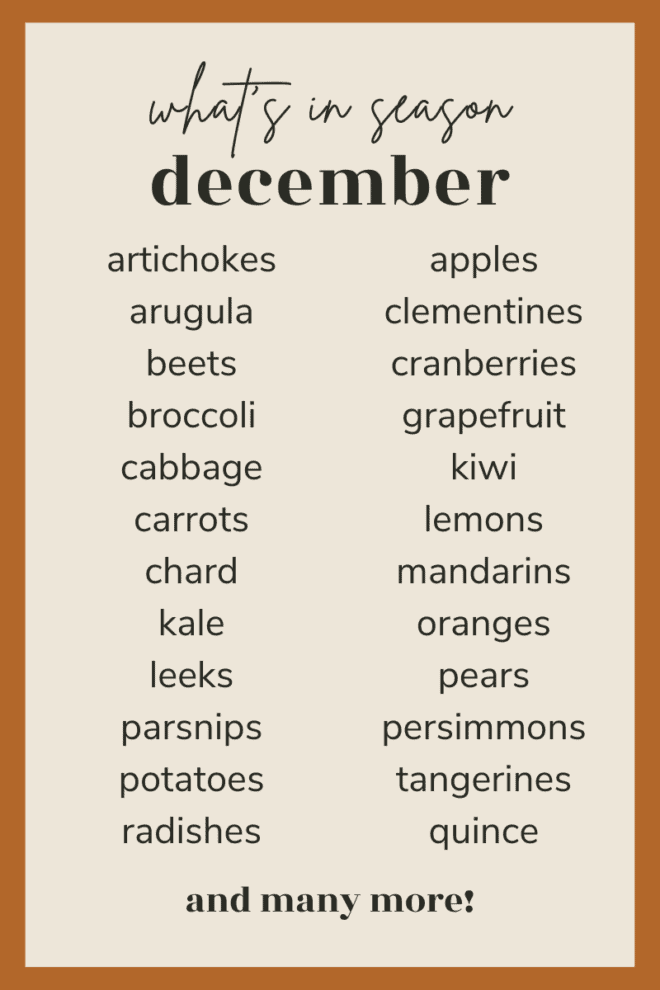 want more seasonal produce guides?