Ricotta, Date & Hazelnut Toast with Spiced Rum Honey is a wintery breakfast that is the ideal partner for your morning cup of jo. Full of textures and flavors, this breakfast tartine will wake up those taste buds with every bite!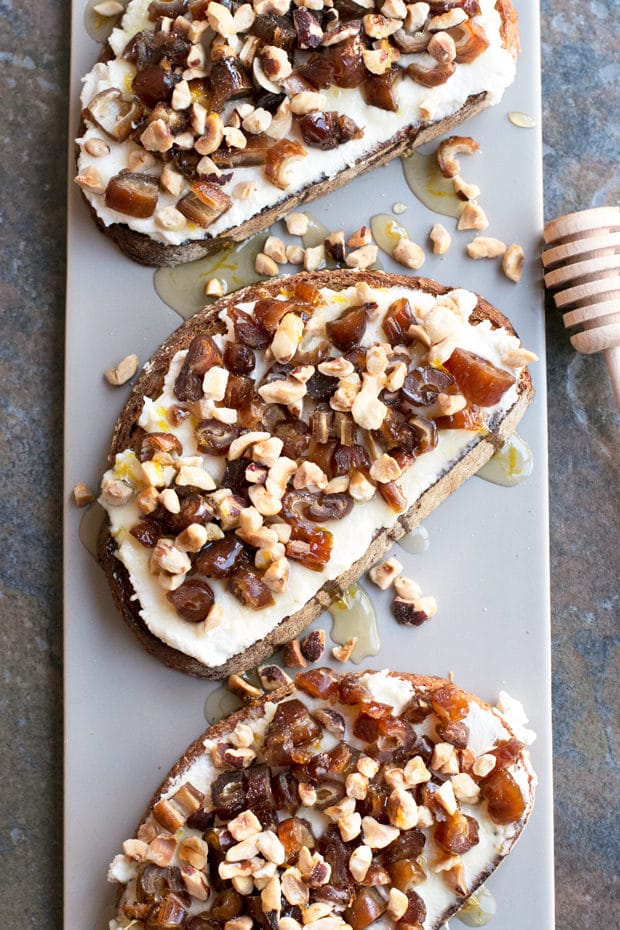 Can we just talk about how comforting this breakfast is for me?
I know it's a little weird – a tartine isn't what most people would consider "comfort" breakfast food. Usually it's French toast, or pancakes, or even bacon and eggs.
For me though, the flavors in this ricotta toast scream comfort.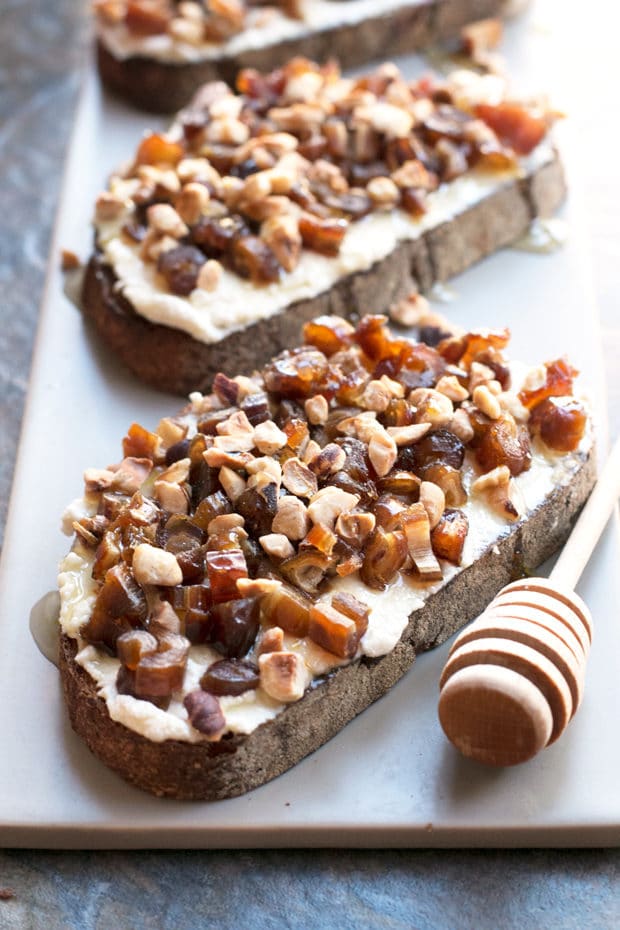 I've been needing a bit of comfort this past month.
A lot has happened and I haven't really been able to write the words I want to write about it all. There were high's (moving in with a pretty damn amazing guy, going to Hawaii, celebrating the big 3-0) and serious low's (stress, work anxiety and most of all, losing a very dear friend).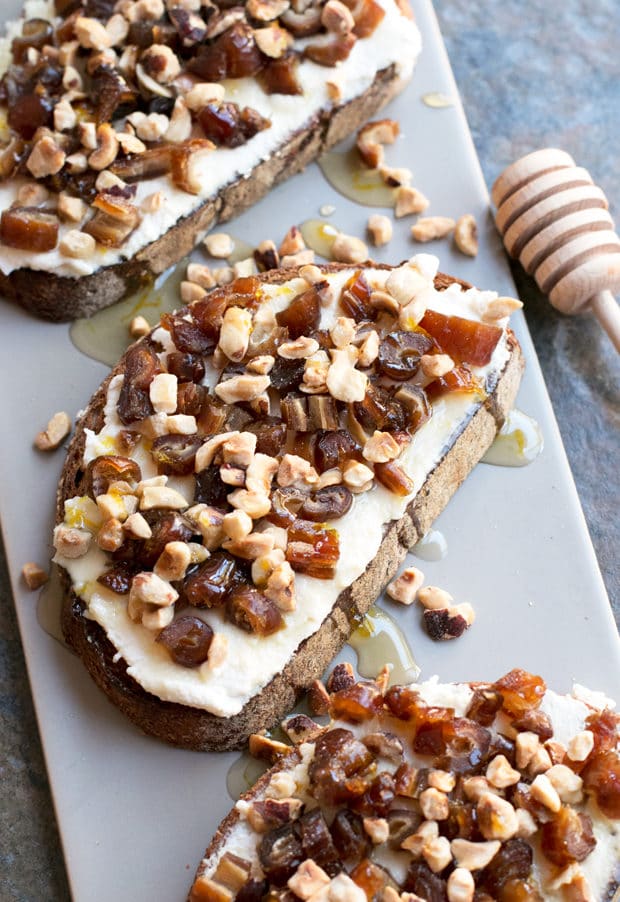 To say my mood has been a little all over the place would be a major understatement. Honestly, I am lucky I have people in my life who will ride my crazy emotion waves with me.
In these times, I turn to the food that I know will bring me joy. For this particular recipe, it's the hazelnuts and dates.
They remind me of that time I spent living in Rome, when I would eat dates every single day and gorge myself on Nutella. The combination of hazelnut and dates, with a drizzle of honey became a delightful afternoon snack with a little glass of limoncello.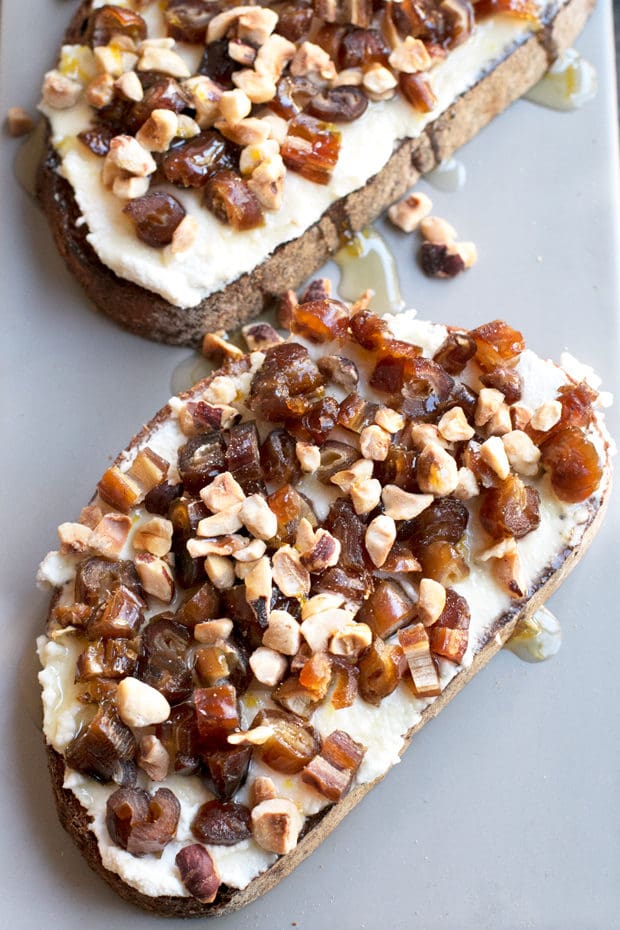 So I shoved it all together and piled it onto a tartine (open-faced sandwich). The sweet dates with the nutty hazelnuts and a drizzle of spiced rum and orange infused honey is just… magic.
Magic for your taste buds.
Magic for your soul.
Pure. Freaking. Magic.
Add in some creamy ricotta and…. *drool*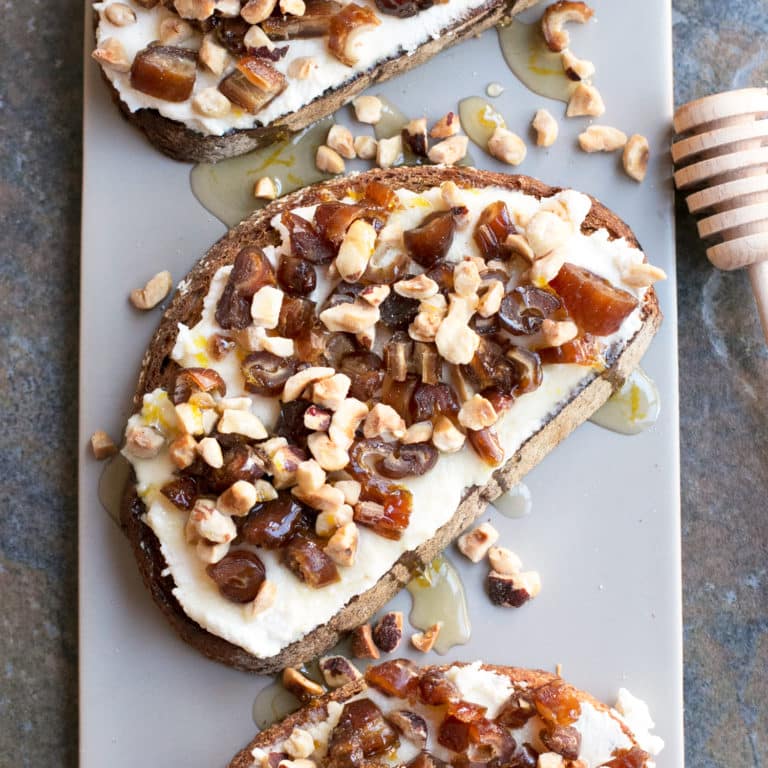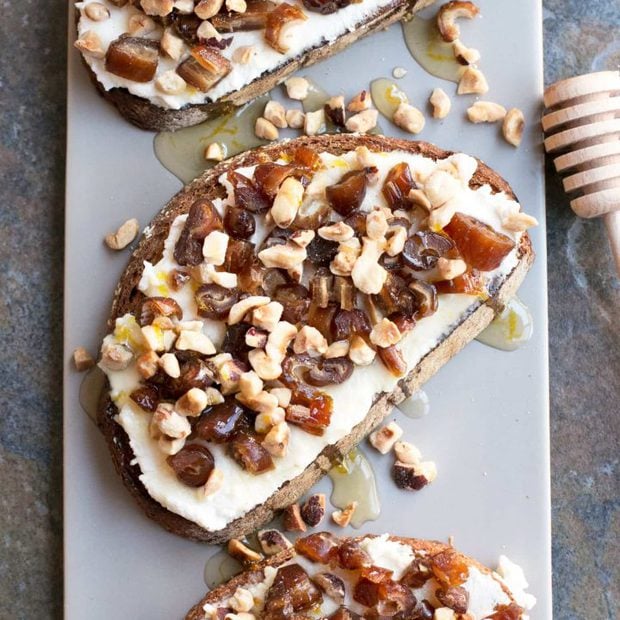 Ricotta, Date & Hazelnut Tartine with Spiced Rum Honey
This wintery tartine is perfect for breakfast or a late afternoon snack to wake up those taste buds!
Ingredients
4 slices of thick cut bread, toasted
2/3 cup ricotta
1/2 cup dates, chopped
1/3 cup chopped hazelnuts
1/2 oz spiced rum
Zest of one orange
1/3 cup honey
Instructions
In a small saucepan, heat honey over low heat with spiced rum and orange zest for 30 seconds, stirring constantly. Remove from heat and cool completely.
Spread one side of each piece of toast with one quarter of the ricotta. Top evenly between the toasts with dates and hazelnuts. Drizzle with the spiced rum honey. Serve.
Pin this
Ricotta, Date & Hazelnut Tartine with Spiced Rum Honey recipe
for later!