Please note this post contains affiliate links.
Air Fryer Buffalo Jalapeño Poppers are filled with cream cheese, more cheese, and buffalo sauce, then topped with breadcrumbs that get all golden and crispy in the air fryer! Ready in just 7 minutes, they are the perfectly pop-able appetizer.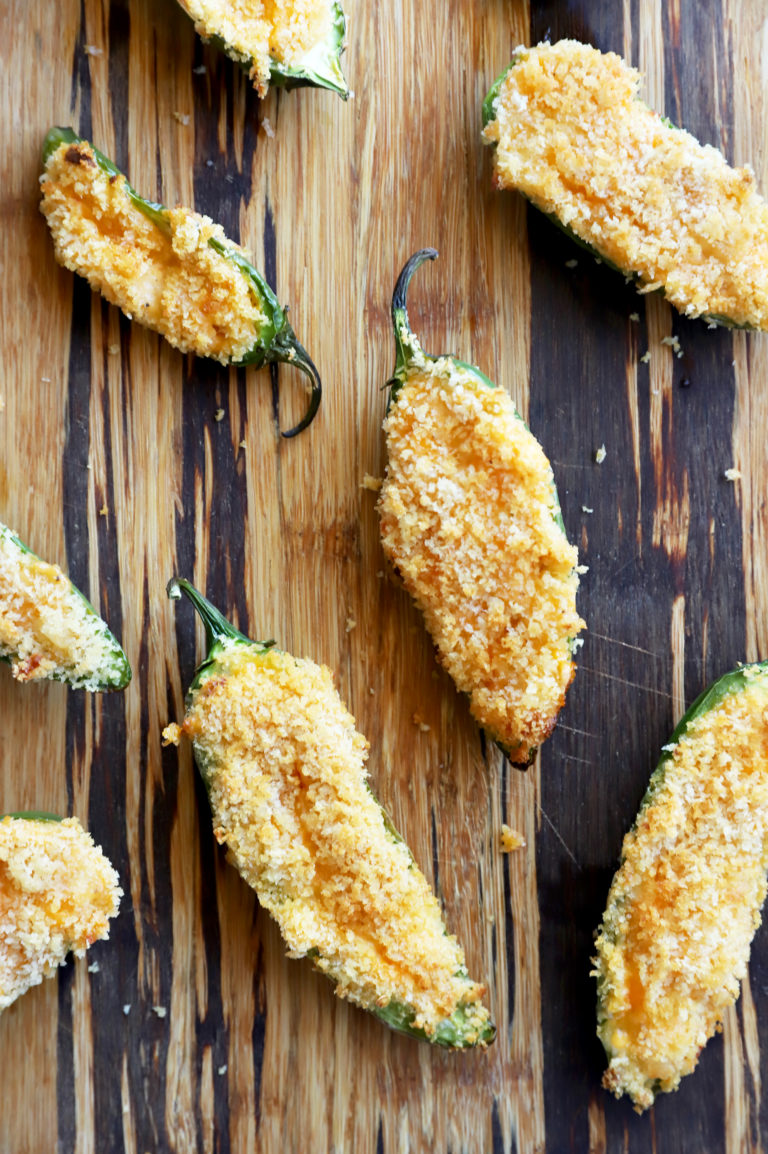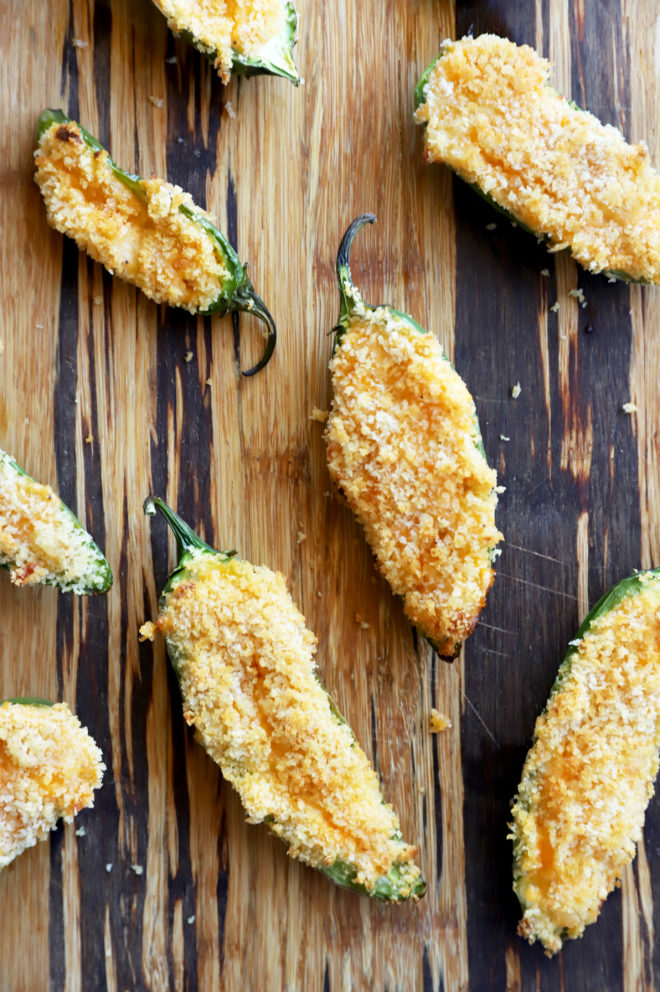 With the Super Bowl coming up, I always get inspired for another round of tailgating snacks.
One of my favorites, aside from a plate of grilled wings, is jalapeño poppers! They are spicy… and cheesy… and all around addictive because I can never stop at just a couple of them.
My recipe for these air fryer jalapeño poppers is super simple, but the flavor is unbeatable. There's three kinds of cheese, buffalo sauce, onion, and sour cream so you've got a killer combination to devour.
why an air fryer instead of the oven?
I think Air Fryers are a magical little appliance to make your favorite snacks and meals easier and healthier! You all know I love a good deep fried egg roll or wonton, but sometimes you want that snack without dealing with all that oil and the time it takes to fry.
With an air fryer, you just use a spritz of oil and pop the poppers right in there. You get a lovely crispy topping to provide some added texture to the jalapeño poppers! Plus it only takes 7 minutes. BOOM.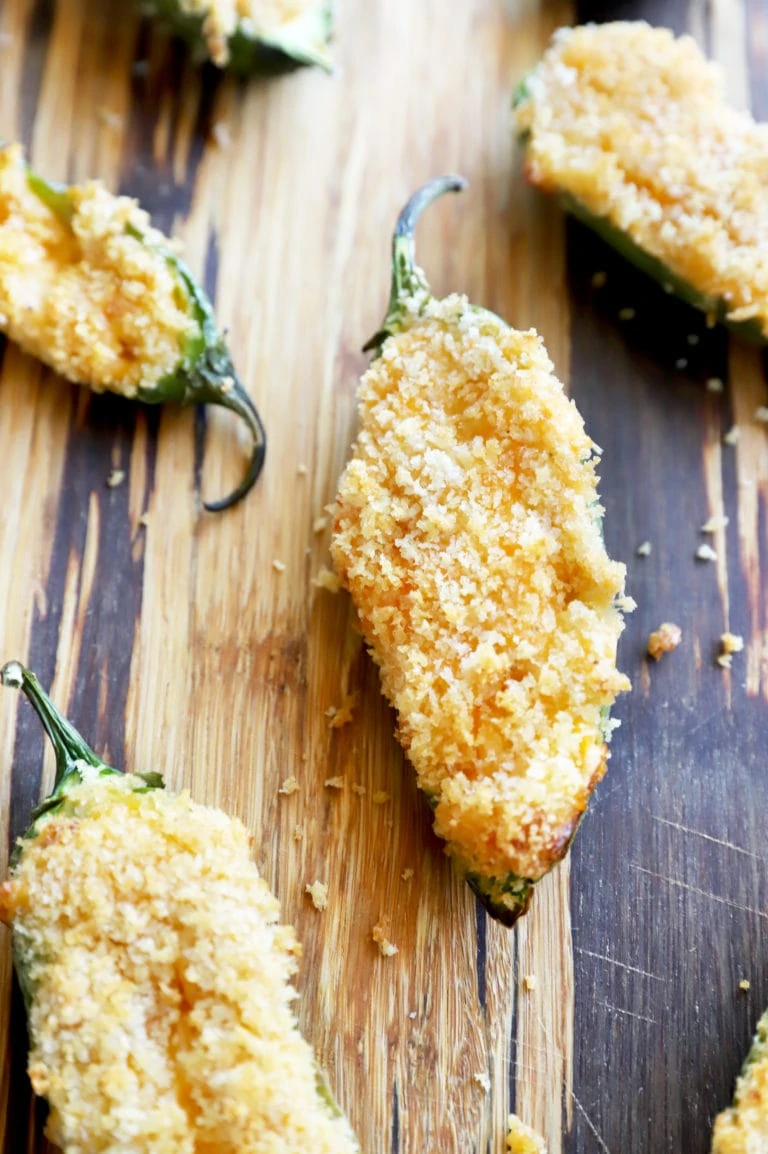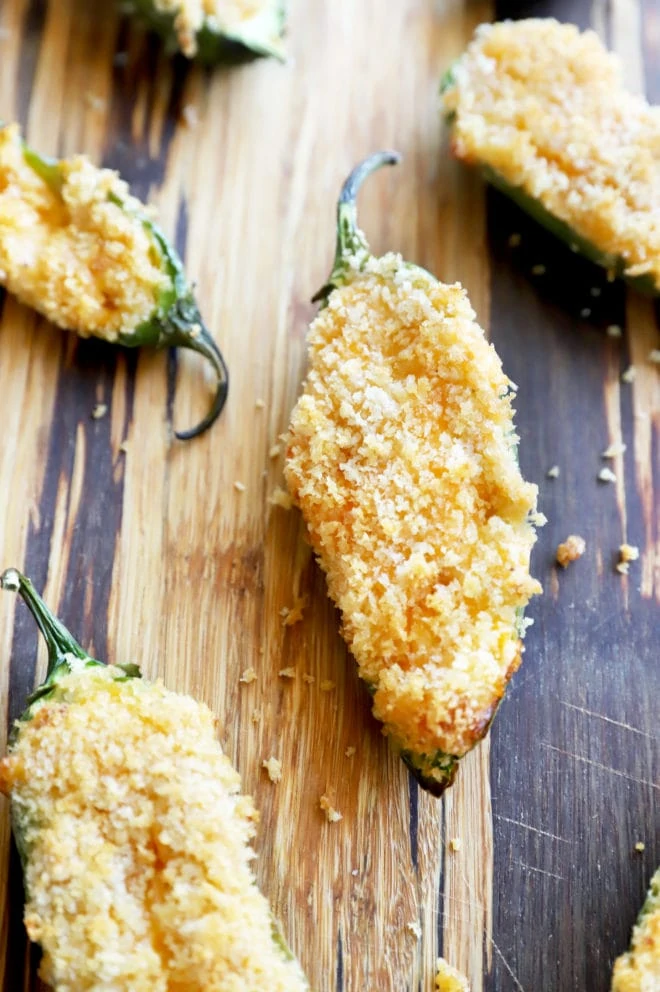 ingredients
jalapeño peppers – before you start, be sure to halve them and scoop out the seeds (I'll explain how in a minute). Be sure to wash your hands well afterwards – you don't want to accidentally touch your eye with jalapeño on your hands!
cheeses – I use a combination of cream cheese (be sure to soften it to room temp!), sharp cheddar cheese, and mozzarella for these. I like the pop of flavor the cheddar brings to the table but you can use regular if you prefer.
onion – Instead of garlic, I opt for a yellow onion. I think the flavor compliments this particular flavor combination more.
hot sauce – I always go for Frank's RedHot Sauce when I want that buffalo flavor. It's got such a killer flavor and heat level (and no, this isn't sponsored!). You can opt for your favorite buffalo hot sauce if you prefer to swap it out.
panko – to get that golden, crispy topping for these jalapeño poppers, I like to opt for panko breadcrumbs. They are lighter and give you a much better texture than regular breadcrumbs do!
how to hollow out the peppers
When I hollow out my jalapeño peppers, I start by slicing them in half lengthwise. I don't bother removing the stem, but you can if you want to! Next take a teaspoon or a paring knife to gently scrape out the seeds and cut away any membrane.
Again, make sure you wash your hands well after handling the peppers! Or wear gloves to protect your skin if you have dry/sensitive skin.
For more tips and tricks, find out how to seed a jalapeño like a pro.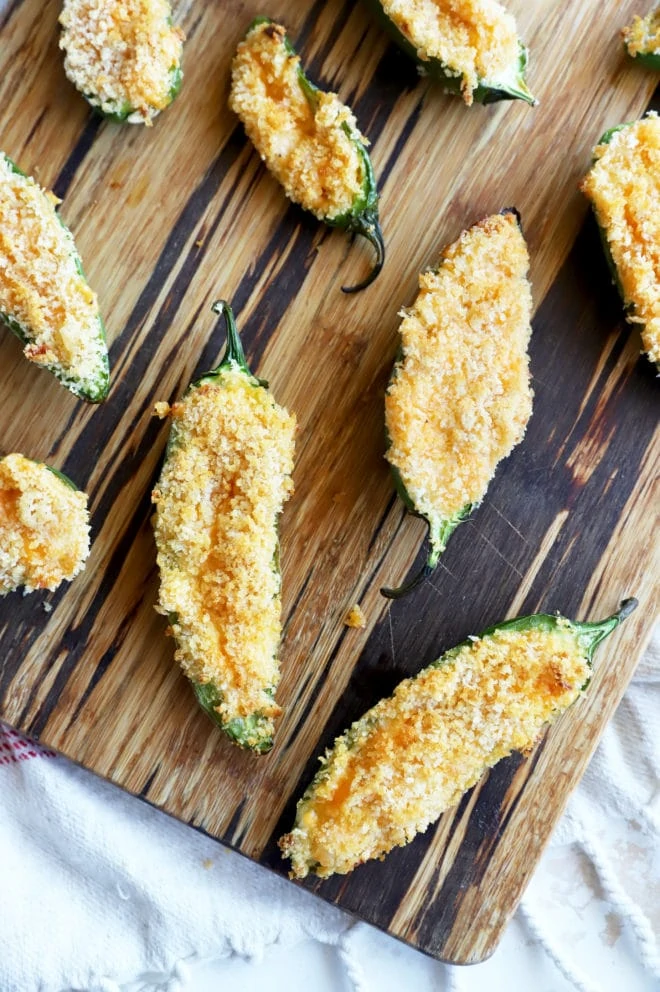 this recipe's must haves
For this recipe, you'll need a chef's knife as well as a teaspoon or paring knife with a cutting board to hollow out the jalapeño peppers.
I use a medium bowl from my set of metal mixing bowls to make the filling with a regular spoon.
To air fry, use your favorite air fryer! For me, that's the Instant Pot Air Fryer attachment. I also have a pair of tongs handy to easily add and remove the jalapeño poppers from the air fryer insert.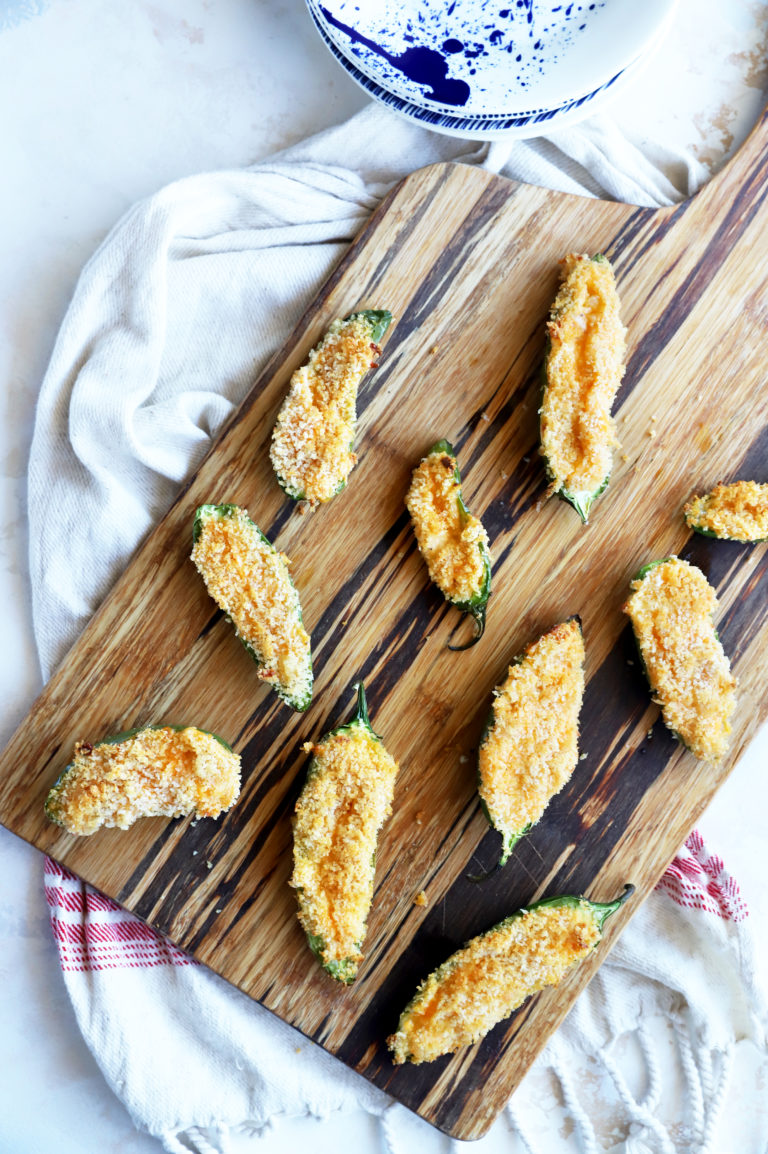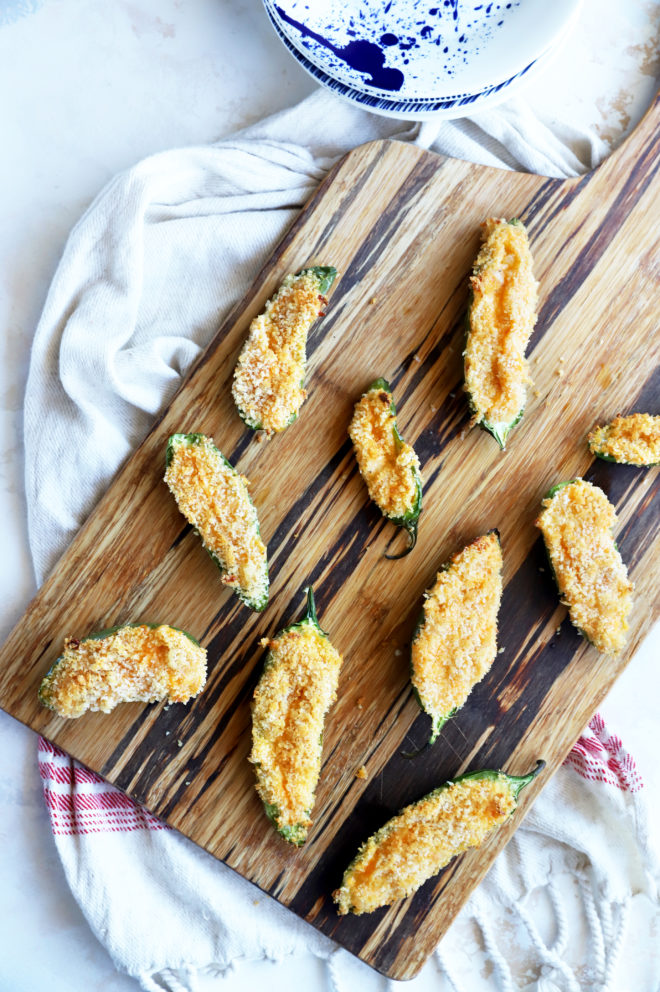 here's how to make air fryer buffalo jalapeño poppers
Make Filling
Add the ingredients for the filling to a bowl and stir together until well combined. Make sure your cream cheese is at room temperature to make this process infinitely easier!
Fill Peppers and Top with Breadcrumbs
Fill the halved jalapeño peppers with the filling. I like to pack it in using the back of a spoon to get them really full.
Add panko to a plate and press the jalapeño halves into the breadcrumbs, filling side down, so they are coated with a good layer of the breadcrumbs.
Add them in one layer to your air fryer (I grease mine with a very light spray of cooking spray!).
Cook
Cook for 7 minutes at 375˚F. You may need to cook these poppers in batches depending on the size of your air fryer. I do mine in about 3 to 4 batches, depending on the size of the jalapeño peppers I buy.
*on preheating your air fryer, for some air fryers it is recommended to preheat before cooking. Do this at the beginning so your air fryer is ready to go if this is necessary. I use the Instant Pot Air Fryer and have not found it to be a necessary step.*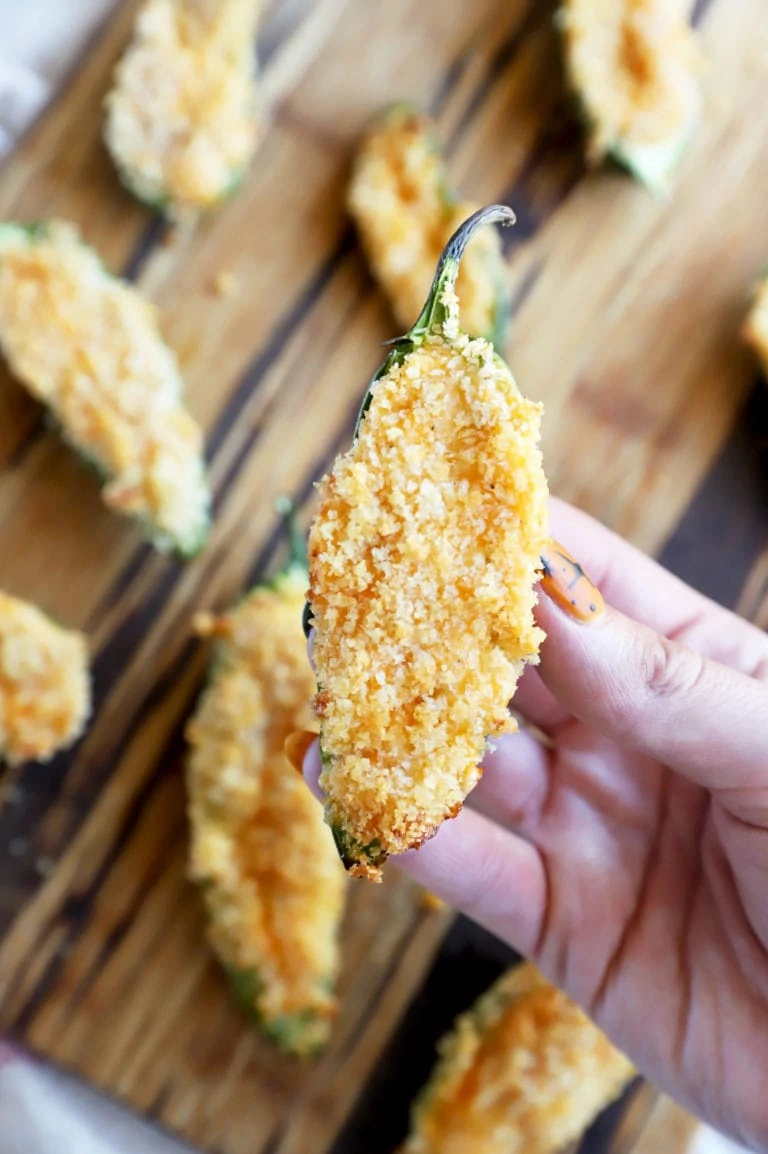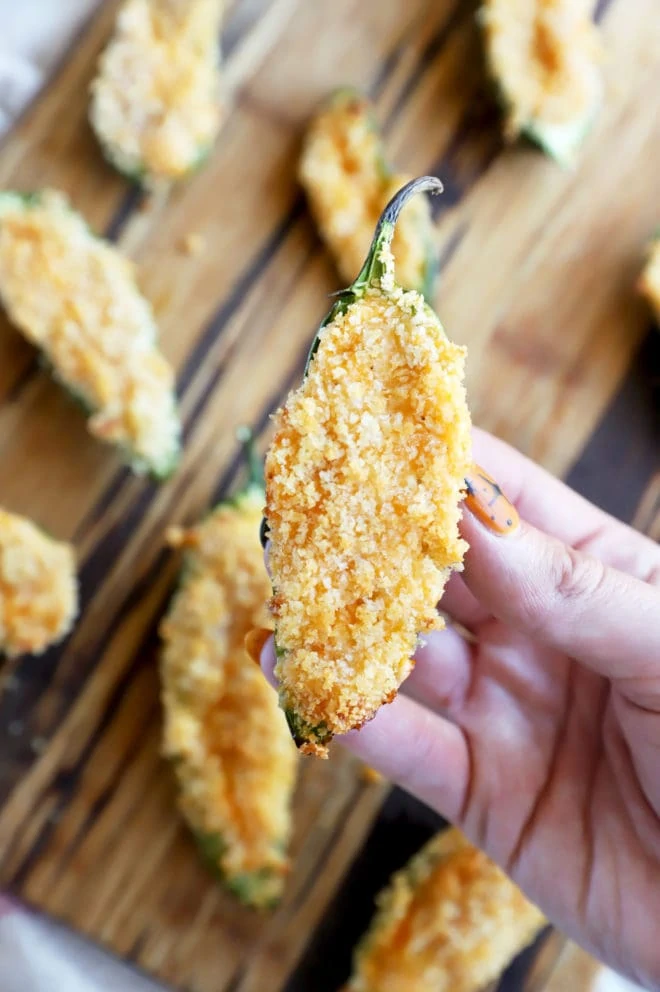 what to serve with jalapeño poppers
Whenever I'm serving up these air fryer jalapeño poppers, I'm usually making them for a party (generally something in the tailgating or summer backyard gathering realm). Here's some of my favorite recipes to serve alongside the poppers:
how to store and reheat
These air fryer jalapeño poppers can be refrigerated for up to 3 days in an airtight container.
To reheat them, place in the oven for about 5 to 10 minutes on a lined baking sheet until they are hot and the tops are crispy. You can even switch on the broiler to toast the tops for a minute or so!
can I make these in the oven?
Don't have an air fryer? No problem! Simply preheat the oven to 425˚F. Prepare the poppers as directed and place in a single layer on a lined baking sheet (I use parchment paper or a silicone mat). Bake for 10 to 15 minutes until the tops are golden brown.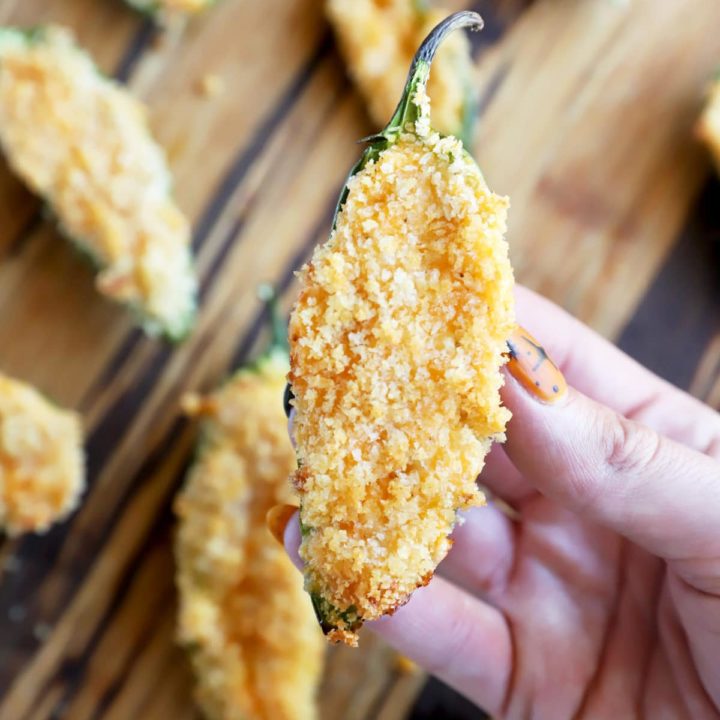 Air Fryer Buffalo Jalapeño Poppers
The crispy golden topping makes these poppers better than any you've had before!
Ingredients
1/4 lb shredded sharp cheddar
1/4 lb shredded mozzarella
1/4 cup finely chopped yellow onion
1 egg
1/2 cup cream cheese
3 Tbsp sour cream
3 Tbsp Frank's Red Hot Sauce
1/2 tsp salt
1/4 tsp black pepper
12 large jalapeno peppers, stemmed, seeded and halved
1/2 cup panko breadcrumbs
1 Tbsp melted unsalted butter
Instructions
In a large mixing bowl, mix together cheddar, mozzarella, onion, egg, cream cheese, sour cream, hot sauce, salt, and pepper until well-combined.
Fill each jalepeño half with the cheese mixture.
In a small wide shallow bowl, stir together panko and melted butter until the breadcrumbs are moistened. Dip the jalapeños, cheese-filled side down, in the crumbs to coat evenly.
Add to the air fryer in an even layer. Cook for 7 minutes at 375˚F. You will likely have to cook these in batches, depending on the size of your air fryer. Make sure to only load your air fryer with enough to be in a single layer - do not layer them on top of each other!
Serve warm.
Recommended Products
As an Amazon Associate and member of other affiliate programs, I earn from qualifying purchases.