Please note this post contains affiliate links.
A refreshing Raspberry Margarita is some special, easy, and delicious to whip up this week! With only four ingredients, it's sure to be a hit with your friends and family. Grab your key ingredients and join us in making this classic cocktail with a fruity twist.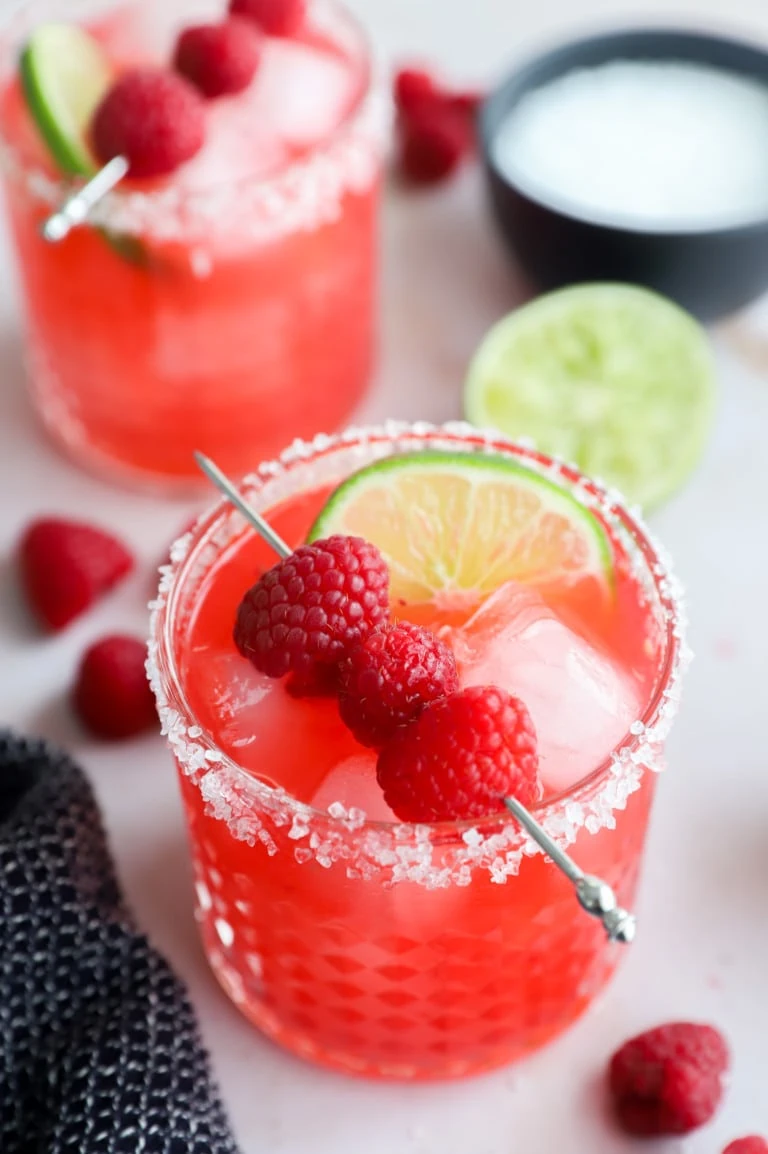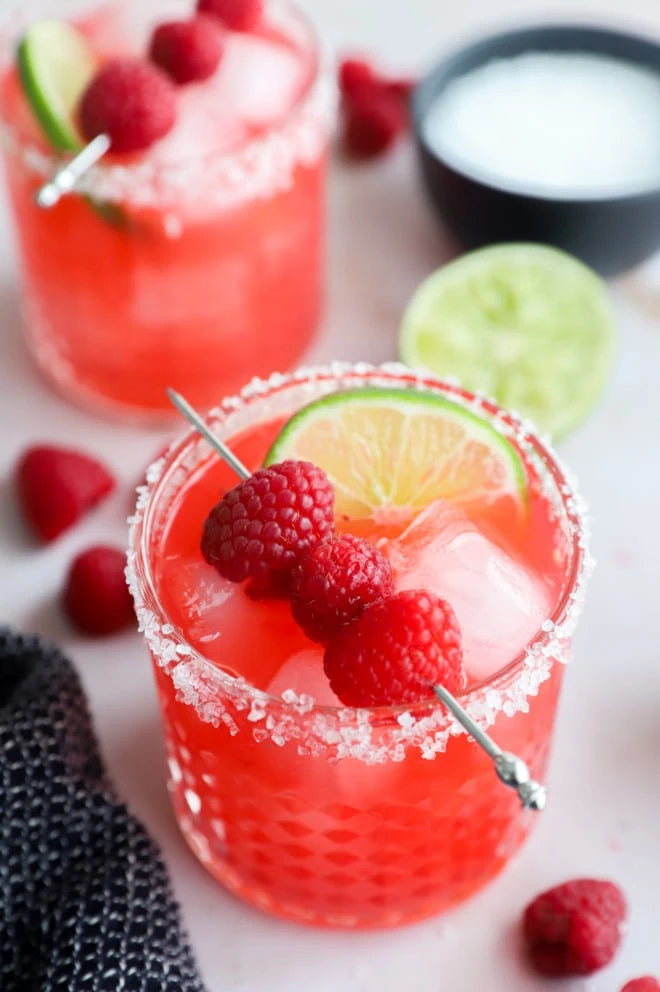 about this raspberry margarita
I love fresh fruit margaritas.
Personally, I feel like they get a bad wrap. This is usually because restaurants and bars out there still serve up fruity cocktails that are overly sweet and filled with artificial flavors.
It took me going to the right bar and trying a fruit margarita made with simple and fresh ingredients to realize fruity margaritas can be delicious and not overly sweet.
The key to making sure a cocktail isn't too sweet is making the fruit the star of the recipe, instead of adding a lot of sugar to the mix. Adding too much sugar always takes away from the fruit flavor.
That's what I love about this cocktail recipe! There are only four simple ingredients – raspberries, lime juice, tequila, and simple syrup.
It's tart, refreshing and absolutely delicious. Plus it's incredibly easy to whip up, making it a cocktail that you could enjoy any night of the week.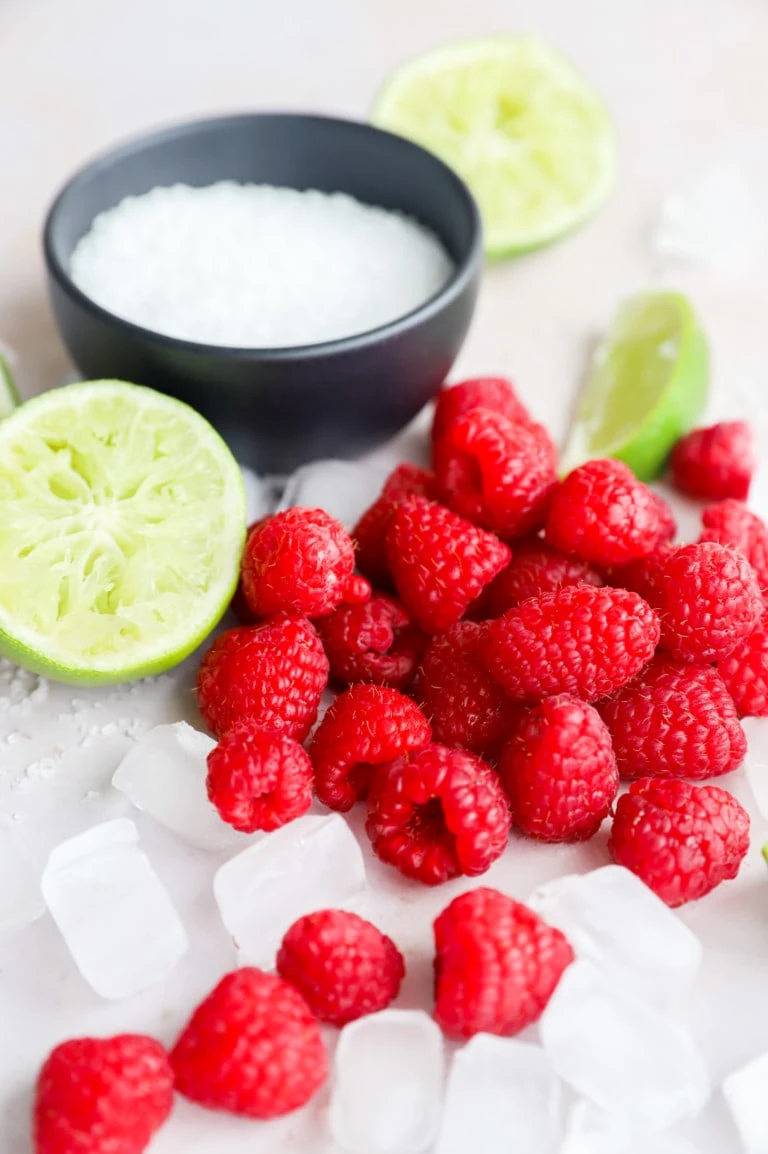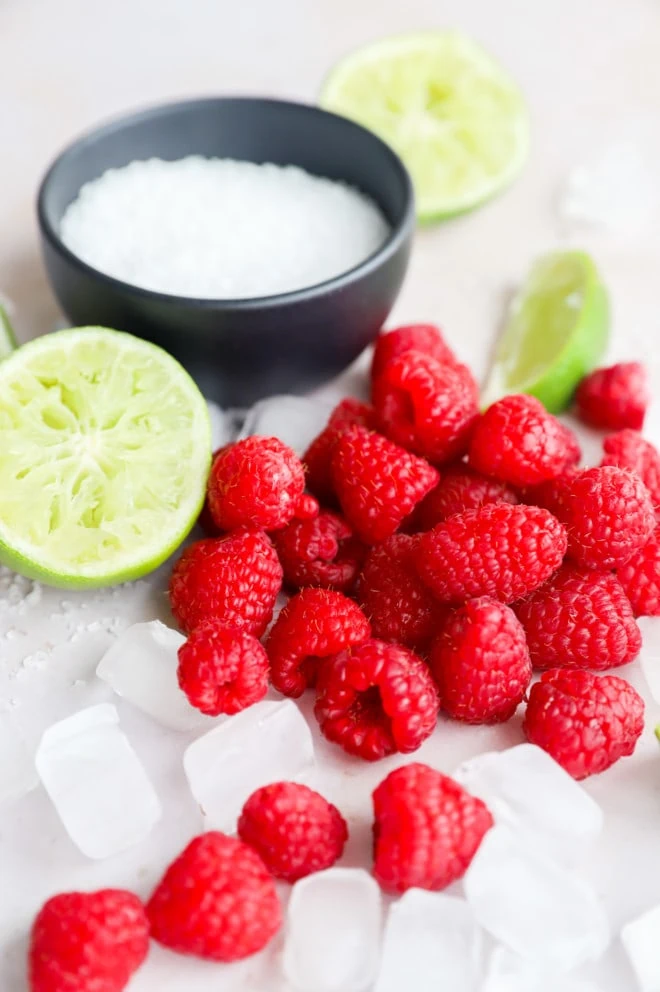 ingredients
raspberries. I highly recommend using fresh raspberries! You can use frozen raspberries (see the FAQs for how to use them), but I recommend using fresh because that's the way to get the best flavor out of this margarita. The fresh berries are simply a must.
lime juice. Fresh lime juice is best, in my opinion!
tequila. I prefer using a blanco or silver tequila. It's clear and colorless, making it ideal for this punch. My personal favorites are a mid-range price point like El Jimador or Dobel. You can use something more top shelf if you prefer like Patron.
simple syrup. You can pick this up at your local store (liquor or grocery!), but I prefer to just make it at home. All you need are equal parts water and sugar. I have a whole guide on how to make simple syrup on the site so you can get all your questions answered over there!
garnish. I like to garnish my margaritas with a lime wheel and a few fresh raspberries!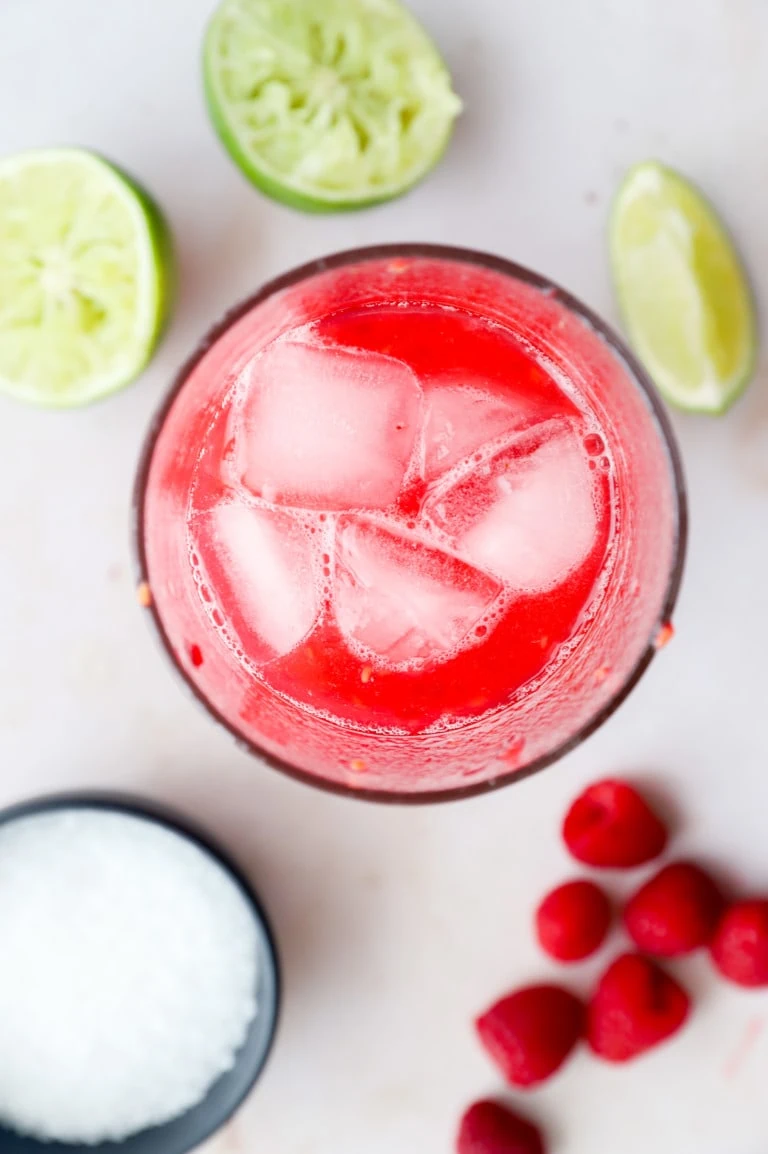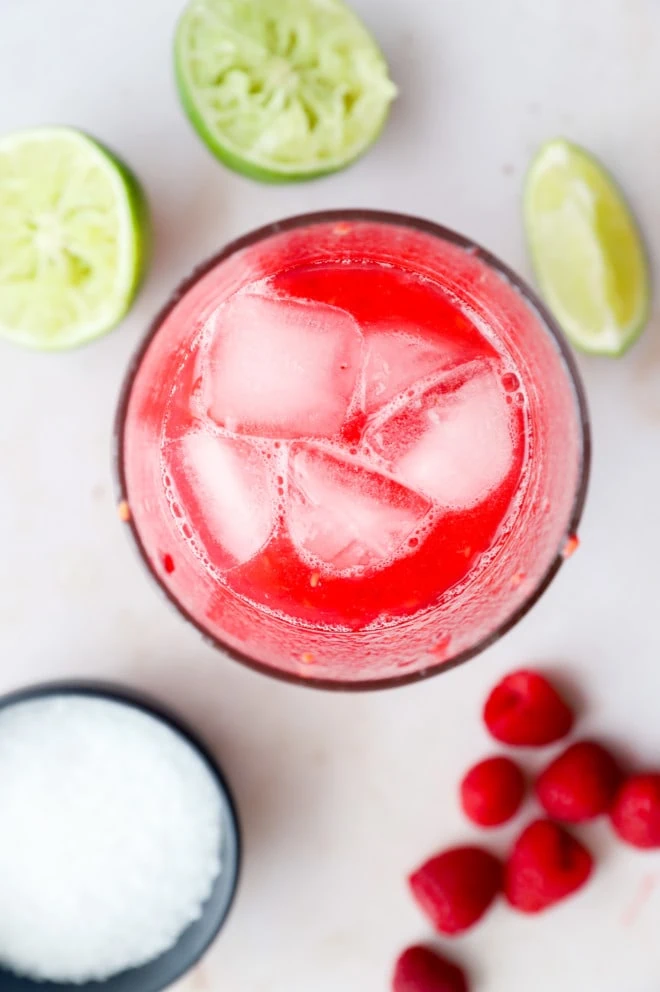 this recipe's must haves
You need the essential bar tools for this cocktail! Be sure to have your jigger, cocktail shaker, and cocktail strainer handy.
here's how to make a raspberry margarita
muddle
In the bottom of a cocktail shaker, muddle together fresh raspberries and lime.
shake
Add tequila and simple syrup. Fill shaker with ice and shake well, for about 30 seconds.
strain
Strain cocktail into a glass filled with ice. I like to rim my margarita glass with salt or sugar before making the cocktail! Garnish with a lime wheel and fresh raspberries.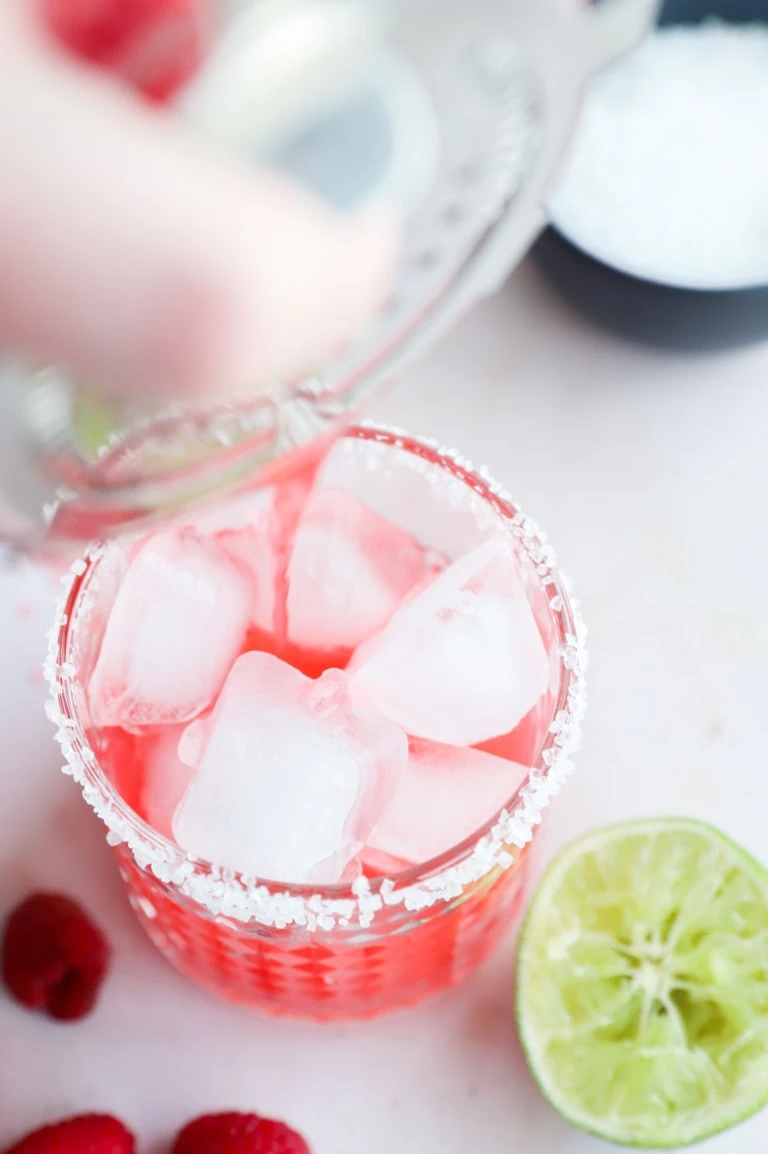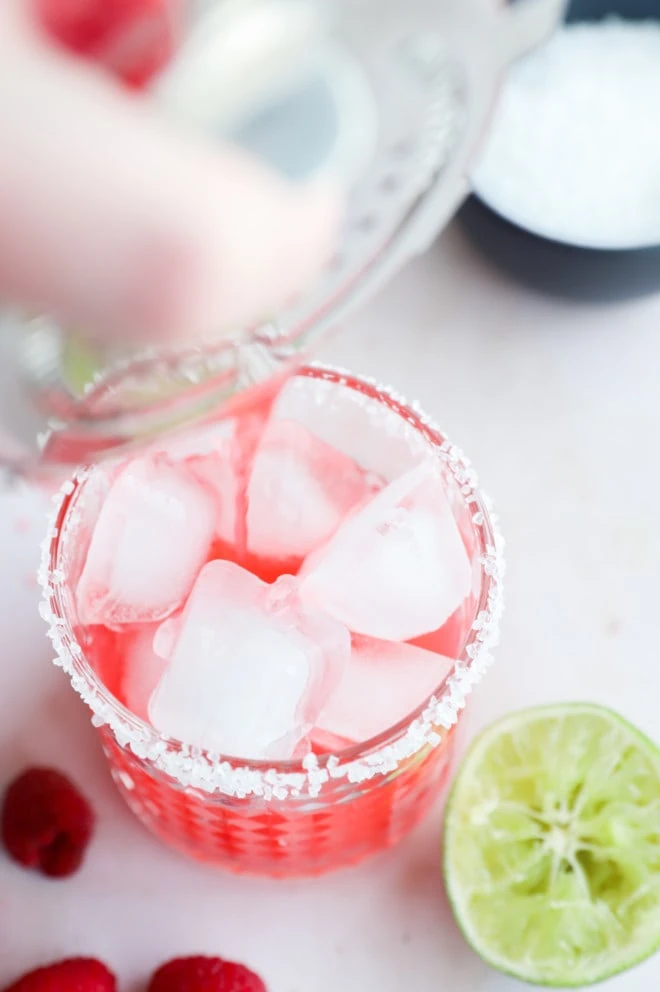 tips for success
sugar or salt. Rim the cocktail glass with sugar or salt! Simply rub the edge of a lime wedge on the outside of the cocktail glass rim. Roll in sugar or salt and enjoy!
use fresh ingredients. Fresh raspberries and fresh lime juice are a must for the best tasting margarita!
More tasty refreshing margaritas to sip on: Spicy Mango Margarita | Pomegranate Margarita | Margarita Mexican Mule | Lemon Agave Margarita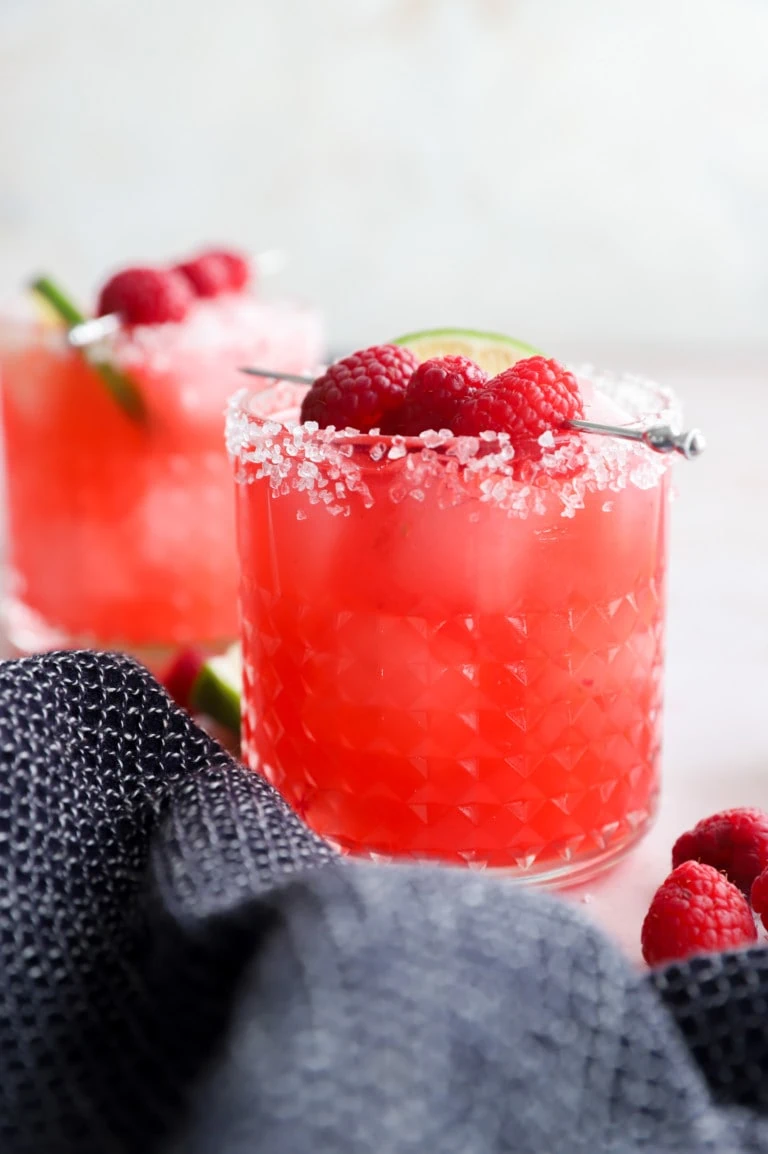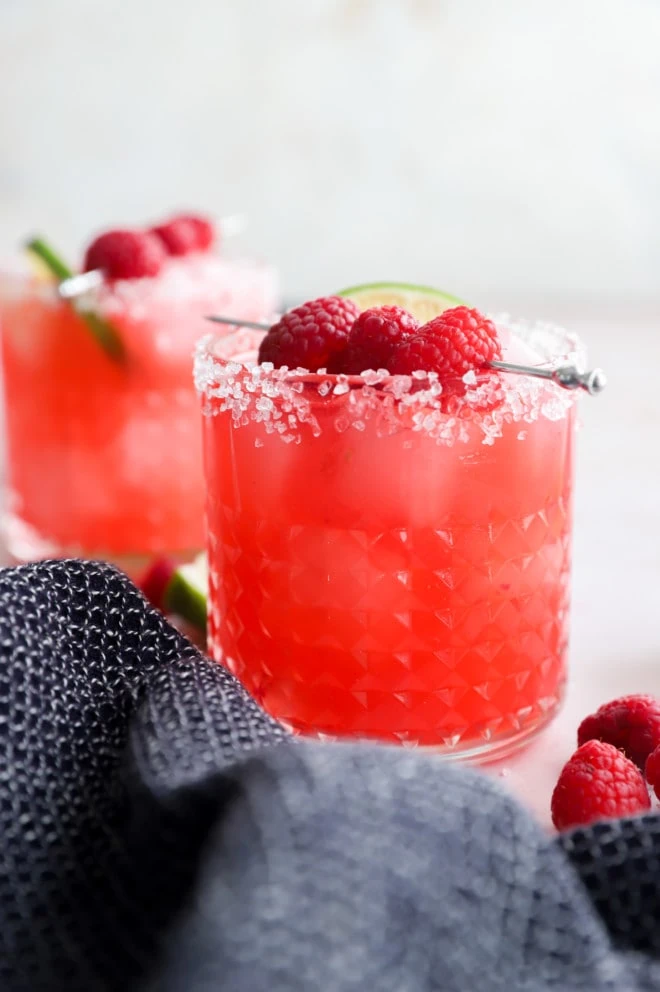 can I make this a big batch?
Making fresh raspberry margaritas for a party is always a great idea! To make this cocktail for 8 people, you will need 2 2/3 cup fresh raspberries, 1/2 cup simple syrup, 2 cups tequila, and 1 cup fresh lime juice. Muddle the raspberries and lime juice in the bottom of a pitcher. Add tequila and simple syrup, stirring to combine. At this point you can strain out the solids, if desired, or simply add ice and serve.
can I use frozen raspberries?
You can use frozen raspberries for this recipe if you are making them when raspberries are not in season. Thaw the raspberries first and strain out any excess liquid before using them in the cocktail.
Need more inspiration for cocktail hour? Check out my booze recipes page!
what to serve with this fresh raspberry margarita
What goes better with margaritas than tacos? Nothing, in my book! Here's some taco recipes to get those taste buds tingling: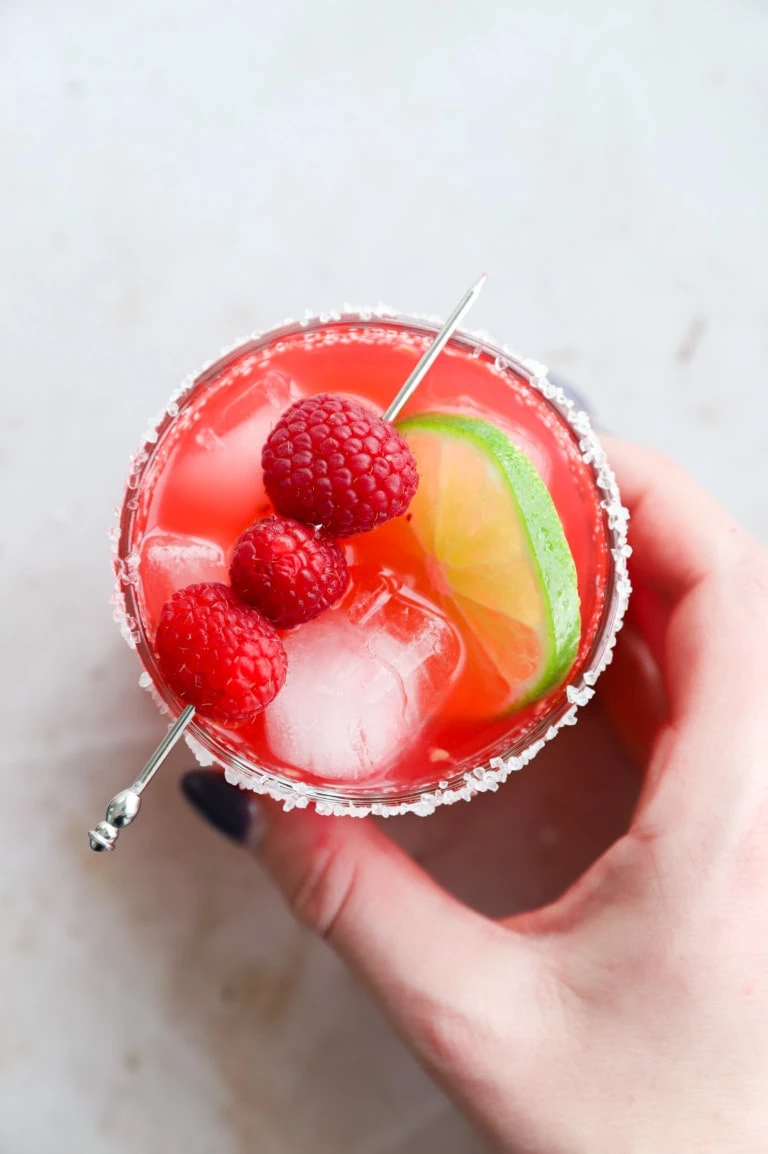 If you are planning to make a big batch of this margarita recipe for a gathering…
I've got plenty of party bites to serve alongside it! Here's some of my personal favorites to serve with any kind of margarita: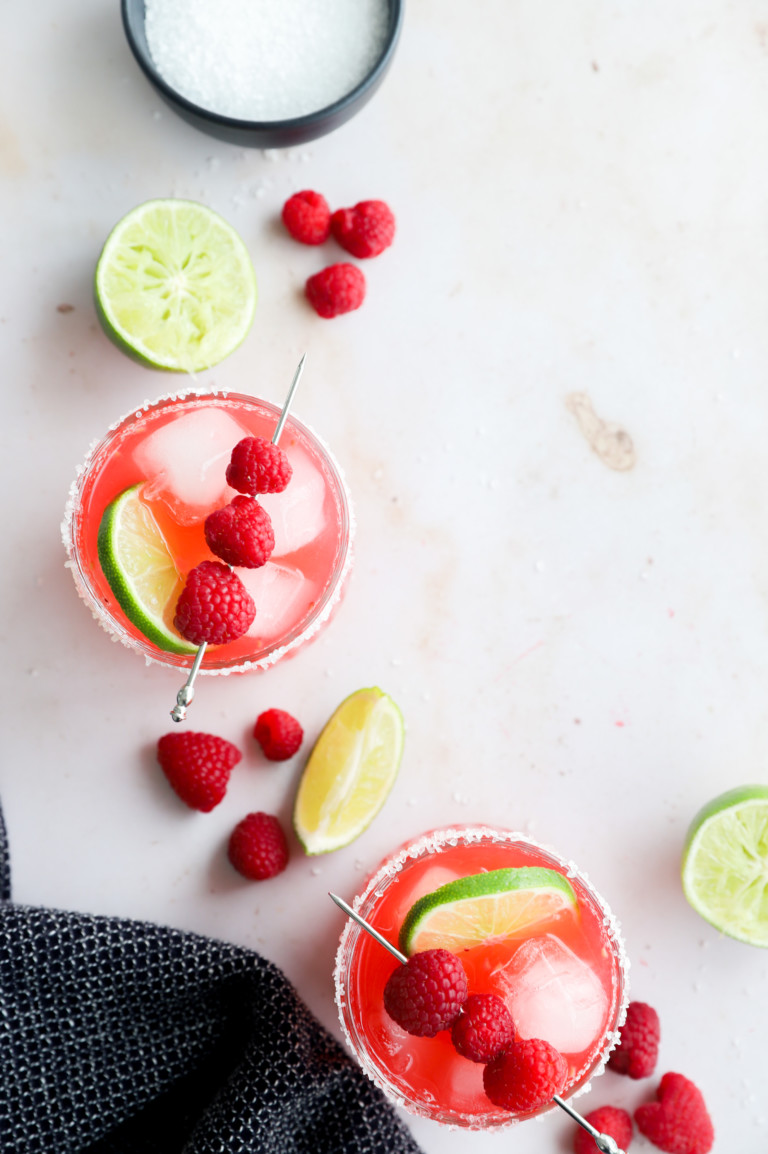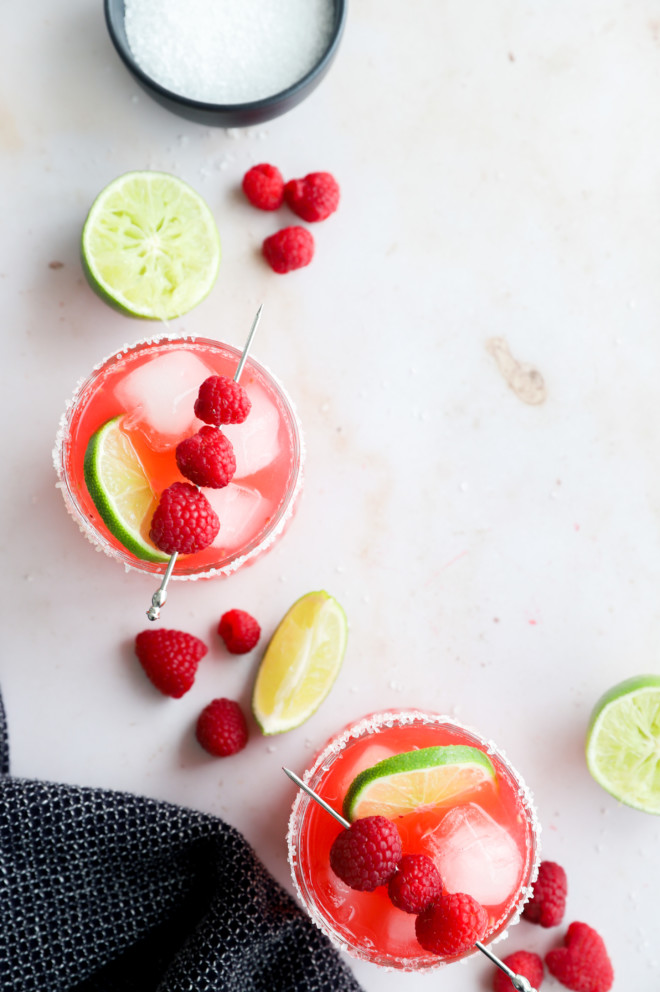 Finally, if you make this raspberry margarita recipe, please be sure to give this recipe a rating or leave a comment! I love to hear when you all make recipes, and I do take the time to respond to every single comment. Feel free to drop questions below too, if you have them!
Oh and be sure to tag me on Instagram if you make the recipe! I love being able to see these recipes come to life in your homes – it's my favorite thing to look through those photos. It really means the world to me!
Raspberry Margarita
A fresh and fruity margarita that isn't too sweet!
Ingredients
Lime wedge cut with a slit in the center, for salted rim
Coarse sea salt for salted rim
Coarse sugar for sugar rim
1/3 cup fresh raspberries
1 oz fresh lime juice (about 1 lime)
1/2 ounce simple syrup, homemade or store-bought
2 ounces tequila (reposado or blanco will work for this recipe!)
Ice
Garnish: lime wheel, fresh raspberries
Instructions
Rub the lime wedge around the edge of the cocktail glass. Roll the cocktail glass rim in salt or sugar, depending on your preference.
In the bottom of a cocktail shaker, muddle raspberries and lime juice together.
Add tequila and simple syrup. Fill the shaker with ice.
Shake well, about 30 seconds, until thoroughly chilled.
Strain cocktail into the rimmed glass filled with ice.
Garnish with a lime wheel and fresh raspberries.
Recommended Products
As an Amazon Associate and member of other affiliate programs, I earn from qualifying purchases.