Spicy Lasagna Dip is packed with spicy Italian sausage, roasted tomatoes, fresh herbs and all the cheese your heart could ever want. This easy dip comes together in only a few steps and tastes just like lasagna, but made in SO much less time. You won't even miss the noodles once you take that first gooey bite!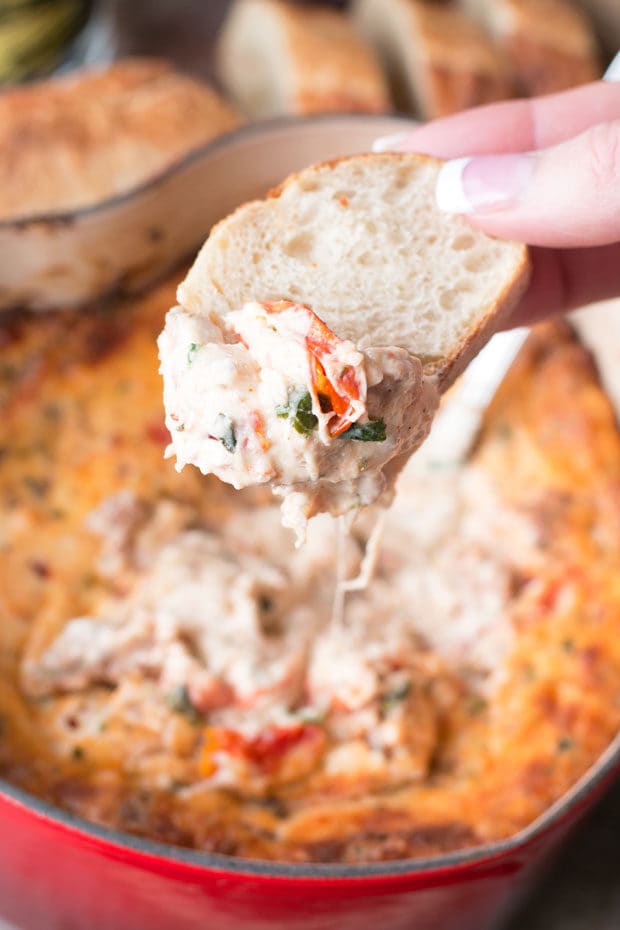 I can't believe it's February. We are officially three days into the second month of 2017… Where did January go?!
I officially have been to the gym once (yes, once) and I am making no traction on this whole "I'm going to keep the house somewhat picked up" thing.
So much for New Year's resolutions, am I right?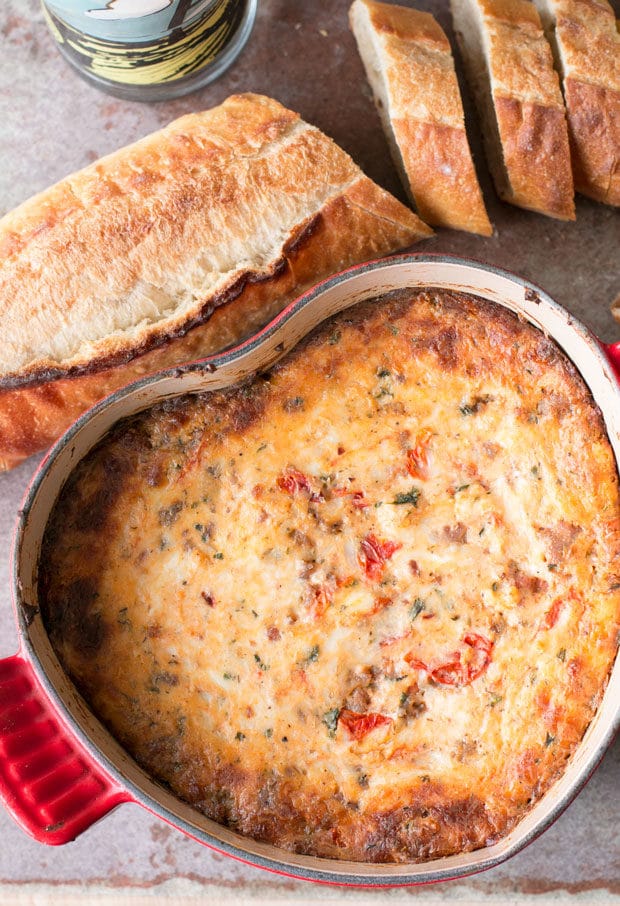 At least there's one more football game this weekend (another thing I can't believe is coming to a close as well…). You all know I wouldn't leave you high and dry without at least one more recipe to bust out while you are watching the game this Sunday (or, erm, the commercials… yea that'll be me because I am not really a fan of either team this year)!
Nothing beats an ooey-gooey cheesy dip when you're watching football. Dipping bread into cheese and thus offsetting the massive amounts of beers that will be consumed is pretty vital to my happiness for Sunday football.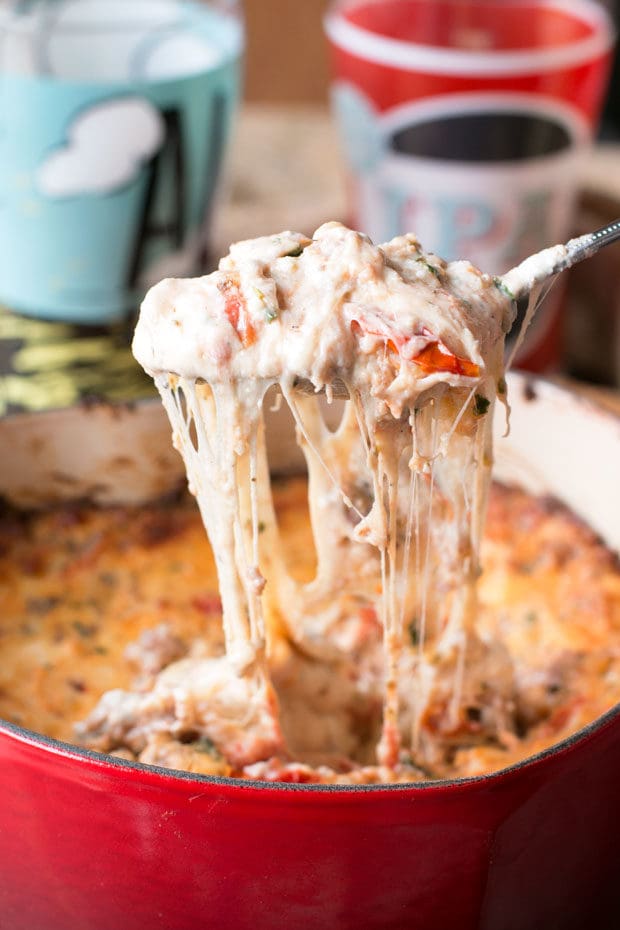 I figure since this is the last game of the season, it's time to go BIG or go home. Say hellooooooooo to the cheesy mess of deliciousness that everyone is going to be clambering to load up on at your party this weekend…
Just look at all that cheeeeeeeeeeeeeeese.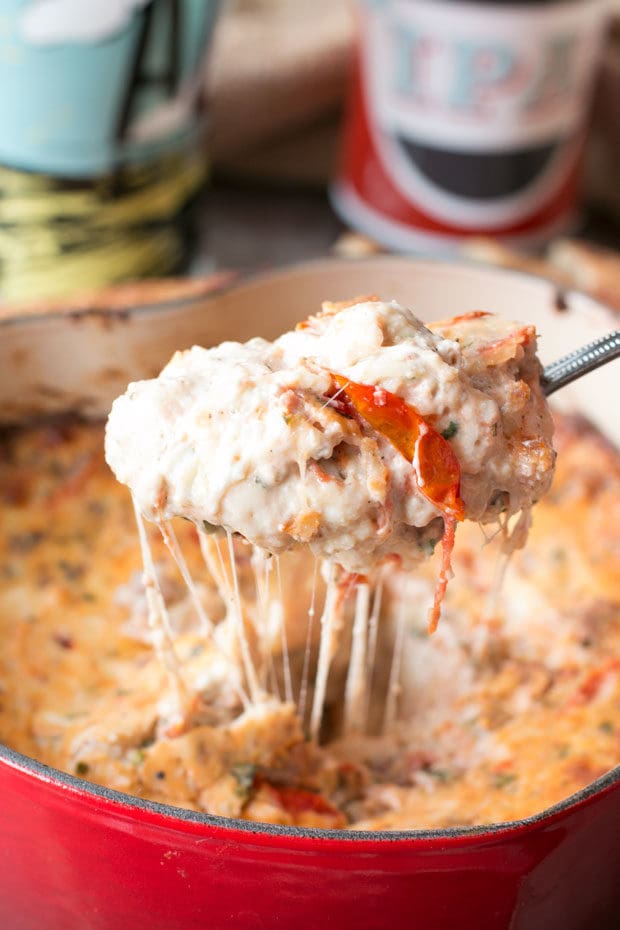 GAH, I have so many heart eyes for this dip. It's got everything you love about lasagna – the meat, the roasted tomatoes, the cheese – plus so many fresh Italian herbs and a spicy kick to top the whole thing off with. It's stupid simple to make and you can just keep it warm in the oven until the festivities begin. Despite the massive amounts of cheese in the dip, the flavors of each ingredient really come through so you feel like you are floating on an Italian cloud of cheese, herbs and meat with every bite.
The dip pairs perfectly with just about any beer out there (though I suggest pairing it with my Chile Beer Sangria because #whynot)!
Get ready to dive into a cheese-filled heaven. Grab a slice of bread and join me already, won't you?
1…. 2…. 3…. DIP!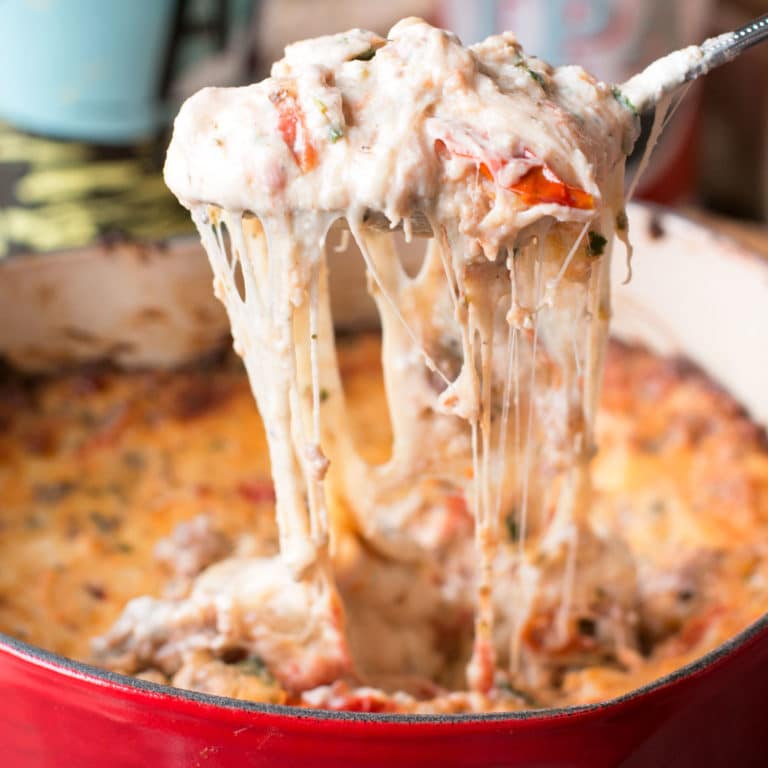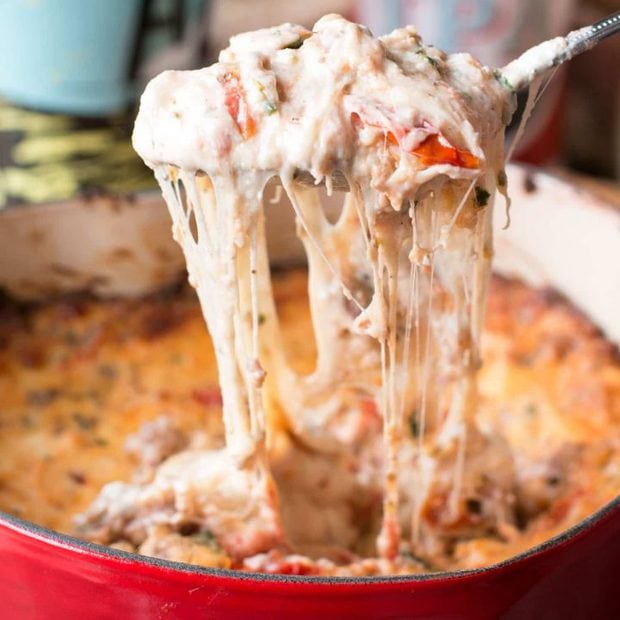 Spicy Lasagna Dip
You won't even miss the noodles once you dive into this cheesy, meaty and herb-packed dip!
Ingredients
6 oz spicy Italian sausage, cooked and crumbled
10 oz cherry tomatoes
2 Tbsp olive oil
11 oz mozzarella cheese, shredded
8 oz provolone cheese, shredded
1/4 cup freshly grated parmesan cheese
12 oz cream cheese
4 oz ricotta cheese
2 cloves garlic, minced
1 Tbsp oregano
1/4 cup fresh basil, chopped
1/2 tsp onion powder
1/2 tsp red pepper flakes
1/2 tsp black pepper
1/4 tsp salt
Instructions
Preheat oven to 400 degrees.
Cut tomatoes in half and add to the baking sheet. Drizzle tomatoes with olive oil. Place baking sheet in oven and roast the tomatoes for 20-25 minutes, until the tomatoes burst. Remove from oven and set aside.
Combine 8 oz of the mozzarella with all of the provolone, parmesan, ricotta, and cream cheese in a medium bowl. Add the garlic, oregano, basil, onion powder, red pepper flakes, salt, pepper, and roasted tomatoes to the bowl of cheeses. Stir to combine.
Lightly butter an oven safe dish that holds approximately 1 quart.
Add the cheese mixture to the oven safe dish and sprinkle with the remaining mozzarella cheese.
Bake for 30 minutes until the top is golden and the dip is bubbling.
Serve immediately with toasted bread or chips.
Pin this Spicy Lasagna Dip recipe for later!