Please note this post contains affiliate links.
A Cranberry Mimosa (also know as a poinsettia cocktail) is a festive take on mimosas with a cranberry twist. With just three ingredients, they are ready in less than 5 minutes! Perfect for serving at any holiday gathering from Thanksgiving to Christmas to New Year's Day brunch.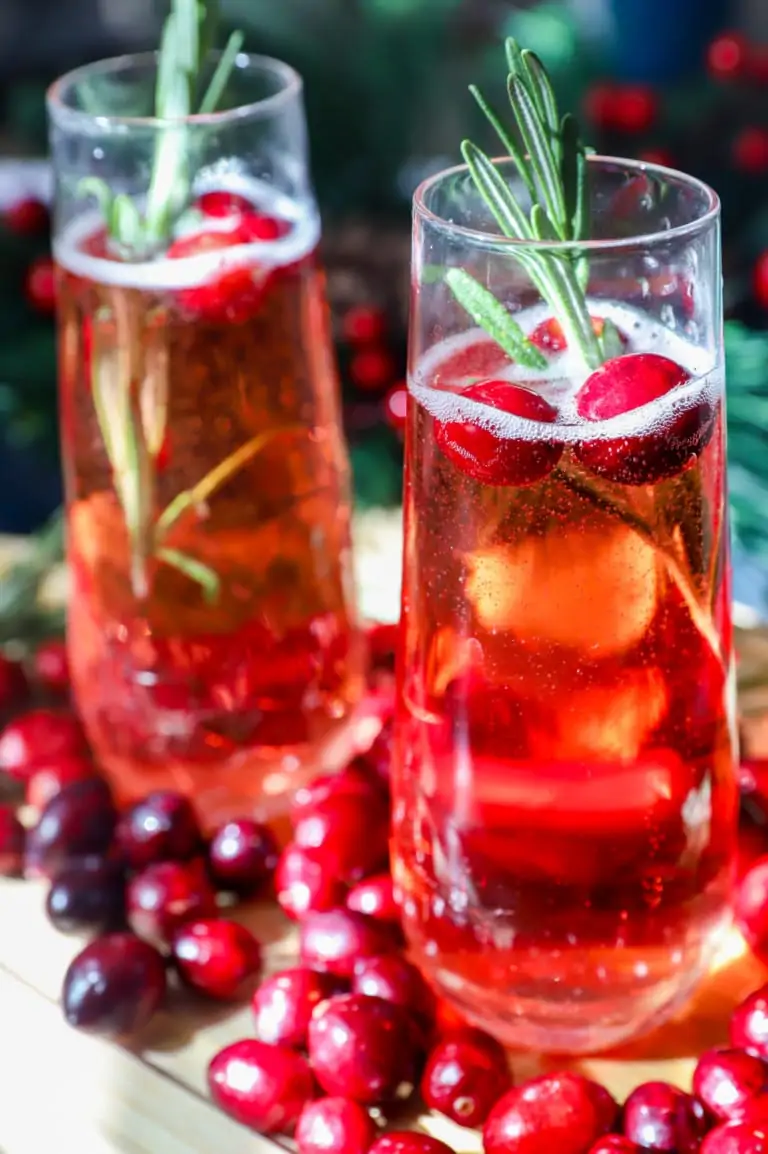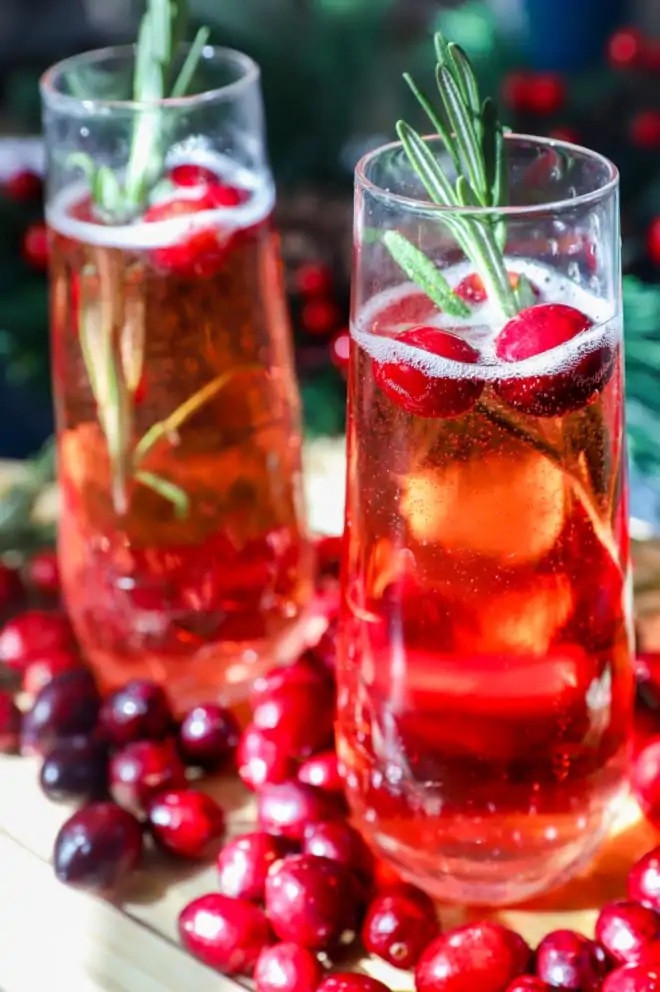 about this cranberry mimosa
I love a good holiday mimosa, don't you?
There's something about cranberries that just screams holiday season to me, so from Thanksgiving straight through the New Year, I am busting out this cranberry mimosa whenever I can.
When you want to kick off the day on the right foot, this cranberry mimosa is where it's at. The vibrant color with a festive garnish pulls you in visually right away. With the smell of rosemary as you bring the cocktail to your lips, you will immediately be pulled in!
It takes less than a couple minutes to whip up, and it's ideal for all your holiday breakfasts, brunches, and gatherings.
The bright red color, the tartness, the touch of sweetness, and the bubbles all make this a memorable cocktail!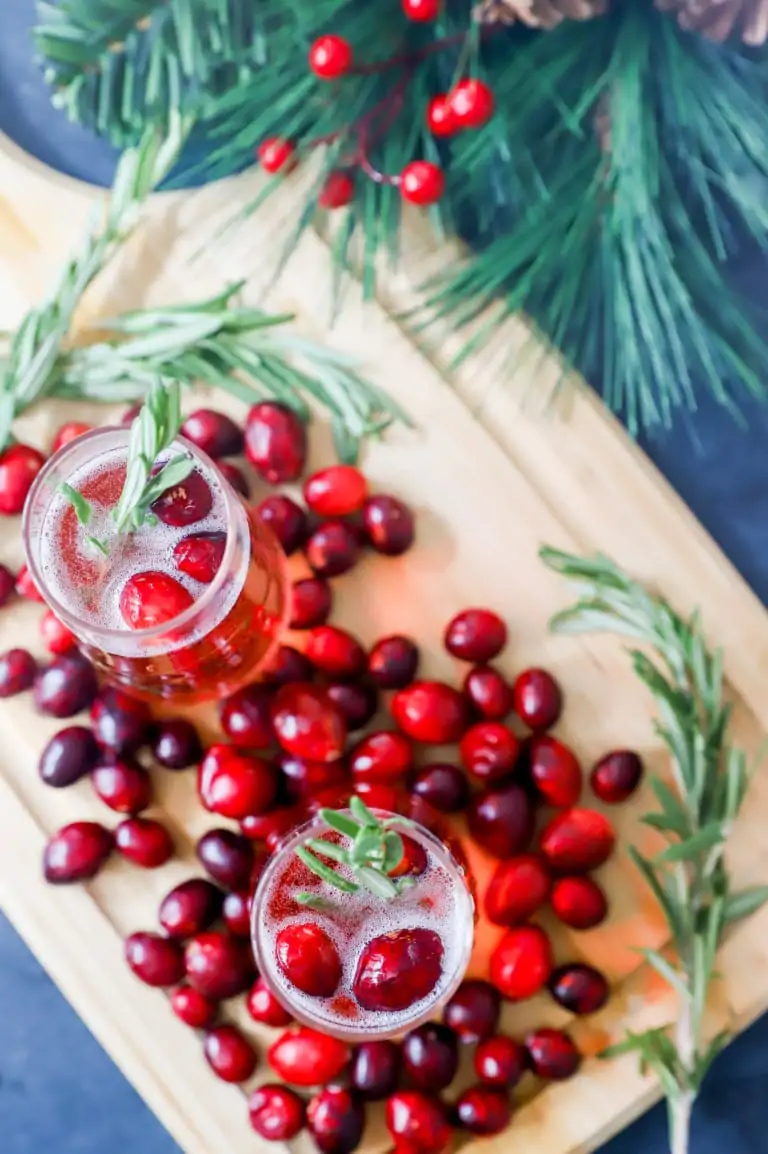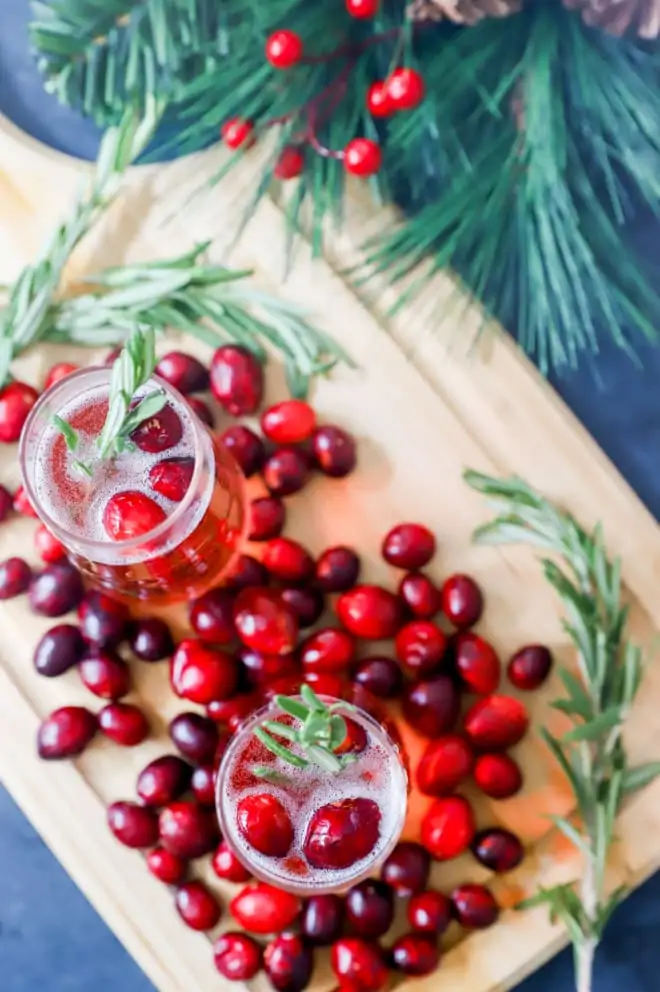 ingredients
cranberry juice. Make sure that you choose 100% cranberry juice instead of cranberry juice cocktail. Pure cranberry juice is tart, while cranberry juice cocktail is essentially sweetened cranberry juice and will make the mimosas way too sweet.
orange liqueur. The orange liqueur gives a little added sweetness to the champagne cocktail, as well as a lovely hint of orange. Since these cranberry mimosas are only made with three ingredients, I like to use Grand Marnier or Cointreau. You can use triple sec, but I feel that the overall flavor of the cocktail is better with Grand Marnier or Cointreau.
champagne. Pick the champagne you love to drink! It's one of the stars of the drink, so make sure it's one you like to drink on its own.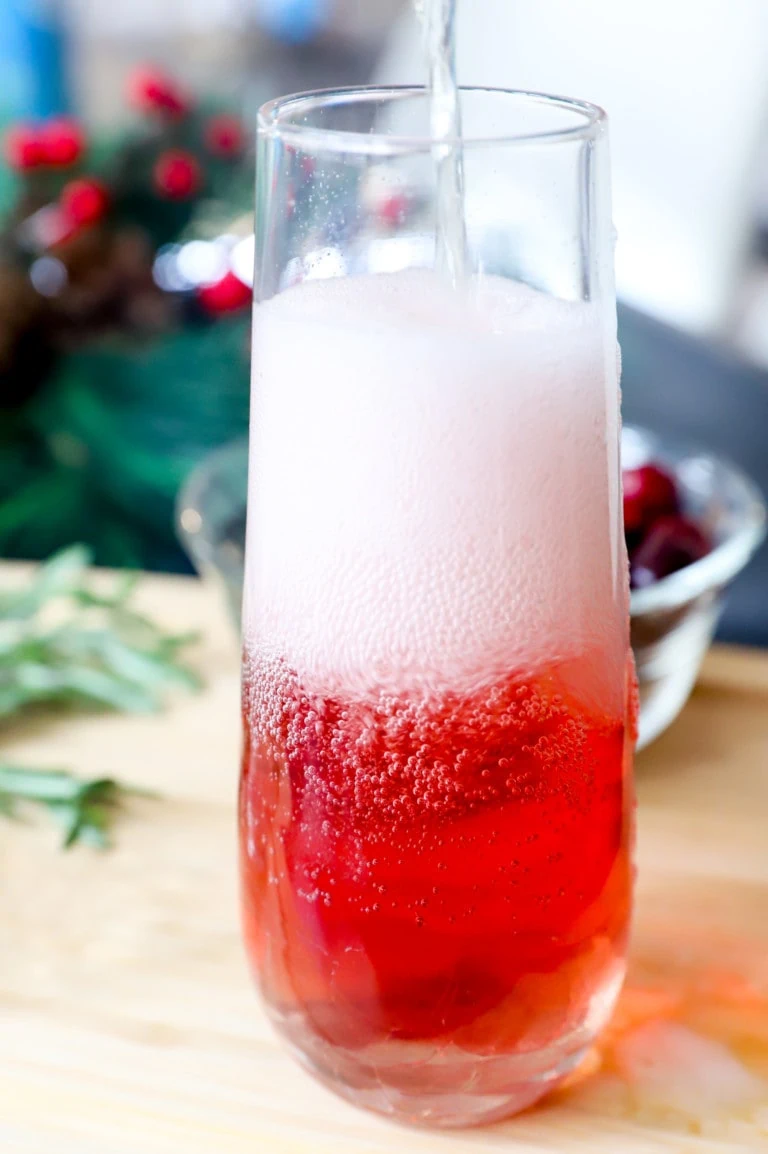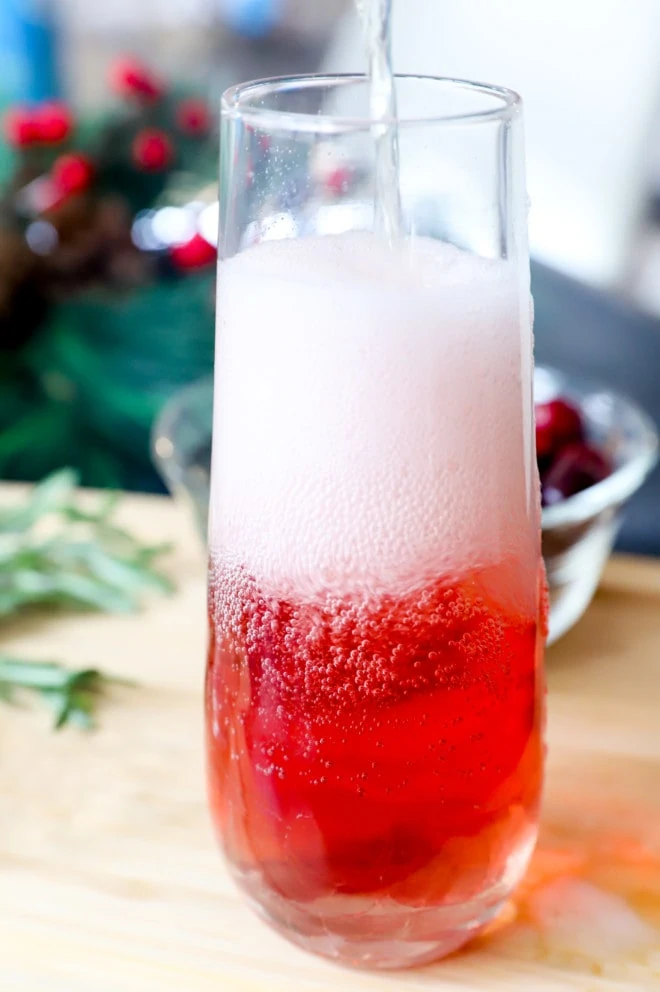 this recipe's must haves
To assemble this cocktail, I like to use this nesting measuring beaker set to measure out the ingredients.
I love the look of stemless champagne flutes, but any champagne flutes will work!
here's how to make a cranberry mimosa
chill ingredients
Be sure to chill your champagne and cranberry juice before you assemble these cocktails!
assemble
Fill a champagne flute 1/3 of the way full with cranberry juice. Top off with 1 Tbsp Grand Marnier and fill the remainder of the glass with champagne.
Garnish with rosemary sprigs and fresh cranberries for a festive look!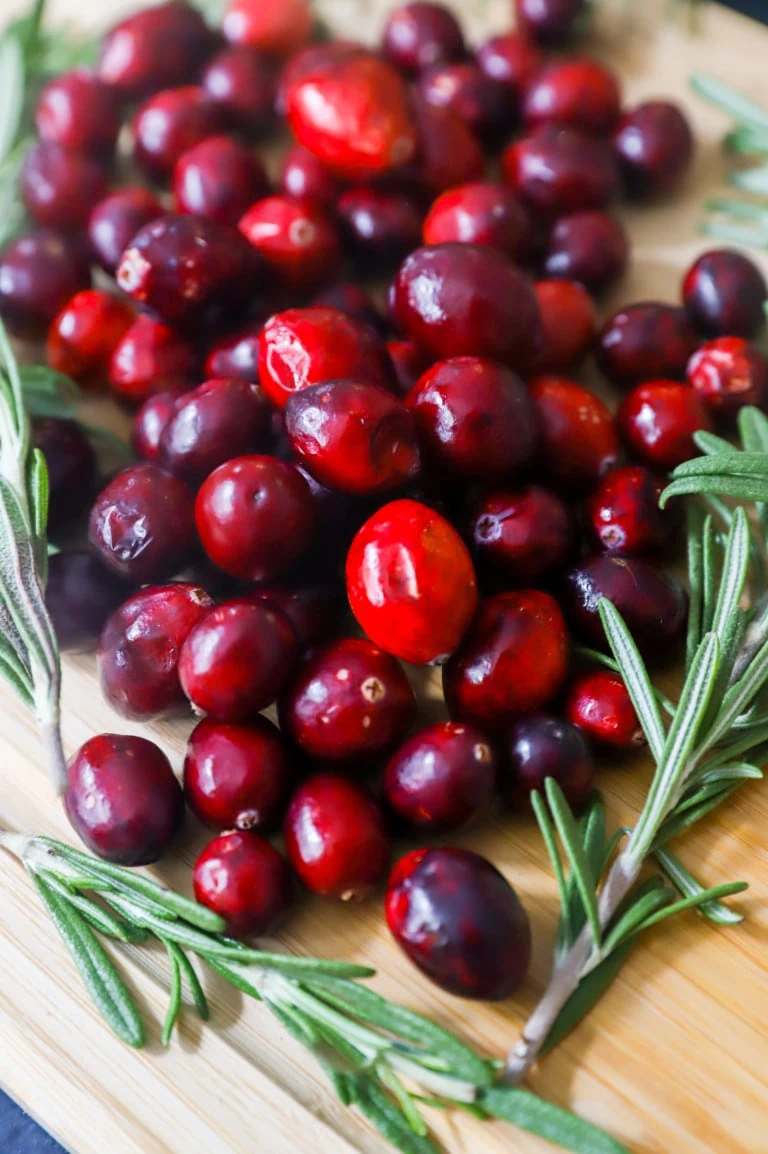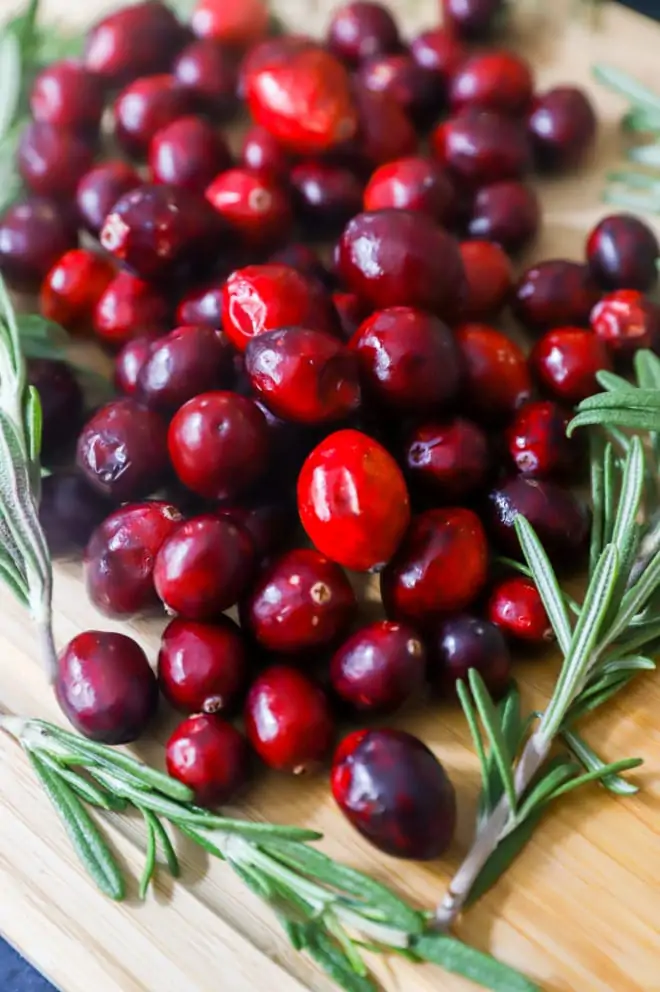 tips for success
chill the ingredients. Chill your cranberry juice and champagne (or sparkling wine) in the refrigerator before making these cranberry mimosas! It's much better when it's cold.
serve in champagne flutes. Did you know champagne flutes are designed to retain bubbles? Since you don't want to worry about these drinks going flat, opt for the flutes! If you don't have any and don't want to invest in glass ones, you can opt to buy disposable ones.
garnish. Don't skip the garnish! It's what gives the cocktail a little extra something, and I think the rosemary sprig and fresh cranberries are just perfect for the holiday season.
More holiday cocktails to choose from: Christmas Sangria | Sparkling Thanksgiving Cocktail | Cranberry Orange Moscow Mule | Cranberry Spice Sparkler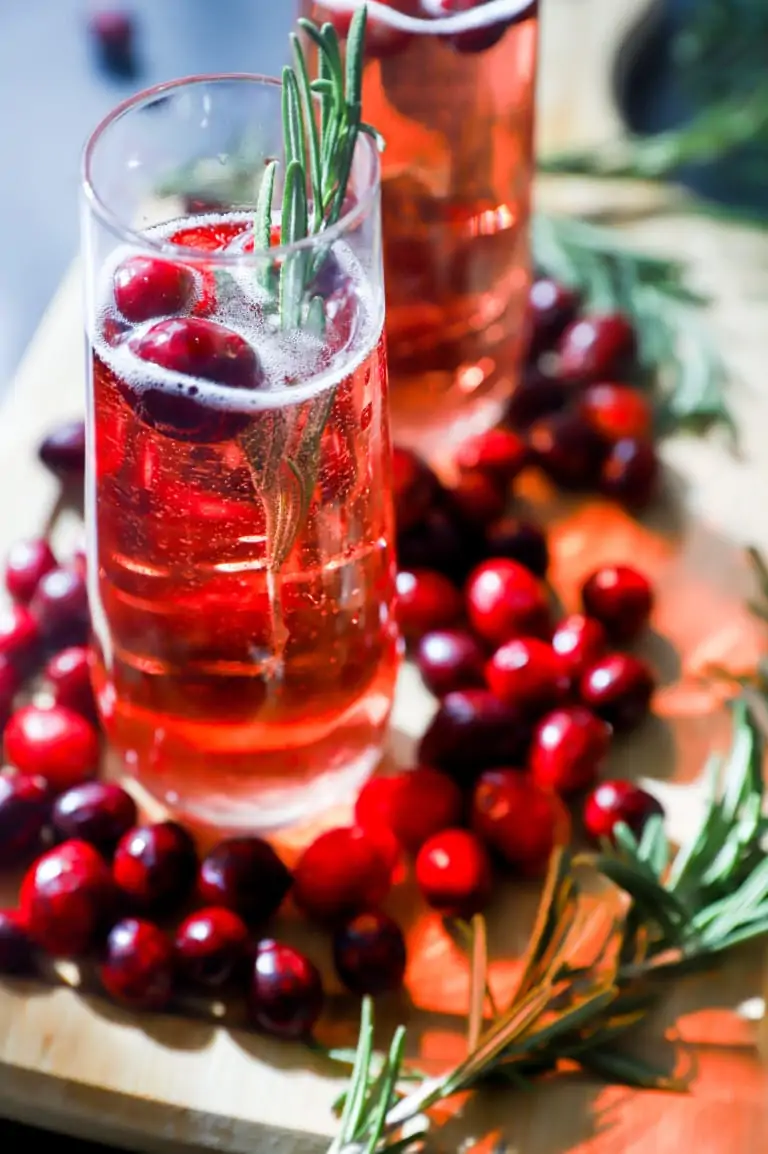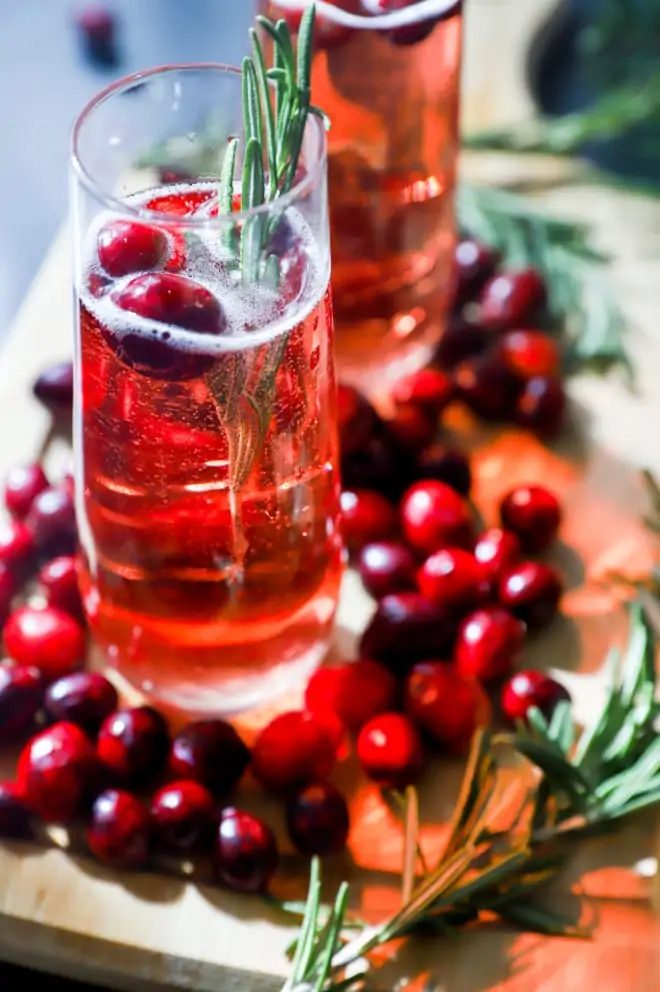 can I use prosecco instead of champagne?
Yes, you can! I personally like to use a brut champagne, because I don't like my drinks too sweet. However, if you like your cocktails on the sweeter side, definitely use prosecco!
how do I make this for a crowd?
The good thing is, the recipe below is made for a crowd! You can either assemble them as noted on an individual basis in the recipe, or make a big pitcher. If you are making it in a pitcher, combine all three ingredients (after chilling first!), and serve with garnish. The recipe listed below serves 8, but it can easily be doubled or tripled.
can I make a cranberry mimosa ahead of time?
I do not recommend making them ahead of time. Since the primary ingredient in this drink recipe is bubbly champagne, you will want to make these to serve immediately!
what's the best way to garnish this cranberry mimosa?
A sprig of rosemary and fresh cranberries! You can even use frozen cranberries if that's what you have on hand. To me, garnish for cocktails doesn't have to be fussy or costly. It should be as simple as this!
Need some more inspiration for cocktail hour? Check out my cocktails recipe page!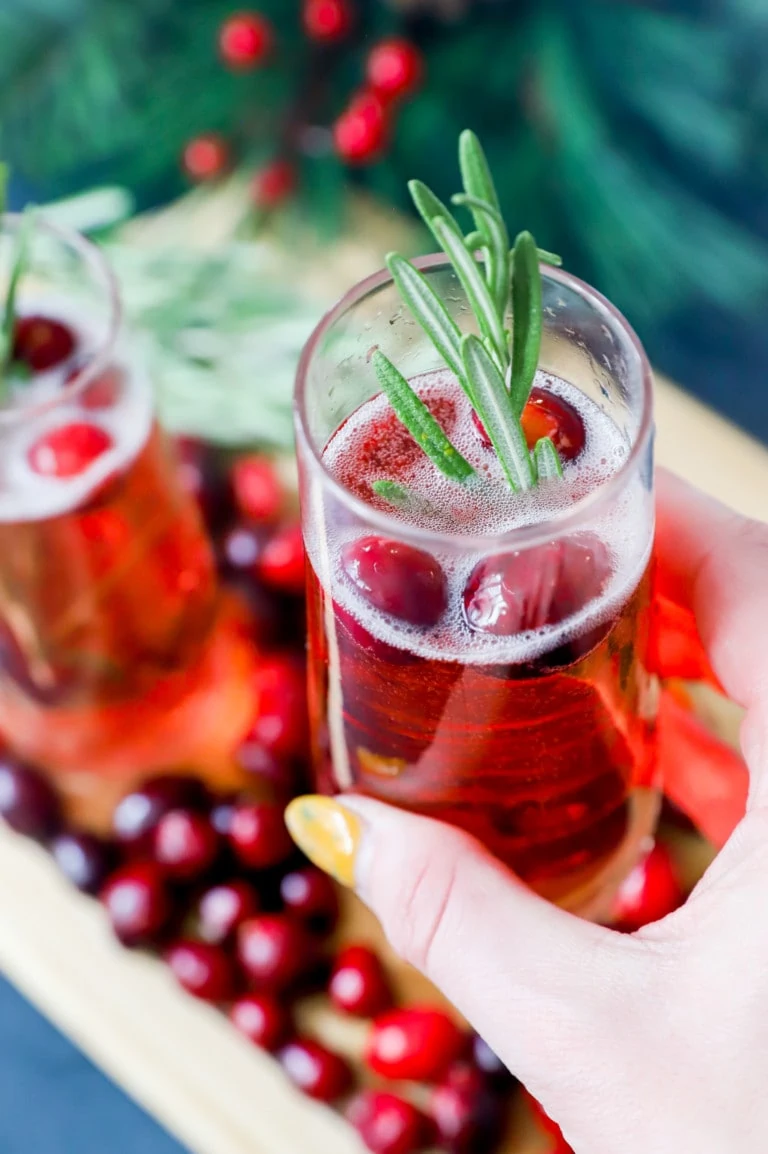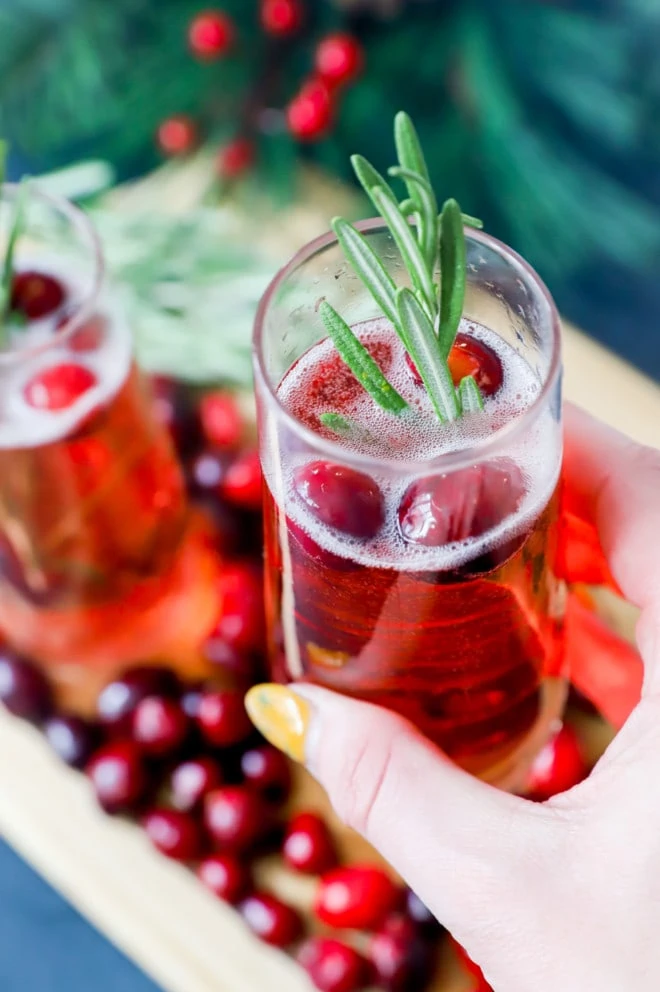 what to serve with a cranberry mimosa
These cranberry mimosas go with any seasonal recipes you have planned this fall and winter! To me, mimosas are best enjoyed in the morning with breakfast or brunch. So here's my favorite holiday recipes to bust out:
If you are planning to serve this for a party, I have some savory bites that are ideal for serving a crowd. Here's some of my favorites below:
Don't forget to check out the full list of Christmas cocktails and drinks (including nonalcoholic options!) too!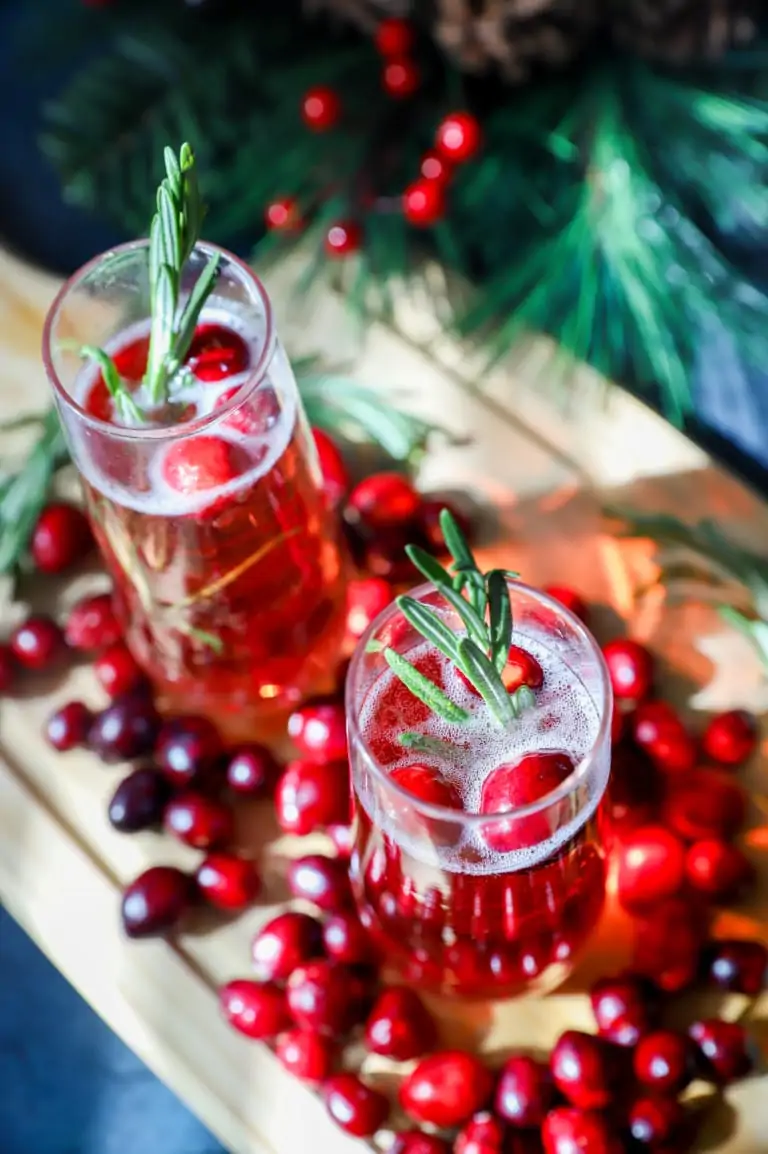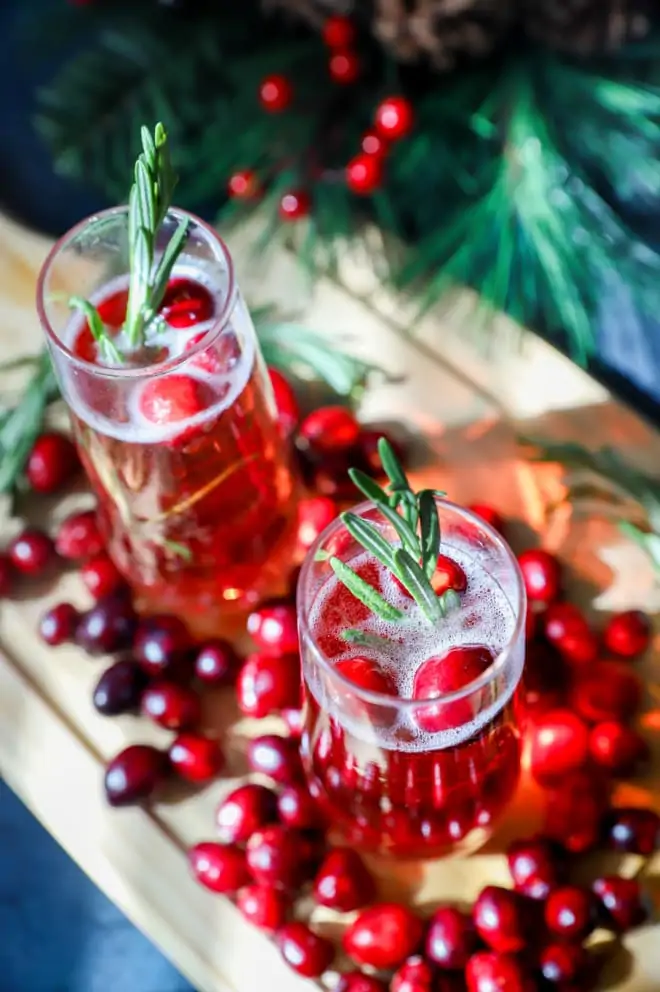 Finally, if you make this cranberry mimosa recipe, please be sure to give this recipe a rating or leave a comment! I love to hear when you all make recipes, and I do take the time to respond to every single comment. Feel free to drop questions below too, if you have them!
Oh and be sure to tag me on Instagram if you make the recipe! I love being able to see these recipes come to life in your homes – it's my favorite thing to look through those photos. It really means the world to me!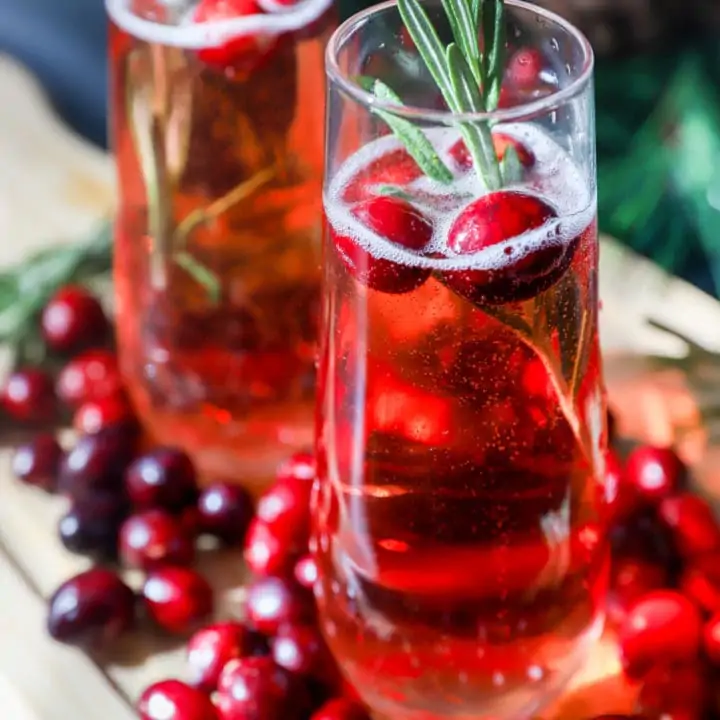 Cranberry Mimosa
Tart, bubbly, and a hint of orange make this festive champagne cocktail perfect for any gathering!
Ingredients
1 1/2 cups 100% cranberry juice, chilled
1/4 cup Grand Marnier
1 750ml bottle of chilled brut champagne
Garnish: fresh cranberries, rosemary sprigs
Instructions
Fill a champagne flute 1/3 of the way full with cranberry juice.
Top with 1 Tbsp Grand Marnier and fill the remainder of the glass with champagne.
Garnish with fresh or frozen cranberries and rosemary sprigs.
Notes
To make this as a big batch, combine all three ingredients in a large pitcher. Serve immediately and garnish each individual glass!
Recommended Products
As an Amazon Associate and member of other affiliate programs, I earn from qualifying purchases.