A Pomegranate Margarita is the summer cocktail you've been craving lately. It's got a vibrant, fruity flavor with just a touch of sweetness and acidity to keep you coming back, sip after sip.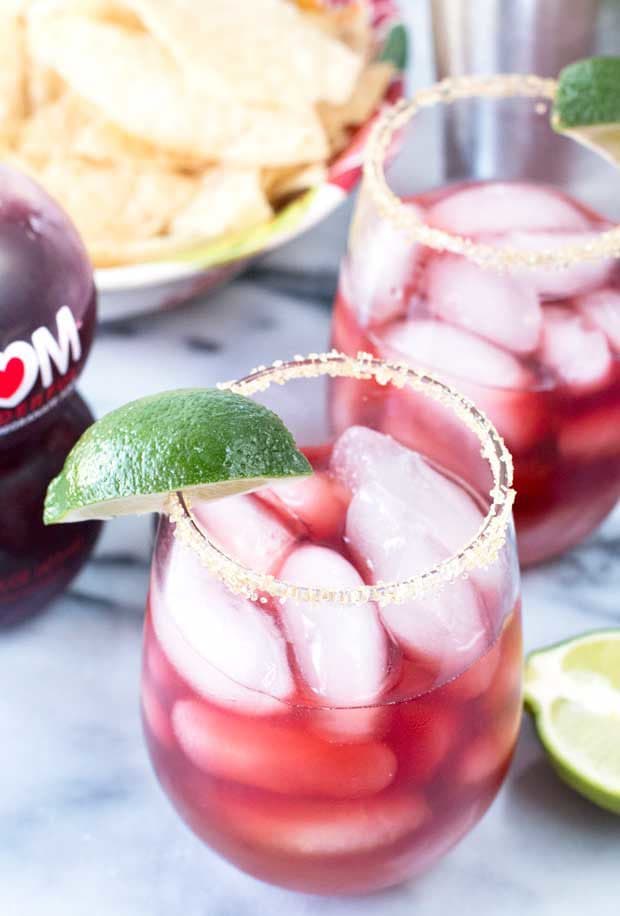 It's Cinco de Mayo! AKA another reason for you to get together with your friends on a patio somewhere, enjoy the sun, indulge in too much Mexican food, and down a couple of these gorgeous pomegranate margaritas, right.
Growing up in good ol' CO made me super familiar with Mexican food and drinks (not the alcoholic ones until I was 21, I swear…). I used to crave BBQ when I lived in KC as a kid, but as soon as I got about a decade in Denver under my belt, my go-to comfort food is Mexican. Smothered burritos, chips and guacamole (you all KNOW how I feel about guacamole), tacos – I love it all. Not much can make my love for Mexican food better, except for a realllllllllly good margarita.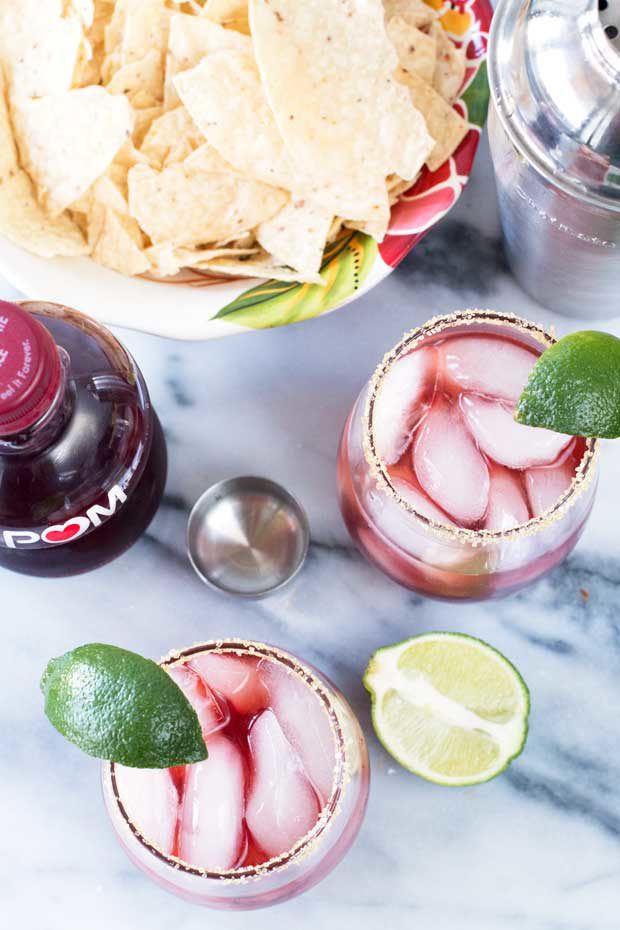 Let me be clear, though. I prefer margaritas on the rocks, no matter what flavor they may be. Since I am prone to being clumsy and perpetually thirsty, brain freezes happy to often for me to suck down frozen margaritas on a regular basis.
Fine, laugh if you must. I'll wait…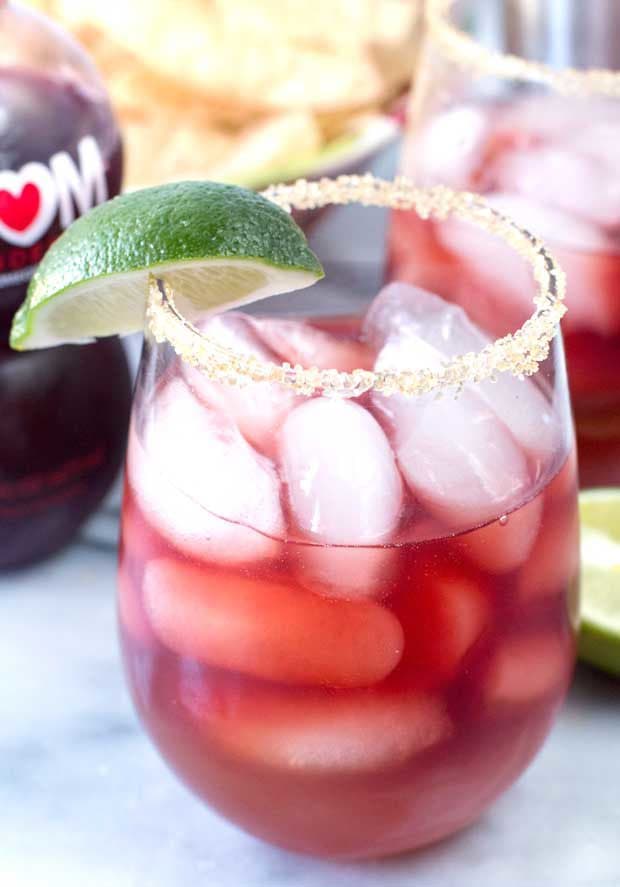 Are you quite finished now? Return your attention to this margarita already (read: HI! Here's a pretty distraction from Meghan's crazy!).
I love the balance of bright and fruity flavors in this margarita. It isn't too tart, but it isn't cloyingly sweet so it won't give you a wicked hangover the next day. This margarita is colorful and vibrant, so it'll boost any food that's already gracing your table tonight.
PLUS I made them nice a strong with an extra punch of Pama, so you don't need to worry about these cocktails being too weak (really, is that ever a concern with my cocktail recipes though?). This recipe even gives you a reason to practice your "shaker face". If you aren't aware of the face you're making when you shake a cocktail, time to get familiar. One day people will be watching. And judging.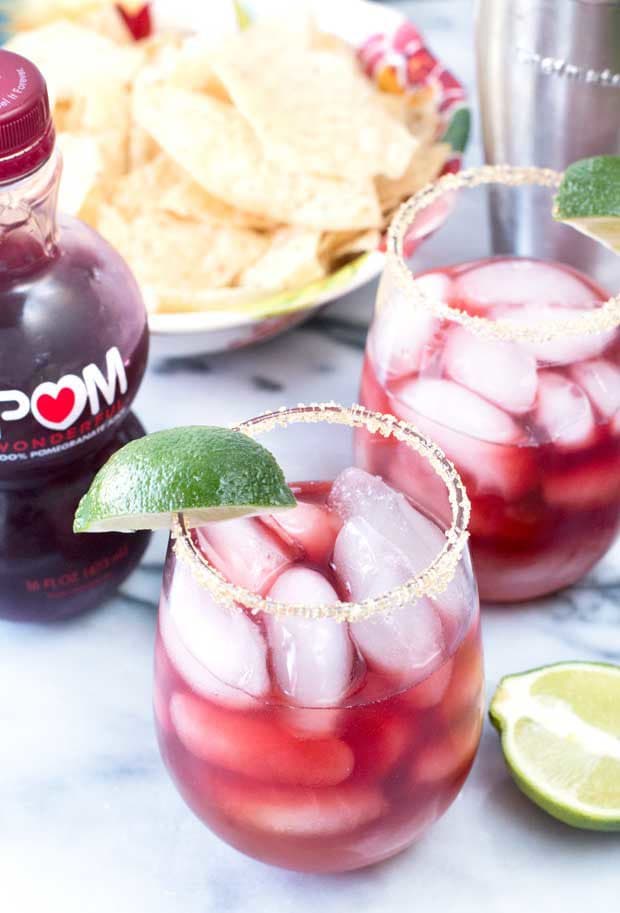 Enjoy celebrating tonight, peeps! I'm already planning to cut my day short so I can hit my favorite taco place before heading to the park with one of these pomegranate margaritas skillfully hidden in a thermos.
I swear I'm an adult…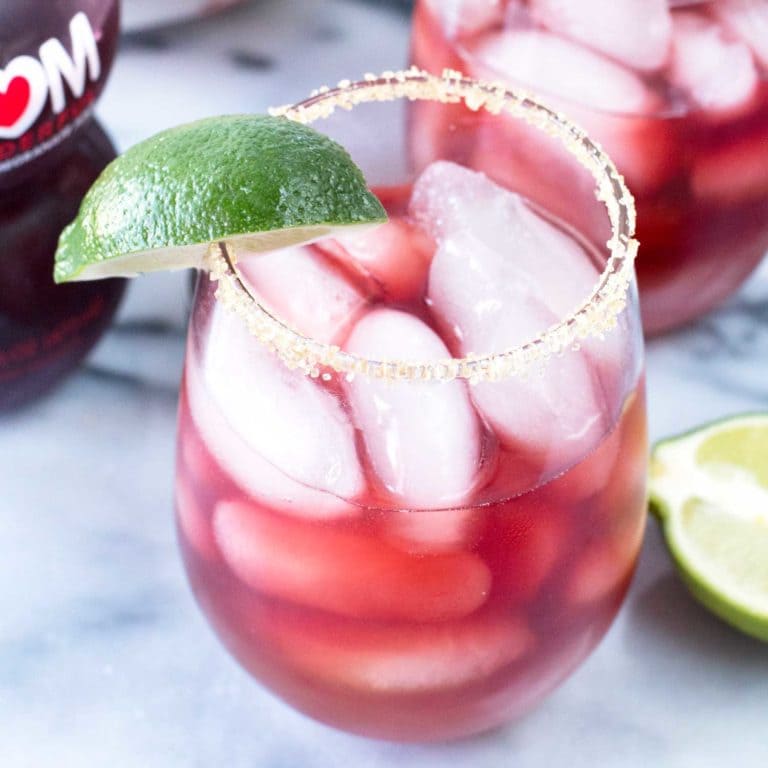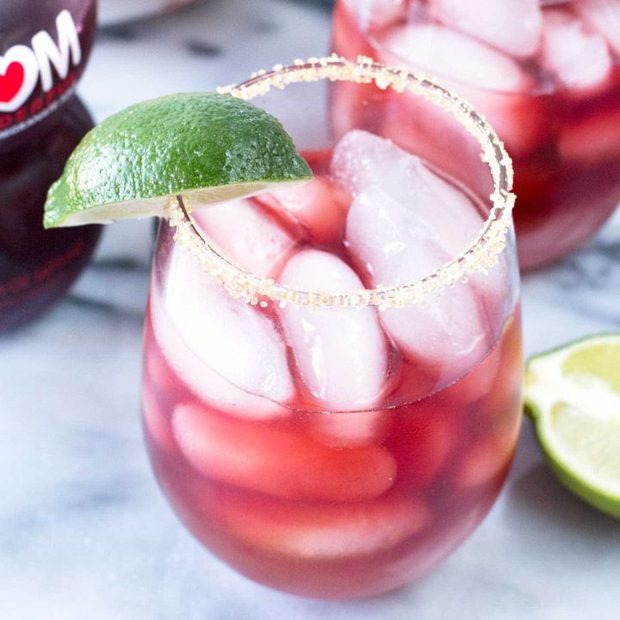 Pomegranate Margarita
Vibrant and fruity, with just a touch of sweetness.
Ingredients
1 1/2 oz tequila
1 oz triple sec
1/2 oz lime juice
2 oz pomegranate juice
1/2 oz Pama
1/2 oz agave
Turbinado sugar
Extra lime wedges for serving
Instructions
Rub the edge of a margarita or cocktail glass with a wedge of lime, then rim with turbinado sugar. Fill glass with ice
Fill a shaker with ice. Add tequila, triple sec, lime juice, pomegranate juice, Pama, and agave. Shake well.
Strain into glass and serve with lime wedge.