Please note this post contains affiliate links.
A Pomegranate Margarita is the delightfully festive cocktail you've been craving lately. It's got a vibrant, fruity flavor with just a touch of sweetness and acidity to keep you coming back, sip after sip.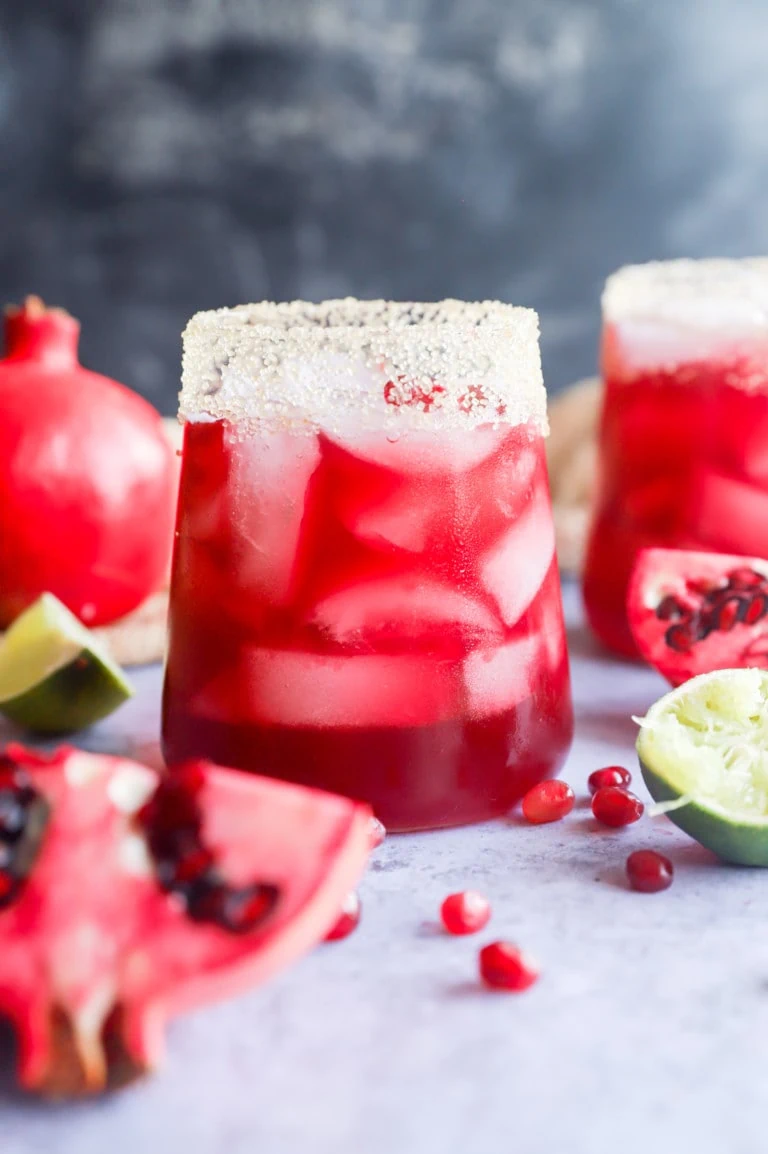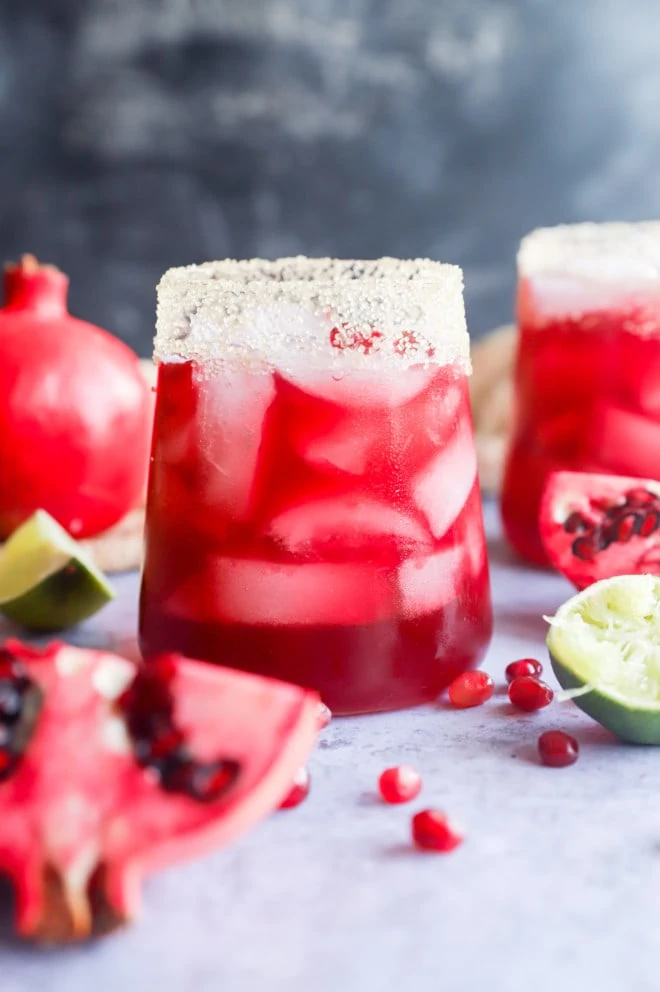 about this pomegranate margarita recipe
Who doesn't love a fruity margarita throughout the year? For me, I am always in the mood for a margarita!
Let me be clear, though. I prefer margaritas on the rocks, no matter what flavor they may be. Since I am prone to being clumsy and perpetually thirsty, brain freezes happy too often for me to suck down frozen margaritas on a regular basis.
Fine, laugh if you must. I'll wait…
I love the balance of bright and fruity flavors in this margarita. It isn't too tart, but it isn't cloyingly sweet. This margarita is colorful and vibrant, so it'll boost any food that's already gracing your table tonight.
PLUS I made them nice a strong with an extra punch of Pama, so you don't need to worry about these cocktails being too weak (really, is that ever a concern with my cocktail recipes though?). This recipe even gives you a reason to practice your "shaker face". If you aren't aware of the face you're making when you shake a cocktail, time to get familiar. One day people will be watching. And judging.
This easy pomegranate margarita goes with pretty much anything, but I'm dropping some of my favorite pairings before the recipe card in this post!
Note: this is an updated version of the original post published on May 5, 2016. The recipe remains the same!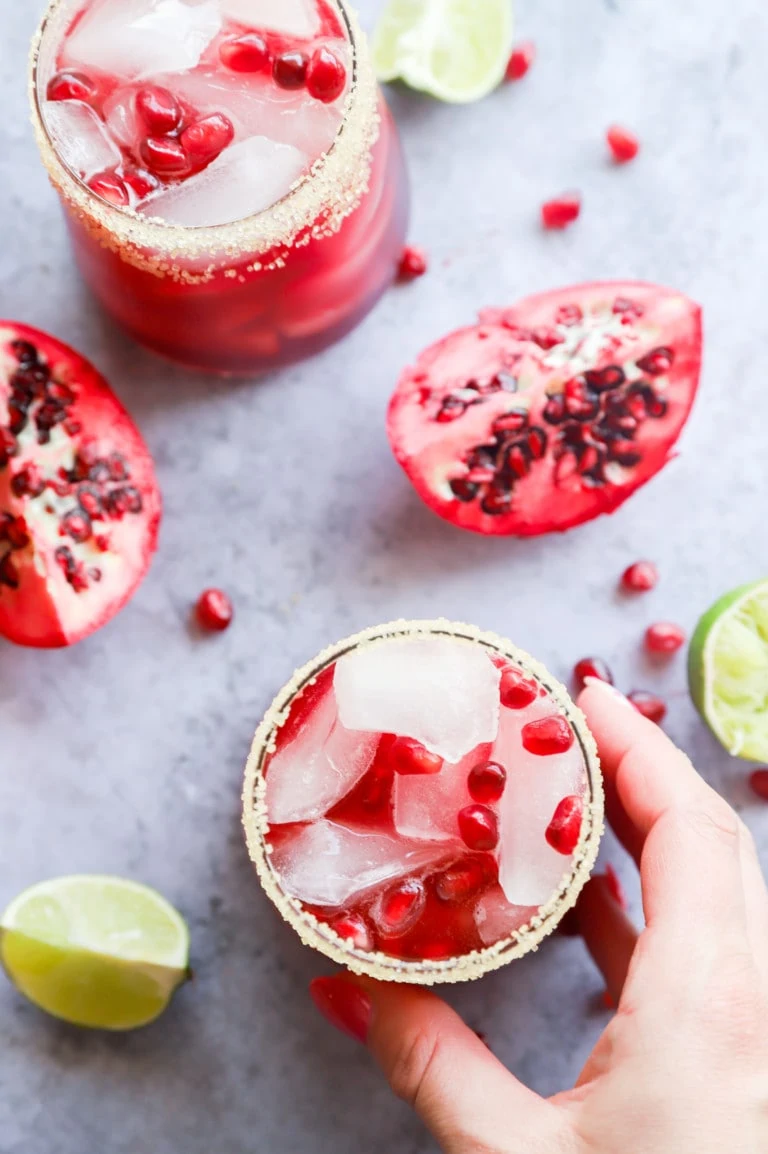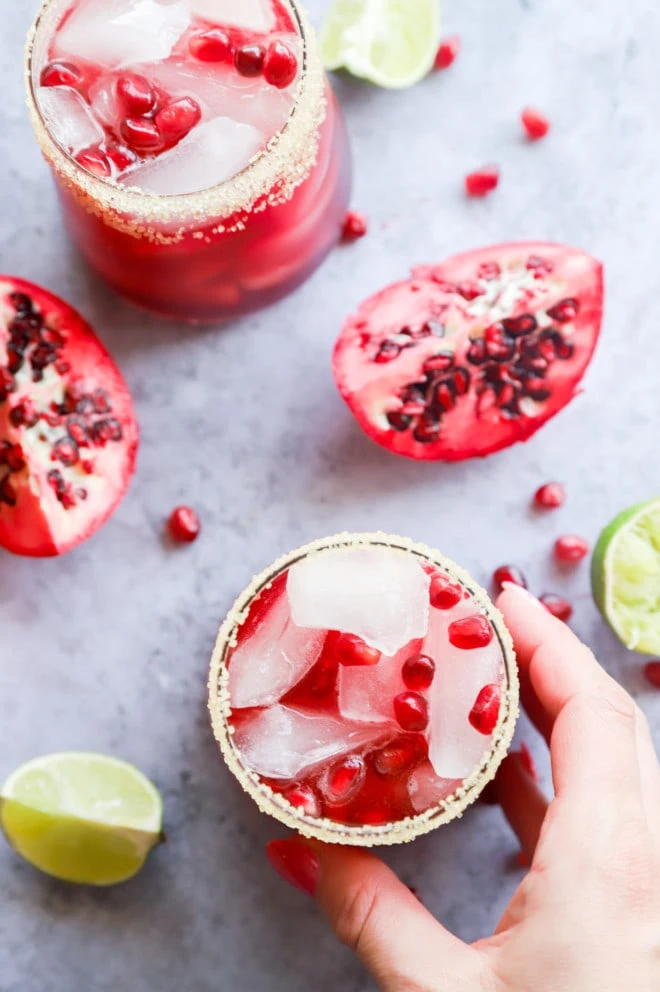 ingredients
tequila – I like to use a blanco or silver tequila for this cocktail, but you can really use whatever tequila is your favorite. My personal favorites are a mid-range price point like El Jimador or Dobel. You can use something more top shelf if you prefer like Patron.
triple sec – you are welcome to buy a more expensive orange liqueur option like Cointreau or Grand Marnier, but I just reach for the triple sec. It's more affordable and personally I can't tell the difference between this and other top shelf options in mixed cocktails.
lime – fresh lime juice is best here! Also be sure to have some lime wedges handy for serving, if you would like.
pomegranate juice – I like to use store-bought because I honestly have no idea how to juice a pomegranate, haha! Don't forget to have some pomegranate seeds on hand as well for garnish. It's an easy upgrade that is really festive!
Pama – if you aren't familiar, Pama is a sewet liqueur made with pomegranate juice, vodka, and a bit of tequila. It's a tasty, fruity addition to your cocktails!
agave – you can use agave or, if you prefer, honey works too.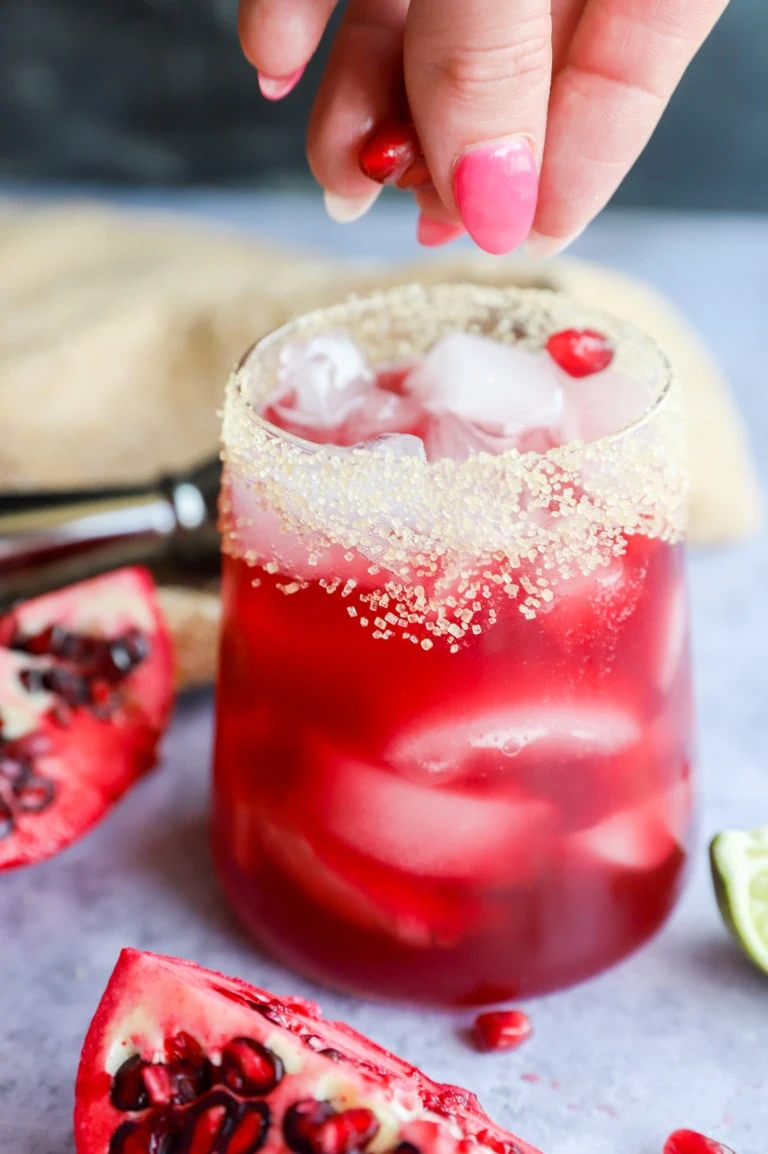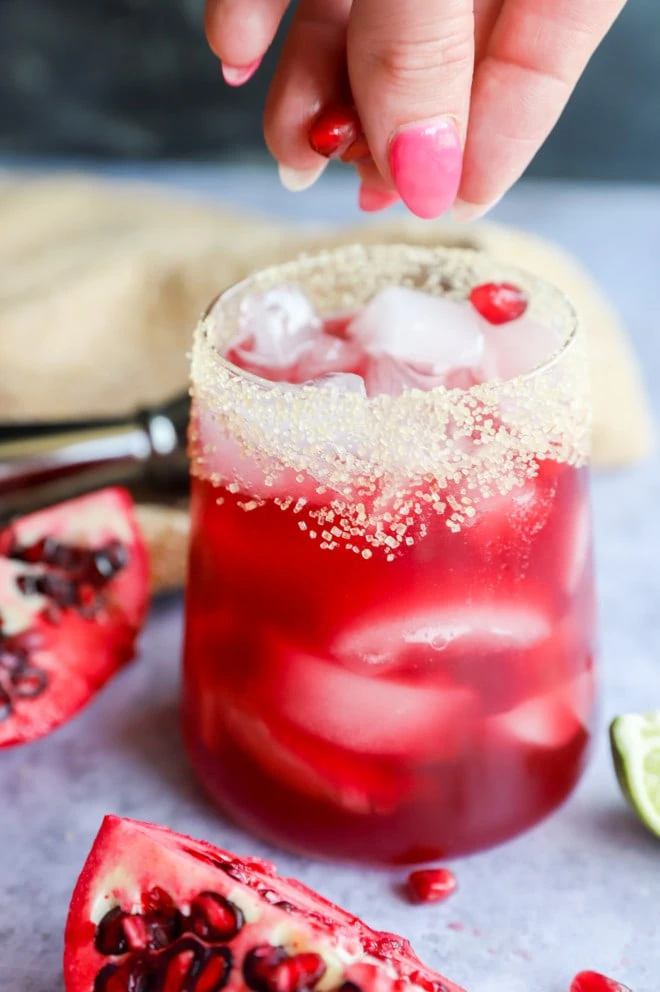 this recipe's must-haves
You will only need a few barware tools to make this simple cocktail. To measure, you will need a jigger, as well as a cocktail shaker (I prefer a Boston shaker) and a cocktail strainer.
Any cocktail glass will work for these margaritas! You can use a classic margarita glass, but I prefer to serve mine in double old fashioned glasses or coupe glasses.
If you want to make this for a crowd (I have instruction below to do so!), be sure that you have a pitcher ready.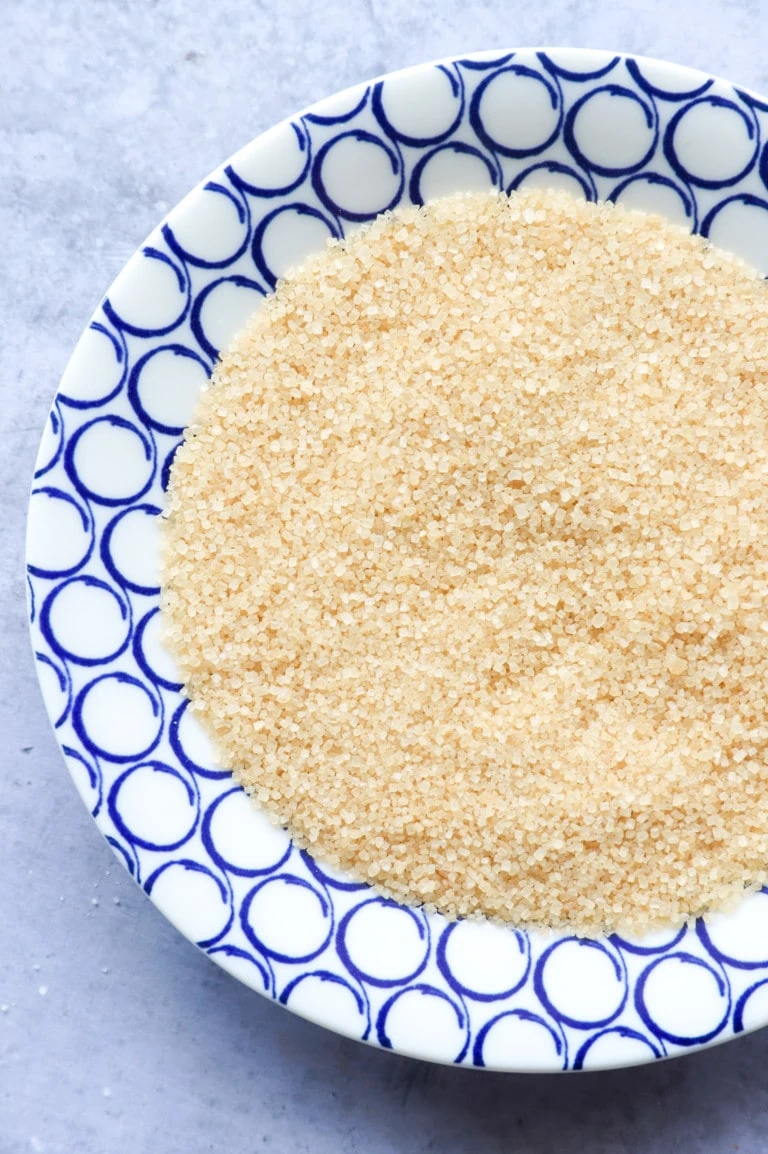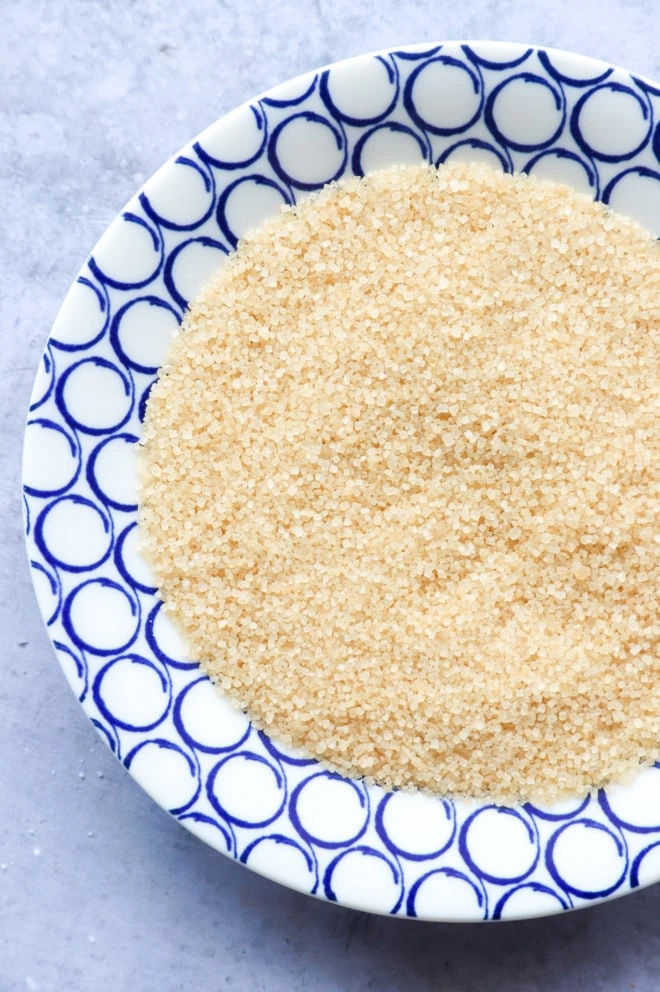 here's how to make a pomegranate margarita
rim glass
Rub the edge of your cocktail glass with a wedge of lime. Then roll in turbinado sugar. Fill the glass with ice and set aside.
make cocktail
Fill shaker with ice. Add tequila sec, triple sec, lime juice, pomegranate juice, Pama, and agave. Close and shake well.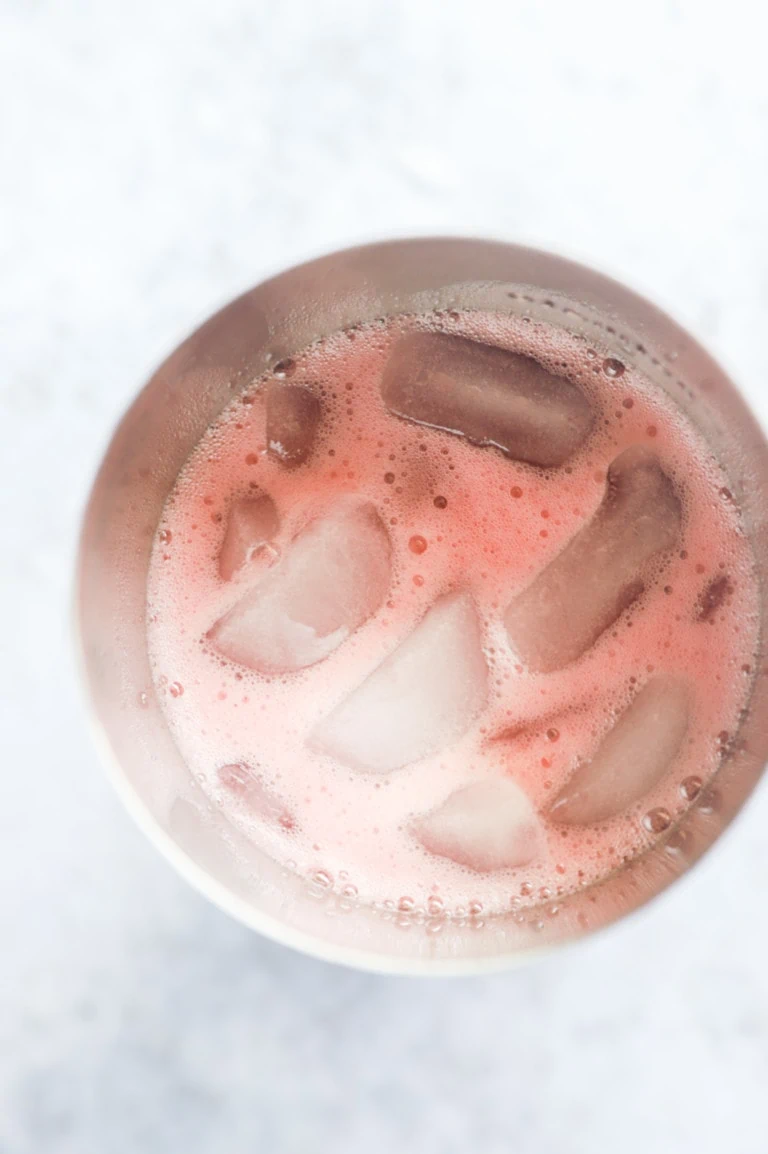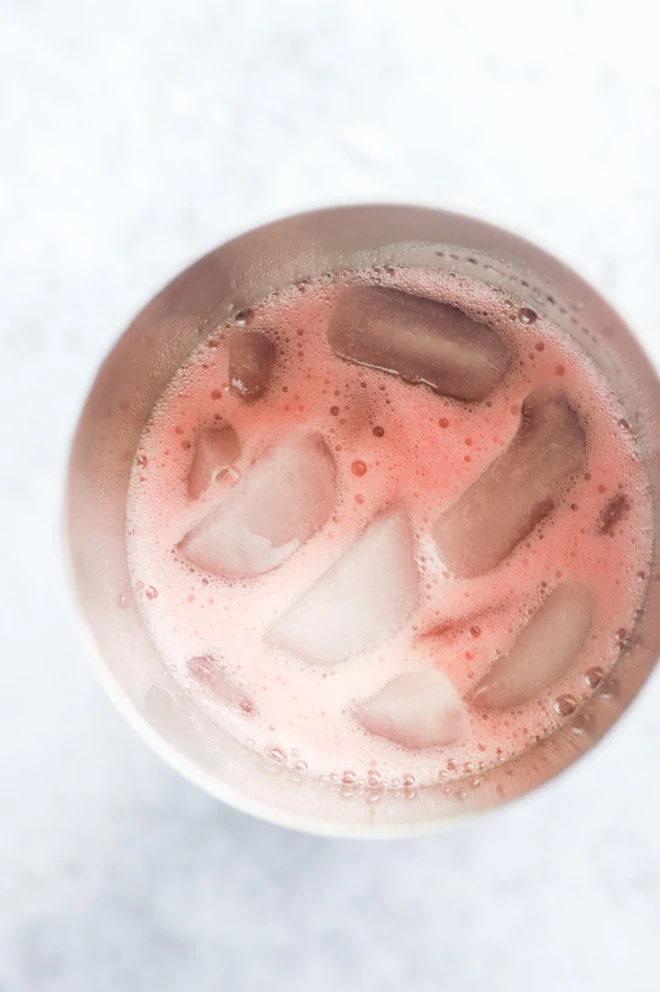 strain
Strain into prepared glass and garnish with pomegranate seeds, if desired.
tips for success
chill all ingredients. One of my favorite tips for making any cocktail is to make sure your ingredients are chilled before you make the cocktail. This will make your drink nice and chilled!
make in bulk. Want to make this recipe in bulk? This is an easy one make in a big pitcher and serve to a crowd. To serve 8, you'll need 1 1/2 cups tequila, 1 cup triple sec, 1/2 cup lime juice, 2 cups pomegranate juice, 1/2 cup Pama, and 1/2 cup agave.
More delish margaritas to sip on: Spicy Watermelon Margarita | Lemon Agave Margarita | Strawberry Basil Margarita | Limeade Margaritas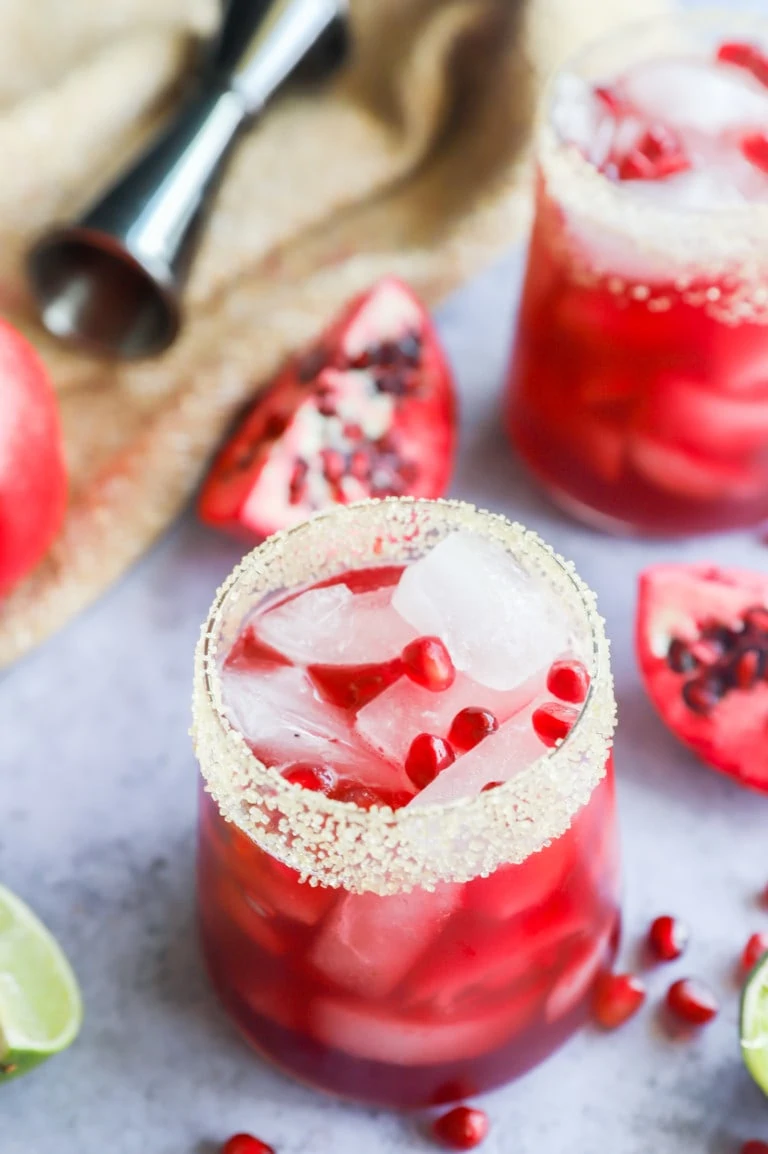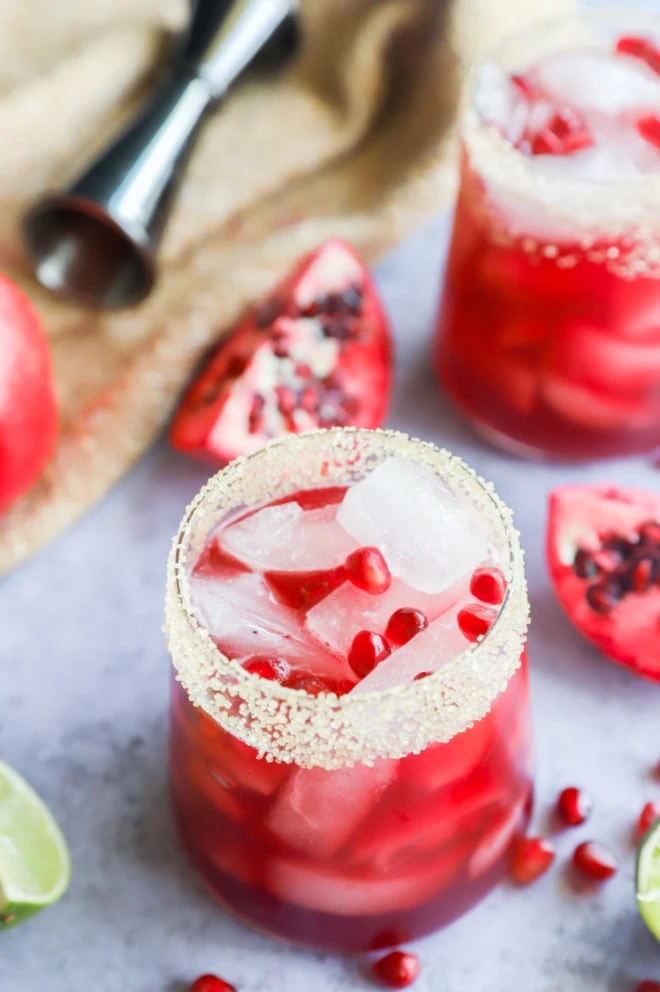 can I make this ahead of time?
If you want to make this ahead of time, you totally can! Simply make the cocktail, but instead of straining it into a cocktail glass, strain it into an airtight container or empty pitcher. Store in the refrigerator for up to 2 days.
how do I make this to serve a crowd?
This recipe is a wonderful cocktail to serve a crowd! To make enough pomegranate margaritas to serve 8 people, you'll need 1 1/2 cups tequila, 1 cup triple sec, 1/2 cup lime juice, 2 cups pomegranate juice, 1/2 cup Pama, and 1/2 cup agave. Assemble the cocktail in a pitcher with ice instead of a cocktail shaker!
Need some more inspiration for boozy drinks? Check out my cocktail recipes page!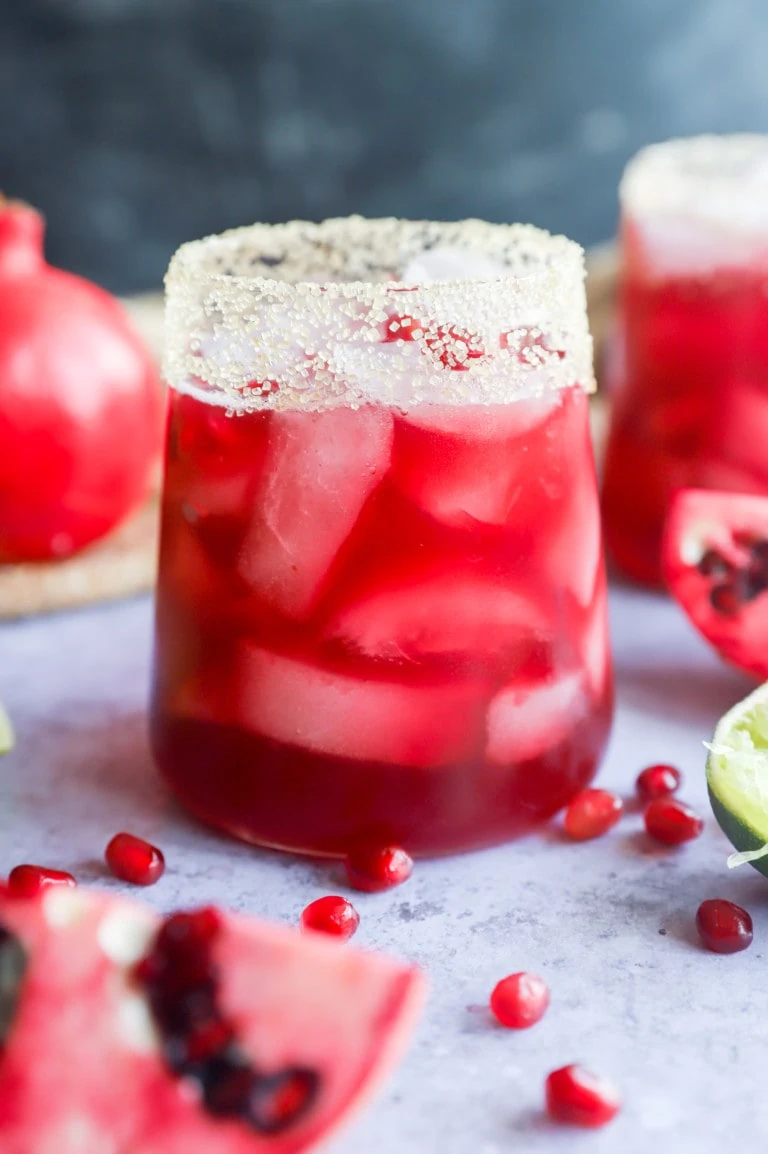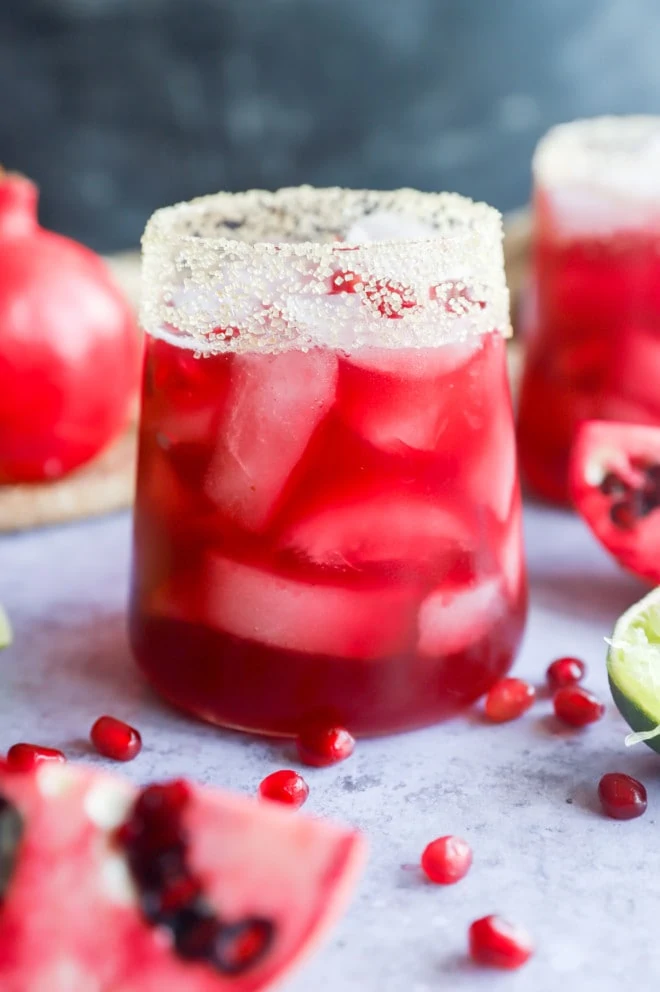 what to serve with a pomegranate margarita
I'll take any excuse to hone in on some Latin flavors whenever I can, and that's exactly what I like to do when I make this pomegranate margarita! Here's some ideas for dinner to pair with this particular cocktail:
For an easy meal these sheet pan pineapple chipotle chicken tacos with jalapeno sauce are fiery way to celebrate Taco Tuesday!
One of my favorite taco recipes is this instant pot chipotle chicken tacos recipe. It's SO simple and makes plenty to feed your family and even have some leftovers.
Bust out the air fryer for these chipotle bbq steak air fryer empanadas! Super hearty and also perfect for a snack.
If you are making this to feed a crowd and need some bites to serve with it:
This is the easiest quick carne asada nachos recipe! Top with your favorite toppings and they will disappear fast.
If you really want to wow a crowd, you can't beat crispy instant pot carnitas tostadas. The flavor is out of this world good.
A fan favorites is this recipe for poblano enchilada chicken empanadas! It's a different take on the empanada that guests will really love.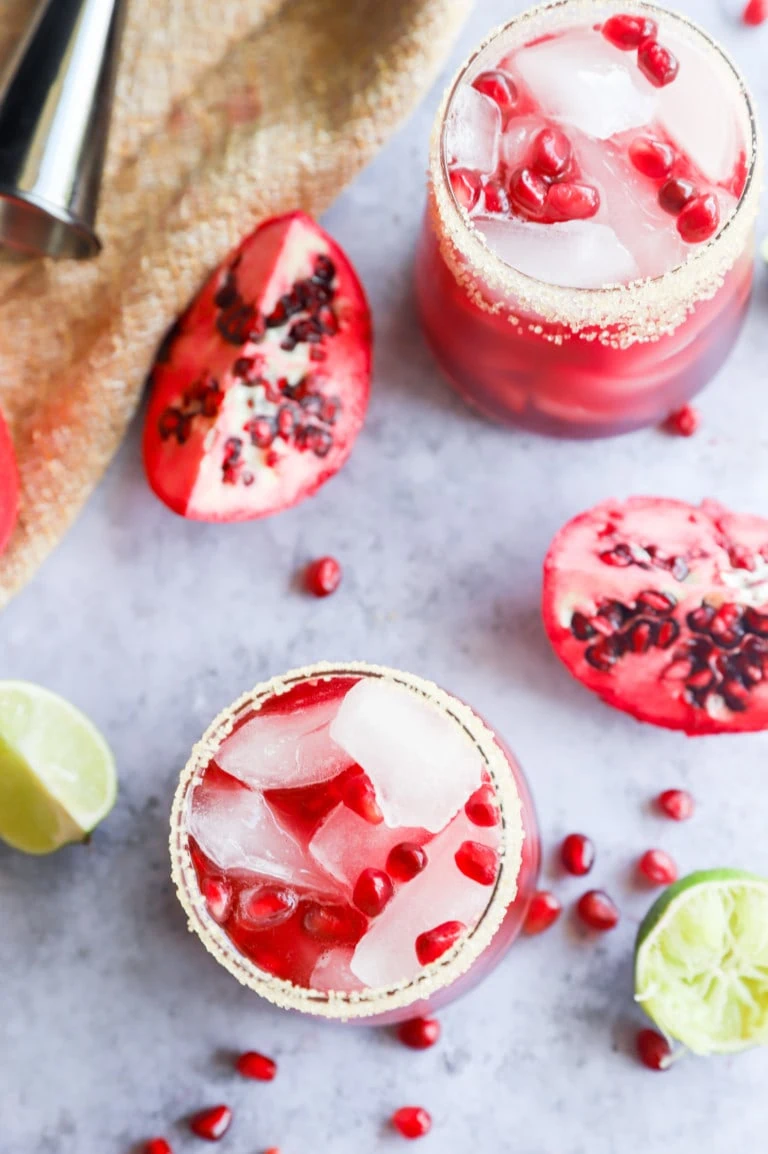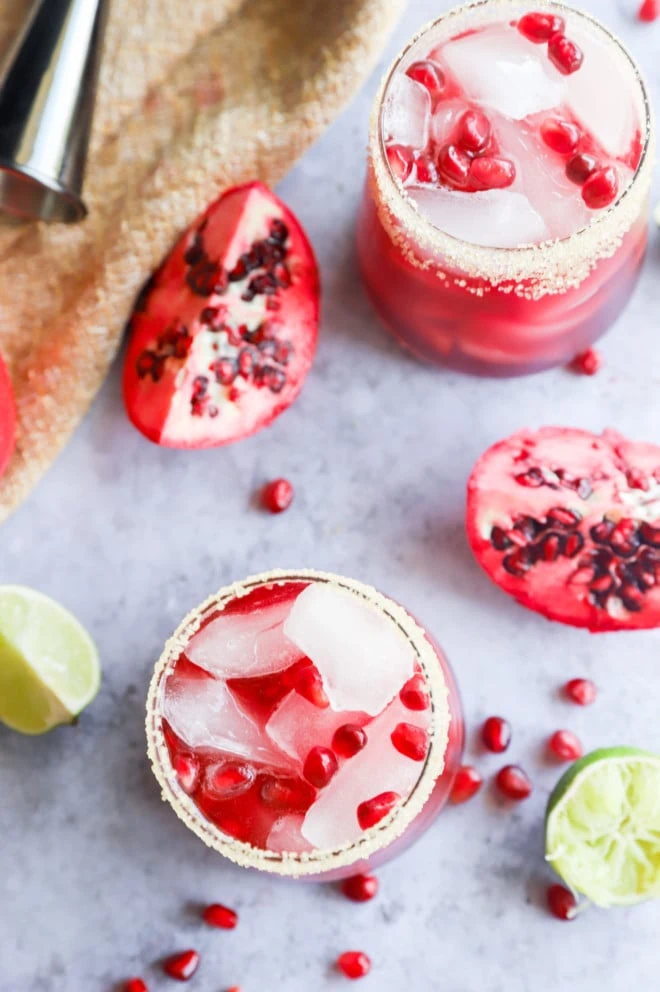 Finally, if you make this pomegranate margarita, please be sure to give this recipe a rating or leave a comment! I love to hear when you all make recipes, and I do take the time to respond to every single comment. Feel free to drop questions below too, if you have them!
Oh and be sure to tag me on Instagram if you make the recipe! I love being able to see these recipes come to life in your homes – it's my favorite thing to look through those photos. It really means the world to me!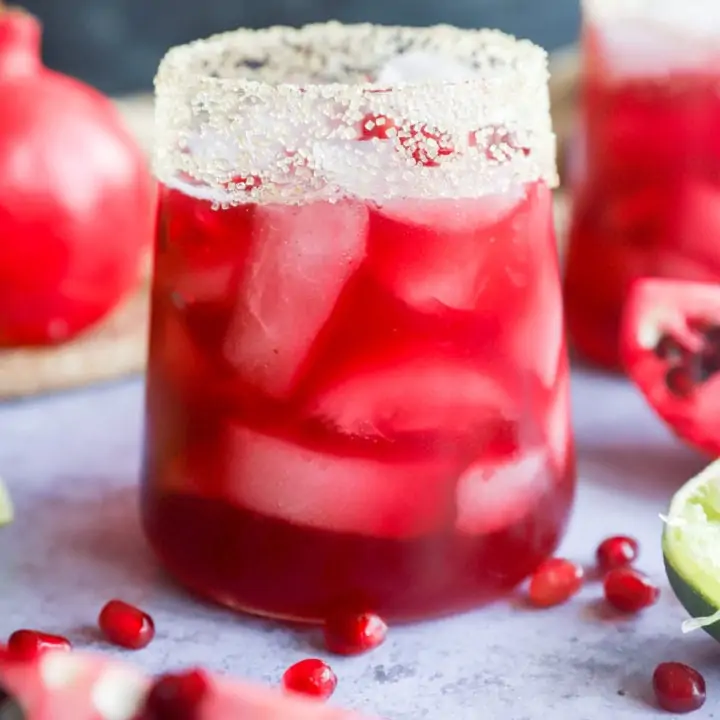 Pomegranate Margarita
Vibrant and fruity, with just a touch of sweetness.
Ingredients
1 1/2 oz tequila
1 oz triple sec
1/2 oz lime juice
2 oz pomegranate juice
1/2 oz Pama
1/2 oz agave
Turbinado sugar
Extra lime wedges for serving
Instructions
Rub the edge of a margarita or cocktail glass with a wedge of lime, then rim with turbinado sugar. Fill glass with ice.
Fill a shaker with ice. Add tequila, triple sec, lime juice, pomegranate juice, Pama, and agave. Shake well.
Strain into glass and serve with lime wedge.
Recommended Products
As an Amazon Associate and member of other affiliate programs, I earn from qualifying purchases.