Please note this post contains affiliate links.
Fried Avocado Tacos are a quick and easy Meatless Monday meal that everyone will love! They are crispy, crunchy and packed with flavor – not to mention a chili lime dressing that you're going to want to start putting on EVERYTHING.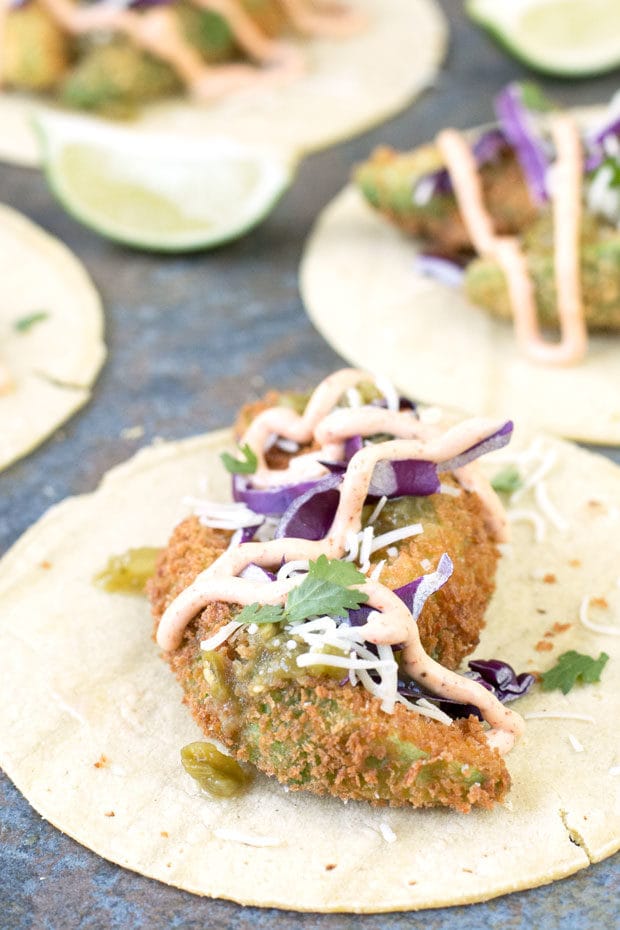 I'm back on the taco kick! Big surprise, I know. This time instead of making guacamole to douse all the tacos in, I thought it was about time for avocado to make the star appearance in a taco.
When I went to Charleston to visit my close friend from high school and her family, her sister took me to this taco place right off the beach. They had these AMAZING fried avocado tacos that I honestly haven't been able to get out of my head. I knew the moment I had them that I would absolutely have to recreate the deliciousness at home.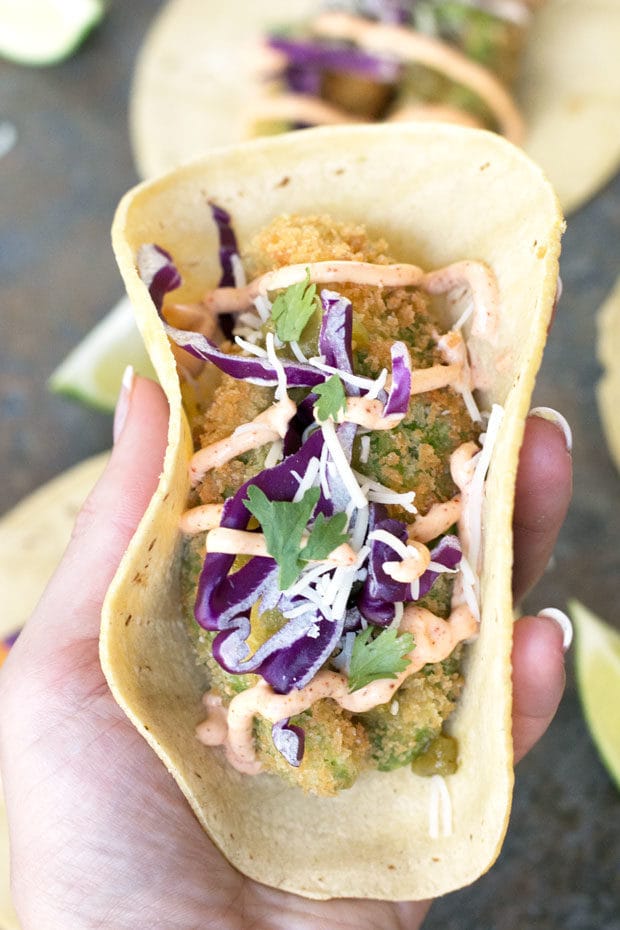 Some people don't love fried avocado, but I honestly think those individuals are missing out.
Fried avocado has everything you want in a bite – crunchy outside, creamy inside, and oh-so swoon-worthy. They are perfect for tacos, whether you are vegetarian or perhaps you are just looking for something different than the typical poultry/steak/pork/fish that you usually use. Regardless, if you haven't tried it before you absolutely HAVE TO.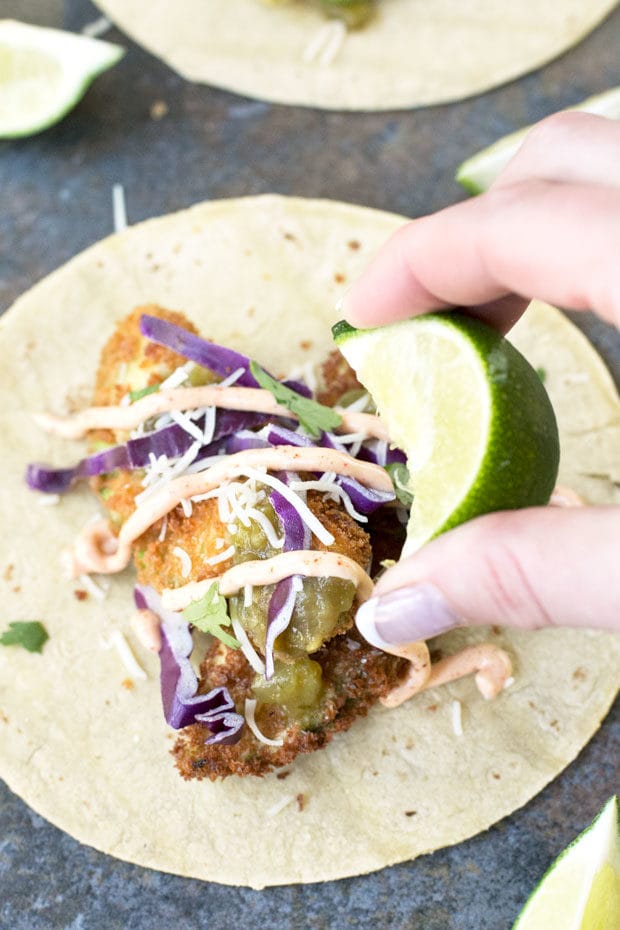 I might be a couple of months late on the goal to recreate these amazing tacos, but what matters is that it has finally happened!
These tacos are all about the freshness, the crispiness, and the bold flavors. I paired salsa verde and a chili lime dressing with these fried pieces of avocado. The salsa verde goes so well with the avocado and the crunchy creamy fried avocado slices come to life with the addition of a creamy dressing. There's heat, there's spice, and the whole thing just sings with a squeeze of lime for a hit of acid.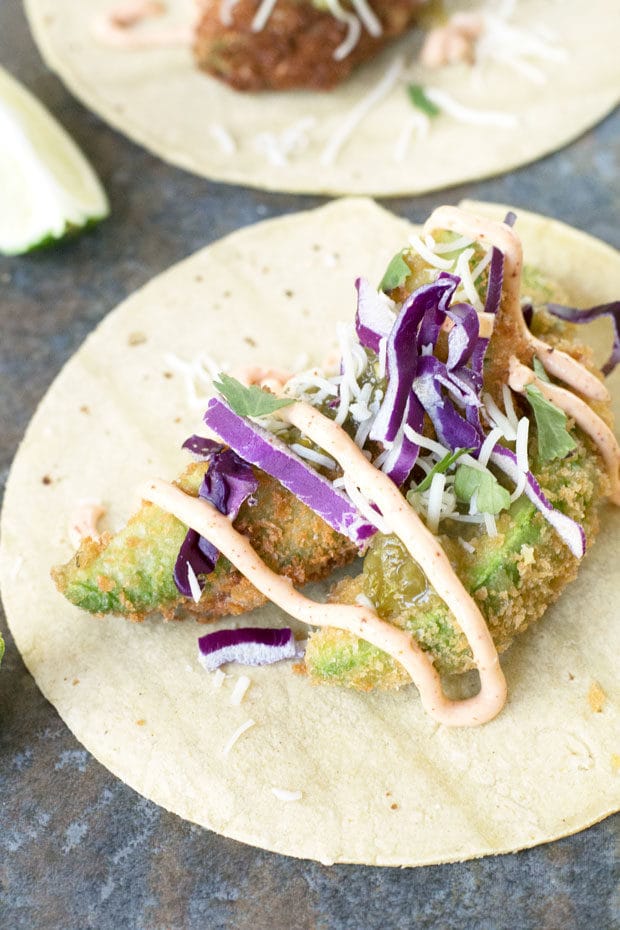 All that's left is to top it off with some crunchy, colorful purple cabbage and a squeeze of fresh lime juice. Then, my friends, you are in taco heaven…All that's missing is a giant margarita, and preferably a beach just outside your door.
One day… Hey a girl can dream, can't she?!
this recipe's must-haves
You will need a set of mixing bowls to dredge the avocado slices in all three of the mixtures before frying in oil.
I like to use a cast iron skillet for frying and I always reach for this spider strainer to remove the slices to paper towels to drain.
You will also need a whisk to bring together the dressing!
what kind of oil should I use for frying?
I like to use vegetable oil or canola oil for frying in this case. They are the easiest and the most affordable. Plus if you get a good amount of it, you can use leftovers for so many other recipes!
can I use red salsa for topping these tacos?
You sure can! I personally prefer salsa verde, but a spicy red salsa works really well as well. Just make sure it brings some heat to the party!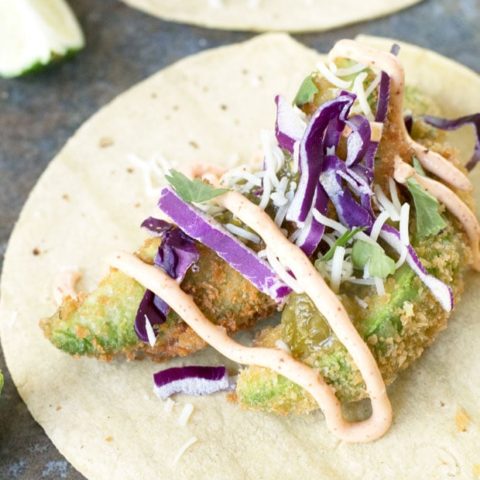 Fried Avocado Tacos
These tacos are crispy, crunchy and packed with flavor – not to mention a chili lime dressing that you're going to want to start putting on EVERYTHING.
Ingredients
Tacos
1/2 cup All-Purpose Flour
2 Eggs, Beaten
1 cup Panko Breadcrumbs
2 large Hass Avocados, Cut into 8 wedges each
Vegetable Oil, For frying
Salt, To taste
2 cups Shredded Red Cabbage
1 cup Shredded Monterey Jack Cheese
Salsa Verde
8 Corn Tortillas
Lime Wedges
Chili Lime Dressing
2 tablespoons Lime Juice
1/2 cup Mayonnaise
1/4 cup Sour Cream
1/2 teaspoon Chili Powder
1/4 teaspoon Ground Cayenne Pepper
Instructions
Add the flour, eggs, and panko breadcrumbs to three separate bowls. Dredge the avocado wedges in flour, shaking off the excess. Coat with egg and then panko, pressing to make sure it sticks.
In a deep, heavy-bottomed skillet, add 1 1/2 to 2 inches of vegetable oil. Heat over medium-high heat to 350°F. Working in batches, fry avocado until golden brown, approximately 1 to 2 minutes per side. Remove to a paper towel-line plate to drain. Season with salt.
In a small bowl, whisk together lime juice, mayonnaise, sour cream, chili powder, and cayenne pepper for the chili lime dressing.
To assemble tacos, divide avocado wedges evenly between the corn tortillas. Top with red cabbage, Monterey Jack cheese, and salsa verde. Drizzle with chili lime dressing and serve with lime wedges.
Recommended Products
As an Amazon Associate and member of other affiliate programs, I earn from qualifying purchases.