Please note this post contains affiliate links.
Bacon Cilantro Lime Grilled Corn Salad might be the one side dish that will totally outshine any main dish… Grilled corn is mixed with crispy bacon, grilled jalapeños, cilantro, lime juice, queso fresco and some seasoning for a flavorful burst of summer goodness. It's a must-make recipe for the summer!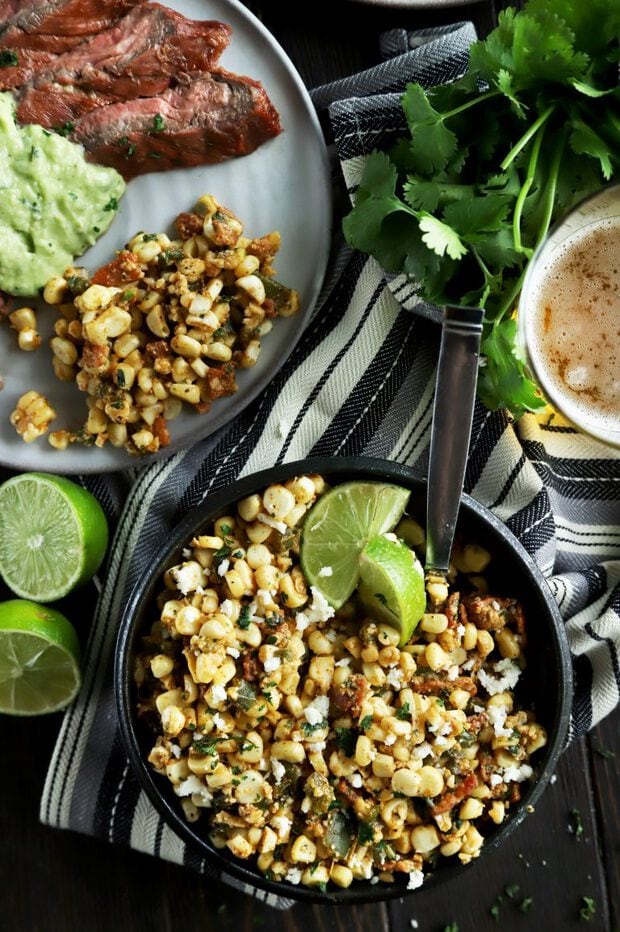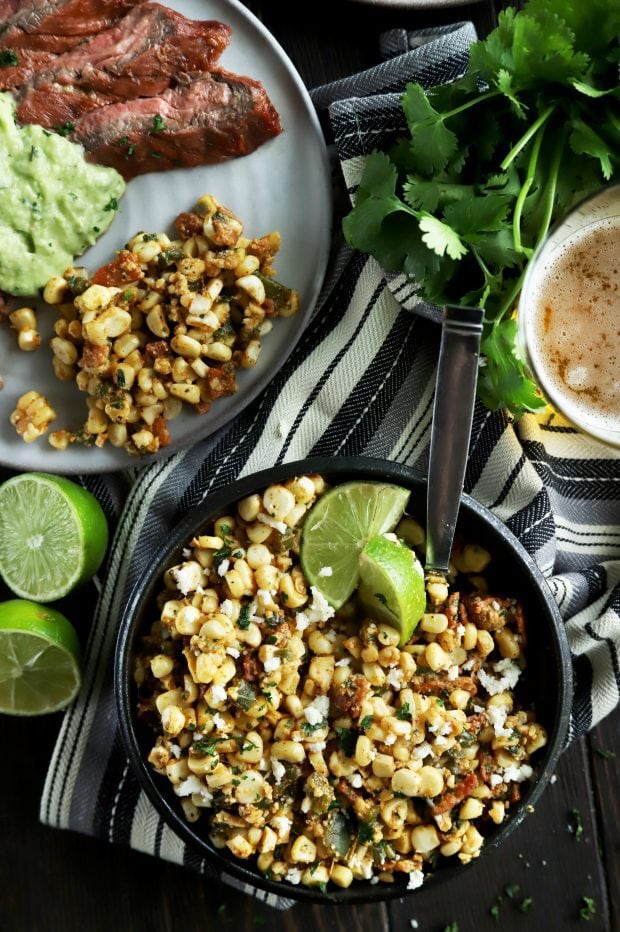 GIMME ALL THE GRILLED CORN!
Ok, so this grilled corn salad is basically going to blow your mind.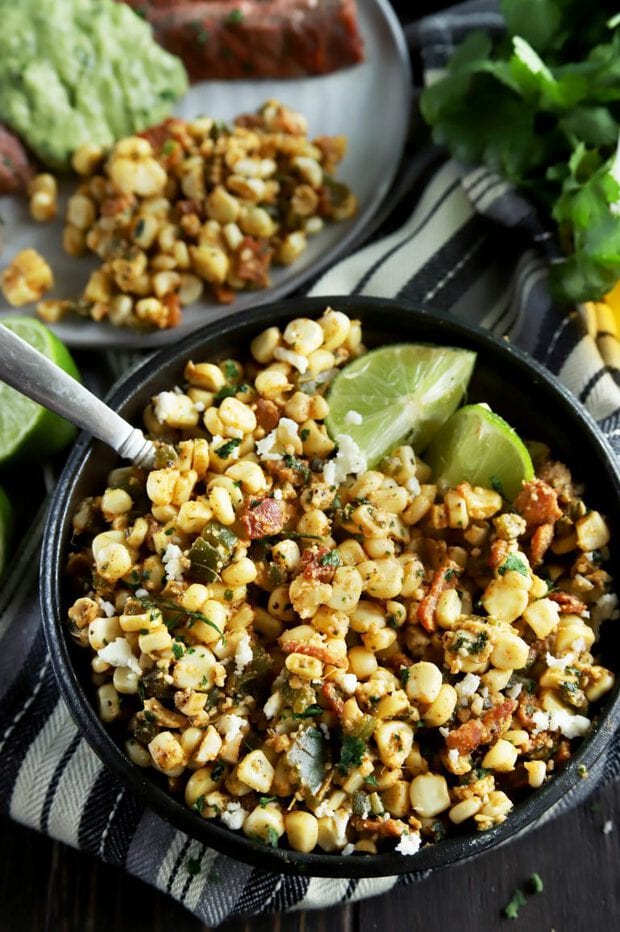 I swear, the moment that I make it, it is essentially gone. I'm pretty sure it's the Man's favorite recipe that I've made in a long time, which actually shocks me because it's a salad made up primarily of vegetables…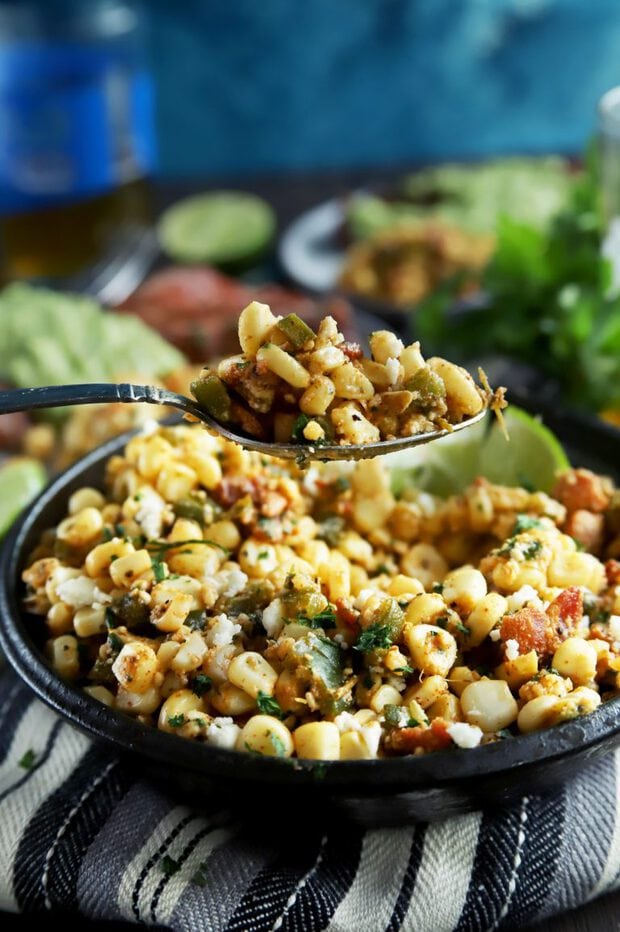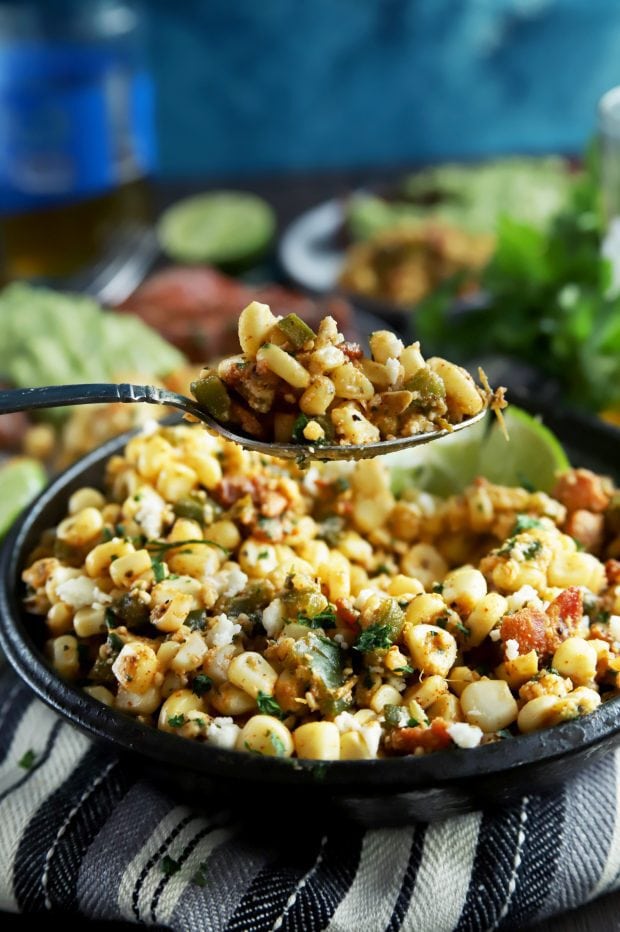 Yes, I know there's bacon and cheese in there, but still. There's a LOT of veggies in there.
When you dive into this bowl of grilled corn salad, you might forget about the main dish you are serving it alongside altogether. You get a smoky flavor from the grill, plus a burst of summer sweet freshness from the corn. The jalapeño and seasoning gives it a little kick to pair up with the savory notes of the crispy, crunch pieces of bacon. Finally it's all rounded out with freshly chopped cilantro and a nice helping of salty queso fresco….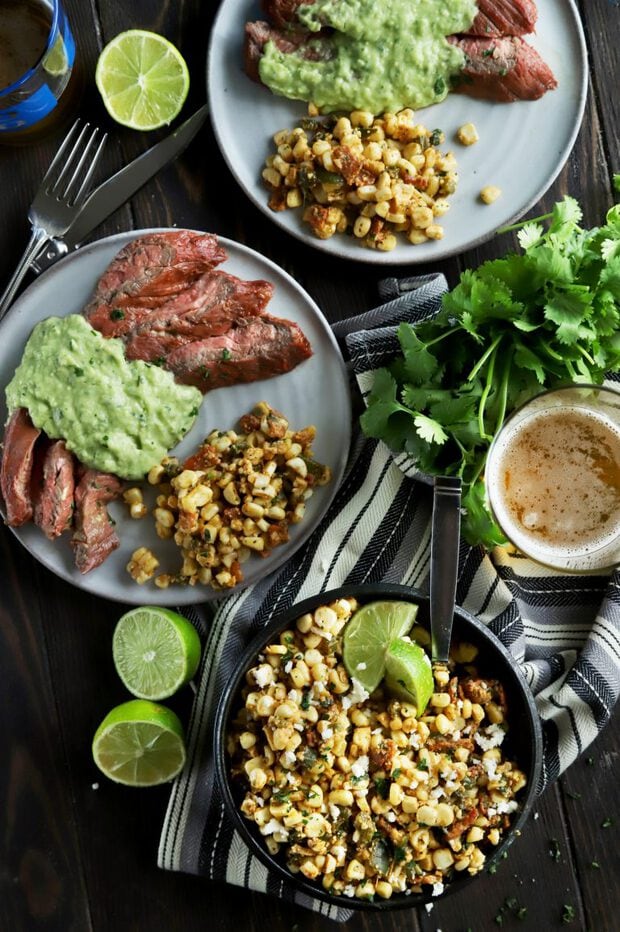 Are you drooling yet?
It's the one side salad that I know I will be making ALL summer long. I mean, it comes together in such little time… why the heck wouldn't you make it as often as you can?!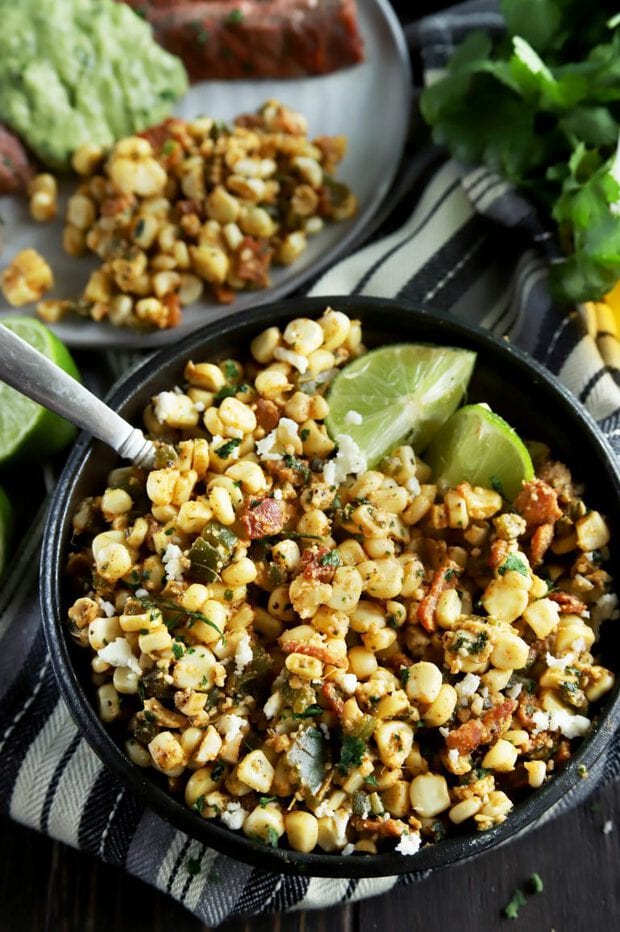 This Recipe's Must-Haves
When it comes to grilling, if you don't have a Traeger grill, it's time to hop on the bandwagon! I know there are lots of grills out there, but my Traeger really ROCKS. It's so quick and easy to use AND to clean! I also love these Traeger grill tongs and I'll always turn to these Traeger grill signature pellets for this salad in particular. Though you can also use Hickory pellets if you want more smoky flavor in there!
To prep the rest of the salad, you'll need a chef's knife and a cutting board to chop up the jalapeños, bacon, and to remove the corn kernels from the cobs.
Finally, grab your mixing bowls to make the salad and finish it off! I personally like to mix it all up in prep bowl and then add it to a serving bowl. Probably because I am a messy cook and the serving bowl would look like a disaster zone if I made it in there, LOL.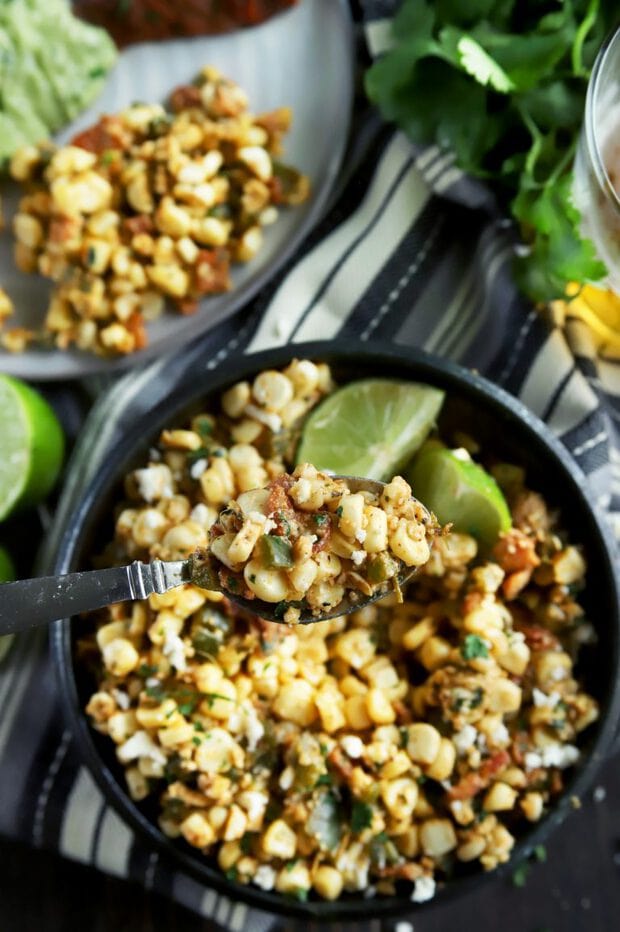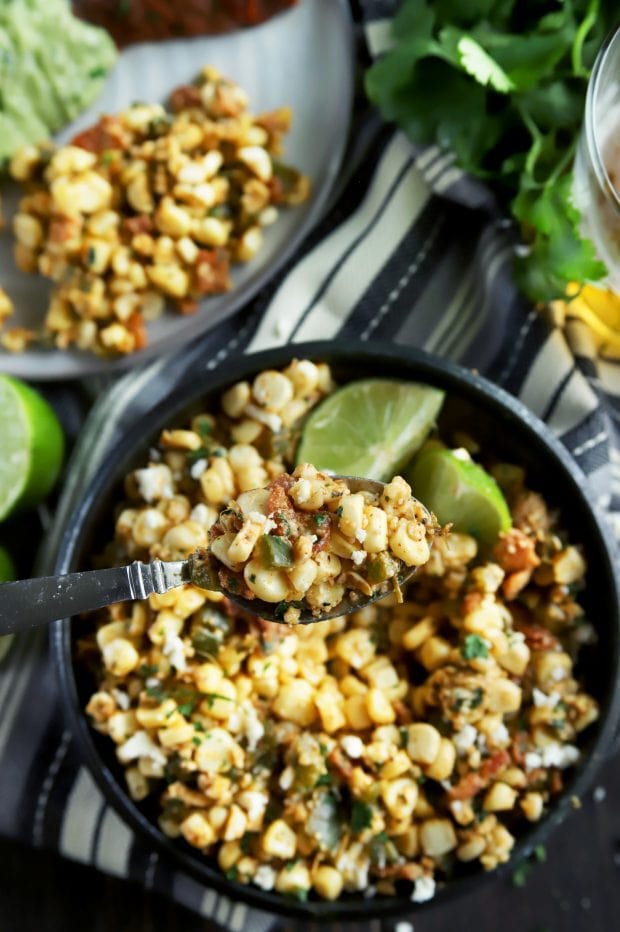 How to make grilled corn salad
Grill Vegetables
The only real cooking you have to do is to grill the corn and the jalapeño! It's super easy and happens really quick, so it's great to grill up alongside whatever else you are cooking for your meal.
Make Salad
Then you just throw everything together in a bowl! Give it a good stir and you are DONE.
BOOM EASY.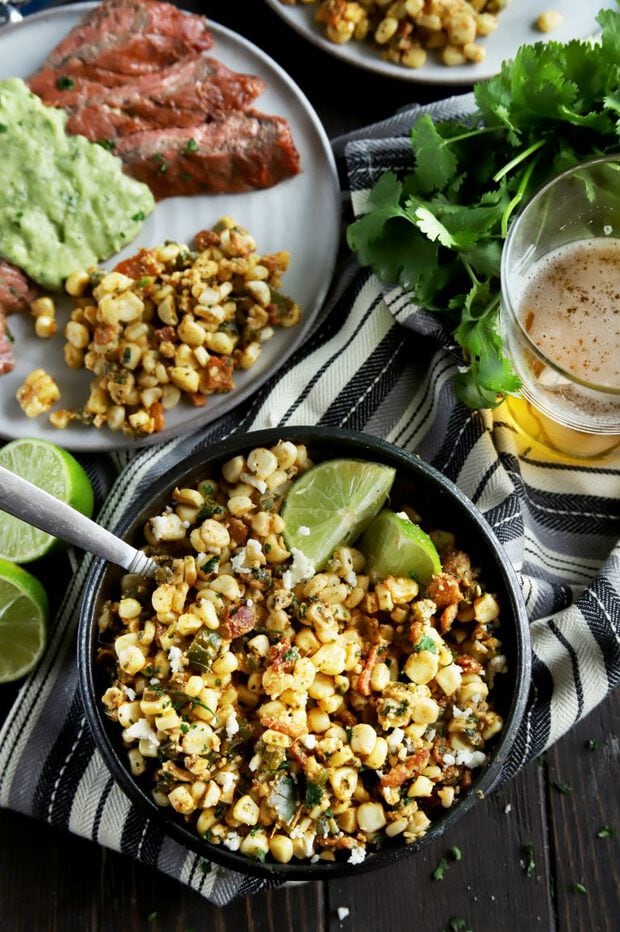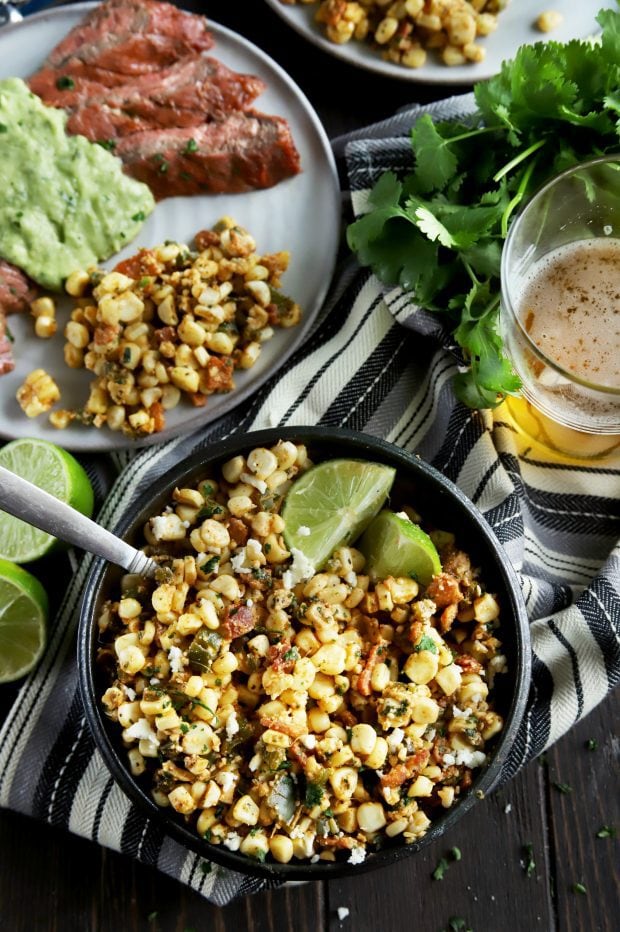 Do I have to grill the vegetables?
I recommend grilling the vegetables because you get the flavor from the grill in the salad. However, if you don't have a grill you can also cook everything up on a grill pan or you can roast the corn and jalapeño in the oven.
Can I use turkey bacon?
You can use turkey bacon if you prefer it to regular bacon, or you can skip it altogether if you would like the mixture to be vegetarian.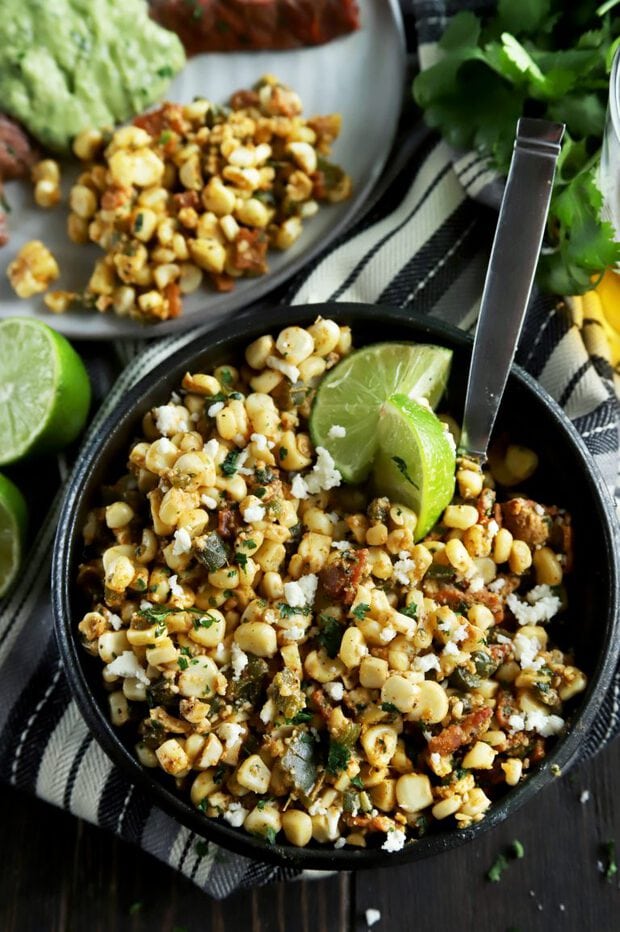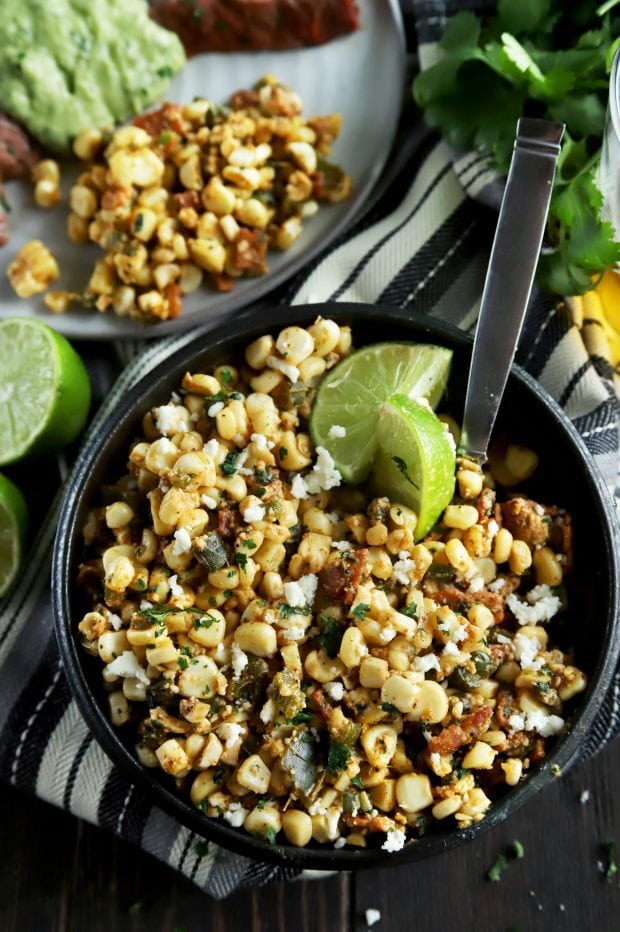 Can I make this ahead of time?
This salad is great for making ahead of time. Simply make it and store in an airtight container. The longer you let the salad rest, the more the flavors will meld together after all.
You can store the salad for up to 2 days in the refrigerator. Simply reheat in the microwave when you are ready to eat it.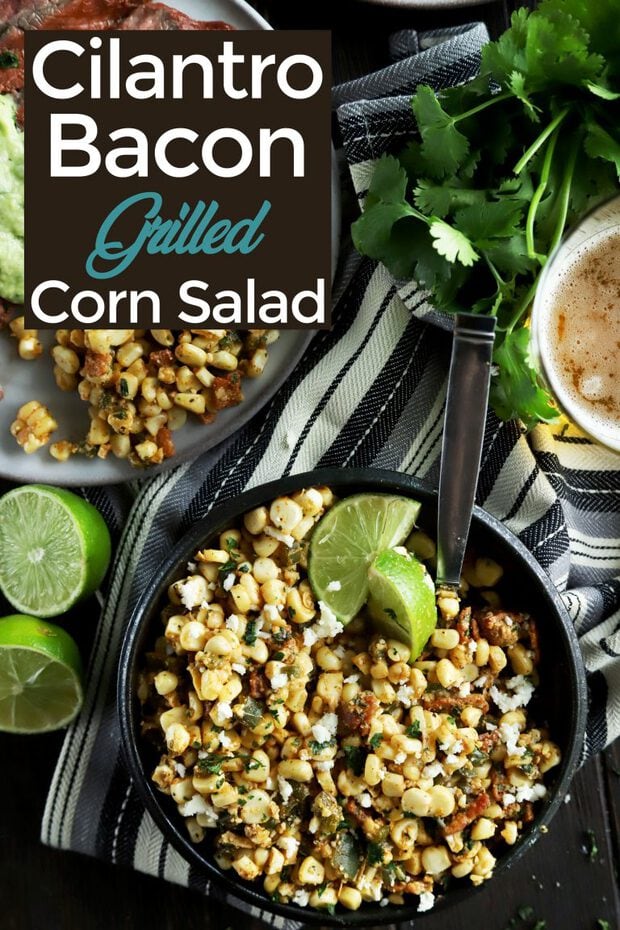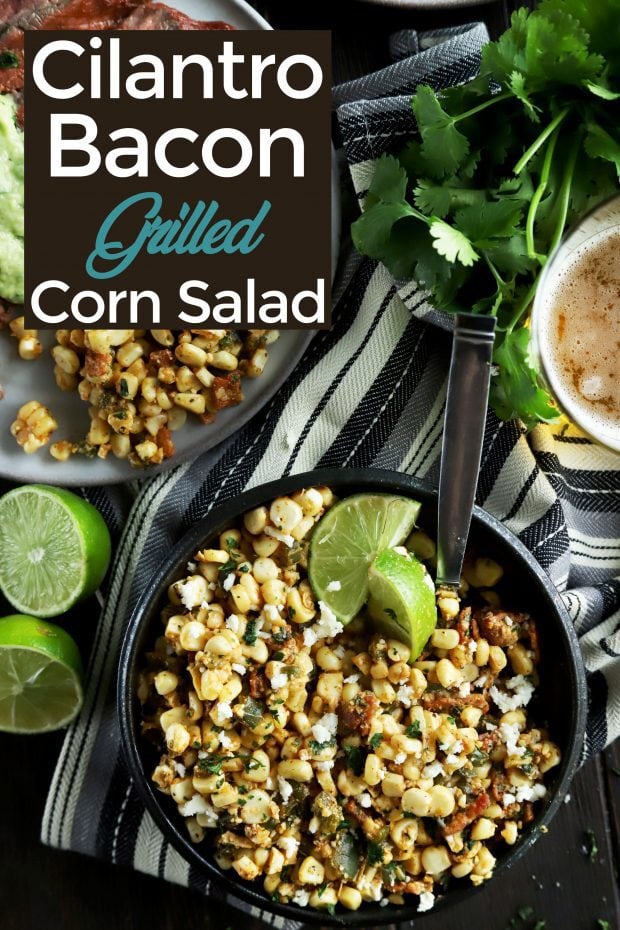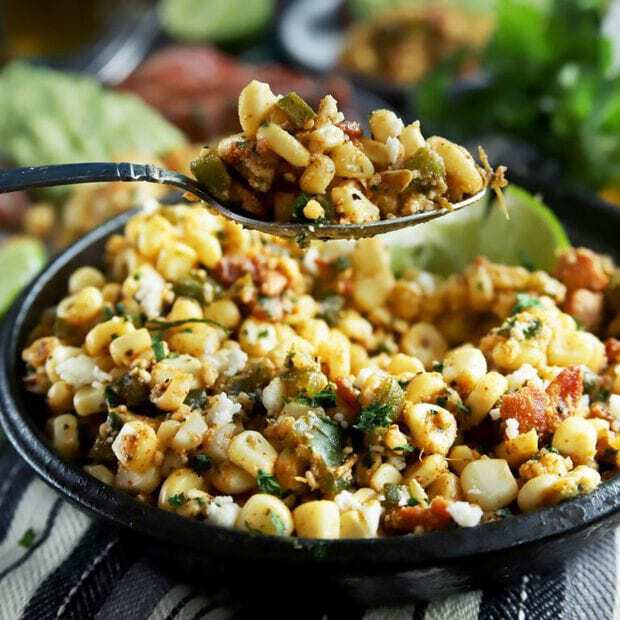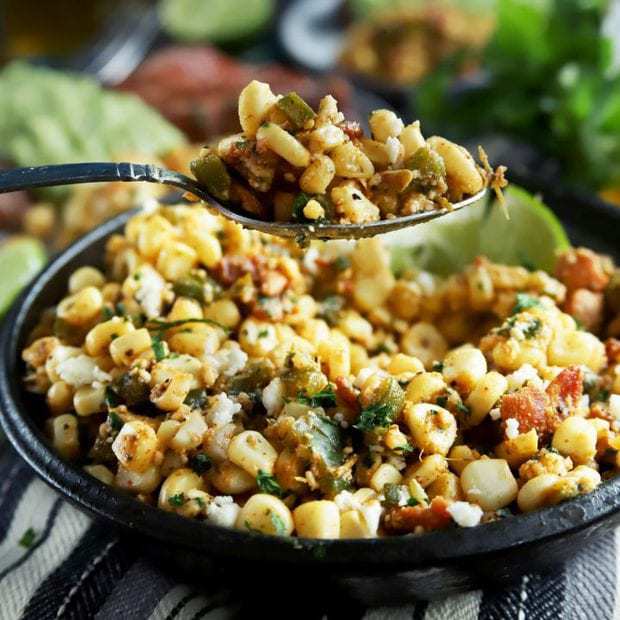 Bacon Cilantro Lime Grilled Corn Salad
Grilled vegetables, crispy bacon, fresh herbs, seasonings and lime juice come together to make the best summer salad ever!
Ingredients
4 ears corn
4 slices bacon, cooked crispy and roughly chopped
2 jalapeno peppers, seeded and halved
1 Tbsp unsalted butter
2 Tbsp chopped fresh cilantro
2 Tbsp fresh lime juice
1 clove garlic, minced
1/2 tsp smoked paprika
1/2 tsp chili powder
1/2 tsp salt
1/2 tsp freshly ground black pepper
1/2 cup queso fresco, crumbled
Instructions
Husk the corn and place on a hot grill along with the poblano and jalapeno pepper halves. Cook about 10 minutes, turning occasionally, until charred and cooked through.
Remove from grill. Place peppers in a sealed plastic bag or a mixing bowl with plastic wrap tightly covering the top for 10 minutes.
When corn is cool enough to handle, cut the kernels from the cobs into a medium bowl. Add butter and stir well until melted and combined.
Remove peppers from bag and peel off the charred skins. Chop into small pieces and add to the bowl.
Stir in cilantro, lime juice, garlic, paprika, chili powder, salt, pepper, and queso fresco. Serve.
Recommended Products
As an Amazon Associate and member of other affiliate programs, I earn from qualifying purchases.