Please note this post contains affiliate links.
A fall charcuterie board is an easy way to upgrade your seasonal gatherings. The art of crafting this centerpiece board is simple, but guests won't know that when they experience the rich flavors and vibrant autumn ingredients. It's ideal for hosting, whether you are serving it as a snack or a main meal.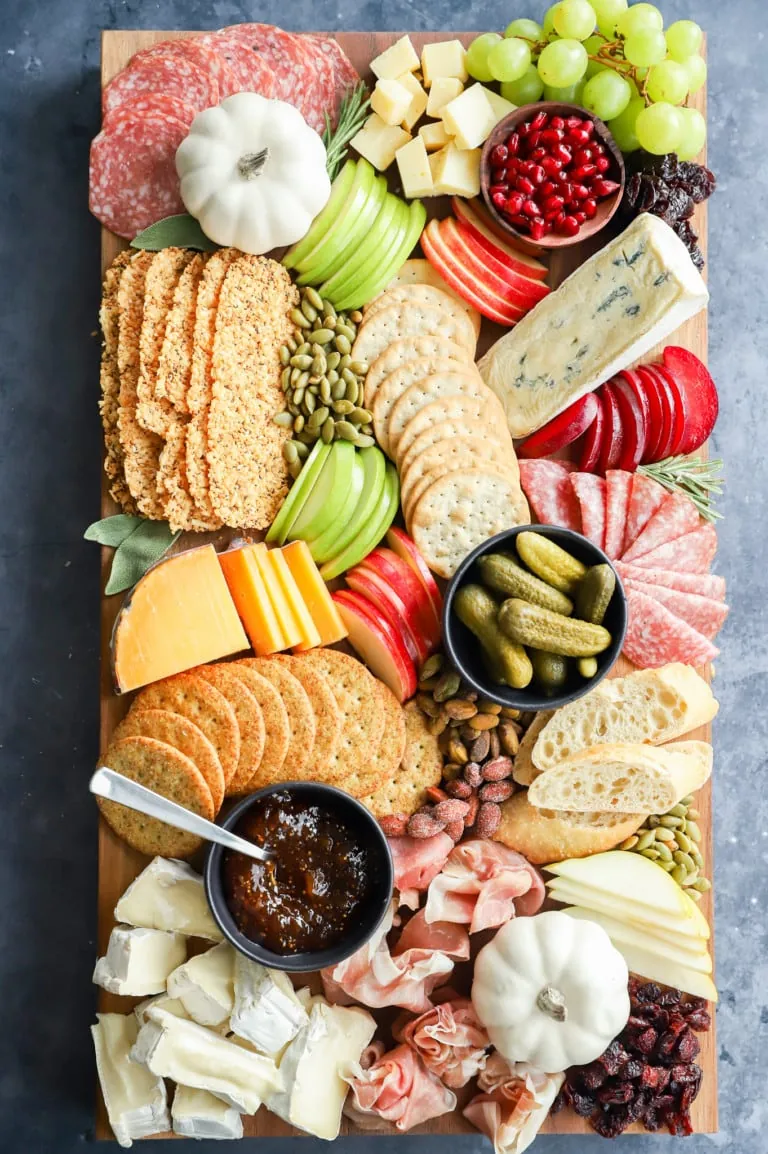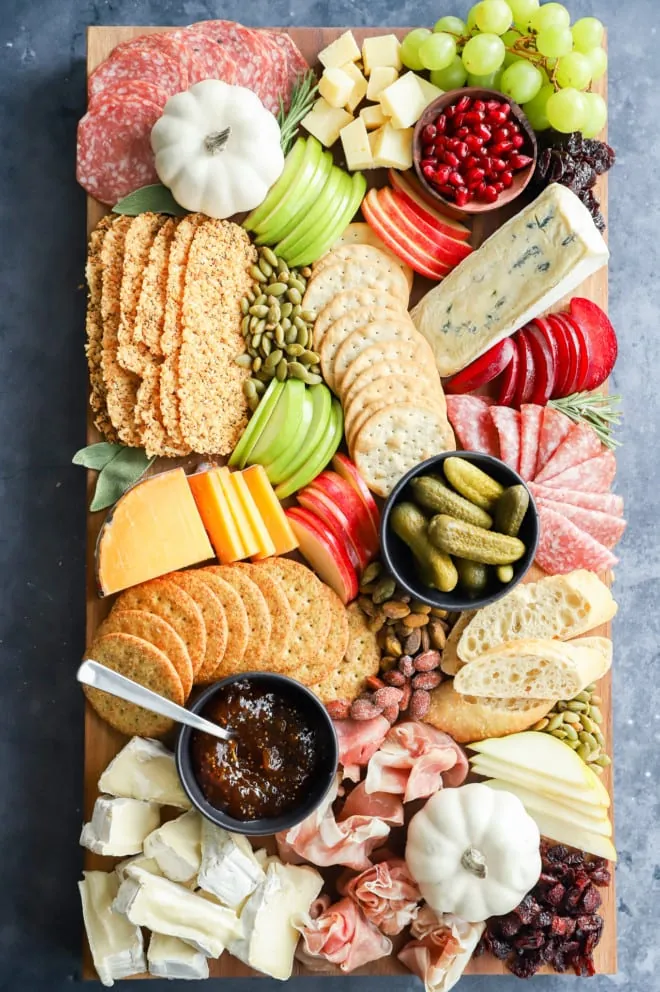 about this fall charcuterie board
The official start to autumn has happened! We are now officially in fall and that's why I am bringing you something perfect for all the fall gatherings you have coming up…
To me, gathering is all about bringing people around good food, and nothing beats a centerpiece like this fall charcuterie board. It's the ideal opportunity to showcase all of the rich and diverse flavors of the season.
From apples to gouda, pears to brie, this board boasts a ton of variety that you cannot resist diving into. A board like this is just what any party needs, because it is easy to assemble (making it easier on YOU the host), while also being a real wow-worthy snack to gather everyone around.
Guests can experiment with different flavors, from the natural sweetness of fresh fruits to the crunchy saltiness of assorted nuts. No matter what kind of party you are planning, this board will elevate your hosting game, allowing guests to enjoy all the fall inspiration.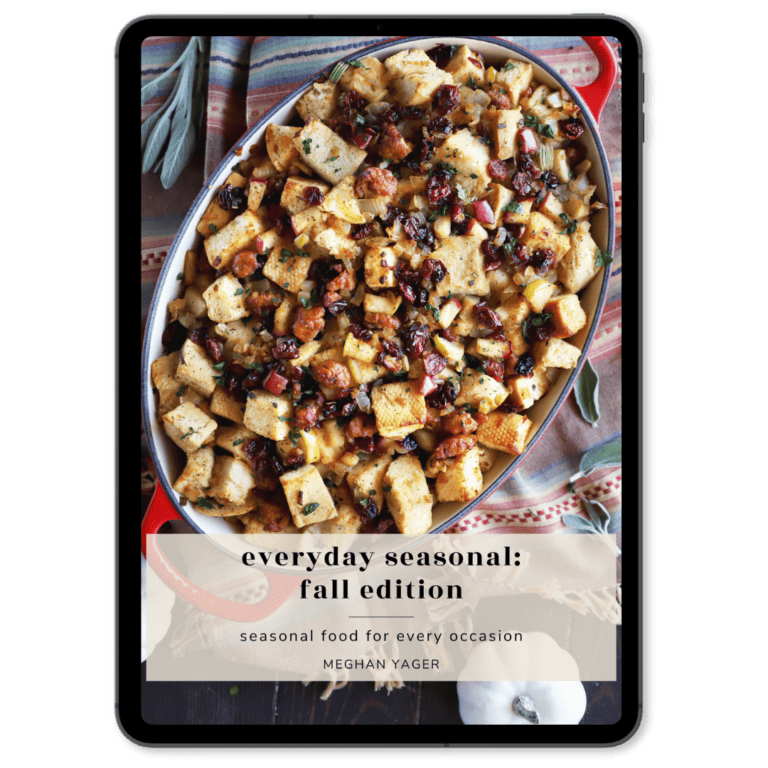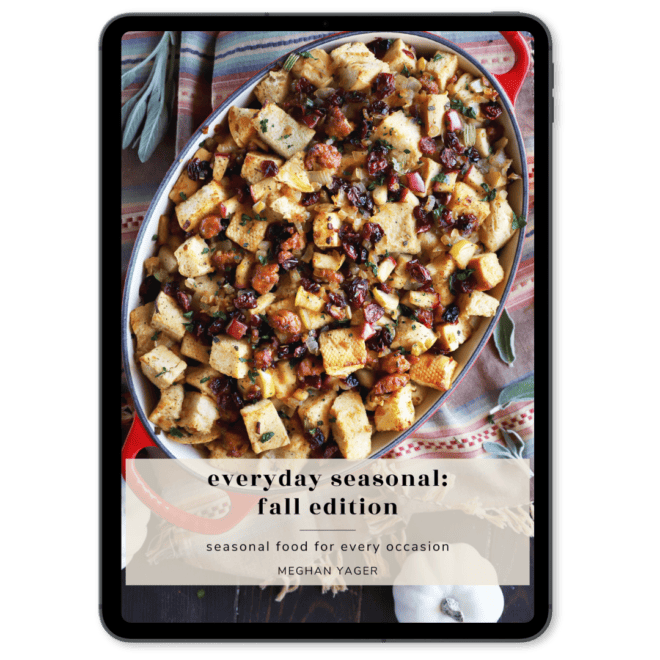 everyday seasonal: fall
With seasonal fall recipes, a comprehensive produce guide, and more, this is the cookbook to help you celebrate the season.
what is a charcuterie board?
The word "charcuterie" is actually a French word. It refers to cooked meats or cured meats. Even though the word refers only to meat, the meaning also includes meats and cheeses, as well as fruits, dips, etc, when talked about in terms of a board like this one.
A charcuterie board is served before a meal. It can also be served as a centerpiece for guests to graze and enjoy for a party o a gathering. It really makes a lovely centerpiece to any food spread you have planned!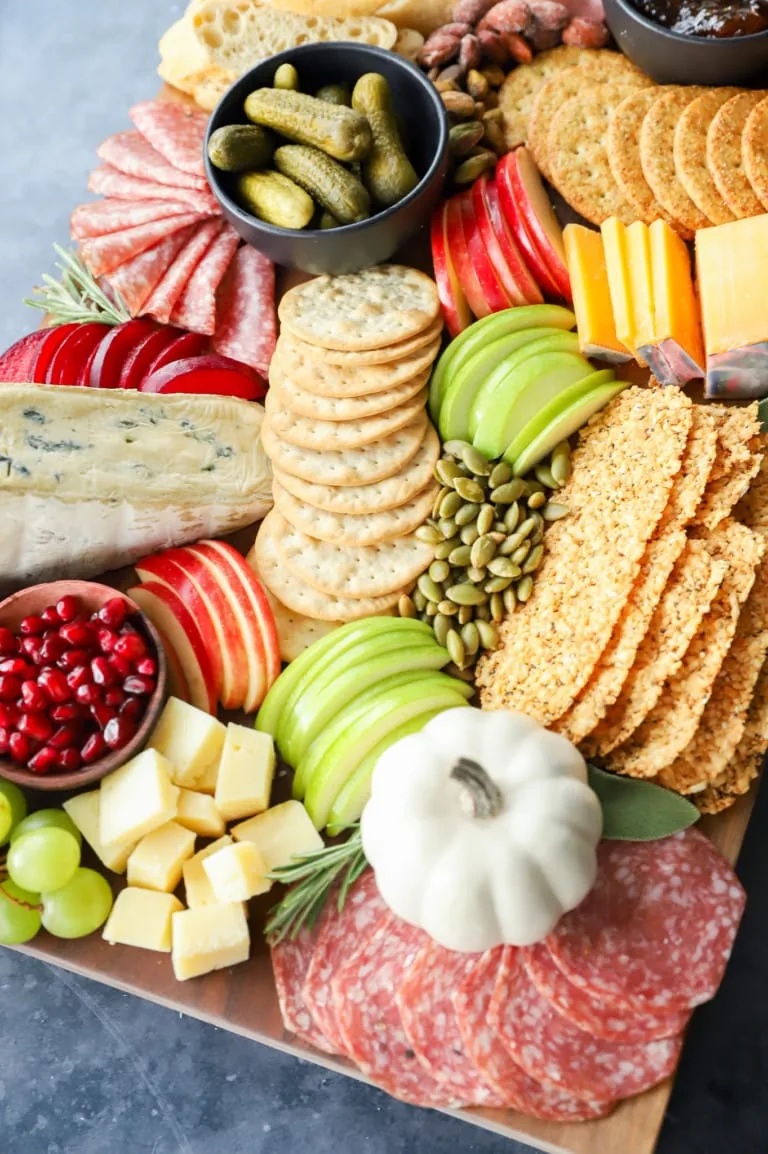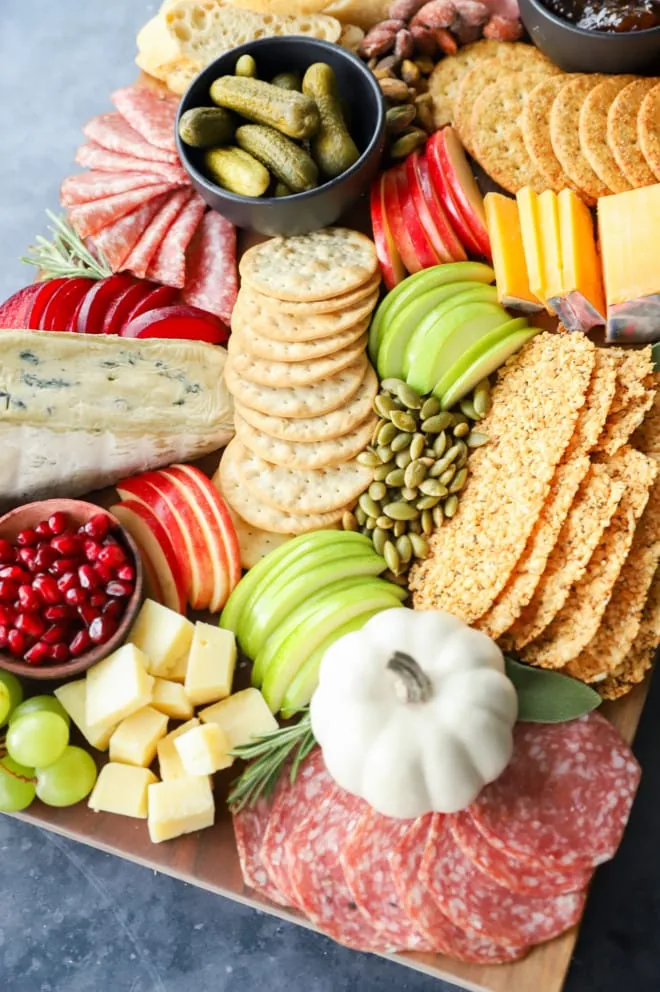 what goes on a fall charcuterie board?
A fall charcuterie board is all about seasonal flavors of autumn! That's what makes the board so unique for the season and a must for bringing out for holiday gatherings during the fall season. The fall board highlights the seasonal fruits and flavors that are in season, elevating it from the average board.
types of cheese for a fall board
Hard cheese. There are a variety of hard cheeses that work well with a fall board. While I usually lean into parmigiano reggiano, any hard cheese is great. Hard aged cheeses are always a go-to, just choose the one you like the best!
Common cheese. Since we are using apples on this board, definitely go with an aged or smoked gouda if you can. This cheese pairs SO well with apple! Cheddar or jack cheeses are also nice alternatives.
Soft cheese. You could serve a soft cheese like brie, which is always my preference. I cut my wheel into small chunks to make it easy to grab for this board. You could also use a creamy goat cheese.
Funky cheese. This board has a lovely stilton, which is a funky blue cheese, without too much funk. You could also use camemebert, or whatever your favorite stinky cheese might be.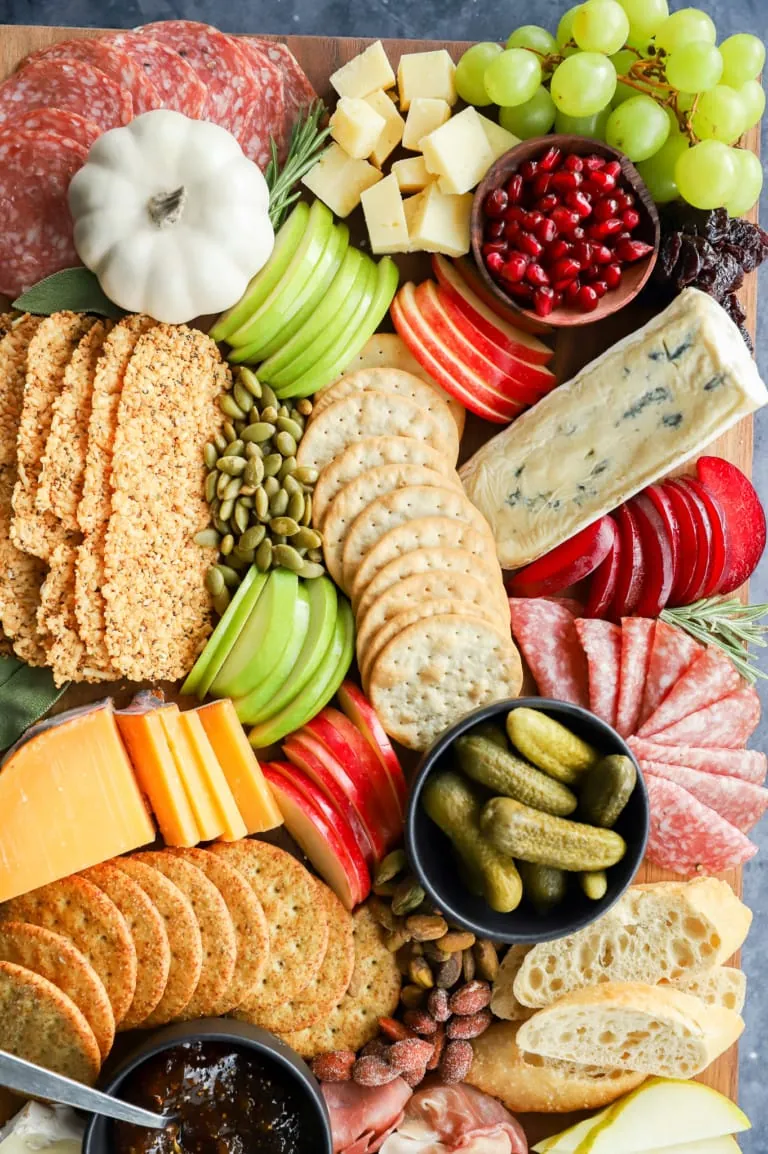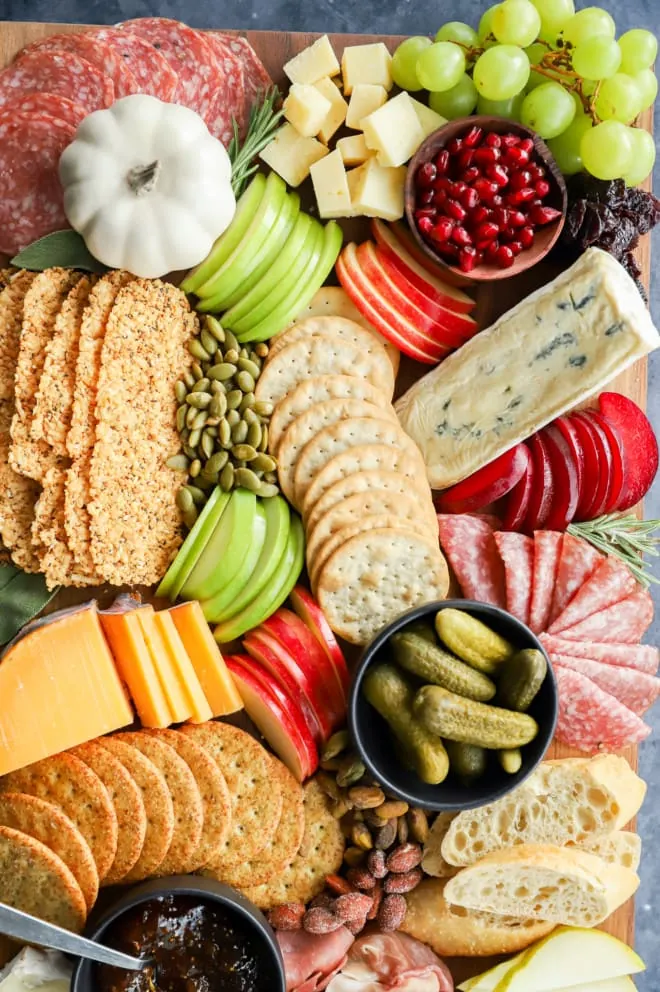 here's what you'll need
Cheeses. I like to have at least three different types of cheese on a large board. However, four is the best to really get one of each type mentioned above.
Meats. Make sure that you have a few different types of cured meats for flavor and texture variation. Prosciutto and a couple types of salami should do it, but there's nothing wrong with a sopressata or whatever meat you find intriguing when you are out shopping.
Crackers. Have at least 2 to 3 types of crackers on the board. I just pick up a variety box, but you can get specific with your selections, depending on what you personally enjoy. I found some parmesan crisp crackers with everything bagel seasoning on them for this board… SO delish.
Fruit. Use seasonal autumn fruit! Apples, pears, plums, grapes, persimmon, cranberries, and whatever else you can find at the store. Pick up some dried fruit too! Dried cranberries are my personal favorite.
Extras. All the little extras like jams, jellies, honey, compotes, and more for spreading on crackers! This also includes nuts, nut mixes, dark chocolate and whatever else you want to pull out from the pantry. Don't forget the fresh herbs to fill out the board too!
everyday seasonal cookbook
With seasonal produce guides, recipes, and more, this cookbook is filled with seasonal food for every occasion.
this recipe's must haves
A giant board is a must for making a charcuterie board! I like to use a large cutting board because it doubles in purpose. I don't know about you, but I don't have a ton of room for a giant board to lay around waiting for the times I decide to make a giant board.
The only tools you'll need are a chef's knife and cutting board to prep the elements of the board.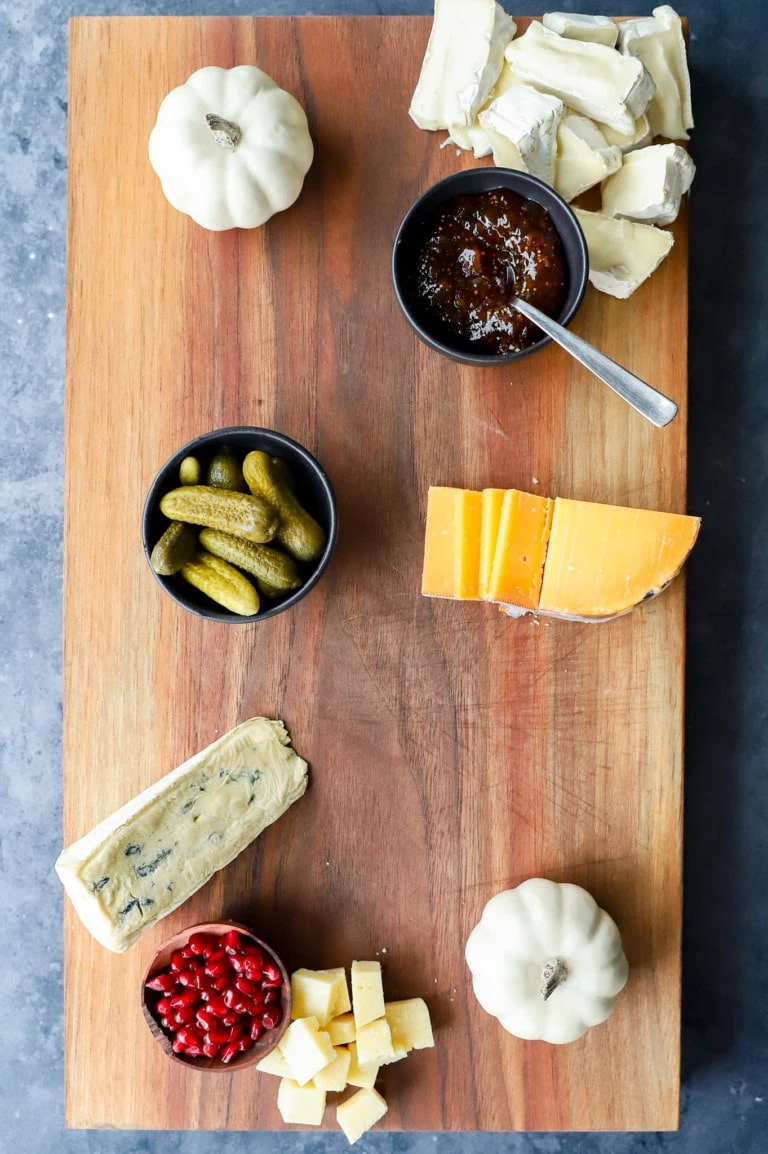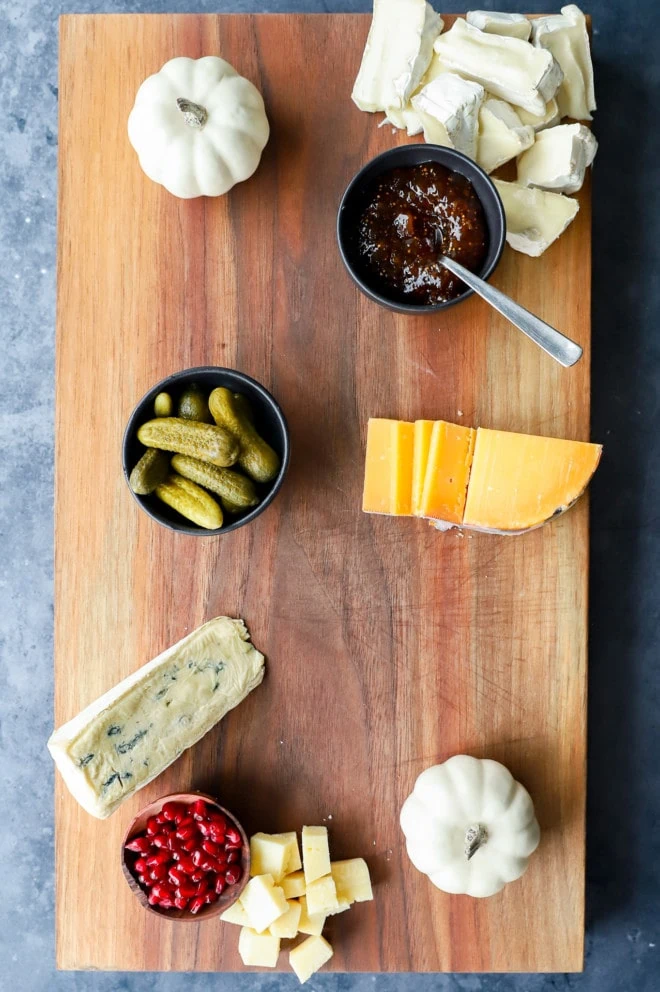 here's how to assemble a fall charcuterie board
add bowls
When you start to assemble your board, it's easiest to start with the biggest items, which would be the bowls. You can fill your bowls with jam, jelly, honey, pomegranate seeds, and more. Space them out across the board so they are evenly spread out.
add meats
Now move onto the meats! By adding everything in segments, it's easier to evenly space it all out to make the board visually appealing. There are many options when it comes to placing meats on the board. You can fan they out, bundle them into piles, layer them, or even create a salami rose if you are feeling fancy.
add cheeses
Before adding the cheeses to the board, you will want to make sure it is sliced, crumbled, cut into chunks, etc. If you like to add a nice wedge to the board like I do, simply make sure to have a few pieces already sliced and have a cheese knife ready.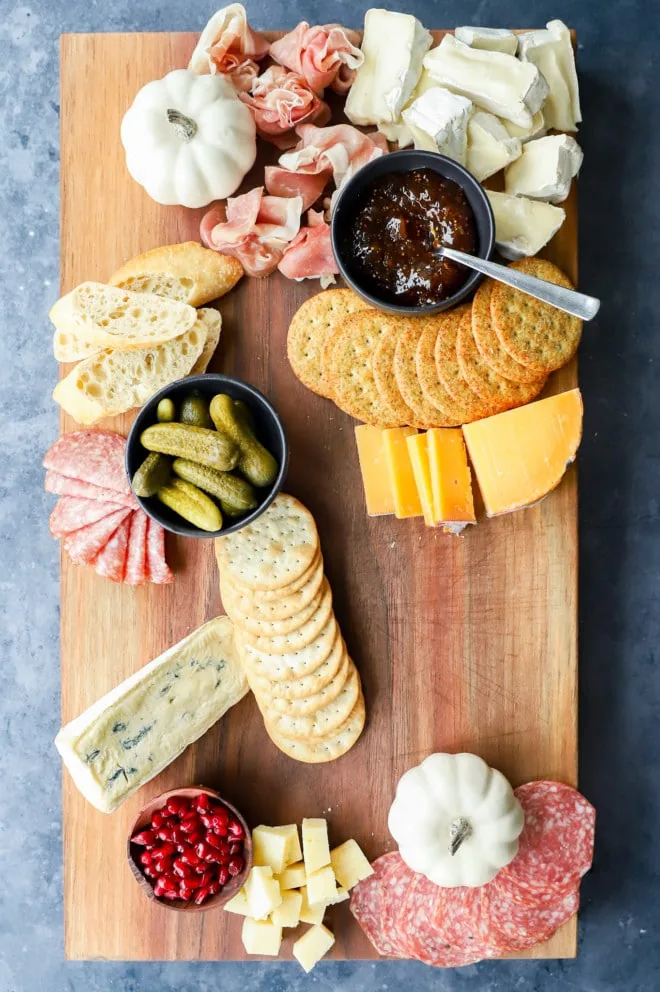 add fruit
Time to add in the seasonal fruit! Space them out around the board, filling in the holes. I like rows of thinly sliced fruit so that they easily fit on the crackers. You can also make piles or add them to bowls earlier in the assembly process.
add extras
Last, fill in all the extras like nuts, dried fruit, and anything else you want to put on the board that doesn't fit into the categories above.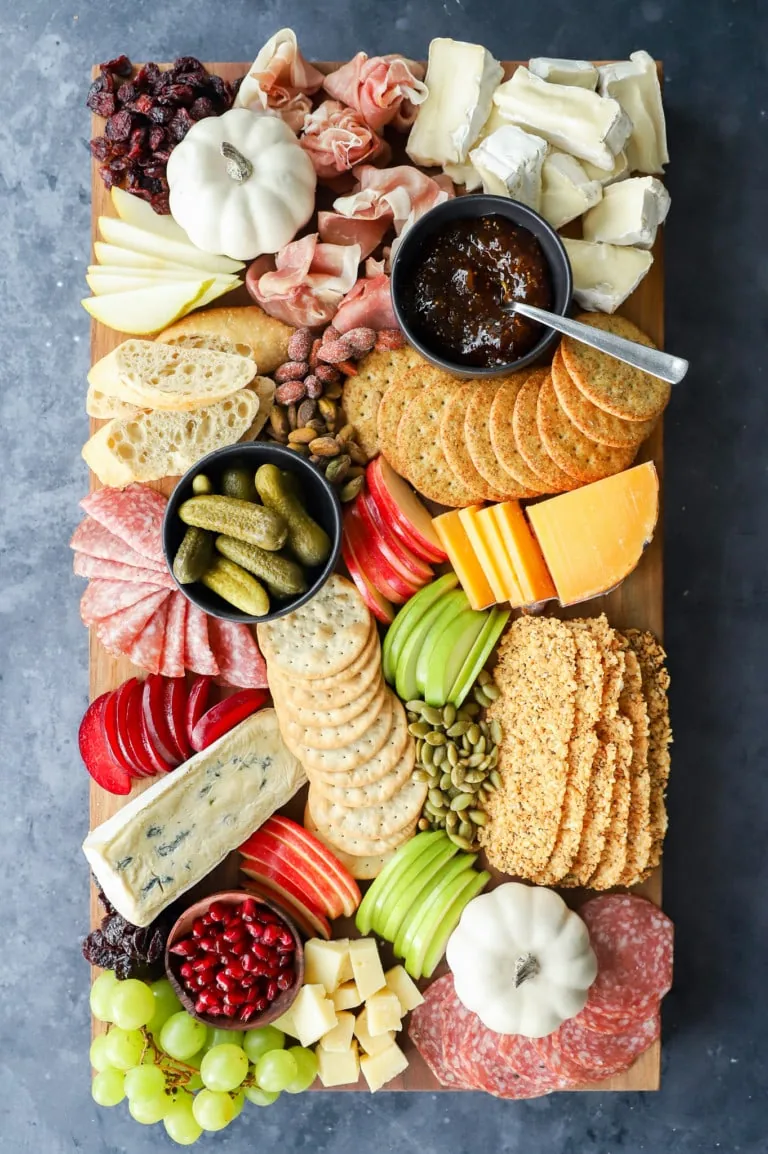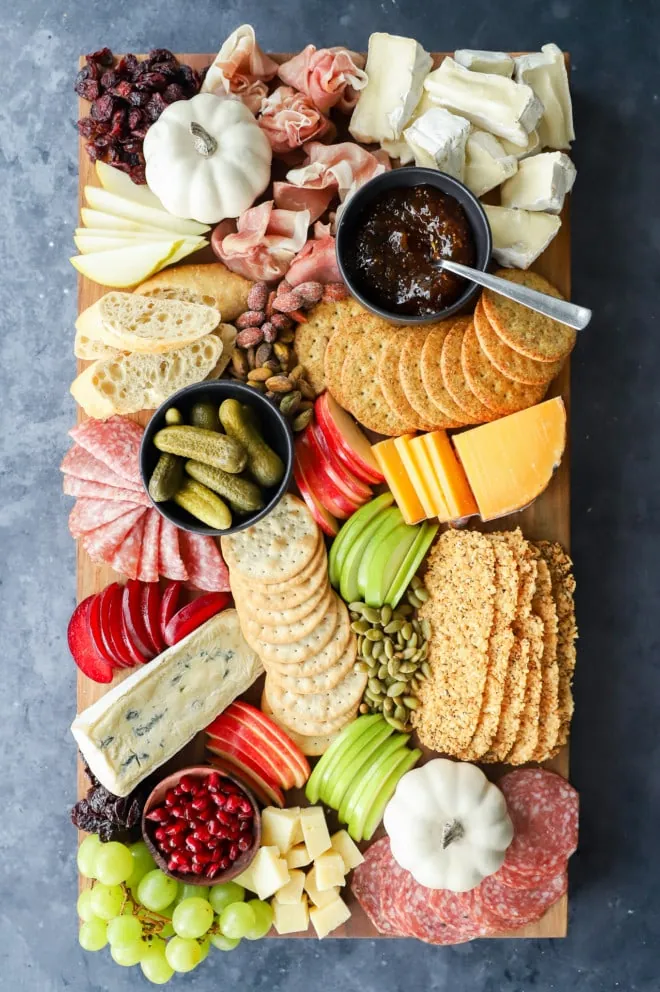 fill in where you need to
All that's left to do is fill in any holes! Fresh herbs are my preference here, but you could also use cinnamon sticks or any other fall seasonal elements to make the board prettier.
tips and ideas
prepare elements ahead of time. I like to prep the elements of the board ahead of time so all I have to do is assemble it when the time comes to serve. Make sure that you prep and store each element separately in the refrigerator. I do not recommend cutting the apple or the pear ahead of time, as they will brown.
use dried fruit. Try adding in dried fruit for different flavors and textures. While I love cranberries, eating them raw isn't delicious (unless they are candied). You can use dried cranberries, apples, bananas, and more to add in variety.
simple is always best. Don't worry about having ever single type of meat or cheese possible. You can go above and beyond if you want to, but all you need is a small variety and the flavors speak for themselves.
More tasty board ideas to snack on: Summer Charcuterie Board | Tailgating Snack Board | BBQ Charcuterie Board | Fruit Charcuterie Board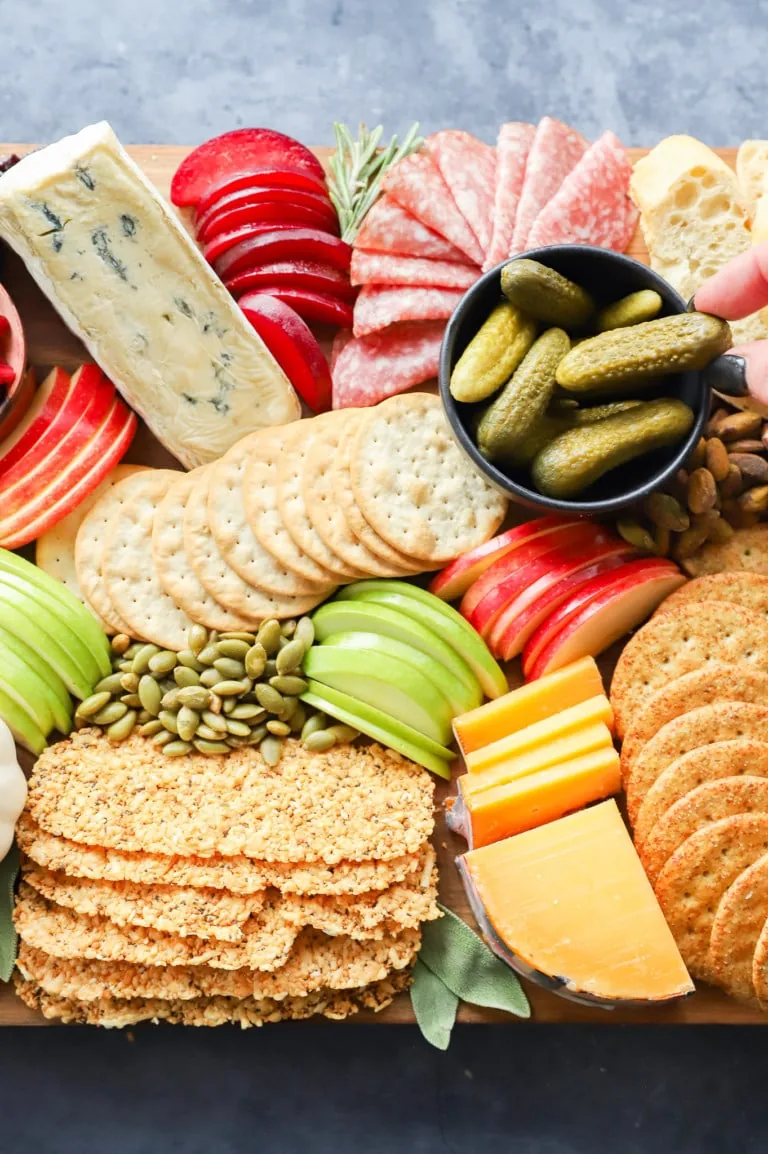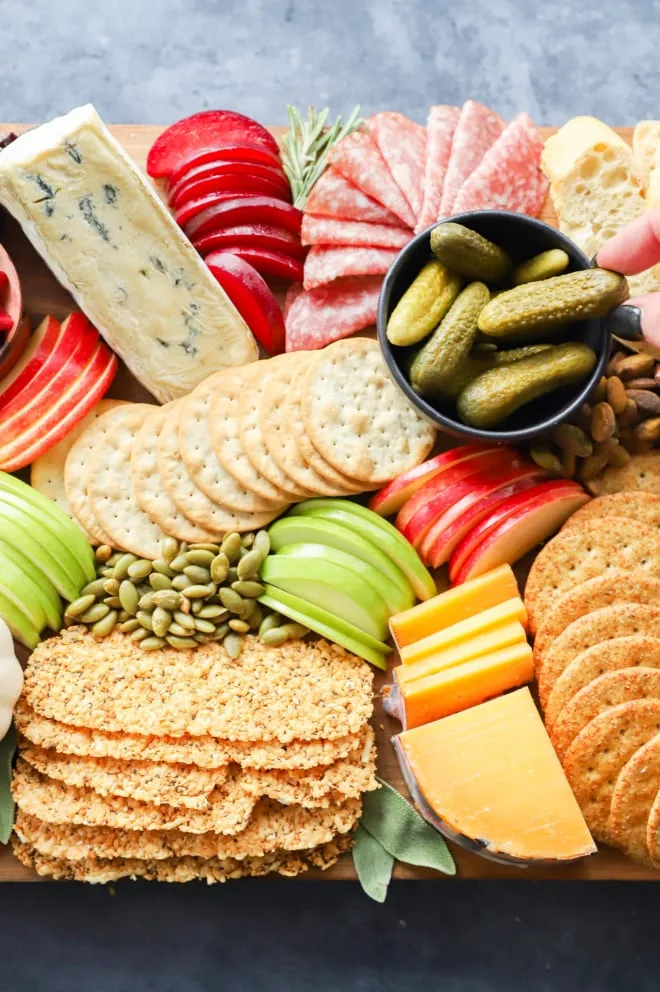 what fruits can you put on this board?
There are so many lovely fall fruits to highlight on a fall board! As you can see, I focused on 2 types of apples, pear, grapes, and plum. I recommend including about 4 different types of fruit total for the board.
Here are some more fruits that are in season in the fall to use on the board: apples, figs, cranberries, grapes, persimmon, quince, plums, and guava.
how long can this board sit out?
Any charcuterie board that includes meats and cheeses should be served at room temperature. There is a limit to how long it can be left out, however. Do not leave a charcuterie board out for more than 2 hours total.
If it has been two hours, wrap up the remaining items separately and store them back in the refrigerator.
how do I decorate an autumn charcuterie board?
Break out the fresh herbs! I prefer to have the majority of elements on my board be edible. Therefore, simple fresh herbs are the best compliment to the board ingredients. Not only are they pretty and easy to tuck into various nooks and crannies, they can even be used with the other ingredients on the board. Herbs like rosemary, thyme, and sage work best.
You could also use mini pumpkins if you like that look! Be sure to add them at the same time as adding the bowls when you assemble the board. You don't want to run out of space and try to shove it in there at the end.
how much should I plan on per person?
If you are hoping to scale up or scale down this board, the general rule of thumb is to have 3 ounces of meat and cheese per person. This applies if you are serving the board as a snack or appetizer before a meal.
Now if the charcuterie is a meal, you will want to account for 6 ounces of meat and cheese per person.
These numbers don't include the extras, obviously. I usually just eyeball the amount of fruit and extras based on the amount of meat and cheese I'm purchasing in total. I have more exact numbers in the recipe card to serve a specific amount of people.
Need more inspiration for appetizer recipes? Check out my appetizer recipe page!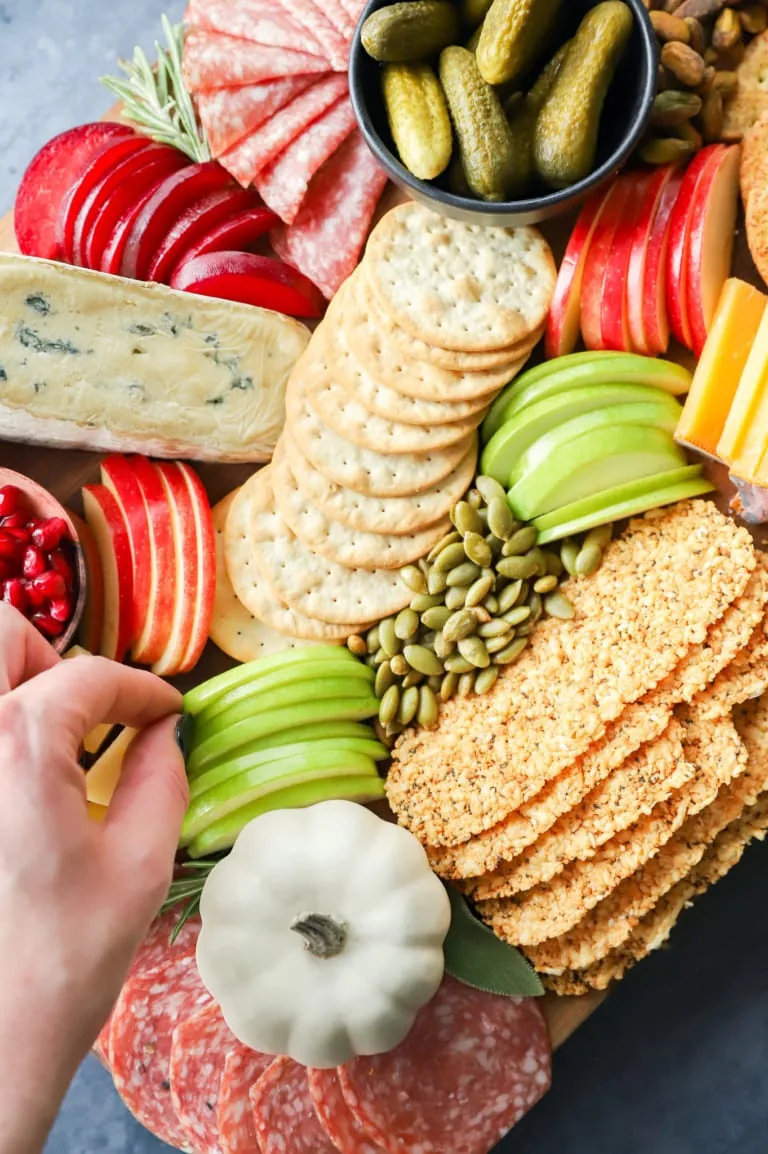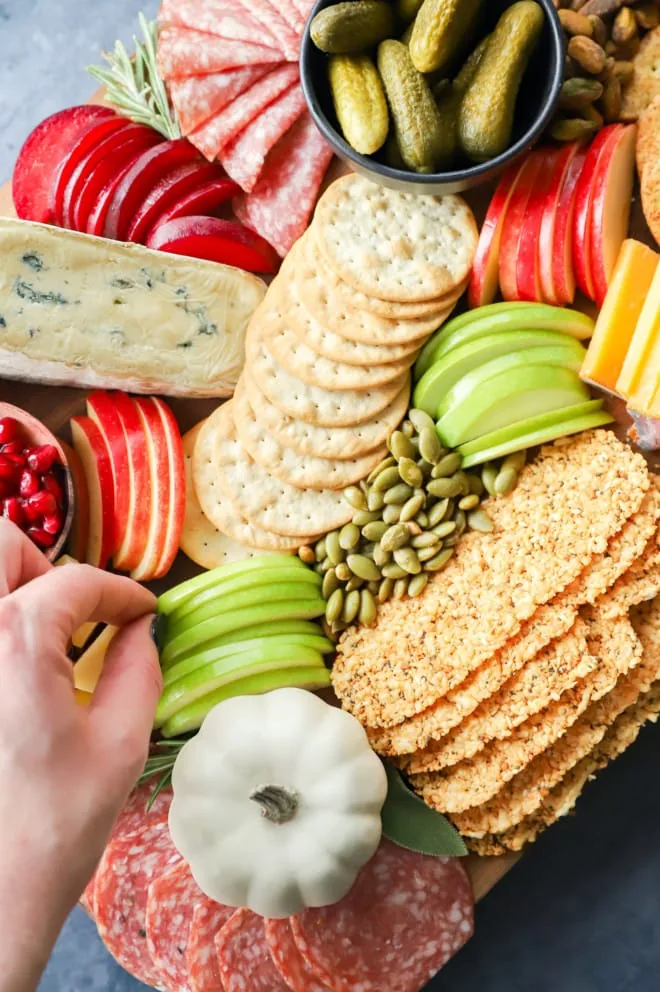 what to serve with a fall charcuterie board
This fall charcuterie board is really all the appetizer you need. With the variety of meats, cheeses, crackers, fruits, and more, you get all the snacking you need! Honestly, this could be a meal itself between me and a couple of friends.
That's why, when I think about what to serve with a fall charcuterie board, my brain always goes to cocktails. My favorite way to choose? Pick your favorite seasonal flavor and make a cocktail with that!
If you love apple, an apple moscow mule is a wonderful way to toast the season. An apple bourbon smash is another simple and refreshing option that's all about the apple.
For those of you who adore cranberry, a tart and bubbly cranberry mimosa is perfect for a party. If you are looking for something without champagne, try this cranberry orange moscow mule.
Pumpkin lovers, this bourbon pumpkin smash is for you! For a more elegant cocktail, try a pumpkin sidecar.
more tasty fall recipes
Rich and creamy butternut squash risotto is a simple fall meal when topped with chicken or steak! It also makes for a delicious side dish.
If you love a gnocchi bake, you'll love this fall version that's been infused with pumpkin.
A comforting bowl of pumpkin and sweet potato soup always hits the right note on a crisp fall day.
seasonal tip
Select the best seasonal produce possible. Refer to my seasonal cooking post to see what's in season in fall. You can limit it to just fruits, or incorporate some vegetables in there as well!
Finally, if you make this fall charcuterie board recipe, please be sure to give this recipe a rating and/or leave a comment! I love to hear when you all make recipes, and I do take the time to respond to every single comment.
Feel free to drop questions below too, if you have them!
Oh and be sure to tag me on Instagram if you make the recipe! I love being able to see these recipes come to life in your homes – it's my favorite thing to look through those photos. It really means the world to me!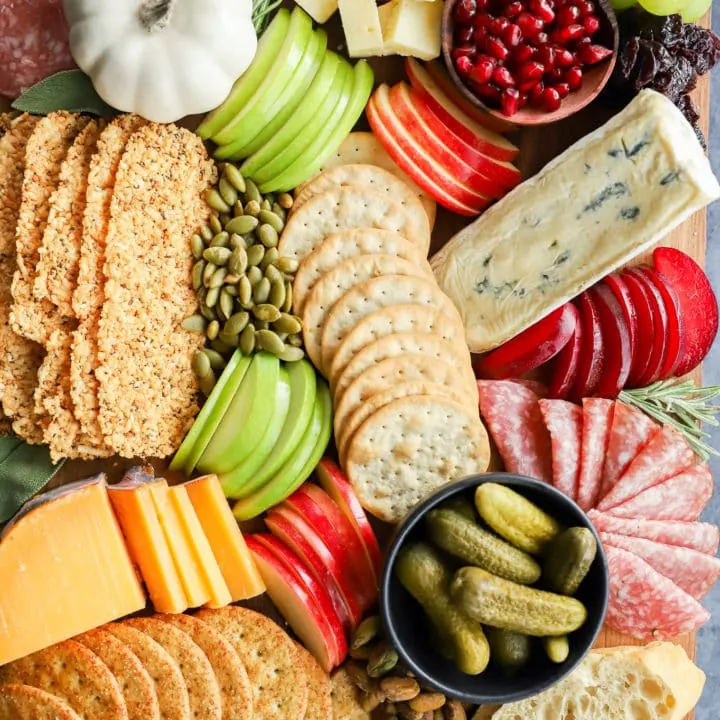 Fall Charcuterie Board
A delicious seasonal grazing board that highlights the flavors of autumn!
Ingredients
cheeses - 6 to 8 oz total (minimum)
One wedge of brie
4 oz parmigiano reggiano
Stilton
4 oz sliced hard cheese like cheddar or gouda (you can also get a creative flavor of cheese to make it interesting)
meats - 6 to 8 oz total (minimum)
Genoa salami
Prosciutto
Hard salami
fruit
2 apples (2 different types)
1/2 lb green and/or red grapes
1 large pear (any kind)
1/4 cup fresh pomegranate seeds
1 plum
extras
Crackers - I like to have at least three kinds, you can also use sliced toasted pieces of bread!
Nuts (you can use a mix or narrow it down to a couple types - I like using walnuts and pistachios, as well as a chocolate covered nut)
Cornichons
Dried fruit - cranberries, cherries, dates, etc
Jam or marmalade (particularly orange, cranberry, and/or fig)
Honey
decoration
Fresh herbs - sage, rosemary, thyme to fill in gaps
Instructions
Add larger items that go in bowls on your board first. This way you can evenly space them out across the board.
Next, lay out your items in groups to spread everything out evenly. Do the meats, then the cheeses, followed by crackers and bread. Finish with produce and all the extras.
Use fresh herbs to fill in the gaps between items.
Finally, add spoons to any jams/compotes.