Please note this post contains affiliate links.
Miso Marinated Steak Salad is a balanced blend of Asian flavors with steak, fresh greens, and vegetables. From the marinade to the dressing, all the elements make every bite pop!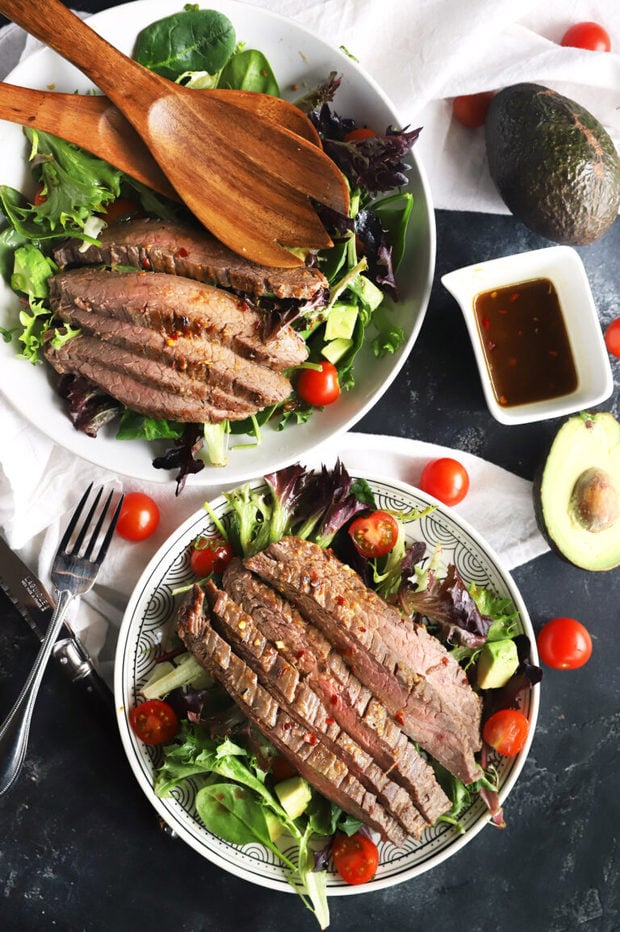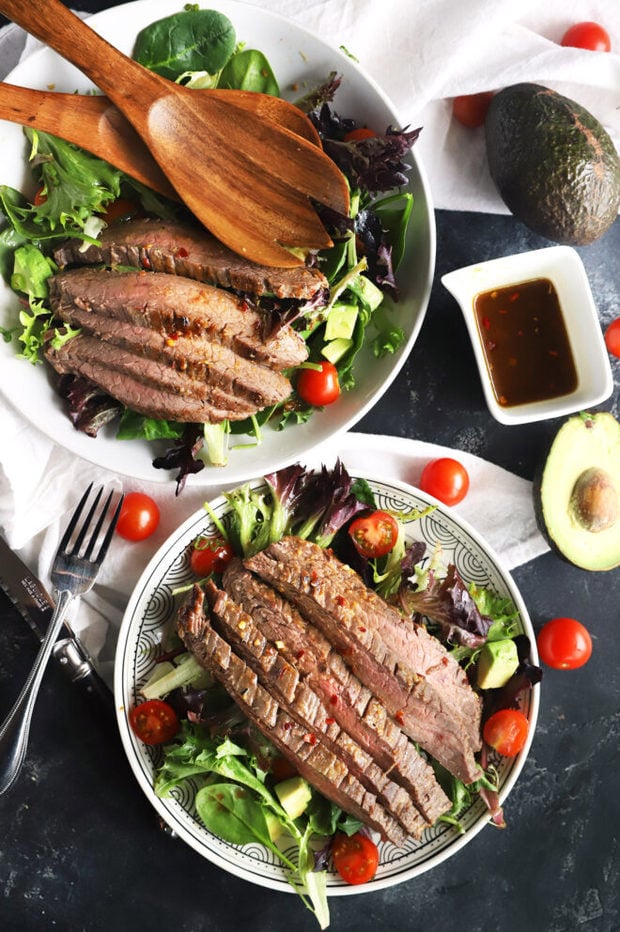 Being balanced in my diet is a challenge daily. There are the things that I want to make, but I also need to be mindful of the food I am putting in my body.
For me, diets are all about balance. I am not going to cut out carbs, I am not going to slash calories in half, and I am not going to live off of only healthy recipes for the rest of my life.
That's precisely why I made this salad. It's got the meat yumminess but a bunch of greens and vegetables as well to balance it all out.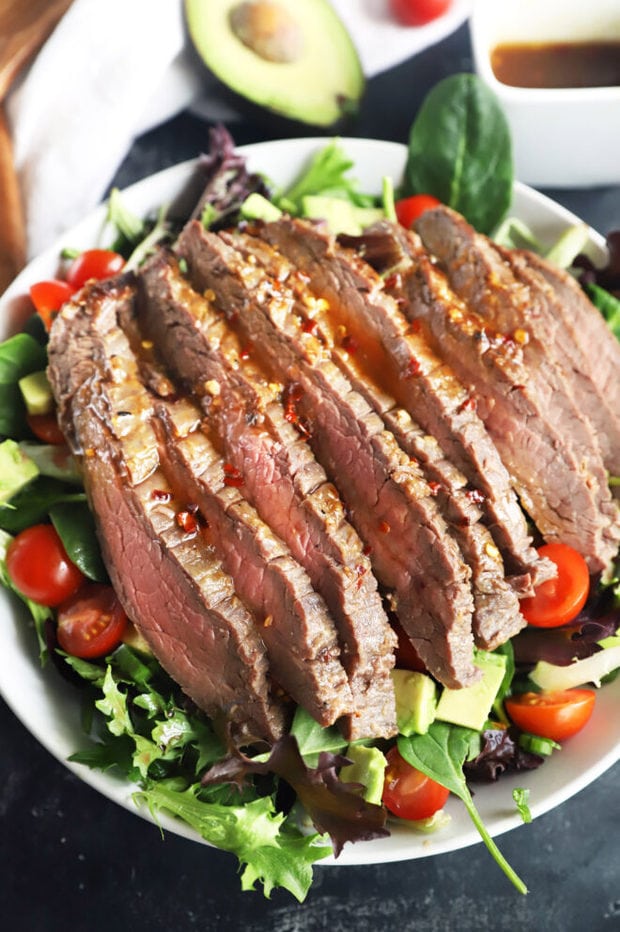 To me, salads need to be hearty if I am going to eat them as a main dish, and this miso marinated steak salad doesn't disappoint.
The marinade is super flavor, with a white miso base that will blow your mind. All you have to do is roast the steak in the oven for about 15 minutes (or longer if you want it medium to medium well).
While you do that, you can easily put together the dressing and salad base! The whole meal only takes about 20 minutes of active cooking/prep time.
Pro tip: Marinate the steak overnight so you can get the most flavor and dinner will be a breeze when you get home!
You can even make this meal for meal prep for your lunches! Just keep the dressing separate from the salad and cooked steak. The steak actually tastes really good cold, but you can also reheat it separate from the salad if you prefer the blend of hot steak and cold greens/veggies.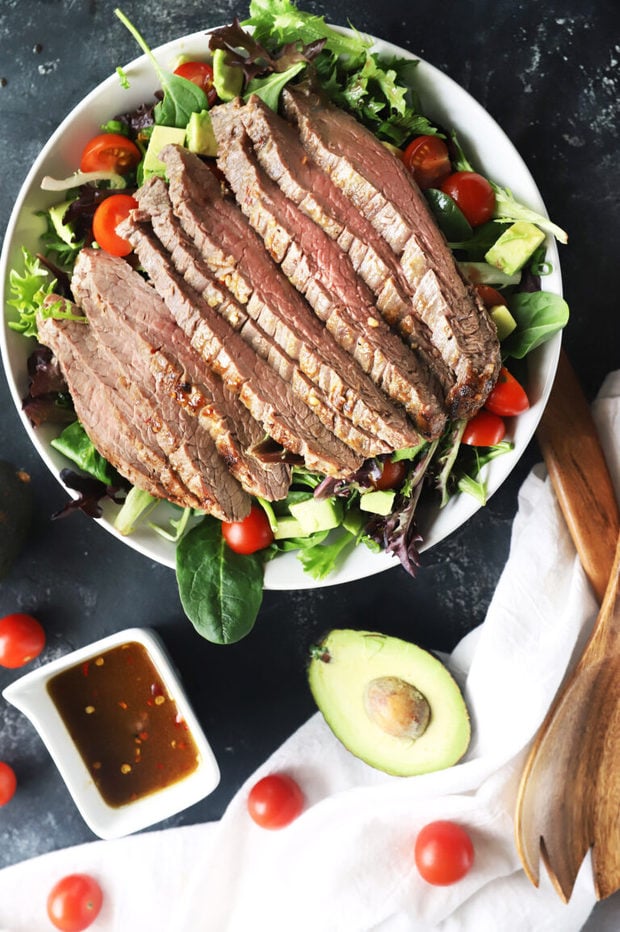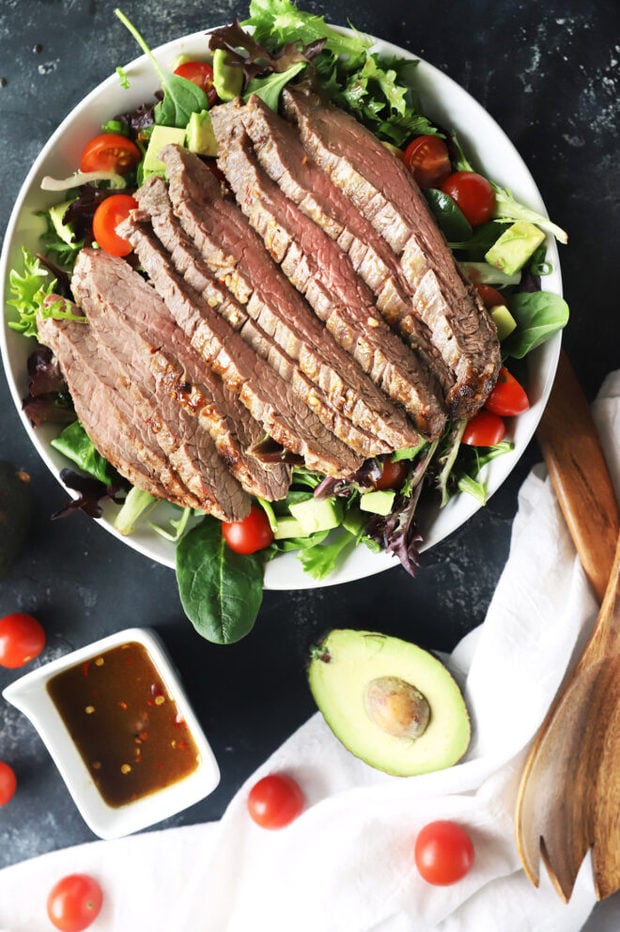 This Recipe's Must-Haves
To make both the marinade and the dressing for the recipe, you'll need your mixing bowls and a whisk handy.
The steak for this recipe is roasted so it's super easy! You just need a half sheet baking pan to roast it on. Then you'll need a cutting board and a sharp chef's knife to slice the steak up.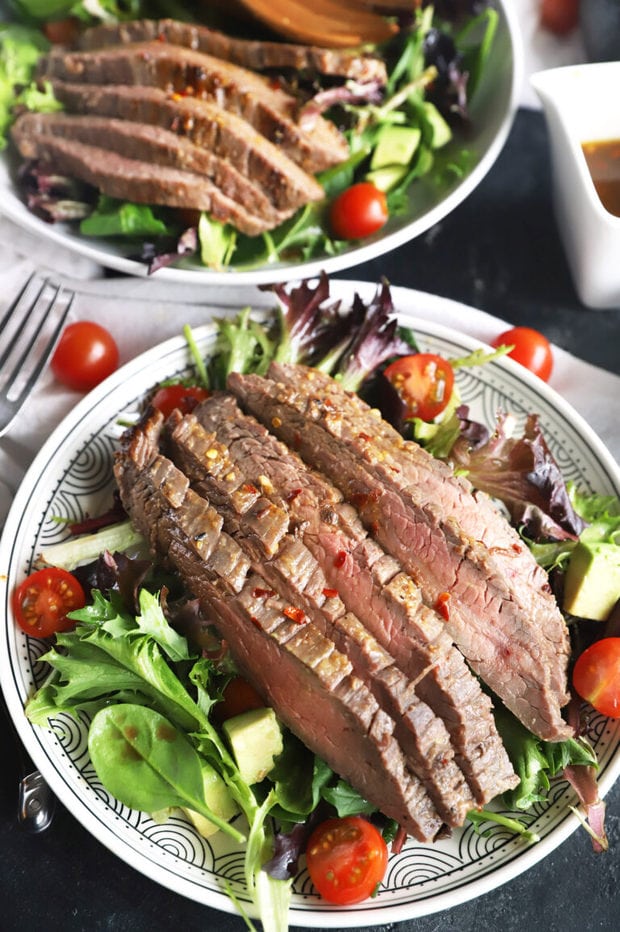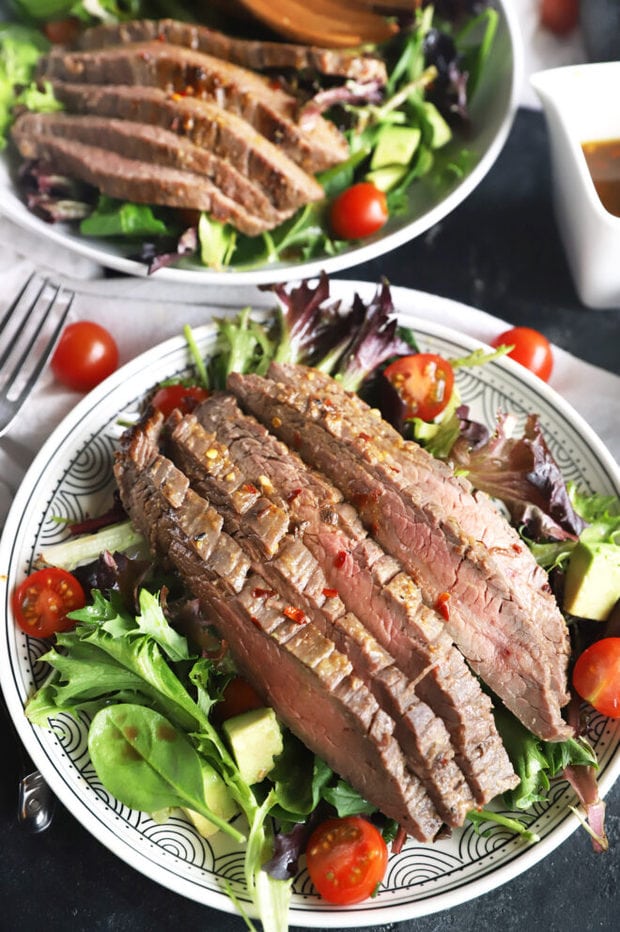 Here's How To Make Miso Marinated Steak Salad
Marinate Steak
The marinade for this steak is a combo of miso, mustard, ginger, vinegar, garlic, red pepper flakes, and oil. I highly recommend using white miso for the marinade because its flavor lends itself so well to the steak.
Honestly, the marinade mixture is more of a paste. You'll want to make sure you coat both sides of the steak evenly, then bag it and refrigerate for at least 30 minutes. You can also leave it overnight if you want!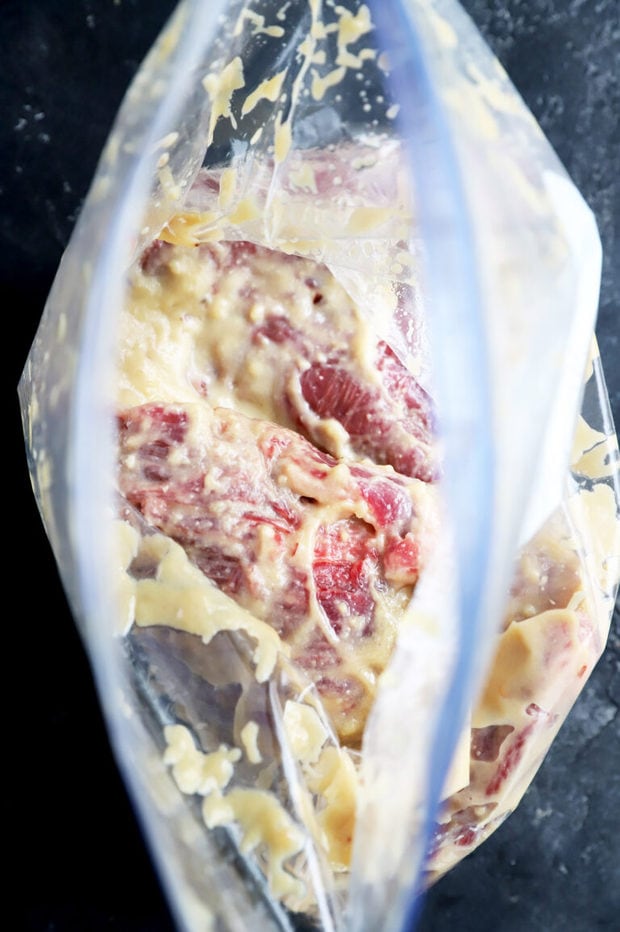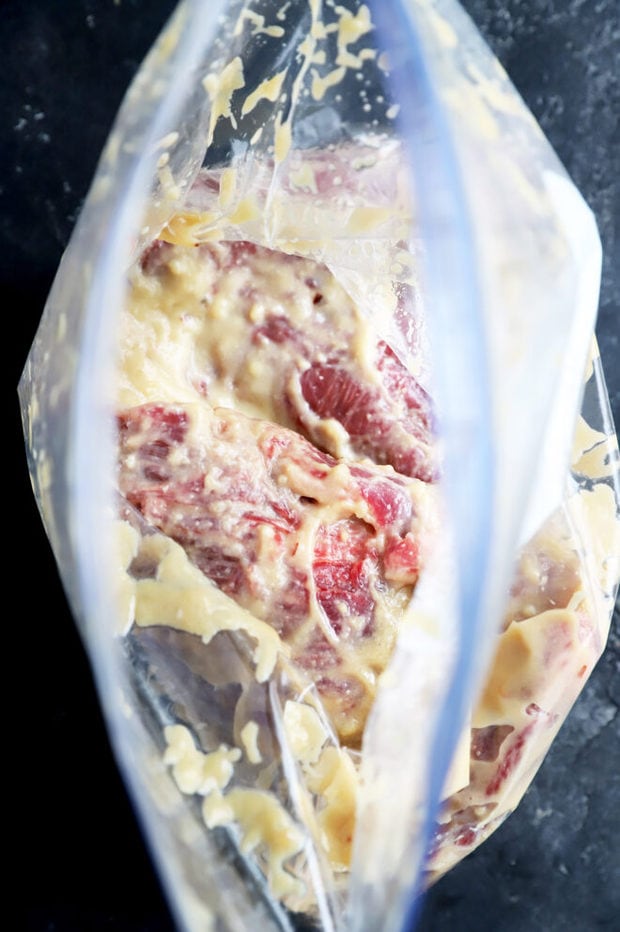 Roast Steak
Roasting the steak is super simple. Just place it on a greased baking sheet and roast for 15 minutes to get it to medium rare.
The biggest tip is to rest the steak for 10 minutes BEFORE slicing. That way you don't lose all the yummy juices inside!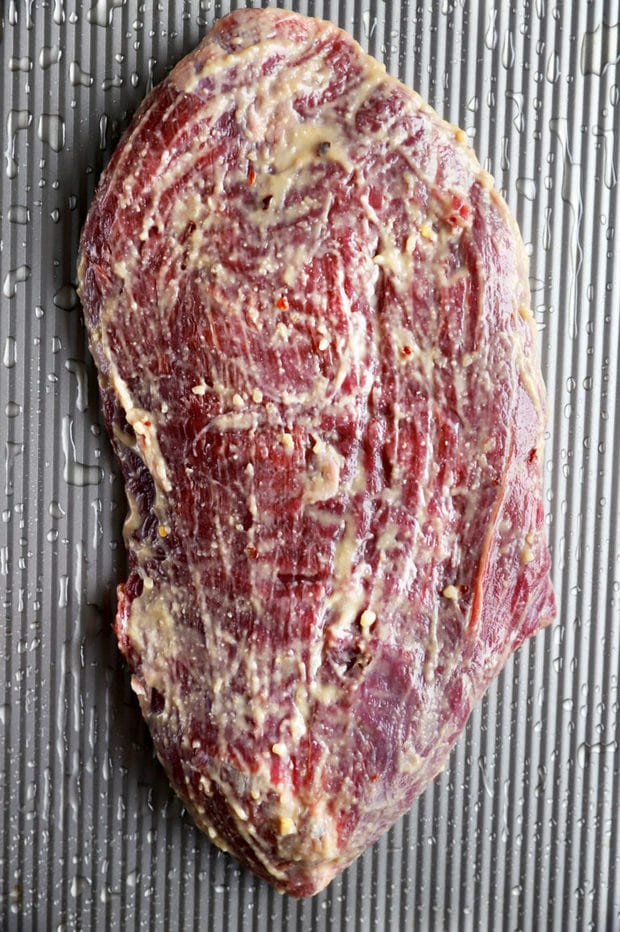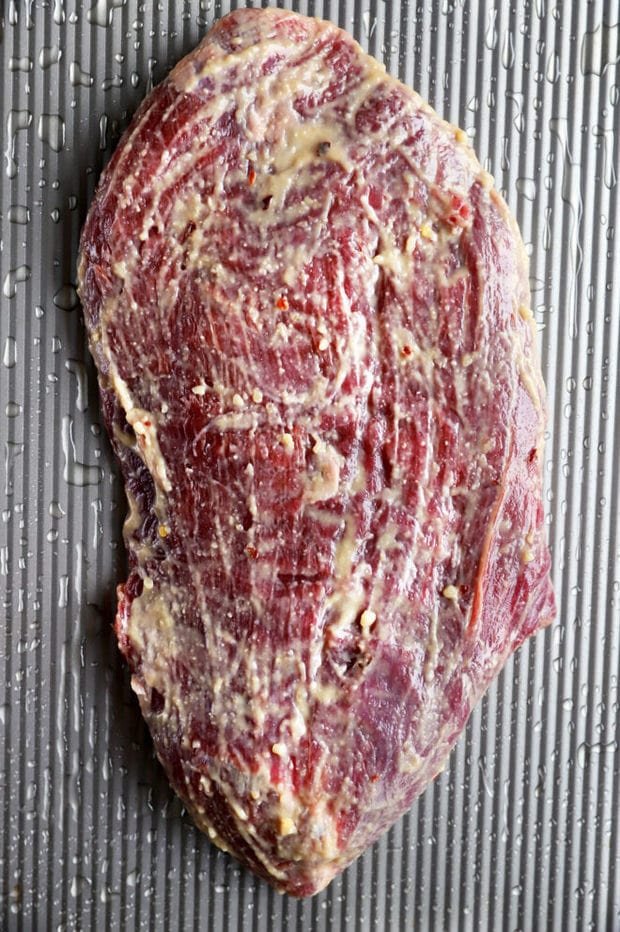 Make Dressing
Dump all the dressing ingredients in a bowl and whisk away until combined!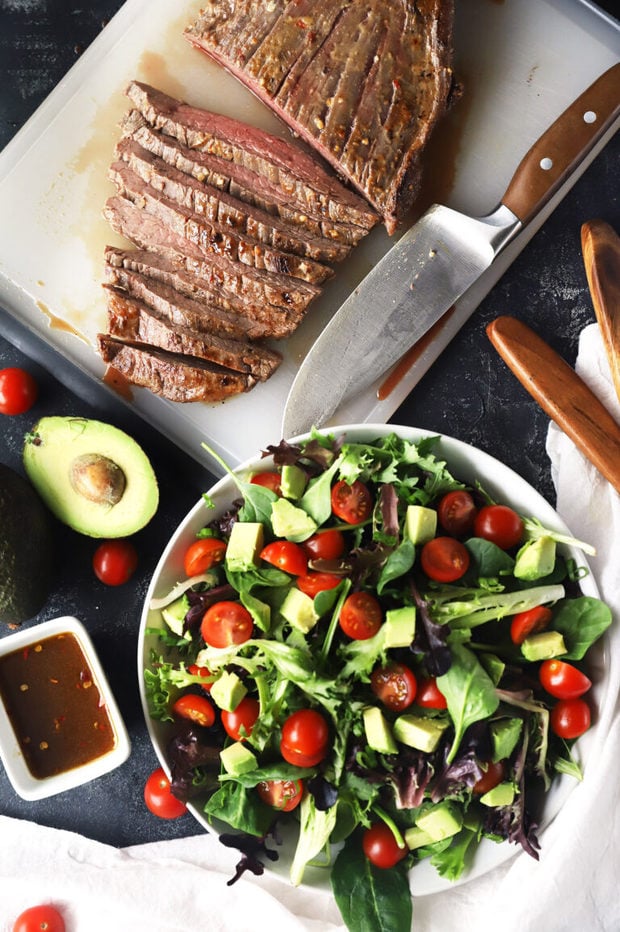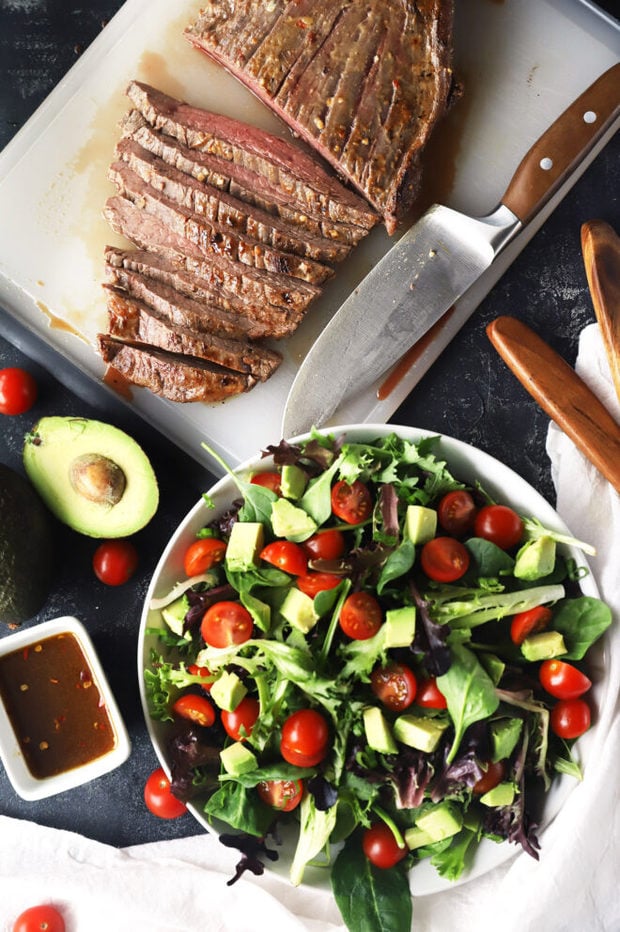 Assemble
Now all you have to do is make the salad base, then top it off with the sliced steak. Pour over the dressing and be prepared for the most flavorful healthy meal EVER.
Need inspiration for dinner this week? Check out my main dishes page for some tasty ideas.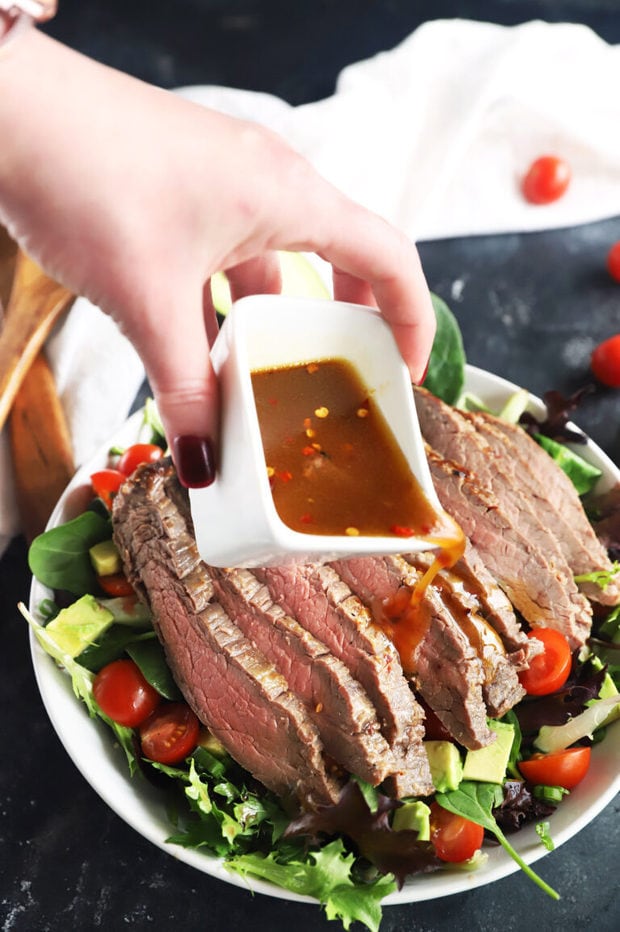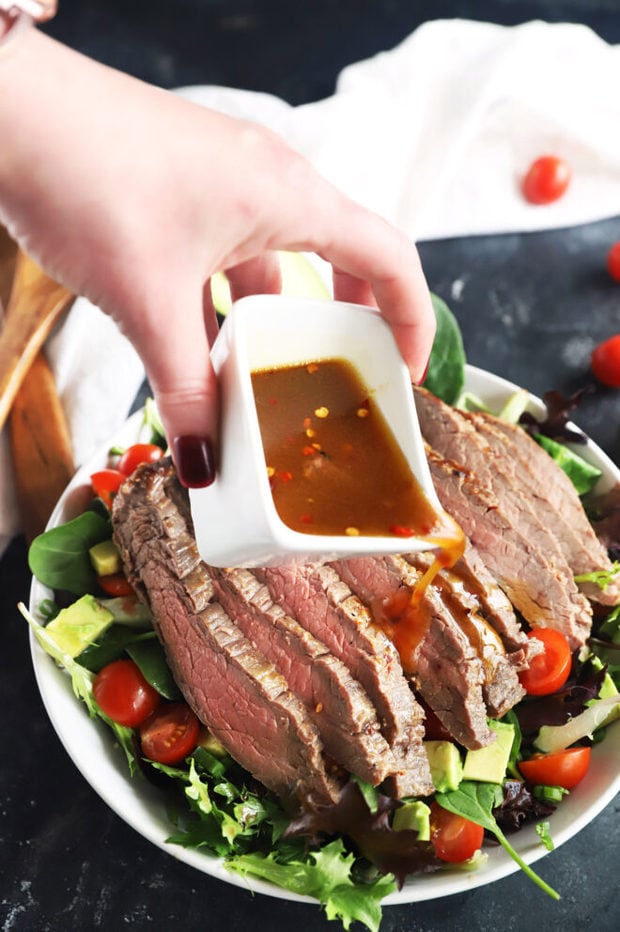 Can I make this recipe for meal prep?
Yes you can! The steak is good served both hot AND cold. If you are doing meal prep, I recommend chopping up the steak instead of slicing it because it's easier to eat. But that's just me!
Also, don't forget to portion out and sort the dressing separately so the greens don't wilt.
Is there a different cut of steak I can use?
If you prefer, you can use sirloin or skirt steak for this recipe. Note that the cooking times may vary for these cuts so check the steak after 7 to 10 minutes to get the perfect cook. It should be 145˚F in the center for medium rare!
Miso Marinated Steak Salad with Avocado
Additional Time:
30 minutes
The marinated steak is tender and juicy, making it the ideal pairing for a vibrant salad!
Ingredients
For the Steak
1/4 cup White Miso Paste
2 tsp Dijon Mustard
1 tsp Fresh Ginger, peeled and grated
1/4 tsp Crushed Red Pepper Flakes
1 tsp Kosher Salt
1 1/2 tsp Rice Wine Vinegar
2 cloves Garlic, grated
2 Tbsp Vegetable Oil, plus more for brushing
1 1/2 pounds Flank Steak, (grass-fed)
For the Dressing
2 Tbsp Olive Oil
2 Tbsp Soy Sauce
2 Tbsp Brown Sugar
1 1/2 Tbsp Lime Juice
2 cloves Garlic, minced
1 Tbsp Fresh Ginger, minced
1/2 tsp Crushed Red Pepper Flakes
For the Salad
5 cups Mixed Salad Greens
1 cup Cherry Tomatoes, halved
1/2 cup Sliced Green Onions
Instructions
1. For the steak, add miso, mustard, ginger, red pepper flakes, salt, vinegar, garlic, and vegetable oil to a small bowl. Whisk to combine into a paste. Spread both sides of the steak with the paste and place in a plastic sealable bag. Chill for at least 30 minutes, up to overnight in the fridge.
2. When ready to cook, preheat oven to 450˚F. Brush a baking sheet with vegetable oil. Remove steak from marinade and place on prepared sheet pan.
3. Roast for 15 minutes, until medium rare, turning halfway through. Let rest for 10 minutes on the baking sheet before removing to a cutting board to thinly slice against the grain.
4. While the steak is roasting, whisk together all ingredients for the dressing. Set aside.
5. To make the salad, mix together greens, cherry tomatoes, avocado and green onion in a large serving bowl. Top with sliced steak and pour over dressing.
Recommended Products
As an Amazon Associate and member of other affiliate programs, I earn from qualifying purchases.