Poblano Enchilada Chicken Empanadas are the easy recipe that will show you how to make savory hand pies that are flavorful and packed with fresh ingredients and LA VICTORIA® salsa. The whole family will love this baked Mexican comfort food. You can even freeze them for later!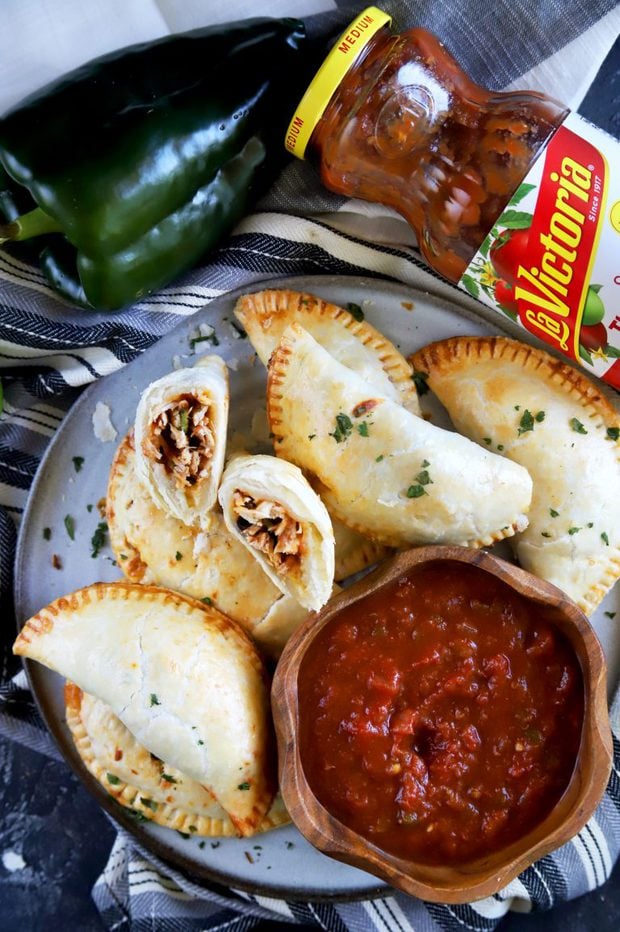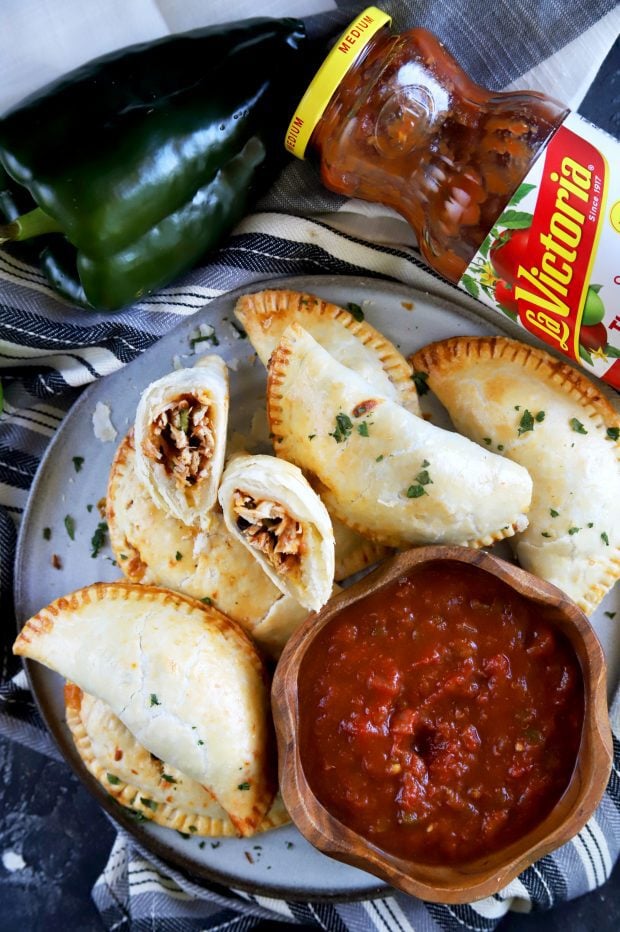 This post has been sponsored by the makers of the LA VICTORIA® brand. All thoughts and opinions are my own.
Are you ready to take your dinner to the next level? Instead of spending time rolling enchiladas, let's stuff all that flavor (with some extra YUM) into some easy-to-make empanadas.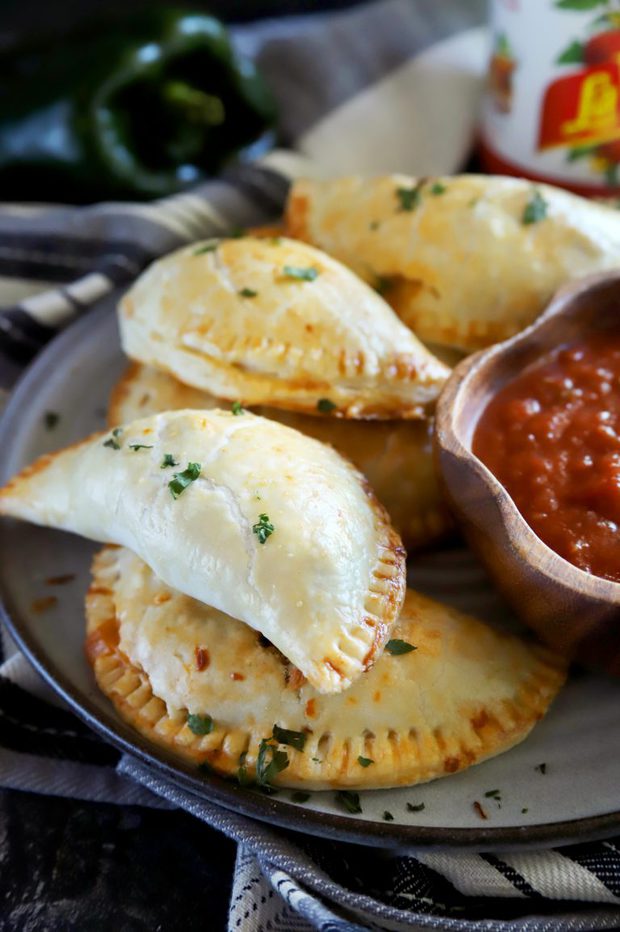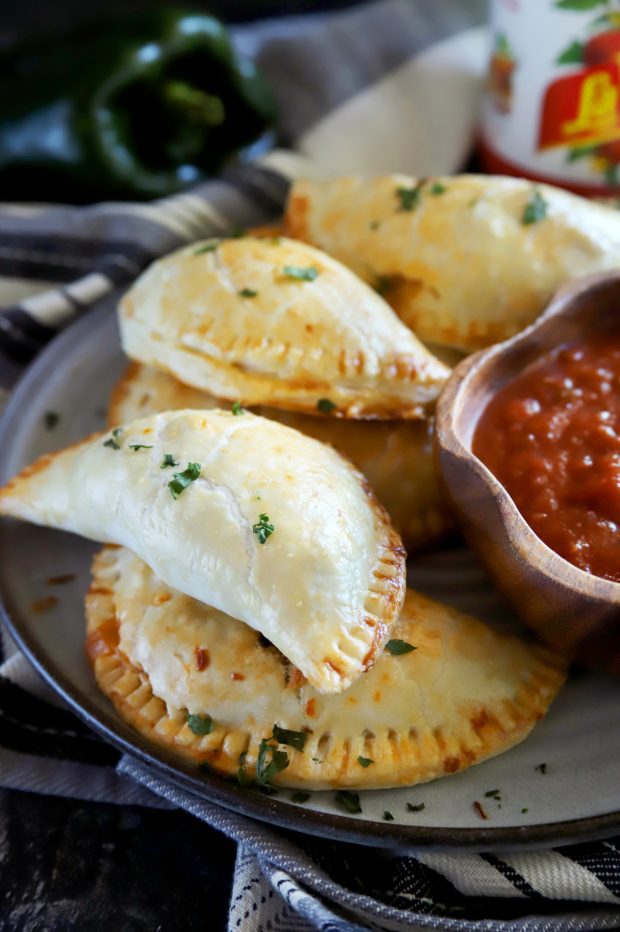 These little chicken empanadas are a revelation. They are baked in pre-made pastry crust (because you deserve to skip some steps when it comes to cooking!) until golden brown on the outside and juicy and flavorful on the inside. Not only do you have the flavors of enchiladas in there, you have an extra bonus of delicious ingredients from the Thick'n Chunky salsa used.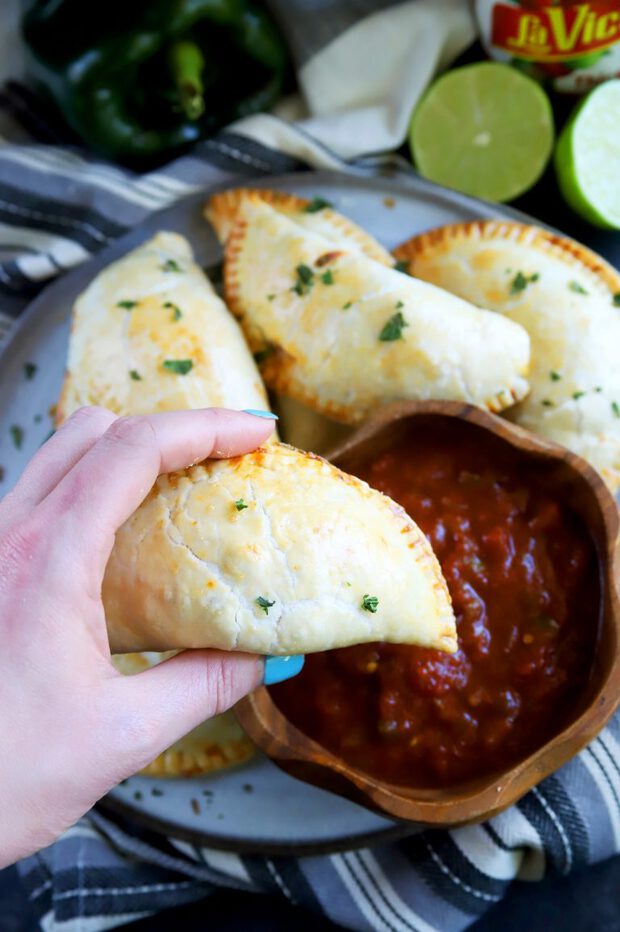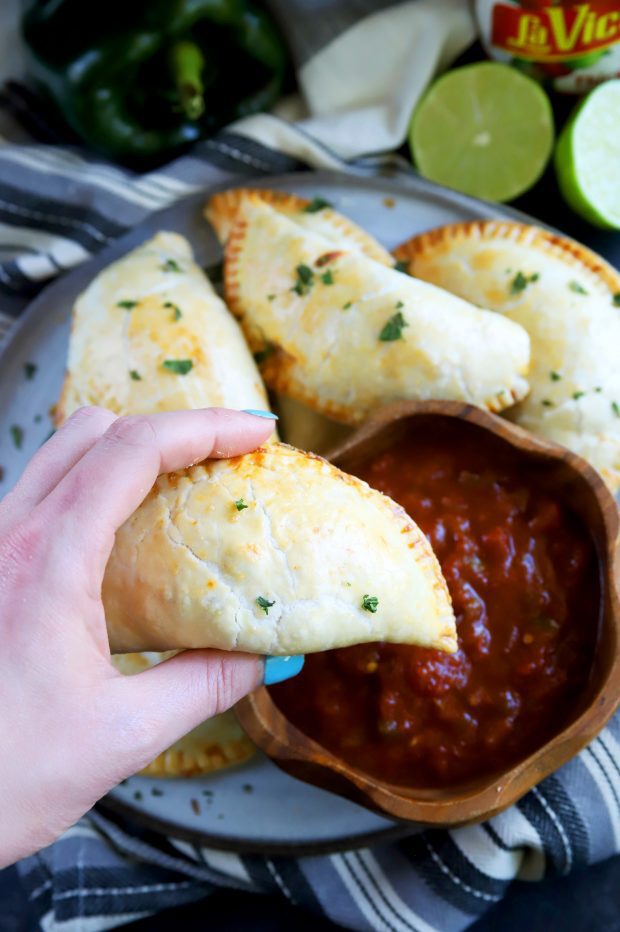 LA VICTORIA® is one of those salsas that I always find myself turning to, and not just for using it as a dip for my favorite tortilla chips. Their salsas are the ones that I love to cook with, too, for a variety of different recipes beyond just traditional Mexican dishes.
The salsas from LA VICTORIA® use simple ingredients so you get the flavors that excite your taste buds whenever you use them. You really get the pure tomato taste in every jar, and that's what brings a two-punch of flavor to these empanadas.
Not only are you serving them alongside the empanadas for a dip, LA VICTORIA® salsa also gets stuffed inside the empanadas.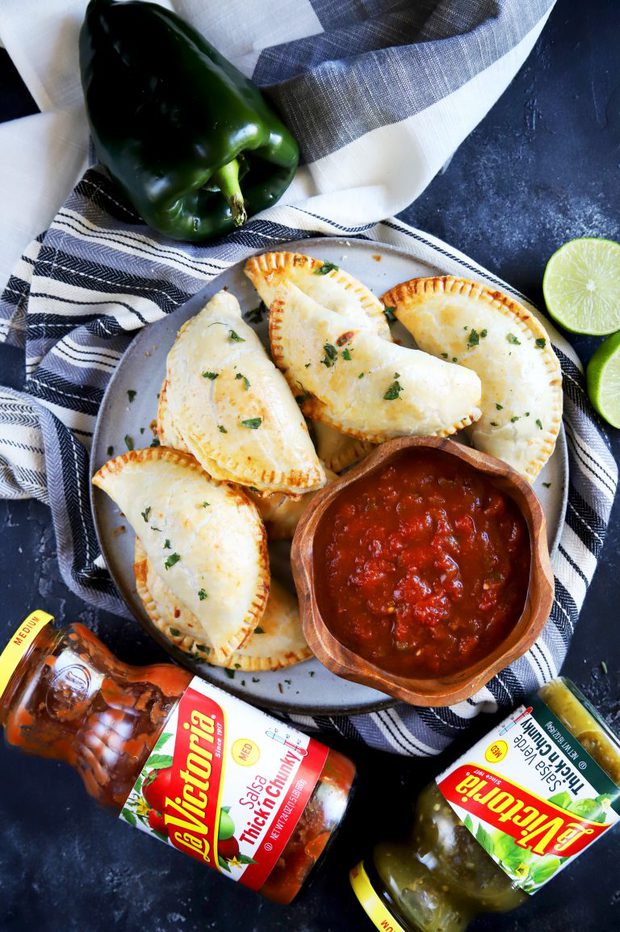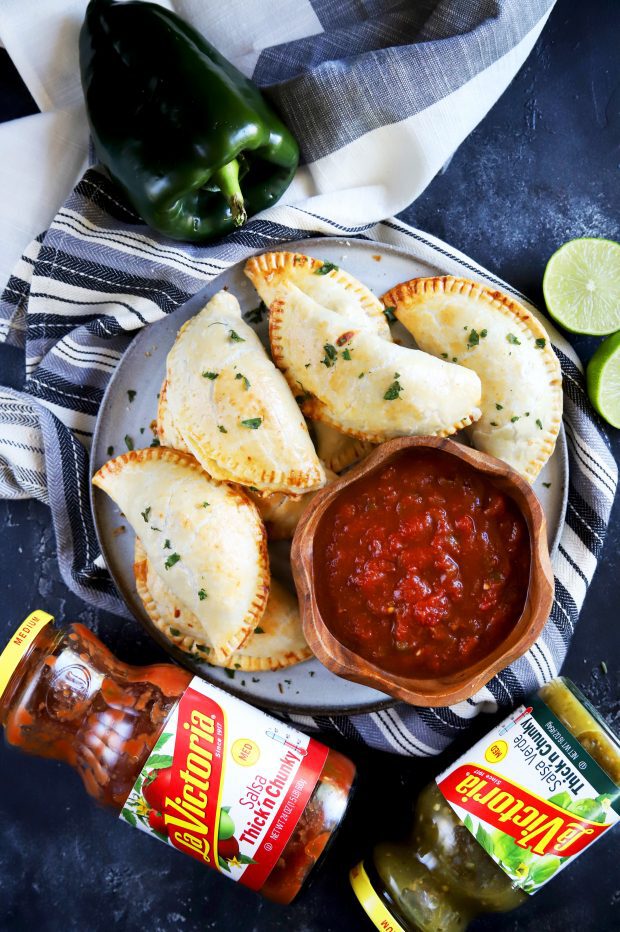 Do you know why the flavor of tomato is so strong in a jar of this salsa? I love that LA VICTORIA® because the tomatoes in its salsa are picked at the peak of ripeness from their vines. This is why the salsa is so GREAT TASTING. It's not muddled by processed ingredients or too many spices—you really taste the ingredients that are used! You really taste the real, simple ingredients that are used! La Victoria also makes a new Think 'n Chunky Organic Line, if that's more up your speed.
Enjoy one of these flavorful empanadas with your favorite summertime drink! It's the handheld dinner (or snack!) that ROCKS.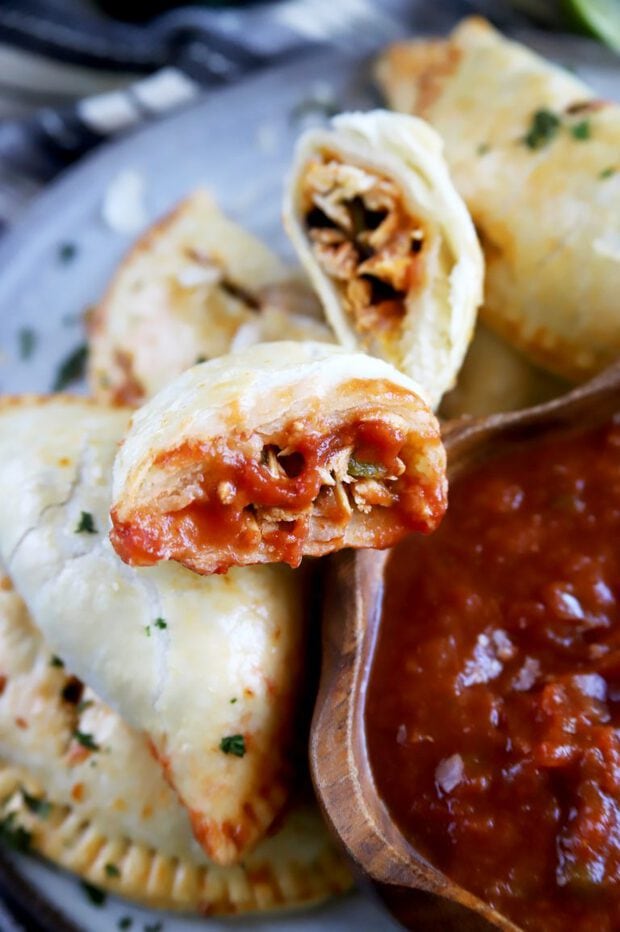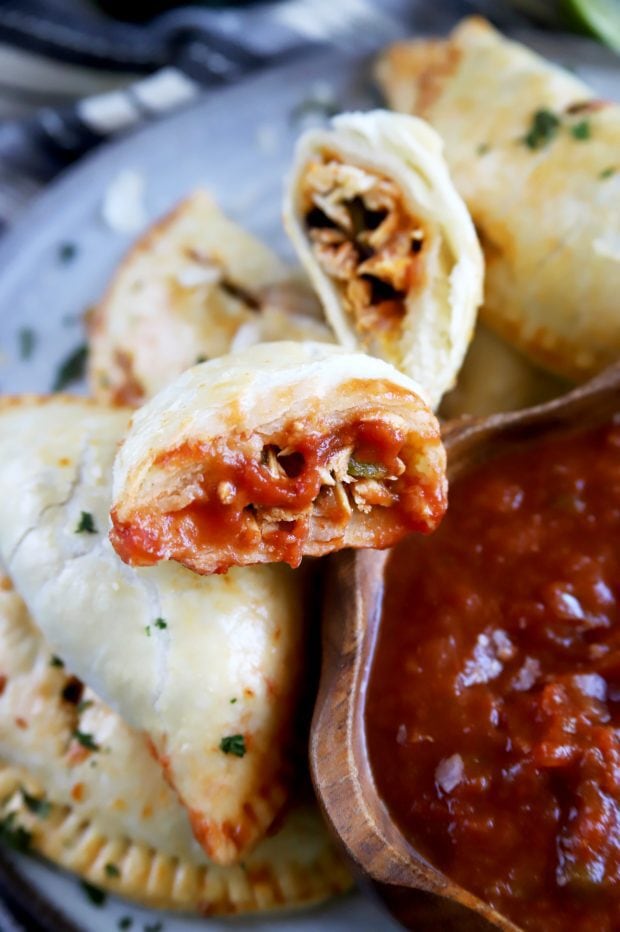 How To Make Baked Chicken Empanadas
Make Filling
You'll start by roasting up the poblano peppers. After you roast them, be sure to add them to a sealable bag and let them sit in there for about 10 minutes. This makes it SO much easier to peel the poblano peppers before you seed and dice them.
Then, you make the simple filing with the poblano peppers, shredded chicken, black beans, cheese, spices, and LA VICTORIA® Salsa Thick'n Chunky .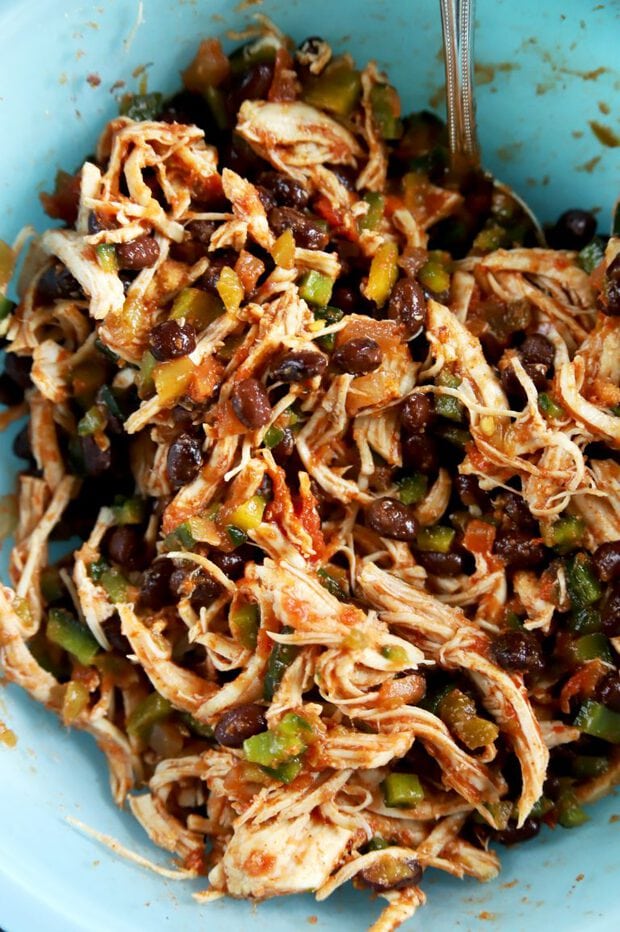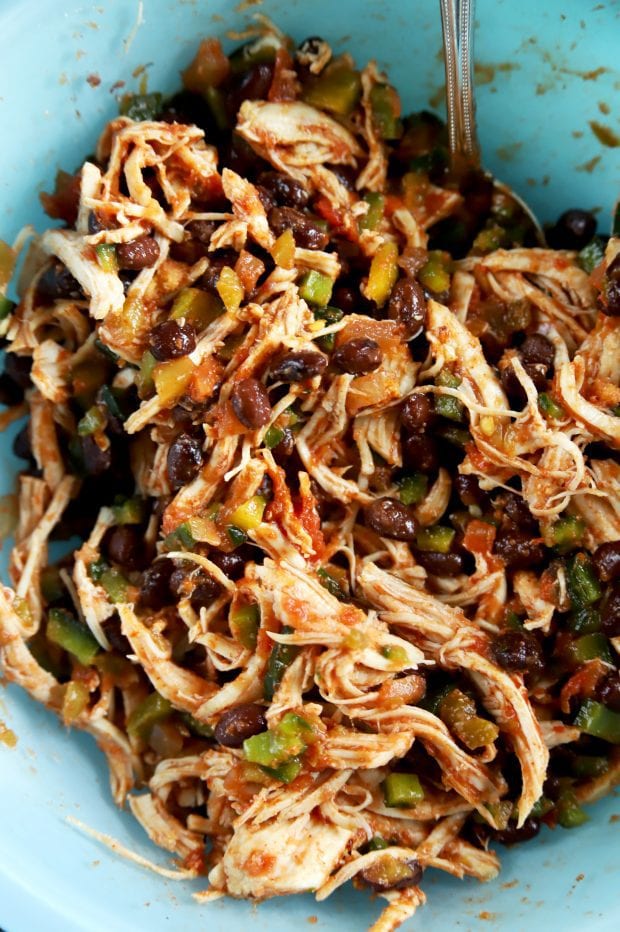 Make Empanadas
Once the filling is made, it's time to fill them up! Cut the pre-made pie crust into 4 to 5-inch rounds and add about 1 heaping tablespoon to the center of each.
From there, you simply shape them into half moons, folding them over the filling. The edges get crimped with a fork and the egg wash helps them stay closed. Not to mention, it's the brush of the egg on top that makes it all perfectly golden brown!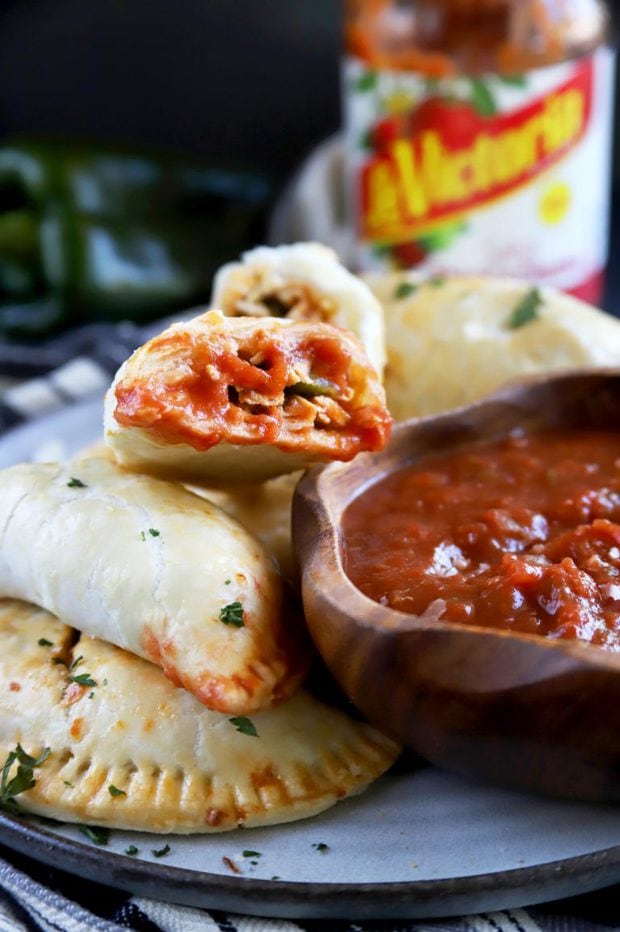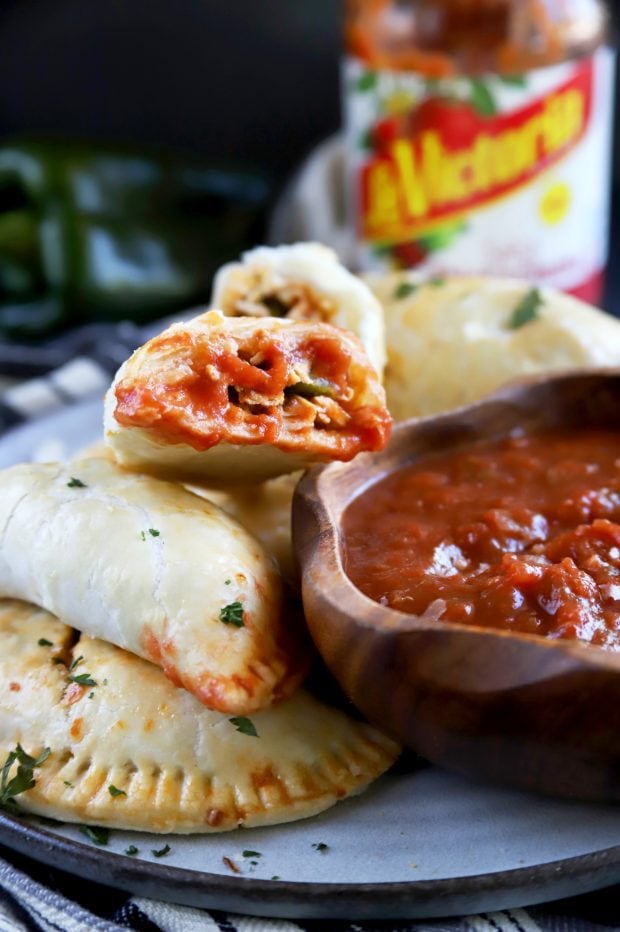 Bake and Serve
Add them to the oven and wait. Try not to shovel them into your mouth TOO quickly or you will burn yourself!
Serve the empanadas as is or with LA VICTORIA® Salsa Thick'n Chunky.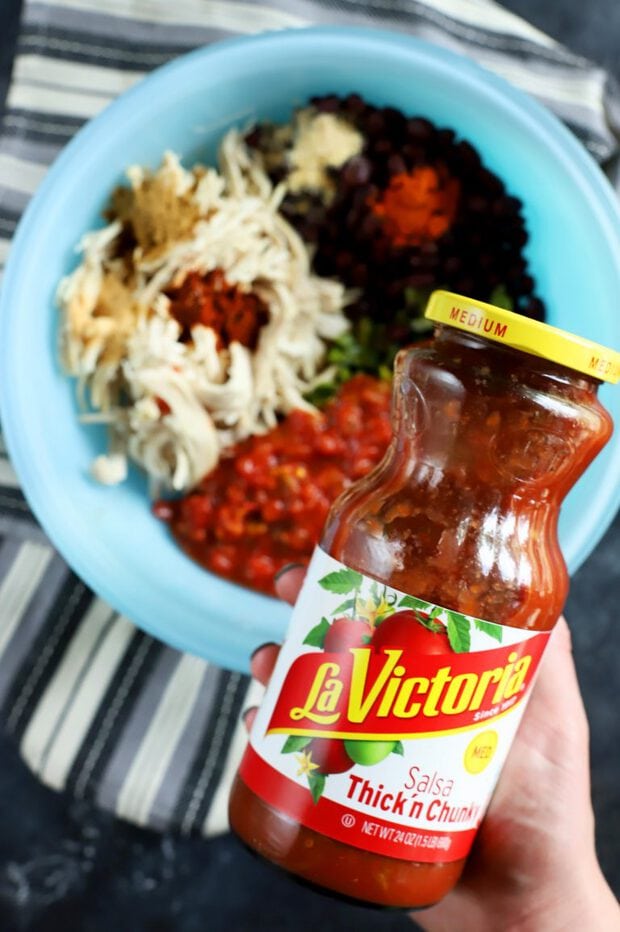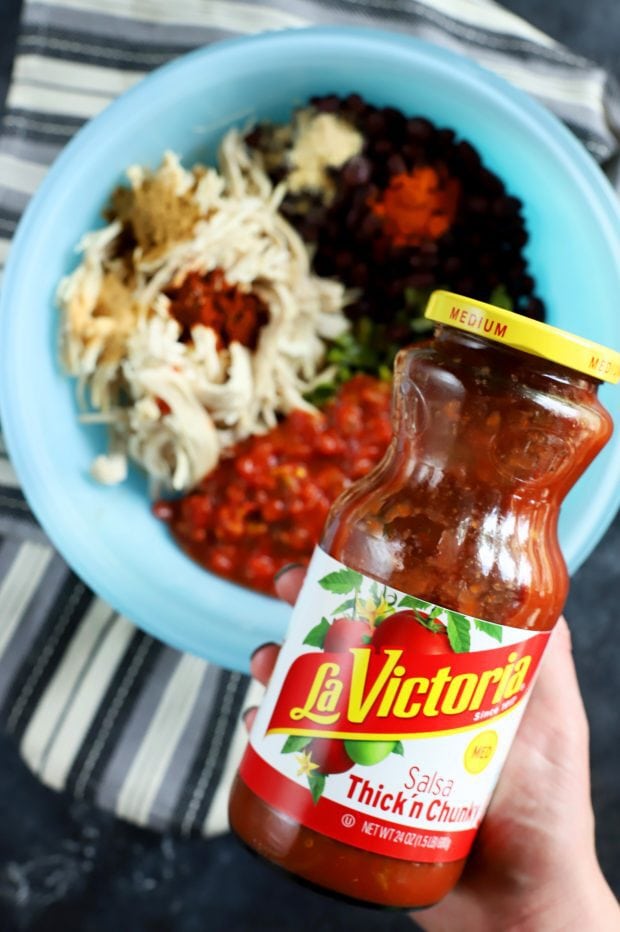 How To Freeze This Recipe
To freeze these chicken empanadas, place the unbaked empanadas on a rimmed parchment paper-lined baking sheet. Make sure they are spaced apart in an even layer and not touching each other.
Freeze until solid, then add to a sealable freezer bag. Then, they can be kept like this for up to three months!
When you are ready to bake, add 5 minutes to the cooking time.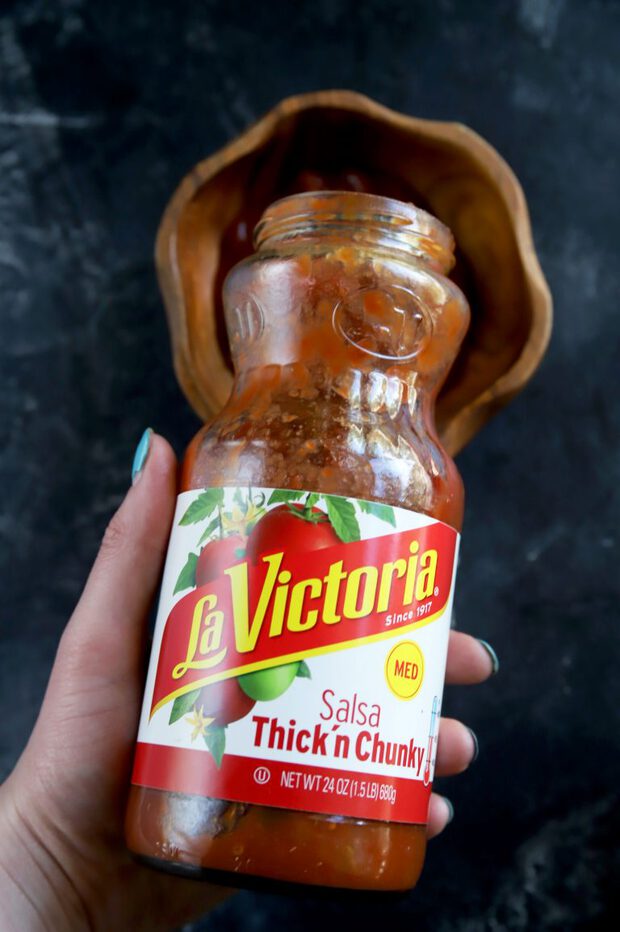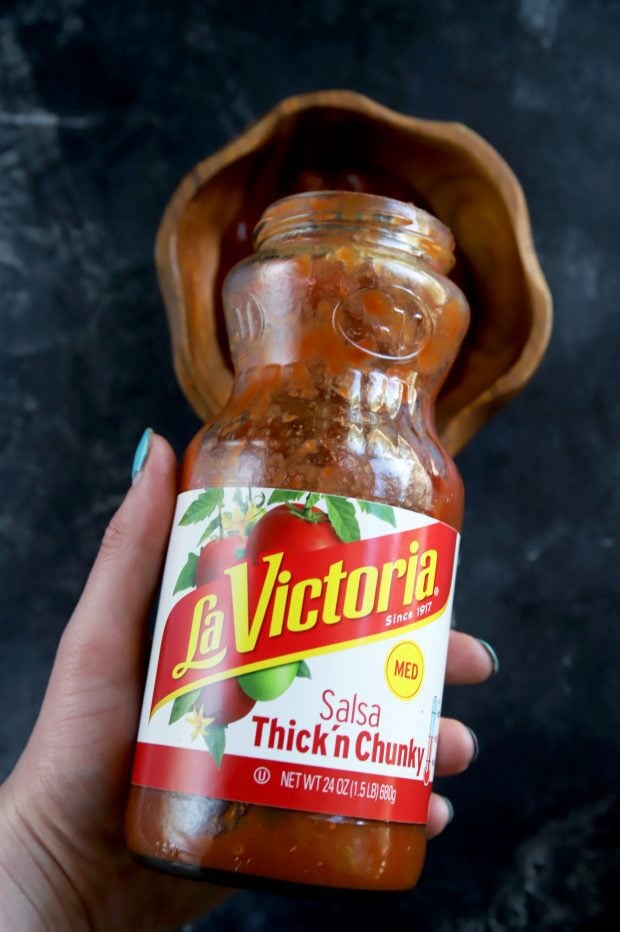 How To Reheat This Recipe
If you've already made the empanadas and magically have leftovers, they can be frozen by wrapping them up individually in plastic wrap.
To reheat, unwrap and warm in an oven on a lower heat (250˚F) until warmed through, about 7 to 10 minutes. You can also pop them in the microwave for a few minutes.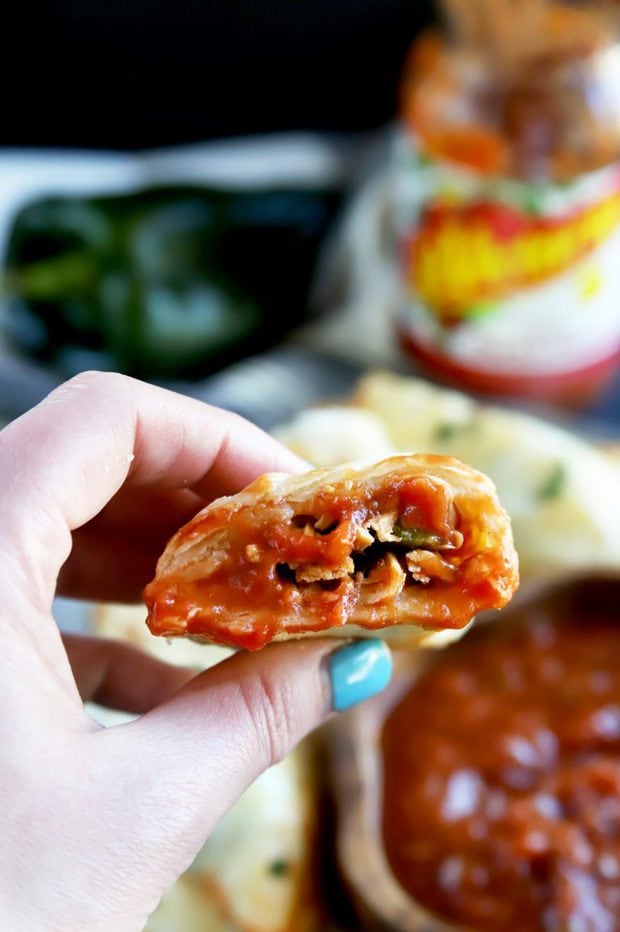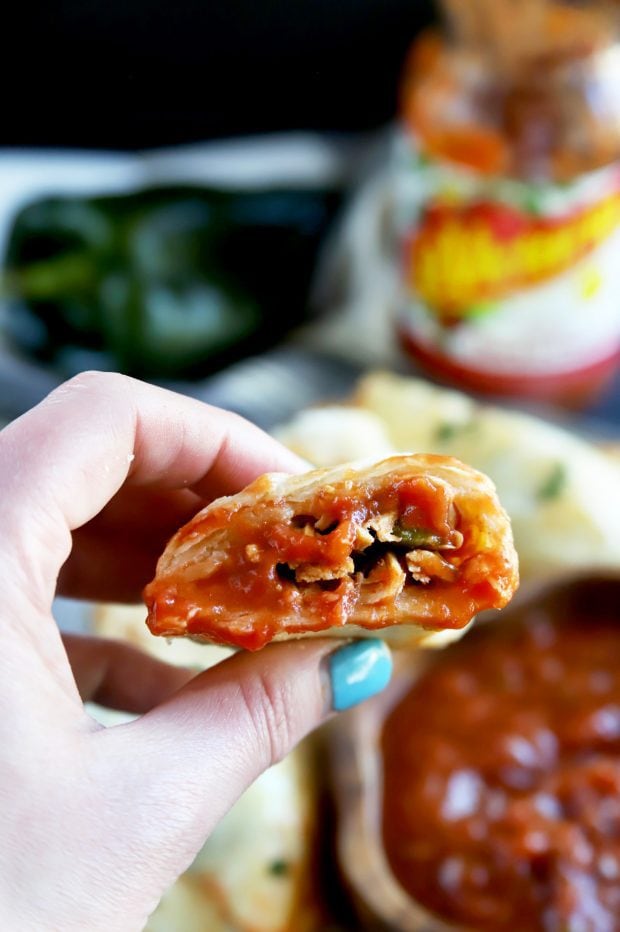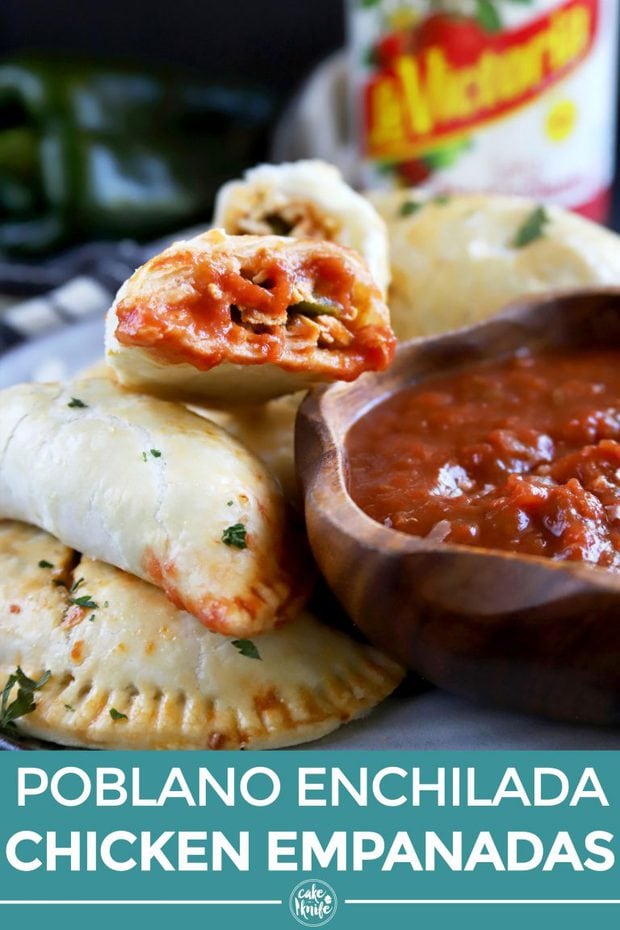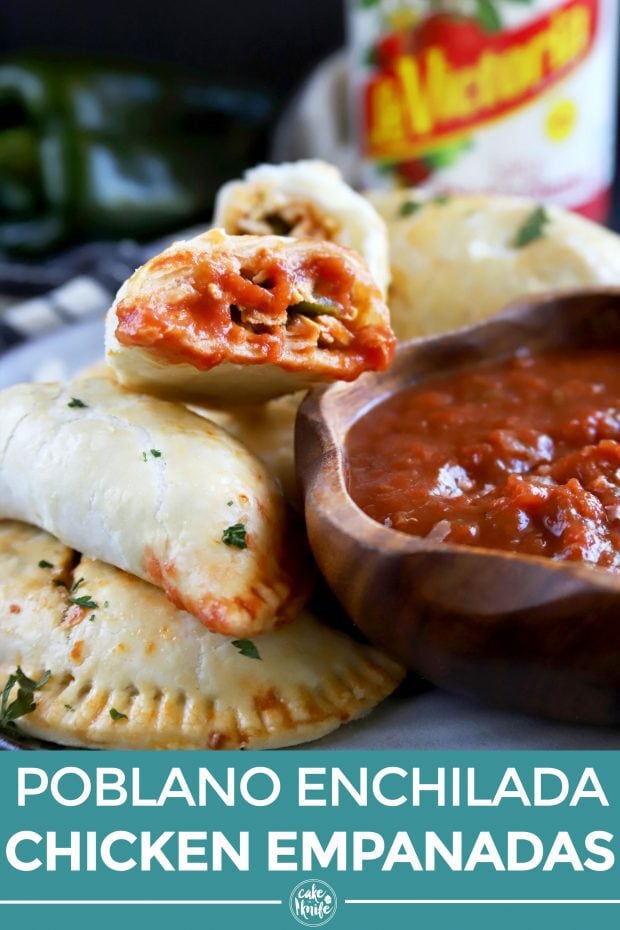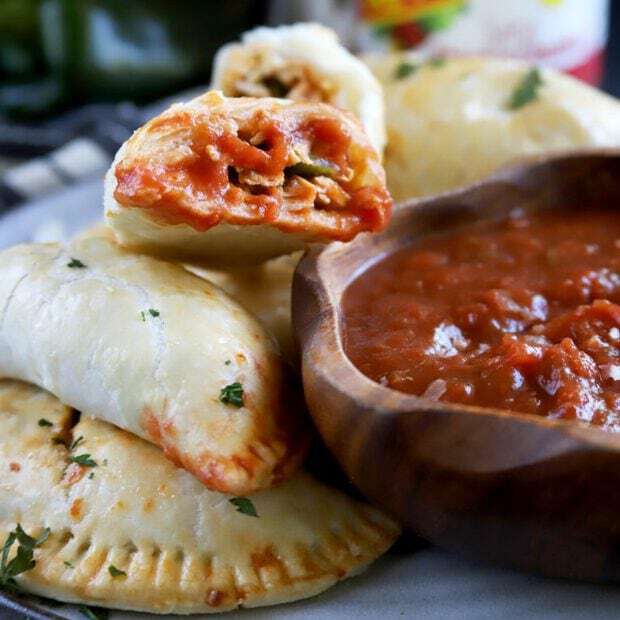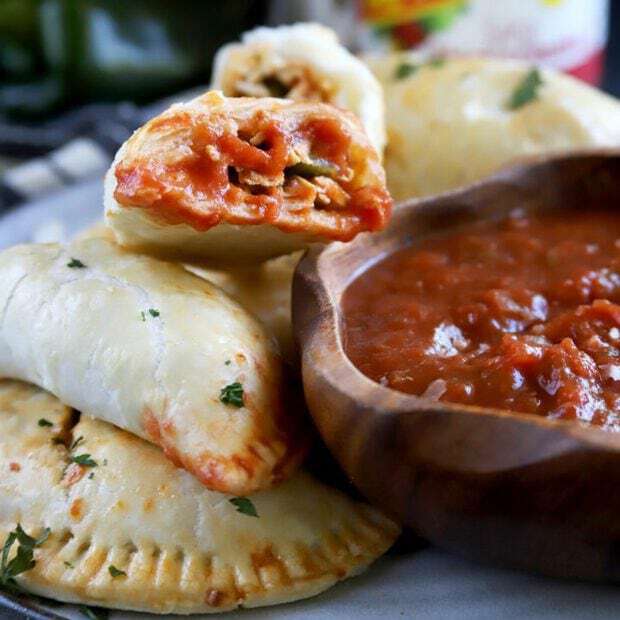 Poblano Enchilada Chicken Empanadas
Smoky and spicy, these chicken hand held pies are the ideal blend of enchiladas and empanadas!
Ingredients
1 poblano pepper
1 tsp olive oil
1 1/2 cups cooked, shredded chicken
1 cups black beans, drained
1/4 tsp ground cumin
1/2 tsp garlic powder
1/4 tsp onion powder
1/2 tsp smoked paprika
1/4 tsp cayenne pepper
1/2 cup red enchilada sauce
1/3 cup shredded Mexican cheese
Salt and pepper
3 refrigerated pie crusts
1 egg
1 Tbsp water
Instructions
Preheat oven to 425°F. Rub all sides of the poblano pepper with olive oil and place on a baking sheet.
Roast for 6 to 8 minutes, turning every 2 minutes to ensure you get it on all sides. The skin should be charred and blistered all over.
Add pepper to a sealable bag and seal. Let sit at room temperature for 10 to 15 minutes.
Reduce oven heat to 300˚F. Line two rimmed baking sheets with silicone mats or parchment paper.
Peel off the skin of both roasted pepper. Remove the seeds and dice the peppers as finely as you can. Set aside.
In a large bowl, combined diced pepper, chicken, black beans, cumin, garlic powder, onion powder, smoked paprika, cayenne, LA VICTORIA® Salsa Thick'n Chunky , and enchilada sauce. Stir to combine.
Taste and season with salt and pepper to taste. I used 1/2 tsp salt and 1/4 tsp black pepper.
Roll out pie crusts to be about 1/8-inch thick. Cut 5-inch circles in the dough. Add a tablespoon or so of the pepper mixture to the center of each circle. Sprinkle with shredded cheese, evenly distributing between the circles.
Add 1 egg and 1 Tablespoon water to a small bowl. Whisk to combine. Brush the edges of the circles with the egg mixture.
Fold each circle over the filling, forming a half-moon shape. Crimp the edges with a fork. Add empanadas to the sheet pans, spacing them apart evenly.
Brush the tops of the empanadas with the remaining egg mixture.
Bake for 20 to 30 minutes until golden brown. Serve warm with LA VICTORIA® Salsa Thick'n Chunky.
Click here to find recipes and more!