Steak fajita foil packets give you a whole meal in each packet! All you have to do is marinate the meat, wrap it up with sliced veggies in Reynolds Wrap® Heavy Duty Foil, and throw it on the grill. Everyone can add their favorite toppings and enjoy it all wrapped in warm flour tortillas. Serves 6.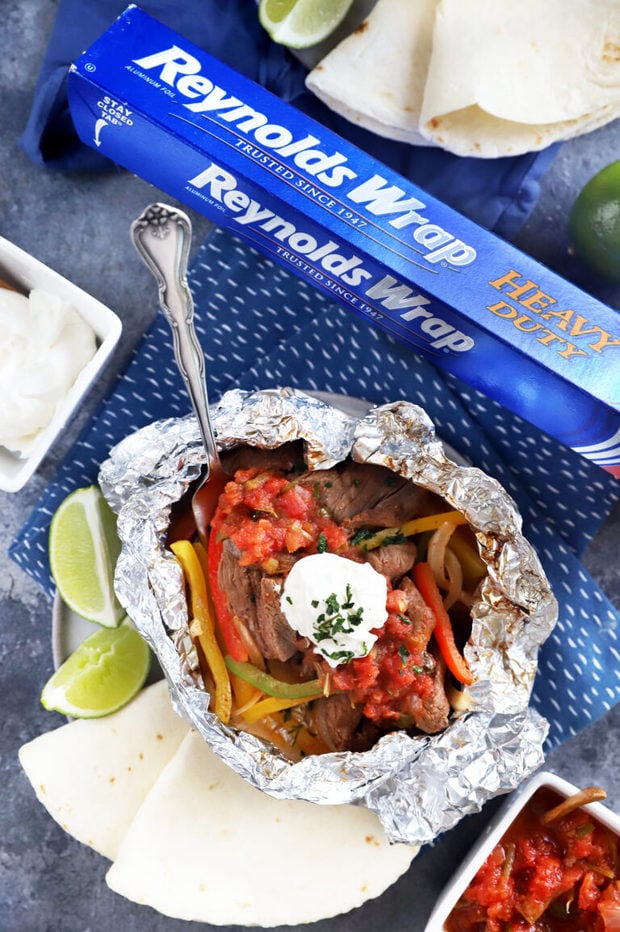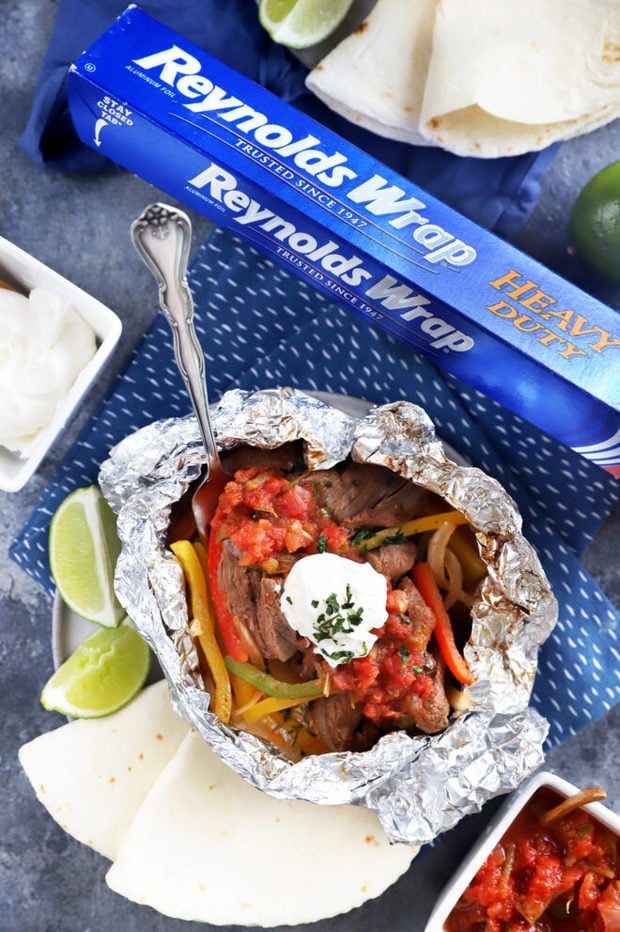 Disclosure: This post is sponsored by Reynolds Wrap®. As always, all opinions are my own.
Is summer a scorcher where you're at? Because here in Colorado it is HOT.
That means one thing for us when it comes to cooking at home – avoid the oven and stove top at all costs.
There's a reason everyone grills during the summer and it's not just because it's a fun activity or people want to be outside. Really, it's to avoid heating up the entire house every time you cook a meal.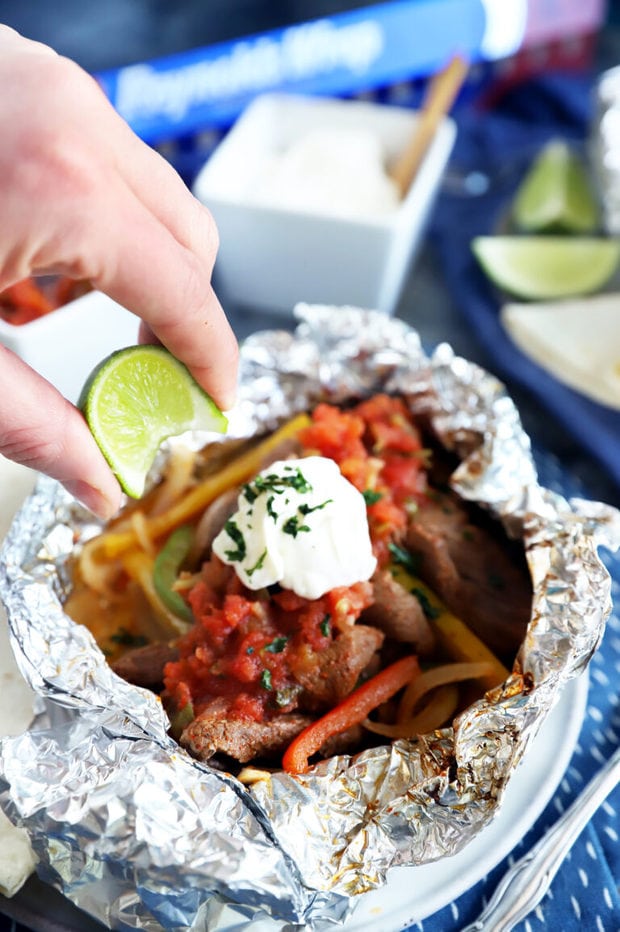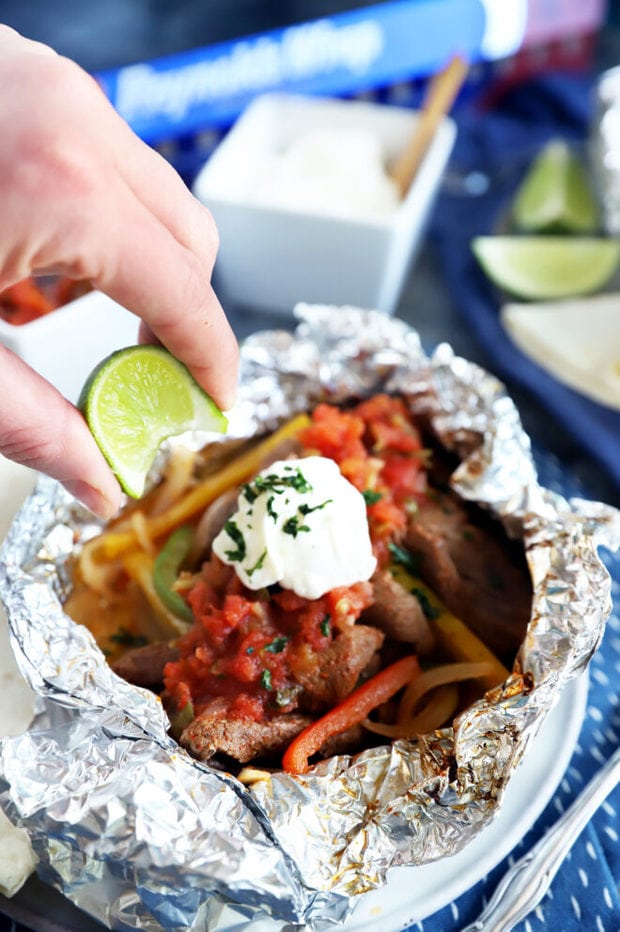 You have no idea how much it saves on air conditioning, lol. I definitely am guilty of cranking the cold air after cooking dinner in the oven on a hot day… Something that the Man can agree is a terrible habit to be in.
So I avoid it altogether. Fire up the grill and everyone wins!
When it comes to grilling, there's a few tools that you will want on hand. Obviously, a grill, some grill tongs, and a good grill cleaner.
The other must-have? Reynolds Wrap® Heavy Duty Foil.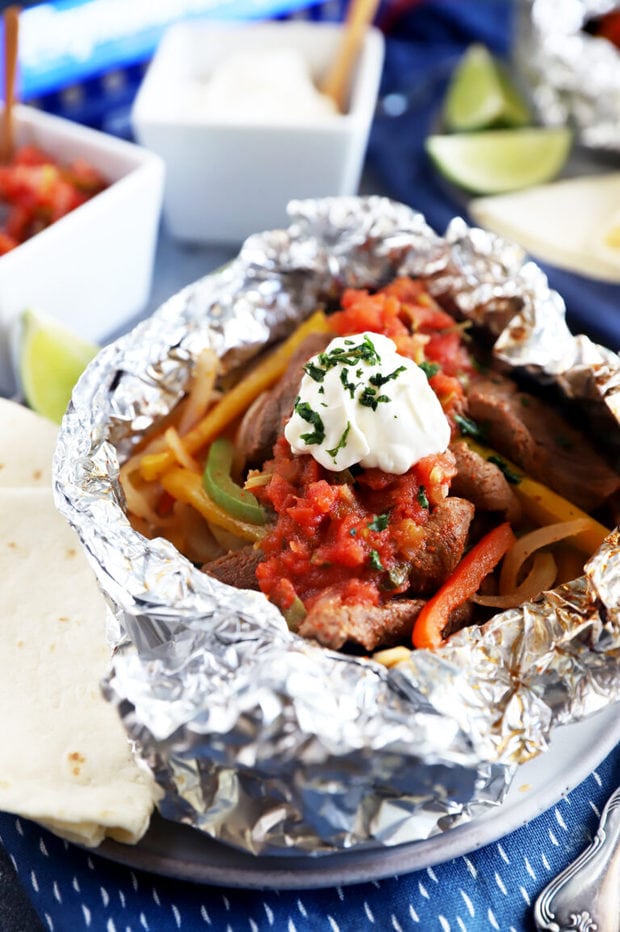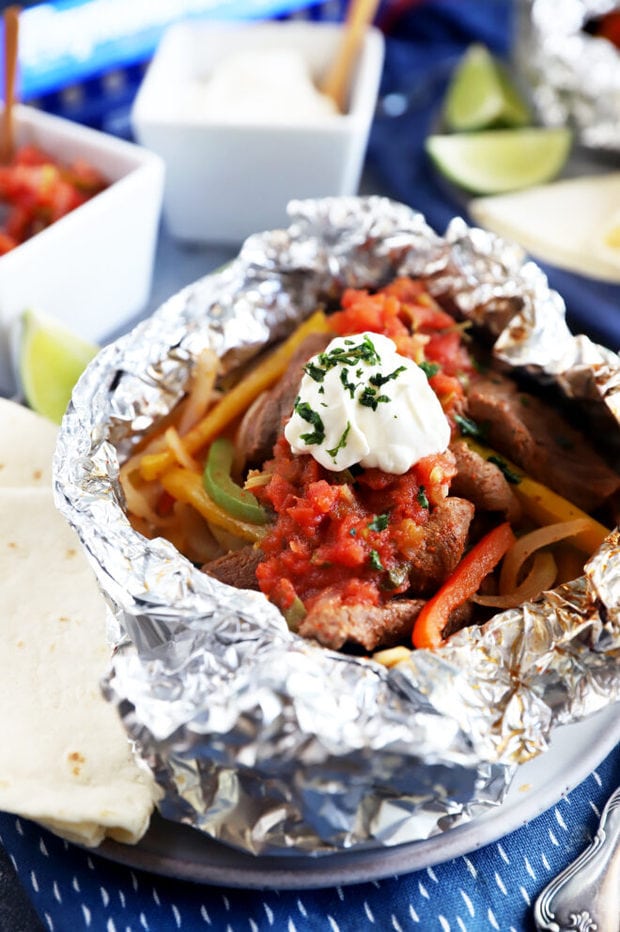 We all are used to using foil inside the kitchen, lining our baking sheets and roasting pans to avoid cleanup.
The good news is you can use that same foil, specifically Reynolds Wrap® Heavy Duty Foil, to grill and avoid the mess. BOOM BABY.
This is what these steak fajita foil packets are all about. They are individually portioned so they can go straight from the grill to your plate. It makes it SO easy whether you are eating this on a weeknight or having a socially distant picnic in your backyard.
You won't even have to clean the grill when you use it, because there is NO MESS. Reynolds Wrap® Heavy Duty Foil is sturdy so it keeps all the tender, flavorful meat, peppers, and onions wrapped neatly inside without any worry of breaking or tearing. This allows everything to cook evenly, as well as locking in all that flavor and it's safe to use over direct heat.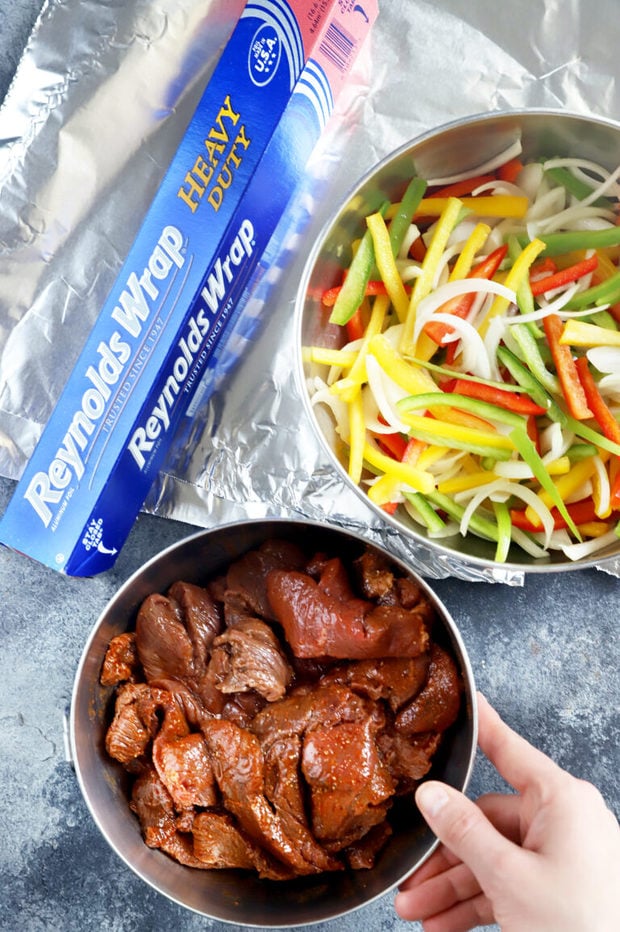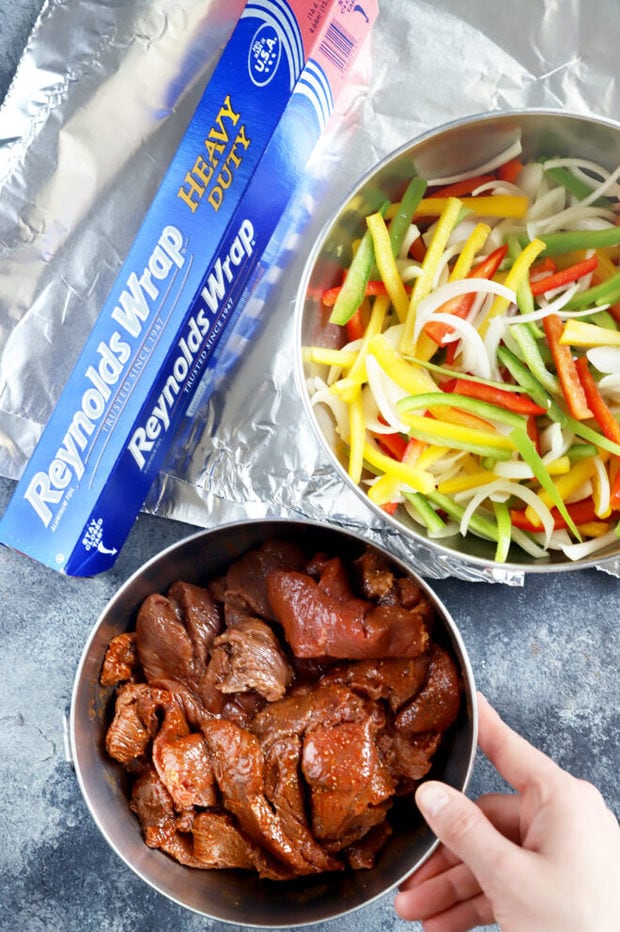 This Recipe's Must-Haves
First and foremost, you need Reynolds Wrap® Heavy Duty Foil to wrap up each of the individual steak fajita foil packets.
I like to have my mixing bowls handy so I can make the marinade for the steak and also for mixing together the thinly sliced veggies.
Speaking of thinly sliced, make sure you have your chef's knife and cutting board on hand.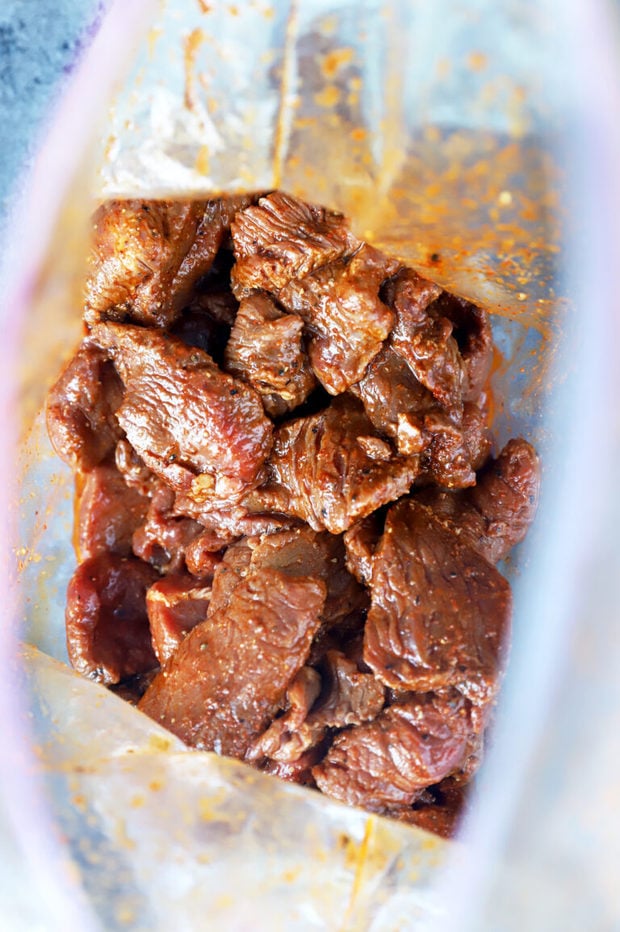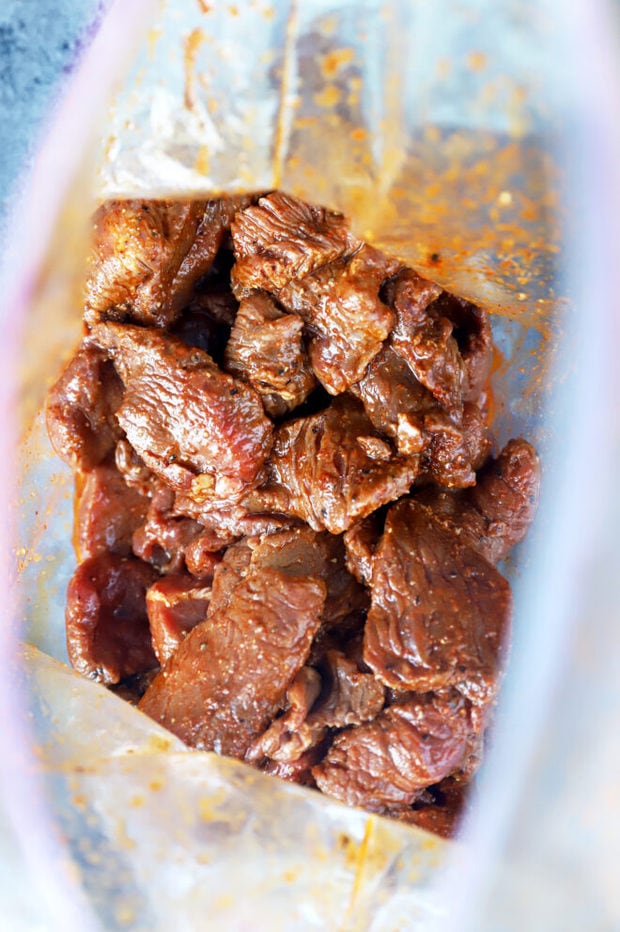 Let's make steak fajita foil packets!
Marinate steak
The marinade for the steak is made up of simple ingredients that you likely already have on hand. It includes salt, pepper, garlic powder, cumin, chili powder, smoked paprika (you can use regular paprika if you need), cayenne pepper, lime juice, and oil.
These simple ingredients are combined with slices of top sirloin and the meat soaks it all up in just a couple of hours.
Of course, you can also leave it in the fridge overnight and save yourself the work the next day!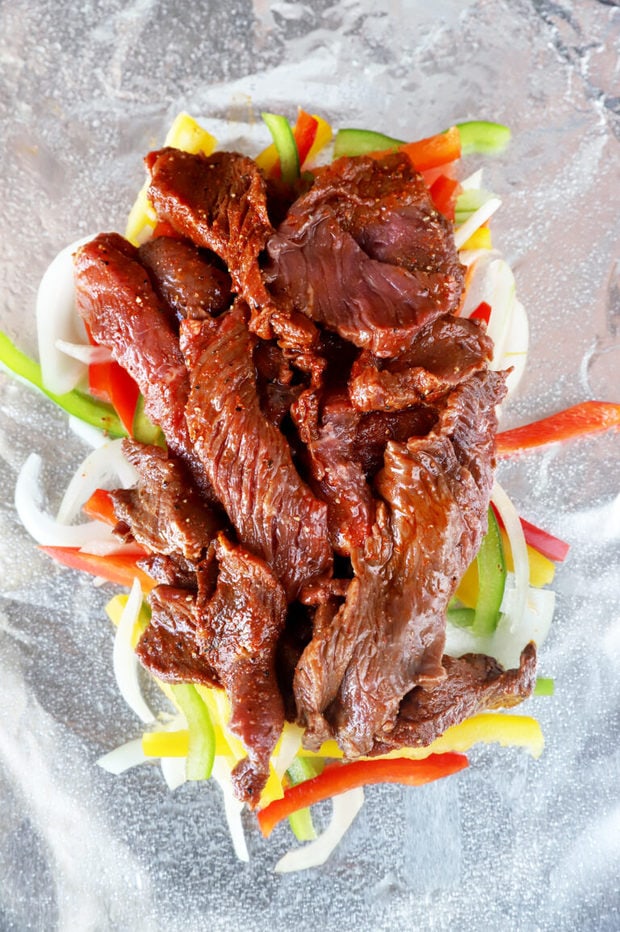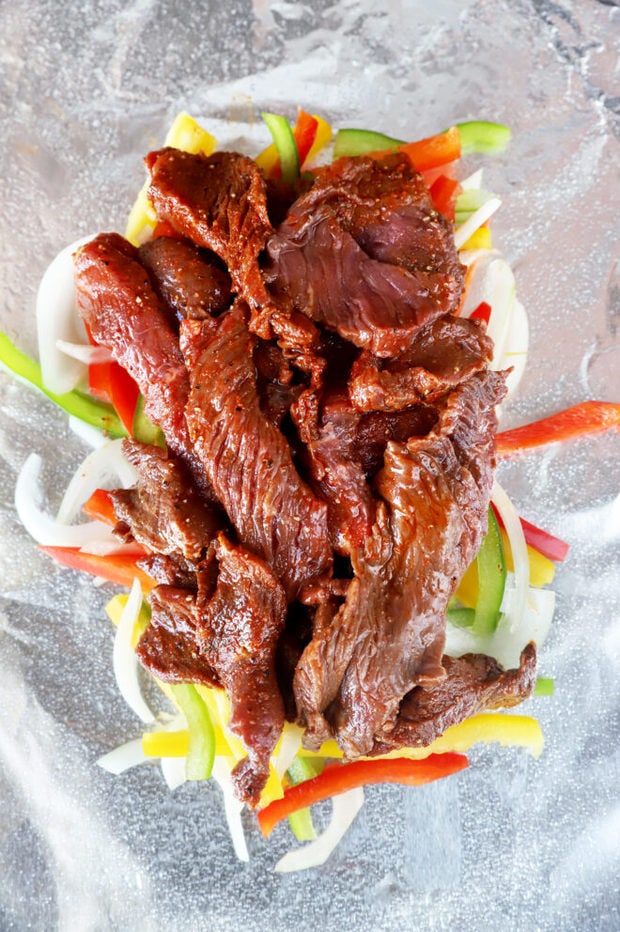 Wrap Up & Grill
Once the steak is ready, wrap up the sliced peppers and onions with the slices of marinated steak. Use the Reynolds Wrap® Foil to form tight and durable packets, sealing all the flavor in.
The packets are added to the grill, grilled until your desired doneness, and then they are ready to serve right away. Serve up with all your favorite fajita toppings and tortillas that you have warmed up on the grill (or in the microwave)!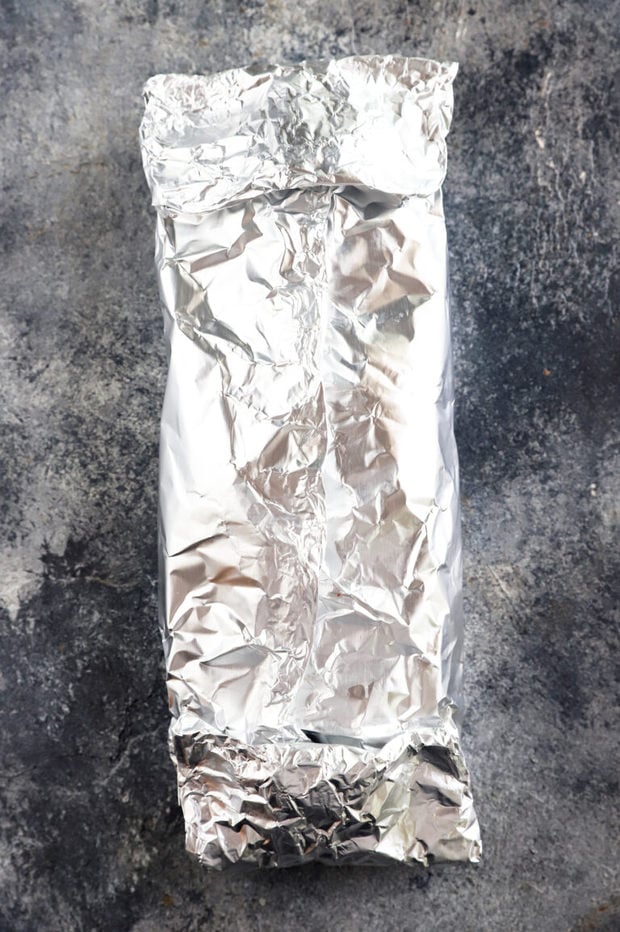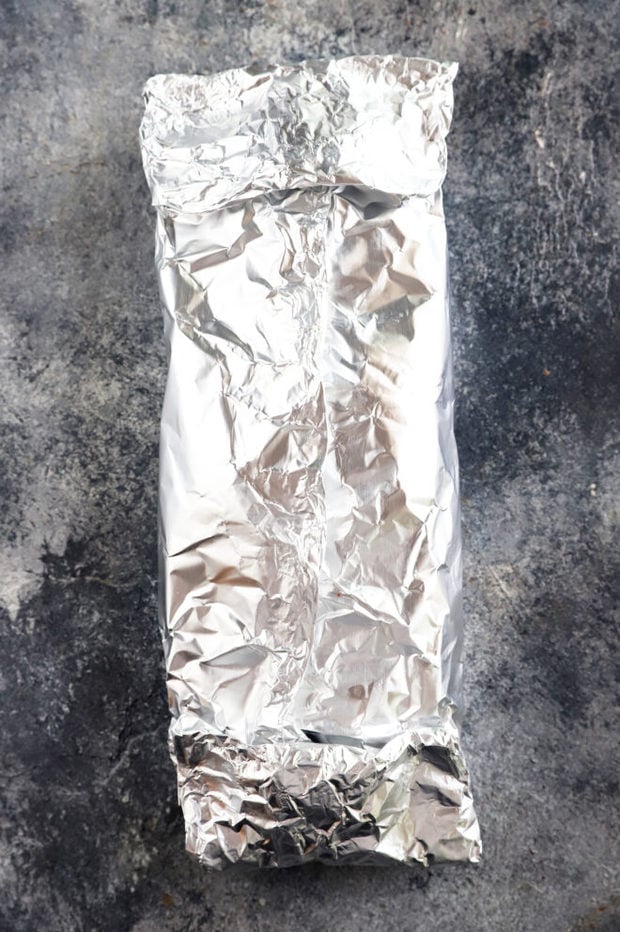 Got Questions?
Can I use a different cut of meat?
If you can't find top sirloin, you can also use flank steak, skirt steak, or strip steak. Just make sure you thinly slice it!
Does this work for meal prep?
I actually love using this recipe for meal prep. Since it's just the Man and I, I make the full recipe. We eat two packets for dinner, then the other four are reserved for lunches that week! Just pack them up in airtight containers once completely cooled and store in the refrigerator.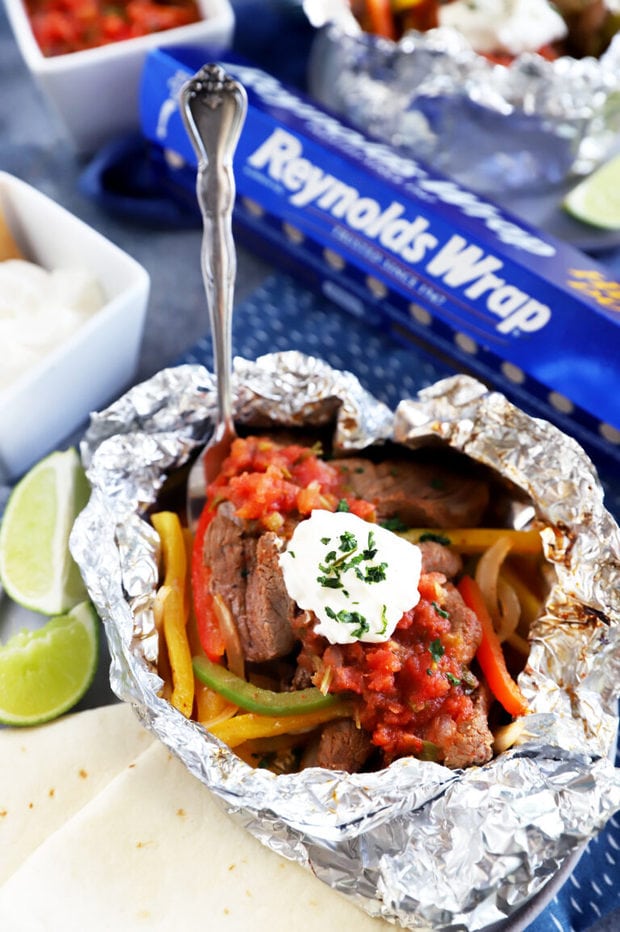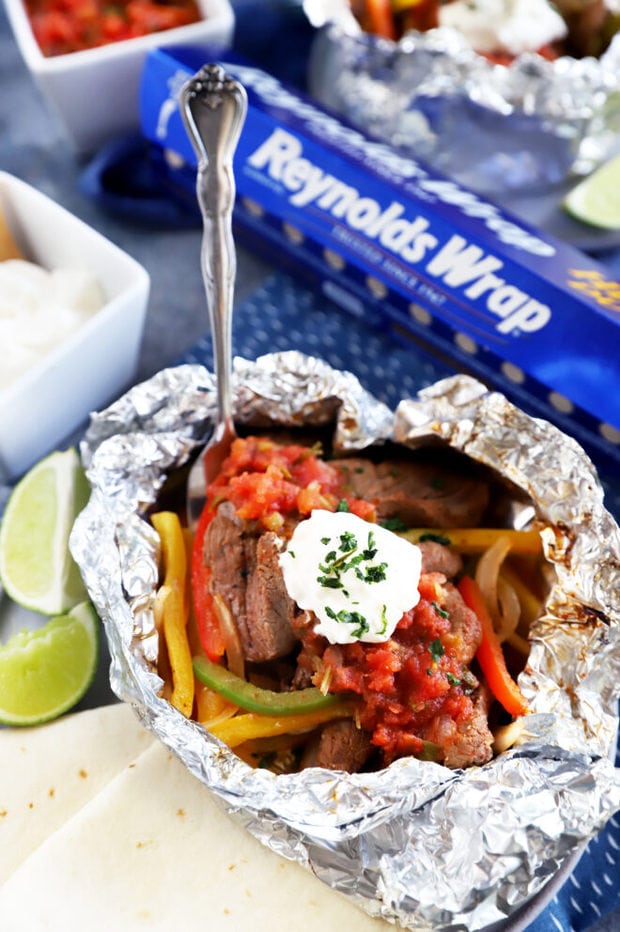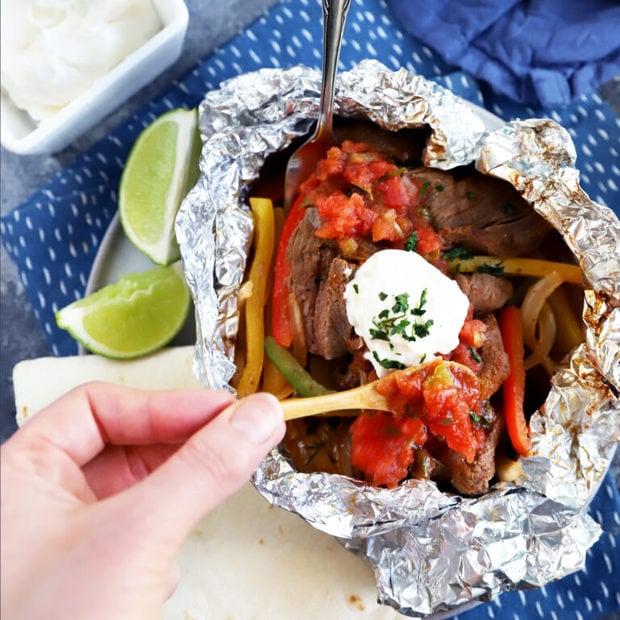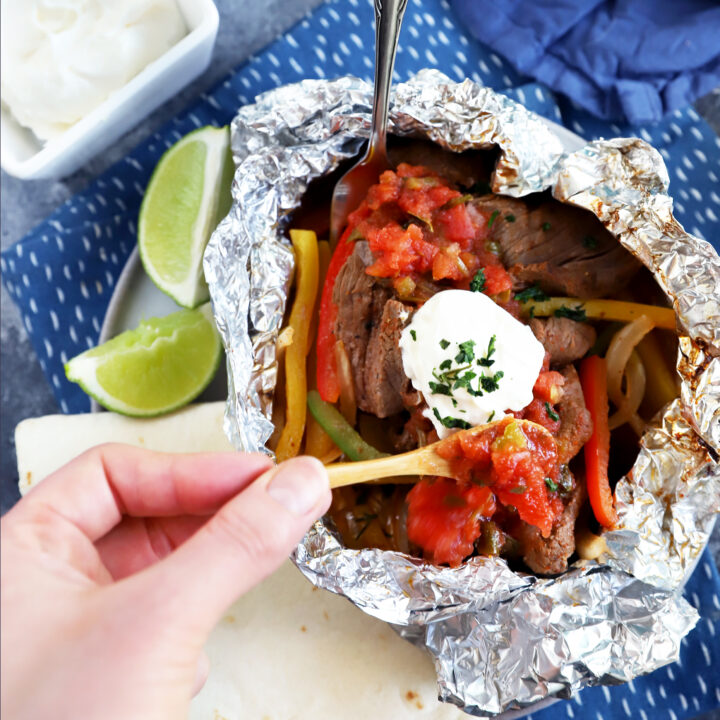 Steak Fajita Foil Packets
Total Time:
2 hours
25 minutes
The easiest dinner to simply wrap up in foil and throw on the grill!
Ingredients
Fajita Packets
1 1/2 lbs top sirloin, thinly sliced
3 Tbsp oil
1 tsp salt
1/4 tsp black pepper
1 tsp garlic powder
1 tsp ground cumin
1 tsp chili powder
1/2 tsp smoked paprika
1/2 tsp cayenne pepper
1 Tbsp fresh lime juice
6 sheets Reynolds Wrap® Heavy Duty Foil
3 bell peppers (any combination of red, green, yellow, or orange), thinly sliced
1 small yellow or white onion, thinly sliced
Toppings
Salsa
Sour cream
Chopped cilantro
Lime wedges
Warmed flour tortillas (6 or 8 inch)
Instructions
In a large sealable bag, combine steak, 2 Tbsp oil, salt, pepper, garlic powder, ground cumin, chili powder, smoked paprika, cayenne pepper, and lime juice. Seal and move everything around with your hands to evenly coat the meat. Refrigerate for at least 2 hours, up to 24 hours.
Preheat the grill to medium-high heat when ready to cook.
Add sliced peppers, onion, and remaining 1 Tbsp oil to a medium bowl. Toss to coat the vegetables and season with salt and pepper.
Tear off six large sheets of Reynolds Wrap® Heavy Duty Foil.
Divide the pepper mixture between the sheets evenly, then top with even amounts of sliced steak. Seal the foil tightly around the mixture to form individual packets.
Grill for 6 to 8 minutes on each side. Cooking for 6 minutes per side will get you medium-rare steak. Cook longer for desired doneness.
Serve immediately with your favorite toppings and warmed tortillas.

Recommended Products
As an Amazon Associate and member of other affiliate programs, I earn from qualifying purchases.