Great Food Blogger Cookie Swap! Milk Chocolate Shortbread Cookies
It's the most wonderful time of the year! Cookie swap time!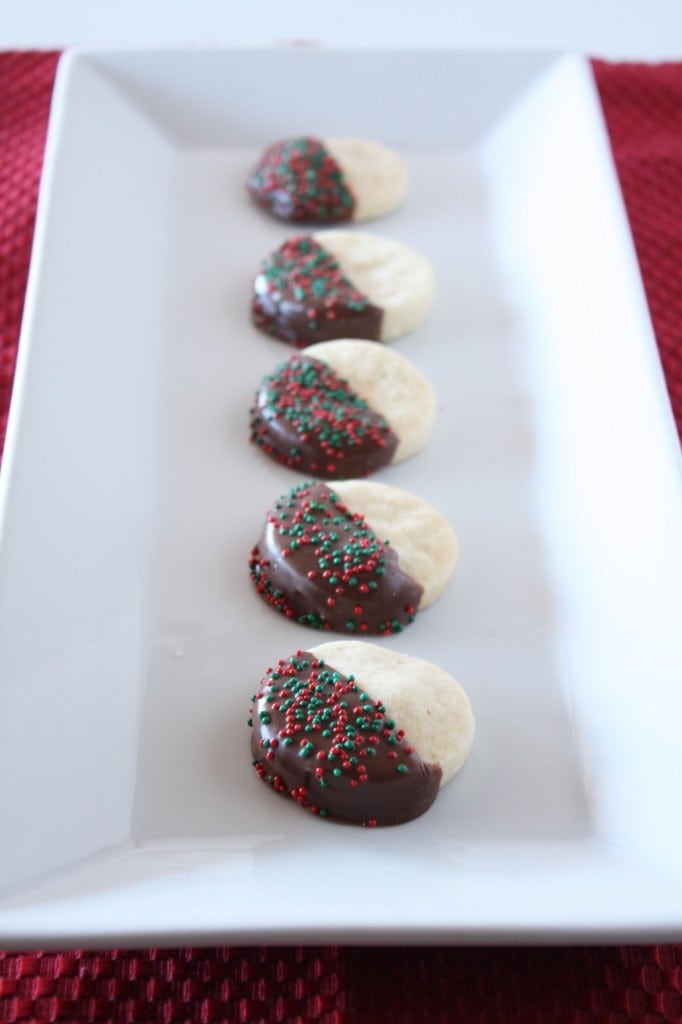 I always love the idea of a cookie swap. First, because I love cookies, DUH. Second, because everyone is sharing their love for cookies with you!
For this year's Great Food Blogger Cookie Swap, I decided to go with one of my mom's and grandmother's favorites – shortbread. Then I dipped them in chocolate and put sprinkles on them. Because why wouldn't you add chocolate and sprinkles?!
I wrapped my three little boxes with care and sent them off! Then one by one, new boxes showed up on my doorstep. Cookies with Reese's snuggled in the center (thank you Aly!), chocolate dipped biscotti with hot chocolate (thank you Aubrey!), and cinnamon chipotle crinkles (thank you Lauren!).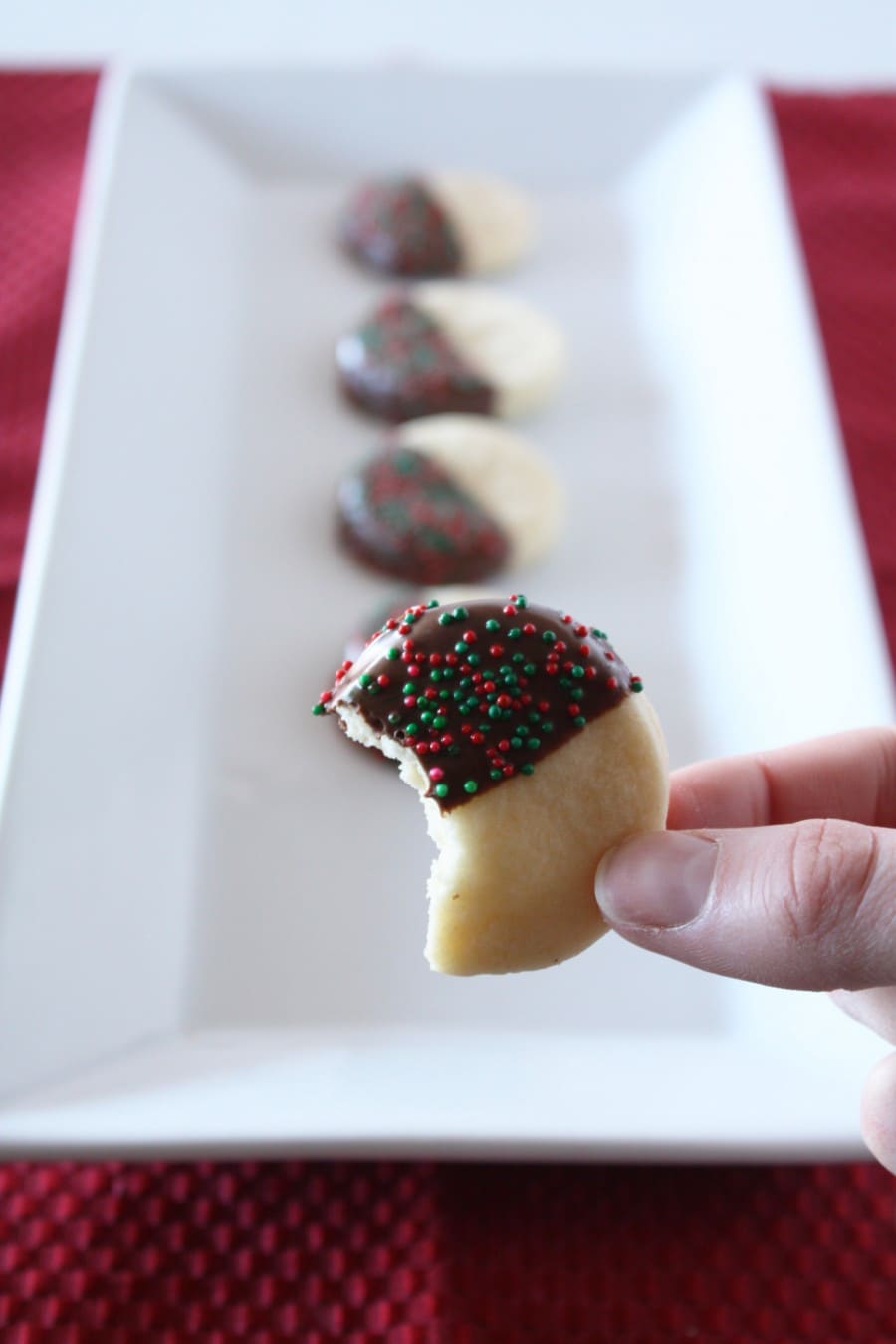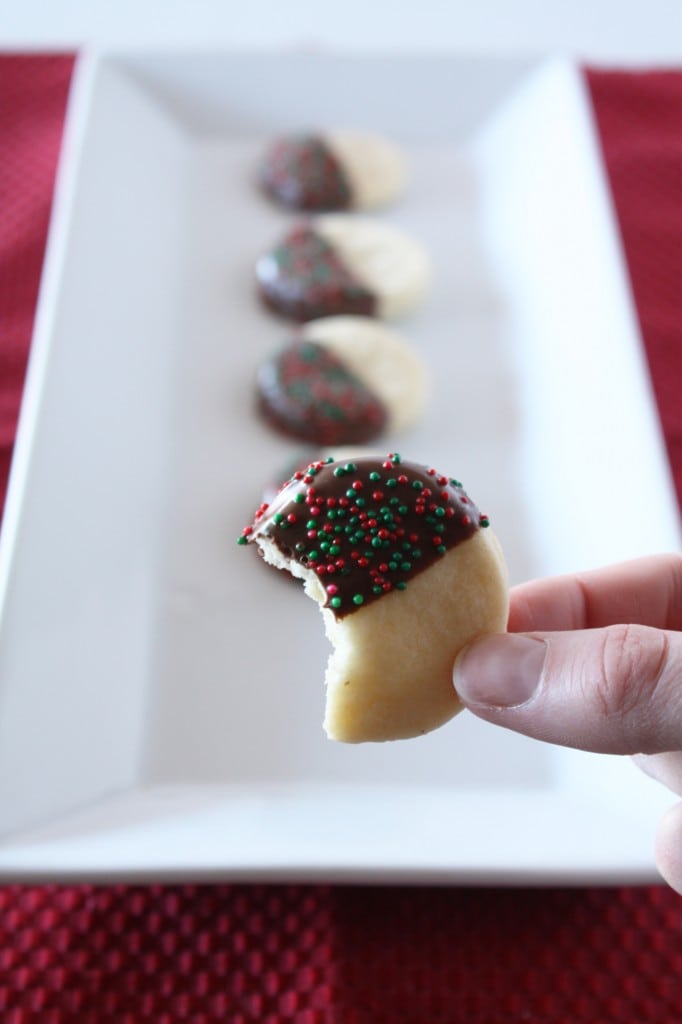 If you are baking cookies for the holidays, whether you are shipping them across the country (these are great for that!) or bringing them to your neighbor's house, these little cookies will bring a smile to anyone's face.
So get in the holiday spirit and start baking!
By the way, if you are trying to save this holiday season, baking actually is a very wallet friendly gift to give. Plus it's made with love which makes it that much more special!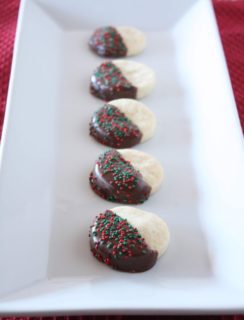 Milk Chocolate Dipped Shortbread Cookies
Yield: 2 dozen cookies
Prep Time: 15 minutes
Cook Time: 25 minutes
Total Time: 45 minutes
These holiday cookies are great for cookie swaps, parties and also for shipping to out of state friends and family.
Ingredients:
1 1/4 cups all-purpose flour
1/3 cup granulated white sugar
1/4 teaspoon salt
1/2 cup butter, (cold) cut up into chunks
3 ounces milk chocolate chips
1 1/2 teaspoons shortening
Holiday sprinkles
Directions:
Preheat oven to 325 degrees.
Stir together the flour, sugar, and salt in a medium bowl. Add the mixture to the bowl of a food processor, along with the butter. Pulse until the mixture resembles fine crumbs, then turn to the process setting and process until the mixture clumps together.
Remove dough from the processor and knead on a lightly floured surface until the dough is smooth, approximately 3 minutes. Roll out the dough until it is 1/2" thick. Use a 1 1/2" round cutter to cut out disks of the dough. Press together the scraps and reroll/cut.
Bake for 20 to 25 minutes, until the edges are just turning golden brown. Allow to cool completely.
Melt the milk chocolate chips and shortening over low heat in a medium saucepan, stirring constantly. Dip each cookie either halfway or completely into melted chocolate, depending on your preference. Decorate with holiday sprinkles and allow to set on wax paper.