A Chocolate Bourbon Caramel Tart is the ultimate dessert for any chocolate and caramel obsessed person out there. It's rich, decadent, indulgent and you won't be able to resist going back for seconds.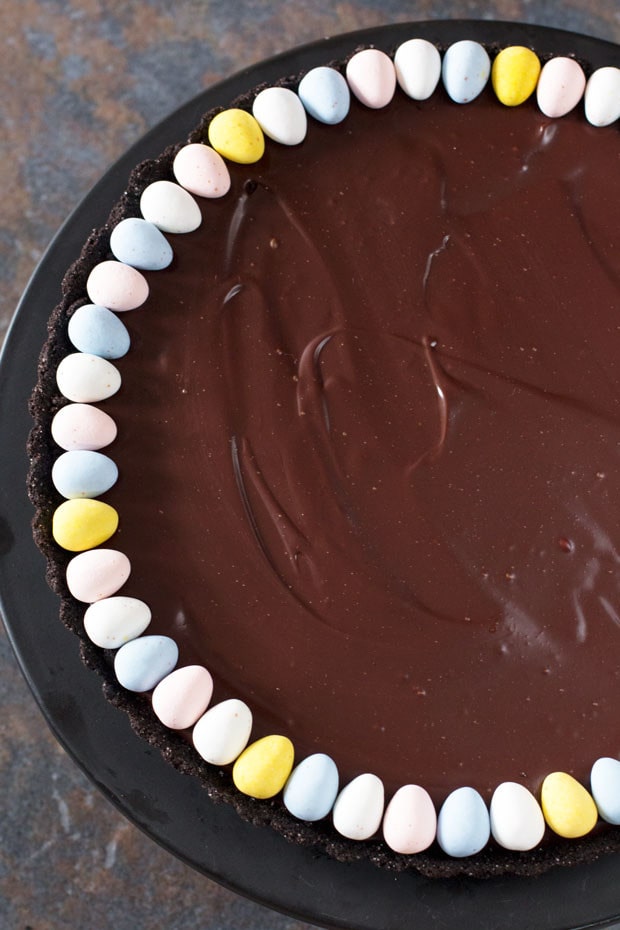 Don't run away yet! I swear, this tart is not as intimidating as it may appear.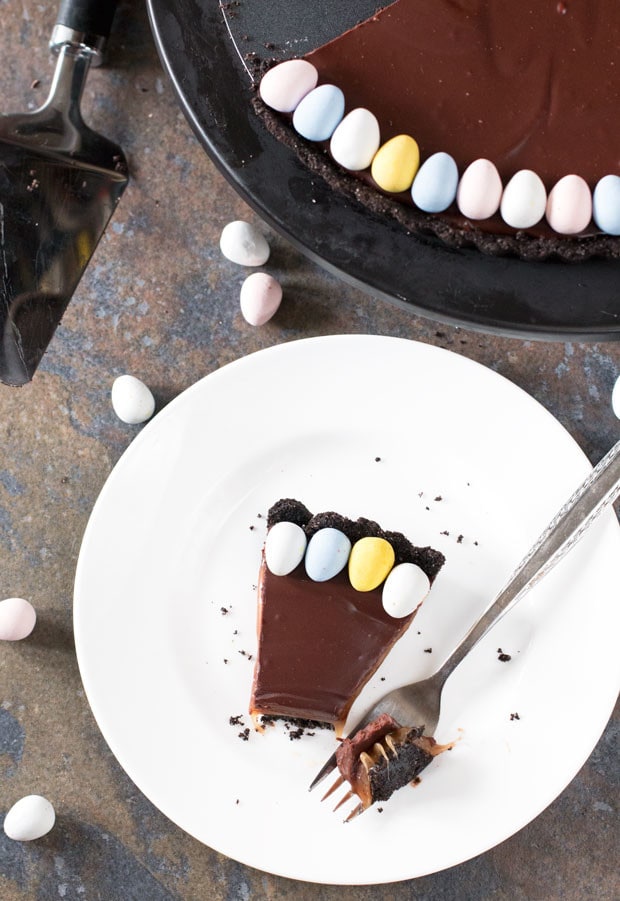 I've been dying to share this gorgeous chocolate bourbon caramel tart with you for what feels like for-ev-er. I literally can't stop eating this darn thing and it's almost gone, which makes me want to sob uncontrollably. I already love chocolate and caramel, but add a dash of bourbon in there and holy crap… I'm in love.
Seriously, if you ever need to know the way to my heart, it's through chocolate, bourbon, caramel and bacon. I'm just saying (and making it real easy for you studs out there, so take note…).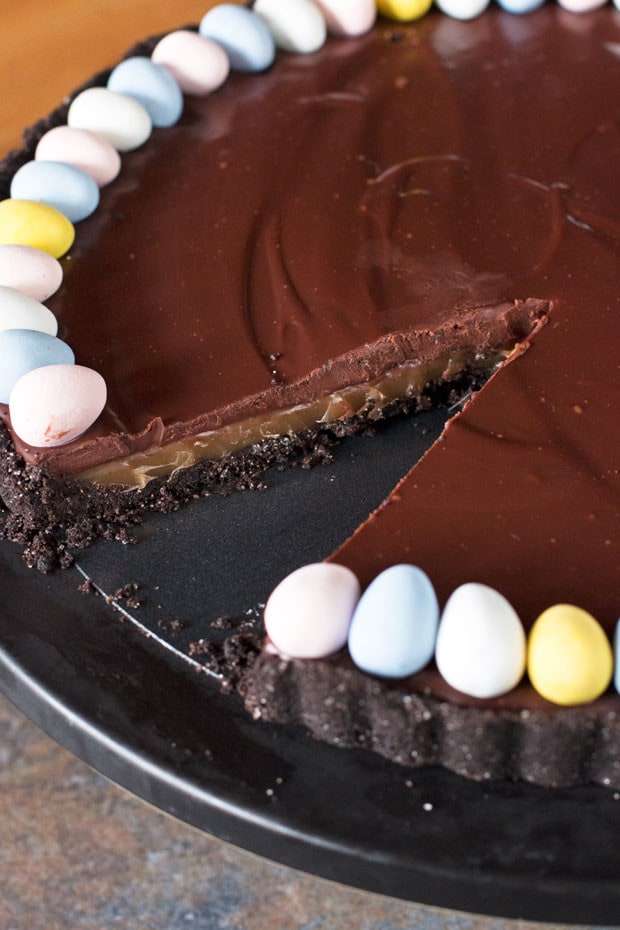 If you need to bust out something really special this Sunday for Easter, this chocolate bourbon caramel tart is definitely the way to go. It's easy to pull together and though it does take some time to chill (read: extra time for you to kick back and binge on Netflix in the name of 'cooking'), it's worth every moment that you have to wait before digging in.
Your friends, family and whoever else you happen to be serving this holiday will basically worship the ground you walk on after they take one melt-in-your-mouth bite of this luscious tart.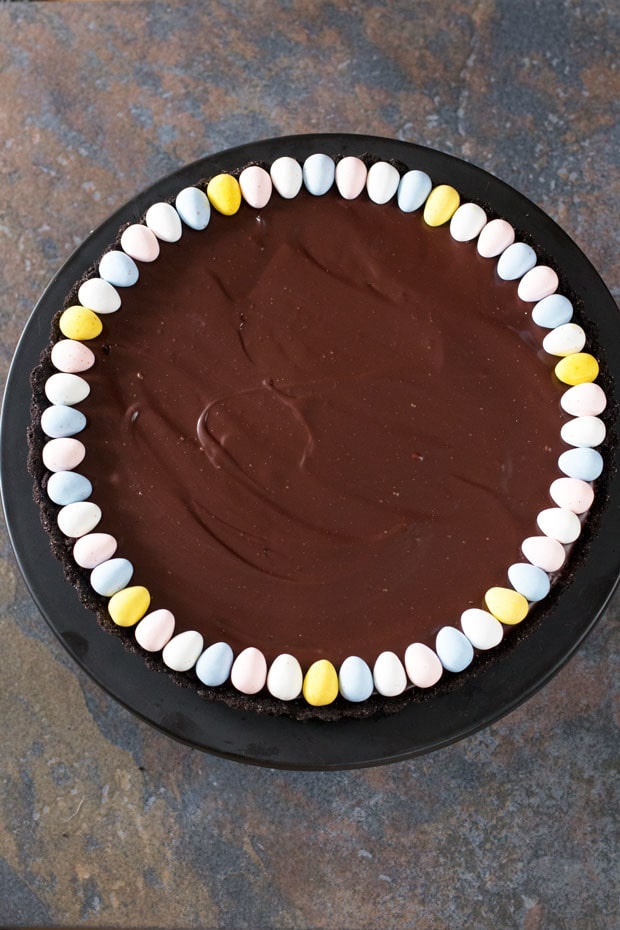 It's the surefire way to win major brownie tart points with anyone and everyone in your life.
I swear, it's recipes like these that make cooking all worth it. Even cleaning up the dishes is worth it when you can produce something this delicious.
Yes, I know, I'm obsessed. But really, this recipe is ridiculously good.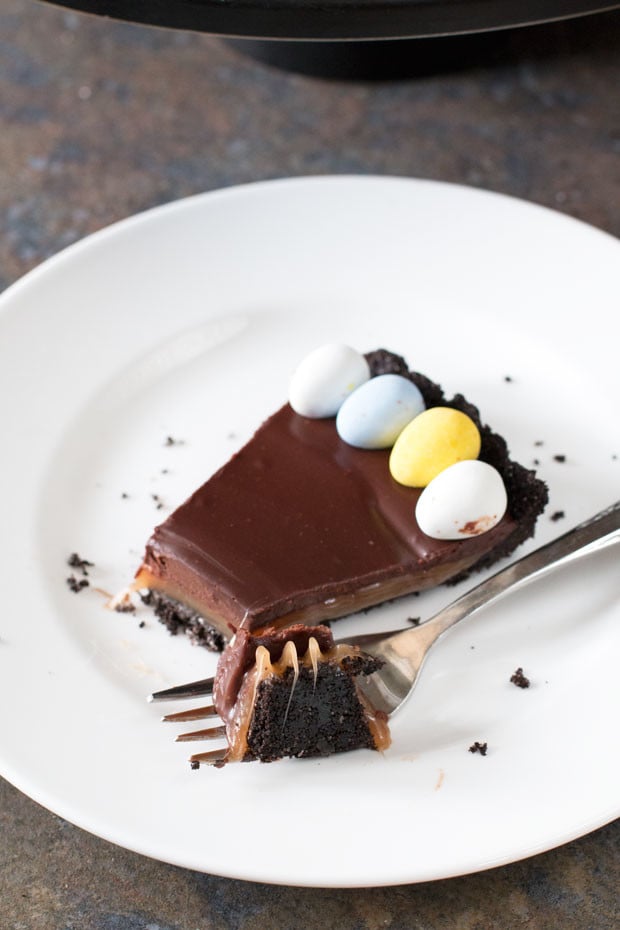 Happy eating, egg hunting and brunch boozing this weekend!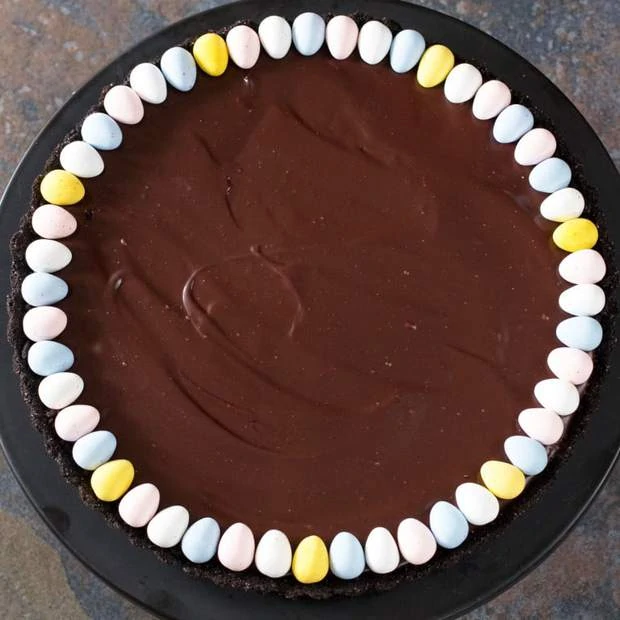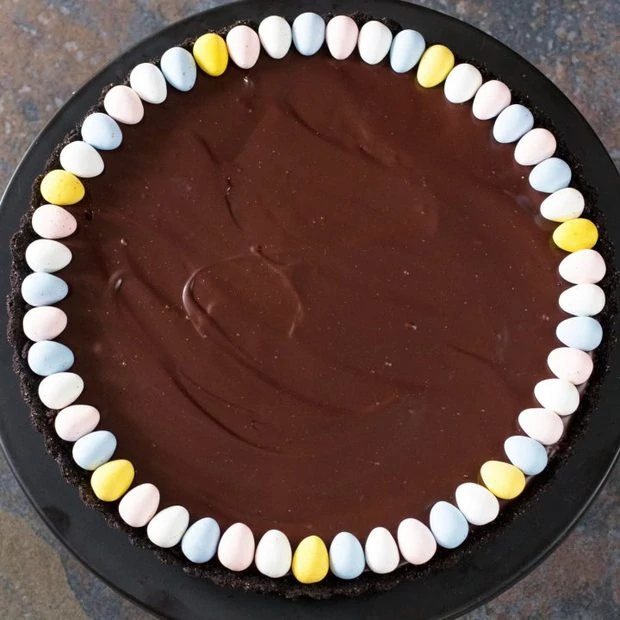 Chocolate Bourbon Caramel Tart
Total Time:
9 hours
25 minutes
Chocolate, bourbon caramel, and more chocolate. What else could you want?
Ingredients
Crust
40 chocolate wafers, finely ground
4 Tbsp unsalted butter, melted
2 Tbsp sugar
Bourbon Caramel
1 1/2 cups sugar
2 Tbsp light corn syrup
1/4 tsp kosher salt
6 Tbsp water
6 Tbsp unsalted butter
6 Tbsp heavy cream
2 Tbsp bourbon
1 Tbsp creme fraiche (vanilla bean if you can find it)
Ganache
1/2 cup heavy cream
8oz. dark chocolate
Mini easter egg candy to decorate
Instructions
Preheat oven to 350 degrees F. Pulse ground wafers, melted butter and sugar together in food processor until well combined.
Pat the wafer mixture into a 11 inch fluted tart dish, pressing firmly to the bottom and up sides. Bake until fragrant and slightly darkened, approximately 10 minutes. Cool completely.
In a large saucepan, whisk together sugar, corn syrup salt and water, bring to a boil. Cook without stirring until a candy thermometer reads 340 degrees, then remove from heat. Whisk in butter, cream, bourbon and creme fraiche for the caramel (being careful not to get burned as it bubbles up!), stirring until smooth and creamy. Pour the caramel into the cooled tart shell and refrigerate until firm, approximately 5 hours.
When ready to add the ganache, bring 1/2 cup heavy cream to a boil in a small saucepan. Add chocolate to a medium bowl and pour the hot cream over the chocolate. Let the mixture sit for one minute before stirring until smooth.
Pour ganache over the hardened caramel and refrigerate for one hour. Press in easter candies for decor and then refrigerate for another 3 hours before serving.