Please note this post contains affiliate links.
It's time to discover the art of crafting and using demerara syrup in cocktails. Learning how to make this rich and complex sweetener will immediately elevate your mixology game. This syrup can also be used in mocktails, coffee drinks, and more!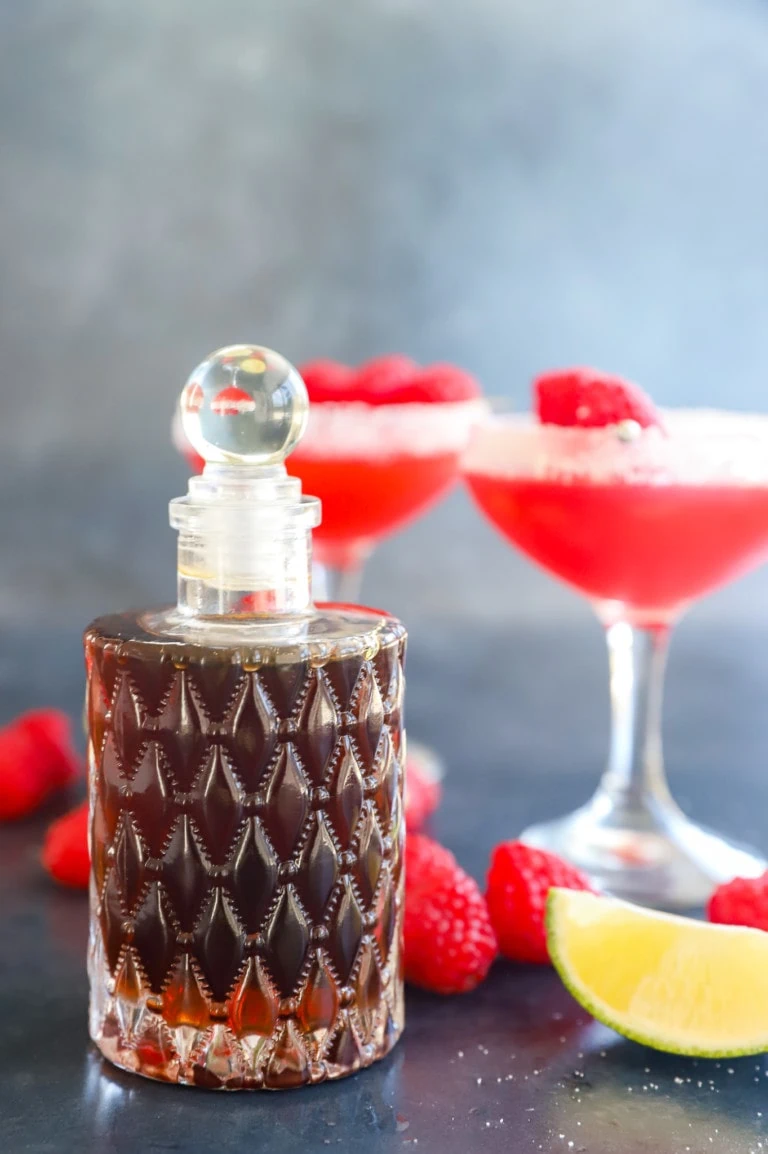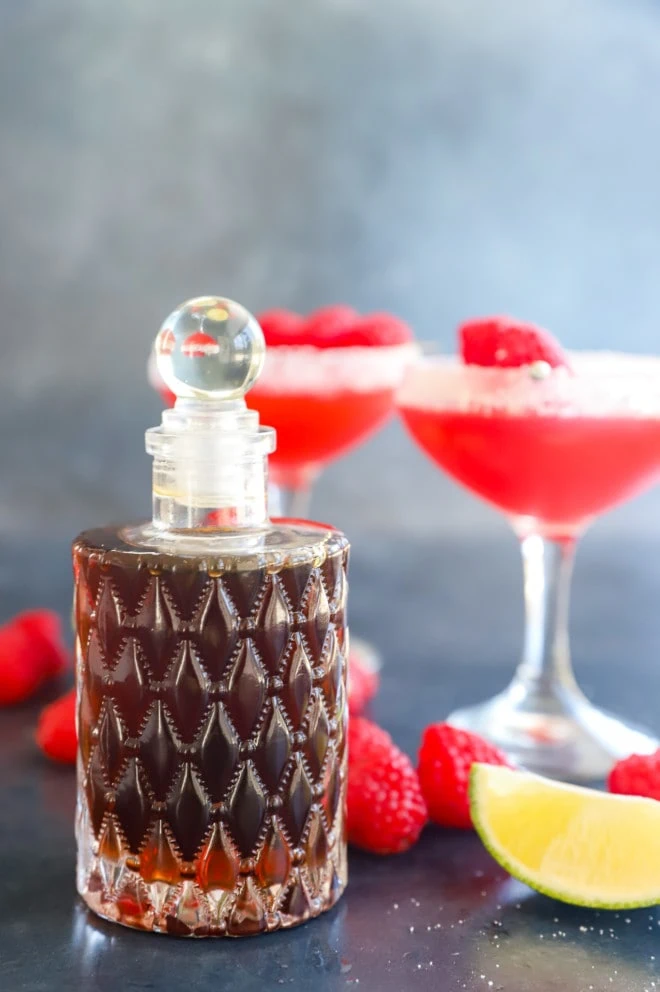 about this demerara syrup
Welcome to the world of demerara syrup, where sweetness meets complexity in the realm of mixology.
If you are looking to elevate your cocktails, this is the easiest way to go about it. Demerara syrup is a staple ingredient in many classic and contemporary cocktails. With its origins in unrefined demerara sugar, this syrup offers a depth of flavor that takes your drinks to new heights. Whether you're a seasoned bartender or a home mixologist, understanding and mastering rich demerara syrup can take your cocktail game to the next level.
In the following sections, we'll explore what demerara syrup is, how to make it, and why it's a must-have in your cocktail arsenal. Get ready to unlock a world of enhanced taste and craftsmanship in your favorite libations.
Here's just a few reasons why you should try demerara syrup:
Rich flavor – Demerara sugar offers a natural molasses flavor from the sugarcane, giving it a rich and complex flavor profile.
Versatile – You can use this syrup in a wide range of cocktails from classic to modern creations. It pairs really well with dark spirits, but it is also a lovely compliment for lighter syrups and non-alcoholic drinks.
Balanced – The sweetness of this type of sugar has just the right balance to sweeten your drinks without overwhelming them with sugar.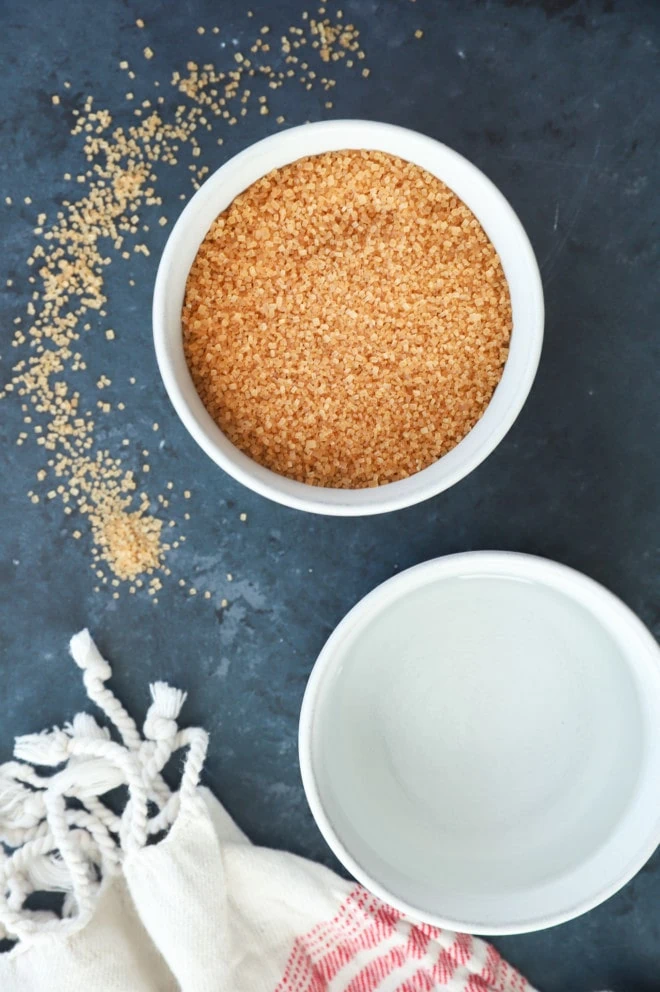 ingredients
demerara sugar. This golden-brown sugar has a unique flavor of caramel and molasses, giving this syrup a lovely taste that will elevate any drink you use it in.
water. Use whatever water you like to drink! Tap water, filtered water, etc. If your tap water has a mineral taste to it, I recommend using filtered water and you are not bringing the mixture to a boil and there may be lingering residual flavor in the syrup.
what is demerara sugar?
Demerara sugar is minimally processed, which is why it has its characteristic golden-brown color. This is also why the grains of sugar are so large and crunchy. The lack of processing helps preserve a deep and rich flavor in the sugar.
Originally, demerara sugar orignated in the British colony of Demerara, hence the name! That colony is now know as Guyana.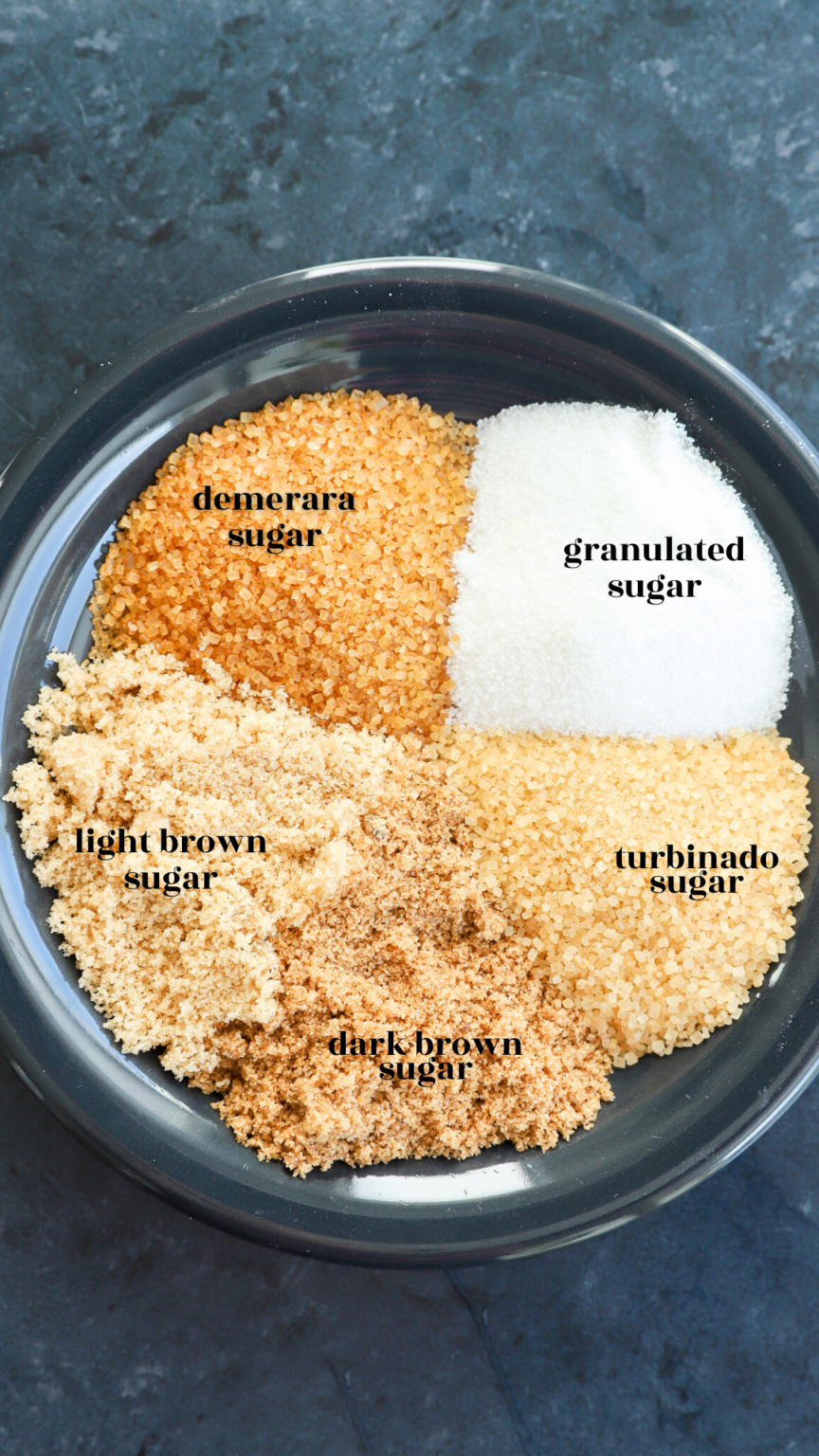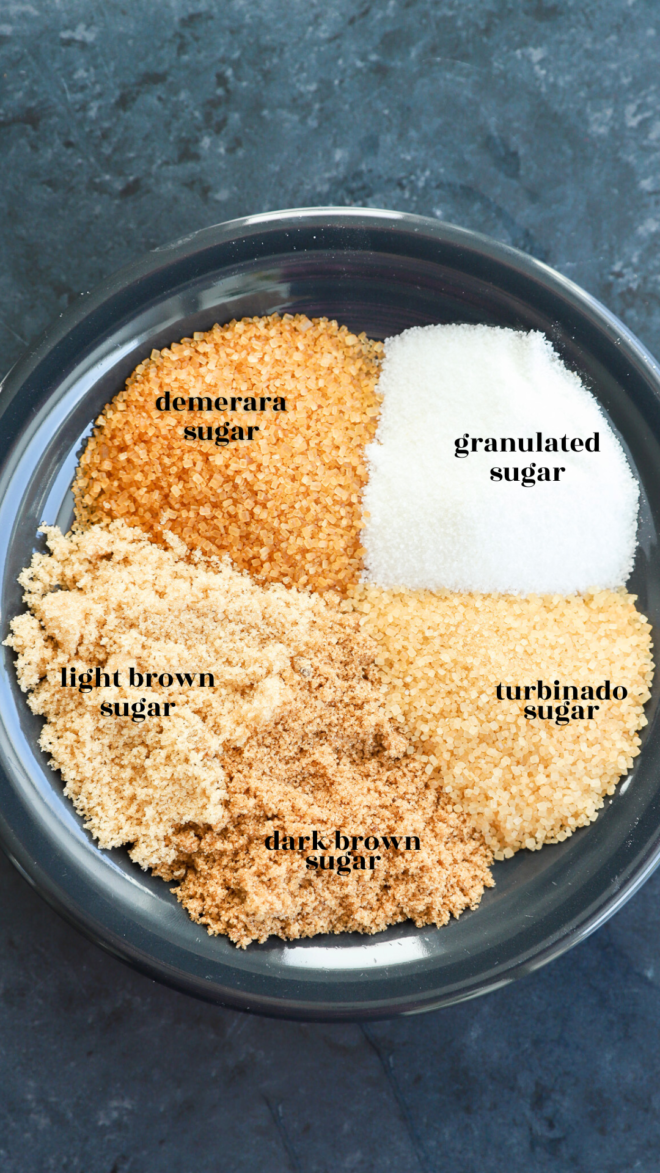 this recipe's must haves
All you need to make this recipe is a saucepan and a wooden spoon!
To store, a classic mason jar is always a good idea. You can also use an airtight plastic container, but glass usually holds up best for syrups and is an easy way to use them.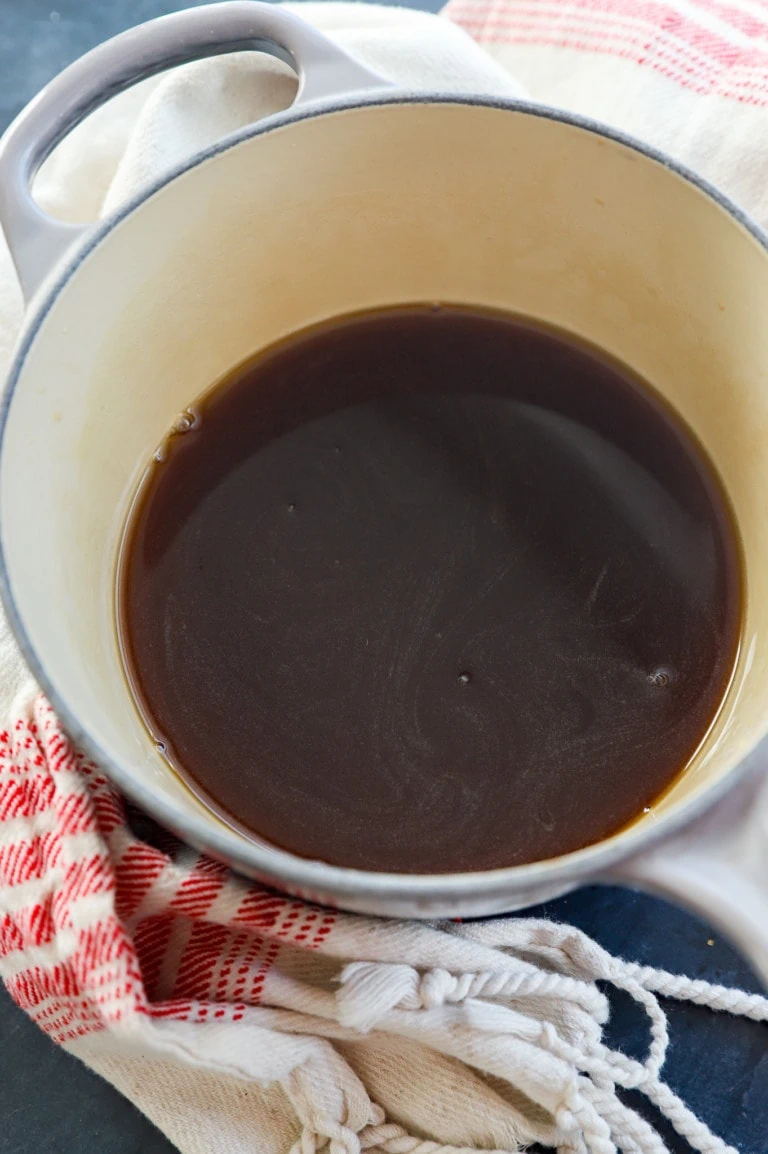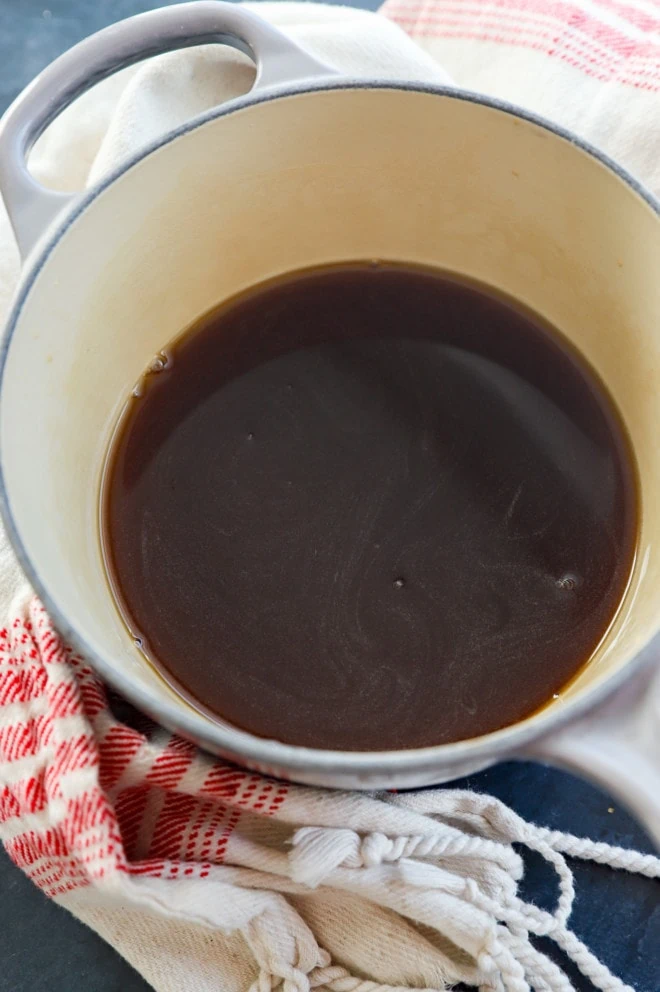 here's how to make demerara syrup
cook
Add sugar and water to a small saucepan over medium heat. Do not bring the mixture to a boil. Stir as the mixture cooks until the sugar is dissolved. Remove from heat immediately.
cool
Cool completely before using in cocktails, drinks, etc. Store in a glass jar or airtight container and seal tightly.
tips and ideas
do not boil. Do not bring the mixture to a boil as this will cause the sugar to start to crystalize. Avoid boiling and it will come out smooth.
need a substitute? The best substitute for demerara sugar is turbinado or raw sugar. Turbinado sugar has notes of caramel as well, it's just a little bit lighter and doesn't have the notes of molasses that demerara has. Next best substitute would be raw sugar or light brown sugar.
More delicious simple syrup recipes to try: Basil Simple Syrup | Strawberry Rhubarb Simple Syrup | Lemon Simple Syrup | Strawberry Simple Syrup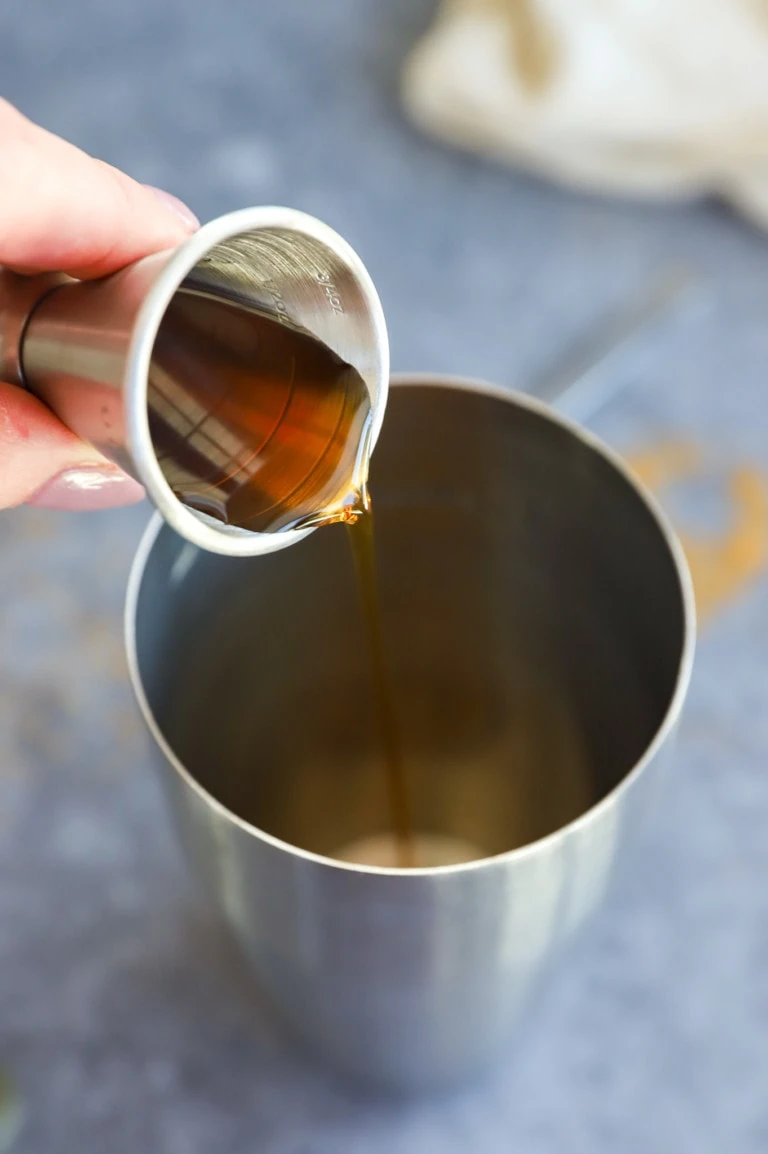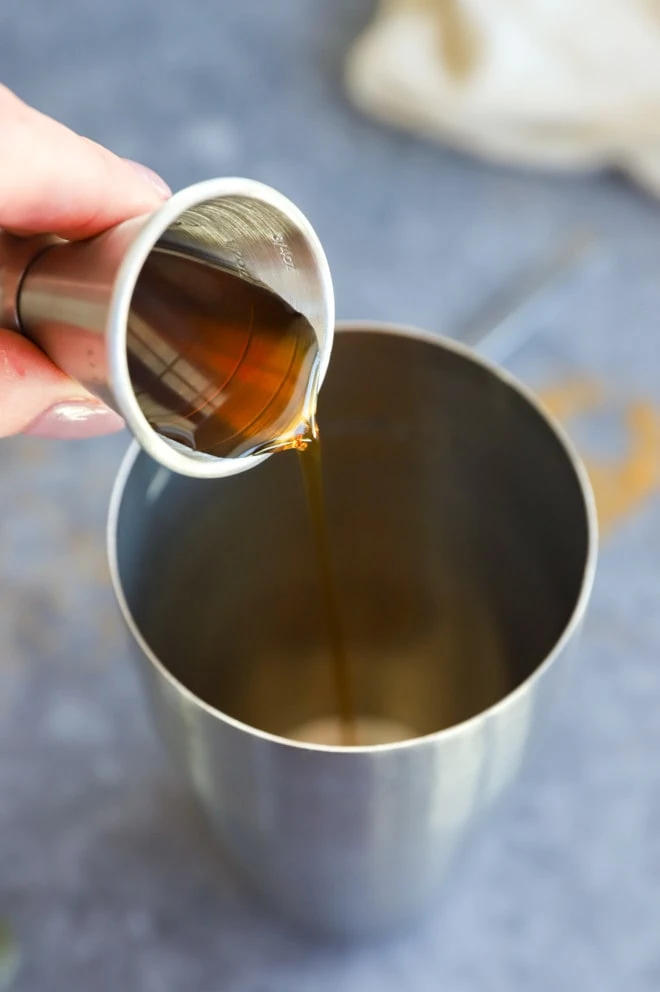 does demerara syrup need to be refrigerated?
Yes, demerara simple syrup needs to be stored in the refrigerator. I like to store it in syrup bottles like the one pictured here or in mason jars. Always be sure to label the jar so you can remember when it was made.
how long does demerara syrup last?
If refrigerated in an airtight container, this syrup will last for up to 1 month.
what does demerara syrup taste like?
This recipe has a lovely caramel flavor to the sugary syrup. I love the depth of flavor that it brings to cocktails and drinks in comparison to regular simple syrup. It's ideal for pairing with whiskey and rum drinks, but it also can bring added flavor to your morning cup of coffee!
where can I find demerara sugar?
You can sometimes find demerara sugar at the local grocery store, but the ones near my house do not happen to carry it. If you are having trouble tracking it down locally, you can easily order it for less than $5 online (here is the demerara sugar I use) for a large bag.
can simple syrup be frozen?
It certainly can! If you don't think you'll use up the syrup within one month, add it to ice cube trays. Freeze and store in an airtight bag or container in the freezer for up to 3 months.
Need more inspiration for cocktail hour? Check out my cocktail recipes page!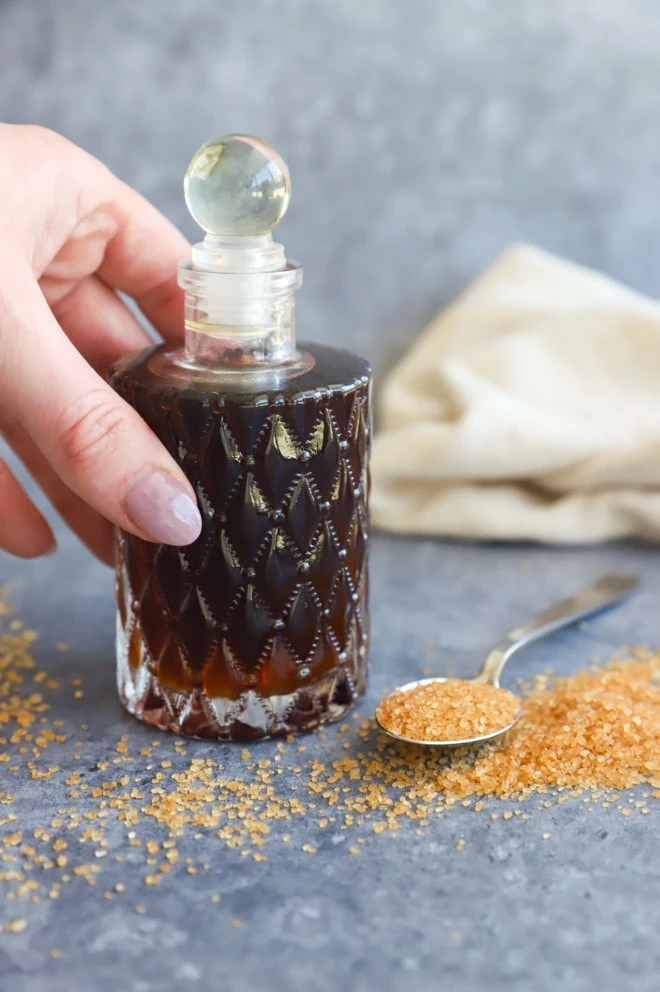 how to use demerara simple syrup
Demerara syrup is a caramel-flavored syrup that can be used in everything from cocktails to mocktails to coffee drinks and more. You can use it anywhere you would use plain simple syrup! Here are some of our favorite ways to use this syrup:
Add to rum cocktails like a classic daiquiri or mojito. This raspberry daiquiri is a fun fruity twist on the classic cocktail.
Swap out regular simple syrup for demerara in you favorite whiskey cocktails like an old fashioned or manhattan.
Incorporate into coffee drinks like lattes, mochas, and cappucinos.
Use to sweet iced tea or lemonade.
Drizzle it on pancakes or waffles in lieu of maple syrup.
demerara syrup flavors
If you enjoy this syrup, there are endless ways to change up the flavors. Below are some suggestions of how to add additional flavor to the syrup. Note that these ingredients should be added to the pan when you are simmering the sugar and water. Let the syrup cool, then strain out the ingredients when transferring them to the storage container.
vanilla. Slice a vanilla bean pod open and add to the saucepan.
cinnamon. Use two small cinnamon stick (or one large).
ginger. Peel and slice a 1-inch piece of ginger.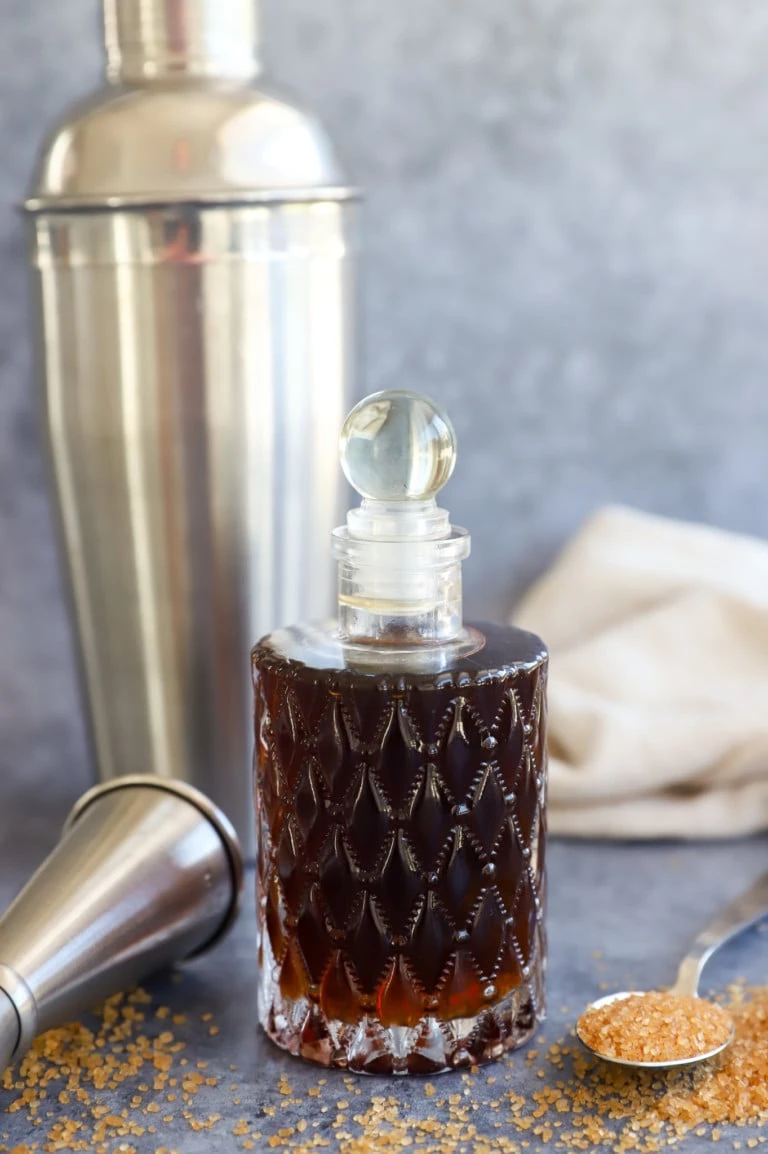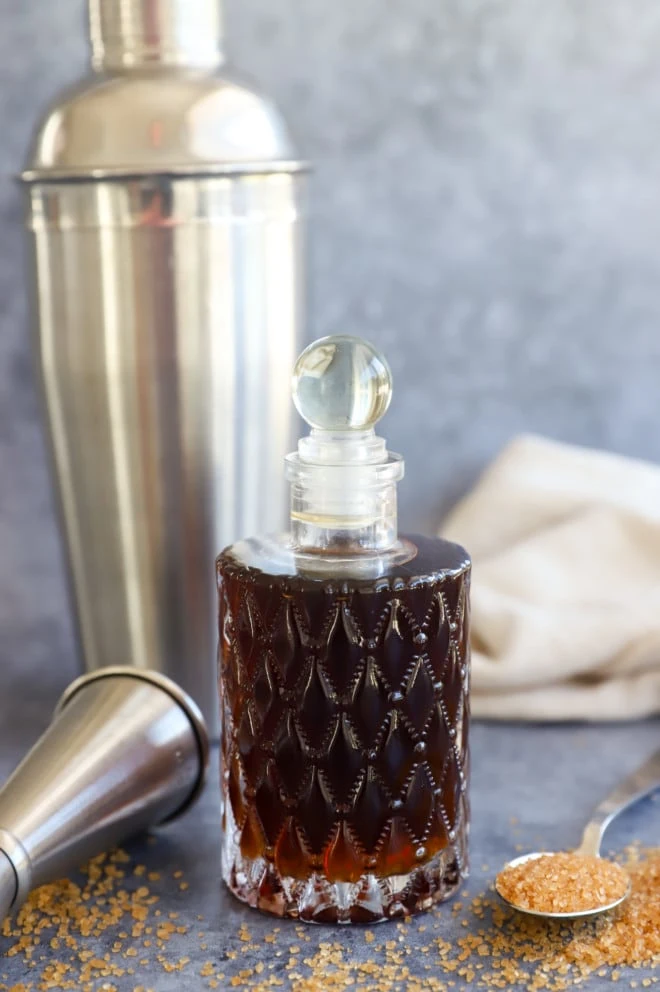 how to store
Store. Cool and store in an airtight container or bottle in the refrigerator for up to one month. I like to label mine with a piece of tape and a marker to know when the expiration date is.
Freeze. You can freeze simple syrup in ice cub trays to save for later us! They will last for up to 3 months in the freezer. I recommend freezing them in cubes and once frozen, moving to a freezer-safe bag. Remove as many as you'd like and thaw in a bowl or bottle in the refrigerator.
Thaw. Thaw individual cubes of simple syrup in a bowl or bottle in the refrigerator.
more tasty simple syrup recipes
For a lovely floral option, this lavender simple syrup is perfect for cocktails and even using with tea or lemonade.
If you love cinnamon, this cinnamon simple syrup is your new favorite recipe.
Fresh and fruity cherry simple syrup is made with fresh cherries!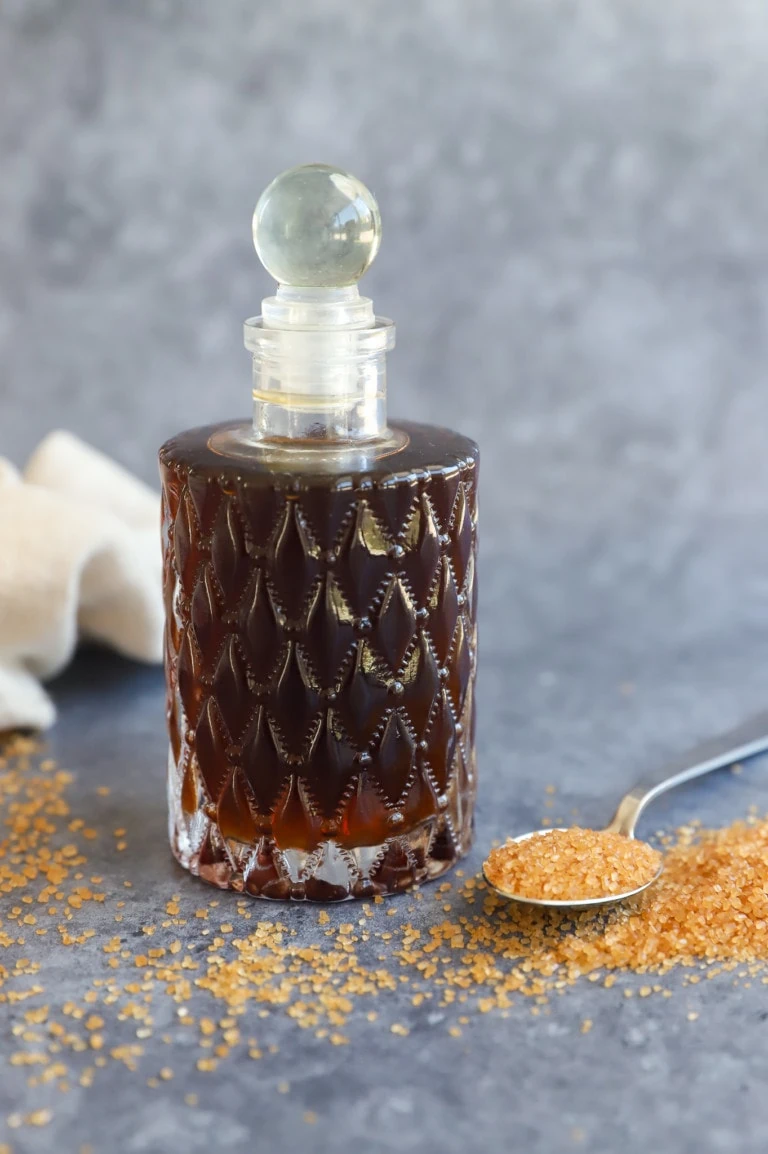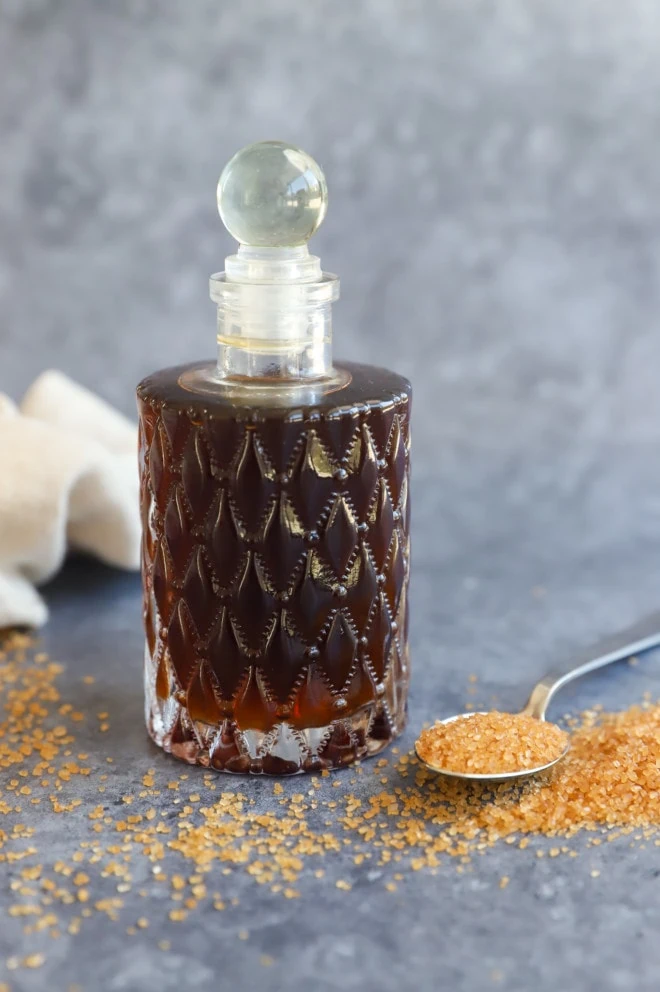 Finally, if you make this demerara syrup recipe, please be sure to give this recipe a rating and/or leave a comment! I love to hear when you all make recipes, and I do take the time to respond to every single comment.
Feel free to drop questions below too, if you have them!
Oh and be sure to tag me on Instagram if you make the recipe! I love being able to see these recipes come to life in your homes – it's my favorite thing to look through those photos. It really means the world to me!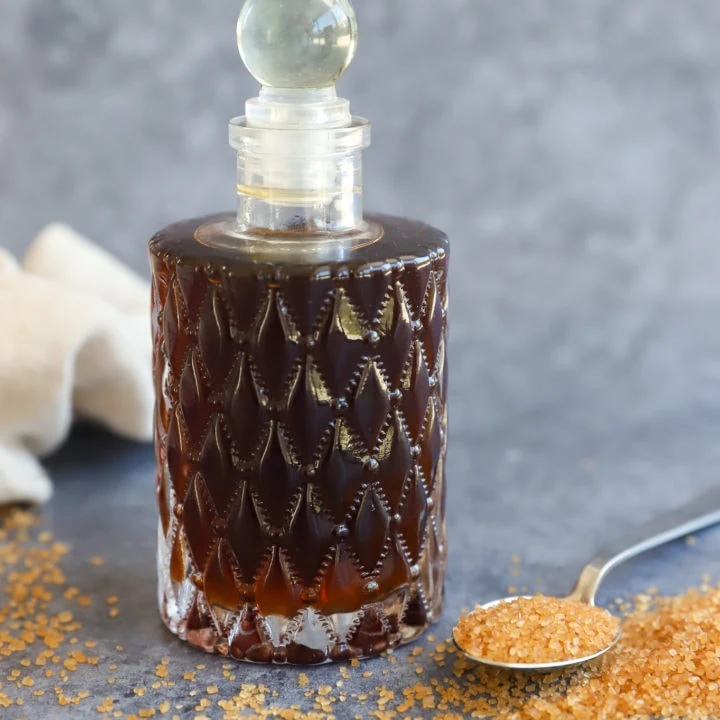 Demerara Simple Syrup
With notes of caramel, this syrup is fantastic to use in place of regular simple syrup.
Ingredients
1 cup demerara sugar
1 cup water
Instructions
Combine sugar and water in a small saucepan over medium heat.
Stir over heat until the sugar completely dissolves. Do not bring the water to a boil!
Cool and store in an airtight glass jar in the refrigerator for up to 1 month.
Recommended Products
As an Amazon Associate and member of other affiliate programs, I earn from qualifying purchases.