Herb Crusted Rack of Lamb with Red Wine Sauce
Please note this post contains affiliate links.
Herb Crusted Rack of Lamb with Red Wine Sauce is THE holiday meal you'll serve year and year (and that the entire family will beg you for every single time). The herb rub on the lamb brings out the delicious gamey flavor, and the red wine sauce is just the right savory, sultry sauce to top it all off with. It's a dinner party hit, every single time!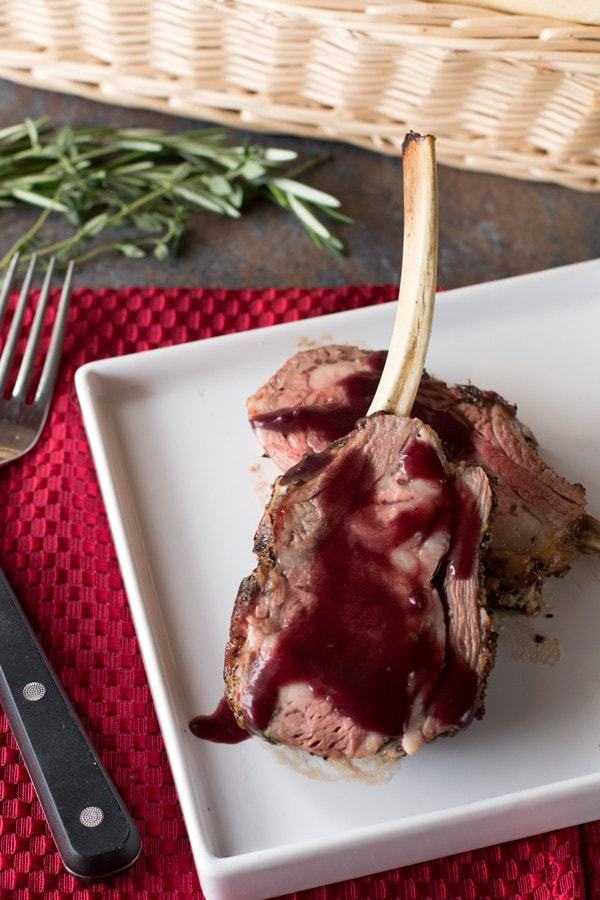 The holidays are when I want to pull out all the stops and serve something a little fancier.
It's really the perfect time of year to share something extra special with your loved ones.
To me, a frenched rack of lamb screams sophistication – it's beautiful, hearty, and impossible to resist. I especially love to see my guests faces when I present a roasted rack on the table.
Their eyes light up because they know they are in for a meal they will remember for months to come.
Seriously, it's. that. good.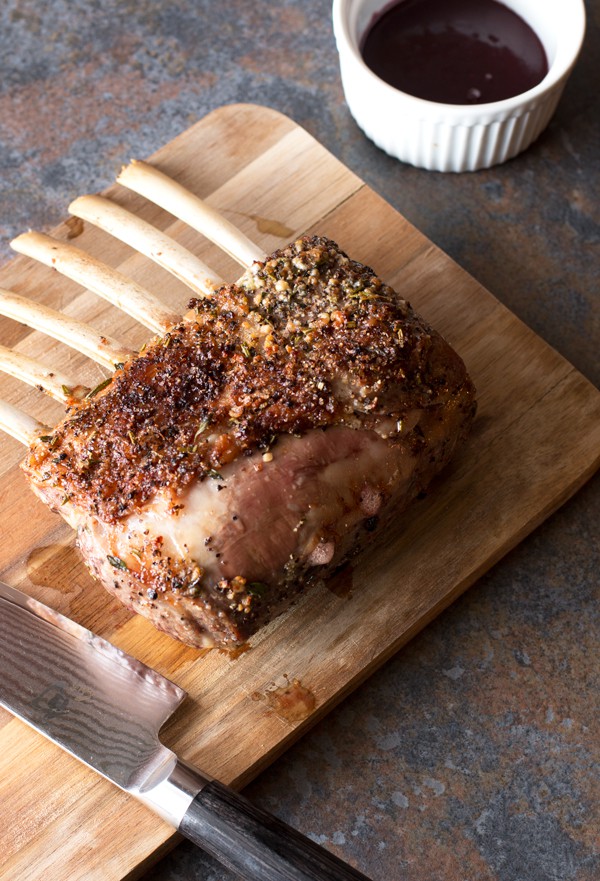 The beauty of a roasted rack of lamb is that, once you season the raw meat, you stick it in the oven and let it cook.
There's no tending to it, no basting, no hovering. You can simply sit back and enjoy the peace and quiet as it cooks.
Or you can tend to other side dishes or serve yourself a smart cocktail. 😉
Or you can take a quiet moment pretending to tend to this dish and you artfully remove yourself from any family awkwardness happening in the rest of the house.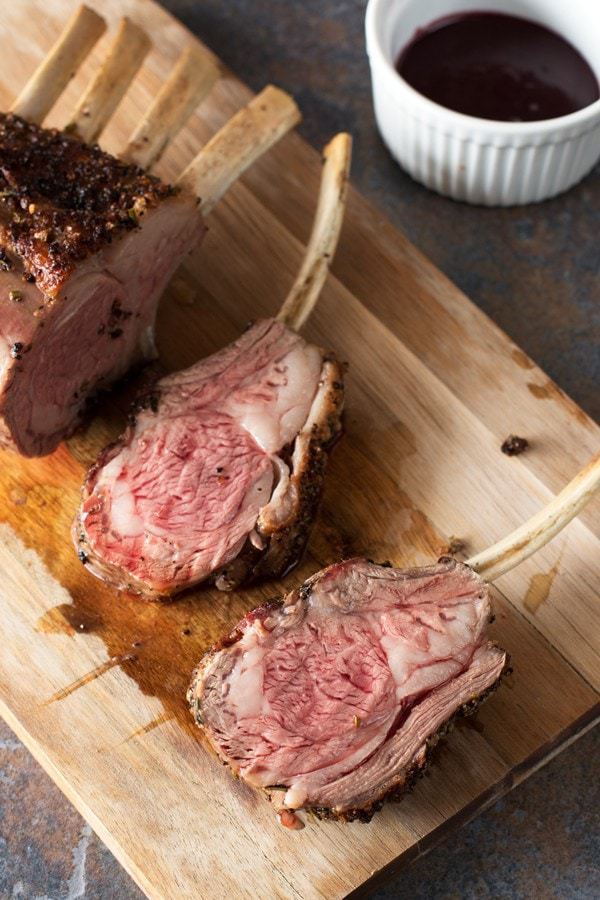 Now you all know me so you know that I had to try frenching the rack myself. While I was able to do it, I have to say, this is something I am going to ask my butcher to do from now on.
It's really better to save yourself the time. It was hardly as satisfying as breaking down a chicken and took longer than I expected.
Ask your butcher and be done!
Ok, after that disclaimer, let's focus on this gorgeous piece of meat again.
It's the herb crust that hammers home the intense depth of flavor.
Of course then you add a heaping spoonful of the sumptuous red wine sauce and I am transported to what I can only imagine to be cloud nine.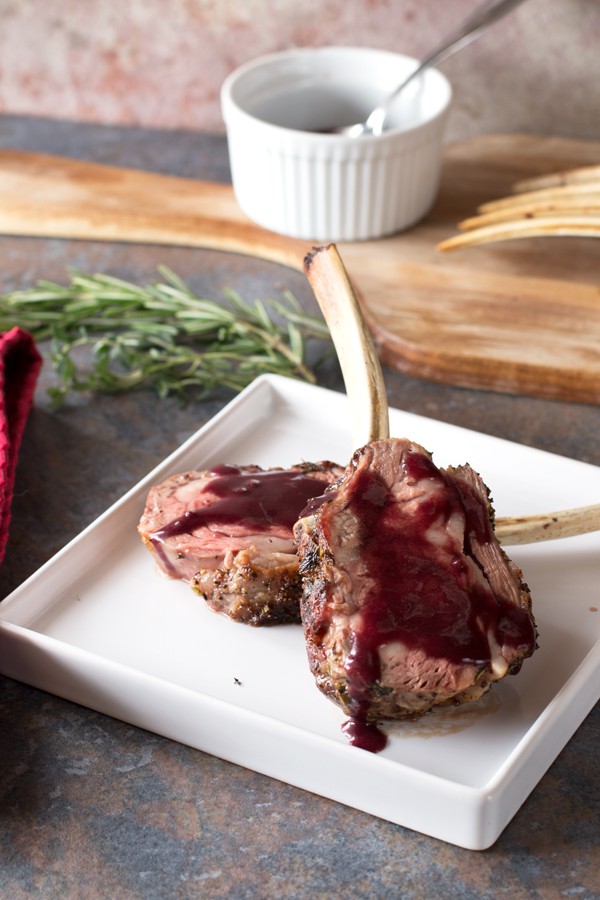 This is officially my new "go-to meal".
It will be what I pull out around the holidays, when my boss comes over for dinner, and any other special occasion that comes up.
You really will look like a start chef and the minimal amount of effort it requires will be our little secret…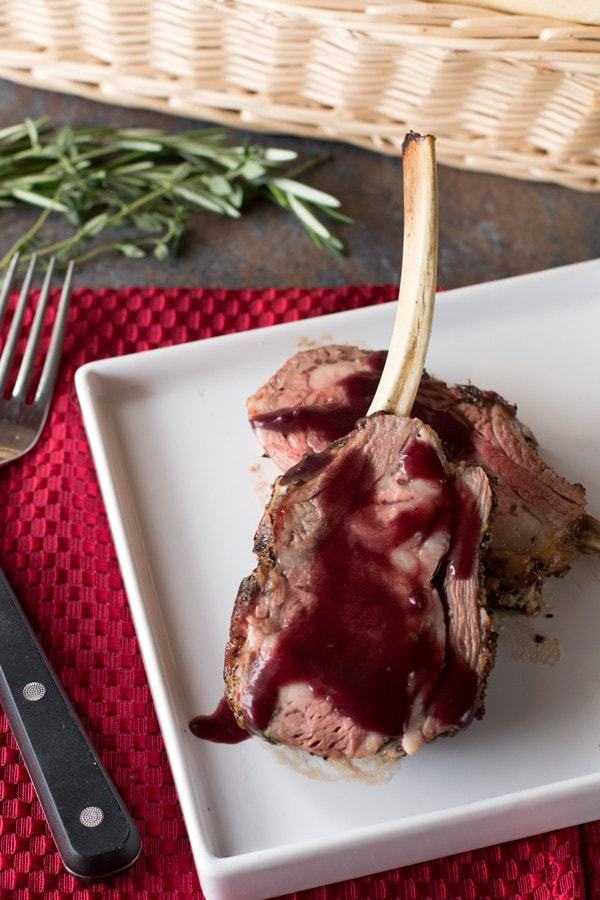 Need the perfect holiday cocktail to pair with this incredible dish? Check out my Christmas Sangria!
This Recipe's Must Haves
A great roasting pan with a rack is SO necessary for this recipe. I use Cuisinart Chef's Classic Stainless 16-Inch Rectangular Roaster
for this recipe (and also for any turkey or chicken dinner!).
You never have to fear jagged cuts when you have a Shun Classic 8-Inch Chef's Knife
in hand. You'll carve right through that perfectly cooked lamb!
To make the sauce, make sure you have a great saucepan, like this Cuisinart Chef's Classic Stainless 2-Quart Saucepan
.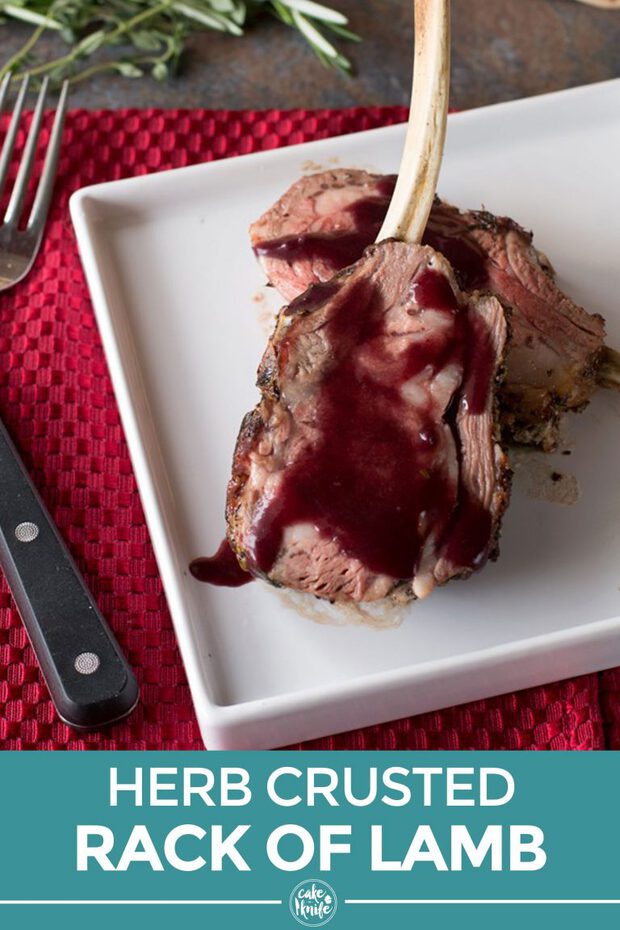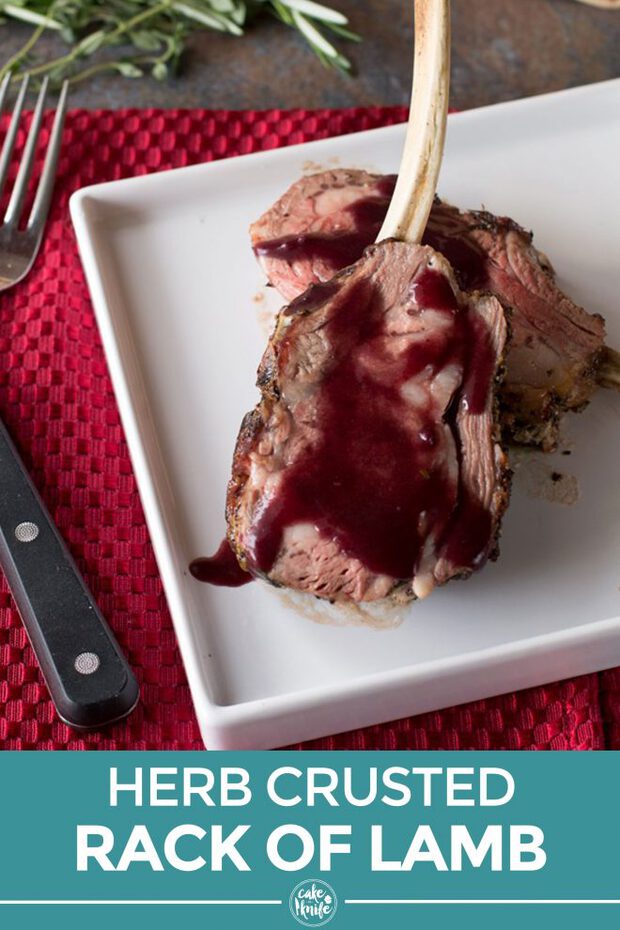 Want a killer dessert to follow this warming meal? Check out this Boozy Pumpkin Spice Affogato!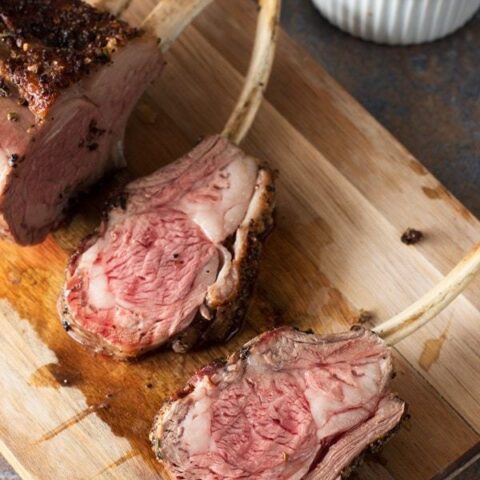 Herb Crusted Rack of Lamb with Red Wine Sauce
Yield: Serves 6 to 8
Prep Time: 10 minutes
Cook Time: 45 minutes
Total Time: 55 minutes
Roasted rack of lamb comes to life with an herb crust and rich, smooth red wine sauce.
Ingredients
Herb Roasted Rack Of Lamb
2 frenched racks of lamb (approximately 2-3 lbs)
1 Tbsp olive oil
2 garlic cloves, minced
1 Tbsp rosemary leaves, chopped
2 Tbsp thyme leaves, chopped
Red Wine Sauce
1 tsp olive oil
1 clove garlic, chopped
1/2 tsp cornstarch
1/2 cup red wine (Cabernet Sauvignon or Merlot works well)
1/2 cup beef stock
2 Tbsp butter
1 tsp rosemary, chopped
Salt & pepper
Instructions
Preheat oven to 450 degrees F.
Mix together olive oil, minced garlic, chopped rosemary, and chopped thyme in a small bowl. Pat the herb mixture all over the meat on the racks of lamb. Place the racks in a roasting pan and add to the center rack of the oven. Roast lamb for approximately 30 minutes, until it reaches an internal temperature of 145 degrees.
While the lamb is roasting, make the red wine sauce. In a medium saucepan, heat the olive oil over medium-high heat. Add the garlic and brown slightly, approximately 1 minute. Add in the cornstarch and stir until the garlic is coated. Pour in the wine and beef stock. Allow the mixture to reduce by half, approximately 5-7 minutes. Stir in the butter and rosemary and season with salt and pepper to taste. Keep warm over low heat until the lamb is ready to serve.
Recommended Products
As an Amazon Associate and member of other affiliate programs, I earn from qualifying purchases.