Please note this post contains affiliate links.
Herb Crusted Rack of Lamb with Red Wine Sauce is THE holiday meal you'll serve year after year (and that the entire family will beg you for every single time). The herb rub on the lamb brings out the delicious gamey flavor, and the red wine sauce is just the right savory, sultry sauce to top it all off with. It's a dinner party hit, every single time!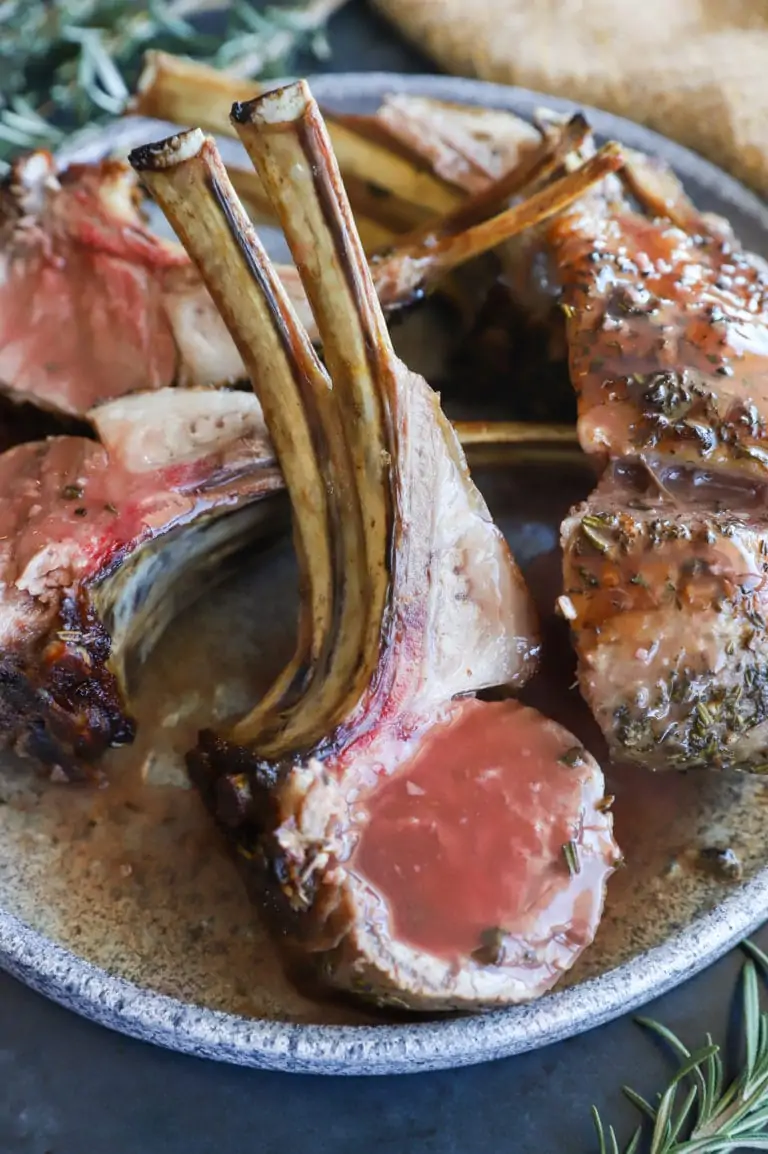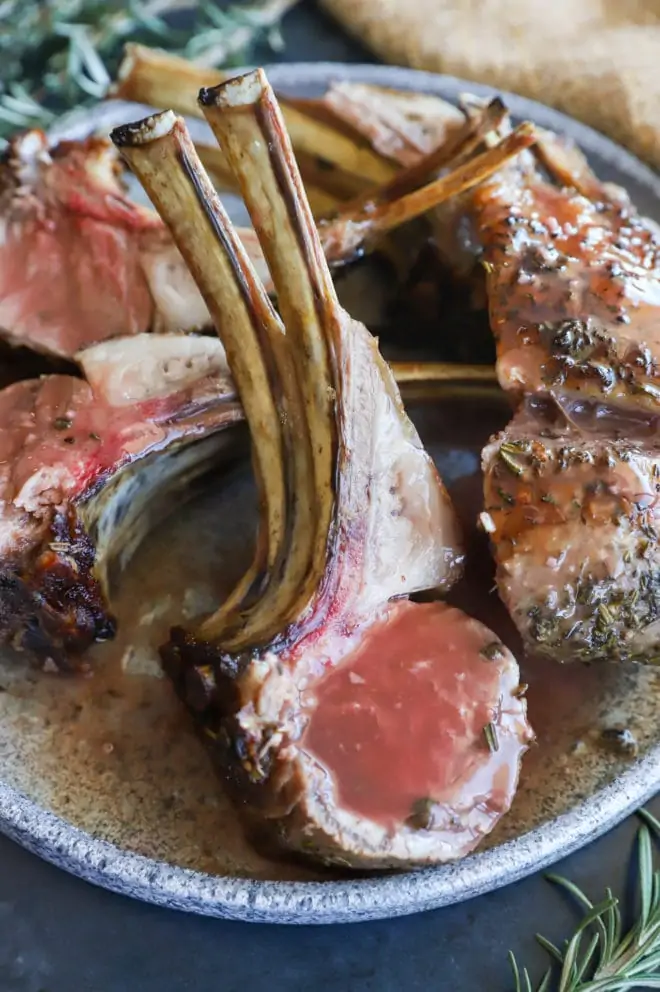 To me, a frenched rack of lamb screams sophistication – it's beautiful, hearty, and impossible to resist. I especially love to see my guests faces when I present a roasted rack on the table.
Their eyes light up because they know they are in for a meal they will remember for months to come.
Seriously, it's. that. good.
The beauty of a roasted rack of lamb is that, once you season the raw meat, you stick it in the oven and let it cook.
There's no tending to it, no basting, no hovering. You can simply sit back and enjoy the peace and quiet as it cooks.
Or you can tend to other side dishes or serve yourself a smart cocktail. 😉
Note: this is an updated version of the original post published on December 19, 2014.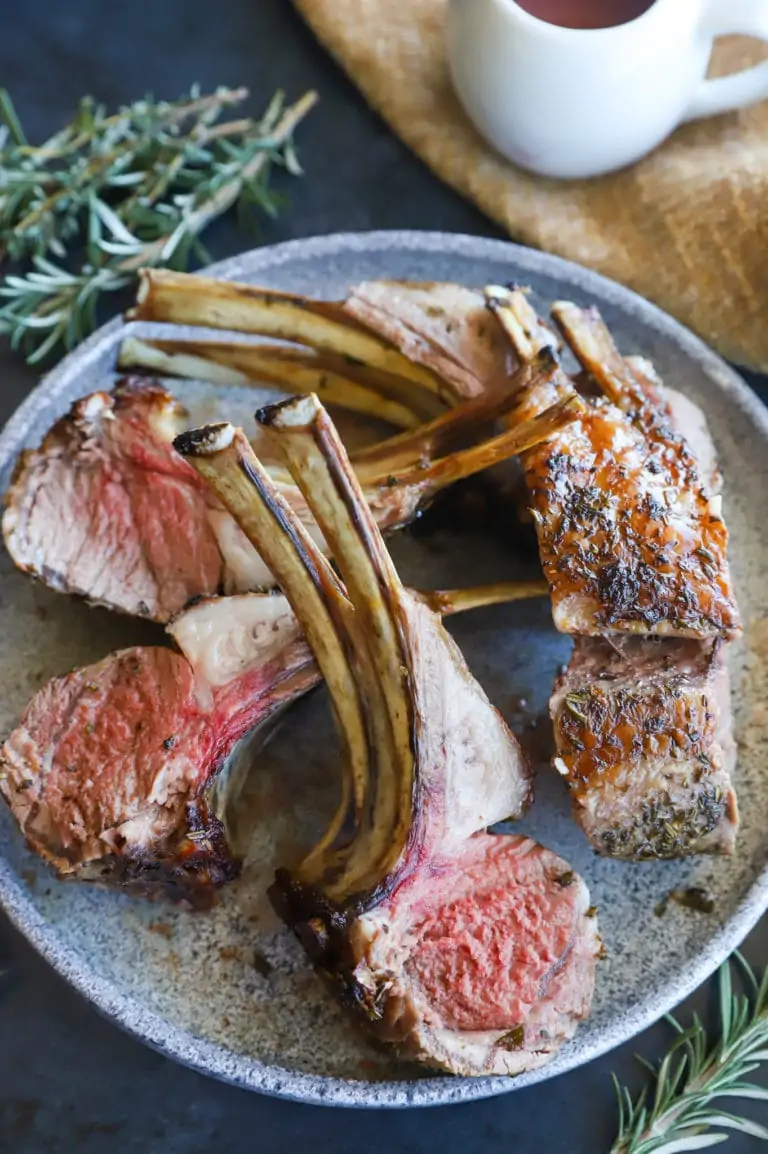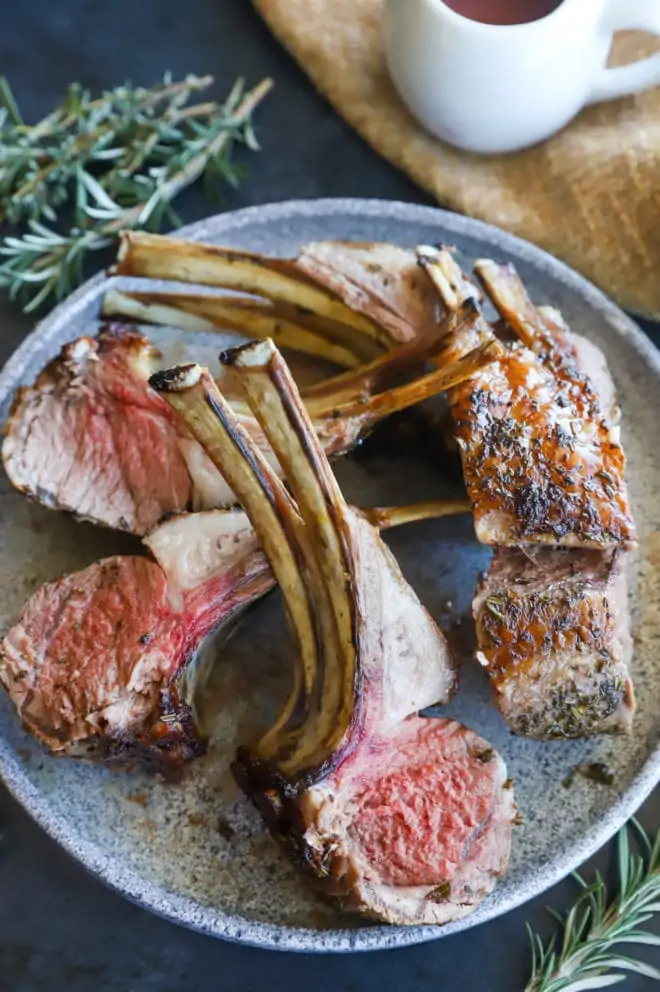 Or you can take a quiet moment pretending to tend to this dish and you artfully remove yourself from any family awkwardness happening in the rest of the house.
It's the herb crust that hammers home the intense depth of flavor.
Of course then you add a heaping spoonful of the sumptuous red wine sauce and I am transported to what I can only imagine to be cloud nine.
This is officially my new "go-to meal".
It will be what I pull out around the holidays throughout the year, when my friends come over for dinner, and any other special occasion that comes up. Plus it fills the kitchen with the BEST smell!
You really will look like a start chef and the minimal amount of effort it requires will be our little secret…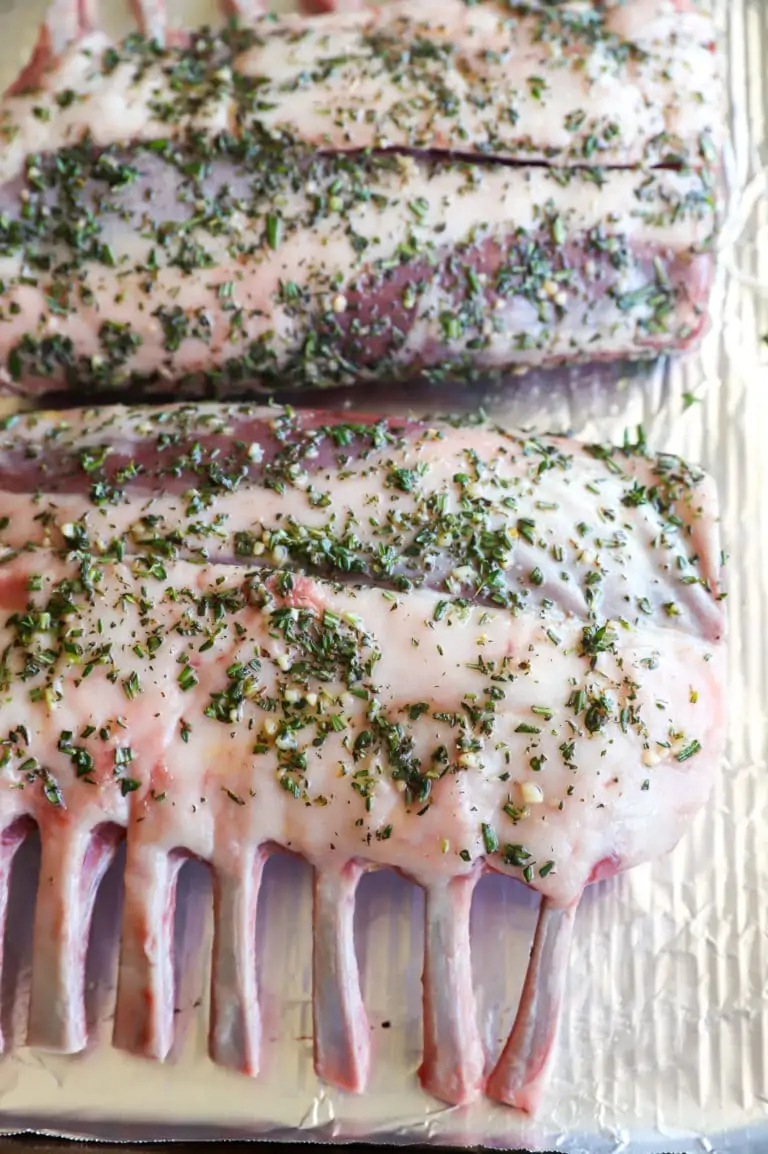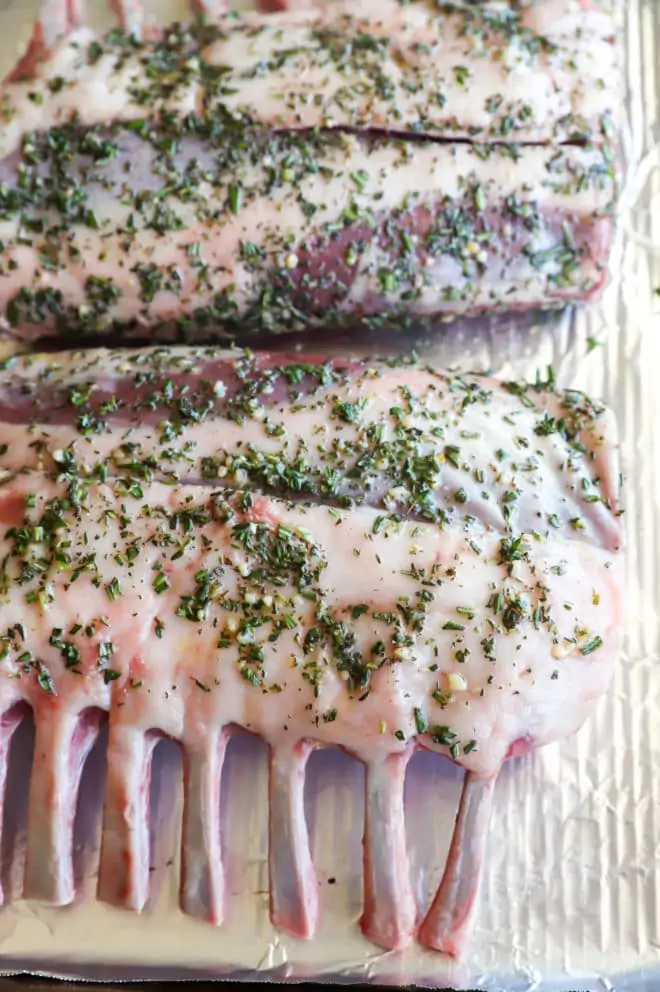 ingredients
lamb – I actually found racks of lamb at Costco already frenched and ready to go! You can get them at your local butcher and certain grocery stores (I've found that some larger chains like King Soopers doesn't carry them with any reliability).
garlic – I use garlic in so many things, so I have a jar of minced garlic in my fridge at all times. No smelly hands, no peeling garlic. The best shortcut to pay for, in my opinion.
fresh herbs – fresh rosemary and thyme is best for flavor here! If you have to use dried, cut the amount listed in half since dried herbs are much stronger.
salt and pepper – don't forget to always season with kosher salt and freshly ground black pepper too!
Pro Tip: have your butcher french the racks for you! It's really better to save yourself the time and skip trying to do it yourself. Trust me, I've tried and it takes FOREVER.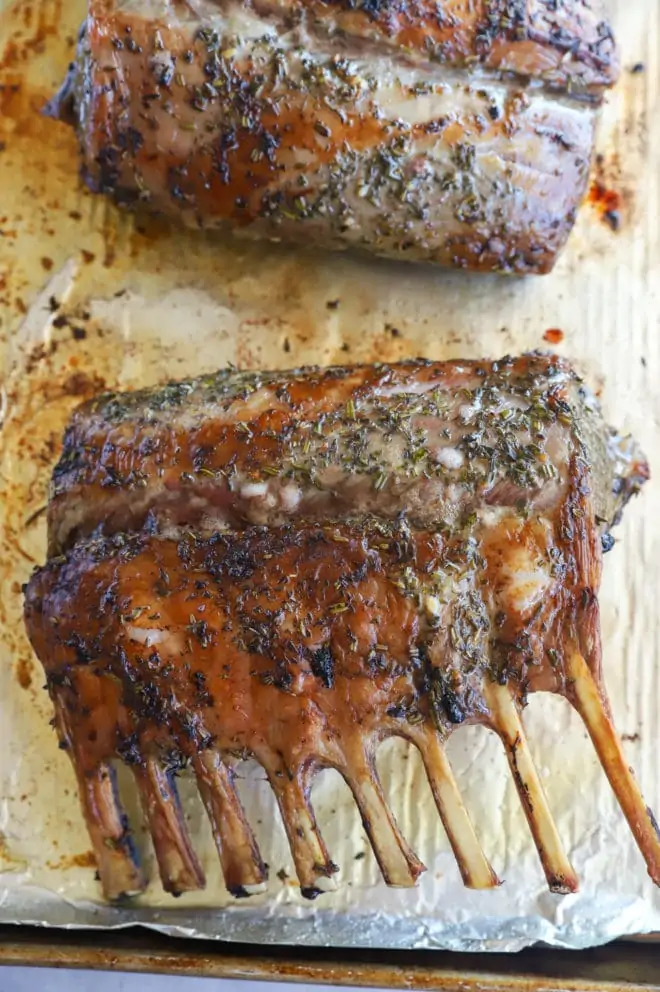 this recipe's must-haves
Instead of using a fancy roasting pan, I like to use my favorite half sheet baking pan! Just line it with aluminum foil and you are good to go.
You never have to fear jagged cuts when you have a good chef's knife in hand. You'll carve right through that perfectly cooked lamb to cut them into lamb chops! Don't forget the cutting board – one with a ridge around the edge works well for catching any juices when you carve the finished lamb.
here's how to make herb crusted rack of lamb
make herb crust
In a small bowl, stir together olive oil, garlic, and fresh herbs until combined.
Pat the lamb racks dry with paper towels.
coat lamb
Rub the racks of lamb with the herb mixture all over. Place the racks on a rimmed baking sheet lined with aluminum foil.
roast
Roast lamb for approximately 30 minutes. Remove from the oven when the internal temperature hits 135˚ to 140˚F on a meat thermometer for medium cook. Let rest 5 to 10 minutes before slicing.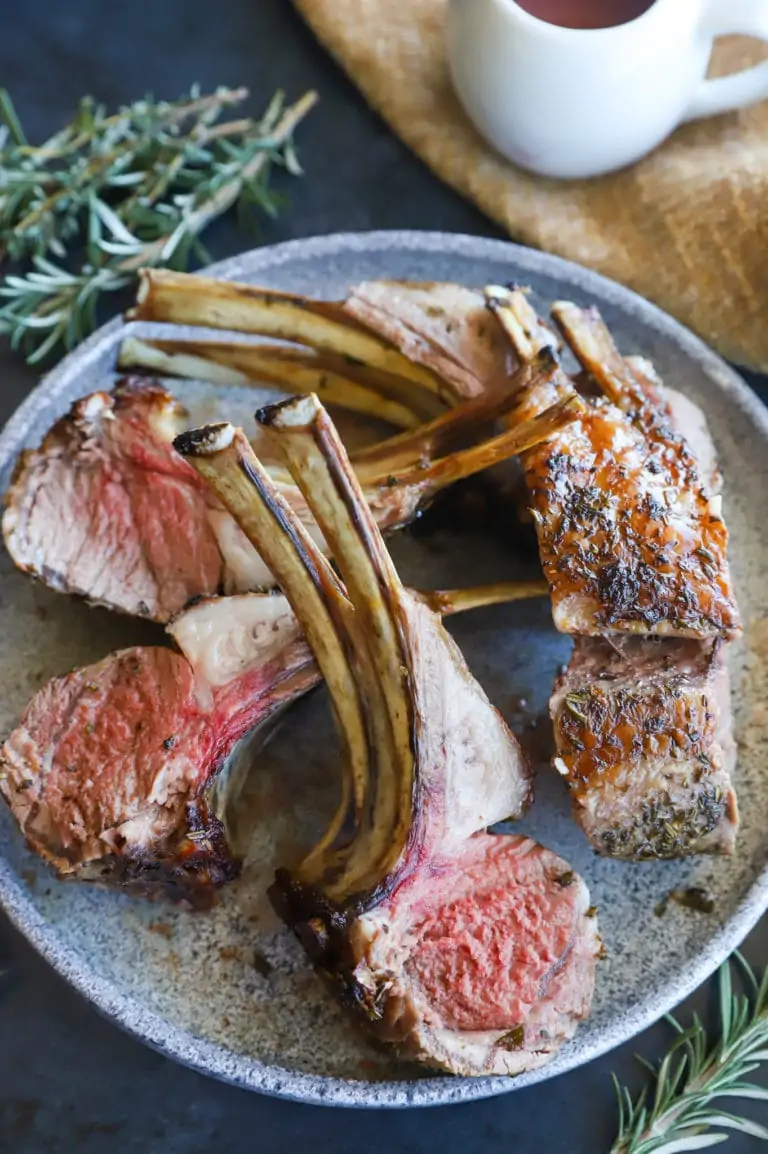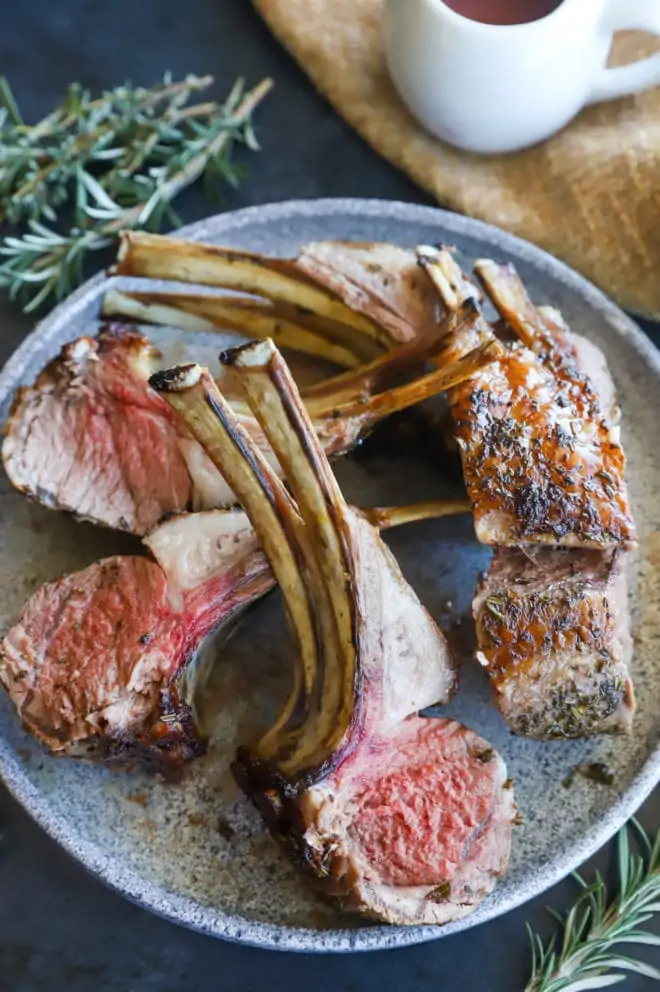 tips for success
use your meat thermometer. Cooking the lamb to the right temperature is a must for the success of this recipe, so have your meat thermometer handy!
let it rest. Once you are done cooking the lamb, let it rest for about 5 to 10 minutes before slicing. The lamb will continue to cook as it rests, up to 5 degrees, so keep that in mind when you remove it. See below for internal temps to refer to!
Other tasty lamb recipes to try: Herb Goat Cheese Stuffed Leg of Lamb | Chipotle Coffee Crusted Rack of Lamb | Ancho Chili Rubbed Leg of Lamb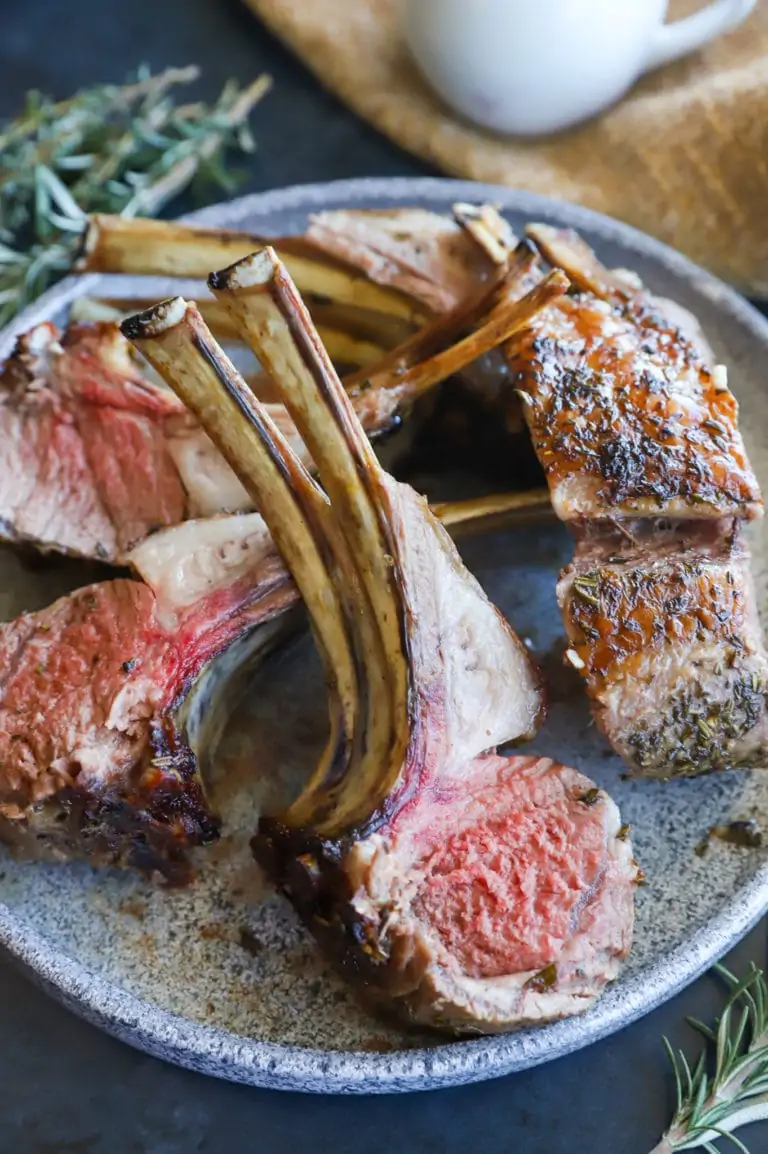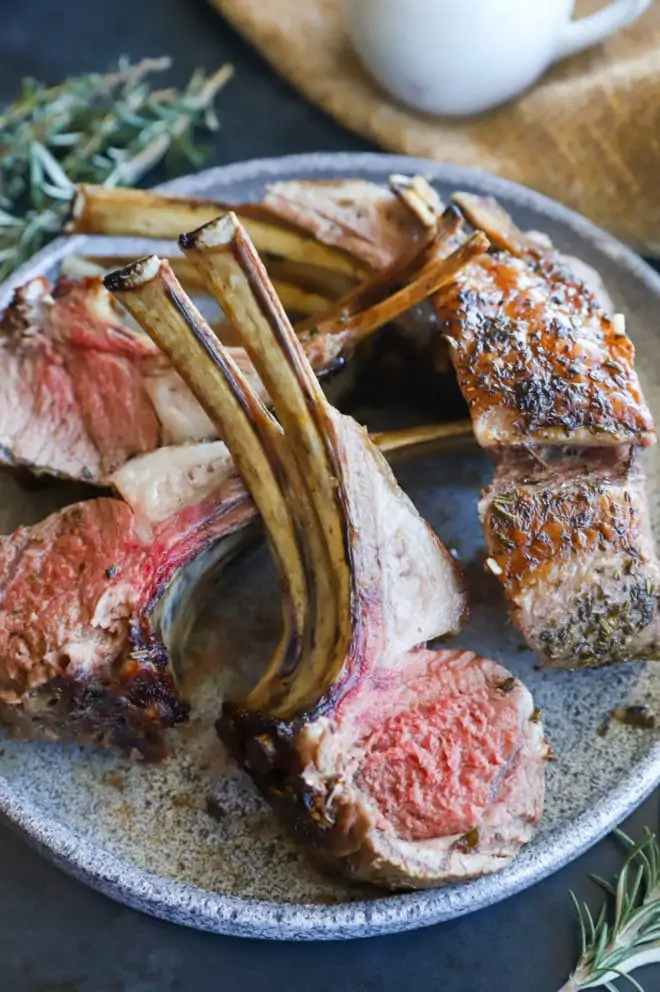 what temperature should I cook herb crusted rack of lamb to?
Here's the cooking temps for rack of lamb:
Rare: 120 to 130 degrees (red inside)
Medium-Rare: 130 to 140 degrees (bright pink)
Medium: 140 to 145 degrees (light pink)
Medium-Well: 145 to 150 degrees (barely any pink)
Well-Done: 150 to 160 degrees (no pink)
how to serve herb crusted rack of lamb
First and foremost, you want to serve this gorgeous rack of lamb with red wine jus. It's just the best sauce to top the lamb with – it really goes well with the herb crust. Now let's talk side dishes, because you know that's what you need for this dish:
Are you looking for the ideal ending to a lamb dinner? This chocolate strawberry cake is moist, fruity, and fluffy! It's perfect for any of your spring or summer gatherings.
Need more inspiration for entrees? Check out my main dish recipes page.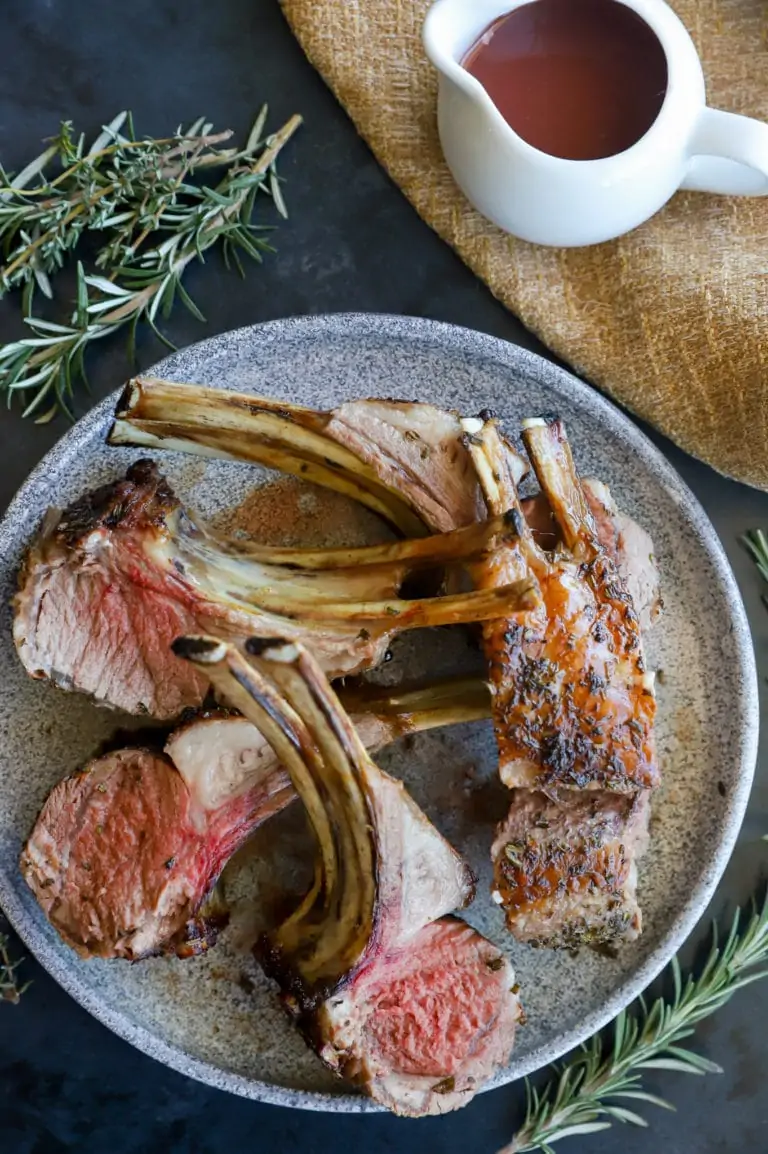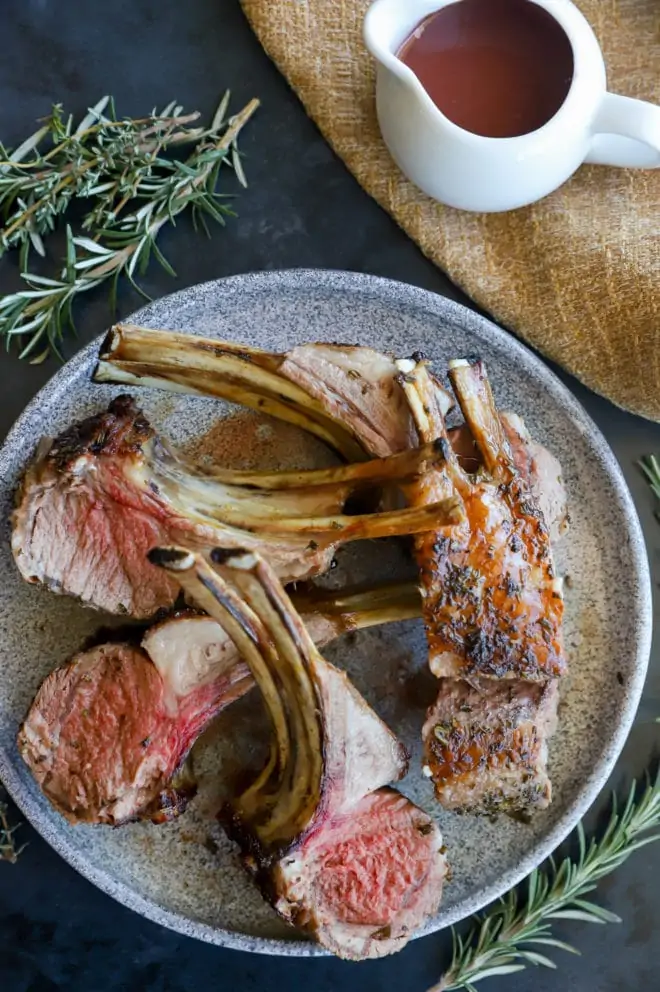 how to store and reheat
To store any leftovers, place them in an airtight container and store in the refrigerator for up to 3 to 4 days.
To reheat, preheat the oven to 350˚F. Place on a baking sheet and reheat until warmed through, about 10 to 15 minutes.
Got leftovers? Use them to make these gyro lamb tacos!
Finally, if you make this herb crusted rack of lamb recipe, please be sure to give this recipe a rating or leave a comment! I love to hear when you all make recipes, and I do take the time to respond to every single comment. Feel free to drop questions below too, if you have them!
Oh and be sure to tag me on Instagram if you make the recipe! I love being able to see these recipes come to life in your homes – it's my favorite thing to look through those photos. It really means the world to me!
Herb Crusted Rack of Lamb with Red Wine Sauce
Roasted rack of lamb comes to life with an herb crust!
Ingredients
2 frenched racks of lamb (approximately 2-3 lbs)
1 Tbsp olive oil
2 garlic cloves, minced
1 Tbsp rosemary leaves, chopped
2 Tbsp thyme leaves, chopped
Instructions
Preheat oven to 450˚F. Line a large baking sheet with aluminum foil.
Mix together olive oil, minced garlic, chopped rosemary, and chopped thyme in a small bowl. Pat the herb mixture all over the meat on the racks of lamb. Place the racks on the prepared sheet pan and add to the center rack of the oven.
Roast lamb for approximately 30 minutes, until it reaches an internal temperature of 135-140 degrees F.
Recommended Products
As an Amazon Associate and member of other affiliate programs, I earn from qualifying purchases.