Citrus Jalapeño Chicken Tostadas with Creamy Avocado Sauce brings a whole new level of spicy citrus flavor to the dinner table. Sweet and spicy glazed chicken piled up on crispy tostadas with a tangy grapefruit salsa is a fiesta in your mouth!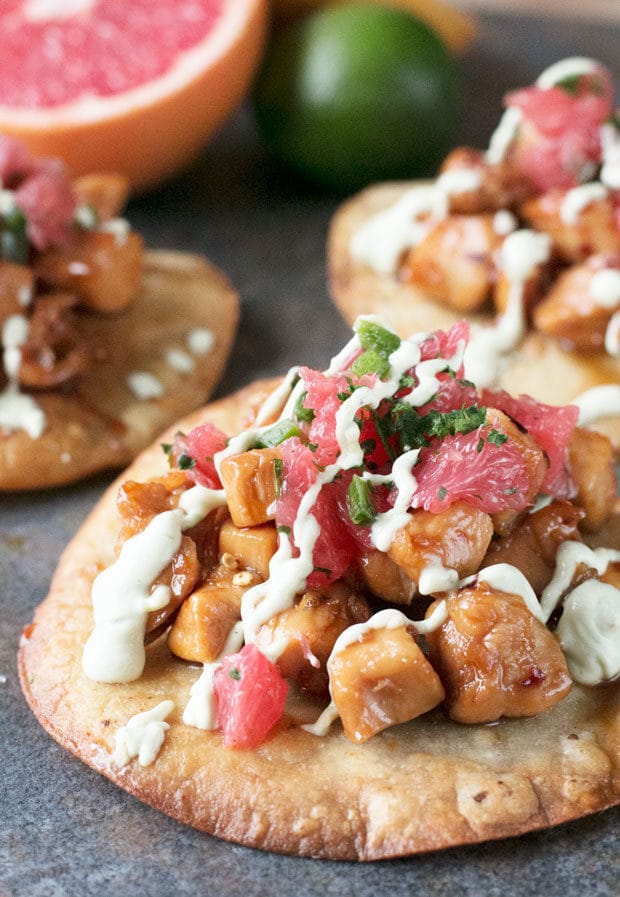 The moment I sat down to write this out, one of my favorite Latin songs came blasting on. I think it's a sign of the universe approving of this recipe in a big way.
Or maybe I just have too much love for this song (Danza Kuduro by Don Omar – don't judge, this song is my fuel).
I love crunchy tostadas. The crispy tortilla acts like a little plate that I can load up with whatever tasty deliciousness I want. You've seen me make them bite-sized and stacked in Greek Hummus Tostada Stacks, and all the way back to the first tostada I ever made all by my lonesome.
The point being, I love me some tostada action.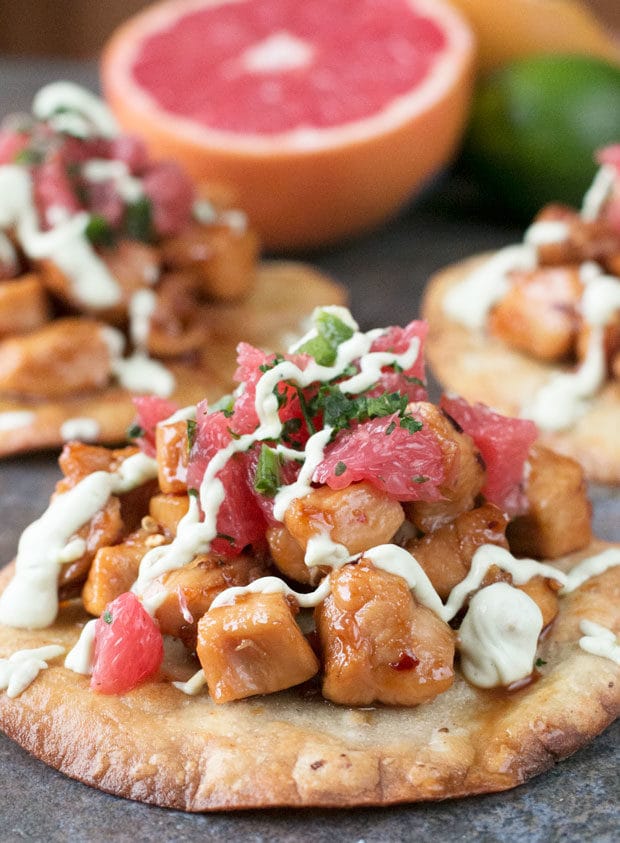 Something about biting into this tostada loaded up with a bunch of delicious ingredients makes me want to dance and wiggle all around.
The sweet and spicy glazed chicken is juicy and flavorful. The grapefruit salsa brings some acidity, a touch of sweetness and spicy to the party. Then top it all off with a creamy avocado cream sauce to cool things off to make the entire dish sing.
The key to the perfect tostada is hitting it with a pinch of salt the moment it comes out of the hot oil. That little splash of salt will impact the flavor of the entire dish in a big way (plus if you "accidently" break any, they make for a great snack as you make more… be sure to break at least one while you're cooking ok?).
Even though this recipe is made for two, I totally wouldn't judge you if you made it just for yourself…
In fact, I encourage this choice. 100%.
Pin this Citrus Jalapeño Chicken Tostadas recipe for later!