Grilled Bacon-Wrapped Shrimp Tacos take typical shrimp tacos to the next level with savory bacon and bold Badia seasoning. Pair it with the crisp Santa Rita Sauvignon Blanc and you're in summertime heaven.
Disclosure: This post was sponsored by Badia and Santa Rita. As always, all opinions and recipe are my own.
Who can resist bacon-wrapped shrimp?
The answer is NO ONE.
Anytime I see bacon-wrapped shrimp on a menu or at a party, it's the first thing I head for. My friend who I just visited in Charleston can attest to this… I literally dragged her to a restaurant I heard about on a carriage tour of downtown Charleston that serves up crab-stuffed bacon-wrapped shrimp. The moment we got out of the carriage I was like, "we're going, RIGHT NOW."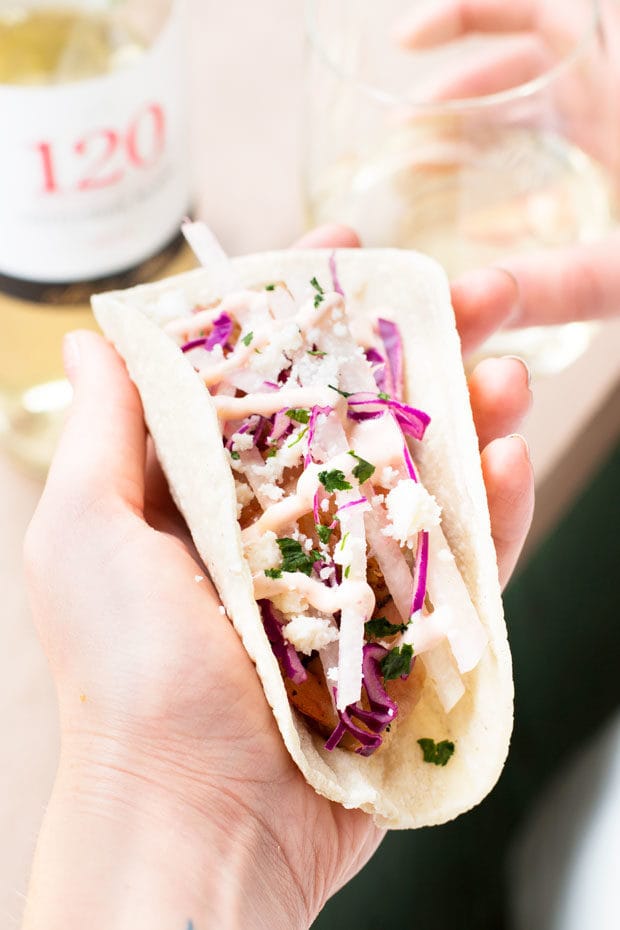 I'm not demanding at all I swear.
So to continue my obsession with bacon-wrapped shrimp, I decided it was about time I added them to my favorite meal ever – TACOS.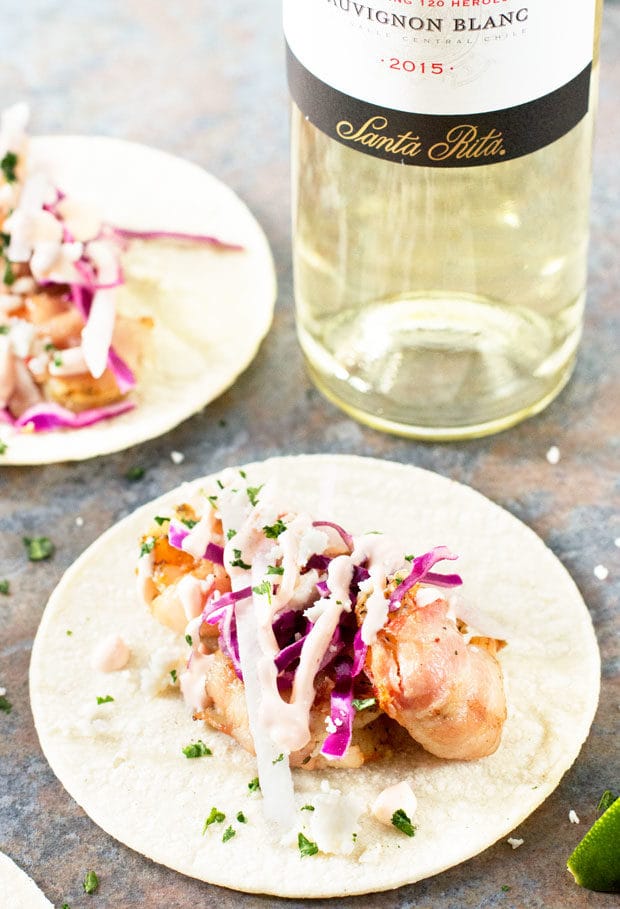 Today I'm partnering with Santa Rita Wines and Badia to bring you these out of control tacos. I mean, who doesn't need knock-your-socks-off seasoning and a little vino to wash it all down with? I honestly hadn't worked with Badia spices before I received them for this post, and as soon as I smelled the mixture, I was swooning. I coated the shrimp for my tacos in the Badia spices before wrapping them in bacon and holy WOW did it pack an unexpected punch of flavor! The best part is, these spices are so versatile – they work with anything from fish to chicken to meat. I'm already planning on trying it out on some flank steak tonight… #becausewhynot
You all know I'm a wino so pairing these tacos with Santa Rita's Sauvignon Blanc was SO much fun. The wine is crisp and not too sweet, so it's a refreshing compliment to the bacon-wrapped shrimp and spicy sour cream that I top it all off with.
Don't forget to try out my other shrimp tacos recipe with lime cilantro crema!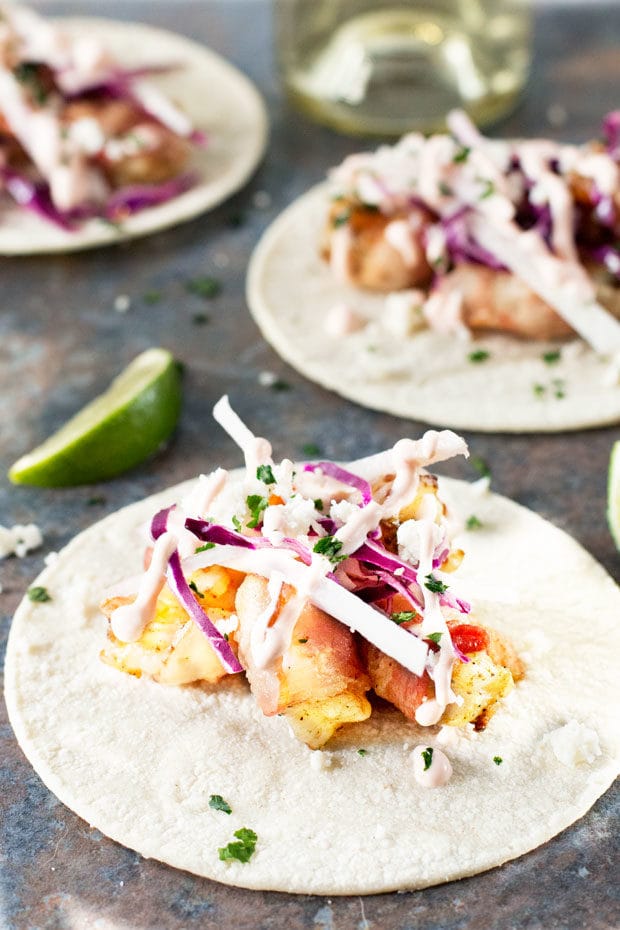 Delicious, simple tacos, a little wine and great friends who will be your hand model while you obsessively take food photos… This is my idea of the perfect backyard grilling fiesta.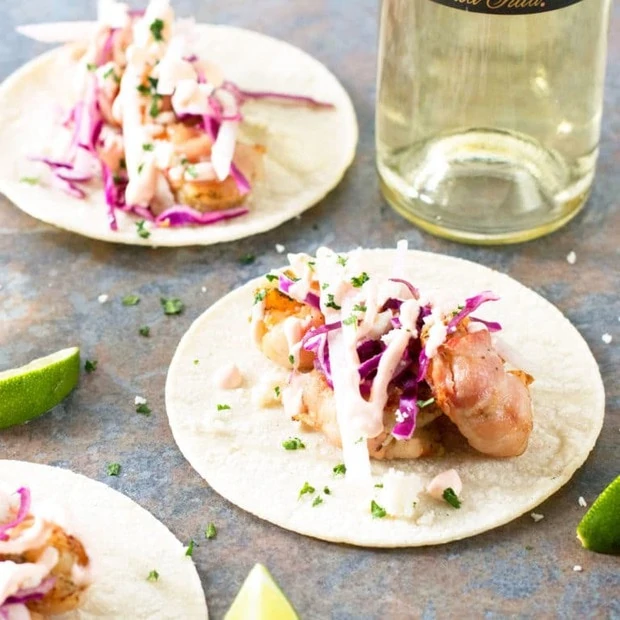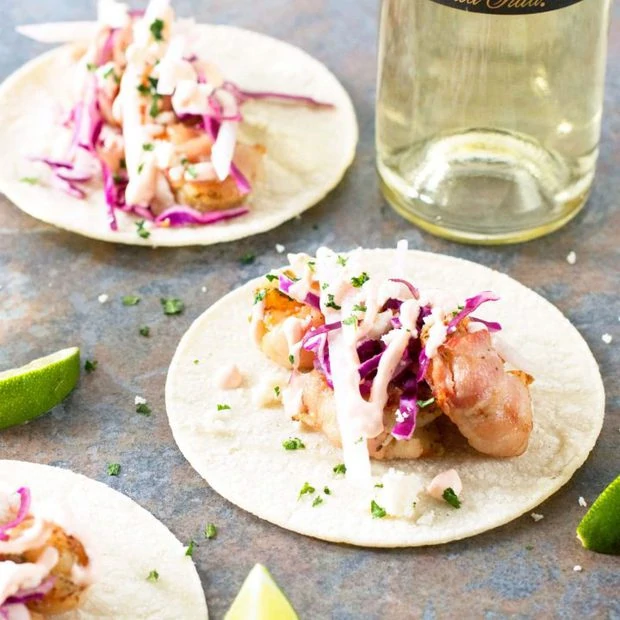 Grilled Bacon-Wrapped Shrimp Tacos
Bacon-wrapped shrimp tacos made with Badia spices are a surprisingly flavorful treat that pairs perfectly with Santa Rita Sauvignon Blanc.
Ingredients
1/2 lb uncooked shrimp, peeled and deveined
1 1/2 tsp Badia Complete Seasoning*
6 slices of bacon, cut into thirds
1/2 cup red cabbage, shredded
1/2 cup jicama, julienned
1/2 Tbsp lime juice
1/4 cup queso fresco
1/2 cup sour cream
2 tsp cholula
8 to 10 white corn tortillas
Wooden skewers
Garnish: chopped fresh cilantro, lime wedges
Instructions
Fill a shallow baking dish with approximately 1 inch of water. Add the wooden skewers and soak for 30 minutes.
In a small bowl, toss together jicama, red cabbage and lime juice. Set in the fridge until ready to serve.
In a medium bowl, stir together sour cream and cholula. Set in the fridge until ready to serve.
In a separate small bowl, add the shrimp and Badia seasoning. Toss to coat the shrimp evenly.
Wrap the head of each shrimp with a third of a slice of bacon, making sure the bacon overlaps at the base. Skewer the bacon wrapped shrimp through the overlap and then once more through the tail of the shrimp (this will prevent them from spinning when you turn the skewers!). Repeat the process with the remaining shrimp and bacon.
Grill the skewers over medium heat for 4 to 5 minutes per side, until both the bacon and shrimp are cooked through.
To assemble your tacos, warm the tortillas over the grill on in the microwave for 30 seconds. Add 3 to 4 shrimp to each tortilla. Top with the jicama slaw, queso fresco, cholula sour cream and fresh chopped cilantro.
Serve with Santa Rita 120 Sauvignon Blanc and extra lime wedges.