Please note this post contains affiliate links.
Lemon Ricotta Pasta is an easy, bright meal that comes together in just 20 minutes! With fresh arugula, the creamy pasta is a family favorite and a simple weeknight win. Serves 4.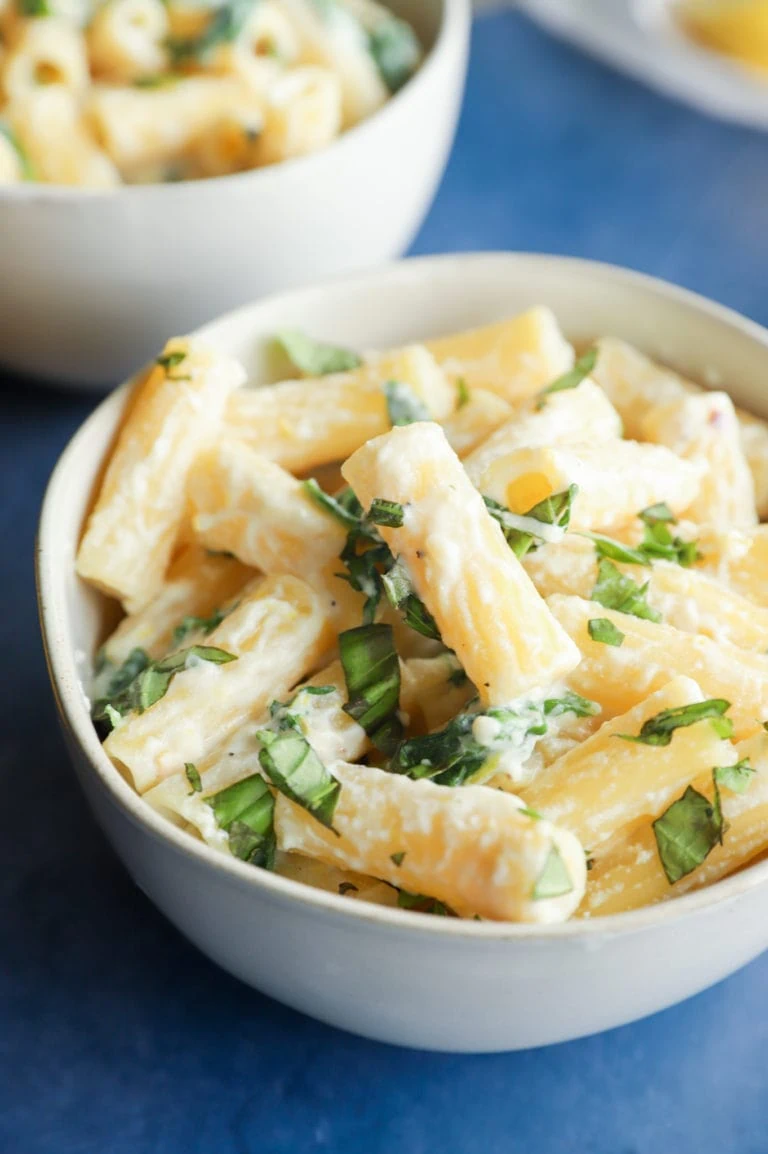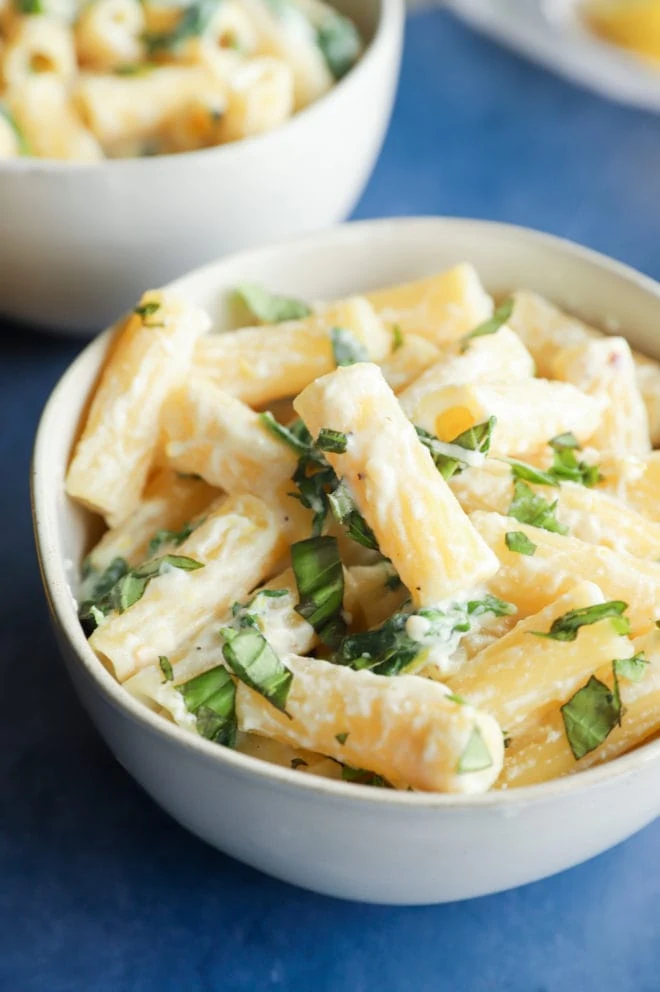 Sometimes you just need a bright bowl of pasta to help get you through a long week.
I swear, the joy and total terror that comes with watching you kid start to master walking is a whirlwind. Part of me is SO excited as he takes more and more steps on his own, thinking forward to how nice it will be not to have to carry him as much.
Then there's another part of me that's terrified with the amount of running after him that lies in my future…
So to celebrate spring and light flavors AND easy meals that don't require a lot of work, let's dig into a bowl of creamy lemon ricotta pasta.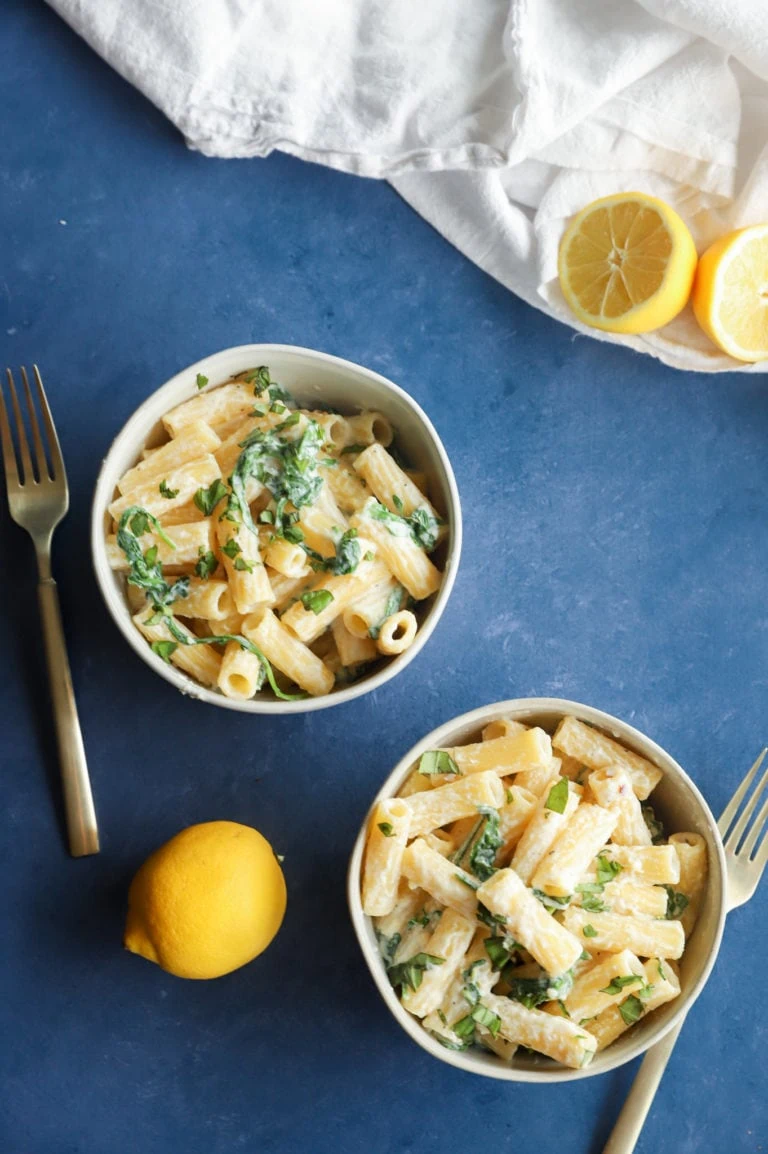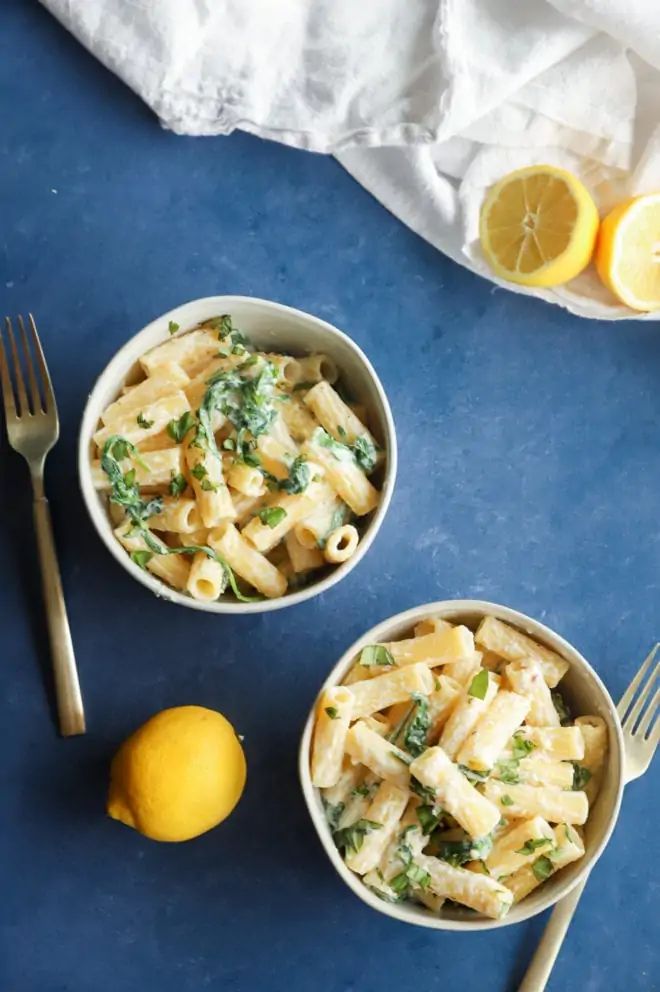 First of all, this pasta only takes 20 minutes from start to finish, so that's a BIG win in my book. It also happens to have a good amount of greens, eliminating the need for a veggie side dish – and that means less cooking so I'm excited about that.
Finally, this combo is just a surefire win for spring and summer dinners. It doesn't matter if you are just trying to get this on the table for a weeknight meal or if you need a dinner for a gathering, this is the dish that everyone will want to gather around.
The sauce is creamy and bright with fresh lemon flavor, but it also has a tiny kick of spice from the red pepper flakes. It's absolutely delicious and filling on its own, but you can also add in cubed chicken or slices of sausage to bulk it up.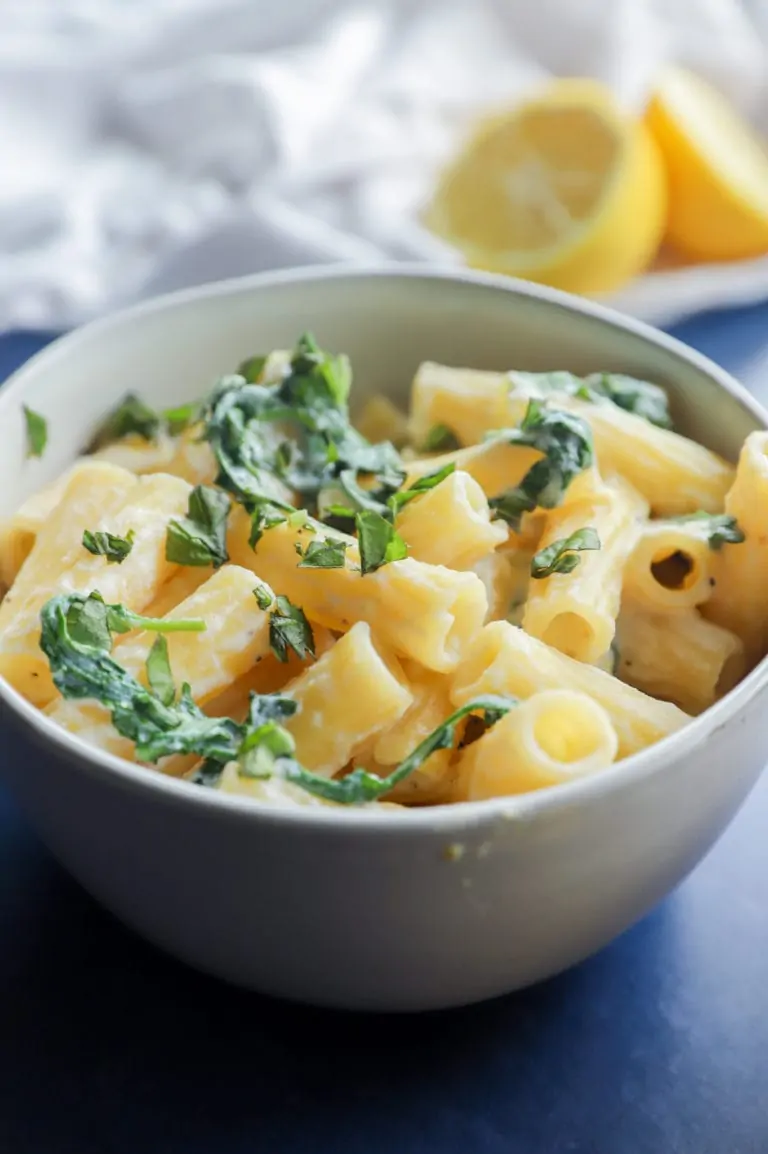 ingredients
rigatoni – rigatoni is my favorite pasta to use, but you can also use another short pasta like penne if you prefer.
ricotta – I like to use whole milk ricotta instead of skim milk because it is much creamier.
parmesan – you can buy grated parmesan, but I feel like fresh is best for flavor and texture in the sauce. Once you go to freshly grated, you'll never go back, trust me!
garlic – I reach for the minced garlic living in my fridge at all times. No smelly hands, no peeling garlic. The best shortcut to pay for, in my opinion. You can also just mince a couple of cloves yourself, if you want!
lemon – I always recommend fresh lemon juice, but especially here because you need lemon zest anyway!
arugula – if you can't track down fresh arugula, you can also use freshly chopped kale leaves. You may just need to keep the pasta over the heat a little longer to let the kale wilt completely.
red pepper flakes – I like that these little flakes add an element of heat to the dish! You can use the amount I recommend, just enough for a tiny kick. You can easily omit it or up the amount if you want it to be spicier.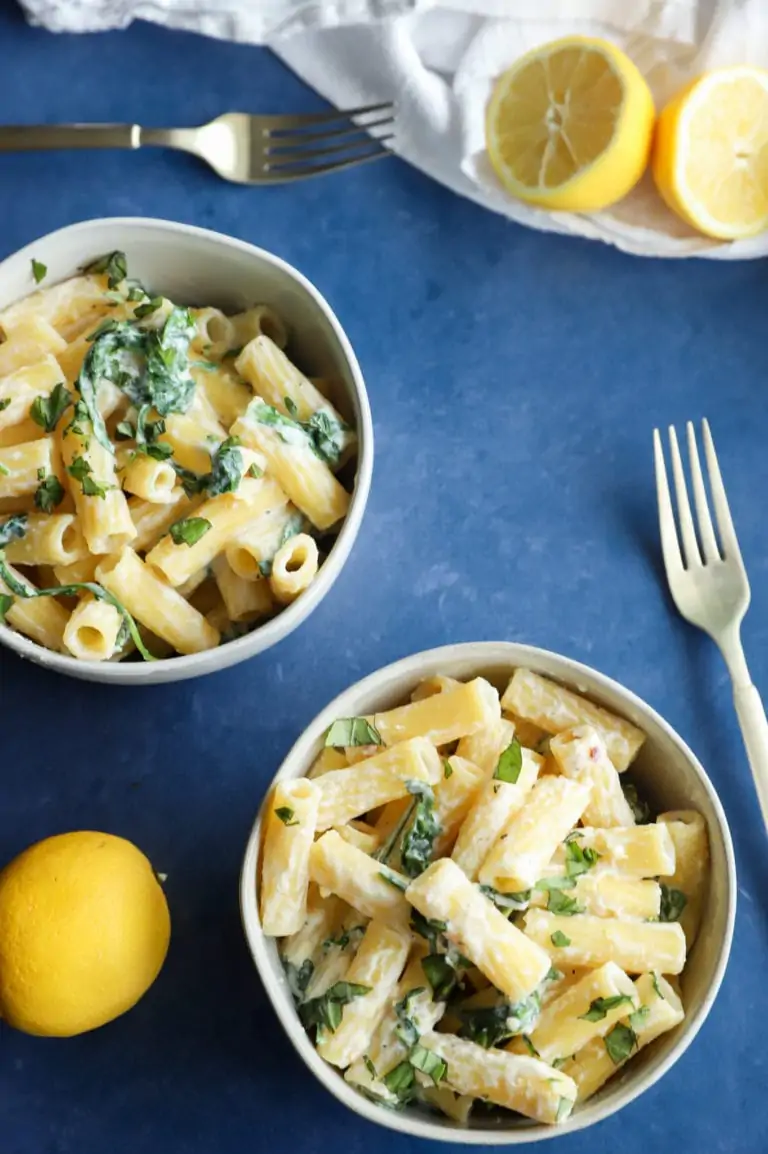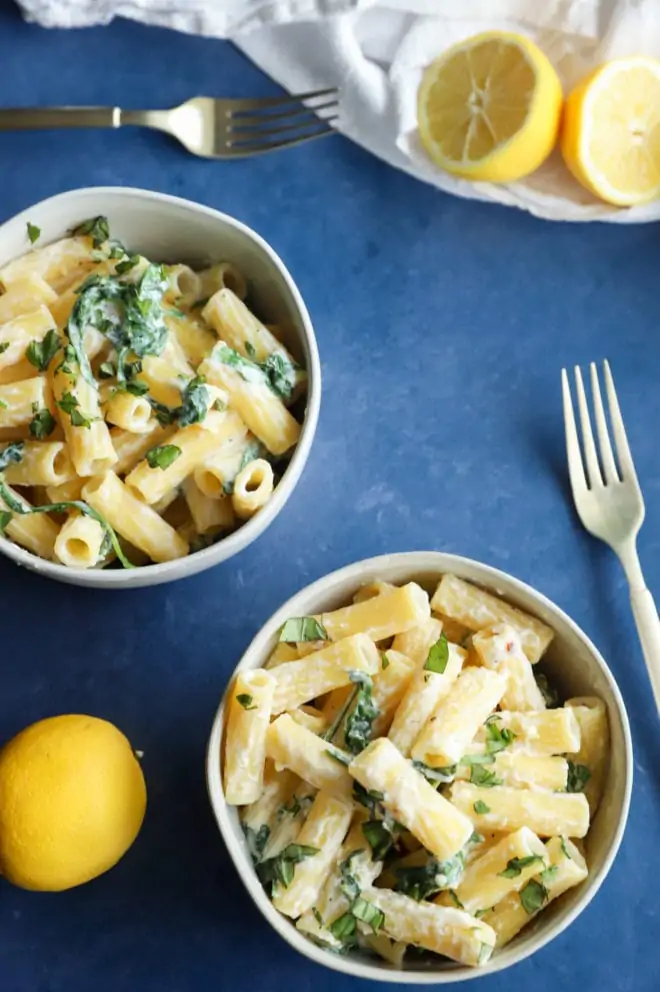 this recipe's must haves
I love using my microplane to grate the lemons for lemon zest. You will also need a chef's knife and cutting board to halve the lemons before squeezing out the juice.
This is a true one pot dish! I like to make mine in my Dutch oven, but any large pot will due.
You will need a wooden spoon to stir together the sauce, and possibly a whisk to get rid of any ricotta chunks in the sauce.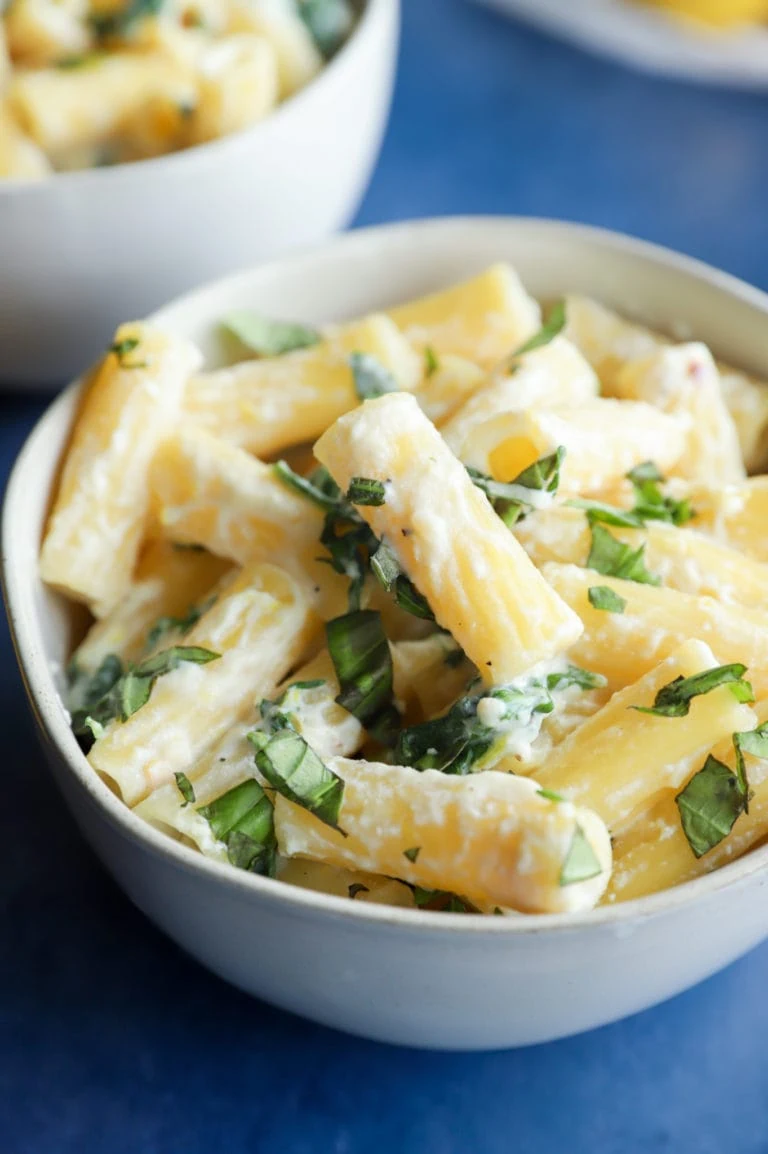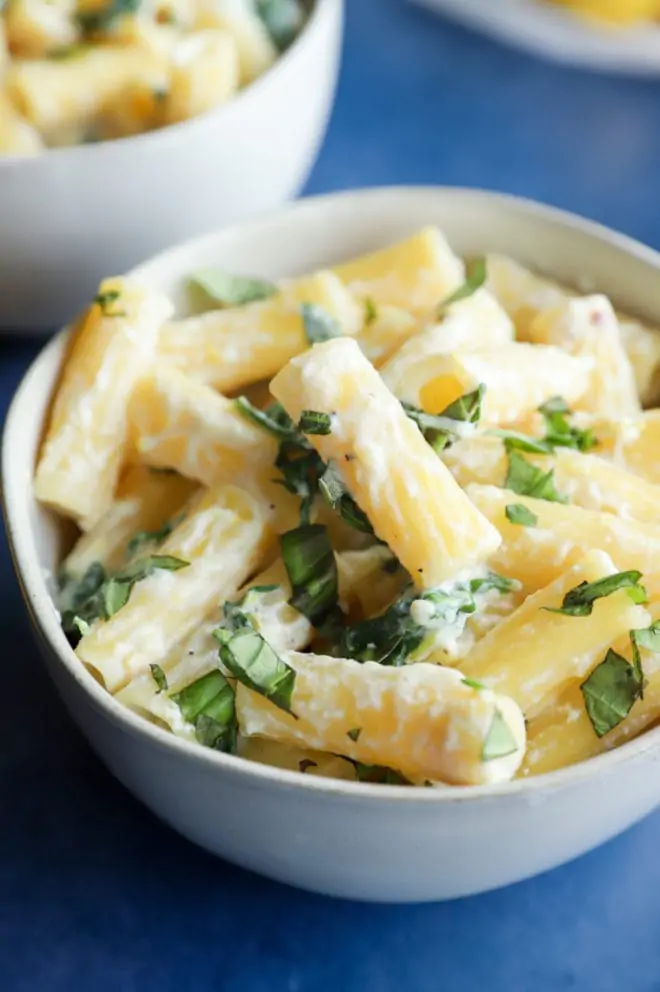 here's how to make creamy lemon ricotta pasta
cook pasta
Boil a large pot of salted water. Cook pasta according to the package instructions.
Reserve 1 1/2 cups pasta water and set aside. Drain pasta and set aside.
make sauce
Return the large empty pot to the stove over low heat. Add ricotta, parmesan, garlic, lemon zest, lemon juice, salt, and pepper. Stir to combine.
Add in 1/2 cup pasta water, stirring until smooth. Add more pasta water until desired consistency is reached (I used about 3/4 cup to 1 cup total).
finish
Add drained pasta back to the pot and stir to combine. Turn off heat and fold in arugula and red pepper flakes. Continue to fold until the arugula is wilted, about 1 to 2 minutes.
Serve with freshly chopped basil.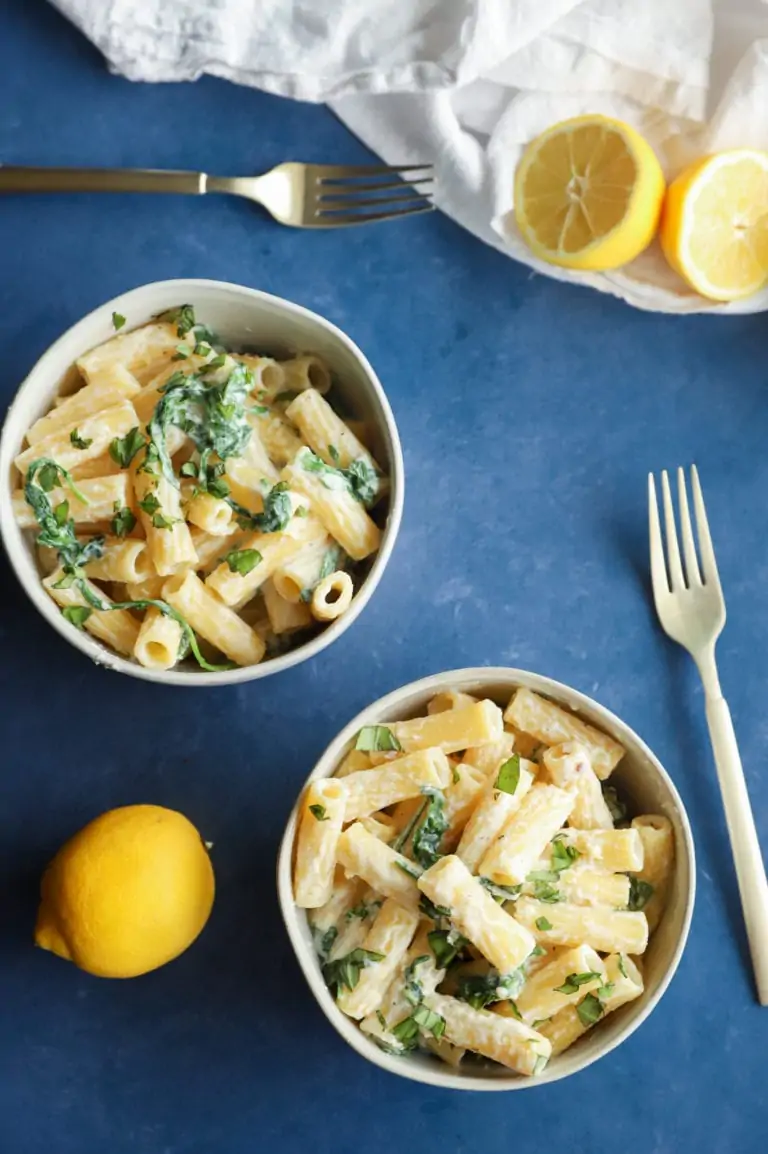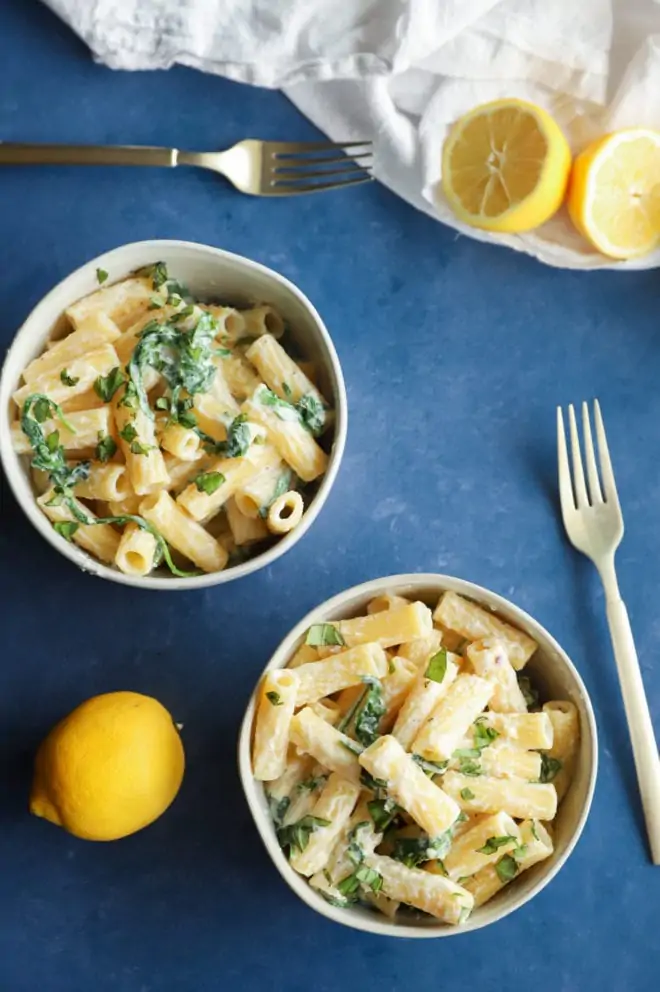 tips for success
don't forget to reserve the pasta water! One of the most common mistakes I make is to forget to keep the pasta water as the recipe states. Be sure to remember because this starchy water is what helps bring the sauce together.
variations. Want to mix things up? Try adding in some cubed chicken or slices of sausage. You can even swap the arugula for kale if you prefer.
adjust the spice how you like. This dish isn't spicy, but it gives you just a little nudge of heat from the red pepper flakes. If you don't want any, feel free to eliminate them completely! If you like it spicier, I recommend tasting it, then adding in more red pepper flakes (about 1/4 tsp at a time) until the spice level you like is achieved.
Other delicious pasta recipes to explore: Gochujang Noodles | Singapore Street Noodles | Farmer's Market Pasta | Bucatini Cacio e Pepe with Broccoli | Asparagus Lemon Pasta
why should I use whole milk ricotta?
I find that whole milk ricotta is better for this recipe because it gives a little extra moisture to the sauce. If you only have skim or part-skim on hand, you can use that though! Just know that you will likely need to use a little more reserved pasta water when you make the sauce.
can I make this ahead of time?
You can store any leftovers in an airtight container in the refrigerator for up to 4 to 5 days.
While lots of my dishes are easy to make and reheat, this particular one requires an add-in when you heat it up the next day. Add a splash of milk or heavy cream to the pasta before reheating in the microwave. If after stirring it is still a little dry, add a splash of olive oil to help the sauce come back to life. The truth is, this dish is best served the same day since the sauce will never be as creamy as it is when first cooked!
Need some more inspiration for dinner? Check out my dinner recipes page!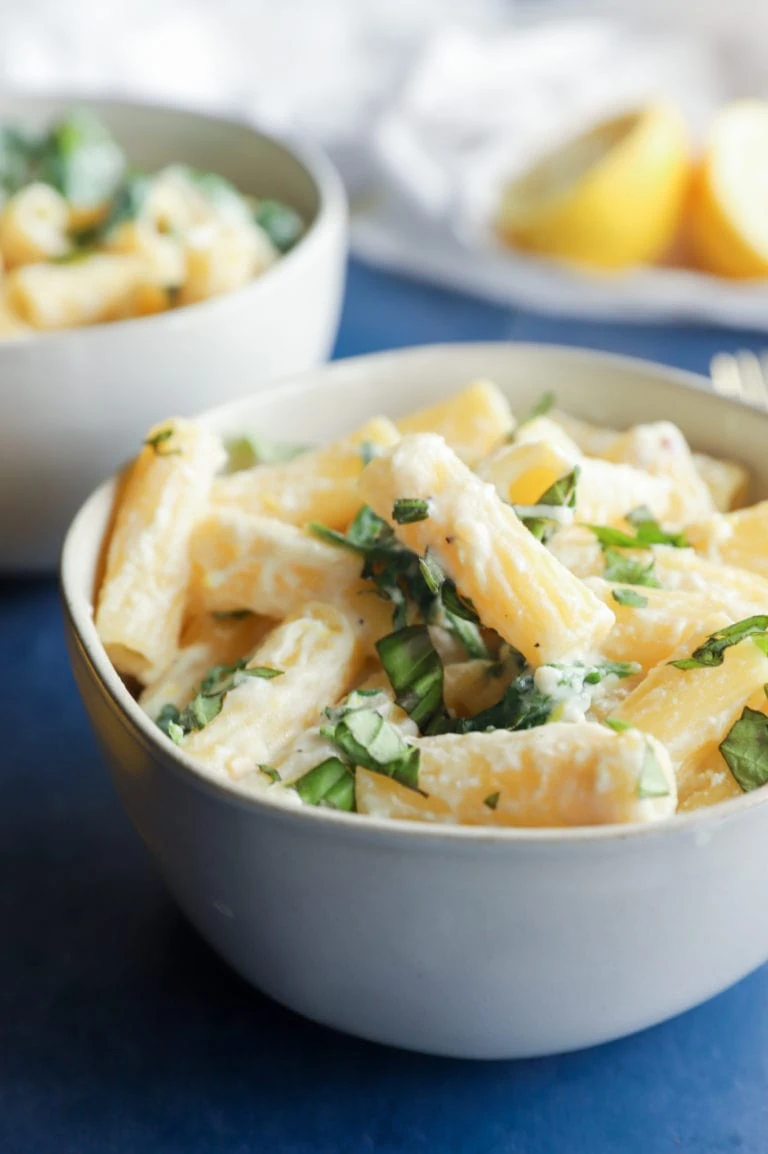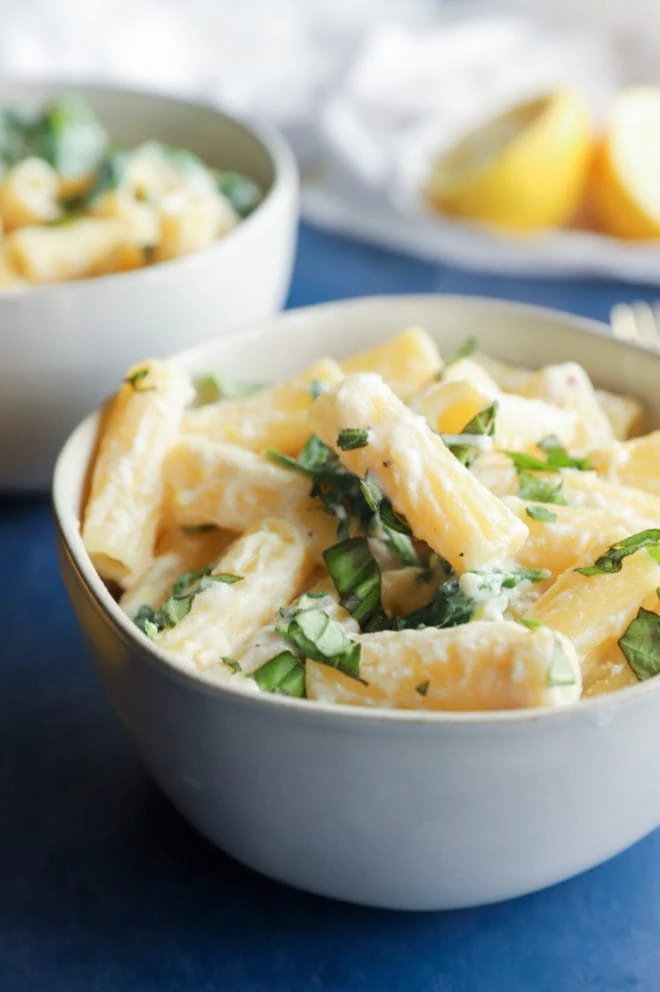 how to serve lemon ricotta pasta
This lemon ricotta pasta is an ideal main because it comes together quickly and you get greens right in the dish! Therefore there's no pressure to add a side dish if you don't want to.
To add some extra protein to the dish, you can add in cubed chicken or sausage. I also really like adding a filet of this baked lemon garlic salmon since the flavors are similar to the pasta.
For something sweet to end the meal, continue the lemon theme with this lemon rosemary meringue tart. A strawberry mint champagne galette is another way to make this meal end on a high note!
I like something light and refreshing in terms of cocktails, so a gin sling is a classic that goes well with this bright pasta.
Looking for another lemony pasta? This roasted lemon garlic shrimp pasta is ready in 20 minutes!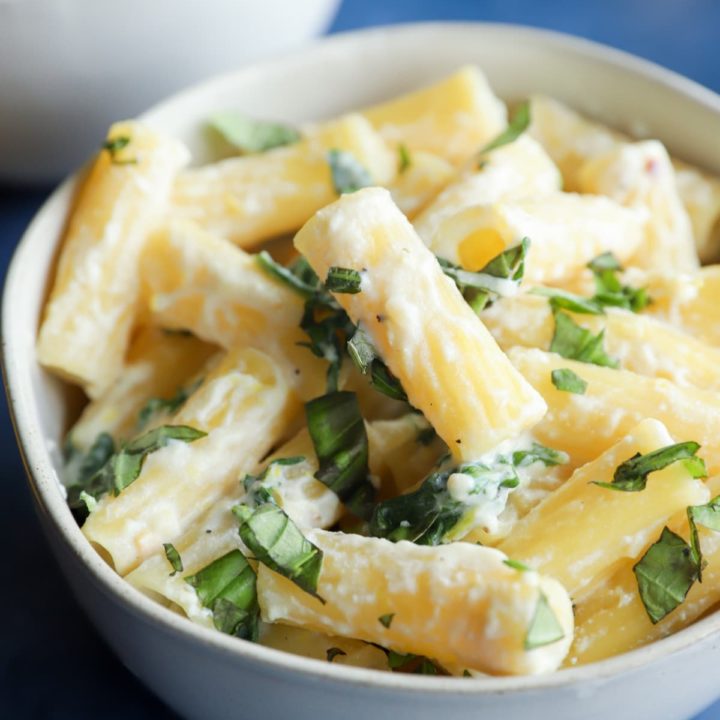 Lemon Ricotta Pasta
Creamy and bright, this quick and easy pasta dish is a win for dinner!
Ingredients
1 lb short pasta, like rigatoni (that's what I use!) or penne
1 cup whole-milk ricotta
1 cup freshly grated parmesan, plus more for serving
2 cloves garlic, minced
Zest of 2 lemons
Juice from 2 lemons
1/2 tsp salt
1/4 tsp black pepper
2 cups arugula
1/2 tsp red pepper flakes
Garnish: freshly chopped basil
Instructions
Bring a pot of salted water to a boil over high heat. Cook pasta according the the directions on the package.
Reserve 1 1/2 cups pasta water and set aside. Drain pasta and set aside.
Return the empty pot back to the stove over low heat. Add ricotta, parmesan, garlic, lemon zest, lemon juice, salt, and pepper. Stir to combine and add in 1/2 cup pasta water. Stir until smooth. If the sauce is too thick, add more pasta water (a 1/4 cup at a time), until smooth.
Add cooked pasta to the pot and stir until the pasta is coated with the sauce. Fold in arugula and red pepper flakes. Cook over low heat for 1 to 2 minutes until wilted.
Serve with freshly chopped basil.
Recommended Products
As an Amazon Associate and member of other affiliate programs, I earn from qualifying purchases.