Please note this post contains affiliate links.
Jamaican Jerk Chicken Mango Avocado Sliders are a trip to the tropics, without ever having to leave your kitchen! Shredded jerk chicken is made easily in the Instant Pot, then piled high on toasted Hawaiian buns with mango salsa and avocado. It's a killer game day appetizer!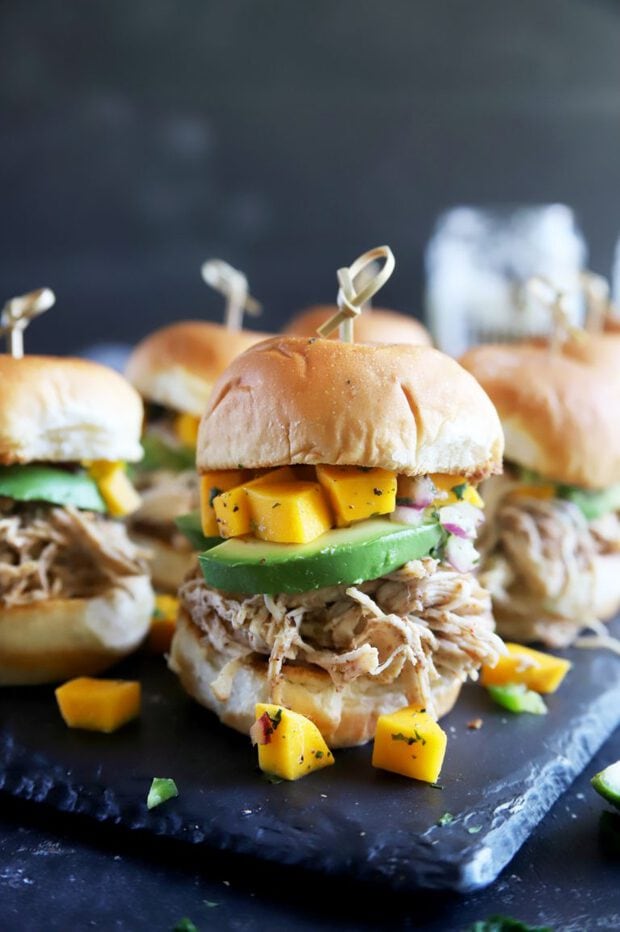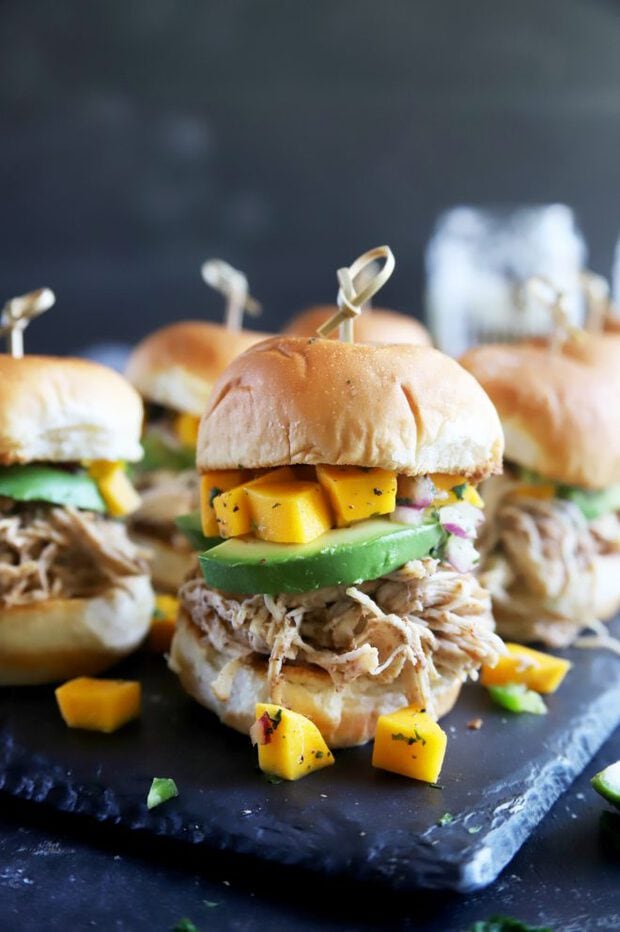 The first time I had jerk chicken was actually in Jamaica! I was there on one of my favorite blogging retreats EVER, and I immediately fell in love with jerk chicken.
I mean, it's hard not to fall in love with food when you are sitting on a warm beach with clear blue waters lapping at your feet while you devour a jerk chicken sandwich… Especially when there are a few tropical drinks involved.
All of the different spices with the juicy chicken was pure bliss and ever since then, whenever I want to imagine myself on an island, I make jerk chicken.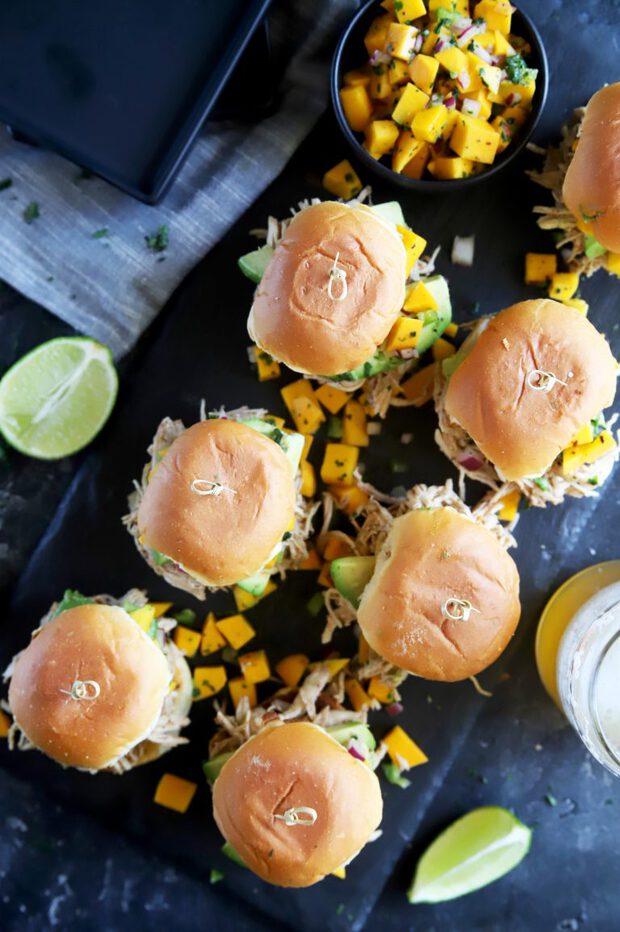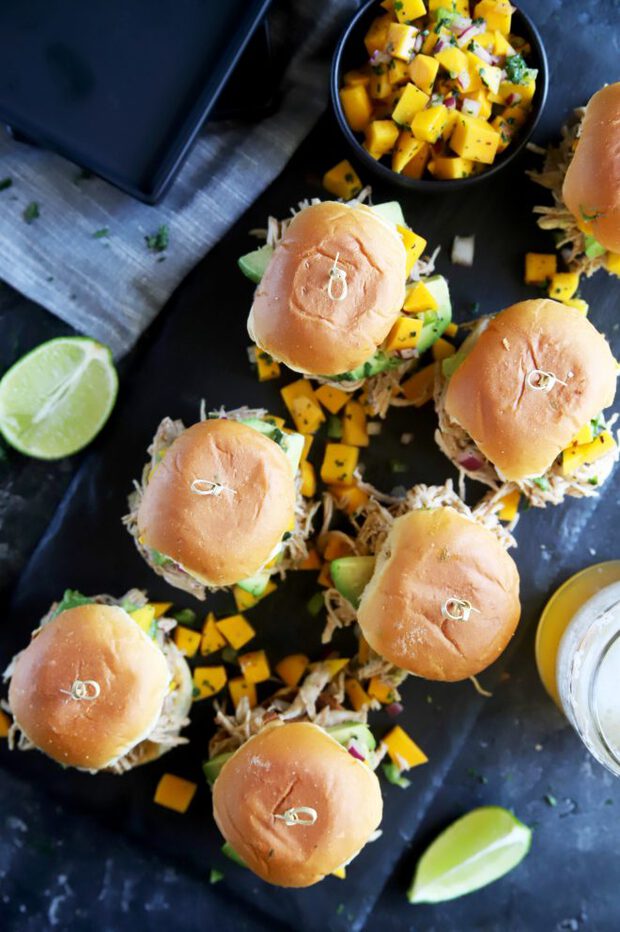 Usually I marinate chicken with jerk spices and grill it, but sometimes you just don't have enough time for that.
This is my shortcut around the marinade and grilling time, with the help of my trusty Instant Pot.
The Instant Pot really is the best tool in the kitchen, isn't it? I swear I don't go more than a day without using mine!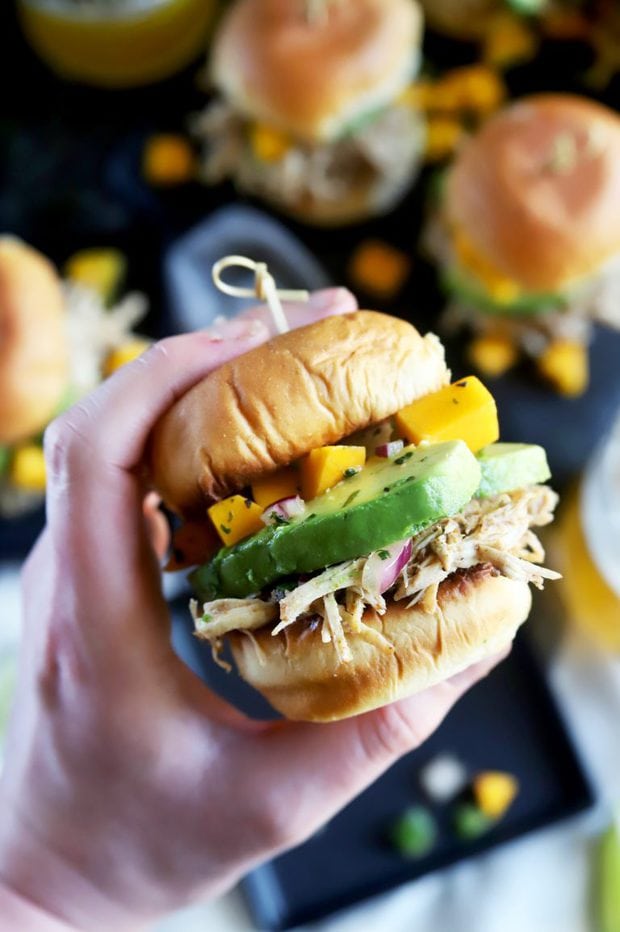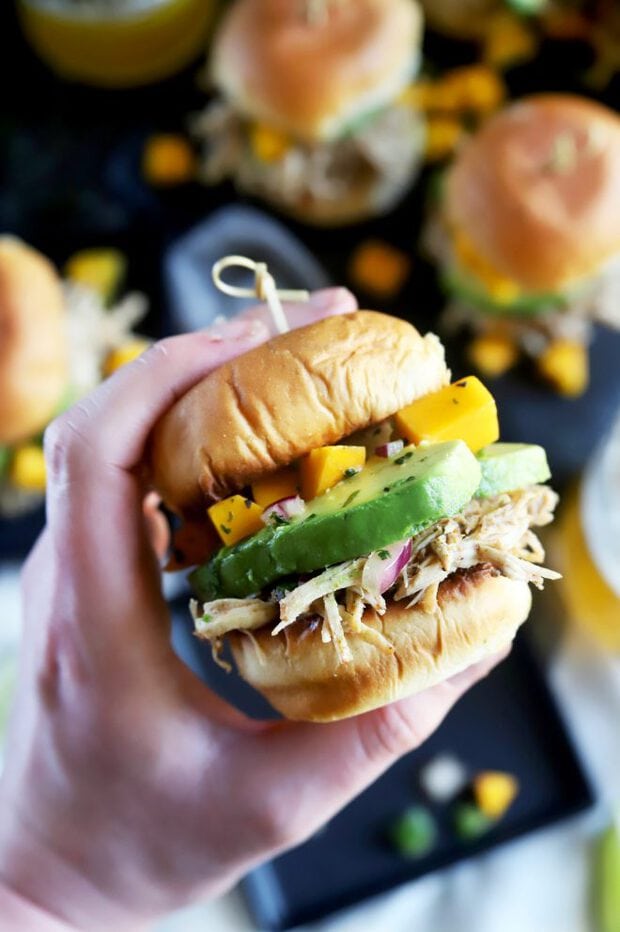 Chicken is combined with homemade jerk chicken seasoning, then cooked for a quick 15 minutes on High pressure. This gets the chicken flavorful, juicy, and tender! You just shred the chicken, then pile it on top of Hawaiian buns.
The smooth and creamy avocado with the tang and spice of the fruity mango salsa is just the extra nudge these sliders need to be really over-the-top.
You can serve them up for tailgating to feed your crew or even for a light lunch!
If you happen to have any chicken and salsa leftover at the end, know that you can also make some killer tacos with the leftovers.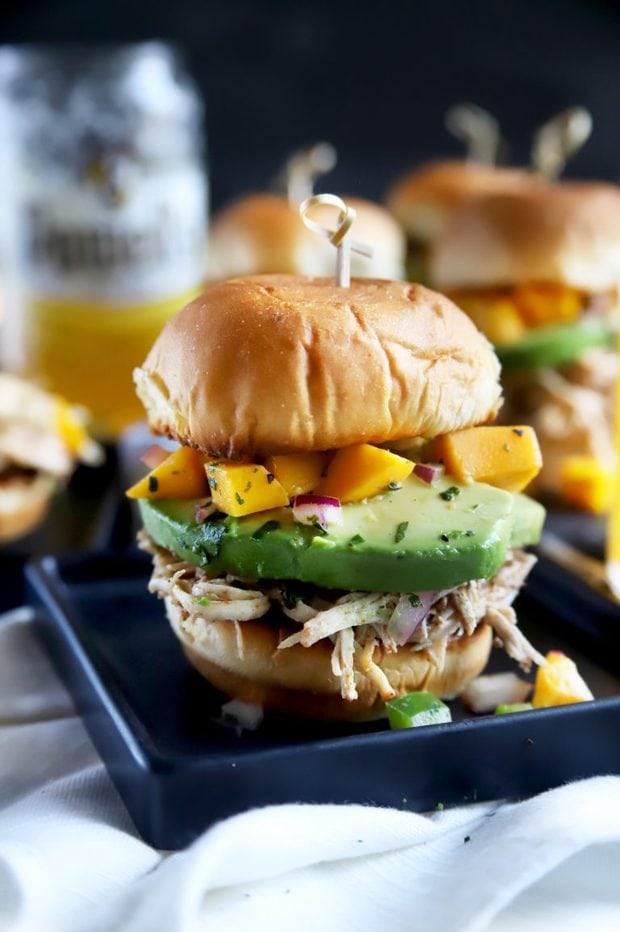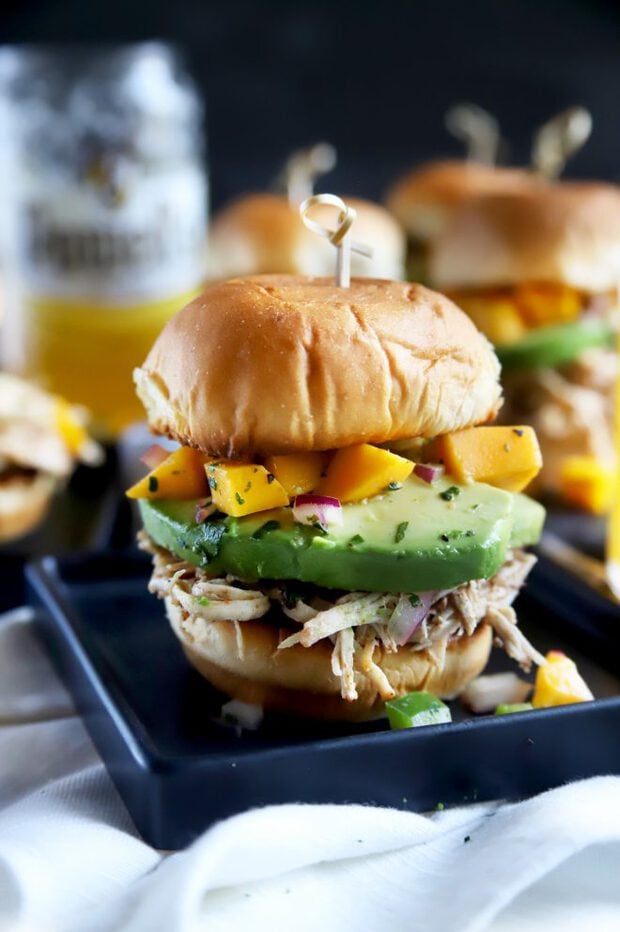 This Recipe's Must-Haves
For the chicken, you will need an Instant Pot or some other electronic pressure cooker! It is done in just 15 minutes which makes for a tasty simple recipe, am I right?
To make the salsa, you'll need one of your favorite mixing bowls.
That's all the equipment you need, aside from your oven or a toaster to toast up the halves of the slider buns.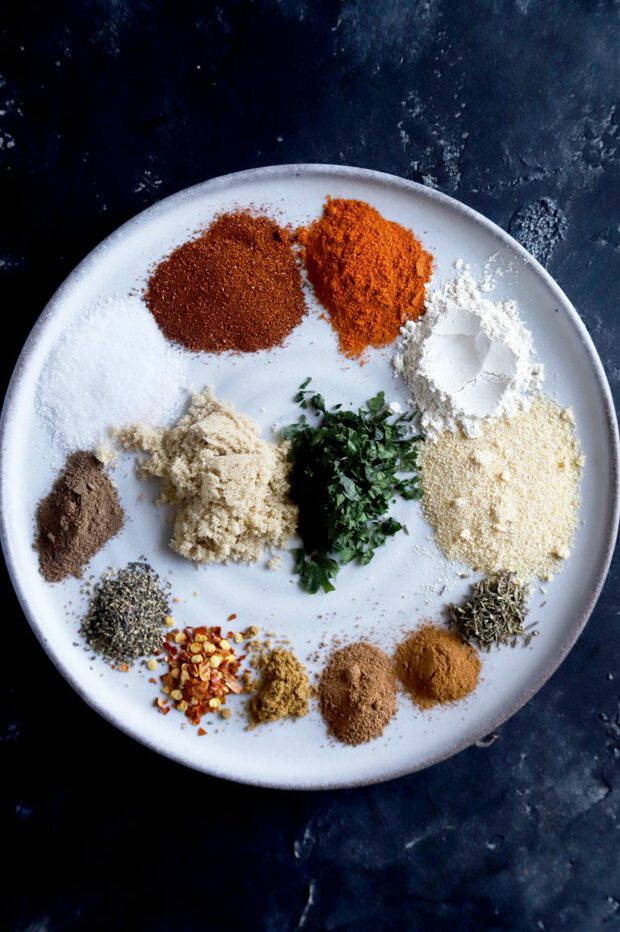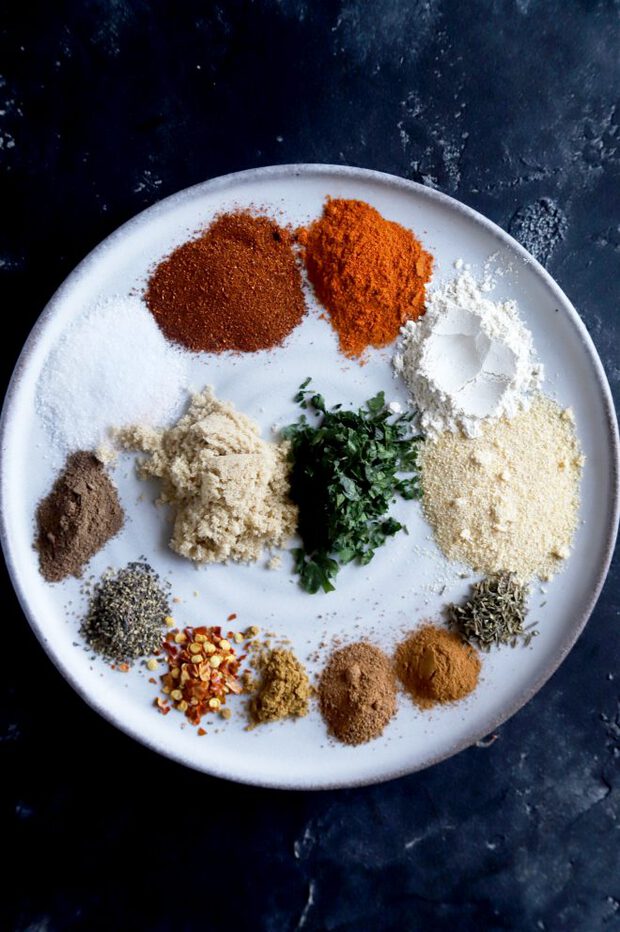 How Do You Make Jerk Chicken Sliders
Cook Chicken
This chicken seriously couldn't be easier to cook. All you have to do is throw the chicken in an Instant Pot with a bunch of tasty spices, then let it cook on High pressure for 15 minutes. Shred the chicken right there in the pot, so you don't have to dirty another bowl!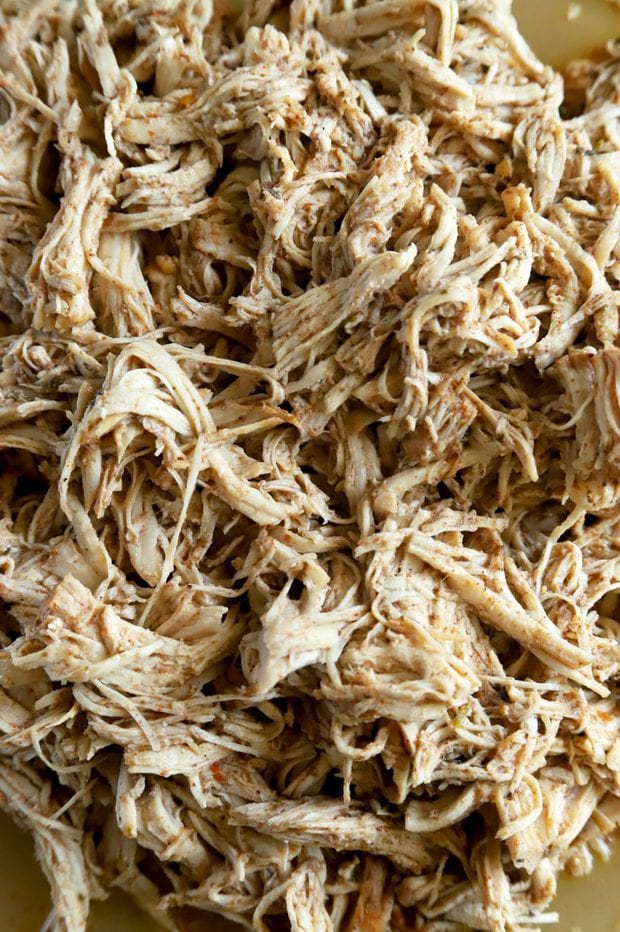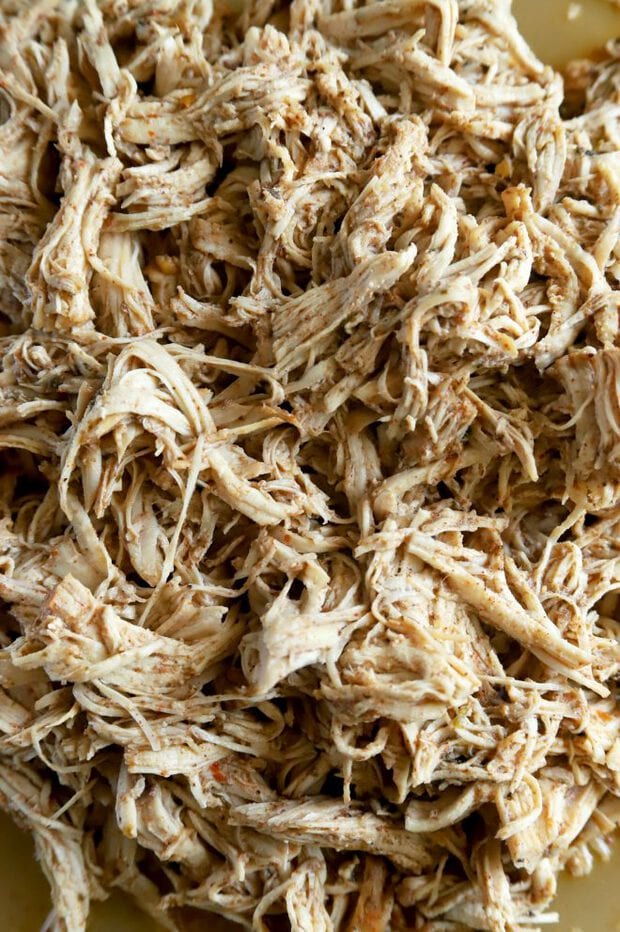 Make Salsa
The salsa comes together in just one bowl! You can even mix it all together ahead of time, but more details on that below.
Assemble & Serve
To assemble these sliders, all you have to do is top the toasted slider buns with pulled chicken. Then it gets a nice helping of mango salsa and some sliced avocado.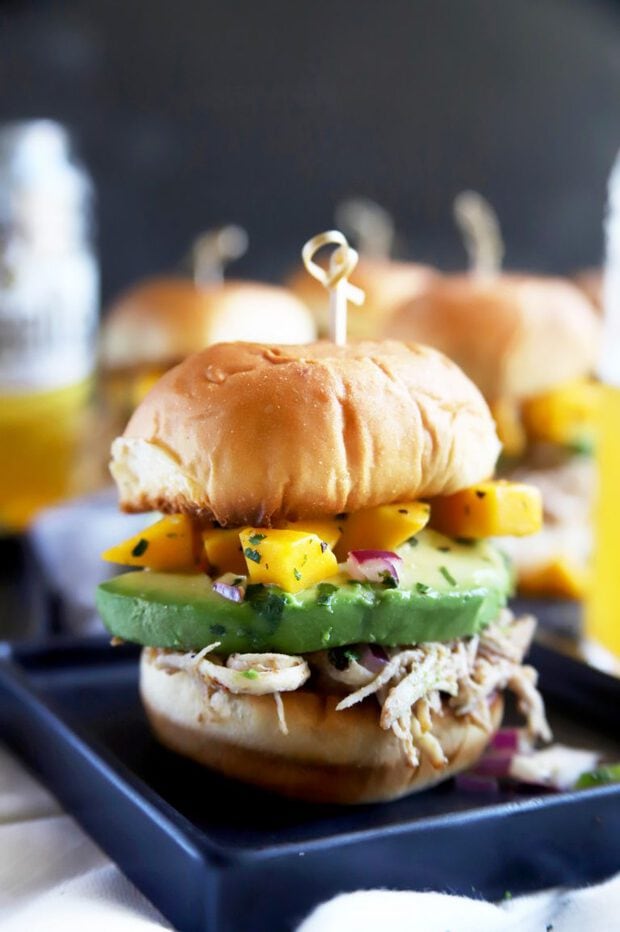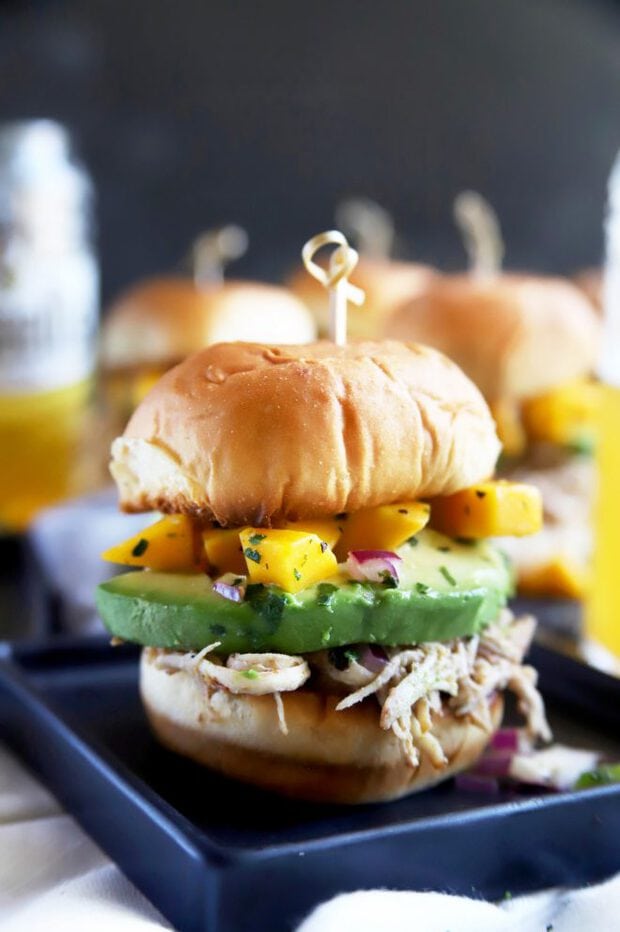 What goes well with these chicken sliders?
If you want to turn these chicken sliders into a party, consider serving them alongside your favorite appetizers! Some of my favorite pairings for this recipe is Citrus Guacamole, Guacamole Wontons, and Spicy Lasagna Dip (especially for a game day spread!).
However, if you want to serve these up as a side to make the sliders a full meal, you can serve them up with Bacon Cilantro Lime Grilled Corn Salad, Spicy-Sweet Roasted Broccolini, and Spicy Garlic Cilantro Fries.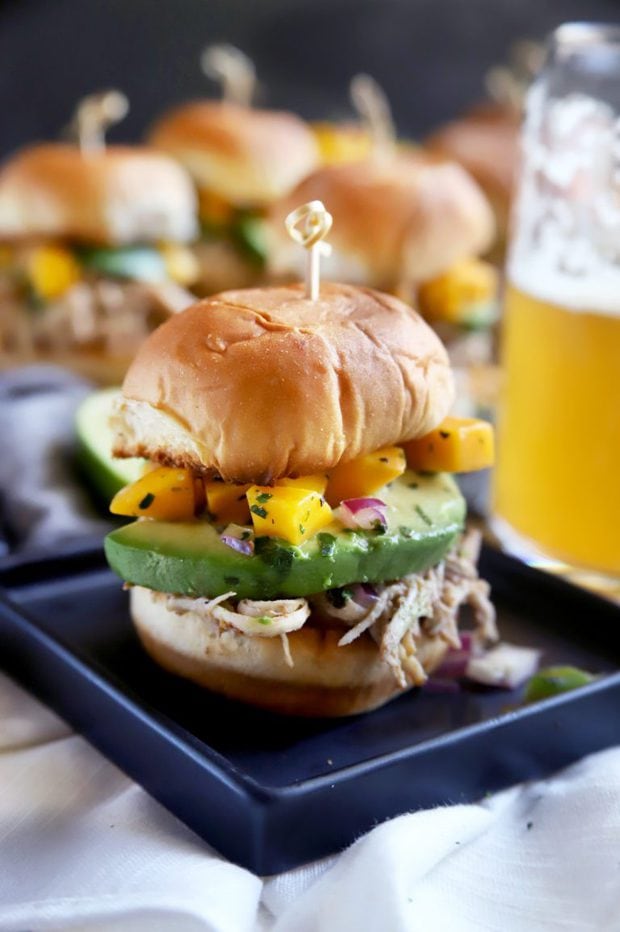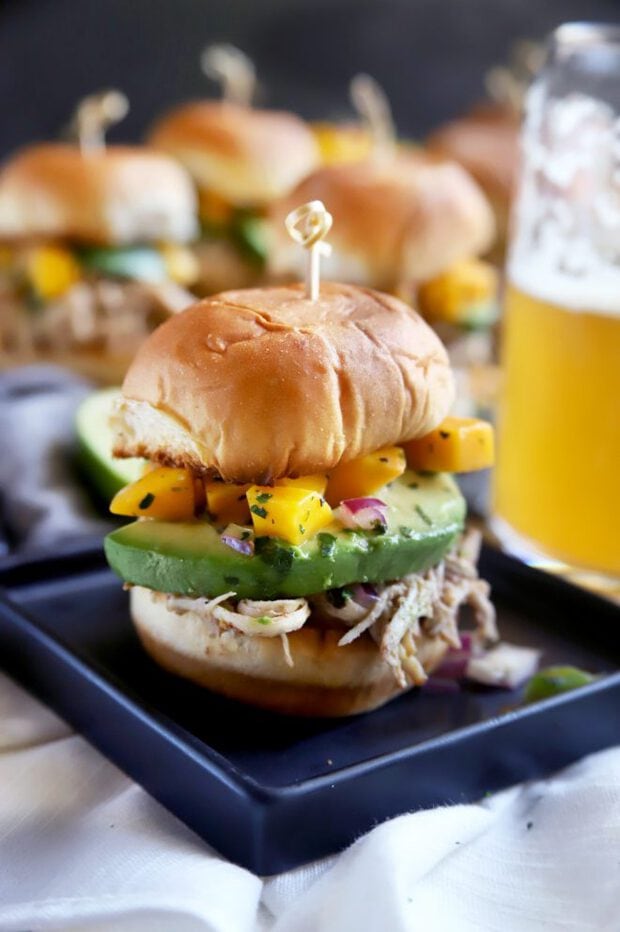 Can I make the salsa ahead of time?
Yes you can! This is a great salsa to make ahead of time, because it gets better the longer it sits. You can make the salsa up to 3 to 4 hours ahead of time. Simply cover it with plastic wrap and store in the refrigerator until ready to use.
If you would like to have a nonalcoholic mango drink to serve alongside these sliders, try this refreshing coconut mango lassi. For dessert, serve up cups of mango mousse for a refreshing sweet ending!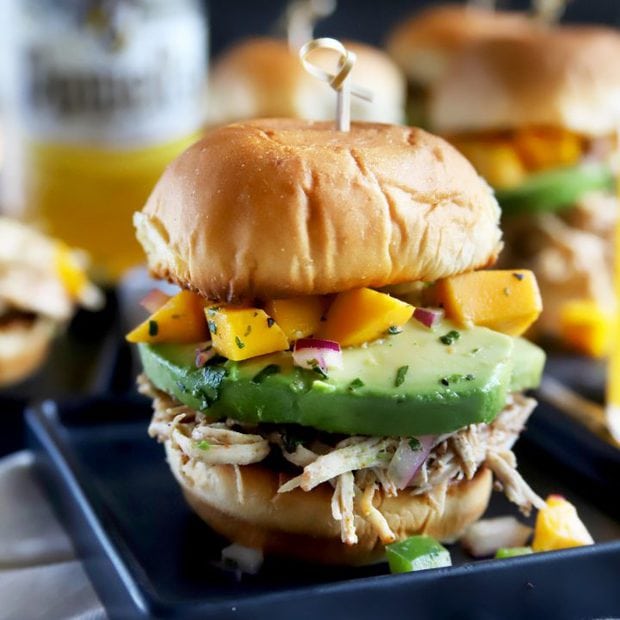 Jamaican Jerk Sliders
Shredded jerk chicken is made easily in the Instant Pot, then piled high on toasted Hawaiian buns with mango salsa and avocado!
Ingredients
jerk chicken
2 lbs Chicken Breast
1 tsp Onion Powder
1 tsp Garlic Powder
1/2 tsp Ground Cayenne Pepper
1/2 tsp Smoked Paprika
1/4 tsp Allspice
1/2 tsp Salt
1/4 tsp Black Pepper
1/8 tsp Crushed Red Pepper Flakes
1/8 tsp Ground Cumin
1/8 tsp Ground Nutmeg
1/8 tsp Cinnamon
1/2 Tbsp Brown Sugar
1/4 tsp Dried Thyme
1/2 Tbsp Dried Parsley
1/2 cup Chicken Stock
mango salsa
3 cups Cubed Fresh Mango, peeled and pitted - 2 ripe mangoes
1/2 cup Red Onion, peeled and diced
1 Jalapeño, seeded and diced
1/4 cup Fresh Cilantro, loosely packed and chopped
juice from one Lime
1/2 tsp Black Pepper
sliders
12-count package Hawaiian Rolls, halved and toasted
2 Avocados, pitted and sliced
Instructions
Place all ingredients for the jerk chicken into the insert of an Instant Pot. Set to Manual Pressure on High for 15 minutes. Quick release and use two forks to shred the chicken in the insert.
While the chicken is cooking, make the salsa. Combine mango, red onion, jalapenos, cilantro, lime juice, and black pepper in a small bowl. Stir to combine.
To assemble the sliders, top the bottom halves of the toasted Hawaiian rolls with even amounts of shredded jerk chicken.
Top each slider with a couple of slices of avocado and mango salsa. Finish with the top halves of the buns and serve immediately.
Recommended Products
As an Amazon Associate and member of other affiliate programs, I earn from qualifying purchases.