Please note this post contains affiliate links.
Grilled Chipotle BBQ Chicken Skewers are savory, spicy, and smoky! The chicken is skewered up with veggies and bacon, then basted until cooked to tasty perfection. With a 3-ingredient chipotle BBQ sauce, they are gonna rock your grilling world.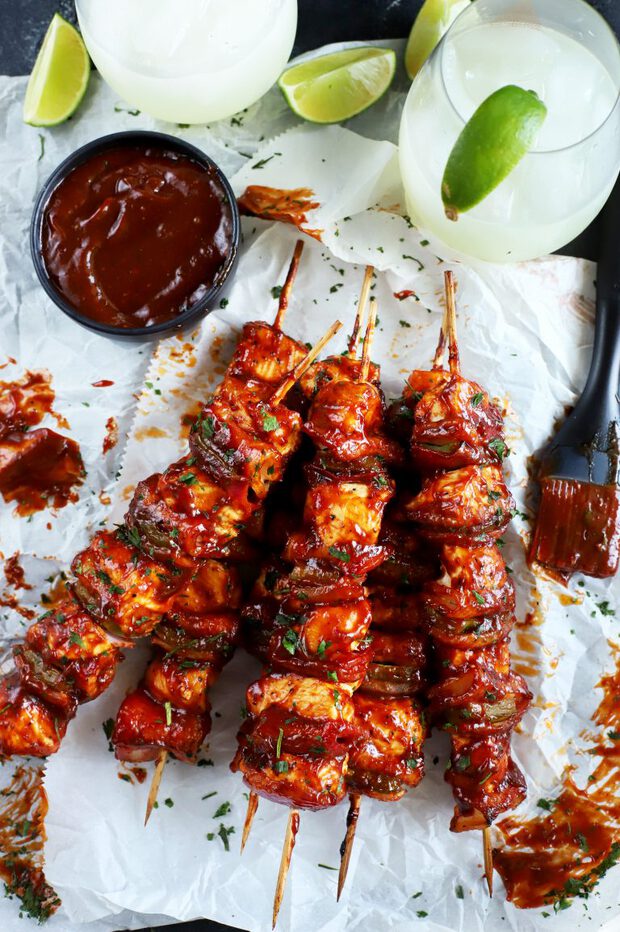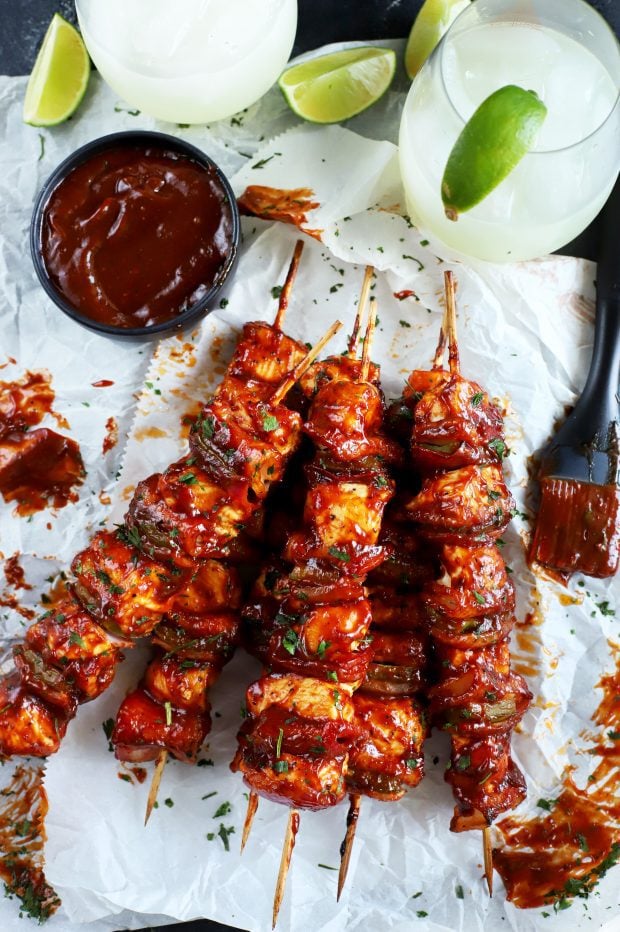 It's Independence Day and that means our grill is running hot and furious all day long today.
We are trying to make the most of the day off work since we don't have tomorrow off… le sigh.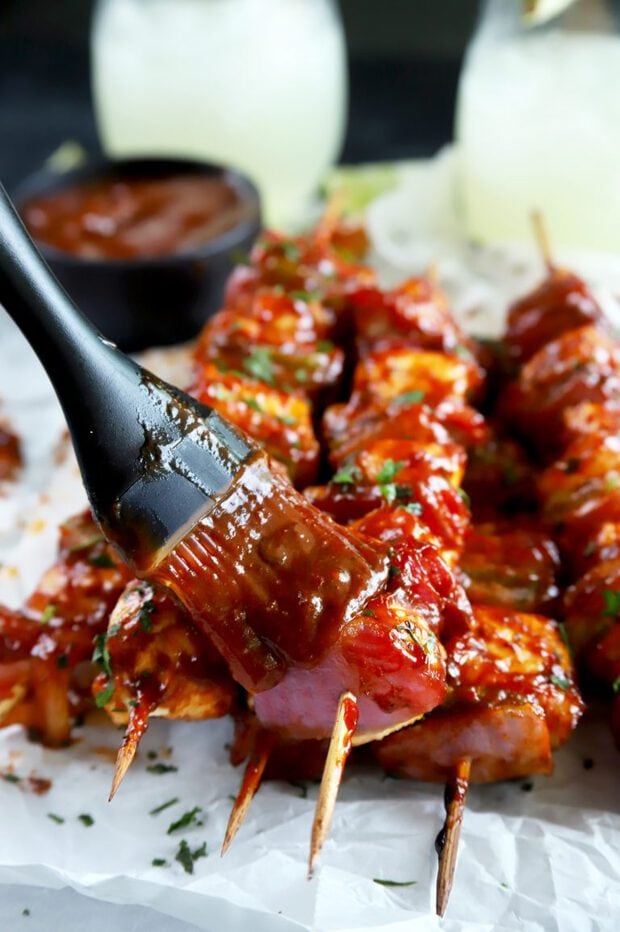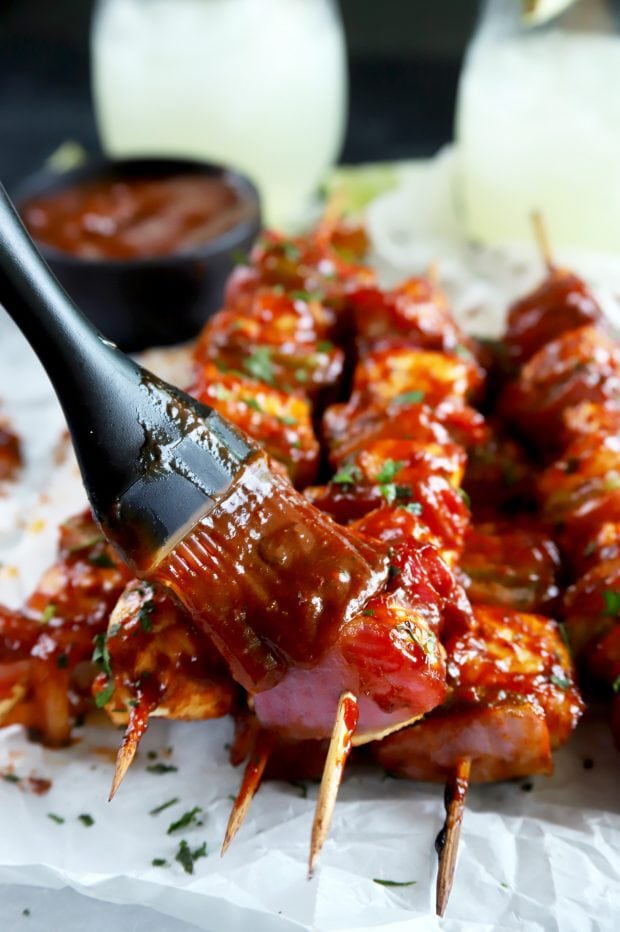 Sometimes I miss paid holidays weekends… However it's just not worth being in the stuffy office and having to dress in business casual attire every single day.
I mean, once you experience a day of working in your PJs, it's pretty hard to want to go back to the old corporate way of doing things.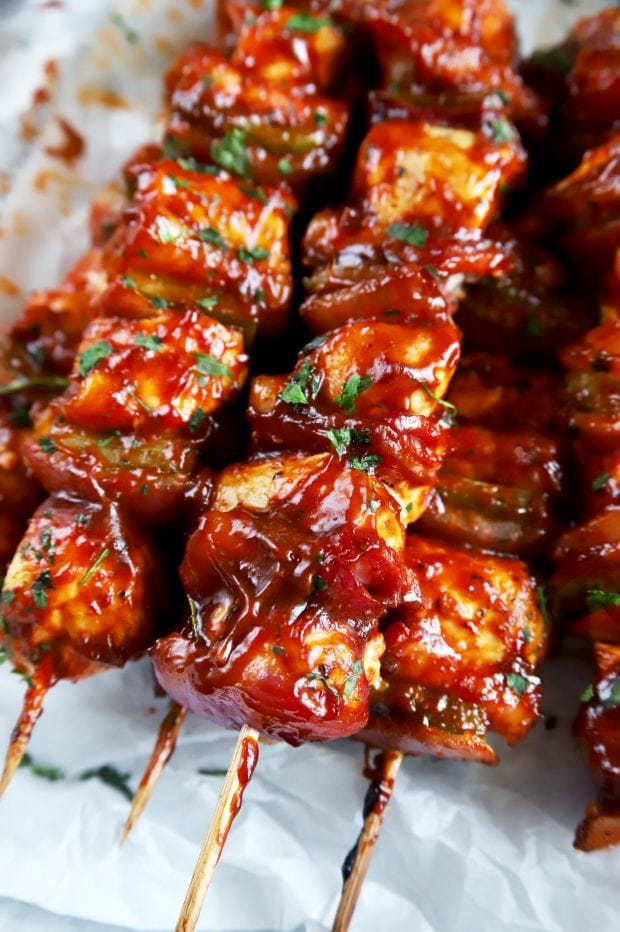 Grilling just wouldn't be grilling without throwing some kebabs on the grill. You can put almost everything on a stick and throw it on the grill without much effort.
That's exactly what this recipe it – no effort. It's simple and straightforward but that doesn't mean it's lacking in flavor AT ALL. The smoky spice comes through in every savory bite, and when you get a bite of bacon with those chicken and veggies… oh man.
It's BBQ, finger-lickin' goodness right there.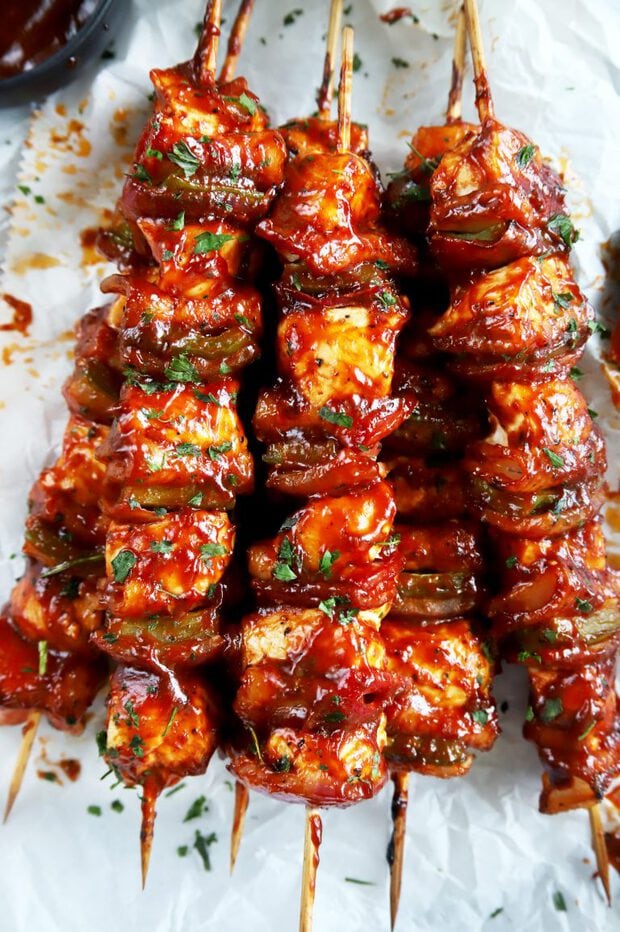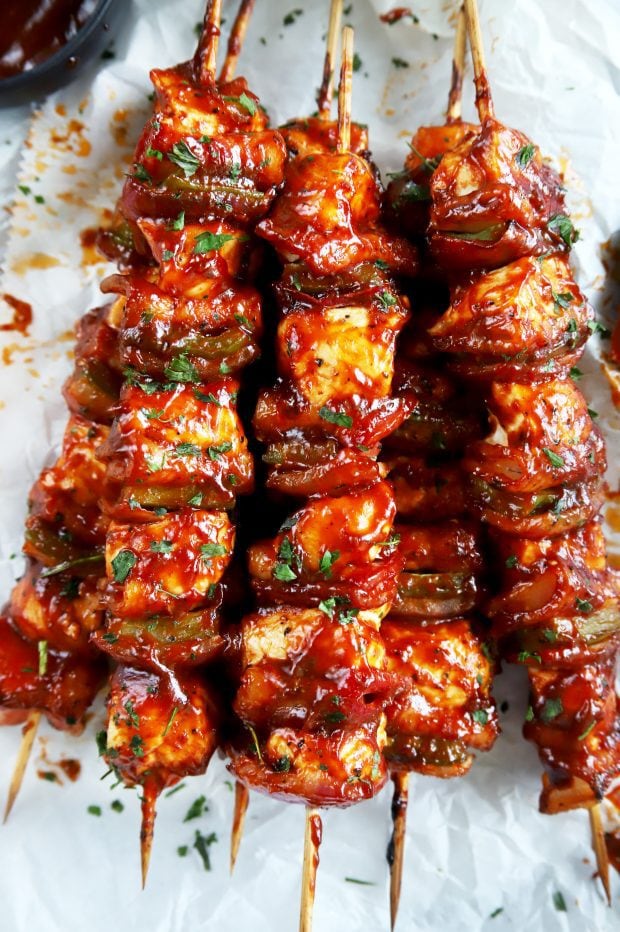 This Recipe's Must-Haves
Make sure you break out your favorite chef's knife and a good cutting board to get all your protein and vegetables the same size for these skewers.
I personally love a good wood pellet grill like my Traeger grill, but you can use any grill to whip up theses kebabs.
Don't forget the Traeger grill tongs and Traeger brush for all the turning and basting that you'll need to do!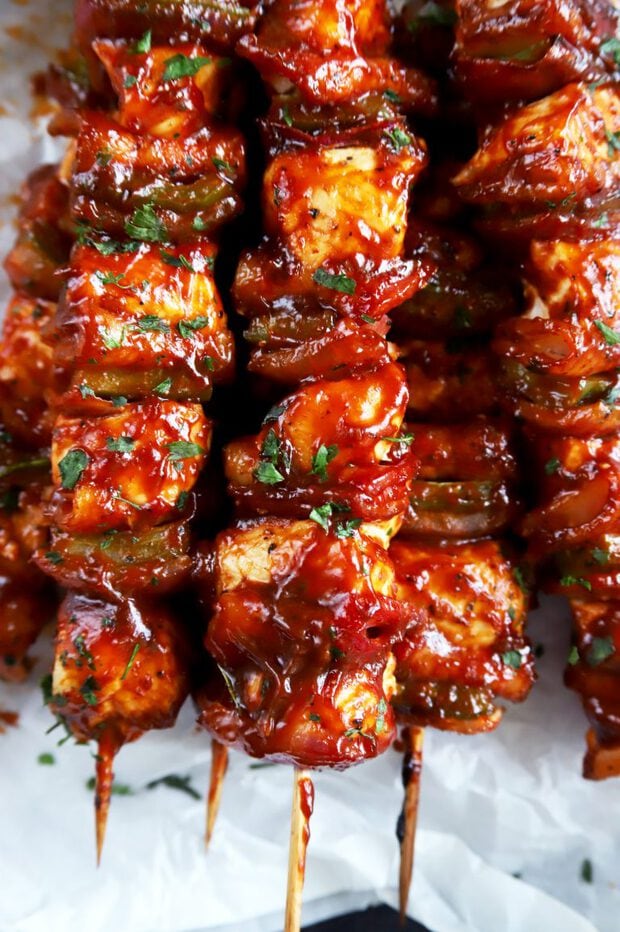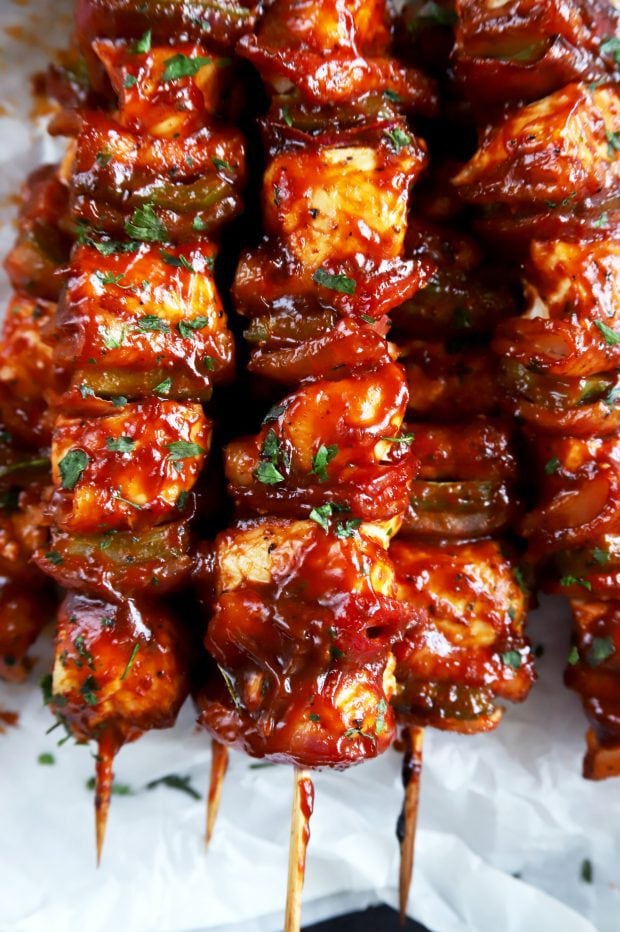 How To Make Chipotle BBQ Chicken Skewers
Make The Skewers
Be sure to soak your skewers for at least 10 to 15 minutes if you are using wooden ones! After that you add the chicken, pepper, onion, and bacon pieces, alternating as you go, until you fill up each skewer.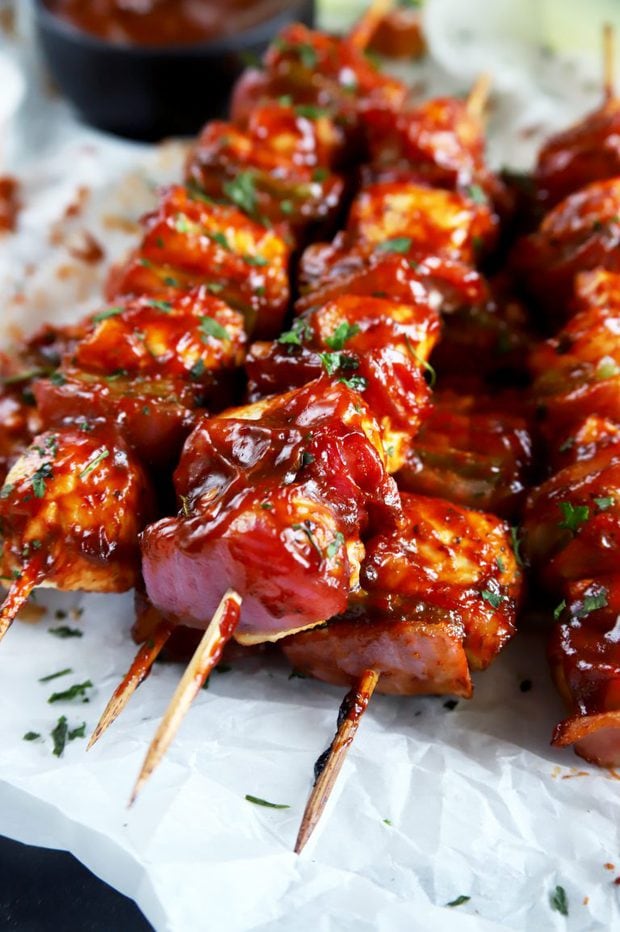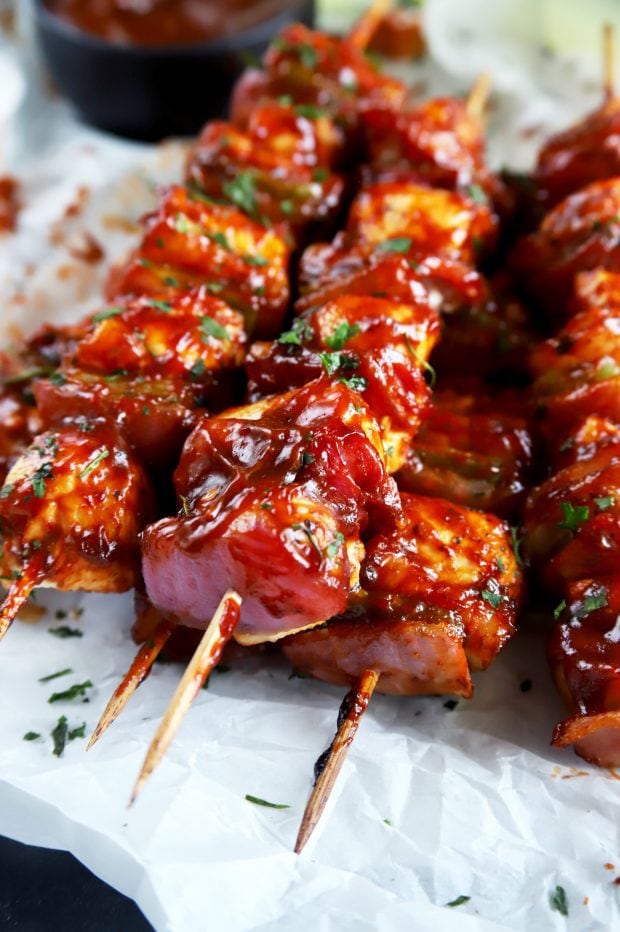 Make The Sauce
This is the easiest part – just throw everything in the blender! Blend until smooth and voila – a spicy sauce of perfection.
Grill And Baste
Once the grill is nice and hot, add the skewers and start to cook. At first you'll be turning them every few minutes for about 10 minutes total.
Then you start to baste and turn every minute. This helps get the flavor into the skewers and everything gets nice and smoky. The skewers are done after another few minutes!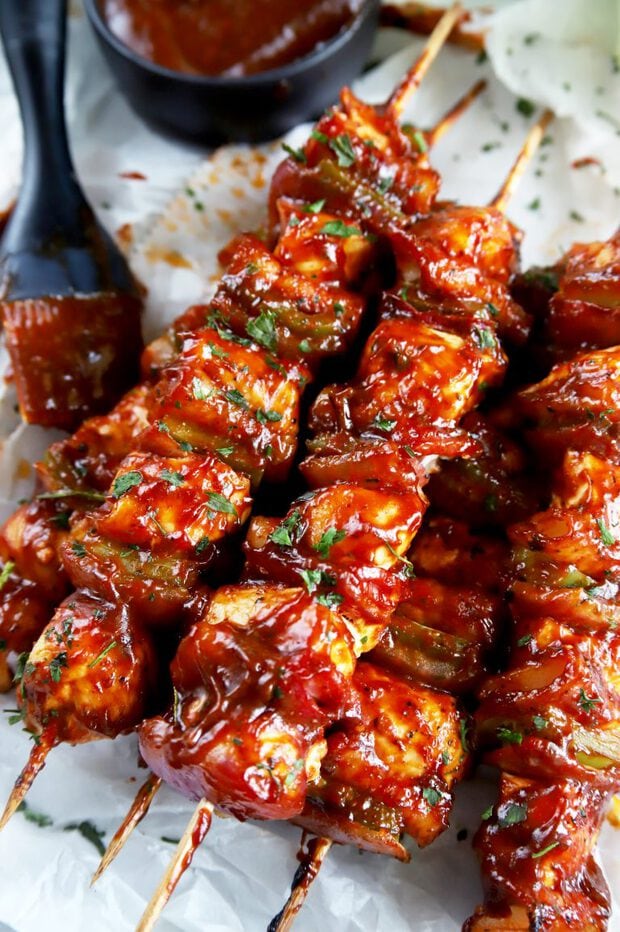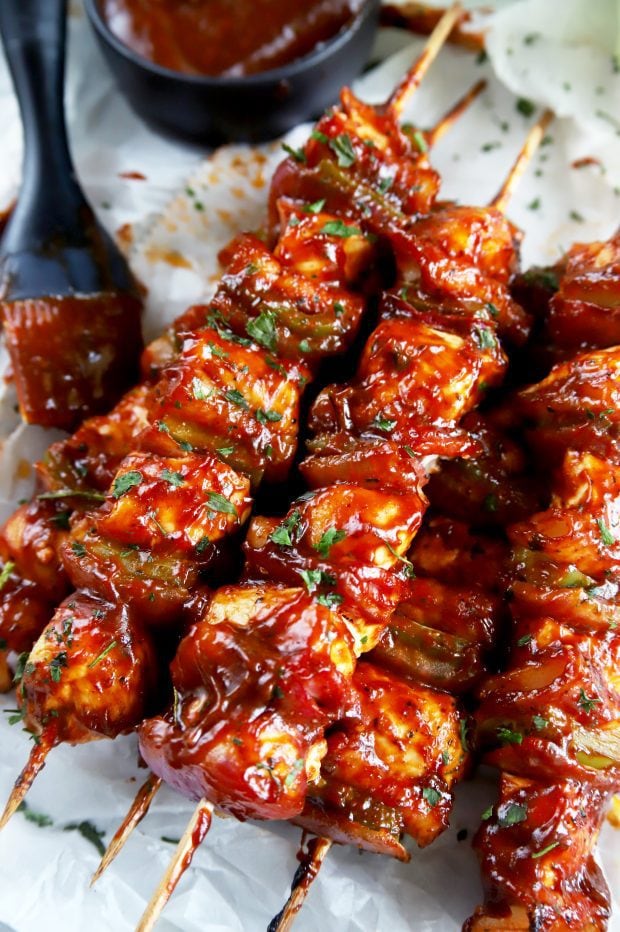 How To Grill Skewers In The Oven
No grill? No problem! All you have to do is preheat your oven to 450˚F. Thread the skewers and make the sauce as the directions state.
Foil line a rimmed baking sheet and lay the skewers in an even layer on the baking sheet. Brush the skewers with BBQ sauce generously, then bake for 15 to 20 minutes until the chicken and bacon are cooked through.
What To Serve With BBQ Chicken Skewers
These skewers go with SO many things, but my personal fave is this bacon cilantro lime grilled corn salad! You can also serve up some spicy-sweet roasted broccolini, spicy garlic cilantro fries, or smashed potatoes with fresh herbs and blue cheese with them.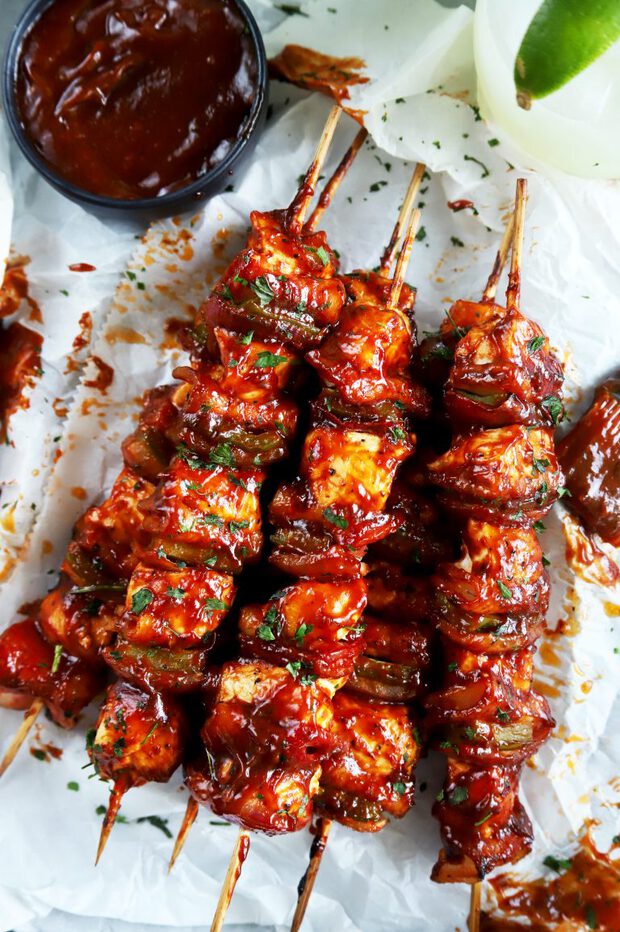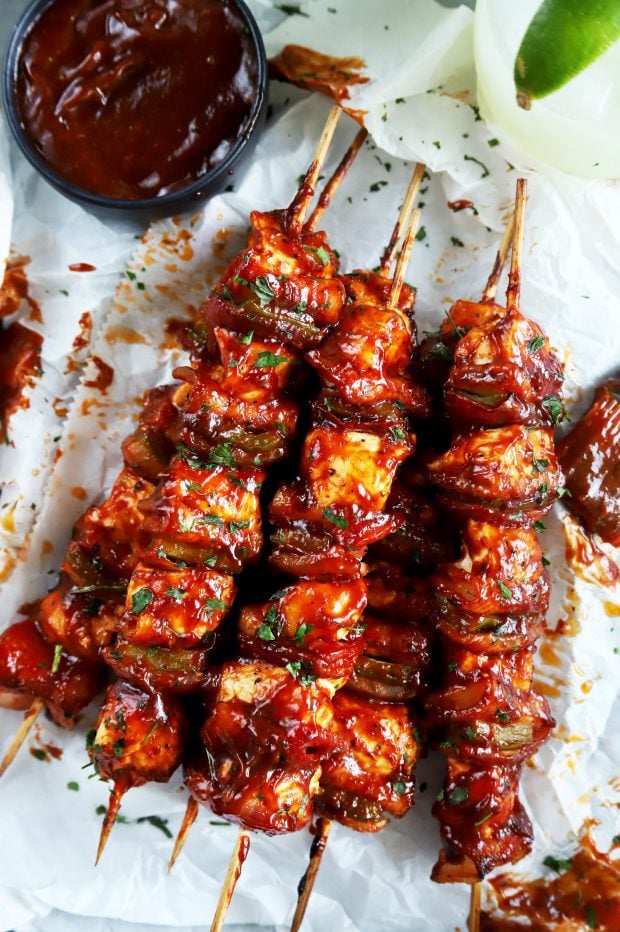 How Long To Barbecue Chicken Skewers
The total cook time for these skewers for me was 15 minutes over high heat on the grill. Depending on the thickness of your chicken and bacon it could take a few minutes more or less.
My advice is to test your chicken with a thermometer to make sure it hits 165˚F or cut into one of the cubes and make sure there's no pink inside.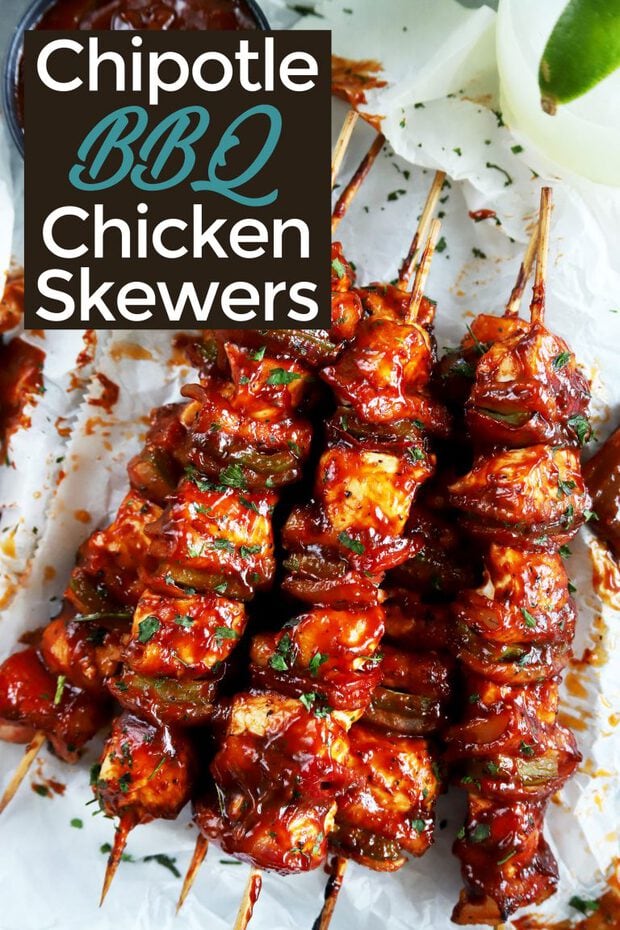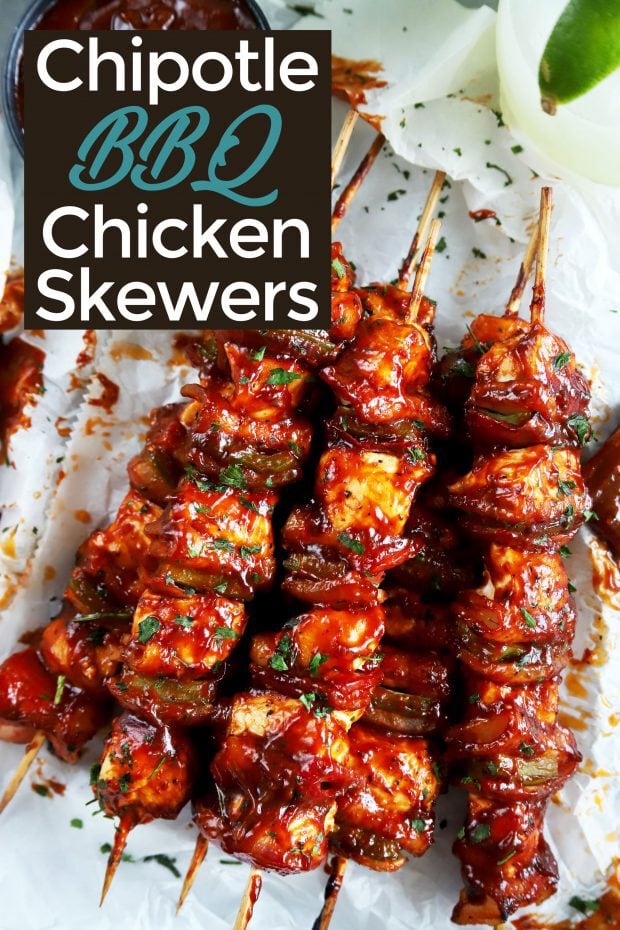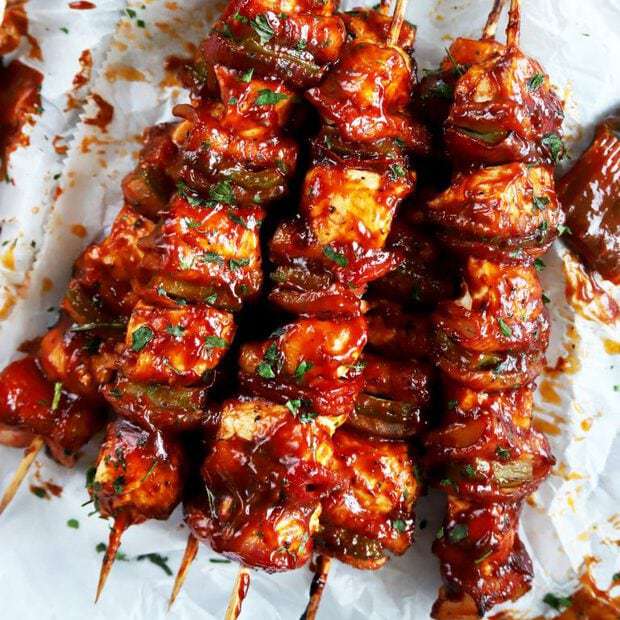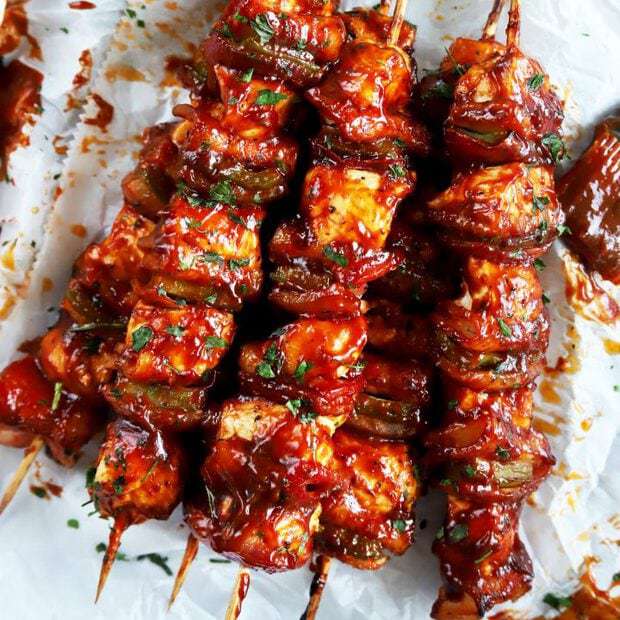 Grilled Chipotle BBQ Chicken Skewers
Spicy, smoky, and savory, these skewers have it all - bacon, chicken, bell pepper, and onion!
Ingredients
BBQ Sauce
1 cup spicy bbq sauce
3 chipotle peppers
1 Tbsp adobo sauce
Skewers
Olive oil
2 lbs boneless skinless chicken breasts
10 thick-cut bacon strips
1 large green bell pepper, cut into 3/4 to 1 inch pieces
1 medium red onion, peeled and cut into 3/4 to 1 inch pieces
Bamboo skewers
Garnish: freshly chopped garnish
Instructions
Preheat the grill and lightly oil the grates.
If you are using wooden skewers, soak them in water for at least 10 to 15 minutes before skewering so they don't burn as much.
Add all ingredients for the sauce to a blender. Blend until combined.
Cut chicken into 3/4-inch bite-sized pieces. Cut bacon into 3/4-inch strips.
Thread bacon (in a "C" shape, skewering through both ends), chicken, peppers, and onion onto the skewers, alternating as you go.
Add skewers to the grill and cook, turning every few minutes, for 10 minutes. Baste the skewers with BBQ on all sides. Continue to baste and turn the skewers every minute or so to caramlize.
The chicken is cooked through when an internal thermometer registers 165˚F. The bacon should be nice and crispy at this point.
Remove from the grill and sprinkle with freshly chopped parsley.
Recommended Products
As an Amazon Associate and member of other affiliate programs, I earn from qualifying purchases.