Please note this post contains affiliate links.
Peach Tequila Sunrise Punch is a magically colorful cocktail that will be the centerpiece of your next gathering! The juicy peach flavor gives the classic drink a boost of sunshine, without making the cocktail itself overly sweet. It's just the right balance to wet your whistle!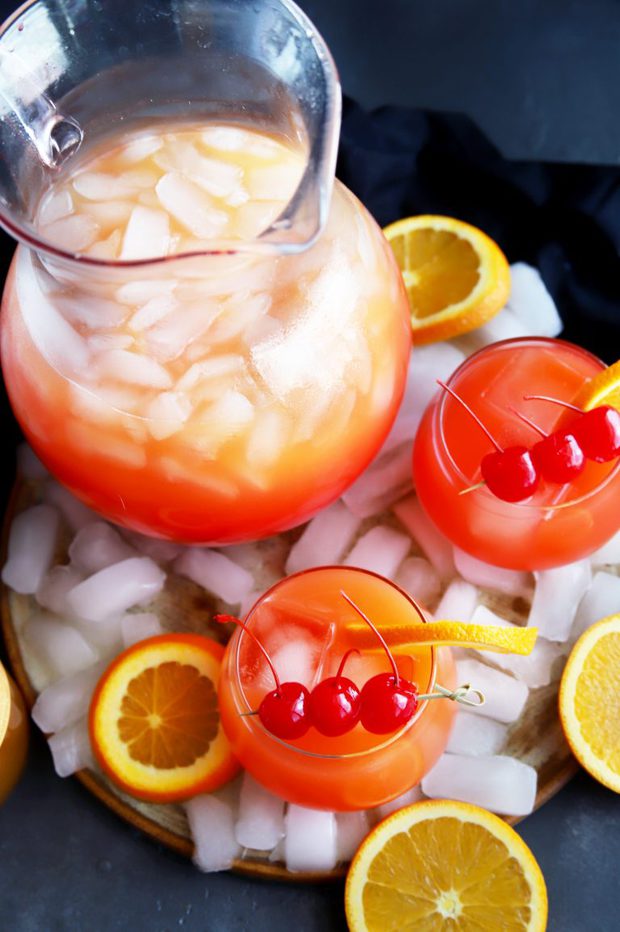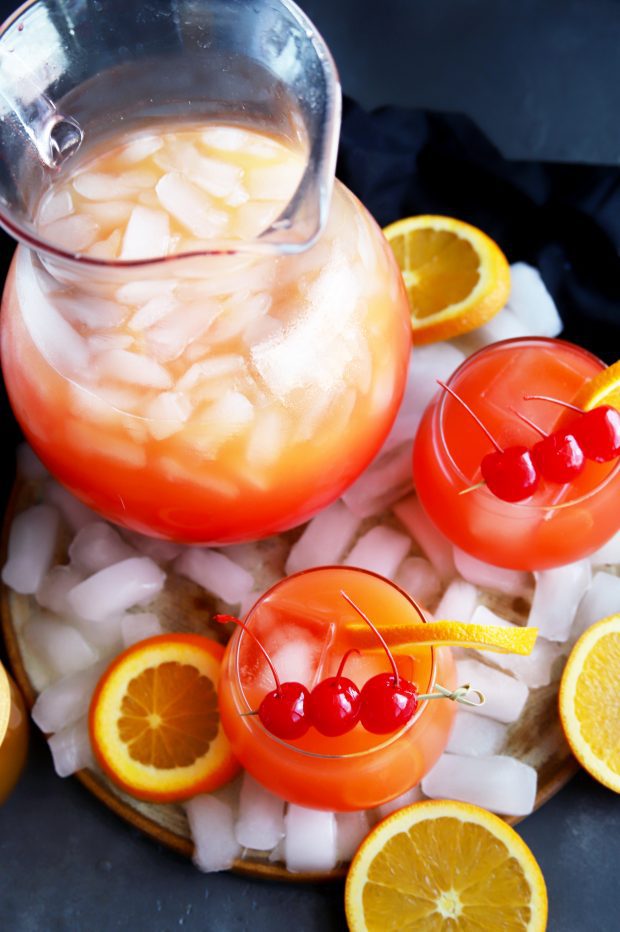 Disclosure: This post was sponsored by Stirrings! As always, all opinions are my own.
I'm sitting here looking outside at blue skies and sunshine from my office window…
However when I stand up, there's that darn snow, still covering my backyard.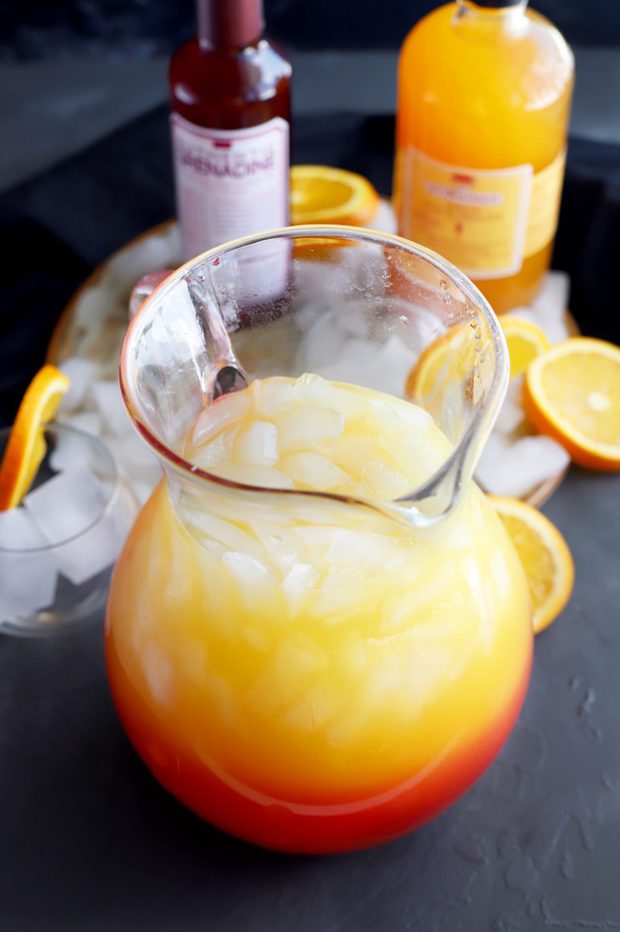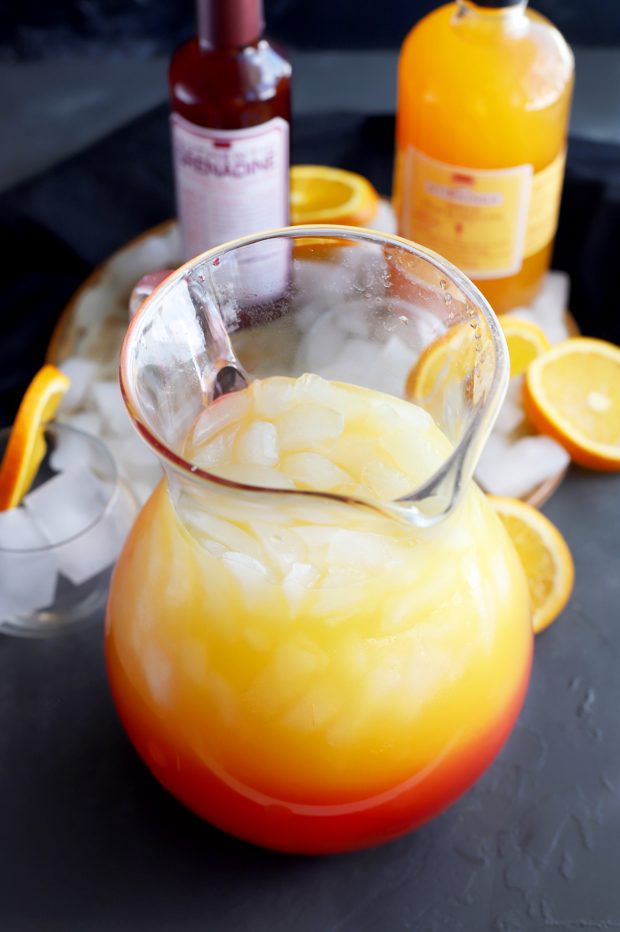 As much as I love the snow, this is about the time of year that I start getting excited for warmer weather.
Honestly, this has been one of the coldest and snowiest winters we've had in Colorado for a lonnnggggg time. While I'm grateful for every drop of moisture, I am ready to see some green in my life. I'm ready to walk outside without a coat.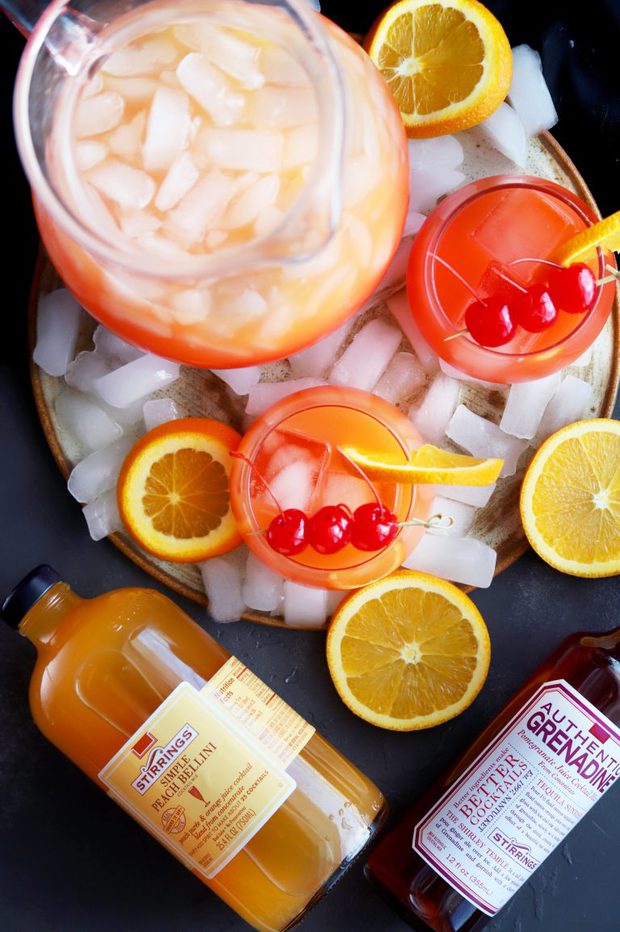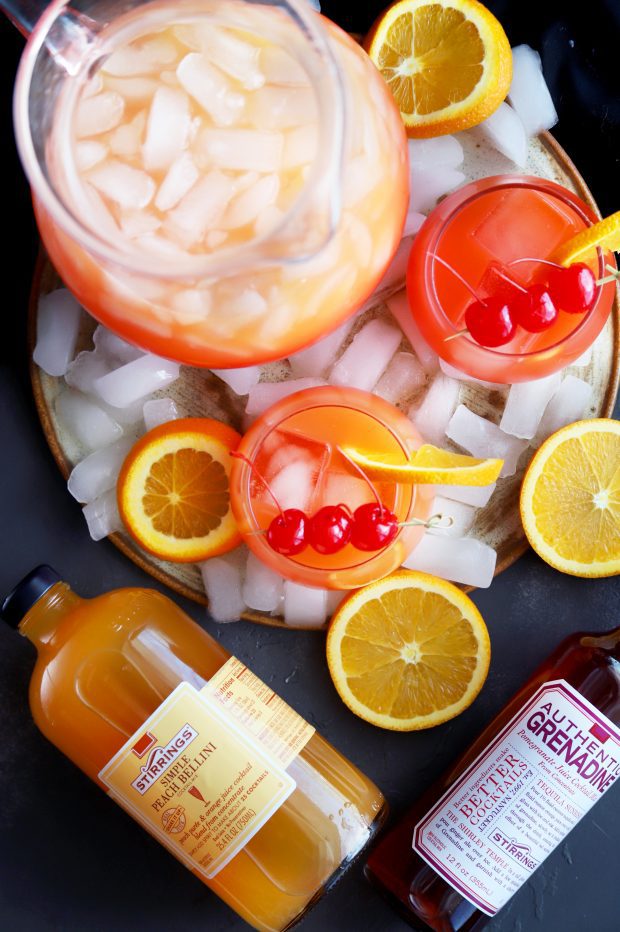 I've been dreaming a lot about going to tropical weather as a result. I want to be on a ship in the middle of the ocean with a tropical cocktail in hand, risking a possible sunburn. There would be a band singing Bob Marley and I could be blissfully relaxed with a book in hand…
Alas, I am here in Colorado with a chill in the air and my space heater humming away next to my desk.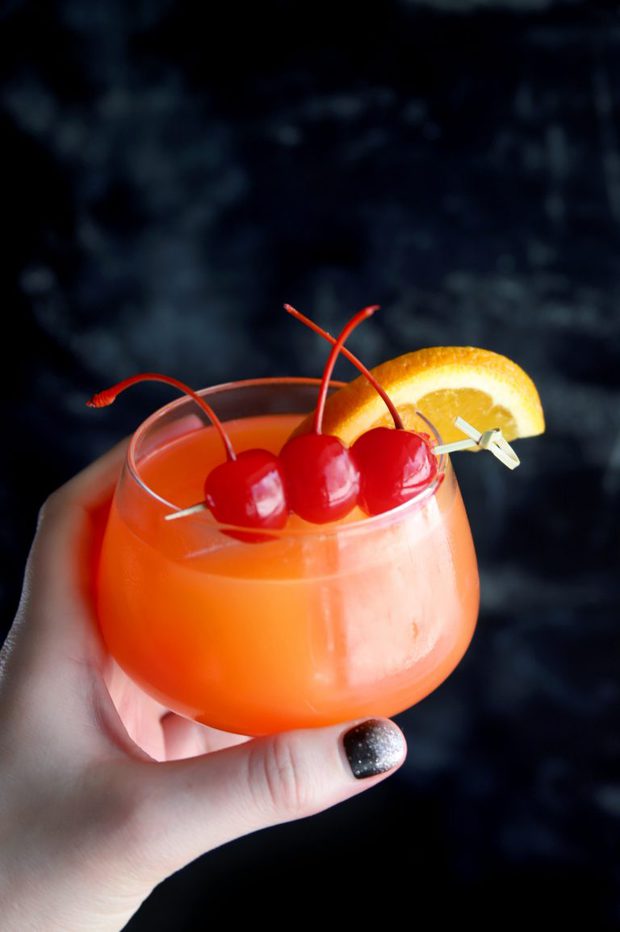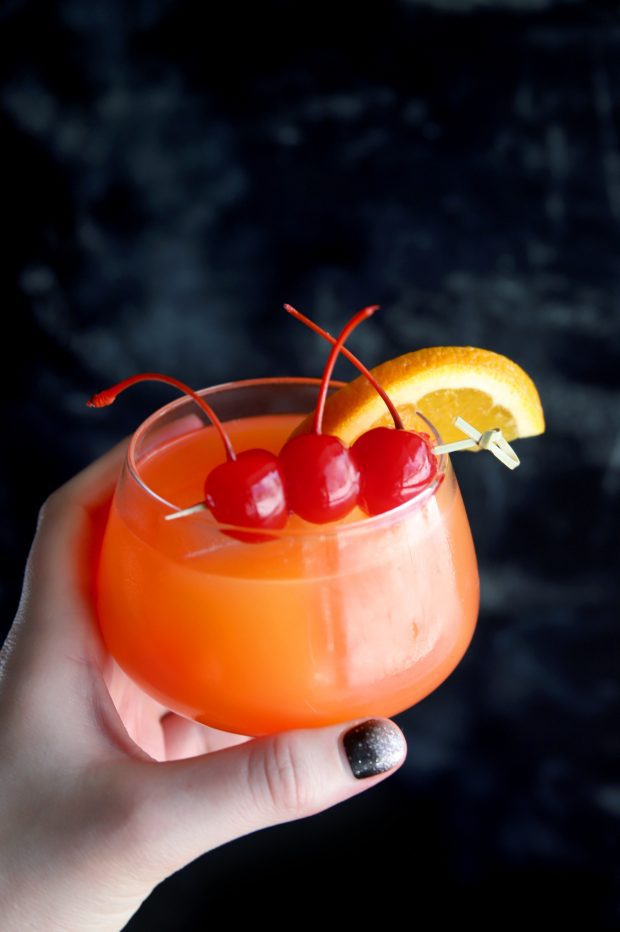 Thus, the inspiration for this gorgeous and colorful peach tequila sunrise punch.
There is one big key to this punch and that is balance.
Sometimes tequila sunrise cocktails come out wayyyy too sweet, with too much grenadine syrup or juice cocktails instead of 100% juice.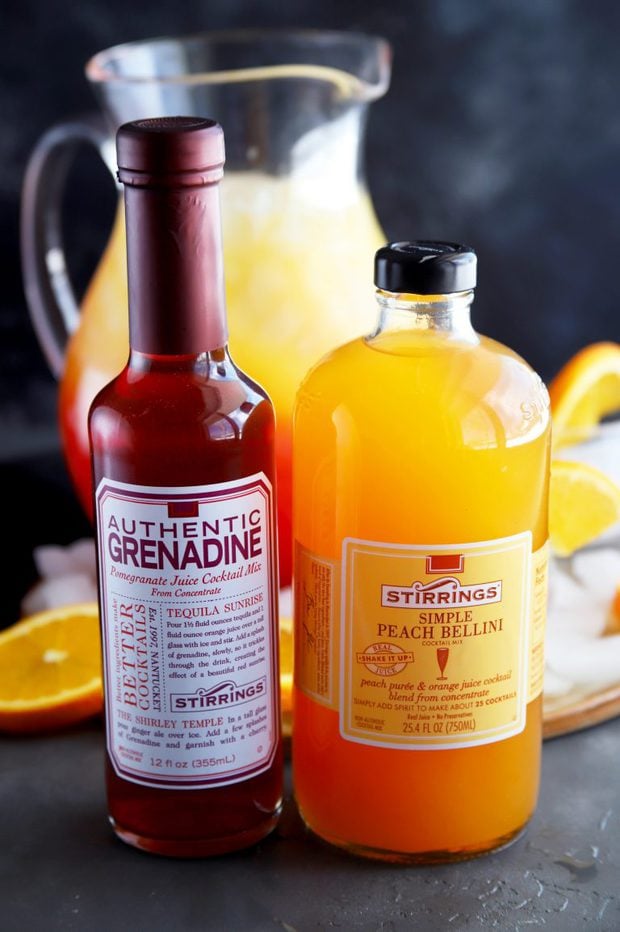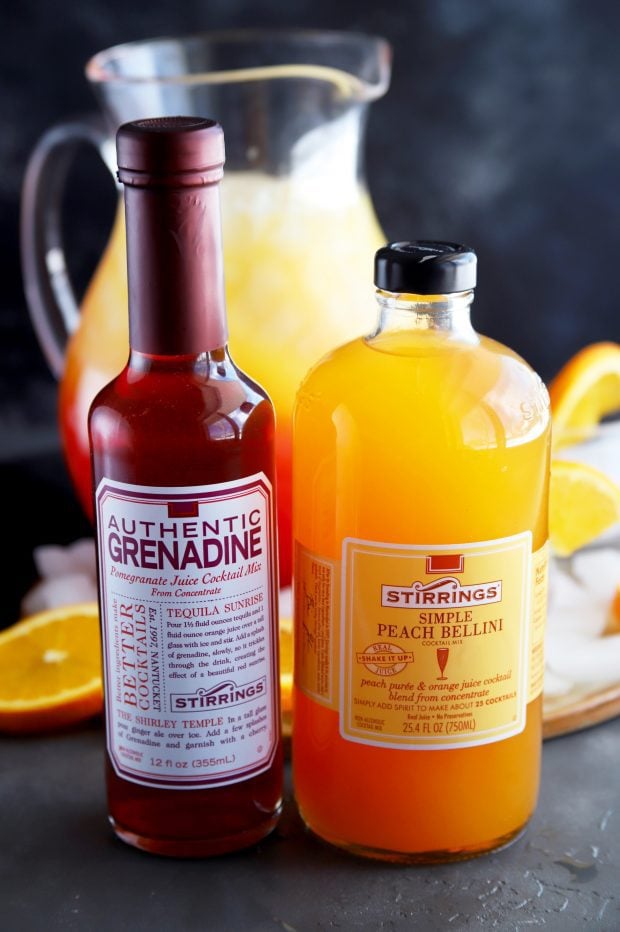 This punch is ideal because it is so well balanced. The key to this balance is the ingredients.
First of all, you need to have the right grenadine syrup and I like to use Stirrings Grenadine Syrup. It's made with only pomegranate and pure cane sugar so you get a pleasantly sweet flavor that's bold and potent, without being too sugary with corn syrup.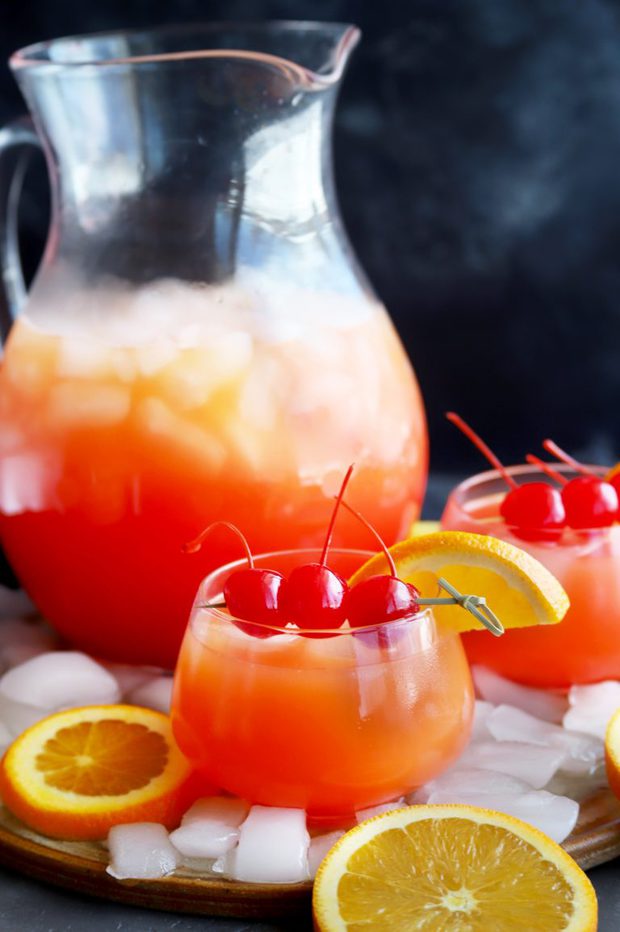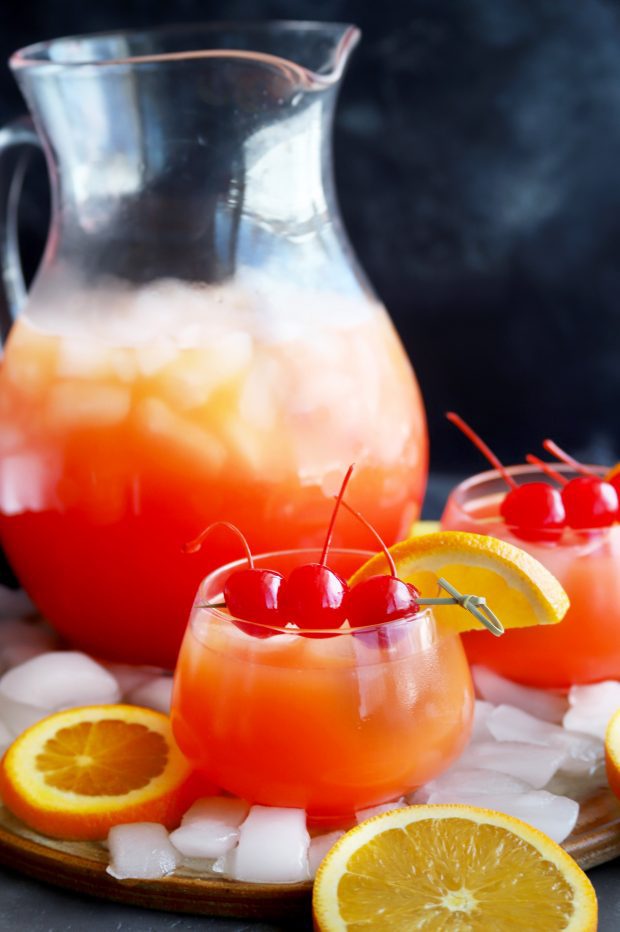 If you haven't heard of Stirrings, you definitely need to head over to their site to check them out because they are my go-to for cocktail mixers and bar ingredients. From simple syrup to mixers, rimming sugars to surprisingly light in calorie drinks, I turn to them. Their 5 Calorie Margarita Mix is the only margarita mix the Man will allow me to bring into the house anymore. It's SO tasty.
It's the Stirrings Peach Bellini Mix that really makes this tequila sunrise punch amp up to the next level of delicious. The mixer is made from white peach purée, real orange juice and pure cane sugar (hey look! you know all those ingredients, don't you?).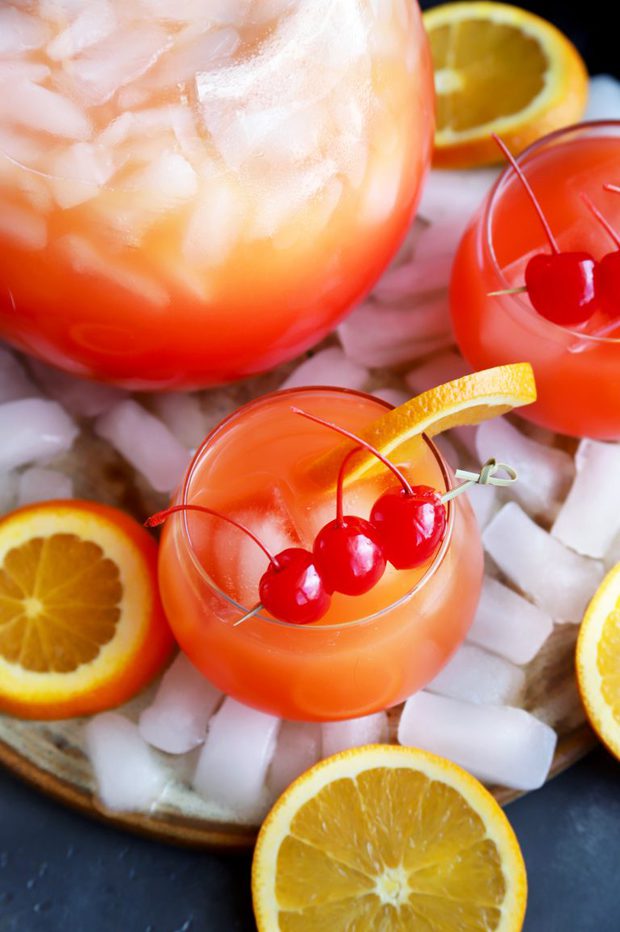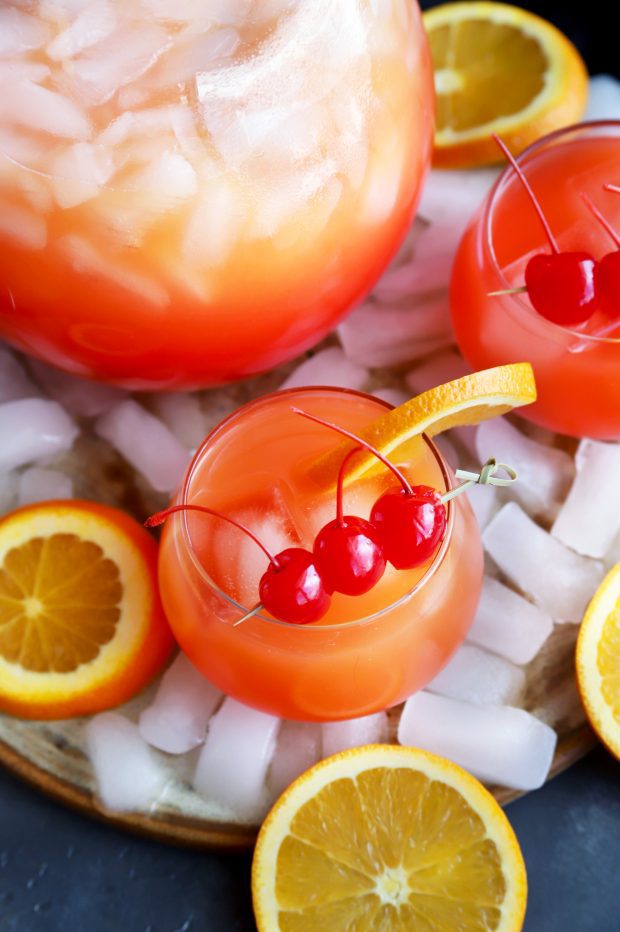 It's not overly sweet, so when it combines with the real fruit juices and tequila, it adds the right amount of juicy sweetness.
Plus, you can use the rest to make yourself some bellinis, and who doesn't need one of those in their life?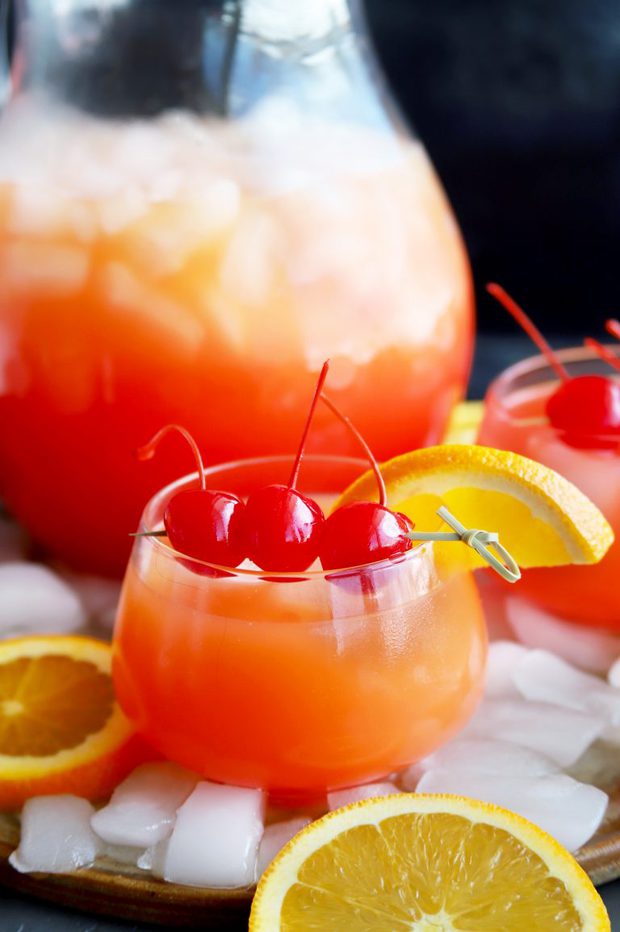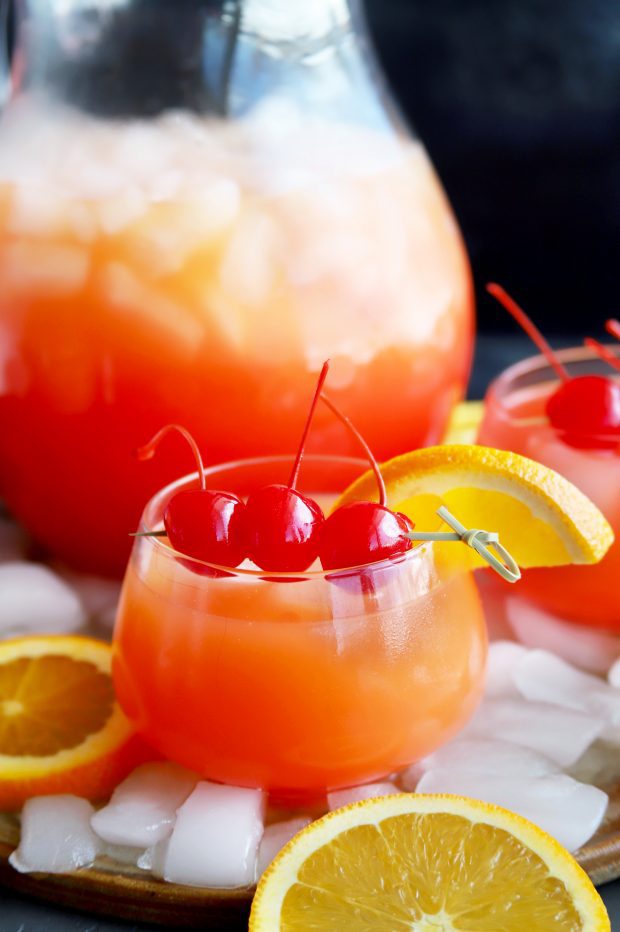 The colorful look of the pitcher makes for a bold statement at any party. When it mixes together to enjoy, the coral color is so freaking gorgeous.
Want more tequila sunrise goodness in your life? Don't forget to check out my Tequila Sunrise Champagne Punch! It's perfect for an extra bubbly treat!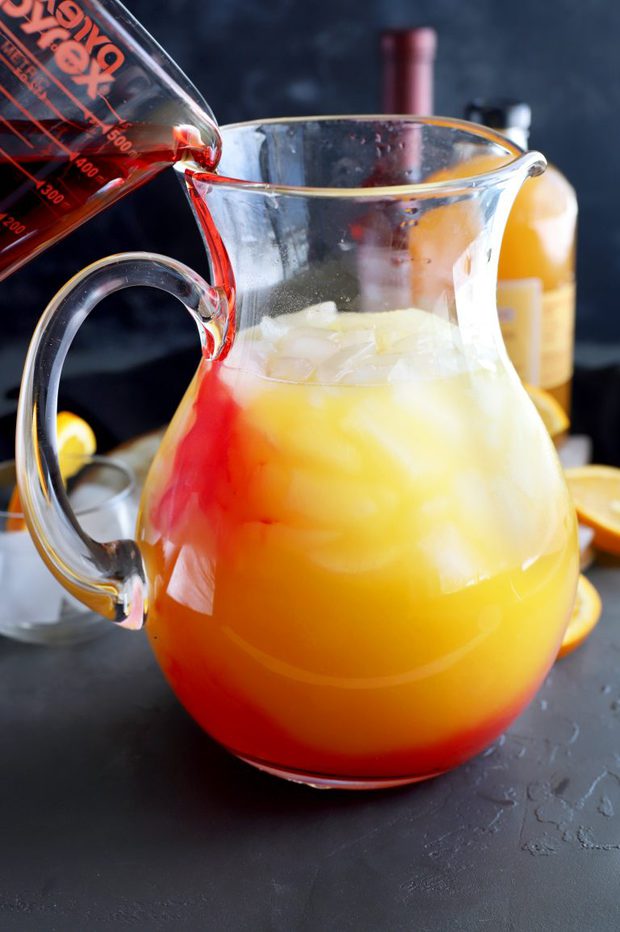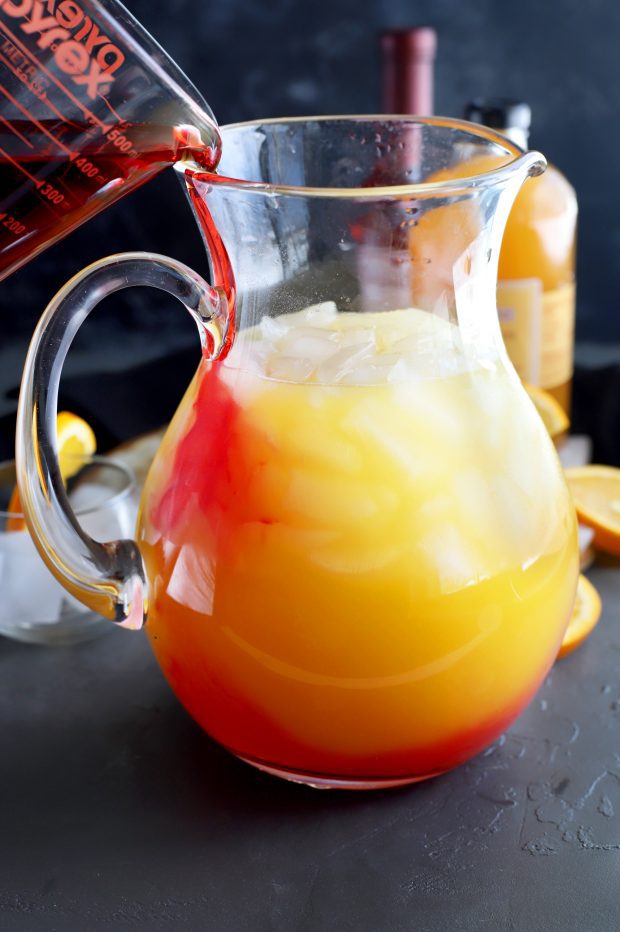 This Recipe's Must-Haves
When pouring in the grenadine, I like to put it in one of these glass measuring cups
! It makes it easy to slowly pour the syrup in so that you get that classic sunrise look 🙂
Wooden spoons are a must in my kitchen, especially for punches. My favorite is this wooden spoon that doubles as a wooden scraper
, because it works well to scrape up things at the bottom of pans when you are cooking too.
Want to get the serving look you see in this post? Pick up my pitcher here – I just love how festive it looks!
Be sure to head over to Stirrings to pick up all the ingredients you need to make this recipe sing – Stirrings Grenadine Syrup and Stirrings Peach Bellini Mix!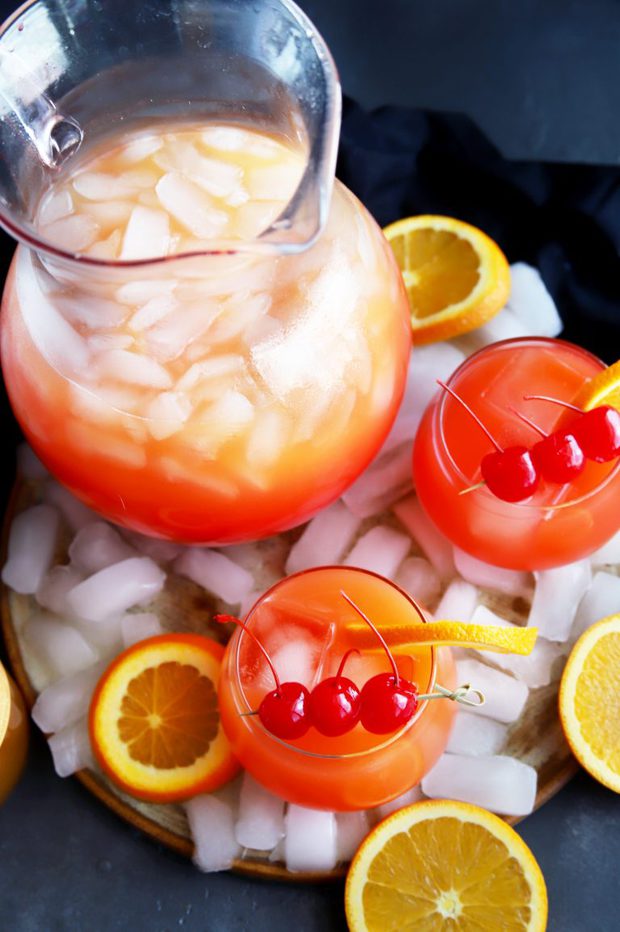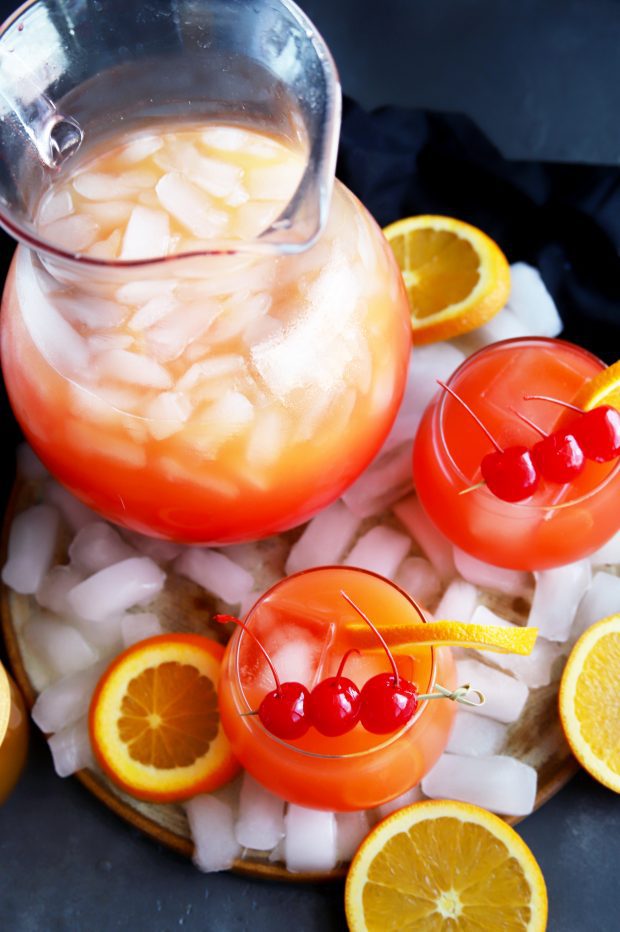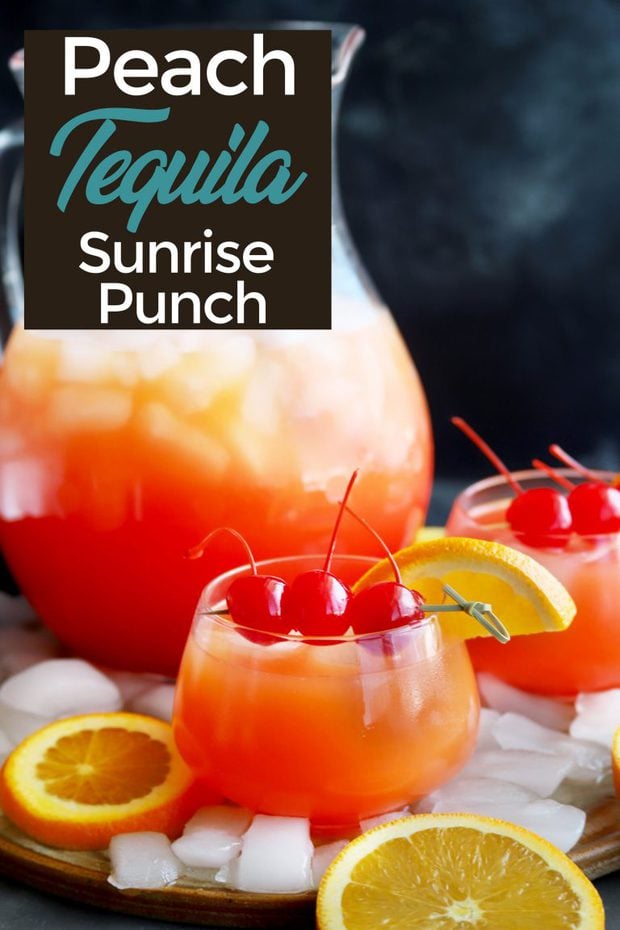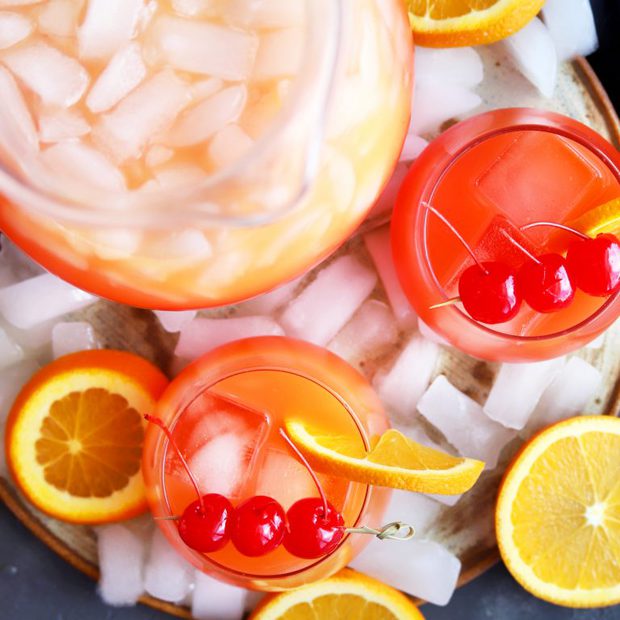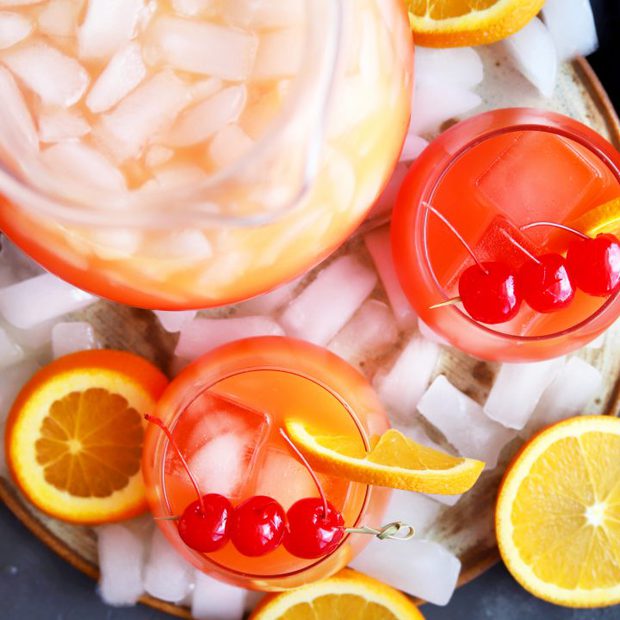 Peach Tequila Sunrise Punch
The flavor of peach amps up this tequila sunrise punch for an extra juicy boost of fruit!
Ingredients
1 3/4 cups silver tequila
Ice
3 cups orange juice
1 cup pineapple juice
1 cup Stirrings Peach Bellini Mix
2/3 cup Stirrings Grenadine
Garnish: orange slices, maraschino cherries
Instructions
Pour tequila into a pitcher. Fill the pitcher halfway with ice.
Pour in orange juice, pineapple juice, and Stirrings Peach Bellini Mix.
Stir gently to combine.
Slowly pour Stirrings Grenadine into the pitcher so it sinks to the bottom.
Serve immediately in glasses filled with ice. Be sure to stir briefly before pouring. Garnish with maraschino cherries and orange slices.
Notes
Want to make this a mocktail? Simply substitute tequila with soda water for a bubbly treat without the booze!
Recommended Products
As an Amazon Associate and member of other affiliate programs, I earn from qualifying purchases.