Please note this post contains affiliate links.
A Cherry Vodka Sour is bursting with the natural sweetness of cherries and smooth vodka. The cocktail is the ideal balance of tart and sweet, perfect to sip on all summer long!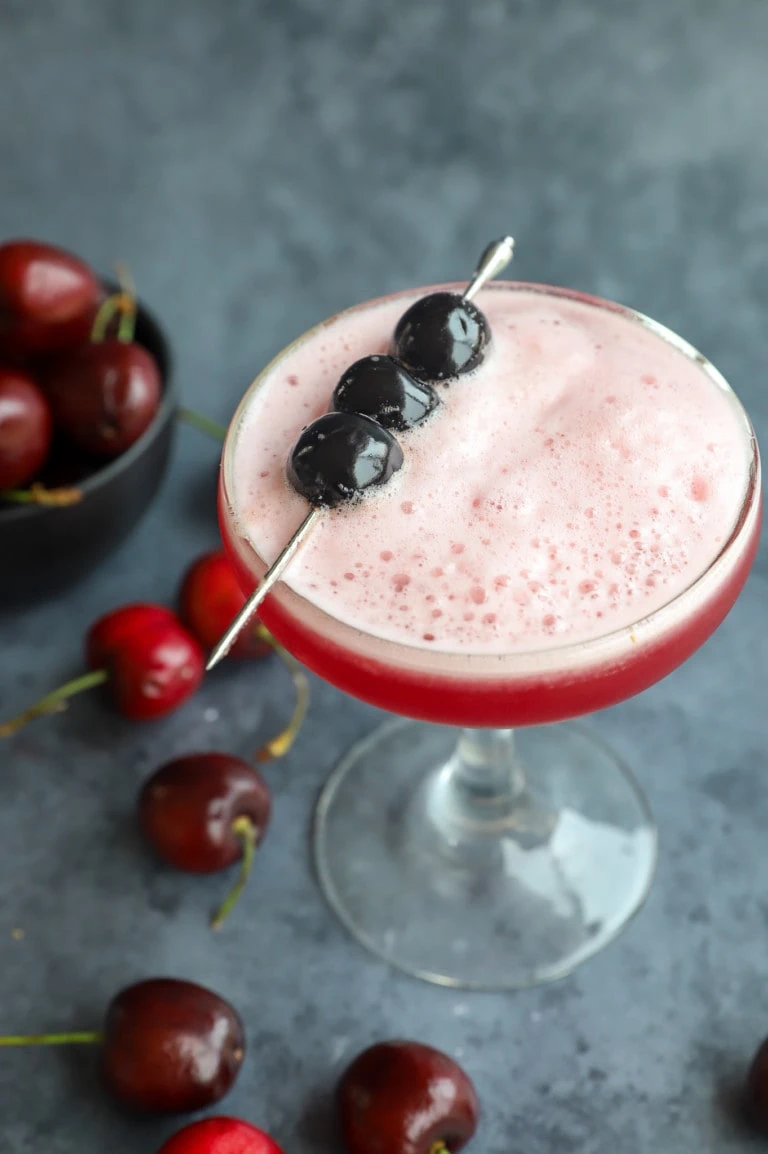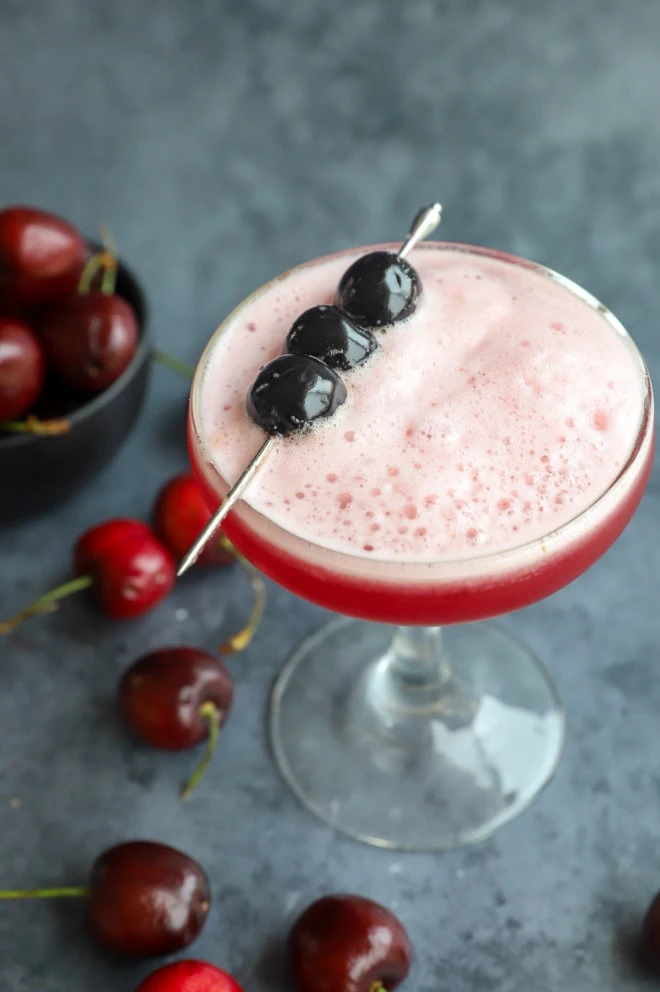 about this cherry vodka sour
If you are looking for the perfect summer cocktail, this cherry vodka sour is where it is at. The vibrant libation is full of sweet cherries, smooth vodka, and a balanced note of sour from the citrus. Essentially it is a drink that embodies the essence of summertime bliss.
There are so many colorful cocktails to choose in summertime, but for me, anything with cherries gets my vote as we get into the summer season. The plump, rich fruit is so full of flavor and lends itself so well to many different kinds of cocktails. That's why this sour drink recipe is simply irresistible.
The gorgeous ruby color and natural sweetness makes this cocktail the star of the show. The fresh cherries give a fresh and fruity taste to meld with the vodka and lemon that'll leave you feeling refreshed!
This cocktail is essentially summer in a glass. It's ideal for sipping on while lounging on the patio, by the pool, or even at a picnic alongside some savory BBQ. You will find yourself feeling super refreshed after every sip so it's a must-have for any hot day!
So, grab your shaker, muddle those cherries, and let the Cherry Vodka Sour be your ticket to a summer filled with unforgettable moments and refreshing sips. It's even simple to bust out in larger batches to enjoy for a party. Cheers to the perfect summer cocktail!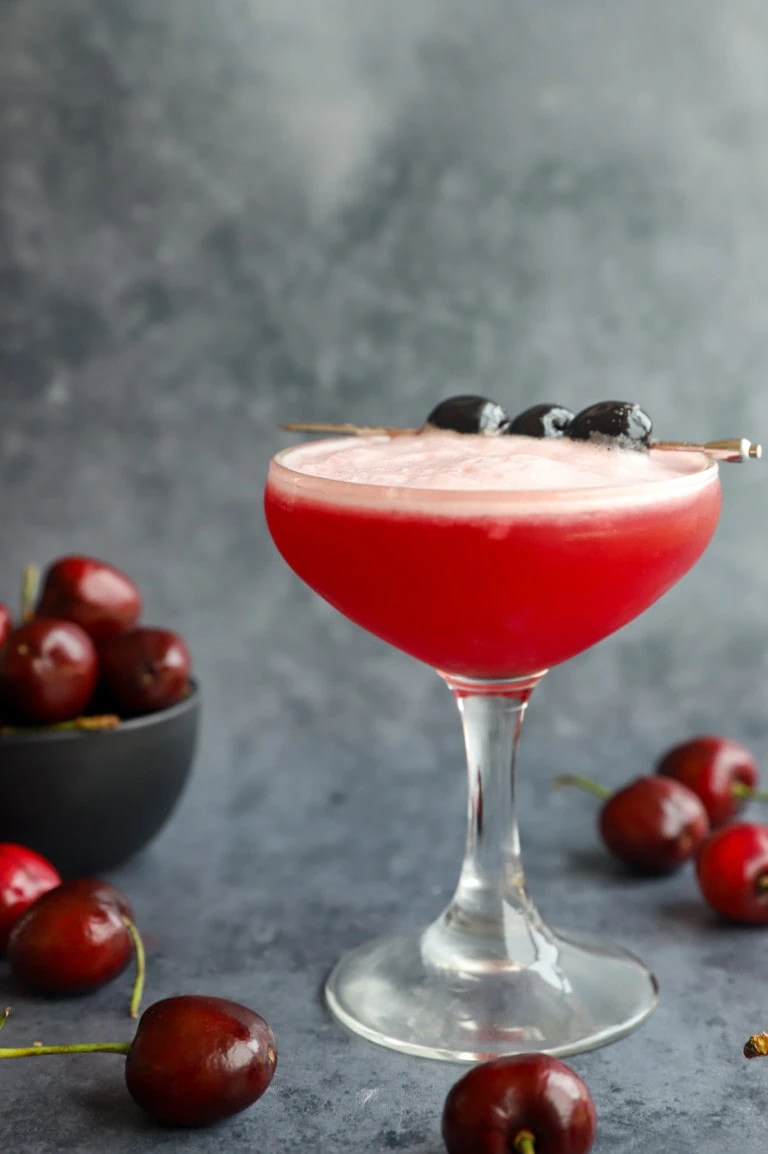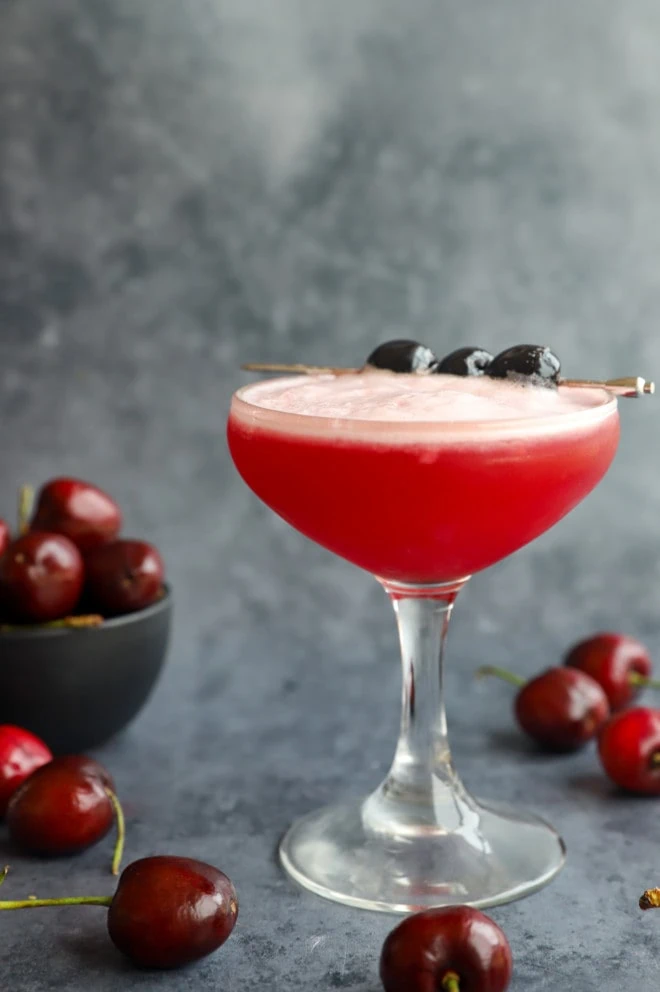 what is a vodka sour?
The vodka sour is a classic cocktail that combines vodka with the tartness of citrus and a bit of sweetness. The basic sour combines three elements – liquor, citrus, and sweetener.
The most basic recipe for a sour cocktail is made with 2 ounces liquor, 3/4 ounce sour element, 3/4 ounce sweet element.
While the classic vodka sour is a delightful and straightforward combination of vodka, citrus, and sweetener, there are also variations that incorporate additional ingredients like fresh fruits, flavored syrups, and more.
Whether you prefer it shaken or stirred, with lemon or lime, with or without an egg white for a frothy texture, a vodka sour is a versatile cocktail that can be tailored to your taste preferences.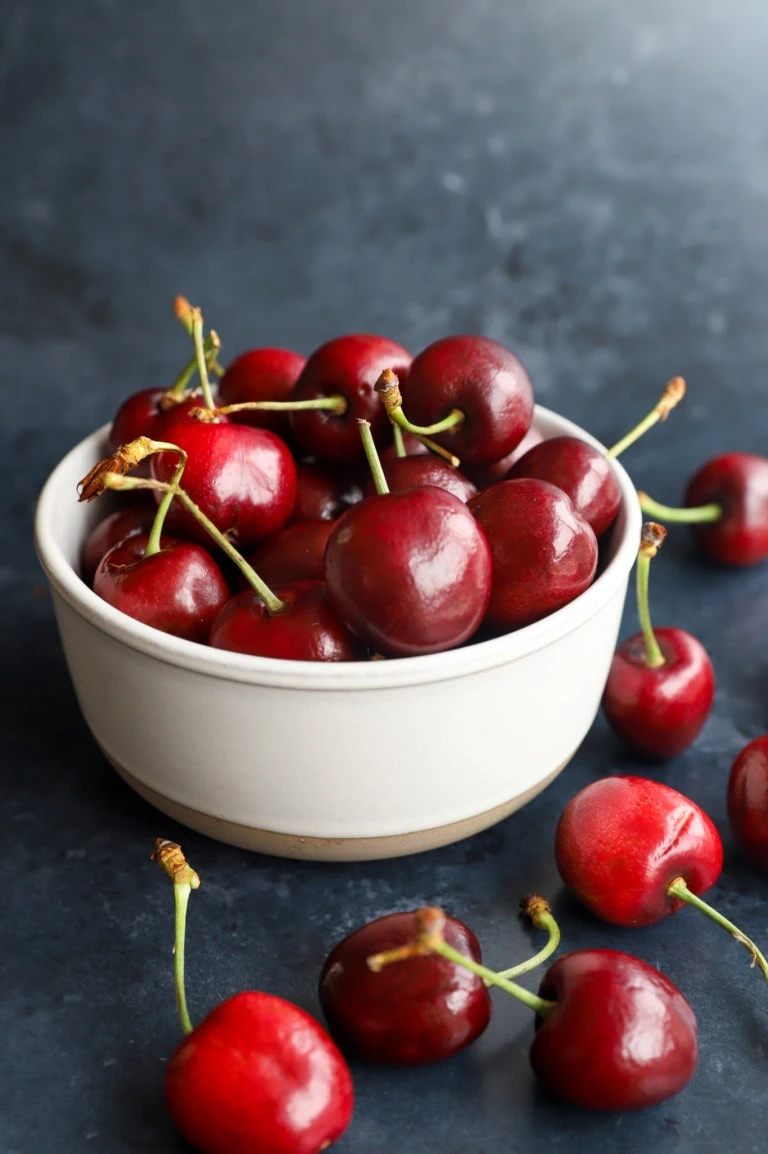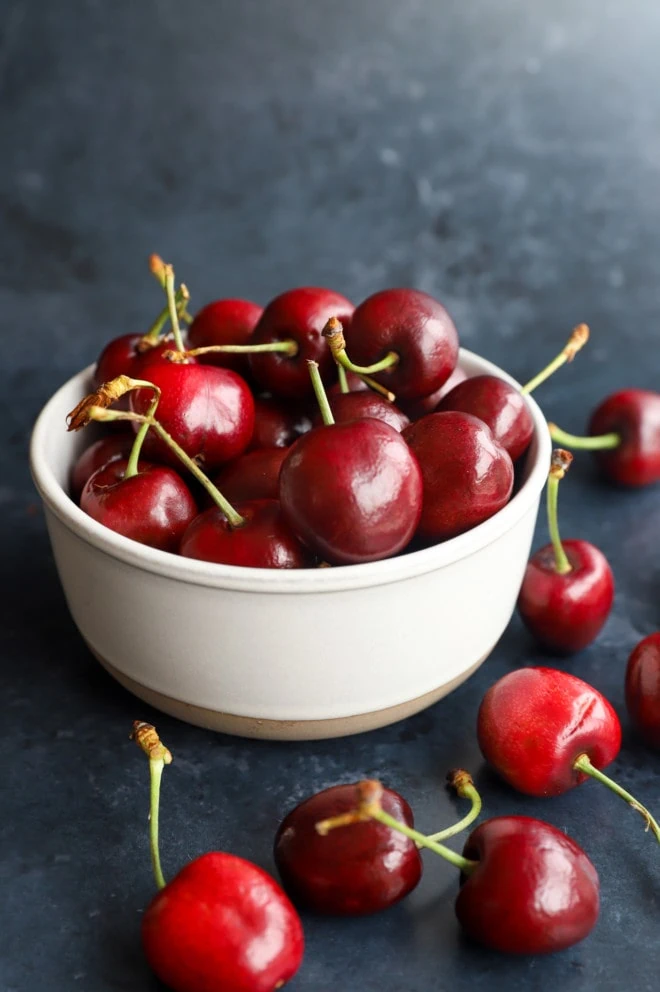 ingredients
cherries. Fresh cherries are best here! Be sure to pit and stem them before using them. You can also use frozen cherries. Be sure to thaw them and drain them first.
simple syrup. I love to use cherry simple syrup for this recipe! It really brings out the cherry flavor. Plus it is really simple to make and lasts for a good amount of time in the refrigerator. However, you can also use simple syrup if you prefer.
vodka. Pick the best vodka that is in your price range! Since you are using this vodka in a cocktail, there's no need for it to be the top end that you might use for a martini where vodka is the star of the show. I recommend Tito's or Absolut (splurge for Absolut Elyx if you want to!).
lemon juice. I always recommend fresh lemon juice because store-bought tends to taste a lot more sour, in my opinion at least.
egg white. The egg white is optional in this cocktail, but it's highly recommended to get that frothy texture. You can skip it however, if you prefer.
luxardo cherries. I like to garnish my cocktail with luxardo cherries, but you can also use fresh cherries if you prefer.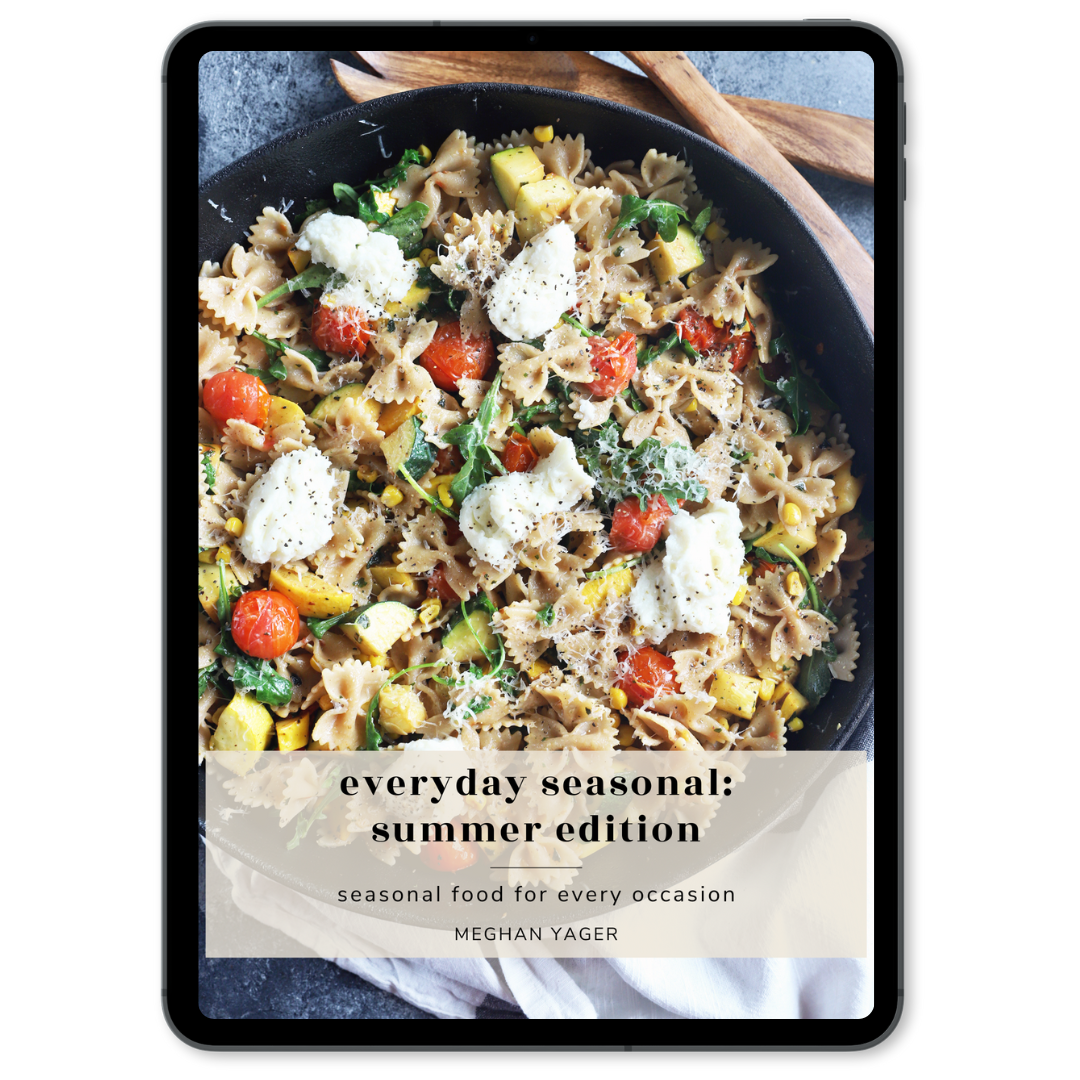 everyday seasonal: summer
With seasonal summer recipes, a comprehensive produce guide, and more, this is the cookbook to help you celebrate the season.
this recipe's must haves
To create this cocktail, you will need a jigger to measure out your ingredients.
The cocktail itself comes together in a cocktail shaker. You will need a muddler to muddle together the ingredients that make the base of the cocktail.
Have your cocktail strainer handy to strain out the cocktail into your cocktail glass. I like to serve this cocktail in coupe glasses! You can chill them in the fridge or freezer beforehand so the cocktail stays chilled.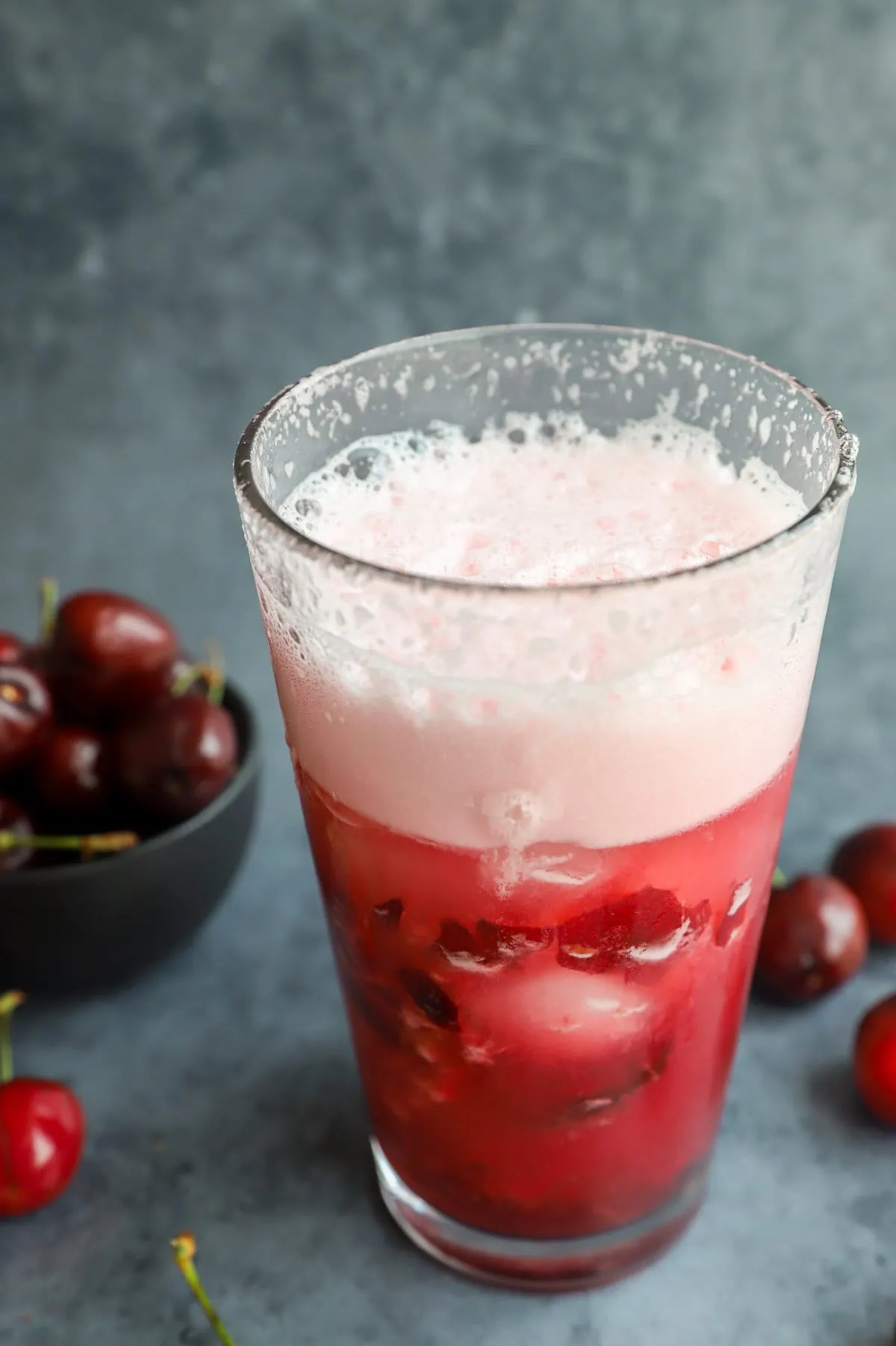 here's how to make a cherry vodka sour
muddle
Place a coupe glass in the freezer.
Add cherries and cherry simple syrup to the bottom of an empty cocktail shaker. Muddle.
shake
Add vodka, lemon juice, cherry simple syrup, and egg white. Dry shake vigorously until a nice froth is achieved.
Add ice and shake again briefly to chill.
strain
Strain into the chilled coupe glass. Garnish with cherries on a toothpick and serve.
tips for success
use fresh lemon juice. Fresh lemon juice is going to give you the best flavor for this cocktail! You can also use store bought lemon juice, but I find that store bought lemon juice tends to be a little ore concentrated, thus more sour.
use a different liquor. You can always use whiskey or bourbon in this cocktail as both are classic sour cocktails. They also both go well with cherries!
egg white is optional. The egg white is optional for this cocktail! I love using it because it gives you the frothy consistency you see here in the photos. However, you can also omit it if you prefer.
More tasty vodka cocktails to sip on: Homemade Vodka Lemonade | Strawberry Mint Vodka Gimlet | Vodka Cherry Limeade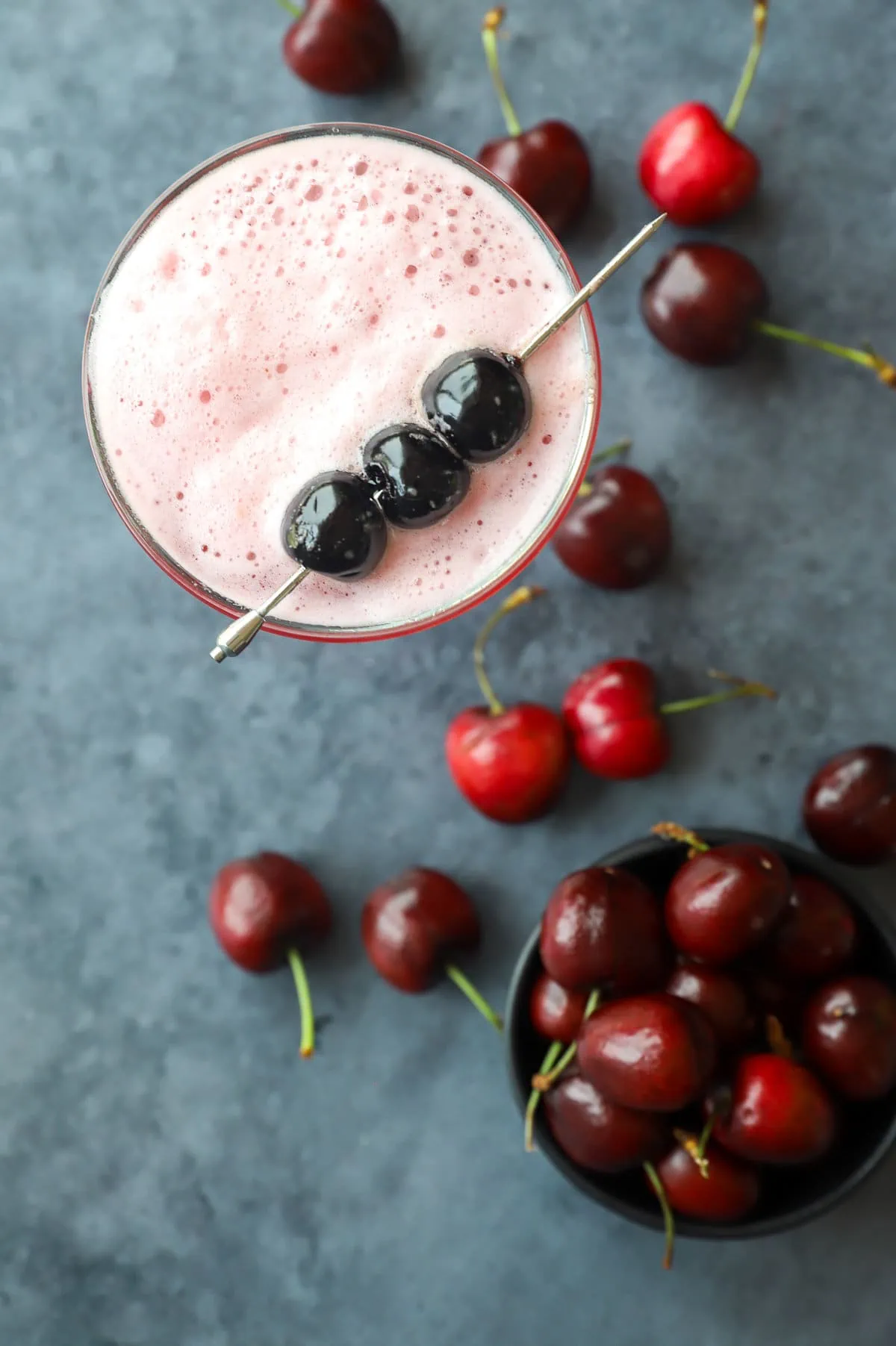 can I use frozen cherries?
You can definitely use frozen cherries for this recipe! Thaw them completely before using them in this recipe. I like to drain them first too, as this will help get any excess water out so you don't dilute the drink.
can I use cherry vodka?
If you like the flavor of cherry vodka, you can totally use that for an extra splash of cherry flavor. Note that it will make the cocktail a bit sweeter, so be sure to taste the mixture after shaking. You may want to add a little extra lemon juice to make it a sour cocktail!
what glass do I use for a cherry vodka sour?
I personally love to use a coupe glass because they are just so darn elegant. This cocktail can easily be served over ice in a double old fashioned glass, but I prefer to chill a coupe glass in the fridge for about 15 minutes to avoid the ice. This makes for a cold cocktail in an elegant glass, without risking it getting watered down by ice.
can I use sour mix?
While many sour cocktails call for a sour mix to be used, I prefer the combination of simple syrup and lemon juice to achieve that flavor. That way you can use fresh juice, but you can also use a flavored simple syrup if you prefer.
can I make this cocktail ahead of time?
Since this cocktail has egg white, I do not recommend making this cocktail ahead of time. It will not keep well with the egg white in it. If you omit the egg white, you can make it ahead of time! Simply shake with ice, strain, and store in a glass that has no ice in it so the cocktail doesn't dilute.
can I use cherry juice instead of cherry simple syrup?
If you don't have cherry simple syrup on hand or don't have time to make it, you can definitely use cherry juice! I recommend using 1/2 oz tart cherry juice and 1/2 oz simple syrup in lieu of the cherry simple syrup in the recipe.
Need more inspiration for cocktail hour? Check out my cocktail recipes page!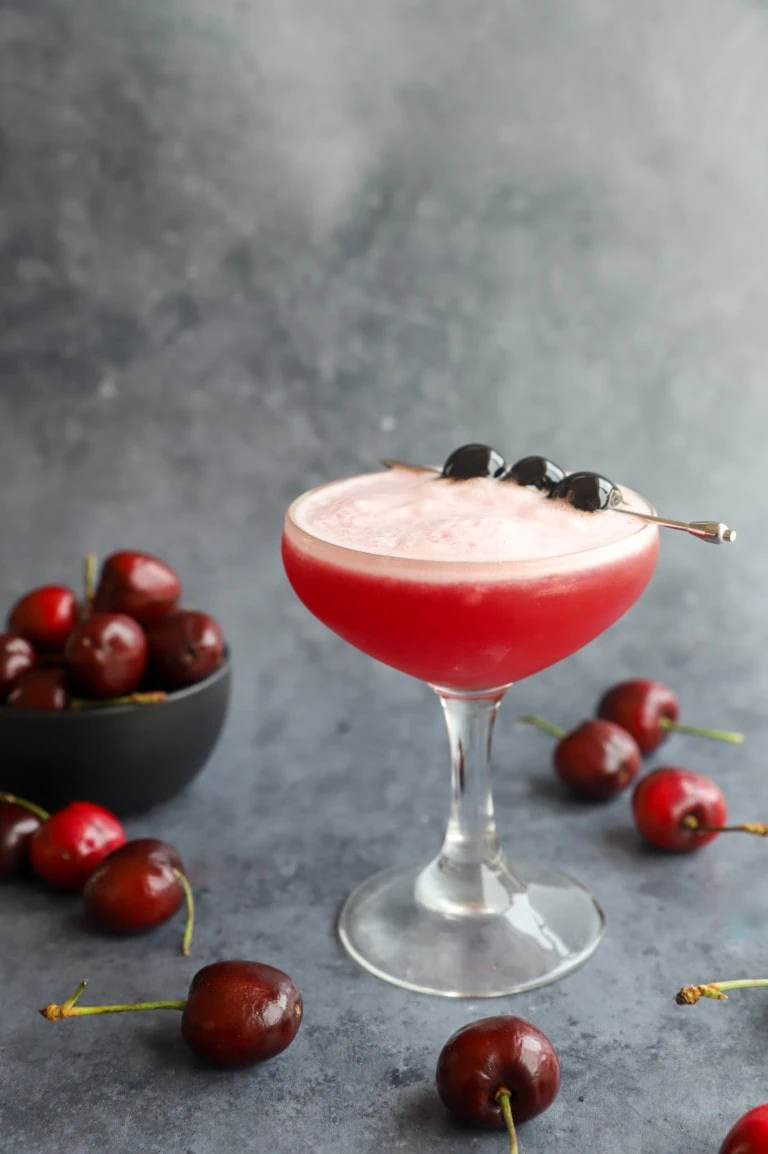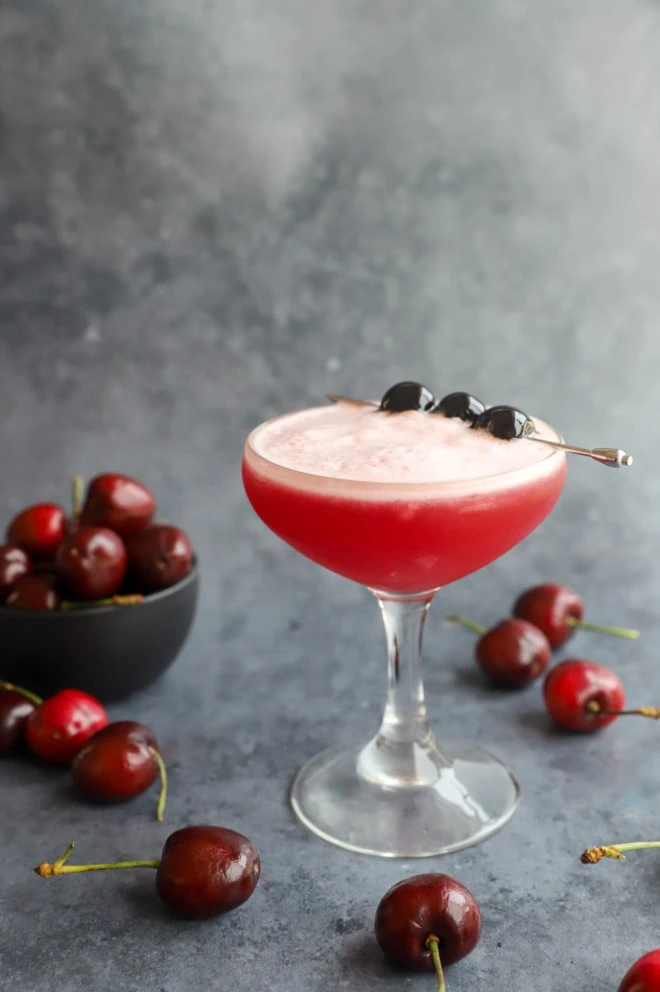 what to serve with a cherry vodka sour
This cocktail is perfect for so many different occasions like:
Valentine's Day
Bridal Showers
Weddings
Bachelorette Parties
Mother's Day Drinks
Summer BBQs
Happy Hour
Dinner Parties
If you are hoping to serve this cocktail for a party, I recommend serving it alongside these festive bites:
For a dinner party, this cocktail is delicious with so many different meals. I personally love to serve it alongside a hearty meal that's fresh off the grill:
Don't forget dessert! Here's some cherry recipes to satisfy your sweet tooth too: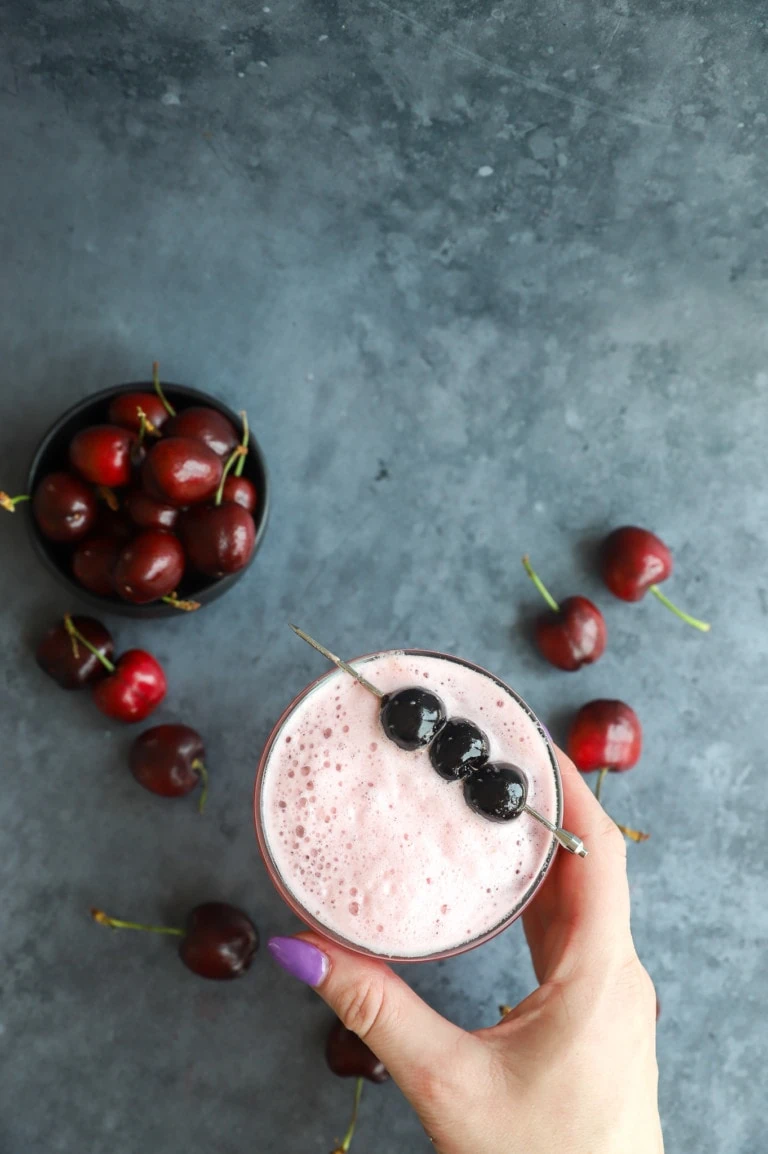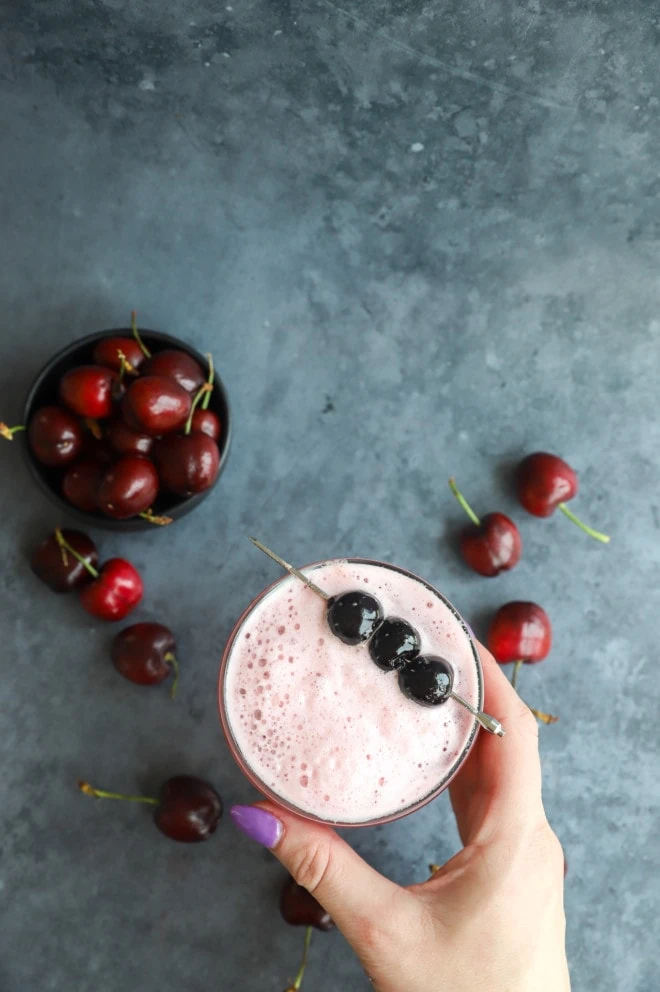 more cherry cocktails
A very cherry amaretto sour is a tart take on the classic cocktail.
Fresh and fruity, this cherry whiskey smash is easy to make and ideal for summer!
If you love bourbon, you have to try this cherry bourbon sour cocktail.
seasonal tip
Select the ripest cherries! The cherries should be a deep, rich color. Depending on the variety this could be a bright red to a darker burgundy or even yellow. Avoid any with greenish tones or that look pale in color. Ripe cherries should feel plump and firm, with green stems that are not dry or shriveled. If in doubt, simply taste one before buying them!
Finally, if you make this cherry vodka sour cocktail recipe, please be sure to give this recipe a rating or leave a comment! I love to hear when you all make recipes, and I do take the time to respond to every single comment. Feel free to drop questions below too, if you have them!
Oh and be sure to tag me on Instagram if you make the recipe! I love being able to see these recipes come to life in your homes – it's my favorite thing to look through those photos. It really means the world to me!
everyday seasonal cookbook
With seasonal produce guides, recipes, and more, this cookbook is filled with seasonal food for every occasion.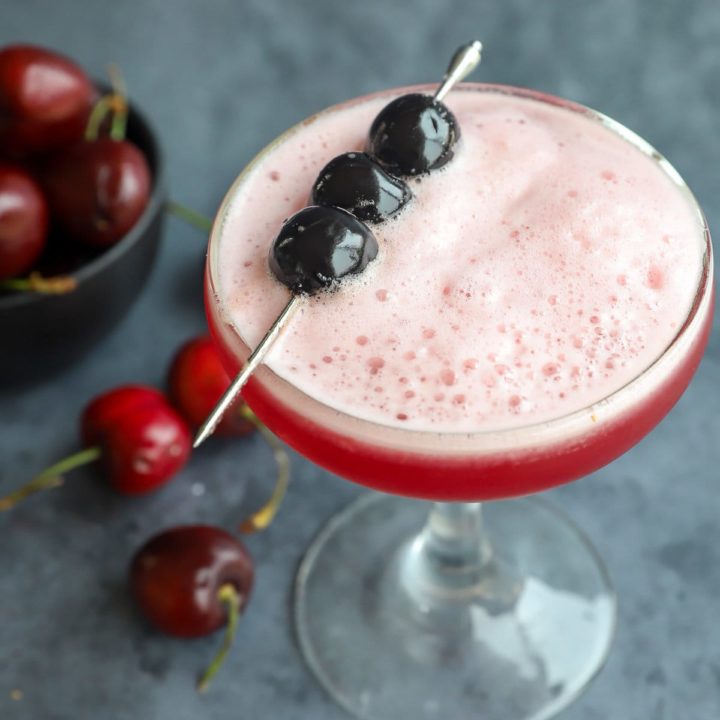 Cherry Vodka Sour
A refreshing tart and sweet cocktail made with fresh cherries!
Ingredients
6 cherries, pitted and stemmed
2 ounces vodka
1 ounces lemon juice
1 egg white (optional)
For garnish: luxardo cherries
Instructions
Add cherries and simple syrup to an empty cocktail shaker. Muddle together until cherries are smashed.
Add vodka, lemon juice, cherry simple syrup, and egg white. Close the shaker and shake vigorously, until a nice foam is achieved. This is also known as a dry shake.
Add ice and shake briefly, until chilled.
Strain into a chilled coupe glass or a cocktail glass filled with ice.
Garnish with cherries and serve.
Recommended Products
As an Amazon Associate and member of other affiliate programs, I earn from qualifying purchases.