Please note this post contains affiliate links.
Grilled Beer Marinated Chicken Wings are juicy and flavorful, making them the only way you'll want to cook wings from now until forever. The simple beer marinade is easy-to-make and pairs with almost any BBQ sauce you can think of! You'll find that beer is the key to all the happiness (as if you already didn't know that) when grilling 😉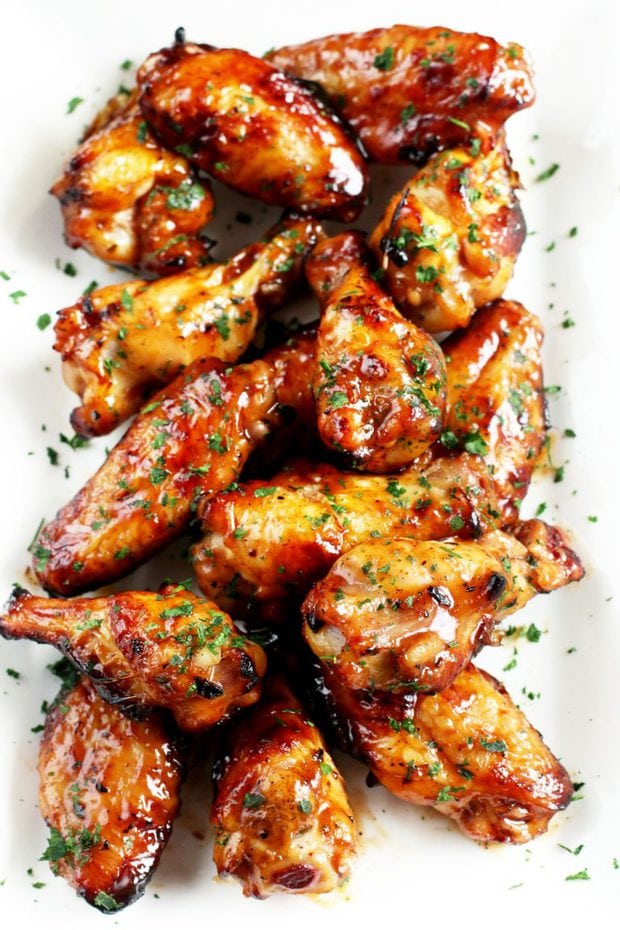 Disclosure: This post has been sponsored by Traeger. As always, all opinions expressed are my own. Thank you for supporting the brands that support Cake 'n Knife!
Wings are on of the things that I LOVE to cook throughout the year, particularly on the grill. I have a handful of recipes (such as the recipes I'll add above the recipe card for your wing exploration) that I adore. However all of those are really specific in flavor with homemade sauces and spice mixtures.
Of course, there are times when I just want to be a little lazier. So I will use spice rubs that are already made!
Not to mention flavorful BBQ sauces that I can simply toss the wings in.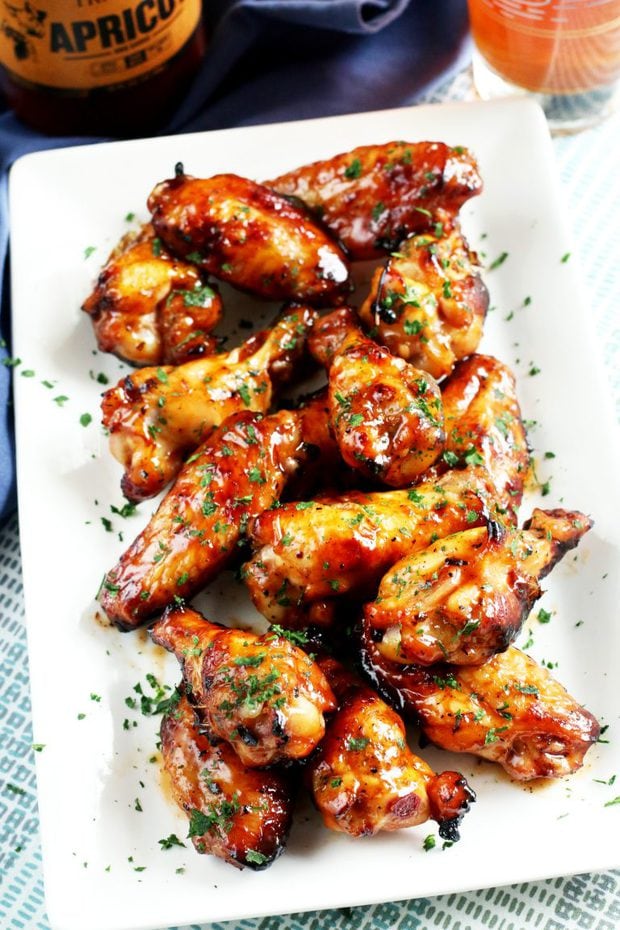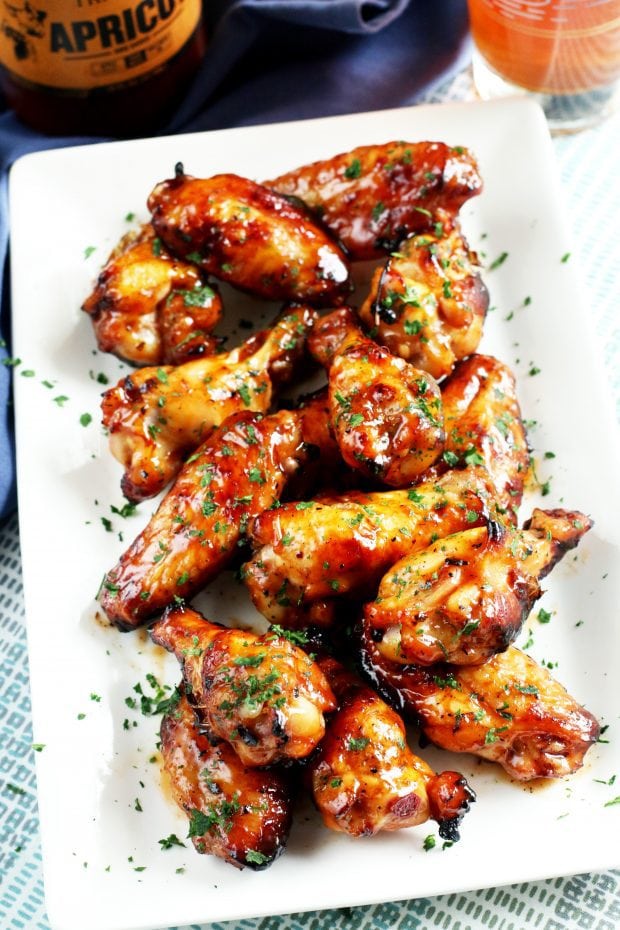 That is exactly the magic of this grilled beer marinated chicken wings recipe.
The marinade is very adaptable and light, making it easy to use a variety of beers for it. Also it can pair with so many different sauces depending on the mood that you are in.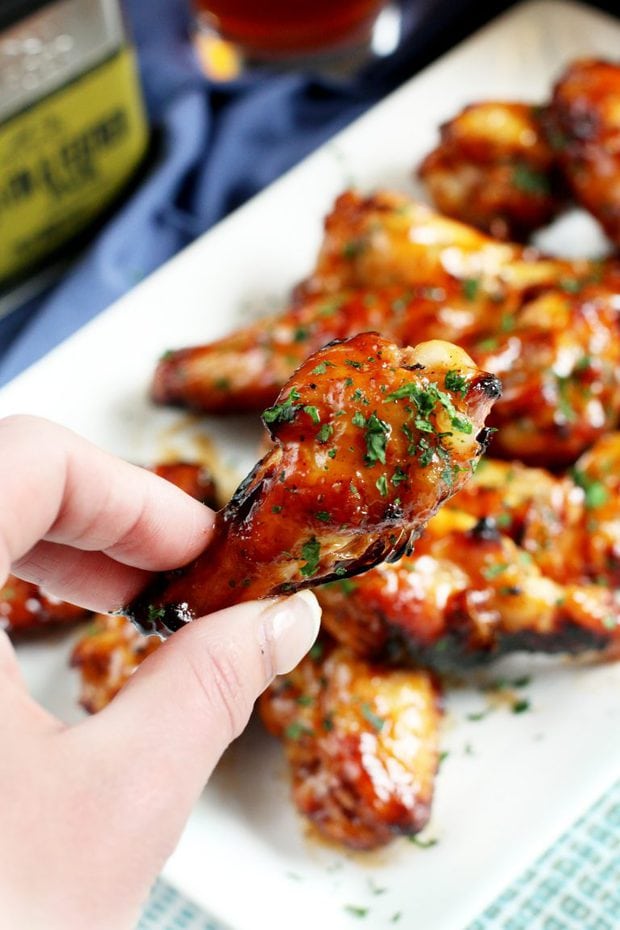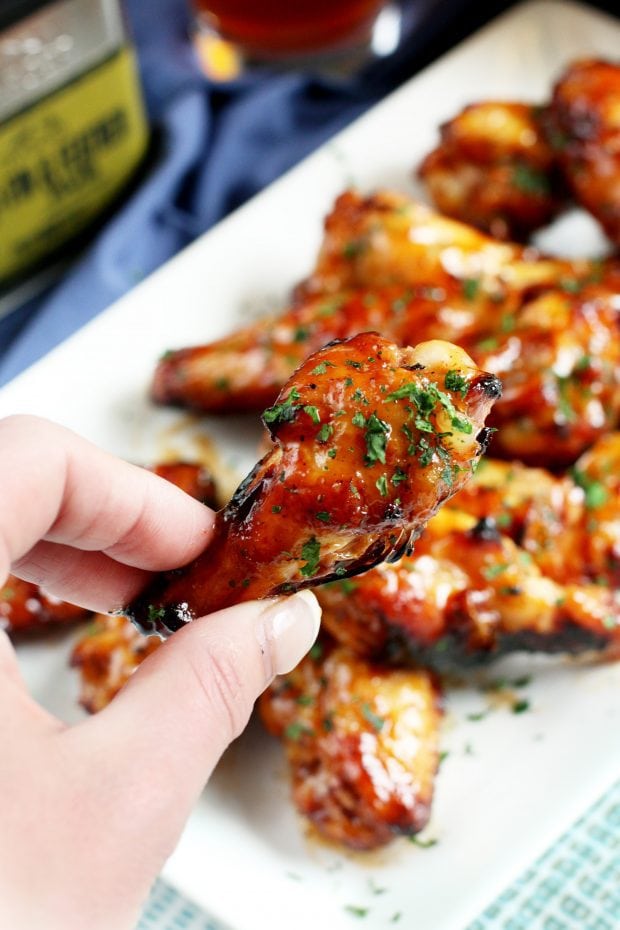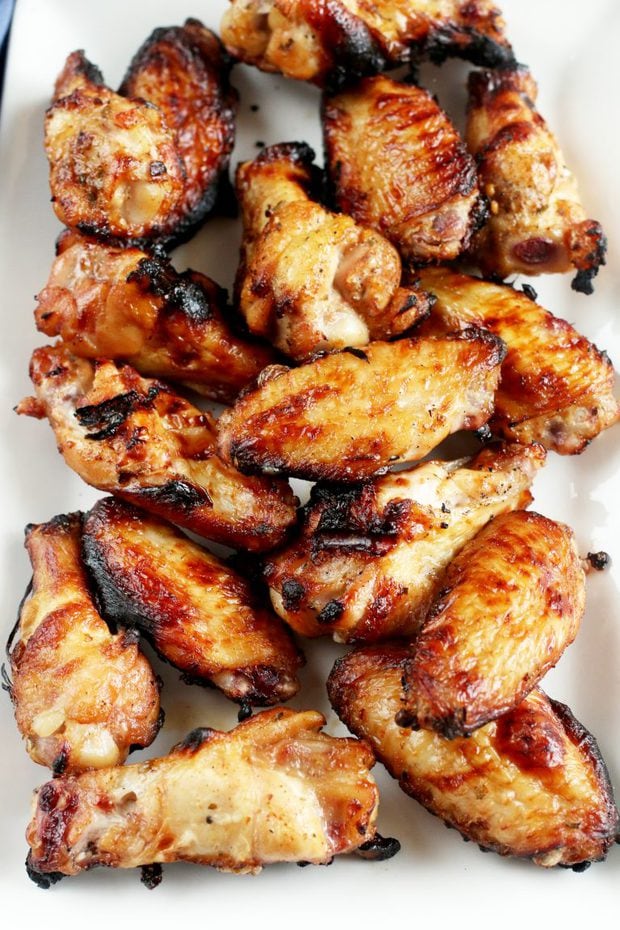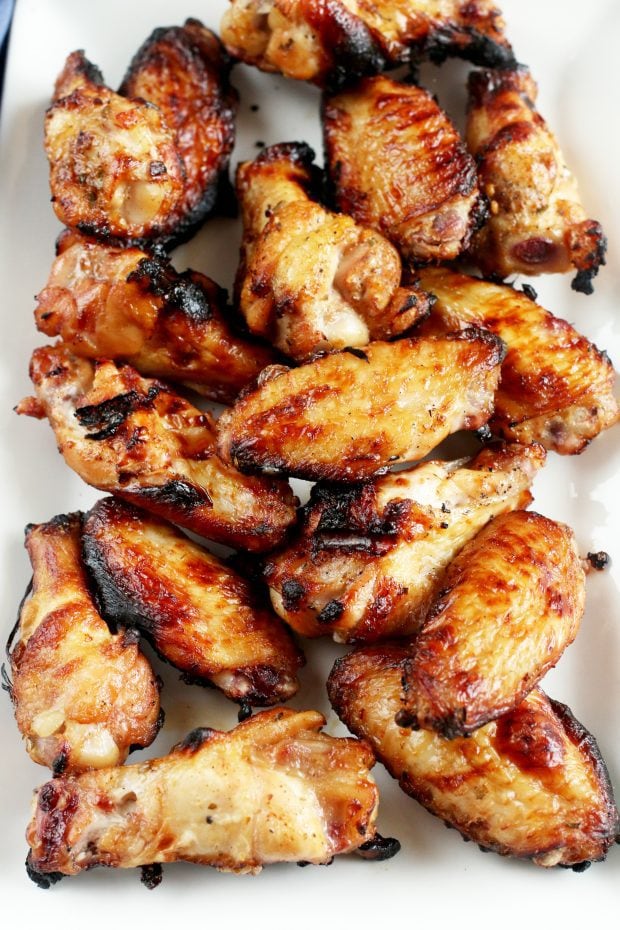 Not only is the marinade easy, actually grilling the wings is unbelievably easy and that's because of one thing… That thing is Traeger grills.
I have been obsessed with Traeger for such a long time. I remember when my mom first got her Traeger grill, and all of a sudden I was showing up to grill and smoke all the things I could possibly get my hands on every single week.
So when Traeger offered to have me try out their Traeger Pro Series 34 Pellet Grill, I jumped up and down like a little girl, running around the house screaming "I AM GOING TO GRILL AND SMOKE AND ROAST AND BAKE ALL. THE. THINGS!!!!"
Why are you so excited about a grill tho?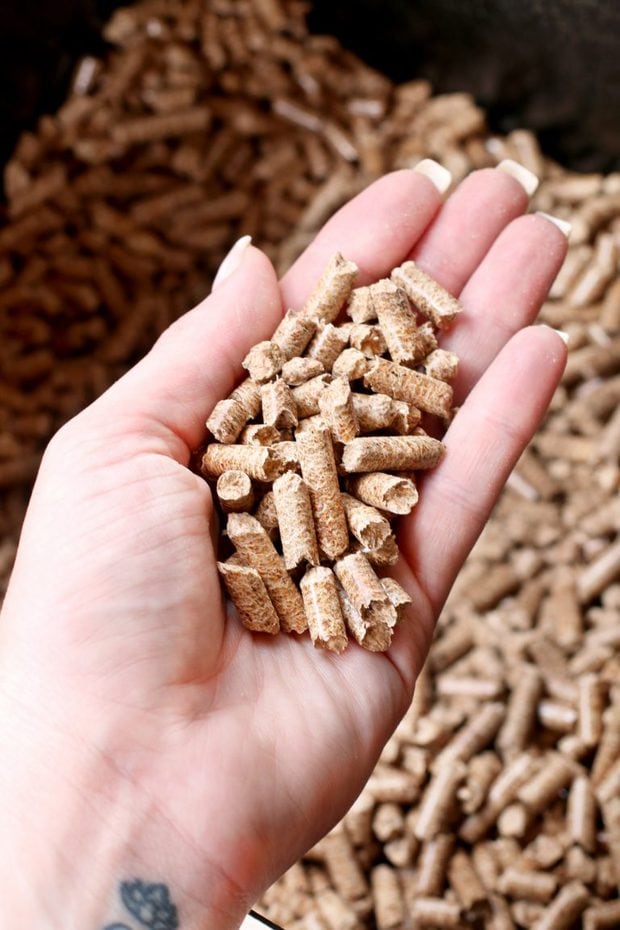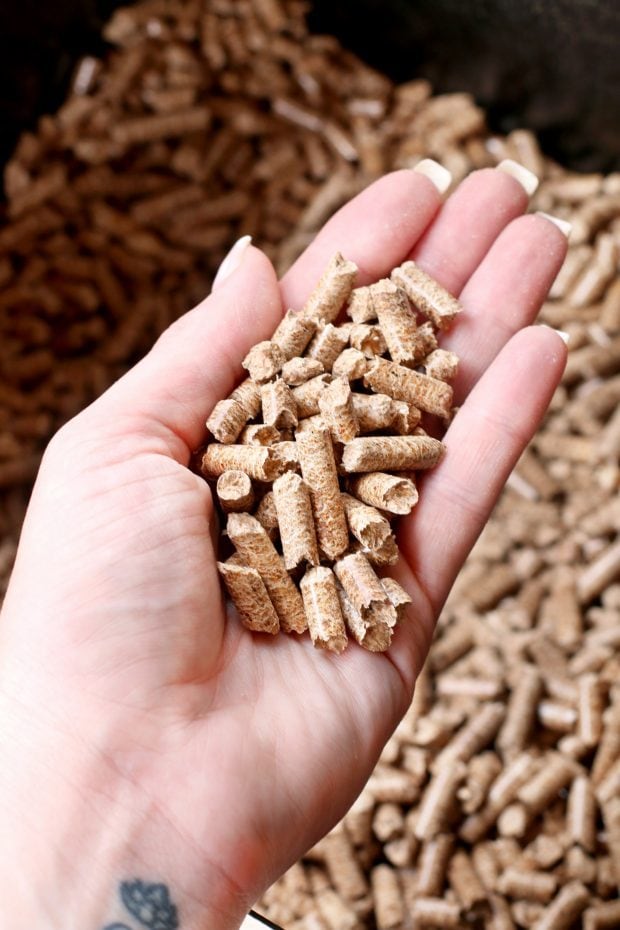 I am so glad you want to know. Traeger grills are not simple ordinary grills. It isn't charcoal and it isn't propane – isn't it's a wood fired grill that doesn't simply grill.
You get the ease of use of a gas grill, with incredible flavor from the wood pellets it uses. Even if you aren't smoking a dish in the grill, you still get just the right amount of smoke flavor in each bite.
The flavor of those pellets (of which Traeger has so many incredible flavors – two of my favorites in particular are Cherry and Hickory) really enhances the flavor of the food that you cook with this incredible machine.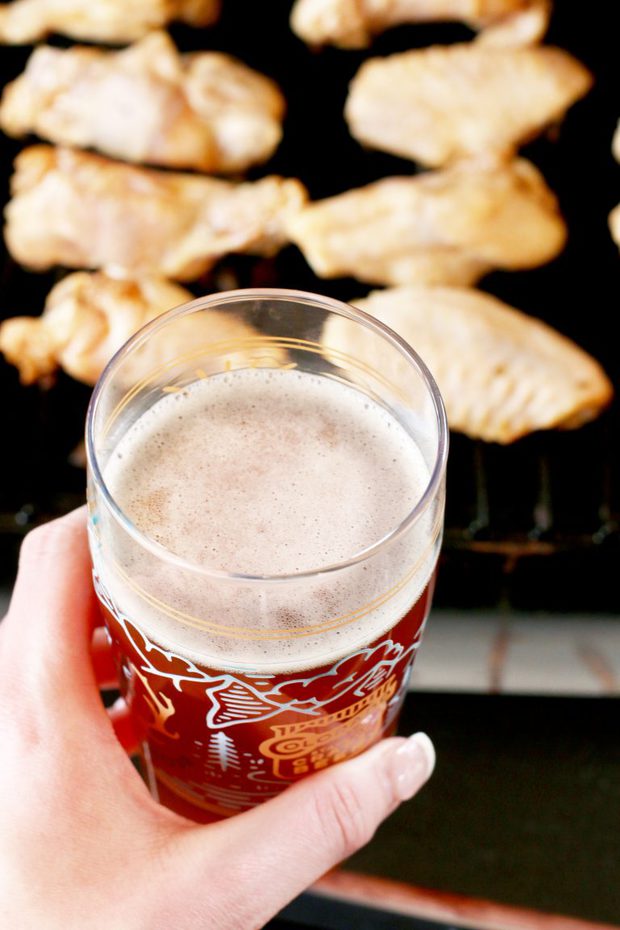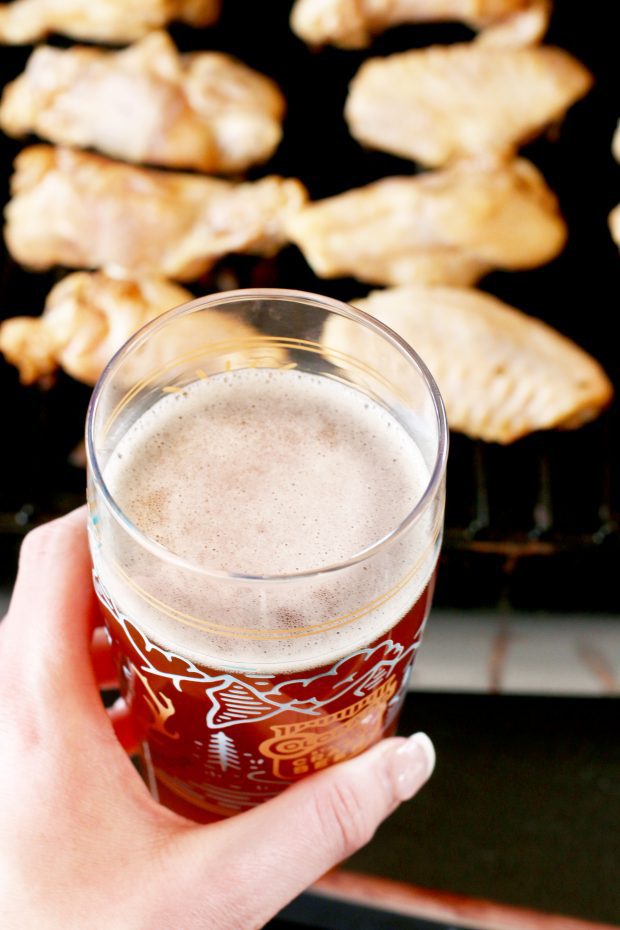 It grills, it smokes, it roasts, it bakes, and it does so much more. The dang grill does everything that I need it to and it completely rocks my world.
For this particular recipe, I cooked the wings on High and they cooked in a flash with a ton of flavor.
Then I toss the wings in Traeger's Sweet and Tangy Apricot BBQ Sauce. The flavor is incredibly powerful. You will not be able to resist getting sticky and messy with every single bite you take of this incredible grilled beer marinated chicken wings recipe.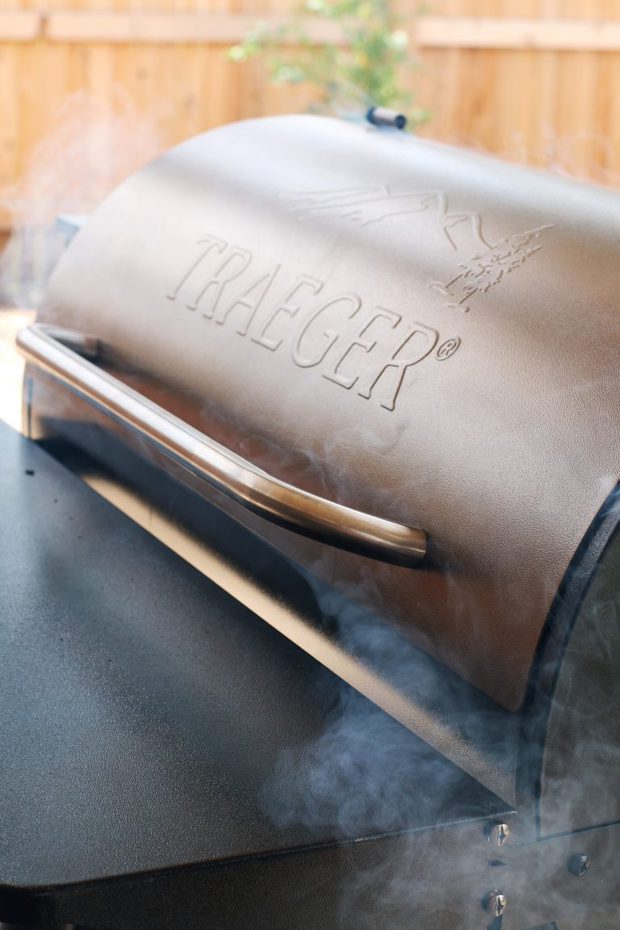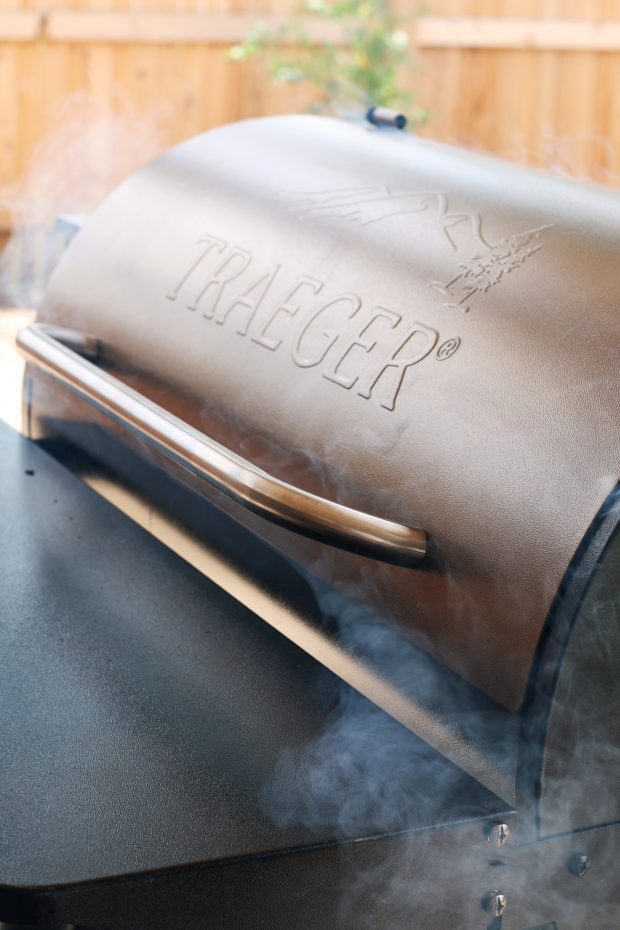 I'm going to be sharing a couple more recipes featuring this grill! That's because I can't fit ALL of my thoughts on the grill into one post. So, GET EXCITED.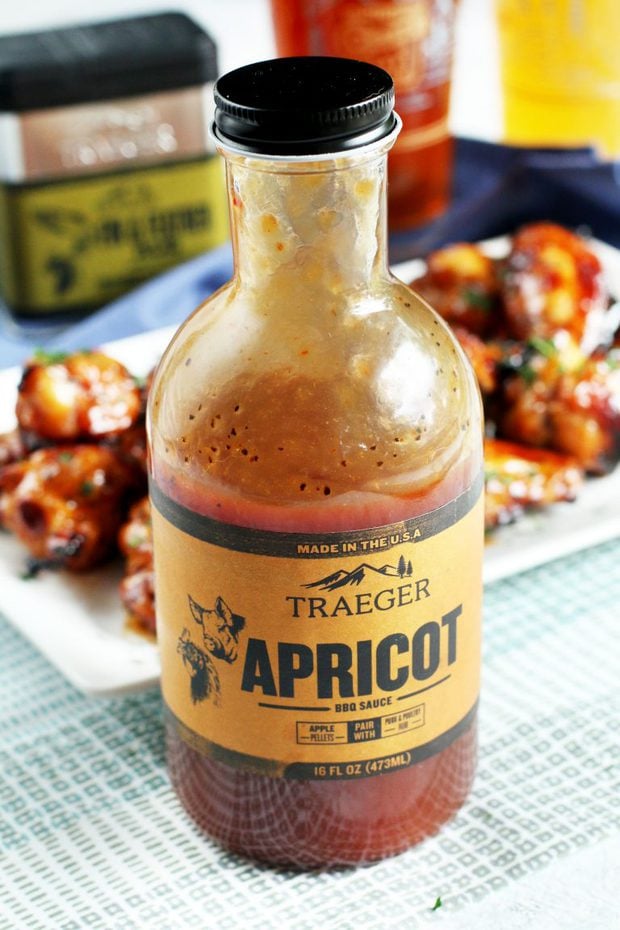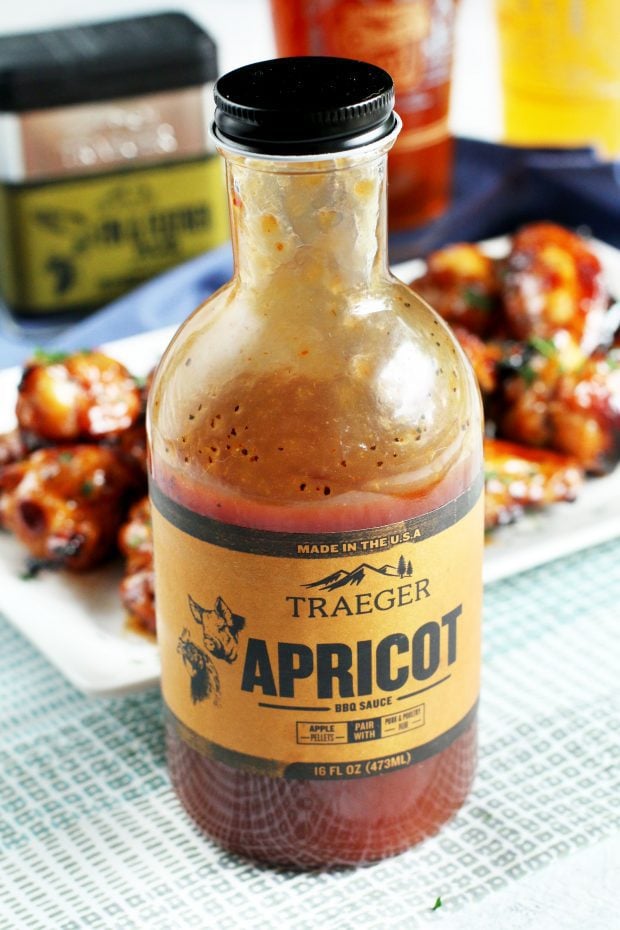 This Recipe's Must Haves
I am going to load you up with all of the things that you need to make this KILLER recipe below. If you don't happen to have a Traeger grill, be sure to check out their Traeger Pro Series 34 Pellet Grill because it is AMAZING. For all the other juicy items AND ingredients you need, check out the list below!
My favorite pellets to use for this recipe are these Traeger Grills Hickory 100% All-Natural Hardwood Pellets
.
Traeger Signature Spices Fin & Feather Rub
is the rub that I used for the wings, and the Traeger Grills Sweet & Tangy Apricot BBQ Sauce
is the ideal fruity, tangy pairing!
Be sure to grab a pair of heavy-duty Traeger BBQ Tongs
to make flipping the wings on the grill that much easier.
A Traeger Silicone Basting Brush
is a must for getting that juicy sauce all up in those wings.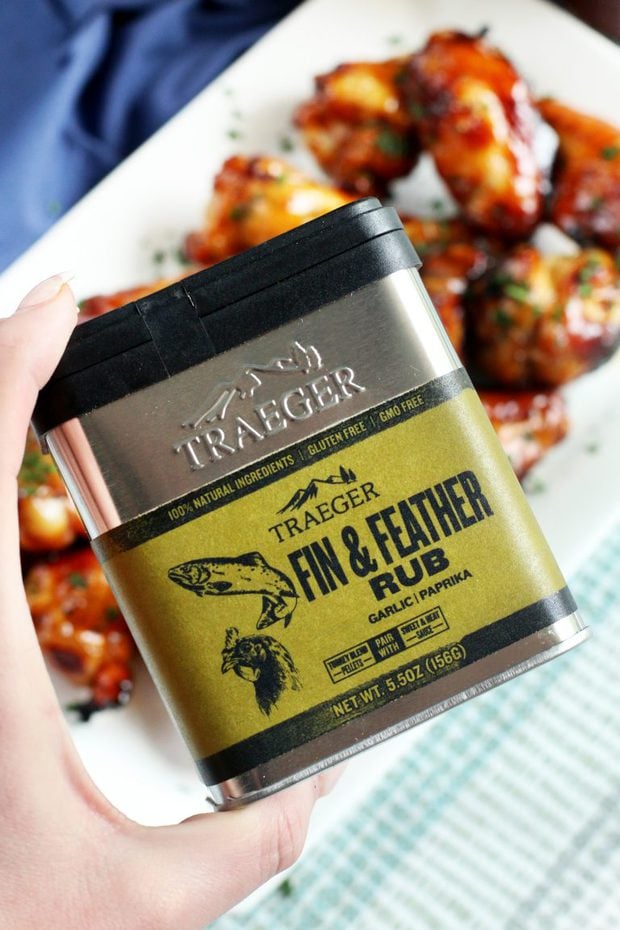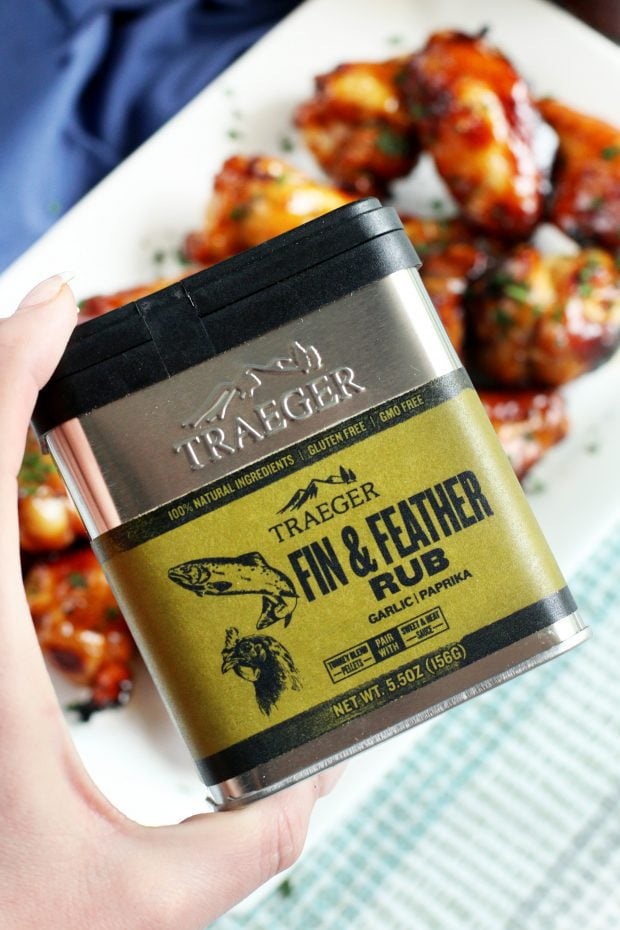 Can I marinade these wings for longer than 30 minutes?
Yes you can! If you want, you can marinade these wings for up to 8 hours. That makes them ideal for making ahead of your upcoming party!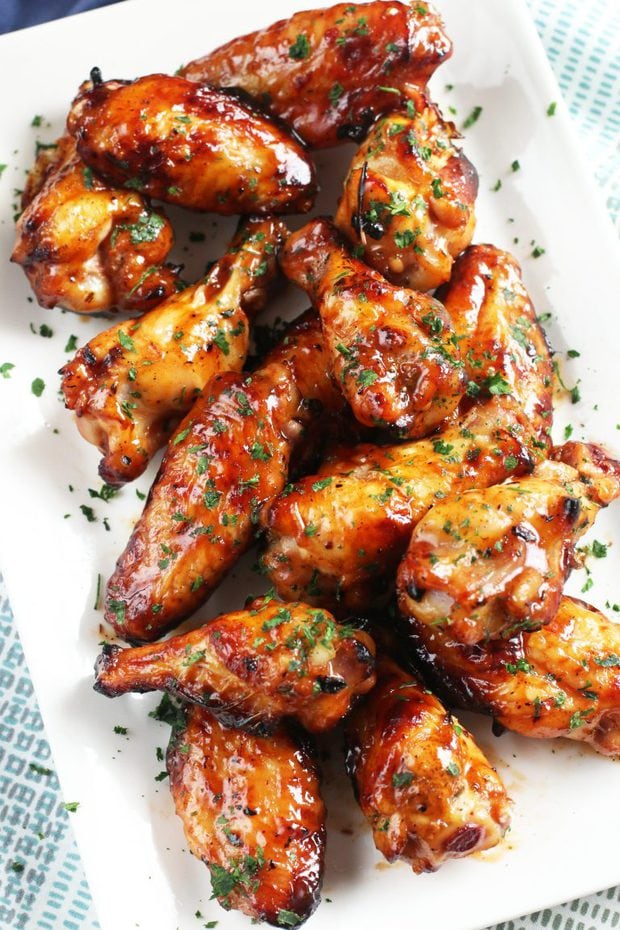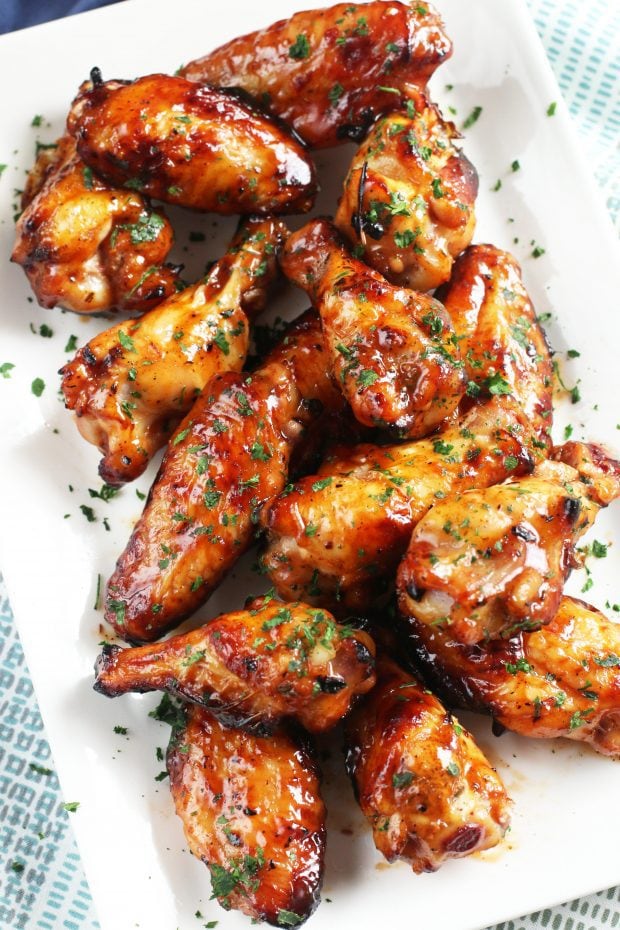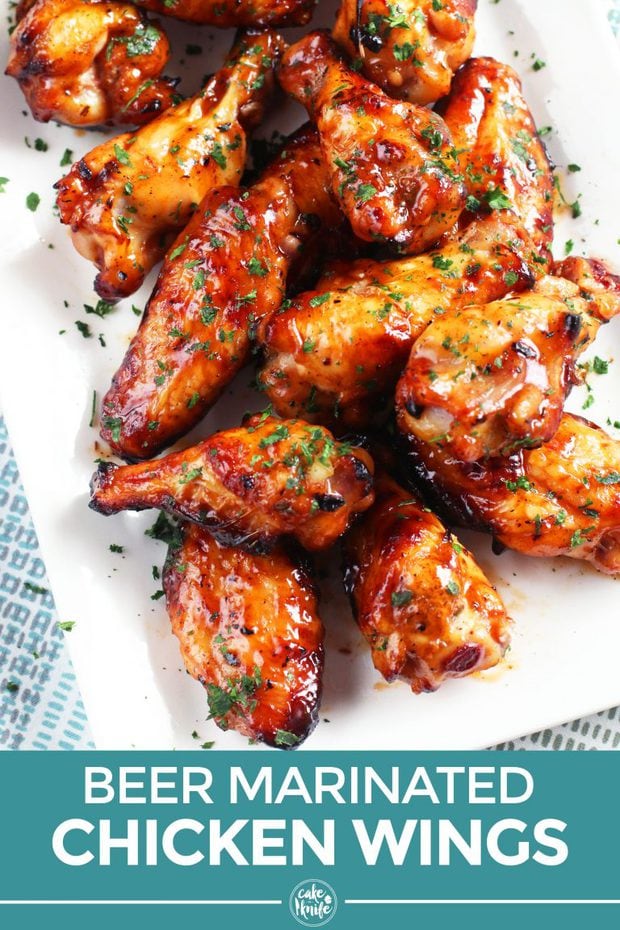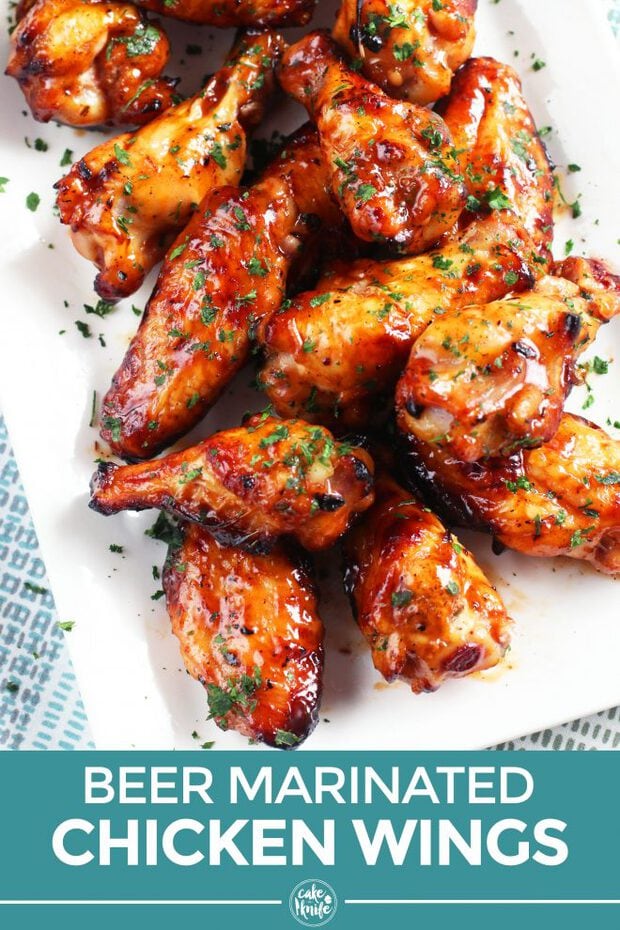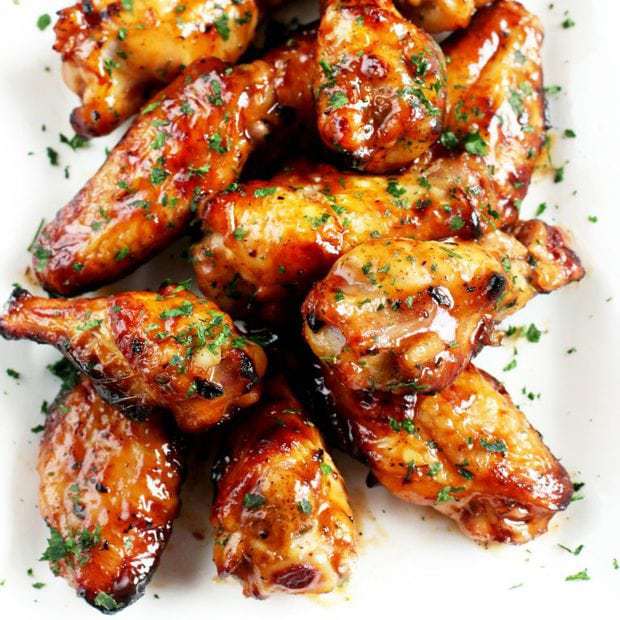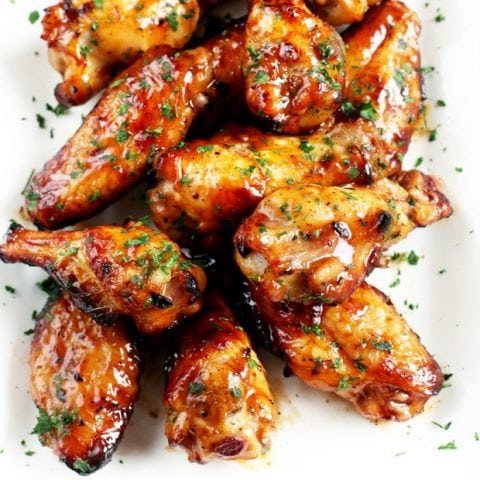 Grilled Beer Marinated Chicken Wings
Total Time:
1 hour
10 minutes
The simple beer marinade for these wings is easy-to-make and pairs with almost any BBQ sauce you can think of!
Ingredients
2 1/2 lbs chicken wings and drumsticks
1/3 cup cornstarch
1 Tbsp Traeger Fin and Feather Rub
2/3 cup beer (I used a ginger golden ale but you can use a pale ale, lager, or light IPA)
1/4 cup soy sauce
2 Tbsp honey
1/4 tsp onion powder
1/2 tsp smoked paprika
1/2 tsp chili powder
2 tsp Frank's Red Hot Sauce
1/2 tsp salt
2 tsp rice wine vinegar
Traeger Wood Pellets (I prefer Cherry for this particular recipe, but any will work!)
2 cups BBQ sauce (I used Traeger's Sweet & Tangy Apricot Sauce)
Garnish: freshly chopped parsley
Instructions
Rinse chicken wings in cold water and dry well with paper towels.
In a medium bowl, stir together cornstarch and Traeger Fin and Feather Rub. Add wings to the bowl and toss to coat.
In a separate bowl, stir together beer, soy sauce, honey, onion powder, smoked paprika, chili powder, Frank's Red Hot Sauce, salt and rice wine vinegar. Add cornstarch herb coated wings to the marinade.
Marinate for at least 30 minutes in the refrigerator.
Heat up grill.
Grill wings skin side up for 20 minutes, covered and over indirect heat.
Brush wings with BBQ sauce (I used Traeger's Sweet & Tangy Apricot Sauce). Grill for an additional 5 minutes, or until the wings are cooked through and reach an internal temperature of 165 degrees F.
Add the remaining BBQ sauce to a large bowl and toss the wings in the sauce.
Add wings to a serving bowl or platter and sprinkle with parsley before serving.