Spicy-Sweet Roasted Broccolini is a delightful blend of sweet, spicy, and fresh that goes with pretty much any entree you can think of. The spicy sweet sauce is full of flavor and really complements the crisp tender roasted broccolini. Plus, it's so easy to throw together, you don't have to worry about your side dish taking away your full attention as you cook.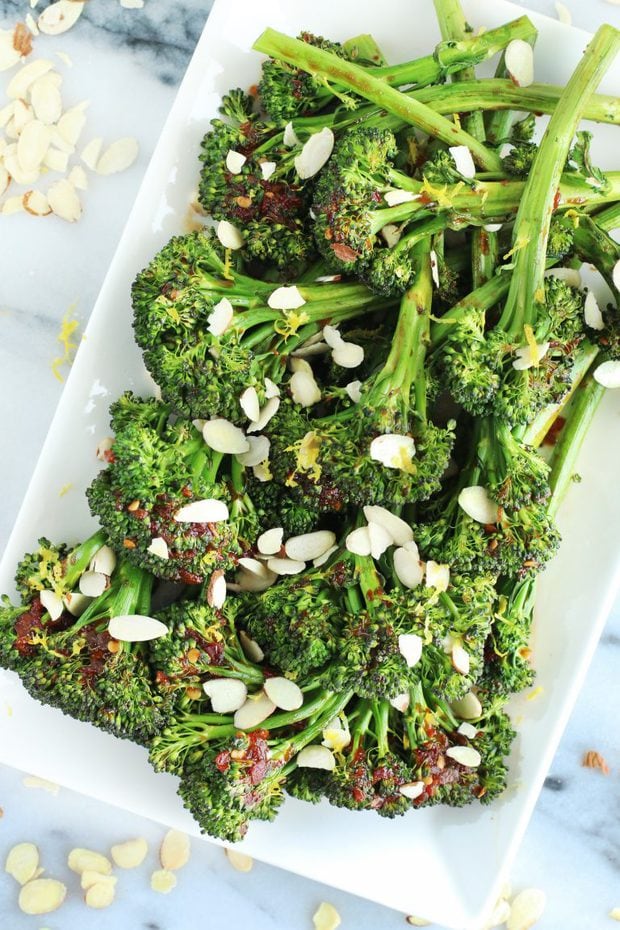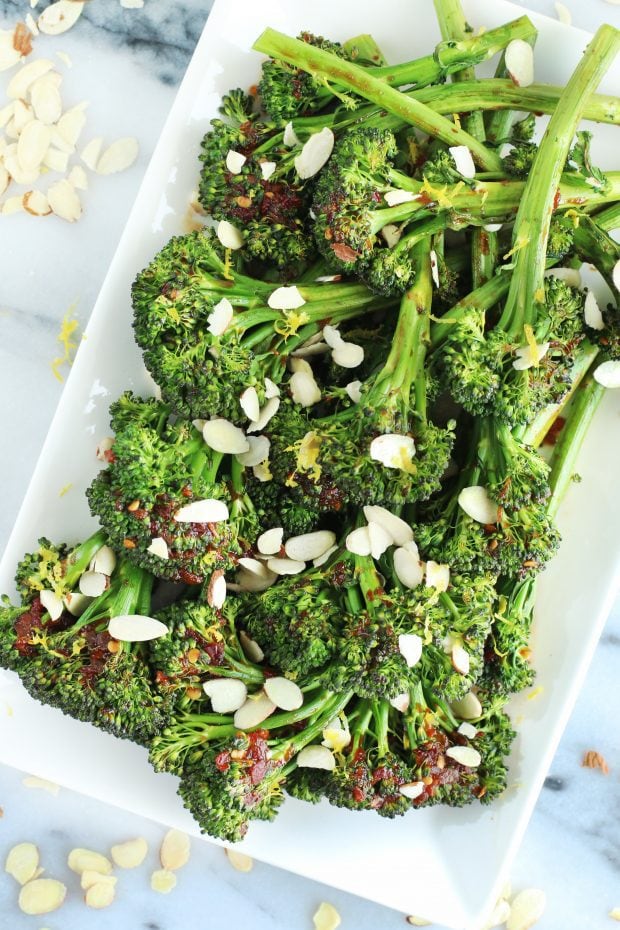 Please note that some of the links below are affiliate links. If you make a purchase through one of these links, I will receive a small commission.
Spring has sprung, and even if the weather here is being bipolar with snow/rain/sun on repeat, I am diving face first into all the fresh spring vegetables!
Broccolini is one of my favorite vegetables to roast during the spring.
I love how green it stays, even when you roast it, unlike broccoli that tends to brown too quickly in the oven.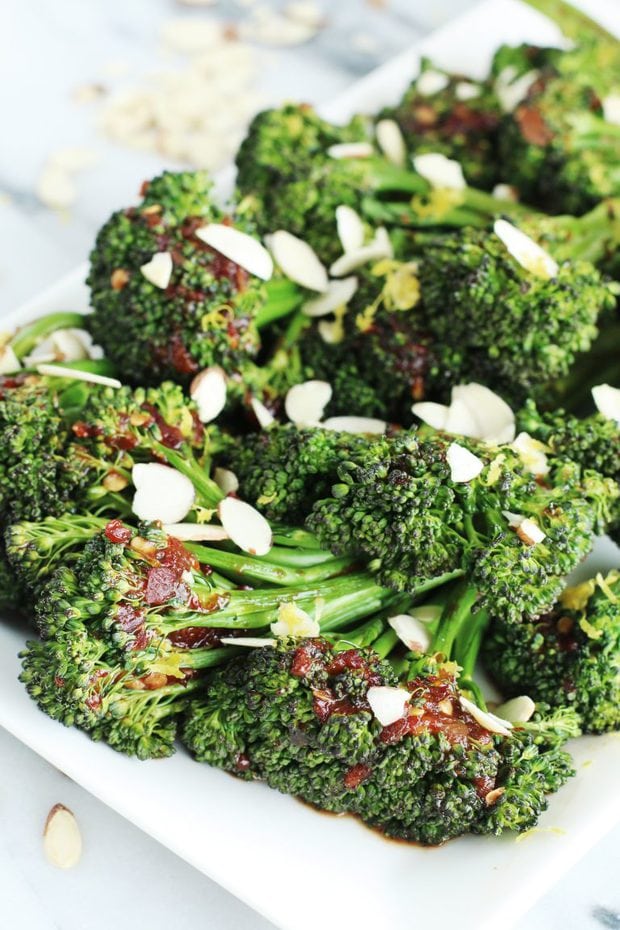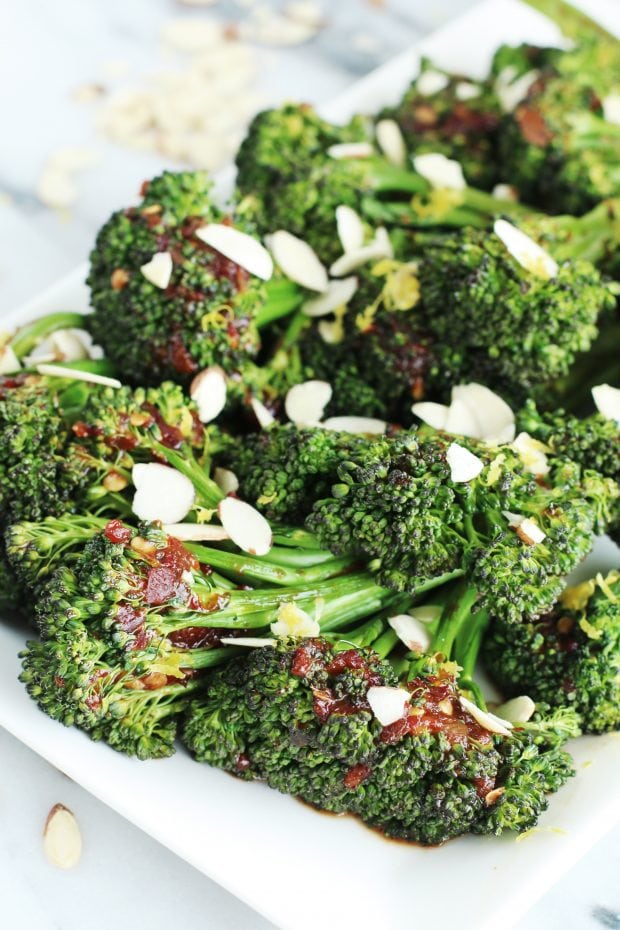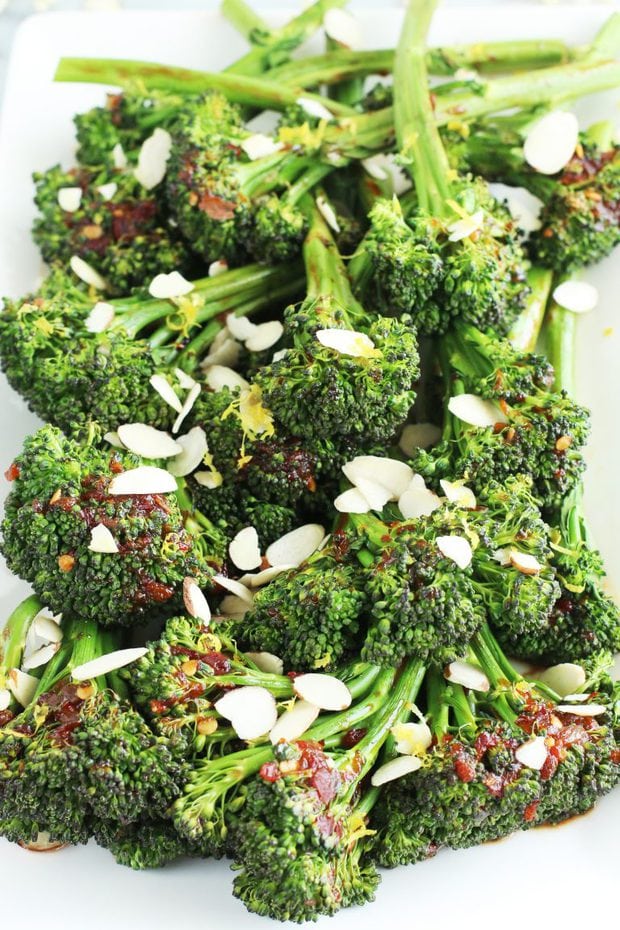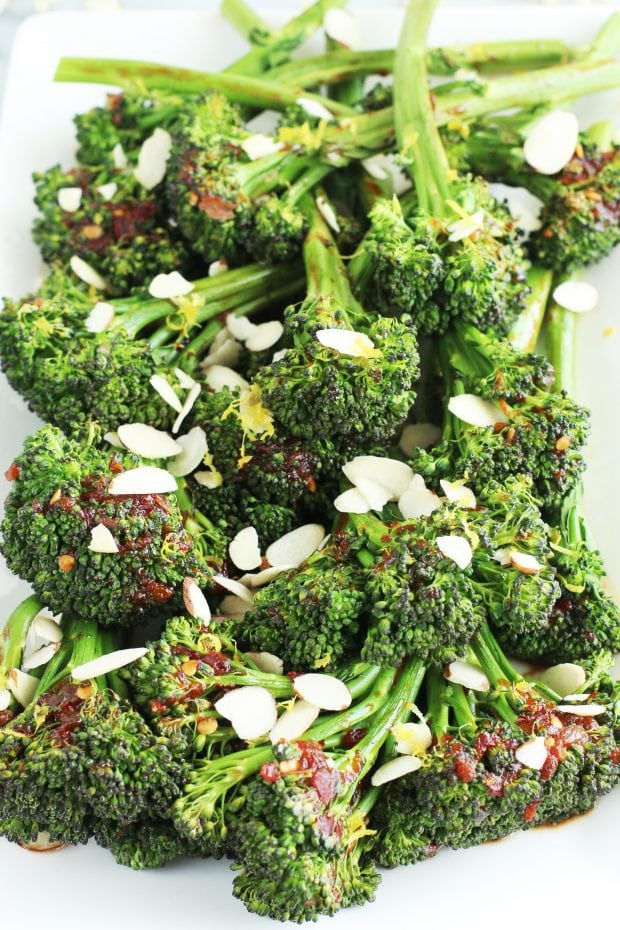 Plus the crisp tender crunch and fresh flavor are just a burst of change from all those heavy winter seasonal vegetables you've been eating for months.
Now as much as I can sing an ode to broccolini, it's the spicy sweet glaze on this broccolini that really puts it over the top as an amazing side dish.
The glaze is a little sweet, a little spicy and perfectly balanced to bring out the incredible flavor of the broccolini.
Once you taste this side dish, you are doing to want to take a bath in the glaze.
Want to pair this broccolini with a stellar main dish? Check out my easy peasy baked lemon garlic salmon!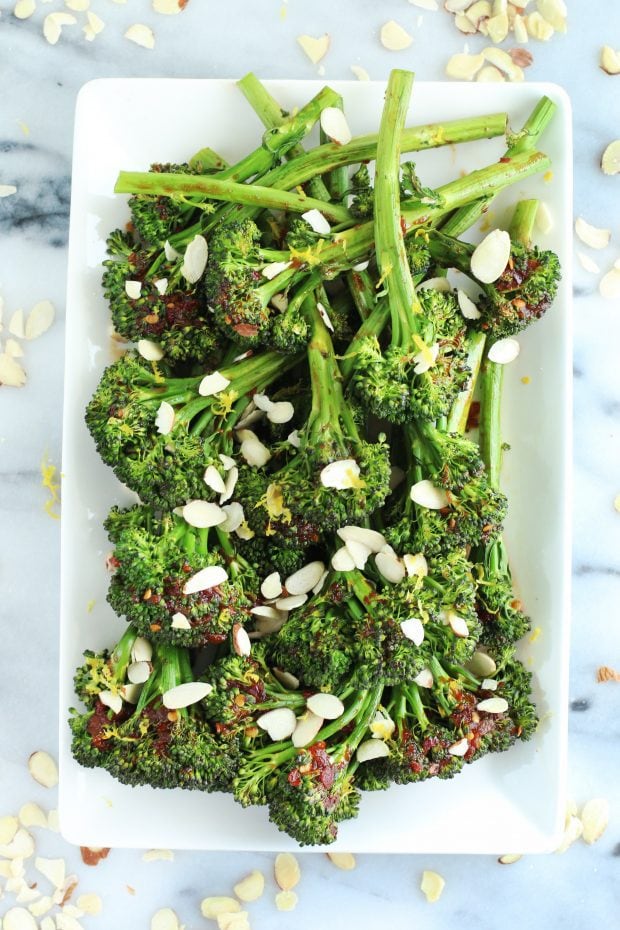 Seriously, it's just the right amount of sweet and spicy that is so often so hard to achieve!
No matter what you are serving up for your entree, I can assure you that this side dish will go absolutely wonderfully with it.
I personally love pairing it with chicken or fish, but steak or any vegan entree are great options as well!
Love roasted vegetables? Check out some of my favorite recipes below!
Greek Stuffed Roasted Sweet Peppers
Roasted Curry Potatoes with Greek Yogurt Sauce
Crispy Roasted Broccoli with Roasted Garlic Aioli
Smashed Potatoes with Fresh Herbs and Blue Cheese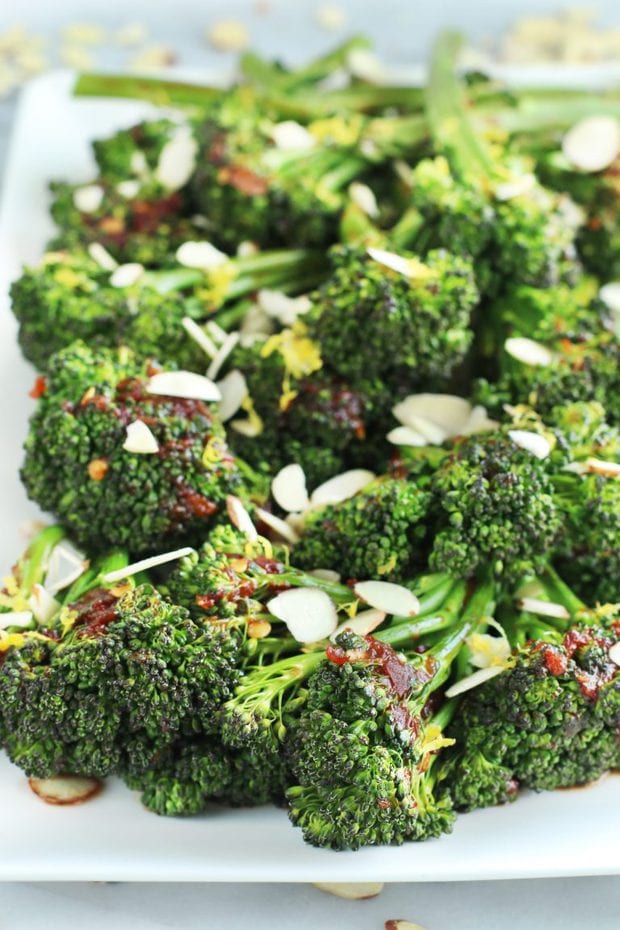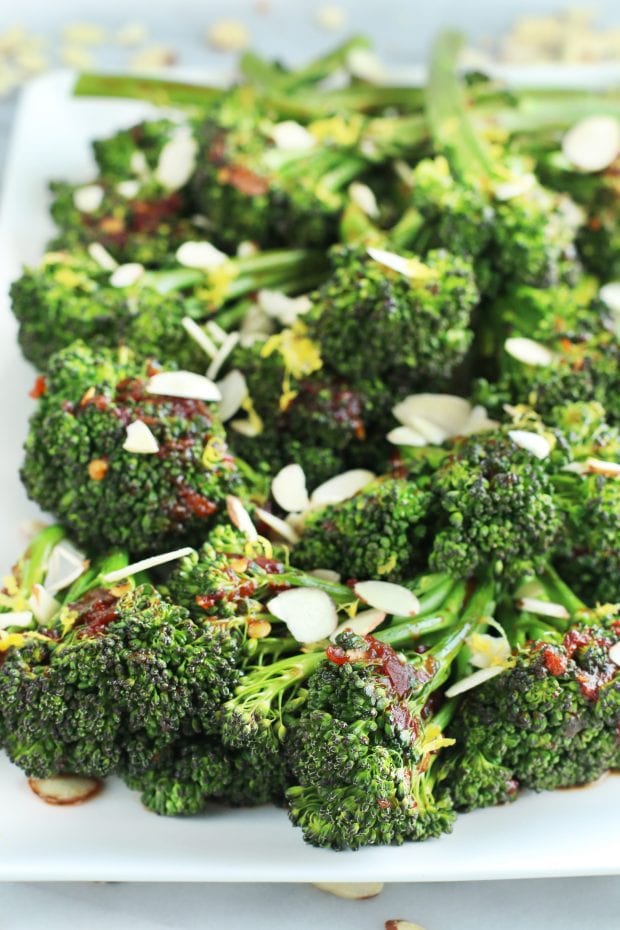 If you need some spring inspiration for dessert, be sure to check out my Lemon Rosemary Meringue Tart!
This Recipe's Must Haves
Calphalon Nonstick Bakeware Baking Sheet
Shun Classic 8-Inch Chef's Knife
Premium Organic Bamboo Extra Large Cutting Board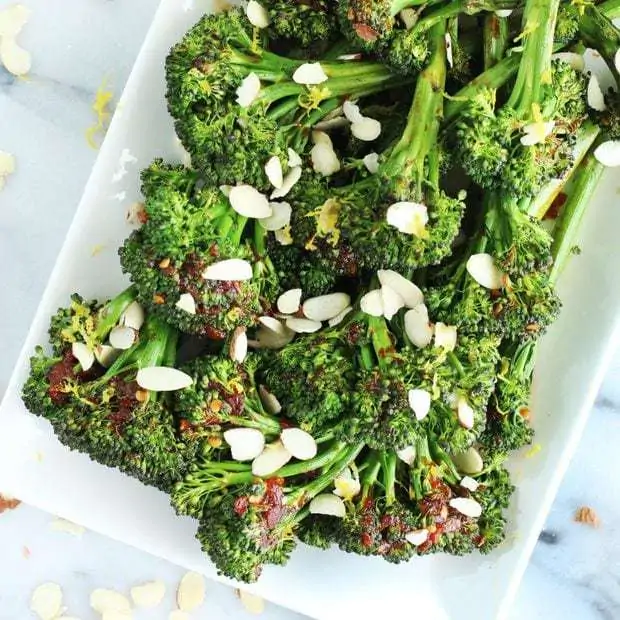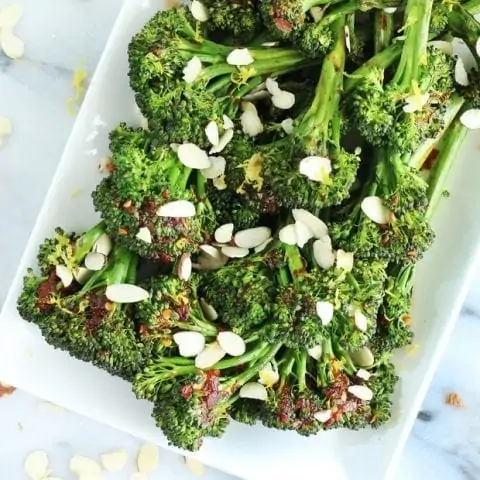 Spicy-Sweet Roasted Broccolini
The spicy sweet glaze on this crisp tender broccolini makes it an ideal side for steak, chicken, fish and so much more!
Ingredients
1 lb broccolini
1 tsp olive oil
Salt & pepper
2 Tbsp Hoisin sauce
1 1/2 Tbsp chili garlic sauce
1/2 tsp honey
1/2 tsp lemon juice
3 Tbsp vegetable stock
Sliced almonds
Instructions
Preheat oven to 425 degrees F.
Place broccolini stems on a large rimmed baking sheet lined with parchment paper and silicone mat. Season well with salt and pepper.
Roast broccolini in the oven for 10-15 minutes.
While the broccolini is cooking, combine hoisin sauce, chili garlic sauce, honey, lemon juice and vegetable stock in a small bowl. Stir until well combined.
Remove broccolini from oven. Pour the glaze over the broccolini.
Bake for an additional 5 minutes.
Place on serving plate and sprinkle with sliced almond.