Please note this post contains affiliate links.
Masala Corn Salad is an easy, quick, and flavorful recipe that is a fantastic side dish to pair with your lunch or dinner. Cooked corn kernels are stirred up with butter, chaat masala, cilantro, lemon juice, vegetables and more for a vibrant salad that pairs with chicken, steak, pork, tofu and seafood.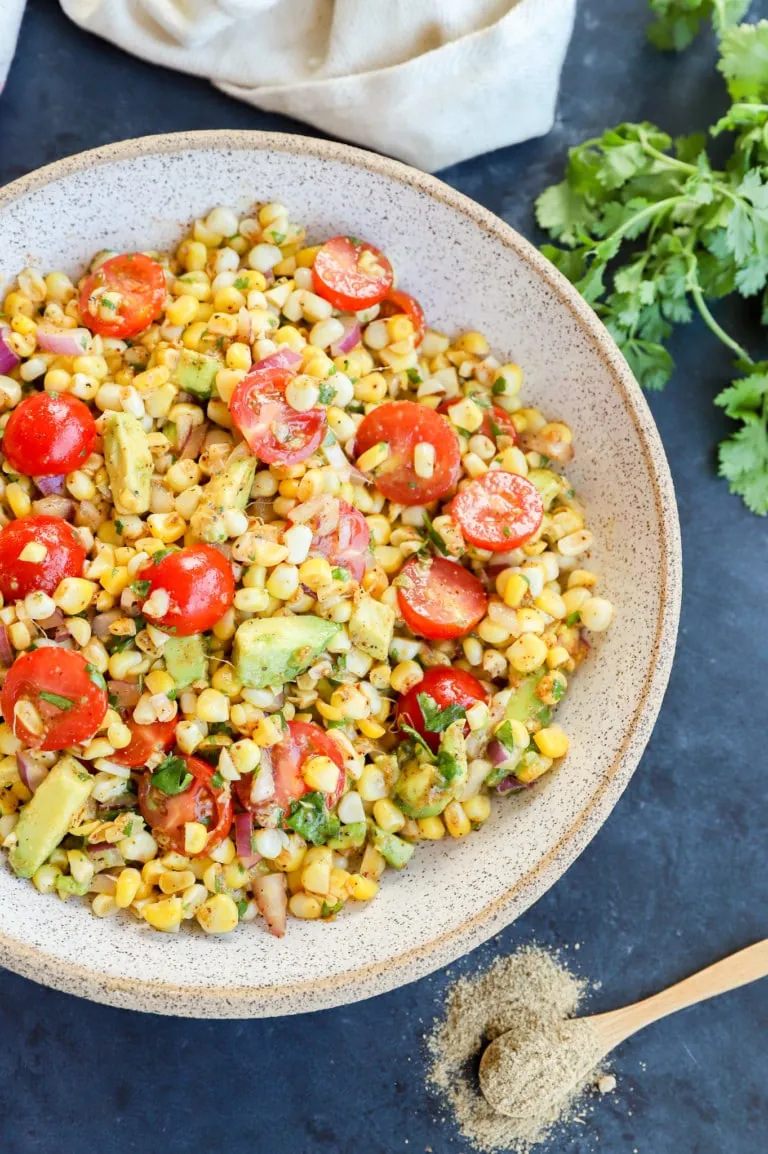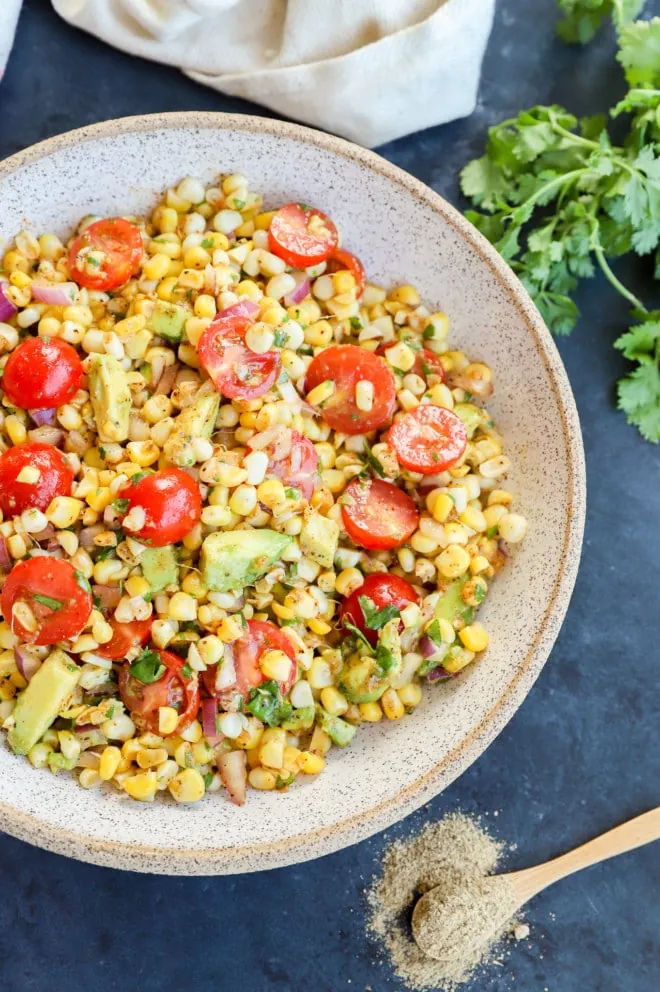 about this masala corn salad
Masala corn is an Indian-style corn snack that is a combination of sweet, spicy, tangy, and fresh. It's such a fun snack, but I wanted to take this traditional recipe and give it my own little variation.
Therefore, I turned it into a bit of a salad to serve alongside your favorite main dishes!
There's a little bit of a cheat to this recipe, as I remove the corn kernels from the cob before cooking the corn. This means that the corn cooks in only a handful of minutes instead of taking the time to steam or boil the corn on the cobs.
When the corn is combined with the pungent flavor of chaat masala, tangy lemon juice, and fresh vegetables, this side dish becomes a memorable summer recipe that everyone in the family will love.
what is masala corn?
Masala corn is traditionally make with corn kernels, butter, basic spices, lemon juice, fresh herbs, and salt. It's a flavorful recipe that is ideal for pairing with lunch or dinner, but it can also be eaten as a snack.
This particular masala corn recipe is more of a salad, with the addition of fresh vegetables, to make it a little heartier of a side dish than the traditional snack.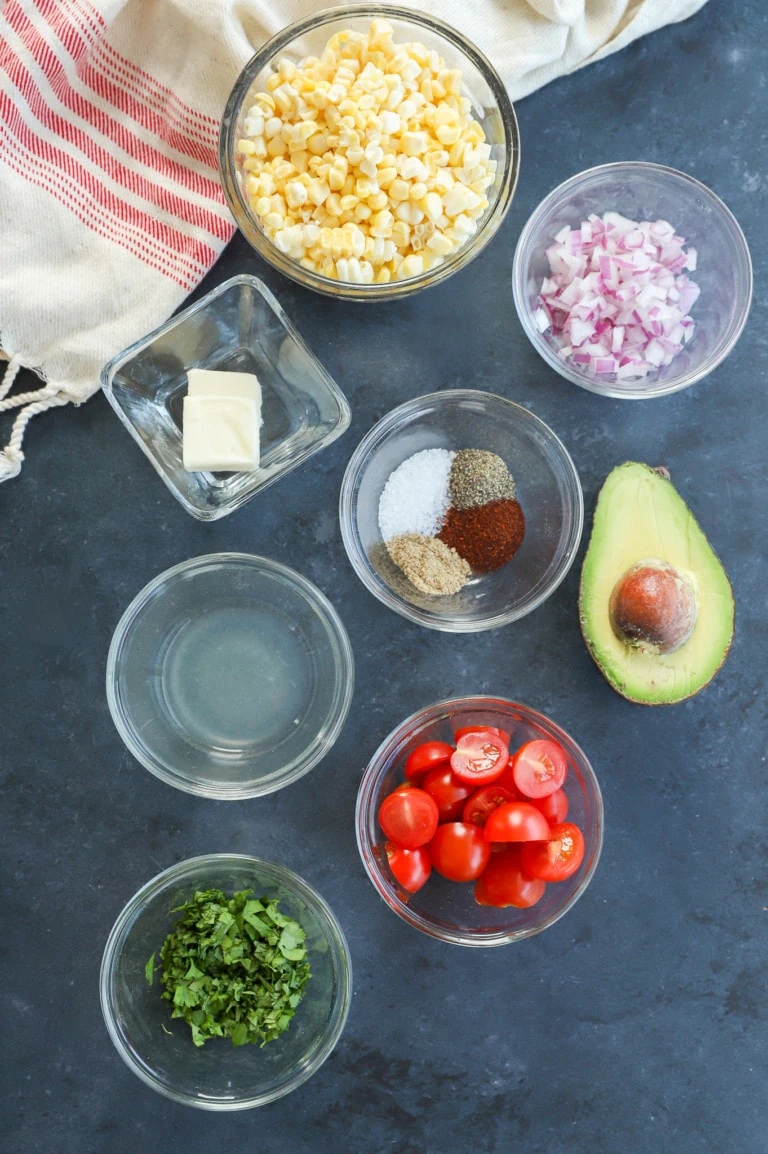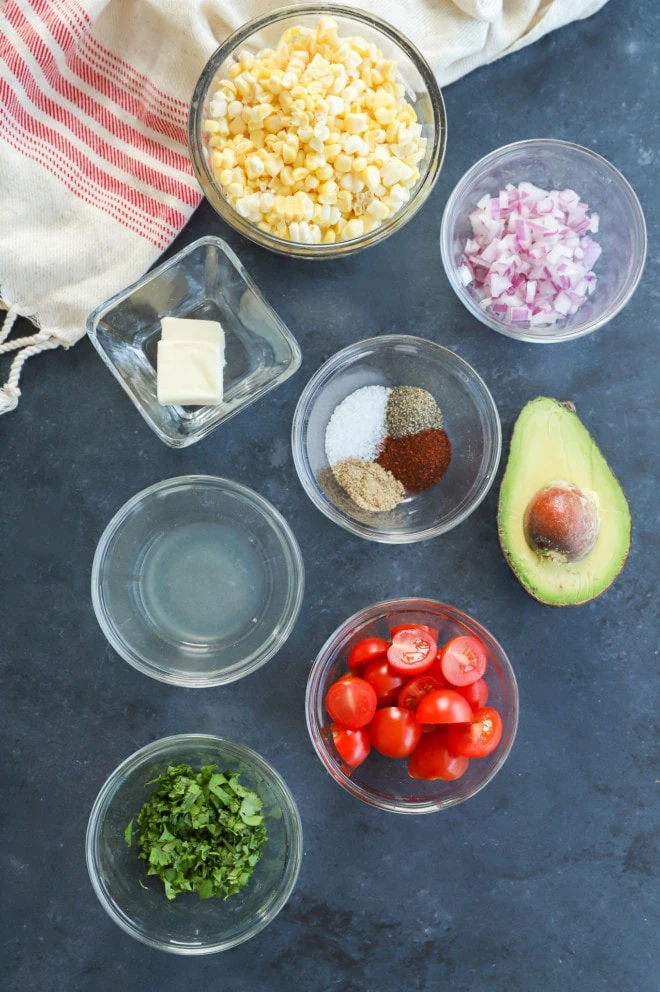 ingredients
corn. You will need about 2 to 3 corn cobs to yield enough corn kernels for the recipe. You will need 2 cups corn kernels in total.
butter. All you need is unsalted butter for this recipe.
chaat masala. Chaat masala is one of the most unique spice mixtures I've ever tasted. It's tangy, intense, and has a wonderful depth to it. It's wild because the spice mixture itself smells a little like rotten eggs, but when incorporated into this recipe, it's absolutely delicious.
chili powder. Use your favorite chili powder blender. Regular red chili powder or ancho chili powder will work here.
salt and pepper. I recommend fine kosher salt and freshly ground black pepper.
cilantro. Fresh cilantro is best for this recipe!
lemon juice. As I always say, fresh lemon juice is always the way to go. You can use store bought lemon juice, if desired. Note that if you are all out of lemons, you can also use lime juice.
onion. You will need one red onion.
tomatoes. Either cherry tomatoes or grape tomatoes work for this recipe!
avocado. Make sure the avocado is not overripe as it will get too mushy in this recipe. You want the piece of avocado to be able to stand up to being folded into the salad.
this recipe's must haves
To boil the sweet corn kernels, you will need a large saucepan or pot. Make sure you have a colander or fine mesh strainer to strain out the kernels once they are done cooking.
Then all you need is a bowl from a set of mixing bowls and a wooden spoon to stir together the salad ingredients.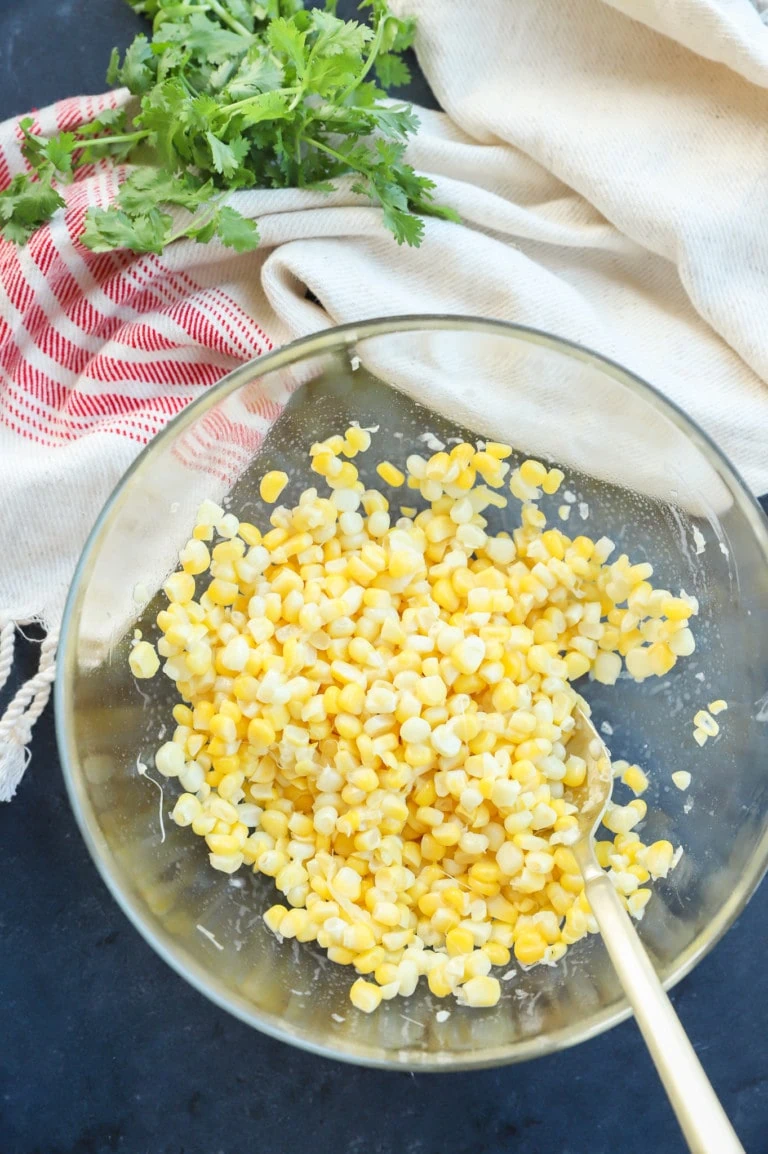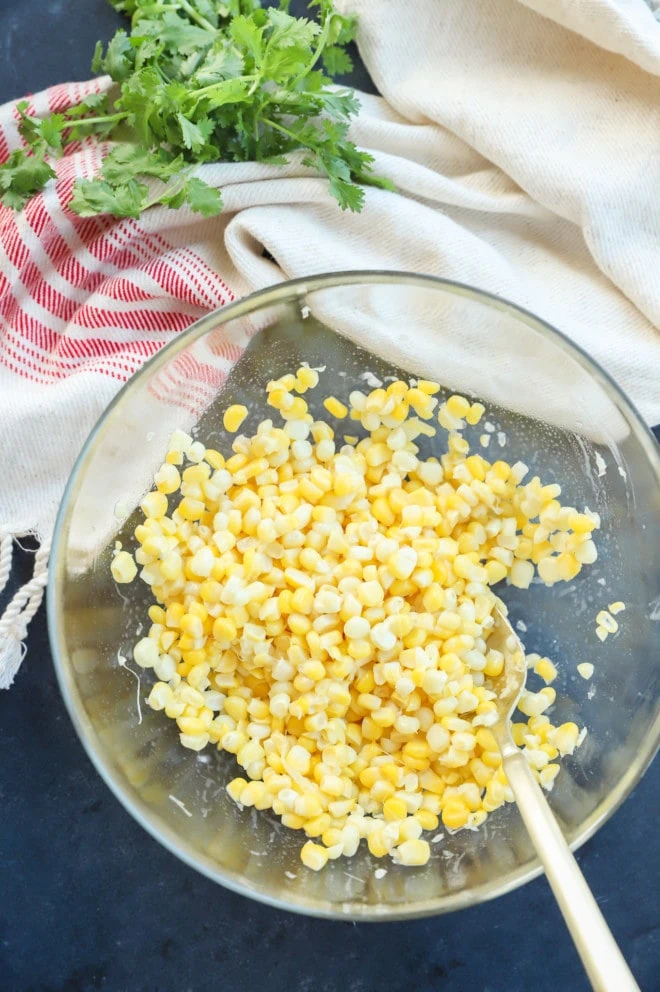 here's how to make masala corn salad
boil corn
Remove corn kernels from the cobs. Rinse well with cold water.
Boil a pot of water over medium-high heat. Add corn kernels and cook for about 5 to 7 minutes, until the kernels have softened.
Drain and add the kernels to a medium bowl.
make salad
Add butter to the corn and stir until melted. Stir in chaat masala, chili powder, black pepper, salt, cilantro, and lemon juice until combined.
Gently fold in red onion, tomatoes, and avocado. Sprinkle with additional cilantro, if desired, and serve.
tips and ideas
use fresh corn. Whenever possible, use fresh corn kernels from the cob for this recipe! This recipe is best to make in the summertime when all of the elements are in season. However, if you don't have access to fresh corn, you can use frozen sweet corn. Do not use canned corn.
remove corn kernels before cooking. The speediness of this recipe comes from cooking just the corn kernels and not the cobs! Removing the corn kernels from the cobs is how the corn cooks so quickly.
make it vegan. To make this dish vegan, simply use olive oil instead of butter!
More tasty corn recipes to try: Cheese Corn Balls | Smoky Charred Corn | Summer Corn Tomato Risotto | Mojo Steak Salad with Grilled Corn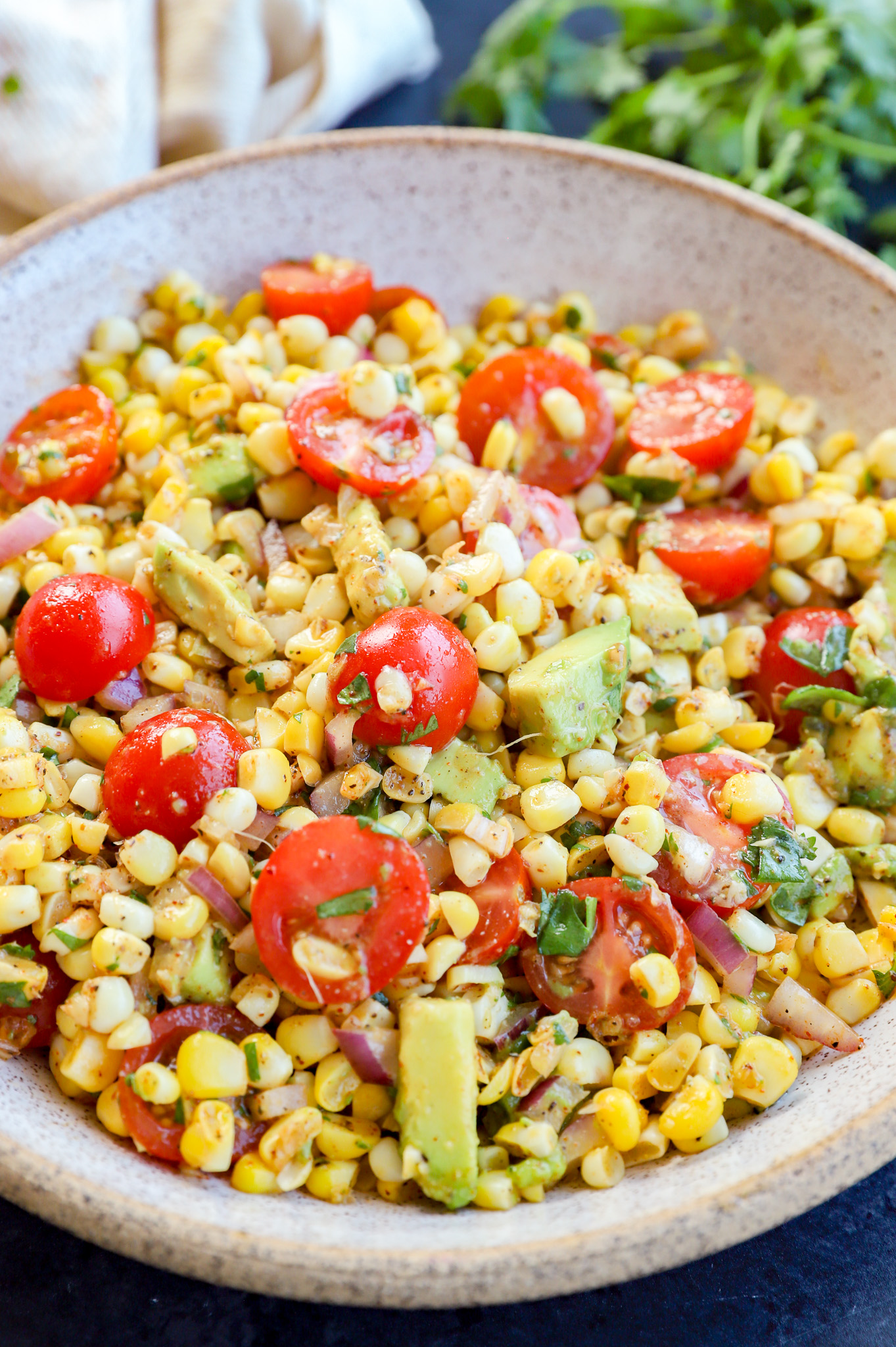 can I make this corn salad spicy?
For those of you who like to add some spice to your sides, you can start by adding 1/4 teaspoon cayenne pepper when you add the other seasonings! Taste and adjust as desired until it reaches your desired heat level.
what is cilantro tastes like soap to me?
First of all, I am so sorry! I love cilantro so much… but I happen to live with someone who tastes soap every time he eats it. Therefore, I know that adjustments need to be made! Instead of using cilantro leaves, you can use Italian flat-leaf parsley.
can I use frozen corn kernels?
Yes you can! I recommend using the corn kernels that can easily be steamed in the microwave. If you use this type of frozen corn kernels, you can skip the step of cooking the corn kernels in boiling water. Simply steam as instructed on the packaging, drain out any excess liquid, and skip to Step 2 of the recipe.
can I make masala corn without butter?
If you do not eat dairy products, you can make this recipe without butter. Instead of using 2 tablespoons unsalted butter, use 2 tablespoon of extra-virgin olive oil. This will help coat the vegetables in the salad and make sure everything gets incorporated evenly into the mixture.
is this recipe gluten-free?
Yes it is! The recipe does not include any gluten, so you can safely make it as a gluten-free dish.
Need more inspiration for side dish recipes? Check out my side dishes recipe page!
what pairs well with masala corn salad
Masala corn salad honestly goes with anything you can think of from chicken to pork to beef. I even like to pair it with seafood like grilled shrimp! Here are some main dishes to try if you are looking for some inspiration:
Grilled chipotle bbq chicken skewers are savory and smoky! The chicken skewers also include bacon and veggies, making it an easy recipe to throw on the grill.
Savory roasted beef tenderloin is a simple way to serve an elegant cut of meat. Elevate the meal with this salad as a side dish!
Smoked Traeger brisket is tender and simple to make!
how to store
Store. Store any leftovers in an airtight container in the refrigerator. The corn salad can be store for up to 3 to 4 days.
Reheat. While this salad is meant to be served warm, it can be eaten cold or at room temperature, so there is no need to reheat. I do not recommend reheating it, as there is avocado in the salad and it does not reheat well.
Freeze. I do not recommend freezing this corn salad as the tomato and avocado are not good after freezing and thawing.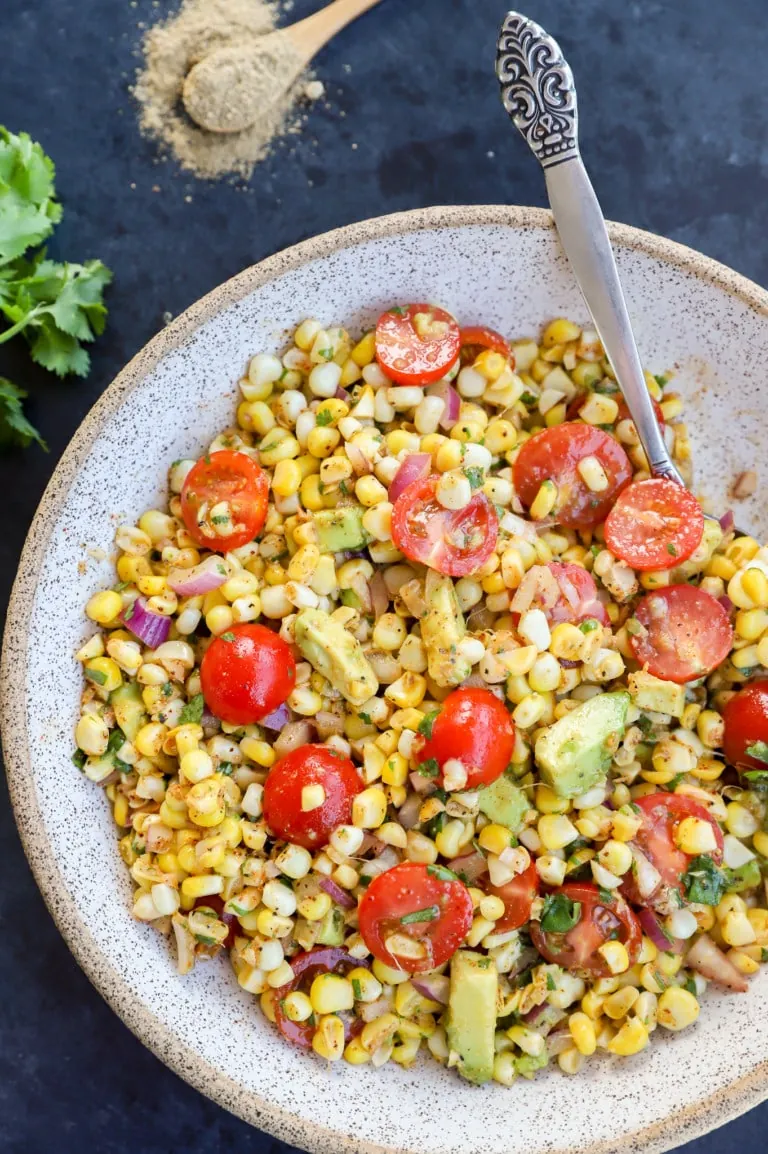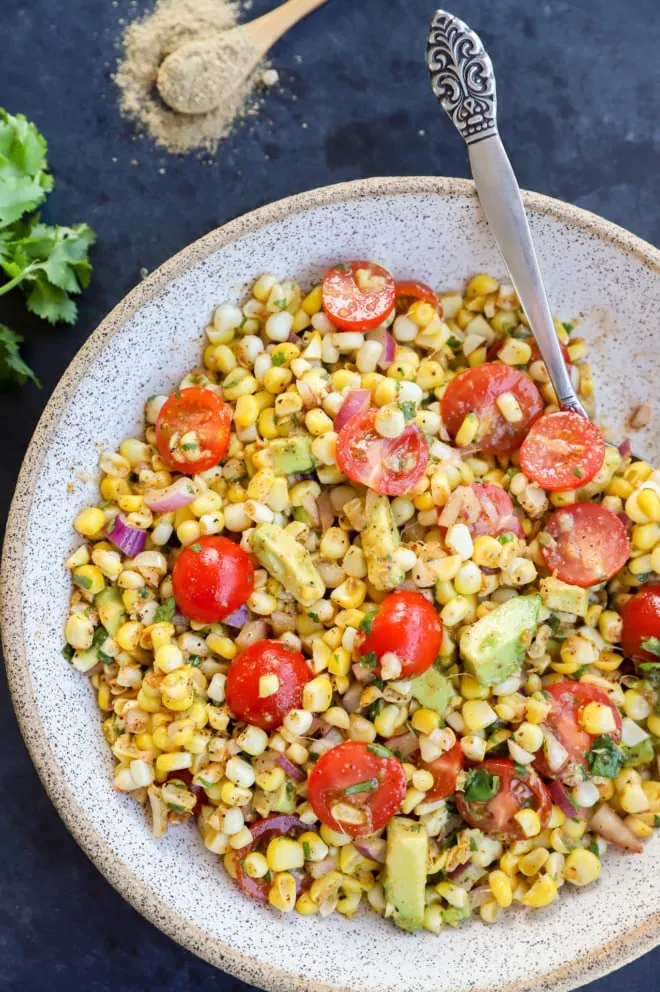 more tasty salad recipes
This fruity watermelon feta salad is a summery side dish that goes with any main.
Burrata caprese salad is simple, elegant, and the best way to make the most of fresh ripe tomatoes.
For another corn salad, this bacon cilantro grilled corn salad is perfect for a day spent on the patio.
Finally, if you make this masala corn salad recipe, please be sure to give this recipe a rating and/or leave a comment! I love to hear when you all make recipes, and I do take the time to respond to every single comment.
Feel free to drop questions below too, if you have them!
Oh and be sure to tag me on Instagram if you make the recipe! I love being able to see these recipes come to life in your homes – it's my favorite thing to look through those photos. It really means the world to me!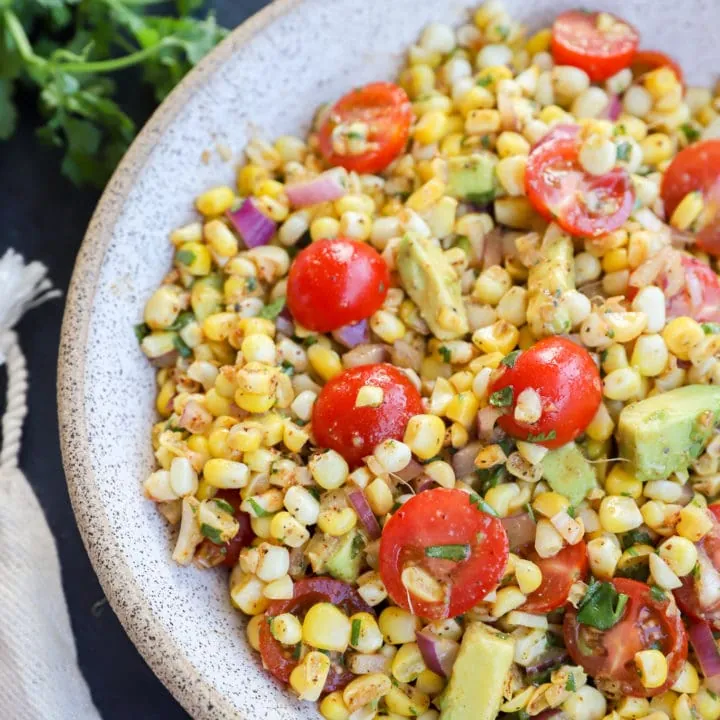 Masala Corn Salad
This easy vibrant corn salad is the ideal summer side dish for any lunch or dinner.
Ingredients
2 to 3 sweet corn cobs, kernels removed (you will need about 2 cups corn kernels total)
2 Tbsp unsalted butter
1/2 tsp chaat masala
1/2 tsp chili powder
1/2 tsp black pepper
1 tsp salt
2 Tbsp finely chopped cilantro leaves + more for garnish
1 Tbsp freshly squeezed lemon juice
1/4 cup finely chopped red onion
1 cup halved cherry or grape tomatoes
1/2 avocado, diced
Instructions
Rinse the corn kernels in cold water. Bring a large pot of water to a boil over high heat. Once boiling, add corn kernels. Cook until softened, about 5 to 7 minutes. Remove from heat and drain the water from the corn.
Add hot corn to a medium bowl with butter. Stir until the butter is melted.
Add chaat masala, chili powder, pepper, salt, cilantro, and lemon juice. Stir to combine.
Gently fold in red onion, tomatoes, and avocado.
Garnish with additional cilantro and serve.
Recommended Products
As an Amazon Associate and member of other affiliate programs, I earn from qualifying purchases.