Please note this post contains affiliate links.
Jalapeño Avocado Cream Cheese Wontons are essentially a fried, amped up version of your favorite jalapeno cream cheese poppers appetizer! The creamy and spicy filling wrapped in a fried wonton wrapper makes these poppers a fantastic party appetizer or even an afternoon snack.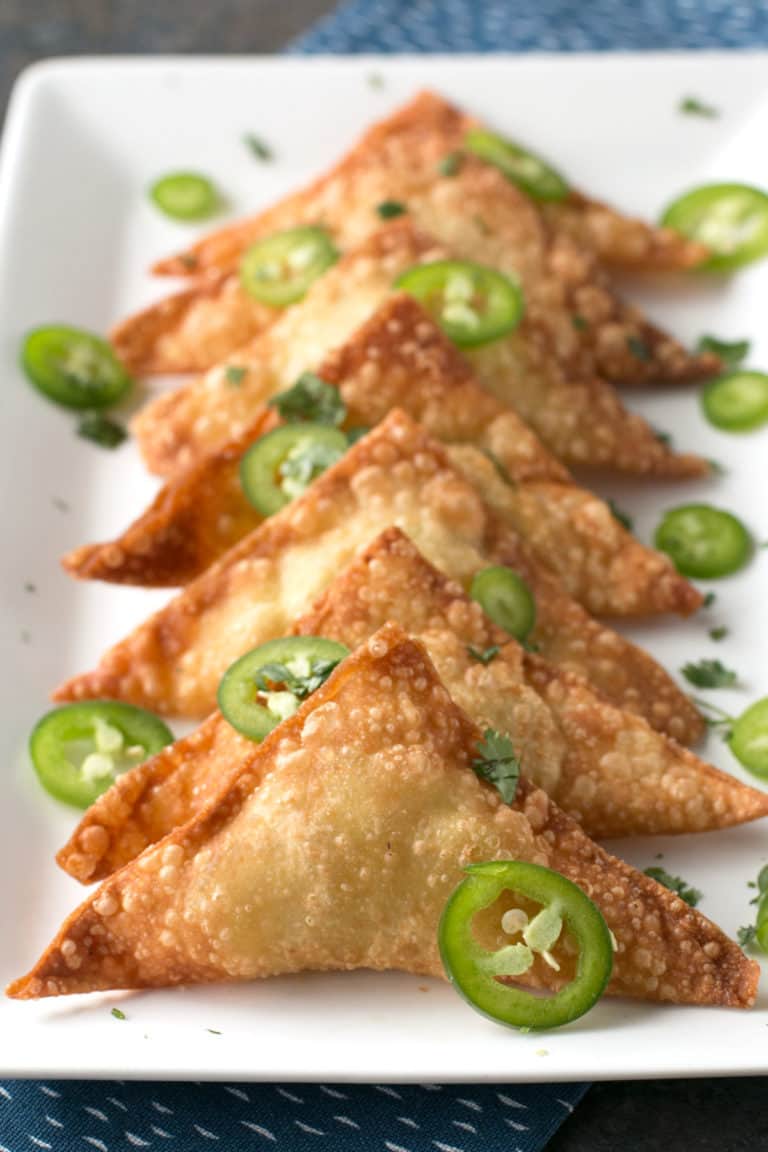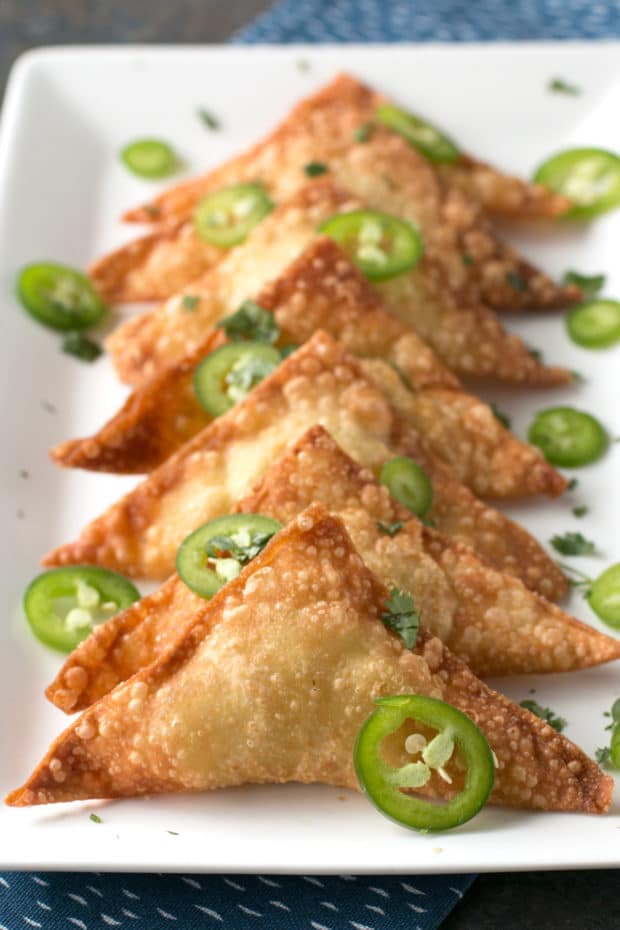 I am a BIG fan of all things spicy (as you've seen with my Big 'n Smoky Five Alarm Burger and my Spicy Green Bloody Mary… and many more, haha!).
That's why cream cheese jalapeno poppers are one of my favorite appetizers, like, EVER.
The cream cheese and the spice of the peppers are just the right combination.
It'll light your tongue on fire and soothe the burn all in the very same bite. It's one of those appetizers that isn't too filling and pairs perfectly with a chilled beer.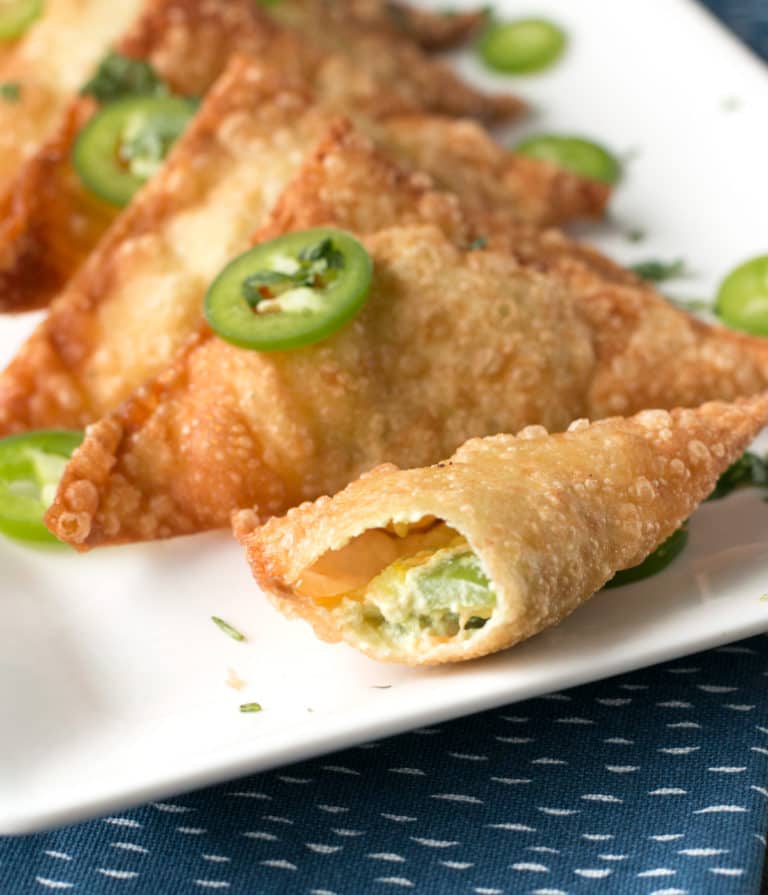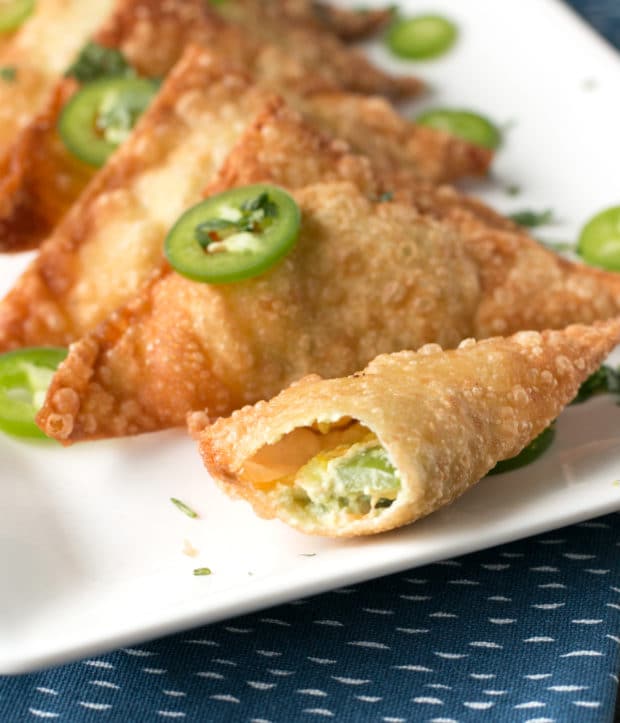 This Recipe's Must Haves
This chef's knife is fantastic for chopping jalapeños – my favorite knife brand! You will never need another knife, because they all come with a lifetime of free sharpening!
A dutch oven is the one pot I always use to fry recipes to golden brown perfection. Plus, it's ideal for all your braising/soup/stew recipes!
A spider strainer is a must for anything you fry! It helps you safely get these little guys out of the hot oil without burning the crap outta your hand.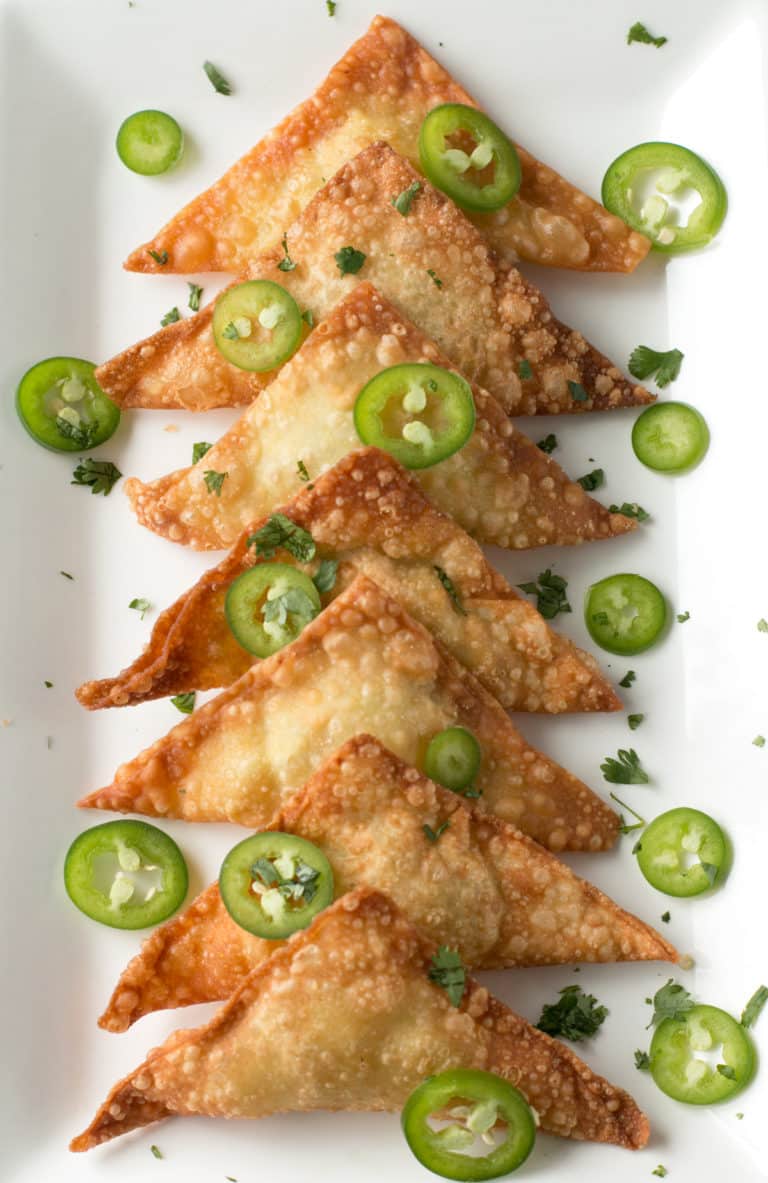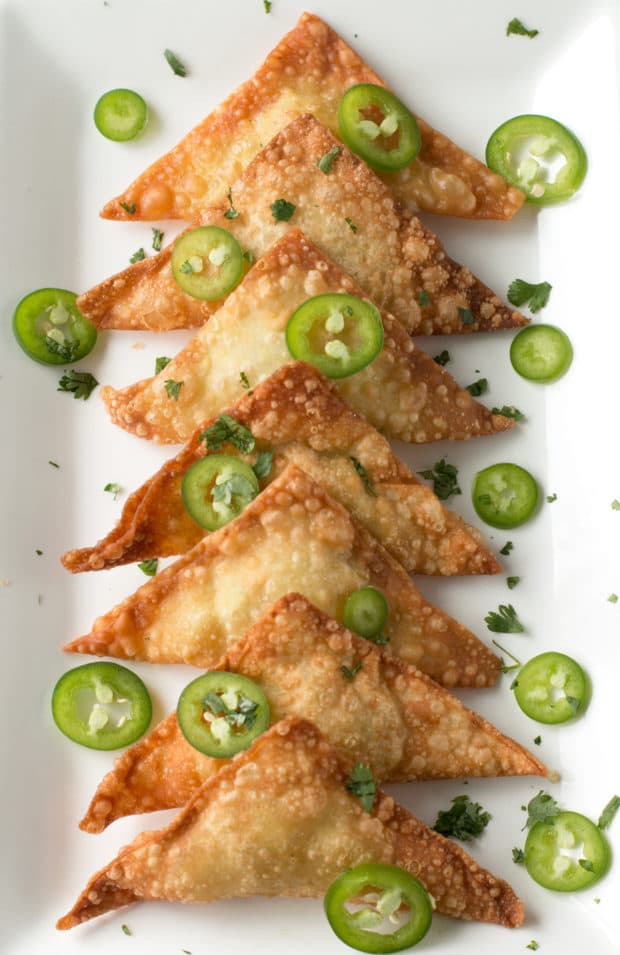 Finding appetizers to serve for a backyard BBQ can be a little challenging from time to time.
While I love to grill
ALL the things in the summer, sometimes the grill is being taken over with meats and sides and desserts, so there simply isn't room for an appetizer to get thrown in the mix.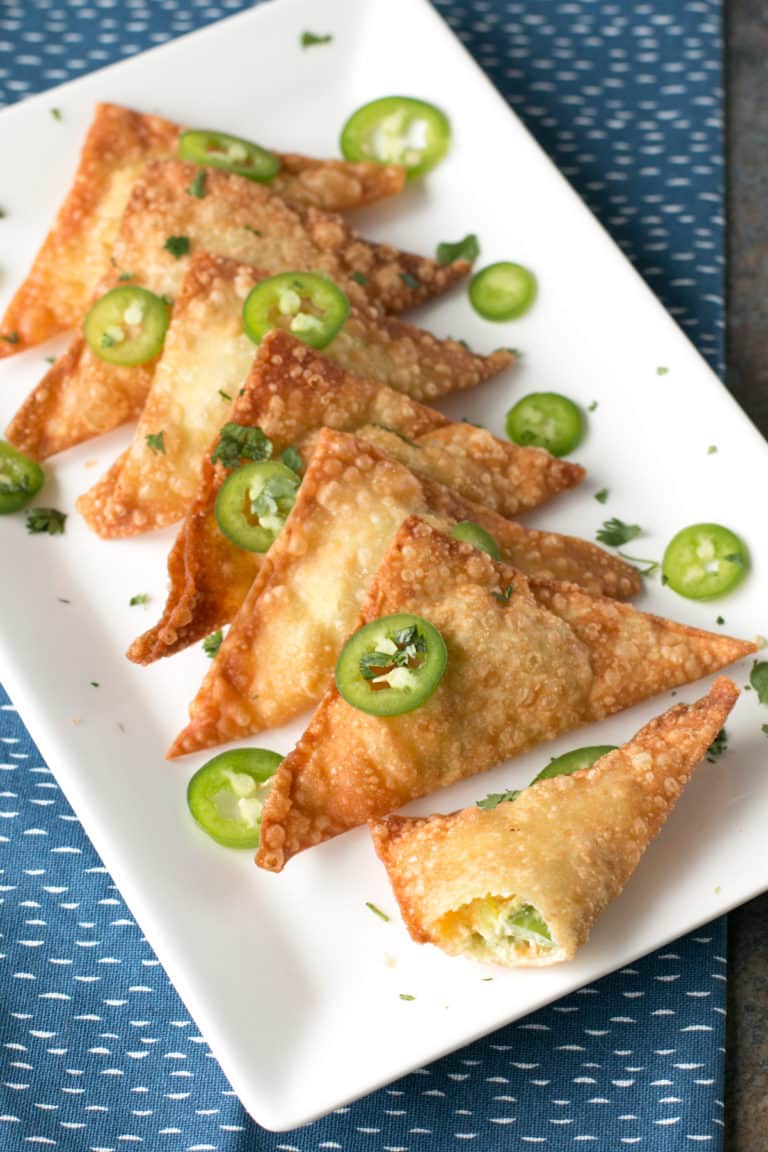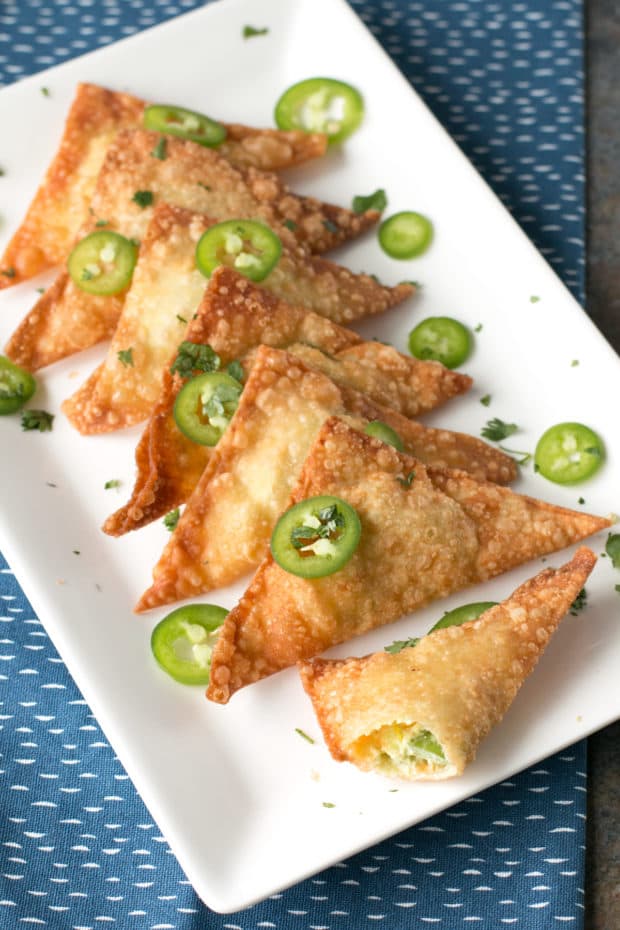 If I can't grill my jalapeno poppers, then why not stuff all the ingredients inside a wonton wrapper and fry them?
Say hello to my oh-so easy version of a jalapeno popper that isn't a jalapeno popper, technically.
The filling has all the ingredients you know and love, including jalapeno, cream cheese (plus two other types of cheeses), and a special guest… avocado!
It's easy to make for backyard BBQs, tailgating/homegating parties, or even a quick snack when you want something more than cheese and crackers in the afternoon.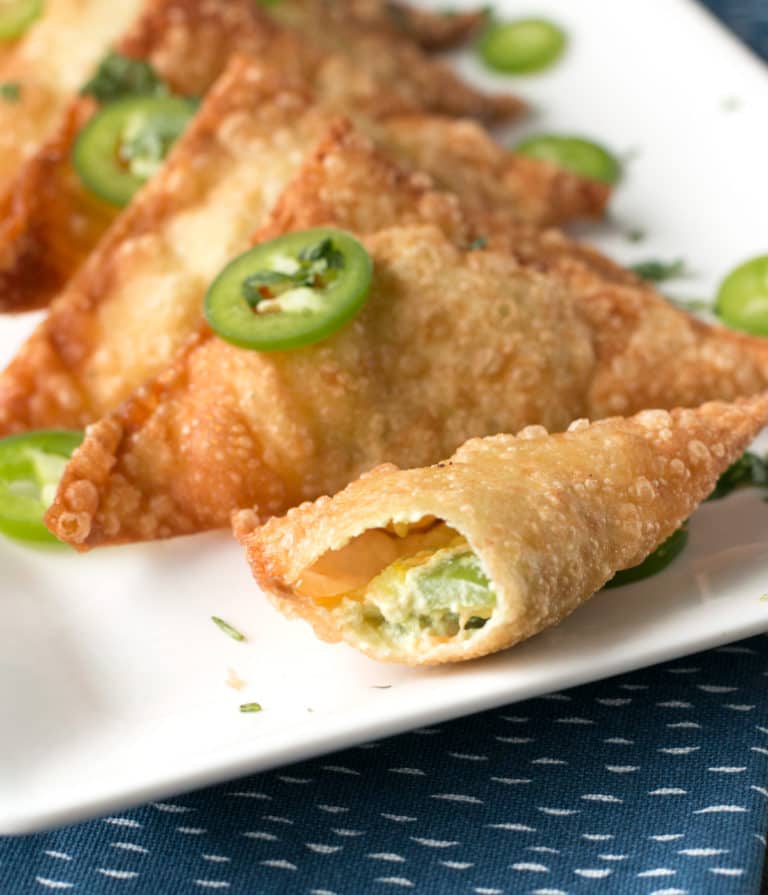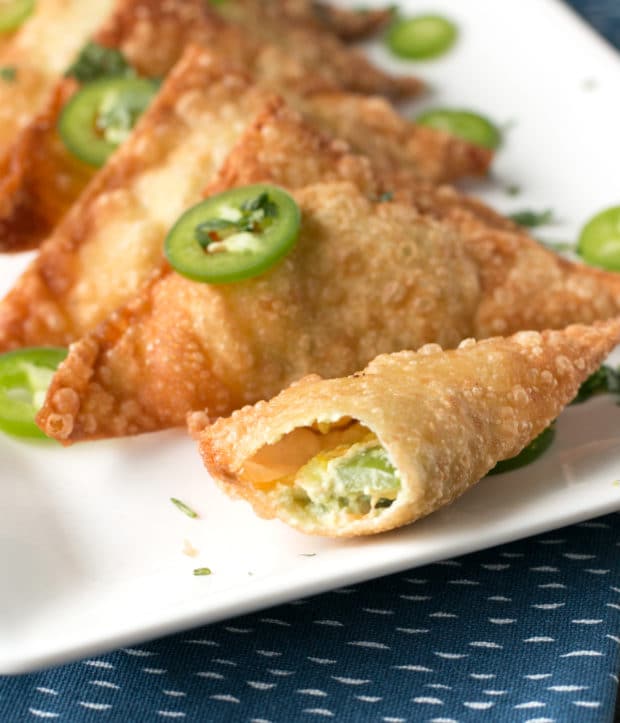 I know it seems a little weird to be throwing an avocado in the mix, but hear me out!
The creaminess of the avocado pairs wonderfully with all the other ingredients in the wonton fillings. Not to mention you also are getting an extra hit of flavor and protein.
It makes it an extra silky filling with the cream cheese, perfectly complementing the fried exterior!
Sidenote: if you want to make your life easier, invest in a great heavy dutch oven
to do all your frying in.
Not to mention, it's hilarious watching people do a double take when they see the filling is green!
If you ever need to convince someone to add more green to their diet, obviously this is the way to do it.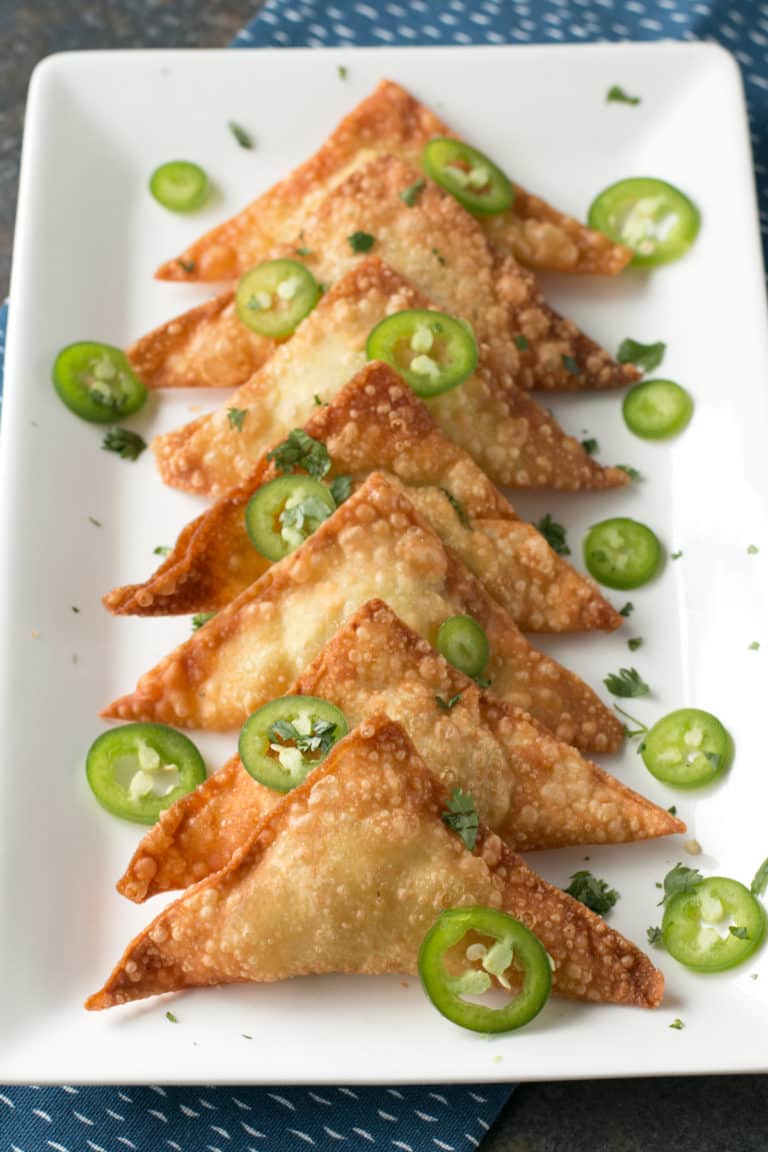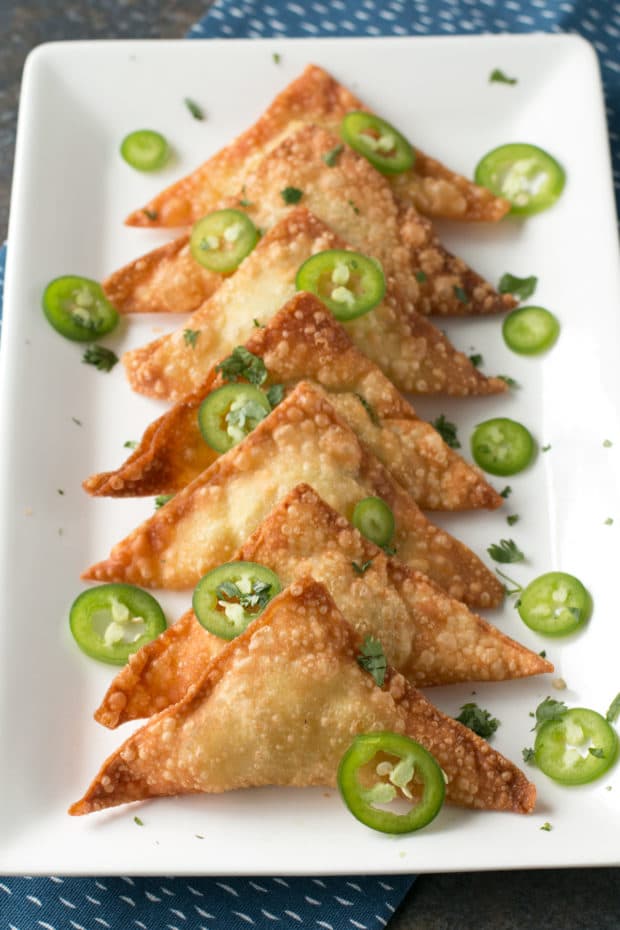 Green = healthy, right?
So having a handful of these golden-fried bad boys is totally justifiable.
PLUS you can even customize these little guys even further depending on your heat tolerance.
You can use serrano peppers, habaneros, or even ghost peppers if you are completely INSANE. In other words, you can burn your tongue.
Obviously you'll want to start with half the amount noted for the jalapeños for spicier chilis.
Then add according to taste for spiciness as you craft the filling of these delicious little fried dudes.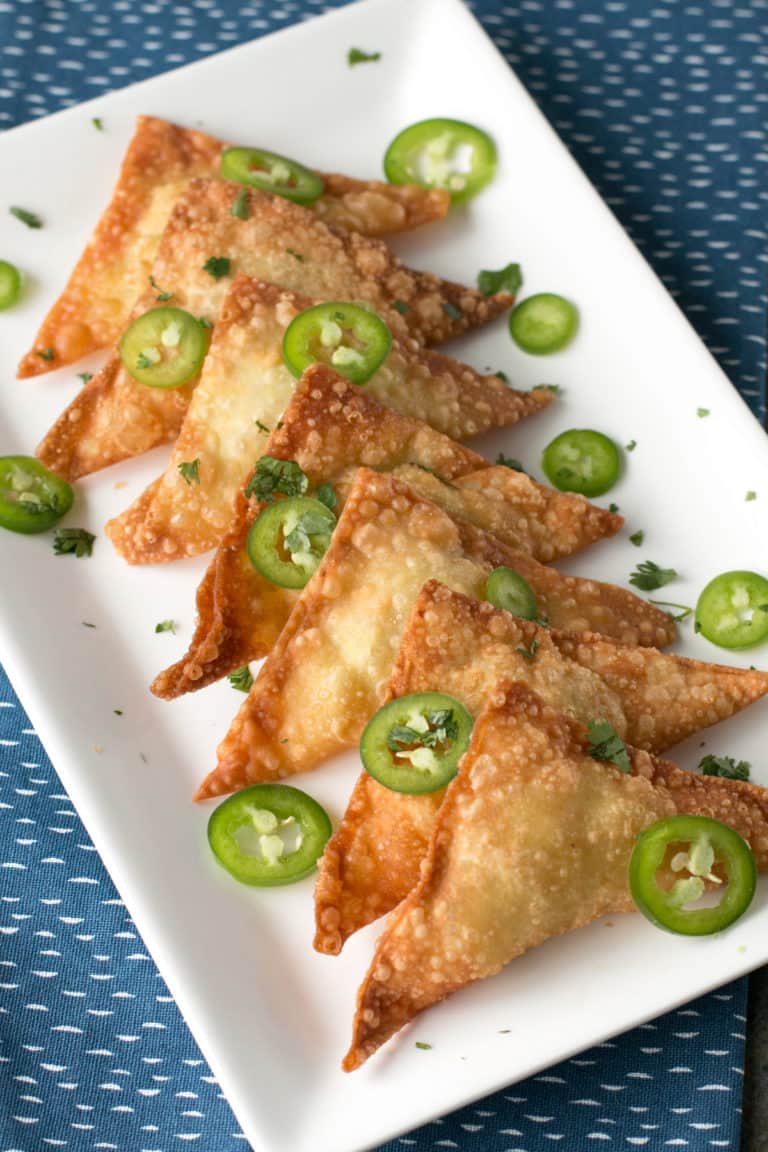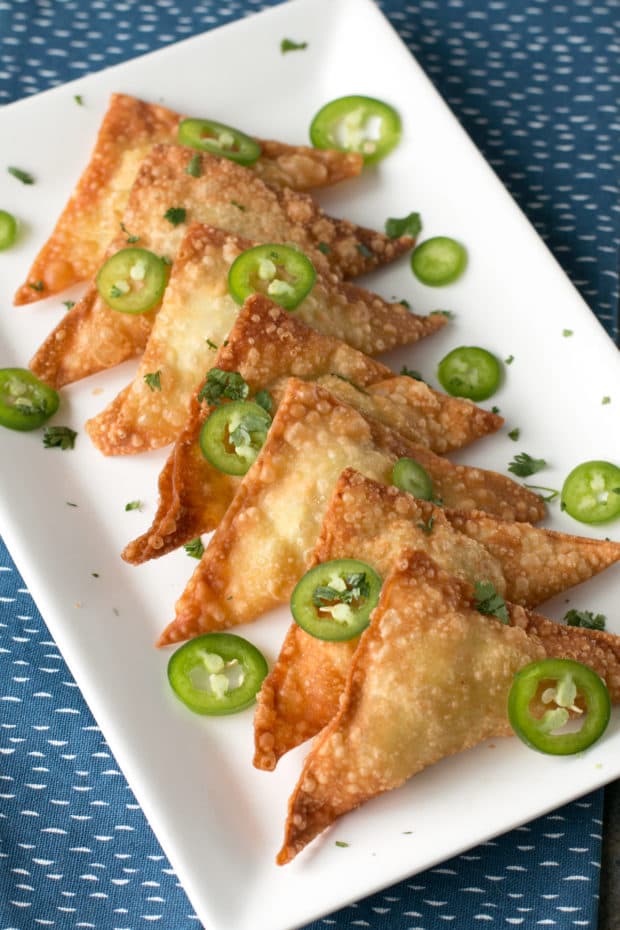 I am a jalapeño girl though, so I'll be sticking with the original recipe over here 😉
Love all things SPICY?! Be sure to make this Chile Beer Sangria to go along with this appetizer and turn up the heat on your next gathering!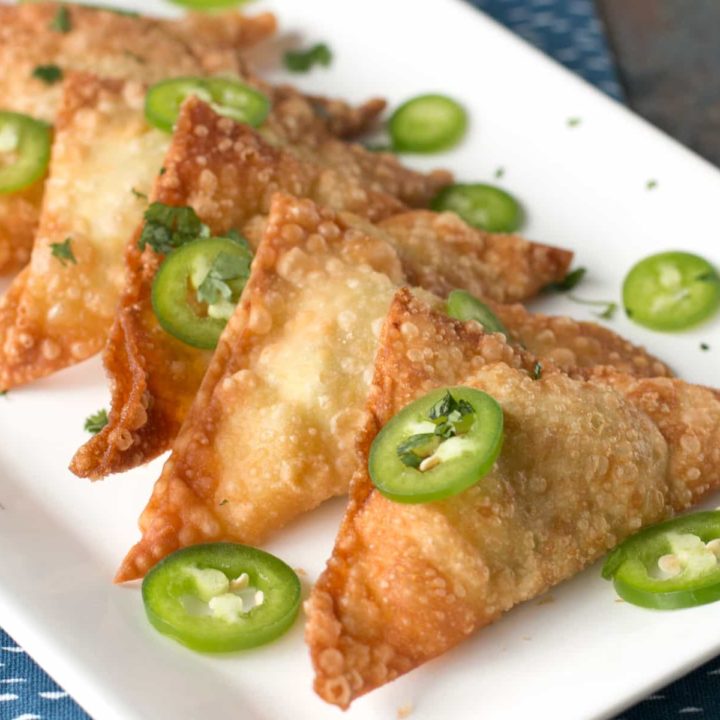 Jalapeño Avocado Cream Cheese Wontons
The creamy and spicy filling wrapped in crispy wonton wrappers makes these poppers a fantastic party appetizer (or afternoon snack...).
Ingredients
8 ounces Cream Cheese, room temperature
2/3 cup Cheddar Cheese, shredded
2/3 cup Mozzarella Cheese, shredded
1 Avocado, peeled and pitted, mashed or cubed
1/2 teaspoon Garlic Powder
1/2 teaspoon Onion Powder
1/4 teaspoon Salt
1 teaspoon Chopped Cilantro
3 jalapeños, seeded and diced
1 package Wonton Wrappers
Canola Oil
Instructions
In a medium bowl, stir together cream cheese, cheddar cheese, mozzarella cheese, avocado, garlic powder, onion powder, salt, cilantro and jalapeños.
On a clean work surface, lay out a wonton wrapper so a corner is pointed towards you (making it look like a diamond).
Moisten the edges of the wrappers with water. Add 1 tsp of the filling in the center of the wonton wrapper.
Fold the wrapper in half, over the filling. Start by pressing around the filling gently and pressing out towards the edges to seal. You want to make sure there are no air pockets by the filling so it seals properly. Repeat with the remaining filling and wonton wrappers.
Heat 2 to 3 inches of canola oil in a heavy-bottomed large pot. Once the oil reaches 375°F on an oil thermometer, fry the wontons in batches of 3 to 4 at a time.
Fry until golden brown, approximately 1 minute per side. Remove to a paper towel lined plate to drain.
Serve hot with a garnish of cilantro and sliced jalapeño, if desired.

Recommended Products
As an Amazon Associate and member of other affiliate programs, I earn from qualifying purchases.