Please note this post contains affiliate links.
Blueberry Cream Cheese French Toast Casserole is an overnight must-have for busy weekdays or weekends when you just don't want to have to cook. The sweet spiced custard with a crispy topping and creamy pockets of sweetened cream cheese make this a feast to remember. Serves 12.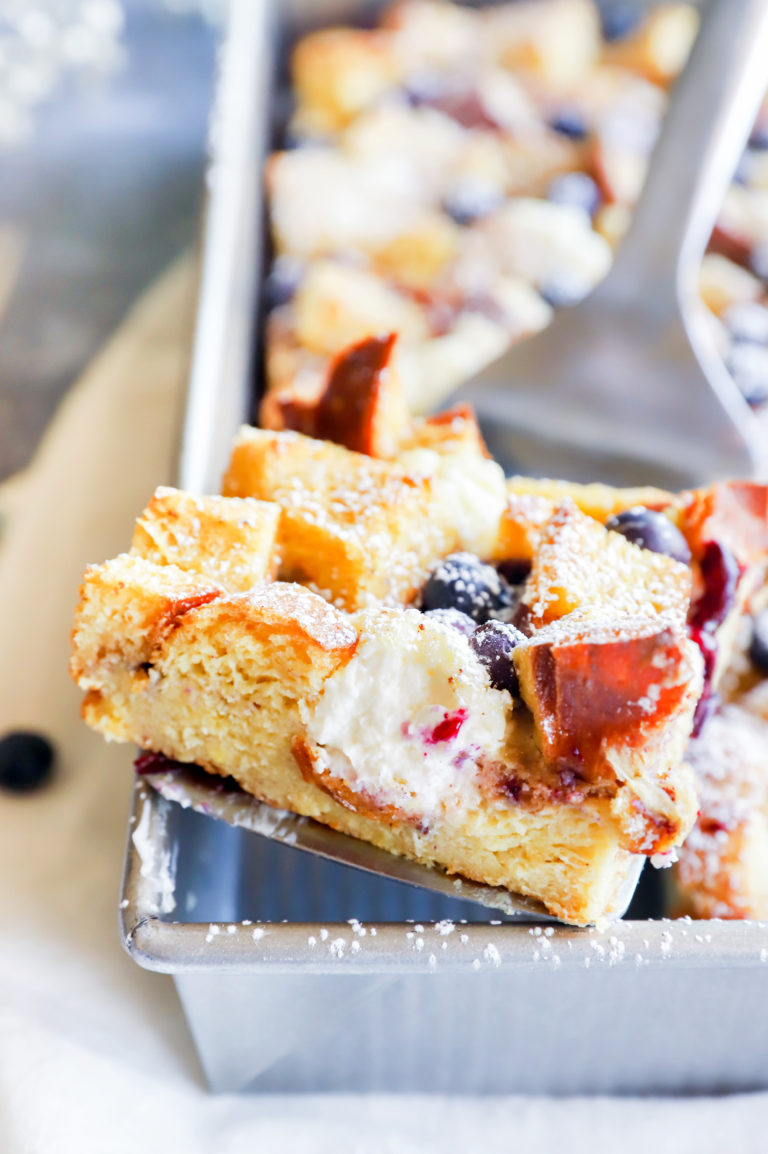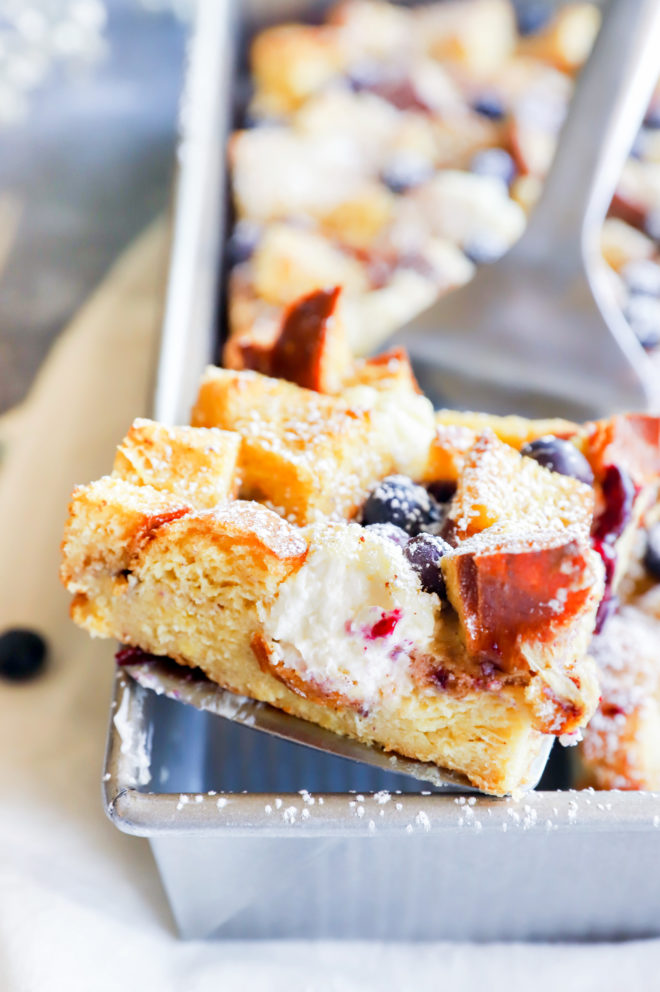 about this blueberry french toast casserole
My cousin has made a version of this blueberry cream cheese french toast casserole for a long long longggg time.
I can't remember the first time it popped up on our family brunch table, but it's one of those dishes she is just known for, you know? Every time we have a brunch and she's going to be there, I know this casserole is going to be hitting the table.
Of course, me being the ridiculous person I am, I can't just ask her for the recipe. No no no. I have to figure it out by myself, just to prove THAT I CAN.
And people wonder why I call myself a masochist sometimes….
Anyway, I decided to make my own version of the casserole which I am sharing with you here! It's my own take on the one she makes, but with a few changes to bring some extra cinnamon to the table, since I have this thing for blueberries and cinnamon.
My favorite part is the little added sweetness I brought to the cream cheese. It reminds me a bit of cheesecake in a way. But with French toast. Trust me, it all works.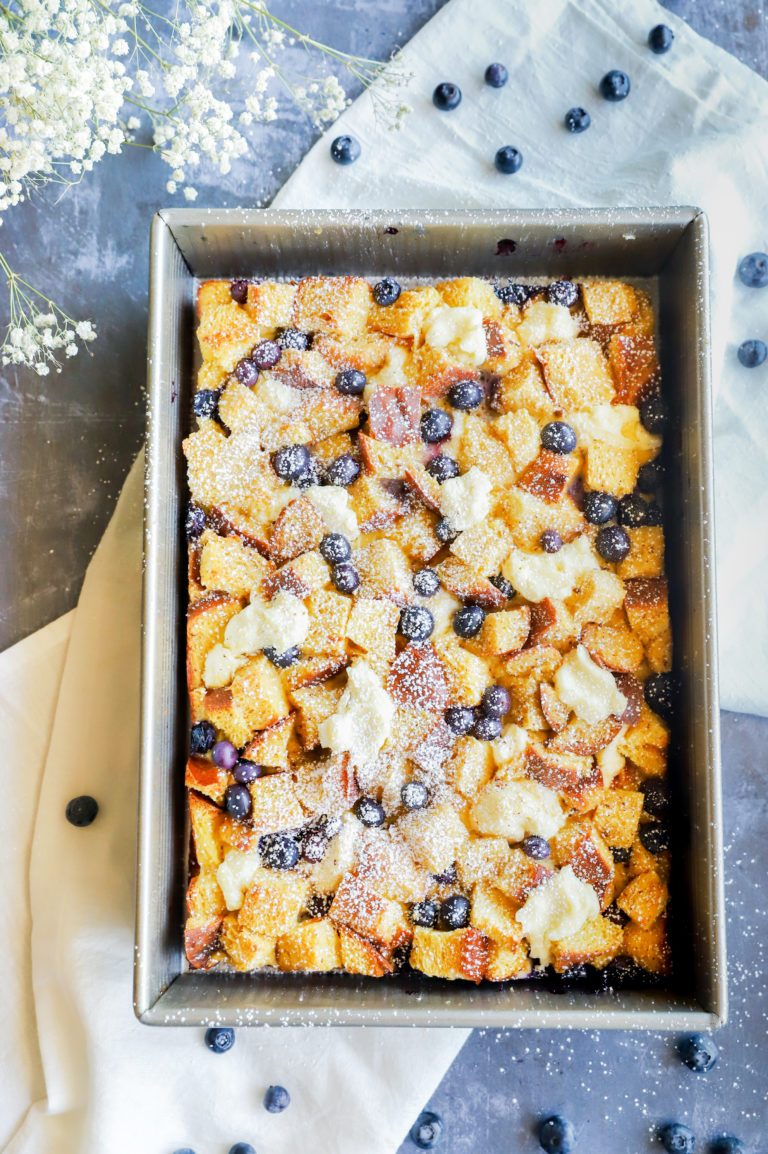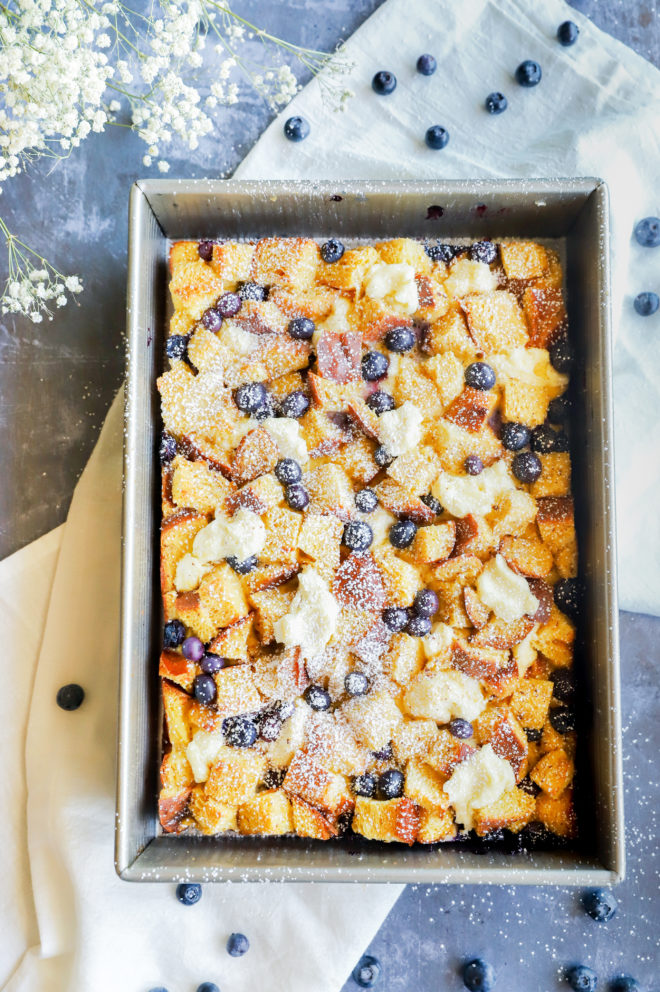 ingredients
bread – for this recipe I like to use challah because the texture is just amazing. You can also use a loaf of French bread if that's easier to get your hands on.
cream cheese – use full fat cream cheese! I mean, you might as well. We aren't really counting calories for this one right? But the full fat really amps up the creaminess and the flavor.
sugar – You will need a couple of tablespoons of confectioners sugar (aka powdered sugar) and some light brown sugar as well. You can also use granulated sugar if that's all you have – I just prefer brown sugar!
vanilla – I always highly recommend using a high-quality vanilla extract for your recipes, including this casserole. My favorite is Nielsen Massey – their Madagascar Bourbon Pure Vanilla Extract is amazing.
eggs – you'll need large eggs for this recipe!
milk – In this recipe I use whole milk, but you can also use 2% or a lactose-free whole milk alternative.
cinnamon – ground cinnamon is the only spice I use in this recipe!
lemon – only one lemon is required, and you'll need both the zest and the juice.
blueberries – I always encourage fresh blueberries for this recipe! If you have to you can use frozen, just brush off any ice crystals that may have formed before using them.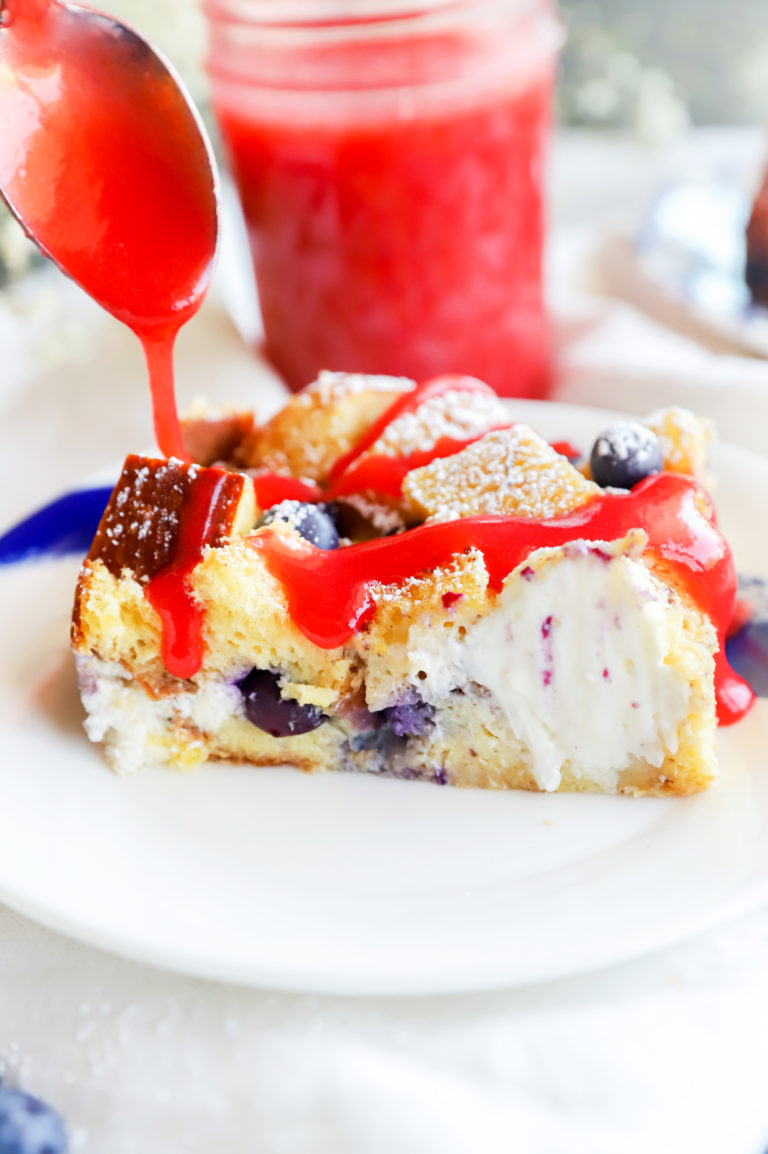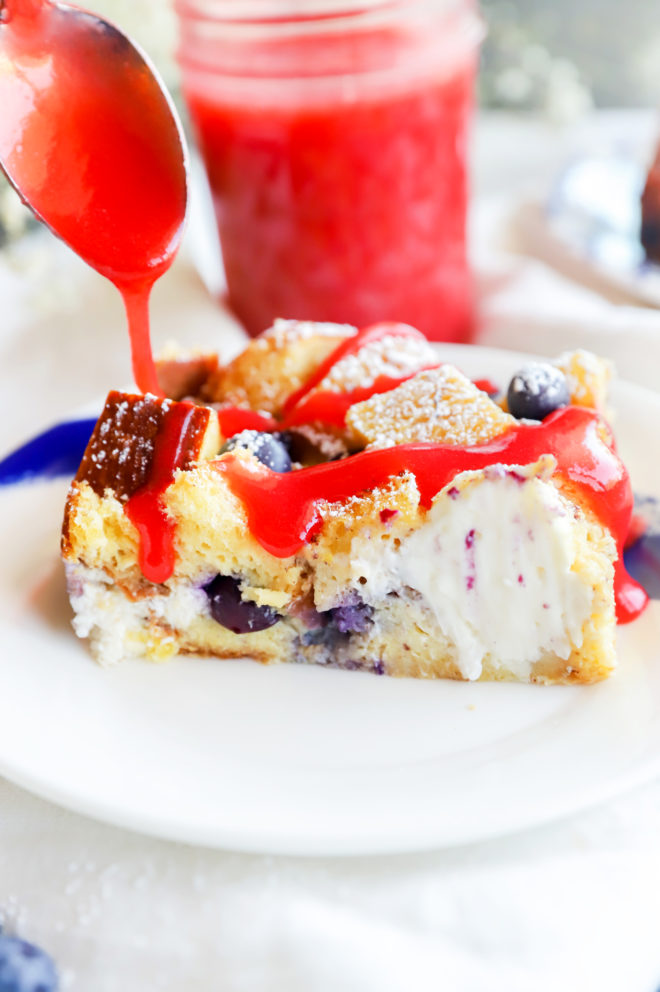 this recipe's must haves
You don't need too many things to make this blueberry french toast casserole happen! First, you'll need a large bowl from your set of mixing bowls and a whisk for the custard base.
Bring out a bread knife and cutting board to cut up the bread for the casserole.
I like to use my stand mixer to beat the cream cheese and sugar, but you can also use an electric hand mixer and a medium bowl.
Finally, you will need a 9×13-inch cake pan to assemble and bake the casserole in.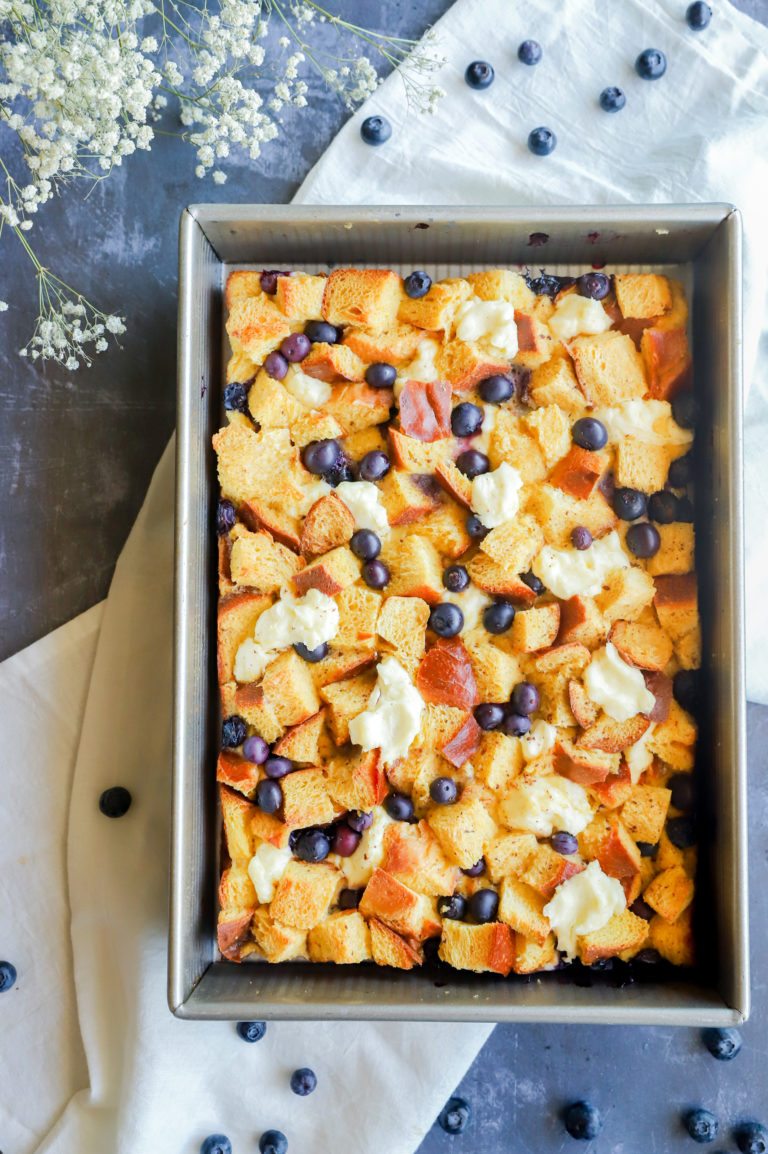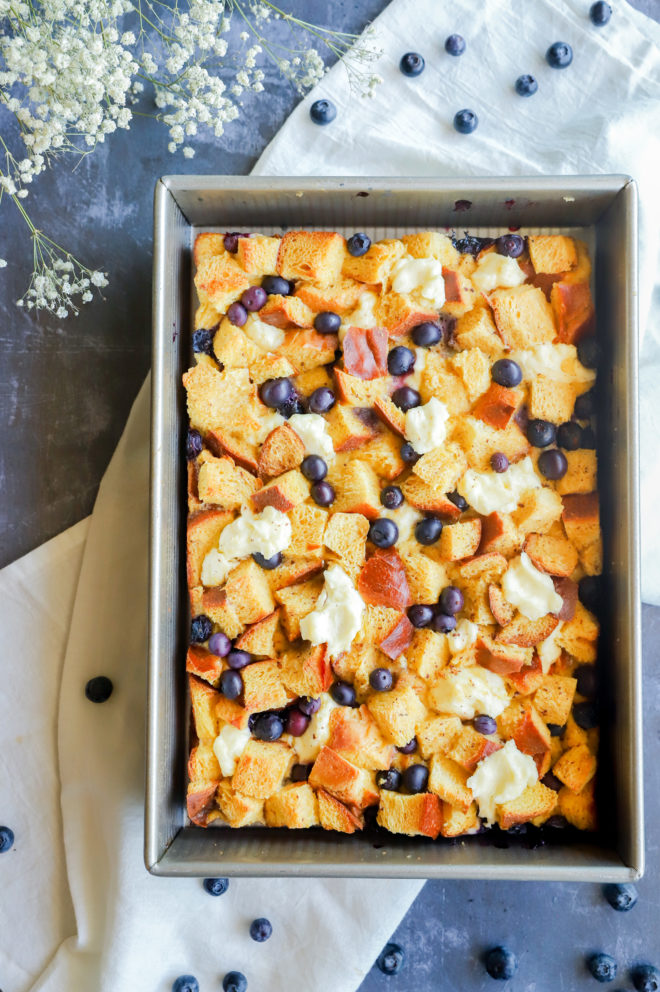 here's how to make blueberry cream cheese french toast casserole
make custard base
To make the custard base, whisk together eggs, milk, cinnamon, lemon zest, lemon juice, and sugar until well-combined. Set aside.
beat cream cheese
Using a stand mixer or handheld electric mixer, beat cream cheese and confectioners sugar until creamy and smooth.
assemble and rest
Spray a 9×13-inch baking pan with nonstick cooking spray. Add half of the bread, top with dollops of half the cream cheese mixture, and top with half the blueberries. Finish layering the remaining bread, dollops of cream cheese, and blueberries.
Gently pour over the custard base, making sure the whole thing is evenly soaked.
Cover with plastic wrap and refrigerate at least 3 to 4 hours, overnight is best.
bake
When ready to bake, preheat oven to 350˚F.
Remove plastic wrap and place casserole in the oven. Bake to 45 to 55 minutes, until the top is golden brown and the casserole is set and no longer liquid.
Let rest for 10 minute before topping with powdered sugar, if using. Slice and serve with strawberry coulis.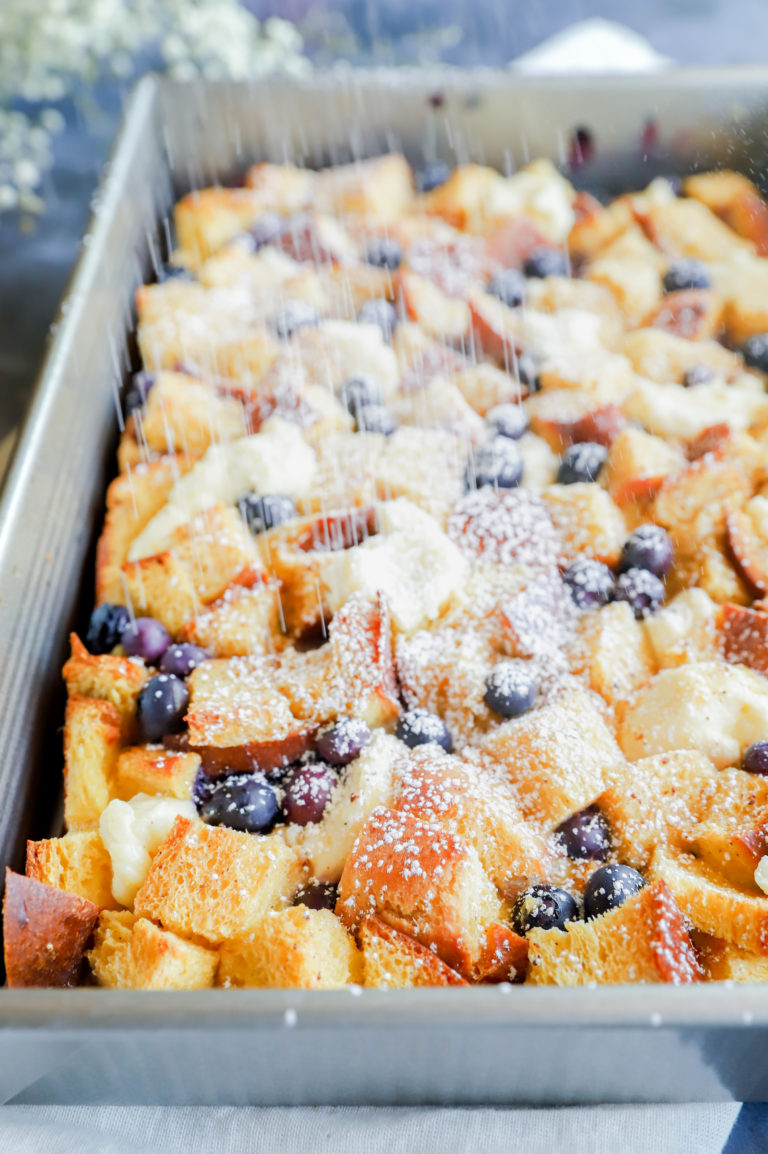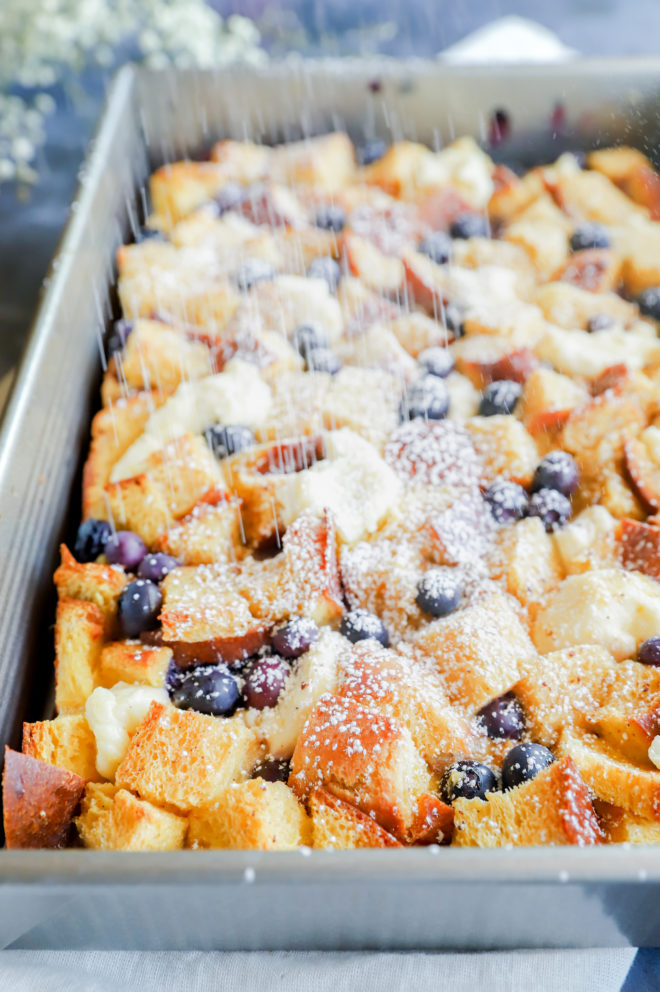 tips for success
optional topping. You don't have to serve this casserole with the strawberry coulis, but I think it gives it an excellent flavor. Plus the coulis only takes 15 minutes to make – you can whip it up while the casserole bakes in the morning!
dairy-free. While I don't recommend replacing the eggs in this recipe, you can use a non-dairy milk alternative. Just remember that some milks with specific flavors (like almond and coconut), will add that flavor to the casserole.
More French toast recipes to check out: Raspberry Chocolate Croissant French Toast | Chocolate Covered Strawberry Mascarpone Stuffed French Toast | Rhubarb Pear Overnight French Toast Casserole | Roasted Plum French Toast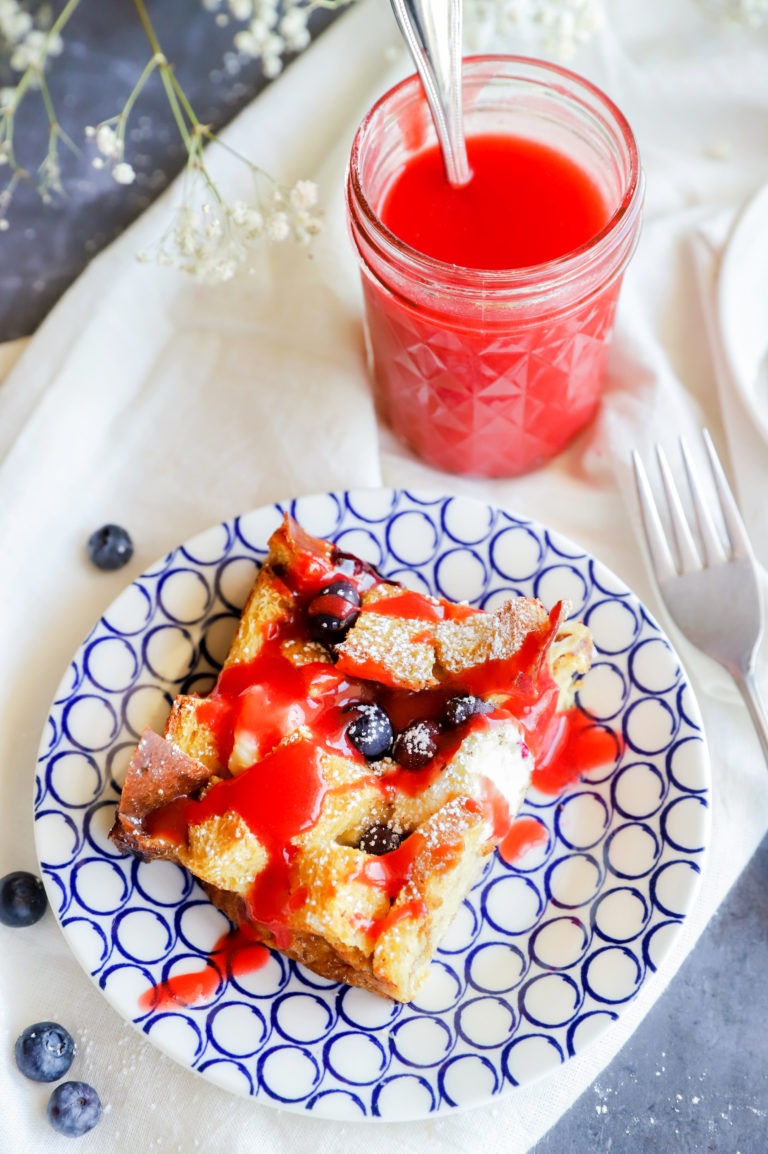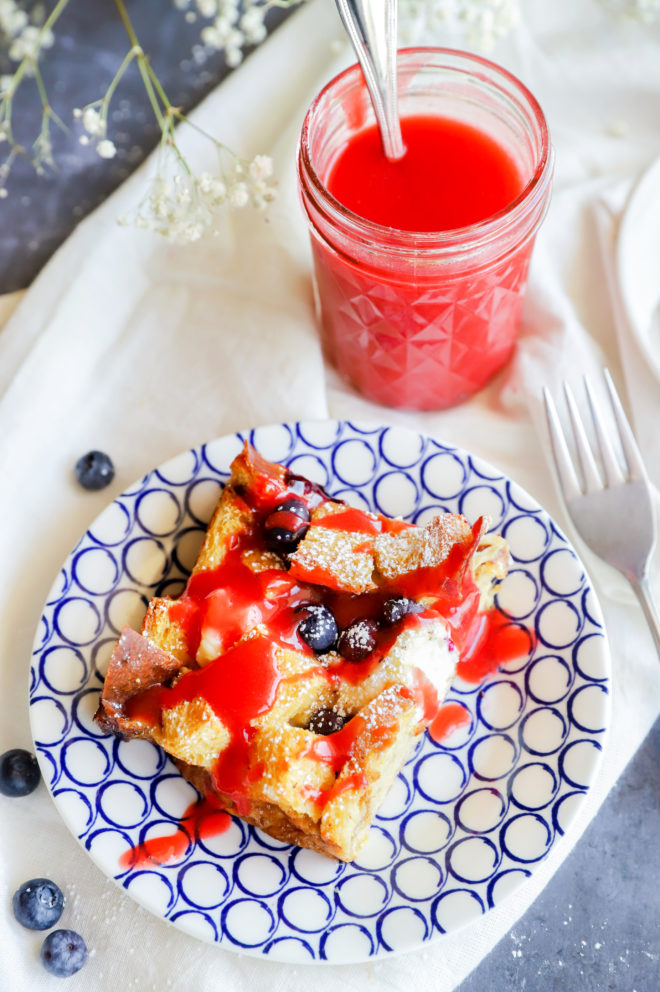 what toppings can I use?
I love to use a light dusting of powdered sugar on top of this casserole and serve it with strawberry coulis. Not only does this give you a tangy contrast to the casserole, it also gives a little festive red, white, and blue combo for any upcoming holiday (July 4th, Memorial Day weekend, Labor Day weekend)!
why is my blueberry french toast casserole soggy?
If your casserole is soggy, it comes down to the bread. You likely cut the pieces of bread too thin so they couldn't soak up all the moisture in the custard base.
is this casserole eggy?
While there are 8 eggs used in this recipe, the ratio of egg to milk is one that makes this casserole avoid that eggy flavor some french toast recipes can have. The result is a sweet custard that tastes closer to a bread pudding than something that reminds you of eggs!
Need some more inspiration for breakfast or brunch? Check out my breakfast recipes page!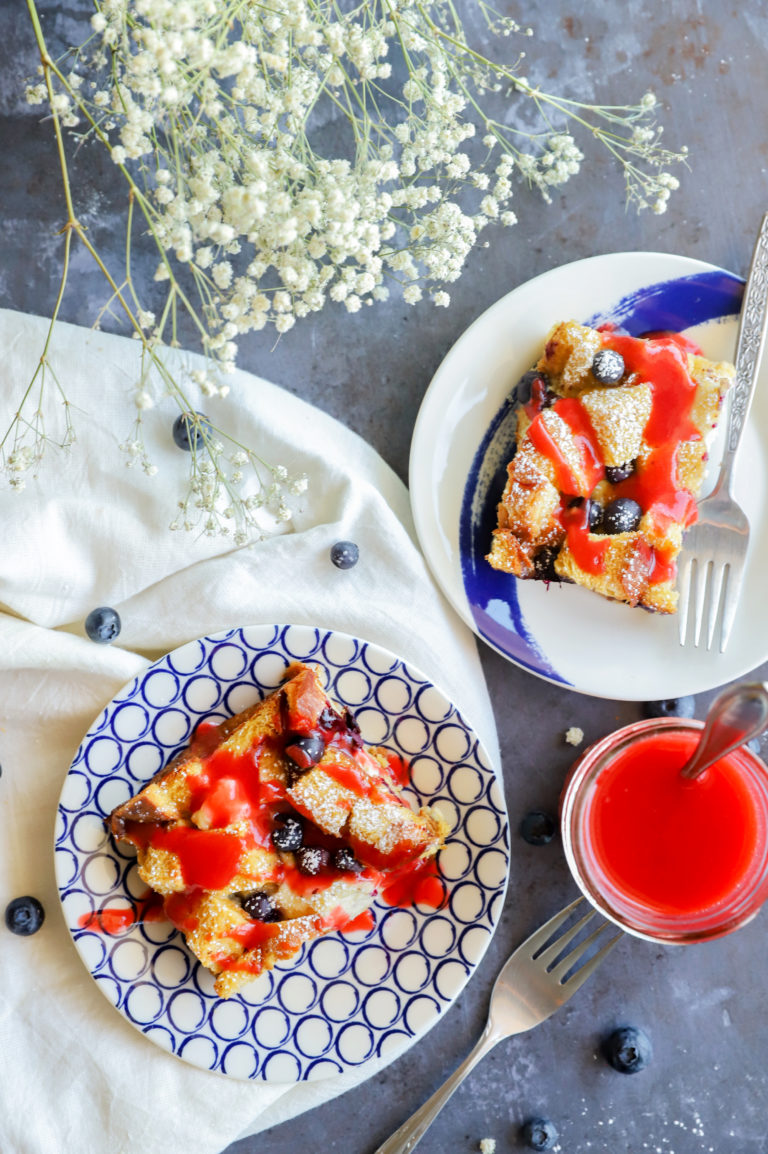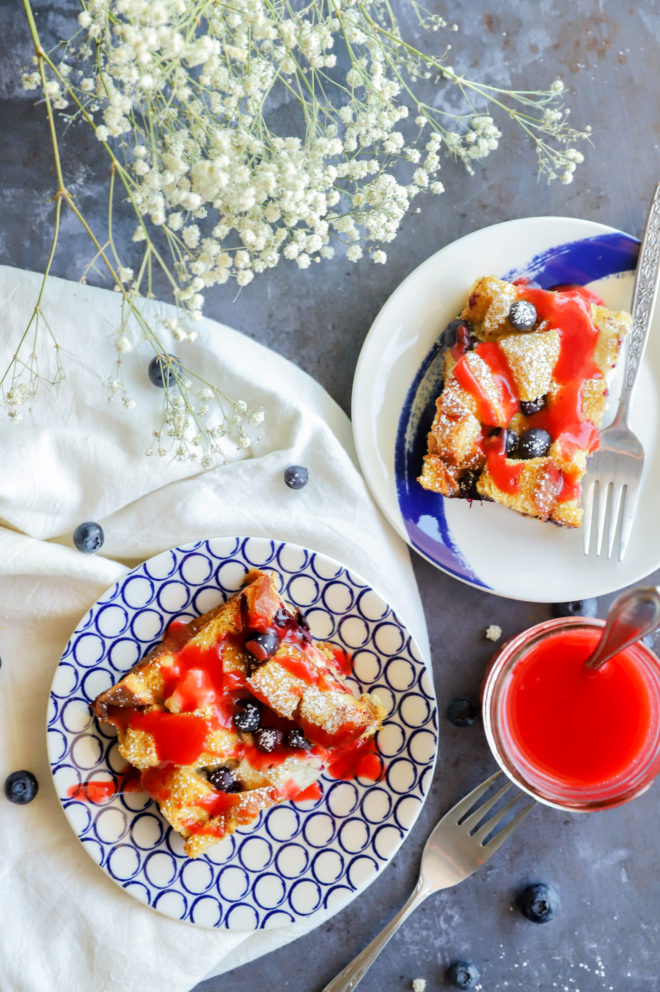 what to serve with blueberry cream cheese french toast casserole
I love this recipe because it's an entire breakfast in a pan! If you want to serve some things alongside it, I suggest keeping it simple. Stick to the basics of bacon, fresh fruit, and scrambled eggs! Of course, no brunch is complete without a cocktail, am I right? Here are some of my favorite morning drinks to wash it all down with:
I personally love to serve this recipe for brunch and breakfast gatherings, especially in the spring and summer! If you need more options to add to your breakfast or brunch spread, check out my easter breakfast ideas round up.
If you want to have a little sweet treat to send everyone home with, consider making a batch of these easy mini eggs cookies for Easter!
how to store
This blueberry cream cheese french toast casserole will last stored in an airtight container in teh refrigerator for up to 4 days. When you are ready to warm the leftovers, you can do so in a baking dish at 350˚F until warmed through.
If you want to freeze this, you can do so unbaked or baked. To freeze unbaked, prepare the recipe in the pan, but instead of refrigerating it, freeze it (wrapped in two layers of plastic wrap and a layer of foil) for up to two months. Thaw overnight in the refrigerator and bake as instructed.
To freeze after baking, store portions in resealable bags or airtight freezer-safe containers for up to three months. Thaw overnight in the refrigerator before reheating.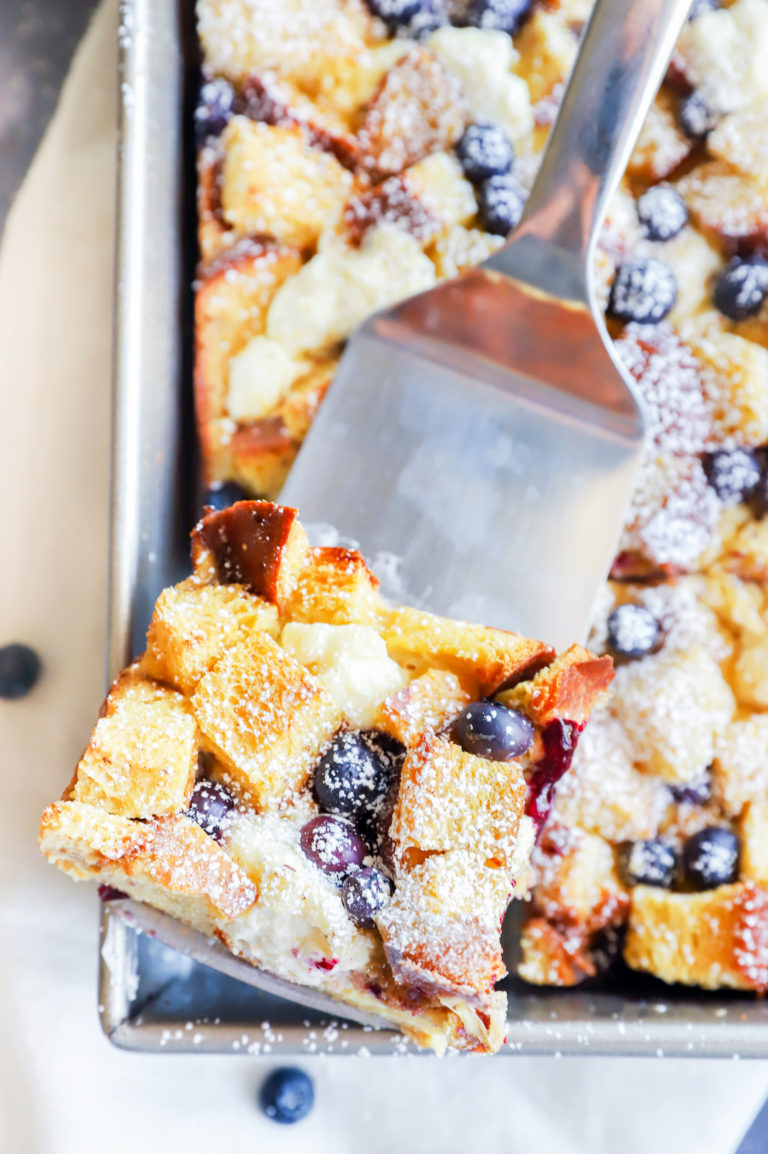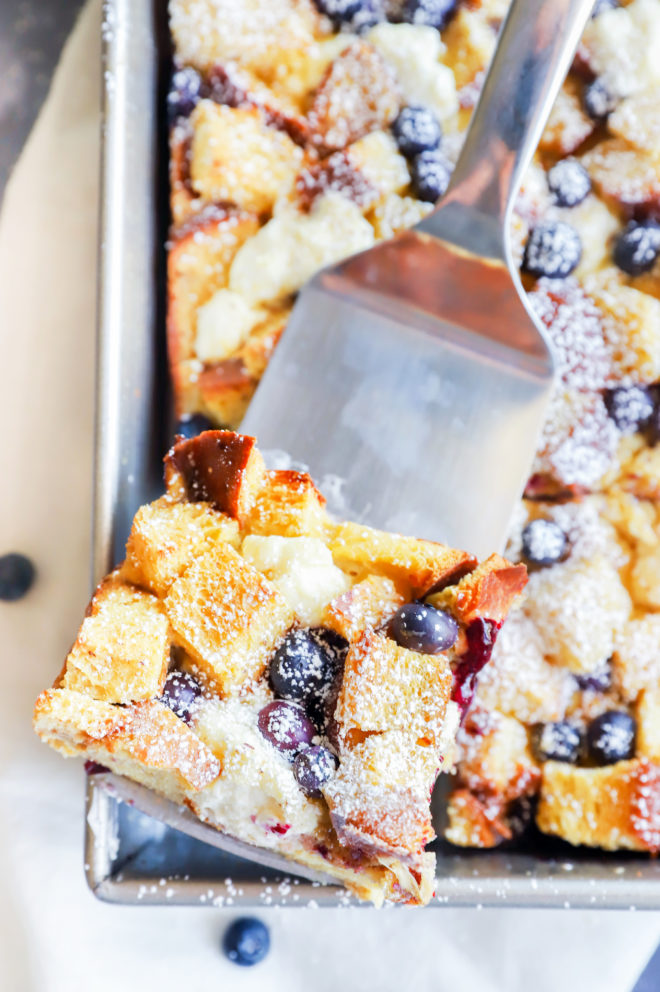 Finally, if you make this blueberry cream cheese french toast casserole, please be sure to give this recipe a rating or leave a comment! I love to hear when you all make recipes, and I do take the time to respond to every single comment. Feel free to drop questions below too, if you have them!
Oh and be sure to tag me on Instagram if you make the recipe! Love being able to see these recipes come to live in your homes – it's my favorite thing to look through those photos. It really means the world to me!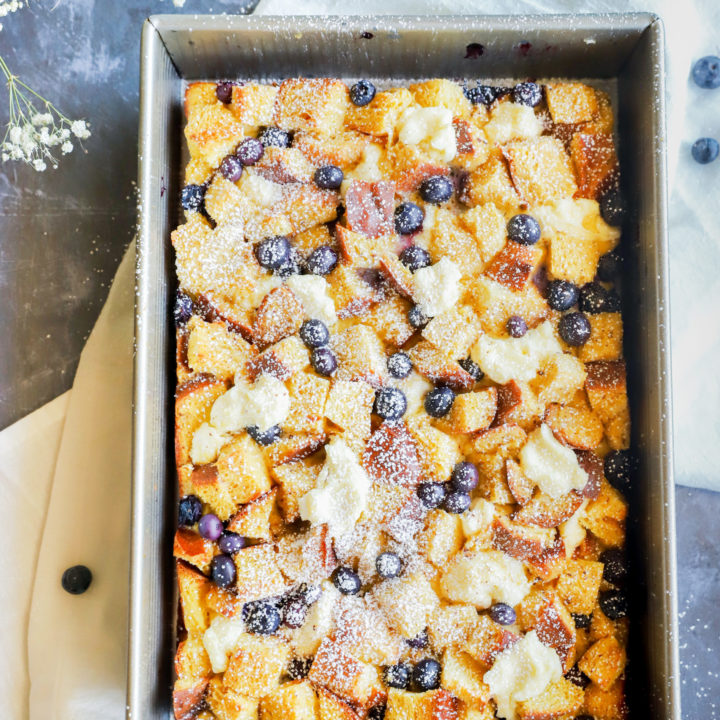 Blueberry Cream Cheese French Toast Casserole
Total Time:
9 hours
5 minutes
This combination of blueberries, cream cheese, cinnamon, and lemon is perfect for busy mornings!
Ingredients
1 (12-14 ounce) loaf french bread or challah
8 ounces block cream cheese, softened to room temp
2 Tbsp confectioners' sugar
8 large eggs
2 1/4 cups whole milk
2 1/2 tsp pure vanilla extract
1/2 tsp ground cinnamon
1 tsp lemon zest
1 Tbsp lemon juice
2/3 cup packed light brown sugar
1 cup fresh blueberries
Instructions
Spray a 9x13-inch baking pan (or 3 to 4 qt baking dish) with nonstick spray. Set aside.
Cut bread into 1-inch cubes. Spread half of the cubes in the prepared baking pan.
In the bowl of a stand mixer fitted with the paddle attachment, or using a handheld electric mixer, beat cream cheese and confectioners' sugar until completely smooth.
Drop half of the mixture in dollops evenly on top of the bread cubes in the prepared pan. Top this with half the blueberries. Add the rest of the bread cubes in a layer on top. Drop dollops of the remaining cream cheese mixture on top and top with remaining blueberries. Set aside.
In a large bowl, whisk together eggs, milk, vanilla extract, cinnamon, lemon zest, lemon juice, and brown sugar until completely combined and no lumps of sugar remain.
Pour the custard mixture over the bread evenly. Cover tightly with plastic wrap and place in the refrigerator for at least 3 to 4 hours, but overnight is best. You can leave it in the refrigerator for up to 24 hours.
When ready to bake, preheat oven to 350˚F. Remove plastic wrap and bake for 45 to 55 minutes, until golden brown and completely set.
Let rest for 10 minutes before serving with your preferred toppings.
Recommended Products
As an Amazon Associate and member of other affiliate programs, I earn from qualifying purchases.