Please note this post contains affiliate links.
Baileys Hot Fudge Sauce is an easy indulgence that you will want to have in your refrigerator at all times. The homemade fudgy drizzle is ideal over ice cream, cookie skillets, or even used as a rimming mixture for your favorite Irish whiskey cocktails.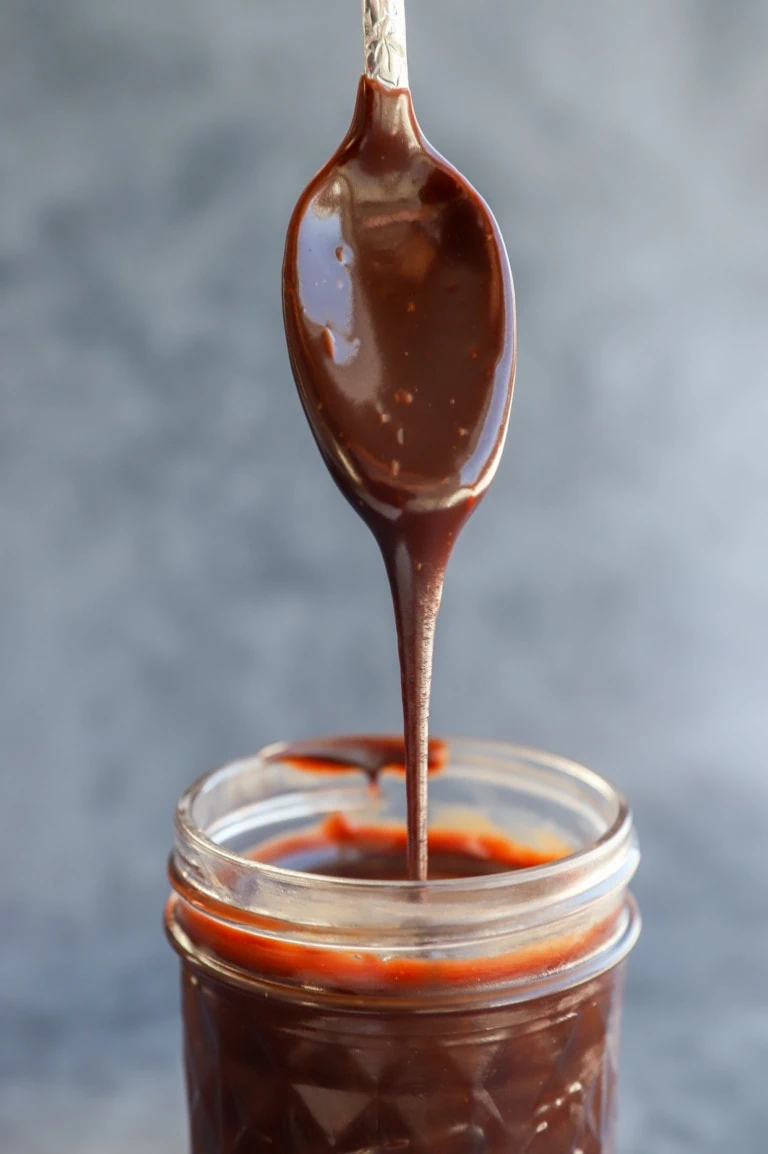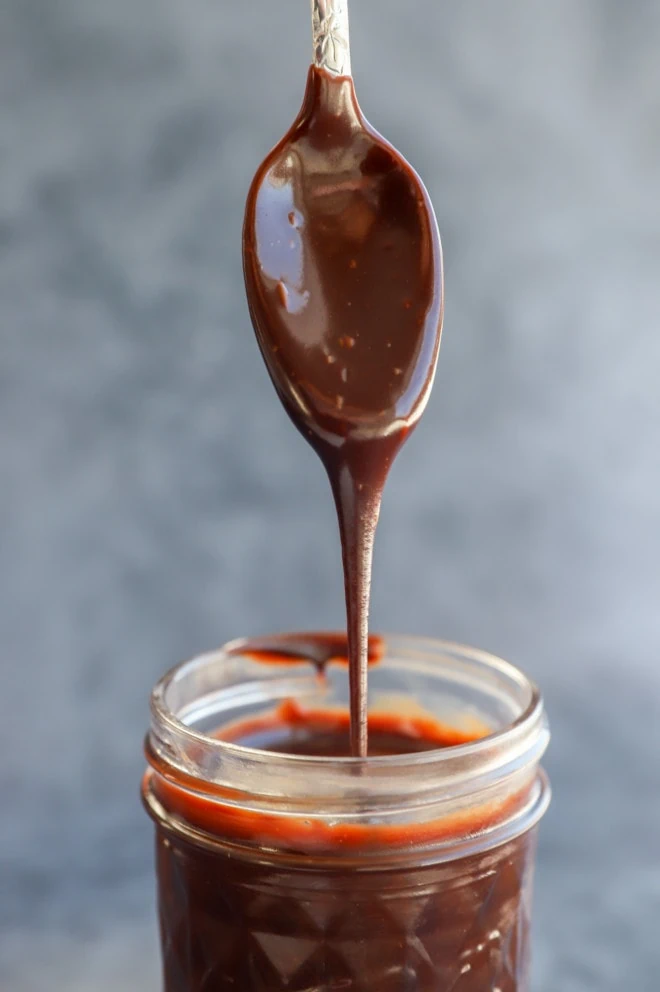 about this baileys hot fudge sauce
Some of you may already be aware of my chocolate addiction, particularly if you follow me on Pinterest because I have a whole board dedicated to it, for goodness sake. A piece of chocolate a day makes me a sane woman, that's all I can say (there was a little rhyme there, huh? I'm a poet and I didn't even know it! You can stop rolling your eyes at me now…).
Chocolate is so dreamy (oh let's just say – it's SEXY) when it's spilling off a spoon like this isn't it?
Hot fudge sauce is one of the rare chocolate indulgences I give into. Usually it's a piece of chocolate or a small brownie that ties me over. But when I really want chocolate, like reallllllllly want it, I go for a hot fudge smothered sundae.
This hot fudge sauce is even more sinful with dark chocolate and Baileys Irish Cream. The best way to describe it is a glorious combination of chocolate and booze, which will have you swooning.
The consistency is what wins me over with this irish cream chocolate sauce, even more so than the flavor. It's thick, rich, and once it's poured onto ice cream it starts to thicken even more. It's the happy medium between Hershey's chocolate syrup and that magic shell stuff that only tasted good if you got the Reese's Peanut Butter Cup flavor (remember that?!).
Ready for dessert yet?
Note: This is an updated version of the original posted on January 9, 2015. The recipe remains the same!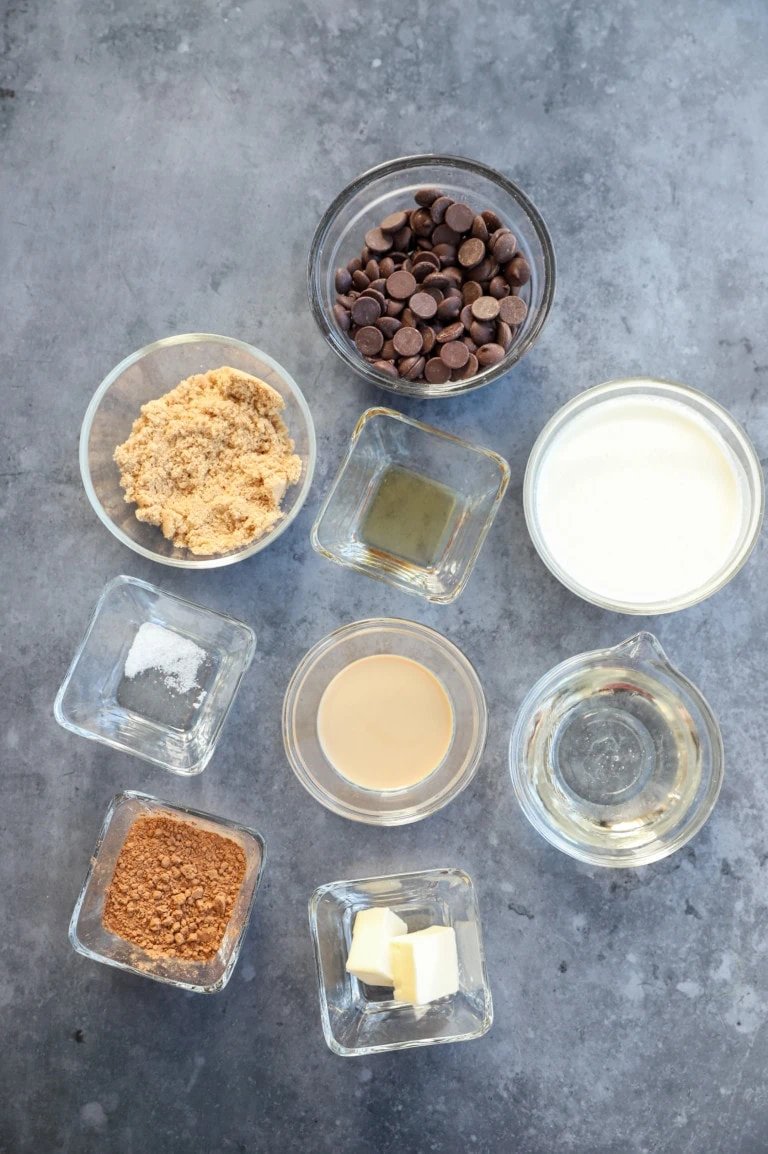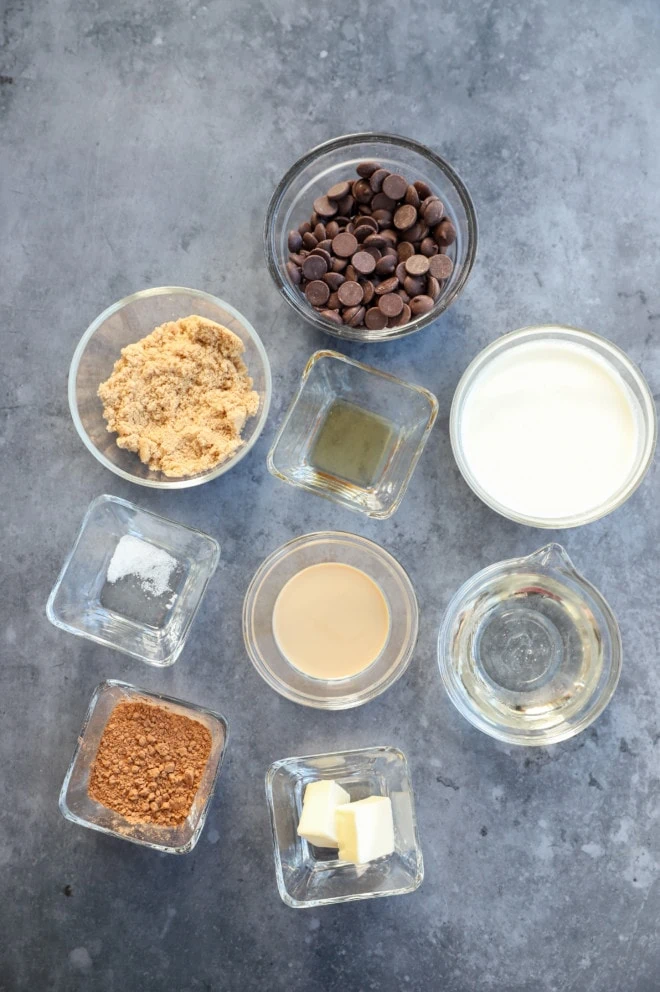 ingredients
heavy cream. Heavy cream is what gives this recipe added richness and depth. Do not use milk or half and half in this recipe.
corn syrup. I use light corn syrup in this recipe!
sugar. You will only need brown sugar for this recipe.
cocoa powder. I prefer to use Dutch process cocoa powder because it has a deeper flavor. You can use your favorite kind.
chocolate. Dark chocolate chips are called for in the recipe, but you can use semi-sweet or milk chocolate if you prefer!
butter. You will need unsalted butter for this recipe. If you do use salted butter, skip the pinch of salt that I add to the recipe.
vanilla. always reach for the pure vanilla extract! My favorite is Nielsen Massey – their Madagascar Bourbon Pure Vanilla Extract is amazing.
Irish cream. Baileys Original Irish Cream is still my favorite brand (obviously since I'm naming it in the recipe so prominently!). If there is a different Irish cream liqueur brand you like, you can use that instead.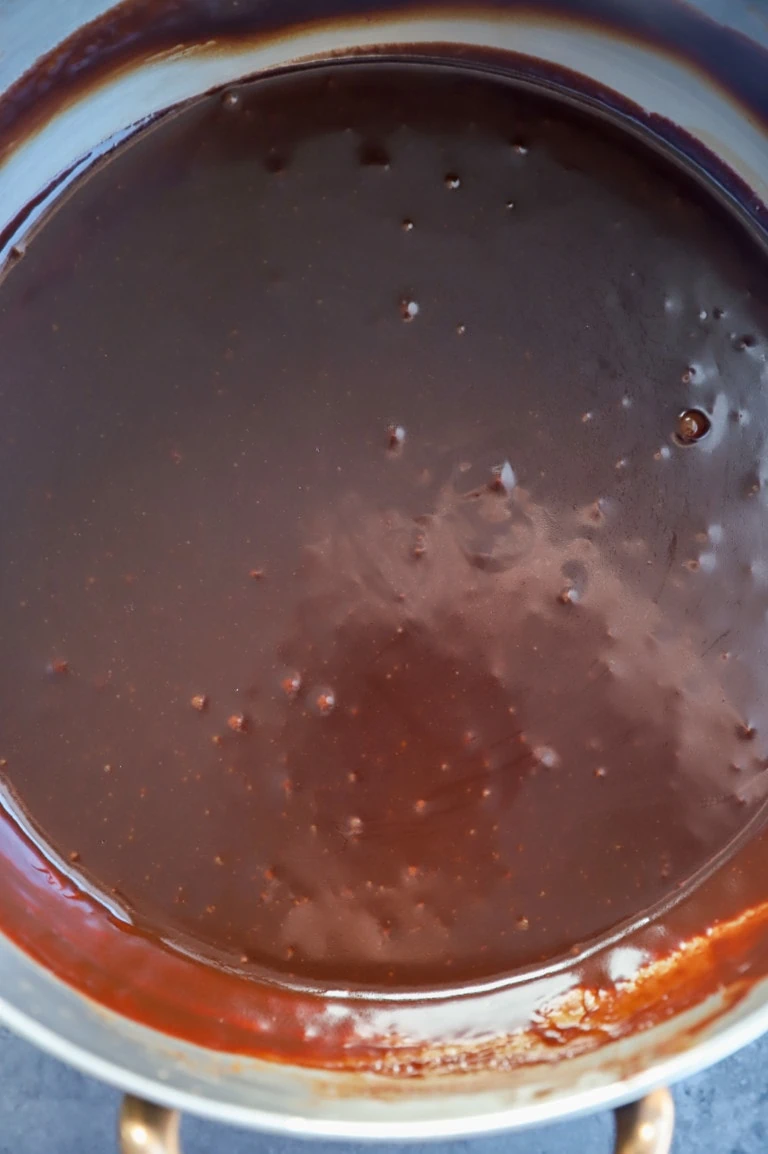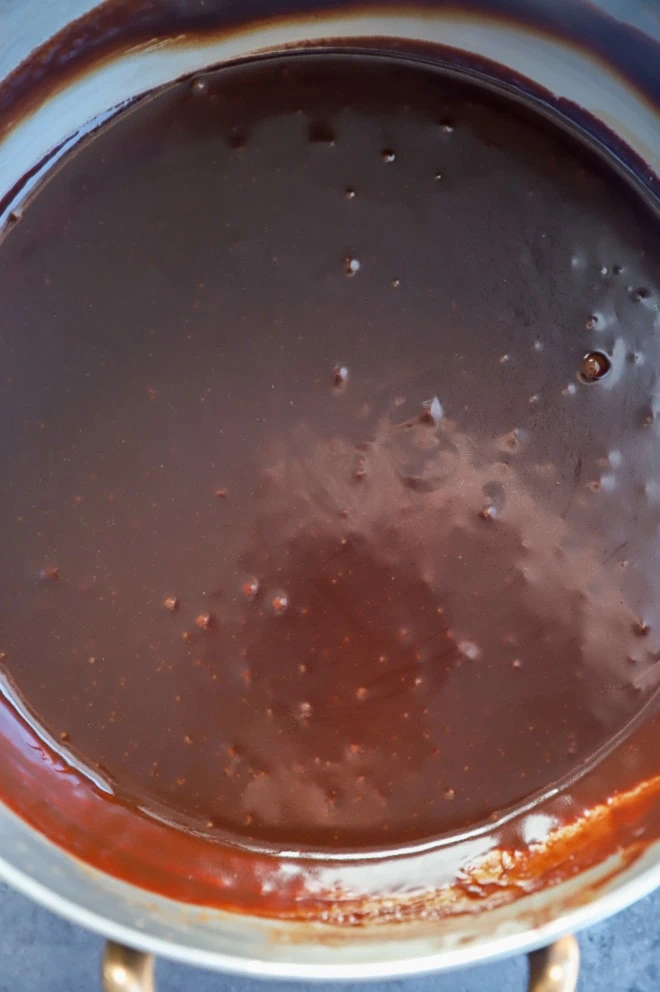 this recipe's must haves
You don't need too much to make this recipe! Measuring cups and measuring spoons to help you measure out all the ingredients.
To cook it, you'll need a saucepan, as well as a long wooden spoon or a whisk.
Finally you will need a mason jar or other airtight container to store the sauce in the refrigerator once its cooled off.
here's how to make baileys hot fudge sauce
cook
Add heavy cream, corn syrup, brown sugar, cocoa powder, salt, and half of the chocolate chips to a medium saucepan. Bring to a boil over medium-high heat. Reduce the mixture to a simmer and cook, stirring constantly, for 5 minutes until the chocolate is melted and the mixture is smooth.
Remove from heat and stir in remaining chocolate, butter, vanilla, and Baileys Irish Cream. Stir together until the mixture is smooth and all of the chocolate is melted.
cool
Let cool for about 20 to 30 minutes to thicken. Store in an airtight container in the refrigerator.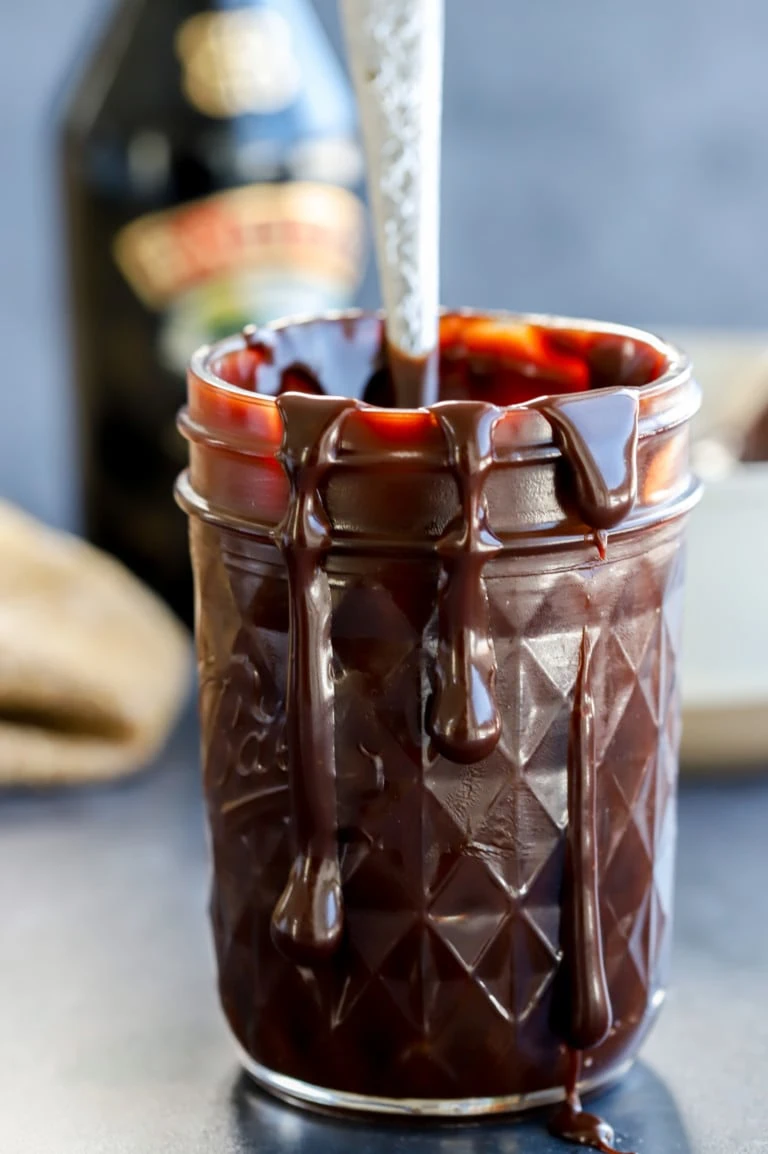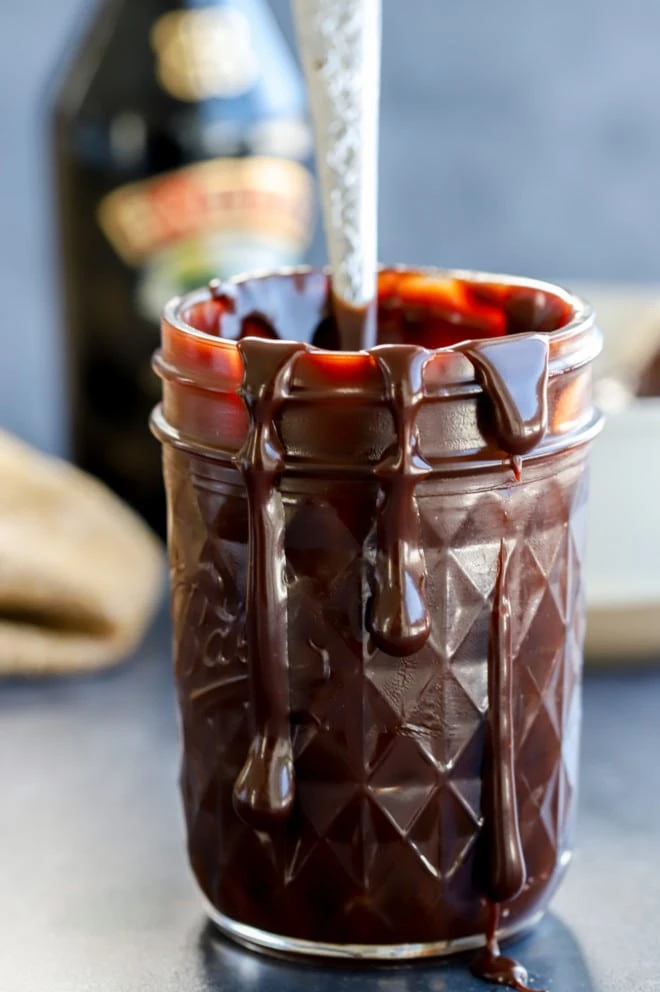 tips for success
stir constantly. This rich and thick sauce can go from smooth to lump in a minute if you aren't careful. Be sure to constantly stir it as it cooks so it's deliciously smooth.
cool before serving. Before you serve it, make sure to let it cool in the saucepan for at least 20 to 30 minutes. It's after the cooking is done that the sauce thickens. By letting it rest, it'll get nice and thick!
use a different chocolate. Want to change it up? Instead of using dark chocolate chips, you can use semi-sweet chocolate chips or even milk chocolate chips.
More Irish cream recipes to explore: Oreo Baileys Truffles | Espresso Brownie Cups | Baileys Chocolate Chip Bundt Cake | Baileys Fudge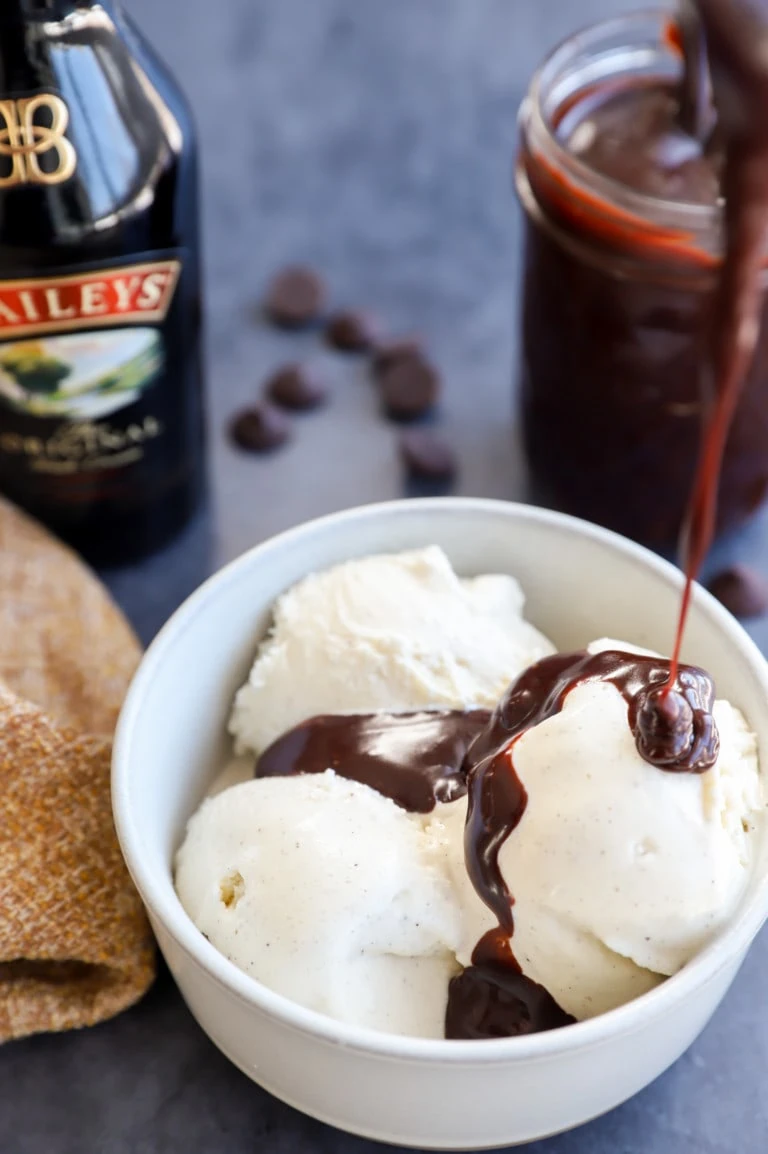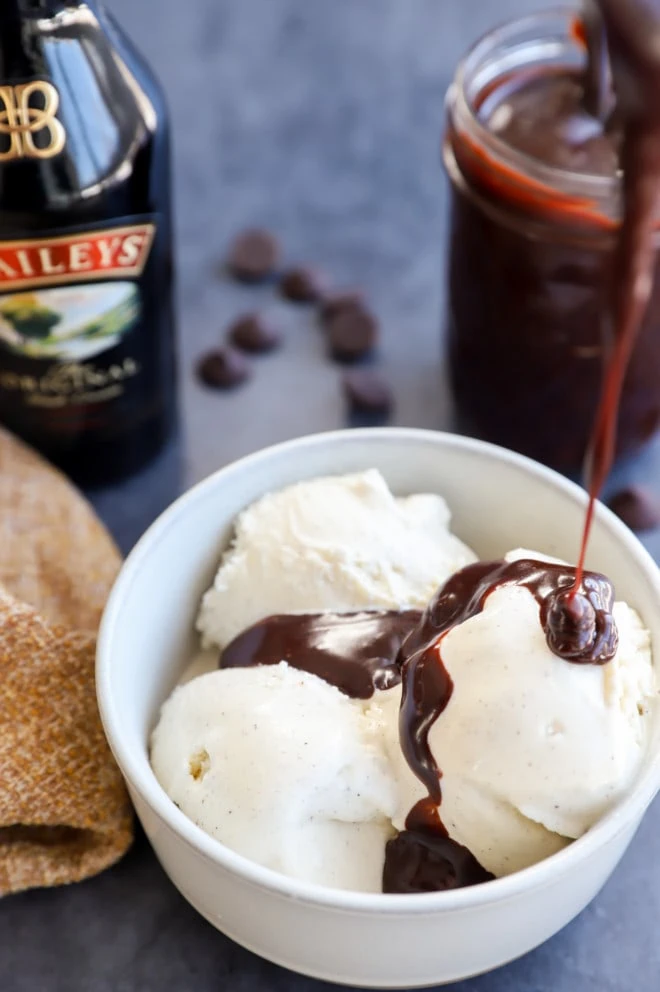 what's the difference between hot fudge and chocolate sauce?
The difference all comes down to texture! Hot fudge sauce is thicker and richer in flavor because it uses cream and butter. Chocolate sauce is thinner, with a lighter flavor because it's made with sugar and water or corn syrup primarily.
does baileys hot fudge sauce need to be refrigerated?
Yes, it does. It will keep for longer in the refrigerator in an airtight container. You can simply reheat small amounts in the microwave! See my notes on How to Store below for more details on storage, how long this sauce can be stored, and how to reheat.
how much alcohol is in Baileys Irish Cream?
According to the label, a standard shot of Baileys Original has a 17% alcohol content. Even though you are technically cooking this recipe, you stop cooking it before the alcohol is added. Therefore, this is an adults-only indulgent treat!
Some may think that it's safe because the sauce is hot when you add the alcohol, but I don't feel that it's enough time to cook off all the alcohol content.
Need more inspiration for dessert? Check out my desserts recipe page!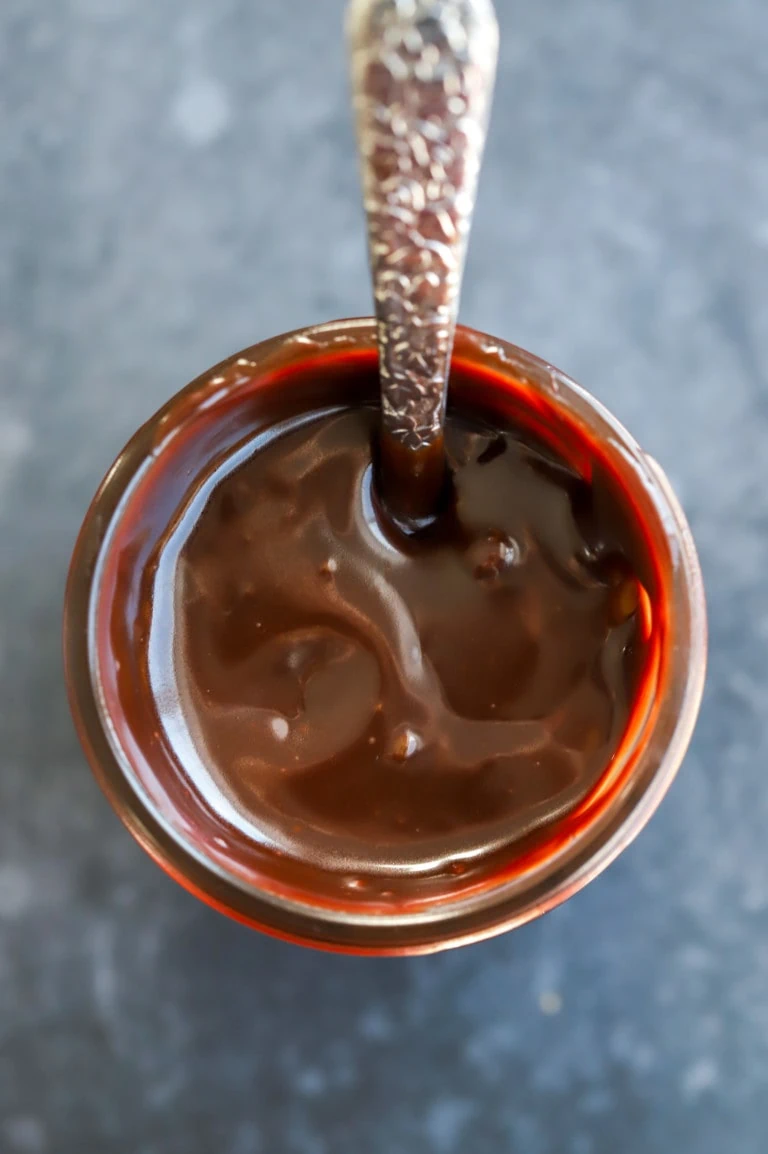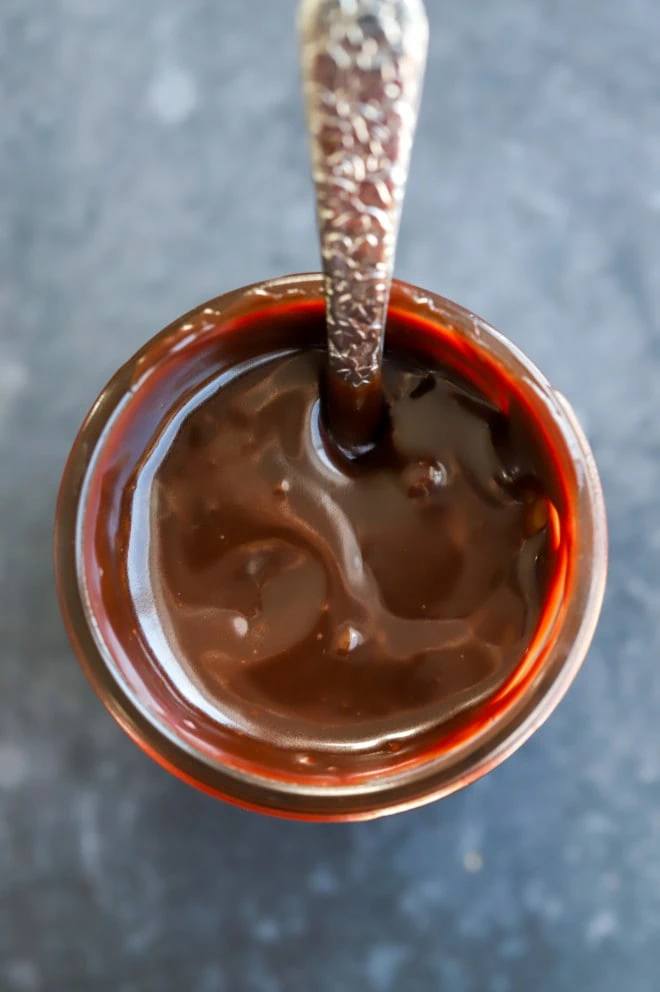 what to serve with baileys hot fudge sauce
There are so many ways to enjoy this baileys hot fudge sauce! I personally love to pour it over a big bowl of vanilla bean ice cream, but coffee ice cream is another excellent choice. Don't forget to top it all off with a dollop of whipped cream!
Here's some more ideas to use this hot fudge sauce:
how to store and reheat
Store. Cool hot fudge sauce completely before storing in an airtight container or mason jar. Store in the refrigerator for up to 4 months.
Reheat. Reheat the sauce in small increments of time, about 20 to 30 seconds at a time, until warm. Be sure to stir in between the increments! It usually takes about 45 seconds to 1 minute for me to reheat.
Freeze. If you are freezing the hot fudge sauce, be sure to store it in a freezer-friendly container that seals tightly. Freeze for about 5 to 6 months. To thaw, place in the refrigerator until thawed completely. Pour into saucepan and warm over medium-low heat, stirring often, until smooth.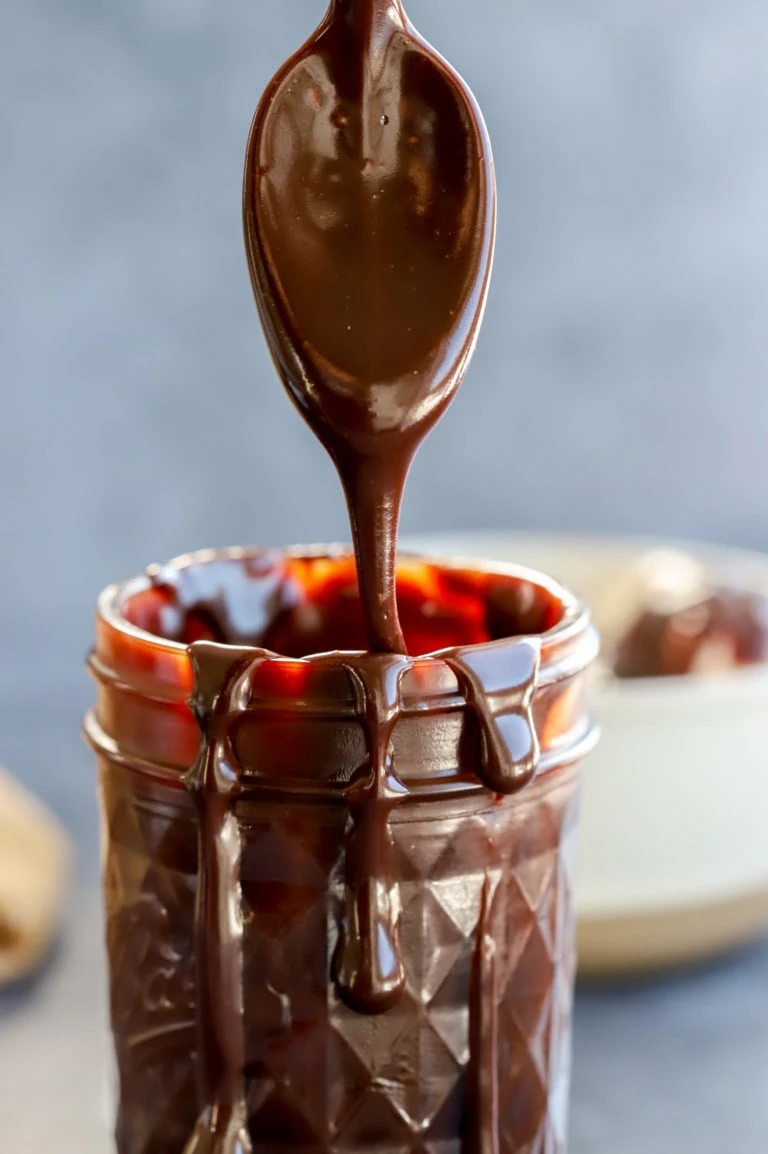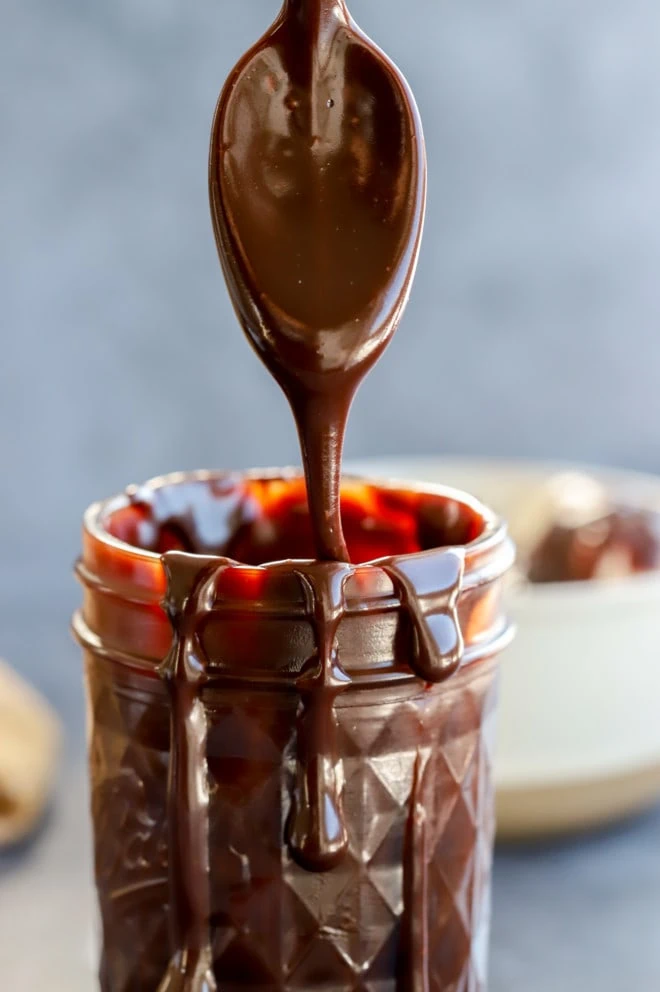 Finally, if you make this baileys hot fudge sauce recipe, please be sure to give this recipe a rating or leave a comment! I love to hear when you all make recipes, and I do take the time to respond to every single comment. Feel free to drop questions below too, if you have them!
Oh and be sure to tag me on Instagram if you make the recipe! I love being able to see these recipes come to life in your homes – it's my favorite thing to look through those photos. It really means the world to me!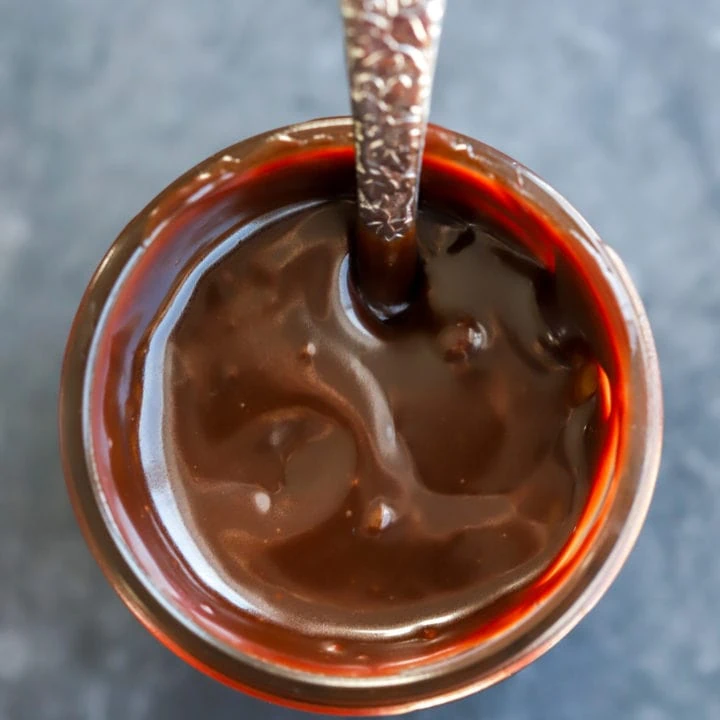 Bailey's Hot Fudge Sauce
Yield:
1 cup of hot fudge sauce
Additional Time:
30 minutes
Hot fudge sauce has never tasted as good as this dark chocolate and Bailey's homemade sauce!
Ingredients
2/3 cup heavy cream
1/2 cup light corn syrup
1/3 cup brown sugar
1/4 cup cocoa powder
1/4 tsp salt
7 oz dark chocolate chips
2 Tbsp unsalted butter
1/2 tsp vanilla extract
3 Tbsp Bailey's Irish Cream
Instructions
In a medium saucepan over medium-high heat, bring heavy cream, corn syrup, brown sugar, cocoa powder, salt and half of the dark chocolate chips to a boil. Reduce the mixture to a simmer and cook for 5 minutes, stirring constantly.
Remove from heat and add the rest of the chocolate, butter, vanilla extract and Bailey's Irish Cream. Stir together until the mixture is smooth. Let cool for approximately 20 to 30 minutes to thicken.
Store in an airtight container. To reheat, warm in the microwave for 45 seconds to 1 minute.