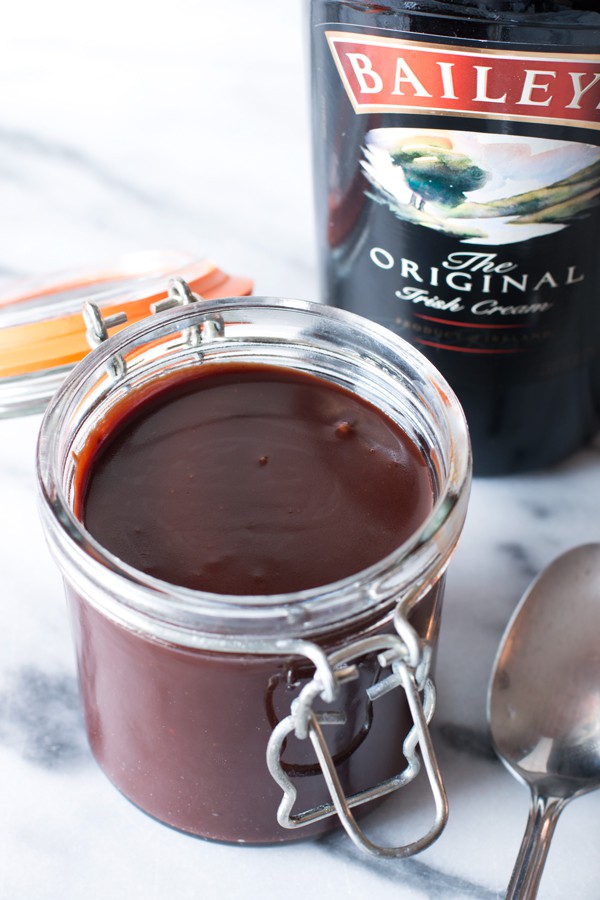 Hello, my name is Meghan and I am… a chocoholic.
Hi Meghan!
Some of you may already be aware of my chocolate addiction, particularly if you follow me on Pinterest because I have a whole board dedicated to it, for goodness sake. A piece of chocolate a day makes me a sane woman, that's all I can say (there was a little rhyme there, huh? I'm a poet and I didn't even know it! You can stop rolling your eyes at me now…).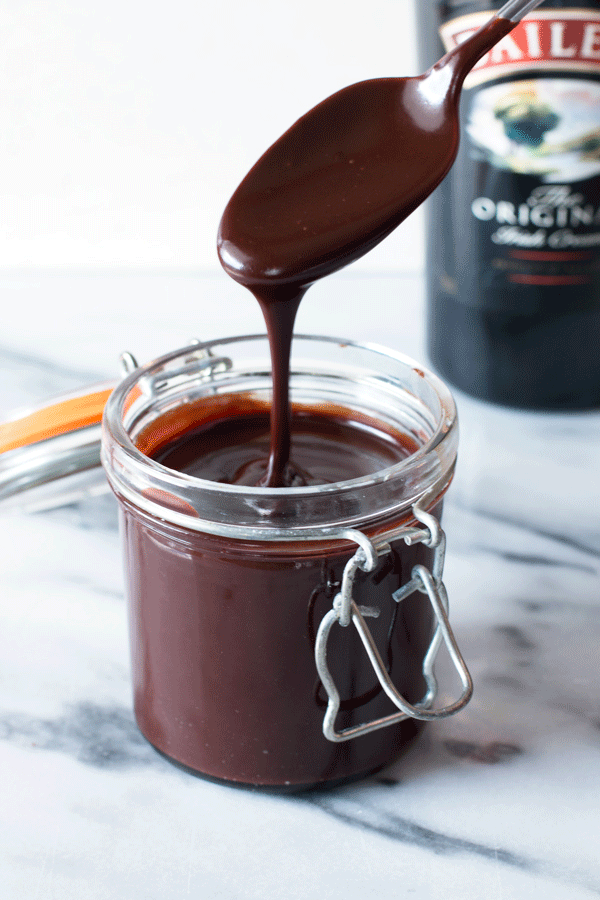 Chocolate is so dreamy (oh let's just say – it's SEXY) when it's spilling off a spoon like this isn't it? Excuse me while I pick my jaw up off the floor…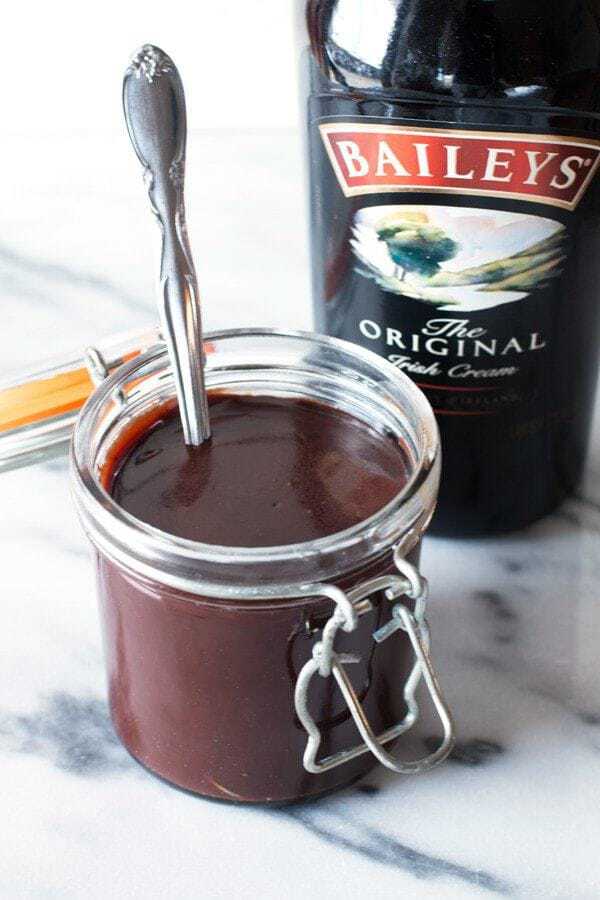 Hot fudge sauce is one of the rare chocolate indulgences I give into. Usually it's a piece of chocolate or a small brownie that ties me over. But when I really want chocolate, like reallllllllly want it, I go for a hot fudge smothered sundae.
This hot fudge sauce is even more sinful with dark chocolate and Bailey's Irish Cream. The best way to describe it is a glorious combination of chocolate and booze, which will have you swooning. GAH it's sooooooo good!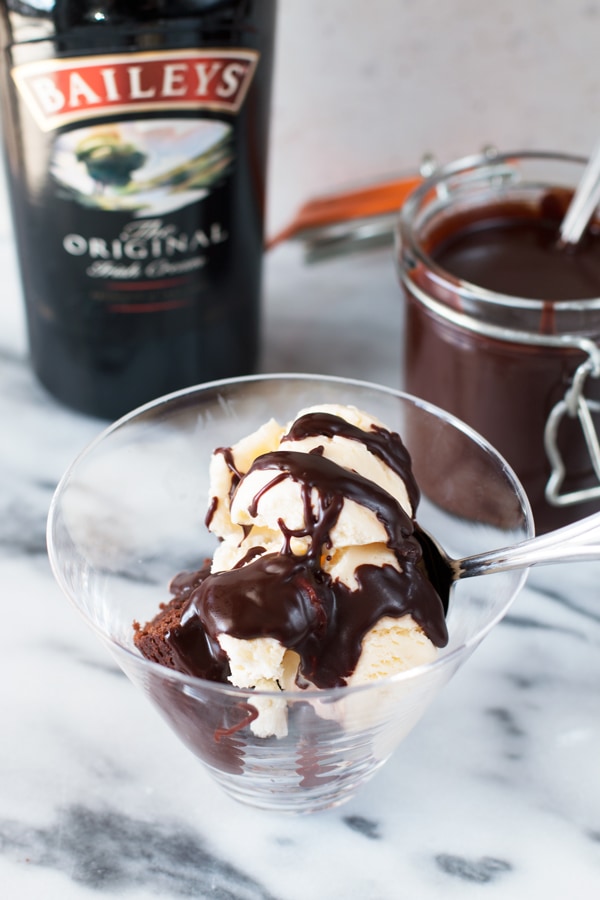 The consistency is what wins me over with this sauce, even more so than the flavor. It's thick, rich, and once it's poured onto ice cream it starts to thicken even more. It's the happy medium between Hershey's chocolate syrup and that magic shell stuff that only tasted good if you got the Reese's Peanut Butter Cup flavor (remember that?!).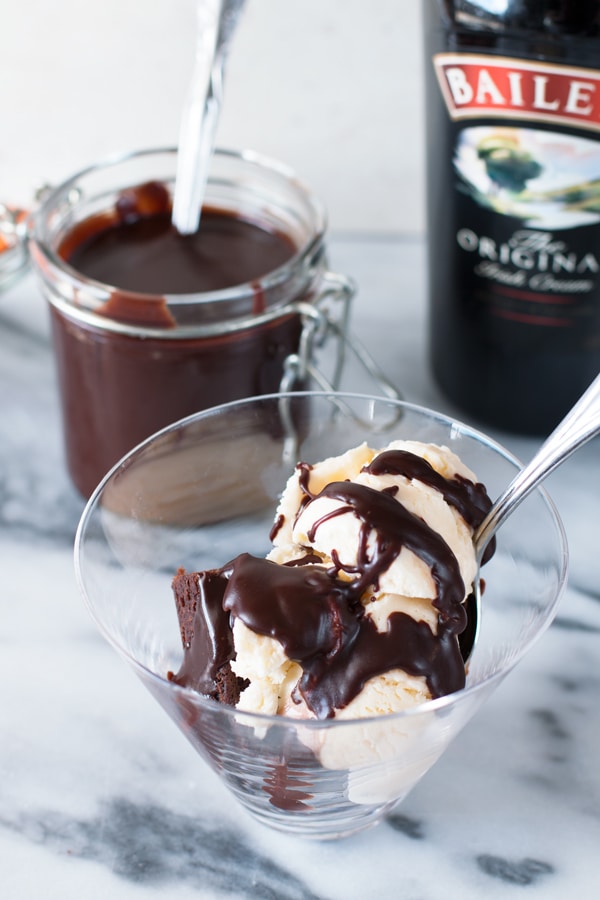 Ready for dessert yet?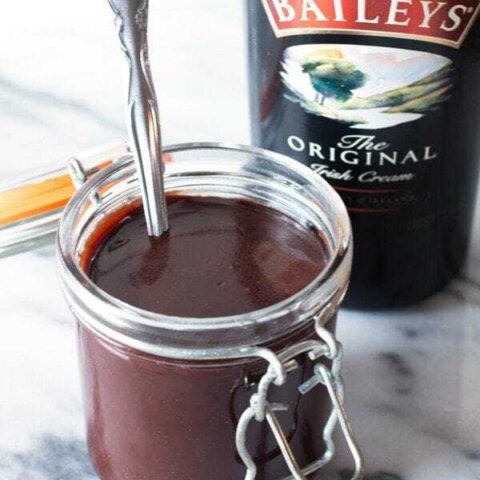 Bailey's Hot Fudge Sauce
Yield:
1 cup of hot fudge sauce
Additional Time:
30 minutes
Hot fudge sauce has never tasted as good as this dark chocolate and Bailey's homemade sauce!
Ingredients
2/3 cup heavy cream
1/2 cup light corn syrup
1/3 cup brown sugar
1/4 cup cocoa powder
1/4 tsp salt
7 oz dark chocolate chips
2 Tbsp unsalted butter
1/2 tsp vanilla extract
3 Tbsp Bailey's Irish Cream
Instructions
In a medium saucepan over medium-high heat, bring heavy cream, corn syrup, brown sugar, cocoa powder, salt and half of the dark chocolate chips to a boil. Reduce the mixture to a simmer and cook for 5 minutes, stirring constantly.
Remove from heat and add the rest of the chocolate, butter, vanilla extract and Bailey's Irish Cream. Stir together until the mixture is smooth. Let cool for approximately 20 to 30 minutes to thicken.
Store in an airtight container. To reheat, warm in the microwave for 45 seconds to 1 minute.