Please note this post contains affiliate links.
Discover the delightful combination of tart cherries and sweet amaretto liqueur in a Cherry Amaretto Sour cocktail. This balanced and visually appealing drink offers a refreshing zing and smooth texture. Perfect for any season, indulge in the rich flavors and enticing aroma of this modern twist on a classic cocktail.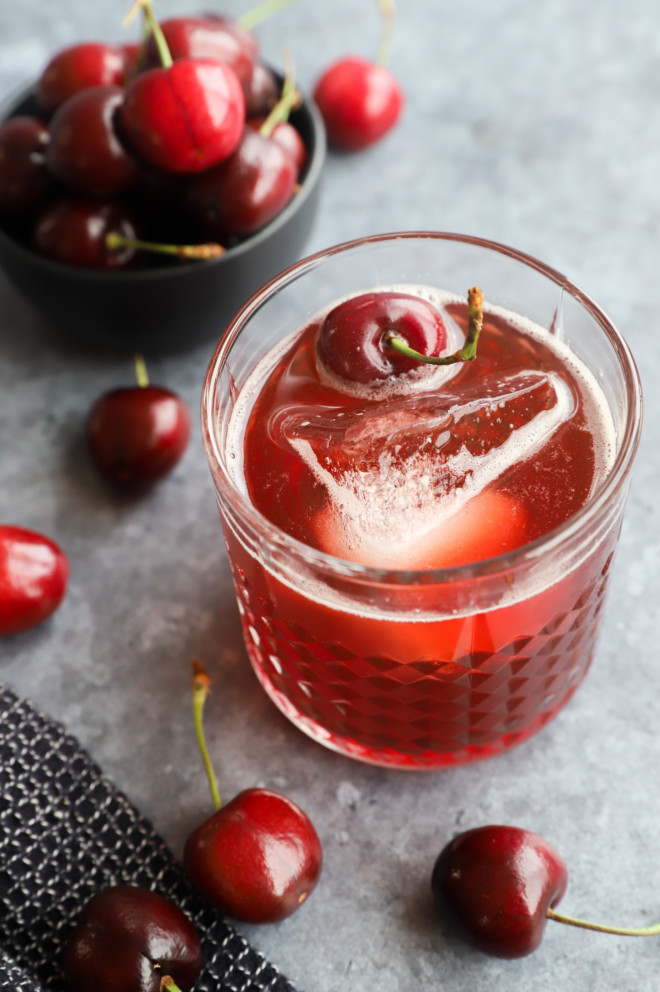 You can't have a picnic without a cocktail, right? With all that food and sunshine, you need a smart cocktail to balance all those lovely flavors out.
You know that refreshing feeling when you get out of your normal routine and get all inspired again?
That's exactly what this collaboration with Stephanie over at Sustaining the Powers did with me. There's something about being in someone else's kitchen, without the normal stressors (ahem, no air conditioning being one…), and cooking with someone else.
Especially when paired with this Fig & Pig Flatbread she busted out…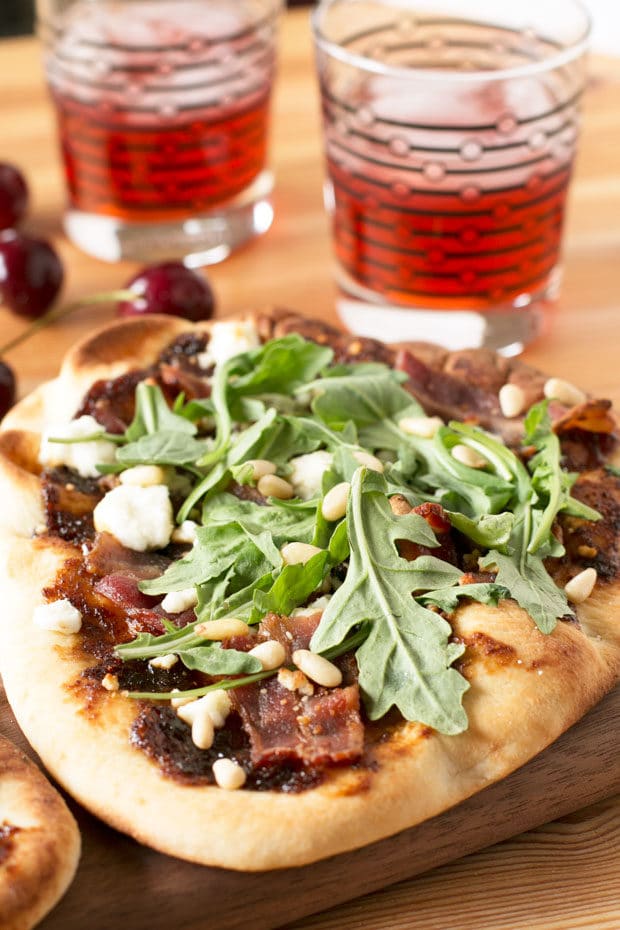 Just like this very cherry amaretto sour. Who doesn't love cherry things when it comes to a picnic?!
You can easily throw it in a thermos after doubling (or quadrupling, because #letsbereal) the batch and serve it up at your next picnic.
Don't forget to add a Nutella Cherry Tart to the cooler and you will have a cherry celebration on your hands! It's one of my favorite desserts, plus it doubles up the cherry flavor. Talk about summer perfection!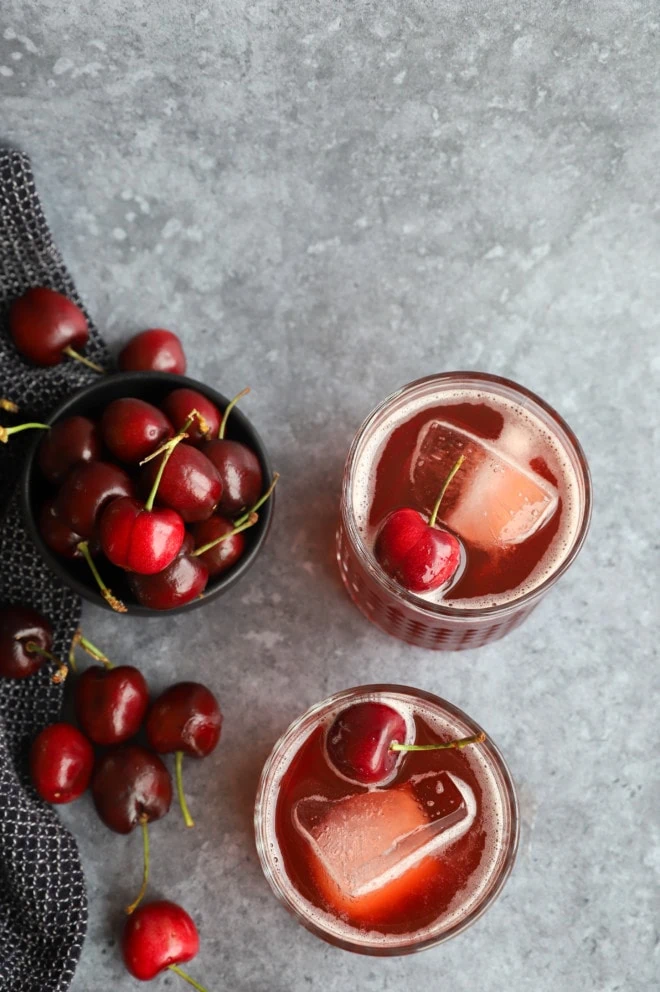 about this cherry amaretto sour
I don't know if you've ever had a traditional amaretto sour, so if you haven't let this be your intro. Amaretto is a liquor that many love to drink on the rocks, but when you put it in a sour it is taken to an entirely new level.
I love the sweet and sour flavor in the classic cocktail, but a splash of grenadine and some cherry juice gives you a little more of a summery pop that goes well with any summer recipe (especially bacon, just sayin'). The cherry flavor smooths out the sour flavor, so you get just the right balance. It's just the summery cocktail that is ideal for picnic!
Here's just a few reasons for loving this cocktail:
Balanced Flavors – The combination of cherry and amaretto gives you a balanced flavor profile. The tartness of the cherries are just the right accompaniment for the sweet, almond taste of amaretto. The sweet and tart cocktail goes with all of your favorite summery meals!
Rich Aroma – The smell of amaretto liqueur is unique as it smells strongly of almonds. This paired with the fruity notes of cherries is an enticing scent that will keep you coming back for more.
Easy to Customize – This cocktail is so easy to customize! It's a twist on a classic that can be served on the rocks as you see here. However you can also serve it in a chilled coupe glass to make it a little fancier for a special occasion. You can garnish it with fresh cherries or luxardo cherries depending on your preference! If you really want to go over the top, consider soaking fresh cherries in amaretto to create your very own amaretto cherry to top off the cocktail.
Let's talk more about the ingredients that we need to use to create these taste summery drinks.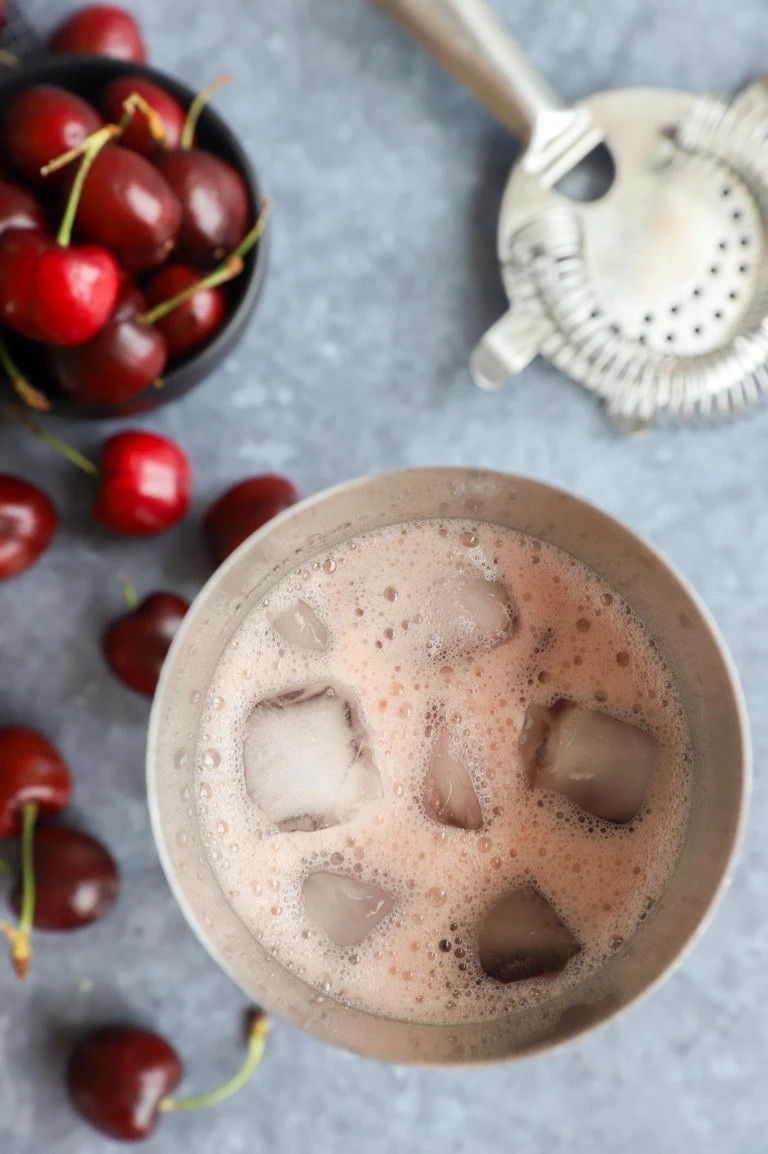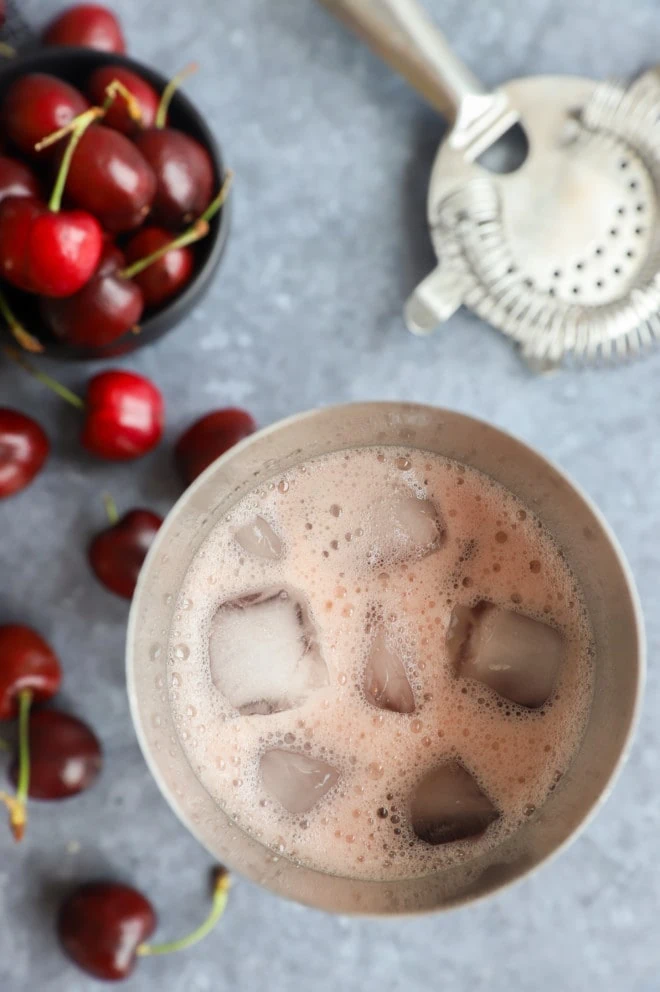 ingredients
amaretto – this is an Italian liqueur that has a very distinct bitter almond flavor. I know some who love to drink it straight, over ice. Personally I prefer it in a cocktail like this one!
sweet & sour mix – also simply just called "sour mix" this combination is used in many different cocktails. It's essentially a combination of lemon and/or lime juice and simple syrup. You can pick this up at your local liquor or grocery store.
grenadine – A sweet nonalcoholic syrup, grenadine is traditional made from pomegranate.
cherry juice – be sure to grab tart cherry juice here! It's what balances out the sweet elements in the cocktail.
More tasty cherry cocktails to sip on: Cherry Whiskey Smash | Cherry Bourbon Sour | Cherry Rosé Mimosa | Vodka Cherry Limeade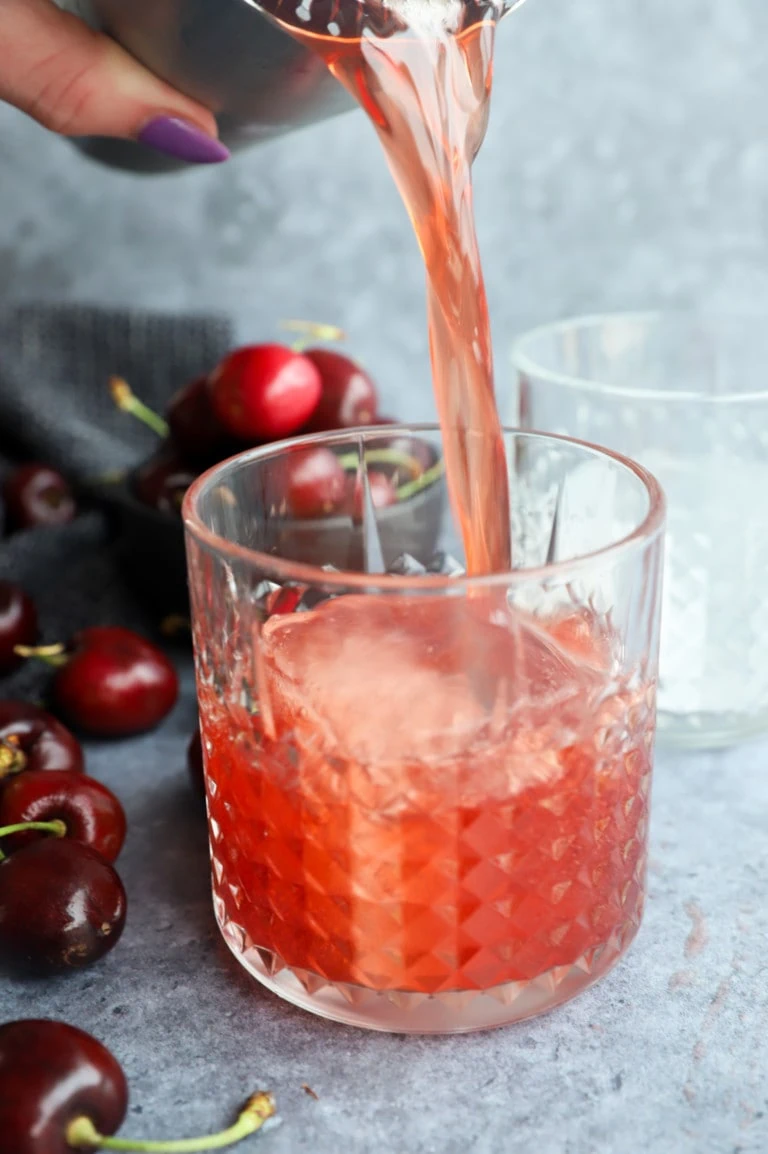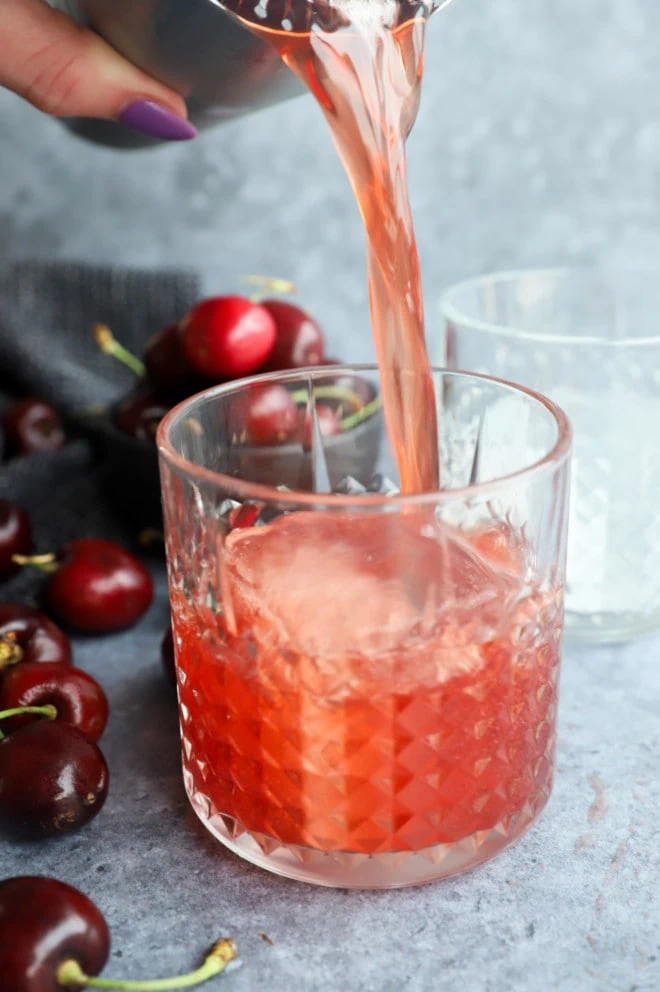 this recipe's must-haves
For this cocktail recipe, you only need a few simple tools. First you need a cocktail shaker like this Boston cocktail shaker that I love to use.
You will also need a cocktail strainer to strain the cocktail before adding it to double old fashioned glasses.
If you want to take the cocktail with you, just make sure you have a good thermos that will keep the cocktail cold. I like to chill the cocktail without ice in the refrigerator before I add it to a thermos. No need for ice!
here's how to make a cherry amaretto sour
shake
Add all four ingredients to a shaker filled with ice. Shake well.
strain
Strain into a cocktail glass filled halfway with ice.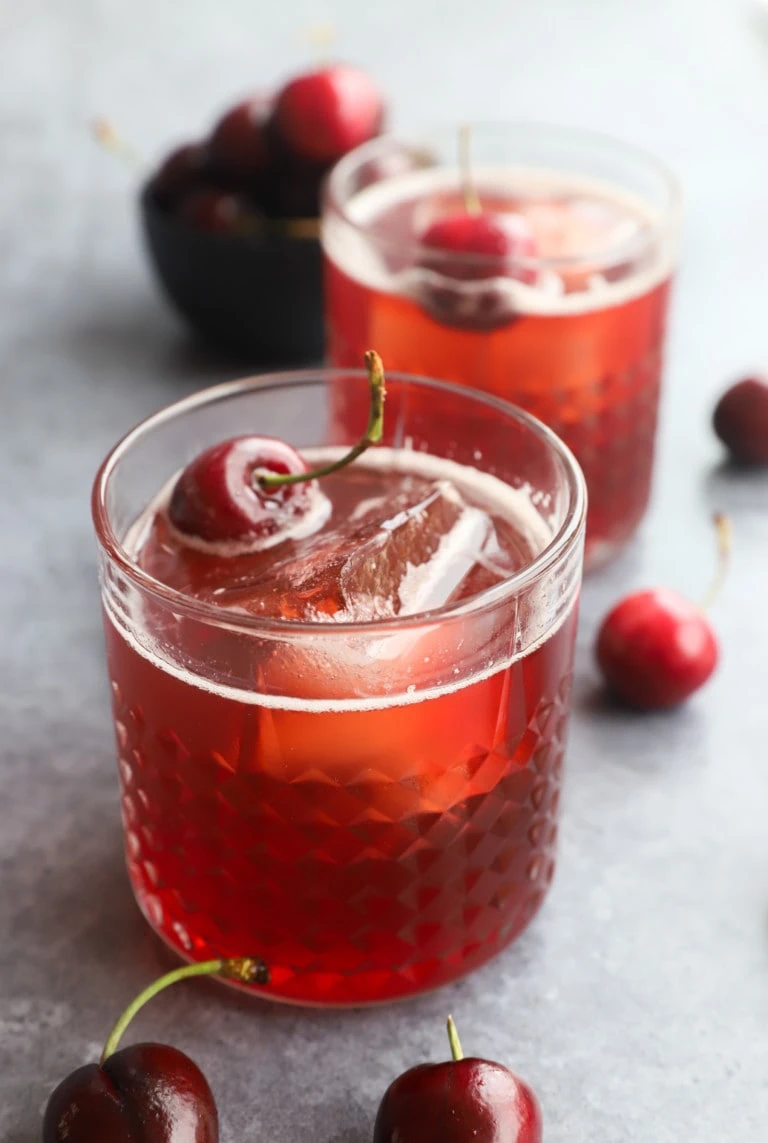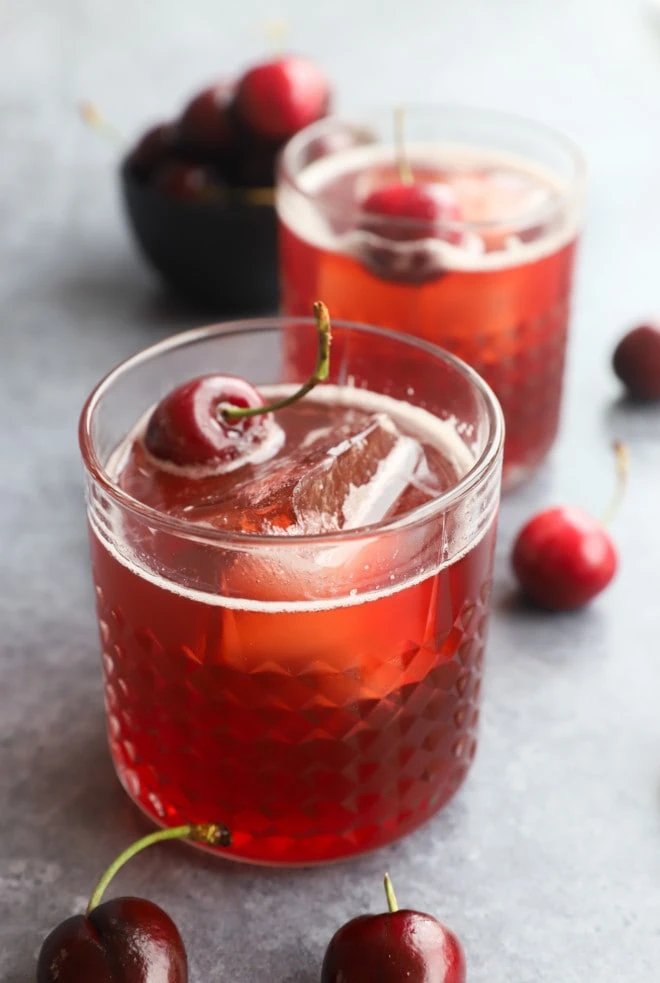 tips for success.
use tart cherry juice. Don't use a cherry juice cocktail that has added sweeteners. It will make this cocktail way to sweet if you use that!
make a big batch. This cocktail is SUPER simple to scale up for a picnic on-the-go. Simply scale up by the amount of people you plan to serve, shake over ice and strain into a thermos that'll keep the mixture cold if you are heading to another location with it. Otherwise just keep it in a pitcher in the fridge and serve over ice.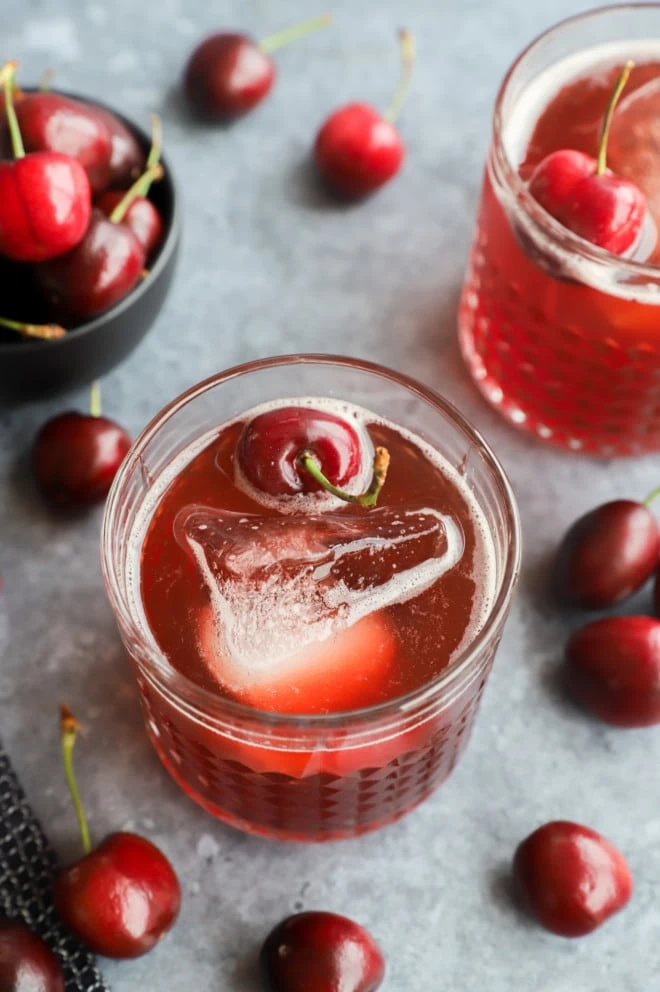 what to serve with cherry amaretto sour
I really love pairing this refreshing cocktail with something fun and flavorful like a pizza or a sandwich! Honestly this cocktail goes with anything summery, but here are my top favorite recipes:
This pesto greens pizza is my way to get greens in while also eating one of my favorite foods – PIZZA. With a homemade pesto, this meal gives you a giant burst of flavor that totally satisfies.
Grilled Burrata Pizza is topped with tomato sauce, mozzarella, crispy fried prosciutto, tangy sun-dried tomatoes, fresh basil, and of course soft and creamy burrata!
A Spicy Rotisserie Chicken Pressed Sandwich has layers of chicken, cheese, onion and spinach make a vibrant sandwich with a spicy bite from homemade Samurai sauce (literally the best sauce everrrrrr). Time to up your sandwich game, my friends – the easy way.
A Grilled Tomato Italian Grinder Sandwich is easy to pack up and bring to your next picnic!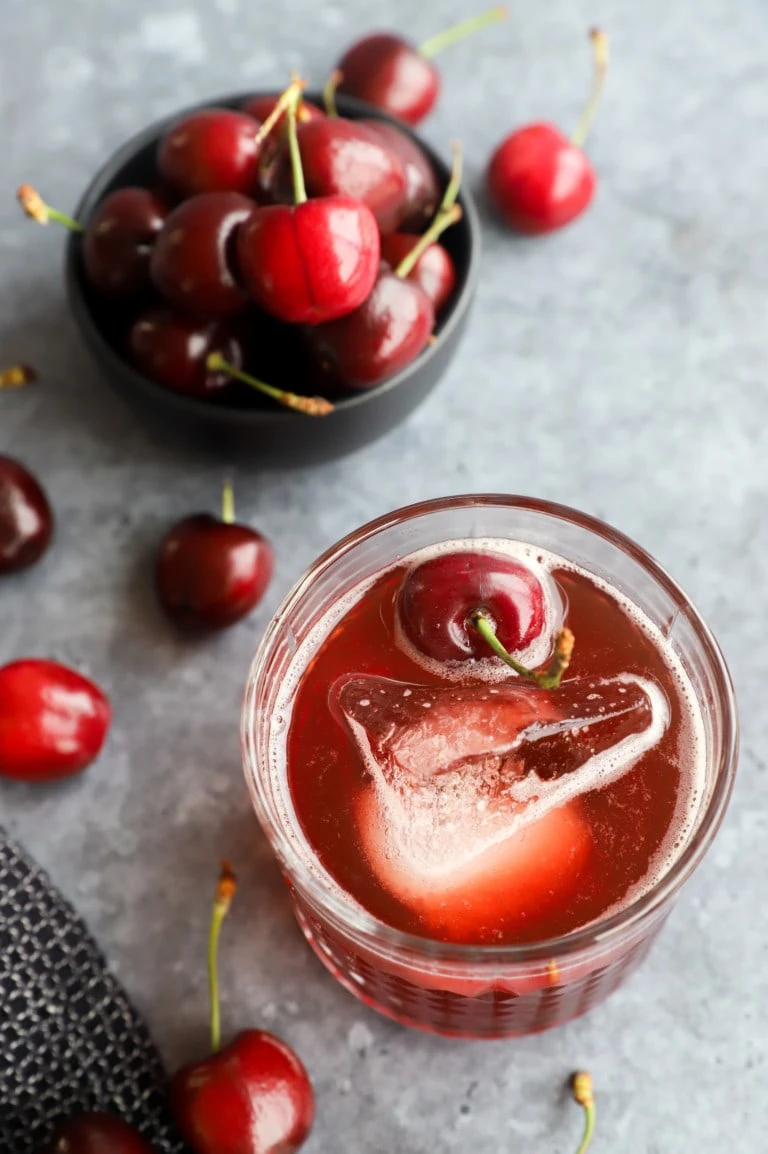 Finally, if you make this very cherry amaretto sour recipe, please be sure to give this recipe a rating or leave a comment! I love to hear when you all make recipes, and I do take the time to respond to every single comment. Feel free to drop questions below too, if you have them!
Oh and be sure to tag me on Instagram if you make the recipe! I love being able to see these recipes come to life in your homes – it's my favorite thing to look through those photos. It really means the world to me!
everyday seasonal cookbook
With seasonal produce guides, recipes, and more, this cookbook is filled with seasonal food for every occasion.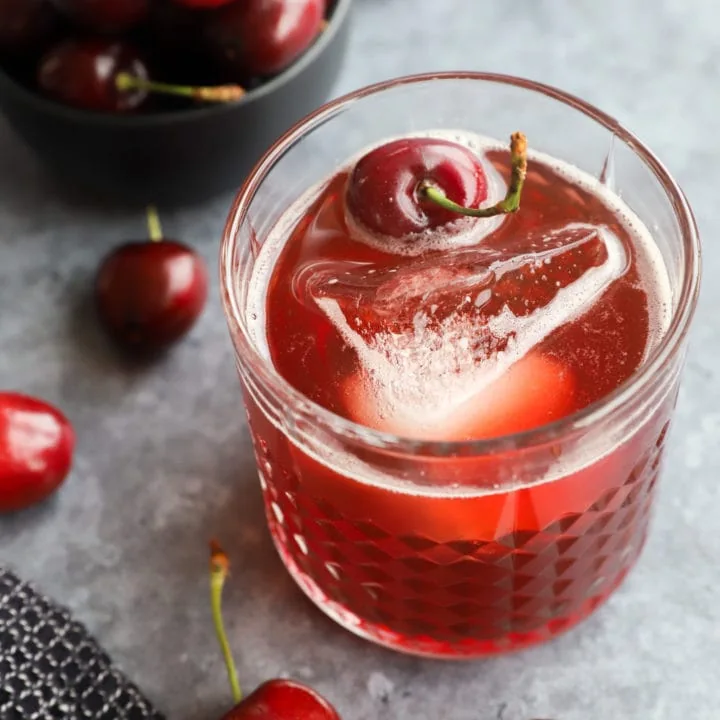 Very Cherry Amaretto Sour
A delicious blend of sweet, sour and cherry!
Ingredients
2 oz amaretto
1 1/2 oz sweet & sour mix
1/2 Tbsp grenadine
1/2 oz tart cherry juice
Ice
Instructions
Add amaretto, sweet and sour mix, grenadine, and tart cherry juice to a shaker filled with ice. Shake well.
Strain into a rocks glass filled halfway with ice.
Recommended Products
As an Amazon Associate and member of other affiliate programs, I earn from qualifying purchases.