Please note this post contains affiliate links.
Baked in foil, this Lemon Garlic Salmon is the simplest preparation ever! With lots of citrus and savory garlic, it makes for a tasty dinner any night of the week.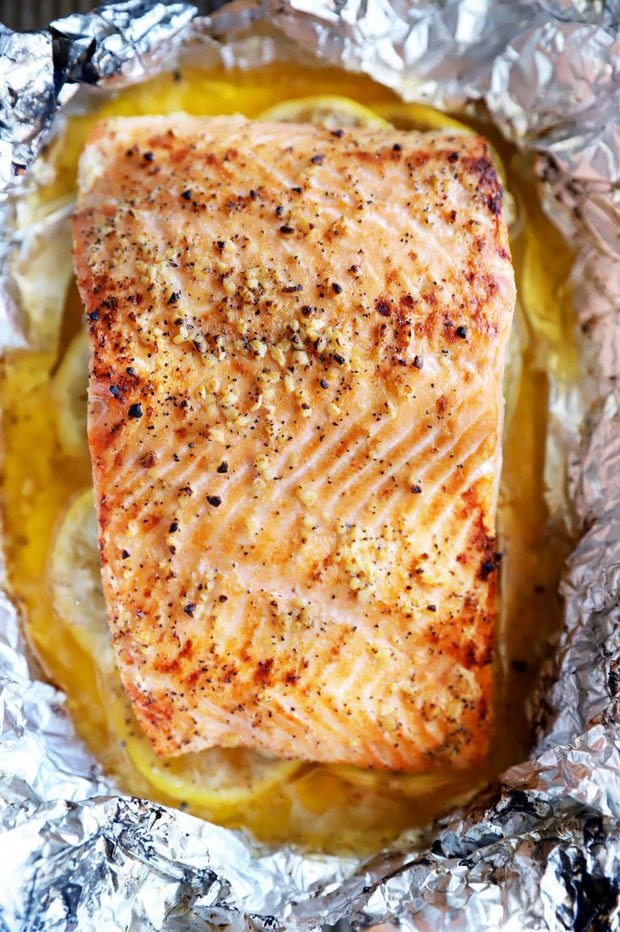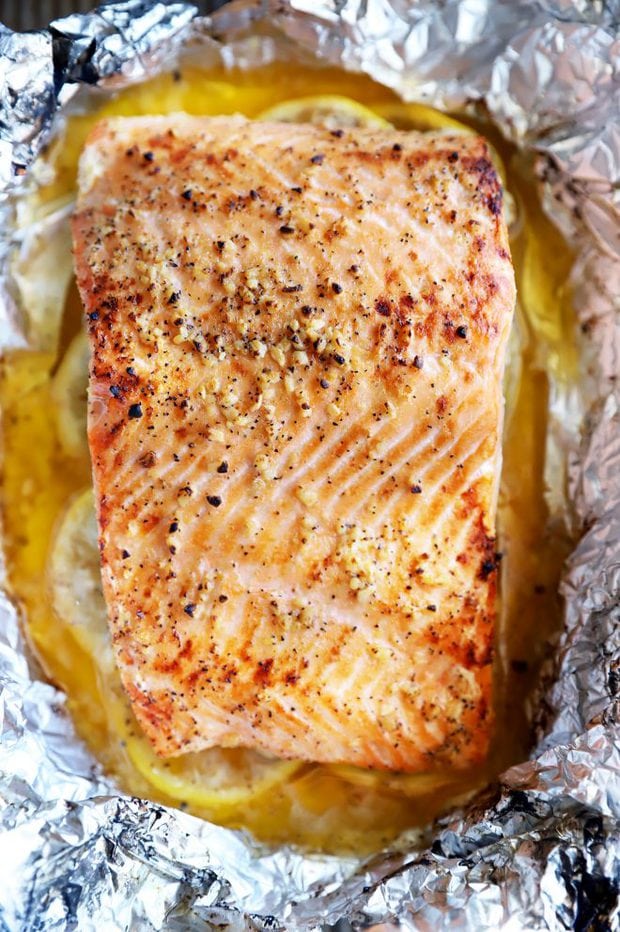 Salmon is my favorite fish to make at home, especially when I am trying to mind my diet a little bit more.
The rich seafood is fantastic however you make it whether it's grilled, broiled, or baked.
For me, nothing goes better with seafood than citrus. I absolutely LOVE lemon with all my seafood, and this recipe is the best way to take advantage of that flavor combination.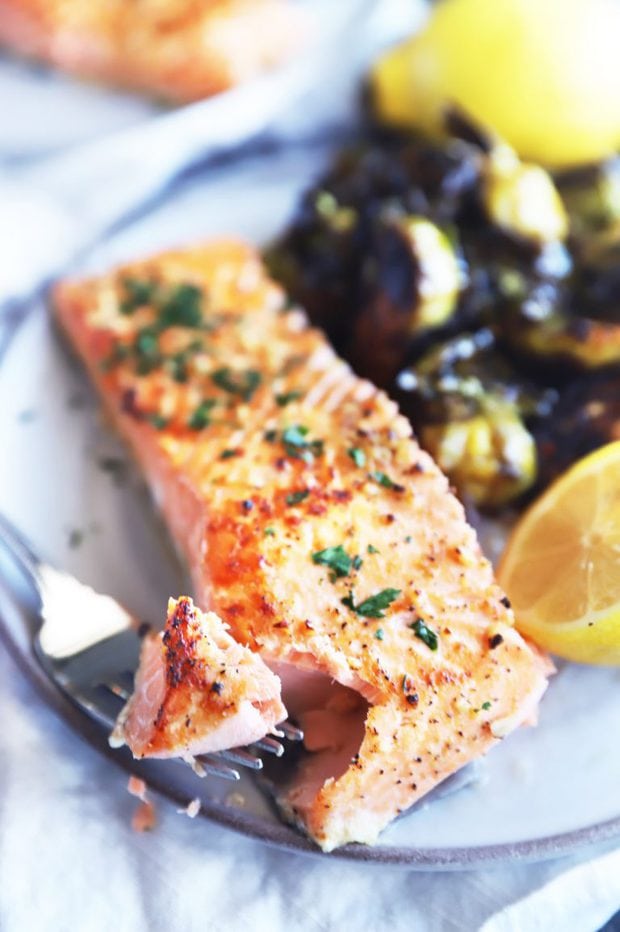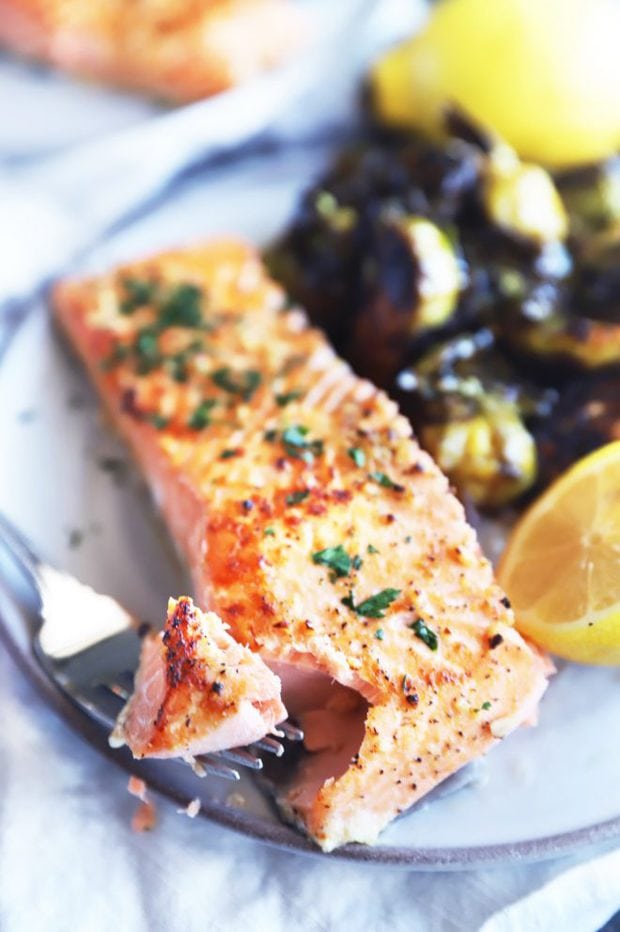 This recipe seriously couldn't get any easier. All you have to do is assemble, mix together some flavored butter, bake, and serve!
The best part? You don't even have to wash the sheet pan because it's baked inside a tidy little foil packet.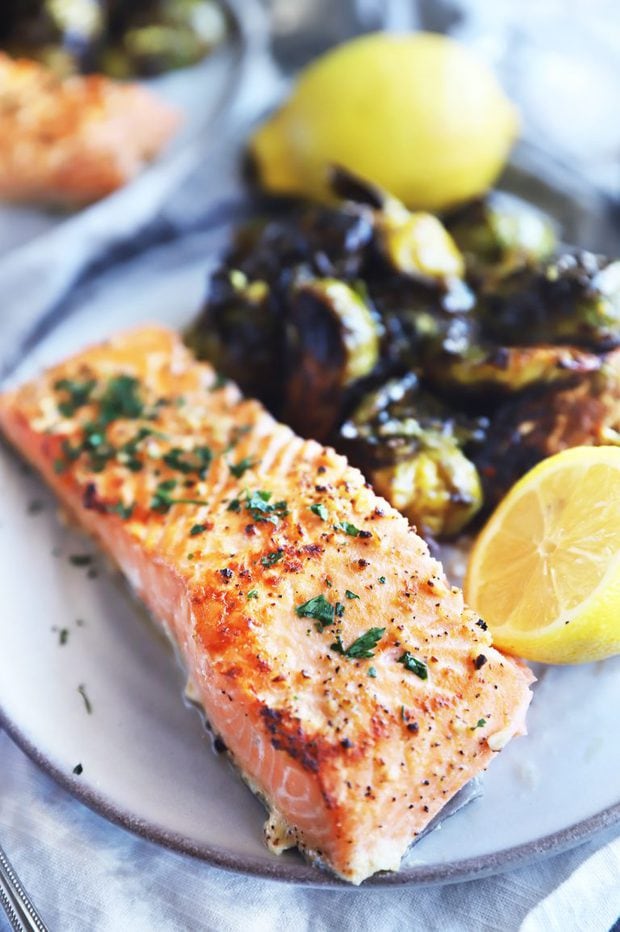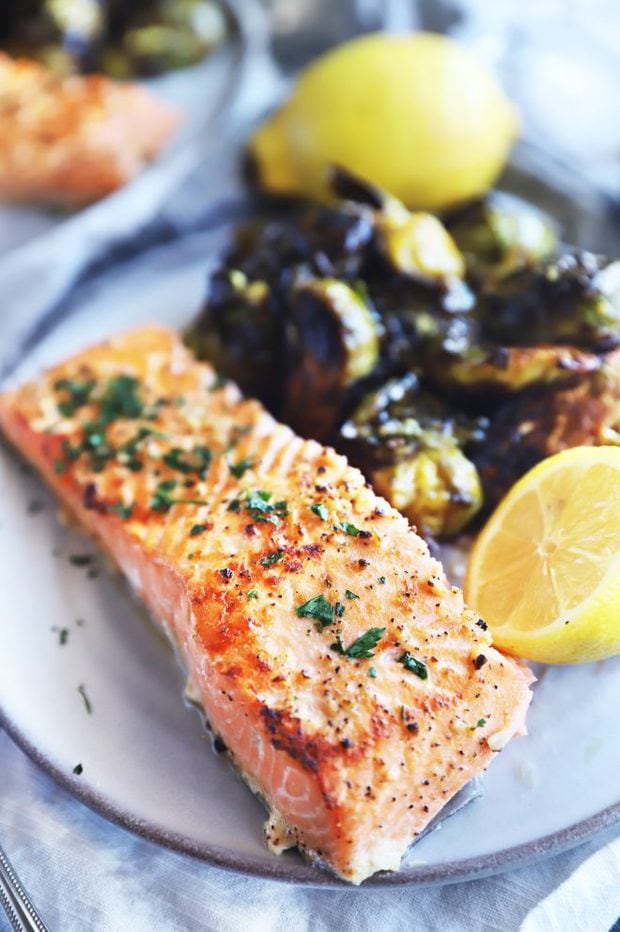 This Recipe's Must-Haves
You'll definitely want your chef's knife and cutting board out for this one. Don't worry though, you'll only need them to slice up the lemons!
One of the smaller mixing bowls comes in handy to make the lemon garlic butter that you pour over the fish.
Finally, make sure you have a half sheet baking pan and plenty of aluminum foil.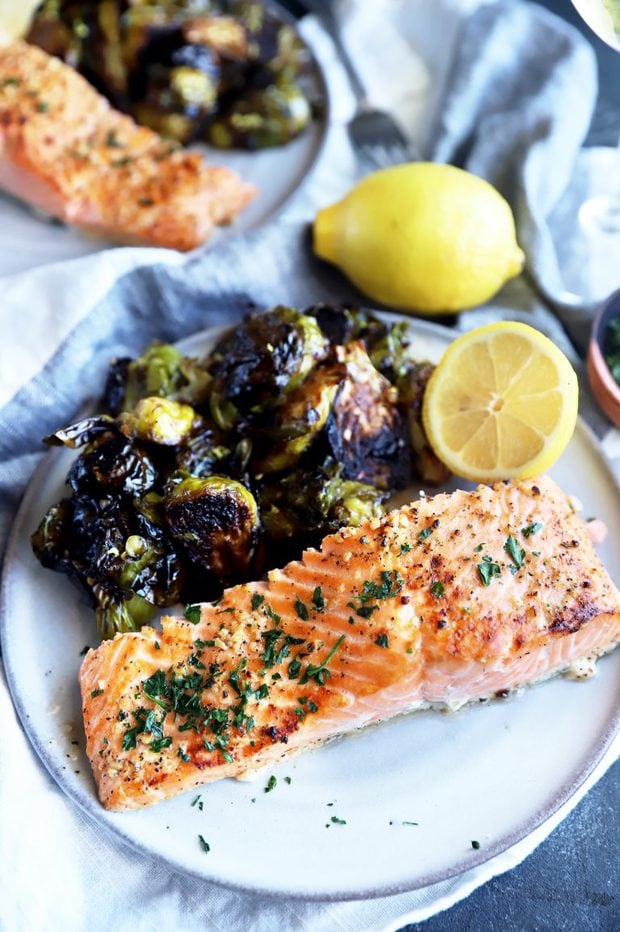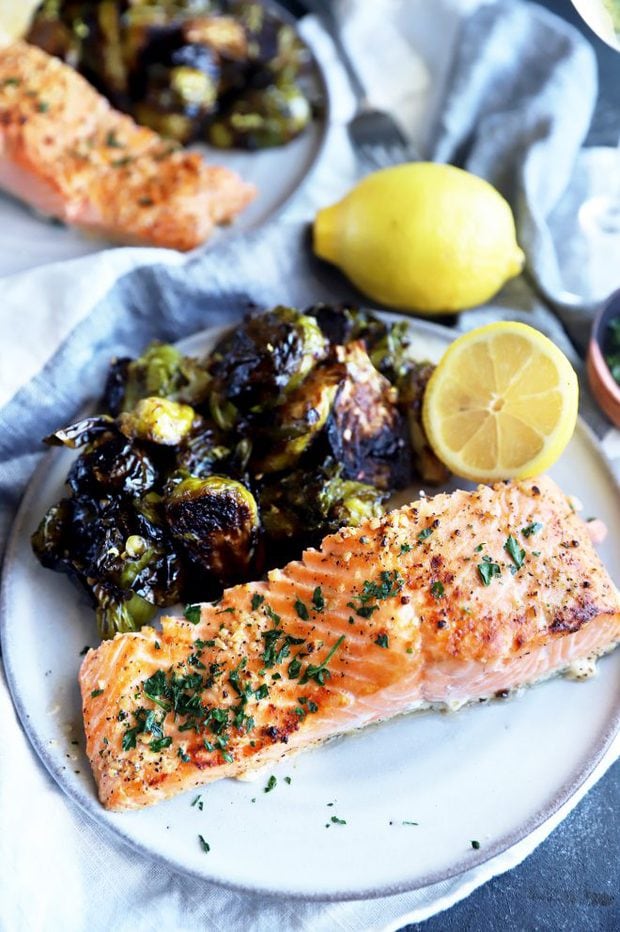 How To Make Baked Lemon Garlic Salmon
Make Lemon Garlic Butter
The lemon garlic butter is a snap to make. All you have to do is whisk together butter, lemon juice, and some spices.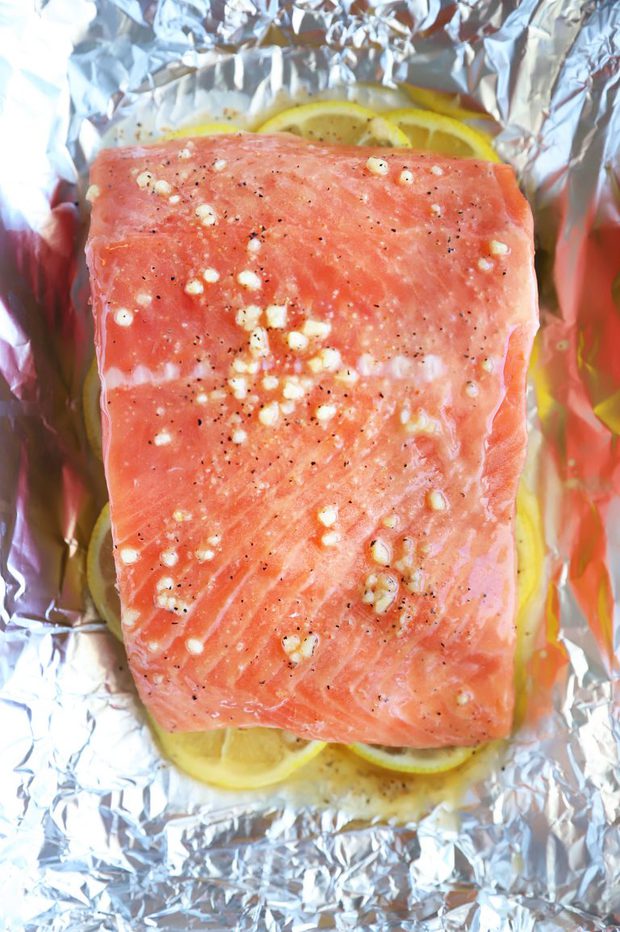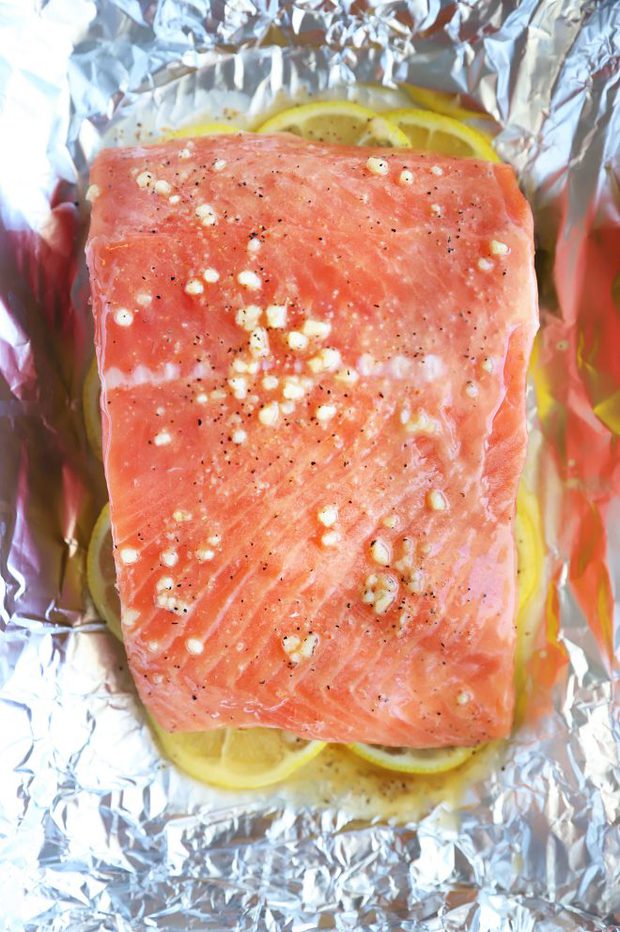 Assemble
To assemble the packet, start by laying out your lemon slices in a rectangle that's big enough to fit the salmon filet on top of. Then you place the salmon skin-side down on top of the citrus.
Top all this off with most of the lemon garlic butter, reserving some for later. Season with salt and pepper, then it's time to bundle it all up.
The foil wraps up and around the fish, sealing it up in its own packet.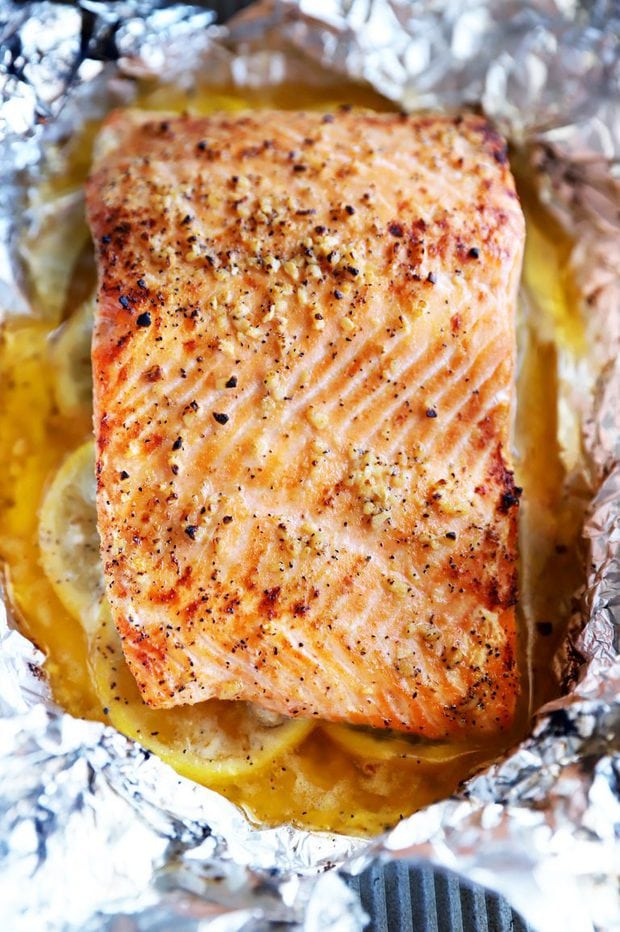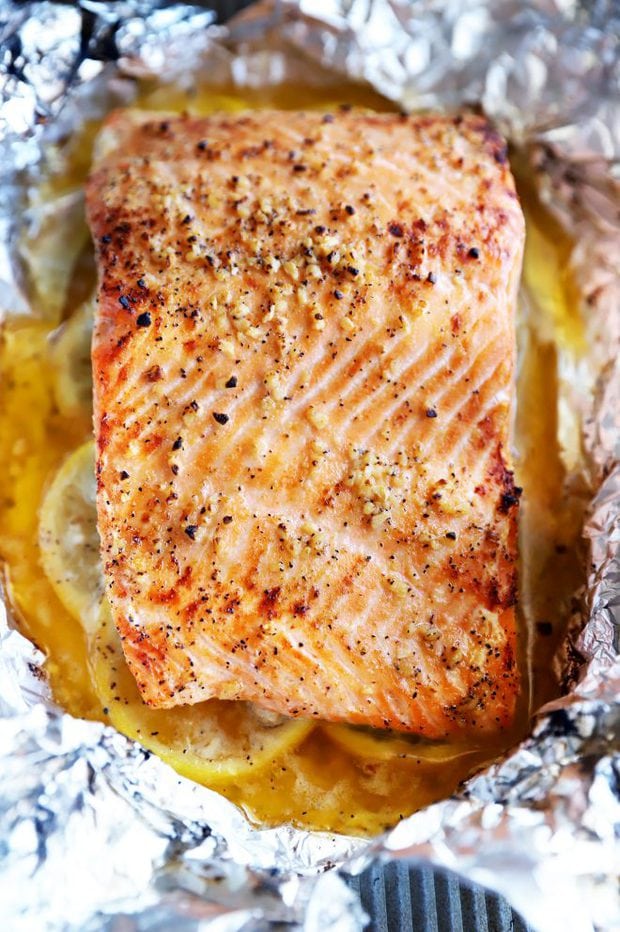 Bake & Broil
First you bake the salmon until it is mostly cooked through. Then you open up the packet, exposing the top of the fish. Spoon over the butter you set aside and place under the broiler for a few minutes until the fish is completely cooked through.
Give it a quick garnish of chopped parsley and serve!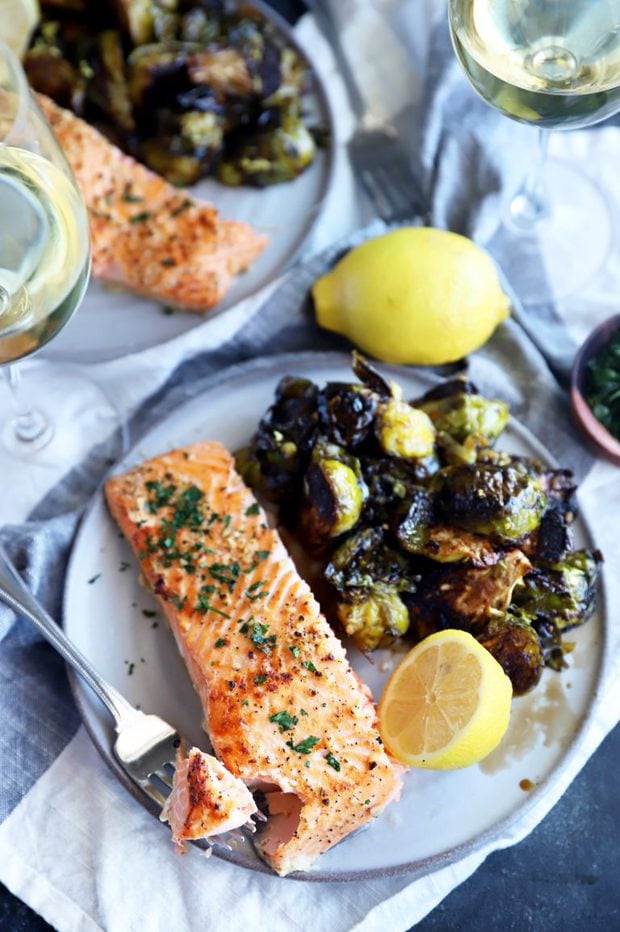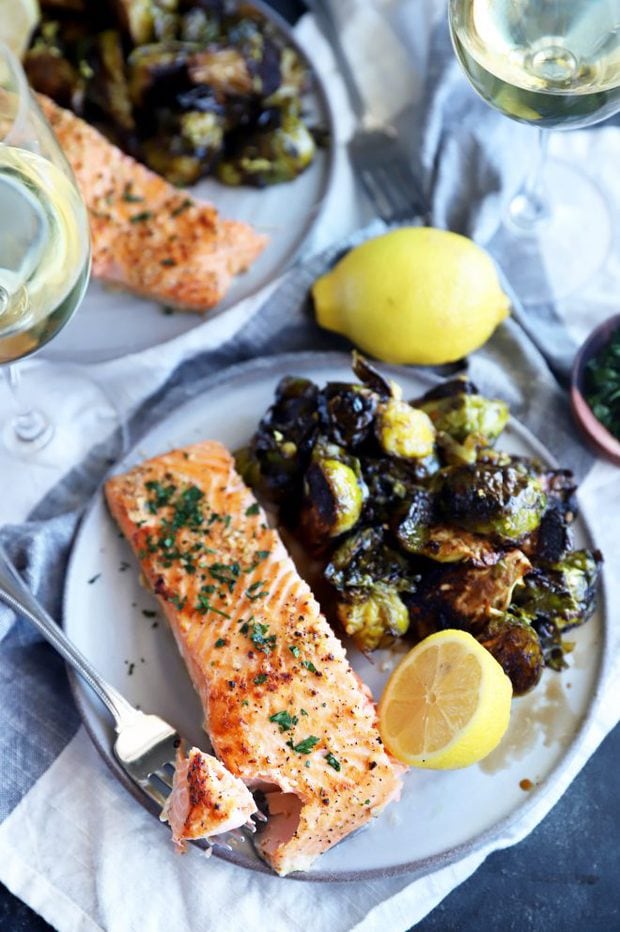 How To Know When Baked Salmon Is Done
To know when you reach the perfect medium temperature on the salmon, I swear it's not rocket science! The easiest way to tell is to use your finger or a fork to press down the top of the filet gently. If the salmon flakes, it's done! Take it out of the oven and remove it from the sheet pan.
What To Serve Baked Salmon With
Usually I like to serve my salmon with a side of green veggies like these spicy-sweet roasted broccolini, crispy roasted broccoli, or air fryer zucchini and squash. However, if it's a particularly rough day and I want something that's super hearty, I opt for serving this salmon with Instant Pot mashed potatoes with roasted garlic. You can also serve it with cauliflower puree if you want something a little healthier!
If you are looking for another way to enjoy this salmon, you could also put it on a salmon sandwich!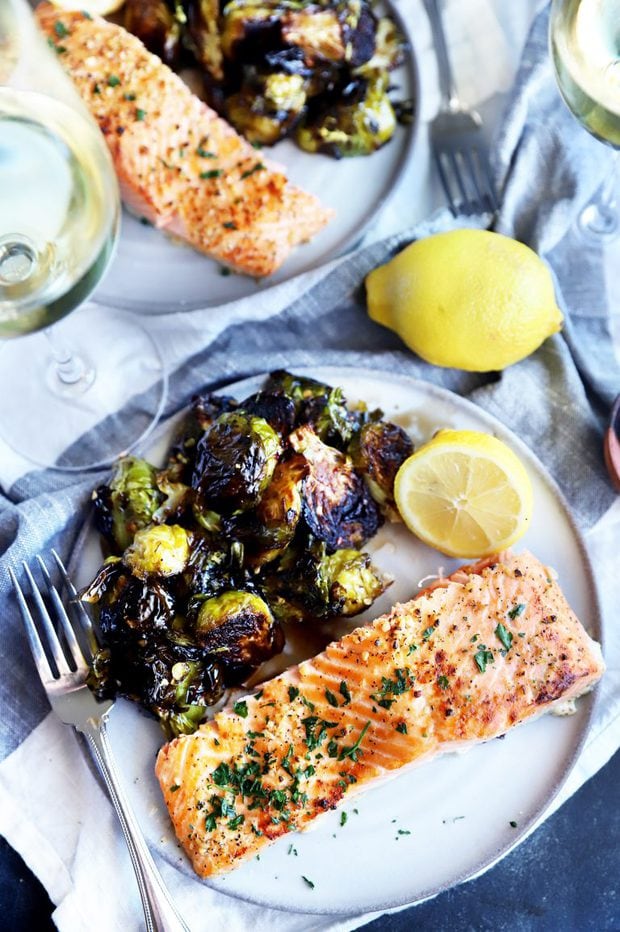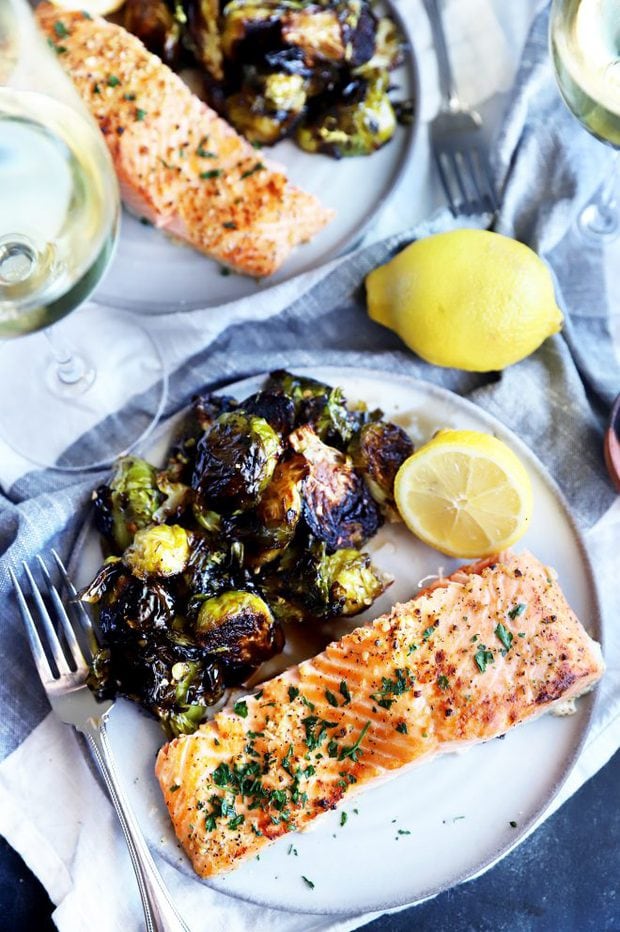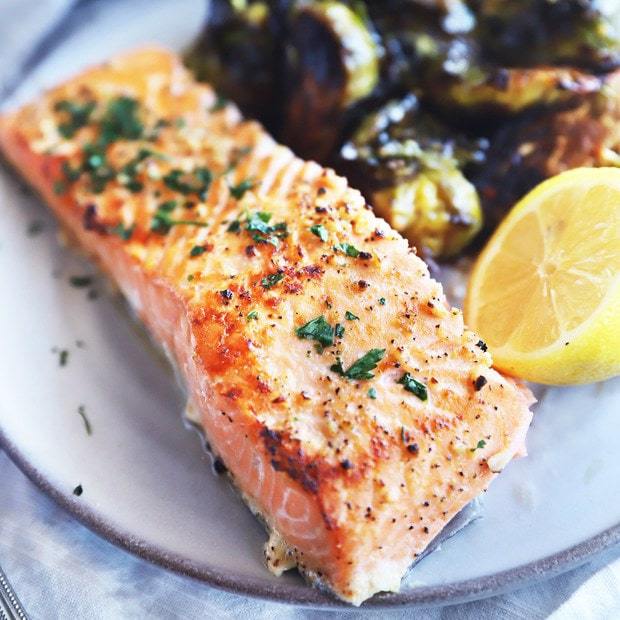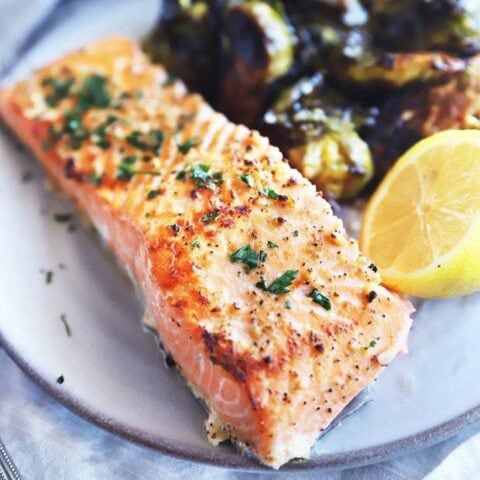 Baked Lemon Garlic Salmon
Baked to perfection, this salmon is full of citrus flavor and buttery goodness!
Ingredients
1 1/2 lbs skin on salmon fillet
2 lemons (sliced into thin rounds)
1/3 cup unsalted butter, melted
4 1/2 tablespoons lemon juice
6 cloves garlic, minced
1/8 tsp cayenne pepper
1/4 tsp onion powder
1/4 teaspoon kosher salt
1/2 teaspoon freshly ground black pepper
1 teaspoon finely chopped fresh parsley
Instructions
Preheat oven to 375˚F. Line a sheet pan with aluminum foil.
Layer lemon slices as wide and long as the filet of salmon. Place salmon on top, skin side down.
In a small bowl, whisk together butter, lemon juice, garlic, cayenne, and onion powder. Top salmon with 3/4 of the mixture. Sprinkled with salt and pepper evenly.
Wrap up foil around the salmon, making a sealed packet.
Bake for 15 minutes. Remove from oven and unfold foil to expose the top of the salmon.
Set broiler to High.
Spoon remaining butter over the top of the salmon.
Return to oven and broil for 5 to 10 minutes, until salmon is golden and cooked to desired doneness.
Garnish with parsley and serve.
Recommended Products
As an Amazon Associate and member of other affiliate programs, I earn from qualifying purchases.