Please note this post contains affiliate links.
Make your own delicious strawberry simple syrup at home! This easy recipe is sure to be a hit – it's the perfect addition to any favorite beverage, but you can also use it on pancakes, cakes, waffles, tarts, and more. Incorporate the sweet taste of strawberries into your everyday recipes!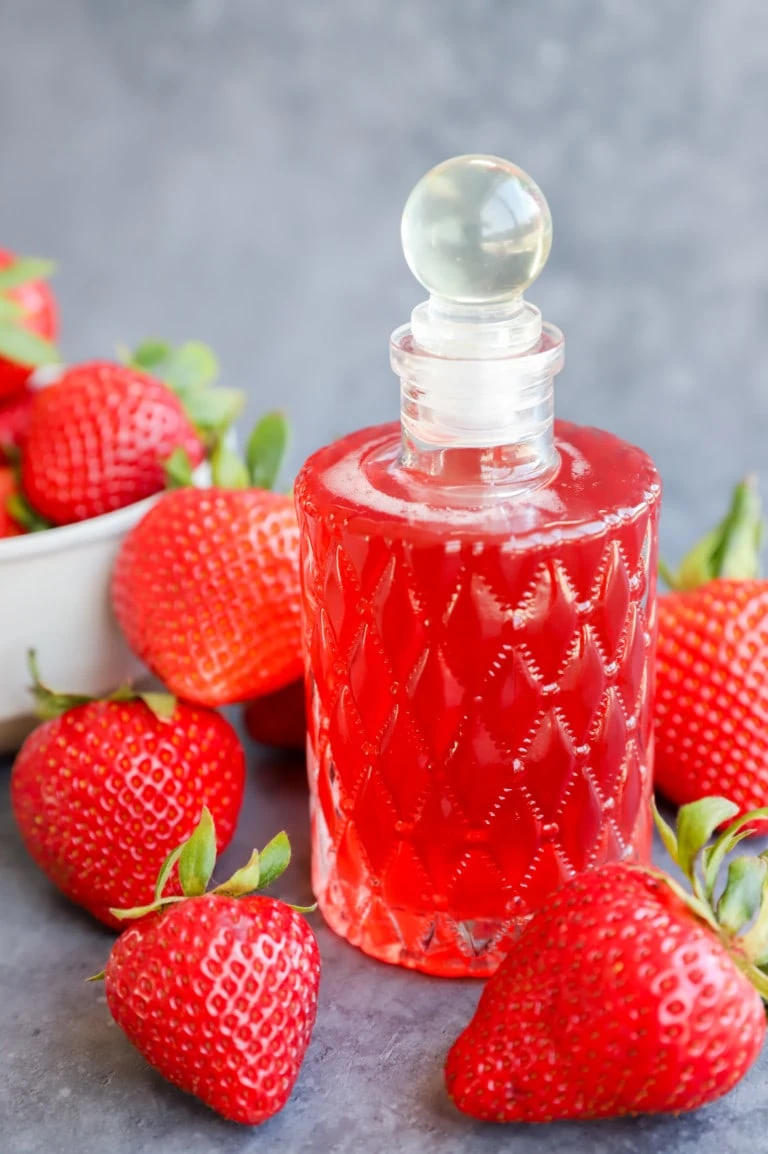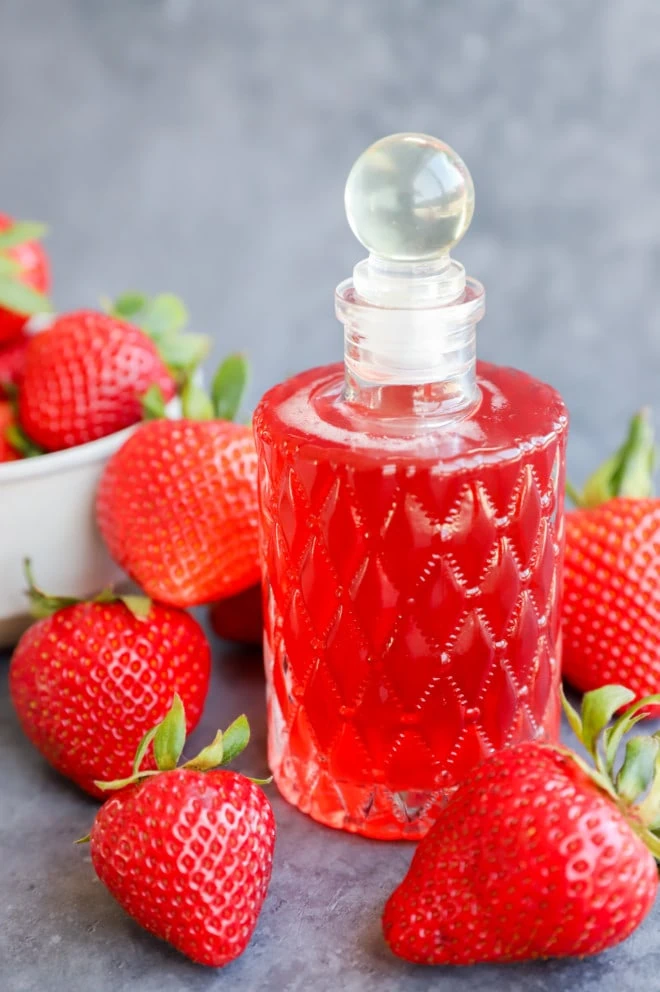 about this strawberry simple syrup
Simple syrup is the foundation of so many cocktail recipes. It is the easiest sweetener to make and incorporates better than granulated sugar.
One of the easiest ways to modify a cocktail is by changing up a simple syrup in a recipe. Whether it's an old fashioned or another craft cocktail, adding a specific flavor to the syrup really transforms a cocktail!
Therefore we are here to make some cocktails fruity!
Strawberry season is upon us, and it's one of my favorite seasons. The sweet berry does so well with a simple syrup because the flavor goes with so many things.
The syrup actually can store for 2 weeks so it's a fantastic recipe to make before a party or just to steadily use over a couple of weeks whenever you are craving some strawberry flavor in your drinks or desserts.
This strawberry simple syrup also freezes very well for up to three months, so you can make this and freeze it to use later (this is something I usually do when strawberries are on their way out of season so I can have that fresh flavor when I can't get them at their peak ripeness in the store).
You can also make this syrup a bit thicker in consistency if you want to use it more like a maple syrup. I think we all know which major chain has strawberry syrup for their pancakes, and trust me, this will taste SO much better than theirs. I've got more details about this in the tips section below!
All you need is 10 minutes and 3 ingredients to make this colorful and fruity addition part of your weekly cocktails, breakfasts, or sweet treats!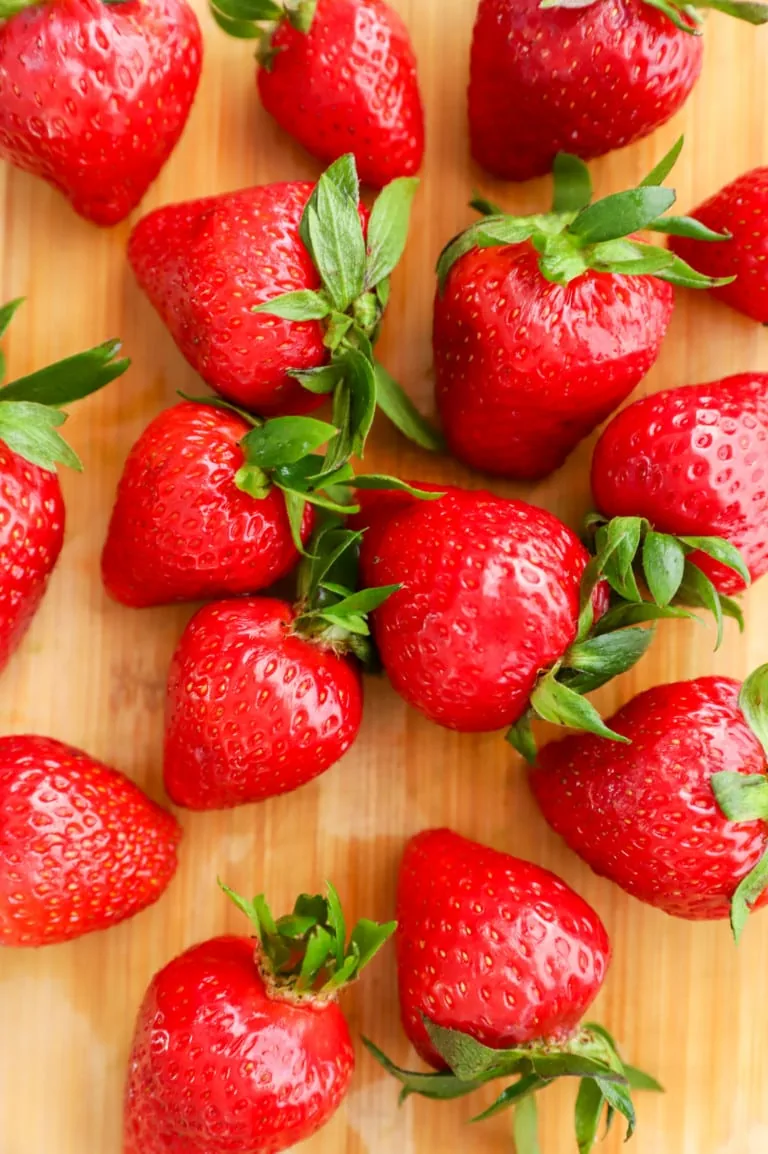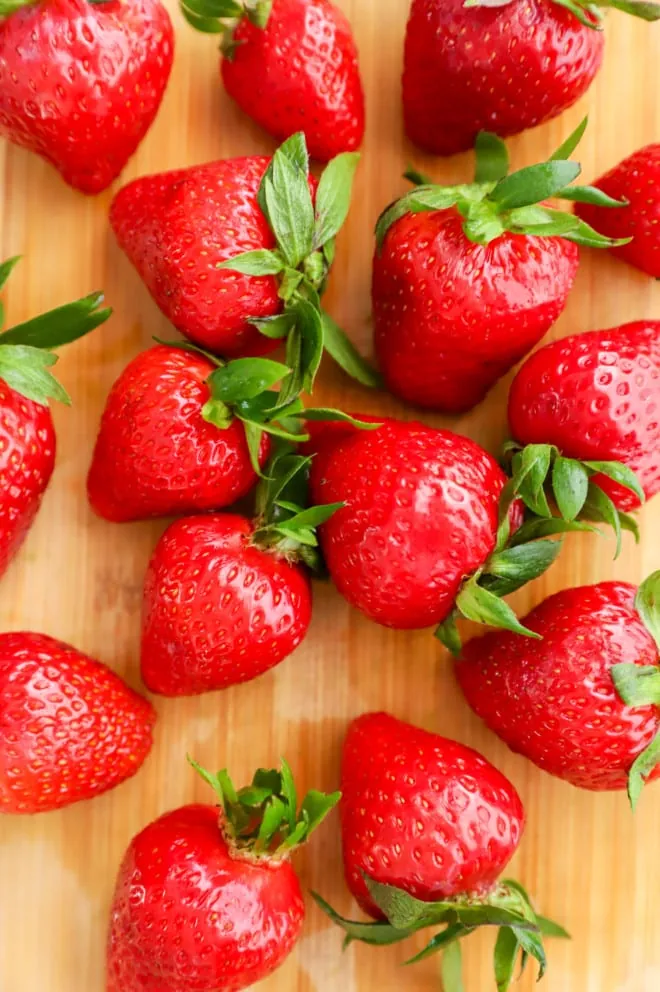 what's the best way to clean strawberries?
The best way to clean strawberries is to add them to a bowl with cold water and baking soda. You will need 1 teaspoon of baking soda to every 4 cups of water. Soak the strawberries for 5 to 10 minutes before straining out the liquid and rinsing the berries well under cold water.
Pat the berries dry before storing or before using in a recipe (like this one).
ingredients
strawberries. Fresh strawberries are best here! Make sure they are plump and the tops are fresh and green when you select your berries. You can technically use frozen, but I find that the flavor isn't as good as when you use fresh berries.
sugar. Use granulated sugar for this recipe. Do not use dark or light brown sugar.
water. I like to use filtered water but you can use tap water if that's what you drink normally!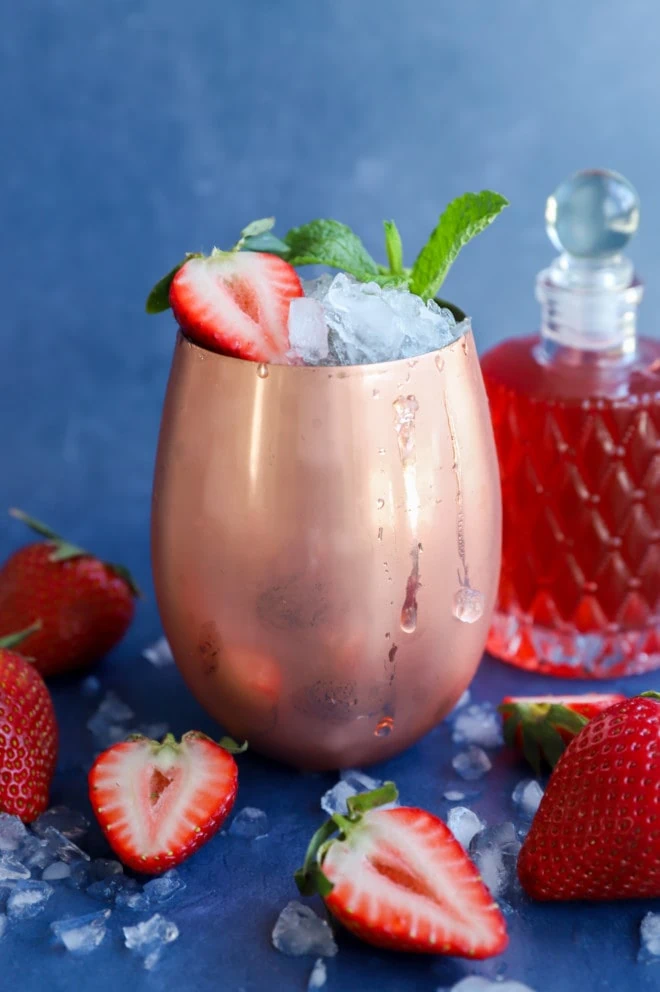 this recipe's must haves
All you need to make this strawberry simple syrup is a saucepan and a wooden spoon. You will also need a mason jar or plastic container to store in the refrigerator.
here's how to make simple strawberry syrup
cut strawberries
Once you have cleaned all of the strawberries, remove the tops of the berries. Quarter or halve the berries and add them to a small saucepan.
Add water and sugar to the saucepan and stir to combine.
simmer
Bring to a simmer over medium-high heat. Simmer for 8 to 10 minutes, stirring occasionally, until the berries have soften and are pale in color.
strain
Strain out the solids from the syrup through a fine mesh sieve. When you strain the berries, make sure that you do not press down on the berries. This will get fruit bits in the syrup and that can cause the fruit to ferment in the syrup as it is stored. In addition, pressing down the berries will cause the syrup to be cloudy instead of clear.
Discard berry remnants. Cool syrup completely before using and storing in the refrigerator.
Note that if you are in a rush to chill this syrup, you can place the container in an ice bath to cool it down much faster than letting it sit at room temperature.
Pro Tip: To give this syrup an extra burst of flavor, you can add a small squeeze of lemon juice to the syrup after it's been strained!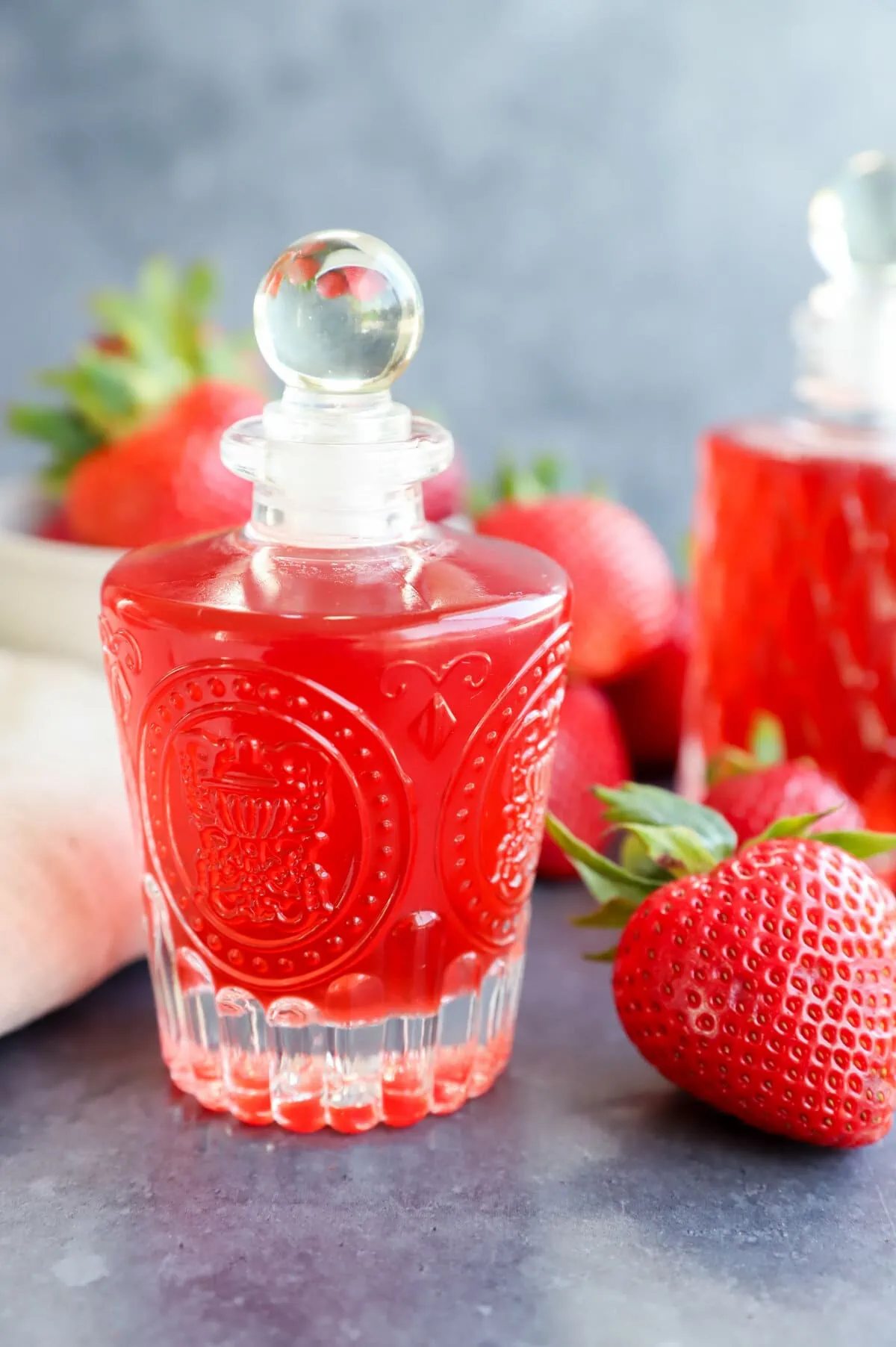 tips for success
halve the recipe. You can easily cut this recipe in half if you don't think you will use it all and prefer not to freeze it.
make it thicker. If you like a thicker syrup to pour over pancakes or waffles, simply double the amount of sugar (2:1 ratio) and proceed with the recipe as instructed. The result will be a thicker syrup more similar to maple syrup.
use fresh strawberries. While you can use frozen strawberries after thawing them, fresh strawberries are best in this recipe!
More tasty ways to enjoy strawberries this spring and summer: Strawberry Mint Vodka Gimlet | Chocolate Strawberry Cake | Strawberry Basil Margarita | Strawberry Coulis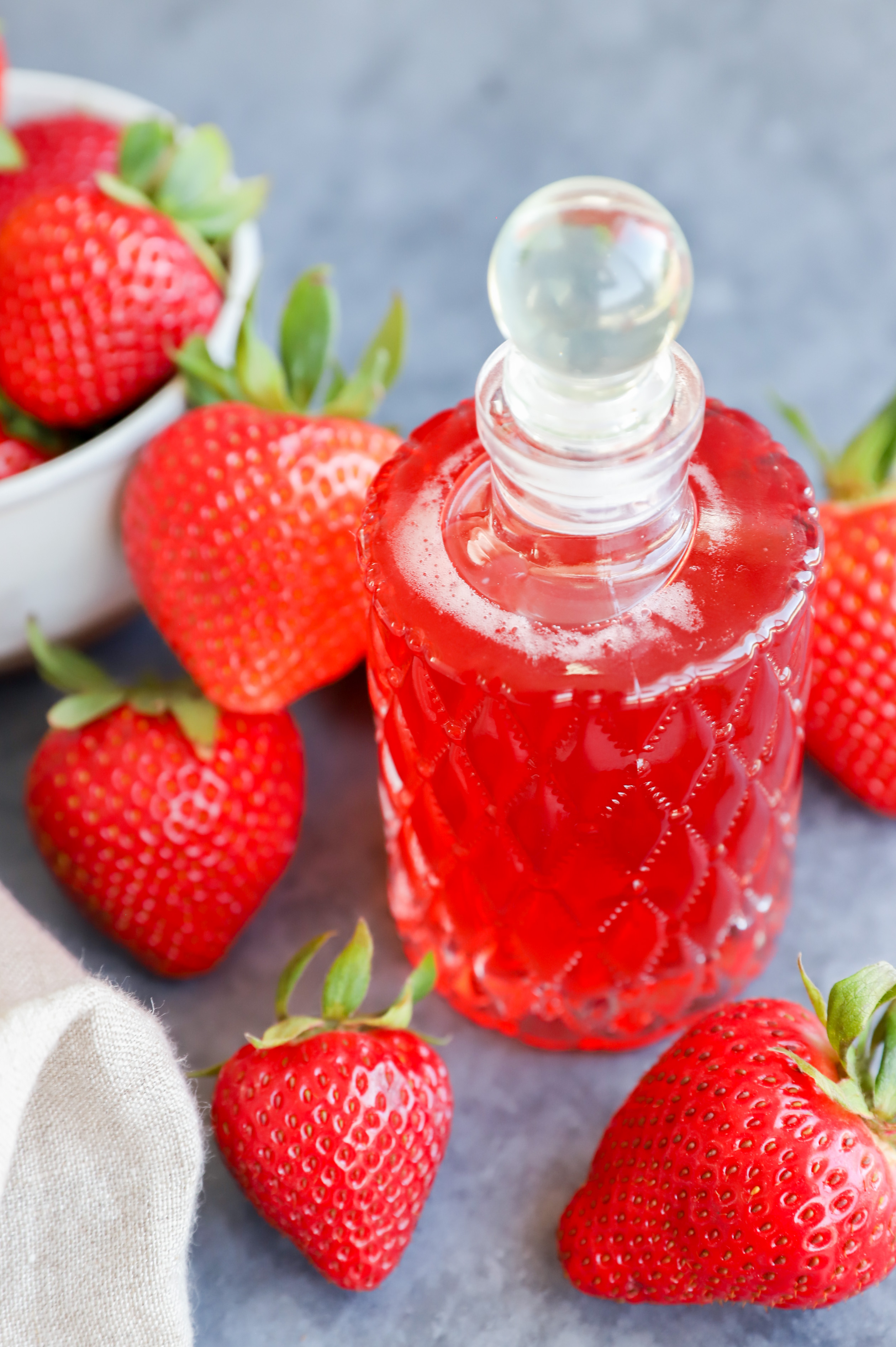 can I make this simple syrup with other berries?
Yes! You can use raspberries, blueberries, or blackberries in this way to make a fruity syrup! You could even make a mixed berry combination if you want.
can you freeze homemade strawberry syrup?
Simple syrup can be frozen! I like to add mine to a plastic ice cube tray to freeze it in cubes to thaw as needed. Once frozen, add them to a plastic freezer-safe storage container and freeze for up to 3 months. Thaw in the refrigerator in a bowl as desired!
how much syrup does this make?
This recipe makes a total of about 1 1/2 cups strawberry simple syrup. The typical serving size in beverages is 1/2 ounce to 1 ounce, so you should have about 12 to 24 servings total.
Need more inspiration for cocktail hour? Check out my cocktail recipes page!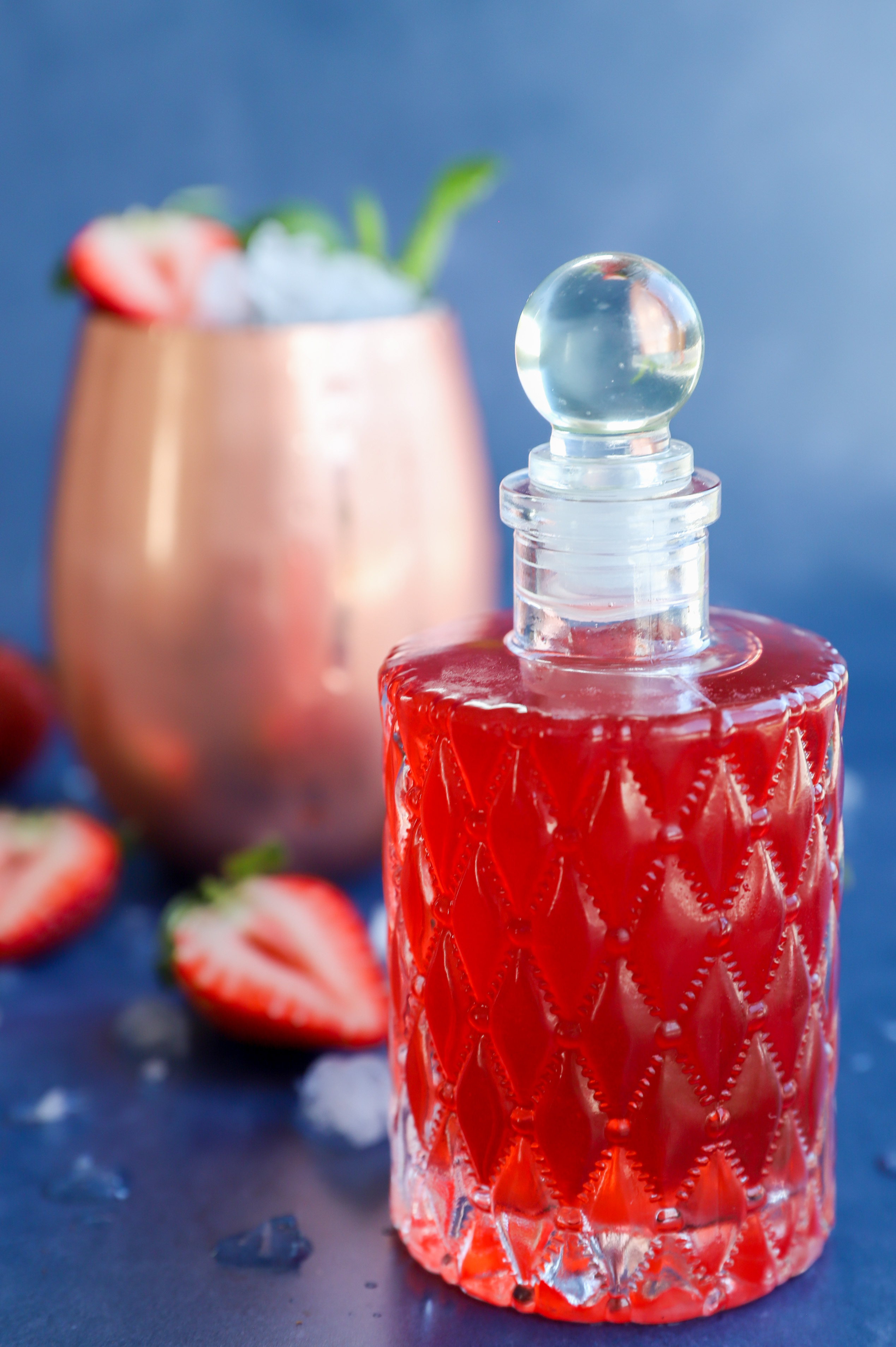 how to use this simple strawberry syrup
There are so many ways to use this strawberry simple syrup! You can use it in drinks like lemonade or in place on simple syrup in your favorite cocktails like an old fashioned or a mint julep. It can even be a soda syrup for your bubbly water!
However, did you know that this strawberry syrup is also an incredible topping for breakfast items?! You can use it on pancakes, French toast, and more.
You can also use simple syrup as a way to infuse flavor into cakes. All you have to do is brush the cakes with the simple syrup before frosting them! Brush fruit tarts with it. Drizzle it on ice cream. The options are endless!
Simply keep it chilled and use it whenever you feel the desire to add some strawberries to your drinks/meals.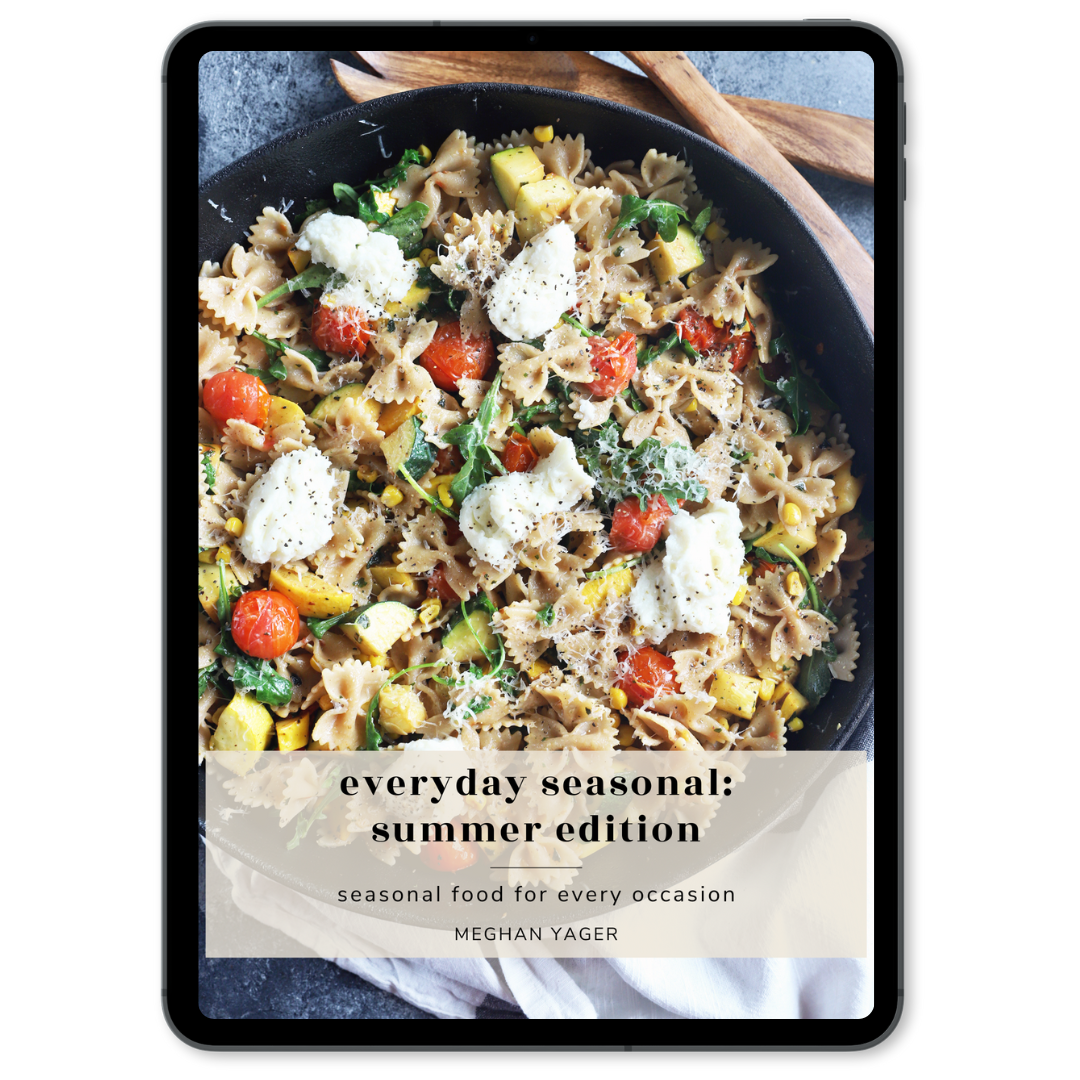 everyday seasonal: summer
With seasonal summer recipes, a comprehensive produce guide, and more, this is the cookbook to help you celebrate the season.
how to store and reheat
Store. Let the syrup cool completely. Place in a mason jar and store in the refrigerator for up to 2 weeks. Do not leave it at room temperature.
Freeze. Simple syrup can be frozen! I add mine to ice cube trays to freeze before storing them in a freezer-safe plastic storage container. They will keep for up to three months.
Thaw. Thaw in a bowl in the refrigerator overnight and use as desired.
seasonal tip
Want to know how to pick the freshest strawberries? Look for bright red berries that are plump and have fresh green leaves. Note that size doesn't matter! I always look over the container from top and the bottom to make sure that there are no signs of mold.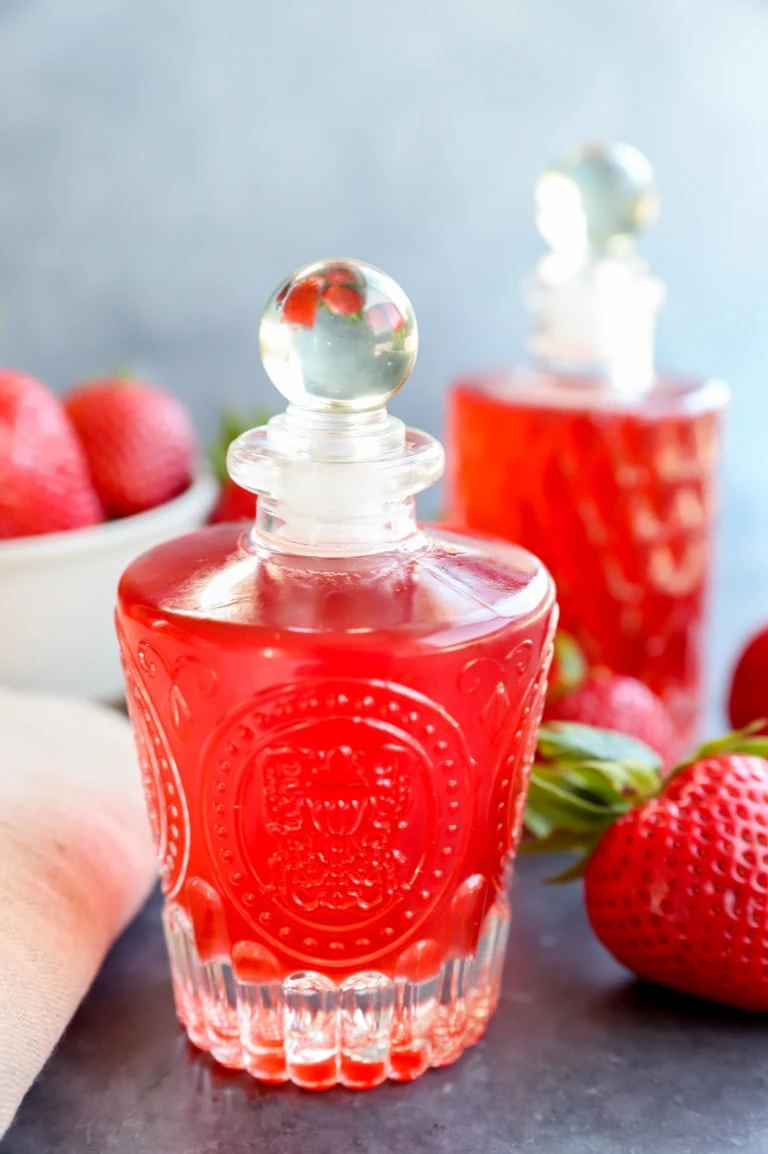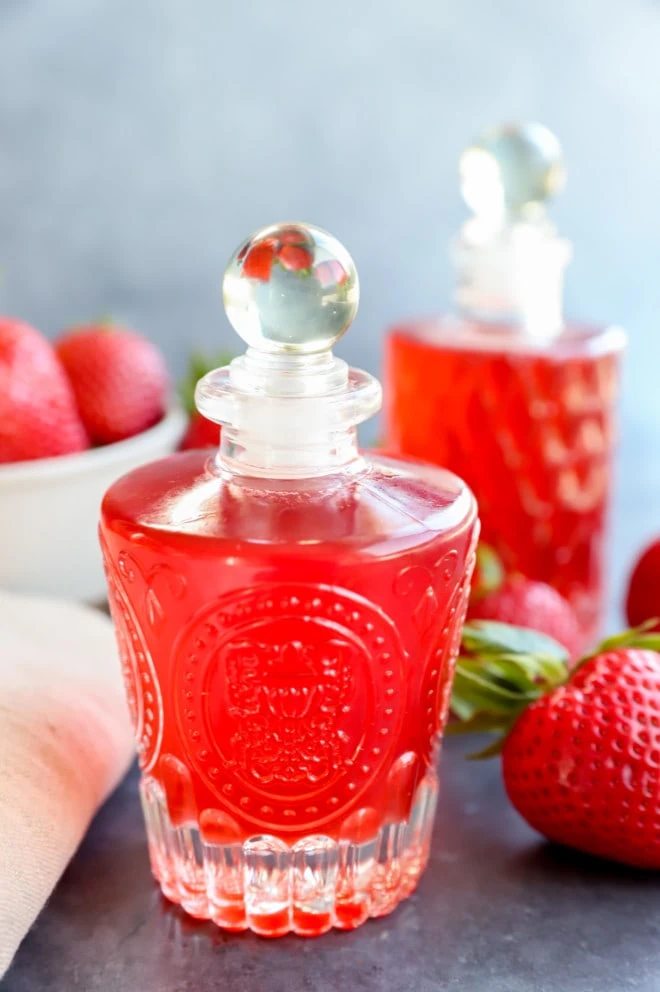 Finally, if you make this strawberry simple syrup recipe, please be sure to give this recipe a rating or leave a comment! I love to hear when you all make recipes, and I do take the time to respond to every single comment. Feel free to drop questions below too, if you have them!
Oh and be sure to tag me on Instagram if you make the recipe! I love being able to see these recipes come to life in your homes – it's my favorite thing to look through those photos. It really means the world to me!
everyday seasonal cookbook
With seasonal produce guides, recipes, and more, this cookbook is filled with seasonal food for every occasion.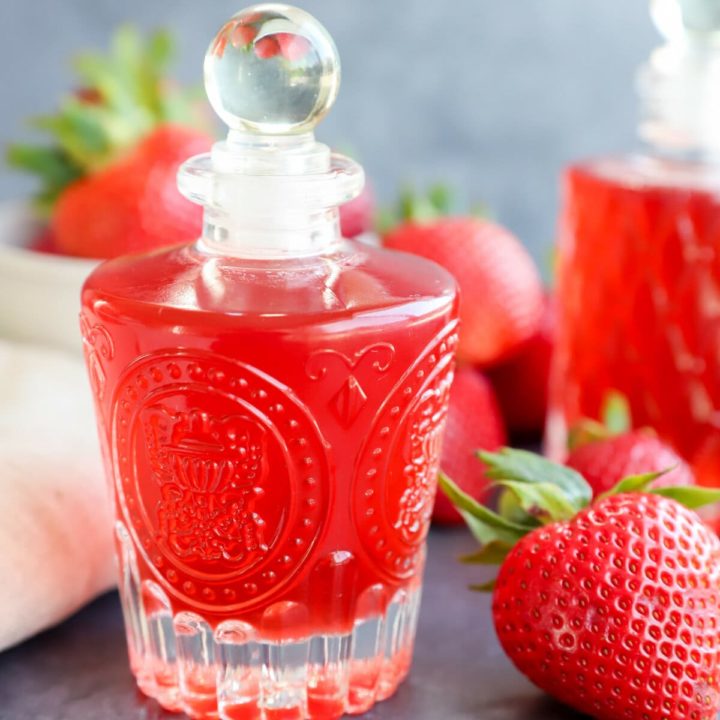 Strawberry Simple Syrup
Fruity and sweet, this is a must-have during strawberry season!
Ingredients
10 oz fresh strawberries, cleaned and tops removed
1 cup granulated sugar
1 cup water
Instructions
Cut the strawberries into halves or quarters, depending on the size of your berries. You will want to make sure that the berries are all roughly the same size.
Add berries to a small saucepan with sugar and water. Heat over medium-high heat until simmering. Simmer for 8 to 10 minutes, until berries are softened and pale in color.
Remove from heat and strain out through a mesh sieve. Be sure not to press down on the berries so that the syrup isn't cloudy and doesn't get bits of fruit in it.
Cool completely before storing in an airtight container in the refrigerator. The syrup will last for up to 2 weeks in the refrigerator.
Recommended Products
As an Amazon Associate and member of other affiliate programs, I earn from qualifying purchases.