Please note this post contains affiliate links.
Honey Blackberry Oatmeal Muffins are a wholesome breakfast that balances just the right amount of sweetness and fruitiness. The fluffy texture and pops of berries are just what you are looking for in a muffin. Juicy blackberries and hearty oats make these a nourishing treat that is ideal for starting the day or even an afternoon snack.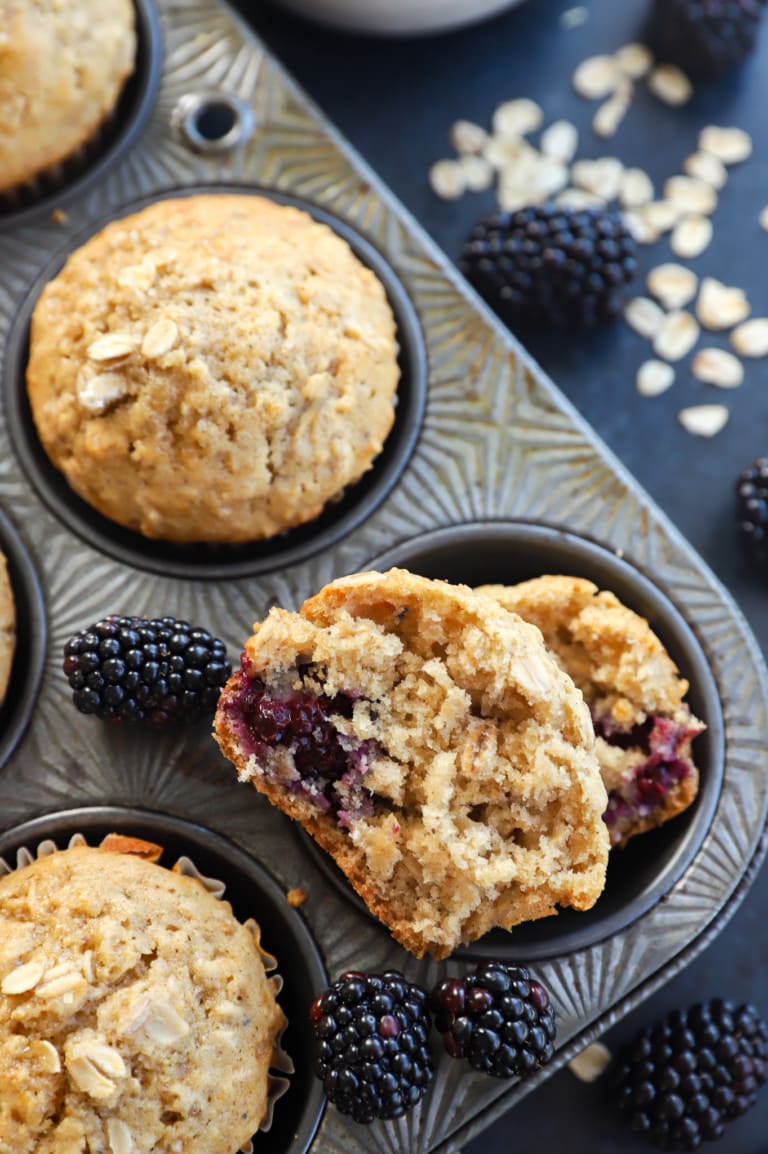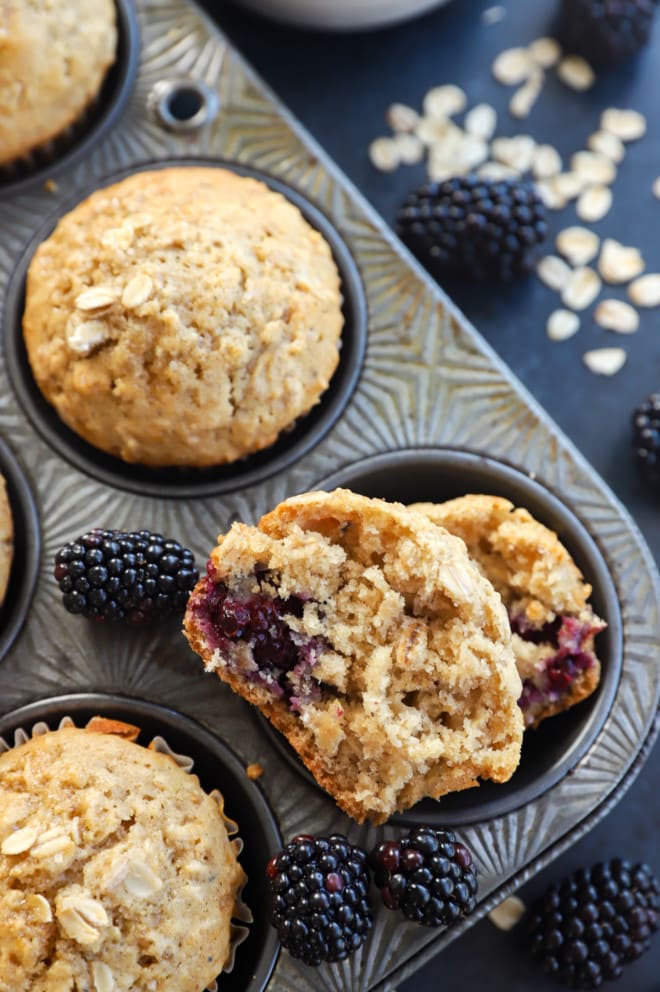 about these honey blackberry oatmeal muffins
I am usually not on the healthier muffin train because I love things like red velvet and nutella and extra chocolate chips…
However, as we come to the end of summer, I wanted a lighter muffin with some giant pops of berry deliciousness. Therefore, these lightly spiced muffins were born bursting with fresh blackberries to fill your home with freshly baked goodness.
The muffins themselves are tender and fluffy, while also being studded with juicy, plump berries that give every bite a burst of fresh sweet and tart flavors. I particularly enjoy these muffins because they have just the right amount of sweetness while also offering a heartiness to give you the energy you need to kickstart your day!
They also make for a satisfying snack during those afternoon slumps or a sweet treat to end your day on a high note.
The recipe is designed to guide you through the process effortlessly. From mixing the ingredients to watching them rise in the oven, I am sharing all of my top tips and tricks to make these muffins the best they can possibly be.
So, gather your ingredients, set aside a little time, and create a batch of blackberry oatmeal muffins that will undoubtedly become a staple in your baking repertoire.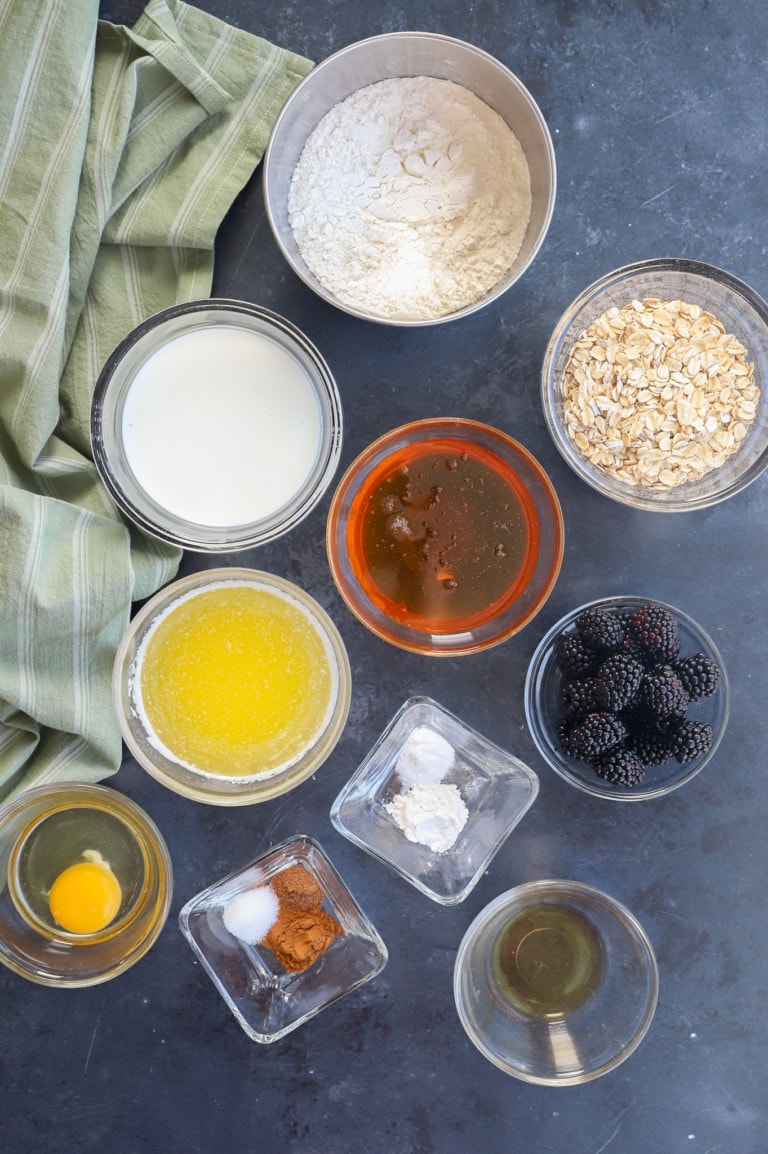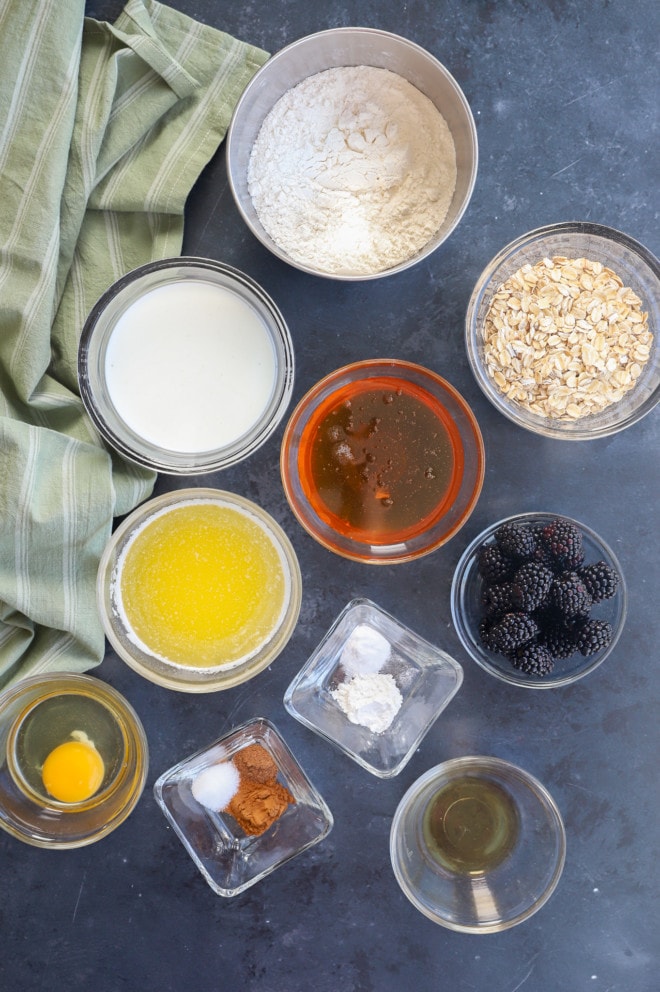 ingredients
milk. You can use your favorite milk here, whether it is whole or 2% milk. I do not recommend using skim milk.
oats. Make sure to use the old-fashioned rolled oats and not the instant oats that are usually used for making oatmeal.
flour. All you need for this recipe is all-purpose flour. You could also use a 1:1 ratio gluten-free flour, if desired.
leavening. You will need a combination of both baking powder and baking soda.
spices. I use ground cinnamon, ground nutmeg and salt in this recipe. The warming spices pair so well with blackberries!
butter. Use unsalted butter for these muffins. If you use salted butter, be sure to omit the salt called for in the recipe. Otherwise they will come out too salty.
honey. Whatever brand of honey you prefer to use here is great!
egg. Make sure to use one large egg that's come to room temperature in the recipe.
vanilla. Using a high-quality vanilla extract for your recipes is always best. If you need a recommendation, this Madagascar Bourbon Pure Vanilla Extract has the best flavor.
blackberries. Fresh or frozen blackberries will work for this recipe, but fresh blackberries are preferred. See the recipe for specific notes when using frozen blueberries.
this recipe's must haves
For this recipe you will need a couple of bowls from your set of mixing bowls – both a large and a medium.
I use a whisk, as well as a wooden spoon or spatula to combine the batter.
You will need a muffin tin to bake the muffins which you can line with liners or simply grease.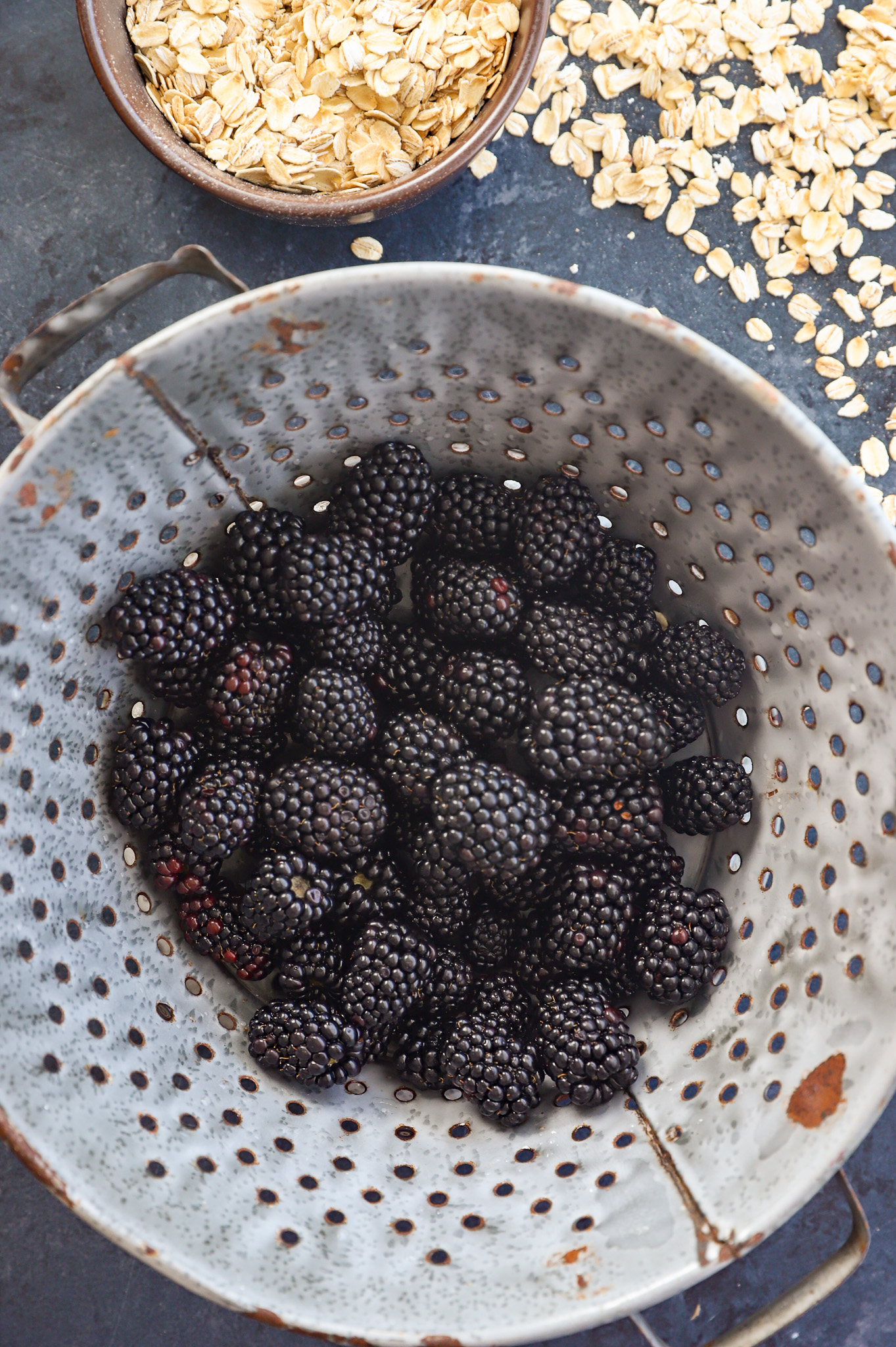 here's how to make blackberry oatmeal muffins
soak oats
In a bowl, combine the oats and milk. Let the mixture sit for 20 minutes to allow the oats to soak up the moisture. If there is still a lot of moisture in the bowl, stir again and let sit for another 10 minutes, maximum.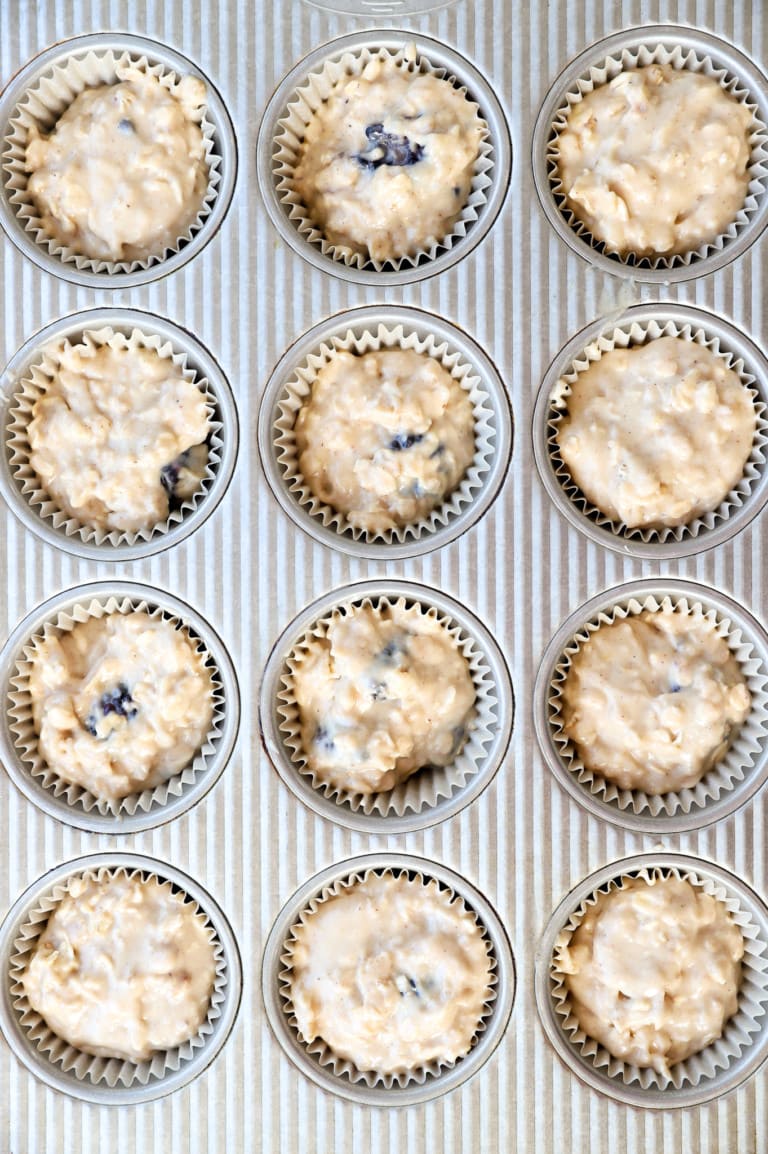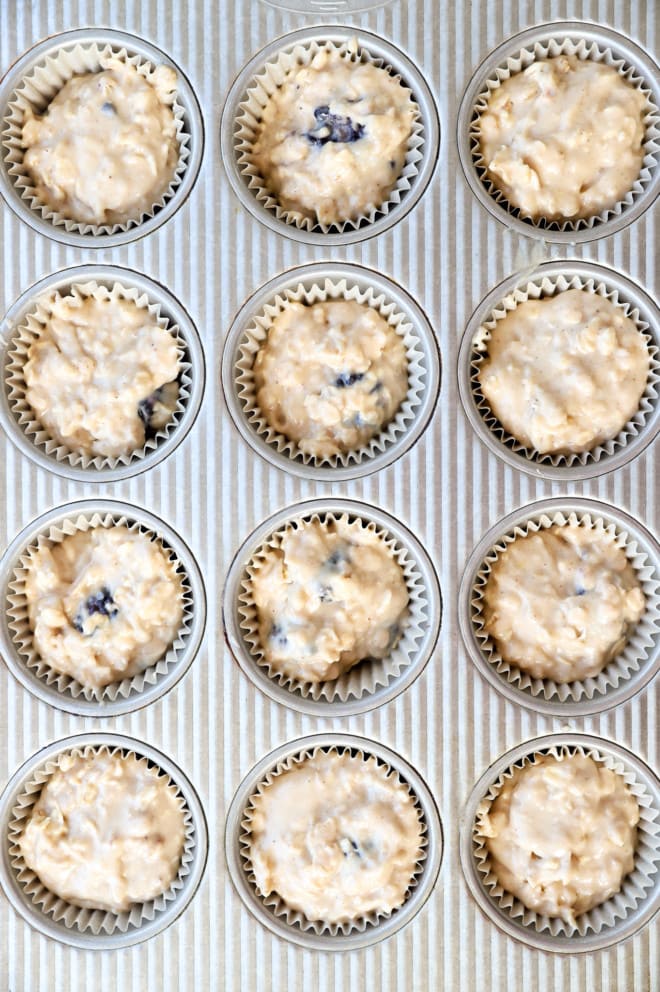 make batter
Whisk together dry ingredients in a large bowl, until combined.
In a separate bowl, whisk together butter, honey, egg, and vanilla until combined. Add the wet ingredients to the dry ingredients, stirring a handful of times. Add the soaked oats with the milk (don't strain the oats!) and blackberries. Use a spatula to fold everything together until just combined. Do not overmix!
bake
Add the batter to a muffin tin which has been either lined with muffin liners or greased with nonstick cooking spray. Top each with a sprinkle of oats and raw sugar.
Bake for 5 minutes at 425˚F, then reduce the temperature to 350˚F. Bake for 15 to 17 minutes, until cooked through and golden. A toothpick inserted in the center should come out clean.
Cook in the pan for 5 minutes, before cooling completely on a wire cooling rack.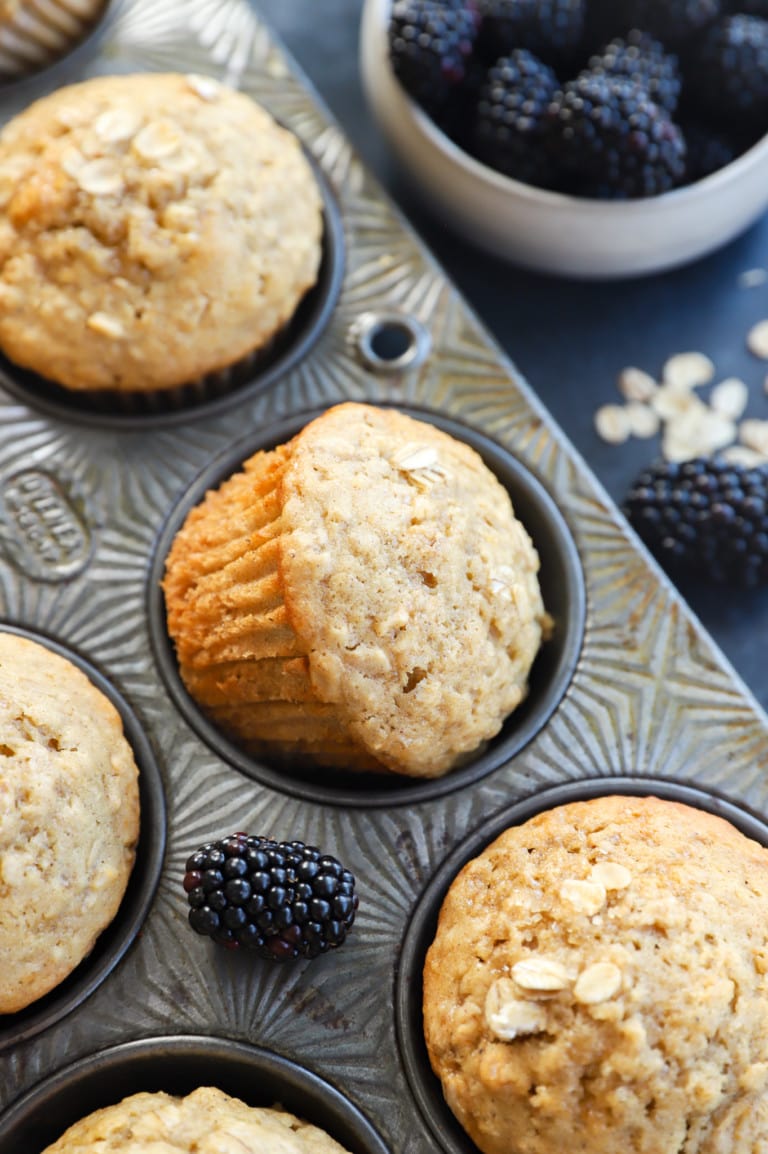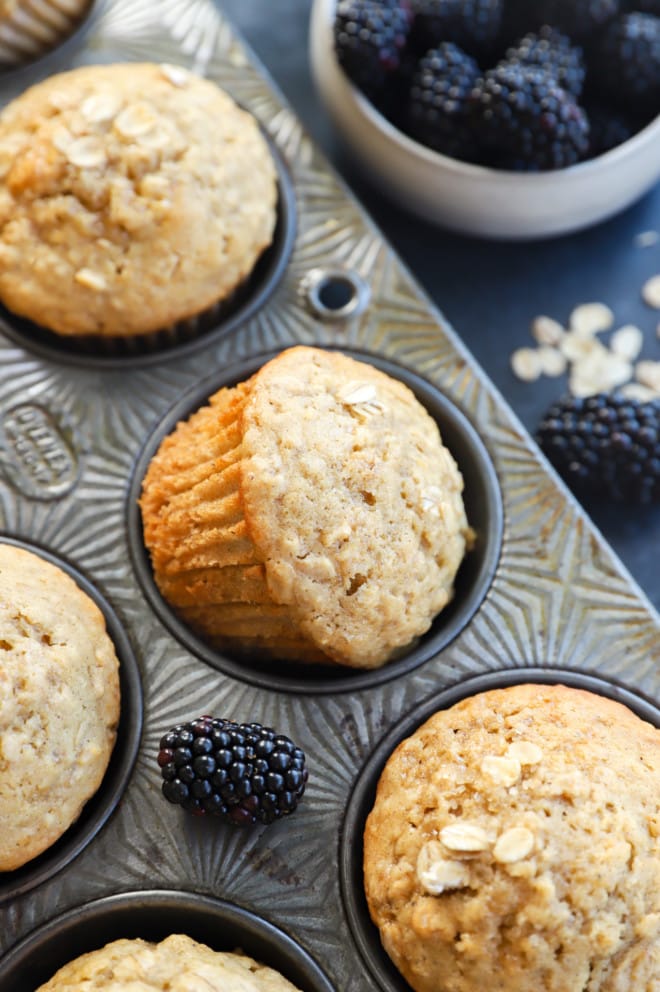 tips and ideas
store them properly. To make sure that your muffins keep that ideal texture and freshness, be sure to store them in an airtight container or bag with a paper towel to soak up any excessive moisture. If you don't, they will dry out.
muffin liners are optional. You can use muffin liners or simply spray the pan well with nonstick cooking spray. If you do use liners, I recommend using parchment liners.
test the doneness. The muffins are done when a toothpick inserted in the center comes out clean.
use a cookie dough scoop. Use a cookie dough scoop or ice cream scoop to easily scoop out an even amount of batter into each muffin tin.
More tasty muffin recipes to try: Banana Nutella Muffins | Red Velvet Muffins | Pumpkin Cheesecake Muffins | Orange Madeleine Mini Muffins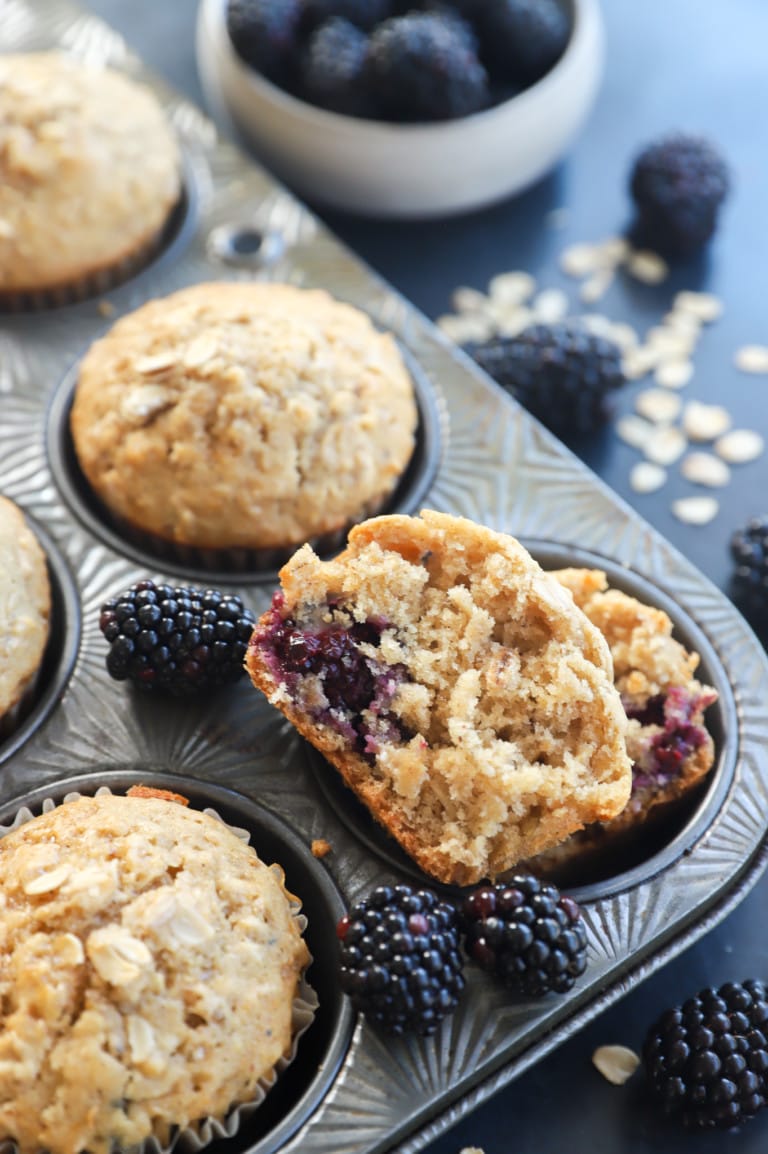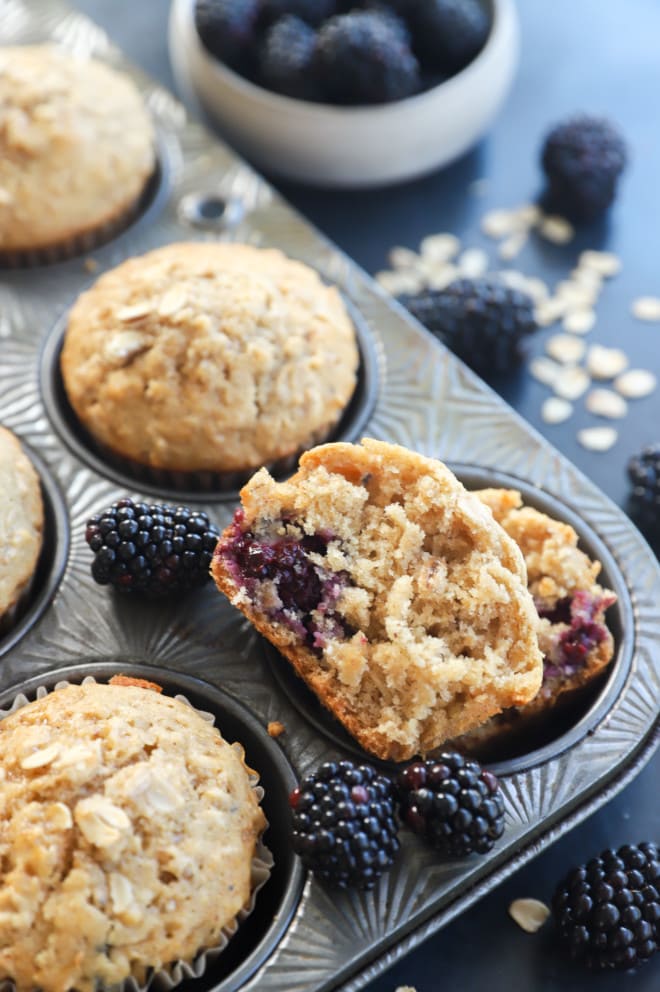 can I use frozen blackberries?
If you are making these when you don't have access to fresh blackberries, you can certainly use frozen blackberries instead. Thaw the frozen berries and pat them dry before using them in this recipe.
why are my oatmeal muffins dry?
There are a couple reasons why your oatmeal muffins might be dry. First is that the oats were not soaked long enough in the milk. Make sure to soak them for at least 20 minutes to make sure the oats soak up that moisture.
The second reason is that the batter was over-mixed. If you overmix the batter, too much gluten will form and result in a dry muffin.
how long do these muffins last?
Muffins will last for up to 2 days at room temperature when stored in an airtight container. You can extend the shelf-life a little more by storing them in the fridge where they will last for up to 5 days.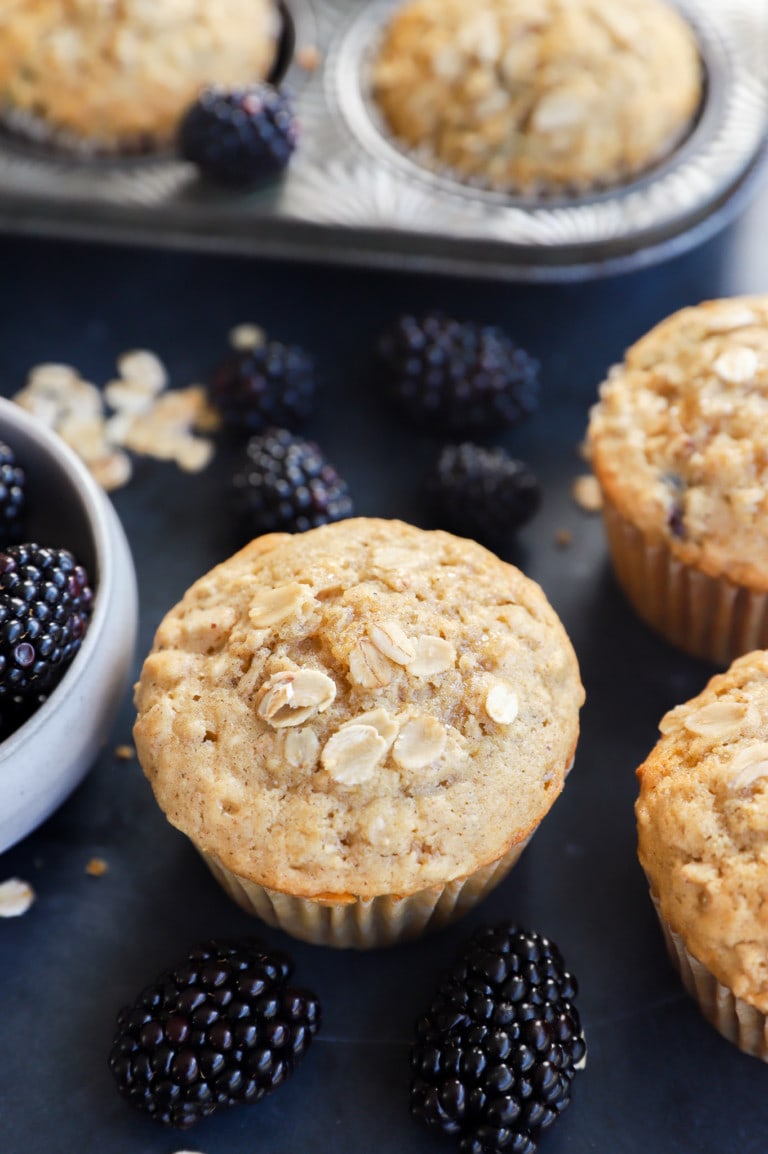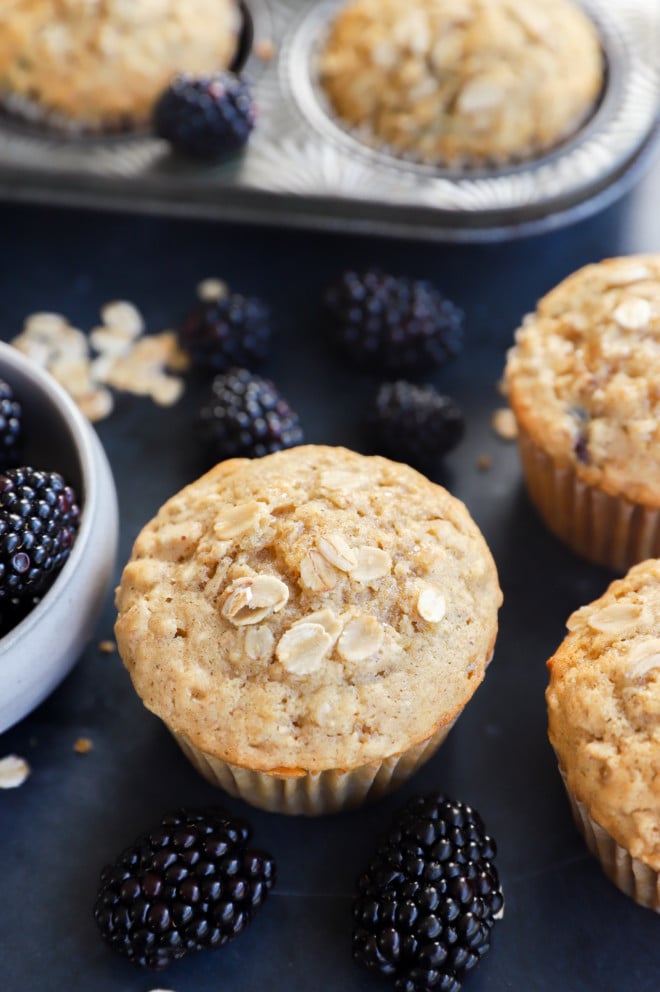 can these blackberry muffins be frozen?
They certainly can! If you would like to freeze the muffins, I recommend flash freezing them on a baking sheet for 1 hour, until solid. Then wrap in a layer of plastic wrap (to prevent freezer burn) and store in an airtight container or resealable freezer bag for up to 3 months. To thaw, let them sit overnight in the refrigerator.
do I need to cut the blackberries?
With these oatmeal muffins, I do not find it necessary to cut the blackberries and they hold up well to the fluffy texture. However, if you prefer not to bite into a whole blackberry, you can easily cut them in half or cut them into quarters if you prefer to have the berries more evenly distributed in the muffins.
how do I prevent muffins from getting soggy?
When muffins are stored in an airtight container or bag, moisture will continue to come out from the center of the muffins through their tops. This moisture will get trapped inside the closed container and will make your muffins soggy. Therefore, be sure to store the muffins with a paper towel on the bottom of the container. The paper towel will absorb any excess moisture and your muffins will remain perfectly fluffy!
Be sure to replace the paper towels as needed.
Need more inspiration for breakfast? Check out my breakfast recipes page!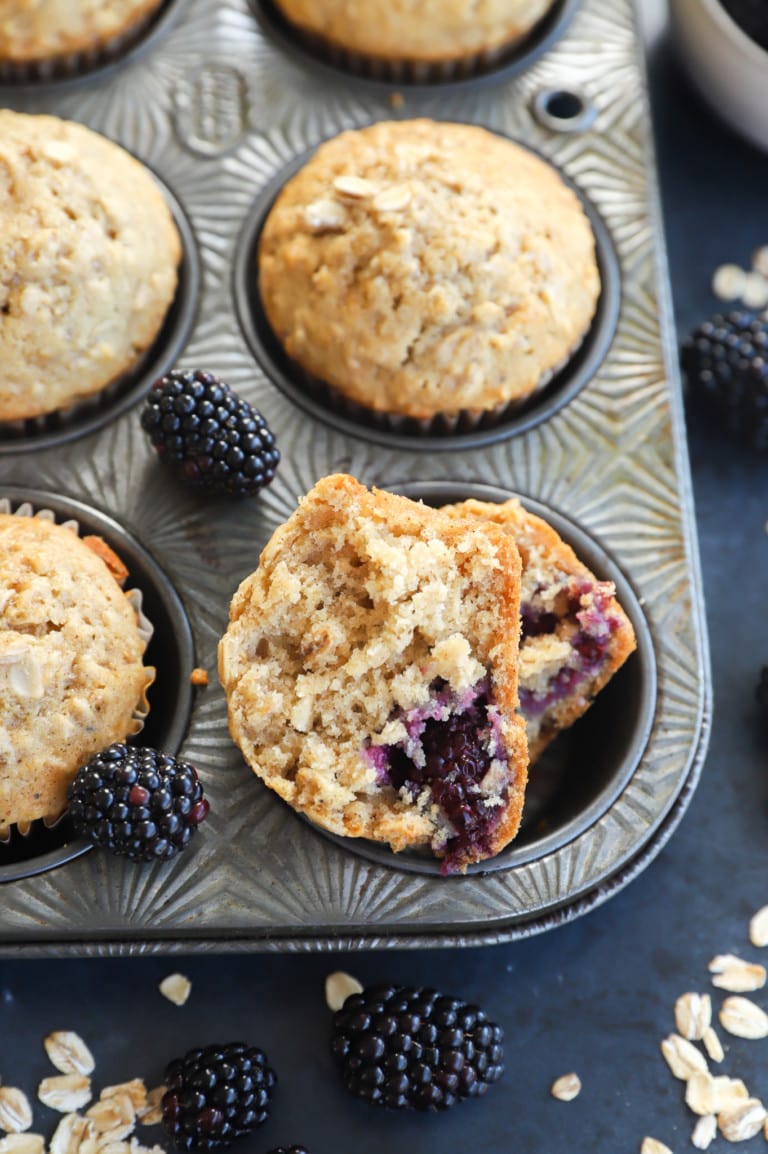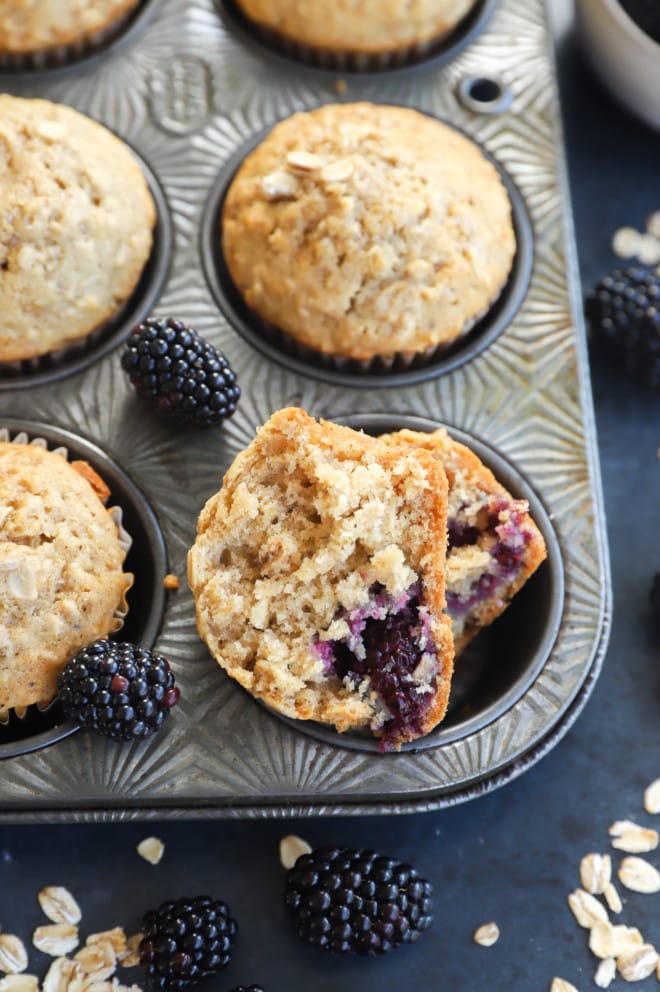 what pairs well with blackberry oatmeal muffins
These muffins are ideal for any breakfast spread! I like to serve them alongside some bacon, poached eggs, and fresh fruit. You can serve them by themselves as a quick breakfast or breakfast on-the-go as well!
For serving, you can spread these muffins with your favorite butter, nut butter, jam, or even a drizzle of honey to add an extra layer of flavor.
If you love coffee as much as I do, here are a couple of coffee drinks to check out:
In the summer, I love a cold brew so this maple sweet cream cold brew is just the right pairing of refreshing and comforting.
For those who want something warm, cozy up to a mug filled with a chili caramel macchiato.
how to store
Store. Muffins stay fresh for up to 2 days at room temperature, or up to 5 days in the refrigerator Make sure that they are stored in an airtight container or bag. Line the bottom of the container or resealable bag with a paper towel to soak up an excess moisture. Be sure to change out the paper towel once it gets wet, about every 1-2 days.
Freeze. Place cooled muffins in a single layer on a baking sheet or plate. Place in the freezer and freeze until muffins are solid, at least 1 hour. Wrap each muffin in a layer of plastic wrap before adding to a freezer bag or airtight container. Store in the freezer for up to 3 months. Don't forget to label the container or bag so you know how long they will last!
Thaw. Thaw in the refrigerator overnight. You can enjoy them chilled, at room temperature, or warm them slightly in the microwave for about 15 to 30 seconds.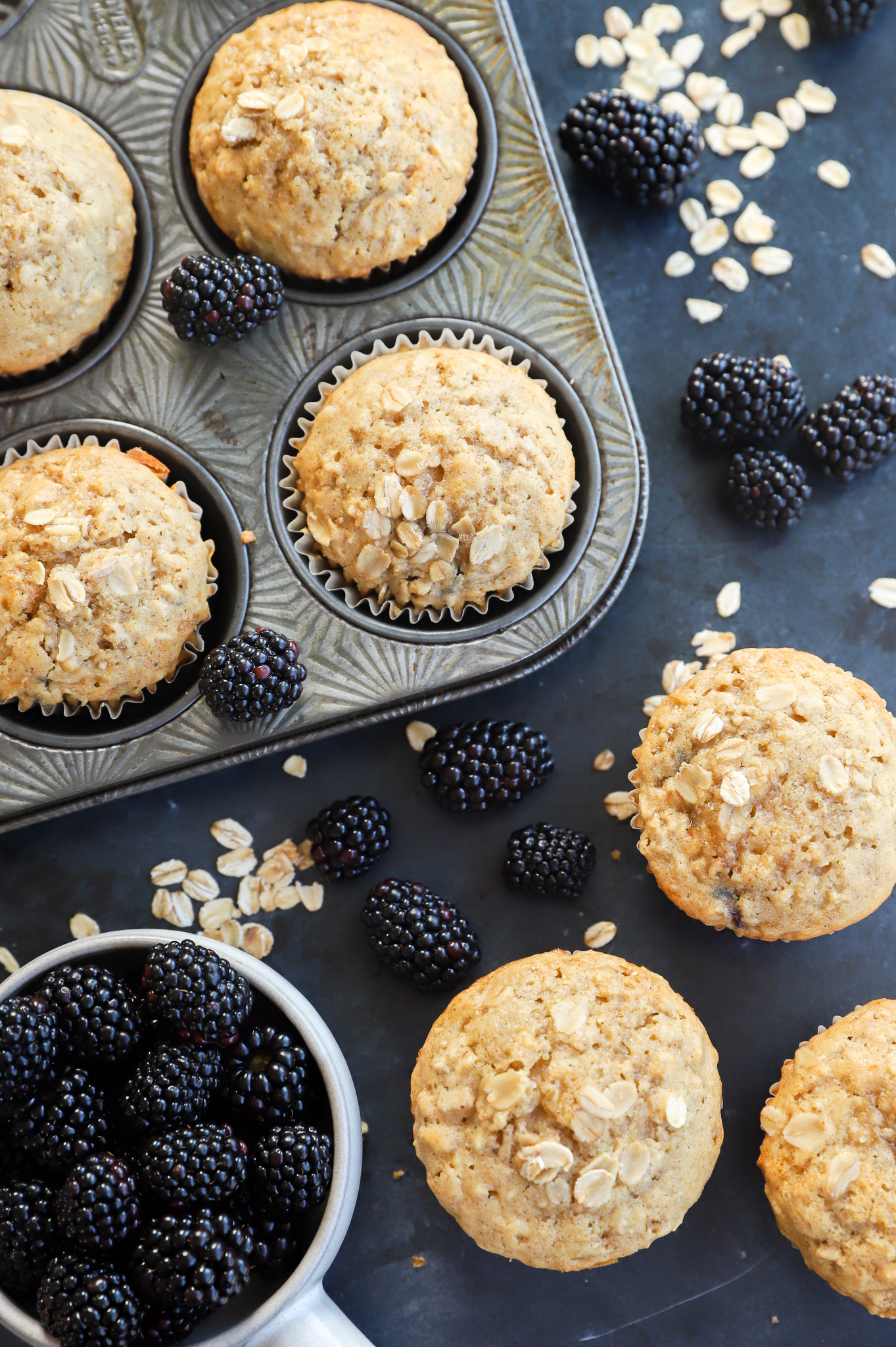 more delicious baked breakfast goods
Pumpkin coffee cake is topped with a layer of sweetened cream cheese and finished with a streusel for the perfect spiced breakfast cake.
For a springtime or summertime coffee cake, this blueberry lemon streusel coffee cake is moist and fluffy.
If you are looking for something savory, this savory dutch baby is the ideal puffy baked pancake!
seasonal tip
Choose the best ripe blackberries! Make sure that the blackberries are dark purple-black all over. Don't be afraid to open the container to check behind the label. The berries should be plump and large because these are the sweetest. Be sure to check for any signs of mold as well. Once you get home, wash the berries well before using them in this recipe or enjoying on their own!
Finally, if you make this honey blackberry oatmeal muffins recipe, please be sure to give this recipe a rating and/or leave a comment! I love to hear when you all make recipes, and I do take the time to respond to every single comment.
Feel free to drop questions below too, if you have them!
Oh and be sure to tag me on Instagram if you make the recipe! I love being able to see these recipes come to life in your homes – it's my favorite thing to look through those photos. It really means the world to me!
Honey Blackberry Oatmeal Muffins
Additional Time:
20 minutes
Fluffy and tender, these wholesome muffins are a lovely way to start the day!
Ingredients
1 cup milk
1 cup old-fashioned whole rolled oats
1 and 1/4 cups all-purpose flour (spooned & leveled)
1 tsp baking powder
1/2 tsp baking soda
3/4 tsp ground cinnamon
1/2 tsp salt
1/4 tsp ground nutmeg
1/2 cup (1 stick) unsalted butter, melted and slightly cooled
1/2 cup honey
1 large egg, at room temperature
2 tsp pure vanilla extract
1 cup fresh or frozen blackberries*
Instructions
Add milk and oats to a bowl, stirring to combine. Allow the oats to soak up the moisture for 20 minutes, until they get puffed up a bit. If the oats don't soak up any moisture in 20 minutes, stir and let sit another 10 minutes.
Preheat oven to 425˚F. Line a 12-cup muffin tin with parchment liners or spray with nonstick cooking spray.
Whisk together flour, baking powder, baking soda, cinnamon, salt, and nutmeg in a large bowl. Set aside.
Whisk together butter, honey, egg, and vanilla in a medium bowl. Pour the wet ingredients into the dry ingredients and stir until just combined.
Add soaked oats with milk in the bowl and blackberries. Stir until just combined. Do not overmix.
Scoop batter into prepared muffin cups, filling all the way to the top. Sprinkle with a few extra oats, if desired.
Bake for 5 minutes, then reduce temperature to 350˚F. Bake for another 15 to 17 minutes, until golden brown and cooked through.
Cool the muffins in the pan for about 5 to 7 minutes, before cooling completely on a wire rack.
Store at room temperature for up to 2 days, up to 5 days in the refrigerator. See notes about storing above the recipe card.
Notes
*If using frozen berries, be sure to thaw them completely and pat dry before using in the recipe.
Recommended Products
As an Amazon Associate and member of other affiliate programs, I earn from qualifying purchases.