Please note this post contains affiliate links.
A Summer Charcuterie Board is the ultimate way to embrace the flavors of summer! Bursting with an array of seasonal fruits, refreshing dips, and a tempting assortment of artisanal cheeses and cured meats, this board is a grazer's ultimate dream. It is an unforgettable centerpiece for any summer gathering!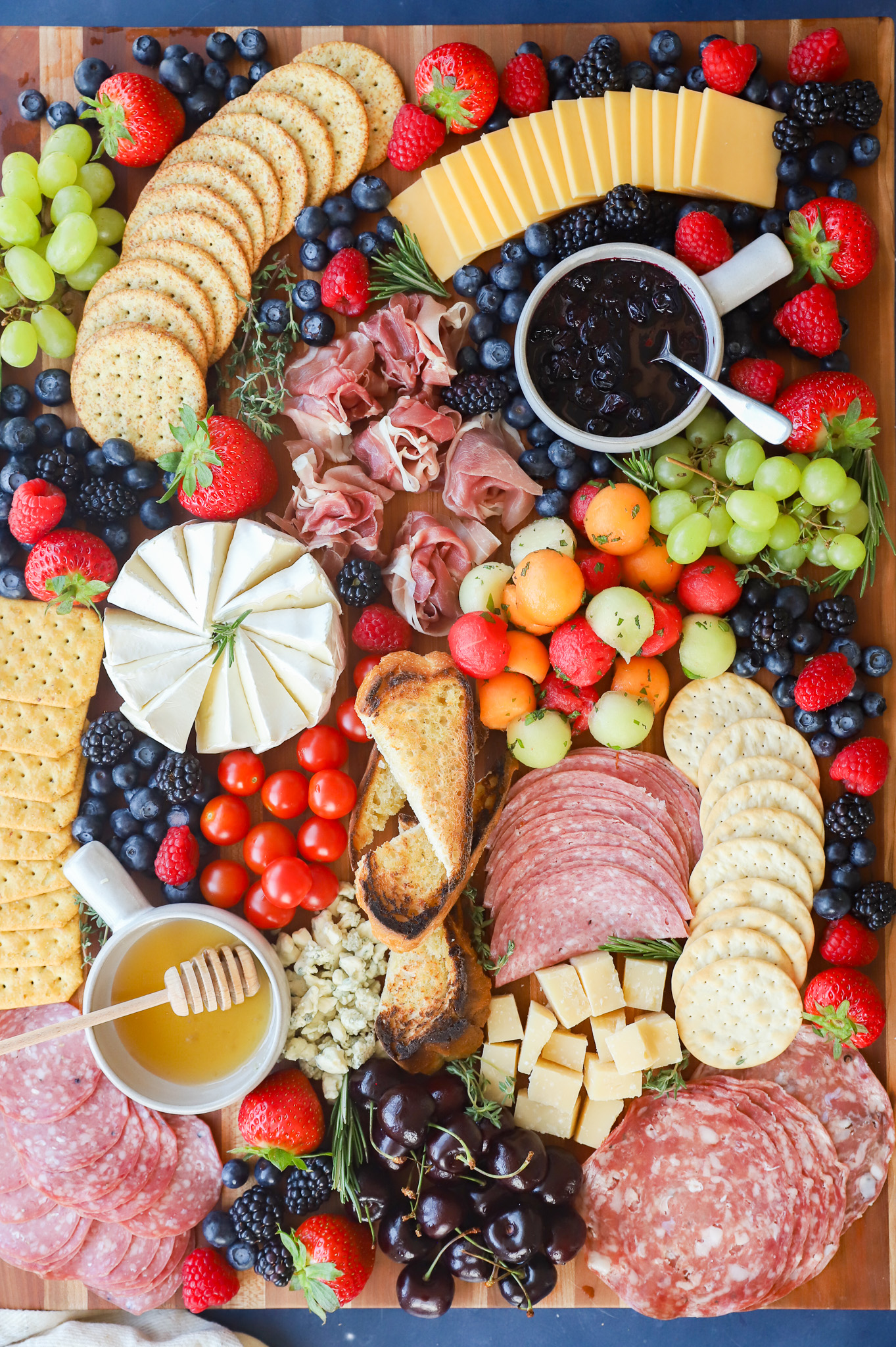 about this perfect summer charcuterie board
Alright, picture this: the sun is shining, laughter fills the air, and you're hosting a fabulous summer gathering with your favorite people. Now, imagine taking it up a notch with a show-stopping beautiful charcuterie board. Game-changer, right?!
Why should you serve a summer cheese board at your next bash? Well, first of all, it's a feast for the eyes and the taste buds! Think vibrant colors from an abundance of seasonal fruits like juicy melon salad, plump berries, and succulent grapes. Pair those with an assortment of mouthwatering cheeses that range from creamy bries to smooth gouda. Then add in the mix of spicy salami to salty prosciutto… YUM.
There's something for everyone on a charcuterie board. From the cheese lovers to the fruit fanatics and the meat enthusiasts, everyone will find their perfect match. It's like a customizable adventure for their taste buds.
Assembling this board is an absolute breeze! It's a stress-free way to impress your guests without spending hours in the kitchen. Just arrange your favorite ingredients on a rustic wooden board or a stylish platter, and voilà—you've got a stunning centerpiece that looks as good as it tastes.
So, whether you're hosting a backyard barbecue, a poolside party, or a laid-back picnic in the park, this easy summer charcuterie board is your secret weapon for a memorable and fun-filled gathering. It's a feast of flavors, a celebration of summer's bounty, and a guaranteed crowd-pleaser for summer entertaining.
what is a charcuterie board?
Charcuterie is a French word that refers to cold cooked means, or cured meats. Though the word itself refers to meat, it is usually used to refer to meats and cheeses when discussed as a board or platter.
A charcuterie (pronounced "shaar-koo-tr-ee") board is served at the beginning of a meal or as a grazing board at the center of a party or gathering. It is a platter or board with a selection of meats, cheeses, fruits, crackers, dips, and more.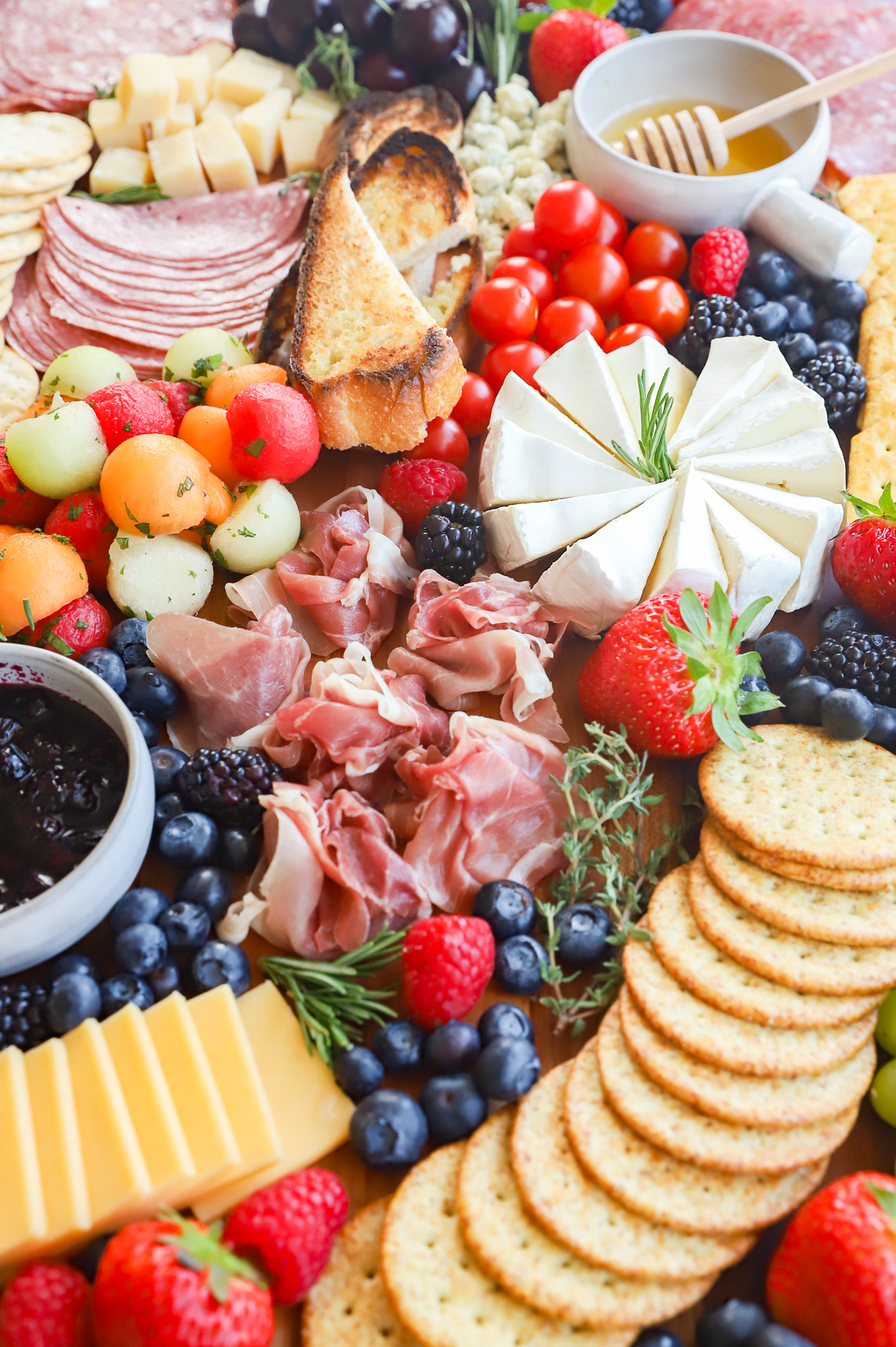 what goes on a summer charcuterie board?
The beauty of a summer charcuterie board is that it highlights all the seasonal flavors of summer! Building off the concept of a charcuterie board with meats, cheeses, and crackers, a summer charcuterie board adds produce into the mix.
Seasonal fruits and vegetables are what make this seasonal board different from the average board. As you can see here, there are a variety of summer fruits and vegetables on the board. However, you can easily customize this with whatever is in season at your local farmers market!
types of cheese for a summer board
Hard cheese. For this board, I used parmigiano reggiano, but any hard cheese will work well. Alternatives include manchego or other hard aged cheeses. I recommend cutting it into chunks that are easy for guests to grab and eat.
Common cheese. I like to keep things simple with a smoked gouda, but you could also use colby jack, sharp cheddar, or something similar. Basically, this is the cheese that is generally liked by everyone!
Soft cheese. A wheel of brie is preferred for me, but you could use any soft cheese like goat cheese. For either, I like to top it with a drizzle of honey to give an added sweet element, but this is optional.
Funky cheese. Who doesn't love a stinky cheese? This would be a blue cheese, goat cheese with vegetable ash, or any variation of funky or stinky cheese you might like.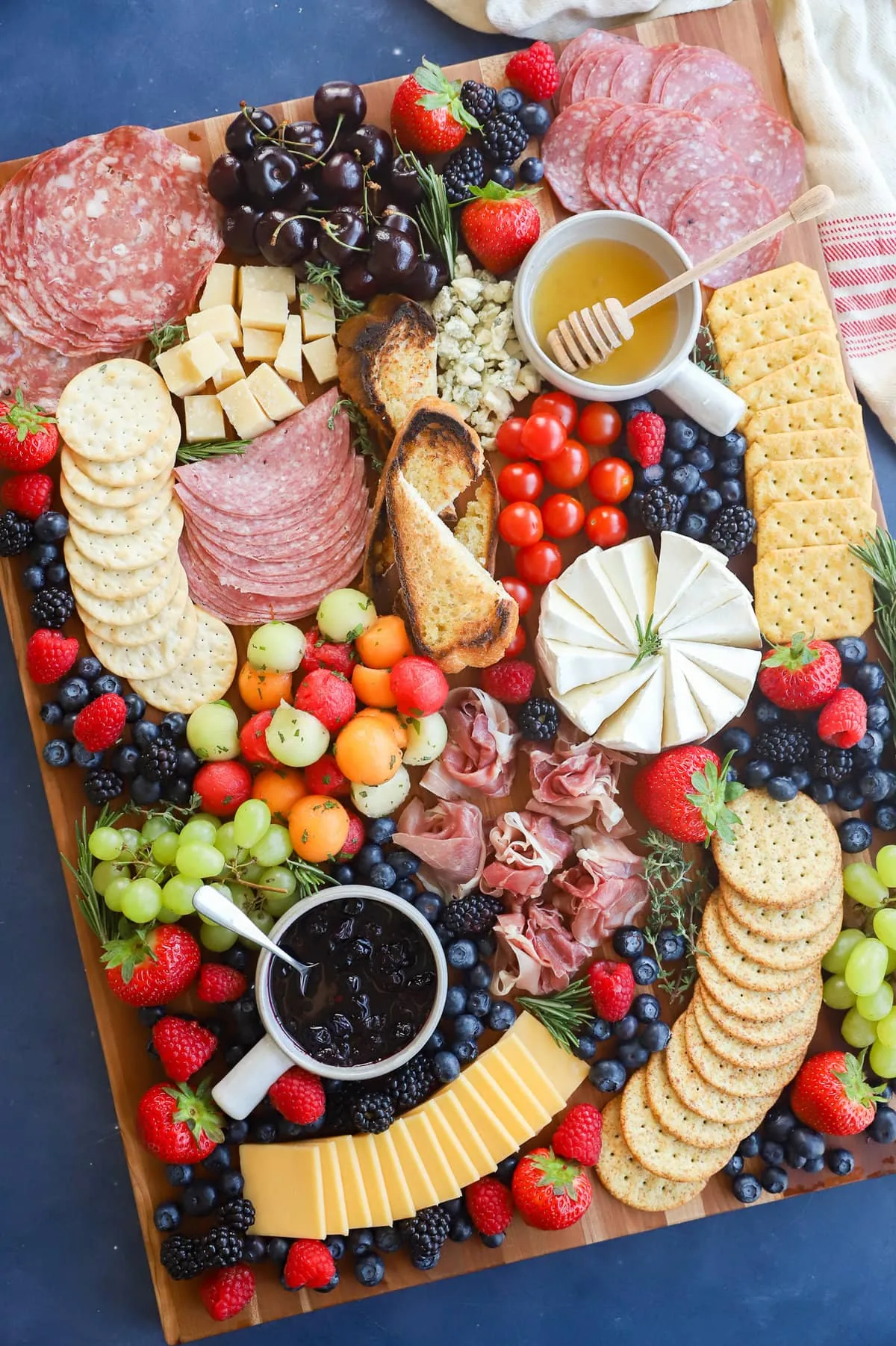 here's what you'll need
Cheeses. For any board, I recommend one hard cheese, one common cheese, one soft cheese, and one funky cheese, as outlined in detail above.
Meats. Having a variety of cured meats is ideal for this board! I recommend have two types of salami and prosciutto, as a minimum. I also like to add in sopressata or some other meat that I find at the local market! Not a must, but it's always fun to find something different to add to the mix that will surprise people.
Crackers. Choose your favorite crackers! A mix of any is fantastic. I usually recommend about 3 to 4 varieties. You can also add toasted bread like French baguette or sourdough.
Fruit. The best fruit for this board is summer fruit! Strawberries, blueberries, raspberries, blackberries, watermelon, cantaloupe, cherries, honeydew and more. Those are the ones you see on this board, but you could also use peaches, mango, kiwi, and more.
Vegetables. Add as many or as few vegetables as you want! I love to use cherry tomatoes, but cucumber, carrots, and celery and nice crunchy additions too.
Extras. This includes jams, jellies, marmalades, compotes, honey/agave, and more. Basically anything that you want as an extra fits in here! Nuts, dried fruit, and more fall into this category. Get creative and have some fun with it!
this recipe's must haves
You need a giant board! I usually use a large cutting board or butcher's block because that's what I already have on hand. You could also use a serving platter or even a tray as a serving dish!
As far as equipment, you don't need much! A chef's knife and cutting board will help with cutting and prepping the cheese.
Don't forget to wash all your fruits and vegetables before placing them on the board!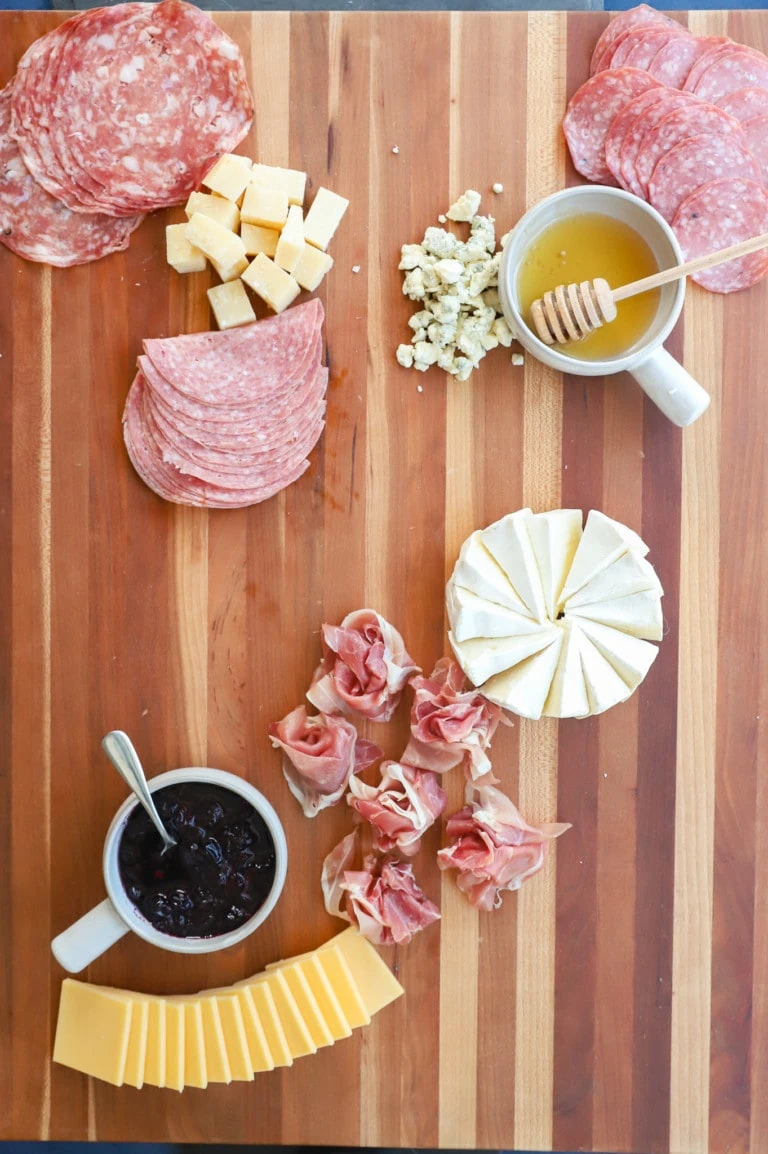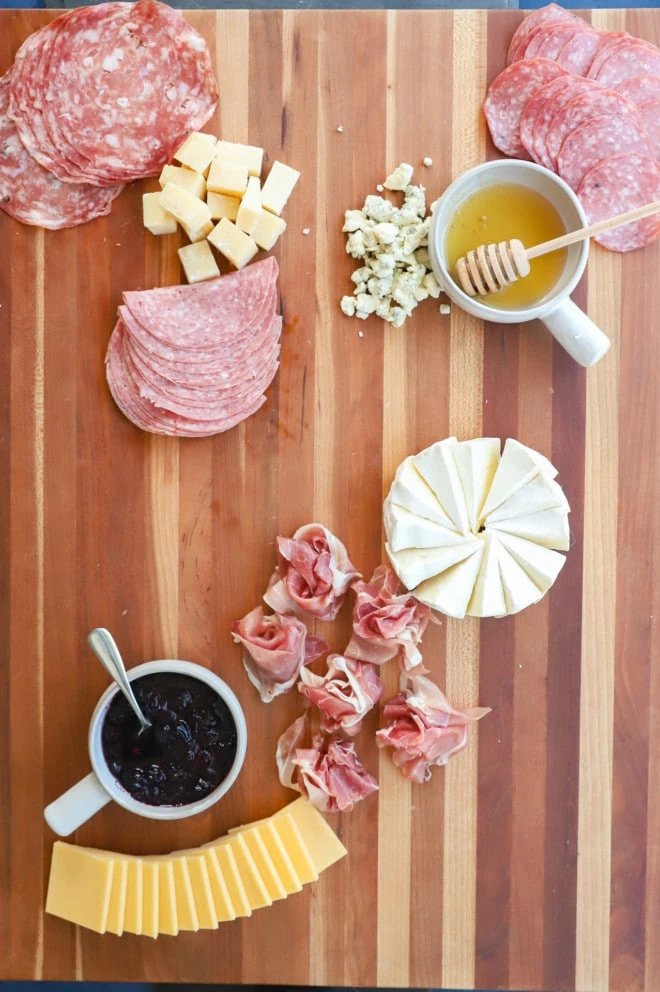 here's how to make a summer charcuterie board
add bowls
I like to start by adding the large items like small bowls to hold jam, compote, or honey to the board first. This is an easy way to space them out evenly and start building in around them.
add meat
Adding everything by category is the easiest way to build a board! By adding in segments, you can evenly place everything. Then you aren't in a situation where all your meats need to go in one corner of the board because you've already filled up the rest of the board!
You can simply fan out the slices of meat, but I like to add variety where I can. This could be a salami rose, folding large slices of salami in half and layering them, and bundling prosciutto slices into little mounds.
add cheese
Make sure that your cheese is sliced, crumbled, cut into chunks, etc before adding it to the board. This is easiest for guests to grab without having to fumble with cheese knives.
add produce
To start, for variety, I love to have a fun fruit salad on the board. This melon prosciutto salad is an easy add because it pairs so well with the summer flavors on this board.
For other produce, hit your local farmers market for peak produce! I've listed out the produce I prefer, but honestly you can easily add in whatever your favorite summer fruits and vegetables are.
I slate them in all the leftover large empty areas that are left after adding the bowls, meat, and cheese!
fill in with fresh herbs
Now let's pull it all together and fill in the holes! I like to use fresh herbs, but you could also use fresh edible flowers. Tuck them into all the spaces, along with any extra berries you might have to fill up the board completely.
More fun and flavorful boards to explore: Ultimate Tailgating Board | BBQ Charcuterie Board | Weeknight Cheese Board | Summer Garden Vegetable Board | Fruit Charcuterie Board
tips and ideas
add dried fruit. Dried cranberries, apples, cherries and more can be a fun addition to this board to add more textures. You could even add chocolate-covered or yogurt-covered dried fruits to the board as well.
simple is always the answer. Of course it is so easy to go overboard with your board. Therefore, keep things simple if you are on a budget, or if you want to transform this board into a smaller one for a date night! Cut the amounts you see below in half. Omit the extras. Make sure that anything you buy is something you will enjoy eating the rest of if you have leftovers!
how long can a charcuterie board sit out?
Charcuterie boards with meats and cheeses are best served at room temperature. However, these should not be left out at room temperature for more than two hours total.
After a couple of hours, you should be sure to wrap up the remaining items separately and store them back in the refrigerator.
how do you keep a charcuterie board cool in the summer?
There are a few ways that you can keep your perfect charcuterie board cool for a hot summer day!
First, chill the serving platter. By placing the platter in the freezer for a few hours before plating everything, it will stay cold and prevent your meats, cheeses, and other food items from melting if you are serving it in hot weather.
If you don't have enough freezer space to chill the platter, you can also place it on a rimmed baking sheet with a layer of ice. Do not use this method if your board has a layer of fabric on the bottom though.
Second, plate everything just before serving. Ideally your cheeses, meats, and fruits are coming out of the refrigerator at the last possible second to ensure they are as cold as possible. If you need to plate everything ahead of time, cover it with plastic wrap and store in the refrigerator until you are ready to serve it!
Finally, if you serve this outside, make sure the board is in the shade! Direct sunlight will quickly warm up your food and risk spoiling it.
Need more inspiration for summer recipes? Check out my summer recipes page!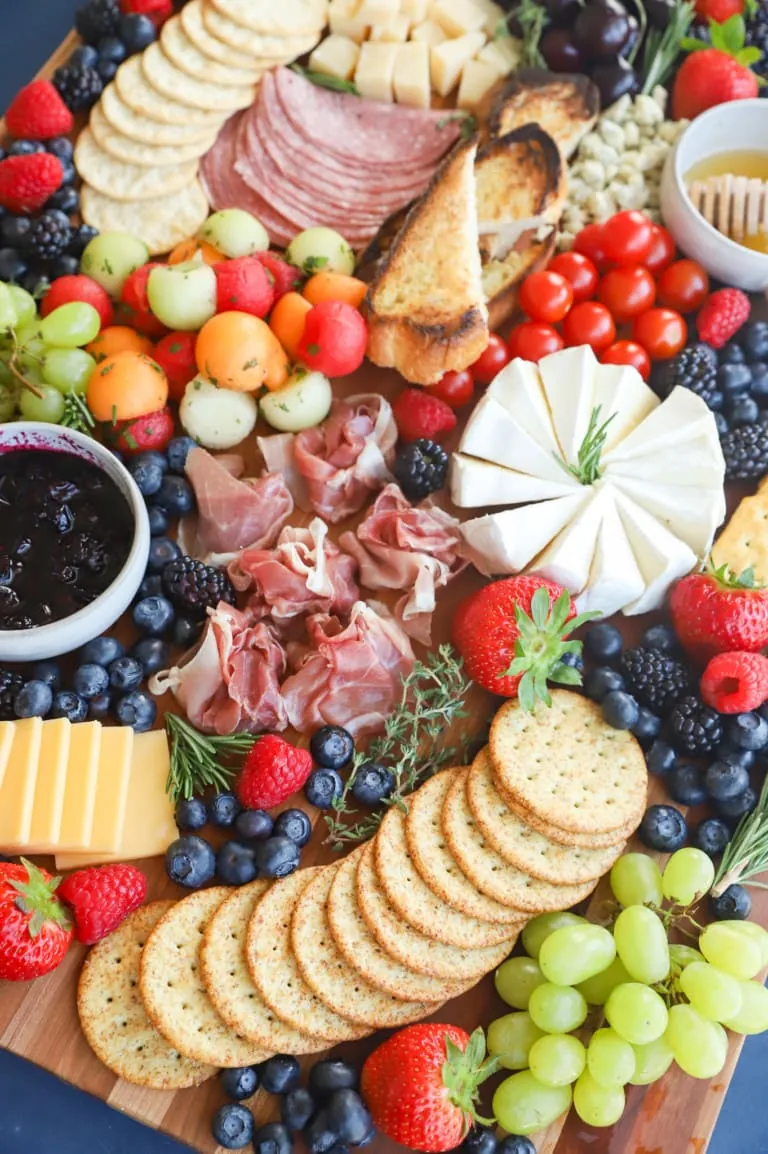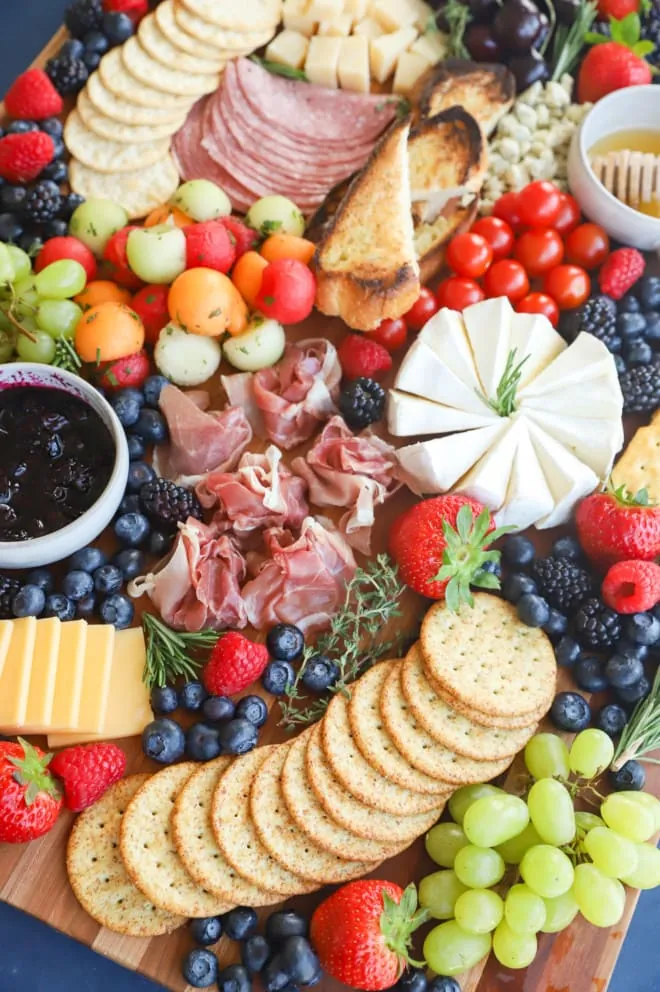 what to serve with a summer charcuterie board
When I serve this summery charcuterie board, I always do so when I have people over! Therefore, you need to have a fresh and summery cocktail to go along with it. Here are my personal top choices:
A lemon basil cocktail is light and fresh, making it easy to sip on with all the different flavors on this board. You could also go with a favorite summery option with a watermelon vodka cocktail or watermelon gin cocktail!
If you like a tart cocktail, a cherry vodka sour uses ripe fresh fruit and has a lovely balanced tang to it.
A summery blackberry gin fizz is juicy and floral, with just the right amount of bubbles.
more delicious summer recipes
Mango chicken salad is full of juicy mango, tender chicken, and crunchy vegetables.
For an easy summer appetizer, try this caprese bruschetta that's easy to make and perfect for a party!
When you are in need of the best bbq side, blackened corn is all you need for summer.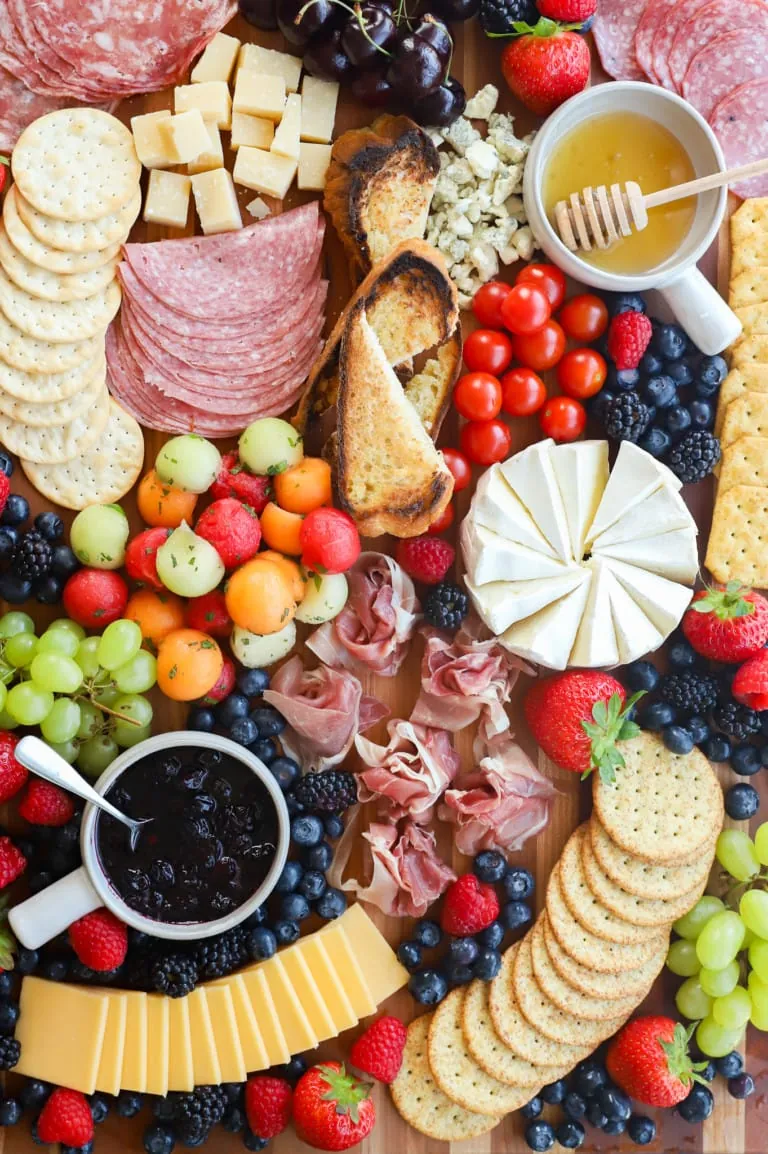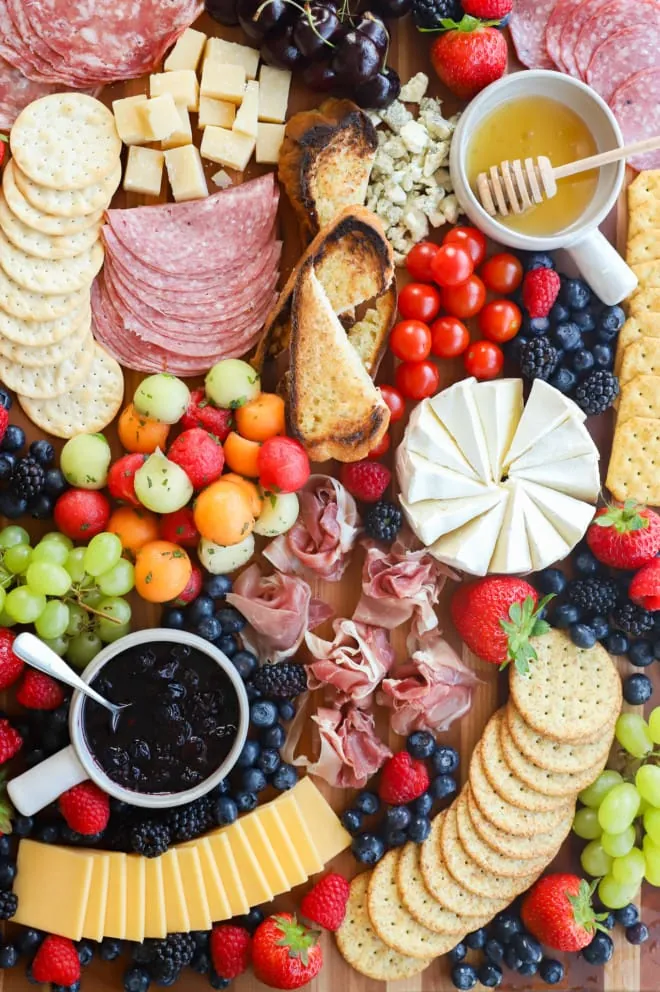 Finally, if you make this summer charcuterie board, please be sure to give this recipe a rating and/or leave a comment! I love to hear when you all make recipes, and I do take the time to respond to every single comment.
Feel free to drop questions below too, if you have them!
Oh and be sure to tag me on Instagram if you make the recipe! I love being able to see these recipes come to life in your homes – it's my favorite thing to look through those photos. It really means the world to me!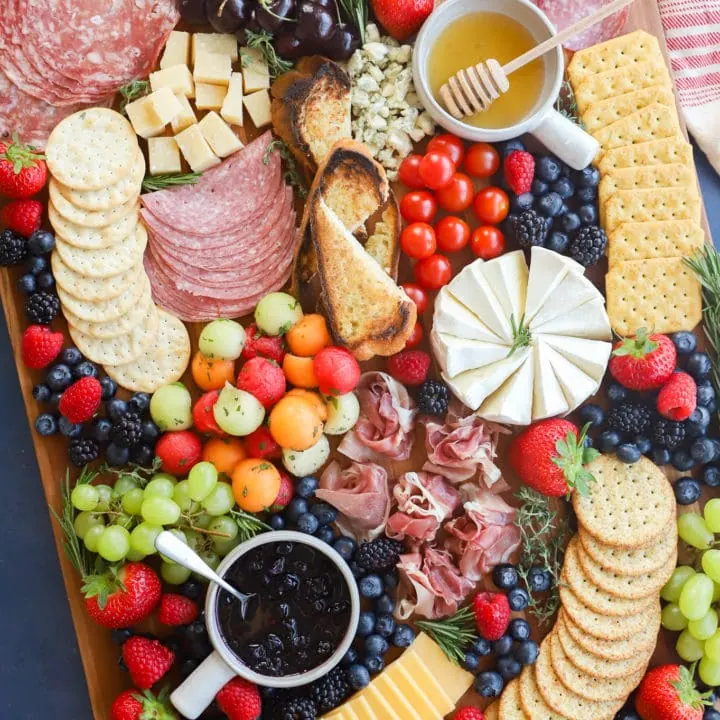 Summer Charcuterie Board
The perfect bountiful centerpiece for your summer gathering!
Ingredients
cheeses
One small round of brie, cut into wedges so it can easily be fanned out
8 oz parmigiano reggiano
Blue cheese
8 oz sliced smoked gouda
meats
Genoa salami
Prosciutto
Hard salami
Sopressata
fruit
1 lb green and/or red grapes
1 lb fresh cherries
6 oz fresh strawberries
1/2 pint raspberries
1/2 pint blueberries
1/2 pint blackberries
4 oz cherry tomatoes
bread
Crackers - I like to have at least three kinds
Sliced toasted baguette (you could also use sourdough)
extras
Jam or Compote (I used a blueberry thyme compote!)
Honey
Fresh herbs - basil, rosemary, thyme to fill in gaps
Instructions
Place the larger items that go in bowls on your board first. After placing the bowls, fill them with your dips. For me, this includes the honey and jam/compote.
I like to lay out my items in groups to spread them out evenly. I start with the meats, then the cheeses, followed by the crackers, and finally fresh produce.
Finally, use fresh herbs and any leftover berries to fill in any gaps between the items. Add spoons for jams/compotes and honey (I love to have a honey stick specifically).
Recommended Products
As an Amazon Associate and member of other affiliate programs, I earn from qualifying purchases.