I have a really weird confession…
I LOVE chicken salad.
I know that sounds strange but let me clarify a bit. I am not talking about the normal plain Jane chicken salad with celery and other bland flavors that has made an appearance at way too many potlucks. I am talking about the chicken salads that you literally can't stop eating, like my mom's chicken curry salad that I can eat two batches of in one sitting (with a large loaf of French bread of course). Also THIS chicken salad…
At first it seems too sweet but as soon as you sprinkle a bit of course sea salt on top, the balance of sweet and salty is an absolute freaking miracle. I LOVE the mango basil combination. I would NEVER have thought to put those flavors together. Now that I have fresh basil at my fingertips every day (thank you garden!), I am finding so many more ways to use it.
Is there a basil ice cream in my future…? I think so…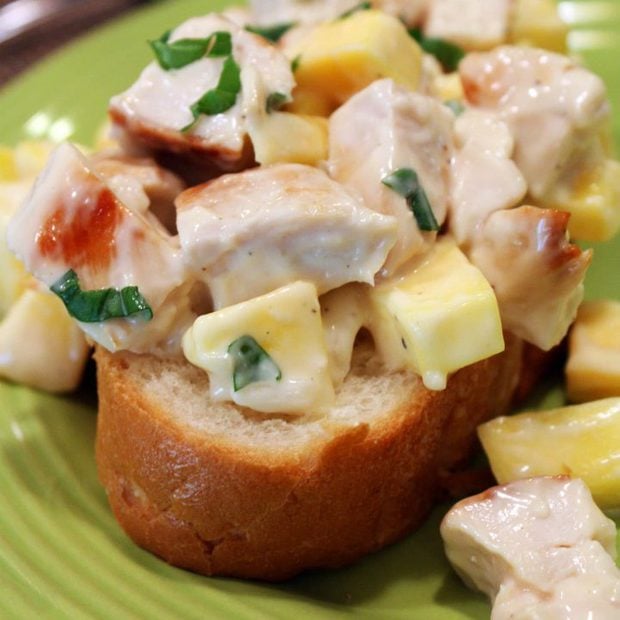 Mango Chicken Salad
Total Time:
1 hour
5 minutes
A tropical twist on the classic chicken salad.
Ingredients
1 lb. cooked, diced chicken
1/2 cup mayo
1 mango, peeled and diced
1/4 cup white onion, diced
2 1/2 Tbsp sugar
Salt and pepper
2 1/2 Tbsp chopped fresh basil
Instructions
In a large bowl, mix together all ingredients except for the basil. Chill for at least 1 hour. Stir in basil just before serving.
Serve on a roll or with butter lettuce.