Please note this post contains affiliate links.
This Mango Chicken Salad will elevate your salad game to the next level. Juicy chunks of mango and tender chicken come together to create a delicious combination of sweet and savory. The tropical flavor is bursting in every single bite!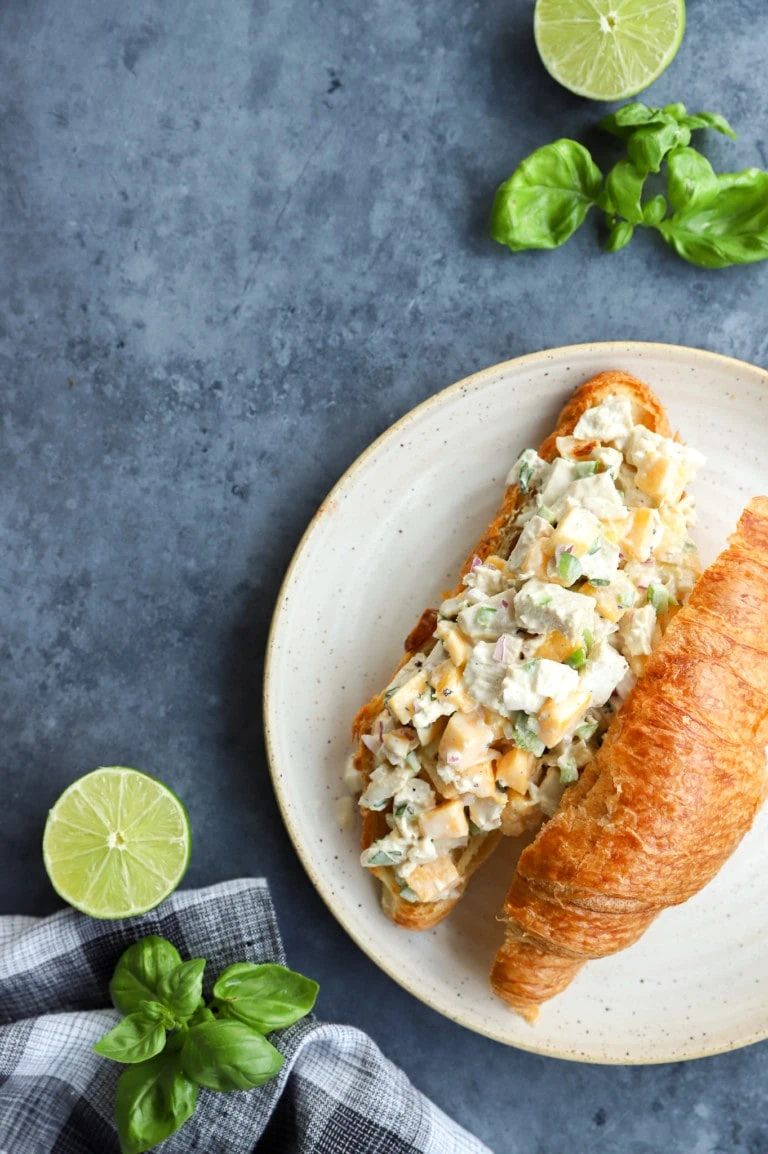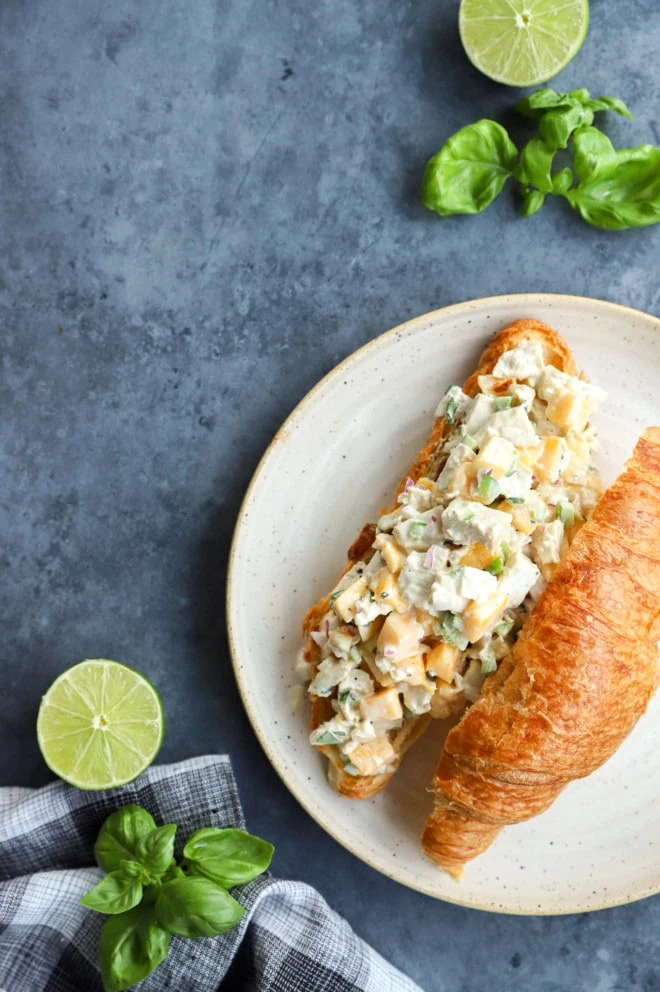 about this mango chicken salad
I have a really weird confession…
I LOVE chicken salad.
I know that sounds strange but let me clarify a bit. I am not talking about the normal plain Jane chicken salad with celery and other bland flavors that has made an appearance at way too many potlucks. I am talking about the chicken salads that you literally can't stop eating, like my mom's chicken curry salad that I can eat two batches of in one sitting (with a large loaf of French bread of course). Also THIS chicken salad…
Let's talk about exactly why this mango chicken salad is going to be your next obsession. Imagine this: tender cooked chicken, mingling with juicy chunks of mango, and delicious Thai basil for a hit of freshness. It's like a party in your mouth, where savory meets sweet in perfect harmony.
The sweetness and juiciness of the tropical flavor of the fruit is just the right addition to a savory chicken salad. It makes for the best chicken salad sandwich! You might be doubtful, but trust me, it's a match made in salad heaven.
The flavors in this recipe are super simple, and that's why it is so darn delicious. You don't need a lot of fancy ingredients to make a truly memorable salad like this one!
This healthy salad isn't just tasty, it's also a smart choice for a satisfying and wholesome meal. Packed with protein, vitamins, and that tropical twist, it's a salad that'll keep you coming back for more. So grab those mangoes and get ready to dive into this salad face first.
I highly recommend making sure to track down Thai basil for this recipe! While sweet basil will work and taste absolutely delicious, I love using Thai basil.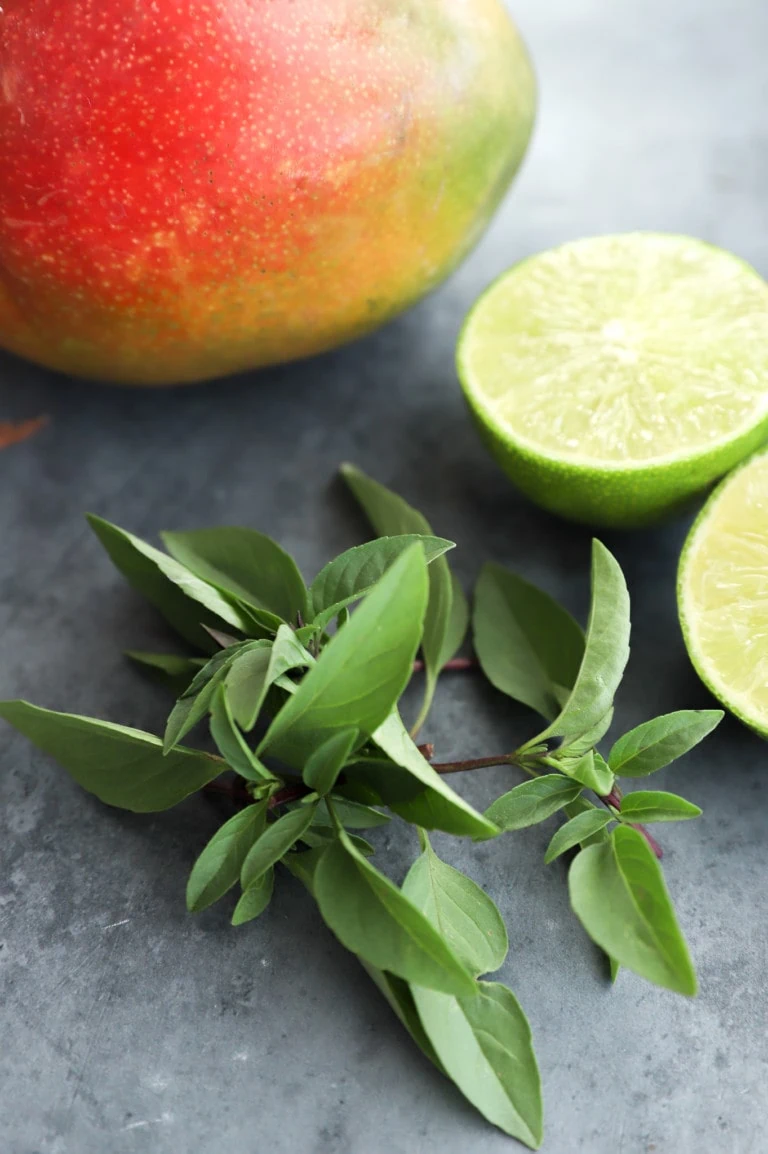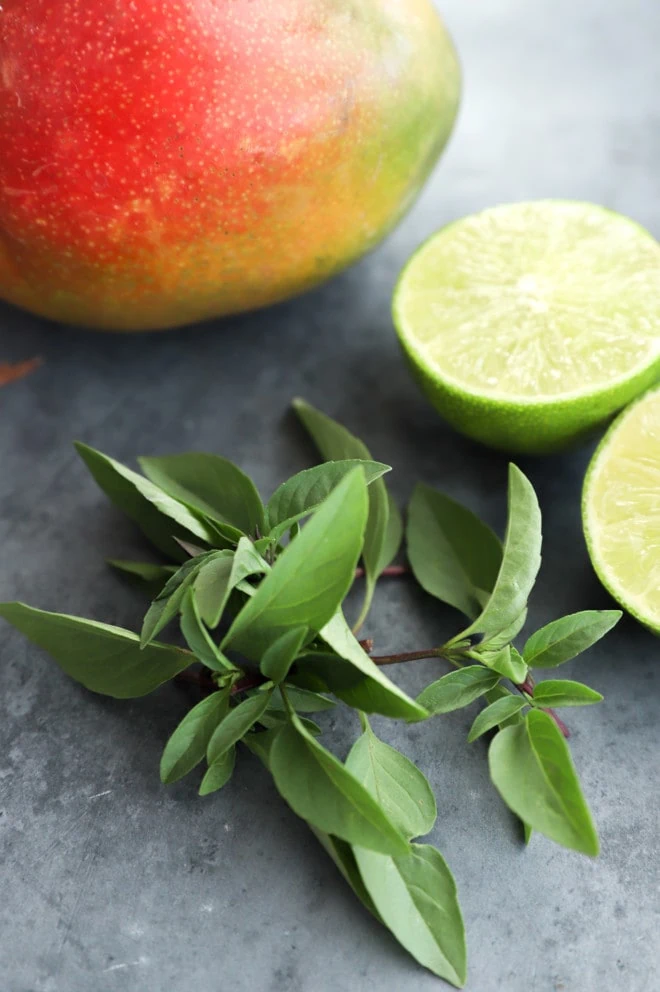 what is thai basil?
Thai basil is savory, a little spicy, and almost has a touch of anise in it. It's a basil that is native to Southeast Asia. In Thailand, you'll find it in so many dishes from curries to stir fries and more. You'll also see it served in Vietnam on a plate of garnish with a big bowl of pho.
I've become so enchanted with the herb that I decided to add it to my herb garden this summer. I am so thrilled that I did because adding just a little bit to any Asian-inspired meal has been just the burst of freshness I've been craving.
There are a lot of types of basil out there, and while I love sweet basil on any day, Thai basil is simply superior in a recipe like this one!
Note: This is an updated version of the original published on August 3, 2012. The post now includes more information about the recipe and also an updated recipe!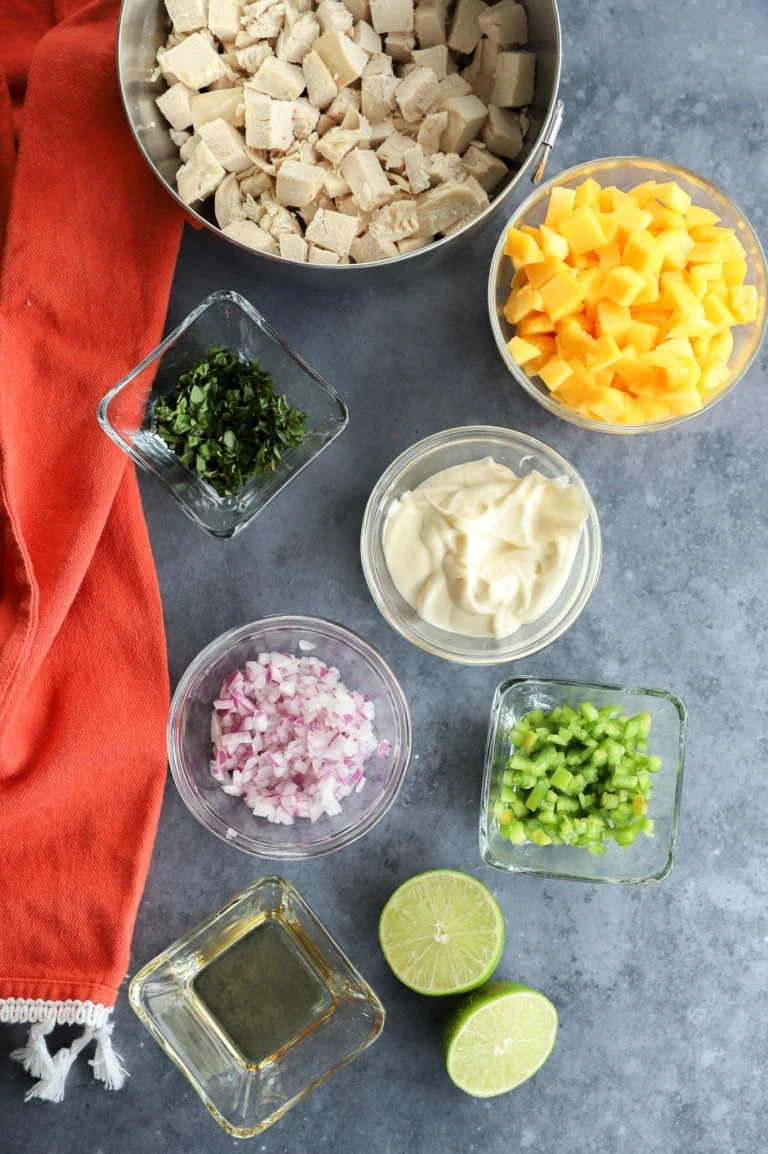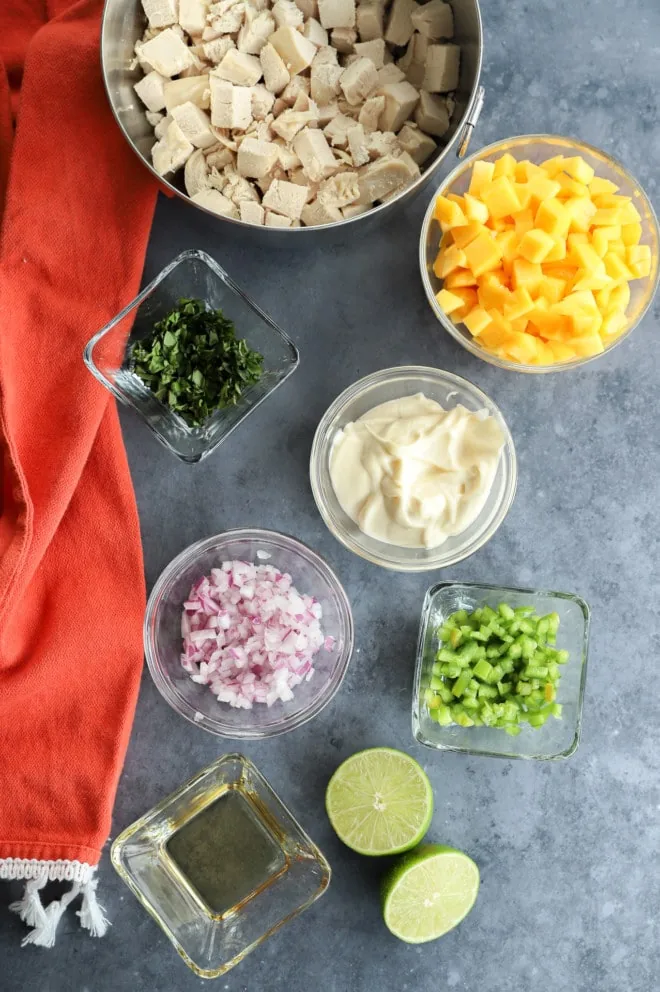 ingredients
chicken. You will need one pound of cooked chicken for this recipe. Use cooked chicken breast, cooked chicken thighs, or even rotisserie chicken!
onion. I like to use red onion in this recipe. It's just the right flavor for this particular recipe. You could also use white onion if you prefer. Green onion is also a great option for a substitution.
jalapeño. Make sure that you remove the seeds and membrane before using it in this recipe! Unless of course you want the recipe to be spicy. Then you can leave the seeds in for an extra kick.
mango. Fresh mango is preferred for this recipe! Make sure it is ripe and juicy for the best flavor in this recipe. You can also use frozen mango.
mayonnaise. I use full-fat mayonnaise, but you could also use light mayonnaise if preferred. If you want to use Greek yogurt, you can look below in my Tips for Success section for details on how to do that.
lime juice. Fresh lime juice is best! If you don't have lime juice on hand, you could also use fresh lemon juice in a pinch.
agave. You can use agave or honey in this recipe.
salt and pepper. Use as much salt and pepper as you like for this recipe! It's to taste, so make sure that you taste it before you let it sit in the refrigerator for an hour.
basil. Fresh Thai basil is the ideal choice for this recipe! The flavor is so fresh and delicious. I grow my own Thai basil in our herb garden, but you can easily find it at most grocery stores or Asian markets. You can also use fresh sweet basil instead, if you can't get your hands on Thai basil.
this recipe's must haves
To prepare your ingredients, have your chef's knife and cutting board handy as there is some chopping you will have to do.
All you need to make this recipe is the largest bowl from your set of mixing bowls and a wooden spoon to stir everything together.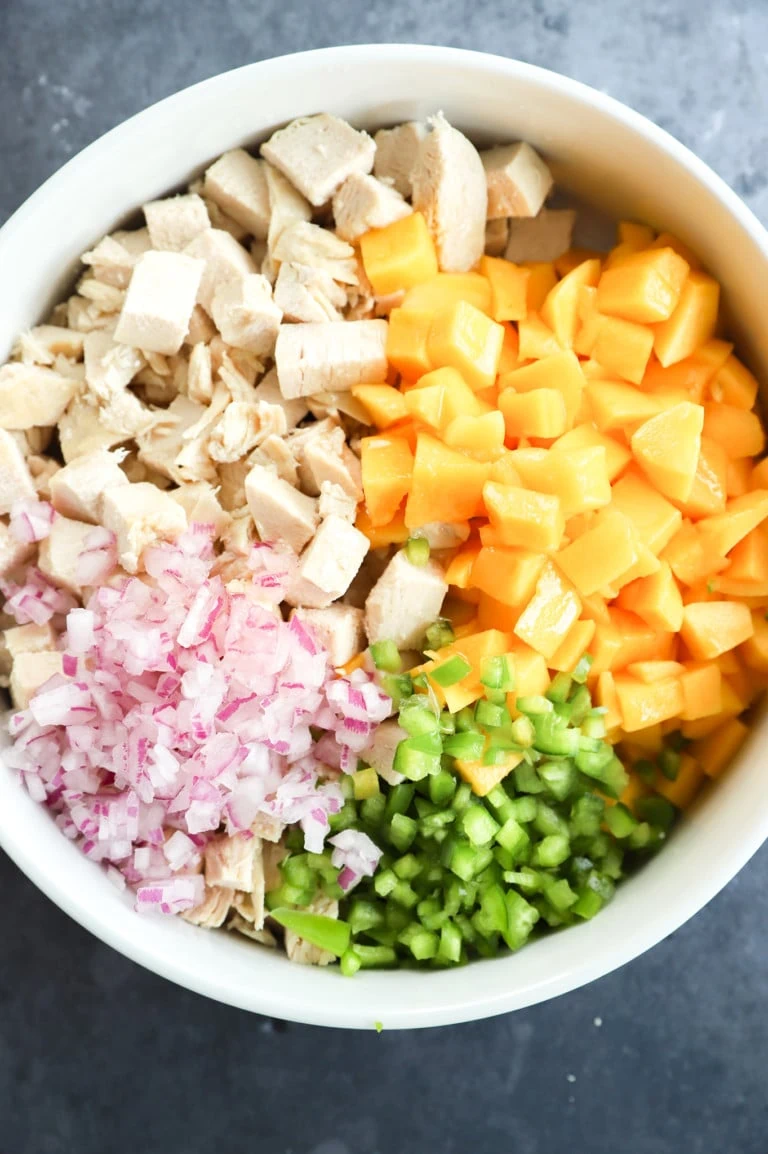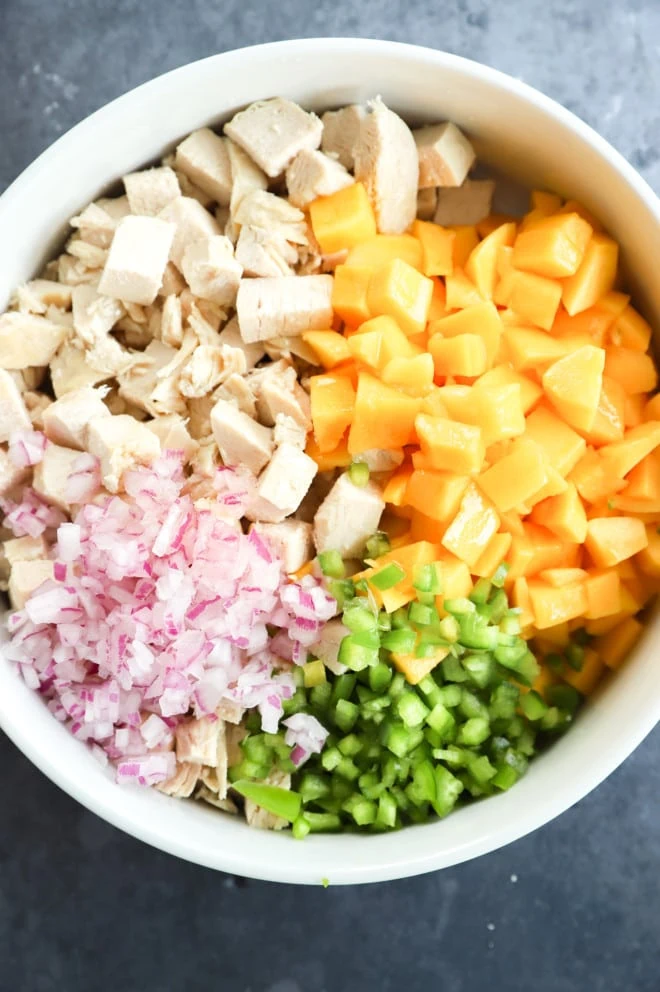 here's how to make mango chicken salad
prep ingredients
Prep all of the ingredients for the recipe. You will need to dice the chicken, red onion, jalapeño, and mango.
In addition, I recommend measuring out all of the ingredients as it will make it much easier to pull the recipe together!
mix and chill
Add all of the ingredients for the Thai mango chicken salad, except for the fresh basil, to a large bowl. Stir to combine until everything is evenly coated. Season with salt and pepper to taste.
Cover with plastic wrap and place in the refrigerator for at least one hour before serving.
finish
Remove the salad from the refrigerator. Taste and season with salt and pepper again, if needed.
Stir in basil just before serving. Serve on your favorite bread/roll/croissant or with butter lettuce.
tips for success
use fresh herbs. I love to use Thai basil in this recipe. The flavor is unbeatable when combined with the mango! You can also use sweet basil if that's what you have on hand. Regardless, make sure the herbs that you use are fresh!
switch up the mayonnaise. If you want to use light mayonnaise, go for it! You can also use Greek yogurt if you don't like mayonnaise, but do not that the flavor will be a bit tangier than the original recipe. I recommend tasting it, then add more honey if you feel like it needs some additional sweetness to counter the tart flavor of the yogurt.
double the recipe. This recipe is SO easy to double! It makes enough to serve four, but you can easily double it to make a big batch for lunch meal prep for the family throughout the week.
More delish chicken recipes to make: Roasted Chicken with White Wine and Fresh Herbs | Gochujang Noodles | Sheet Pan Pineapple Chipotle Chicken Tacos | Korean Chicken Rice Bowls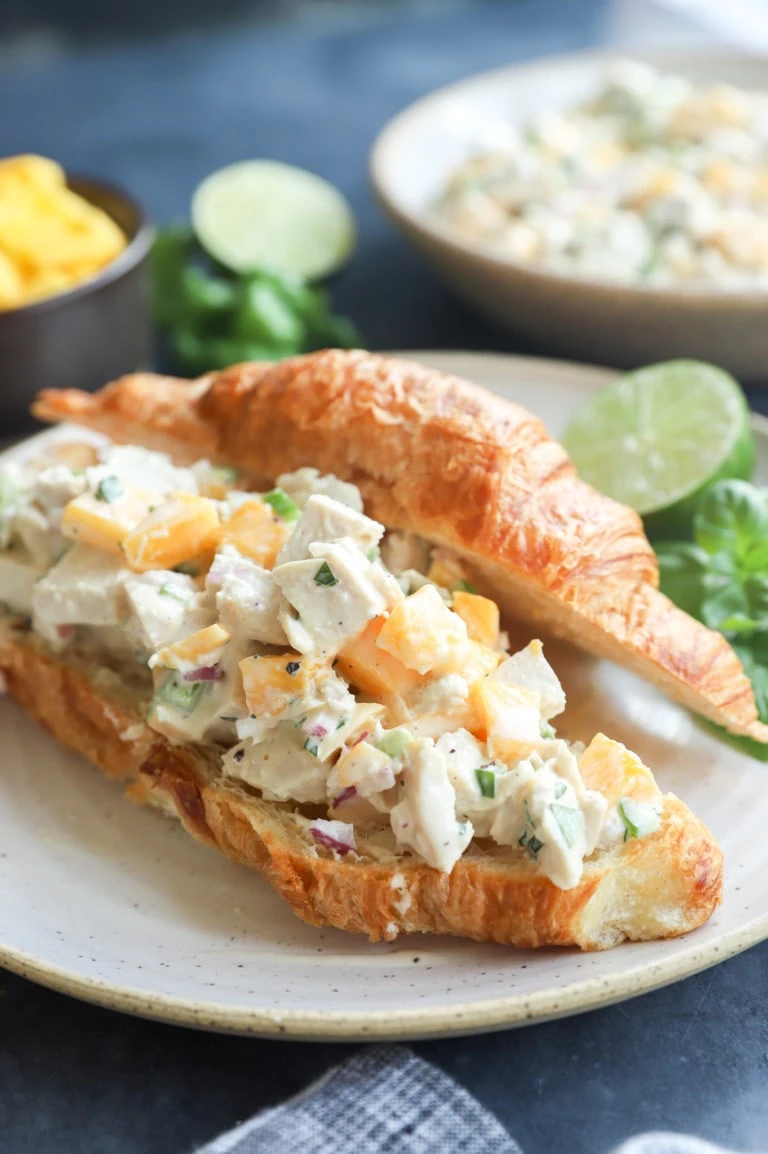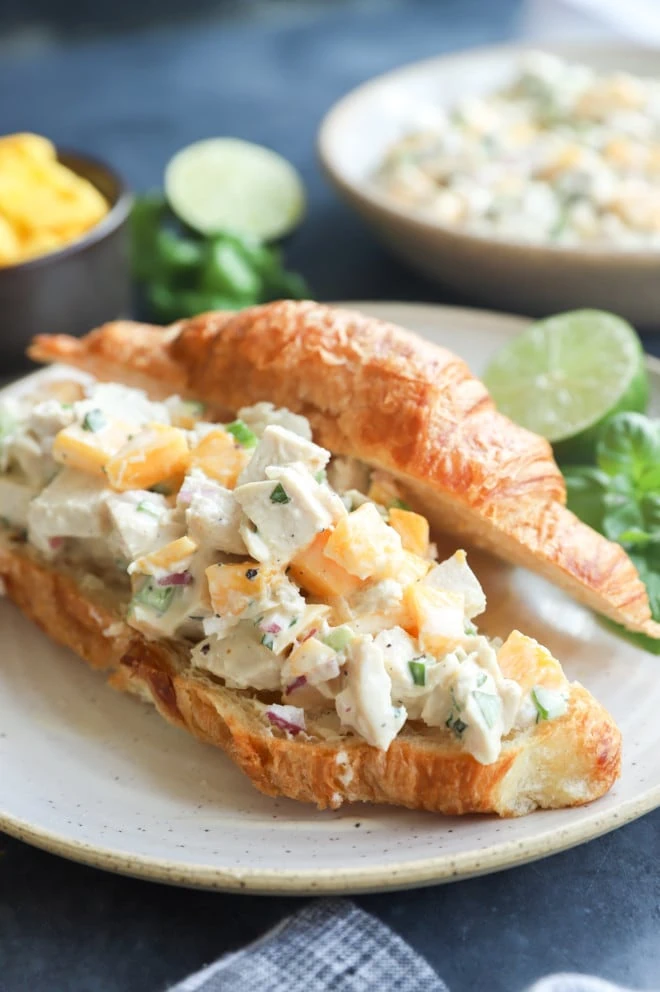 how much chicken salad does this make?
This recipe makes enough to feed four, whether you are making sandwiches or lettuce wraps.
what's the best chicken to use in a mango salad?
You can use any precooked chicken for this recipe! I simply cook up a couple of chicken breasts in the Instant Pot, but you can also use leftover cooked chicken thighs or even shredded rotisserie chicken. You could also simply cook up some chopped chicken breast with a little olive oil in a skillet over medium heat until cooked through.
how long does this chicken mango salad last?
This recipe will last for up to 5 days in the refrigerator. Be sure to store the chicken salad in an airtight container. Give it a quick stir before eating it!
can I use frozen mango?
Yes, you can use frozen mango for this recipe. Simply thaw the mango completely before dicing it and using it in the recipe.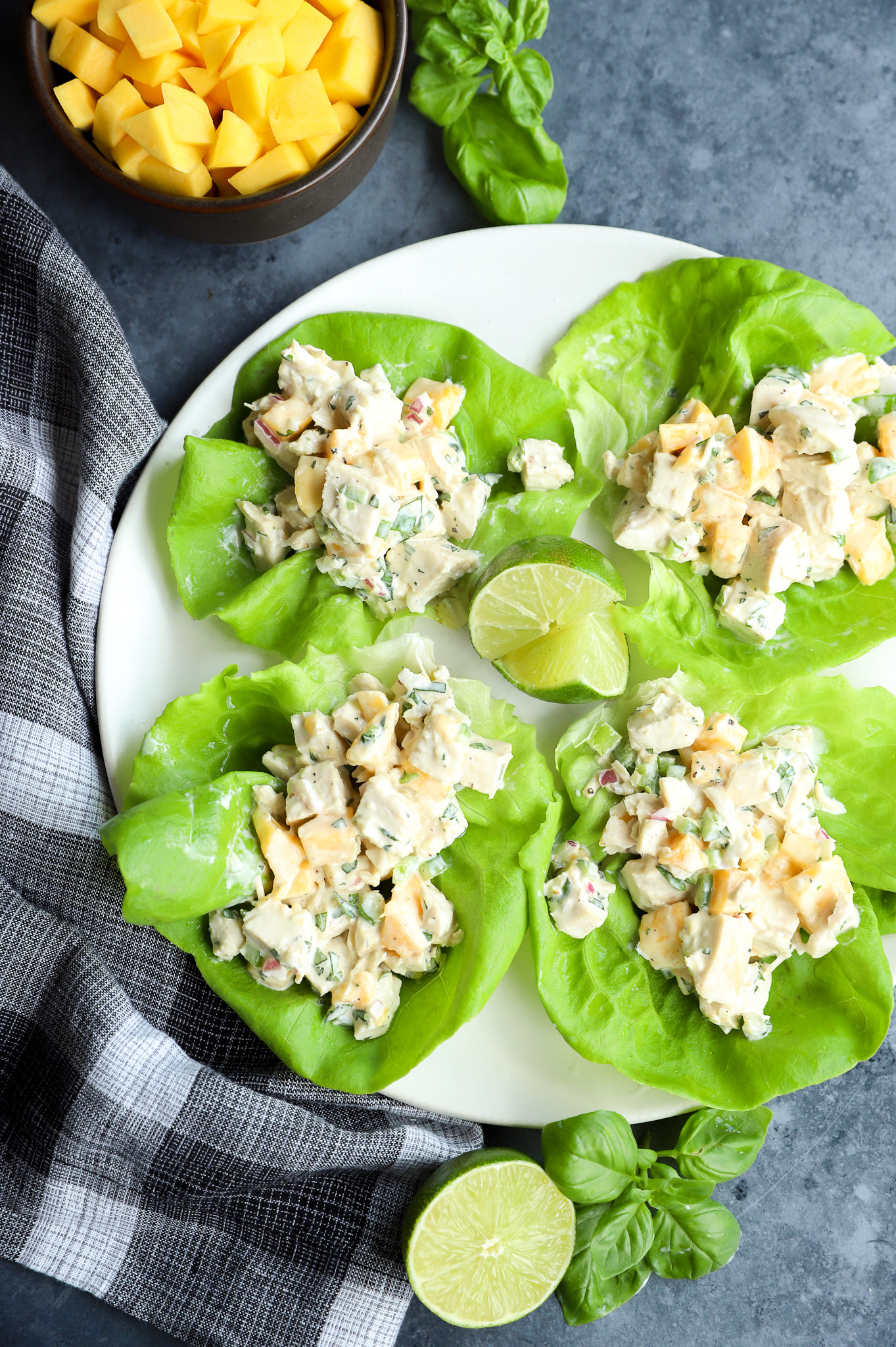 can I use canned mango?
I would recommend using fresh or frozen mango before using canned mango. Canned mango tends to be overly sweet and can throw off the overall flavor of the salad.
If you have to use canned mango, be sure to drain it and then pat it dry with paper towels before dicing it to use in the recipe.
is there another protein to swap out for the cooked chicken?
Yes, you can use firm tofu in this recipe instead! You could also use a plant-based meat if you prefer.
can I make this chicken salad gluten-free?
Yes! This mango chicken salad is actually gluten-free as long as you don't serve it on bread. Be sure to check that the mayonnaise you use is gluten-free as some brands are not completely gluten-free.
Need more inspiration for dinner this week? Check out my main dish recipes page!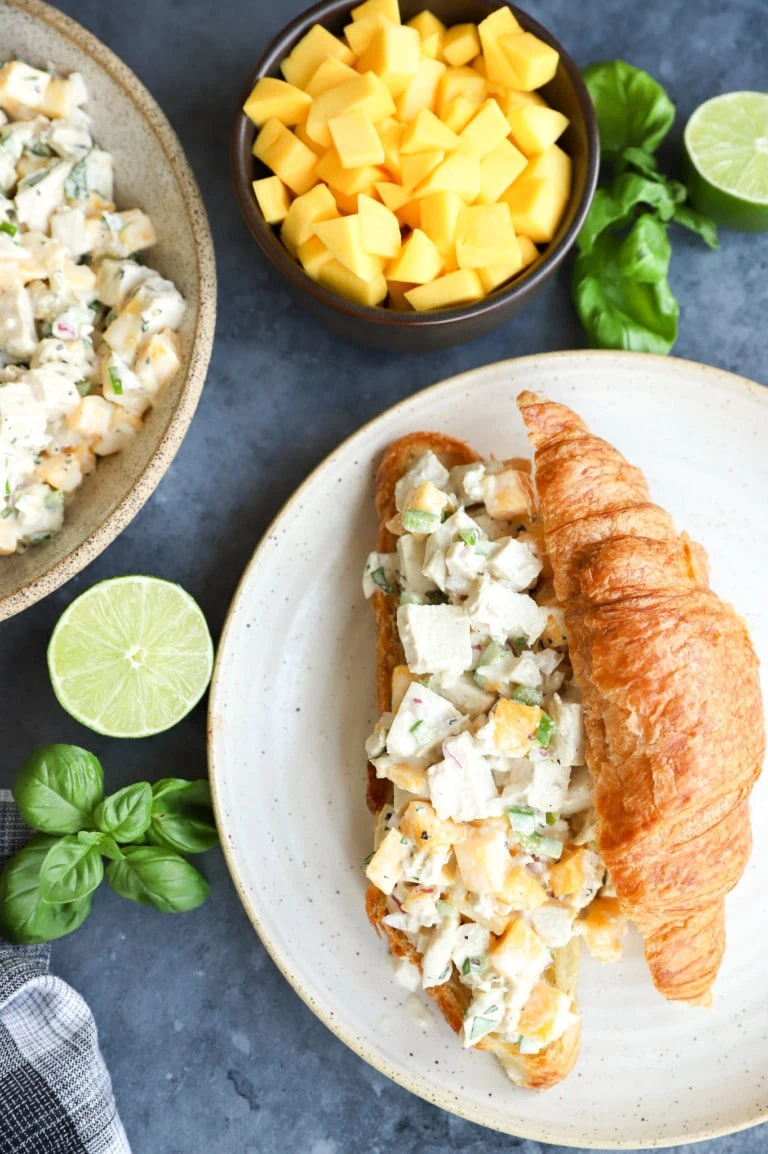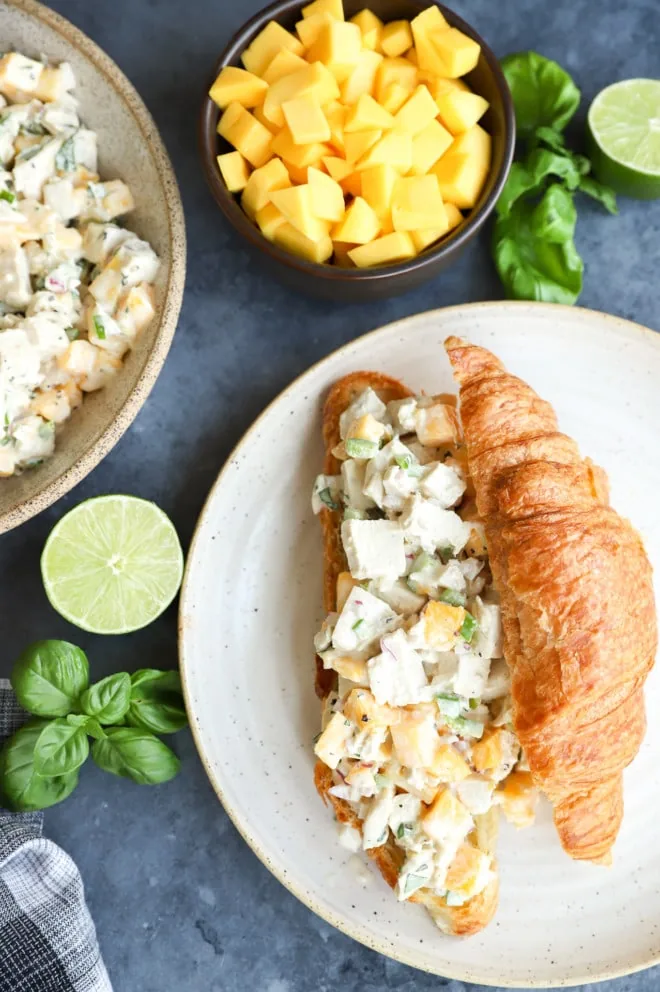 what to serve with mango chicken salad
I love to serve this mango chicken salad as a sandwich or lettuce wraps! Personally, I don't think that you can beat a croissant, but you could use whatever rolls or slices of bread you prefer to use for chicken salad.
If you want to make lettuce wraps, grab butter lettuce (also labeled as living lettuce) to serve the salad on.
You can also just serve up a bowl or plate as is, with your favorite sides.
Wondering what sides to serve with this mango chicken salad? Chips are always a great idea! Or you could serve up:
Smoky charred corn is a simple recipe that goes on the grill! The smoky flavor is delicious when paired with this chilled salad.
Who doesn't love a bowl of fries? These spicy garlic cilantro fries are a fun side for this sandwich as well.
For dessert, whip up some three-ingredient mango mousse!
If you need a colorful cocktail for a lunch party, this stunning maui mule has just the right touch of mango to complement this salad.
how to store
Store. Store chicken salad in an airtight container in the refrigerator for up to 5 days! Give the mixture a stir before serving. You can also refresh the flavor with a bit of salt and pepper if needed. Serve cold as a sandwich, in lettuce wraps, or just on its own.
Freeze. I do not recommend freezing this recipe as the sauce doesn't freeze well.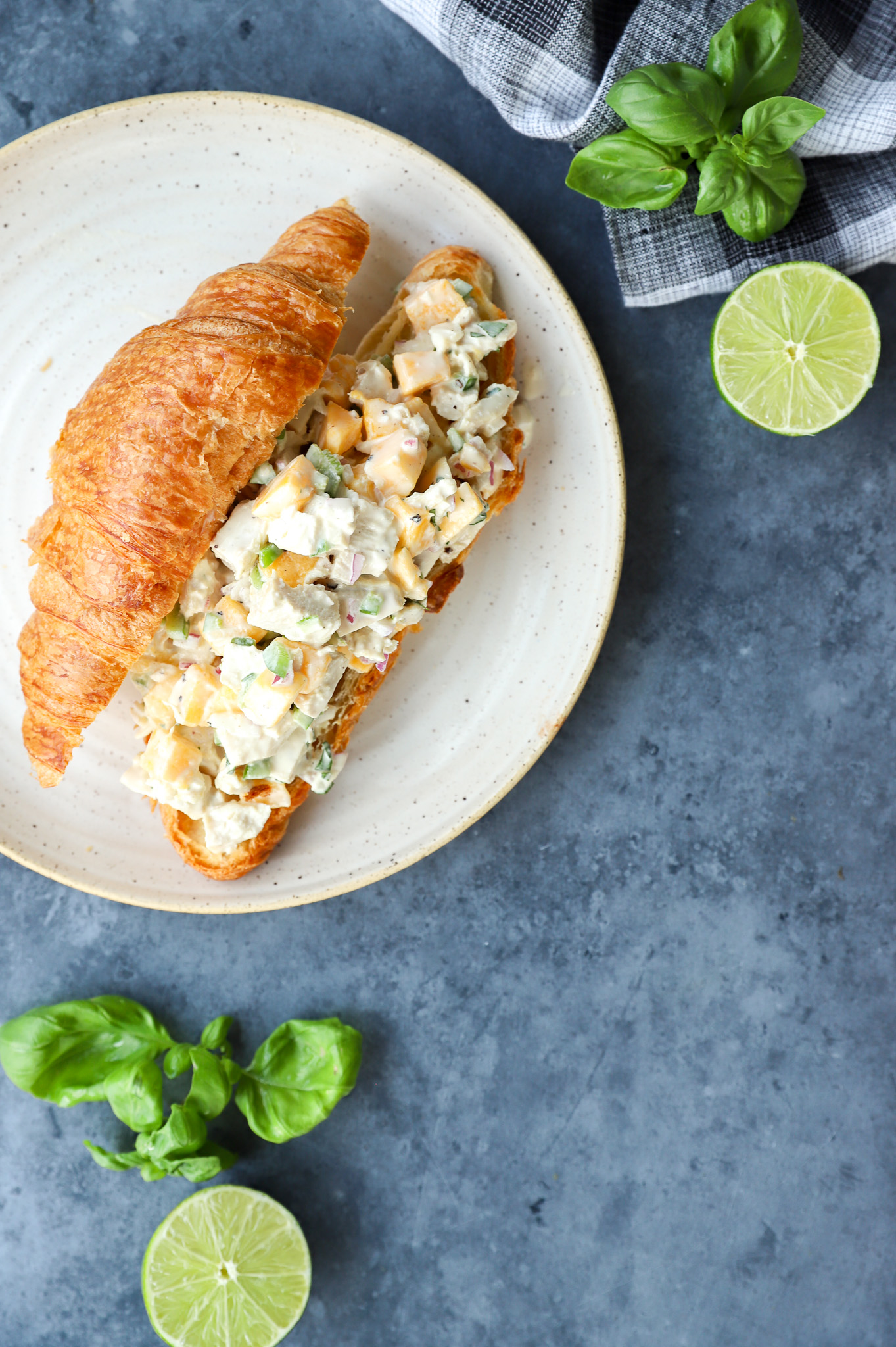 more tasty salad recipes
A mojo steak salad with corn is a citrusy explosion of summer flavors!
Summer sun dried tomato pasta salad is the ideal salad recipe to make for meal prep this week.
Miso marinated steak salad is a balanced combo of steak, greens, and fresh veggies!
seasonal tip
Select the ripest, juiciest mango for this recipe! To make sure you pick the ripest mango, start by gently squeezing the fruit. If the flesh gives slightly to pressure, it is ripe and ready to eat! When a mango is hard, it's not ready to be eaten so go ahead and put that one back. If you can't find a ripe mango, simply place the under ripe mango in a brown paper bag. Let it sit at room temperature until it ripens and is ready to use.
Finally, if you make this mango chicken salad recipe, please be sure to give this recipe a rating or leave a comment! I love to hear when you all make recipes, and I do take the time to respond to every single comment. Feel free to drop questions below too, if you have them!
Oh and be sure to tag me on Instagram if you make the recipe! I love being able to see these recipes come to life in your homes – it's my favorite thing to look through those photos. It really means the world to me!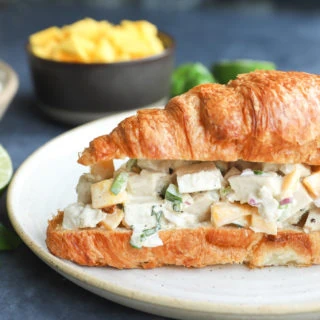 mango chicken salad
A juicy, tropical twist on the classic chicken salad that is totally addictive!
Print
Pin
ingredients
1

lb

cooked

diced chicken

1/3

cup

red onion

diced

1

jalapeno

diced

1

mango

peeled and diced

1/2

cup

mayonnaise

full-fat or light

1

Tbsp

freshly squeezed lime juice

1/2

tsp

agave or honey

Salt and pepper

3

Tbsp

chopped fresh Thai basil

you can also use sweet basil
instructions
In a large bowl, mix together all ingredients except for the basil. Cover and chill for at least 1 hour.

Stir in basil just before serving.

Serve on a roll/croissant or with butter lettuce.