Please note this post contains affiliate links.
A Texas Margarita is the ultimate sipper to beat the heat. The combination of orange and lime juices make this cocktail citrusy, bright, and refreshing. Pair it with your favorite tacos or other Mexican or Tex-Mex recipes!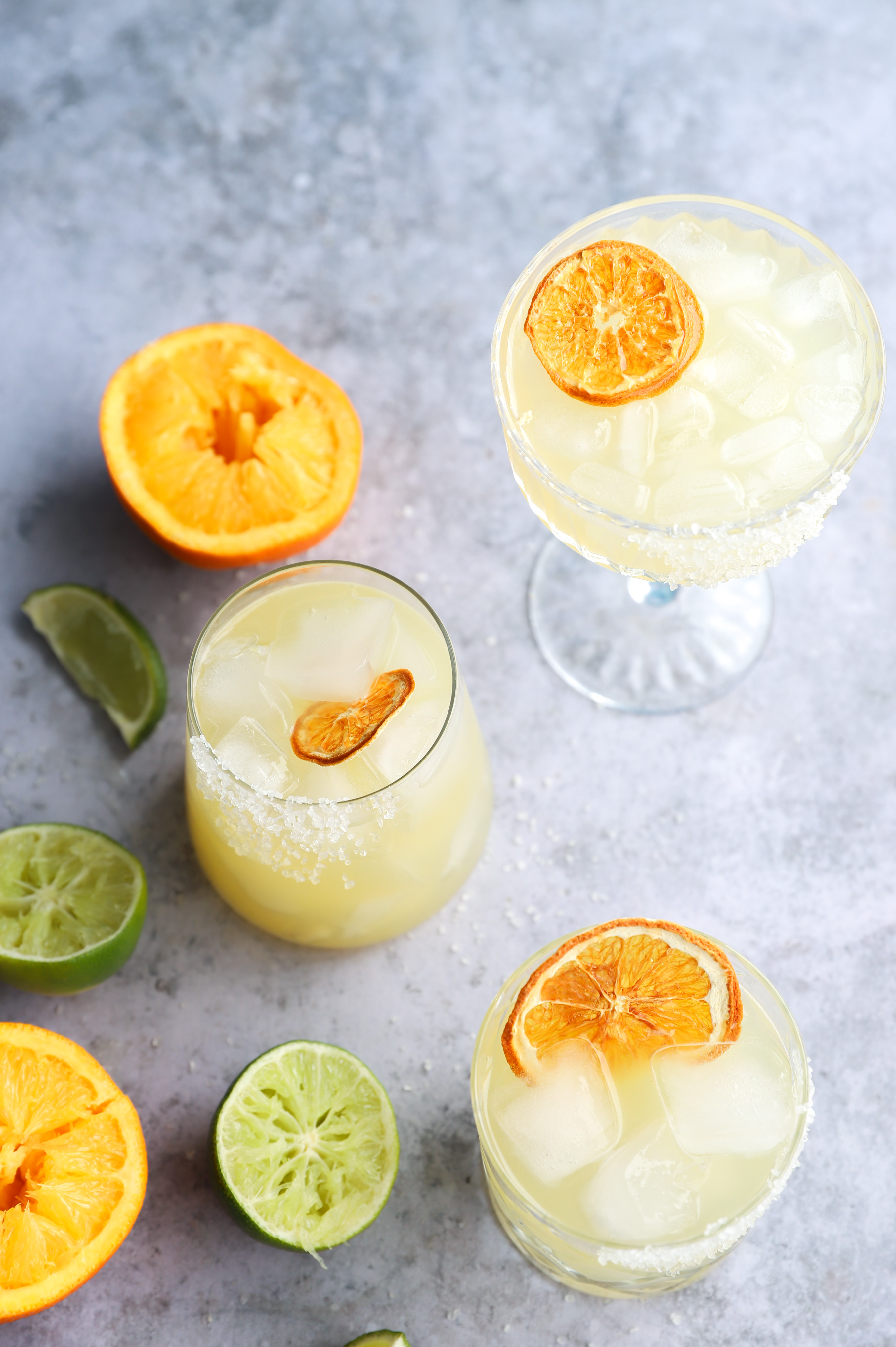 about this texas margarita
When it comes to a refreshing margarita, there are many elements that might make it "perfect" in your eyes.
I had an old boss that swore by adding apple juice to make the perfect margarita. All I can say is, don't knock that idea until you try because it's actually quite tasty!
Others say the only thing that matters is the quality of the tequila. Some prefer to add extra salt or lime juice. There are some that feel they can only use Cointreau instead of triple sec.
Then there's whoever invented the Texas margarita (there is no origin story that I can find!) and added fresh orange juice to the mix. Whoever this person was knew what they were doing because it's quite possibly one of the most refreshing margaritas I've ever sipped.
so, what is the difference between a margarita and a texas margarita?
Generally, when you think about a traditional margarita, you think lime juice. Lime juice is the main citrus component of a classic margarita, but a Texas margarita incorporates orange juice as well.
The orange juice sweetens the drink a bit, while also building on the traditional orange notes of Cointreau or triple sec that are in the traditional margarita recipe as well. It's a really refreshing combination, making it ideal for sitting on the patio and sippin' in the sunshine.
The citrusy change is a slight change on the traditional margarita, but it tastes like a totally different drink! I high recommend only using freshly squeeze orange juice because it really does impact the flavor of the overall drink. Simply put, it's brighter and more refreshing!
If you are looking for a lighter take on the margarita, be sure to check out this bubbly texas ranch water recipe (there are three variations to try!).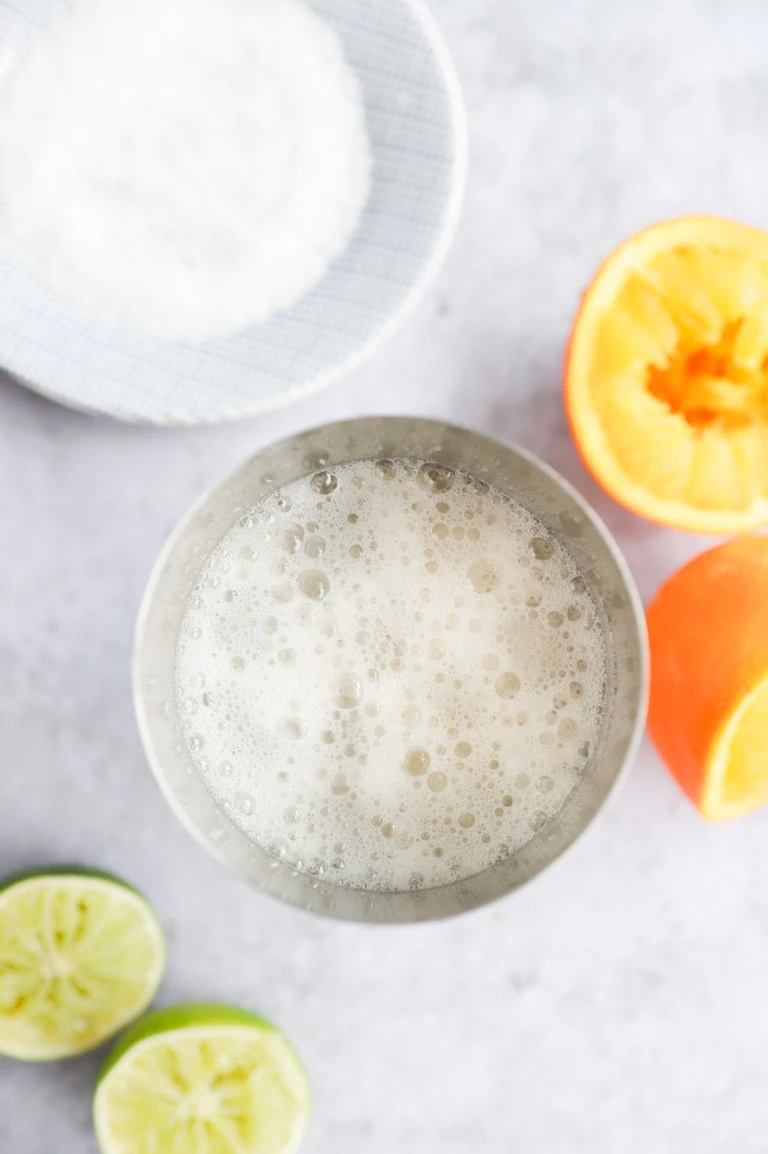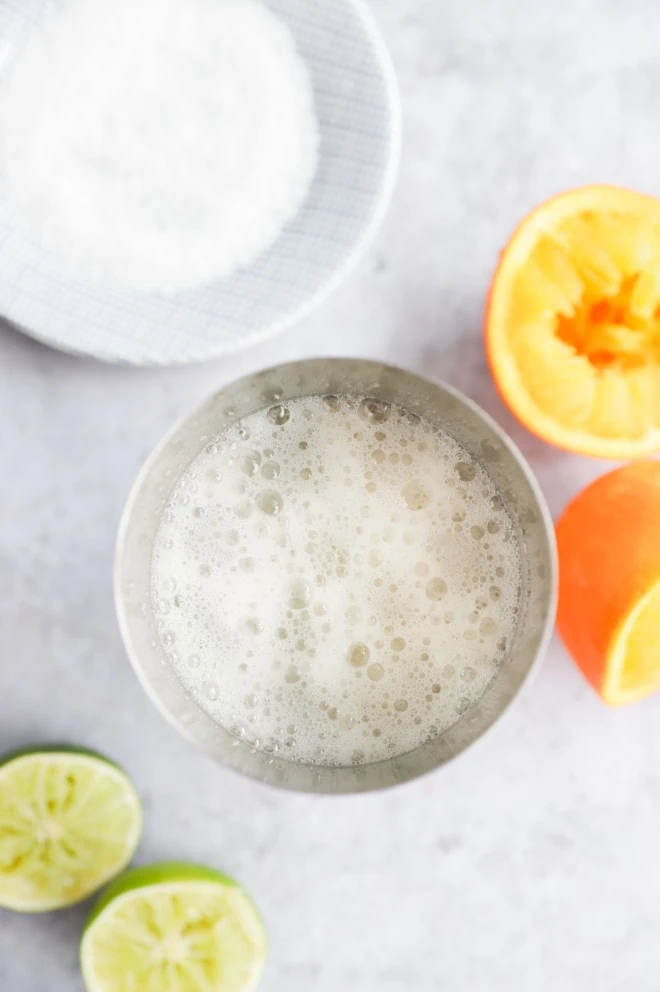 ingredients
tequila. I prefer using a blanco or silver tequila, but you could also use reposado depending on your preference. My personal favorite brands are a mid-range price point like El Jimador or Dobel. You can use something more top shelf if you prefer like Patron.
orange liqueur. you are welcome to buy a more expensive option like Cointreau or Grand Marnier, but triple sec also does the trick in this drink!
lime juice. fresh lime juice is best, in my opinion! You can also use store bought if that's what you have on hand, just make sure it's 100% lime juice.
orange juice. fresh orange juice is a MUST. There is a big difference between fresh orange juice and orange juice you buy bottled in the store. Fresh orange juice will give you a brighter and lighter overall flavor, without too much sweetness added to the drink.
this recipe's must haves
You will need the standard barware to make this cocktail! This includes a jigger for measuring ingredients, a cocktail shaker (I prefer the Boston cocktail shaker) to mix it up, and a cocktail strainer to easily pour into your cocktail glasses.
When it comes to cocktail glasses, you can use whatever you prefer! I'll link up some of my favorites below.
our favorite cocktail glasses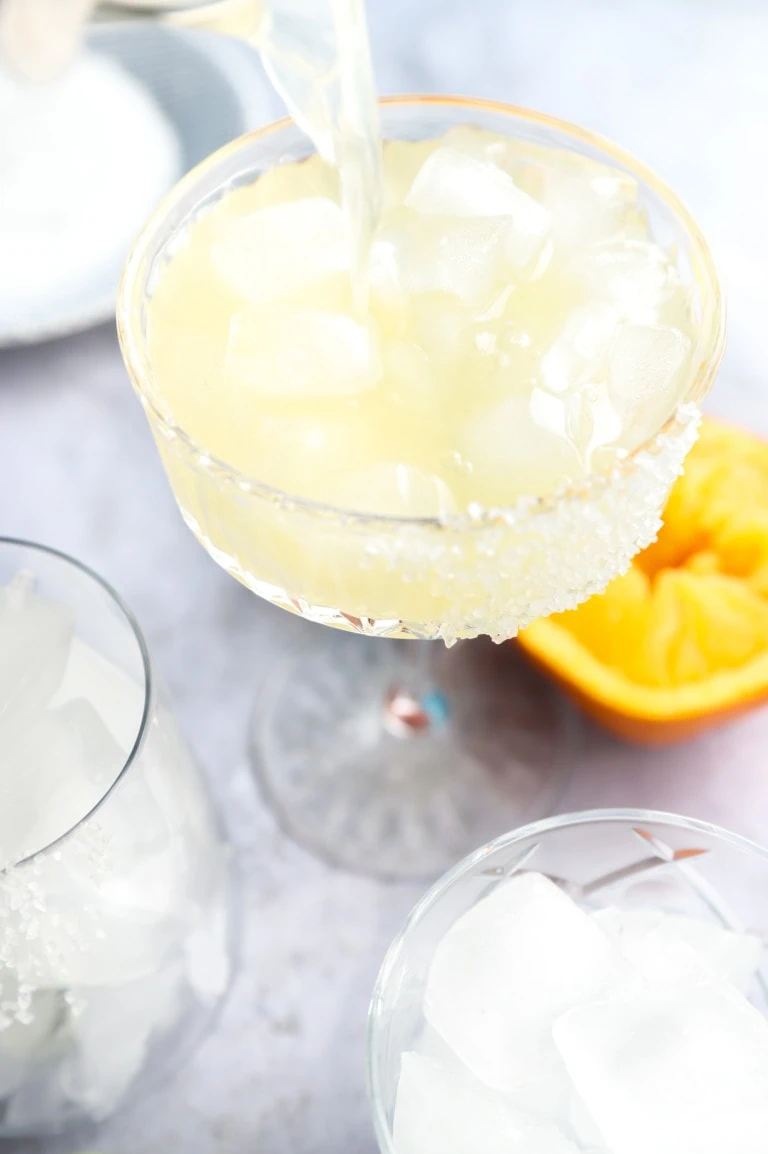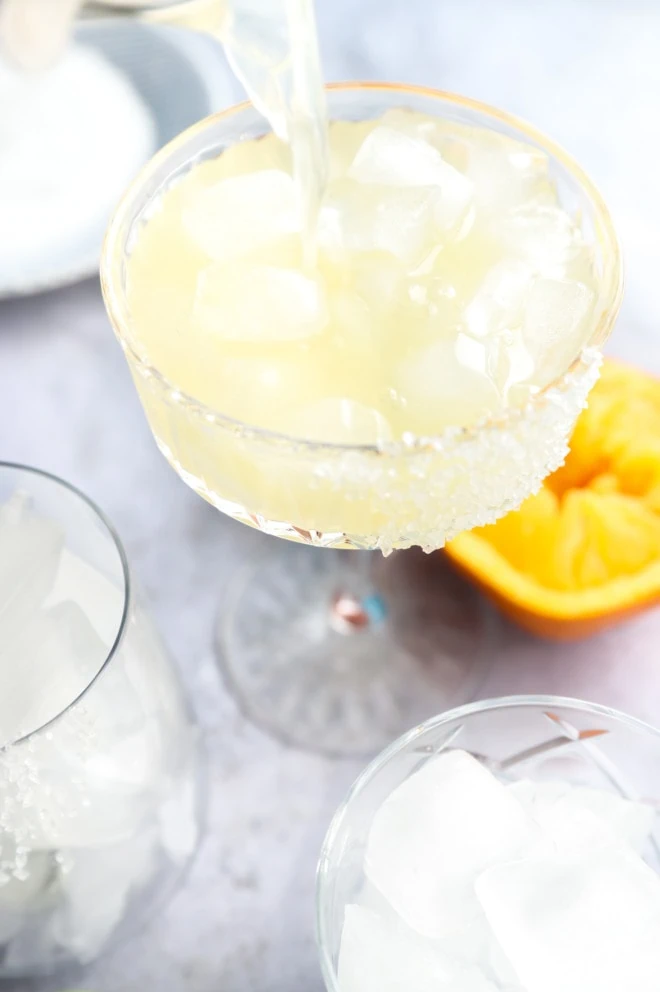 here's how to make a texas margarita
shake
Fill a shaker halfway with ice, then add tequila, orange liqueur, lime juice, and orange juice. Shake well to combine, about 15 to 30 seconds.
strain
Rub the rim of your cocktail glass with a lime wedge, then roll though salt or sugar, depending on your preference.
Fill the cocktail glass with ice and strain the cocktail into the glass. Garnish with a lime wheel or orange slice (I prefer to use dehydrated citrus slices like you see in the photos here)!
More tasty margarita recipes to explore: Raspberry Margarita | Spicy Mango Margarita | Lemon Agave Margarita | Limeade Margarita | Cranberry Margarita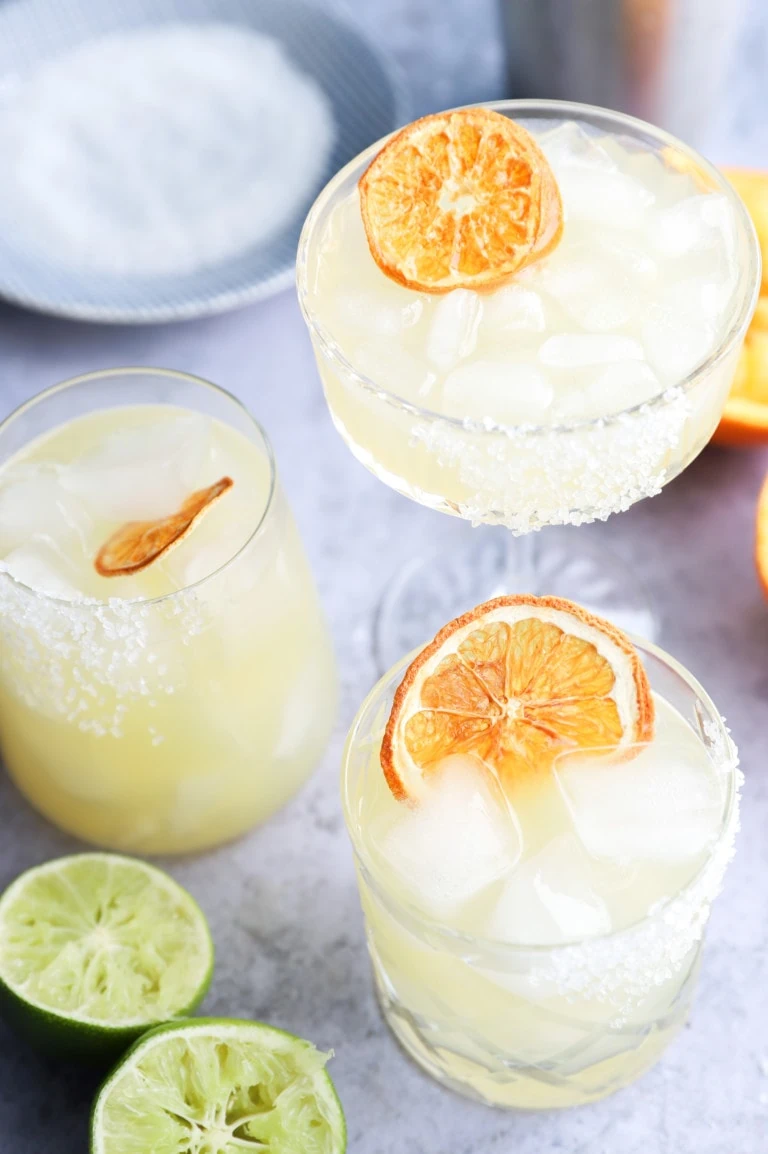 what is the best tequila for texas margaritas?
Since this recipe is light and bright, I recommend using blanco tequila as it lends the best flavor to the cocktail.
However, if you are obsessed with reposado and love that flavor, you can also use that.
why do you put orange juice in a margarita?
The orange juice gives another added layer of orange flavor to the drink! It's the perfect accompaniment for the orange liqueur, while also bringing a little extra sweetness and tartness to the party. It's adds such a fresh flavor!
is Cointreau or triple sec better for a margarita?
Cointreau or Grand Marnier are ideal for margaritas because they provide the best balanced flavor. Triple sec has a very strong orange flavor and isn't quite as smooth. For the absolute perfect margarita, you'll want to use the top shelf option instead of triple sec.0
can I make this a big batch?
To make this recipe for a large group, use the following measurements to make 8 drinks! You will need 2 cups tequila, 1 cup fresh lime juice, 1 cup fresh orange juice, and 1 1/2 cups orange liqueur. Add all of the ingredients to a large pitcher filled with ice. Stir well to combine and serve immediately!
Note that you can also simply multiply the ingredients in the recipe card by the number of people you want to serve!
Need more inspiration for cocktail hour? Check out my cocktail recipes page!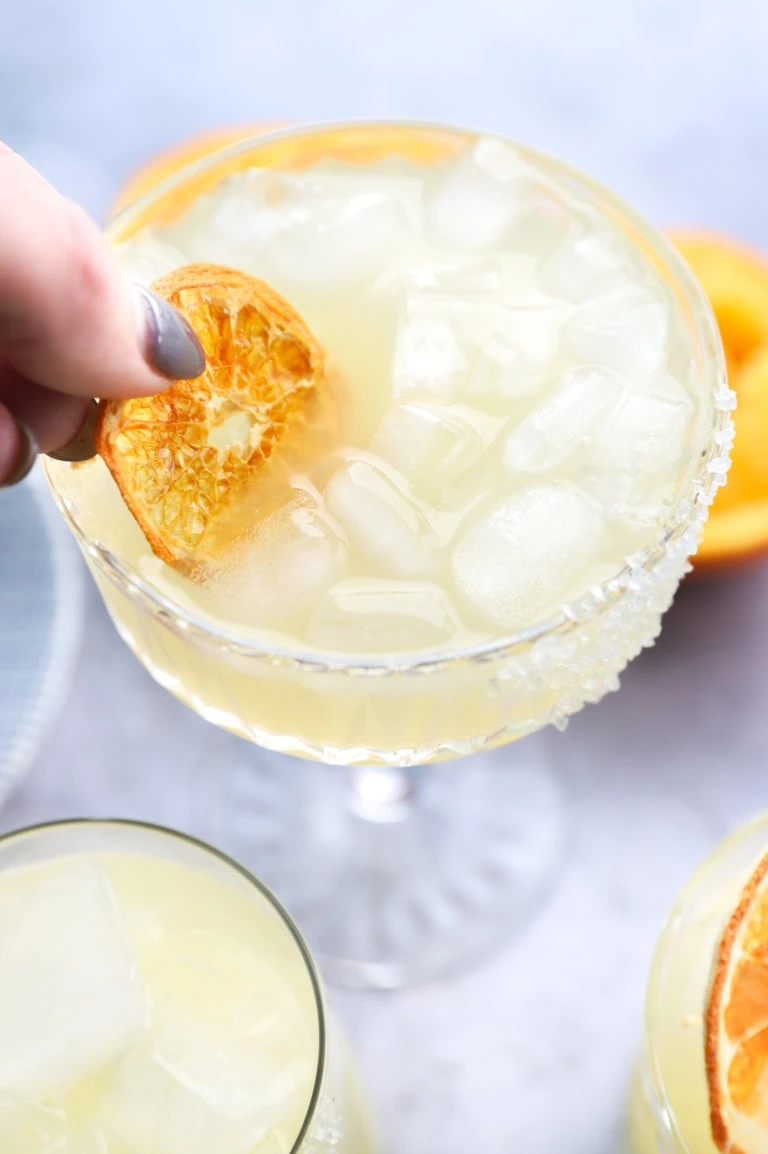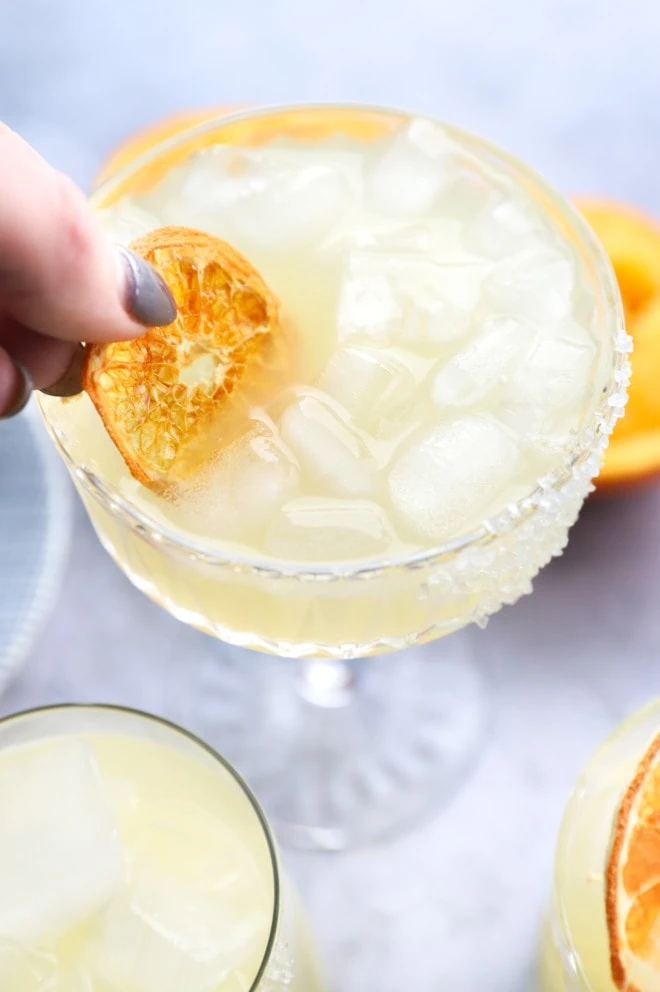 what to serve with a texas margarita
Of course I am going to have to recommend this cocktail with any Tex Mex or Latin recipes you are planning to serve up! The bright and light citrusy drink is the ideal pairing for so many different dishes. Here are some of my top recommendations:
If you are hosting a party, make a big batch of these margaritas and serve up some festive bites alongside them. Jalapeño avocado cream cheese wontons are like a jalapeño popper, but fried (or baked!). If you want to take it easy, opt for dips like chunky salsa, chipotle chili cheese dip, or veggie guacamole. A plate of carne asada nachos is also a winner every time.
For dinner, think tacos! The easiest way to get the most flavorful tacos is to make this chicken taco seasoning and serve the chicken up with your favorite toppings. You could also check out these easy sheet pan pineapple chipotle chicken tacos or instant pot chipotle chicken tacos!
A sweet treat that keeps with the margarita theme would be these shortbread margarita cookies. Sweet, a little salty, and packed with lime flavor!
Want more ideas for festive tequila drinks and food to go with them? I've got a round up of tequila and tacos recipes for you to enjoy!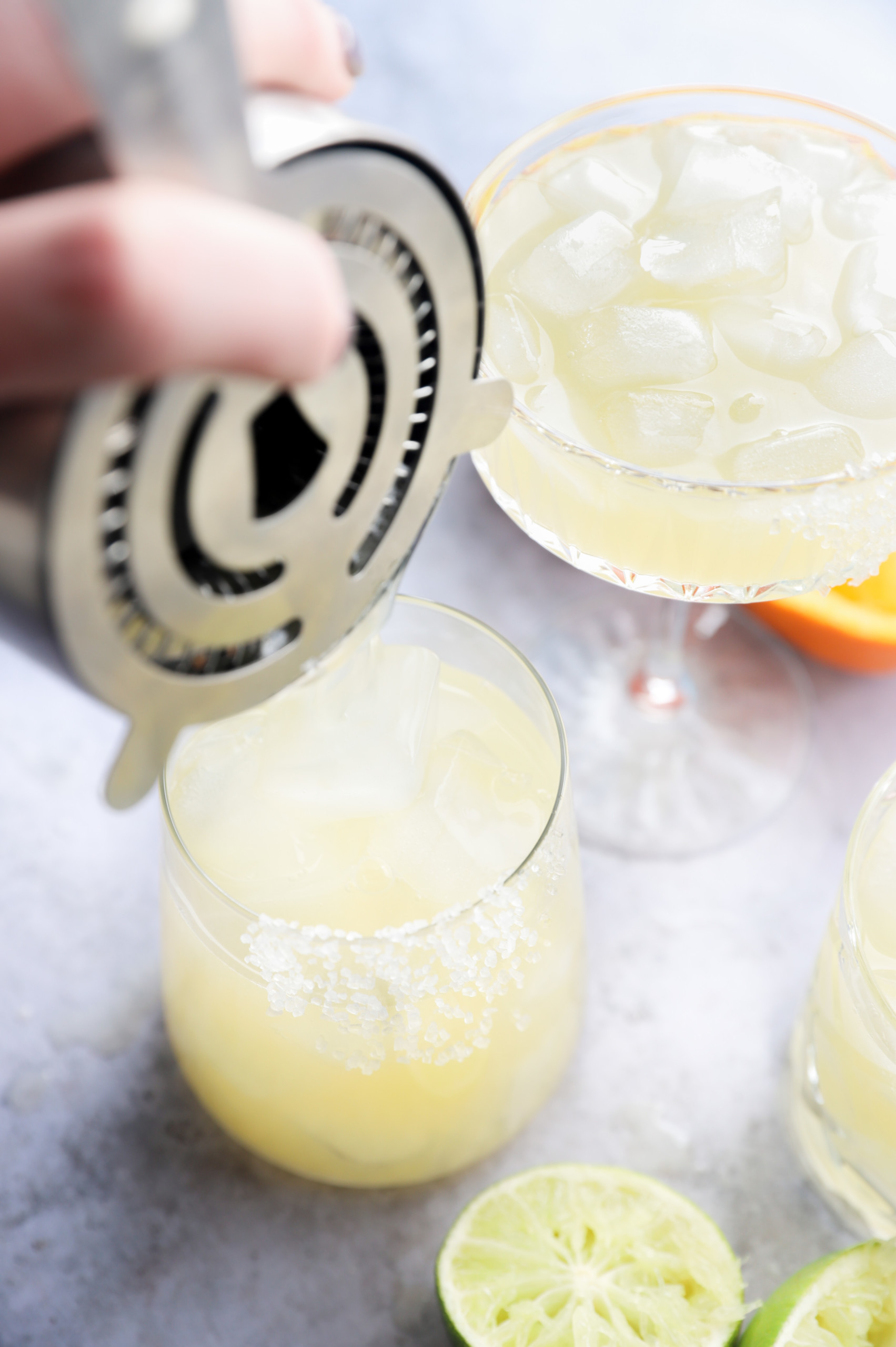 Finally, if you make this texas margarita recipe, please be sure to give this recipe a rating or leave a comment! I love to hear when you all make recipes, and I do take the time to respond to every single comment. Feel free to drop questions below too, if you have them!
Oh and be sure to tag me on Instagram if you make the recipe! I love being able to see these recipes come to life in your homes – it's my favorite thing to look through those photos. It really means the world to me!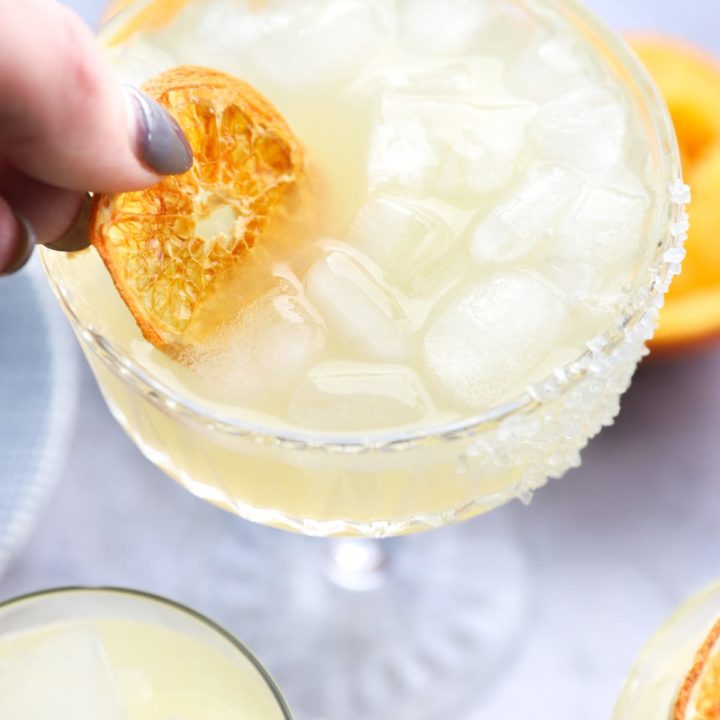 Texas Margarita
Citrusy and refreshing, this is a simple spin on the classic margarita!
Ingredients
2 oz tequila preferably reposado
1 oz freshly squeezed lime juice
1 oz freshly squeezed orange juice
1 1/2 oz orange liqueur (preferably Cointreau or Grand Marnier)
Salt or sugar for the rim
Garnish: lime or orange wheel, fresh or dehydrated
Instructions
Use a lime wedge to wet the rim of a cocktail glass. Roll the cocktail glass rim in salt or sugar to coat.
Fill a cocktail shaker halfway with ice. Add tequila, lime juice, orange juice, and orange liqueur. Cover and shake vigorously, about 15 to 30 seconds.
Strain into prepared cocktail glass filled with ice. Garnish with a lime wheel or orange slice, if desired.
Recommended Products
As an Amazon Associate and member of other affiliate programs, I earn from qualifying purchases.