Please note this post contains affiliate links.
A Chili Lime Margarita is a spicy, boozy kick in the pants that your happy hour desperately needs, especially with Cinco de Mayo just around the corner! This margarita features a chile infused tequila and chili salt rim so you get the best of smoky, spicy and boozy in every. single. sip.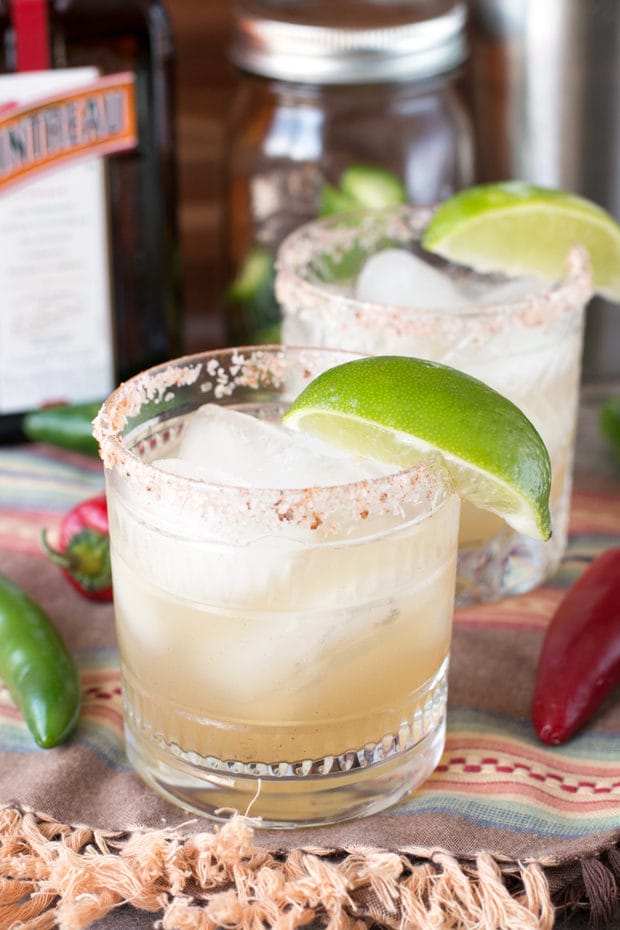 about this chili lime margarita
Cinco de Mayo is just around the corner and even though I won't be stateside to celebrate it, I will be dreaming of having another one of these little beauties hitting my lips…
Margaritas and tacos are staples in my diet, so it's not a surprise that I will take any excuse possible to dig into them even MORE than usual. I do tend to inhale tacos and margaritas like a fiend, so this should come as no surprise to you all.
Usually fruity margaritas are all the rage as soon as the weather turns warm. As you hit various restaurants around town, it seems like the strawberry, orange, rhubarb and other fruity cocktails crop up everywhere.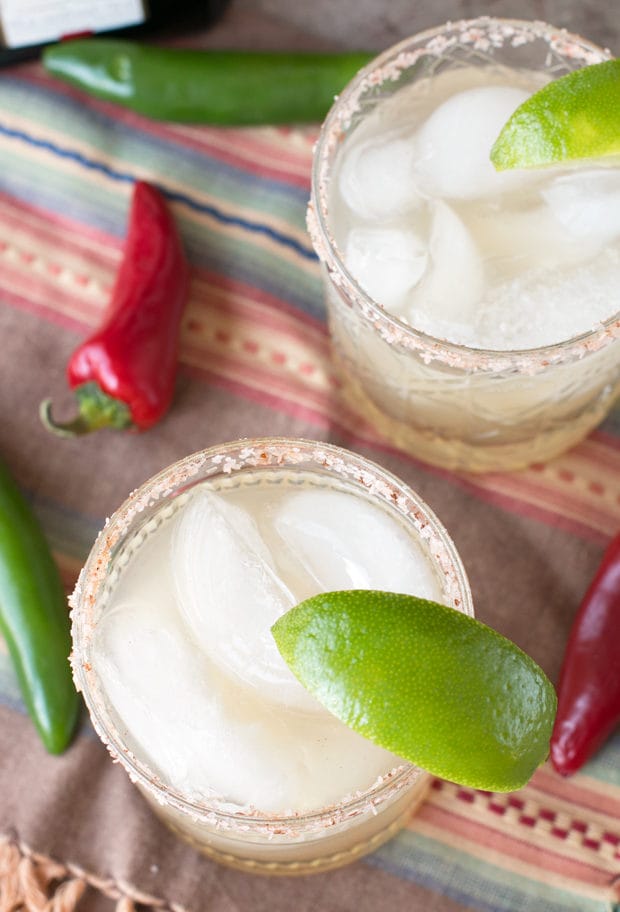 While I do like to indulge in a sweeter margarita from time to time, I prefer my margaritas spicy.
That's exactly why I went with a nice and spicy margarita for your Cinco de Mayo celebrations this year! This chili margarita gives you a double dose of smoky heat.
You start with a chile infused tequila made with fresno and serrano chile peppers. Then you add a chili salt rim for a slight heat and smoky flavor. The lime juice finishes the drink with an acidic kick and once you are done with each sip, your taste buds are already craving another.
It's delicious to pair with any Mexican fare you have planned for May 5th, or anytime really… because who doesn't loooooooove tacos???
this recipe's must-haves
Since this cocktail is so simple, you just need basic bar tools to pull it together. You will need a jigger or liquid measuring cup to measure out the ingredients.
You will also need a cocktail shaker to shake it all up!
Finally, I love to use a rimmer set to easily rim my cocktail glasses.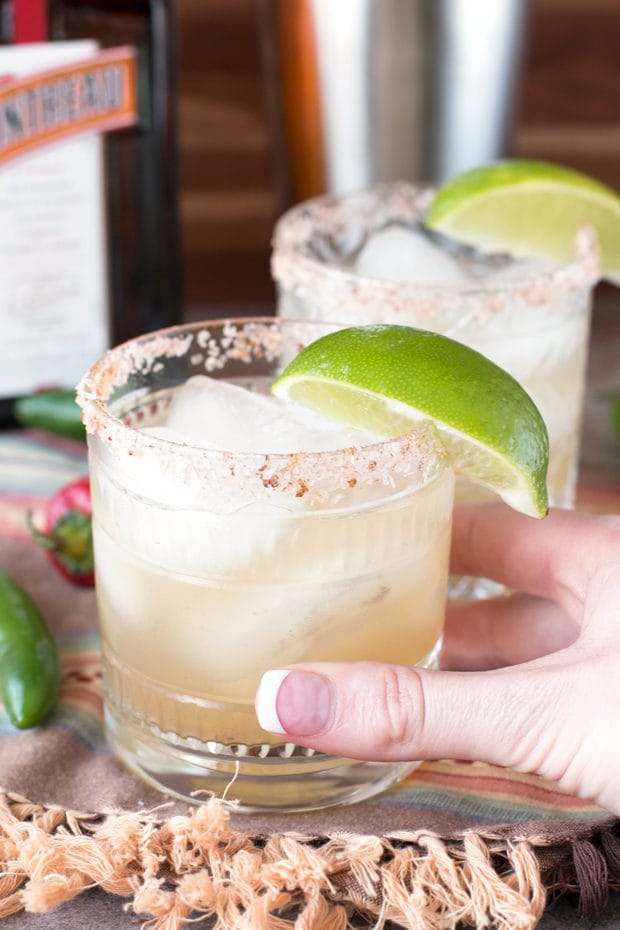 ingredients
tequila. I prefer using a blanco or silver tequila. It's clear and colorless, making it ideal for this punch. My personal favorites are a mid-range price point like El Jimador or Dobel. You can use something more top shelf if you prefer like Patron.
chile peppers. to infuse the tequila, I like to use a combination of serrano chile peppers and fresno chile peppers. You can use a combination, or use all of just one type!
lime juice. fresh lime juice is best, in my opinion!
orange liqueur. you are welcome to buy a more expensive option like Cointreau or Grand Marnier, but I just reach for the triple sec. It's more affordable and personally I can't tell the difference between this and other top shelf options in mixed cocktails.
agave. the flavor that agave adds to a margarita is elite. It's definitely my go-to but you can also swap it out for honey or simple syrup if you prefer.
spices. you will need salt, chili powder, and cayenne pepper for the recipe!
More delicious margarita recipes to sip on: Texas Margarita | Spicy Mango Margarita | Strawberry Basil Margarita | Watermelon Margarita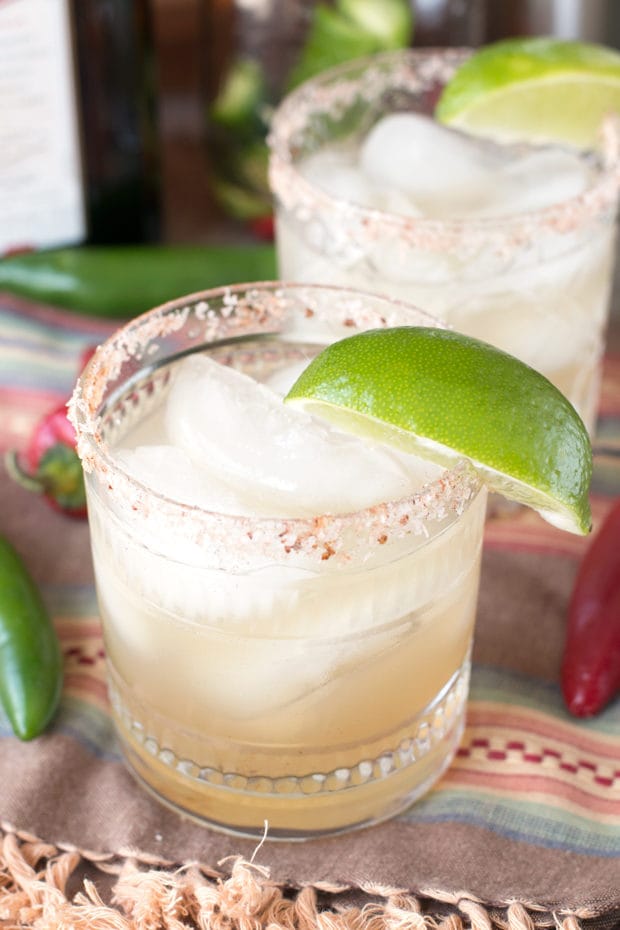 here's how to make a chili lime margarita
infuse
In an airtight container, like a mason jar, combine tequila and peppers. Allow the tequila to infuse for about 4 to 8 hours, depending on how spicy you like it!
I like to check mine after a few hours, then every hour until it is as spicy as I want it.
make rimming mix
Stir together ingredients for the rimming mixture in a small bowl. Rub a margarita or cocktail glass with a lime wedge. Then roll the rim in the chili salt.
shake
Add infused tequila, lime juice, orange liqueur, and agave to a shaker with ice. Shake well.
Strain into rimmed glass with ice. Serve.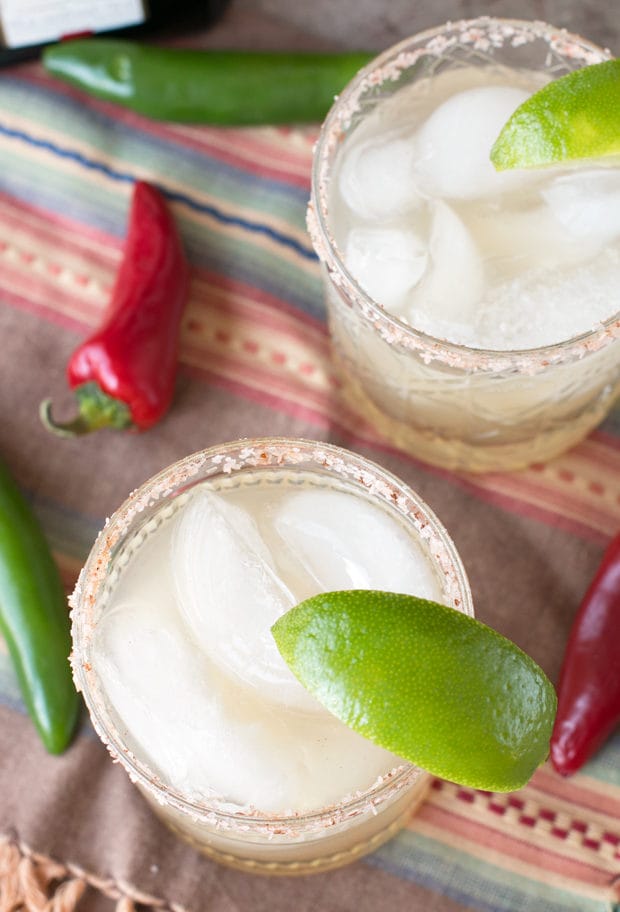 do I have to infuse the tequila?
The infused tequila is what makes this margarita spicy! Don't skip this step as it is what makes this margarita the recipe that it is!
Plus you can use the infused tequila in other cocktails too! I highly recommend making a Moscow Mule with it for a spicy twist on the classic recipe.
can I turn this into a batch cocktail?
You certainly can! To make this cocktail for 8 people, use all of the infused tequila (1 1/2 cups), 1/2 cup lime juice, 1 cup orange liqueur, and 3/4 cup agave.
Assemble in a pitcher, stirring vigorously with ice to combine!
what to serve with a chili lime margarita
Of course where there are margaritas, there has to be food! Usually that means a Tex Mex or Latin theme in our home. Here are some of my favorite recipes to pair with these margaritas:
Instant Pot Chipotle Chicken Tacos are my favorite easy weeknight dinner, but they are also easy to feed a crowd with. You can even double the recipe and follow the instructions as is. How easy is that?
When I want something light and refreshing, I reach for these Honey Lime Shrimp Guacamole Tostadas. All of the elements build a big depth of flavor!
For a unique take on the French tartine, try this Mexican Pulled Pork Tartine (Open-Faced Sandwich). It's such a delicious combination and also easy to prep the elements ahead of time! Simply warm the pork and assemble when you are ready to serve.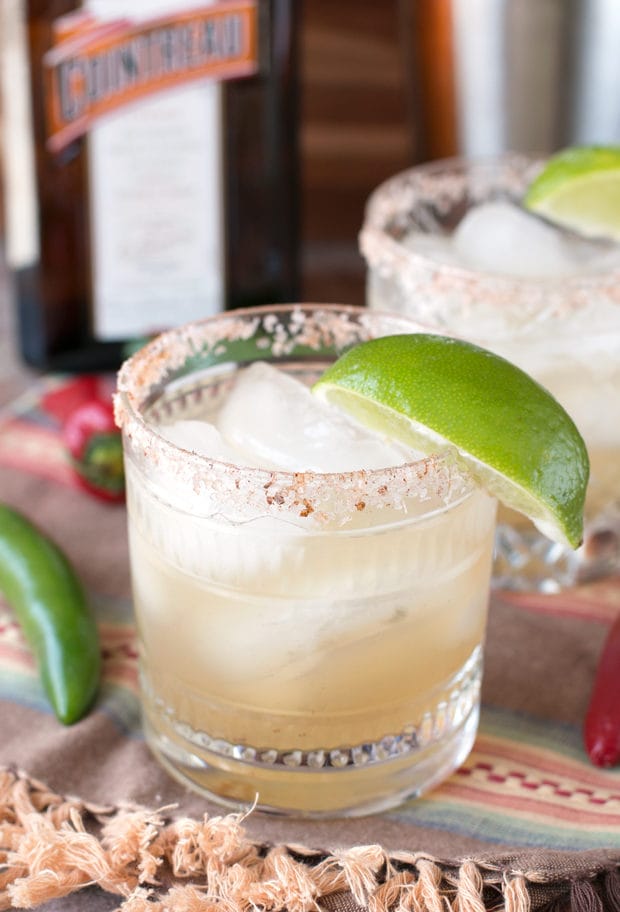 Fair warning: do NOT use the infused tequila to take shots with…. it's not a pleasant experience because that stuff is H-O-T.
Need more cocktail inspiration? Check out my boozy recipes page!
Finally, if you make this chili lime margarita, please be sure to give this recipe a rating or leave a comment! I love to hear when you all make recipes, and I do take the time to respond to every single comment.
Feel free to drop questions below too, if you have them!
Oh and be sure to tag me on Instagram if you make the recipe! Love being able to see these recipes come to live in your homes – it's my favorite thing to look through those photos. It really means the world to me!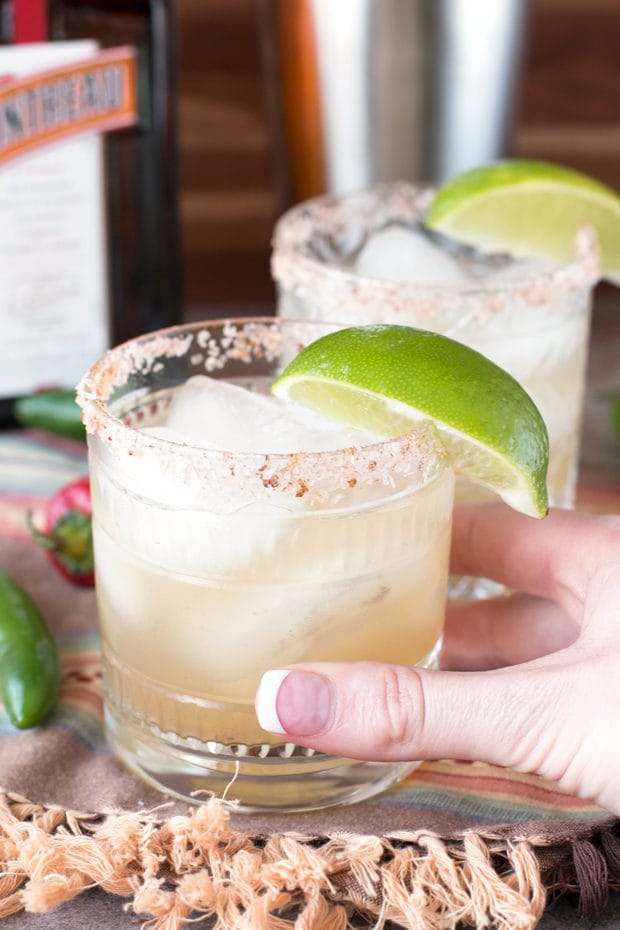 more festive inspiration
Of course I couldn't give you just ONE Cinco De Mayo margarita recipe to celebrate with!
My lady blogger friends and I decided to band together to give you even MORE Cinco De Mayo margaritas to keep the fun going all. night. long. Check out the deliciousness below!
Cherry Lemonade Margaritas from The Speckled Palate are fruity, tart, and refreshing!
Strawberry Basil Margaritas from Feast + West are the ideal combination of fresh strawberry and herbaceous basil.
A Prickly Pear Margarita from A Joyfully Mad Kitchen is a unique twist that'll have you coming back for more.
I personally think you should just start on May 1st and start making a new margarita every single night! That's not crazy, right?
everyday seasonal cookbook
With seasonal produce guides, recipes, and more, this cookbook is filled with seasonal food for every occasion.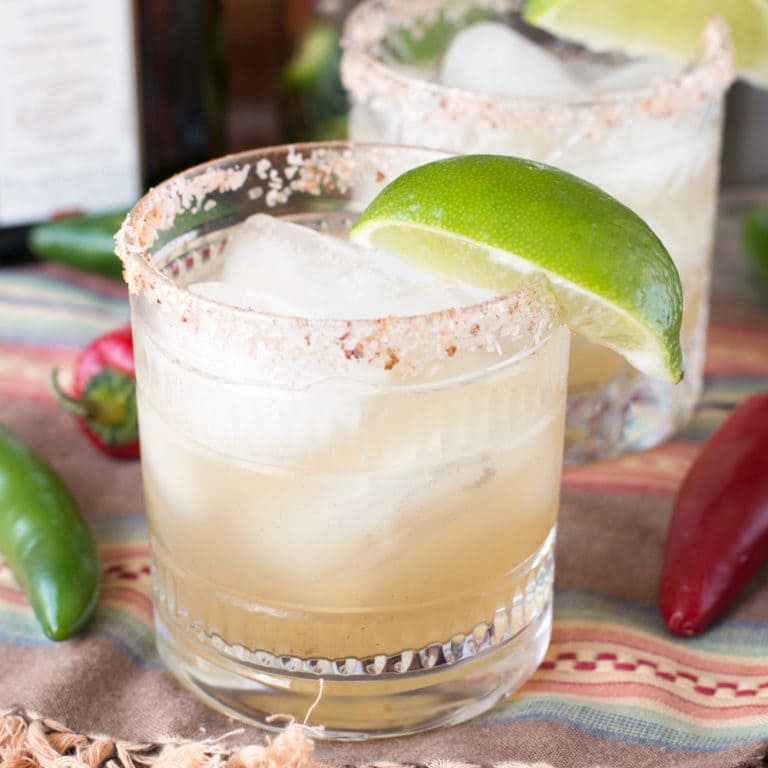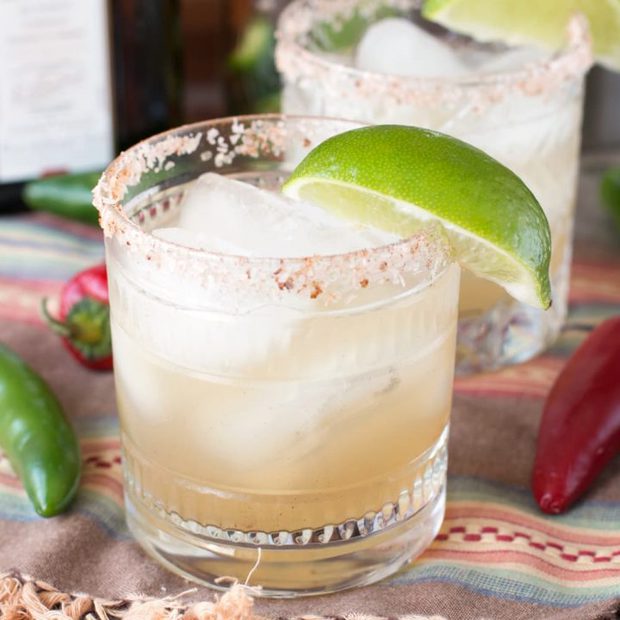 Chili Lime Margarita
Yield:
1 cocktail + 1 1/2 cups chile tequila
Total Time:
5 hours
5 minutes
Chili infused tequila and a smoky chili salt rim make this margarita oh-so memorable!
Ingredients
Chili Salt
4 tsp salt
1/2 tsp chili powder
1/4 tsp cayenne powder
Lime wedge
Chile Infused Tequila
1 1/2 cups silver tequila
3 serrano chile peppers, sliced in half lengthwise
2 fresno chile peppers, sliced in half lengthwise
Margarita
1 1/2 oz pepper infused tequila
Juice from 1/2 lime
1 oz orange liqueur
3/4 oz agave
Ice
Instructions
Combine tequila and peppers in an airtight container. Allow the tequila to infuse for at least 5 to 8 hours (or more if you want it H-O-T).
When ready to make the margarita, stir together ingredients for chili salt in a small bowl. Rub a margarita or cocktail glass with the lime wedge, then rim with chili salt.
In a shaker filled with ice, combine chile infused tequila, lime juice, orange liqueur and agave. Shake vigorously.
Fill rimmed glass with ice. Strain margarita into the glass and serve.
Notes
To make this cocktail for 8 people, use all of the infused tequila (1 1/2 cups), 1/2 cup lime juice, 1 cup orange liqueur, and 3/4 cup agave. Assemble in a pitcher, stirring vigorously with ice to combine!
Recommended Products
As an Amazon Associate and member of other affiliate programs, I earn from qualifying purchases.