Please note this post contains affiliate links.
A Chili Lime Margarita is a spicy, boozy kick in the pants that your happy hour desperately needs, especially with Cinco de Mayo just around the corner! This margarita features a chile infused tequila and chili salt rim so you get the best of smoky, spicy and boozy in every. single. sip.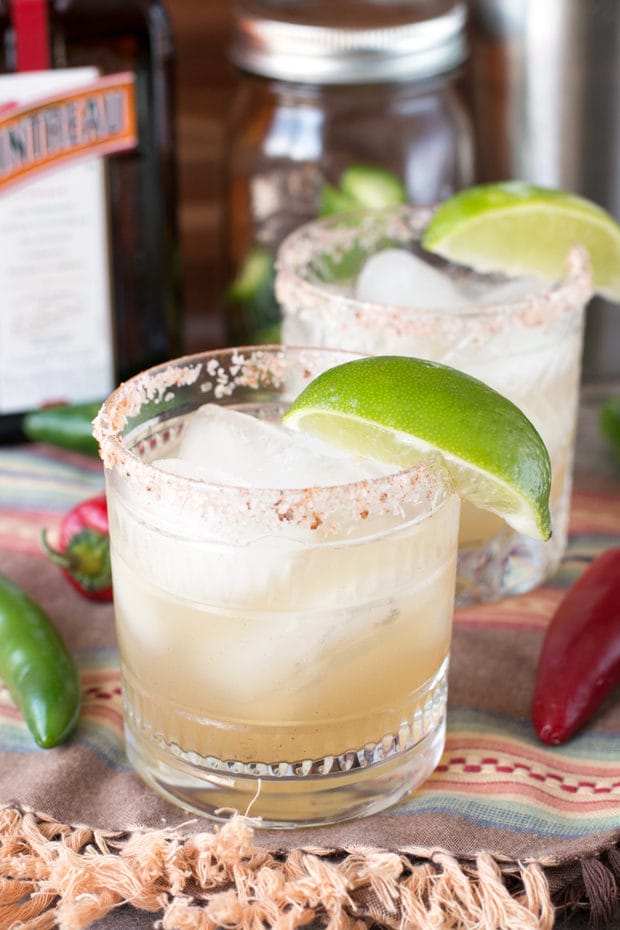 Cinco de Mayo is just around the corner and even though I won't be stateside to celebrate it, I will be dreaming of having another one of these little beauties hitting my lips…
Margaritas and tacos are staples in my diet, so it's not a surprise that I will take any excuse possible to dig into them even MORE than usual. I do tend to inhale tacos and margaritas like a fiend, so this should come as no surprise to you all.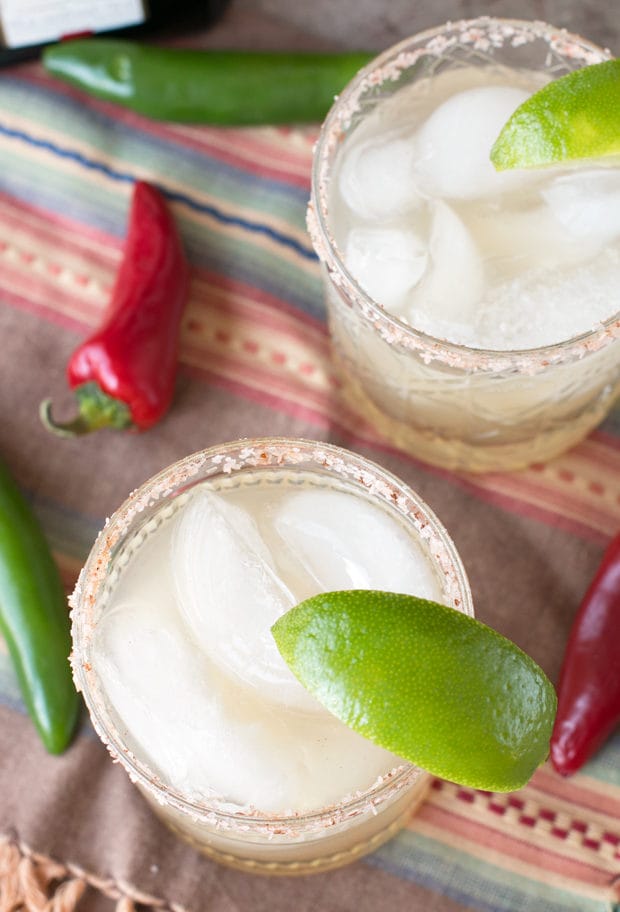 Usually fruity margaritas are all the rage as soon as the weather turns warm. As you hit various restaurants around town, it seems like the strawberry, orange, rhubarb and other fruity cocktails crop up everywhere.
While I do like to indulge in a sweeter margarita from time to time, I prefer my margaritas spicy.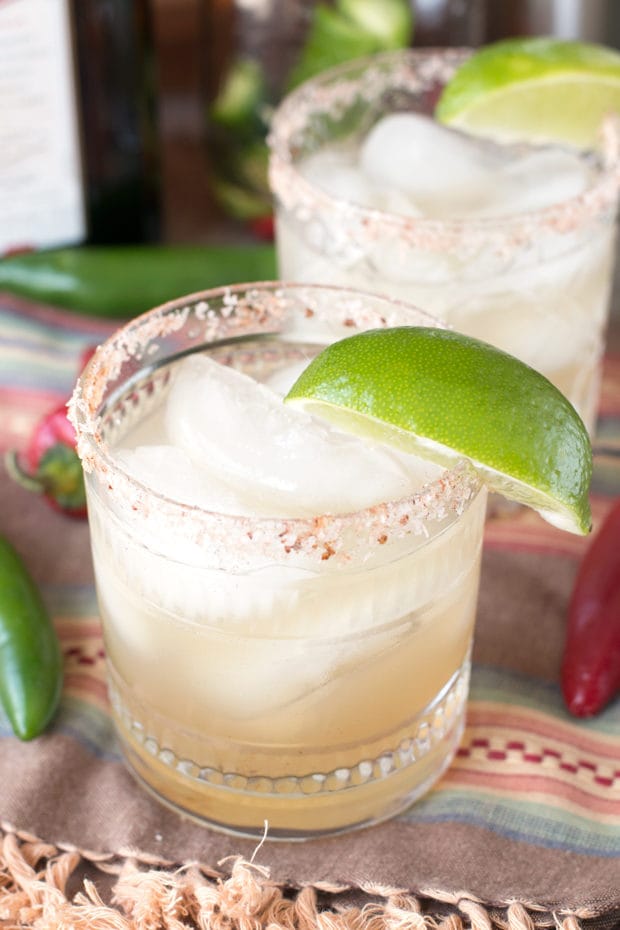 That's exactly why I went with a nice and spicy margarita for your Cinco de Mayo celebrations this year! This margarita gives you a double dose of smoky heat.
You start with a chile infused tequila made with fresno and serrano chile peppers. Then you add a chili salt rim for a slight heat and smoky flavor. The lime juice finishes the drink with an acidic kick and once you are done with each sip, your taste buds are already craving another.
It's delicious to pair with any Mexican fare you have planned for May 5th, or anytime really… because who doesn't loooooooove tacos???
Here are some of my favorite recipes to pair with these margaritas:
Instant Pot Chipotle Chicken Tacos
Honey Lime Shrimp Guacamole Tostadas
Mexican Pulled Pork Tartine (Open-Faced Sandwich)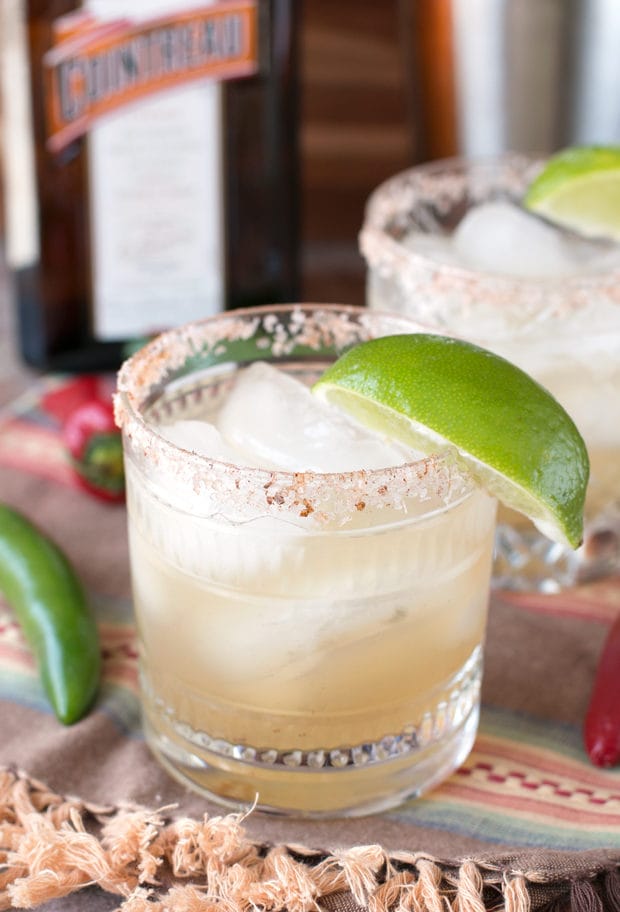 Happy drinking!
Fair warning: do NOT use the infused tequila to take shots with…. it's not a pleasant experience because that stuff is H-O-T.
Of course I couldn't give you just ONE Cinco De Mayo margarita recipe to celebrate with! My lady blogger friends and I decided to band together to give you even MORE Cinco De Mayo margaritas to keep the fun going all. night. long. Check out the deliciousness below!
Cherry Lemonade Margaritas – Erin from The Speckled Palate
Strawberry Basil Margaritas – Susannah from Feast + West
Prickly Pear Margarita – Madison from A Joyfully Mad Kitchen
I personally think you should just start on May 1st and start making a new margarita every single night!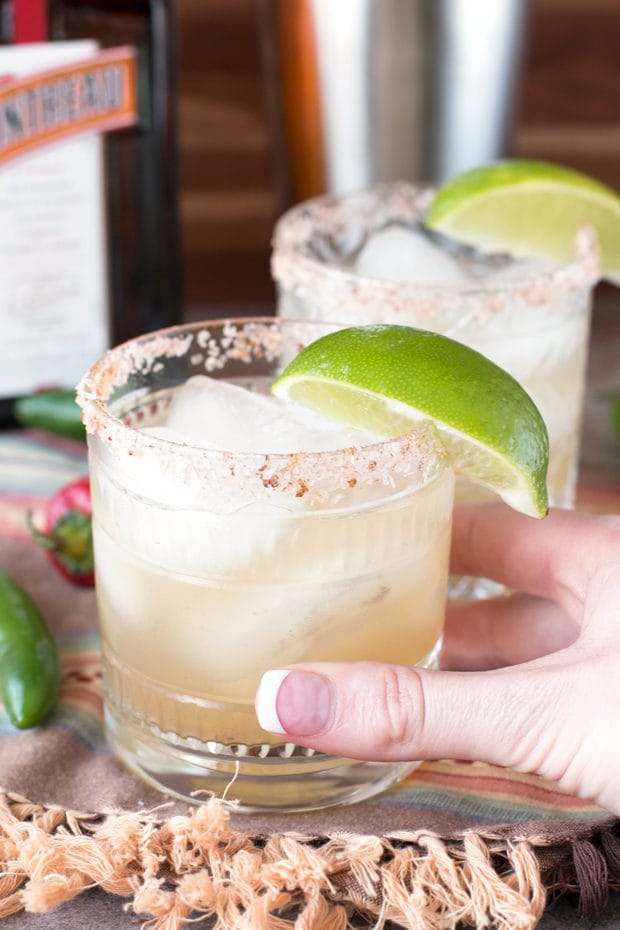 this recipe's must-have's
Since this cocktail is so simple, you just need basic bar tools to pull it together. You will need a jigger or liquid measuring cup to measure out the ingredients.
You will also need a cocktail shaker to shake it all up!
Finally, I love to use a rimmer set to easily rim my cocktail glasses.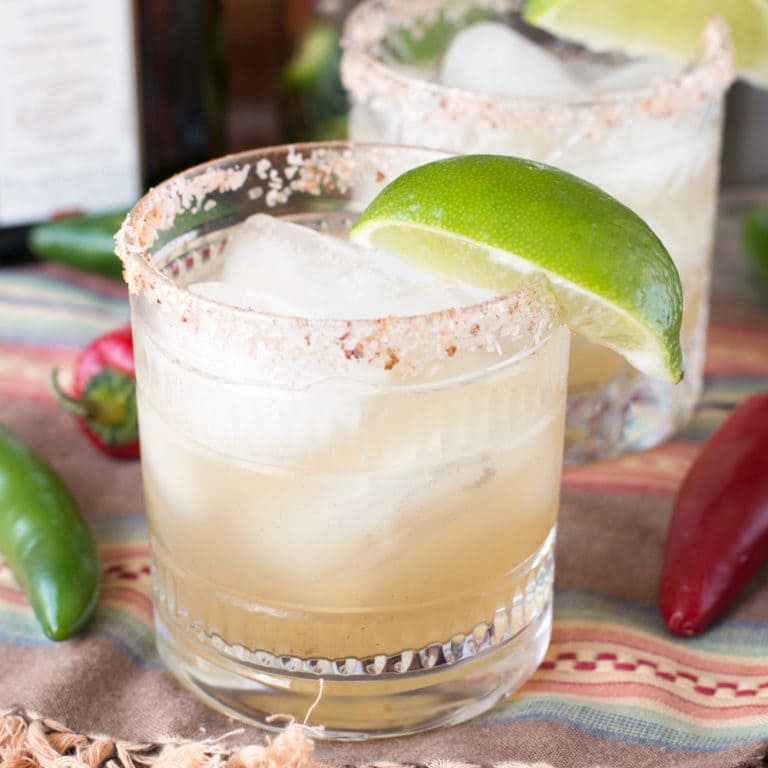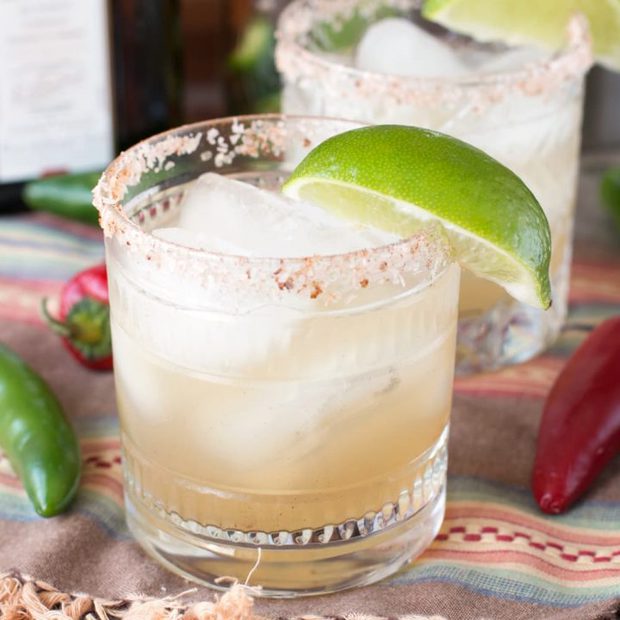 Chili Lime Margarita
Yield:
1 cocktail + 1 1/2 cups chile tequila
Chili infused tequila and a smoky chili salt rim make this margarita oh-so memorable!
Ingredients
Chili Salt
4 tsp salt
1/2 tsp chili powder
1/4 tsp cayenne powder
Lime wedge
Chile Infused Tequila
1 1/2 cups silver tequila
3 serrano chile peppers, sliced in half lengthwise
2 fresno chile peppers, sliced in half lengthwise
Margarita
1 1/2 oz pepper infused tequila
Juice from 1/2 lime
1 oz Cointreau
3/4 oz agave
Ice
Instructions
Combine tequila and peppers in an airtight container. Allow the tequila to infuse for at least 5 to 8 hours (or more if you want it H-O-T).
When ready to make the margarita, stir together ingredients for chili salt in a small bowl. Rub a margarita or cocktail glass with the lime wedge, then rim with chili salt.
In a shaker filled with ice, combine chile infused tequila, lime juice, triple sec and agave. Shake vigorously.
Fill rimmed glass with ice. Strain margarita into the glass and serve.