A Coconut Mango Lassi is a refreshing way to get a taste of the tropics this summer! Made with fresh mango and coconut water (straight from the young coconut!), this is a refresher made for all ages. Makes 2.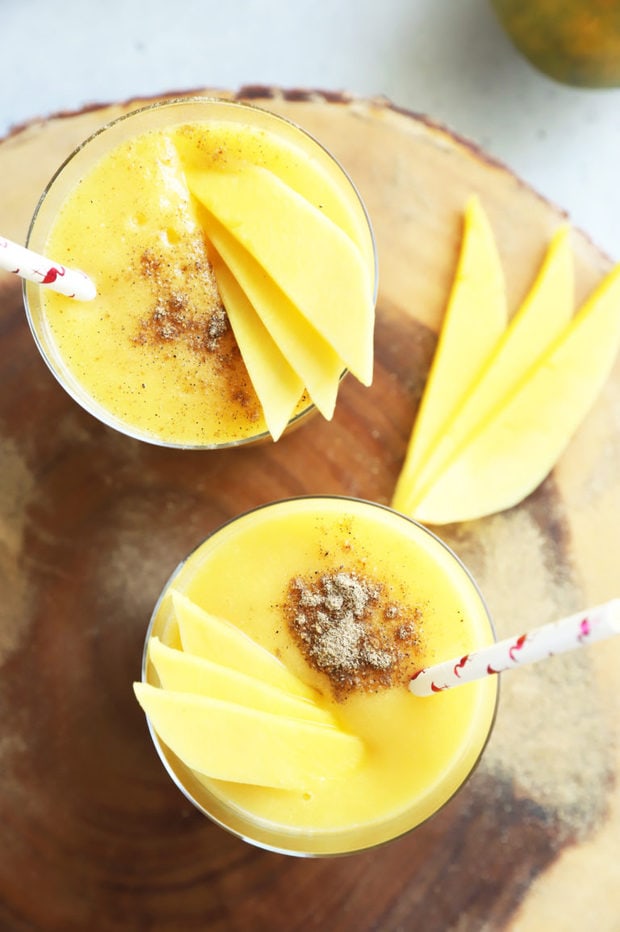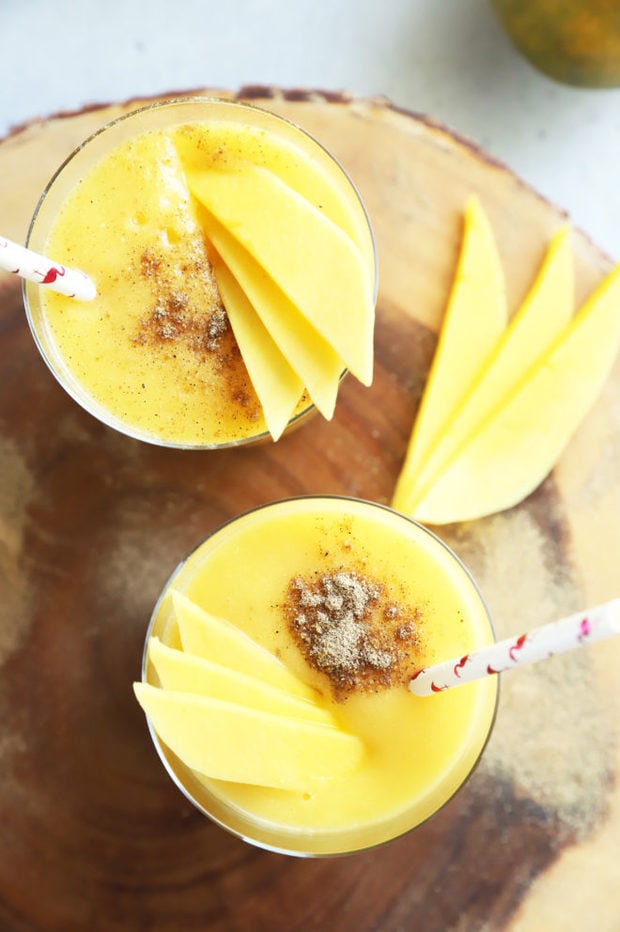 Disclosure: This post is sponsored by Sprouts Farmers Market. As always, all opinions are my own.
It seems like all I can think about lately is running away on vacation.
The funny thing is, it isn't about the need to get away from life for a break (though, admittedly, that would be nice). It's more about the fact that I haven't really been anywhere in a year and a half. As someone who would travel internationally quite often, and in the country even more often, it's hard to be at home for this long.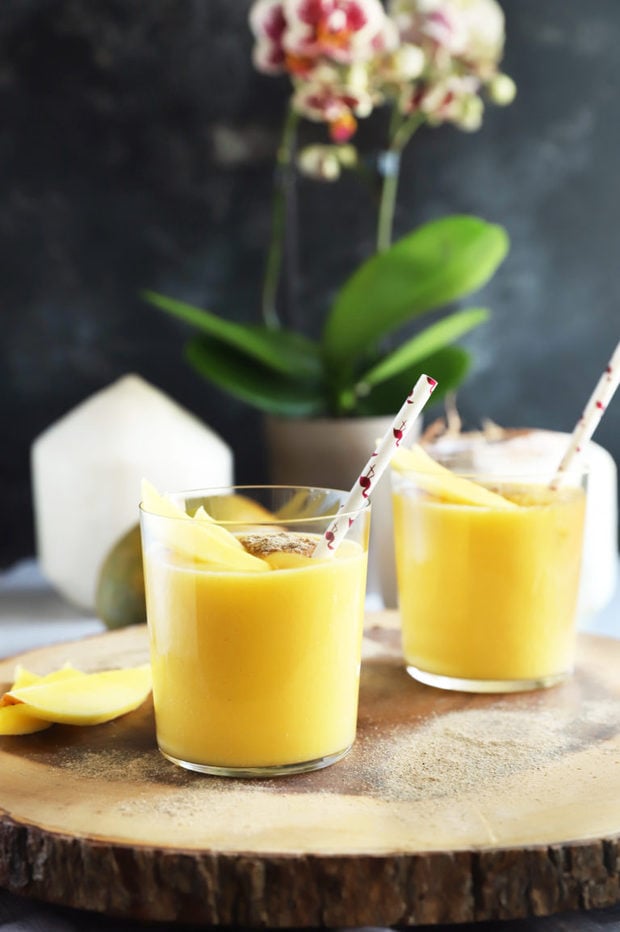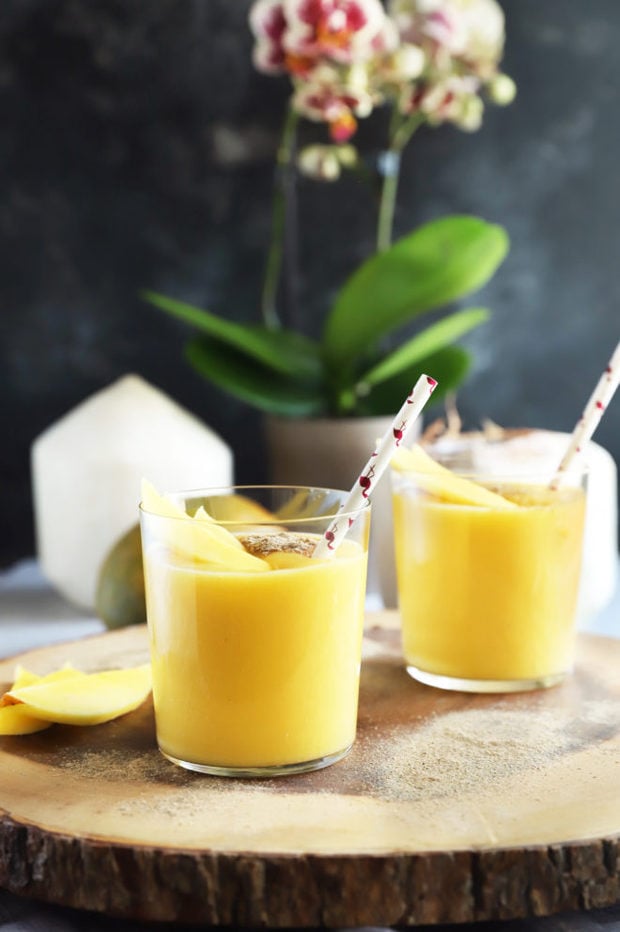 The kind of vacation that is in the forefront of my mind is a tropical one. I want to escape to a white sand beach somewhere with a refreshing tropical drink in one hand and a book in the other. The waves crashing on the beach, the cool breeze off the ocean… it all sounds like heaven, even if it does include dirty diapers and early wakeups.
This month, Sprouts is bringing all the flavors of the tropics to your local store, and I am HERE FOR IT. Their produce department has an insane range of tropical items from fresh young coconuts to mangos, papayas, key limes, and so much more.
If I can't physically run away to a beach right now, then I might as well let my taste buds go for a tropical adventure, you know?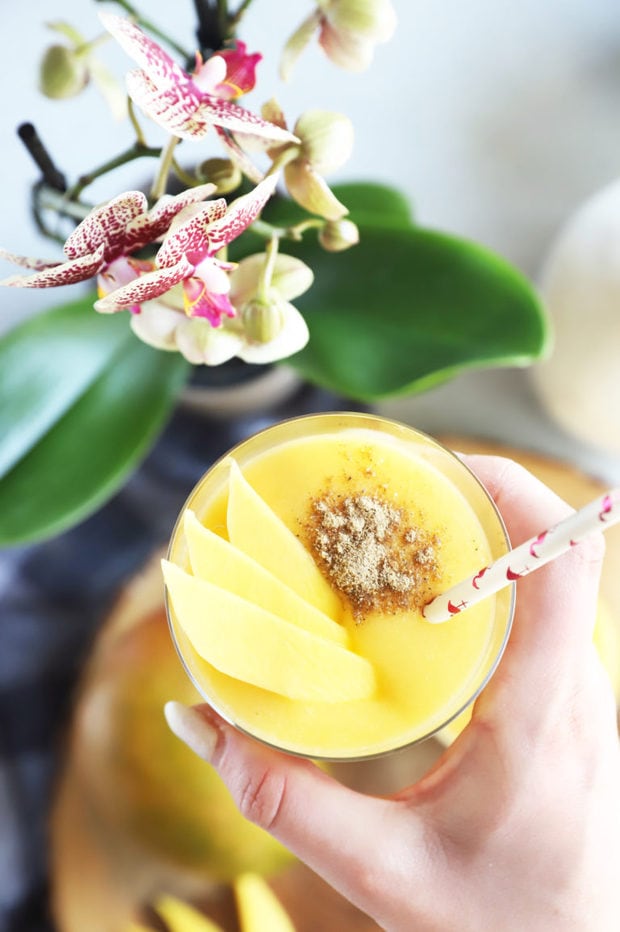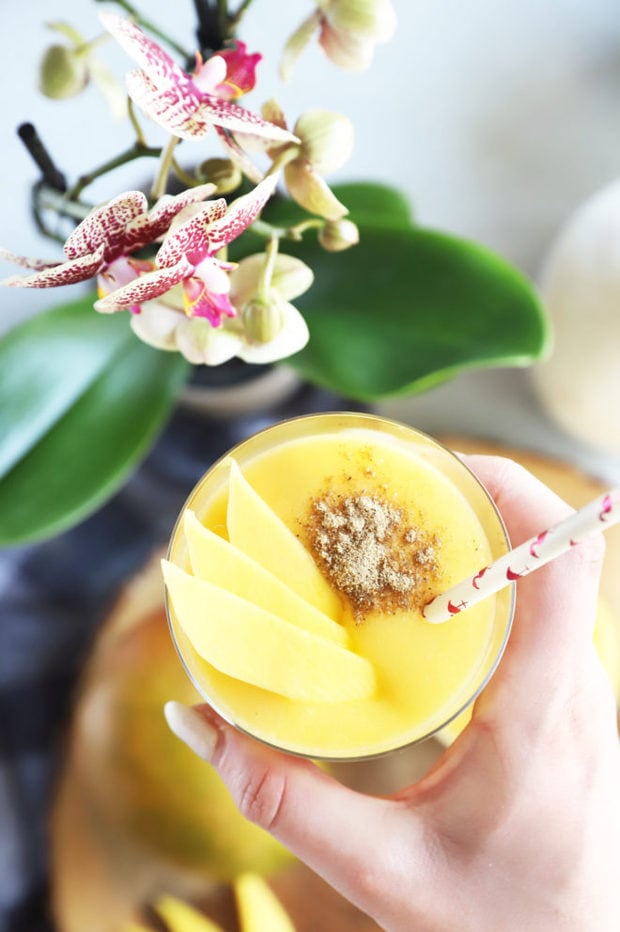 That's why I made this coconut mango lassi. It's full of a couple of my favorite tropical flavors – coconut and mango. The fresh green mangos at Sprouts right now are huge and perfectly ripe so you get a big punch of flavor. I also used the fresh coconut water from a young coconut (SO much fun to open by the way!) with some coconut milk and agave. Finally, a sprinkle of cardamom on top gives it a nice added richness.
You can find everything you see here at Sprouts Farmers Market, including the non-produce items for a fantastic price (trust me, I've done the shopping research to know).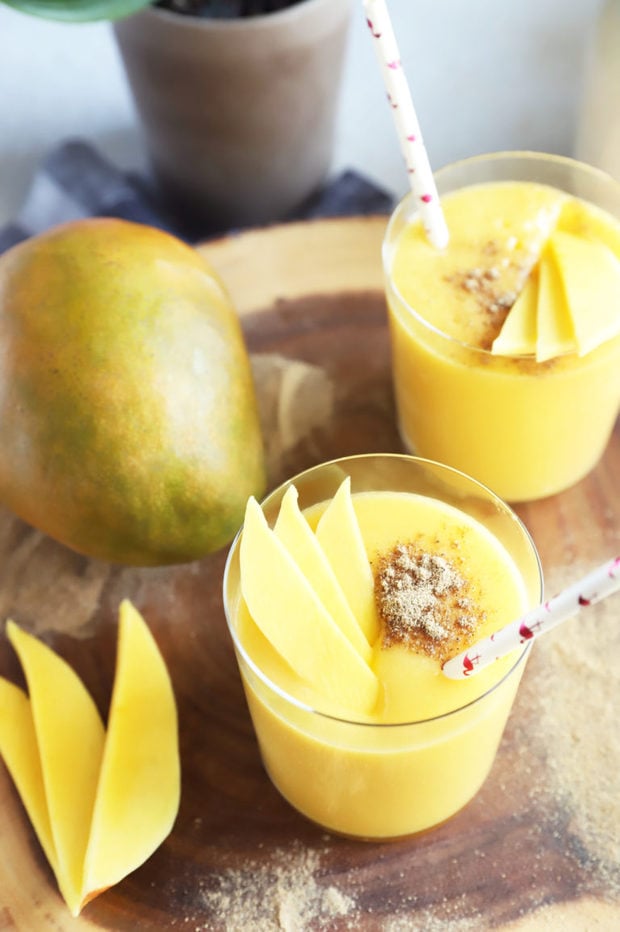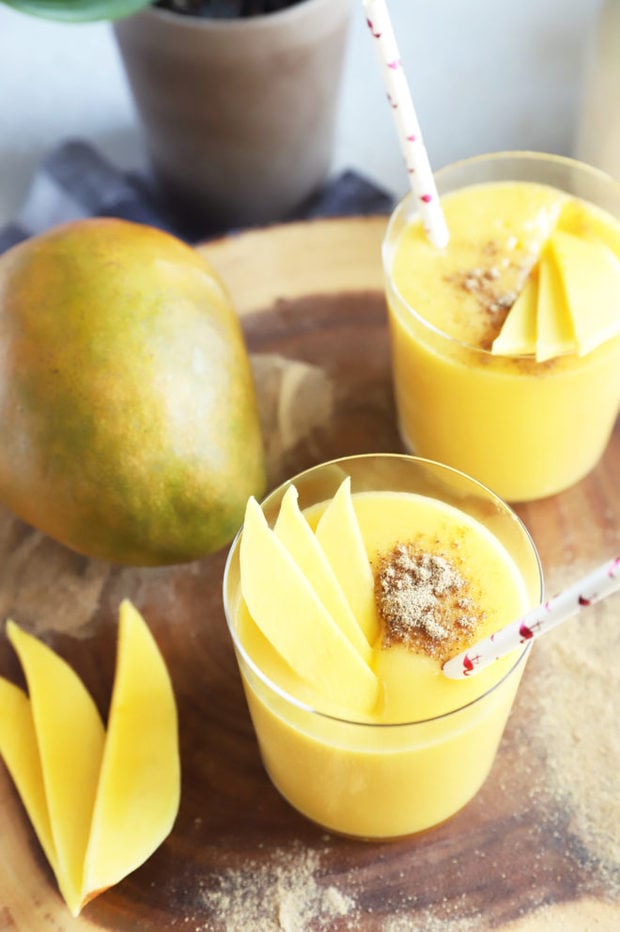 this recipe's must-haves
The simple recipe doesn't require a ton of ingredients, and I picked up all of them at Sprouts! I love shopping for produce at Sprouts because it's by far the freshest. Plus I can find the tropical ingredients I just can't find at other markets in the area!
To make the recipe itself, you'll need a high-speed blender like a Vitamix. Then all you need are a couple of glasses to serve it in!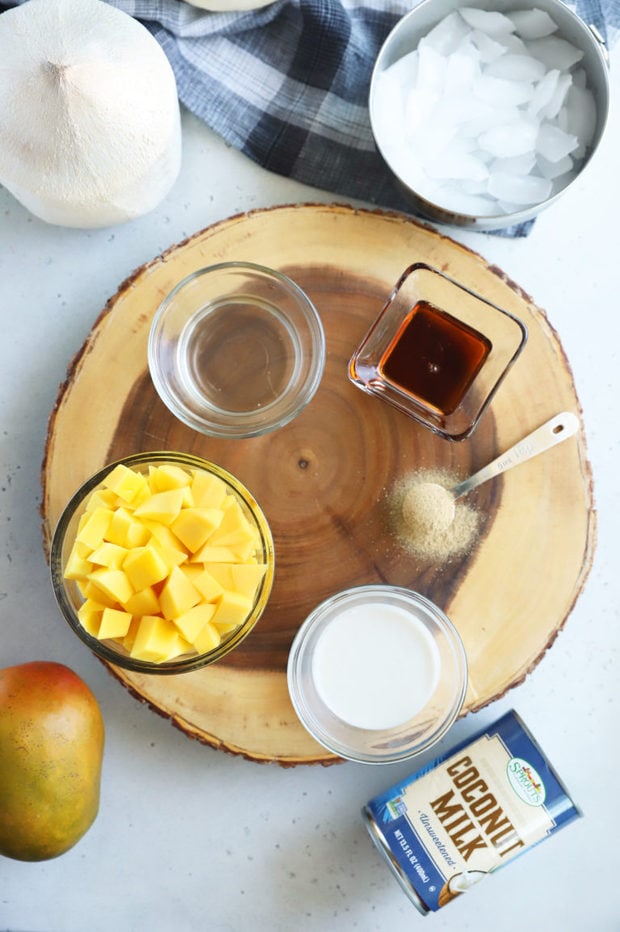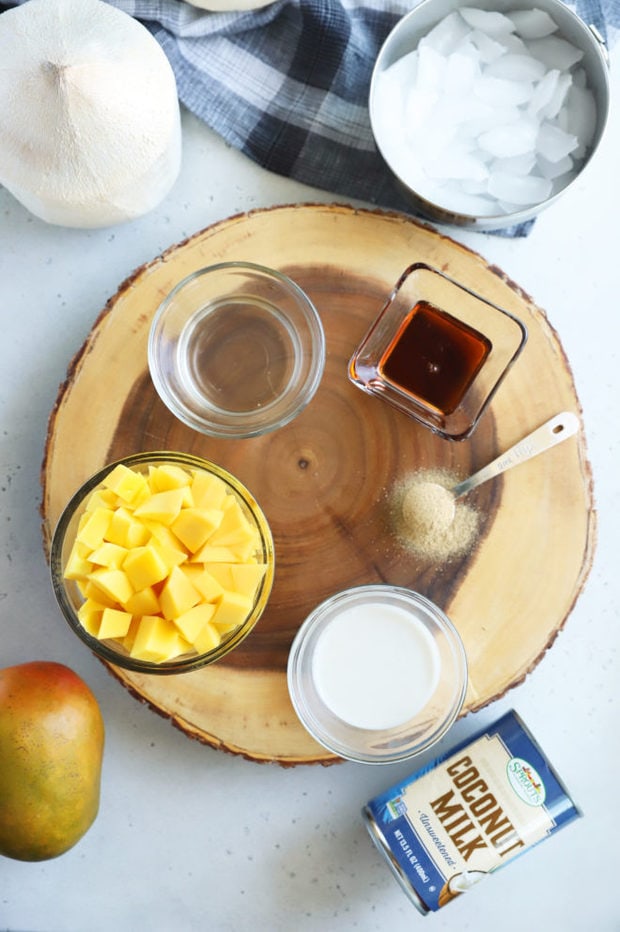 let's make yummy coconut mango lassi!
Blend, Blend, Blend
This recipe seriously couldn't be simpler to make. All you do is add the ingredients to a blender and blend it all up until smooth!
I like to garnish mine with a few slices of mango and a sprinkle of ground cardamom.
Need some more inspiration for summer seasonal recipes? Check out my summer recipes page!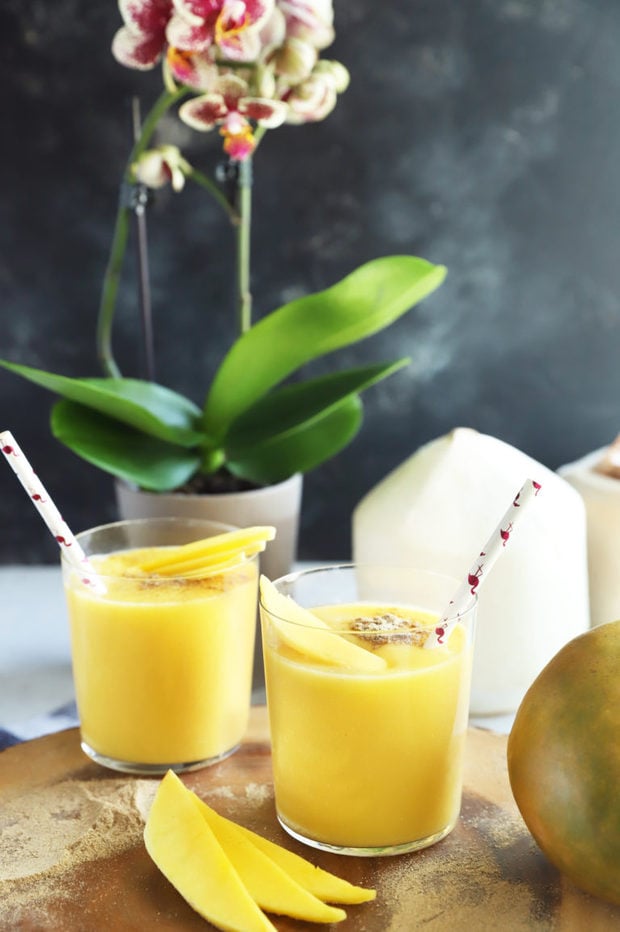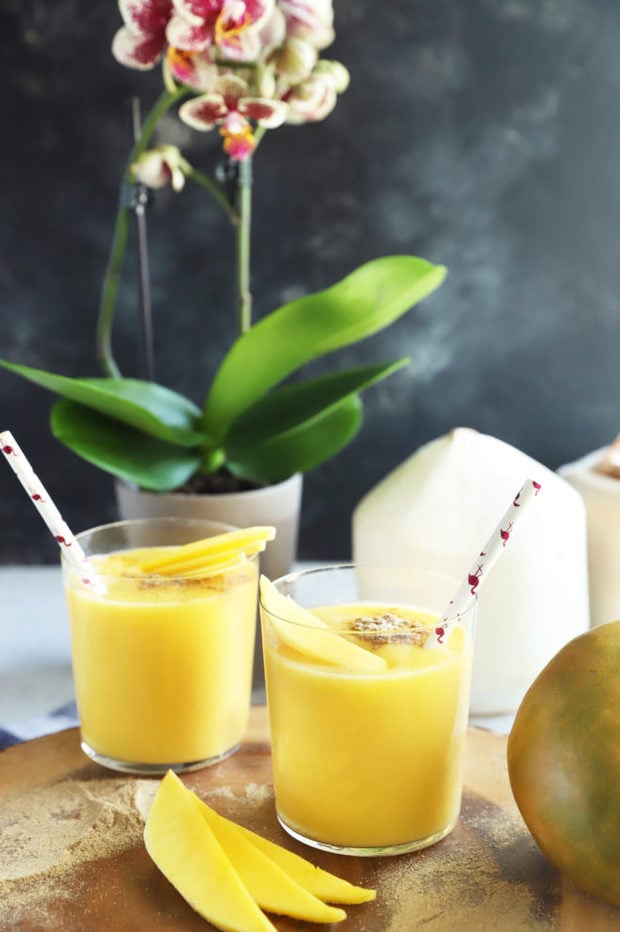 how do I open a young coconut?
Opening a coconut can seem intimidating, but these young coconuts are actually so much easier! You start by removing the white flesh in the peak at the top until you get down to the husk. Then use the heel of your knife to find a weak point in the top crown of the coconut. When you feel the heel sink in, hit it a couple more times, then pry up the top to open it.
It's crazy, the very top just comes off in a little circle with no cutting required! You can take out what you need, then drink the remaining coconut water straight from the coconut with a straw if you want (talk about pretending to be on a tropical vacation, am I right?).
If you are looking to keep the mango theme going, consider making a mango margarita for your next cocktail hour or mango sago for dessert!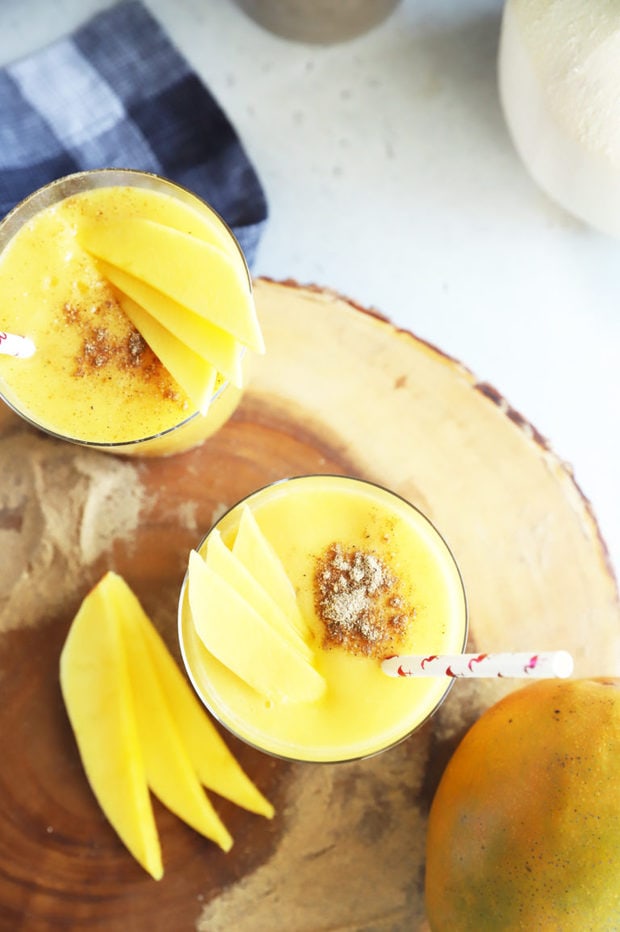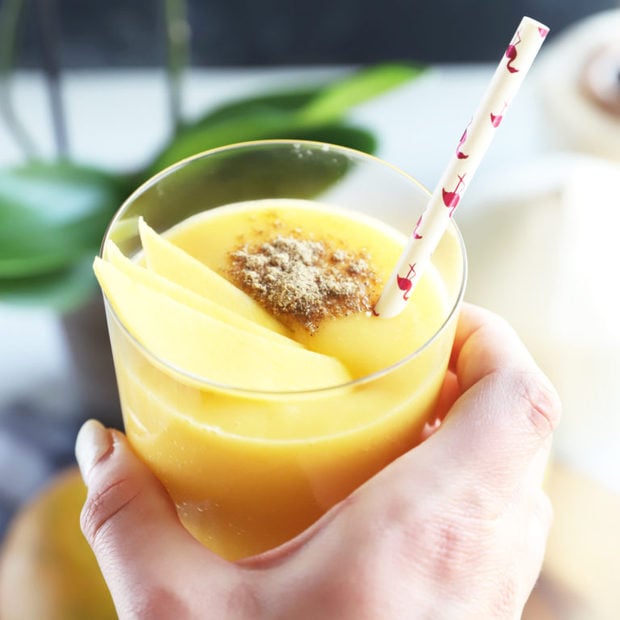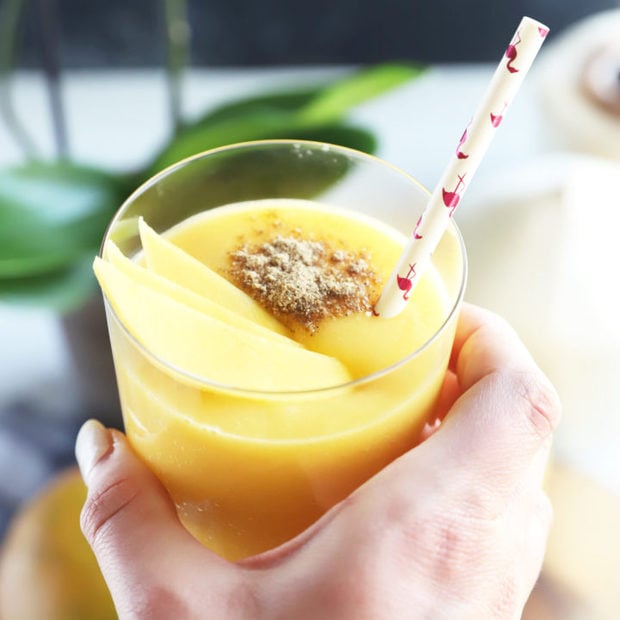 Coconut Mango Lassi
Refreshing and smooth, this coconut mango lassi is a tropical refresher for all ages.
Ingredients
2 cups chopped fresh mango (2 medium or 1 large)
1/4 cup fresh young coconut water
1/4 cup Sprouts Coconut Milk
1 Tbsp Sprouts Blue Nectar Agave
1 cup Ice Cubes
Garnish: ground cardamom, mango slices
Instructions
Add all ingredients to a high-powered blender. Blend together until smooth.
Pour into two glasses and garnish with fresh mango slices and a sprinkle of cardamom.
Recommended Products
As an Amazon Associate and member of other affiliate programs, I earn from qualifying purchases.