Please note this post contains affiliate links.
An easy melon prosciutto salad is a refreshing combination of watermelon, cantaloupe, and honeydew. With the addition of a honey citrus dressing made with fresh citrus juice and herbs, you'll find yourself making this recipe over and over again for a side dish or even a poolside snack.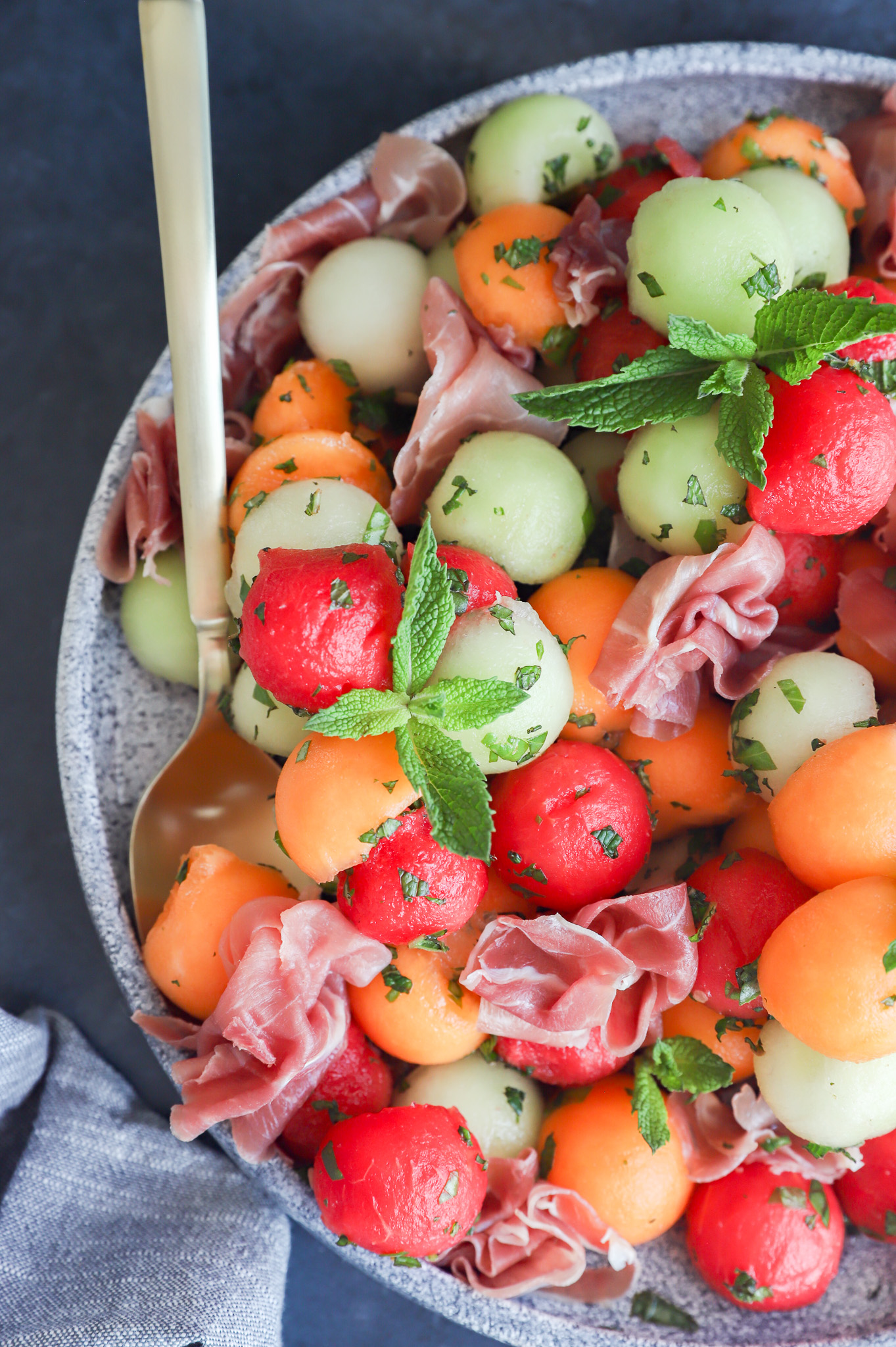 about this melon prosciutto salad
I didn't really grow up with fruit salads, so it isn't something that I naturally gravitate to as an adult.
Instead of a fruity salad, I was given cute little balls of melon in my lunches when I went off to school. So salads with melon have kind of become my jam, particularly in the summer when I'm searching for a new way to devour as much fruit as possible.
Nothing is better than a cooling salad like this, whether you need a side dish for a gathering or you simply need a snack while lounging by the pool… at least I imagine. I, alas, have no pool. Someone make this and live my poolside dream for me, mmkay?
The fruit is flavorful on its own (and nutritious!), plus it has a lovely hydrating element since they are water-rich fruits. However, the dressing and the prosciutto are what make this recipe stand out from other melon salads you might have had in the past.
The citrus honey lime dressing is made with a combination of lemon and lime juice, honey, salt, and fresh herbs (a combination of sweet basil and tangy mint). It livens up the fruit, giving them a tartness to help balance out the sweetness.
Finally, the prosciutto, which brings a salty element in. Have you ever had a piece of watermelon sprinkled with salt? Or a cantaloupe wrapped in prosciutto? If so, you know just how tasty this sweet and salty combination can be.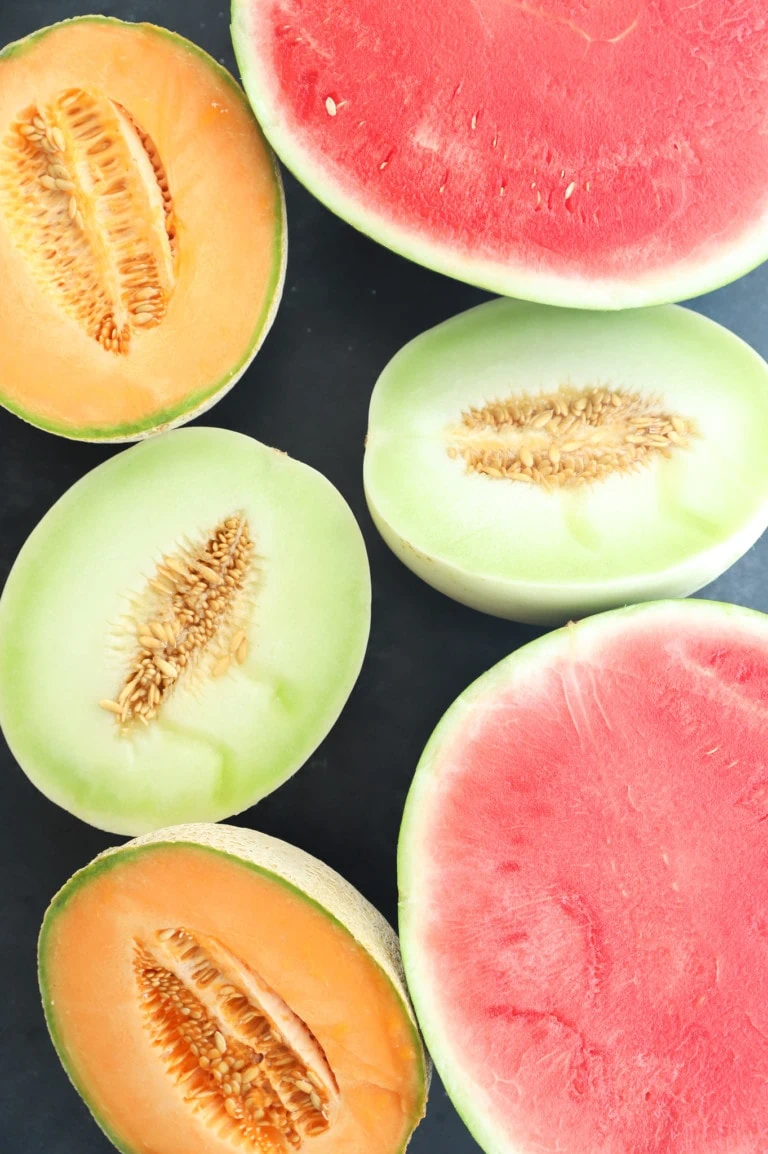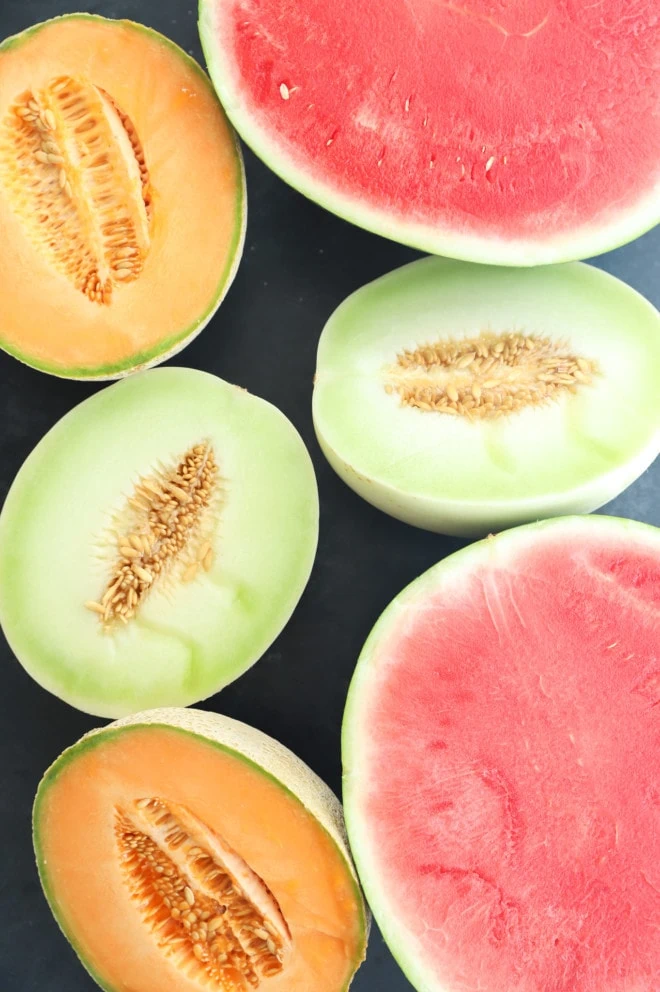 If you haven't, well you are about to have one of the best combinations ever and I'm a little jealous because I would love to experience that sweet and salty taste again for the first time. It was truly mind blowing.
There's something so lovely about mixing together these simple ingredients to transform them into something new. Not only is it flavorful, it is super easy to make. You can even make it ahead of time for a gathering or to snack on throughout the week, which is always a win in my book.
This melon salad recipe is sure to be one that you continue coming back to whether watermelon, cantaloupe, and honeydew melon are in season!
what is melon salad?
Melon salad is a combination of melons, dressed with a light dressing, usually made primarily with citrus juice. You could make a melon salad with one type of melon, two types, or all three as you see here! It is a refreshing, summery side dish that goes with practically any meal. However, if you want some specific suggestions, take a look at my "what to serve with" section at the bottom of this post.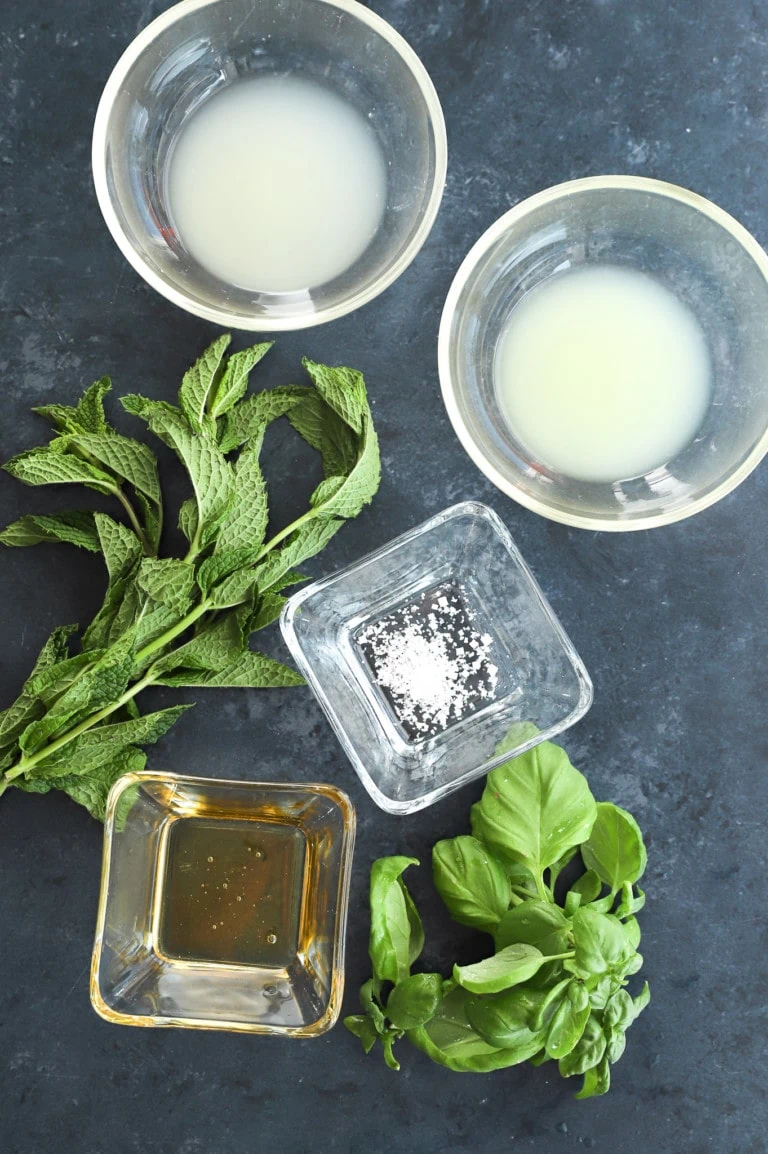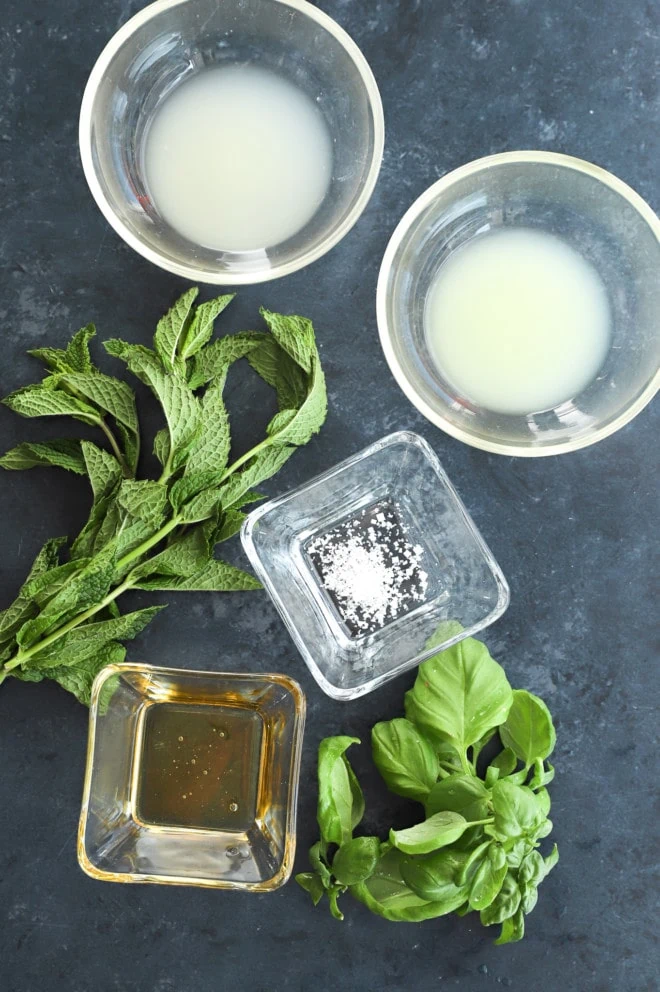 ingredients
fruit. You will need a combination of watermelon, cantaloupe, and honeydew for this balled melon salad. If you don't particularly like one of these, I recommend checking out the FAQs below to make any changes!
citrus juice. Freshly squeezed lime juice and freshly squeezed lemon juice are preferred! You can purchase either at your local grocery or liquor store, but I find that fresh citrus juice always has the best flavor.
honey. You could also use agave or maple syrup instead.
salt. I prefer to use flaky sea salt in this recipe! You could also use fine sea salt.
herbs. Fresh mint leaves and basil leaves give the basil mint dressing such incredibly fresh flavor!
prosciutto. The prosciutto is what gives you the salty element of this recipe! It's the ideal pairing with the dressed melon.
this recipe's must haves
To prep the ingredients, you will need either a melon baller or a cutting board and chef's knife to cut up the fruit.
You will also need a couple bowls from your set of mixing bowls to make the dressing and to make the salad.
Finally, pick out your favorite platter! The one you see here I got on Etsy and it is no longer available. However, you can find similar ones on Etsy if you search for a grey pottery plate or platter!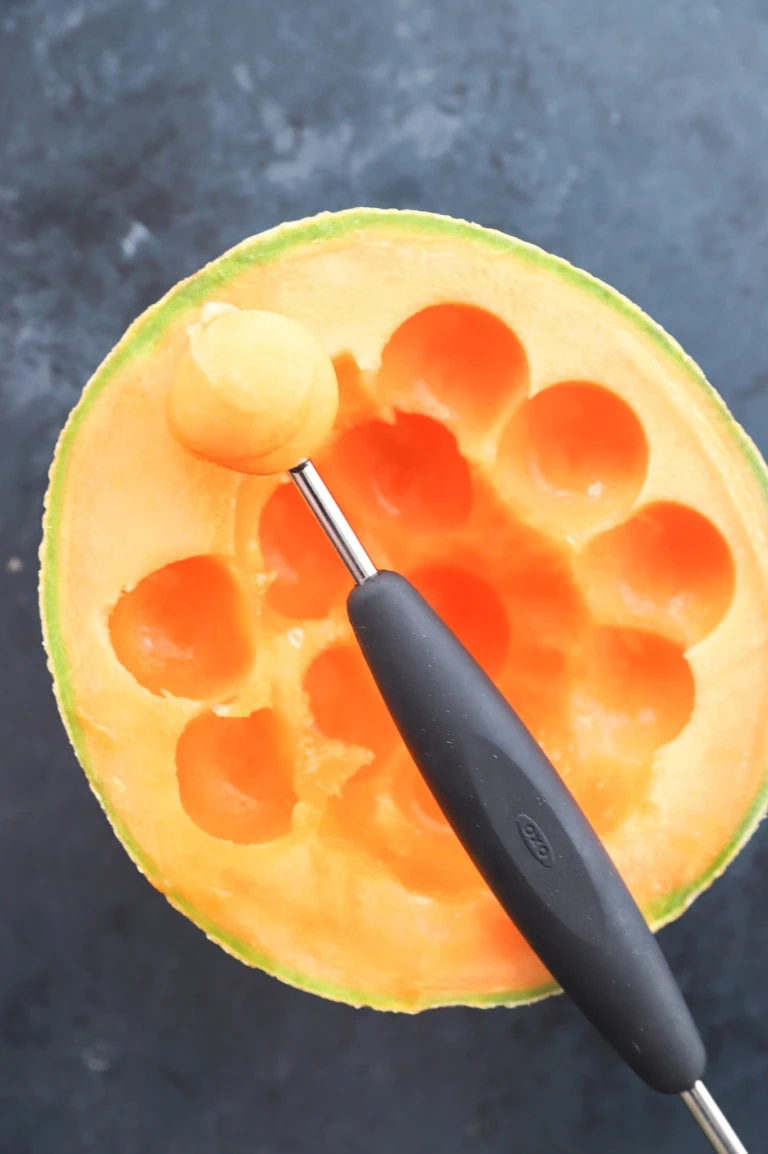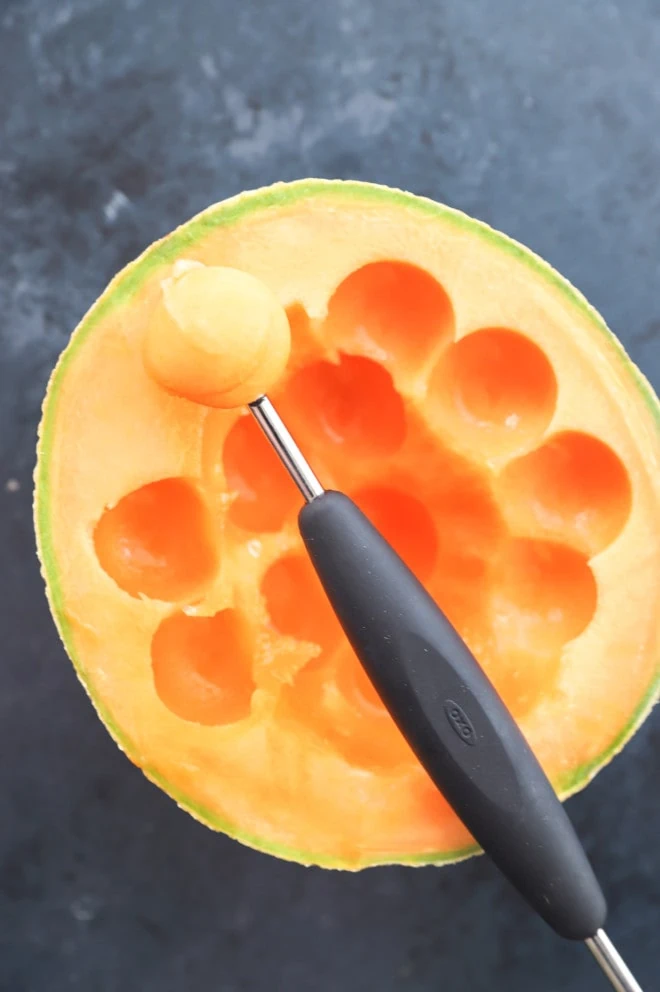 here's how to make melon prosciutto salad
make dressing
To make the dressing, add lime juice, lemon juice, honey, and salt to a small bowl. Whisk together to combine, until the honey is incorporated. Add fresh herbs, stirring until combined and set aside.
make salad
Place the melon balls into a large bowl. Pour the dressing over the top. Stir to coat everything evenly.
refrigerate
Cover the fruit salad with plastic wrap and place in the refrigerator until ready to eat. Thankfully this recipe is delicious for up to 3 to 5 days after you make it! It's fantastic for making ahead for a party, or for simply eating for a few days with your lunches or dinners.
serve
When ready to serve, plate the salad on a large platter. Top with pieces of prosciutto, tucking them in all around so they are evenly distributed. Serve.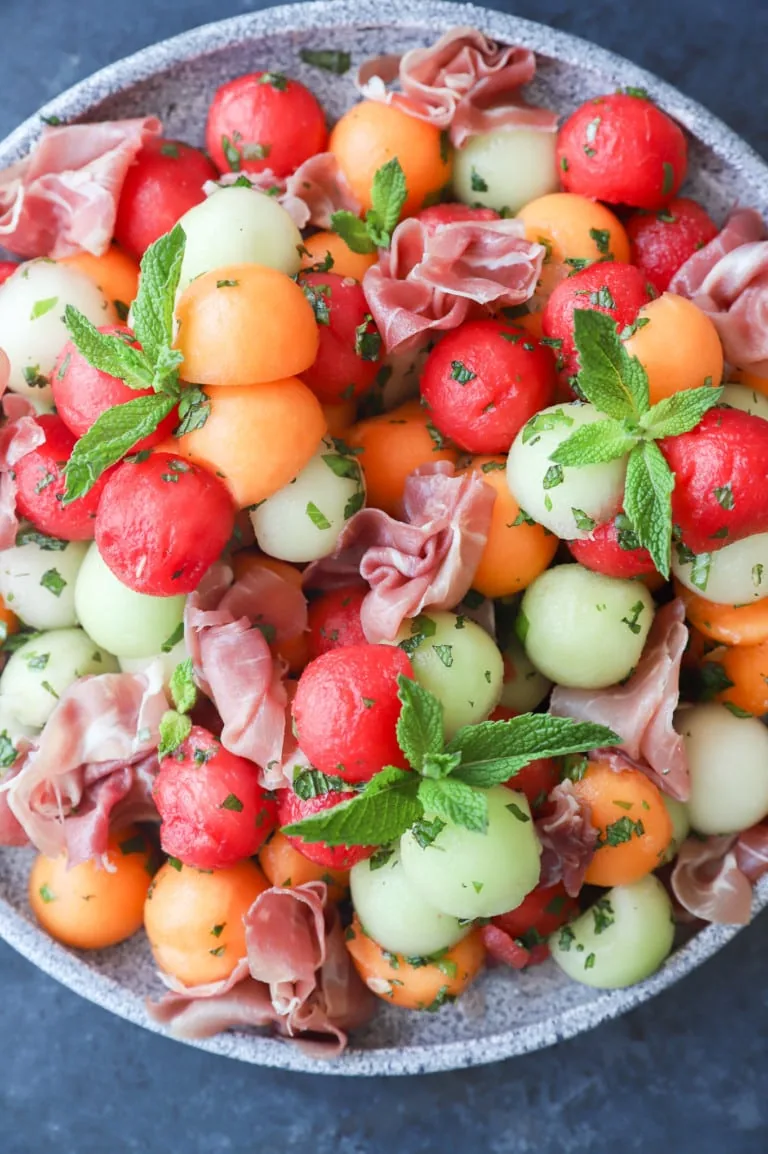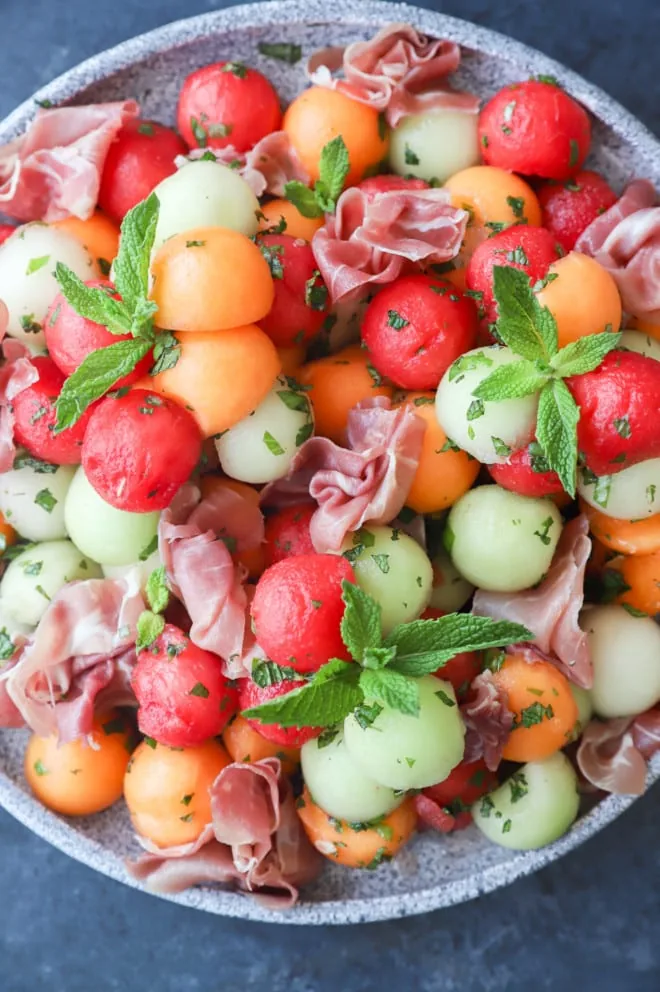 tips for success
don't waste any leftovers. If the melon balls are getting extra soft and juicy, they are need to be used up. If you don't want to eat the salad, throw it all in a blender (without the prosciutto of course!) and make a smoothie or juice (throw in some vodka for a cocktail!).
use fresh citrus. Using fresh citrus juice in the dressing really makes a big difference in flavor! Don't forget to roll them on a flat surface with the palm of your hand before cutting them and juicing them.
More tasty salads to make this summer: Mango Chicken Salad | Mojo Steak Salad | Summer Pasta Salad | Miso Marinated Steak Salad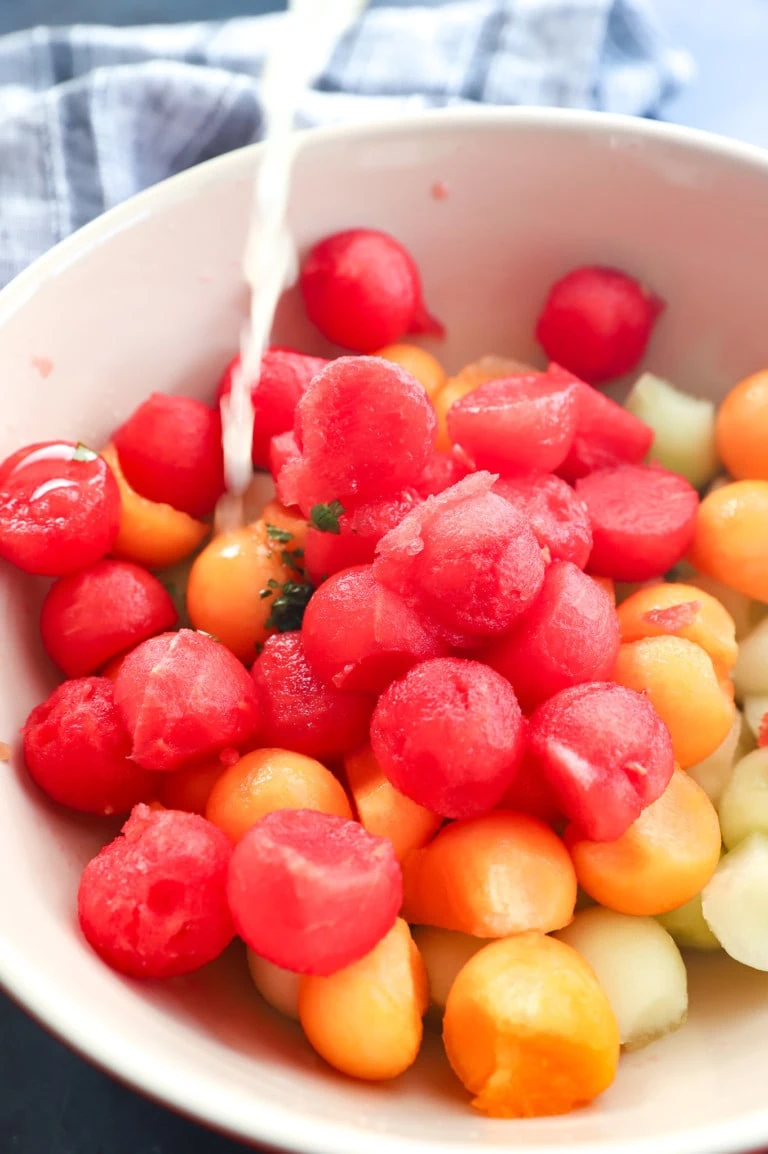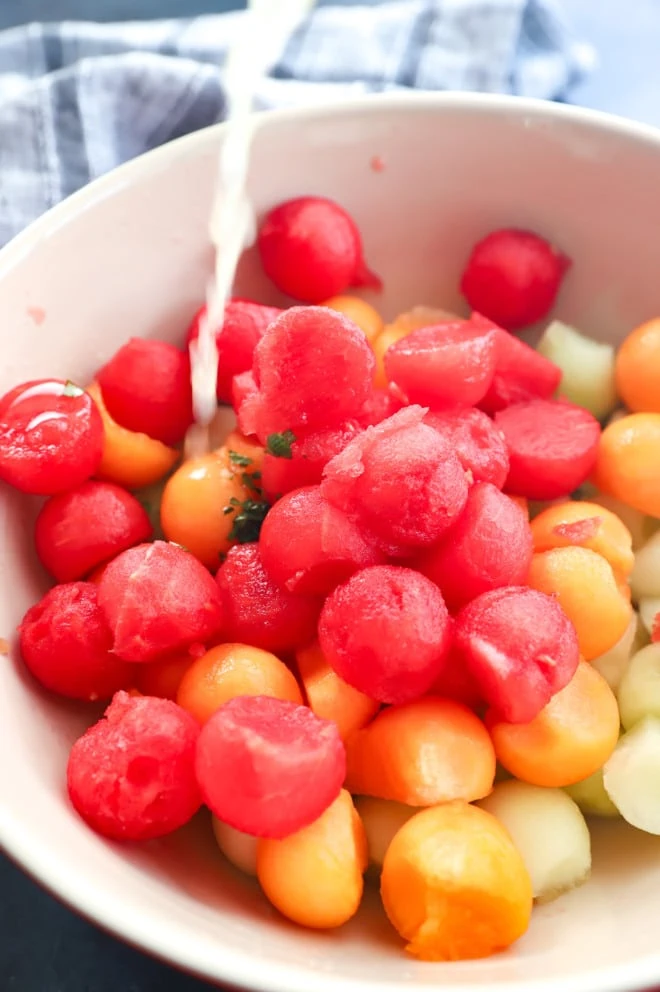 is summer melon salad healthy?
This recipe is low in calories, but it's also packed with a variety of vitamins and minerals, making it a very healthy side dish indeed.
Plus there's a low amount of added sugar with just a small amount of honey added to the dressing.
do I have to use a melon baller?
If you don't have a melon baller, you can simply cut the watermelon, cantaloupe, and honeydew into chunks that are about 1/2-inch to 1-inch in size. There's no need for using a melon baller if you don't have one, or if you just don't want to use it.
can I use agave instead of honey?
Yes, you sure can! You could also use maple syrup in place of honey, if you prefer. The measurement will stay the same.
do I have to use all three melons?
Listen, I know that there are some people who don't like all three types of fruit, and that's ok! You can definitely make this salad with just two varieties, or even one if you want to. Simply make sure you have a total of 7 cups of balled melon (or diced melon) in total. You can also switch up the ratios, as desired!
do I have to use prosciutto?
You can easily omit the prosciutto! If you do so, I recommend sprinkling the plated salad with a big pinch of flaky sea salt to still get that salty-sweet flavor combination.
Need more inspiration for summer recipes? Check out my summer recipes page!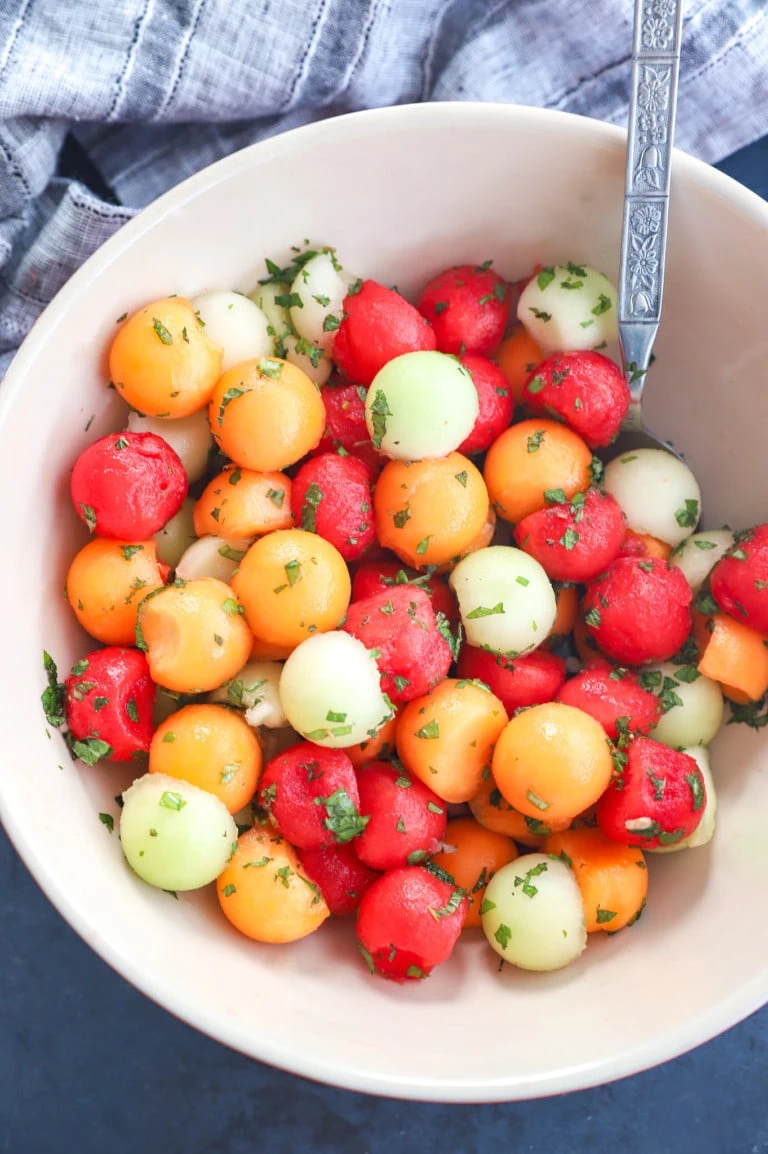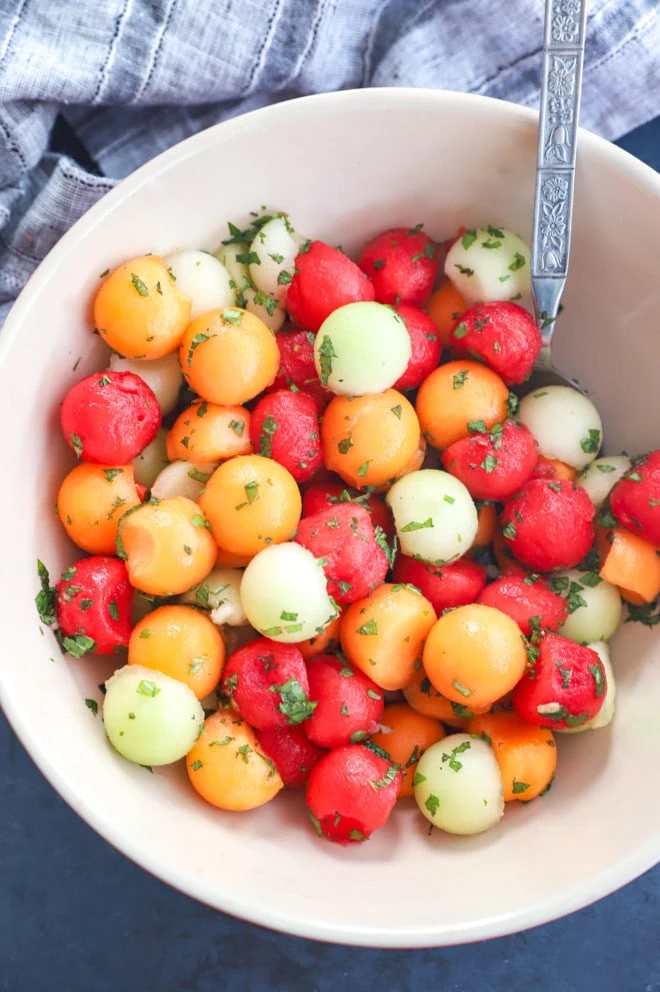 what to serve with melon prosciutto salad
Melon prosciutto salad has everything you could ever want in a fruity side dish, making it ideal to serve with whatever your summer menu holds.
I personally love to serve this light salad as a side to a meaty main like the following:
BBQ apple cider ribs are a classic recipe with a twist of apple cider, making them extra tender!
Tender spicy bbq pulled chicken burgers are flavor-packed with just the right amount of heat.
An easy weeknight meal like these Instant Pot Philly cheesesteaks!
This salad is also a fantastic addition to a summer charcuterie board.
how to store
Store. Place the melon ball salad in the refrigerator in an airtight container. I do recommend storing the prosciutto separately. Store for up to 3 to 5 days. I like to squeeze a little fresh lime juice on top to revive the salad when serving again!
Freeze. Remove the prosciutto and use elsewhere as it does not freeze well. Place the fruit in an airtight container and freeze for up to 12 months.
Thaw. To thaw, place salad in the refrigerator overnight to enjoy the following day.
more tasty melon recipes
A spicy watermelon margarita is the ultimate summer cocktail!
For a tasty refreshment for the entire family, watermelon lime agua fresca is perfect on a hot day.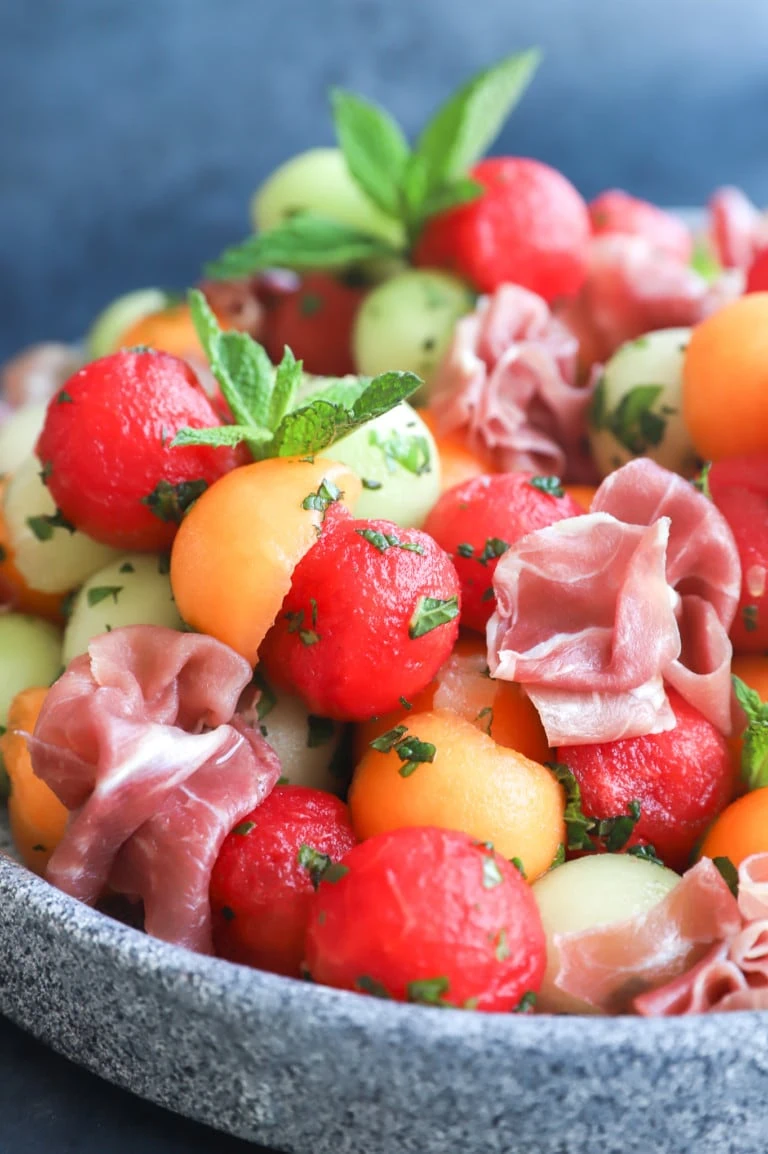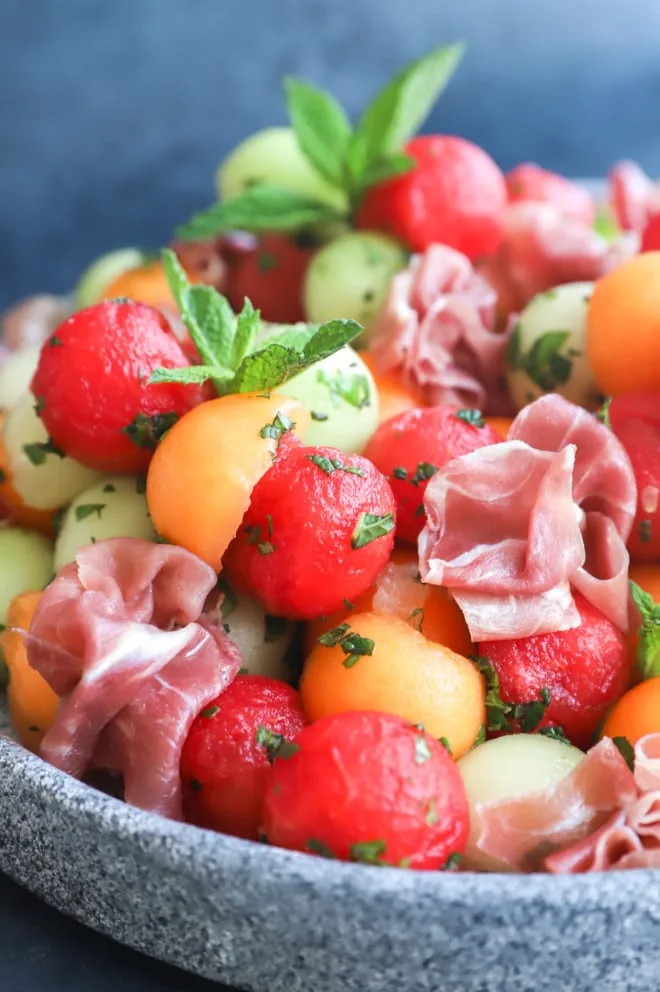 Finally, if you make this melon prosciutto salad recipe, please be sure to give this recipe a rating or leave a comment! I love to hear when you all make recipes, and I do take the time to respond to every single comment. Feel free to drop questions below too, if you have them!
Oh and be sure to tag me on Instagram if you make the recipe! I love being able to see these recipes come to life in your homes – it's my favorite thing to look through those photos. It really means the world to me!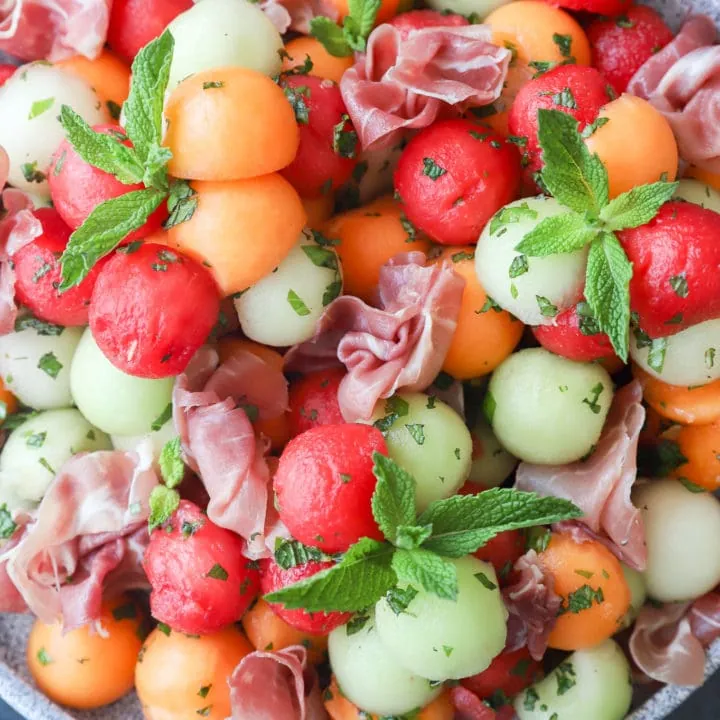 Melon Prosciutto Salad
Refreshing and light, this sweet and salty salad recipe is perfection!
Ingredients
dressing
2 Tbsp freshly squeezed lime juice
2 Tbsp freshly squeezed lemon juice
2 tsp honey
1/4 tsp flaky sea salt
2 Tbsp freshly chopped mint leaves
1 1/2 Tbsp freshly chopped basil leaves
salad
3 cups watermelon (diced or use melon baller)
2 cups cantaloupe (diced or use melon baller)
2 cups honeydew (diced or use melon baller)
3 oz prosciutto, torn into smaller pieces
Instructions
Add the lime juice, lemon juice, honey, and salt for the dressing to a small bowl. Whisk to combine. Add fresh herbs and stir gently to combine. Set aside.
Place balled or diced fruit in a large bowl. Pour over the dressing and stir to coat everything evenly.
Add the fruit to a serving platter or a bowl. Top with pieces of prosciutto all around, tucking them in to evenly distribute them.
Serve or store in the refrigerator until ready to eat.
Recommended Products
As an Amazon Associate and member of other affiliate programs, I earn from qualifying purchases.