Please note this post contains affiliate links.
What goes better with game day than Crispy Korean BBQ Chicken Wings?! The spicy and saucy wings are pure magic that you can grill OR bake, depending on whether you want to fire up the grill. They will disappear fast so be sure to snag a couple for yourself before you put them out!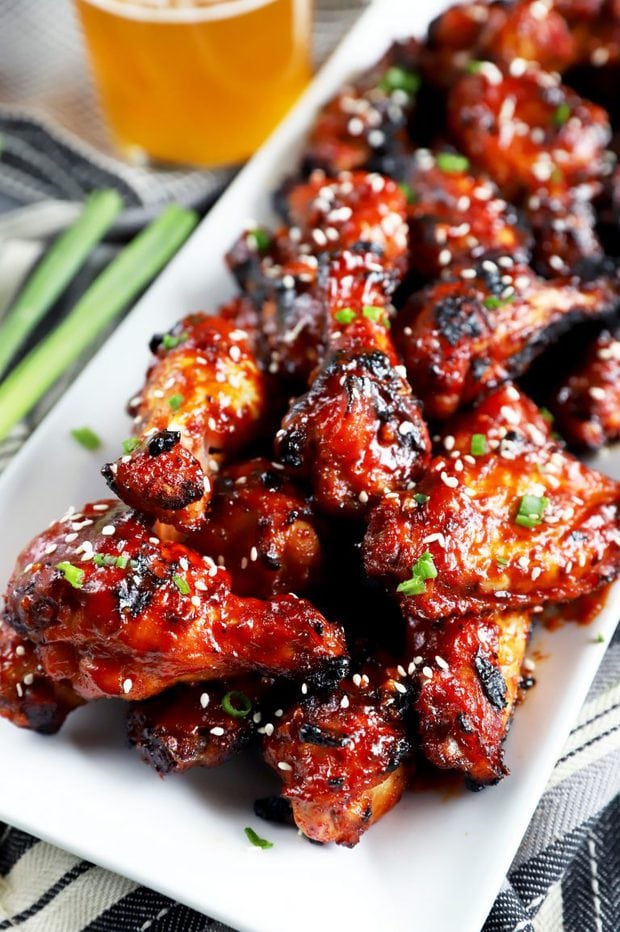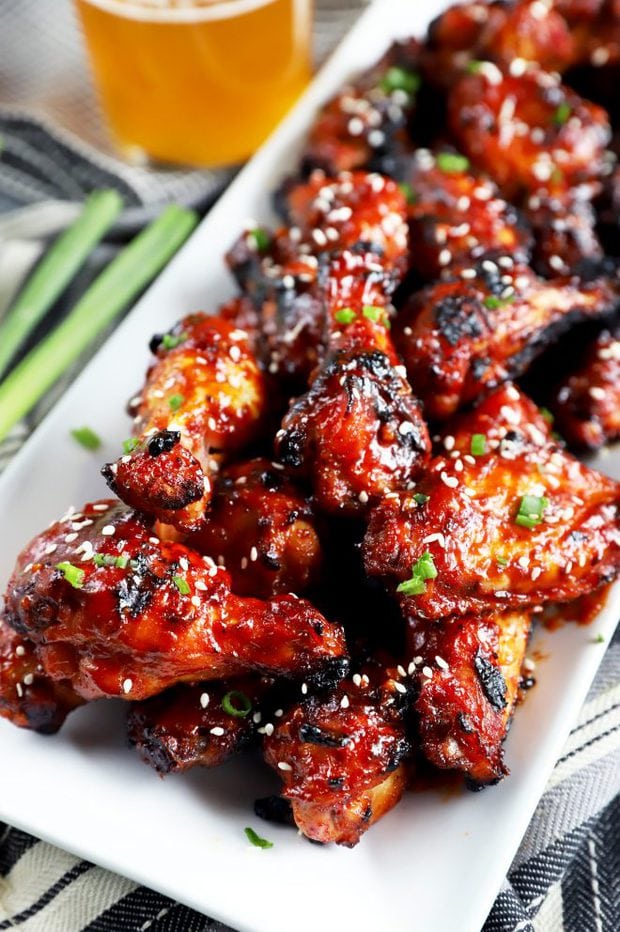 It's my birthday and I'll eat all the wings if I want to!
Ok, so maybe I'm not at home when this post goes live. Maybe I'm in Stockholm and maybe I plan to eat my weight in cardamom buns BECAUSE I CAN.
Be sure to head to my Instagram Stories to check out my Euro adventures!
But, if I was at home, you can bet I'd be enjoying a plate full of these wings tonight.
Wings are something that I didn't get into until my early 20s. To be honest they weren't a food that was around when I was growing up. Considering the messy eater I still am, I am sure there was a reason my mom avoided letting me get my hands on some…
These Korean chicken wings are a combination of so many things that I love. The outside is nice and crispy, but without having to be keeping fried. The inside is oh-so juicy and packed with flavor after sitting in a tasty marinade. Then there's the sticky sauce that gets all over your mouth and fingers…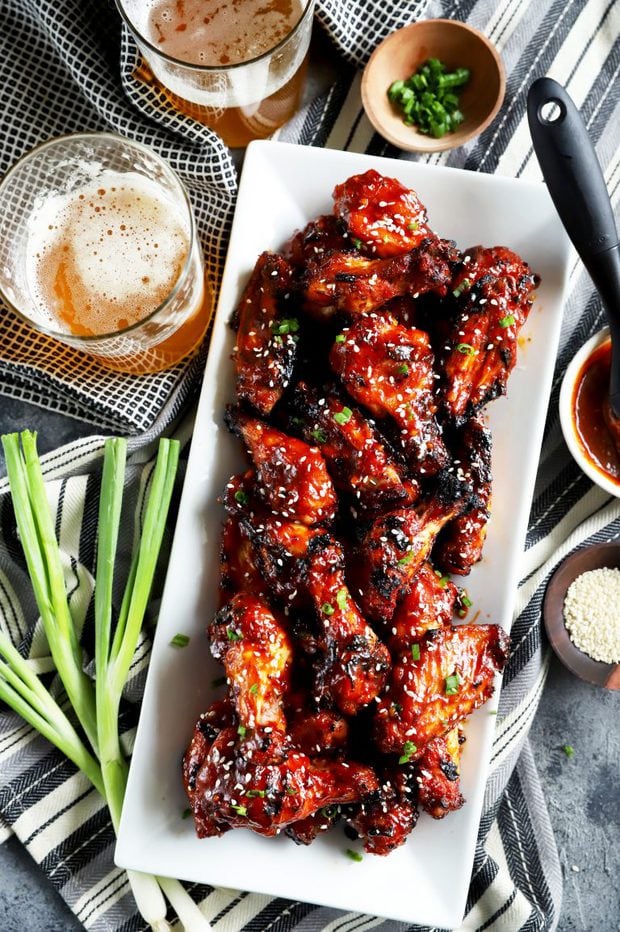 If you aren't getting messy when you eat, are you even enjoying yourself?
These wings are perfect for the big game this weekend, or if you just have a hankering for some crispy spiciness to set your taste buds on fire (without burning too too much, don't worry. I am not blowing out your taste buds with this recipe!).
ingredients
chicken wings – I buy my chicken wings whole and break them down into drummettes and flats myself! It only takes 5 minutes and you end up saving money in the end. If you don't want to go through the work, buy them broken down!
gochujang – this is a red chili paste that is savory, sweet, and spicy. It's a popular Korean condiment that packs a big punch of flavor in marinades, sauces, and more!
brown sugar – you can use either dark or light sugar for this recipe.
soy sauce – this liquid condiment is what adds the umami flavor to the recipe. You can pick this up at any local grocery store!
sesame oil – made from sesame seeds, a little bit of this oil goes a long way. I buy mine at the local supermarket in the Asian Foods section.
rice wine vinegar – this vinegar is lovely to use because it is delicate and mild with just a touch of sweet flavor. It's less intense than other vinegars and I use it in place of white vinegar most of the time.
garlic – garlic is a must for EVERYTHING, so I have a jar of minced garlic living in my fridge at all times. No smelly hands, no peeling garlic. The best shortcut to pay for, in my opinion.
ginger – you will want to use fresh ginger for this recipe! I like to have ginger paste in my fridge at all times, because grating ginger can be an extra task I don't have time for. However, if you won't use it too often, just buy a small knob of garlic, peel it, and grate it yourself.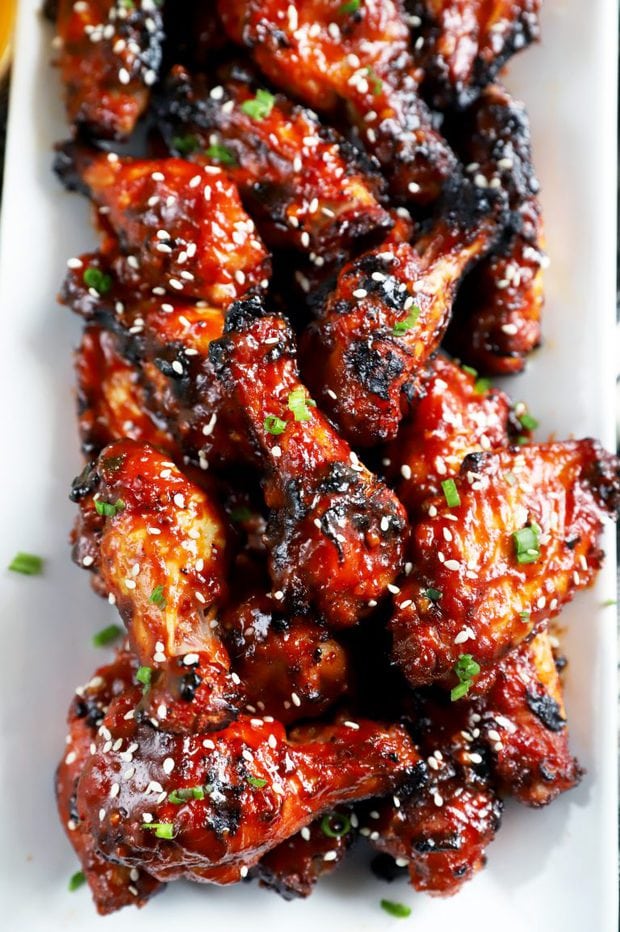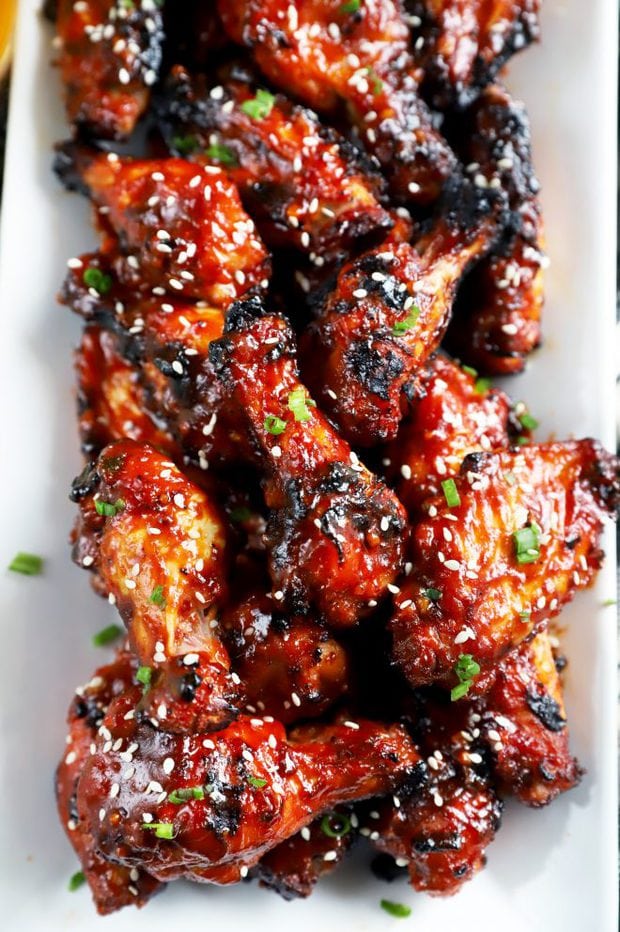 this recipes must-haves
If you are breaking down the wings into drummettes and flats yourself, make sure you have a quality chef's knife and plastic cutting board to help make the job easier.
You will need a set of mixing bowls for the marinade, as well as a small saucepan when you cook said marinade down into the sauce that coats the wings on the grill (or in the oven).
For grills, I can not recommend this Traeger grill enough. With the signature grill pellets, you get the most amazing added flavor to the wings and they get so crispy!
A silicone brush is perfect for brushing the wings with the sauce as they cook.
More chicken wing recipes: Grilled Sriracha Honey Wings / Grilled Cajun Wings / Grilled Beer Marinated Wings / Miso Glazed Wings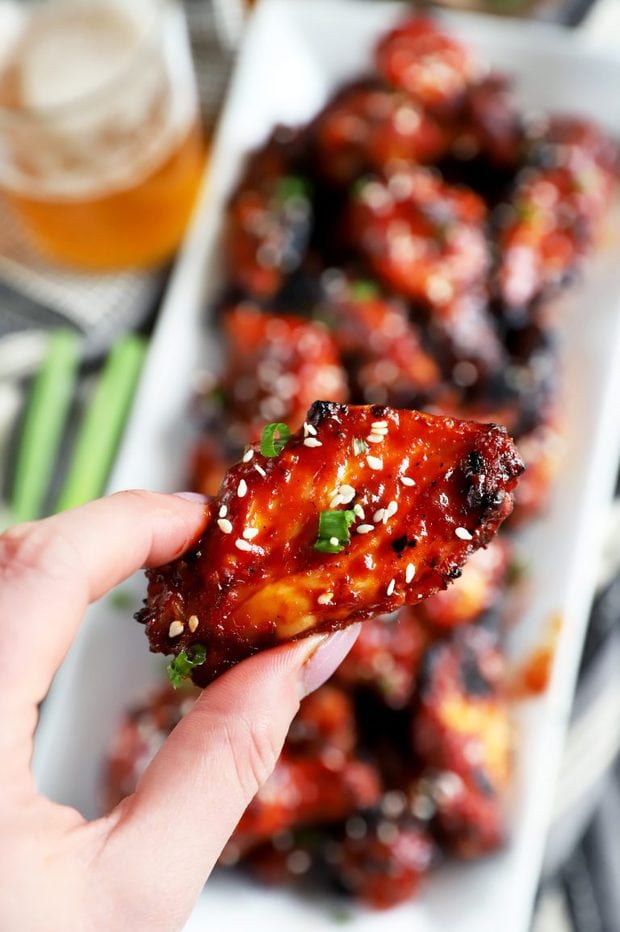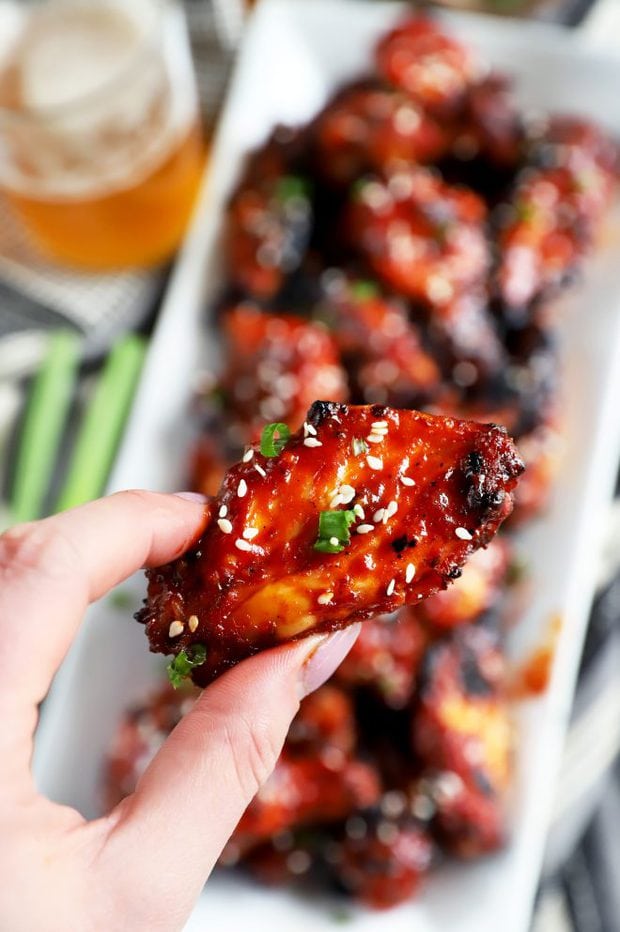 how to make crispy korean bbq chicken wings
marinate
First, you need to impart as much flavor into the wings as possible. The tasty gochujang (Korean red chili pepper paste) based marinade does the job wonderfully, and in only an hour if that's all the time you have. You can also let the wings marinate overnight if you are prepping them ahead of time.
grill
When you are ready to cook, fire up that grill. The grilling process is pretty darn basic, cooking the wings up until they are nice and crispy. Note that I do include instructions in the recipes notes in you prefer to baked these in the oven. They come out just as good!
make sauce
The marinade that you left the wings in doubles as the sauce! You need to make sure that you boil it down a bit until it thickens slightly. This gives it the right texture, and also gets rid of any bacteria the sauce may have picked up from the chicken.
brush & garnish
When the wings are all crispy, you give them a final brush of the sauce before garnishing them with sesame seeds and sliced green onion. Be prepared to get messy!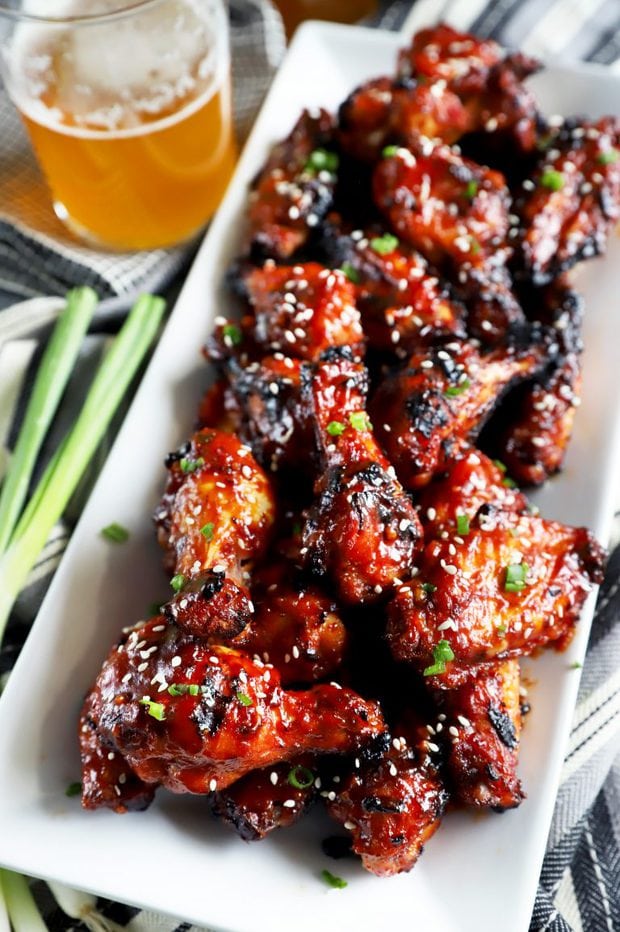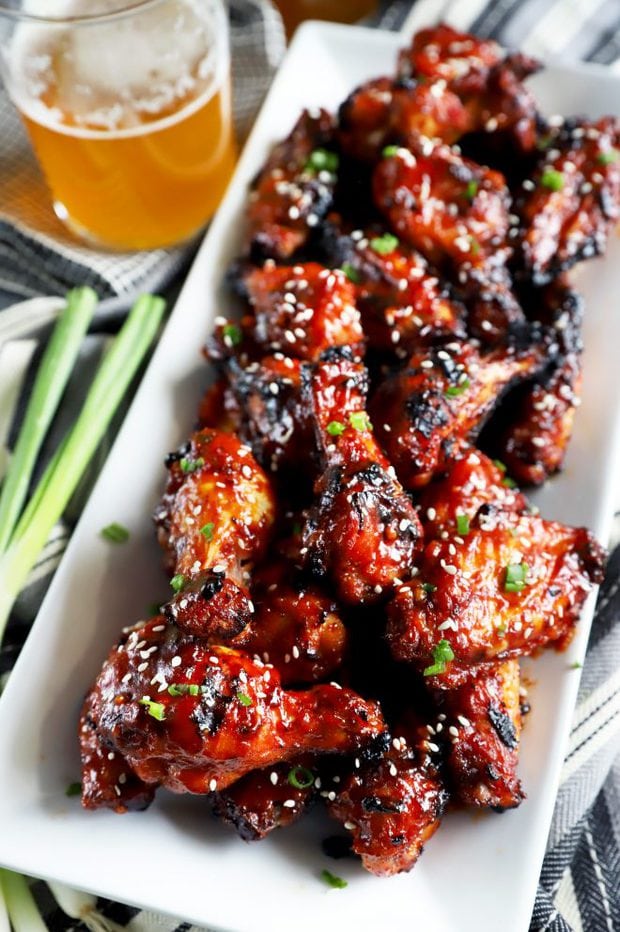 tips for success
ratio tips. If the ratio of the cocktail is a little too sour for you, you can increase the amount of honey by about 1/2 to 1 oz. This will be on the sweeter side of cocktails.
you don't have to use honey. If you don't have honey, you can use simple syrup as a substitute! You can also turn to granulated sugar (1/2 tsp total for one cocktail) if that's what you have handy.
Need some more inspiration for appetizers? Check out my appetizers recipe page!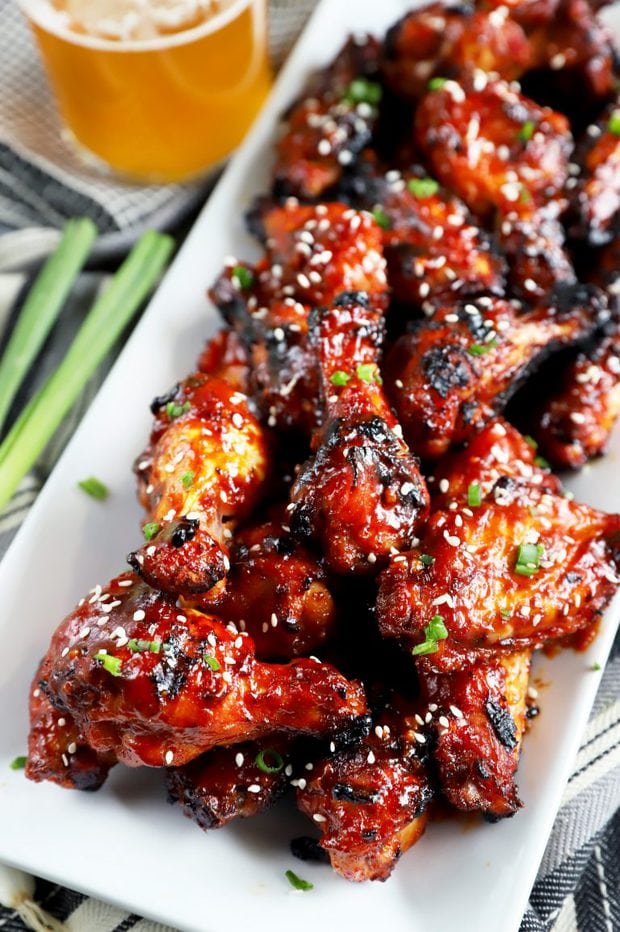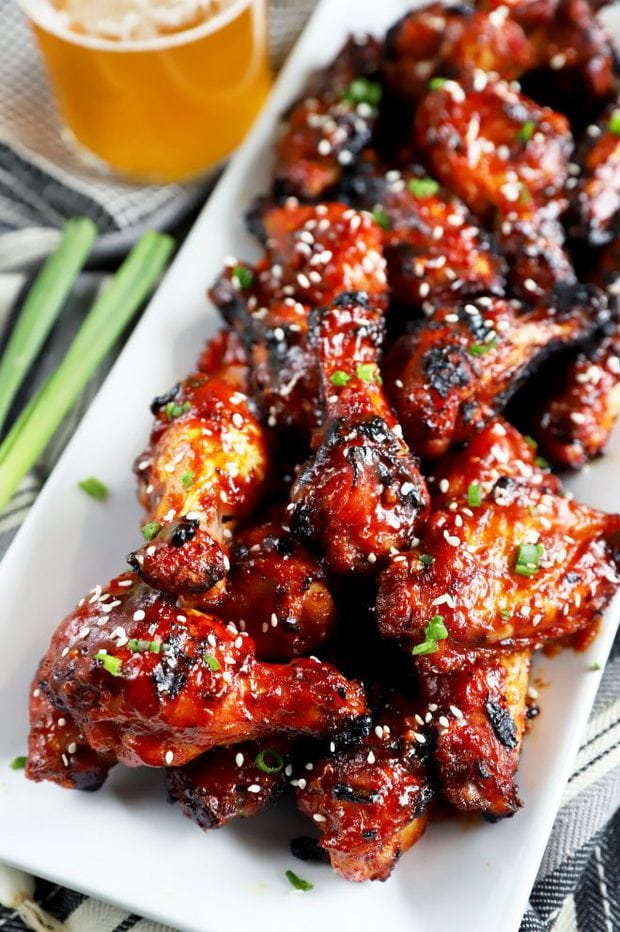 can the wings marinate for longer than an hour?
Yes, of course you can! The longer the wings sit, the more flavor they will soak up from the marinade. You need to let them sit for at least one hour, but you can do this the night before if you want to knock that prep out early. Up to overnight maximum, though.
can I make these chicken wings in the oven?
I have included instructions on how to bake the wings instead of grilling in the Notes section of the recipe card at the bottom of the post!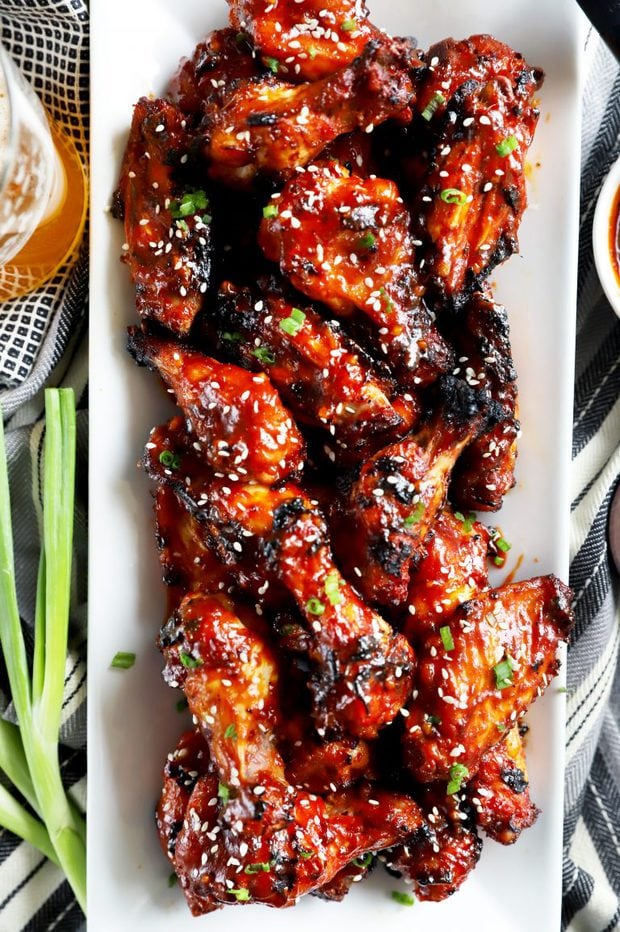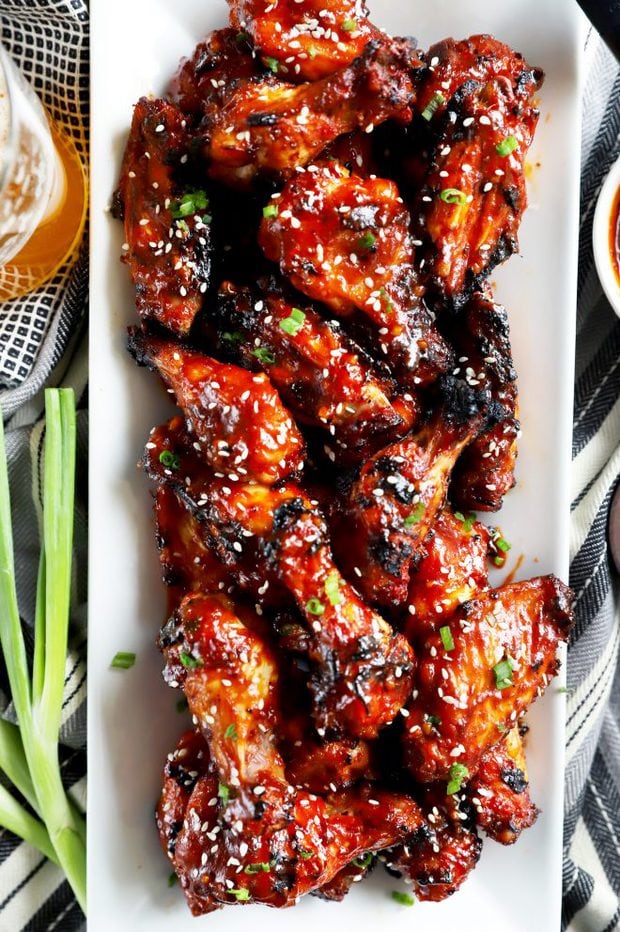 what to serve with crispy korean bbq chicken wings
Wings always call for a party, am I right? Whether it's just a small gathering or you are grilling for a crowd, I have some ideas for you below:
I like to pair these spicy and tangy wings with chips and dip because it doesn't require being tended to like the wings on the grill do. Try this crab rangoon dip with crispy wonton chips!
Wings and beer are kinda the best pairing, am I right? This chile beer sangria is a killer refreshment to pair with the spicy wings.
Finally, if you make these crispy korean bbq chicken wings, please be sure to give this recipe a rating or leave a comment! I love to hear when you all make recipes, and I do take the time to respond to every single comment. Feel free to drop questions below too, if you have them!
Oh and be sure to tag me on Instagram if you make the recipe! I love being able to see these recipes come to life in your homes – it's my favorite thing to look through those photos. It really means the world to me!
everyday seasonal cookbook
With seasonal produce guides, recipes, and more, this cookbook is filled with seasonal food for every occasion.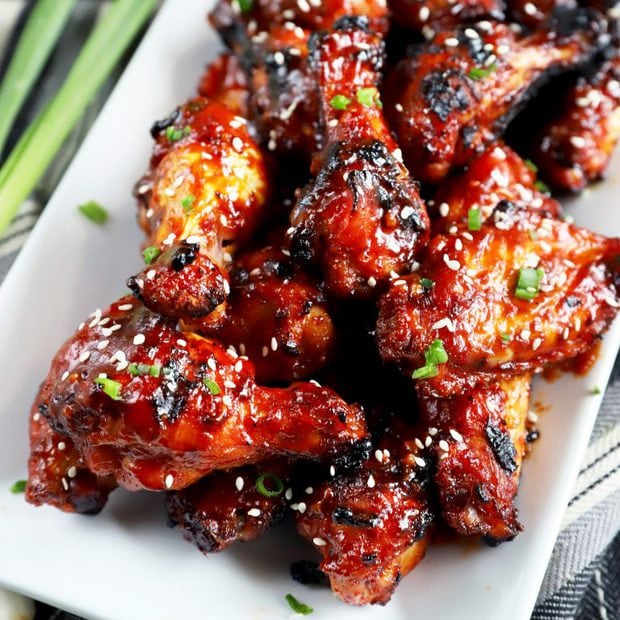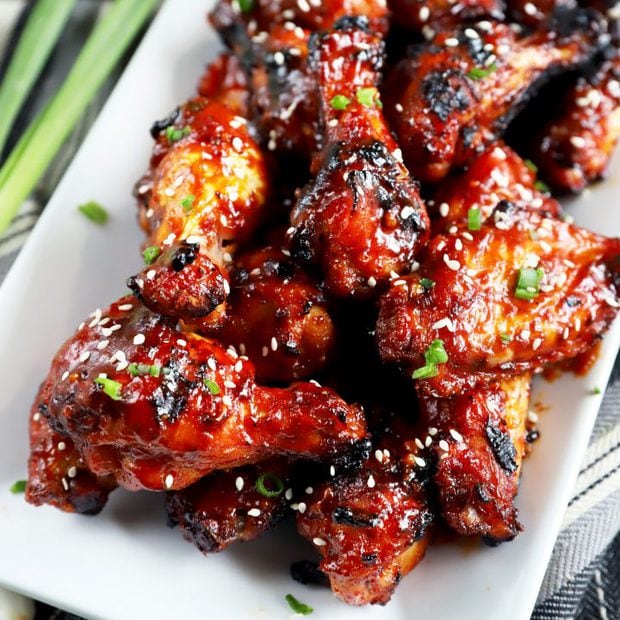 Crispy Korean BBQ Chicken Wings
Total Time:
1 hour
50 minutes
Tangy, spicy, and crispy, these Korean BBQ wings are basically the best things in the entire world. They make everything gathering finger-licking good!
Ingredients
4 lbs chicken wings, broken down into drummettes and flats
1/3 cup Korean red chili pepper paste (Gochujang)
1/4 cup brown sugar
1/4 cup soy sauce
2 tablespoons water
1 tablespoon sesame oil
1 tablespoon rice wine vinegar
4 cloves garlic, minced
1 1/2 tablespoons fresh ginger, peeled and minced
1 teaspoon kosher salt
1 teaspoon black pepper
Garnish: sesame seed, sliced green onion
Instructions
Add raw chicken wings to a large ziploc bag.
In a small bowl, whisk together chili pepper paste, brown sugar, soy sauce, water, sesame oil, rice wine vinegar, garlic, ginger, salt, and pepper until combined. Add the marinade to the wings and seal the bag. Let sit in the refrigerator for at least 1 hour.
When ready to cook, preheat grill to 400°F and remove wings from bag, reserving the marinade.
Add wings to the grill and cook until the skin is crispy and they are cooked through, flipping them every 10 to 15 minutes as they cook. This will take about 30 to 40 minutes. They should register 165˚F internally on a meat thermometer.
When wings are cooked, remove them from grill and set them aside on a plate.
Pour marinade into a small saucepan on the stove. Bring the sauce to a boil over high heat and cook for 1 to 2 minutes, stirring constantly.
Brush the finished wings with the sauce. Garnish with sesame seeds and green onion. Serve immediately.
Notes
How to Bake the Wings
Don't worry if you don't have a grill! You can easily make these wings in the oven.
Follow the recipe instuctions for marinating the wings. To bake the wings, preheat the oven to 400˚F. Line a large rimmed baking sheet with parchement paper.
Spread the wings in an even layer on the prepared baking sheet. Bake for 40 to 60 minutes. No need to flip them halfway through, just bake until they are cooked through and crispy.
Continue to follow the recipe from step 6 on.
Recommended Products
As an Amazon Associate and member of other affiliate programs, I earn from qualifying purchases.