Please note this post contains affiliate links.
A Bourbon Manhattan is the best manhattan recipe you'll find. Instead of using rye whiskey, I reach for the bourbon to pair with the sweet vermouth and bitters. Serve it in a chilled coupe glass for that final gorgeous touch. Makes 1 cocktail.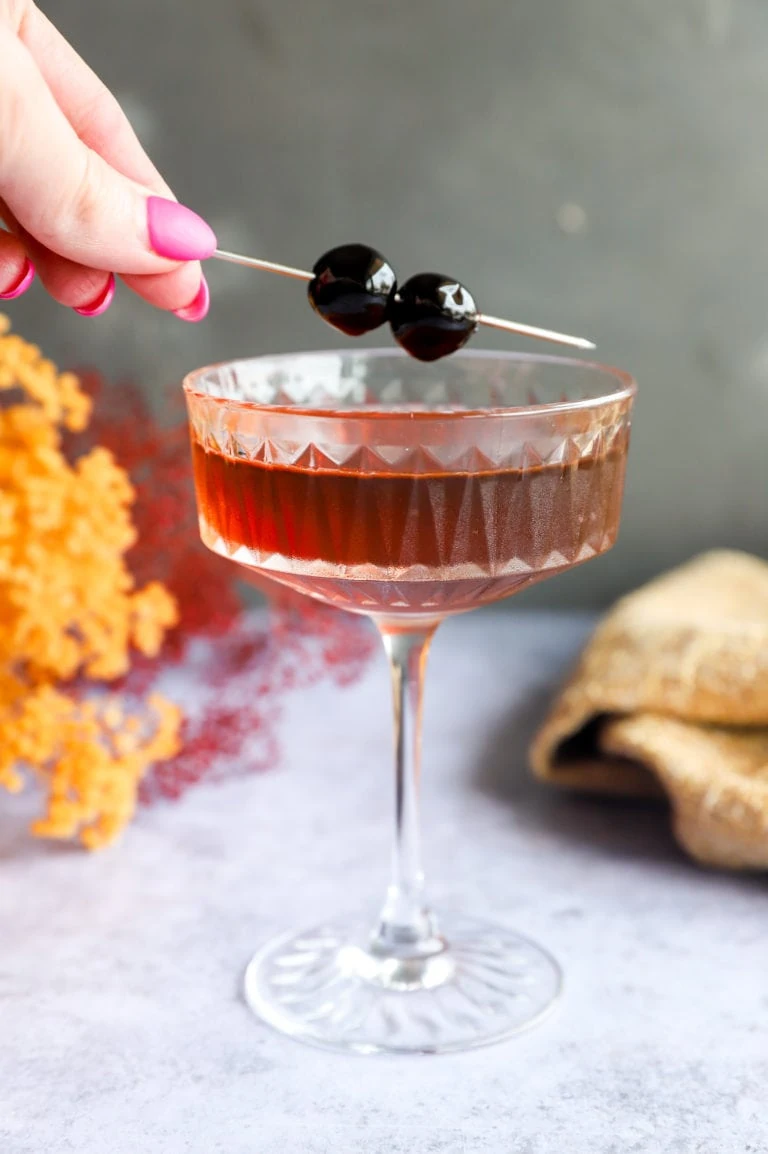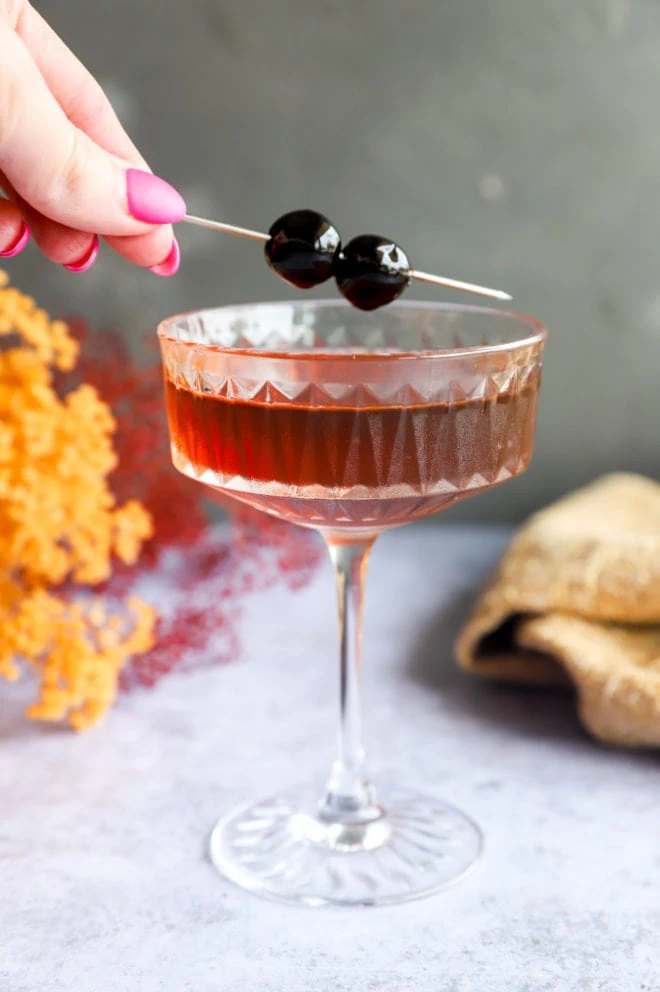 about this bourbon manhattan
If you are familiar with a classic manhattan cocktail, you know that it is traditionally made with rye whiskey. This classic cocktail was screaming for a change in my mind, so I switched the rye out in favor of bourbon.
I am a big bourbon fan as many of you know. Lately, I've been feeling a bit overwhelmed and too busy to try to schedule a night out at a fancy bar downtown.
Having a toddler is all-consuming, especially during developmental shifts, and I am just exhausted.
So while we were at IKEA weeks ago, I happened upon these gorgeous coupe glasses that you see pictured here. Immediately I had to have them, and immediately I knew I wanted to make my favorite cocktail – a bourbon manhattan.
I was trying to find my usual measurements (i.e searching my own blog), when I realized I never popped this treasured cocktail on the blog! Well, that just won't do, so here we are, giving it a permanent place in the recipe index.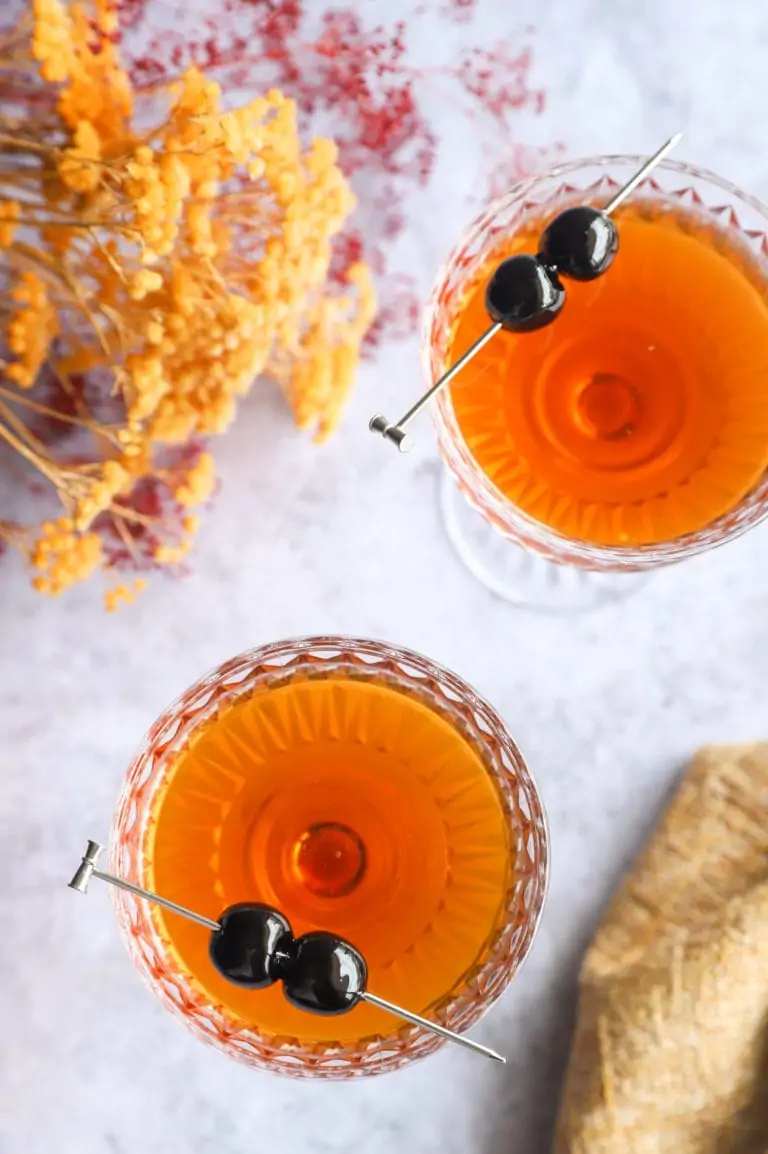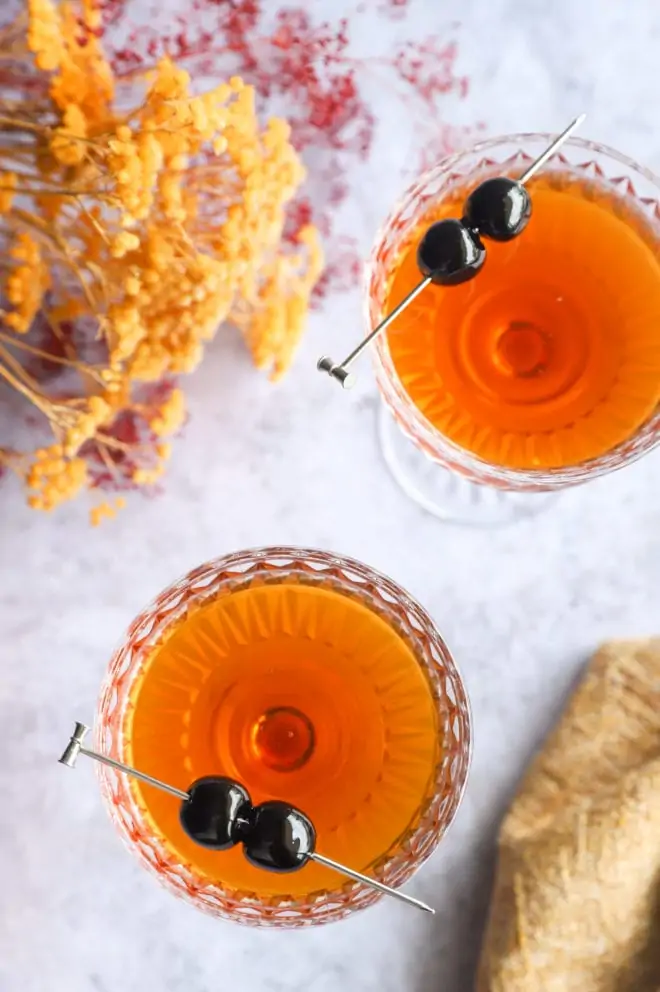 ingredients
bourbon – bourbon is the obvious choice for this cocktail! I like to select a nice mid-price range option like Bulleit or Woodford Reserve. However you can also use rye whiskey if you prefer.
sweet vermouth – for a manhattan, I like to select a higher-end option like Carpano Antica Formula Vermouth because the flavor is truly unmatched. You can also select a middle-of-the-road brand like Martini & Rossi or Dolin if you prefer.
angostura bitters – a must-have for any home bar! It's essential in so many cocktails, so if you don't already have it, go get it.
this recipe's must haves
Such a simple recipe requires only the simplest of tools. I use a mixing glass and stirring spoon to bring the cocktail together.
You will also need a cocktail strained and coupe glasses to serve the cocktail.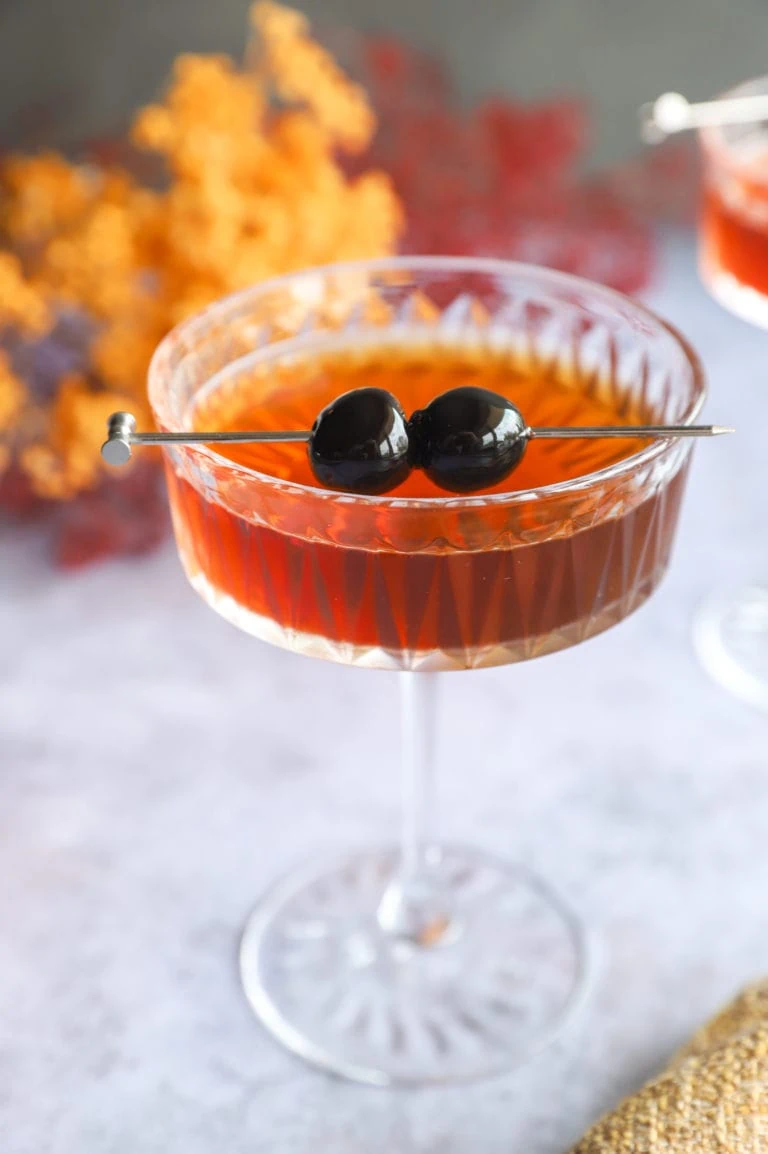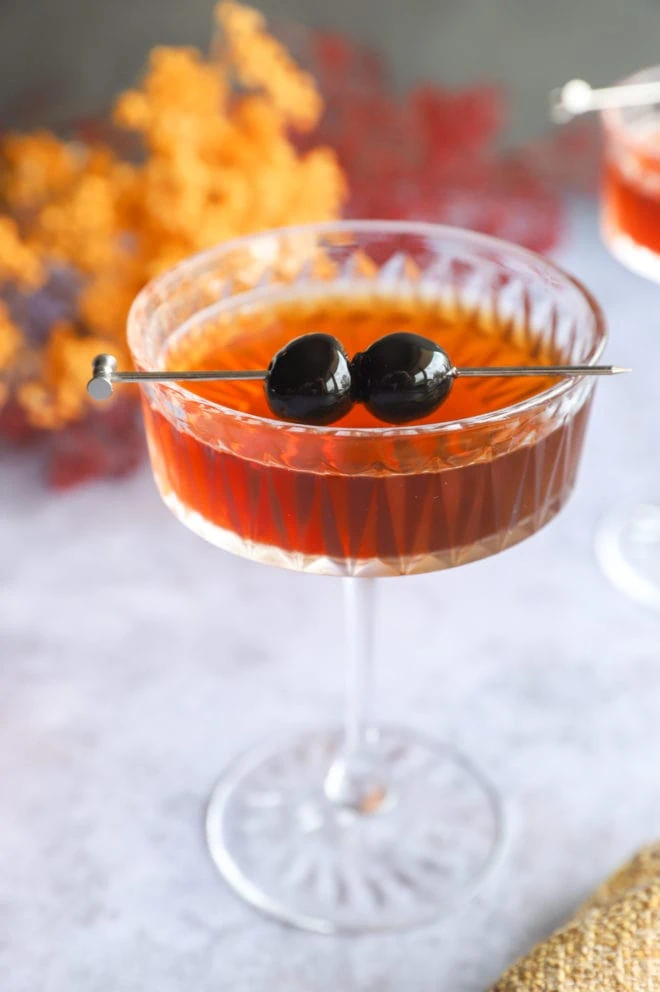 here's how to make a bourbon manhattan
stir
Before you start, fill a coupe glass with ice and set aside.
In a mixing glass filled halfway with ice, add bourbon, sweet vermouth, and bitters. Stir well until chilled through.
strain
Dump the ice out of the coupe glass.
Strain the cocktail into the chilled glass. Garnish with luxardo cherries. Serve immediately.
tips for success
use a nice bourbon. Since this cocktail is only three ingredients total, I highly recommend using a nicer bourbon. The flavor will really come through in each sip!
use a nice sweet vermouth. Just like with the bourbon, the sweet vermouth stands out in this cocktail! Go for something better than the cheap stuff.
get the good cherries. Luxardo cherries are the BEST. It's one of the top reasons I'll order it whenever I head to a nice cocktail bar. Don't use maraschino cherries. They are just way too sweet and not nearly indulgent enough!
More refreshing bourbon cocktails to sip on: Bourbon Sidecar | Bourbon Sazerac | Apple Bourbon Smash | Cherry Bourbon Sour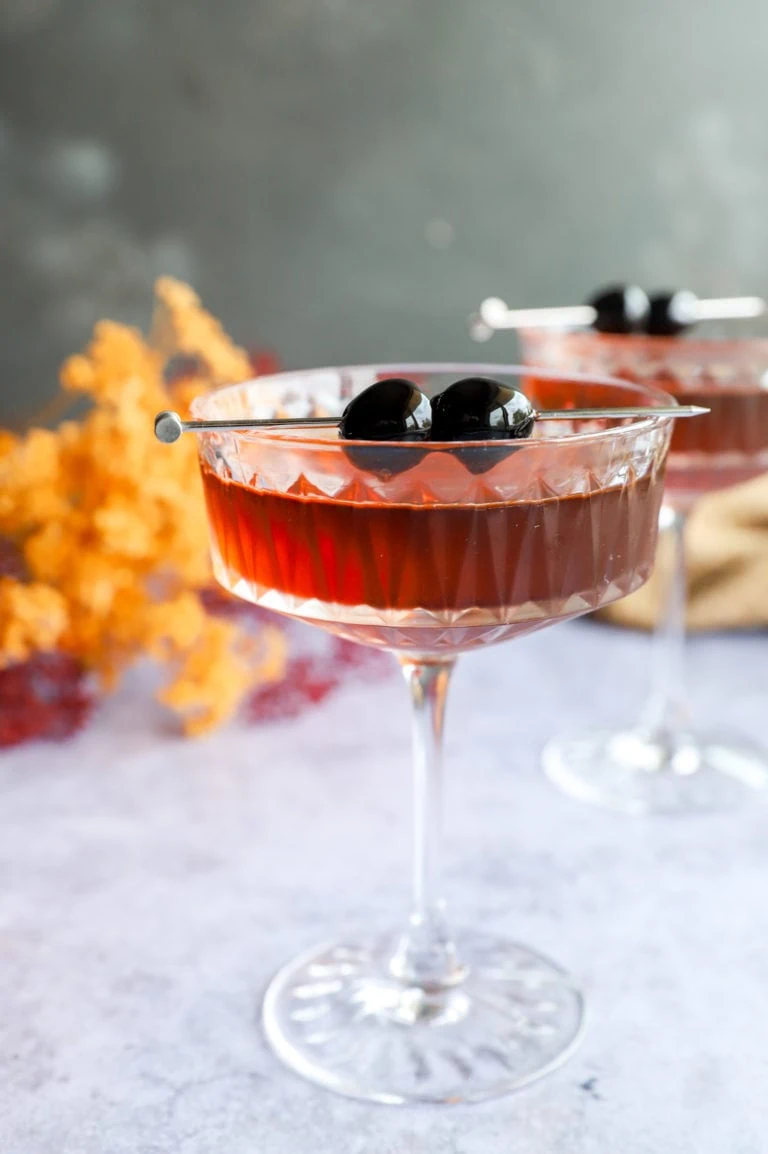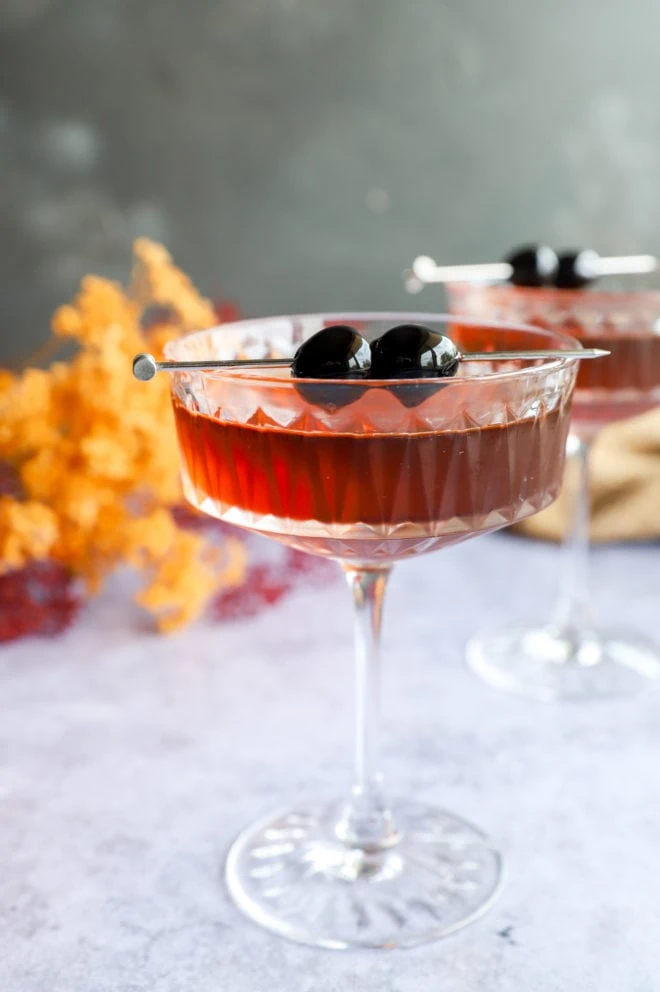 what bourbon is best in a manhattan?
There are so many options when it comes to a great bourbon. If you are a true bourbon lover, I like to have two options – a mixing bourbon and a splurge bourbon (for this cocktail, I like to use the splurge!).
For a mixing bourbon, I recommend Bulleit or Woodford Reserve.
For more of a splurge, I recommend Four Roses Single Barrel or Henry McKenna Single Barrel.
what is the difference between a manhattan and an old fashioned?
A Manhattan is traditionally made with rye whiskey and uses sweet vermouth instead of sugar. An old fashioned, on the other hand, is made with whiskey (bourbon or rye), bitters, and sugar.
If you need a couple yummy old fashioned cocktails, I really enjoy this earl grey old fashioned or this strawberry rhubarb old fashioned.
Need some more inspiration for cocktails? Check out my cocktail recipes page!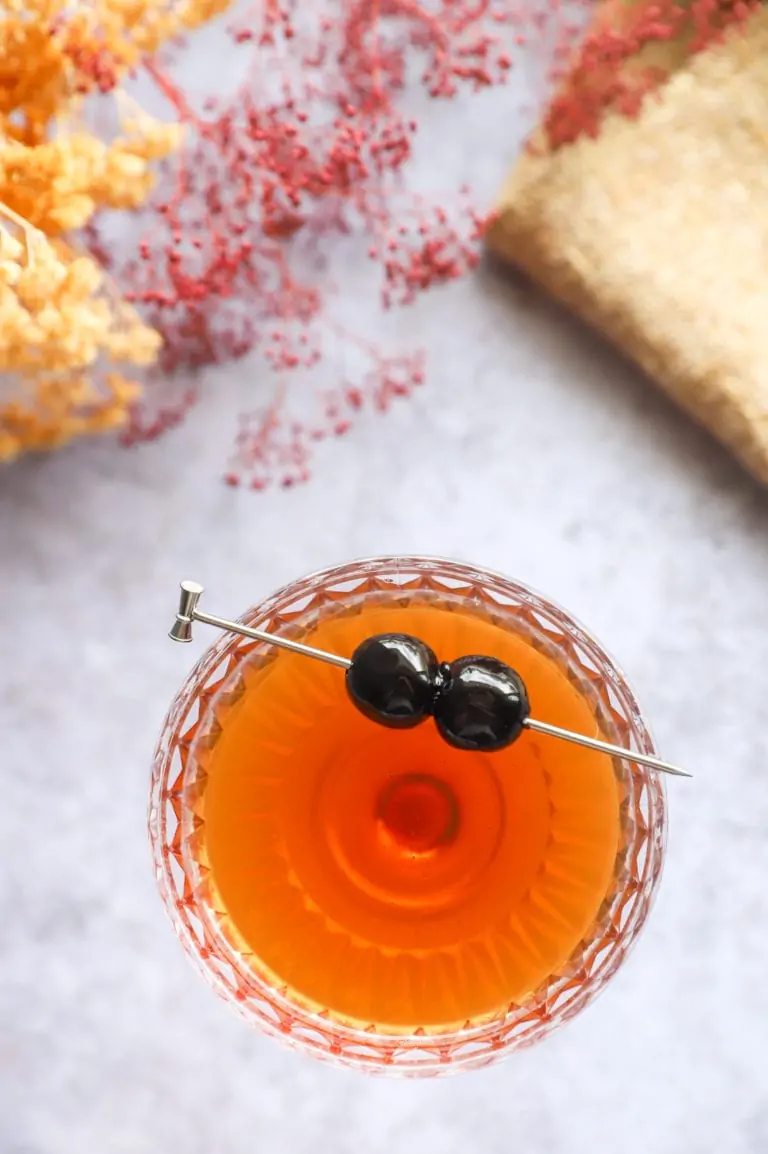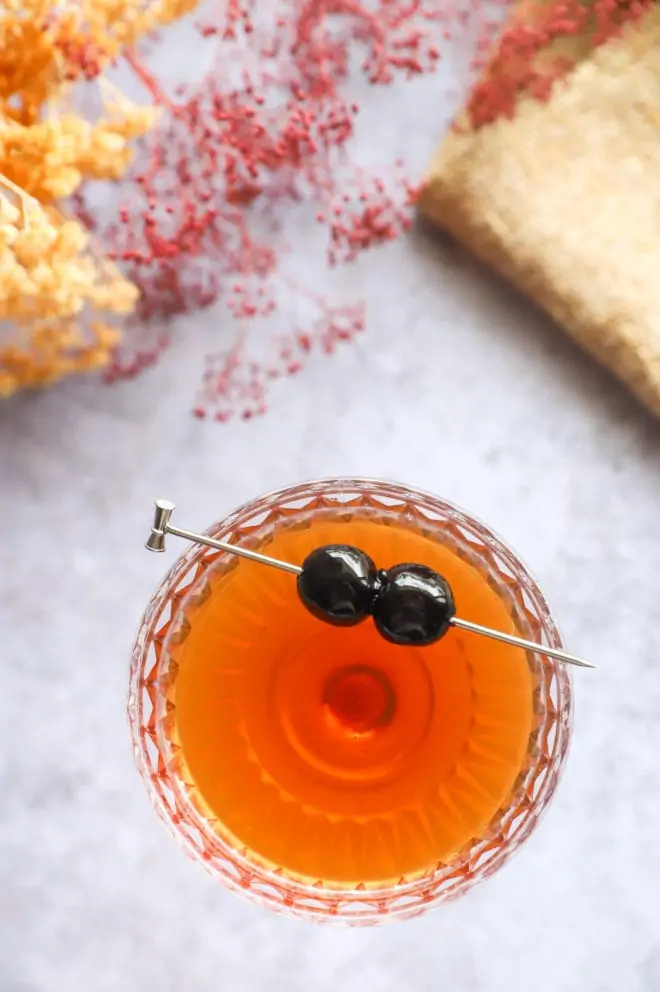 what to serve with a bourbon manhattan?
I love to serve a bourbon manhattan with a variety of dishes, because it tends to go with almost everything! Of course, in my brain, I am always thinking about cocktail hour and that means appetizers to me. Here's some of my favorite appetizers to pair with this strong cocktail: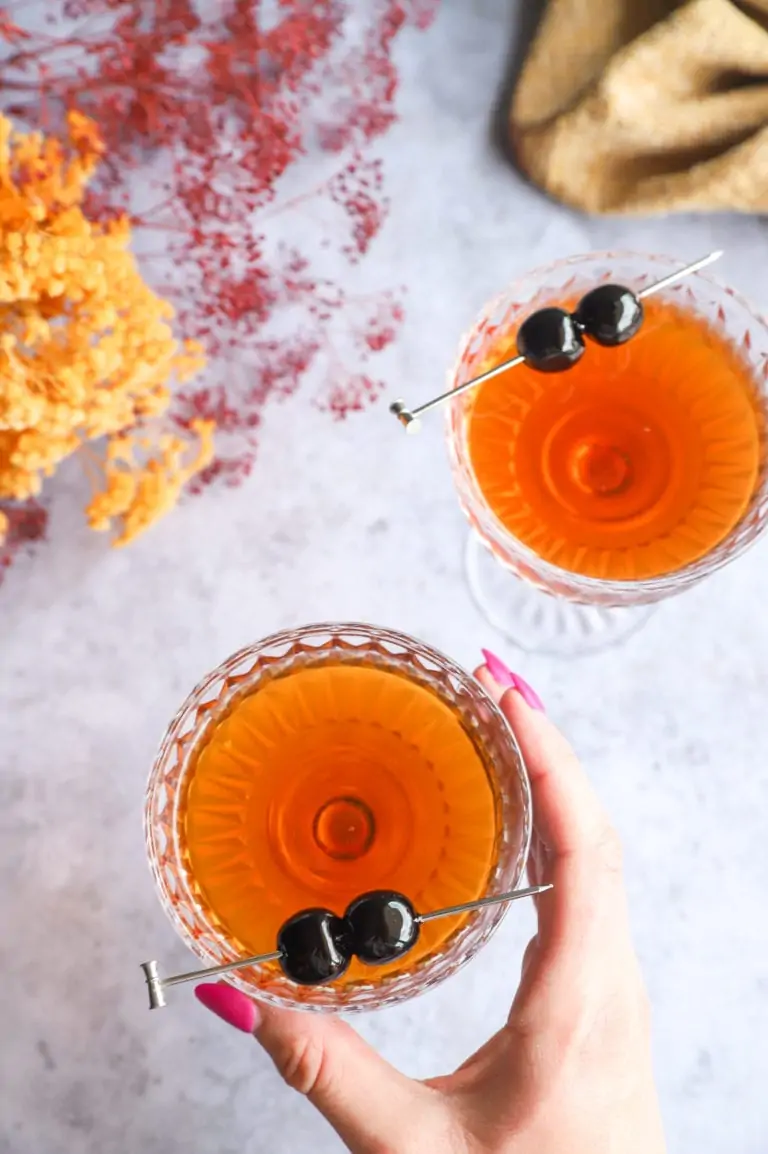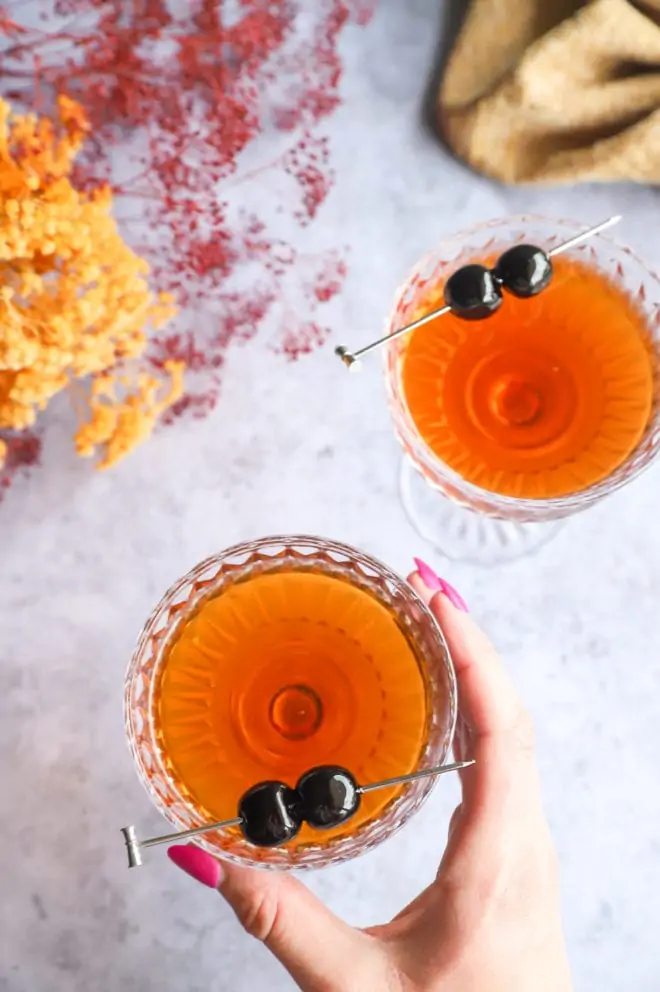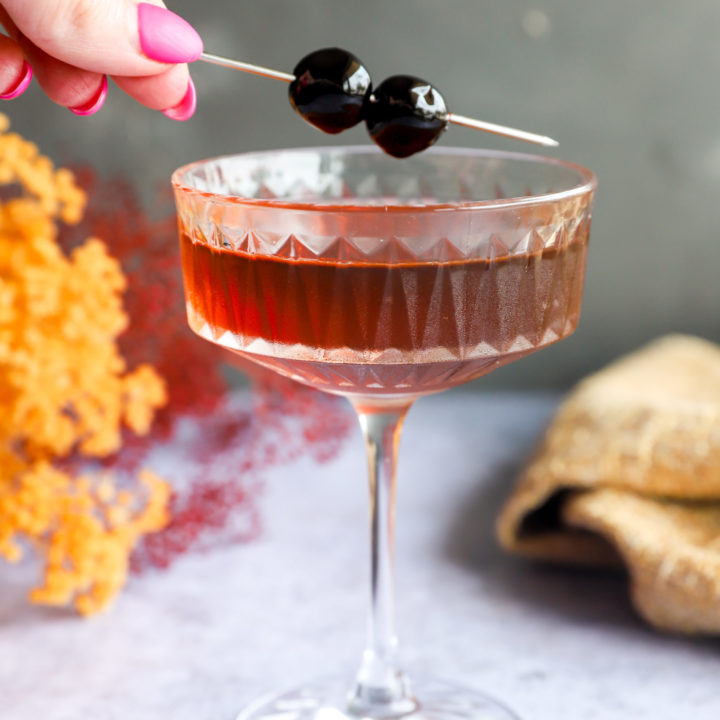 Bourbon Manhattan
Smooth and strong, this classic cocktail is made with a twist!
Ingredients
2 oz bourbon whiskey
1 oz sweet vermouth
2 to 3 dashes Angostura bitters
Garnish: luxardo cherries
Instructions
Fill a mixing glass halfway with ice.
Add bourbon, sweet vermouth, and bitters. Stir until the cocktail is well-chilled.
Strain into a chilled coupe glass.
Garnish with a luxardo cherry and serve.
Recommended Products
As an Amazon Associate and member of other affiliate programs, I earn from qualifying purchases.