Please note this post contains affiliate links.
A Jameson Old Fashioned is a simple twist on the classic cocktail recipe that'll really surprise you! The kick of Irish whiskey with bitters, a little sugar and a splash of soda gives you a smooth drink that'll elevate happy hour.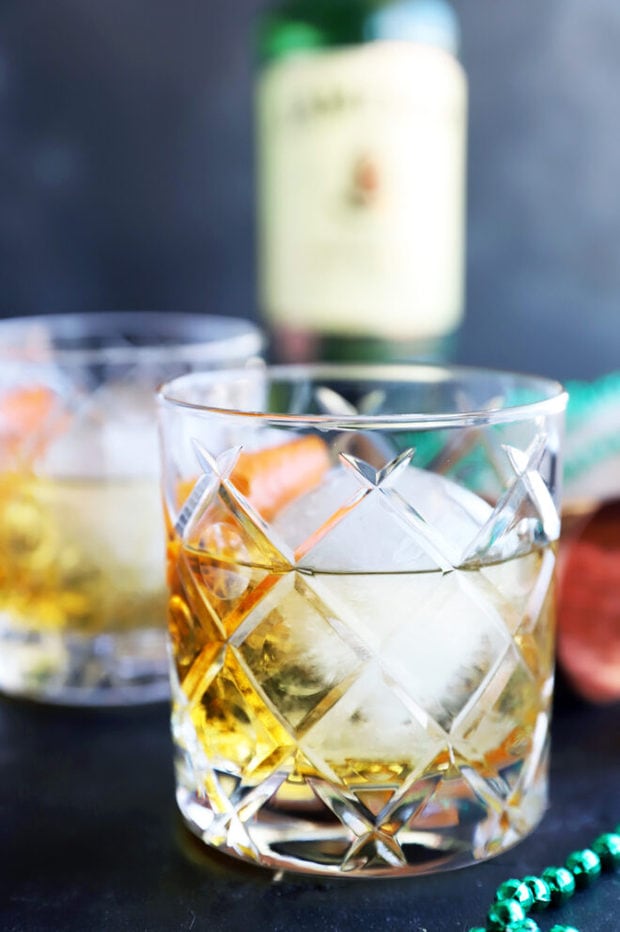 *welp* Did I happen to mention how much I loathe moving?
It is basically the worst thing to have to do. And somehow, I have been doing it every year for years now… UGH.
Note: this is an updated version of the original post published on October 5th, 2015.
It's hard enough just coordinating the details of a truck, storage, changing addresses and actually moving all of the things you own.
It's even worse packing it all up into what feels like 10 million boxes…
Especially when you have a wall full of food props. GAH.
All you can think is, how… HOW did I accumulate all this crap? I've taken to irrationally tossing things in bags for donation because I don't want to deal with packing and moving it.
Good news is I'm streamlining.
Bad news is being a food blogger means I have to pack my prop room (oh yea, it's a room). GAH so much packing paper...
I am having nightmares about being buried until a pile of packing paper with no way out….
Needless to say, my pans are packed away and cooking is a bit of a challenge. So it's all about the cocktails on Cake 'n Knife for now!
Not just any cocktail though… classic cocktails.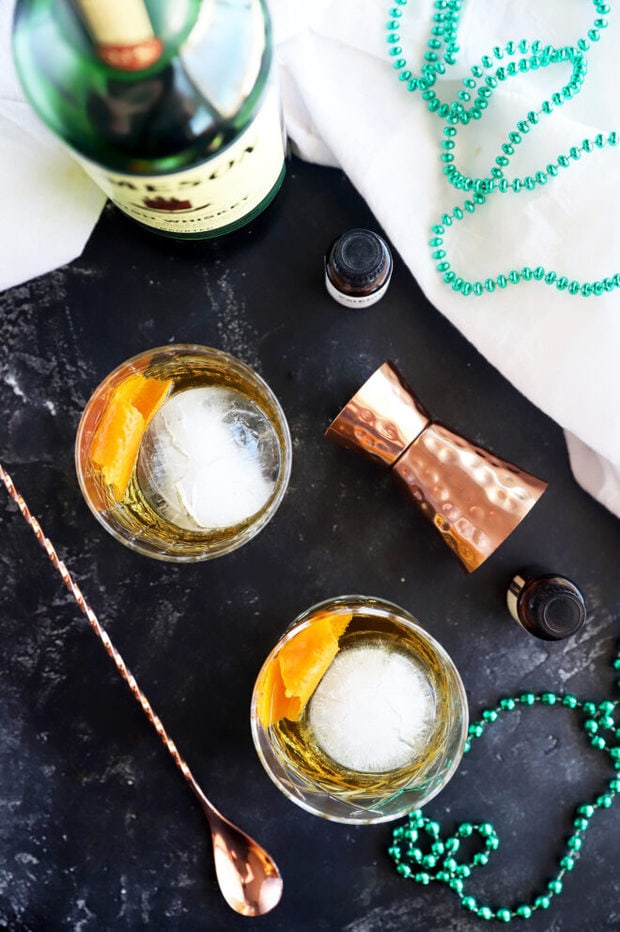 about this Jameson old fashioned
Like a perfect old fashioned. Perfectly balanced and tasty.
In addition, the cocktail you go to after a day of packing, multiple trips to the storage unit and an aching back.
Therefore a stiff drink is a godsend at the end of one of those days, trust me.
My love for Irish whiskey is the foundation of this Jameson Old Fashioned.
There's something about it (probably all that Irish blood pulsing through my veins) that is irresistible to me.
As a result, after yet another long day of prep, I will be kicking back with this guy. Cheers to the freakin' weekend people.
It can't come fast enough!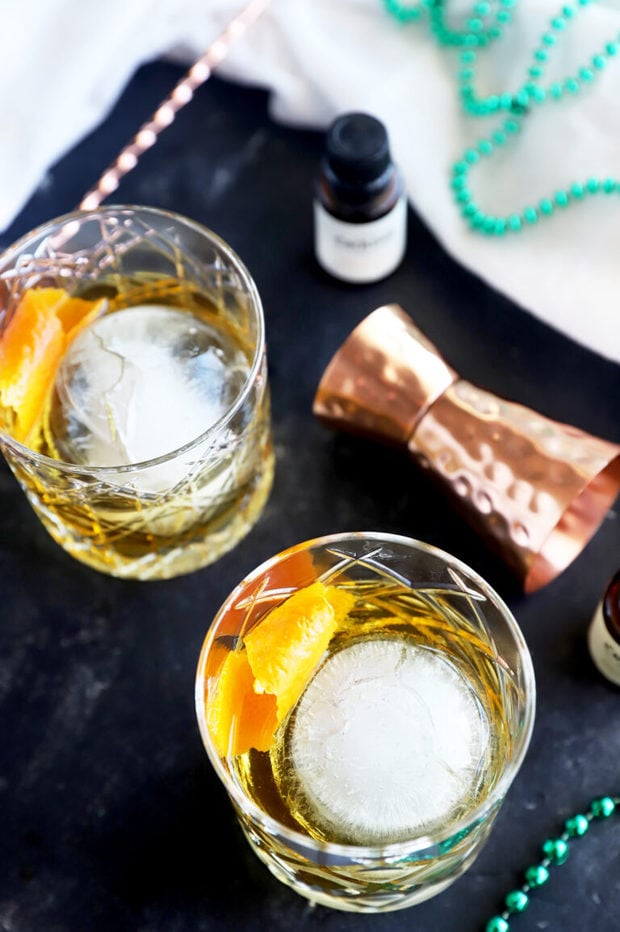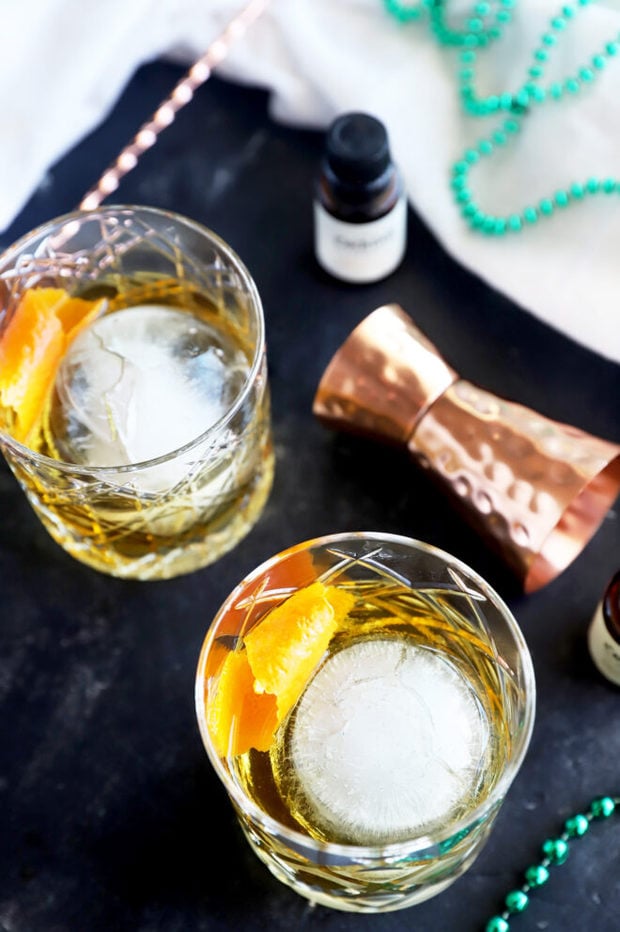 ingredients
Jameson – obviously, Jameson Irish Whiskey is the main ingredient for this Jameson cocktail! Of course, if there's a different Irish whiskey you prefer, you can also swap the Jameson out for that.
sugar cube – a classic sugar cube is all you need to sweeten the irish whiskey cocktail. If you don't have sugar cubes and don't want to buy them for this drink, you can swap it for 1/2 oz simple syrup.
angostura bitters – a classic must-have for any bar cart! It's essential in so many cocktails, if you don't already have it, go get it.
club soda – club soda or soda water will work just fine here! You only need a splash. You can also omit it if you prefer!
Love trying out new Jameson drinks? Be sure to check out more Jameson cocktails like these: Jameson and Ginger | Jameson Manhattan | Irish Mule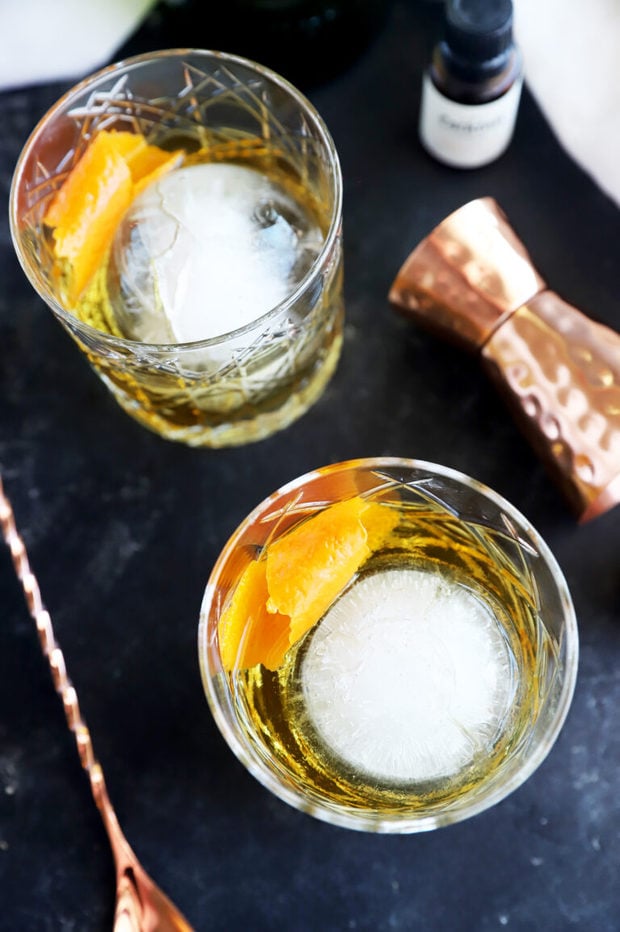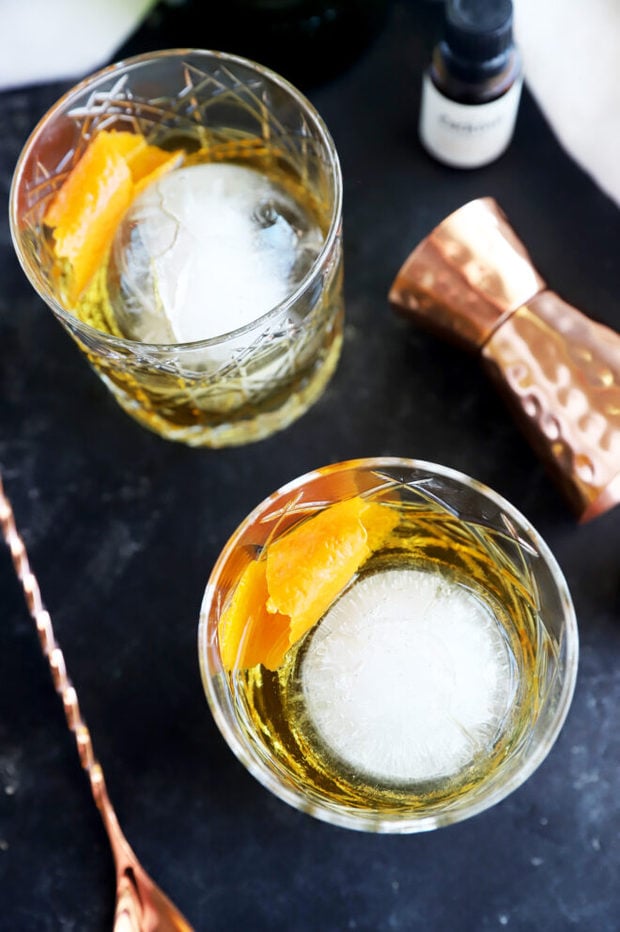 this recipe's must-haves
This is the one muddler I love to use that's stainless steel! I usually like wooden ones but lately with the hoards of dishes I've been plagued with, the stainless steel one is SO much easier to clean and just as effective. Plus it's a lot easier to clean and you won't get bits of berries stuck like you sometimes run into with the wood ones!
If you don't have Tovolo Sphere Ice Molds, you need to buy them immediately. The round sphere of ice is perfect for any cocktail, melts slower than normal ice cubes so it doesn't water down your drink and it looks so elegant, doesn't it?
You'll also want a set of cocktail stirring spoons to stir together the Jameson cocktail when it's finally all put together.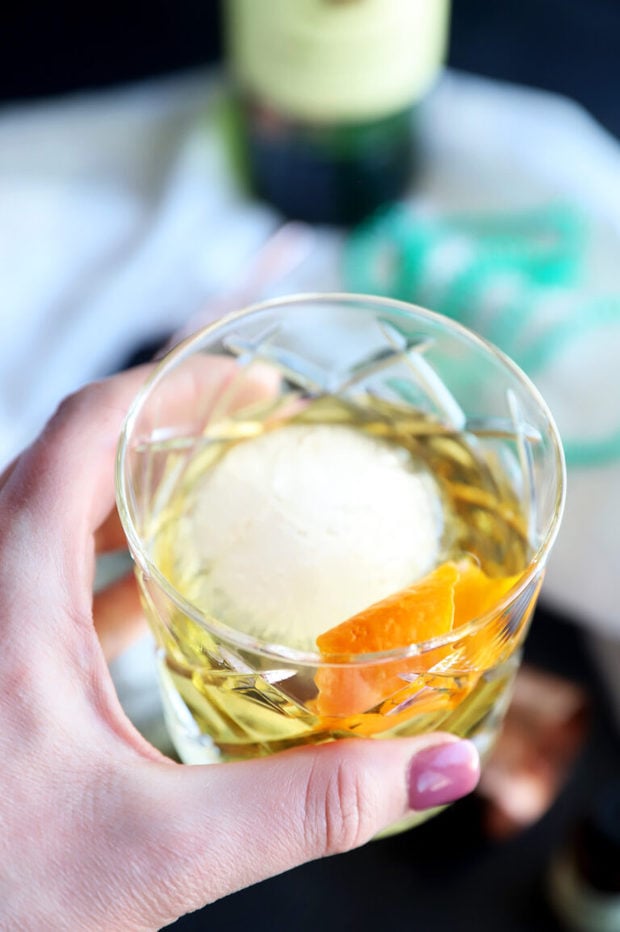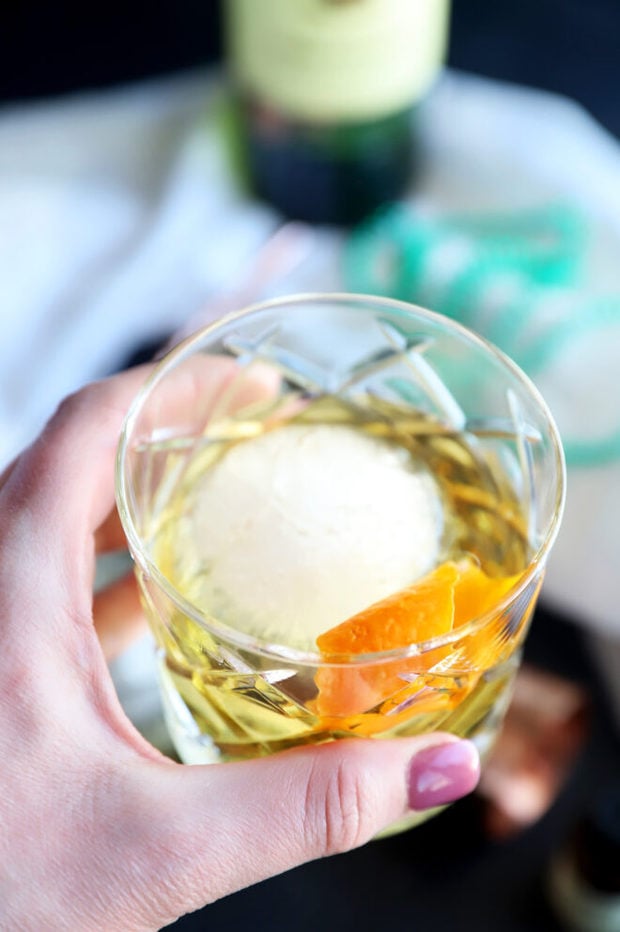 here's how to make a jameson old fashioned
muddle
In a double old fashioned or rocks glass, add the sugar cube, a couple dashes angostura bitters (you could also use a couple dashes orange bitters if you prefer!), and a splash of club soda. Muddle until the sugar is dissolved.
finish
Add ice (I prefer an extra large ice cube to using smaller ice cubes) and top with whiskey. Give everything a final stir and garnish with an orange peel. Serve.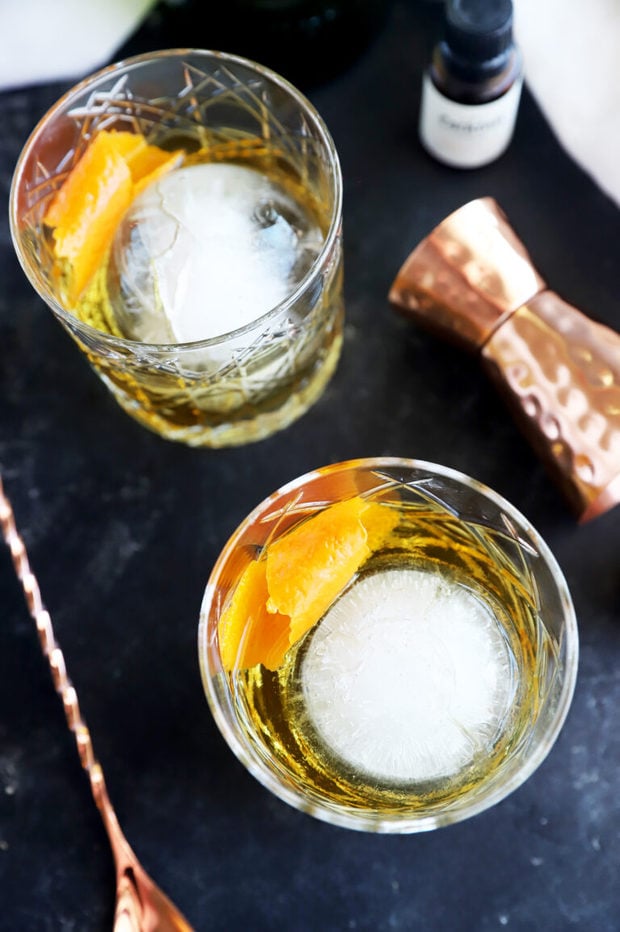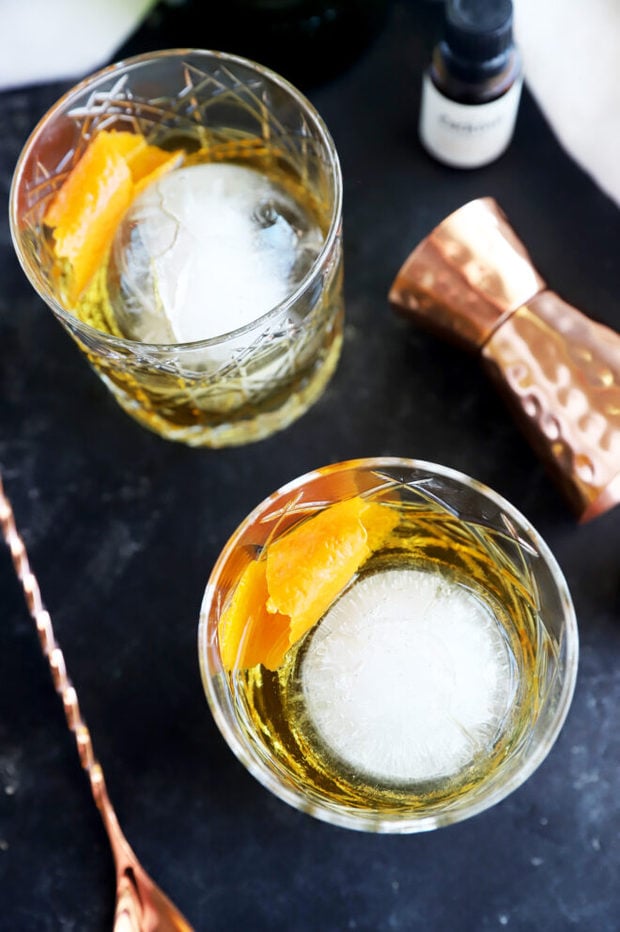 tips for success
use a large ice cube. This helps stop the drink from getting watered down!
change up the bitters. I use angostura bitters here, but you can change things up my using orange or smoked orange bitters.
try Jameson Orange. Jameson recently came out with Jameson Orange and I have to say, it's a lovely match for this cocktail! If you like a touch of orange in your cocktails (perhaps you use smoked orange bitters?), this is a fun swap to easily switch up the classic cocktail combination in a whole new way with this orange whiskey! No, this isn't sponsored, just a fun option to try out!
More tasty Jameson whiskey cocktails to try: Jameson Whiskey Sour | Jameson and Ginger | Jameson Manhattan | Sparkling Whiskey Sour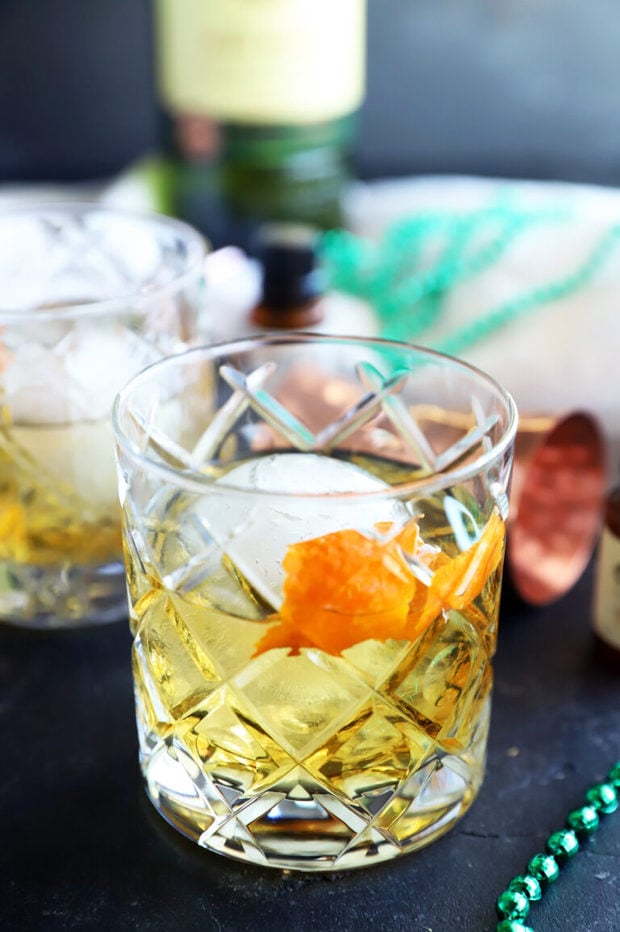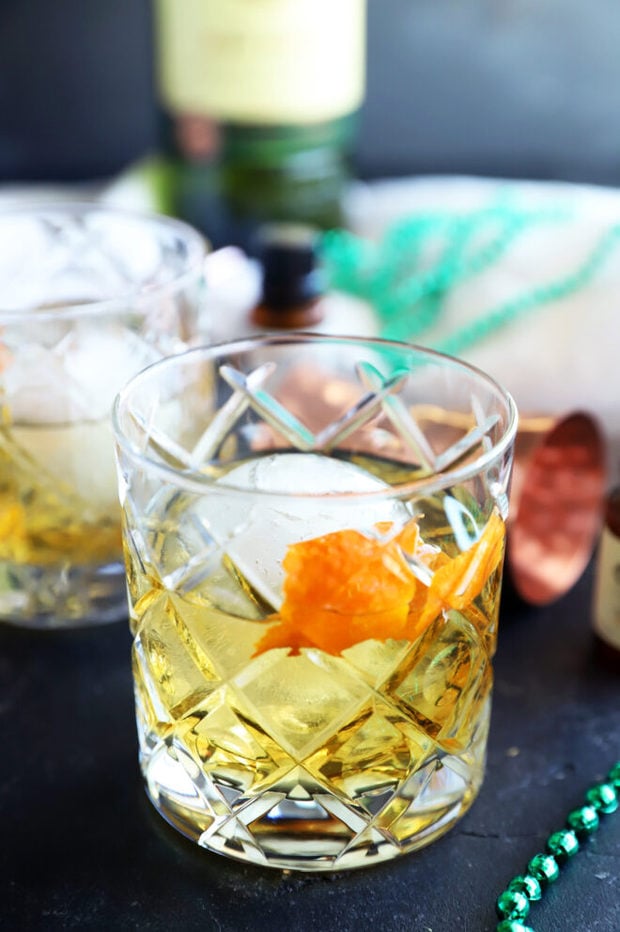 what to serve this with an irish old fashioned
Obviously I am a big fan of cocktail hour, especially when there are appetizers to go with it. Personally, I like to keep with the theme of Irish goodies here, so the recipes below are all recommendations along that train of thought.
Explore more on the rocks cocktails to try new libations to fall in love with!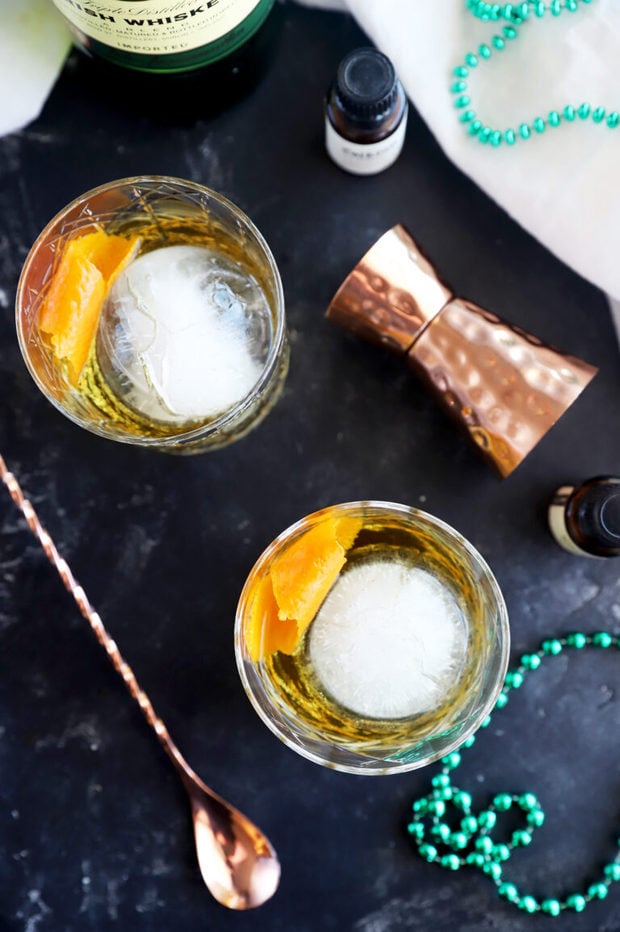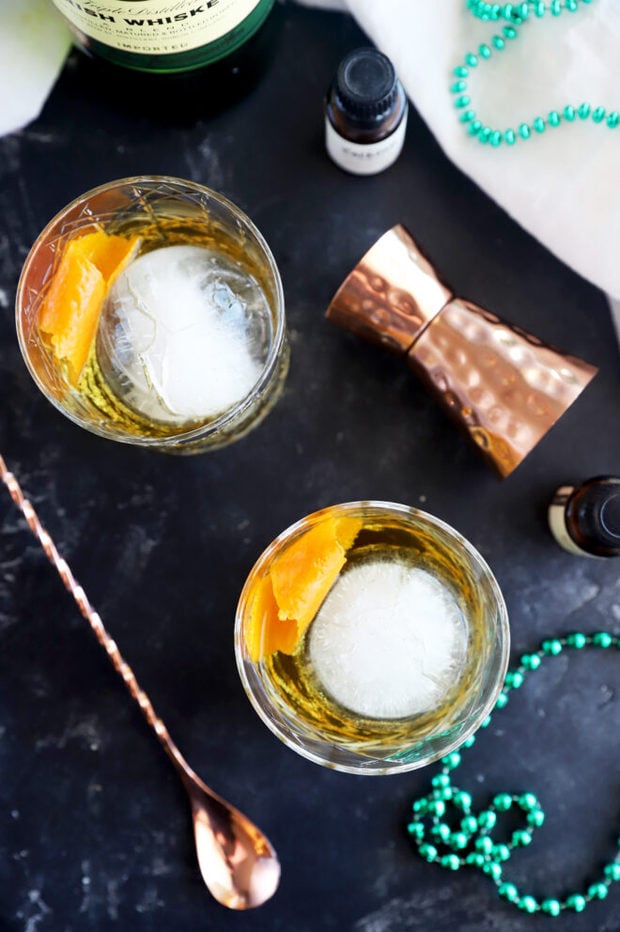 Finally, if you make this irish whiskey old fashioned, please be sure to give this recipe a rating or leave a comment! I love to hear when you all make recipes, and I do take the time to respond to every single comment. Feel free to drop questions below too, if you have them!
Oh and be sure to tag me on Instagram if you make the recipe! Love being able to see these recipes come to live in your homes – it's my favorite thing to look through those photos. It really means the world to me!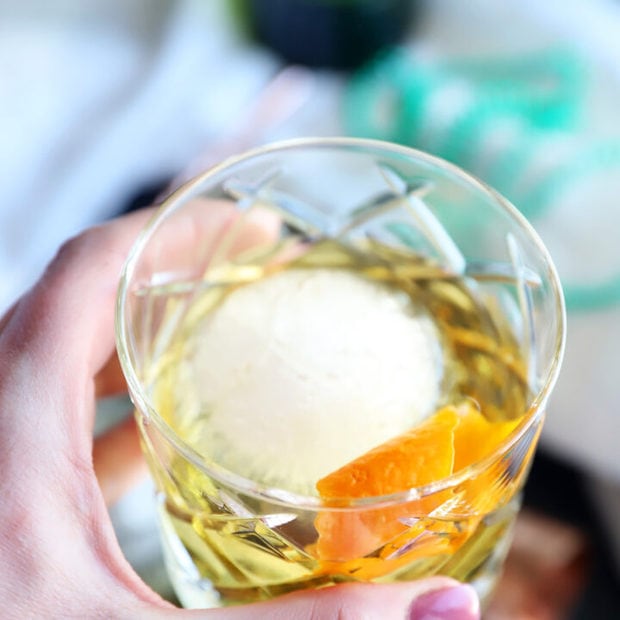 Jameson Old Fashioned
The classic old fashioned cocktail made with my favorite, Jameson Irish whiskey.
Ingredients
1 1/2 oz Jameson Irish whiskey
1 sugar cube
2 dashes angostura bitters
Splash club soda
Garnish: orange peel
Instructions
In a rocks glass, muddle together the sugar cube, angostura bitters and splash of club soda until sugar is dissolved.
Add desired ice (see note) and fill with whiskey.
Garnish with orange peel.
Notes
You can make this cocktail with regular ice, a large ice sphere, or no ice at all, if desired. If you are making it without ice, be sure to thoroughly chill the rocks glass and Jameson whiskey before serving.
Recommended Products
As an Amazon Associate and member of other affiliate programs, I earn from qualifying purchases.