Please note this post contains affiliate links.
Discover the ultimate taste of summer with Caprese Bruschetta! Juicy tomatoes, creamy mozzarella, and aromatic basil come together on a crusty bed of bread to create a burst of flavors that perfectly capture the essence of the season. From backyard barbecues to picnics in the park, Caprese Bruschetta is the go-to appetizer that will impress your guests and leave them craving for more.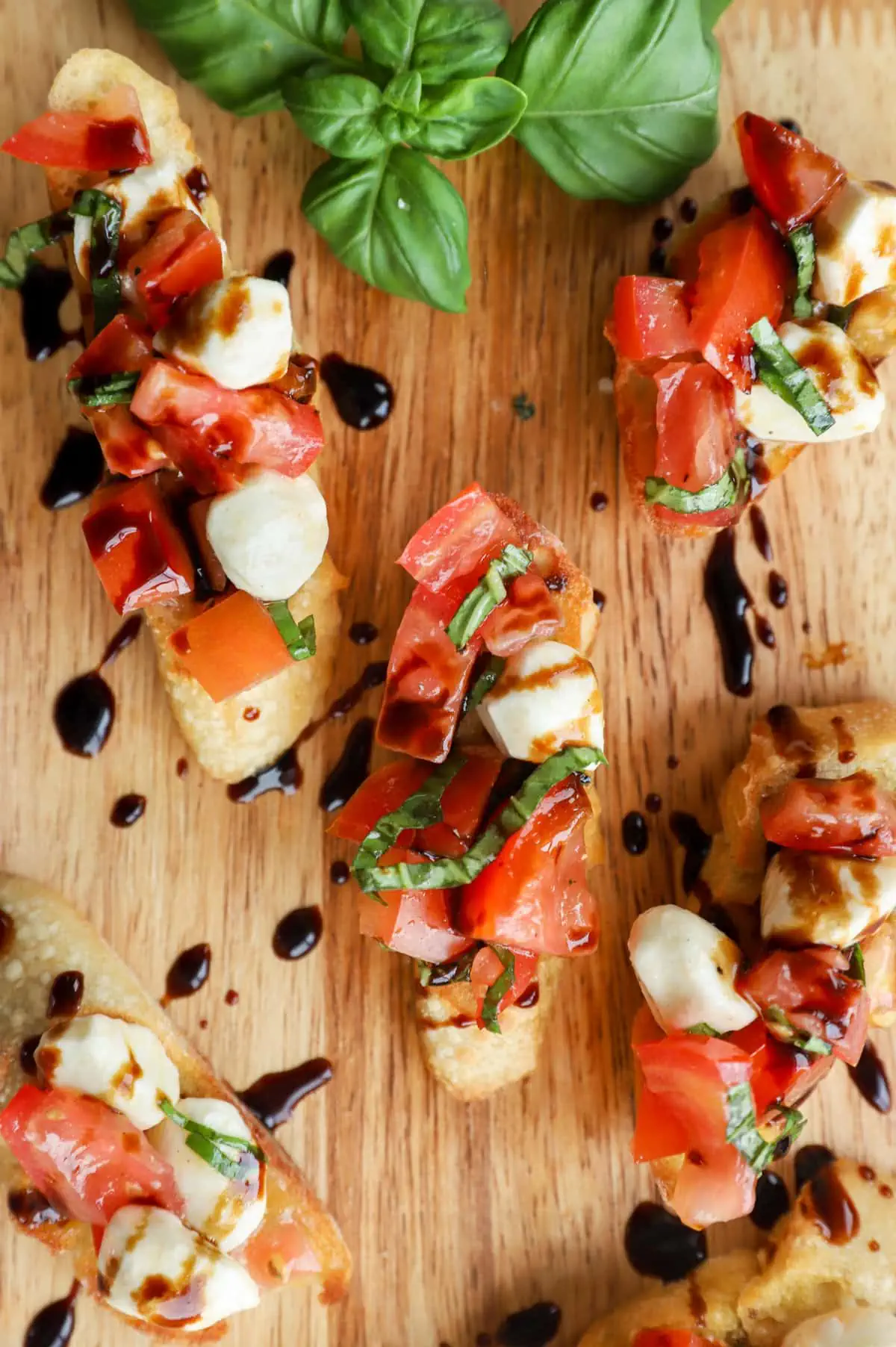 about this caprese bruschetta
The combination of fresh, high-quality ingredients in this summer bruschetta caprese is why it tastes so dang delicious.
With juicy tomatoes bursting with sweetness and creamy mozzarella, the symphony of flavors adds a little extra elegance to any gathering.
Of course, the basil is one of my favorite elements. Perhaps that is because I am finally successfully growing fresh basil on our patio this year (knock on wood it lasts!), but really I think it is the herbal aroma and slight peppery flavor that sends this appetizer over-the-top with flavor.
And then there's the bread. Ah, the crusty bread. It's toasted to perfection, but you could also grill it if you already have the grill going for other recipes! Regardless, the toasted bread gives you that satisfying crunch for a lovely contrast to the soft, flavorful toppings.
Caprese bruschetta is all about balance. A sprinkle of salt brings out the natural sweetness of the tomatoes, while a drizzle of balsamic glaze adds a tangy and sweet note that ties everything together.
When you take a bite of caprese bruschetta, you'll experience a mouthwatering combination of ripe tomatoes, creamy mozzarella, fragrant basil, and a symphony of flavors and textures that dance on your taste buds. It's a culinary masterpiece that leaves you craving more!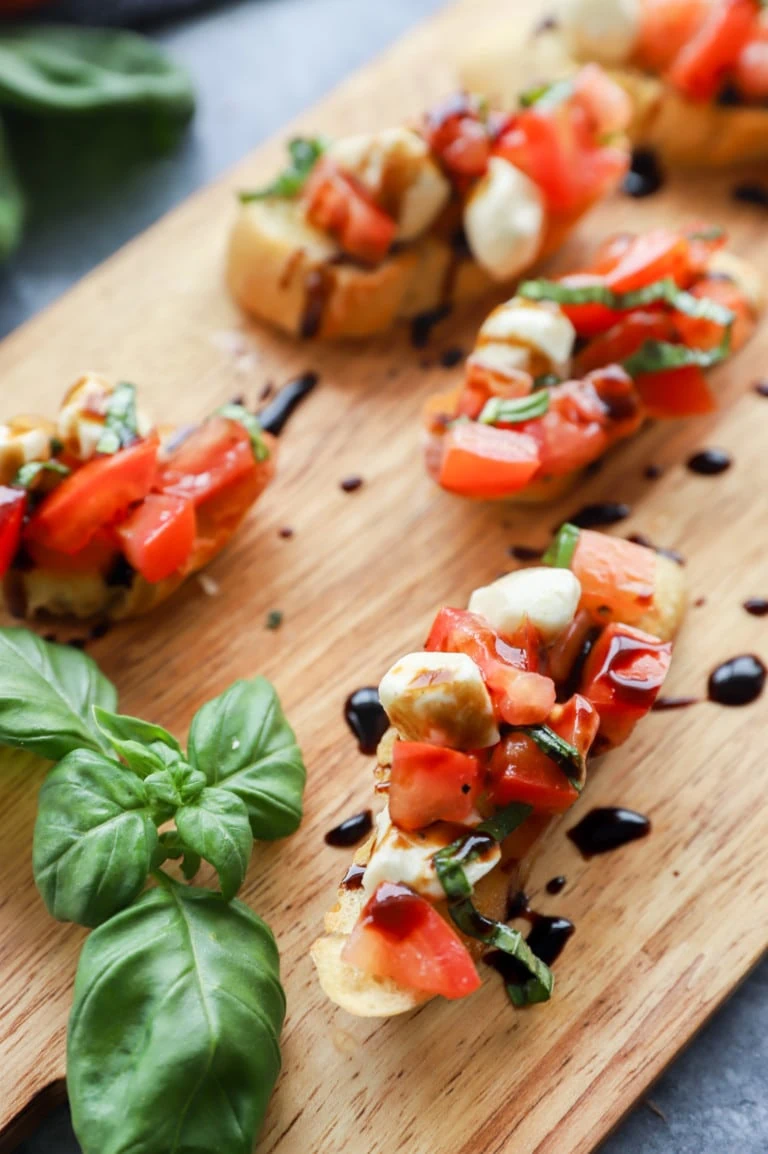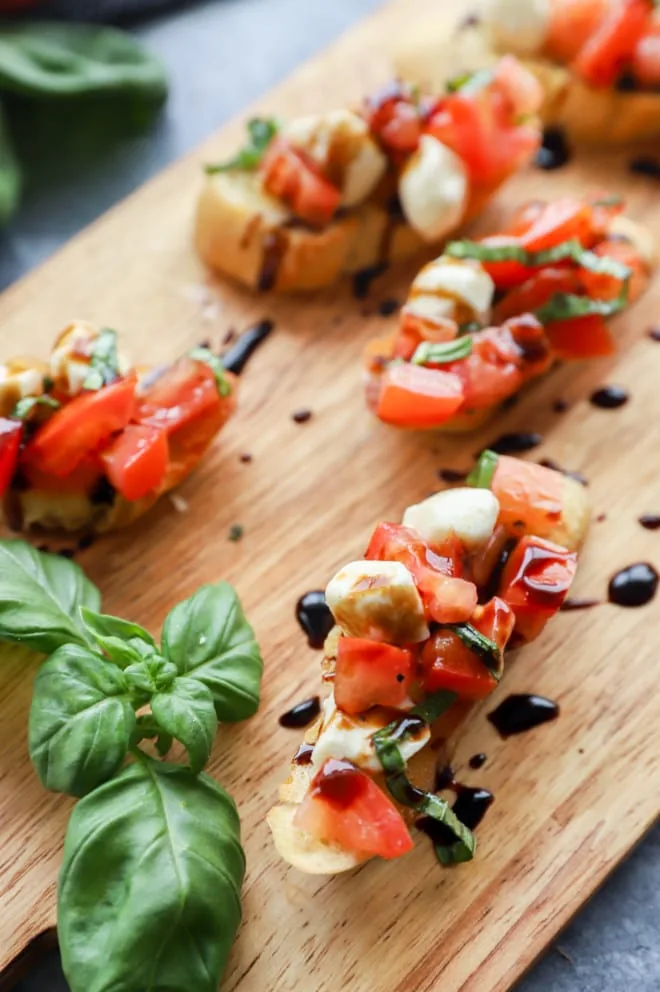 what is caprese bruschetta?
Bruschetta is a classic Italian appetizer that is made with tomatoes, garlic, and fresh basil piled on top of toasted slices of bread.
Caprese bruschetta is a variation on the classic Italian appetizer, with the addition of fresh and creamy pearls of mozzarella and a drizzle of sweet, tangy balsamic glaze.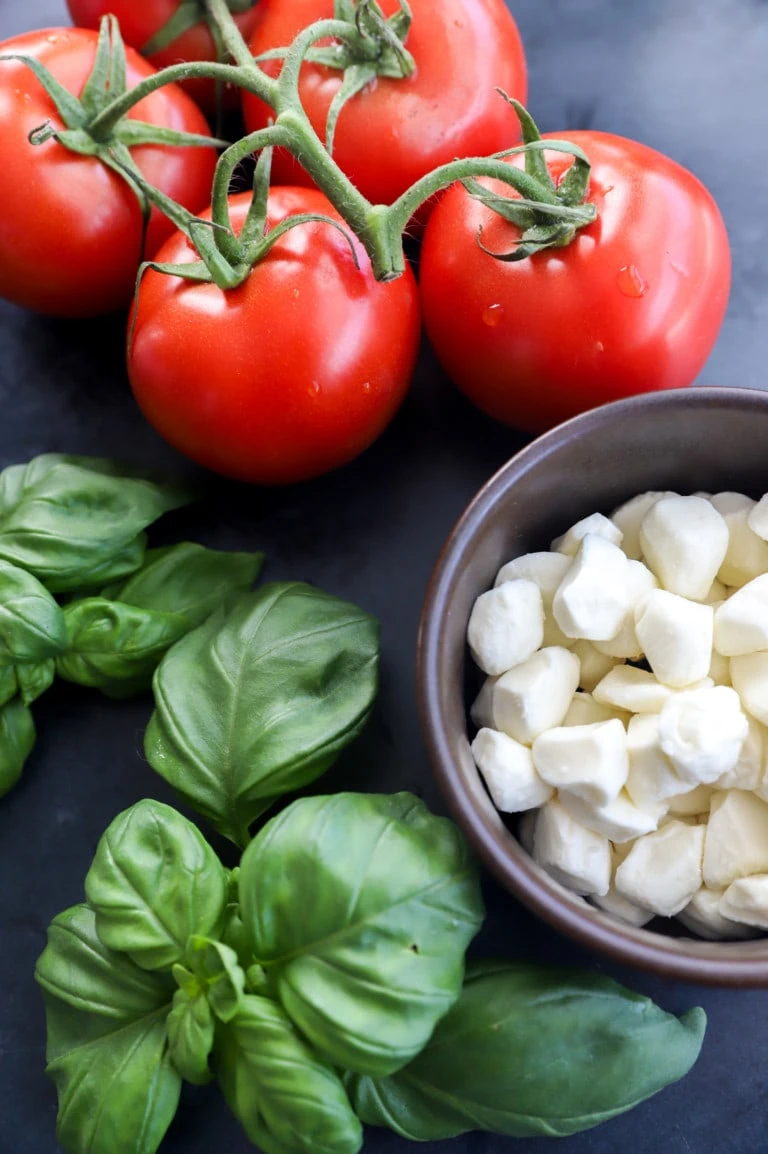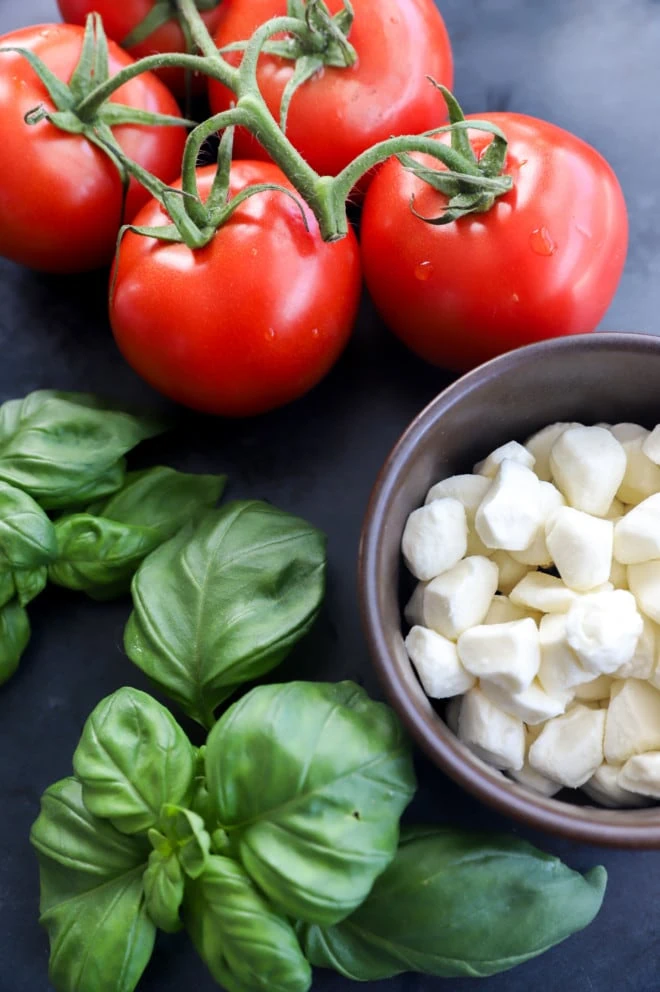 ingredients
tomatoes. Be sure to choose ripe tomatoes! You can use whatever tomato variety you love the most from hot house to tomatoes on the vine to heirloom.
salt. A pinch of salt enhances the flavors of all the ingredients. It helps to balance and bring out the natural sweetness of the tomatoes and other components.
extra-virgin olive oil. the flavor of extra virgin olive oil is a crucial complement to all the flavors in this recipe.
garlic. garlic is a must for EVERYTHING, so I have a jar of minced garlic living in my fridge at all times. No smelly hands, no peeling garlic. The best shortcut to pay for, in my opinion.
red pepper flakes. For those who enjoy a hint of heat, red pepper flakes add a touch of spiciness. They provide a subtle kick that complements the other flavors without overpowering them.
mozzarella pearls. These small, bite-sized mozzarella balls add a creamy and delicate texture to the bruschetta.
basil. Fresh basil leaves are preferred here as they provide the best flavor!
balsamic glaze. A drizzle of balsamic glaze adds a sweet and tangy note to the bruschetta. I purchase mine at the store, but you can also make your own balsamic reduction at home by bringing a 1/2 cup balsamic vinegar to a simmer over medium-low heat. Allow it to cook until the vinegar is thickened, then stir in a big pinch of brown sugar and a little black pepper.
bread. Be sure to use a crusty bread that is also firm enough to hold up the tomatoes. Italian ciabatta and French baguette are our top choices.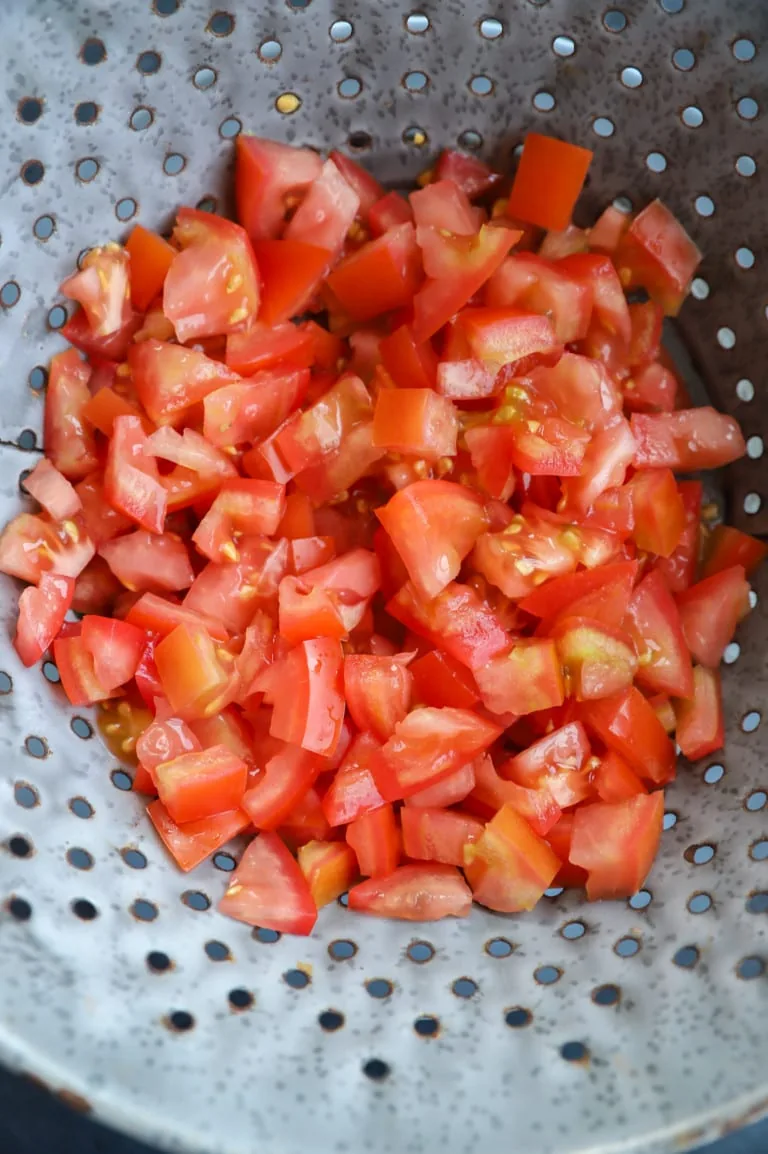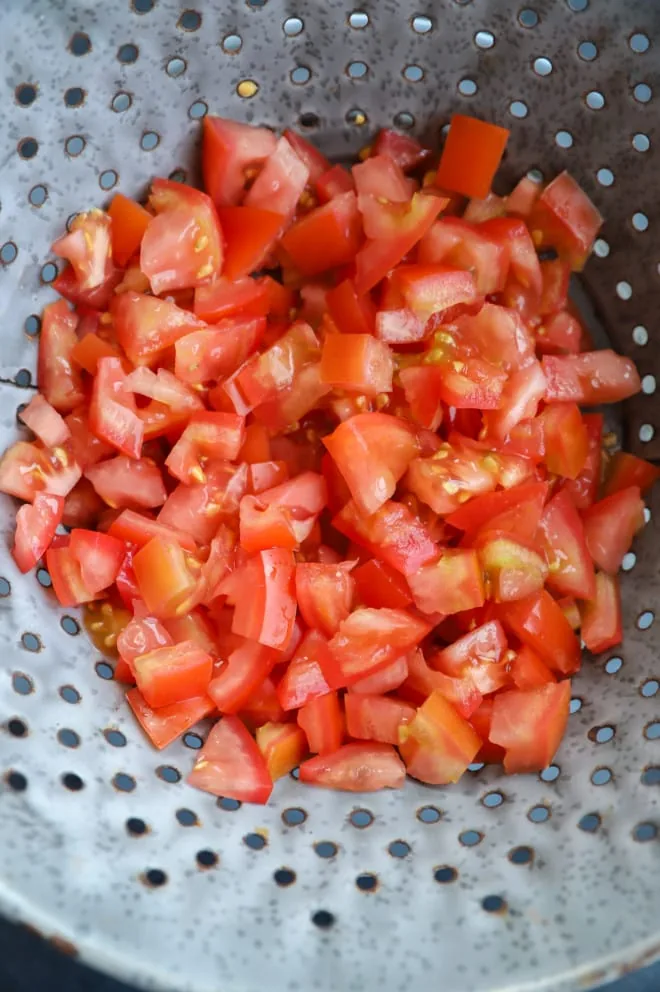 this recipe's must haves
To make this recipe, make sure you have a good quality chef's knife and cutting board to prep all the ingredients. You will also need a bread knife to slice the bread.
For toasting the bread, I simply use a half sheet baking pan. A silicone brush also comes in handy for brushing the bread with the flavored oil that you make in a small skillet.
here's how to make caprese bruschetta
prepare tomatoes
Chop the tomatoes into small pieces and transfer to a colander or strainer (either placed in the sink to drain or over a bowl to drain). Sprinkle with 1/2 tsp salt and toss to combine. Let stand for 20 minutes.
make oil
While the tomatoes are draining, add oil with garlic and red pepper fakes to a small skillet. Heat over medium-low heat until the garlic is fragrant, about 2 minutes. Remove from heat and let cool.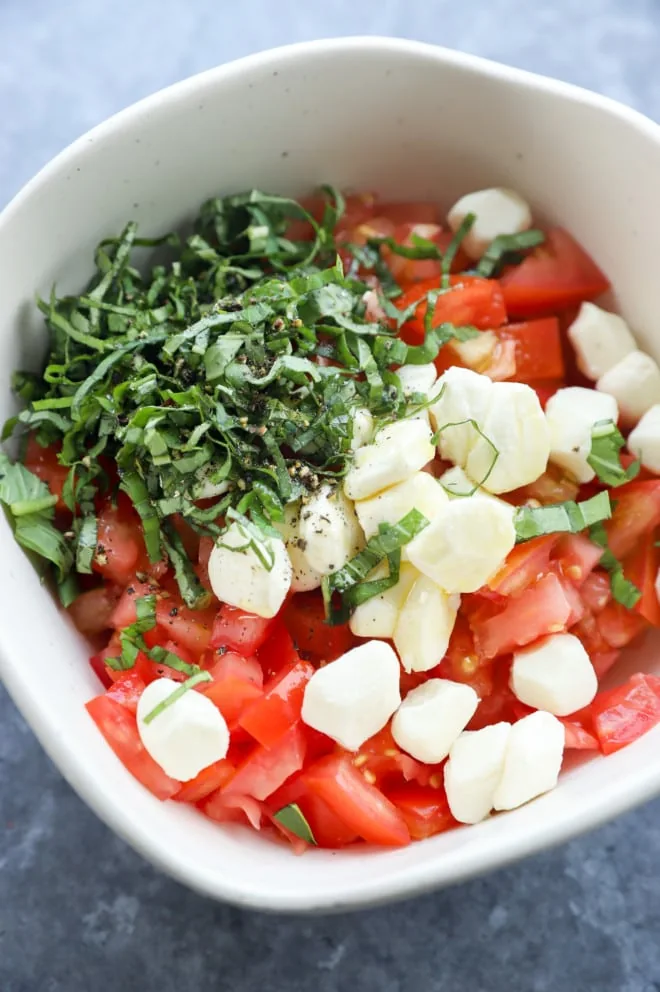 toast bread
Brush the bread slices lightly with the oil. Arrange on a baking sheet and bake until golden and toasted. This will take about 8 minutes total (be sure to flip them halfway through!) at 350˚F.
Remove from oven and set aside on a serving platter.
assemble
Add tomatoes to a bowl with mozzarella and chopped basil along with the remaining flavored oil. Season with salt and pepper to taste.
Spoon the tomato mixture over the toasted brad slices. Drizzle with balsamic glaze and serve.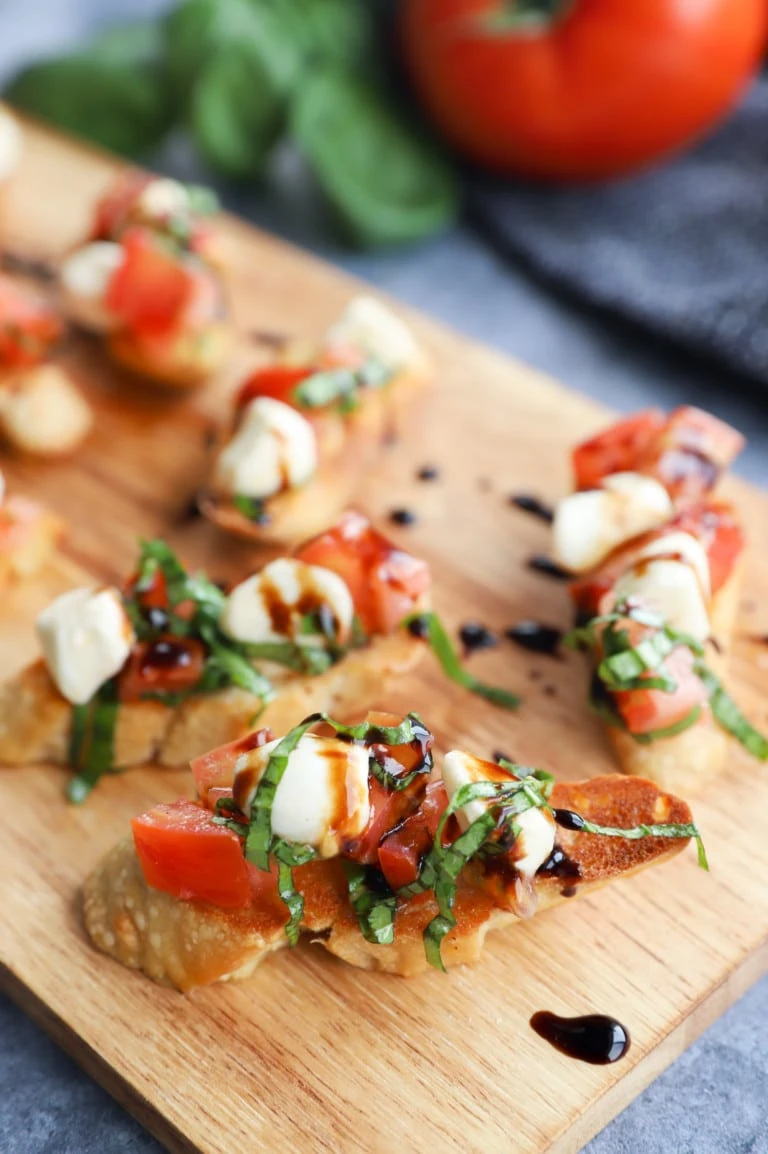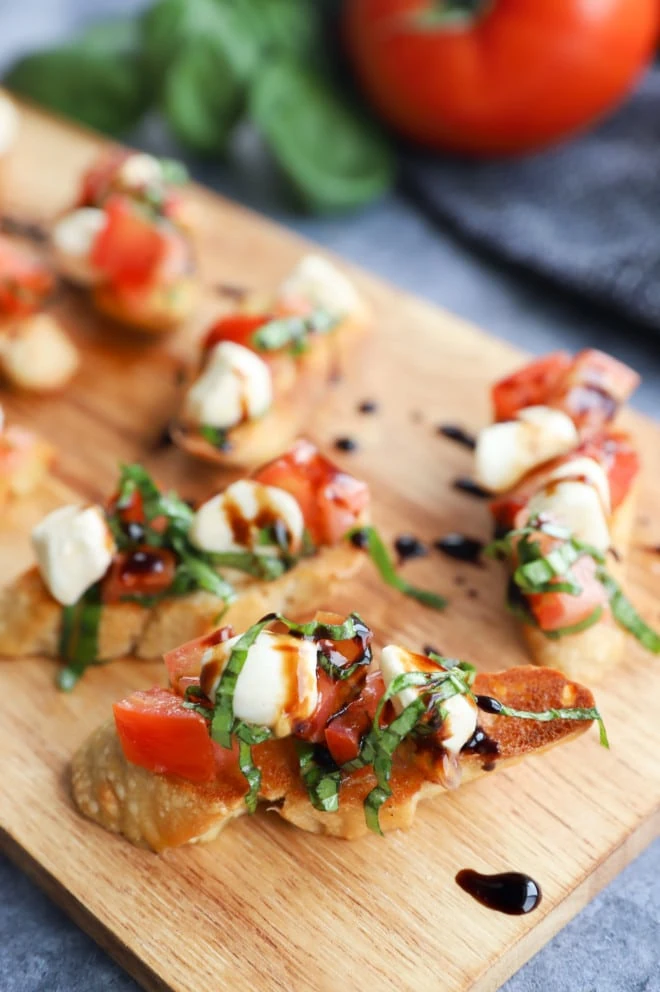 tips for success
let the tomatoes drain. Letting the tomatoes drain after chopping them is key! This allows the tomatoes to release any excess liquid. By doing this, your bread will last longer and not get soggy right away.
use the glaze if you can. While you can use balsamic vinegar in place of the balsamic glaze, I find the glaze to be so much better. It is thicker so it won't get the bread soggy, but it also has a little sweetness to it instead of being straight vinegar.
More tasty caprese inspired recipes to try: Grilled Avocado Caprese Sandwich | Grilled Caprese Chicken | Tomato Tart | Quick Cherry Tomato Confit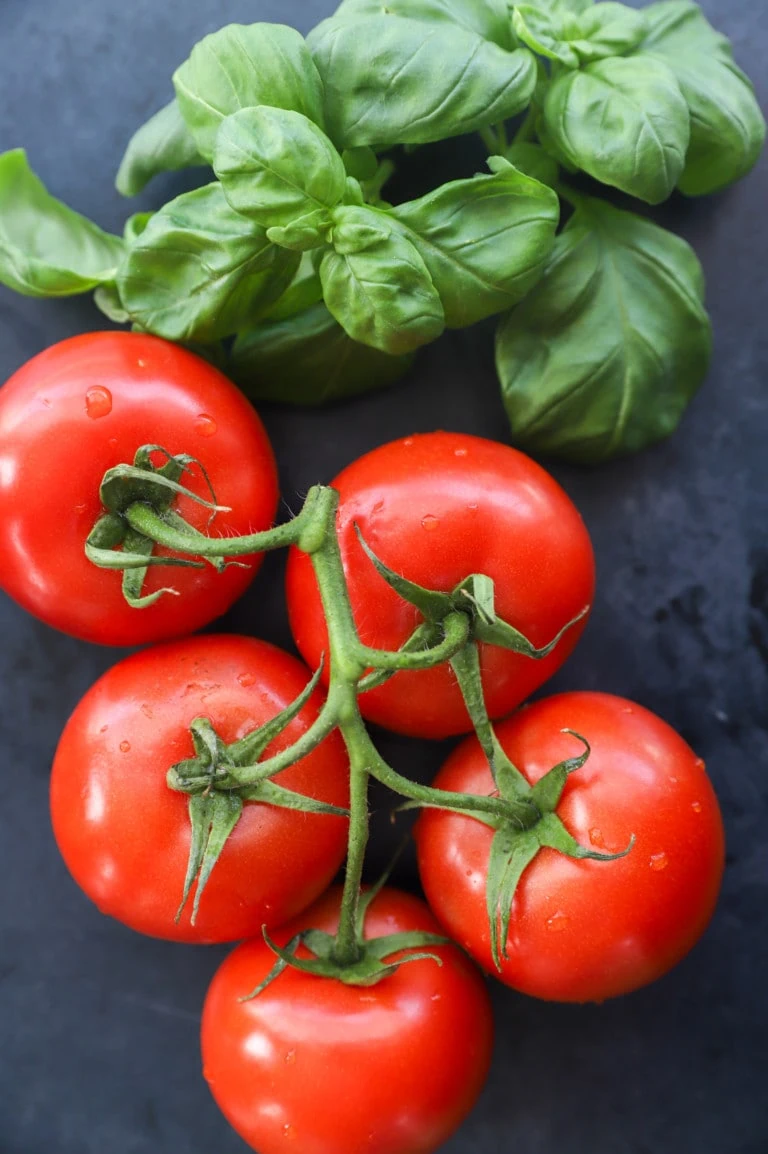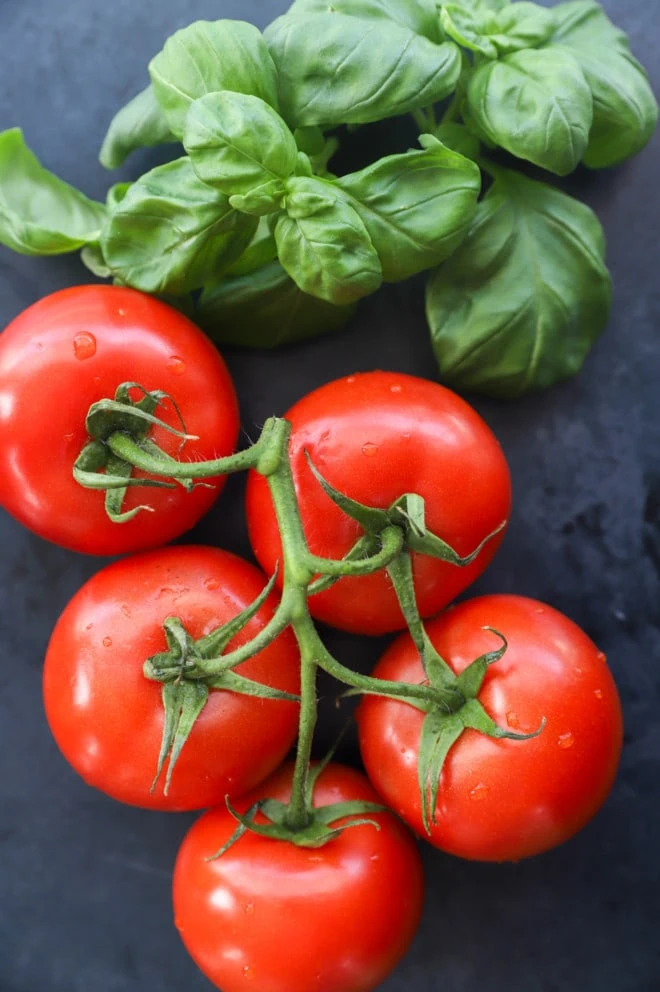 what is the origin of the caprese salad?
The caprese salad is named after the island of Capri in Italy. It's thought that the salad originated in Capri and was designed as an homage to the Italian flag colors of red, green, and white. The red is represented by the tomato, the white by the mozzarella, and the green by the fresh basil.
In Italian it is call insalata caprese, meaning "Salad of Capri." Though no one actually knows where the salad was first made, it is a beautiful Italian recipe that is ideal for eating in the summer when tomatoes and basil are at their peak ripeness.
what are the best bread type for making caprese bruschetta?
These are many breads that will work for bruschetta. The main idea is to make sure that you choose a loaf of bread that has a sturdy crust and is firm enough to hold the bruschetta topping.
Italian ciabatta and French baguette are the two top contenders in my book. They have just the right flavor to pair with the bruschetta mixture.
can I make this dairy-free?
You certainly can! If you have guests who don't eat dairy, simply omit the cheese from the recipe. You could also swap in avocado for an avocado bruschetta. It's so refreshing and the avocado adds that creamy element!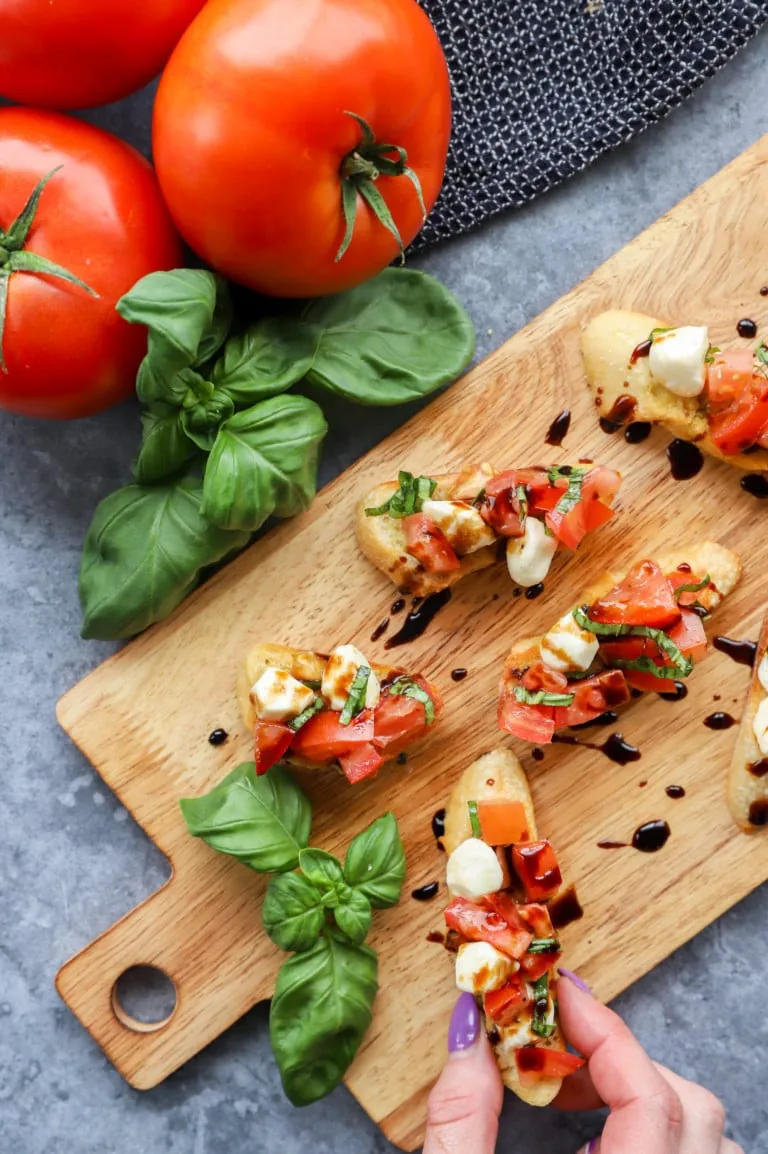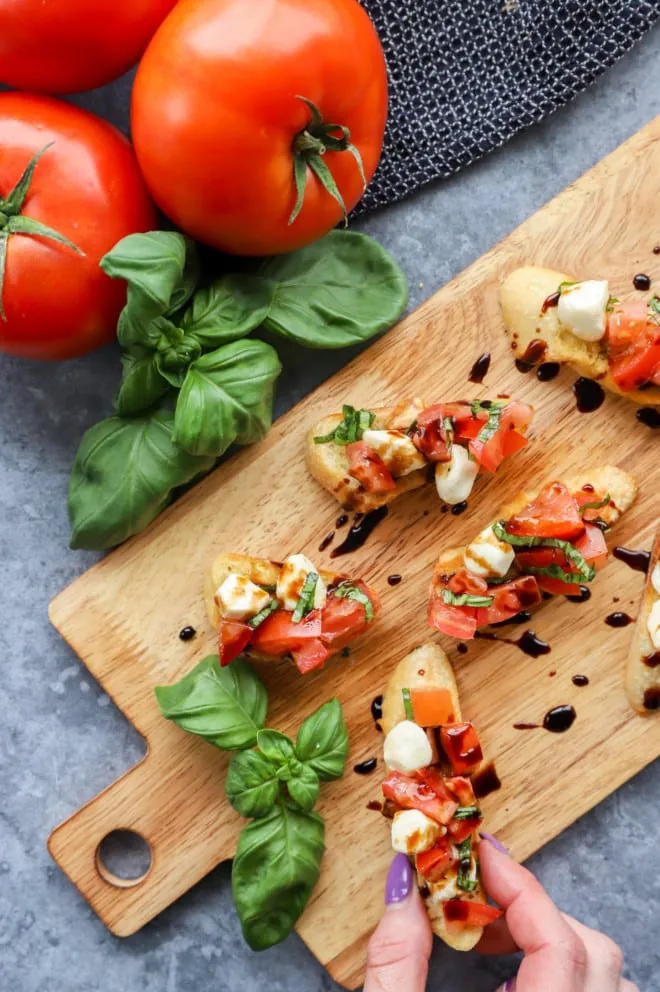 can I make this caprese bruschetta ahead of time?
If you want to make your bruschetta mixture ahead of time, you can prepare the elements up to 1 day ahead. I recommend storing the different ingredients separately so the bread doesn't get mushy.
Toast the bread and store in an airtight container or bag on the counter (at room temperature). It should remain crunchy, but if it softens, you can also toast again in the oven for a couple of minutes.
Prepare the tomatoes as instructed, then store in an airtight container.
Store cheese in a separate airtight container.
Toss the tomatoes and cheese together with remaining ingredients just before serving. Top with glaze and enjoy!
Need more inspiration for party bites? Check out my appetizer recipes page!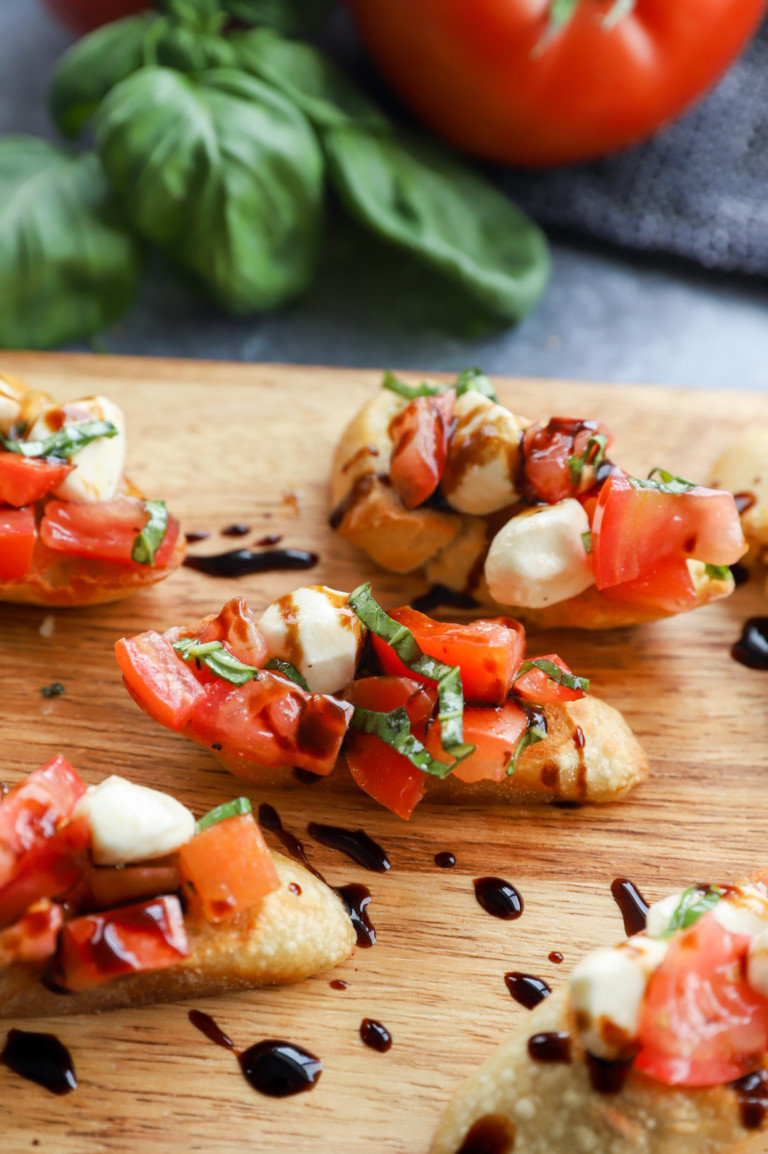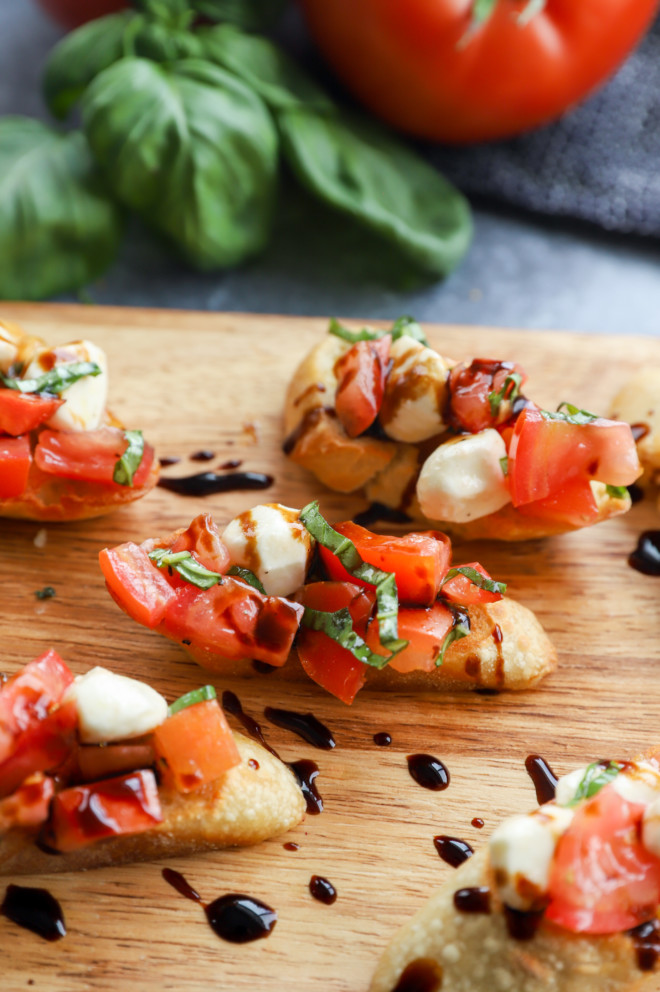 what to serve with caprese bruschetta
Since caprese salad and bruschetta are both Italian, of course I recommend serving this appetizer with anything Italian! This could be a bowl of marinated olives, prosciutto wrapped melon, or an antipasto platter. Some of our personal favorites include:
Make quick and easy air fryer roasted garlic to add to this bruschetta! Spread it on the bread before topping with the bruschetta or serve as part of an antipasto platter.
Cacio e pepe wings are an Italian take on grilled wings with a peppery twist.
If you love a tomato tart, you are going to love this fresh and herby take on the summer treat here.
Of course, no summer gathering is complete without a refreshing cocktail! Here's some summery refreshing Italian-themed cocktails to choose from:
The classic Aperol spritz or Aperol soda is a must for any Italian-themed gathering!
If you love a spritz but don't love the flavor of Aperol, check out this lemony limoncello spritz.
For another limoncello cocktail, this limoncello martini is a simple refreshing option that comes together in minutes.
If you love all things caprese, be sure to check out my burrata caprese as an appetizer or light lunch!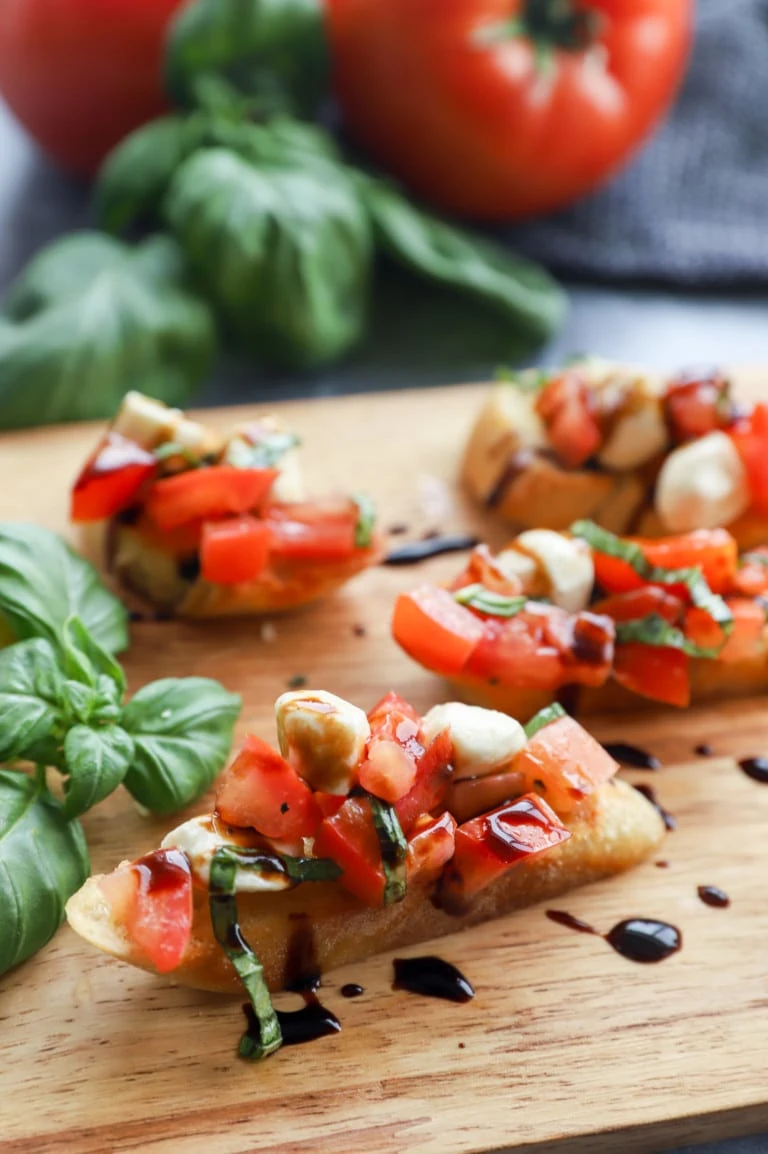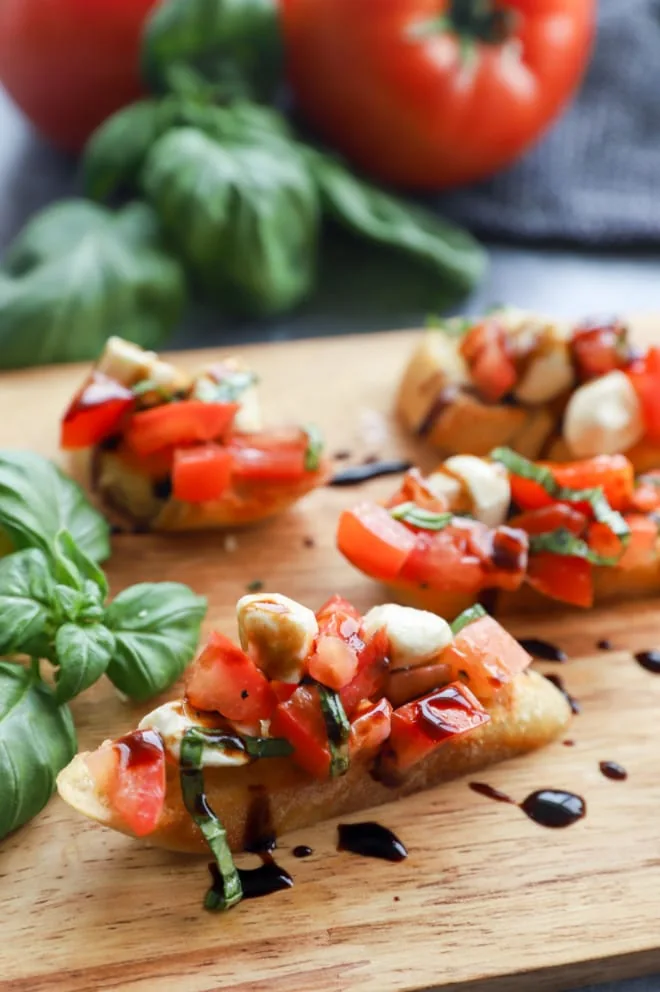 how to store
Store. This fresh bruschetta is best the day of serving! When it is freshly made, it tastes the best. However, you can store the tomato and cheese mixture separately from the bread after serving. Place in an airtight container and store for up to 2 days.
Freeze. I do not recommend freezing this mixture as tomatoes do not freeze well to then thaw and eat bruschetta.
more fresh summery appetizers
Chunky salsa is packed with fresh tomatoes!
Tomato peach bruschetta is a fruity upgrade to the classic appetizer.
Grilled mexican street corn crostini is a way to make elote bite-sized!
Finally, if you make this caprese bruschetta recipe, please be sure to give this recipe a rating or leave a comment! I love to hear when you all make recipes, and I do take the time to respond to every single comment. Feel free to drop questions below too, if you have them!
Oh and be sure to tag me on Instagram if you make the recipe! I love being able to see these recipes come to life in your homes – it's my favorite thing to look through those photos. It really means the world to me!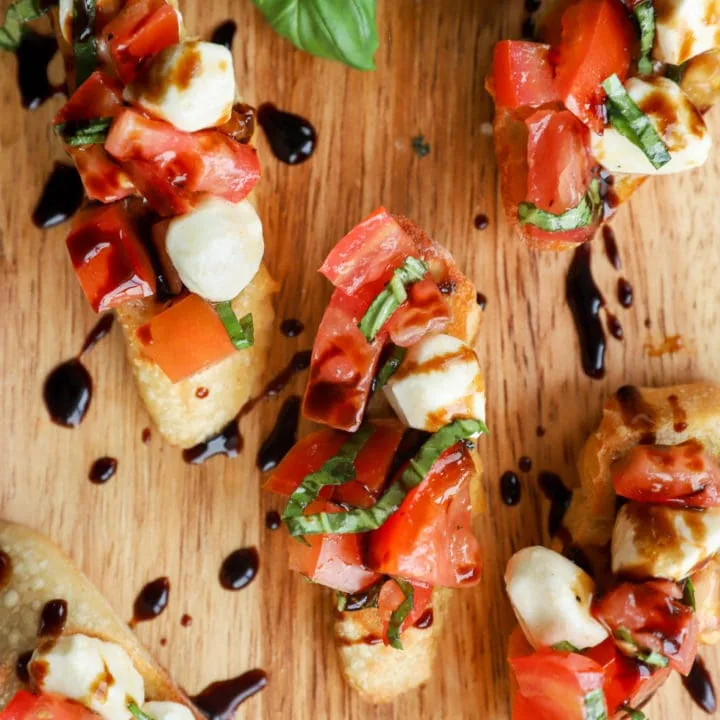 Caprese Bruschetta
Additional Time:
20 minutes
A perfect summery appetizer with tomatoes, basil, and mozzarella!
Ingredients
1 lb ripe tomatoes (hot house, tomatoes on the vine, heirloom, etc)
1/2 tsp kosher salt
1/4 cup high quality extra-virgin olive oil
4 cloves garlic, minced
1/2 tsp red pepper flakes
1/3 cup mozzarella pearls
1/3 cup thinly sliced fresh basil
Freshly ground black pepper
1 to 2 Tbsp balsamic glaze
Crusty bread, sliced (either ciabatta or French baguette)
Instructions
Preheat oven to 350˚F. Line a baking sheet with a silicone mat or parchment paper.
Chop the tomatoes into small pieces. Add to a colander placed over the sink or over a bowl to drain. Sprinkle with 1/2 tsp salt and toss to combine. Let stand for about 20 minutes.
Add oil, garlic, and red pepper flakes to a small skillet over medium-low heat. Cook until garlic is fragrant and browned, about 2 minutes. Remove from heat and allow to cool.
Brush both sides of the slices of bread with the garlic oil. Bake for 8 minutes, flipping halfway through, until golden brown.
Add drained tomatoes to a bowl with mozzarella pearls, remaining garlic oil, and basil. Season with salt and pepper to taste.
Top the toasted slices of bread with bruschetta. Drizzle with balsamic glaze. Serve.
Recommended Products
As an Amazon Associate and member of other affiliate programs, I earn from qualifying purchases.