A slice of Strawberry Mint Champagne Galette is the only way I like to wrap up my spring dinners. With a homemade strawberry mint champagne jam and fresh strawberries, this fruity galette is an easy way to get your pie fix!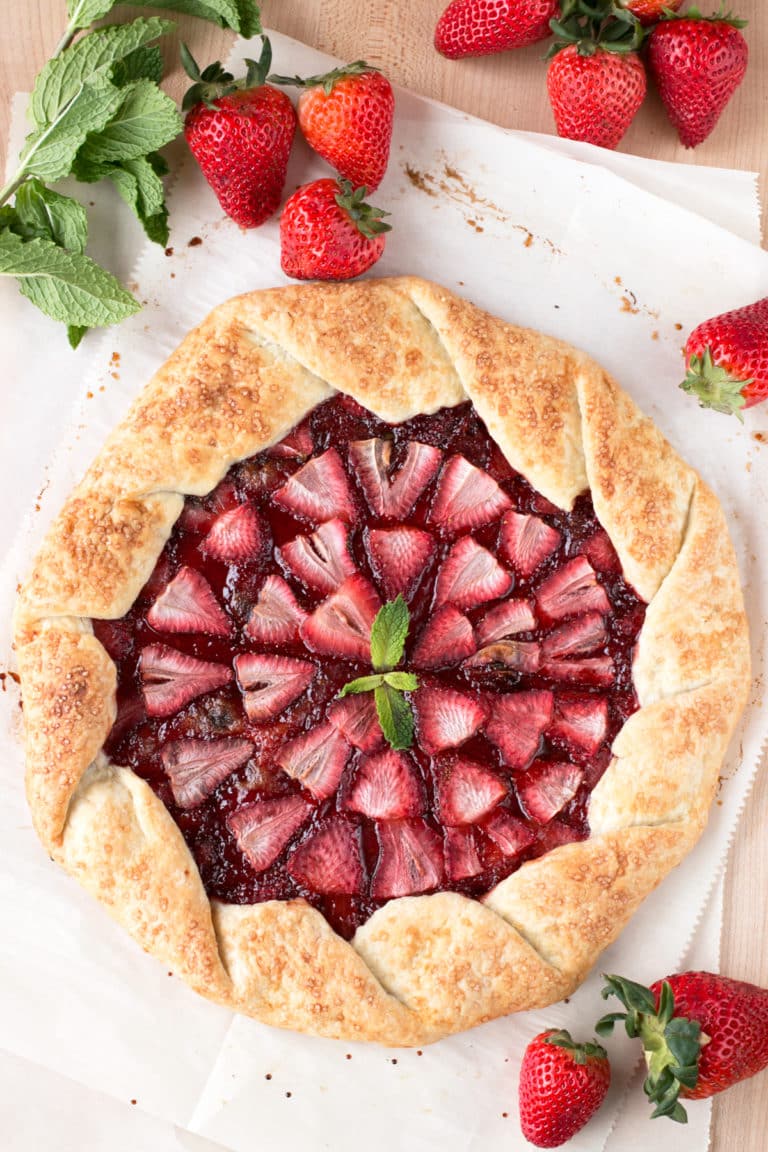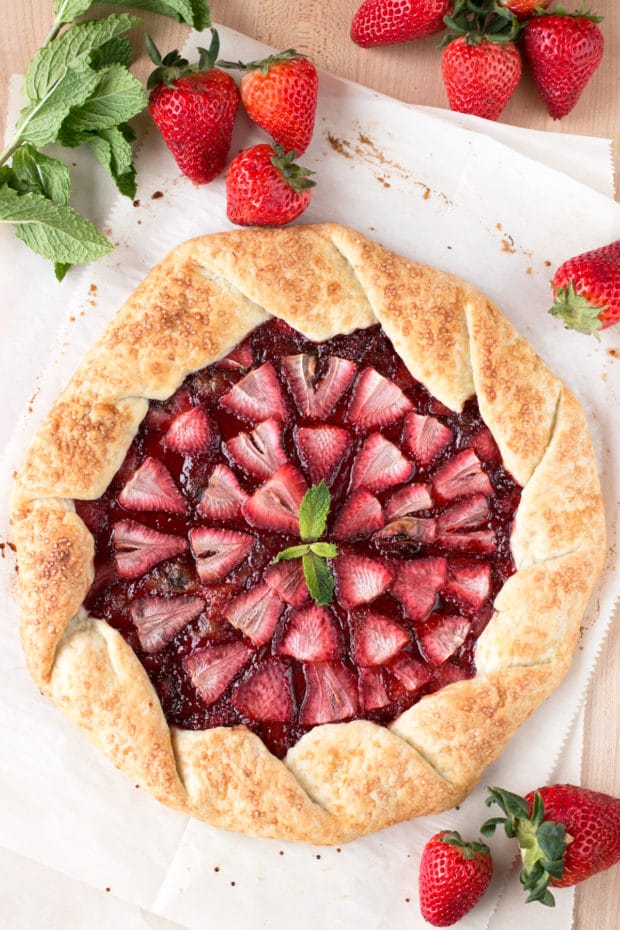 Disclosure: This post is sponsored by Bob's Red Mill. As always, all opinions and recipe are my own.
Strawberries and champagne.
Every time I think about strawberries and champagne, I think about Julia Roberts in Pretty Woman sitting on the floor of the hotel, watching I Love Lucy and laughing her butt off.
The combination of strawberries and champagne is one of those classic, elegant pairings that you generally get to experience at least once in your life.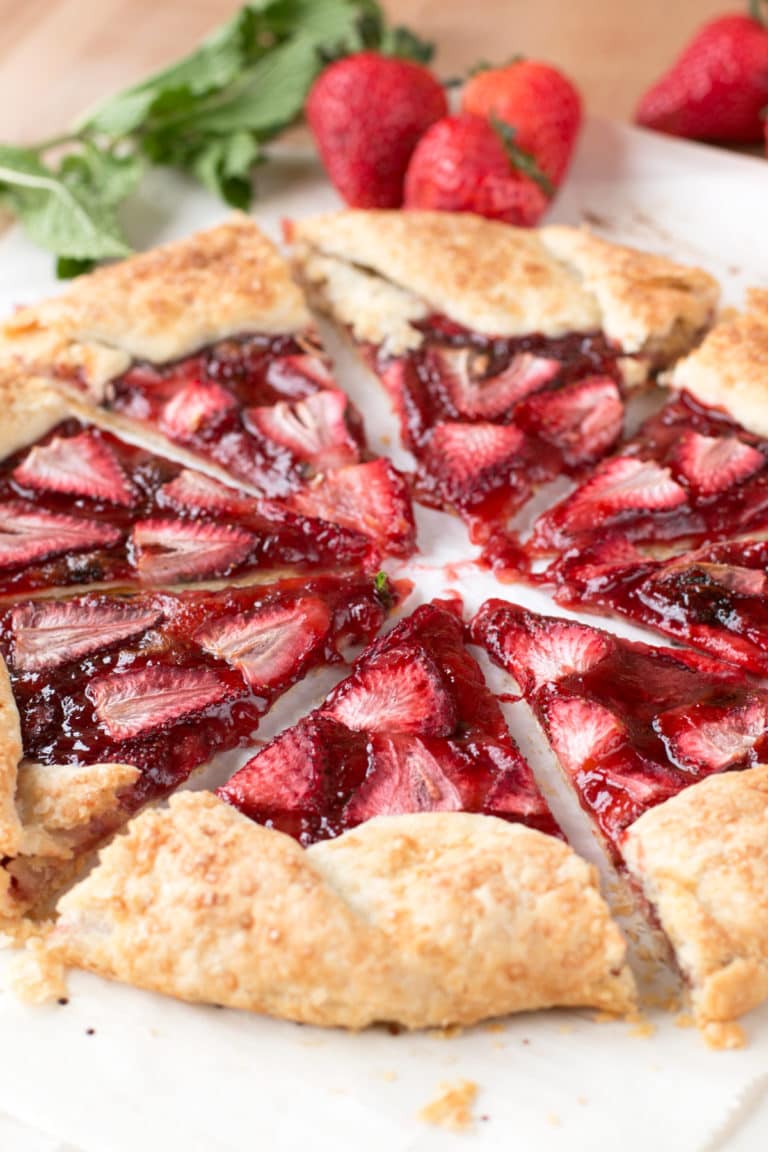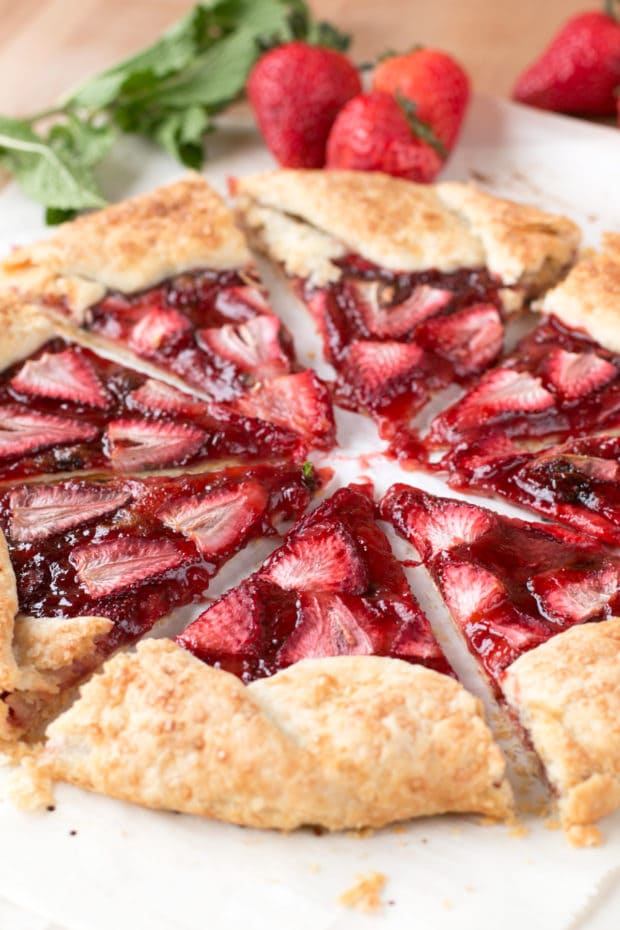 If you haven't enjoyed strawberries and champagne, you have only one job to complete for the rest of the day. Go to the store, get champagne, procure strawberries. Then go home and enjoy the amazing bubbly and fruity flavors that explode on your palate.
Seriously, this is one of those flavor profiles you need to know because you will love it. I don't care how girly it is. You guys will love it too 😉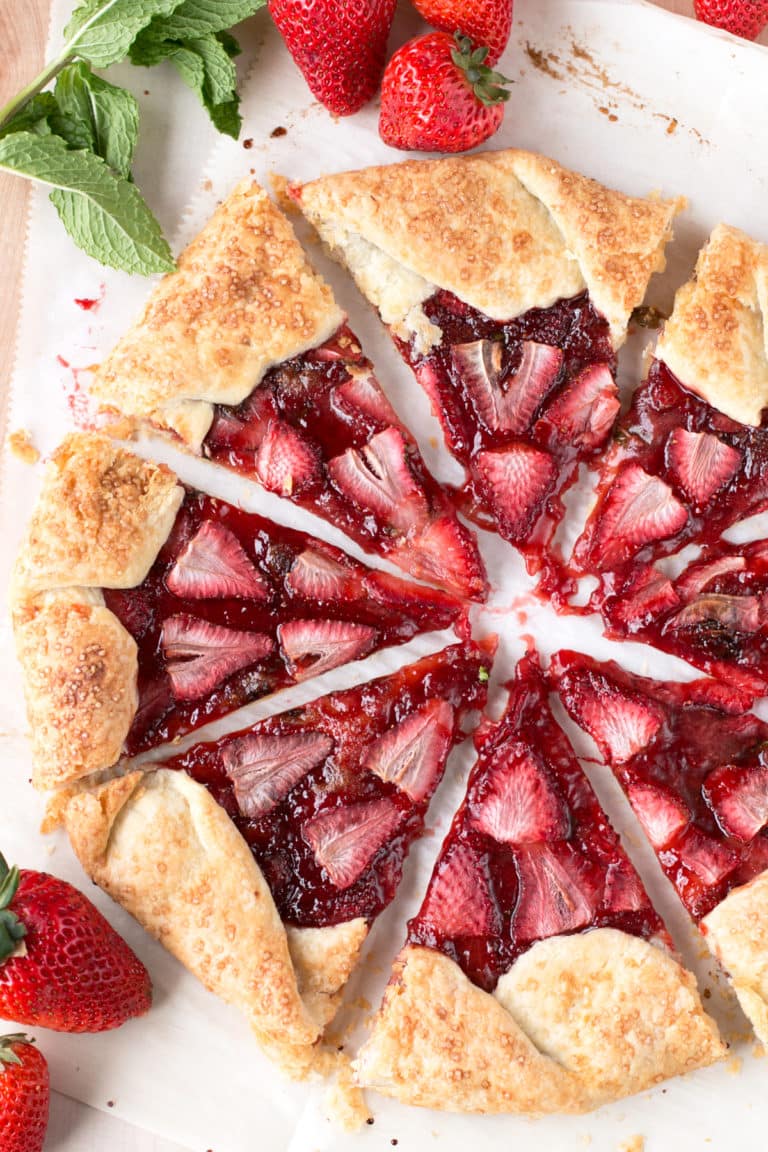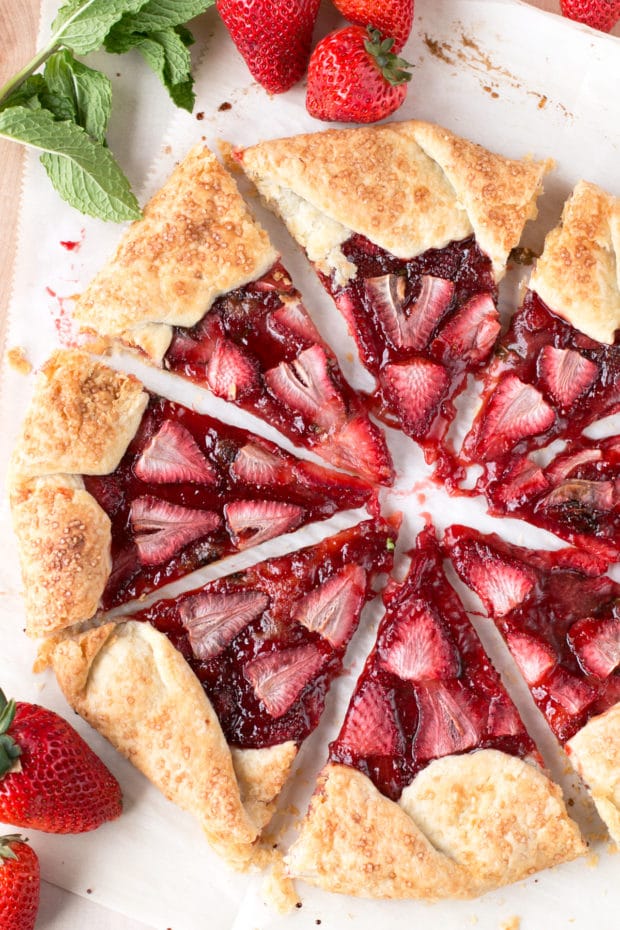 Please note that some of the links below are affiliate links. If you make a purchase through one of these links, I will receive a small commission.
The last time I enjoyed strawberries and champagne, I decided that I had to take the combination out of the glass and throw it into a dessert already.
So, just in time for the upcoming Spring and Easter festivities, a boozy, fruity, and bubbly jam was born…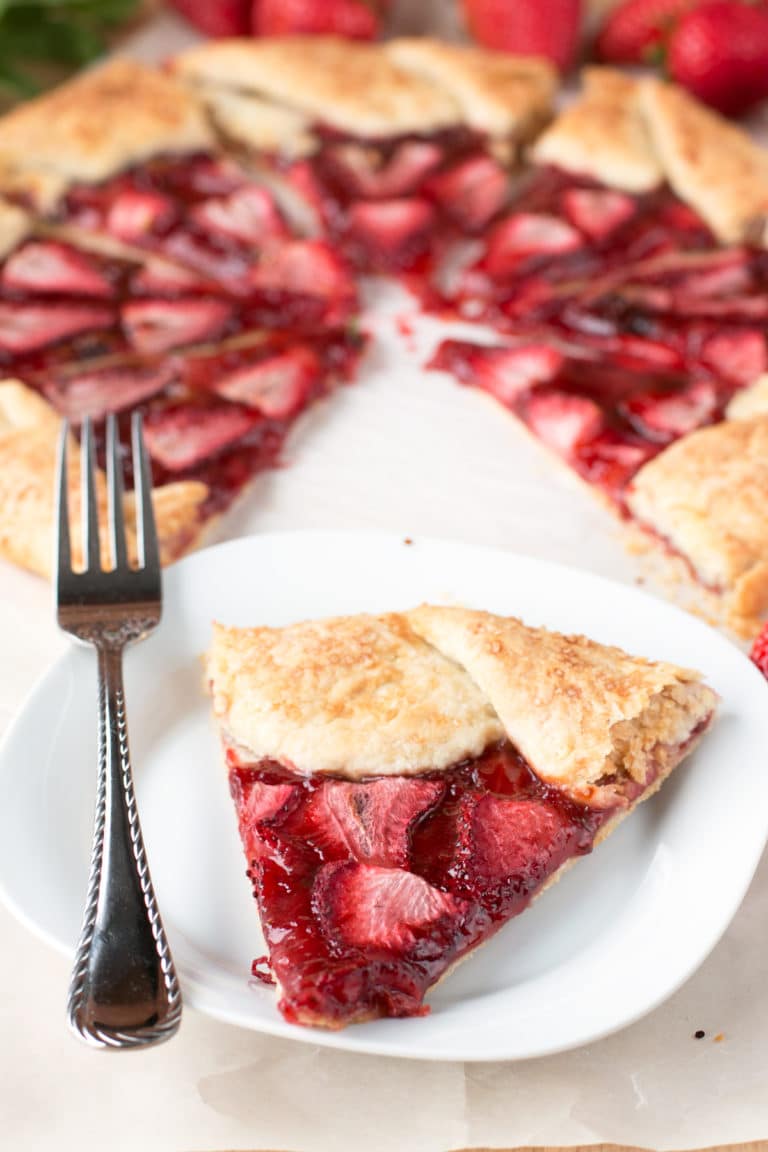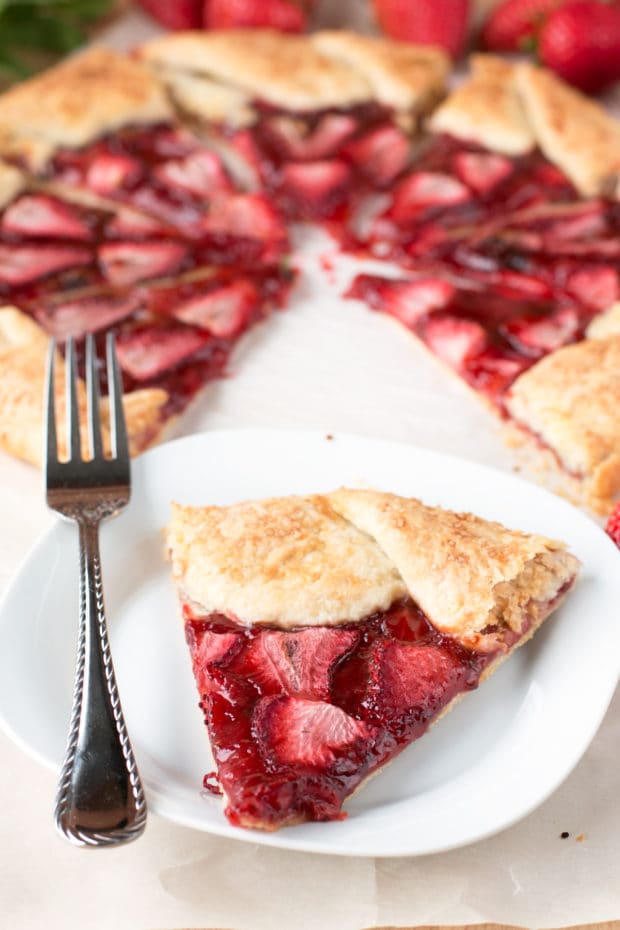 That's right, I FINALLY made my own jam! I've been struggling with a jam idea for several months now, and the homemade strawberry mint champagne jam you find in this galette was the one to win my heart over.
It's sweet, minty and fruity, just like you want the inside of a pie to taste.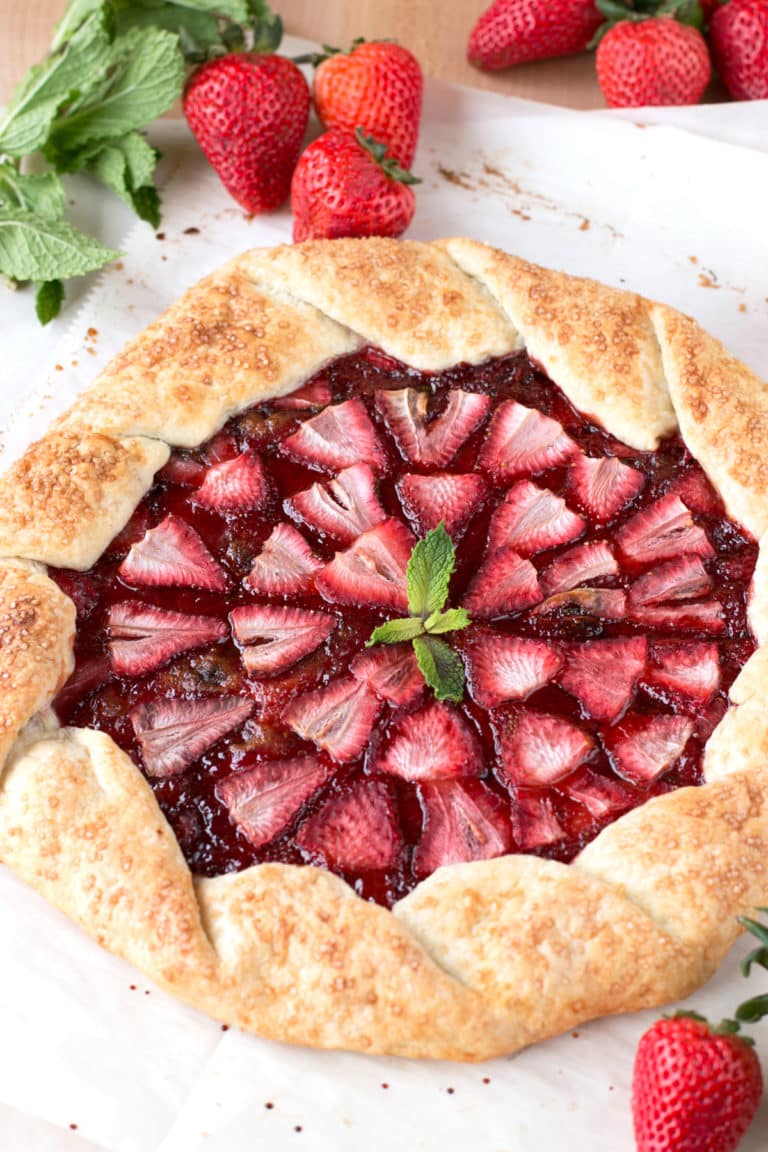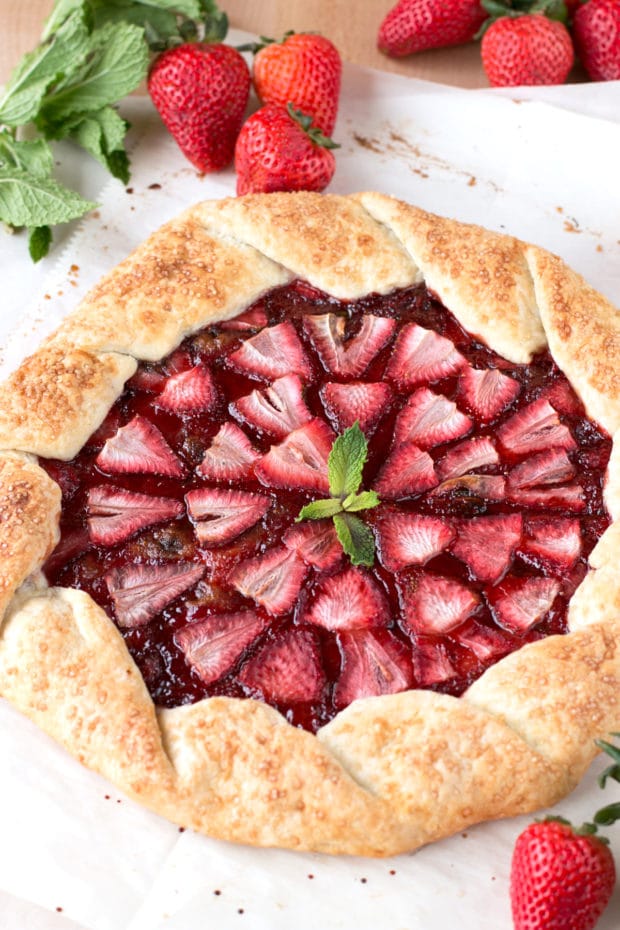 But what's a galette (or any pie/pastry) without the dough? This galette crust is one that I have been using over and over again (like this savory chicken caprese galette and this peach and blueberry galette!). It's simple, straightforward and NEVER fails me. I'm serious when I say that. This crust will always come out perfectly, with a crisp outside to hold the galette filling and yet still a little soft and buttery on the inside to pair well with the fruity, sweet flavors.
When I make this galette crust, I like to attribute some of the success to my favorite flour EVER – Bob's Red Mill Organic All Purpose Unbleached White Flour. Their flour is made from high quality wheat and it makes the crust dough nice and fluffy.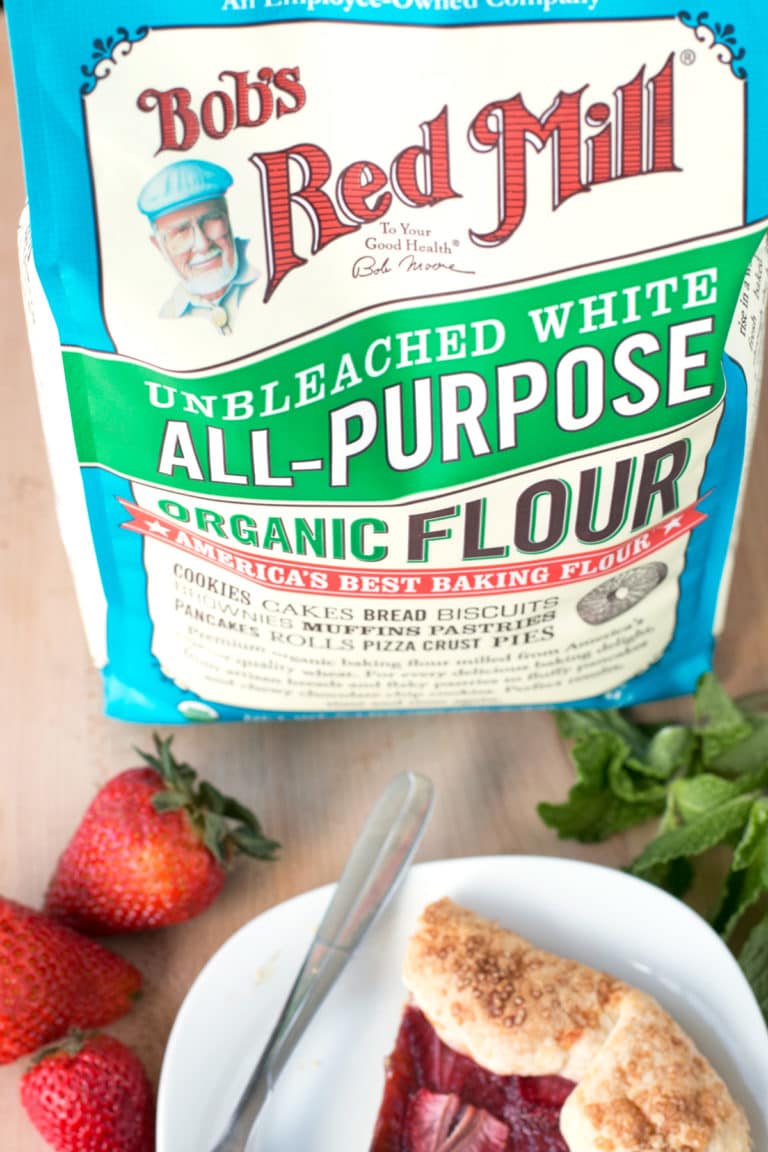 It's the only flour you ever need to have in your pantry, and it's my go-to source for wheat flour too! If you want to master all those spring and summer baking recipes you have on your bucket list, this flour is the one that will help you survive and master every single recipe, trust me.
This Post's Must Haves
Pin this Strawberry Mint Champagne Galette recipe for later!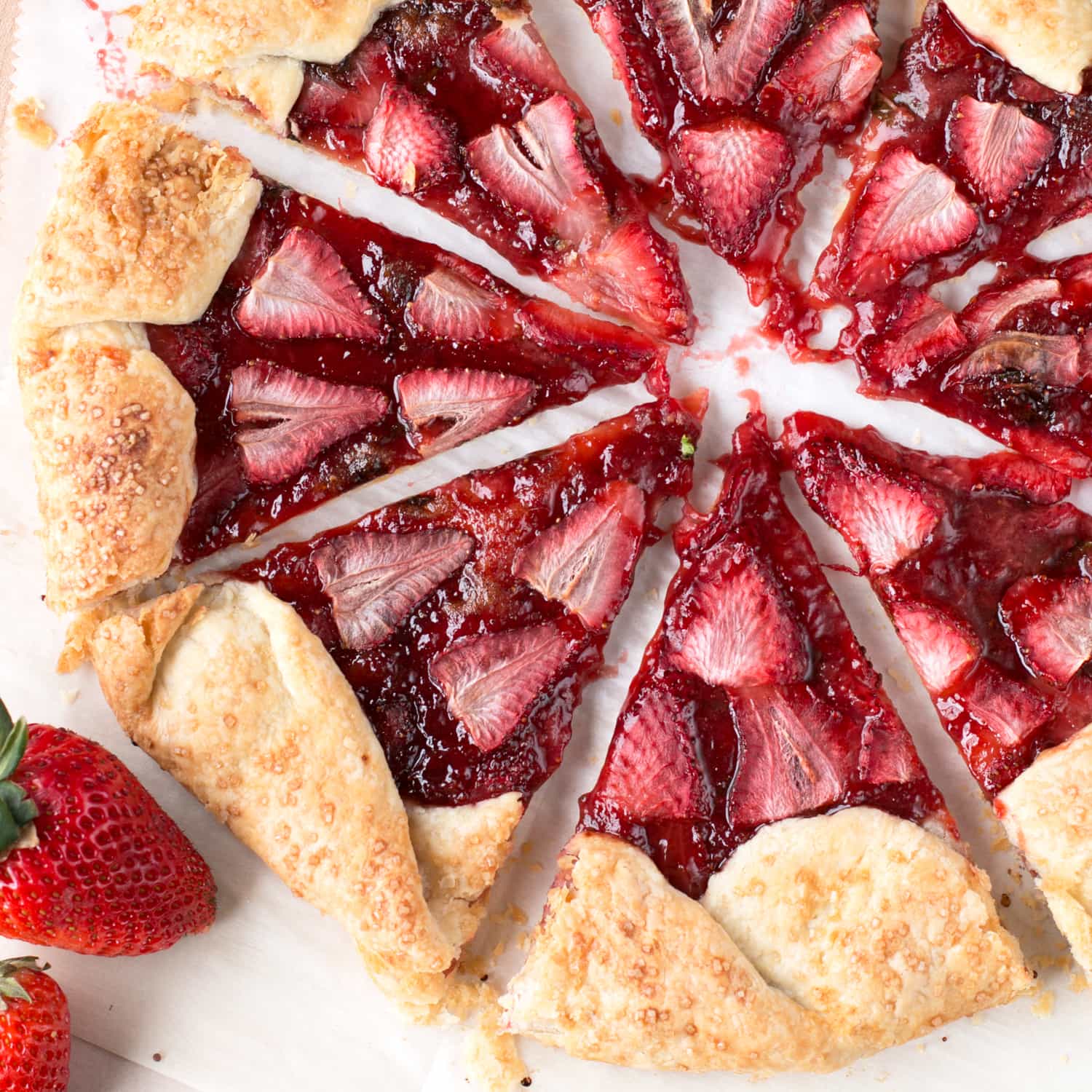 Strawberry Mint Champagne Galette
Additional Time:
10 minutes
With a homemade strawberry mint champagne jam, this fresh and fruity dessert is a serious crowd-pleaser!
Ingredients
Crust
1 1/2 cups flour
1 1/2 tsp sugar
1/4 tsp salt
8 Tbsp cold unsalted butter, cubed into 1/2" pieces
1/3 cup ice water
Filling
1/2 cup champagne
Juice of 1/2 a lemon
1/2 cup granulated sugar
1/4 tsp vanilla extract
12-14 mint leaves
16 oz strawberries, diced
16 oz strawberries, sliced
2 Tbsp melted butter
Turbinado sugar
Instructions
In a medium saucepan, cook strawberries with champagne, lemon juice, sugar, vanilla and mint leaves over medium-high heat. Bring to a boil, then reduce to a simmer over medium-low heat. Cook for 1 hour, stirring occasionally. Remove from heat and add to a blender or food processor. Puree until smooth.
While the jam is cooking, in a large bowl, mix together flour, sugar and salt. Using your hands, mix in half of the butter, squeezing the cubes between your fingers, until the mixture resembles a coarse meal. Add in the remaining butter, squeezing the cubes between your fingers once again, until the largest pieces of butter are approximately the size of a pea. Drizzle water over the dough and bring together, kneading 3 to 4 times. Note: you may not need to use all the water depending on where you live so use a little at a time until it comes together. Flatten the dough into a disk, wrap tightly in plastic wrap and cool in the refrigerator for 30 minutes.
When ready to bake, preheat oven to 375 degrees. Line a rimmed baking sheet with parchment paper.
Roll out the galette dough into a 14" round. top with 1/4 cup jam and a layer of strawberries and roll up edges of crust Arrange the fruit in the center of the dough, leaving about a 1 to 2-inch edge of dough all the way around.
Fold the pastry edge up and over the filling, pleating the dough in evenly spaced folds, pressing to seal as you work your way around. Brush the pastry border and edges with the melted butter. Sprinkle the edges generously with turbinado sugar.
Bake for 40 minutes. Transfer the galette with the parchment paper onto a rack to cool for approximately 15 minutes before serving. Garnish with fresh chopped mint leaves.