Please note this post contains affiliate links.
Our luscious Mango Mousse is a tropical creamy dessert that's perfect for a hot day. This summery dessert is like a sunshine-infused dream, with a velvety and creamy texture that melts in your mouth. With each spoonful there's a vibrant flavor of ripe mangos, paired with a chili lime graham cracker crumble on the bottom and tangy mango puree on top.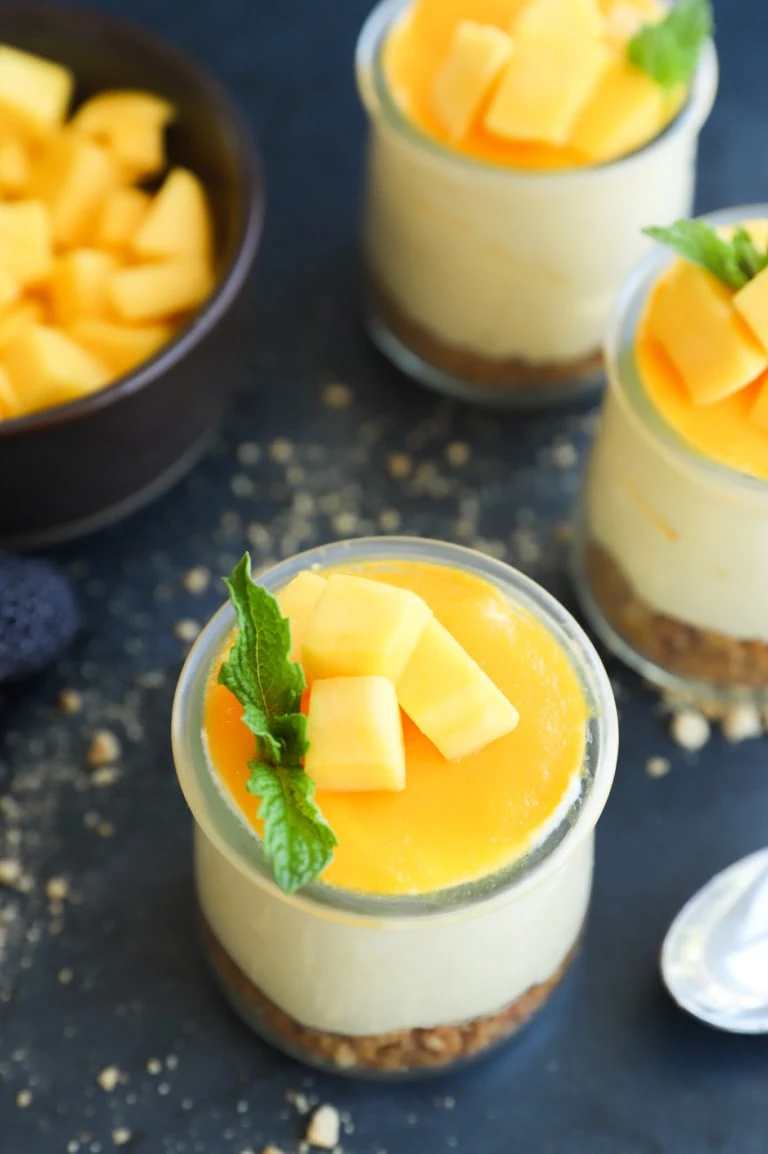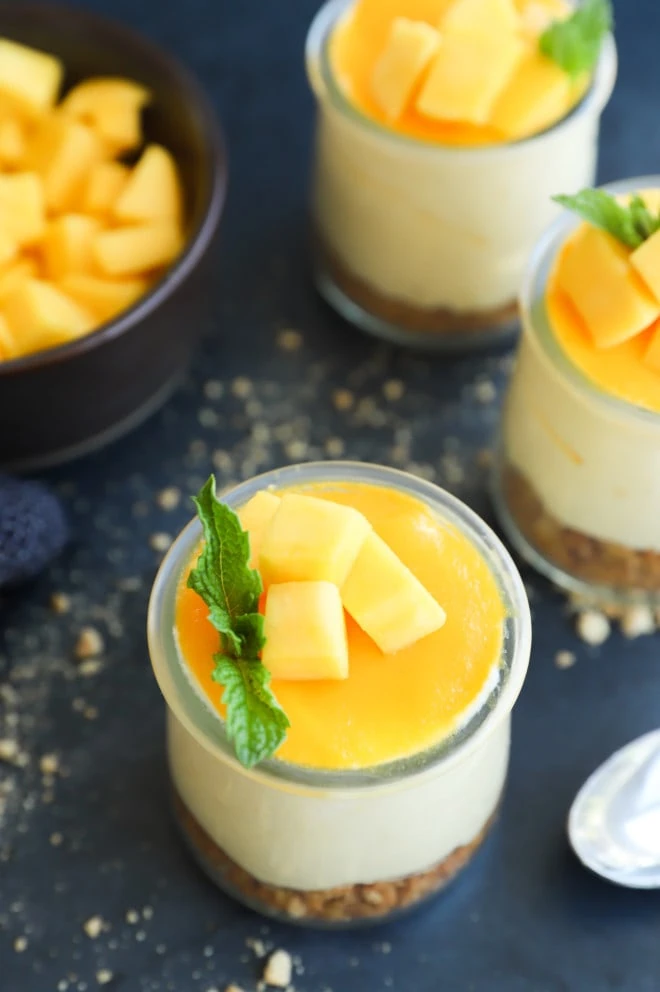 about this mango mousse
Mangos are always in our home, whether they are dried, fresh or frozen. Personally I love to inhale mango, and it looks like Babycakes is doing the same thing as a toddler. I love the fact that it has some nutrients in it, but the flavor is what has us all coming back for more. Whether it's for snack time, breakfast, or dessert, you'll always find mango on the menu in our home.
Therefore, mango mousse is the preferred dessert, particularly when mangos are in season.
Forget the eggs and gelatin powder, there's no need to bring those into this simple recipe for fruity mousse. Traditional mousse is made with whipped egg whites or gelatin to help the mousse set. However, with whipped cream, you can cheat and forgo that work entirely!
This refreshing, summery mango mousse is so simple to make, you will never go back to any other mousse recipe.
To make this eggless mango mousse, all you need is fresh mango, heavy cream, and honey! The chili lime crumble at the base gives you an added crunch with a little bit of tangy spice. However, if you are gluten-free (or don't want to go through the effort), this crumble mixture is totally optional.
Not only is this recipe super easy to make, it's also packed with nutrients thanks to the mangoes. Mangoes are a delicious source of vitamin C, vitamin A, and fiber. Therefore it's a healthier dessert option over others!
Whether you need a summery dessert to impress at a dinner party, or just want to surprise someone with a tangy dessert at home (yes, treatin' yourself counts too!), this mango mousse recipe is a must-try.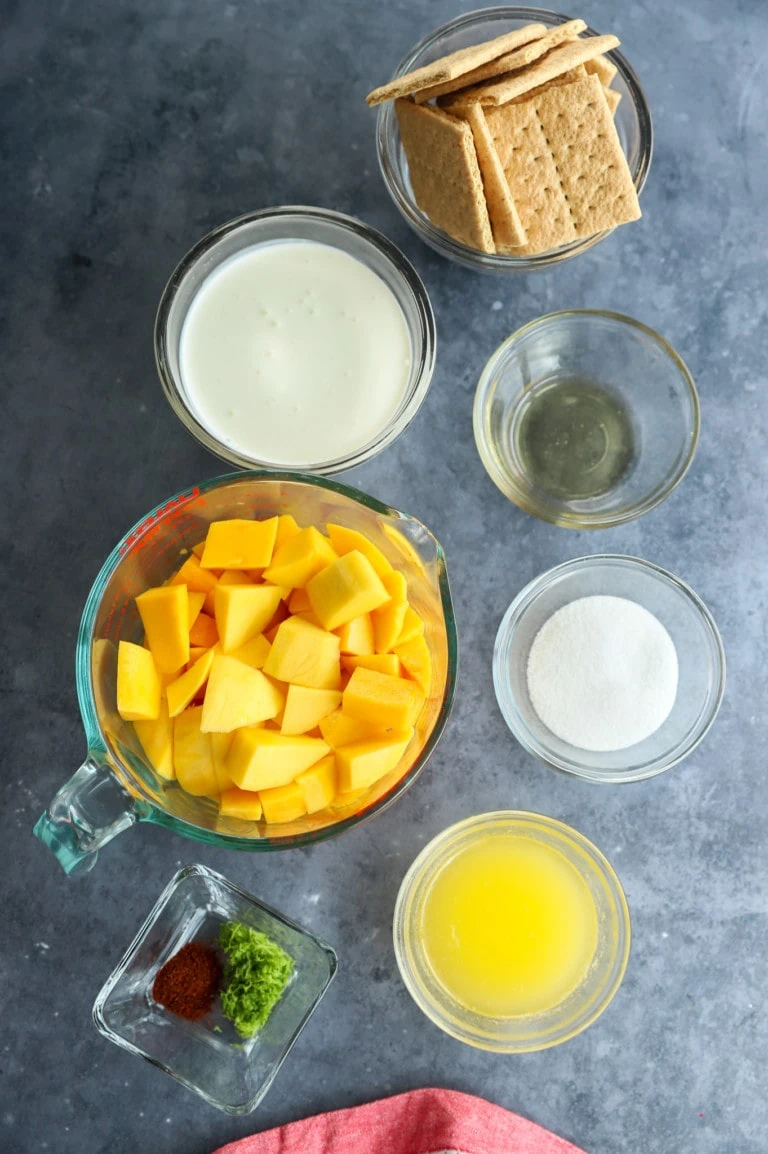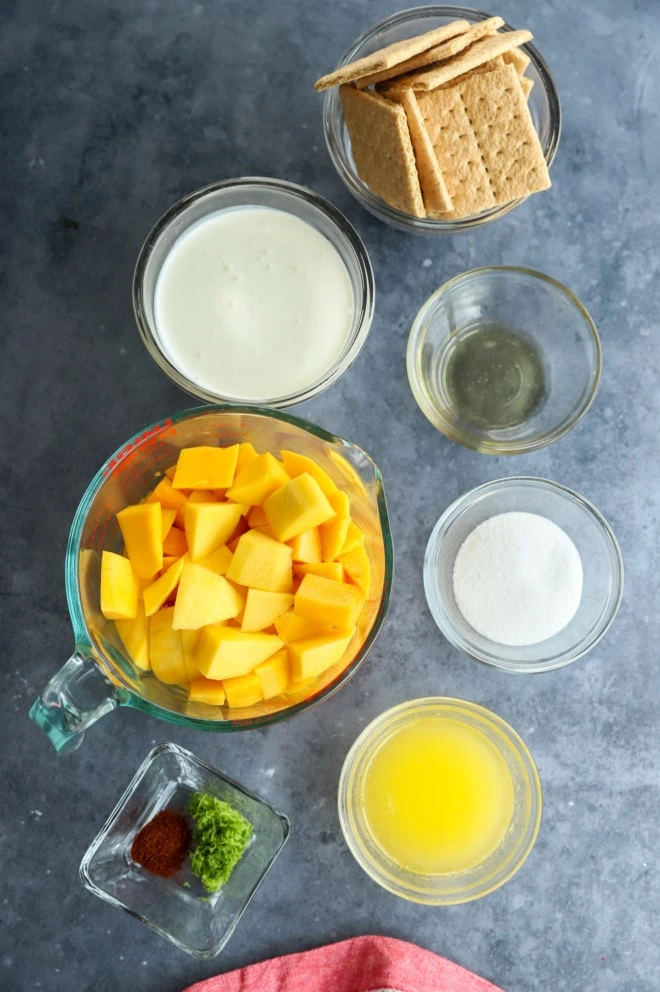 ingredients
graham crackers. Use your favorite brand of graham crackers! I always prefer Honeymaid (an homage to my childhood I suppose), but the brand you love is the one to use. You can also use gluten-free graham crackers to make this recipe gluten-free.
sugar. All you need is granulated sugar for this recipe.
butter. Unsalted butter is the way to go for this recipe!
lime zest. Fresh lime zest is best here! It gives such a delicious tang to the crumble at the bottom of the jars.
chili powder. Regular chili powder will work here. You can also use ancho chili powder if you prefer something a little smokier!
mango. Fresh and ripe mango is key! If you want to use frozen mango, make sure to thaw it completely and drain out any excess liquid before using it.
honey. I use honey as the sweetener, but you could also use agave or maple syrup instead.
heavy cream. Heavy whipping cream is used to make the whipped cream! This is the base of the mango mousse.
this recipe's must haves
For the crumble recipe, you will need a food processor to make the mixture. Bake it on a half sheet baking pan lined with a silicone mat.
To make the puree, I use the same food processor! You will also need a fine mesh strainer to strain the mango puree so that it is deliciously smooth.
I like to use my stand mixer to make the whipped cream, but you can also use a large bowl and electric hand mixer.
Finally, use custard jars, mason jars, or whatever jars you have on hand to assemble the mousse cups. I just up-cycle my Oui by Yoplait jars!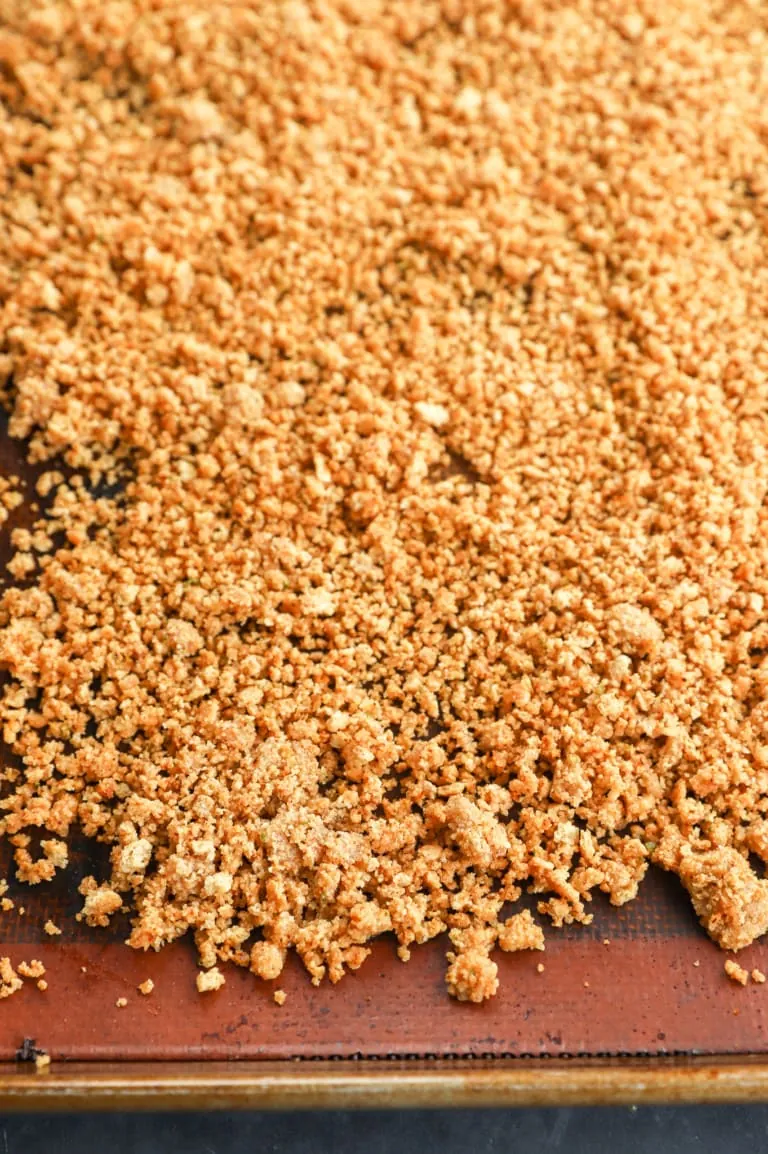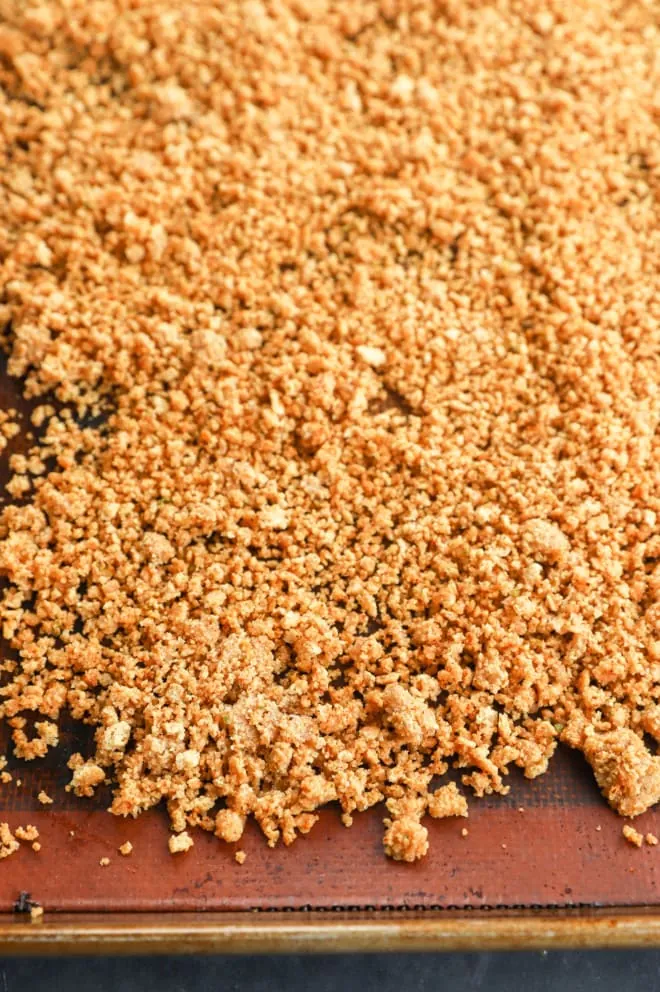 here's how to make mango mousse
make the crumble
To make the chili lime crumble, add graham crackers, sugar, melted butter, chili powder, and lime zest in a food processor. Pulse until the mixture resembles coarse crumbs with some small nuggets in there.
Dump the mixture onto a baking sheet lined with a silicone mat or aluminum foil. Bake for 10 minutes at 325˚F, until golden brown. Set aside to cool completely.
make mousse
Clean out the food processor bowl and dry it. Add mango and honey, pureeing until smooth.
Use a fine mesh strainer to strain the mango puree. Set aside.
Beat the heavy whipping cream in a bowl or stand mixer until it reaches stiff peaks. Add 1 cup mango puree to the whipped cream and fold in until just combined. Use as few movements as possible!
assemble and chill
Divide the crumble evenly between jars. I like to use the Oui by Yoplait jars for this, but you can also use small mason jars or custard cups if you don't have jars.
Top with even amounts of mango mousse. Add an additional layer of smooth mango mixture on top.
Cover with plastic wrap and chill for at least 2 hours before serving.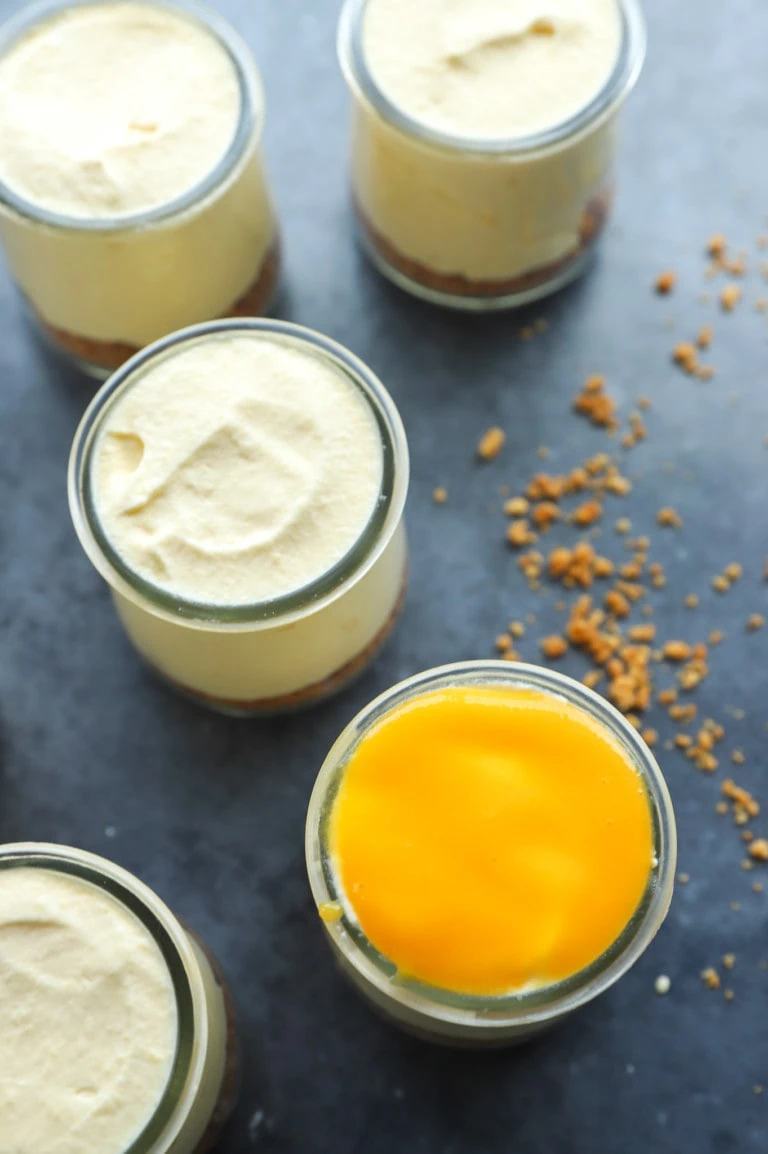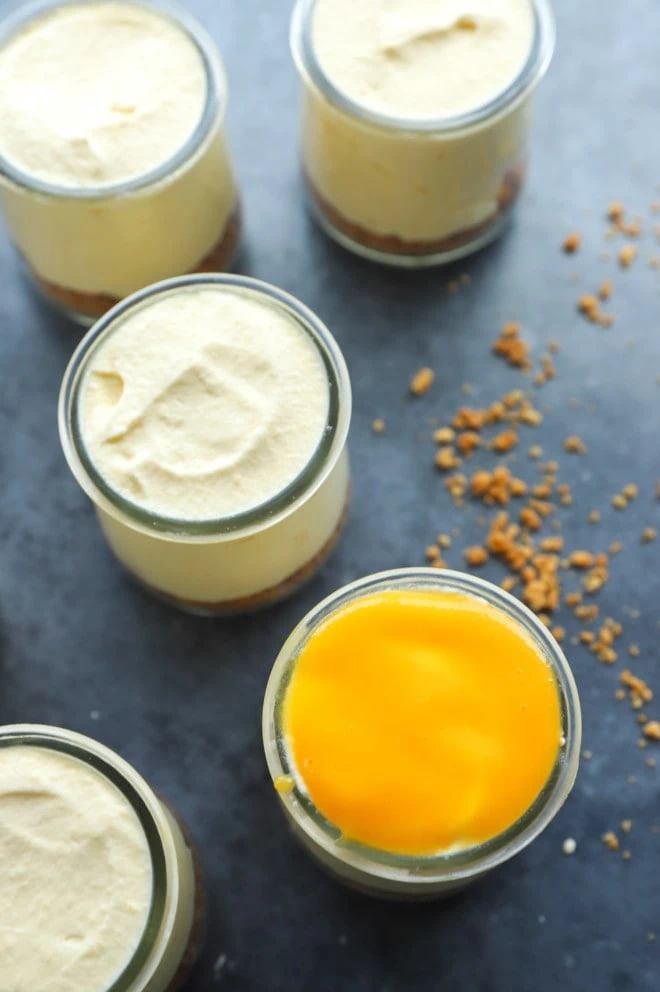 tips for success
do NOT over mix. If you over mix the mousse, it will not set in the refrigerator, no matter how long you let it sit in there. Fold the whipped cream and puree together until it is just combined, using as few movements as possible!
use fresh ripe mango. Using fresh, ripe mango will yield the best flavor for this dessert! If you want tips on how to pick the ripest mango, check out my Seasonal Tip section below above the recipe card.
chill the heavy cream. Make sure that your heavy cream is chilled until you use it. Do not let it sit out at room temperature before using. If the heavy cream isn't cold enough, it won't whip into whipped cream and achieve those stiff peaks you need.
More delish mousse recipes to taste: Cranberry Cheesecake Mousse | Pumpkin Spice Cheesecake Mousse | Strawberry Cheesecake Mousse | Dark Chocolate Peppermint Mousse
do I have to make the chili lime crumble?
If you just want to make the mousse without the base layer of crumble, you totally can! Simply add the mousse to the cups and top with a layer of mango puree.
can I make this mango mousse ahead of time?
Yes, you can! This dessert is ideal for making ahead of time. The mousse cups will last in the fridge, assembled, for up to 3 days. Make sure to cover the tops of the cups with plastic wrap before you place them in the refrigerator, particularly if you are storing them in there for more than a couple of hours.
can you freeze mango mousse?
No, freezing mango mousse is not recommended. The texture will change after you thaw it and in more cases than not, the texture will break. You cannot re-whip the cream after it's been mixed into the mango puree. Therefore, if you want to make it ahead, make it a few days ahead and store the cups in the refrigerator before serving.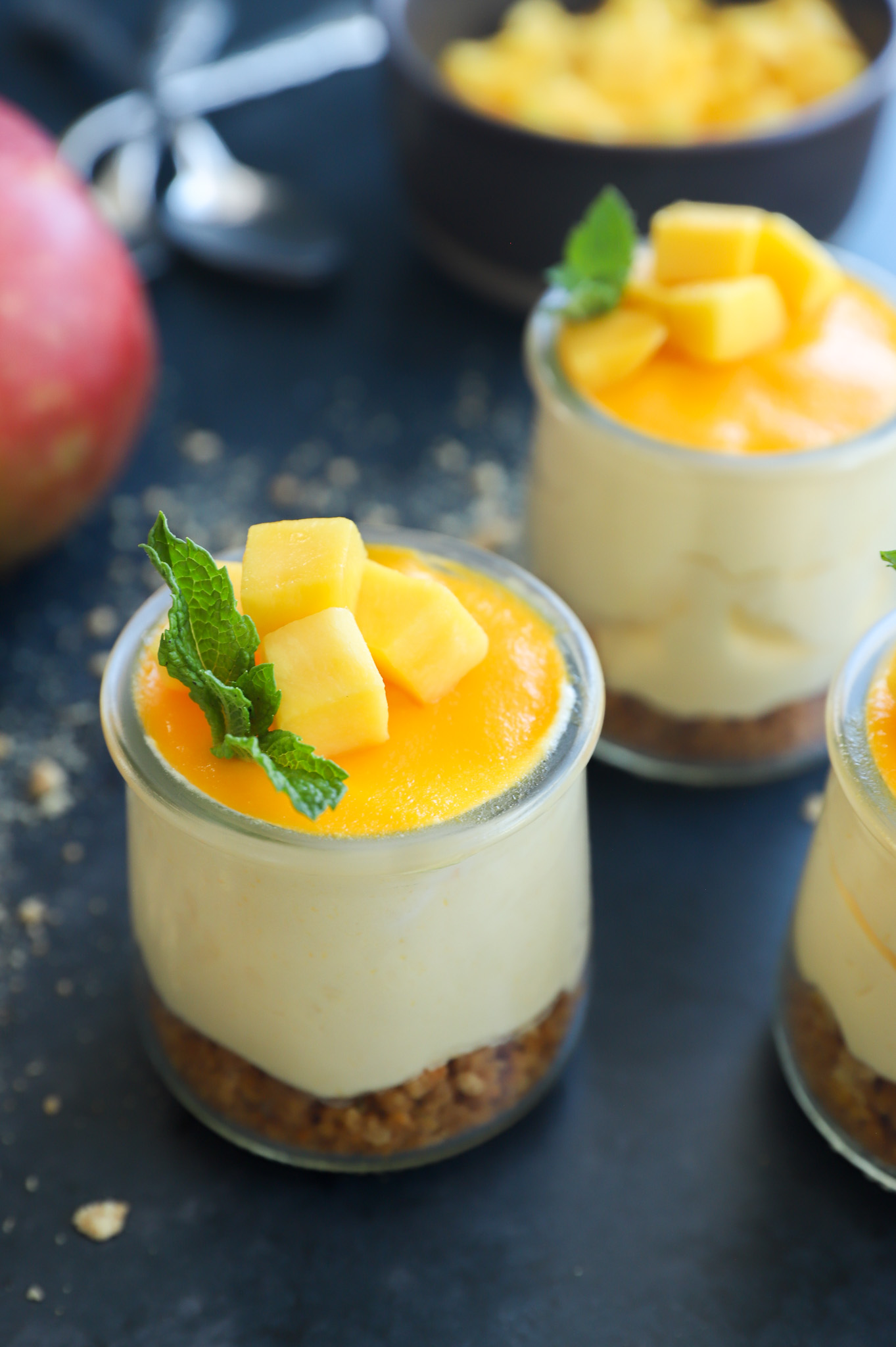 help! my mango mousse isn't setting, how do I thicken it?
If your mousse isn't setting in the fridge, there's one of two reasons. One, it hasn't been in teh refrigerator long enough. Leave the mousse in for an hour or two more and it should be the ideal creamy texture you see here.
A second reason is that the mousse was overworked. If you mix the mousse too much, the whipped cream will lose its texture, making it runny. Therefore the mixture will not set as it should in the fridge.
is mango mousse gluten-free?
The creamy mango mousse itself if gluten-free! You can make the chili lime crumble using gluten-free graham crackers, or you can skip it and just make the mousse.
can I use canned mango pulp?
I do not recommend using canned mango pulp for this recipe, fresh mangoes are ideal with frozen mangos being the second choice. If you do use mango pulp, be sure to strain it well before using it in the mousse recipe.
Need more inspiration for something sweet to eat? Check out my dessert recipes page!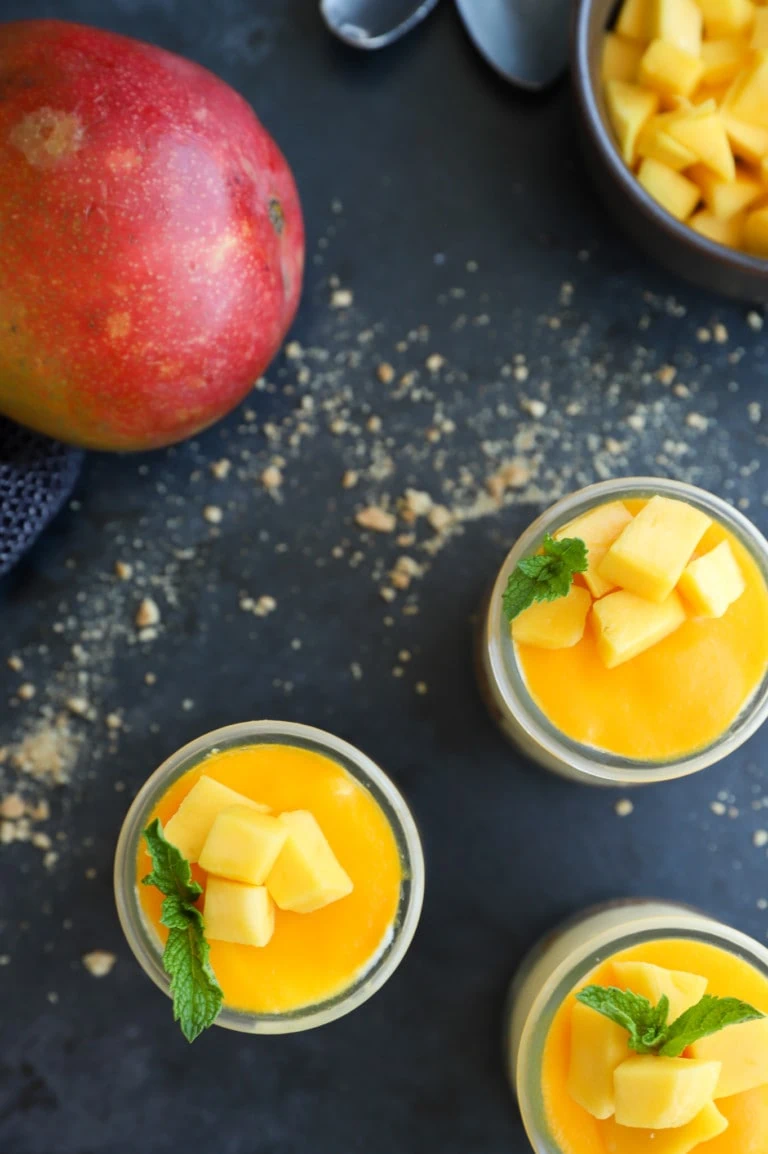 what to serve with mango mousse
I keep things simple when it comes to this dessert! You can serve it without any garnish on top, or top it off with a few chunks of mango and small mint sprig for color.
You could also add a dollop of freshly whipped cream on top too!
This is the ideal summer dessert, so I recommend serving it after a big savory summer meal. Here are some of my favorite recipes to make:
Smoked traeger brisket is smoky, tender, and absolutely delicious! This particular recipe is easy, using a smaller cut of brisket so anyone can make it.
If you love grilled brats, these drunken philly cheesesteak grilled bratwursts are always a crowd pleaser.
A salsa burger is topped with salsa, jalapeños, and crunchy fried onions. So good!
how to store
Store. This is an easy make-ahead dessert! Store in the refrigerator for up to 2 to 3 days. I recommend wrapping the tops with plastic wrap to keep it freshest.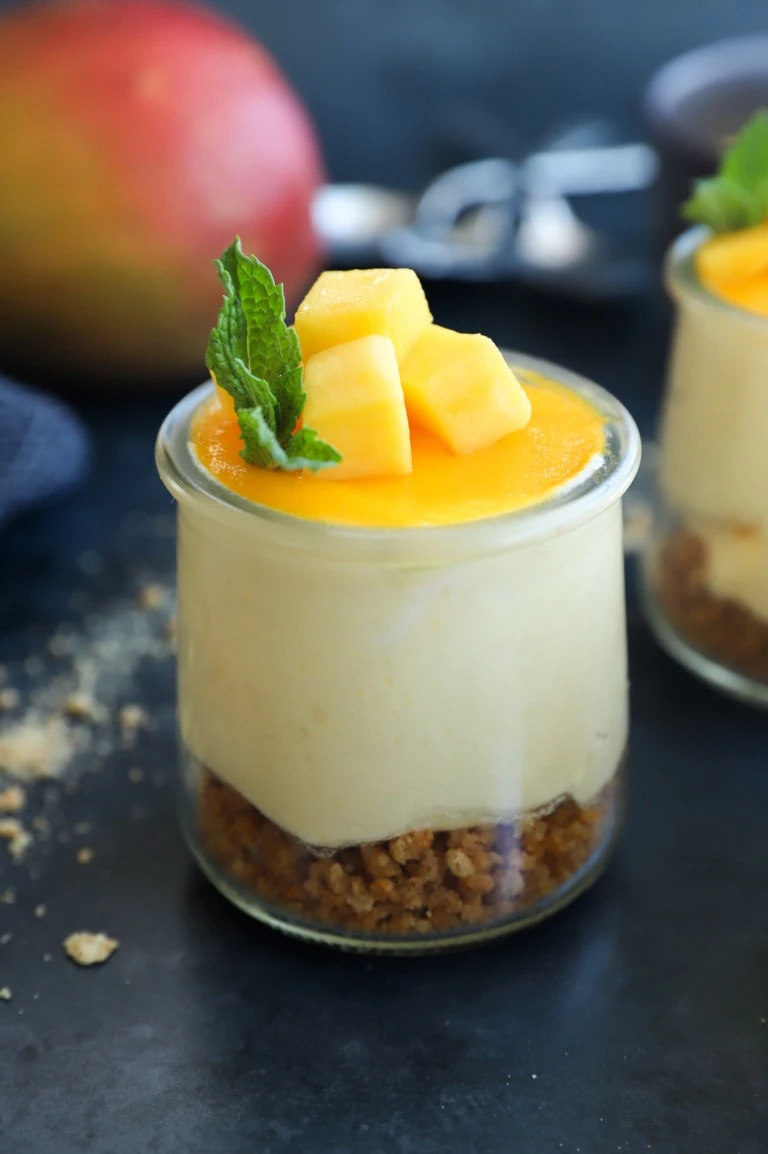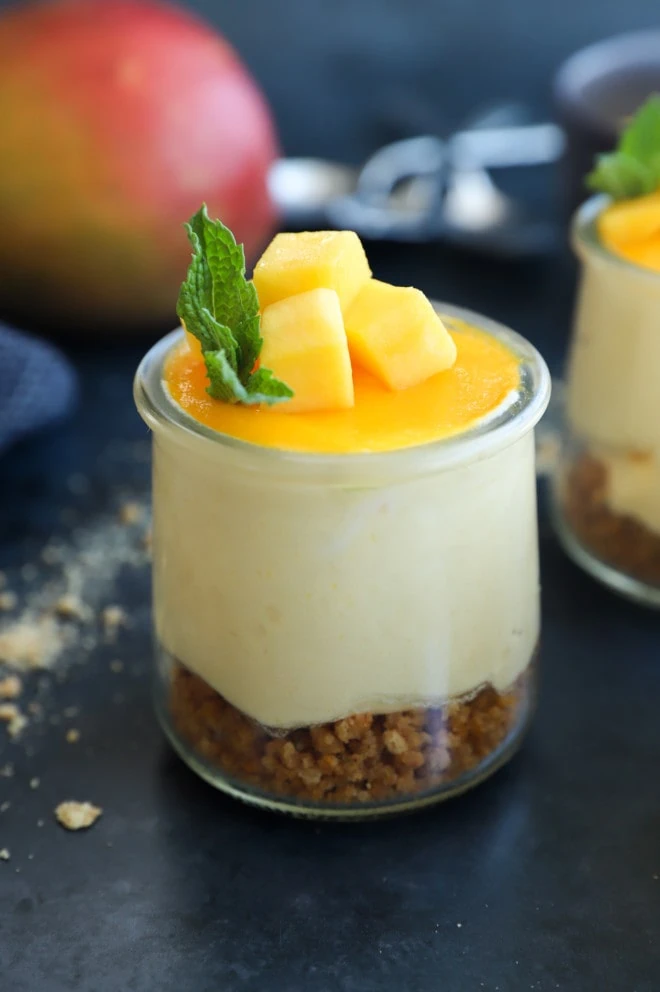 more mango recipes
A coconut mango lassi is the ultimate refreshment for all ages!
Jamaican jerk chicken sliders are topped with a zesty mango salsa.
If you love bang bang shrimp, these crispy bang bang shrimp tostadas with mango slaw are for you.
seasonal tip
Be sure to select a ripe mango! Gently squeeze the mango. If it gives slightly to pressure, it's ripe and ready to eat. If the mango is hard, it is not ready to be eaten. Can't find a ripe mango? Place the unripe mango in a brown paper bag and it should ripen quickly at room temperature.
Finally, if you make this mango mousse recipe, please be sure to give this recipe a rating or leave a comment! I love to hear when you all make recipes, and I do take the time to respond to every single comment. Feel free to drop questions below too, if you have them!
Oh and be sure to tag me on Instagram if you make the recipe! I love being able to see these recipes come to life in your homes – it's my favorite thing to look through those photos. It really means the world to me!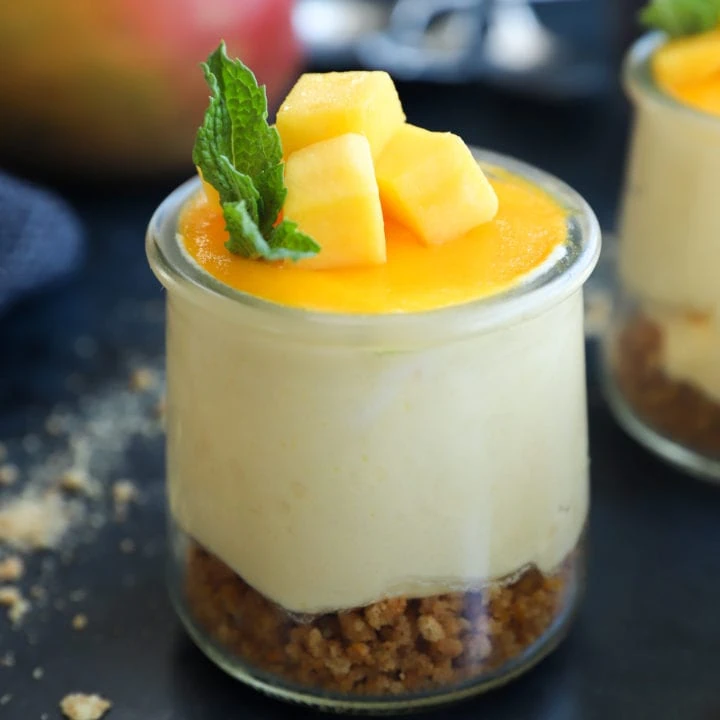 Mango Mousse with Chili Lime Crumble
Total Time:
2 hours
30 minutes
Tangy and sweet mango mousse is served in cups with crunchy chili lime crumble for the ultimate summer dessert.
Ingredients
crumble
1 sleeve graham crackers (9 total crackers)*
3 Tbsp granulated sugar
5 Tbsp unsalted butter, melted
1 1/2 tsp lime zest
1/2 tsp chili powder
mango mousse
3 cups (24 oz) chopped mango (fresh or frozen and thawed)
1 tsp honey
1 cup chilled heavy whipping cream
garnish: if desired, small sprig mint and chopped fresh mango
Instructions
To make the crumble, preheat oven to 325˚F. Line a rimmed baking sheet with silicone mat or aluminum foil.
Add graham crackers, sugar, melted butter, chili powder, and lime zest to a food processor. Pulse the mixture until it comes together to form coarse crumbs.
Dump mixture onto the prepared sheet pan. Spread into an even layer and bake for 10 minutes, until golden brown. Set aside to cool completely.
To make the mousse, clean out the food processor if you used it to make the crumble. Add mango and honey. Puree until smooth. Strain through a fine mesh sieve to make it really smooth.
Beat heavy cream to stiff peaks in a stand mixer or using a bowl and a handheld electric mixer.
Add 1 cup mango puree to the whipped cream. Fold the mixture together until just combined. Do not over mix! Use as few movements as possible to bring the mousse together.
To assemble, divide the crumble between the cups evenly. Top with even amounts of the mango mousse. Top with remaining mango puree.
Cover the jars with plastic wrap and chill for at least 2 hours before serving.
Notes
*use gluten-free graham crackers to make this recipe gluten-free. You can also simply omit the crumble altogether.
Recommended Products
As an Amazon Associate and member of other affiliate programs, I earn from qualifying purchases.