Please note this post contains affiliate links.
Chocolate Covered Strawberry Brownies will prove to you that fruit is meant to be combined with chocolate, ALWAYS. They are gooey, extra chocolatey, and chewy so they definitely need to make an appearance on your Valentine's (or Galentine's!) Day table.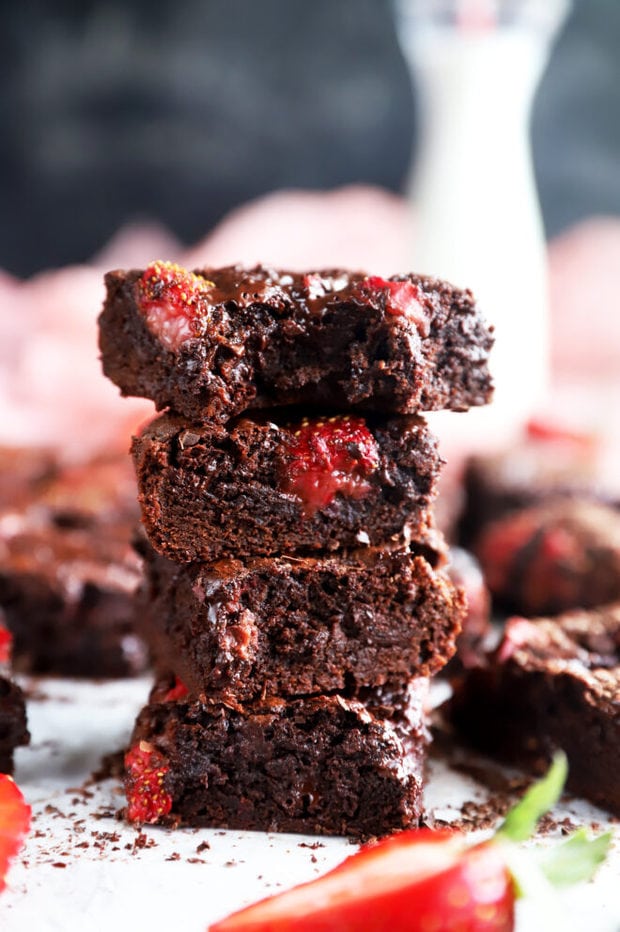 Making chocolate covered strawberries is kind of a pain in the butt. I mean, I love them, don't get me wrong.
But, I don't love the effort required. You have to melt the chocolate and hope you do it correctly so it doesn't seize. The berries need to be carefully dipped so that they don't look all sloppy.
I would so much rather BAKE. Baking is definitely one of my favorite things to do, especially when I am baking for other people. There's no more joy in the world than the smile that comes immediately after taking the first bite of something warm, gooey, and chocolate right out of the oven.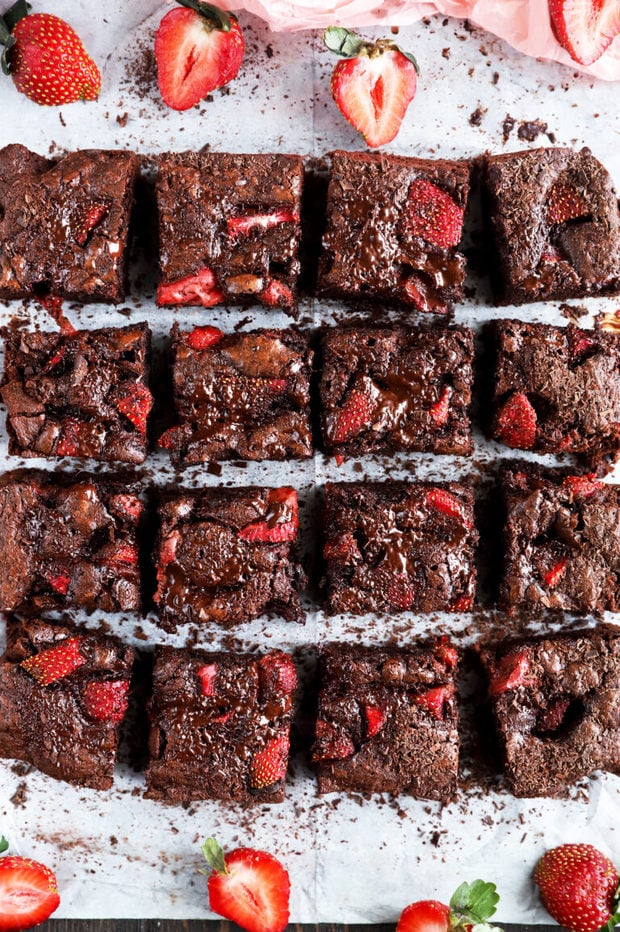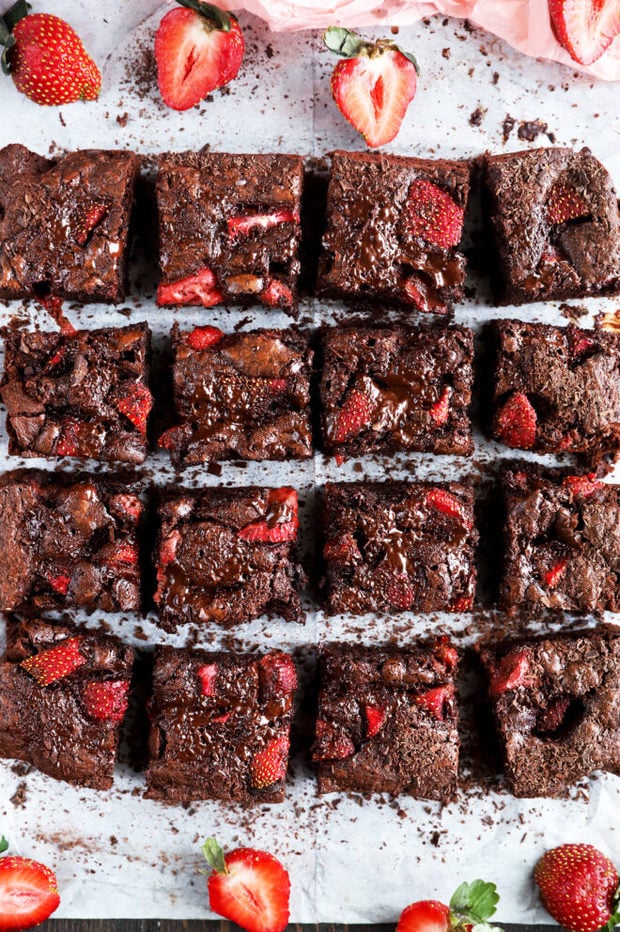 So instead of slaving over making the perfect chocolate covered strawberry, I made chocolate covered strawberry brownies.
Ok, so I know that brownies with fruit might sound weird to some of you. BUT IT IS GENIUS.
The burst of tart and tangy fruit along with rich dark chocolate is pure magic. Plus, these brownies are the PERFECT ones. They are gooey and chewy. There's tons of chocolate packed in there. There are fudgy instead of cake-like.
JUST SO FREAKING GOOD.
I definitely inhaled three of them once they were cool enough to eat and I don't care who knows it. It was totally worth it.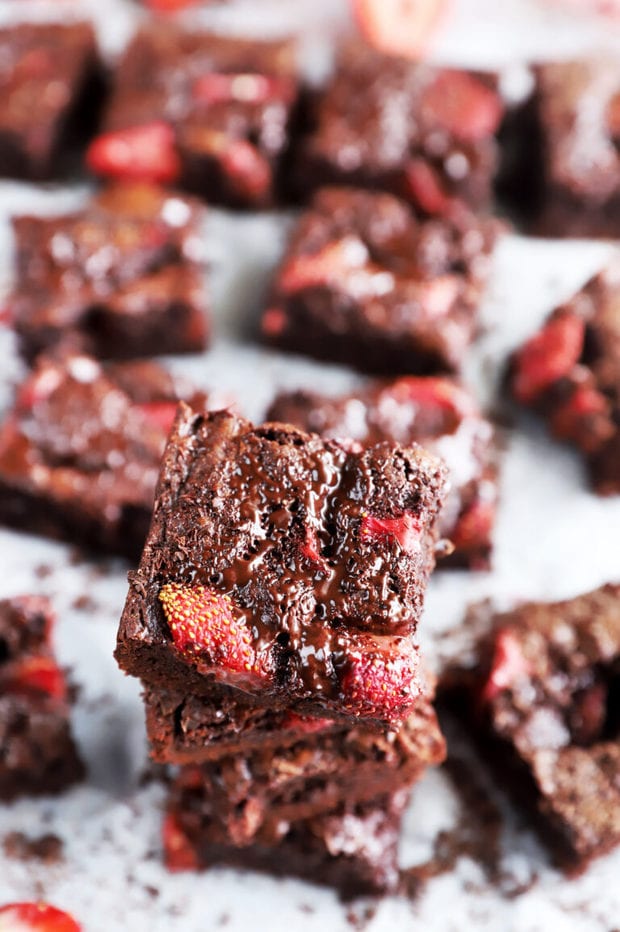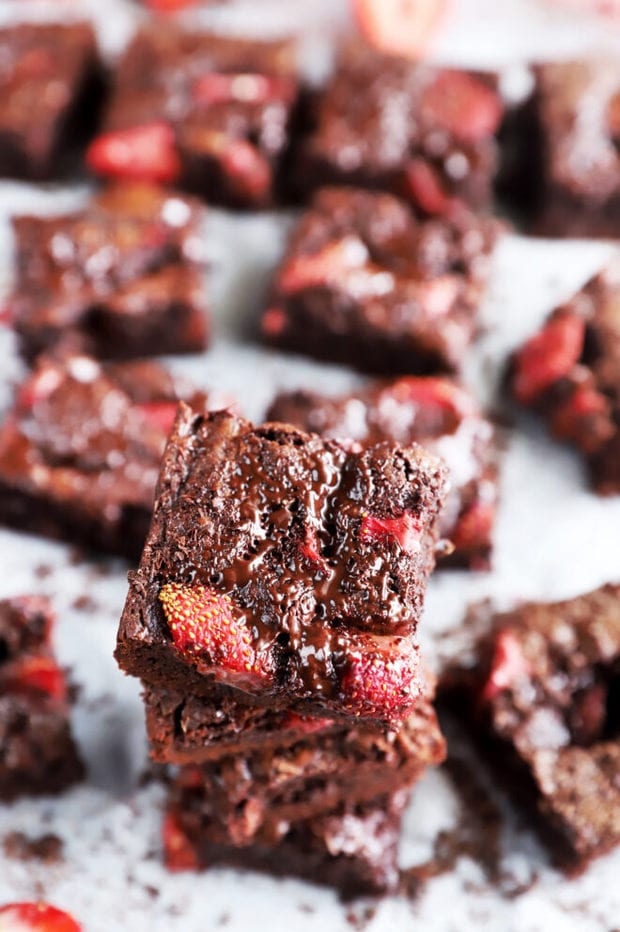 This Recipe's Must-Haves
To make the batter, you will only need the largest of the mixing bowls you have and a wooden spoon.
Be sure to have your chef's knife and cutting board ready to chop up the chocolate and strawberries.
I love to bake up these brownies in this 9-inch baking pan.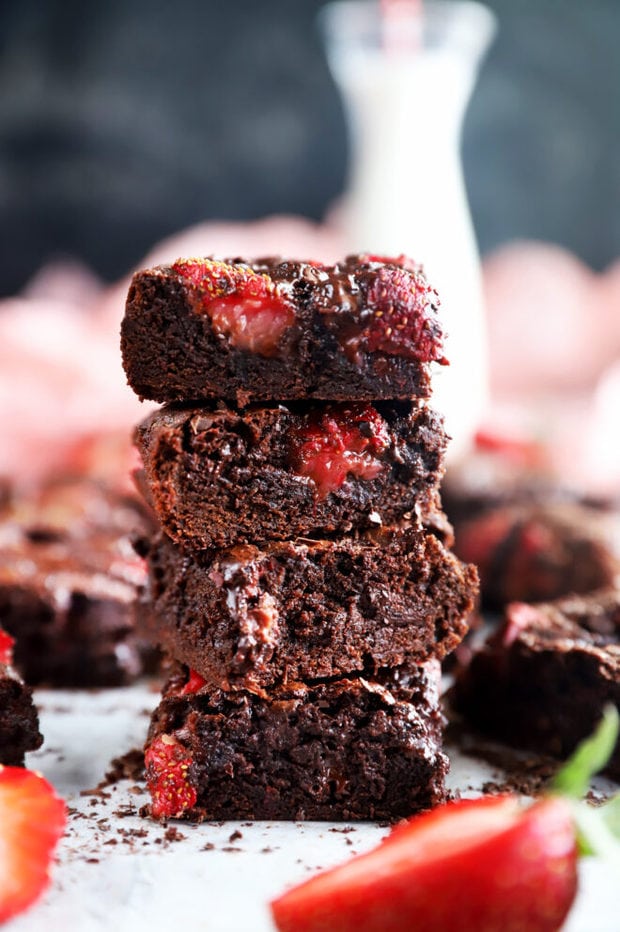 Here's How To Make Strawberry Brownies
Make Batter
The batter comes together with just one large bowl and a wooden spoon! Talk about less to have to clean, am I right? You don't need to both with a mixer at all. Stir in everything as it says in the ingredients list to make sure they turn out perfectly.
My biggest recommendation is to make sure that you have all your ingredients measured and ready to go BEFORE you start putting it all together. You should be able to measure everything then make the batter while the oven preheats!
Top with Strawberries
After you pour the batter into the 9-inch baking pan, spread it out into an even layer. Then top it with chopped strawberries, lightly pressing them down into the batter to make sure they stick in there.
Bake
Bake the brownies until they are cooked through, about 35 to 40 minutes! After they are done, let them cool slightly before topping with shaved chocolate. This gives the brownies a little extra chocolate boost and OMG it's SO GOOD.
Need inspiration for a sweet ending to a meal? Check out my dessert recipes page for some tasty ideas.

How should I store strawberry brownies?
Because of their texture and the fresh fruit, I like to store these in the refrigerator. They last up to one week!
Pro tip: to make them all warm and gooey again, add them to the microwave for about 30 seconds. YUM.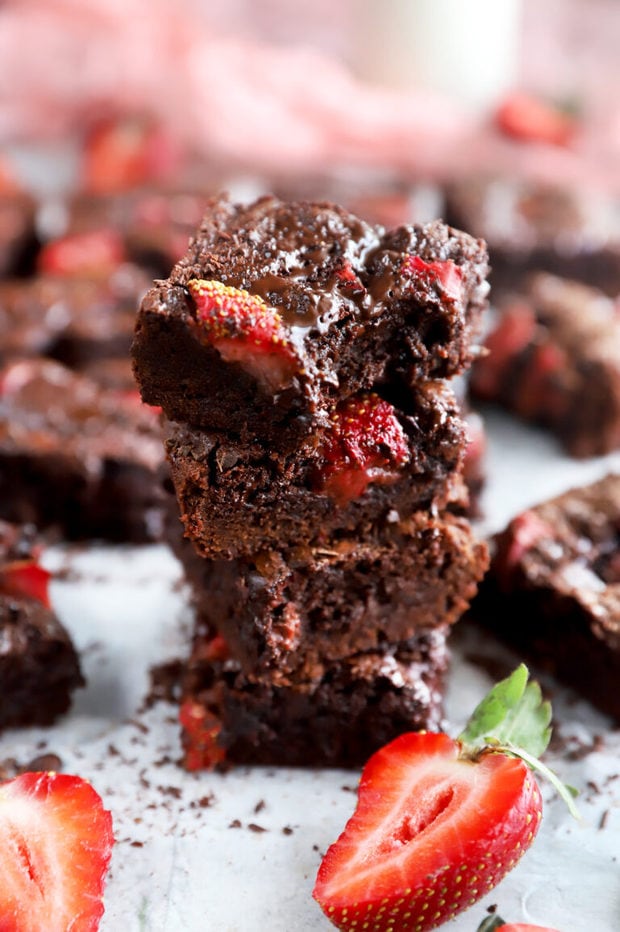 Make It Your Own
• I like to chop my berries into quarter sized chunks but you can chop them smaller if you like.
• You can even use raspberries or blackberries instead of strawberries if you prefer!
• Don't like dark chocolate? You can totally use milk chocolate for this recipe as well!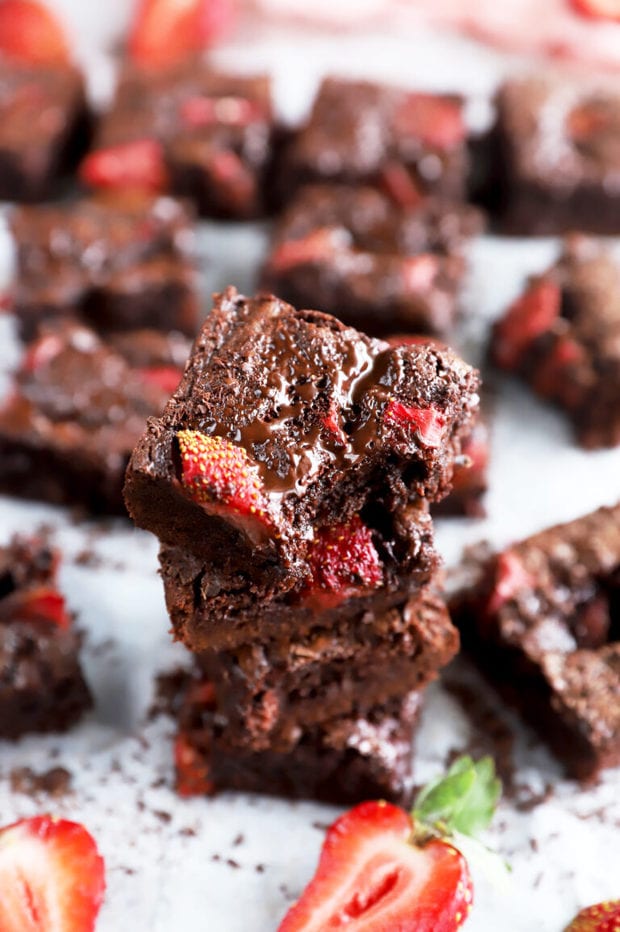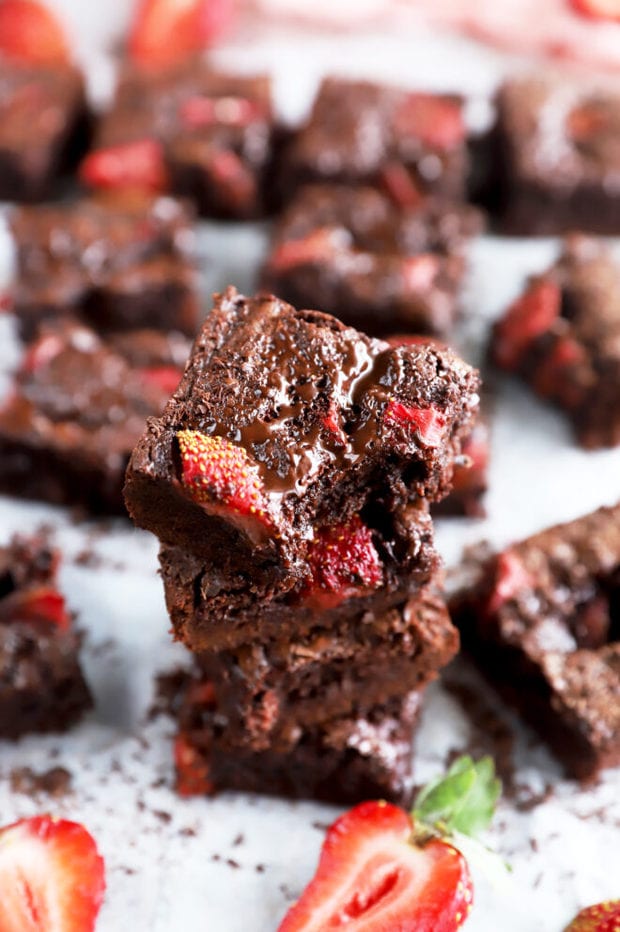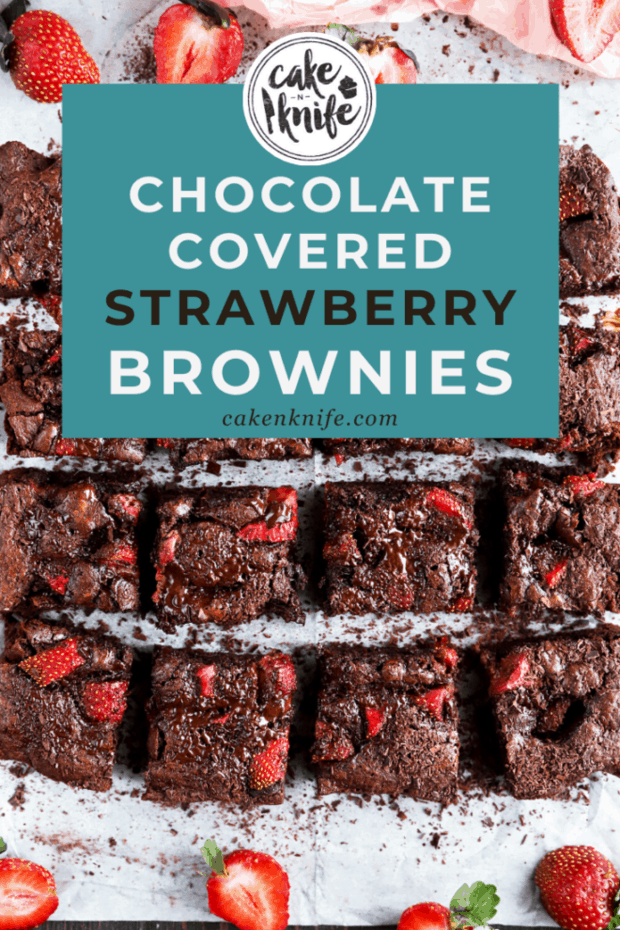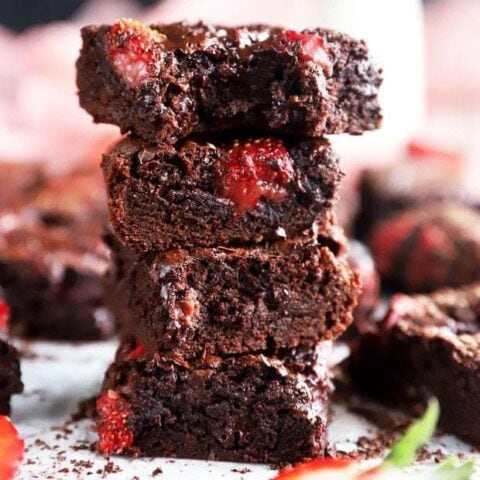 Chocolate Covered Strawberry Brownies
Gooey, decadent chocolate brownies are topped with chunks of strawberries for a fruity twist on a chocolate covered strawberry.
Ingredients
1/2 cup unsalted butter, melted
1 cup sugar
2 large eggs
1/2 tsp salt
1/2 tsp baking powder
1 tsp vanilla extract
1/2 tsp instant espresso powder
2/3 cup unsweetened cocoa powder
3/4 cup all-purpose flour
7 oz dark chocolate, chopped
5-7 strawberries sliced up
Garnish: Shaved dark chocolate
Instructions
Preheat oven to 350˚F. Line a 9x9-inch baking pan with parchment paper. Spray with nonstick spray and set aside.
In a large bowl, stir together melted butter and sugar until combined.
Stir in eggs, salt, baking powder, vanilla extract, and instant espresso powder.
Add cocoa powder and flour, stirring until combined and there are no lumps.
Fold in chopped chocolate.
Add batter to the prepared baking pan and spread into an even layer. It helps to spray a spatula with nonstick spray so the batter doesn't stick and spreads easier! Top with chopped strawberries, slightly pressing them into the batter.
Bake for 35 to 40 minutes, until a toothpick inserted in the center comes out with just a few crumbs.
Cool for 5 minutes in the pan before removing from the pan. Sprinkle with shaved dark chocolate, if desired, before cutting.
Recommended Products
As an Amazon Associate and member of other affiliate programs, I earn from qualifying purchases.