Steamed Shrimp Avocado Wontons with Ginger Dipping Sauce pack a serious punch of flavor in those little packets. They make a great appetizer or snack that won't have you feeling guilty after you've downed 12 of them.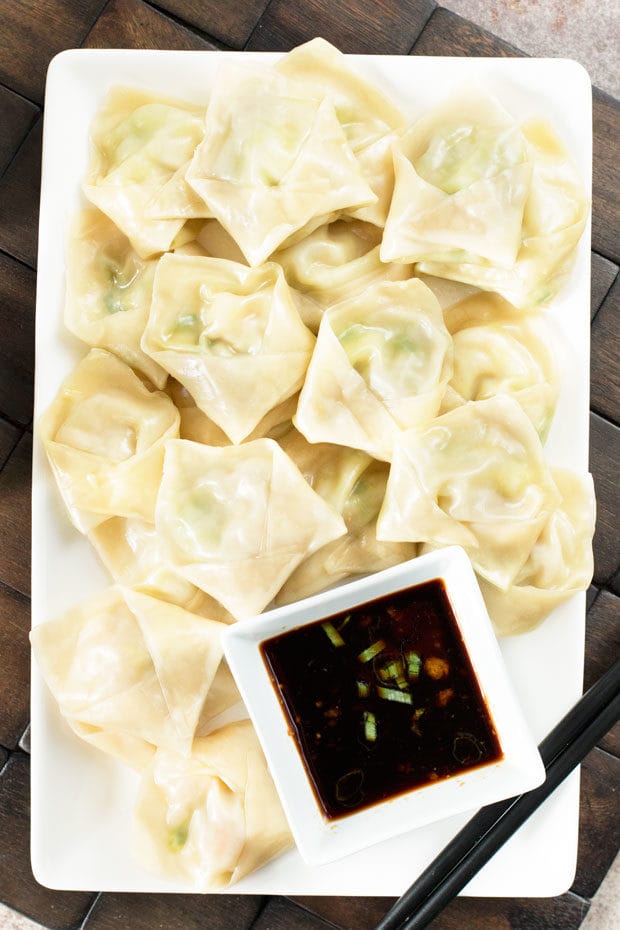 I have to tell you a secret… Making wontons is not something I have a lot of experience in…
I was a little intimidated to make these little wrapped packets of love, but I was inspired by a very dear friend to give them a try. I was making egg rolls at the time and my friend asked if I'd ever tried making wontons. I laughed, saying my hands weren't delicate enough to make those without destroying them. She told me I was crazy and that they were the simplest things to make.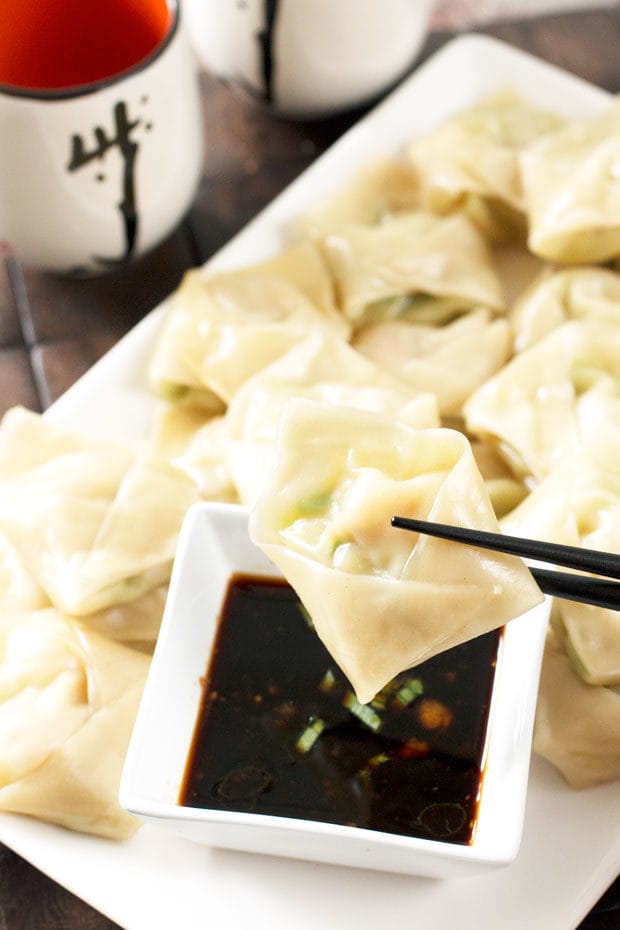 Then she proceeded to give me the genius idea to bring the electric steamer into the living room on those Netflix-binging girls' nights so you can just keep loading up the steamer in batches, without having to move from your perfectly formed spot on the couch.
Such genius. Very wow.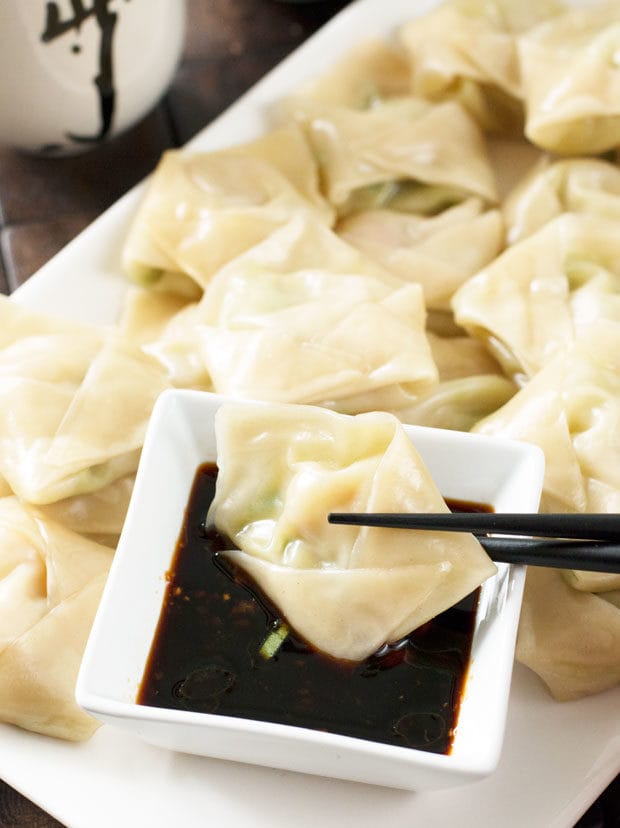 I'm pretty sure this is going to be my new weekly ritual while watching The Bachelor. Don't judge.
These steamed shrimp avocado wontons have a ton of flavor for such a little bite-sized food, especially when you pair them with the ginger dipping sauce. You've got the savory umami flavors going on with a hint of spice from the Serrano pepper. It all just works. Plus there are three ingredients in the sauce and it still blows my taste buds to the moon.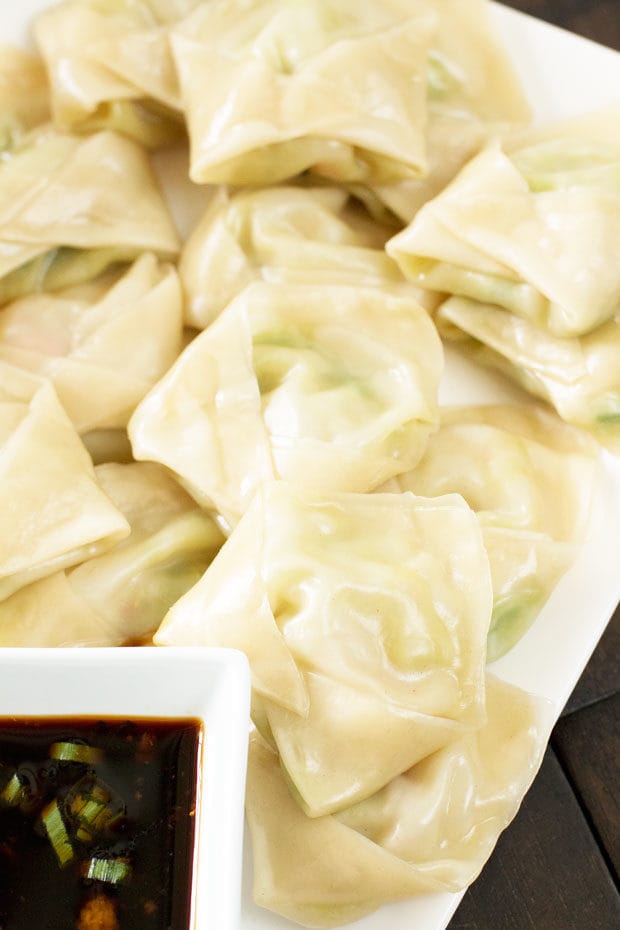 You can even make these wontons ahead of time and freeze them, or just refrigerate them until you're ready to steam them later that day!
Oh and trust me, no delicate hands are necessary to make these bad boys. I am the clumsiest cook ever and I didn't rip a single one in the process! It's the little accomplishments that make life so good, right?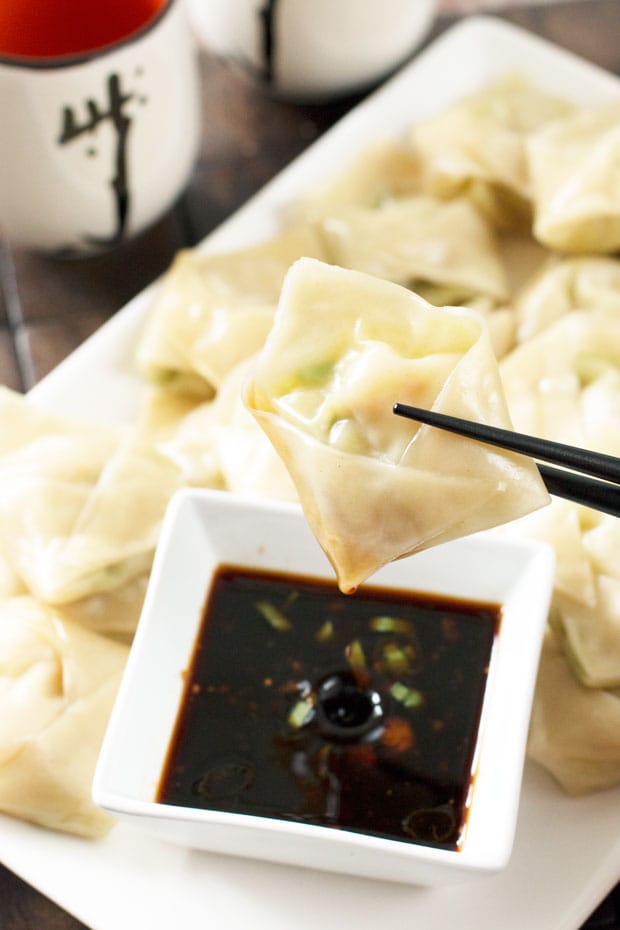 Steamed Shrimp Avocado Wontons with Ginger Dipping Sauce
Yield:
Makes 24 to 28 wontons
They make a great appetizer or snack that won't have you feeling guilty after you've downed 12 of them.
Ingredients
wontons
2/3 pound Raw Shrimp, Shelled, deveined and chopped
1 teaspoon Salt
1 teaspoon Olive Oil
3/4 teaspoon Grated Fresh Ginger
3/4 teaspoon Granulated Sugar
1 tablespoon Rice Wine Vinegar
1/2 teaspoon Sesame Oil
1 tablespoon Cornstarch, Plus 2 teaspoons, divided
1 Serrano Pepper, Seeded and minced
1 Avocado, Peeled, pitted and chopped
1/4 cup Cold Water
24-28 Wonton Wrappers
Ginger Dipping Sauce :
1/4 cup Soy Sauce
3 teaspoons Grated Fresh Ginger
1 tbsp Chopped Scallions
Instructions
In a medium bowl, stir together shrimp, salt, olive oil, ginger, sugar, rice wine vinegar, 2 teaspoon cornstarch and serrano pepper. Gently fold in chopped avocado.
In a small bowl, whisk together 1 Tablespoon cornstarch and 1/4 cup cold water.
On a flat clean surface, assemble your wontons. Start with a wonton wrapper so it sits with one corner facing you (like a diamond).
Dip your fingertip into the cornstarch water and coat all four edges of the wonton wrapper.
Spoon 1 heaping teaspoon of the strip mixture in the center of the wrapper.
Fold the wrapper in half, away from you, to form a triangle. Press the edges firmly together. Fold in the left corner over the center, then fold in the right corner on top. Seal with another brush of cornstarch water.
Repeat with remaining filling and wonton wrappers.
Steam the wontons for approximately 6 to 8 minutes.
While the wontons are steaming, stir together the ingredients for the dipping sauce.
Serve warm with dipping sauce.