Please note this post contains affiliate links.
Chunky Salsa is perfect for serving at parties and gatherings of all sizes (or for a casual weeknight snack)! There's nothing that beats the flavor of fresh homemade salsa, so skip the store bought stuff. It's very easy to make and the longer you let it sit, the better it ends up tasting. Serves 8.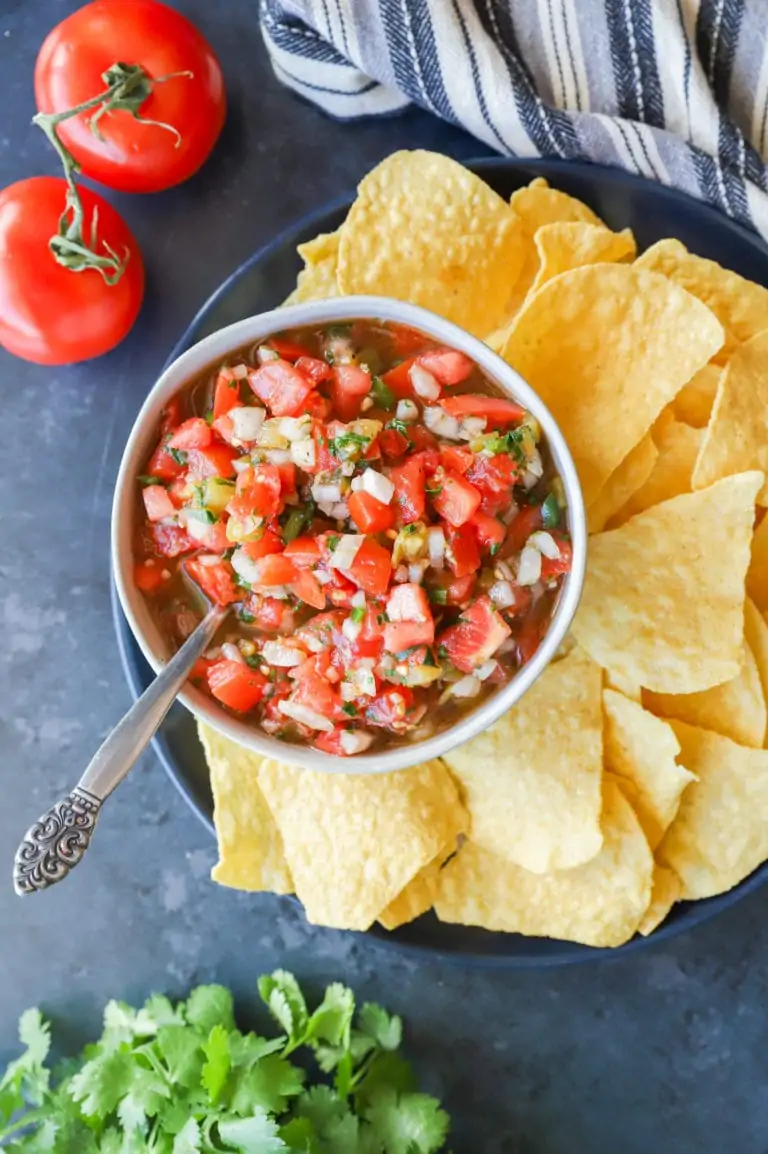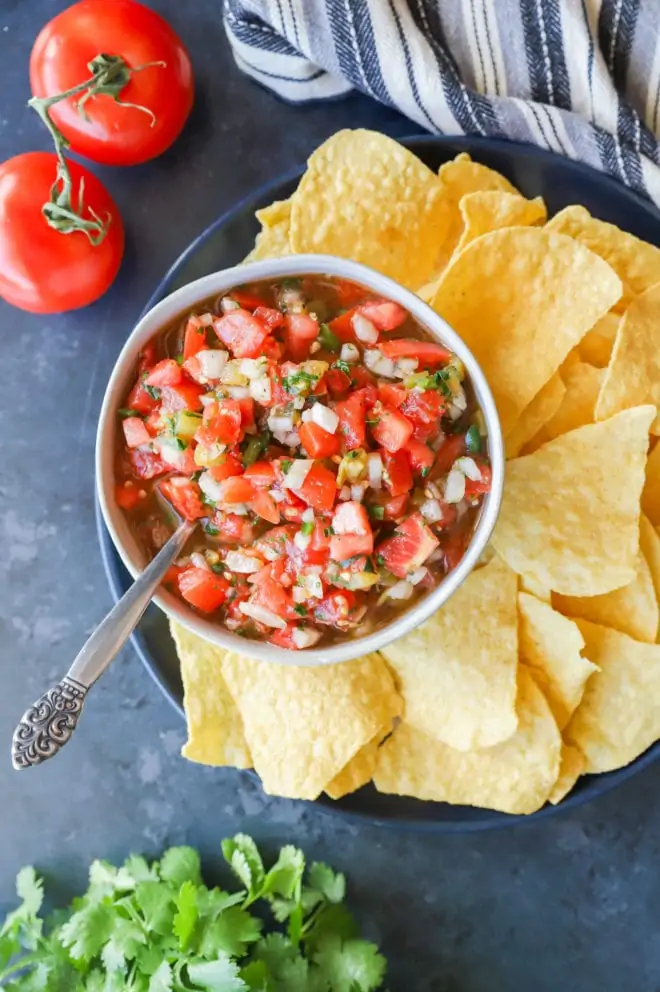 Ok, so I think I might have made the best chunky salsa EVER.
I know everyone has their salsa favorites, whether it's homemade, store bought, or from Chipotle (hey, no judgements here!). BUT, this chunky bowl of goodness is packed with so much flavor, I bet you won't be able to stop eating it once you taste that first scoop.
Personally, I've never been the biggest fan of restaurant-style salsa that's really smooth and thin. I like my salsa to have some texture to it. Plus, it's a whole lot easier to load up a chip with a chunkier salsa than a super thin one.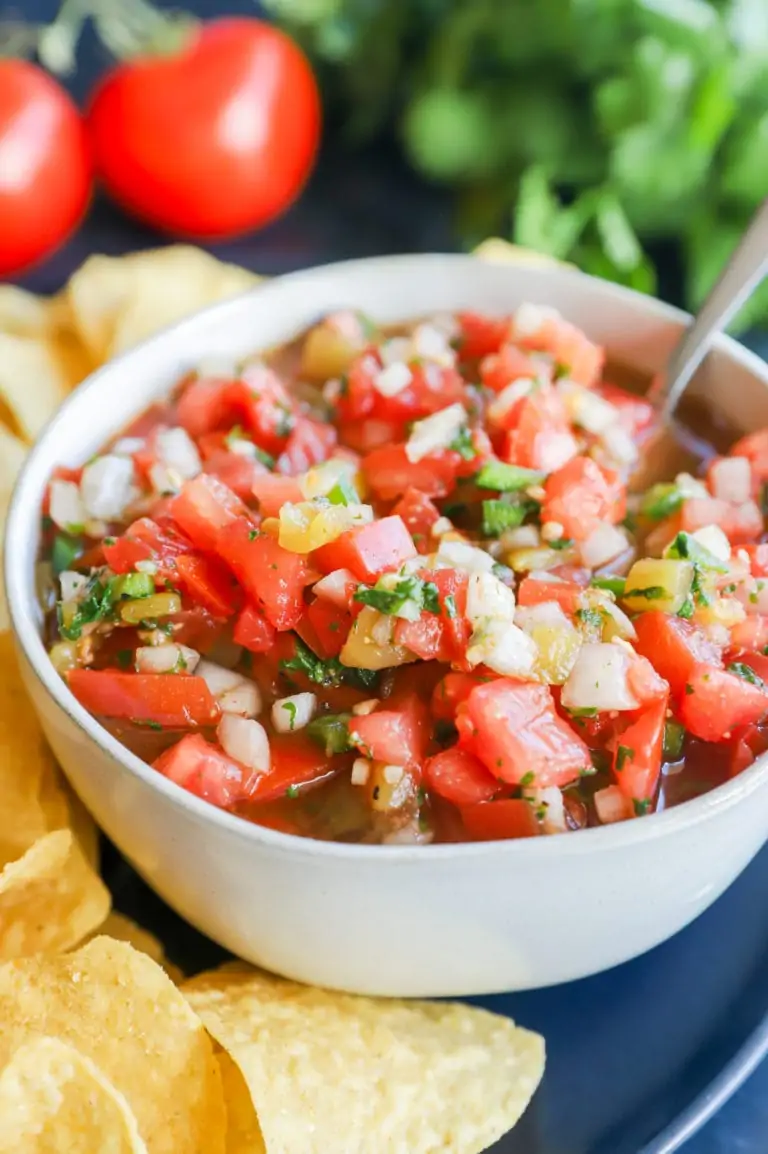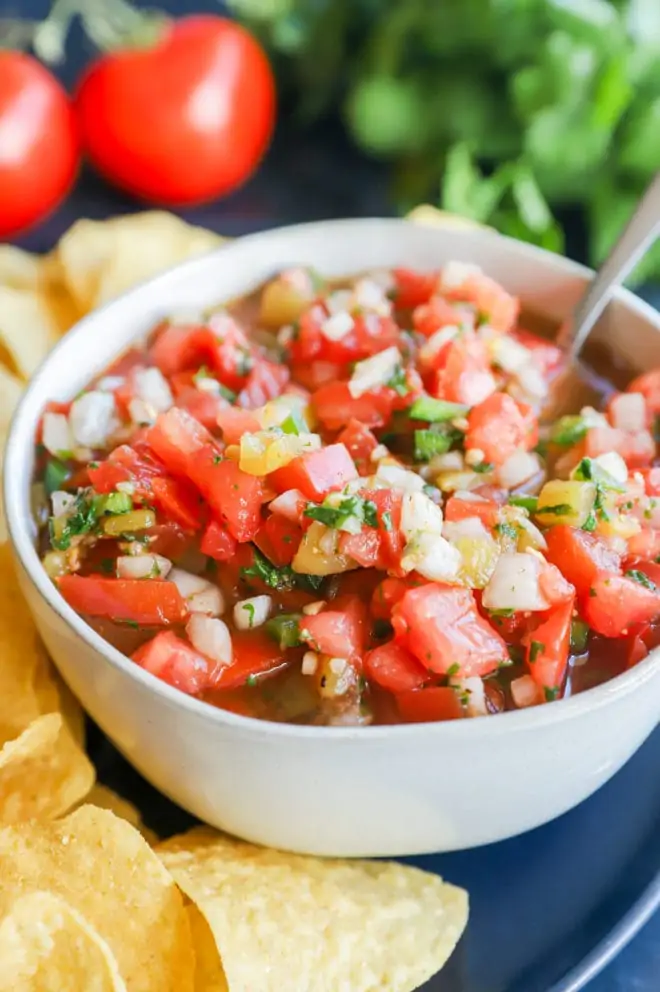 We've been going to the farmer's market almost every weekend again, and seeing all that fresh produce made me think of how many store bought things I've been buying instead of making at home.
Given how much salsa I eat on a weekly basis, I discovered it's not only better tasting but it's also cheaper to make it myself. The whole recipe takes about 5 to 10 minutes (all depends on how fast you can chop and dice!)!
So let's talk about the main culprits in this killer recipe…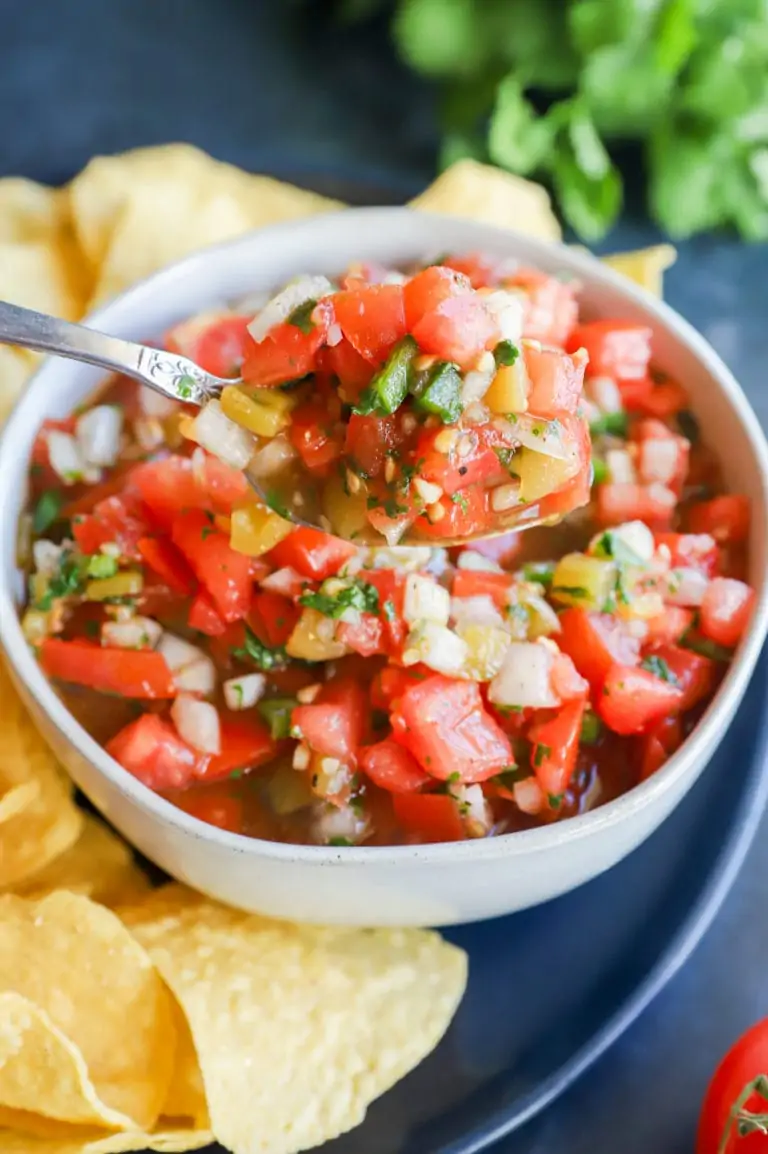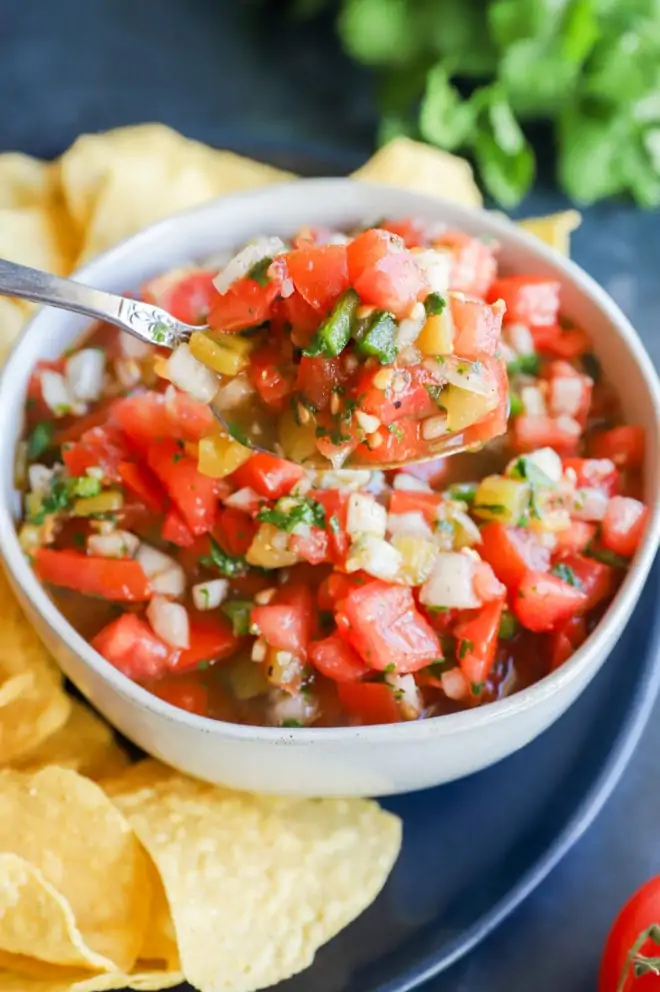 ingredients
tomatoes – I recommend using six medium fresh tomatoes for this recipe. Beefsteak tomatoes are the ones I gravitate to, but you can also use heirloom tomatoes or tomatoes on the vine. If you do use heirloom, I recommend using three total since they are so much bigger. Be sure to check out my guide to the best tomatoes for salsa when you are selecting your tomatoes for this recipe!
onion – For this recipe, I like to use white onion. The bite and flavor lends itself really well to this recipe. You can also use yellow or red onion if you prefer!
jalapeños – I halved the peppers and scooped out the seeds before adding dicing them for the recipe. Be sure to wash your hands well afterwards – you don't want to accidentally touch your eye with jalapeño on your hands!
garlic – there's a jar of this minced garlic living in my fridge at all times! No smelly hands, no peeling garlic. The best shortcut to pay for in my book.
cilantro – use fresh cilantro instead of dried here!
green chiles – I love the subtle heat from the green chiles in this salsa! I buy mine in 4oz cans – they are great to have in the pantry for this salsa, soups, and so many other recipes.
lime juice – Fresh is better than store bought! If you have to, you can definitely use store bought.
seasoning – This recipe calls for a simple combination of spices including chili powder, ground cumin, salt and pepper.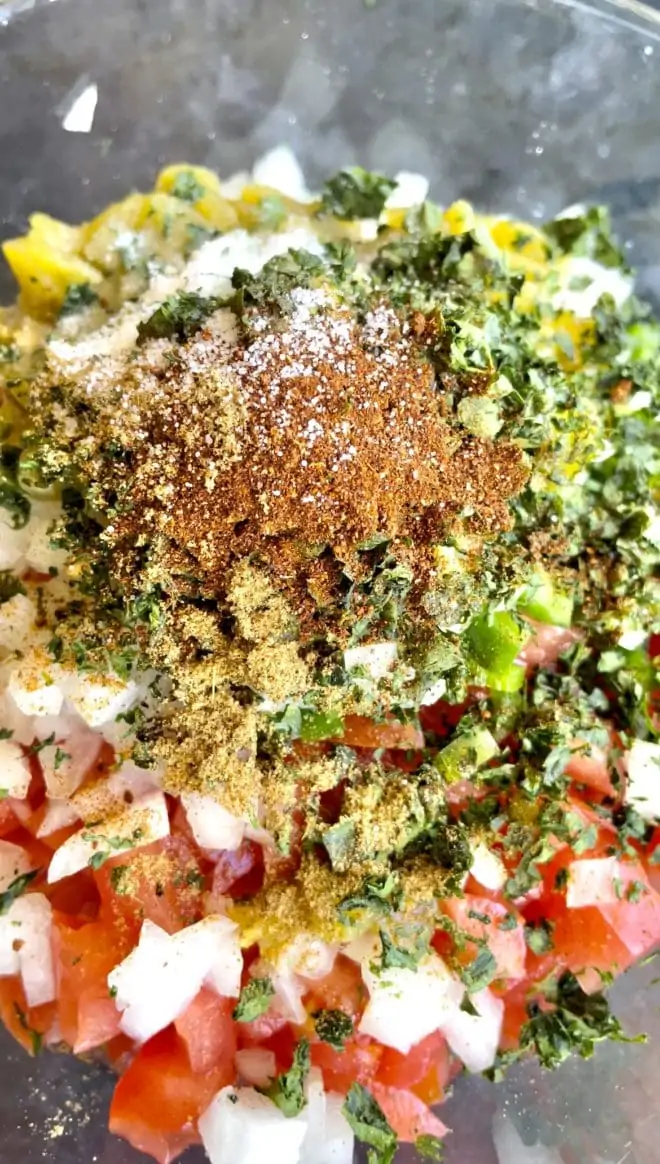 this recipe's must haves
The most important tool for this recipe is a chef's knife! There's nothing like having a quality knife, trust me. It makes all the difference!
You will also need a cutting board and a large bowl (I use one of my metal mixing bowls) to make the salsa.
here's how to make chunky salsa
chop
Prepare all your ingredients! Chop the tomatoes (I don't seed them because I like the juices to incorporate into the salsa), dice the onion and jalapeños, mince your garlic (if you didn't buy it pre-minced like I did, haha!), and chop the cilantro.
stir
Add all of the ingredients for the salsa together in a bowl. Stir to combine. Be sure to taste it and add additional salt and pepper, if desired.
chill
Cover and chill in the refrigerator for 2 hours before serving. The longer it sits, the better it tastes!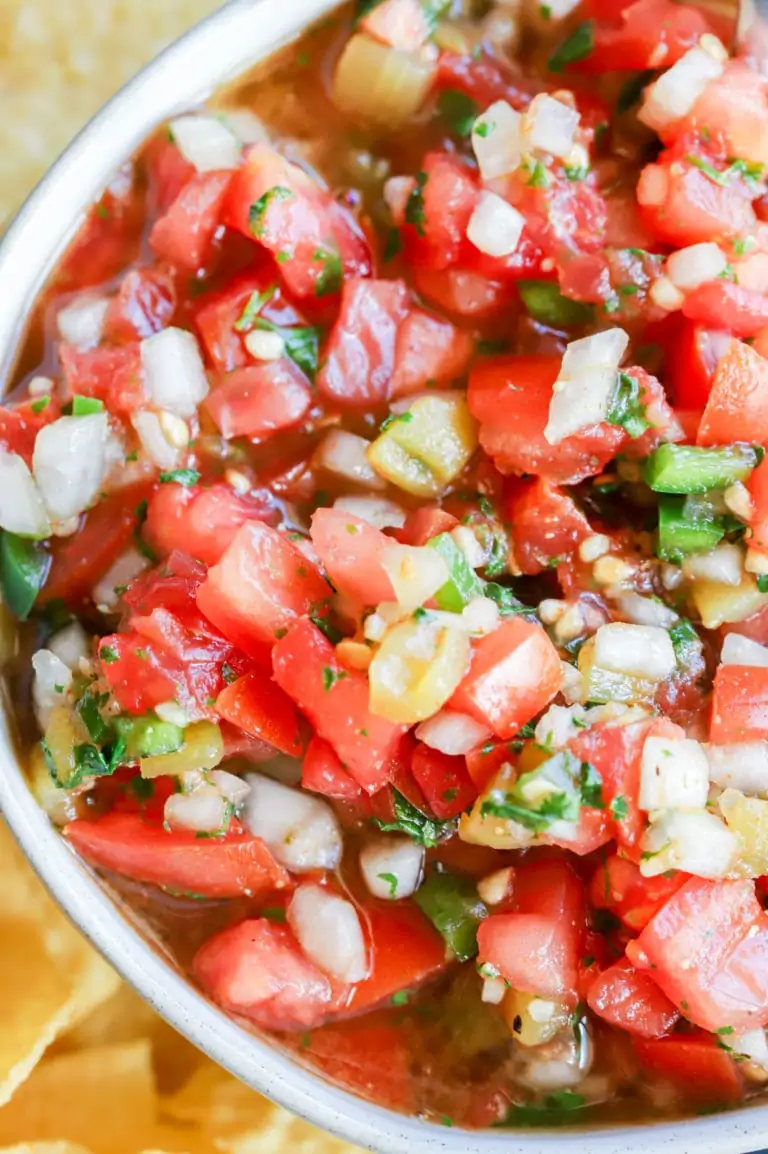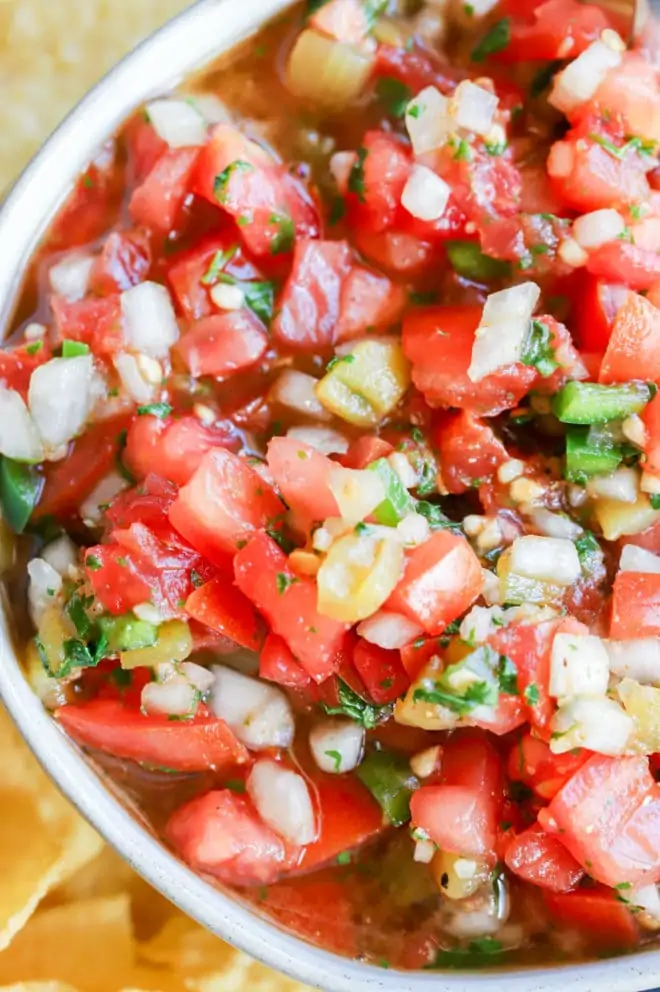 tips for success
let it chill. Be sure to let it chill for a couple of hours before serving! While it's great initially (trust me, I ate several chips loaded with it as soon as I made it!), it tastes even BETTER if you let it sit for a couple of hours.
use fresh ingredients. Use all fresh ingredients wherever you can. From the vegetables to lime juice to cilantro, the fresh ingredients will give this salsa the best possible flavor.
make it spicy. If you like your salsa spicy, I recommend leaving in the seeds when you dice your jalapeño. That will give it a nice level of spice. If you don't want to add in the seeds, you can add a pinch or two of red pepper flakes!
More tasty recipes to dip into: Chipotle Chili Cheese Dip | Citrus Guacamole | Skillet Southwestern BBQ Dip | Avocado Ricotta Tomato Pesto Layer Dip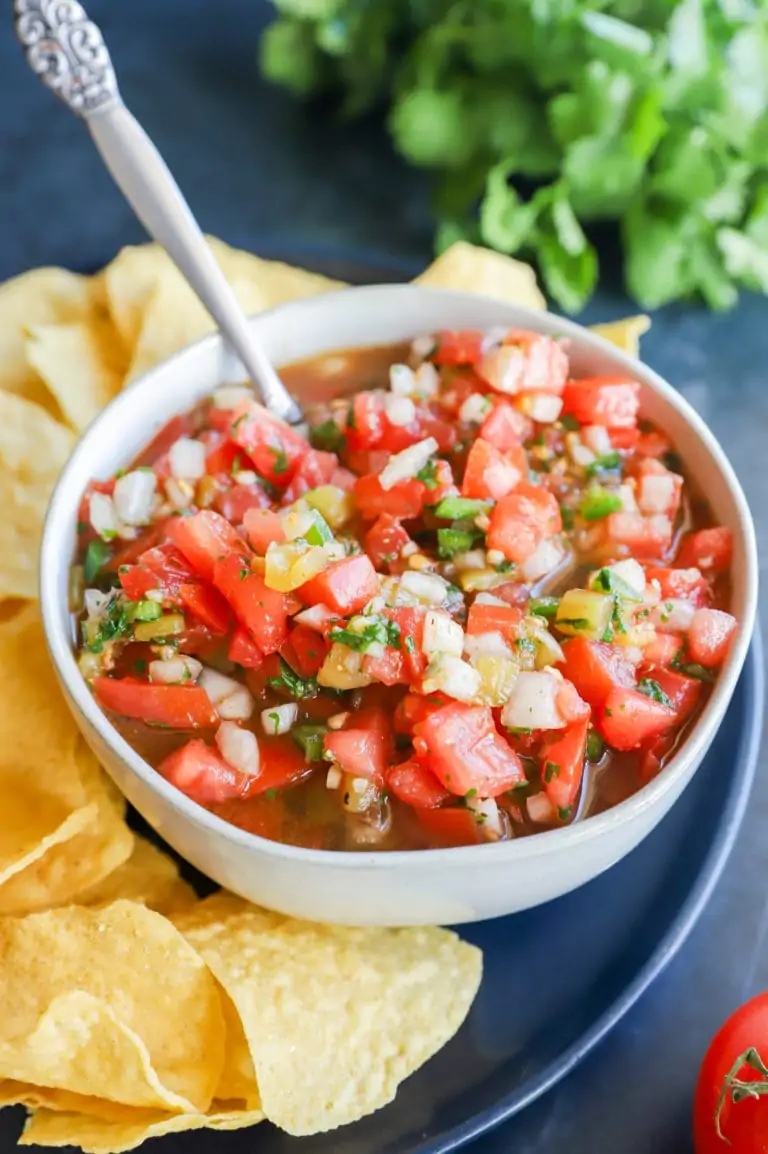 what is the difference between restaurant style salsa and chunky salsa?
Restaurant style salsa has a thinner consistency because the ingredients are finely minced! It's a smoother salsa, unlike this chunky salsa. Chunky salsa has less liquid and the ingredients are chopped or diced versus minced.
how can I use this chunky salsa?
There are so many ways to use this salsa if you have any leftover! Here's some fun ideas:
Eggs – add in a spoonful or two to your morning scrambled eggs. You can also incorporate it an omelet or a breakfast burrito.
Meat/Poultry – Top off your favorite grilled meat with salsa, sour cream, and a sprinkle of cilantro.
Rice – Stir salsa into your rice for a new side dish that goes well with Tex Mex and Mexican favorites like enchiladas.
Burgers/Hot Dogs – Salsa is a killer topping for burgers and hot dogs!
Need some more inspiration for appetizer? Check out my appetizer recipes page!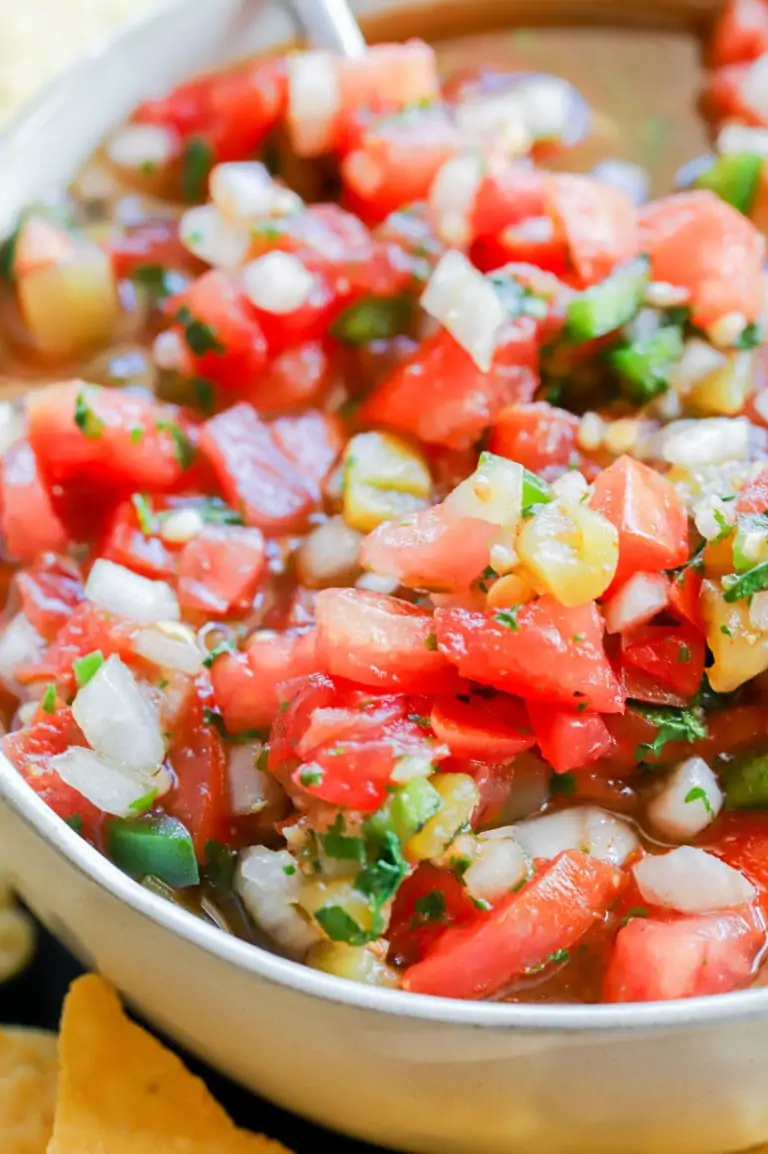 what to serve with chunky salsa?
You all know I love any excuse to make things a theme, and with salsa, you all know I'm heading to those classic Mexican flavors I love to play around with! Here's some ways to incorporate a theme into your menu for a weeknight meal or big gathering:
how to store
If you have any leftover salsa, simply store it in an airtight container in the refrigerator for up to 5 days.
Salsa can also be frozen! Store it in freezer bags and freeze for up to three months. Thaw completely in the refrigerator before using.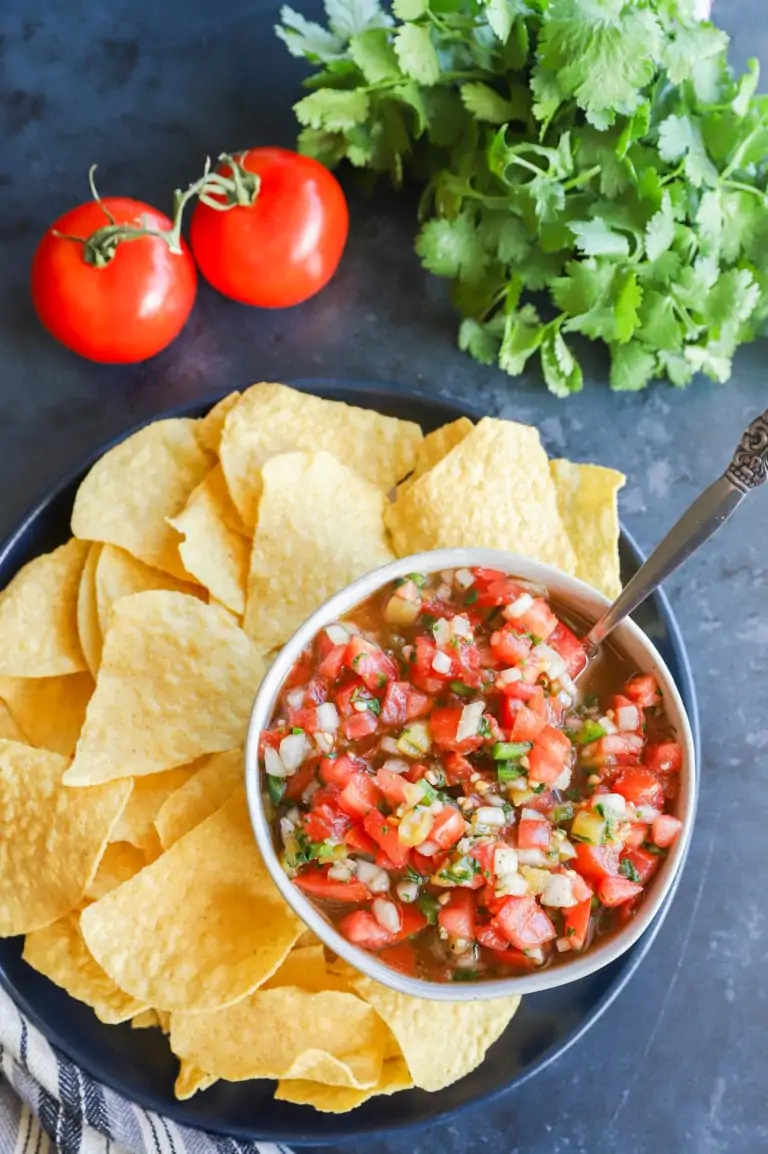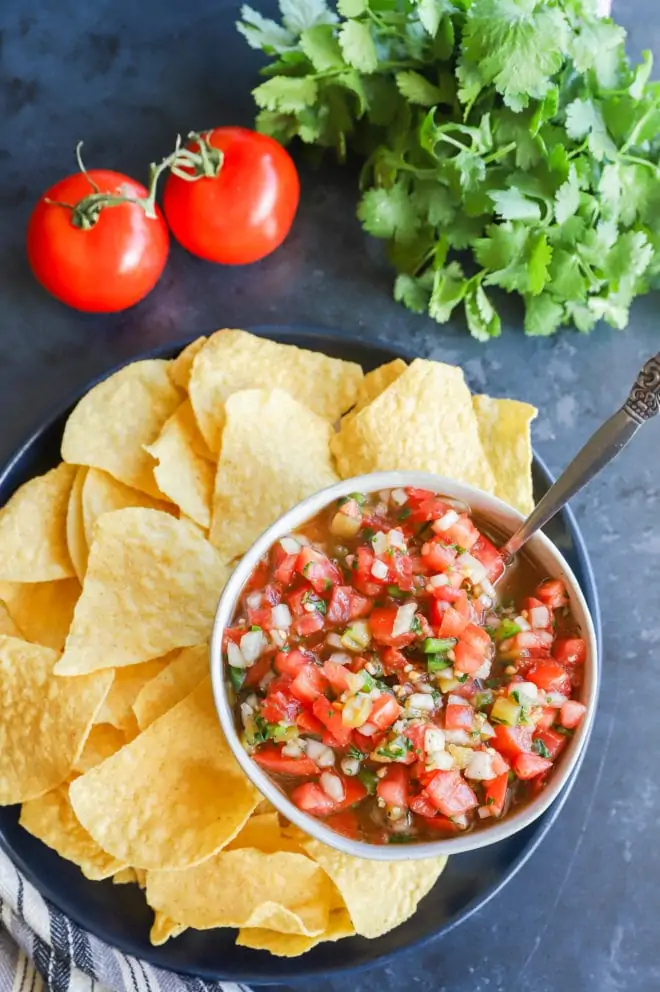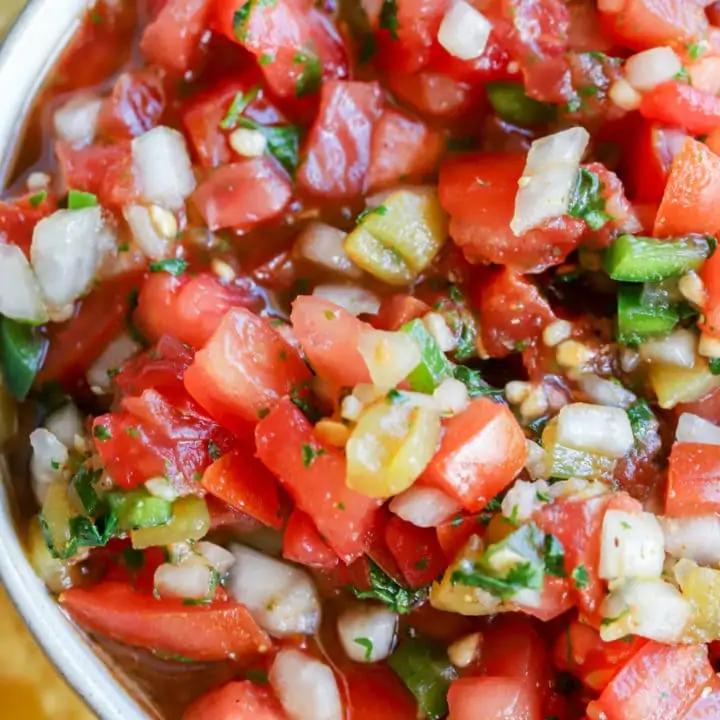 Chunky Salsa
Total Time:
2 hours
10 minutes
Full of fresh and vibrant flavor, this salsa is so much better than store bought!
Ingredients
6 medium fresh tomatoes (beefsteak, heirloom, tomatoes on the vine, or roma), 1/4-inch dice
1 medium white onion, diced
1 jalapeño, seeded and diced
2 cloves garlic, peeled and minced
2 Tbsp finely chopped fresh cilantro
4 oz canned chopped mild green chiles
2 tsp lime juice
1/2 tsp chili powder
1/4 tsp ground cumin
1/2 tsp salt, or to taste
1/4 tsp freshly ground pepper, or to taste
Tortilla chips, for serving
Instructions
In a medium bowl, add tomatoes, onion, jalapeño, garlic, cilantro, green chiles, lime juice, chili powder, ground cumin, salt, and pepper. Stir until well-combined.
Cover with plastic wrap and let sit in the refrigerator for at least 2 hours before serving.
Recommended Products
As an Amazon Associate and member of other affiliate programs, I earn from qualifying purchases.