Please note this post contains affiliate links.
Homemade Strawberry Rhubarb Simple Syrup is the best way to take advantage of rhubarb season, and help it last even longer! Strawberries and rhubarb naturally complement each other in this easy-to-make recipe for a simple syrup that can be used in a variety of ways. From cocktails to spritzers, lemonades to homemade sodas, you'll be surprised how many ways you can enjoy this flavorful liquid!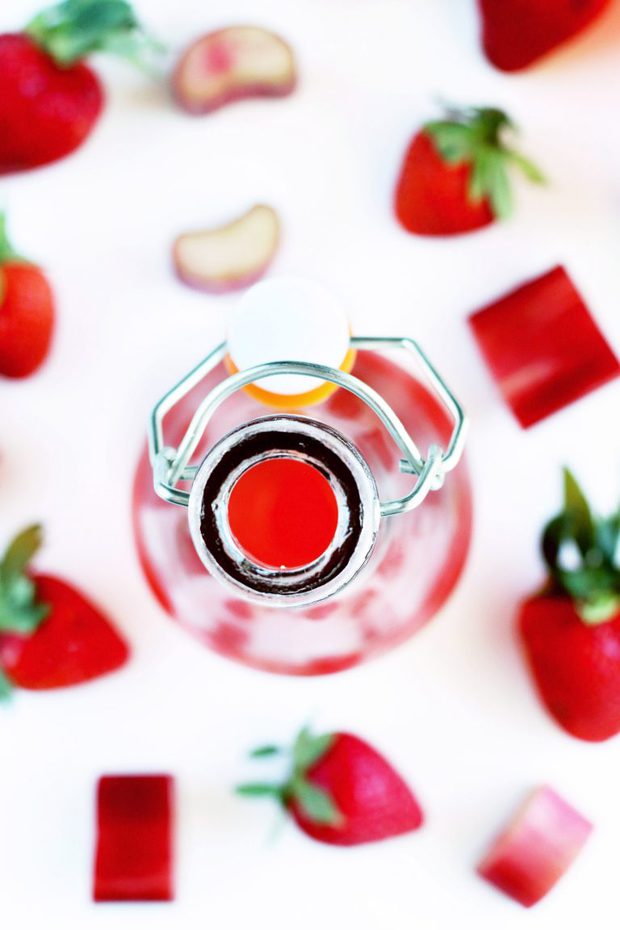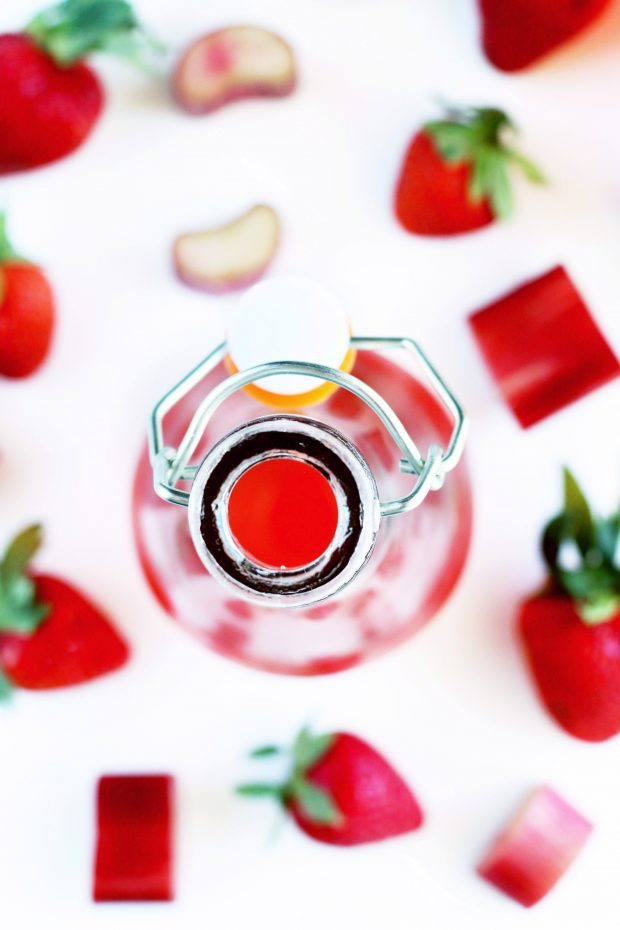 Please note that some of the links below are affiliate links. If you make a purchase through one of these links, I will receive a small commission.
For me, the most powerful ingredient when it comes to cocktails is a homemade simple syrup.
I've used simple syrup in a ton of different cocktails as you may have seen before, but I just realized that I've never dedicated a post to a homemade simple syrup!
So, I'm hear to chat with you about the best way to celebrate rhubarb season and to keep that rhubarb goodness going strong all summer long.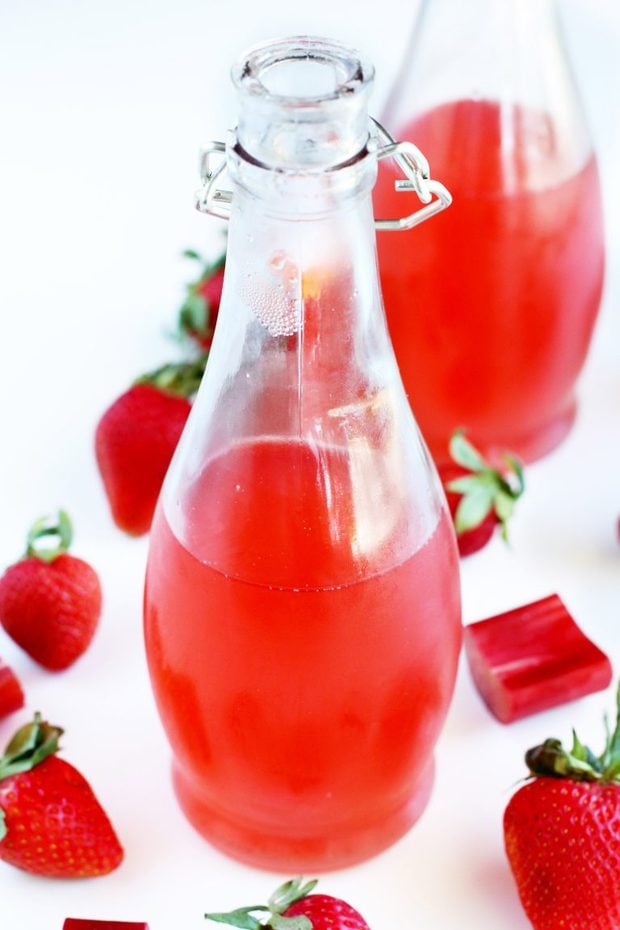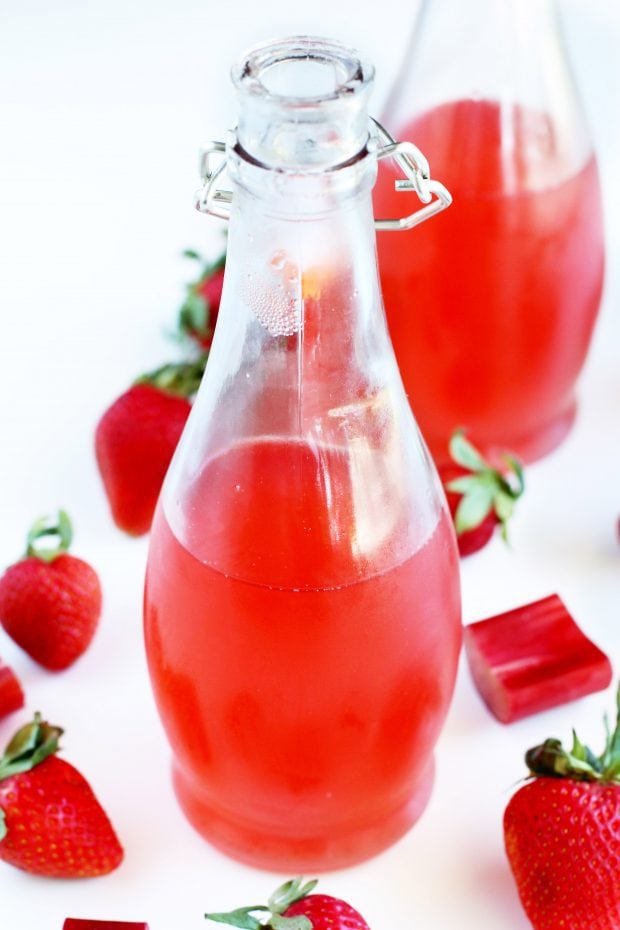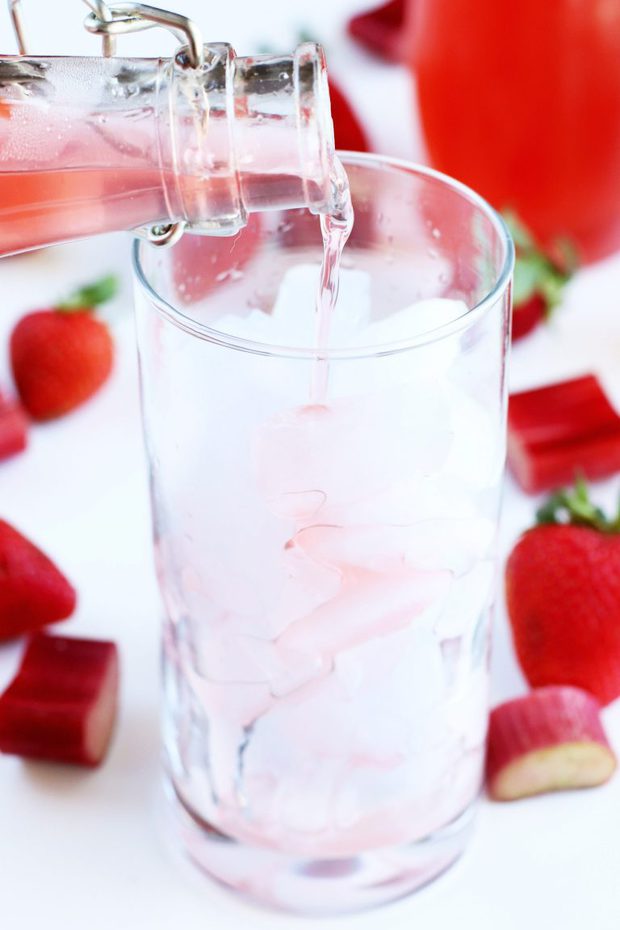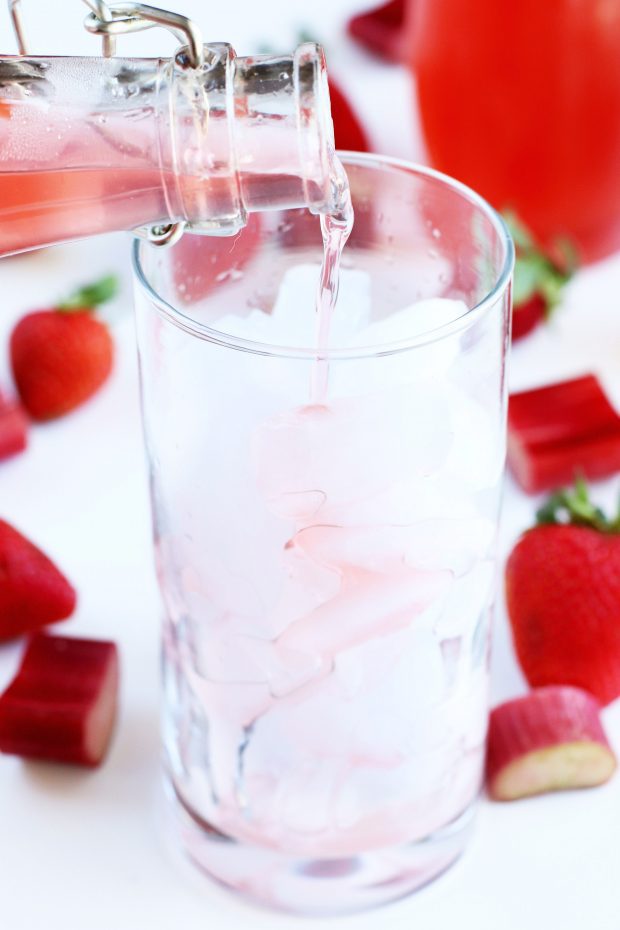 Strawberry and rhubarb are such a classic combination, it's impossible not to run into it once rhubarb comes into season, especially here in Colorado.
A simple syrup is such an easy thing to make at home, and it can liven up everything from your cocktails to your lemonades. Heck, you can even make your own homemade soda with a homemade simple syrup but combining it with club soda.
That's honestly the drink I've been sipping on all week long, just in case anyone is keeping track. Once happy hour hits, all you have to do is add in some vodka.
When it comes to making a simple syrup, the math is easy. It's equal parts sugar and water, brought to a boil to get the sugar to dissolve, and then cooled completely. That's. IT.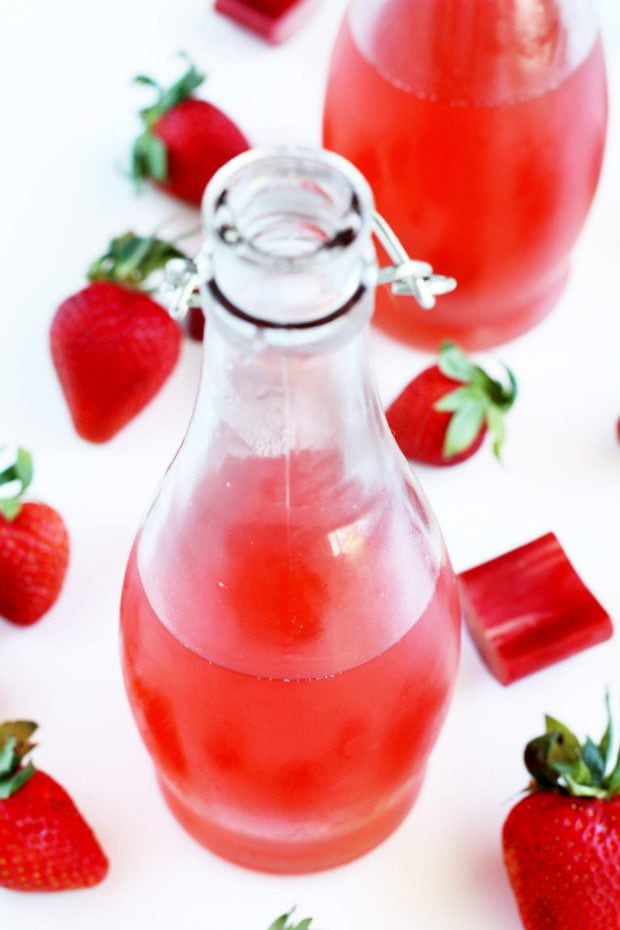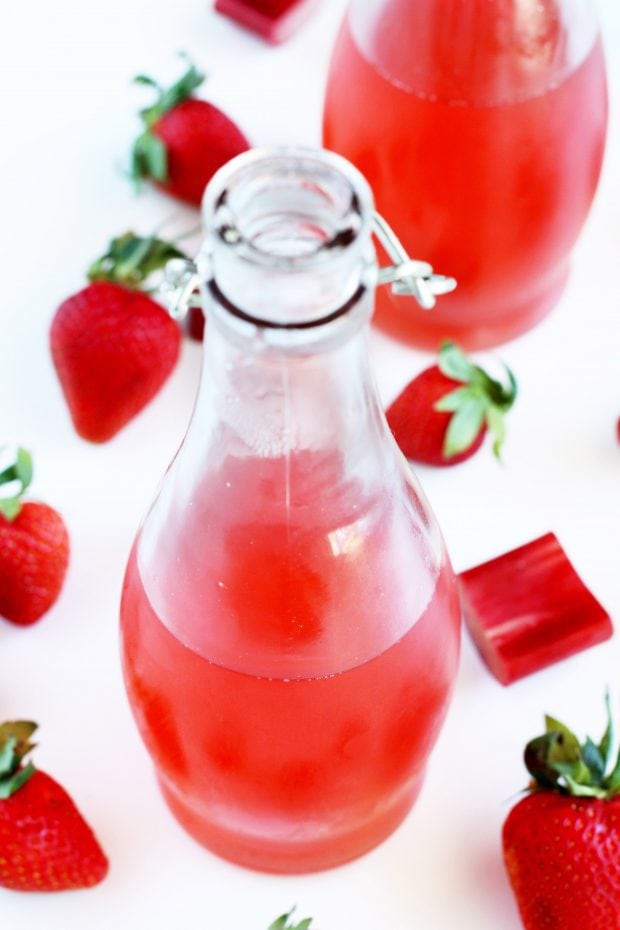 Therefore, making a custom simple syrup is incredibly easy to do! You just add in whatever ingredients you want and the simple syrup takes on those flavors as you bring it to a boil. Then I like to remove it from heat and let the ingredients steep for 30 minutes. Strain out the extra ingredients you added and boom. Just like that, you have your own creation to add in any drink you would like.
You will be surprised at how easy it is to make these simple syrups at home, and at this time of year, you have to start with this one!
Your summer parties are BEGGING for it.
Cheers, friends!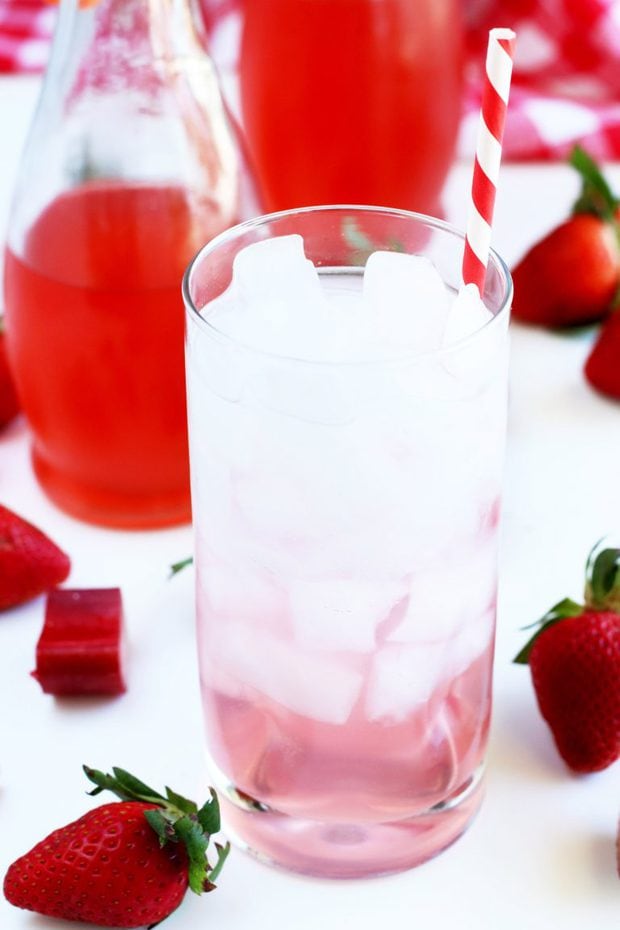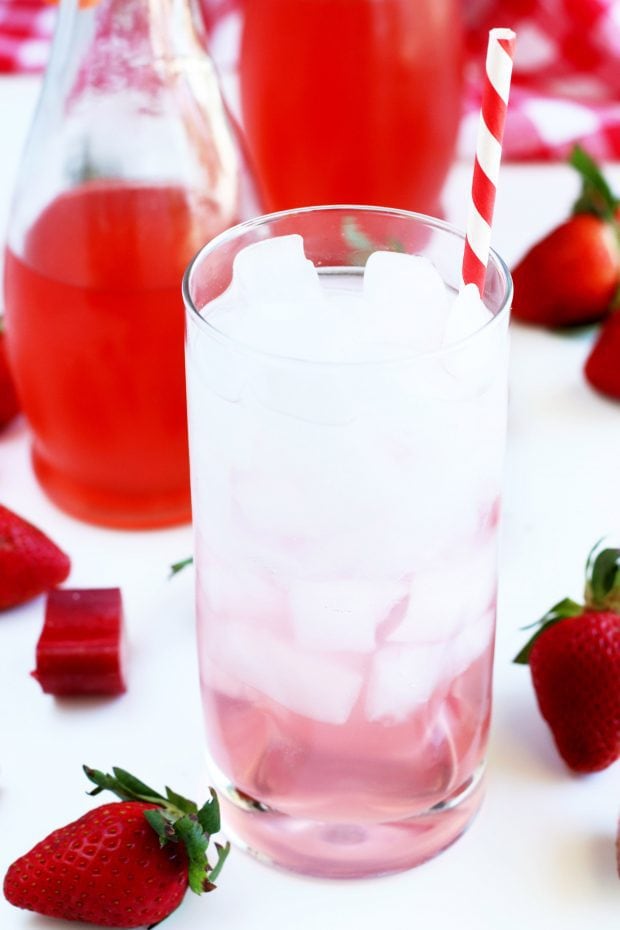 Want to create more simple syrups? Check out the recipes below for more flavor ideas to add to your bar cart!
Three ingredient strawberry simple syrup – perfect if you happen to have just missed rhubarb season!
If you love everything strawberry rhubarb, be sure to add this tasty strawberry rhubarb jam to your lineup!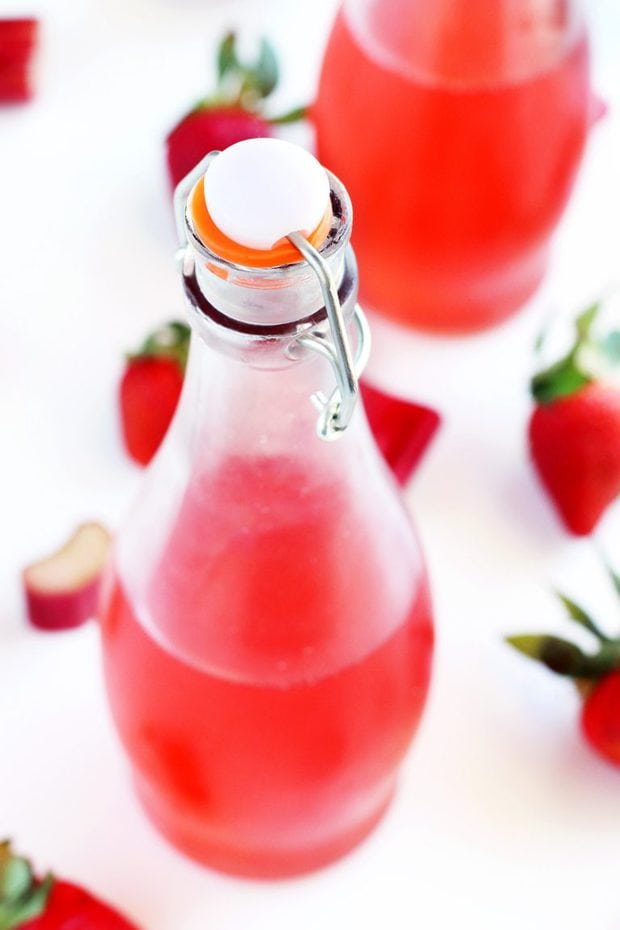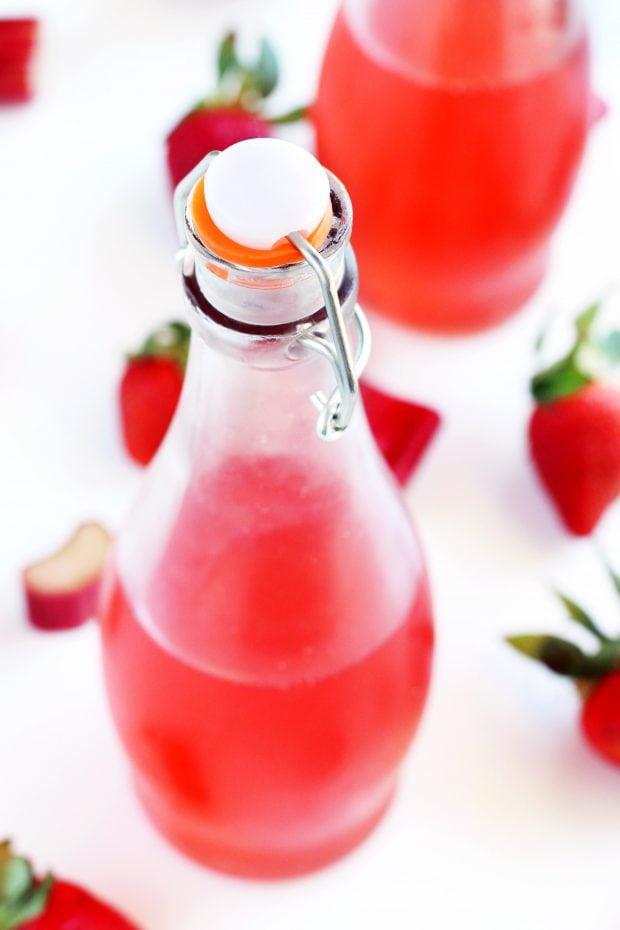 This Recipe's Must Haves
This Glass Bottle Set with swing stoppers is my favorite set of bottles to store simple syrups in. I always have a couple in my fridge because they are stylish and oh-so easy to clean!
If you need a durable and reliable saucepan, this is one that I highly recommend!
A wooden spoon is a must for any cooking.
A chef's knife and a cutting board make it easy to chop up the rhubarb and strawberries for the syrup. Plus with Shun, you get a lifetime of free sharpening with their warrantee!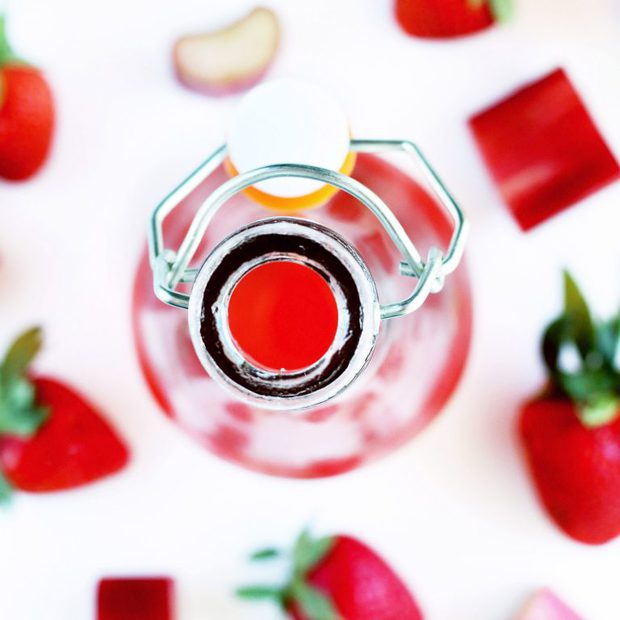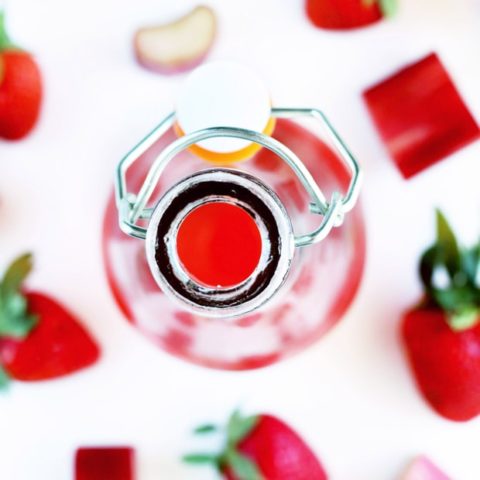 Homemade Strawberry Rhubarb Simple Syrup
Yield:
Makes approx. 3 cups
Strawberry and rhubarb are a perfect pairing for this easy peasy simply syrup recipe. Use it for cocktails or homemade sodas and lemonades!
Ingredients
1 1/2 cups chopped strawberries
2 cups chopped rhubarb
2 cups sugar
2 cups water
Instructions
In a medium saucepan, combine sugar, water, rhubarb and strawberries. Stir well.
Bring the mixture to a boil over medium-high heat, stirring occasionally.
Once boiling, remove the pan from heat and cover.
Let steep for approximately 30 minutes.
Drain the simple syrup into an airtight container.
Let cool in the refrigerator.
Store in the refrigerator and use as desired. The syrup will last up to several weeks.